I've got some good news for you.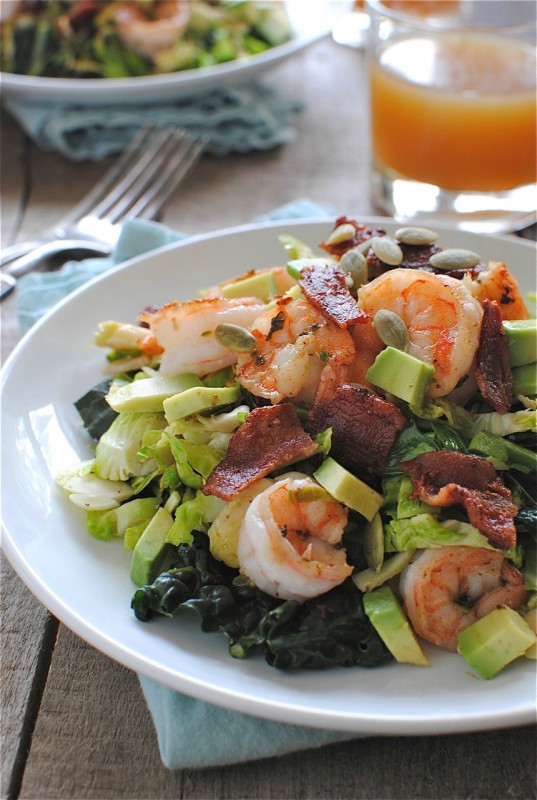 But first, I don't know how this happened, or when or why or where, given the 723 tubes of Burt's Bees lip balm littering my house and life, but somehow over the last 12 to 24 hours my lips have become ever so slightly chapped, shifting into that perfect dewy golden summer Hollywood shade of coral-pink, and now I look like a fresh schoolgirl all flush and frisky!
But I guess that would be good news for me.
However, if my lips continue on the path in which I expect, they'll begin to shed and scale and completely peel apart, thus turning my ripe schoolgirl Hollywood summer lips intooooo a reptile.
Not good news for Aaron.
But you don't rightly care because you just saw a picture of sizzling bacon and I've lost you forever.
Which is good news for you?
Well now I'm confused, but I promise I will keep you updated on the metamorphosis of my lizard face.
I've got some good news for you!
It's called spicy seared shrimp over a titanic mound of shredded brussels sprouts and chopped kale, flash sautéed in bacon fat (holla), and tossed with cool chunks of creamy avocado and bacon crumbles. And toasted pepitas. And the spicy shrimp. That you also sautéed in bacon fat. (mommy)
Thirty minutes to pull together.
Boomtastic spice.
Nuttin' but veggies, good fat, lean protein . . .
And bacon.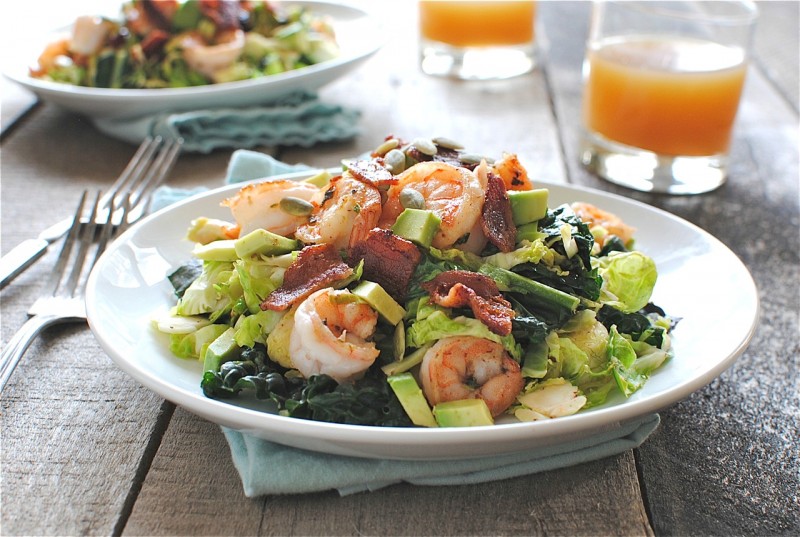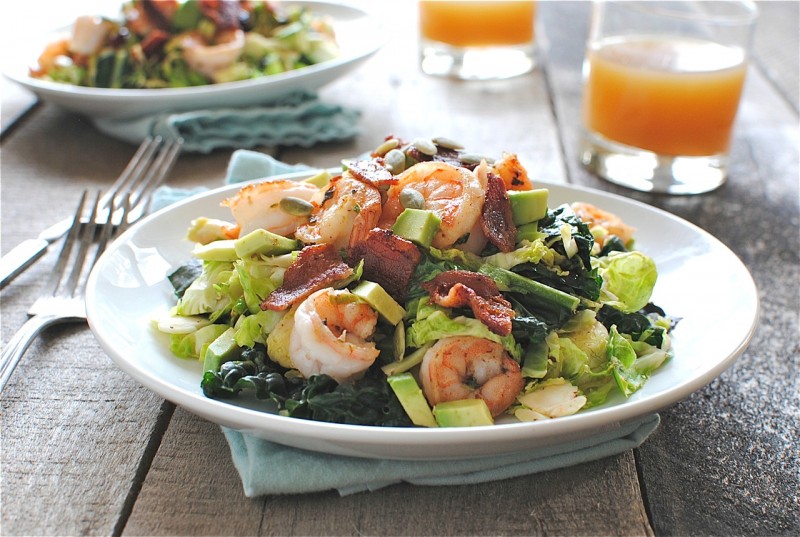 Best news ever.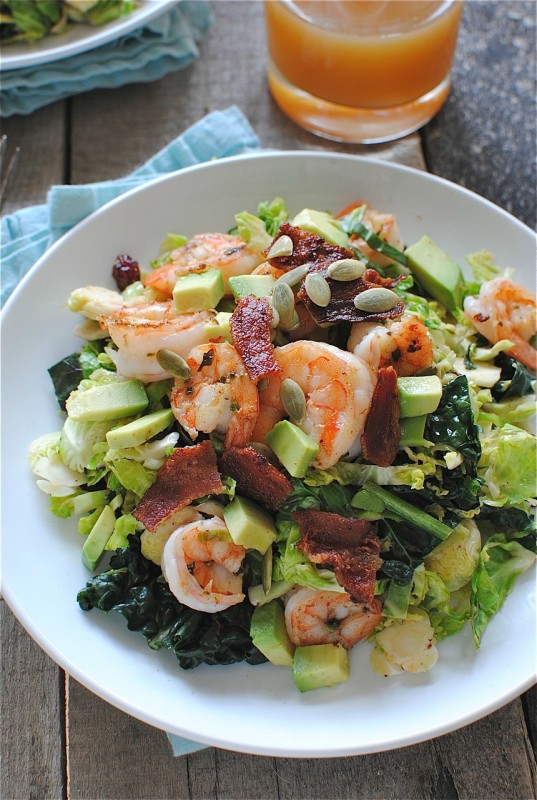 OMG I think one lip is already peeling. Son of a . . .
Brussels Sprouts Salad with Seared Shrimp and Bacon:
What it took for 4 small salads, or 2 bigger ones:
* 4 slices bacon
* 1 pound shrimp, peeled and deveined
* 1 tsp crushed green (or red) pepper flakes
* 2 pounds brussels sprouts, thinly sliced
* 4 cups chopped kale
* 1 avocado, diced
* 4 Tbs toasted pepitas
* 1 pinch coarse salt and freshly ground pepper
Sprinkle the peeled shrimp with the crushed green pepper flakes. Let it sit while you start cooking.
In a large skillet, render your bacon until nice and crispy, about 10 minutes. Remove from skillet and place on a couple of paper towels to drain. Once cooled, break them apart with your hands. Taste a crumble or 500 to make sure you did it right.
Back in the skillet, assess the rendered fat. If it's too much, drain until you have about 2 Tbs left.
Arrange the shrimp in the skillet and sear on one side for 2 minutes. Flip and sear 30 more seconds. Season with a pinch of salt and pepper. Remove from the skillet and cover to keep warm.
Back in the skillet, add the brussels sprouts and kale. All you're going to do is basically flash sauté it. No idea if that's even a thing. But that's what you're gonna do. For like 2 minutes tops. You still want it to have a slight bite, without tasting raw. Toss in a pinch of salt and pepper.
Evenly divide the sautéed sprouts and kale among plates. Top with seared shrimp, avocado, bacon crumbles and toasted pepitas! You could even spritz it with some lime juice too. Oh my face that would rule it.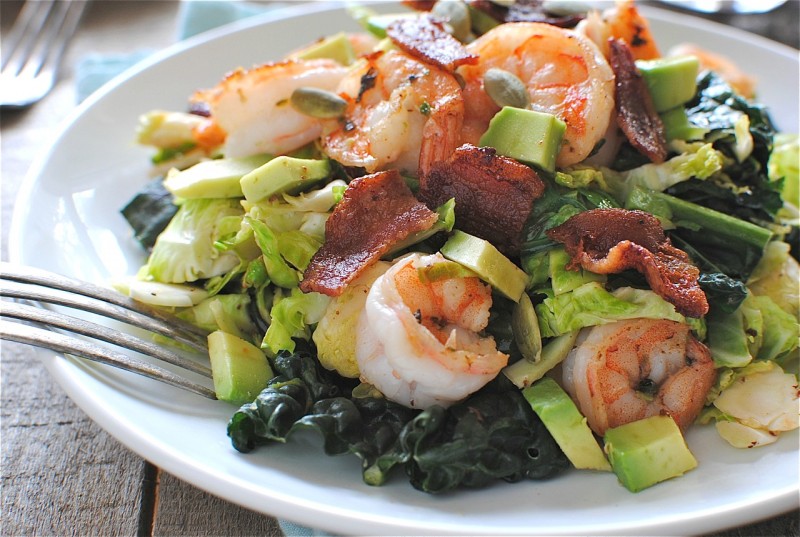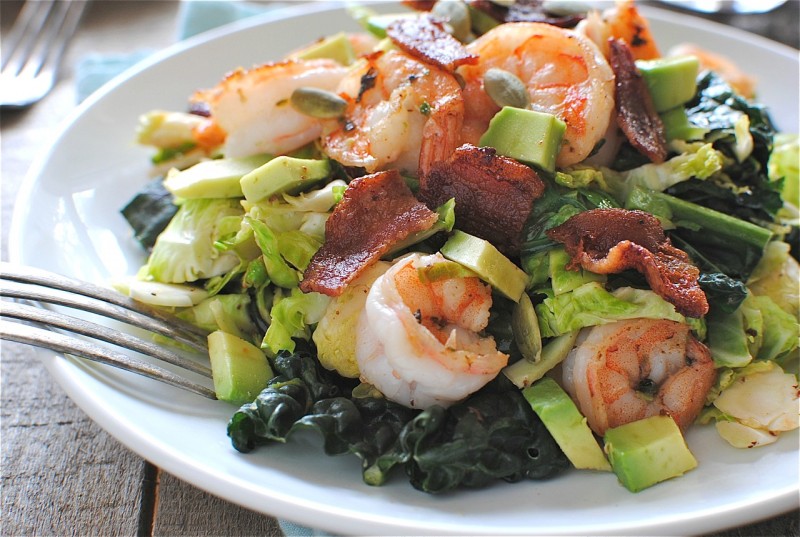 Lizard face. That's what they're going to call me.