This salad occurred last week. And it occurred le big.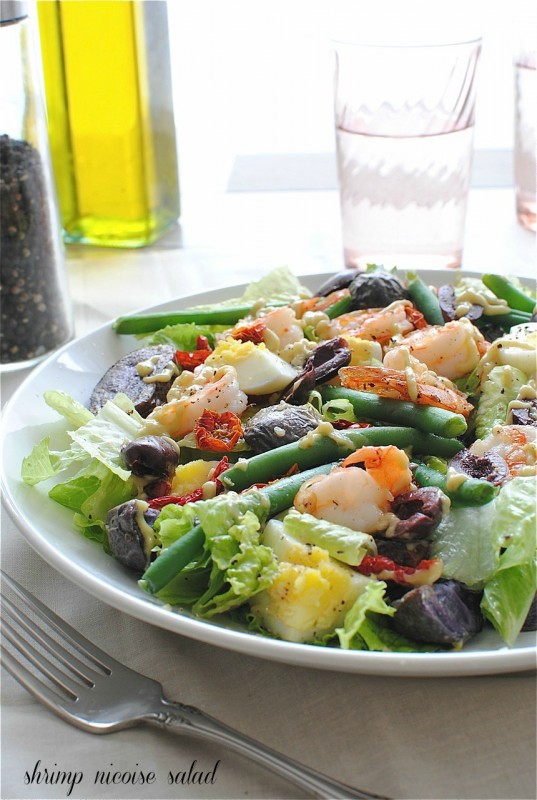 Have you ever nicoised your pants off before?
UGH, before we continue, I can't figure out how to make that little hooky thing under the c in nicoise. Ya know what I'm talking about? That little hook? It's like a little crow bar? Half of an s? An upside down question mark? An elf slipper? I Googled it for an entire 7 seconds and NONETH SEEMETH TO KNOWETH.
Whatever.
Do you want to know why I think they call this a Nicoise Salad? No, no. Hear me out. I think it's because it's referring to how nice it is in NICE, FRANCE. No listen. It's a very nice tasting salad, and since it's FROM Nice, France, they called it Nicoise because of . . . how nice it tastes, because it's spelled the same. As Nice. France. And it's nice to eat. Just like Nice, France.
That's what I think.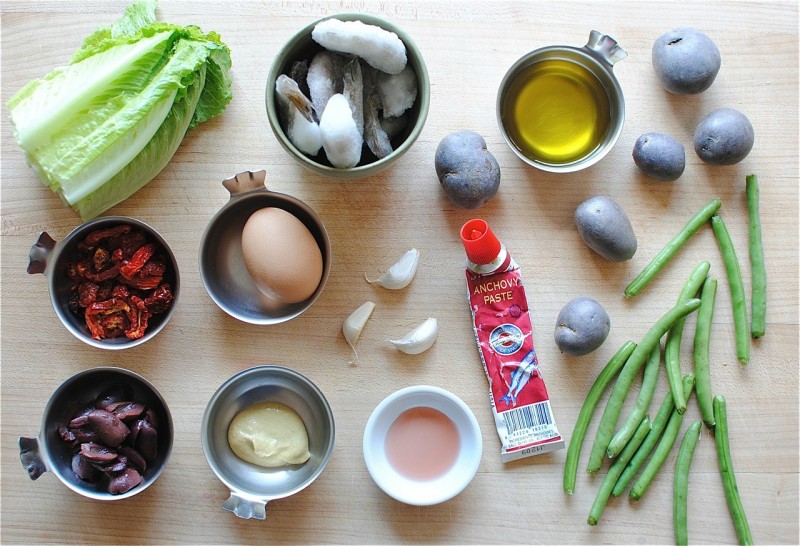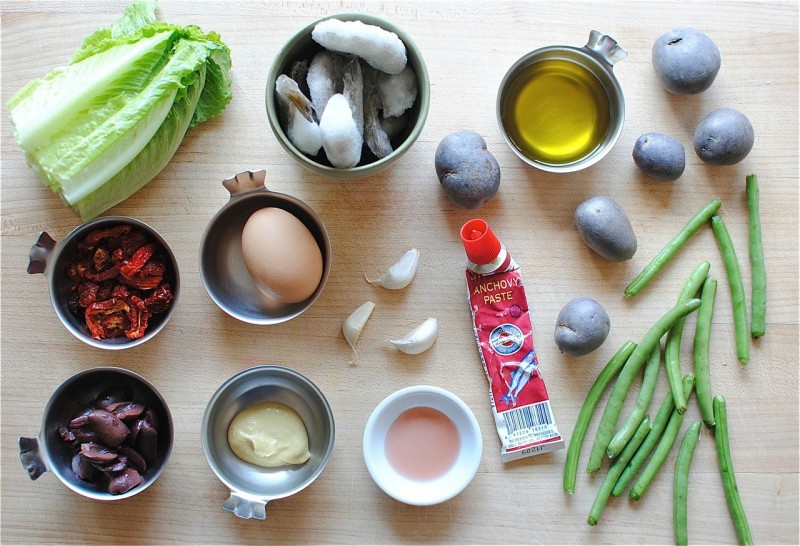 Now I don't know what nice means anymore.
Whatever.
I'm totally in love with this salad. I made it for dinner for myself last week when my husband was on some work trip in Timbuktu. OMG it's like the perfect mix of textures and flavors and colors, oh my. (sorry) I did some reading on this salad before I winged (wang? ew, no) my own version, and on one internet website URL I read that the potatoes aren't totally authentic. But then I read on some other internet website URL that they ARE authentic. Uhhhh, okay.
My mouth went le uh huh direction.
And okay, the dressing. I read that the REAL way to do it is to arrange anchovies over the salad. WELL, me nots got none. But I DID have some anchovy PASTE in le fridgeroo, so I made up my own version with that, garlic, some oil, mustard and red wine vinegar. DUDES, I'm basically French.
I seriously cannot TAYELL you how le pimp this salad is. Lil' bit of hard boiled egg, some blanched green beans, roasted taters, seared shrimpies, sliced olives, some dehydrated maters, and that le sumo-wrestle-you-in-the-face anchovy dressing all over a bed of crisp romaineeeeeeeeeuuuuugggggghhhhh.
Put your thing down.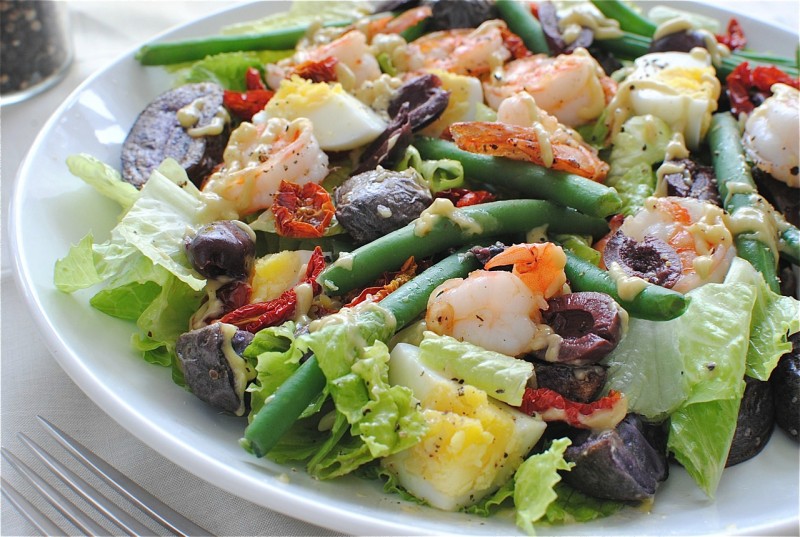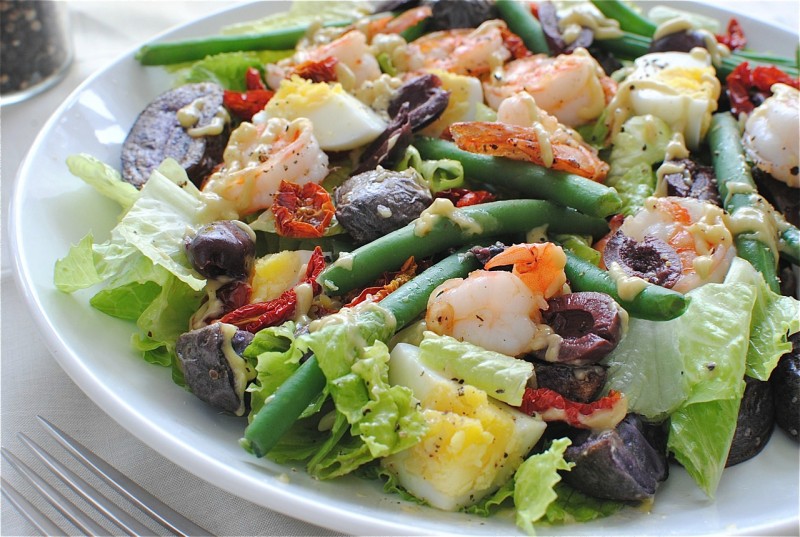 Flip it.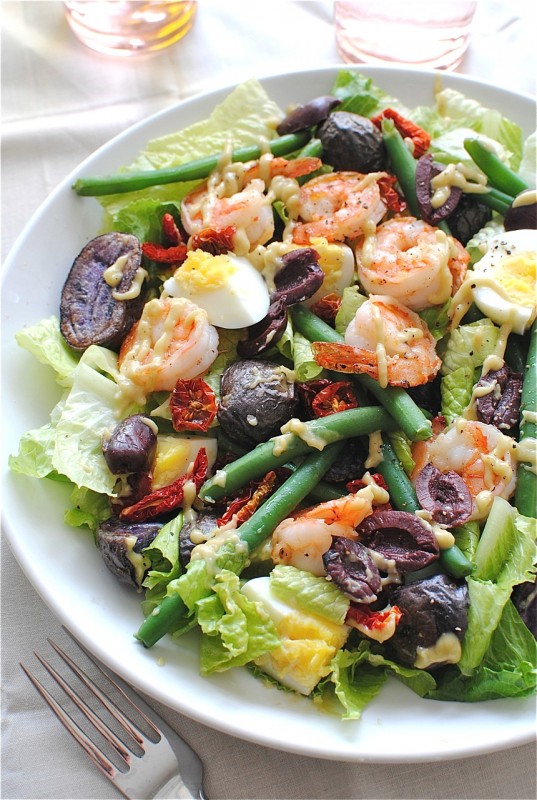 And reverse it.
Shrimp Nicoise Salad:
What it took for 1 salad:
* 5 Tbs. extra-virgin olive oil, divided
* 6 small purple potatoes, halved or quartered
* 10-15 green beans
* 1 tsp red wine vinegar
* 1 tsp anchovy paste
* 3 cloves garlic, chopped
* 1 tsp dijon mustard
* 8 extra-large shrimp, peeled and deveined
* 1 egg
* 1/4 cup kalamata olives, halved or left whole
* 1/4 cup dehydrated tomatoes (or halved cherry tomatoes)
* 2 cups chopped romaine lettuce
Preheat oven to 400.
Toss the potatoes with 1 Tbs. oil and arrange them on a rimmed baking sheet. Season with salt and pepper. Roast for 25 minutes.
Bring a small saucepan of water to a boil. Add the egg, put the lid on, turn off the heat and let it sit on the burner for 12 minutes. With a slotted spoon, transfer the egg to an ice bath. Peel, then roughly chop the hard boiled egg.
Bring the water back to a boil and add the green beans for 1 minute, or until they pop in color. Transfer the beans to the same ice bath that the egg was in. PLANET SAVING.
In a small skillet, add another Tbs. oil and sear the shrimp on both sides, seasoning with salt and pepper, 3 minutes total. Remove from heat and set aside.
In the meantime, combine 3 Tbs. oil, anchovy paste, garlic, red wine vinegar and mustard in a small food processor. Blitz until smooth. If you need to add a little more oil to the dressing, don't, unless you want your home to be haunted by angry spirits for the next 25 years. Kidding! Add it.
Arrange the lettuce greens on a plate. Top with roasted potatoes, diced egg, green beans, tomatoes, olives and seared shrimp. Drizzle with anchovy dressing and die from le bliss.
* I made this for myself whilst le hubs was gawn, so double or triple or quadruple or fivetuplet it for more faces that eat.
ps: we're getting an ikea!