I don't wanna beg, buuuuut…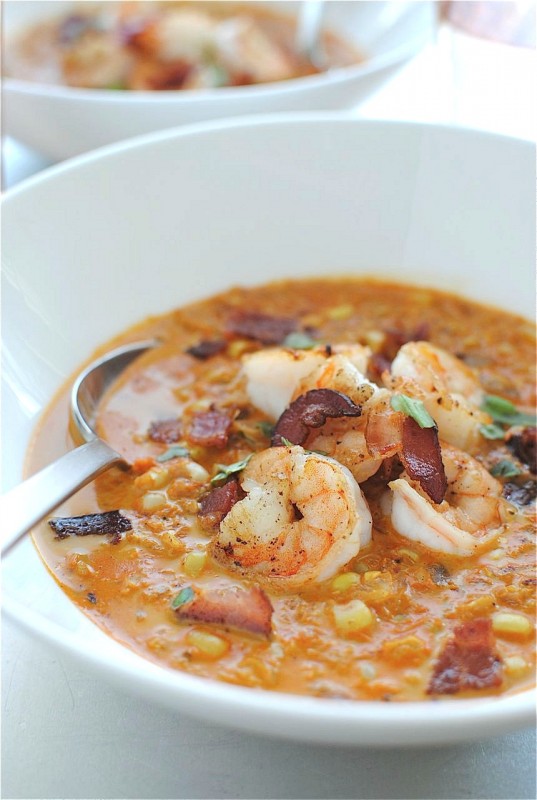 Meet your new summer lover. His name is Chowder. Or, Chow-duh if you like to LIVE ON THE EDGE. He's gentle, tender, smokin' hot, probably has a mustache and I'm weirding even myself out right now.
So, my M-I-L visited last weekend and brought with her what some would call a whoa-Nelly-seriously-what-the-h-colossal-crap-ton of corn. While she was here we grilled it, sautéed it and chewed it right off the cob. When she left we thought most of the corn damage was done. We doth thawt wrawng.
So I asked Aaron, "What do you think we should do with the rest of this corn? I mean, we have like 150,000 ears left." And he goes, "Mmmmm, CHOWDER."
Now, I should say, my husband has a tendency to start EVERY sentence with "Mmmmm." Like, last week I walked up the stairs with a big basket of laundry and he seriously goes, "Mmmmm."
WHAT? Mmmmm? What does that even MEAN, I ask him. Why "Mmmm" over laundry? I don't get it! He said, "I wasn't MMMMing over the laundry, BEV. I was swallowing water and had my mouth closed but was saying to you, 'oh good you got that done, nice!'"
Right. He Mmmm'd, you guys. I heard the Mmmm.
Where was I?
Oh! "Mmmm, chowder."
But listen. Come hitherly hither. I need to tell you. This here chowder has a slap-ya-booty punch of smoked paprika so grande, you won't even believe what's happening to your body, much less your miiiieeeeennnnddd.
And do I even need to mention the splash of cream, the seared plump shrimp and the crumbled bacon on top? Oh, yes? Okay! You guys, we're talking a splash of cream, seared plump shrimp and crumbled bacon on top.
Mmmmm.
Hey, if you need to Mmmmm right now, I totally get it.
Aaron does too.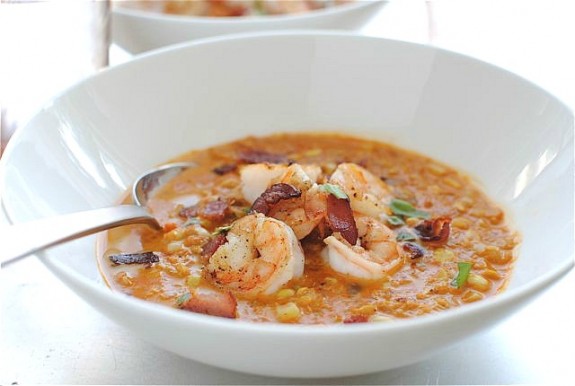 And aaaaaall the good people of the land said, "Mmmmmm."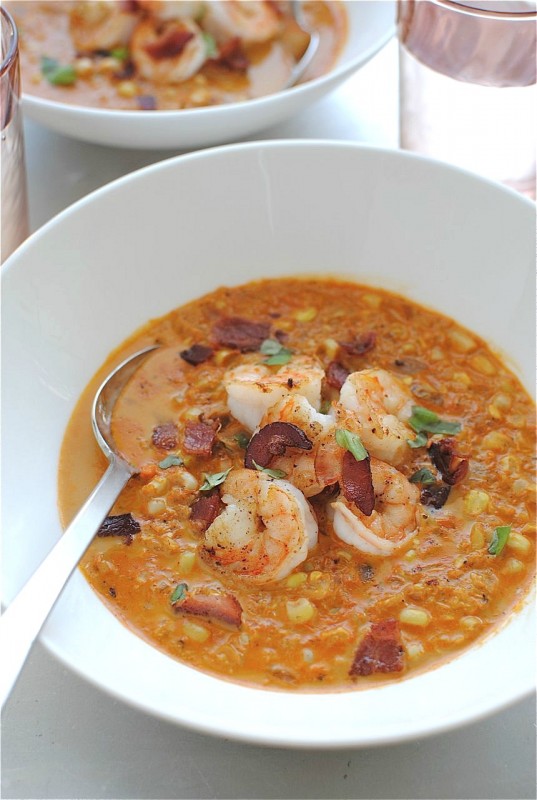 I can chill.
Smoky Corn Chowder with Shrimp:
(adapted from Real Simple)
What it took for 2:
* 2 slices bacon, cut into 1/2-inch pieces
* 1/2 pound shrimp, peeled and deveined
* 1/2 medium yellow onion, diced
* 2 cloves garlic, minced
* 1 Tbs. smoked paprika
* 1 pinch crushed red pepper
* 3 ears fresh corn, kernels removed
* 2 cups chicken stock
* 1/2 cup half and half (or cream)
* coarse salt and freshly ground pepper
* basil slivers for garnish (optional)
Heat a medium-sized pot over medium heat. Add the bacon and cook until crispy. Remove bacon from the pan and set aside on a paper towel to drain. Drain all but 1Tbs. bacon fat, if you have that much in the pot.
Raise the heat to medium-high. Add the shrimp to the pot and sear on one side for 2 minutes. Flip and sear 30 more seconds. Remove shrimp from pot and set aside.
If you need to add a little oil (or bacon fat) to the pot, do so. Add the onions to the pot and sauté 5 minutes. Add the garlic, paprika, crushed red pepper and a pinch of salt and pepper. Sauté another minute.
Add the fresh corn to the pot and toss to combine. Heck, sauté another minute.
Add the stock and half & half to the pot. Stir to combine. Keep on a low simmer for 15 minutes. Taste it. Need a little salt and pepper? Add a pinch or two.
If you have an immersion blender, place it in the pot and pulse it a few times until about half of the soup becomes creamy, still leaving whole kernels as well. If you don't have an immersion blender, ladle about a cup and a half of the soup into a blender and pulse until creamy. Pour back into the pot and stir to combine.
Serve chowder with the shrimp and reserved bacon crumbles. Garnish with slivered basil if desired.
Mmmm.