Sweet. Tangy. Pungent. Fresh. Surprising. Crispy. Tender. Choice. Delightful. Yummy.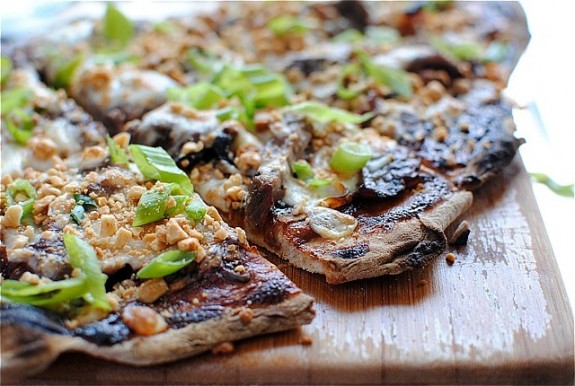 But I'm not here to talk about my electric personality, OHHHHH. Snap?
Oh.
This pizza idea was birthed in my brain after spotting a lone peanut on the kitchen counter one afternoon last week. I have no idea where it came from or how it got there, but it had arrived. With a message. Much like when you're about to go to bed and you've just washed your face and you notice a stray eyebrow hair, so you grab the tweezers for a quick shape-up, and before you know it, it's 2am and you look like a cross between Tammy Faye Baker and a drunk zombie.
This pizza may look like it was discovered in the Petrified Forest National Park (hoisin sauce does NOT have a good side), but you won't care once the carrot ribbons dance on your tongue. Once the succulent grilled steak massages your taste buds. Once the fresh scallions and the crunchy peanuts meet the oozy goozy cheese and make babies in your stomach.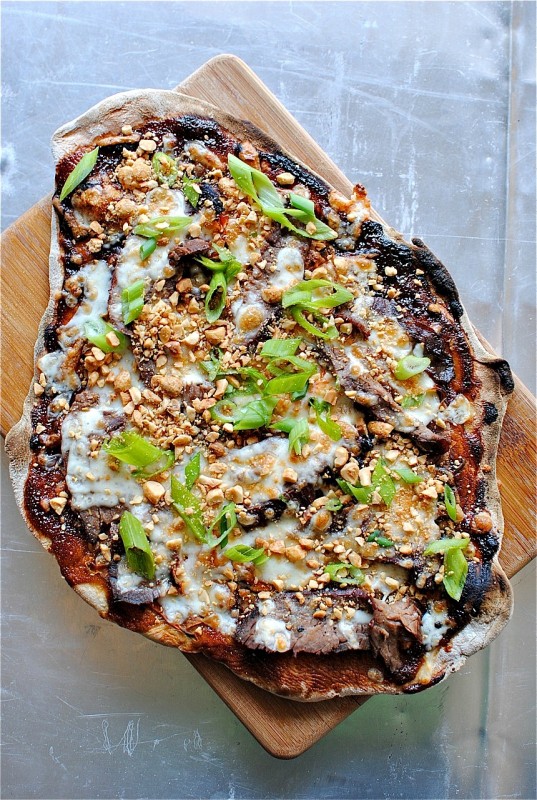 I'm so glad I saw that peanut, accidentally dropped it on the floor, yelled, "25 second rule!", I MEAN 5 Second Rule, ate it and decided to make this pizza.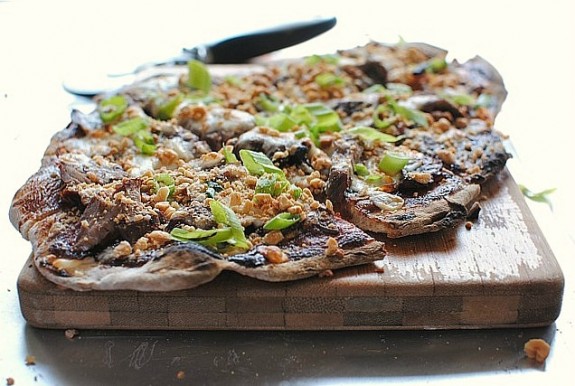 And I threw away the tweezers. It's better for everyone.
Asian-Style Steak Pizza:
What it took for 2 (10-inch) pizzas:
* 1/2 pound flank steak
* 3 Tbs. soy sauce
* 1 tsp garlic salt
* 1 pound refrigerated whole wheat pizza dough, divided in half
* 4 Tbs. hoisin sauce, divided
* 2 medium carrots, thinly peeled into ribbons with a vegetable peeler
* 2 scallions, thinly sliced
* 2 cups shredded mozzarella cheese
* 1/4 cup crushed peanuts
Pierce the steak all over with a fork. In a large plastic bag, place the steak, the soy sauce and the garlic salt. Seal the bag and toss it about, coating the steak with the marinade. Place in fridge for 2 to 4 hours.
Heat an indoor or outdoor grill to a medium high. Grill the steak until your preferred doneness. We like medium rare. So delish. Let the meat rest 10 minutes before thinly slicing.
In the meantime, preheat oven to 400. If you have a pizza stone, go ahead and preheat it as well with a small handful of cornmeal on it.
On a floured surface, roll out the dough to get a 10-inch pizza. Spread 2 Tbs. hoisin sauce on each crust, followed by the carrot ribbons. Sprinkle a little bit of the cheese over the carrots if you want to. Which you probably should want to.
Slide the pizza onto the preheated stone and bake until the dough has browned on the edges, about 12 minutes. (Depending on your oven it may be less. Check it out at 8 minutes.) Remove pizza from oven and layer the steak slices on it. Sprinkle the rest of the cheese over the steak, flip the oven to broil and cook until the cheese is browned and bubbly, 2 to 3 minutes.
Remove from oven and garnish with scallions and peanuts!
* the reason we don't bake the pizza with the steak on it is to keep it at that wonderful medium rareness. so we broil the cheese instead. and life is grand.*