Panini, panino. Plablini, plablino. Let's call the whole thing off.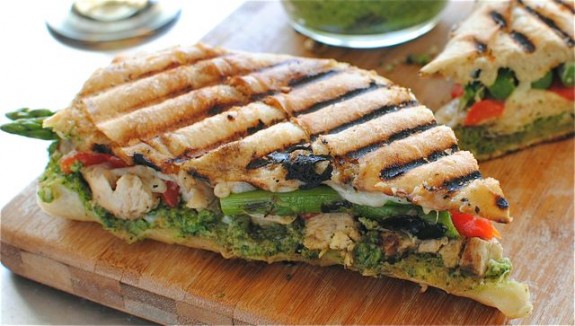 Guess who's late to the "getting the actual word right" party? Yeppers. But it's not my fault! I couldn't find a cab and it was raining and blah blah BLAH.
I'm not kidding when I say that not even 200 days ago, I didn't know that the Italian word "panini" is actually the plural form of the word "panino."
So I'm sure you can imagine my confusion when a conversation with my deary poo Carrie went down like this:
Her, "I'm hungry. You hungry? Wanna get something to eat?"
Me, "If we don't eat something right now, monkeys will fly out of my head. Yes. We're eating."
Her, "Cool! What do you feel like? Something light? Like a soup and salad kinda thang?"
Me, "Ya know, I'm actually more in the mood for a panini. Does that sound good to you?"
Her, "You mean panino? Or are you wanting to eat multiple? Ha!"
Me, "Wait, what about Al Pacino? And der, I could probably eat like 20 right now. Hold on, is this a dare? Because I DO LIKE A GOOD DARE. Just let me braid my hair real quick."
Her, "No, no, I'm just telling you that what you're really wanting to eat is a panino, not multiple panini."
Me, "Well I guess we could eat in a casino. And don't you mean multiple paninis? Okay I might need a drink."
Her, "BEV, listen. What I'm simply saying is that PANINO is singular for PANINI. It's not PANINIS. And I'm joining you for that drink. Sheesh, woman."
Me, "Okay A) Put down the machete. B) Fine, Paninoniniononino. Consider me learnt! and C) So if I suggest VINO are you going to tell me it's actually VINI? Because you know I can only learn something new once a month. And does this mean the dare's off? Because my hair braided is actually really cute. I just need to know now…"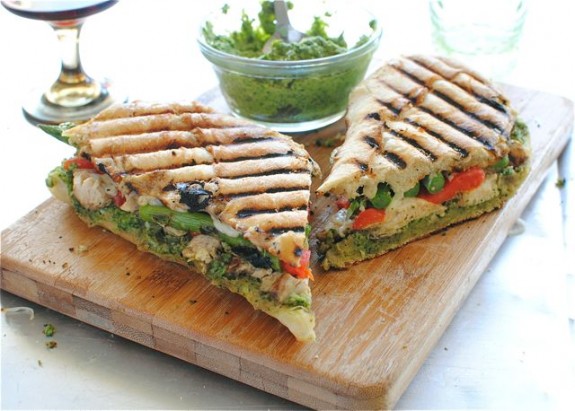 And that is the story of how Carrie and I never ate lunch together because she got sick of me and dropped me down a water well, never to be seen or heard from again.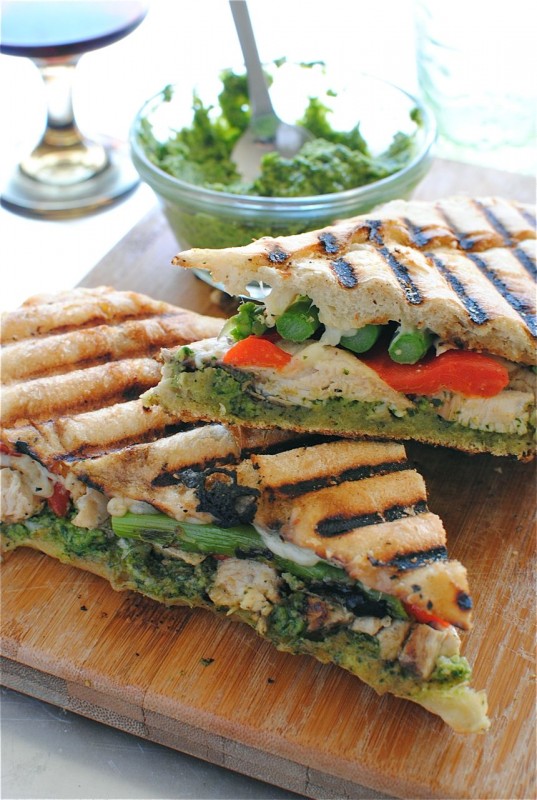 I'm sure those paninis would have been really delicious though. I MEAN PANINI. CRAP! PANINI.
Chicken Pesto Panini:
What it took for 2 Panini:
For the Chicken Marinade:
* 1 lemon
* 1 Tbs. Dijon mustard
* 1/4 cup extra-virgin olive oil
* 1 pinch of coarse salt and freshly ground pepper
* 3 chicken breast halves
For the Pesto:
* 4 cups arugula
* 1/2 cup toasted walnuts
* 3 cloves garlic, chopped
* 1/2 cup freshly grated parmesan cheese
* 1/2 cup extra-virgin olive oil
* 1 pinch coarse salt and freshly ground pepper
For the Rest:
* 1 Tbs. extra-virgin olive oil
* 1/2 bunch asparagus, ends trimmed
* 2 10-inch artisan french baguettes, sliced in half lengthwise
* 2 roasted red peppers (from a jar) sliced into strips
* 1 cup shredded mozzarella (or fresh would be even better!)
Whisk the marinade ingredients together in a bowl and add the chicken. Toss to coat, cover and stick in the fridge for at least an hour and up to 4.
In a food processor, combine the arugula, walnuts, garlic, cheese, salt and pepper. With the motor running, add the oil in a thin stream until you get pesto.
Bring a small pot of water to a boil. Add the asparagus and boil 2 minutes, until bright green. Transfer to a bowl with ice water to stop the cooking. You just blanched!
Heat an indoor (or outdoor!) grill to a medium heat and brush with oil. Add the chicken and grill until cooked through with nice grill marks on both sides, 10 minutes total. Remove from heat, cover and let rest about 5 minutes. Slice chicken into strips.
Spread the pesto on the bottom half of each baguette. Arrange the chicken slices on top of the pesto. Follow with strips of roasted red pepper, asparagus and lots of good mozzarella. Top with baguette lid. Is lid right? That's not right.
Place the panini on the grill and press it down with something really heavy. I used my Les Creuset, ha! I really did though. Once the cheese starts to melt and you see grill marks on the bottom, flip, press and finish grilling.
Slice on a diagonal and you just dunnnn knuuuuuuh.