Well, I got one of those calls in the middle of the night that you never want to get. The kind that when you hear your phone ringing a room away at a haunted hour, you bolt straight up in bed, mind racing all over the place, fearing the absolute worst.
That happened to me early this morning. And I was right.
My sweet Memaw has passed on.
While it wasn't a complete surprise, as she's been very sick for the better half of two years, it still punches you in the gut when you realize she's gone. GONE. Forever.
My Memaw absolutely ruled. She called everyone "dawlin'" and it sounded like sweet creamed butter. SHE was sweet creamed butter. I can't even believe this.
So, I just don't have it in me today to be…me.
I'll just let these goulash pictures do my work for me. But I will say it is extremely delicious and comforting and you should definitely make it.
See you tomorrow.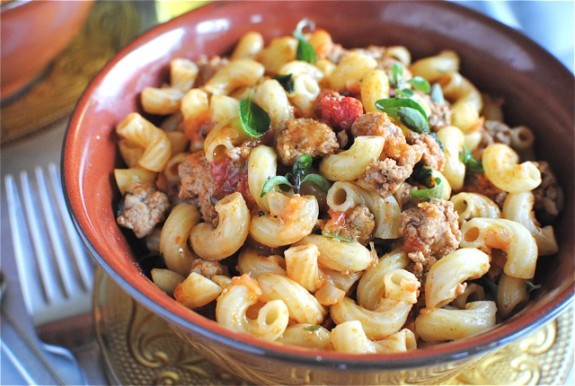 I apologize if this hand crushing tomato picture grosses you out.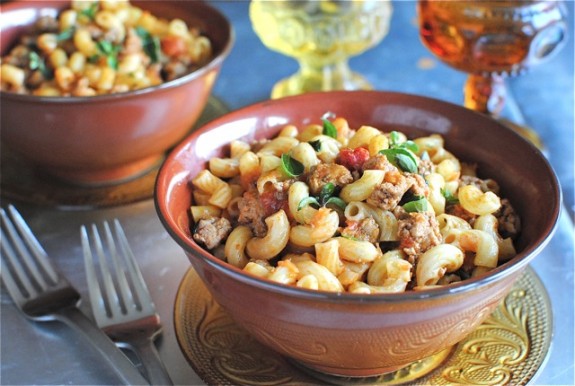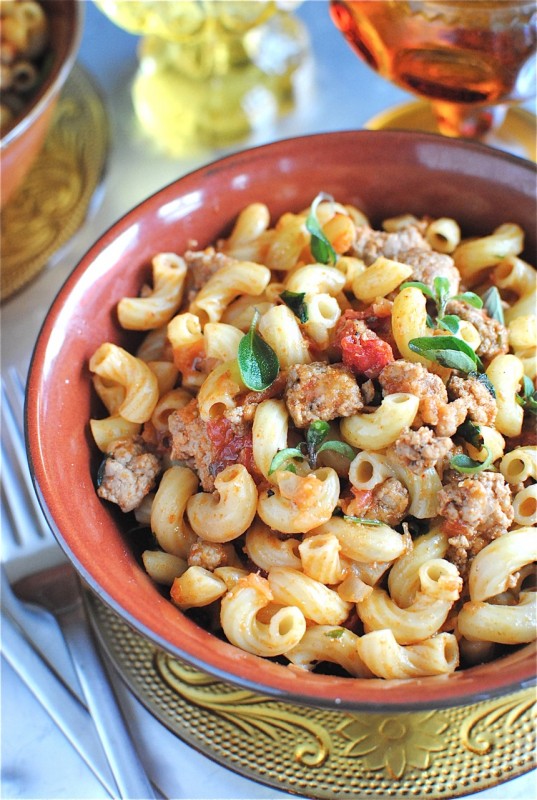 Turkey Goulash: (adapted from Rachael Ray)
What it took for 4:
* 3/4 pound elbow macaroni
* 1 pound ground turkey
* 1/2 white onion, grated or finely diced
* 2 cloves garlic, minced
* 1 Tbs. cumin
* 1 Tbs. smoked paprika
* 1 pinch freshly grated nutmeg
* 2 sprigs fresh oregano, leaves stripped from the stems
* 1 (14.5 oz) can crushed tomatoes (or whole and you do the crushing yourself, like I did!)
* 3 Tbs. plain greek yogurt
* 2 Tbs. extra-virgin olive oil
* 1/2 cup fresh parsley, chopped
* 1 tsp caraway seeds
Bring a large skillet to a medium-high heat. Add the ground turkey and cook until browned, 6 minutes. Add the grated onion and toss to combine. Add the garlic, cumin, paprika, nutmeg and oregano. Saute another minute. Add the crushed tomatoes and stir to combine. Add the yogurt and give another stir. Toss in some salt and pepper right now. Taste it. So good? So good.
In the meantime, cook the pasta until it reaches al dente. Drain and toss in the oil, most of the parsley, and the caraway seeds.
Add pasta to turkey mixture and toss to combine and coat everything.
Serve goulash garnished with more parsley!