We had a big storm last night. We had sheets and sheets of insane rain, monstrous claps of thunder and everything. We had lightning, too.
Oh guess what! One of the lightning bolts struck my neighbor's tree, splitting it right down the center. It totally looks like something you'd see in a National Geographic magazine or a cool storm chaser show.
Guess what else! That huge tree that was split in half, landed….wait for it….ON MY HOUSE. Yaaay! And my car? Where is it? Under the tree! Wa-hooo! It totally looks like something you'd see on your local news. I'm practically famous, you guys!
So, after signing autographs and chasing off the paparazzi, I'm going to make the thrilling rounds of calls to insurance companies, the city, and the liquor store.
So, I'll leave you with a recipe inspired by the amazing Deb of Smitten Kitchen. She just had a feature in the newest Everyday Food magazine, and it made me giddy to see her face, on paper! I tweaked it a tad, based on what I had going on in my fridge.
AAAH! Oh, sorry. The tree coming through my window startled me again.
*UPDATE* – You guys, you won't believe it. The team of dudes in neon orange vests came and cut up the tree and pulled it away. My car? JUST FINE. Shoot, it might even look better. My house? Just a teeny dent in the gutter. I. am. so. relieved. Thank you all for your sweet comments and concern! Muah!
Roasted Eggplant Bruschetta: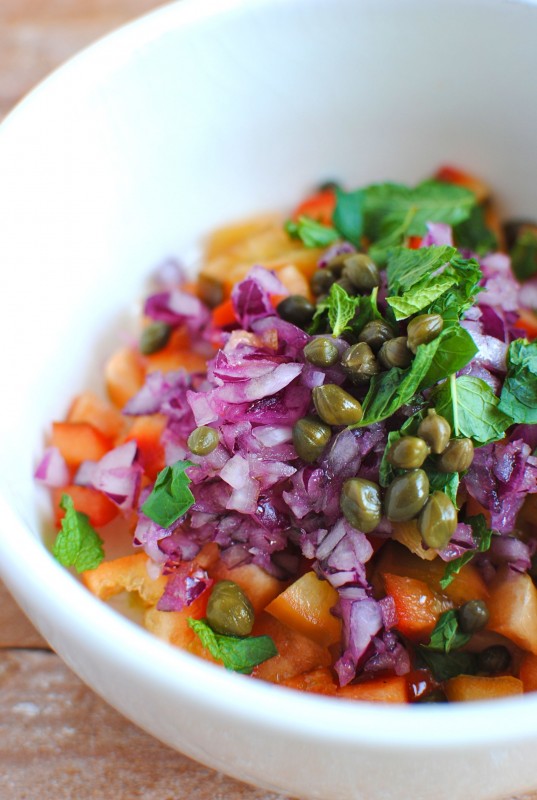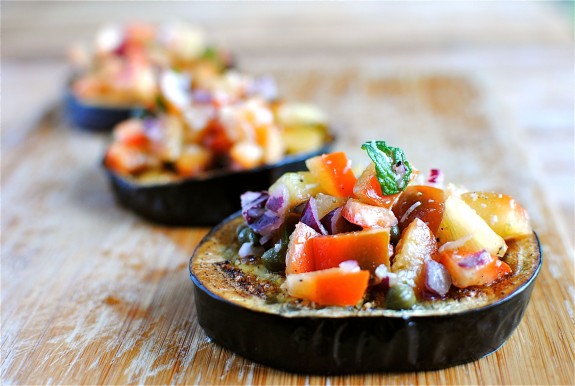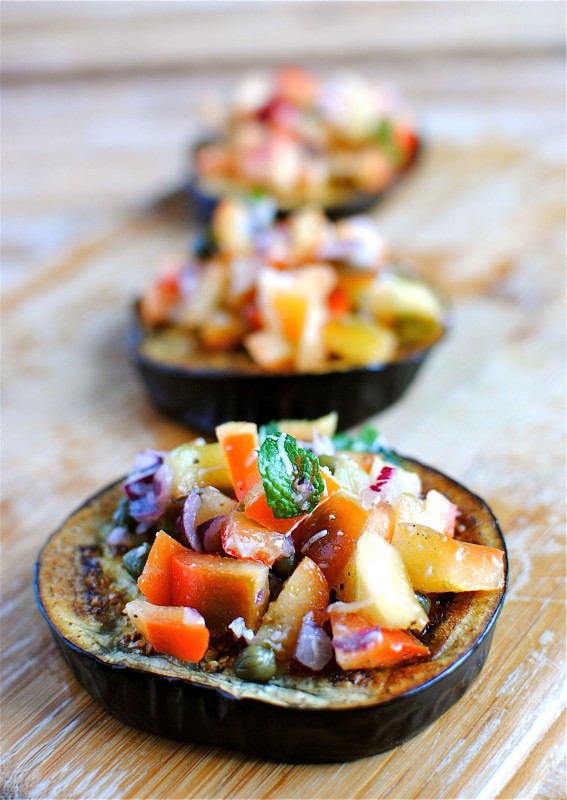 What it took for 2:
* 2 medium sized eggplants, cut into 1-inch rounds
* 1 red bell pepper, finely diced
* 1/2 small red onion, finely diced
* 1 Tbs. capers
* 2 Tbs. fresh mint leaves, torn
* 2 Tbs. freshly grated parmesan
* 3 Tbs. extra-virgin olive oil, divided
* 1 tsp red wine vinegar
* pinch of salt
* pinch of freshly ground pepper
Preheat oven to 425.
Brush 2 Tbs. oil on a rimmed baking sheet. Layer the eggplant rounds on the sheet and roast for 25 minutes. Flip and roast 12 more minutes.
In the meantime, combine the red bell pepper, onion, capers, oil, vinegar, mint leaves and a pinch of salt and pepper in a little bowl.
Top each eggplant round with the topping and serve in a cute little tray! Or not. You could just shove them into your mouth.