How many times have you read the word "tempeh" and thought, "riiight, that has to be a typo."
Or how many times have you heard someone say the word "tempeh" and you're all, "excuse me, temp what with what hay?"
Or how many times have you seen actual packaged tempeh at the market and thought, "oh look you guys, they package barf these days!"
I know. I get it. It's verbally a weird word, with an even weirder spelling, and comes in the weirdest lumpy block form thingy.
Well, if it gives you the shivers, I'm here for you. Baby steps, you guys.
This is a SIM.PLE. way to rock the high protein block of fermented soybeans. Slice it, saute it with all kinds of Mexican goodness, place it on crisp tostada shells with seasoned black beans and voila, delicious tempeh tostadas for your facehole.
That wasn't so painful after all, was it?
Black Bean and Tempeh Tostadas: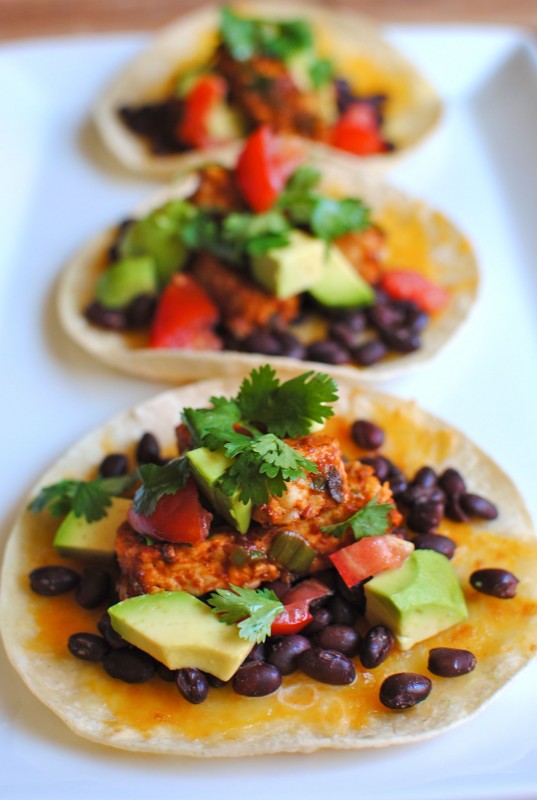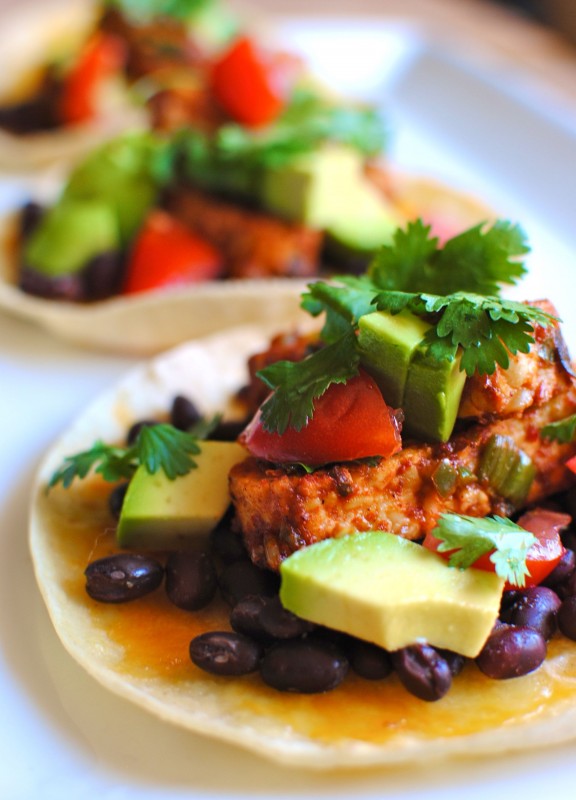 What it took for 2:
* 4 corn tortillas
* 2 Tbs. extra virgin olive oil
* 1 (8 oz) package organic tempeh, cut into 1-inch slices
* 1 (14.5 oz) can black beans, drained and rinsed
* 3 garlic cloves, minced
* 2 scallions, finely sliced
* 1 jalapeno pepper, minced (leave the seeds in for more heat)
* 1 Tbs. chili powder
* 1 Tbs. ground cumin
* 1 tsp cayenne
* 2 tsp Mexican oregano
* 2 Tbs. mexican hot sauce
* 1 cup shredded mexican cheese blend
* 1 avocado, diced or sliced
* 1 tomato, sliced
* 1/2 cup cilantro, for garnish
* juice from 1 lime
* coarse salt and freshly ground pepper
* cooking spray
Preheat the oven to 400. Spray both sides of the corn tortillas with cooking spray, top with shredded cheese and bake until crisp, 5 to 6 minutes. Remove from heat and set aside.
In a small saucepan, add the beans, season with a pinch of salt and pepper and heat through, 5 minutes.
In a medium skillet, heat the oil over medium-high. Add the garlic, jalapeno, scallions, chili powder, cumin and cayenne. Add a pinch of salt and pepper and saute a good minute. Add the hot sauce and stir to combine. Add the tempeh sticks and cook until coated on all sides and heated through, about 7 minutes total.
To serve, spoon some beans on each tostada. Place tempeh mixture on top, followed by a lovely garnish of tomato, avocado, cilantro and a healthy spritz of lime!  And more cheese if you're feeling it. And really, you probably should be.