When a day like today rolls around in the midwest, you stop, breath and take it in. The high is 80 degrees and the humidity has kindly done a disappearing act. I cry.
To celebrate, I got out the blanket, my newest food magazines and made a most delightful lunch inspired by a recipe I saw yesterday on one of my favorite sites. It's THE perfect lunch for a backyard picnic. Shoot, you could make this and eat it in bed for all I care, just make it.
But if you can, eat it outside.
Cool?
Cool.
Open-Faced Egg Salad Sandwiches: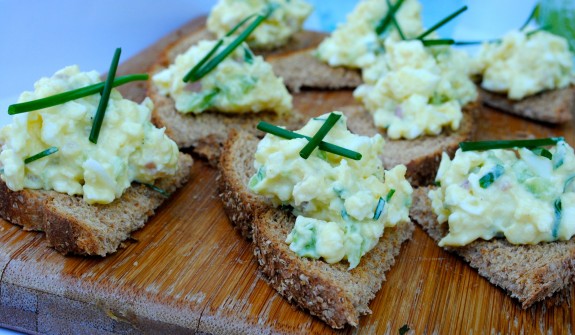 What it took for 4 open faced sandwiches:
* 7 large eggs, hard boiled and peeled
* 6 chives, finely chopped
* 5 basil leaves, finely chopped
* 3 sprigs of thyme, leaves removed
* 1/2 medium shallot, finely diced
* 1 celery stalk, finely chopped
* 2 Tbs. light mayo
* 2 tsp Dijon mustard
* 1/4 cup extra-virgin olive oil
* juice from half a lemon
* coarse salt and freshly ground pepper
In a large bowl, mash the eggs with a fork until desired consistency. Toss in the herbs and combine. Add the celery and shallots. Do another stir. Add the oil, mustard and mayo. Stir. Spritz in the lemon juice and season with salt and pepper. Stir to combine. Taste – I KNOW.
Toast up some whole grain bread and serve open-faced with the delicious egg salad. Get on a blanket and eat outdoors. You won't regret it.