Who here doesn't love a good plate of franks and beans?I know it carries a connotation of being somewhat of a kid's meal, in canned form and resembling something along the lines of DEATH AND REGRET. I get it, I do.
So why not fancy it up a bit? Make it a little more adult, a little more sophisticated? Give it the keys to your beamer.
All it takes is a splash of wine, some healthy greens and your tallest stilettos.
(It's been 5 years since I've worn high heels.)
(KIDDING! GOSH!)
(Six.)
In all seriousness, I could eat this meal 14 times a week. The creamy tuscan cannellini beans, the garlicky escarole, the punchy flavors of grilled Italian sausage. The 3 cups of wine that goes int…..WHAT? I meant 1/2 cup. Whoa Nelly.
I double-dog-dare you to make this. It will reinvent your opinion on the cruelty of what we endured as kids.
Grilled Sausage with White Beans and Escarole: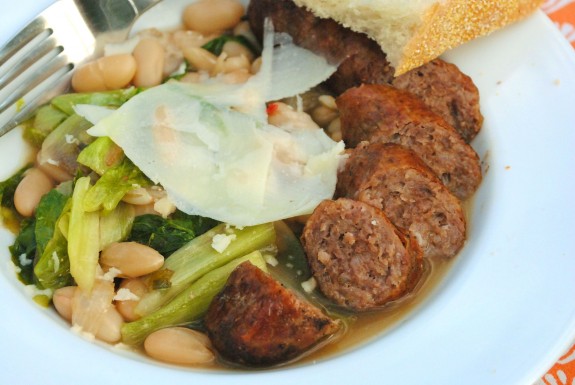 What it took for 2:
* 2 Italian sausages
* 1 (14.5 oz) can cannellini beans, drained and rinsed
* 2 small onions, cut into little wedges
* 3 garlic cloves, thinly sliced
* 1/2 cup dry white wine (something you would drink, and actually, should be drinking)
* 1 cup chicken stock or broth
* 1 small head escarole, ends removed and leaves chopped
* 2 Tbs. extra-virgin olive oil
* coarse salt and freshly ground pepper
* grate parmesan for garnish
* crusty bread (optional, but requested. HIGHLY.)
Preheat your grill to medium. Add the sausages and cook until browned all over and cooked through, 10 minutes.
Transfer to a cutting board to cool a few minutes before slicing.
Heat the oil in a medium skillet over medium-high. Add the onion wedges and cook about 6 minutes, until soft and slightly browning. Add the garlic and cook 1 more minute.
Add the wine and chicken stock and bring to a boil. Toss in the beans, escarole, a pinch of salt and a few good grinds of pepper. Wilt the escarole about 3 minutes.
Spoon the goodness into 2 bowls and serve with the sausage. Top with a few shavings of parmesan. Have some crusty bread on hand. Good, good idea.