Yesterday after meeting up with an old dear friend for lunch, Aaron and I drove away from the restaurant craving a little summer mid-day treat. As we sat on the slick, white bench inside the beautifully minimal yet modern ice cream shop, I looked at Aaron and asked, "Okay, where do we need to be next?" It was right then and there that it dawned on us, we have no plans tonight. After a sequence of high-fives on the slick, white bench, we deemed the rest of the day as a date night. Date day. Date day and night. YOU KNOW WHAT I MEAN.
As our mindsets shifted, we decided to blow off the remaining garden and yard work that desperately craved attention. (It's also like, 1,000 degrees out you guys.) Picking up a few simple ingredients for dinner and couple of bottles of good wine, we got home, turned the AC on, cranked up a great jazz Itunes radio station on and got our RELAX ON.
Say it out loud. It will make more sense.
No? Okay I'll work on it.
Date night!
Steak and Corn Fajitas: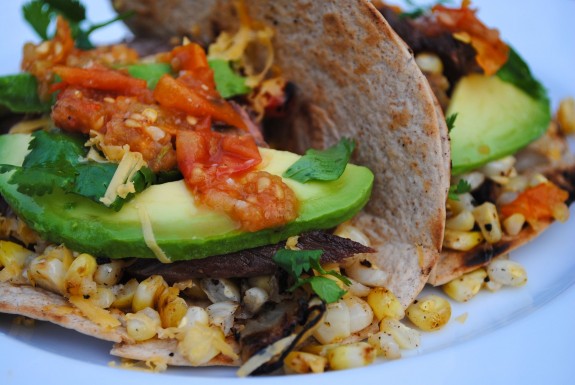 What it took for 2:

* 1 pound flank steak (marinated for an hour in your favorite marinade)
* 1 red bell pepper, halved
* 2 ears corn
* 1/2 white onion, cut into strips
* 1 garlic clove, smashed
* 2 Tbs extra-virgin olive oil
* 10 cherry tomatoes, halved
* 2 dried red chiles
* 2 Tbs. sun-dried tomato butter
* 1 avocado, sliced
* 1/2 cup cilantro
* shredded cheddar
* 4 tortillas
* lime for spritzing

Heat the oil in a small skillet over medium-high. Add the smashed garlic and saute, 1 minute. Remove from pan and toss in a mini-food processor. Add the 2 chile peppers and saute another minute. Toss in processor. Add the cherry tomatoes and cook 2 minutes. Add to processor. Toss in a little salt and pepper and blitz em up. Drain through a colander, and you're left with a nice little sautéed tomato salsa. Set aside.

Melt the butter in the skillet and pour into a little bowl. This will be for the veggies on the grill.

Grill the steak, along with the peppers, onions and corn. Brush with melted butter and season everything with salt and pepper.

Let the meat rest while you chop the veggies.

Grill the tortillas for about 30 seconds.

Plate up, spritz with lime and go. to. town.