I'm gonna need your full upright attention on this here beaut pup beast.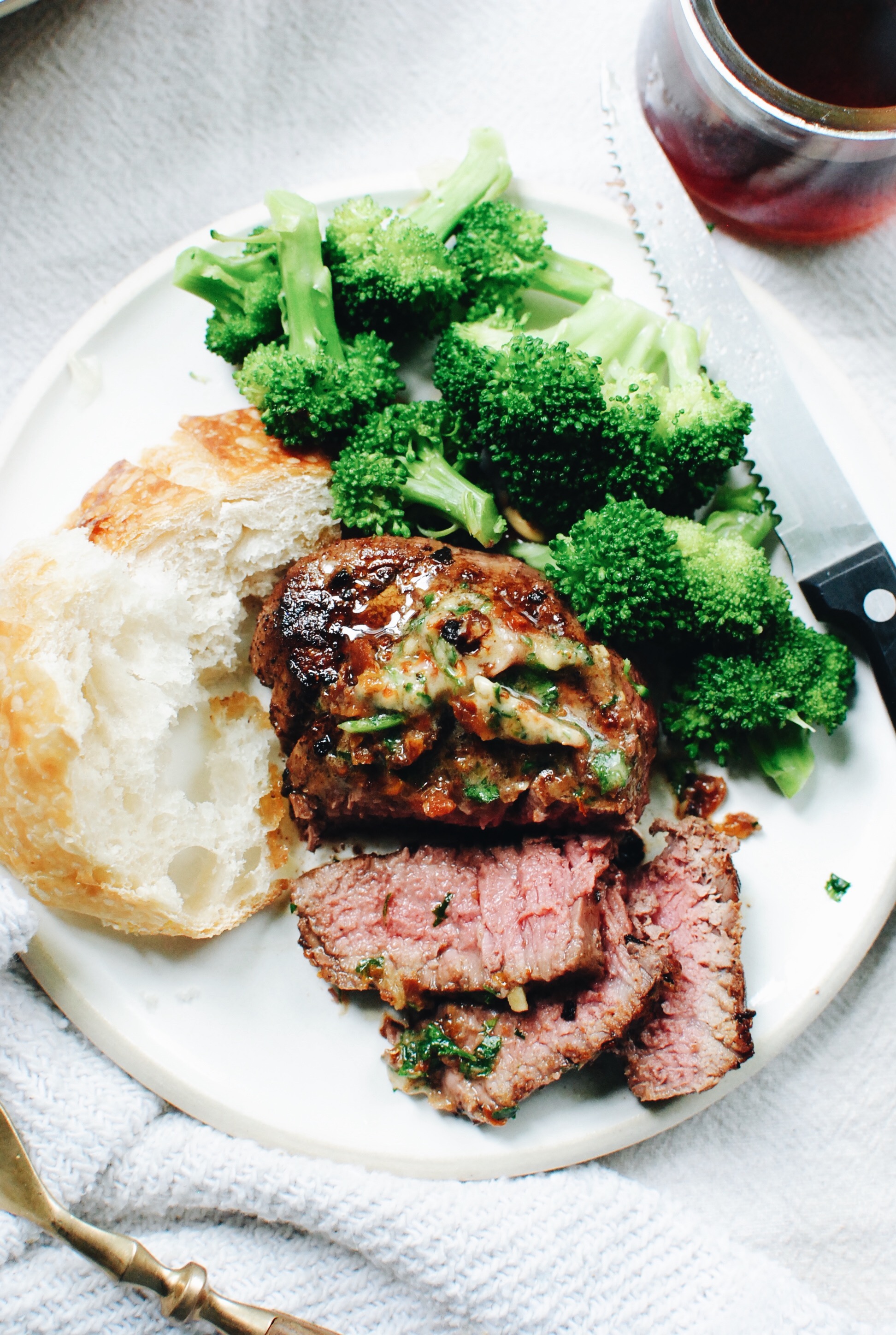 Because steak and butter.
FILETS. With SUN-DRIED TOMATO BUTTER. What am I, a rancher? I love it.
Have you ever made a compound butter? I'm telling you now, and don't even argue with me, it's the easiest way to pack so much flava flave (sorry) to your fatty fave (not sorry) and overall mealy mave (no idea) that you will not believe yourself nor the world you live in. It's just wonderful.
We need to look at this together. Come hither.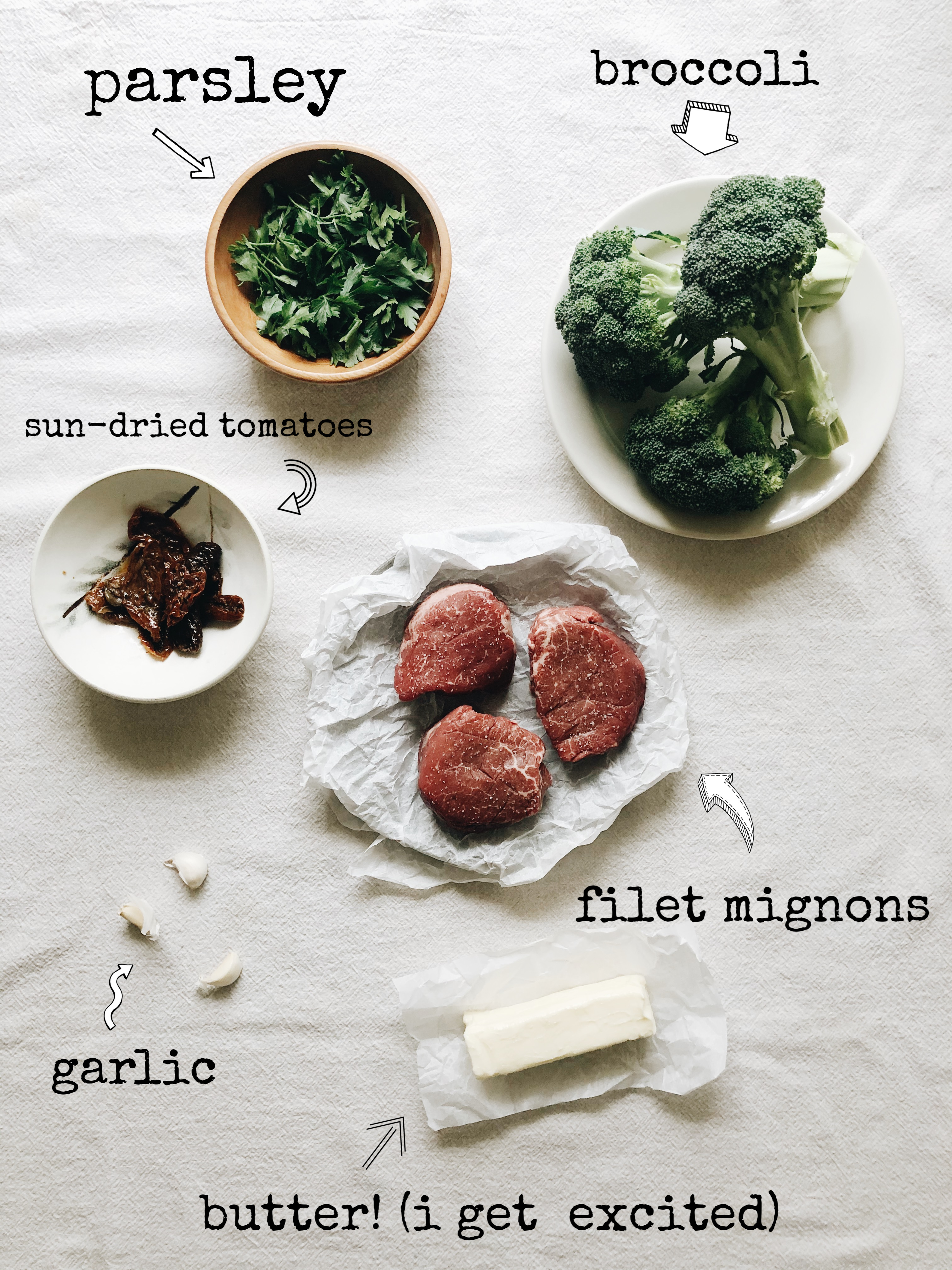 Six ingredients! A) Those steaks are going to knock you down dead because they're like, the finest piece of meat ever. "Hey, steaky you're so fine, you're so fine you blow my mind, hey steaky!" (<–my coffee is strong today.)
B) Oh but heeeeere's where it gets completely ridiculous. The butter. The compound butter. But you must hark and you must hark hard, use real butter, yo. Not the fake alien stuff in the tubs. Real is the way to go. Always. Hands down. Ya hear?! Glad we had this talk.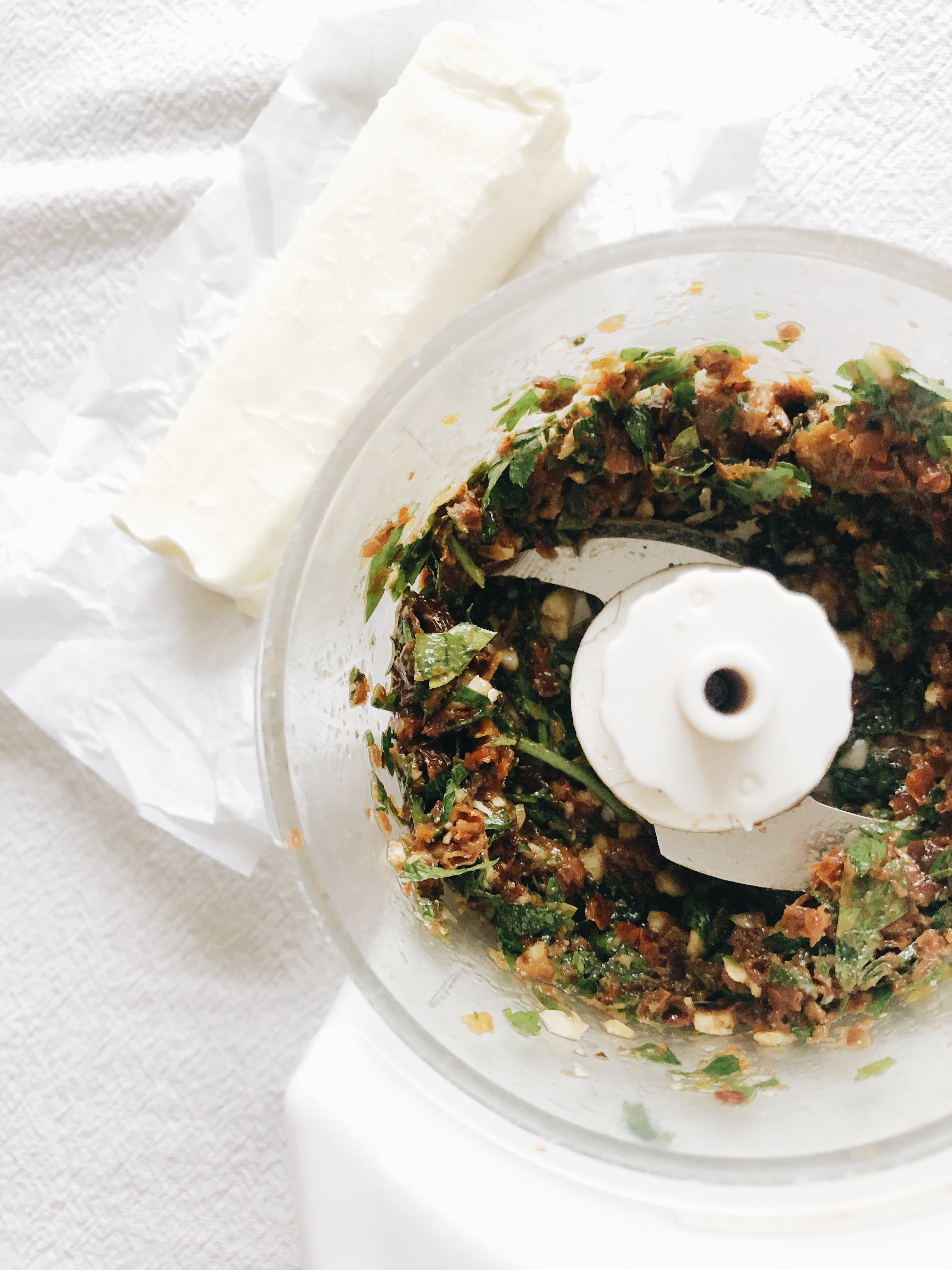 Honestly, a compound butter is just . . . flavored butter. You can add nearly anything to a stick of room-temp butter and what was already a log of magic shalt becometh orbital in thine eyes. And mouth.
What I did was take a few (and by a few I mean like, 8) sun-dried tomatoes (like a medium size. not weeny and not monsterous) in their oils, let the excess drip away before adding them to a mini food processor. Add a few cloves of garlic (I cut them in half just to give the chopping a head start) along with some parsley leaves (like halfish a cupish), with a pinch of coarse salt and blitz her up!
My texture is on the rustic side, because my mini processor doesn't produce a very fine chop. It's something we're working on in therapy. Yours might have a finer mince, and that's great! Anything works here. It's BUTTER FOR CRYING OUT LOUD. You're already doing it right.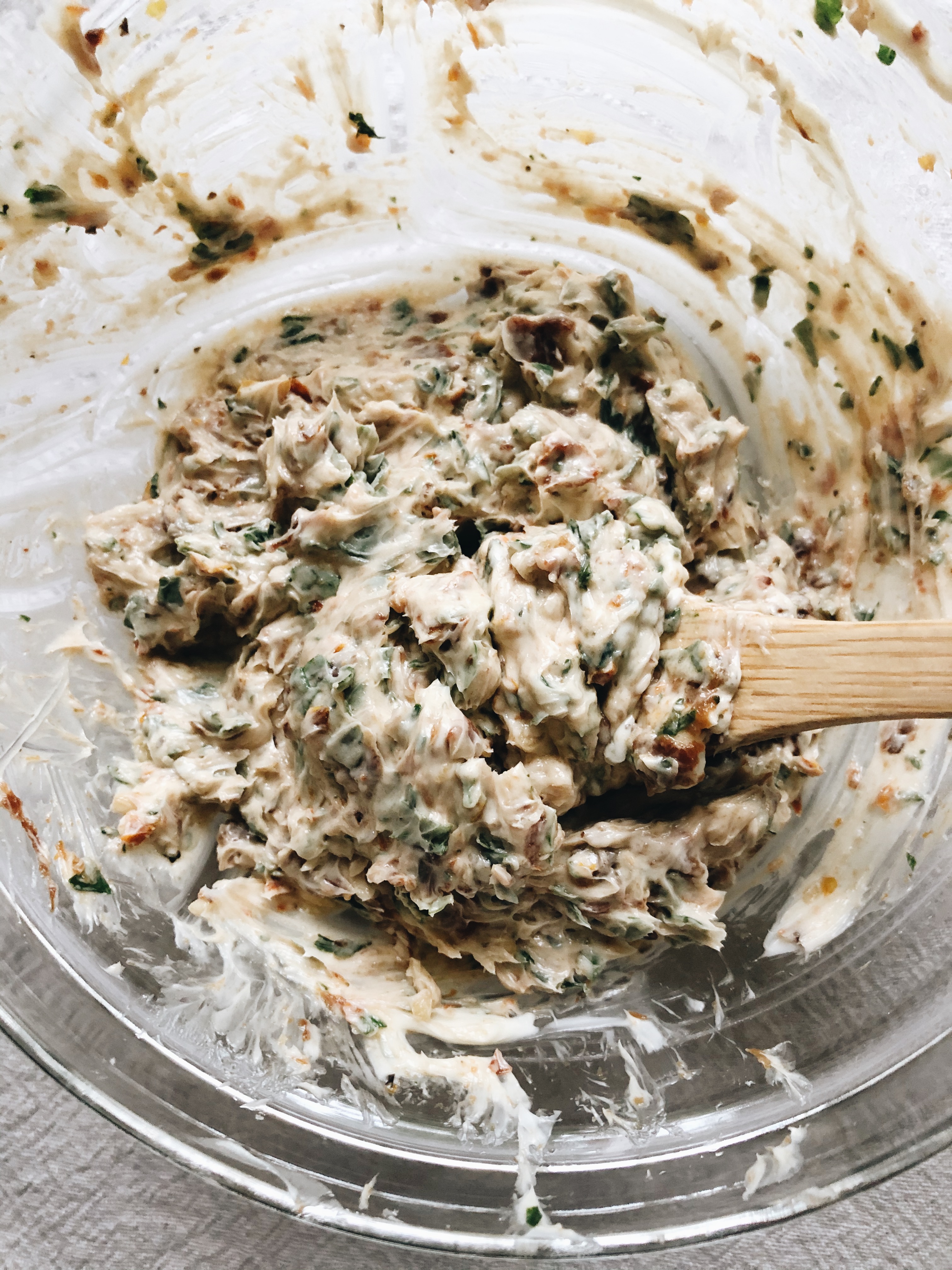 Then just add it to a bowl of softened butter and stir it up! I used unsalted butter, so that I could add my own salt and control it. And you can definitely add the butter TO the processor and give it another blitz. I just used a bowl because I rightly felt like it. Know what I mean, Vern?
Isn't that the most beautiful thing you've ever seen?
Real butter has that wowza flavor that other fats just don't have. It's velvety and works as the most sublime enhancer right at the end. Plus the sun-dried tomatoes and garlic and parsley, are you kidding? It's completely okay to stick your finger in that and taste it. Stick your whole head in if that's where your soul takes you.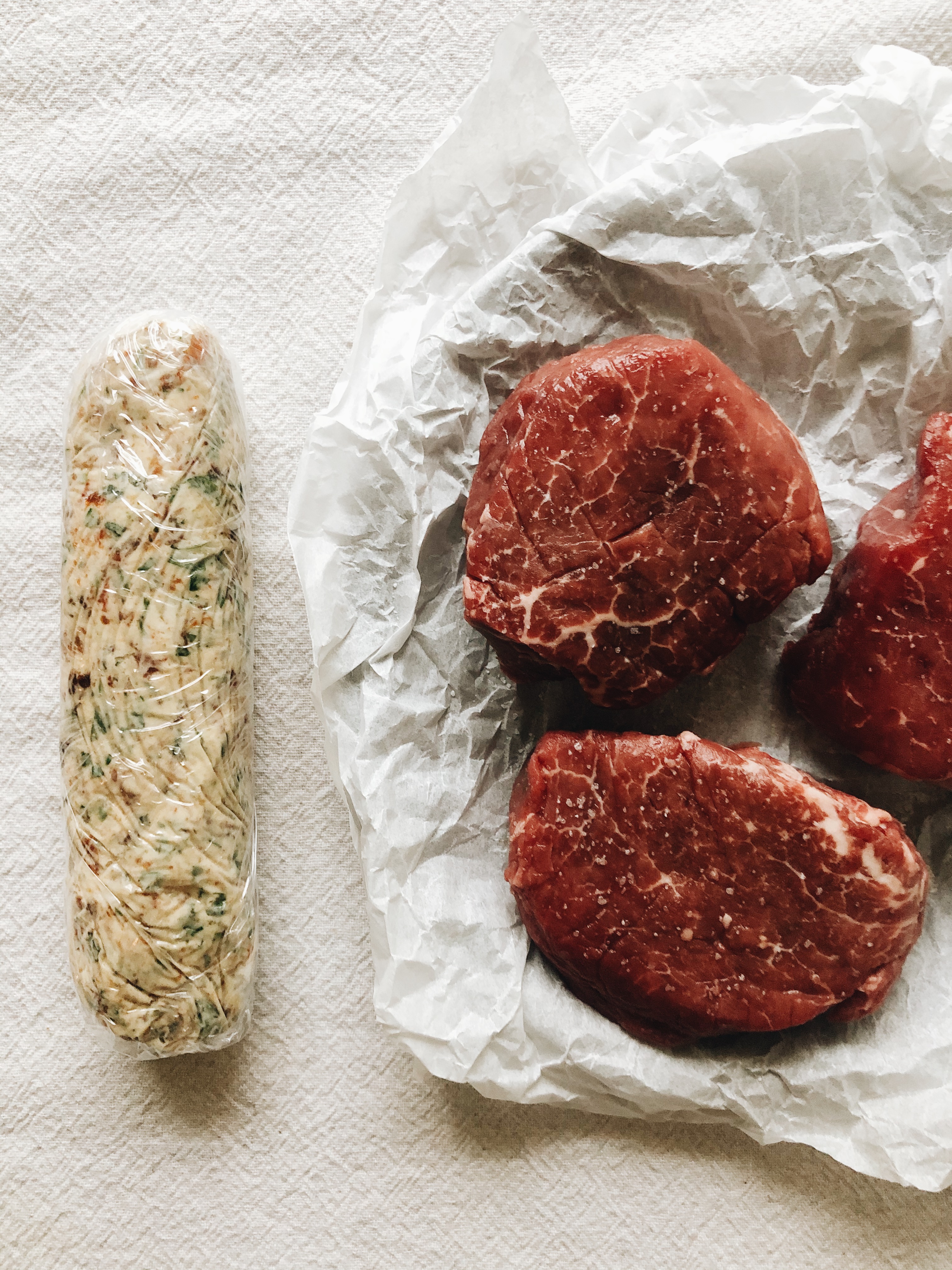 This is what I do: I plop the butter down toward one end of a sheet of plastic wrap. Then take the wrap and roll it up around it, forming a log. Your hands will know what to do. It's a natural instinct that you didn't know you had, rolling up compound butters. Then stick that log in the fridge for a bit to harden. That way when you come back later you can slice little discs of butter (We're starting a band called Discs of Butter) and flavor up any ol' thing you fancy!
You can also definitely leave the butter in the bowl, or a small crock, and just spoon out what you need, when you need it. You do you, birdie.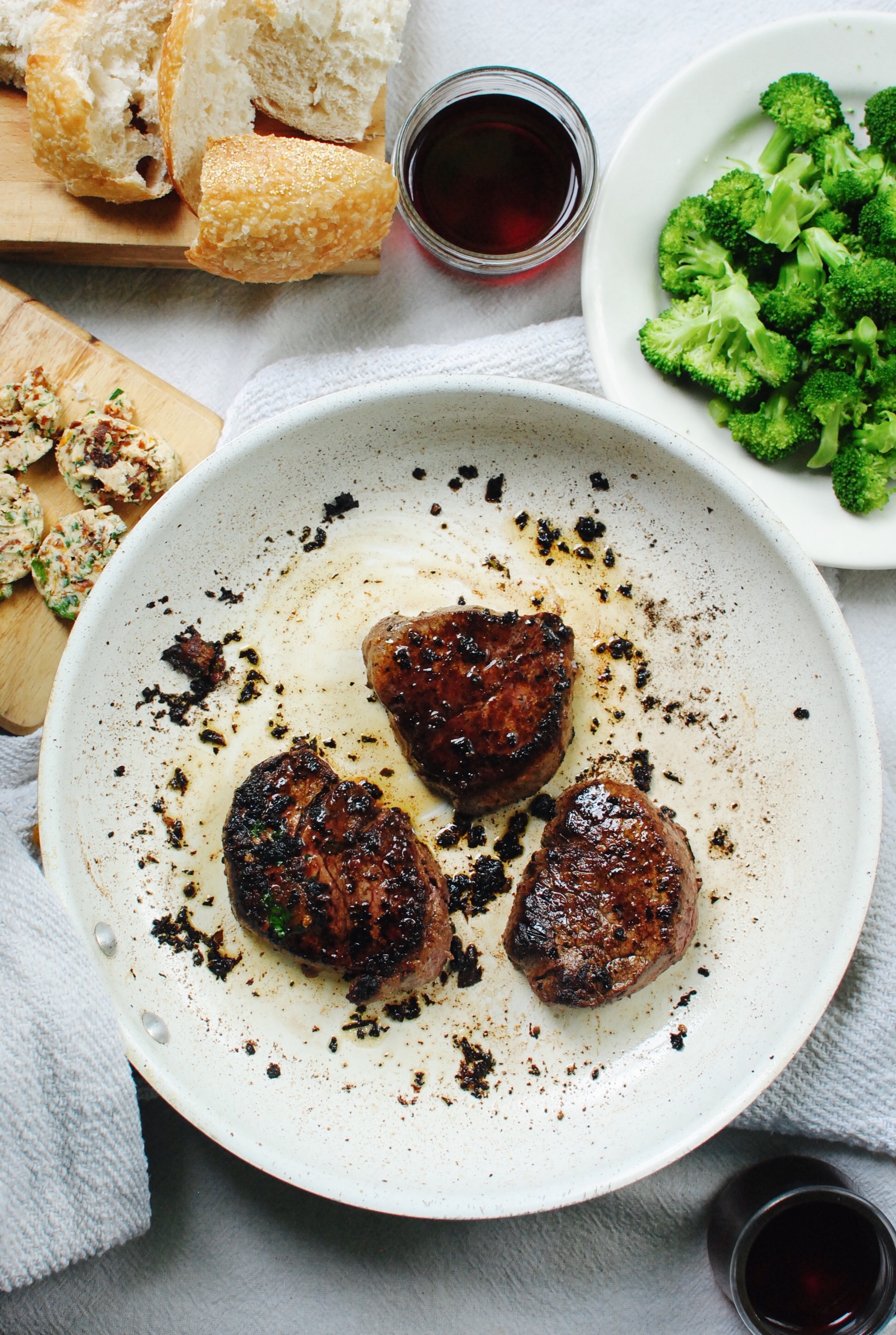 Fooooor the steak. So simple. Season each side WELL with coarse salt and freshly ground pepper. You're going to want that seared crust.
In a pan (a cast iron is great here, but I'm using white so you can actually see the steak. It was a gloomy day so I had to make do, dude.)
Melt a Tbs. or two of your sun-dried tomato butter in the pan over medium high. You want a hot pan. Sear for five minutes. Flip and sear another five minutes. THEEEEN, stick it in a 400-degree oven for 2 minutes. That's it! Just two. You do NOT want to overcook these (um hi, expensive) pieces of work. And I like a good medium rare, so.
I feel like you do, too. We're the same, right?
You're like, WE ARE NOT THE SAME, WOMAN.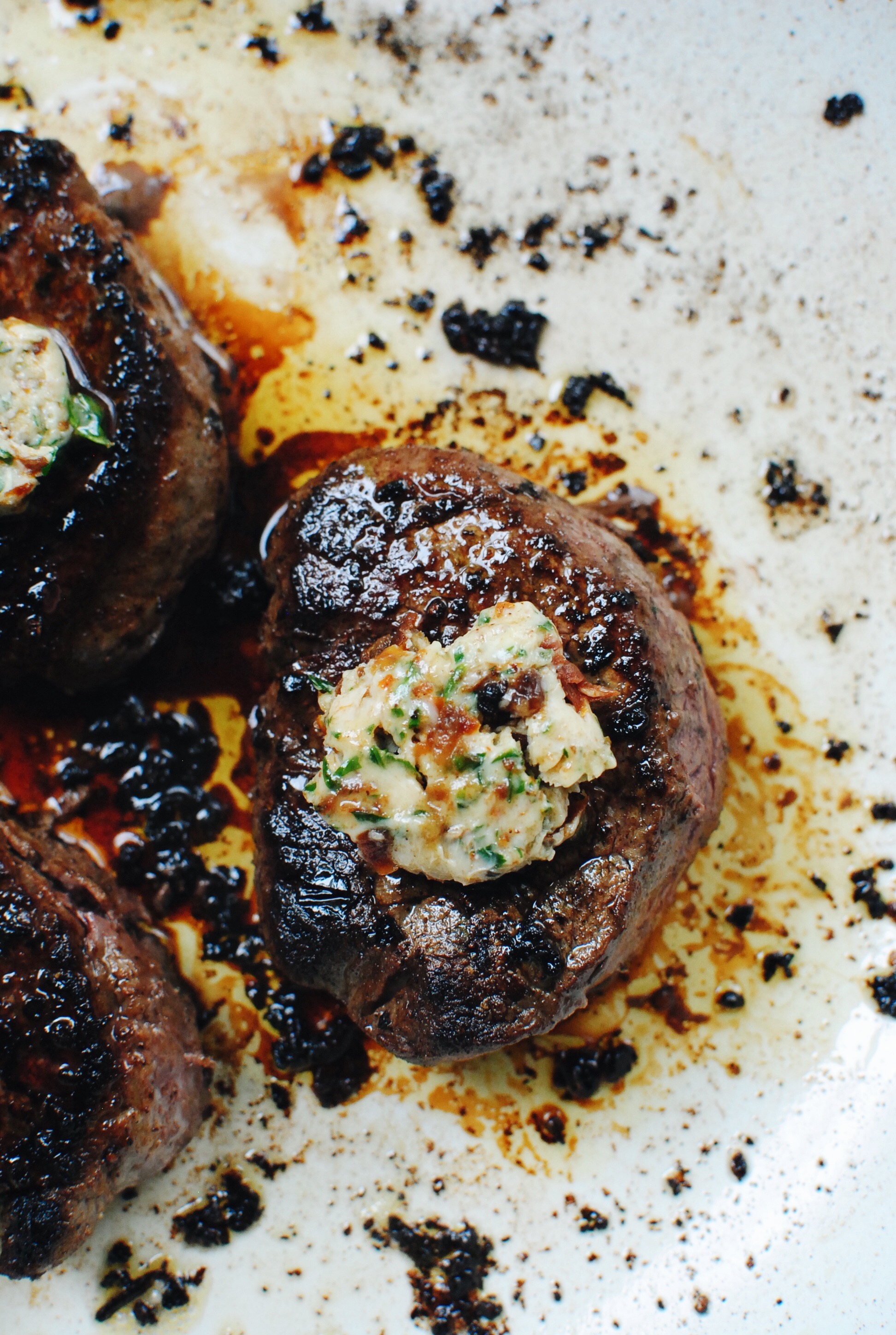 I'm sorry, just look at that.
Once the steaks are cooked, you'll take them out of the oven and place another little discy disc of butter right on top. This is a direction your life probably didn't see coming, but just obey it. For the love, obey it.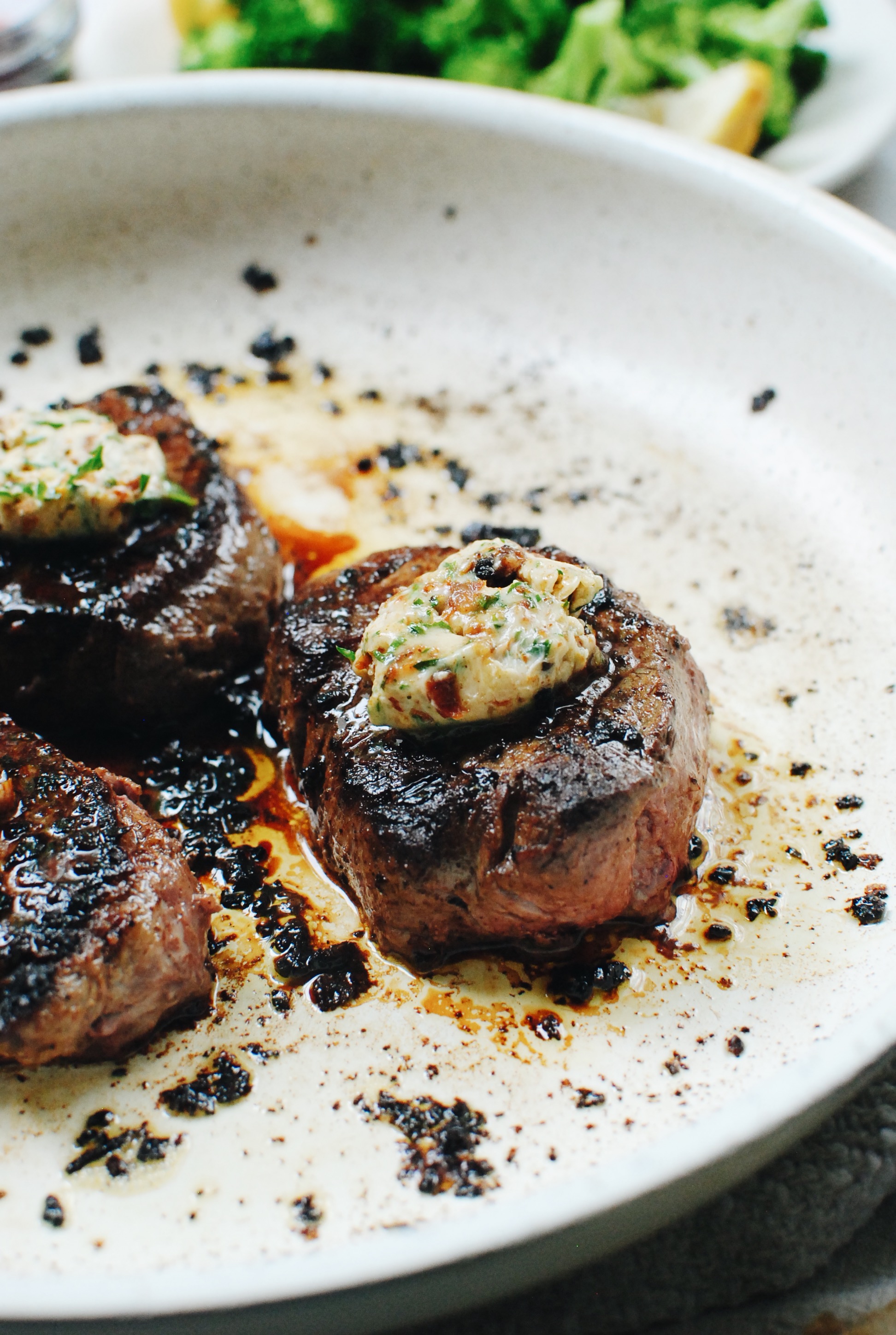 Then look at it from this angle and weep a river.
See what we did though? We used the butter to a) cook the steaks, and then b) again at the end to add that final finesse. It melts on top of the steak and becomes one with it. It's such an umami bomb. Remember that river we wept? Make it a lake.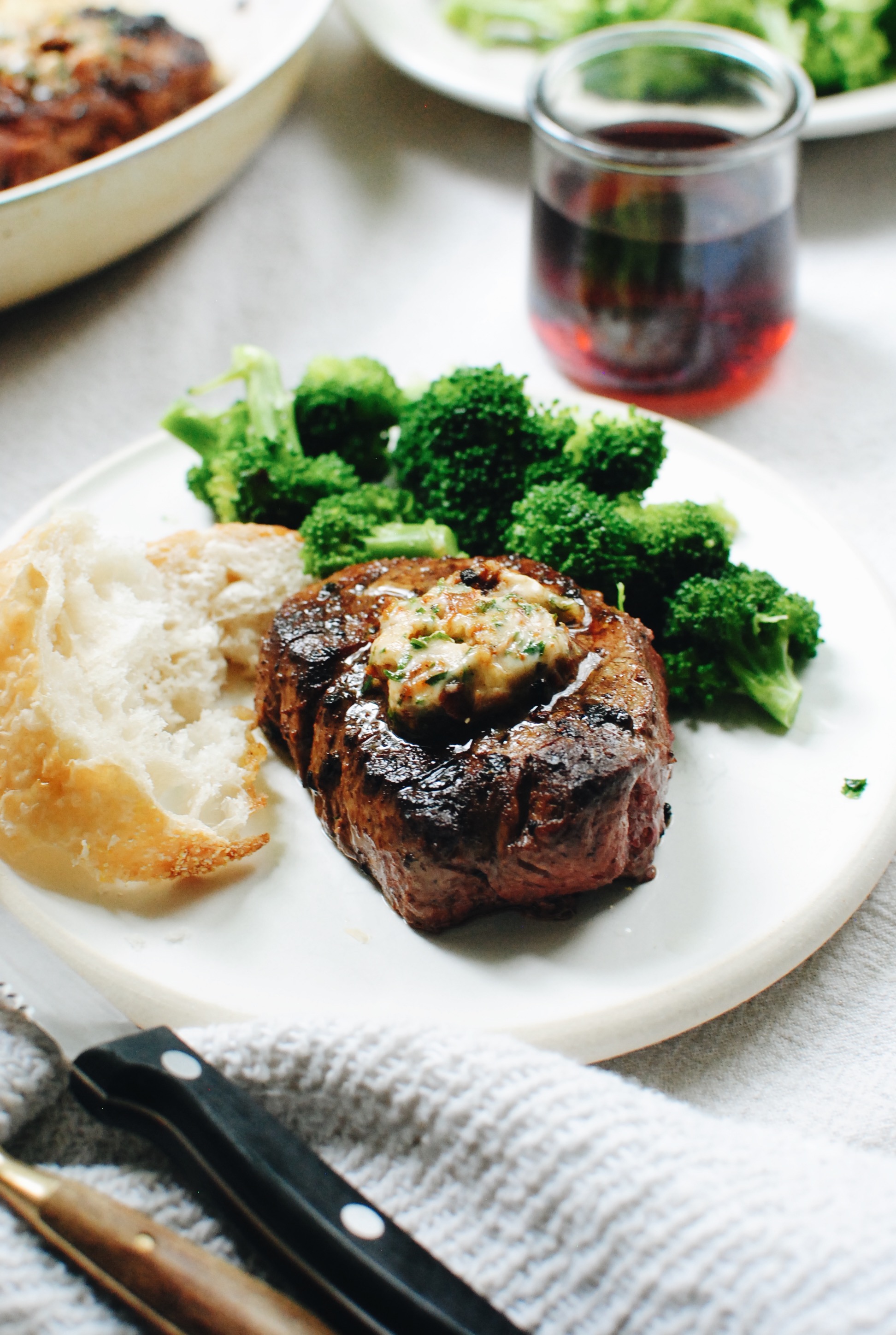 Then place it on some dinner plates with steamed, lemony broccoli (or any veggie you want, really!) a few chunks of crusty bread (they'll come in so handy when dredging through the last of the butter omg) and a glass of red wine. Bottle of red wine. Two bottl – never mind.
The steak absolutely SHINES. And it's such a flavor match made in heaven with the sun-dried tomato butter. And simple enough for any week night dinnah! But fancy enough for the weekend. And PH balanced for a woman.
Wait, what?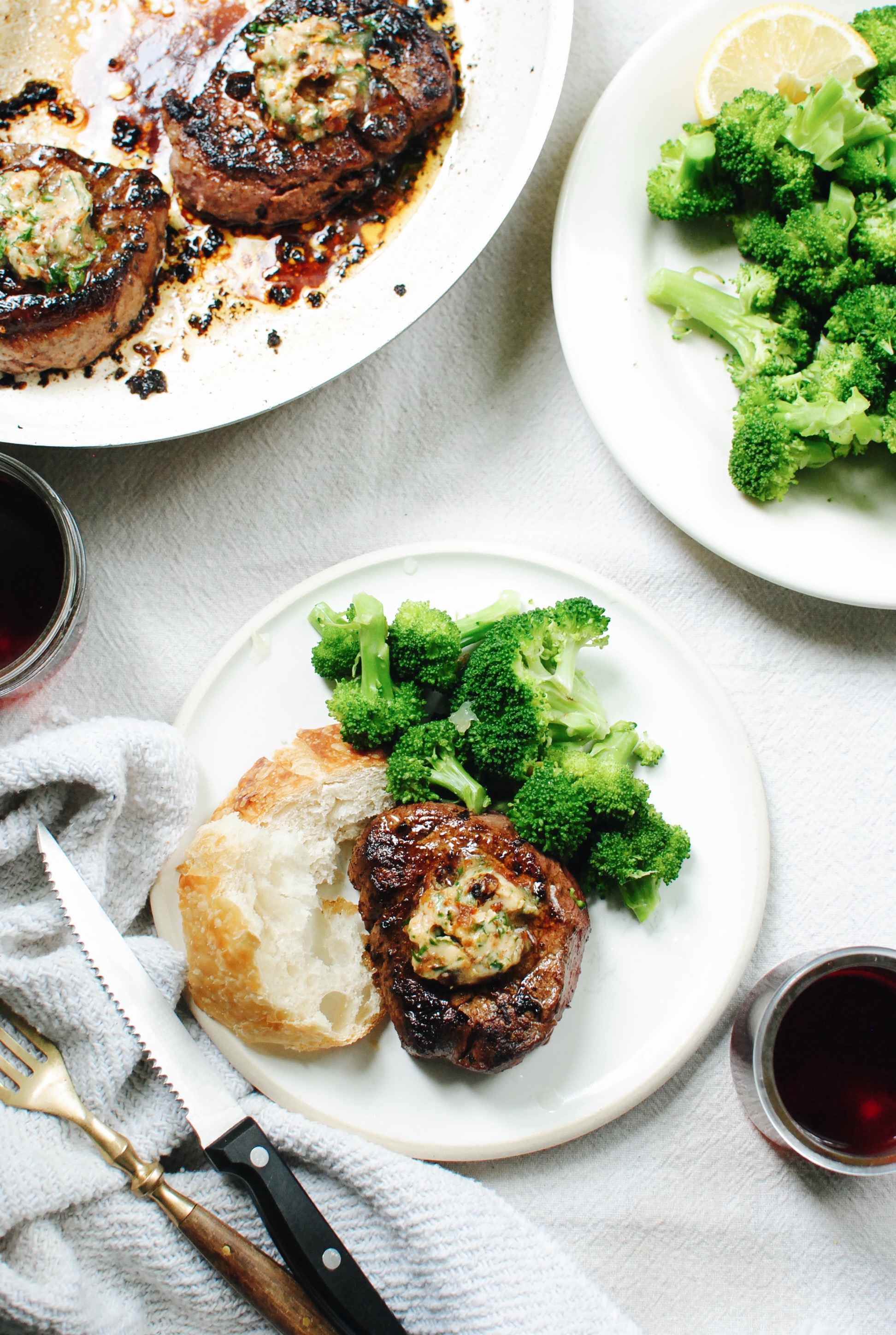 This. You. Now.
Seared Filet Mignons with Sun-Dried Tomato Butter
Ingredients
1 stick of unsalted butter, at room temp
8 sun-dried tomatoes, (shake away any excess oil)
3 cloves garlic
1/2 cup of parsley leaves
4 (5 oz) filet mignon steaks
Coarse salt
Freshly ground pepper
Steamed broccoli with lemon, as a side
Crusty bread, as a side
Instructions
In a mini food processor, add the sun-dried tomatoes, garlic, parsley leaves and a 1/2 tsp of coarse salt. Blend until combined. To a bowl with the softened butter, add the tomato mix and stir until fully incorporated with the butter. This is a divine moment in your life. Transfer the butter to a sheet of plastic wrap and roll it up into a log shape. Twist and tuck the plastic ends under the log and store in the fridge until you're ready to use.
Preheat your oven to 400.
Liberally season each side of the steaks with coarse salt and freshly ground pepper. Melt 2 Tbs. of the sun-dried tomato butter in a skillet (cast iron is great here) over medium high heat. Once the butter is foaming, add the steaks and sear on one side for five minutes. Flip and sear for five more minutes. Transfer your skillet to the oven for two minutes. Just two! This will get you a medium rare. If you want a medium, go four or five minutes. But not any longer than that.
While the steaks rest in the skillet, place another disc (about half a Tbs.) of compound butter on top of each steak. It will melt over the filets and flavor them so intensely, it's insane. Transfer to dinner plates and serve with broccoli and crusty bread! And red wine, duh.
Serves 4!
7.8.1.2
380
https://bevcooks.com/2019/10/seared-filet-mignons-with-sun-dried-tomato-butter/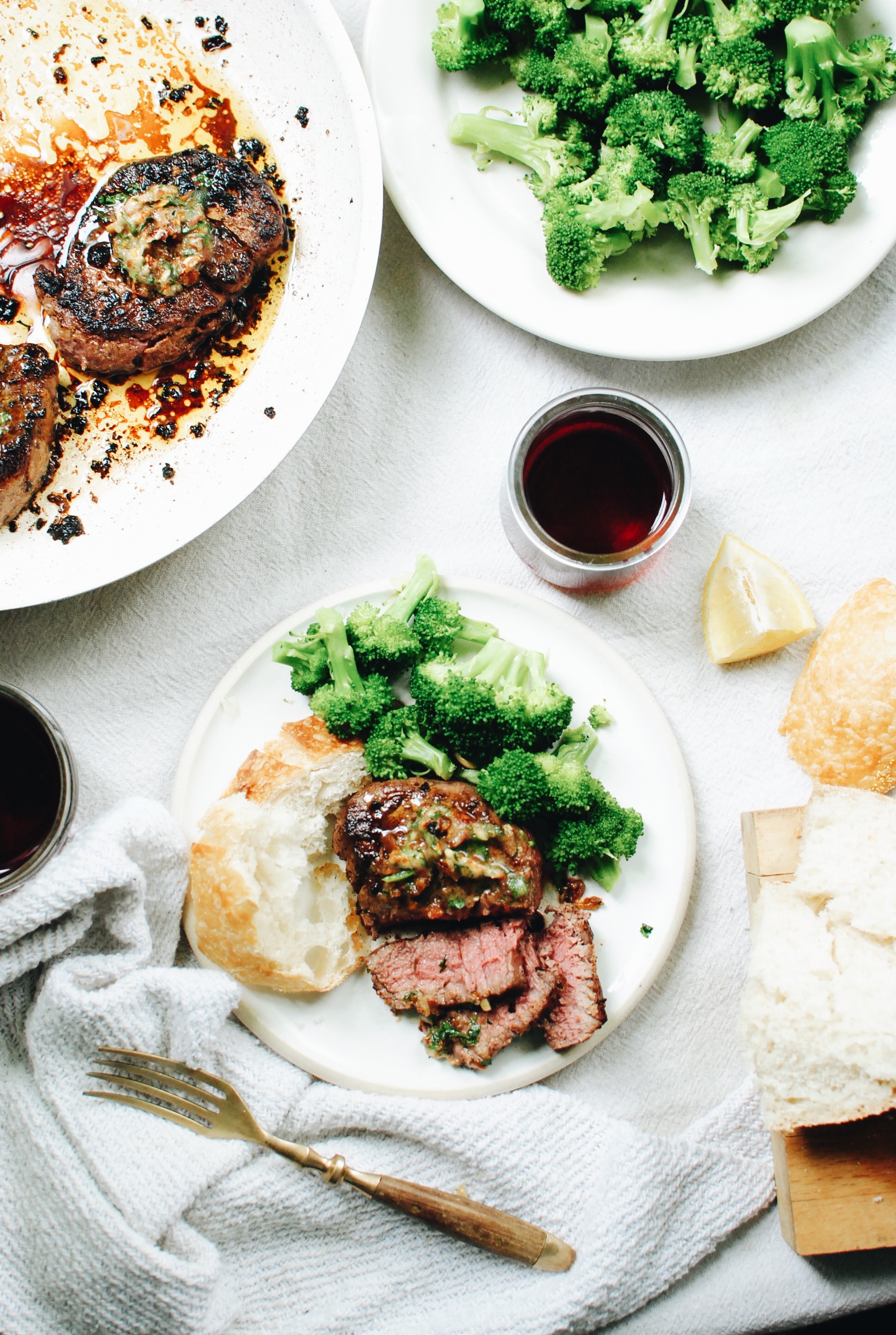 Remember that lake we wept? Make it an ocean.
(This post is definitely in partnership with my lover Real Butter. But all ramblings and compound butter slatherings are totally my own. We coo?)