Gorgeous. Day.
The sort of day perfect for a run, a smidge of yard work, reading a book outdoors, thrifting tank tops for upcoming beach vacation, and a nap.
While the nap has yet to happen, I'm sure it will be lovely when it gets here.
I guess by then it will be called sleep.
Unless I'm talking about napping tomorrow, which I might be, and therefore tricking you.
TRICKED!
(just ignore me)
Mediterranean Barley Toss: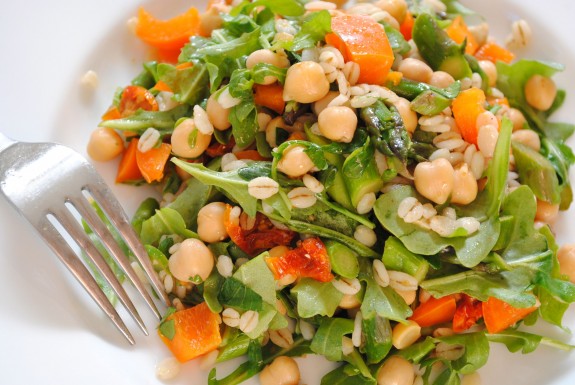 (adapted from Cooking Light)
What it took for 2:
* 1 cup uncooked barley
* 1 cup arugula leaves
* 1 yellow bell pepper, finely diced
* 3 Tbs. sun-dried tomatoes, finely chopped
* 1 (14.5 oz) can chickpeas, drained and rinsed
* 1/2 bunch asparagus, ends trimmed and sliced on a diagonal
* 2 garlic cloves, minced
* juice from half a lemon
* 3 Tbs. extra virgin olive oil, divided
* pinch of crushed red pepper
* coarse salt
* fresh parsley for garnish
Cook barley according to package directions.
Saute asparagus and garlic in 1 Tbs. oil until crisp-tender. Remove from heat and set aside.
In a large bowl combine the barley, arugula, sun-dried tomatoes, parsley and chickpeas.
In a smaller bowl, whisk together the lemon juice, oil, salt and crushed red pepper. Drizzle over barley mixture and toss. Simple!