Wow, what a day for the books, huh? Half the country spent the afternoon huddled under stairs in their basements. Oprah had her final episode and the world stopped in their tracks to view it. American Idol will pick a new winner, launching a career for a ripe youngin' into superstardom. I washed my hair.
I'M TIRED.
With the amount of mental and emotional energy that went into today's events (I'm still trying to find portions of my face wiped away by tears due to Oprah), I needed the laziest dinner on the table, pronto. I turned to my trusty Cooking Light magazine and followed a simple recipe to the T. Or is it tee.?
Whatever, I'm happy. Well, sort of.
You guys, THE LAST OPRAH.
Thai Chicken Salad: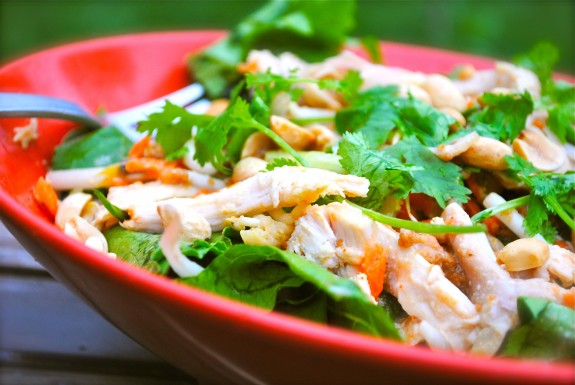 What it took for 2:
* 4 cups torn romaine leaves
* 2 cups shredded chicken (from a rotisserie)
* 2 cups fresh bean sprouts
* 1 cup shredded carrots
* 1/2 cup sliced celery
* 1/2 cup light coconut milk
* 1 Tbs. brown sugar
* 2 Tbs. peanut butter
* 1 Tbs. fresh lime juice
* 2 Tbs. soy sauce
* little pinch of cayenne pepper
* 2 Tbs. peanuts for garnish
* lime wedges
Combine the romaine, chicken, sprouts, carrots and celery in a large bowl.
In a small saucepan, toss in the coconut milk, brown sugar, peanut butter, lime juice, soy sauce and cayenne. Bring to a boil. Simmer about 5 minutes, letting it thicken up a tad.
Remove from the heat and pour over the chicken mixture. Serve garnished with peanuts and fresh lime.
How simple was that?