I feel like brussels sprouts and bacon were just meant to fall in love.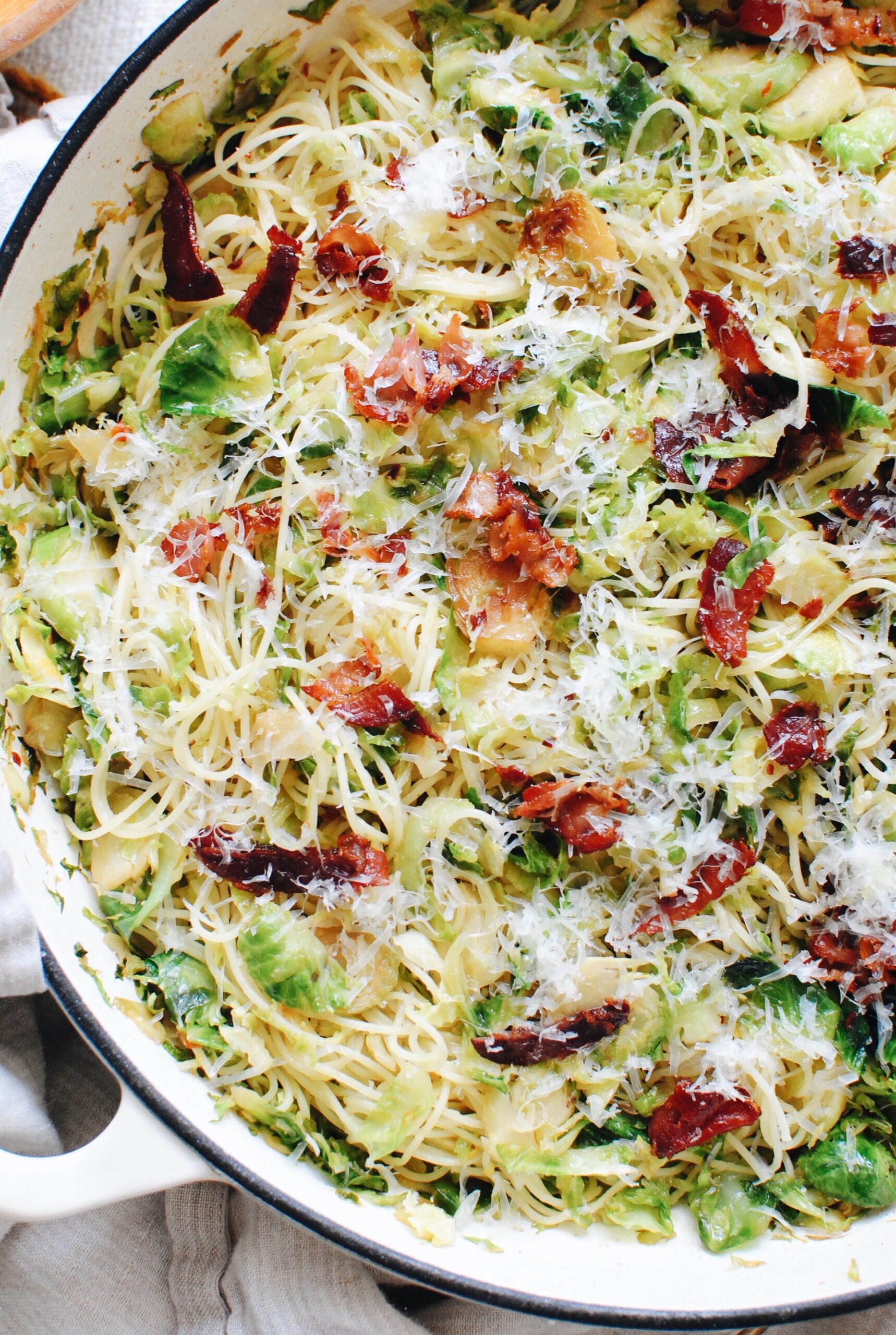 Sure, this is technically pancetta, but it's pig. It's ze bekin.
This recipe is a CAYNCH, you guys. (that would be cinch, but for you southerners, caynch. For you northerns, sneap. For you in th- oh you want me to get on with it? Okay.)
(geez.)
(maybe take a chill pill.)
(justkiddingiloveyou.)
Six ingredients, whaaaa. And you don't even have to use the crushed red pepper flakes if you're a sissy, but I think it adds some nice depth to the overall 'spurience.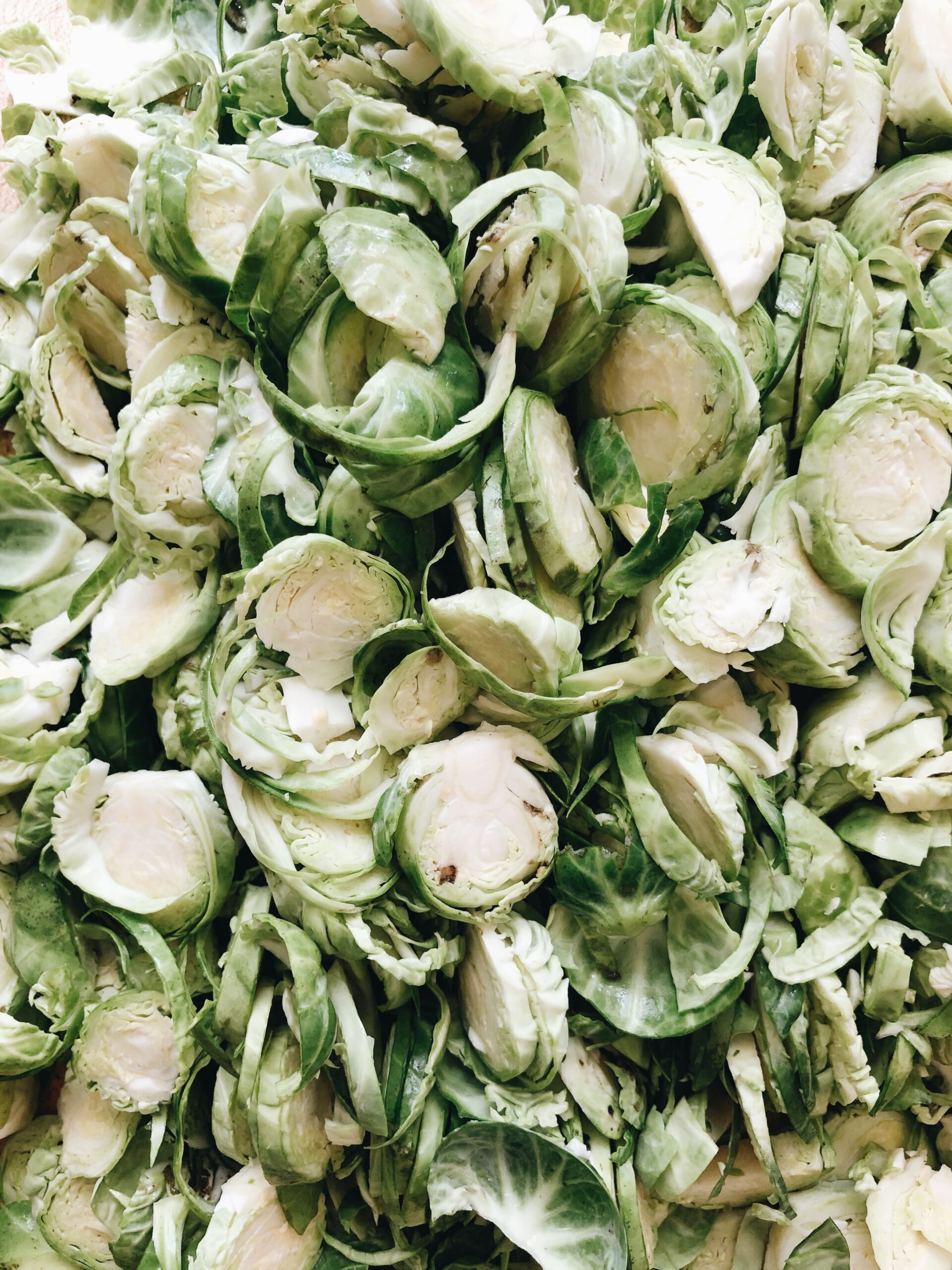 So we're just shredding the sprouts. A few slices with your knife and you're done. I love the way they peel away from each other. Those outside layers will get a nice char and you'll want to pet them and call them Frank.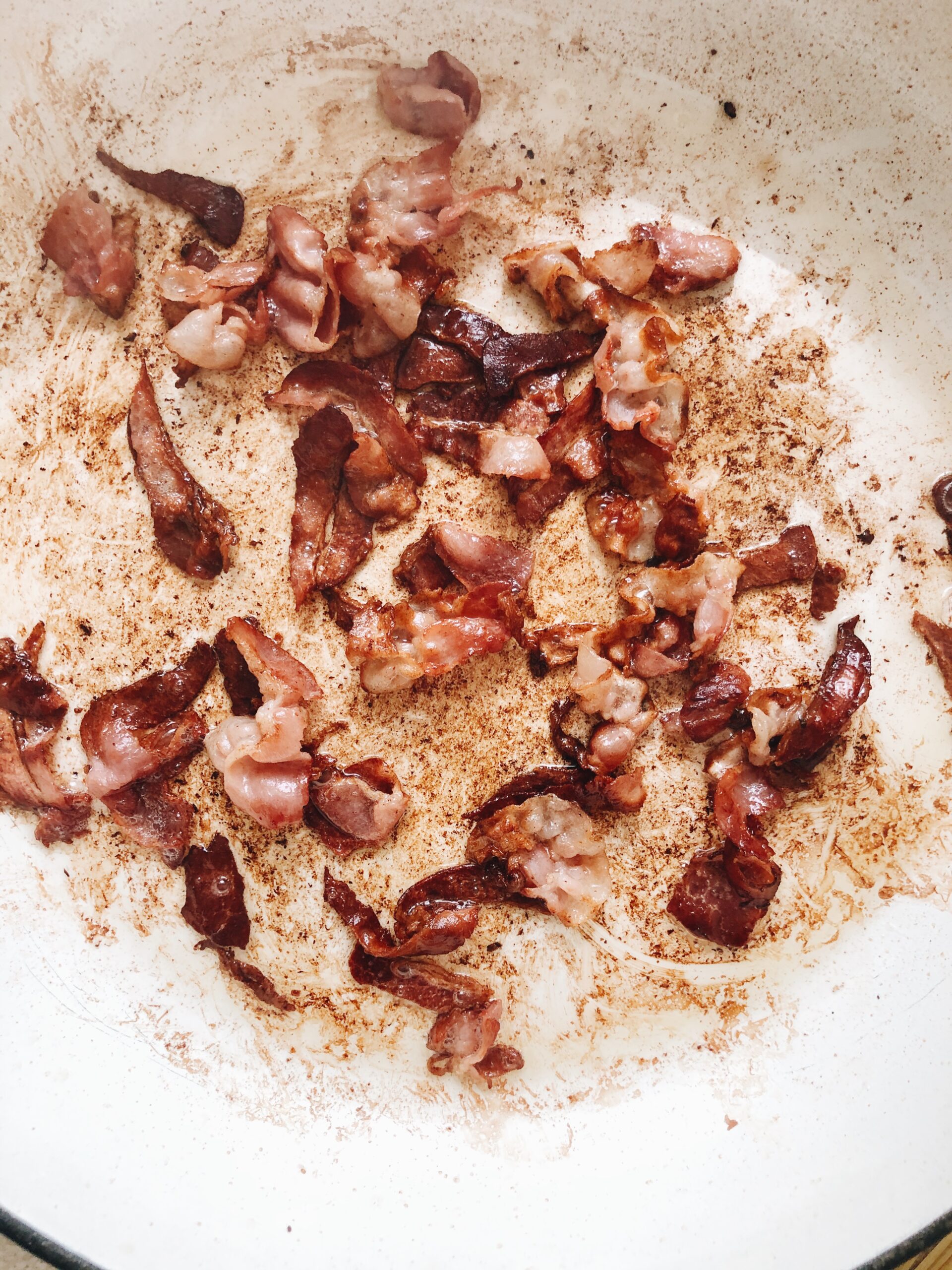 In the meantime, you'll crisp up some pancetta. Prosciutto works, bacon works, lardons work, anything savory and piggy works.
Maybe snack on a nibble or two and enjoy just how alive you are.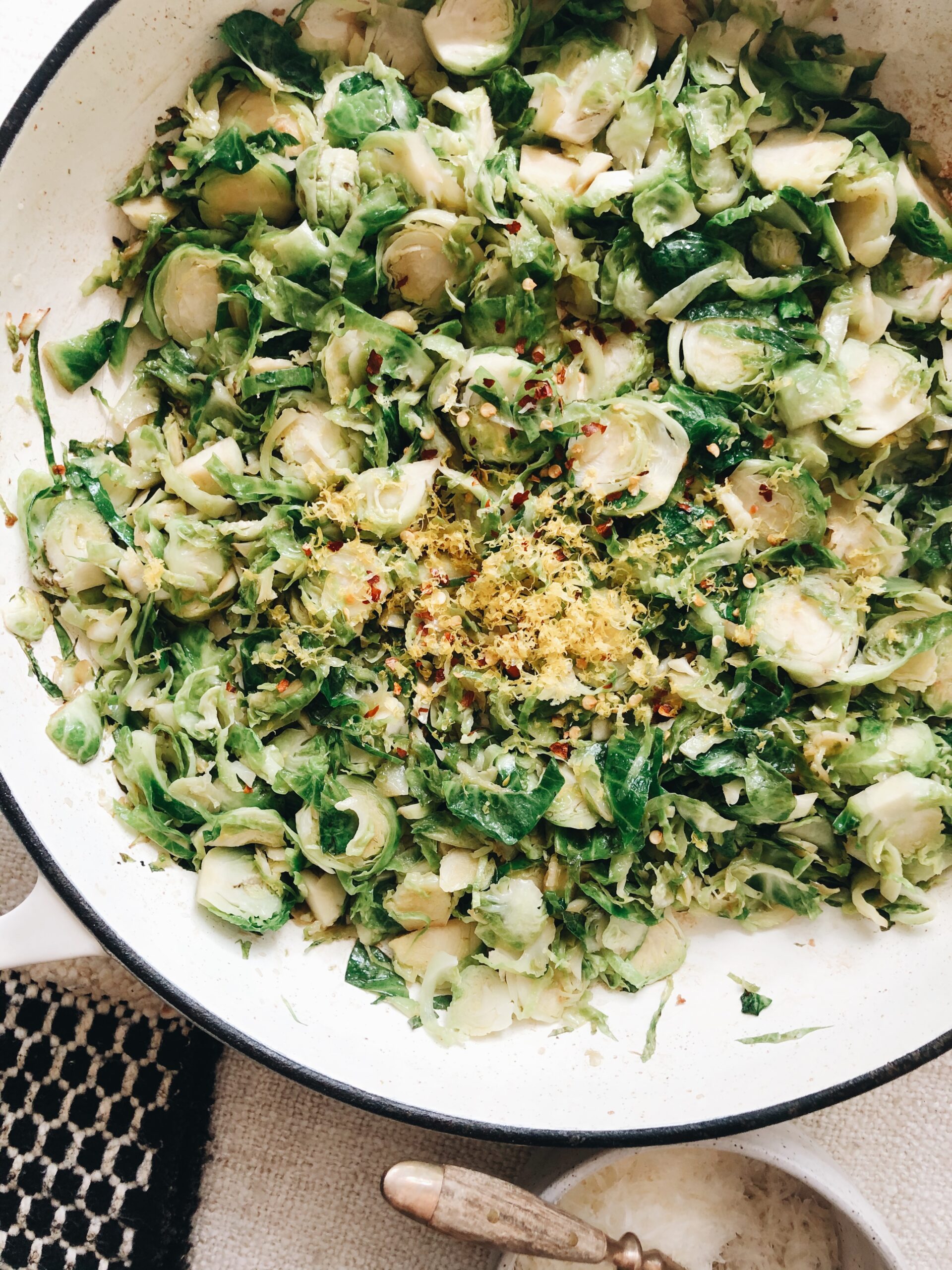 You've taken the crispy pancetta out, and sautéed the sprouts for a good ten minutes, letting them pop in color and slightly soften to the tooth.
Why am I so grossed out by "soften to the tooth?"
Add some lemon zest, juice, a good pinch of salt and a tiny pinch of crushed red pepper. There ya go. Now you've done it.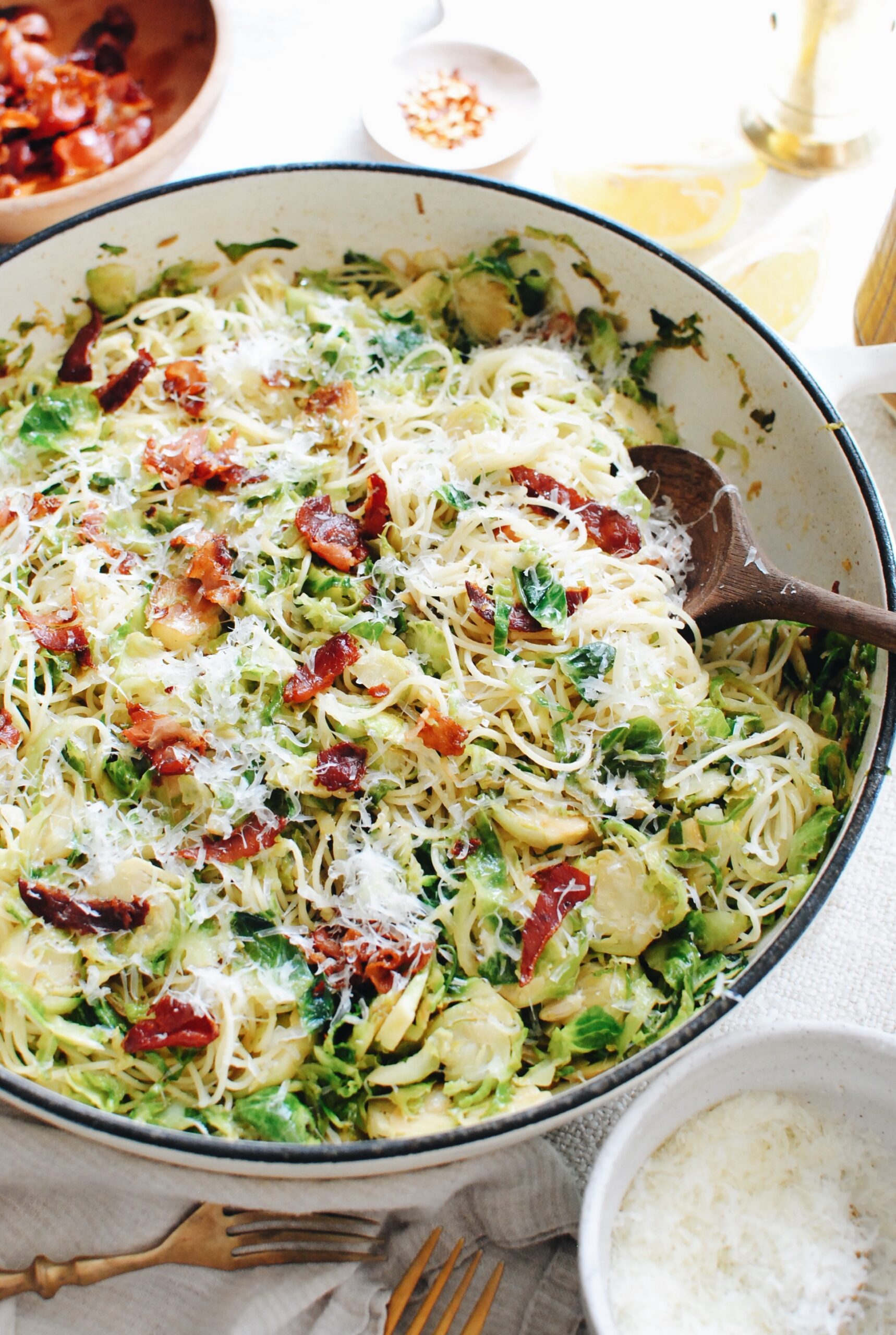 Add some cooked angel hair (save some pasta water for a little sauce!), swirl it all in, top with the crispy pancetta bites with plenty of freshly grated cheese and GIRL. It's just heaven. Has everything you want in life. A gutsy, cozy meal but fresh in the face. Crispy savory bites over the earthy brussels sprouts all paired with the brightness of lemon and the nuttiness of cheese? Stop. Never stop.
(A note on the pasta – I cooked a whole pound, then just stirred in as much as I wanted with this. A little over half maybe? Then saved the plain pasta for kid lunches the next day. But you fly.)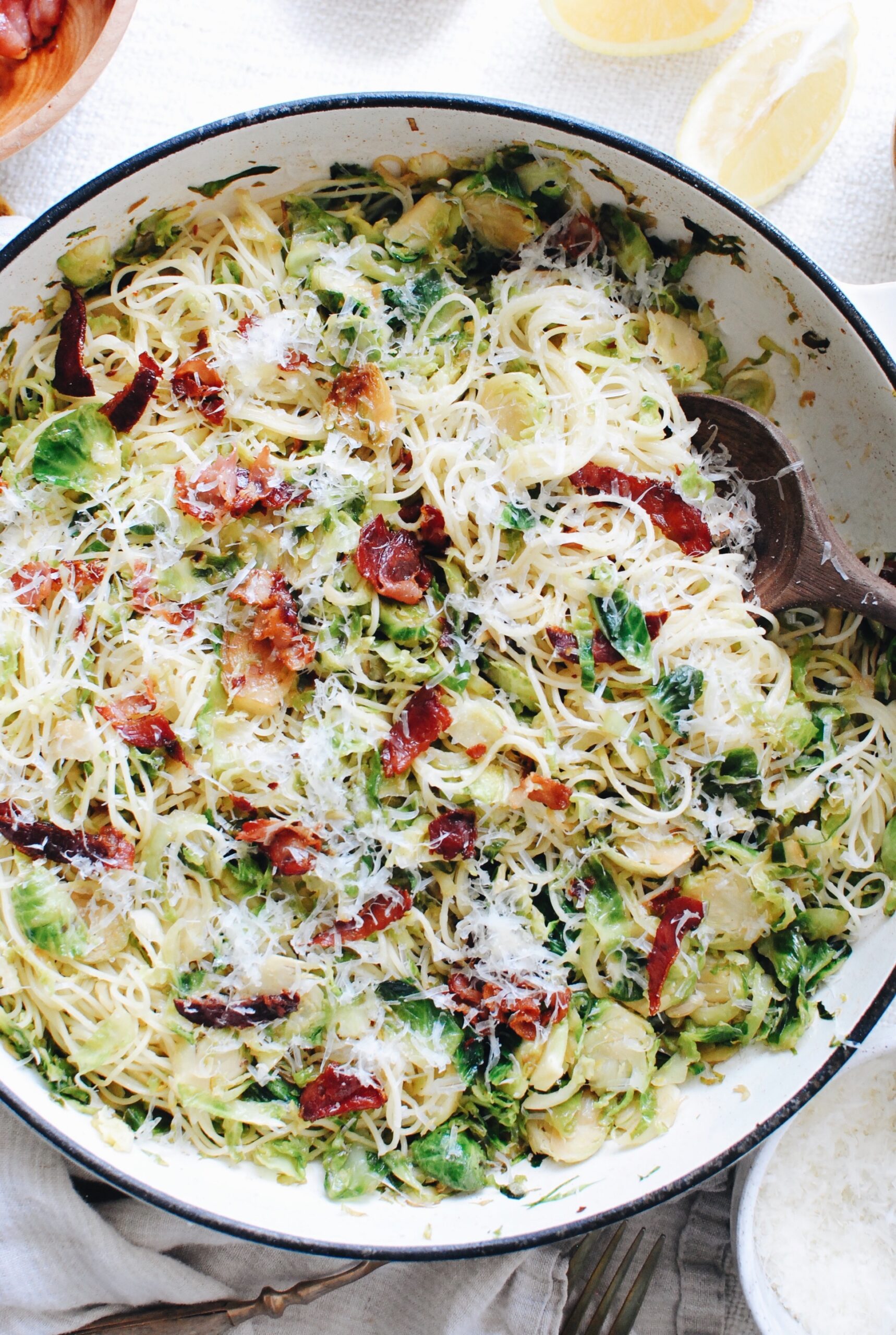 There is no way you can't not jump in that whole thing rn.
(Mom, that means "right now." It's what the millennials say so my jowls and I are going with it.)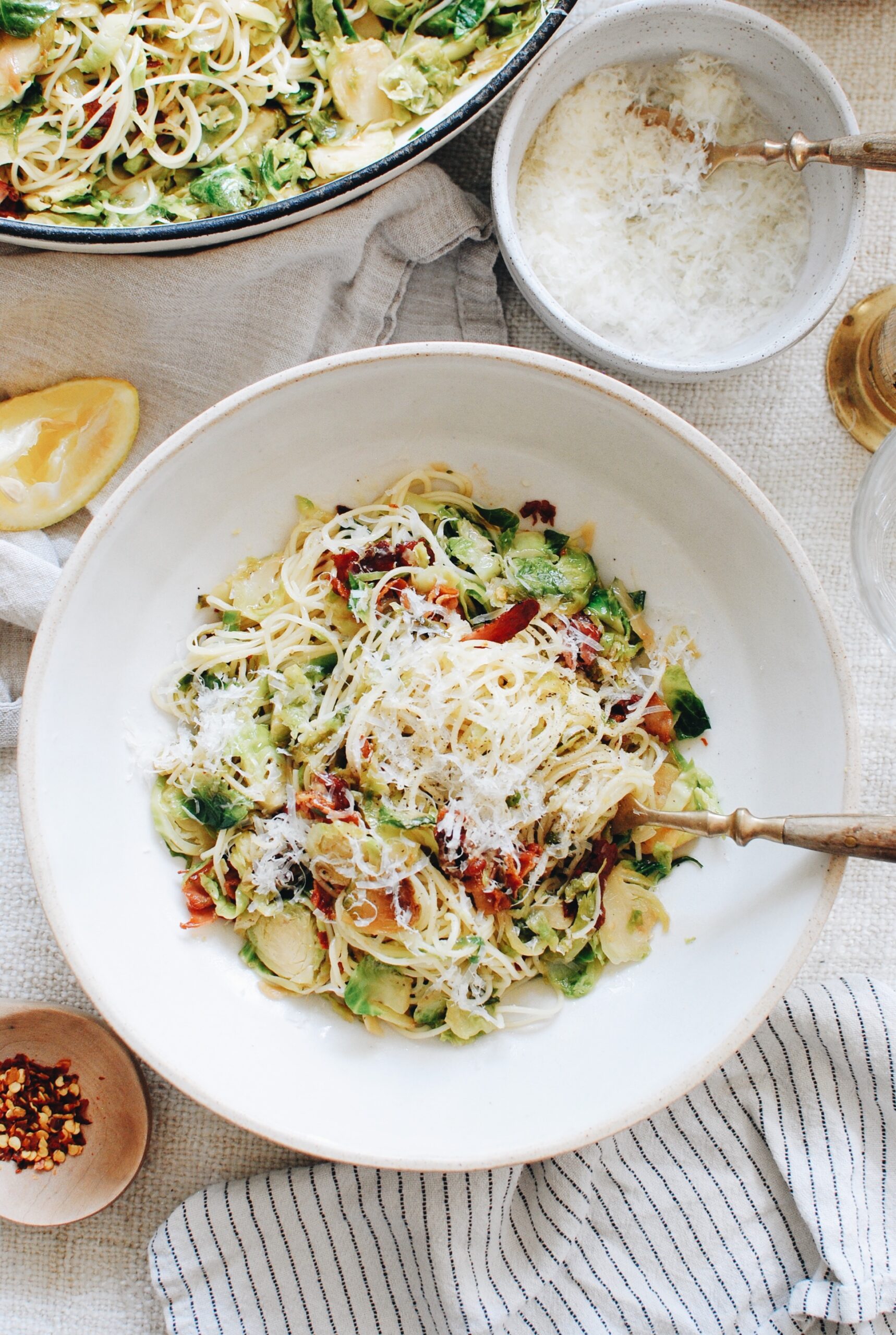 I can give you a minute. That and the recipe. I'll give you both.
Sautéed Brussels Sprouts with Angel Hair and Pancetta
Ingredients
1 pound angel hair pasta, boiled until al dente (save a cup of pasta water)
3 oz pancetta, torn into small strips
2-3 Tbs. extra-virgin olive oil
3 cups Brussels sprouts, ends trimmed and sprouts sliced into shreds
1 lemon, juiced and zested
1 small pinch red pepper flakes
Freshly grated parmesan, for garnish
Coarse salt
Instructions
In a large skillet, bring a Tbs. of oil to a medium-high heat. Add the pancetta pieces and crisp them up until dark red and, well, crispy. Remove from the pan and set aside. Maybe snack on one to make sure you did it right.
Add another Tbs. of oil to the skillet and add the shredded Brussels sprouts. Season well with a pinch of salt, and sauté for about ten minutes, until the sprouts have popped in color and gotten tender. Add the crushed red pepper, lemon zest and juice, stirring another minute.
Using tongs, add some of the cooked and drained angel hair pasta to the sprouts, along with a bit of starchy pasta water to create a thin sauce with the lemon juice. Toss until combined! Garnish with the crispy pancetta (wait, you ate it all?) and a good sprinkling of freshly grated cheese.
Serve immediately!
Serves four.
7.8.1.2
458
https://bevcooks.com/2020/10/sauteed-brussels-sprouts-with-angel-hair-and-pancetta/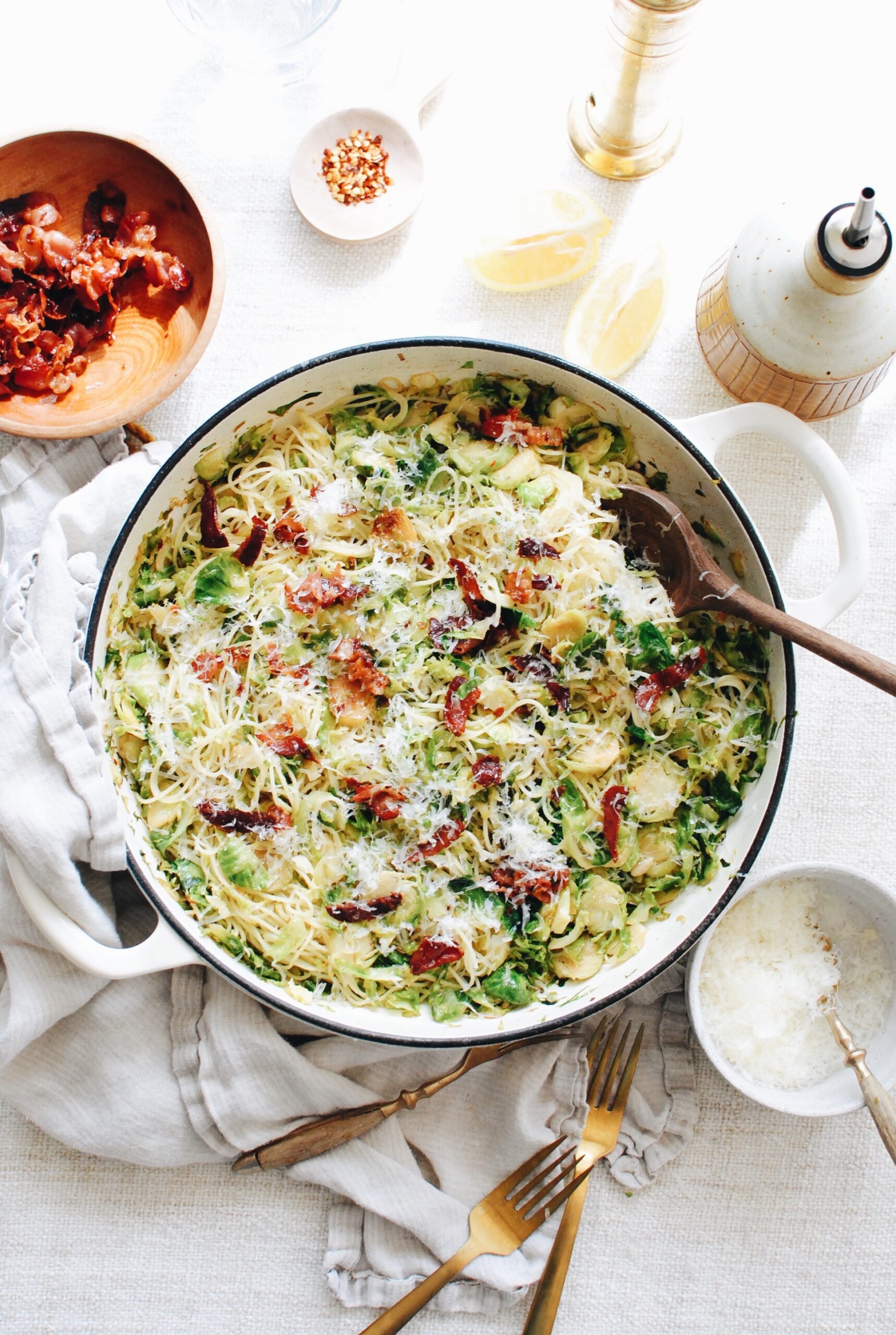 I feel like this might be happening tonight for 83% of you.