Veeeeeeery simple summer side dish comin' at ya today. (<–not sure how I felt about "comin' at ya.")
First of all, if you've never just casually snacked on radishes, what is your life? Crunchy, peppery, pungently satisfying. They're like little mouth bombs of pleasure. AND THEN WE ADD IN PESTO BUTTER.
We're gonna need to peepeth.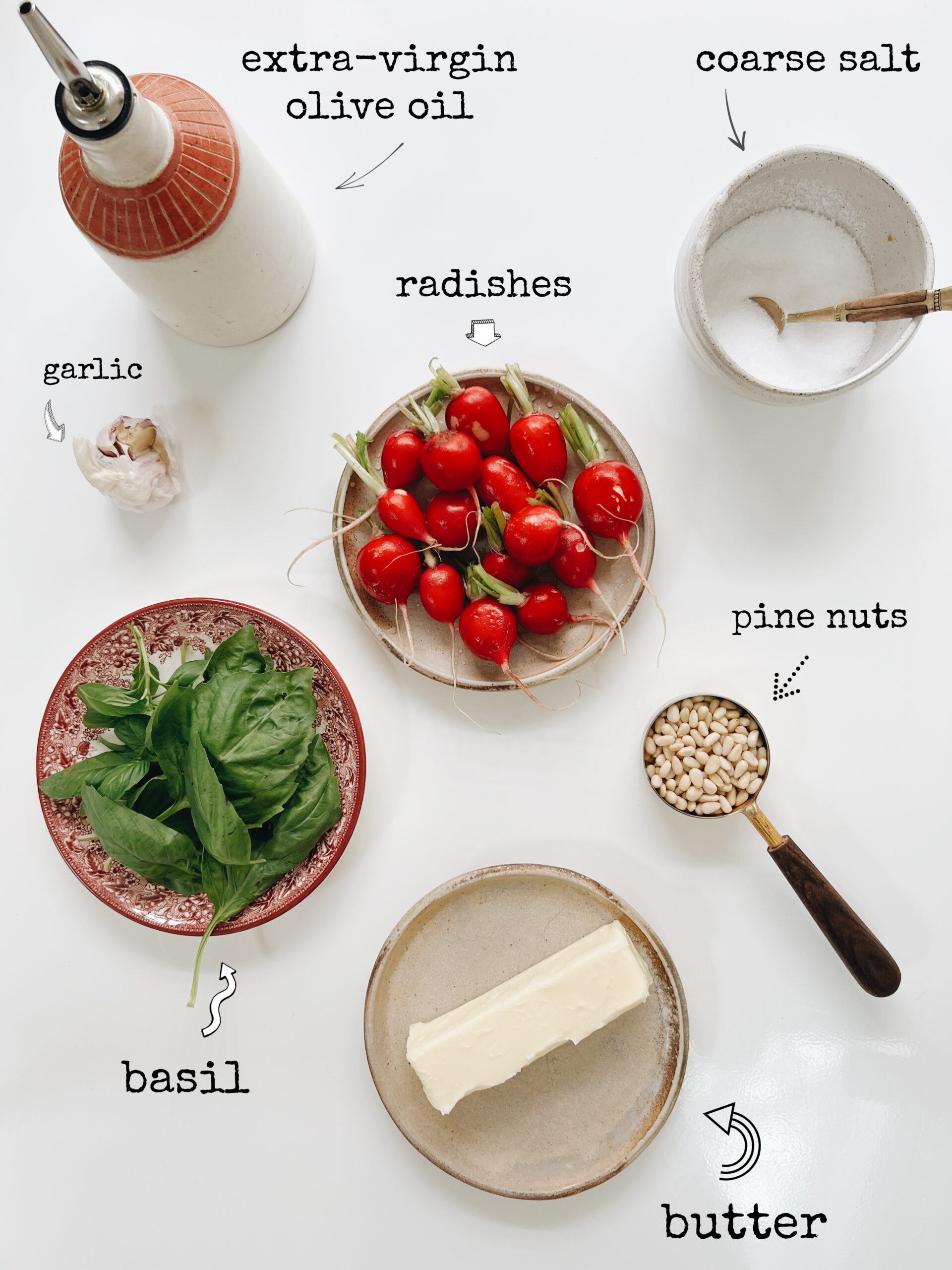 This is all very standard. The pesto butter you can make ahead of time and store it in the fridge until you need it (like now). The radishes, you can snack on these anytime (also now). But when we add them together it's very Julie and Julia, without even being in the movie. But we'll pretend.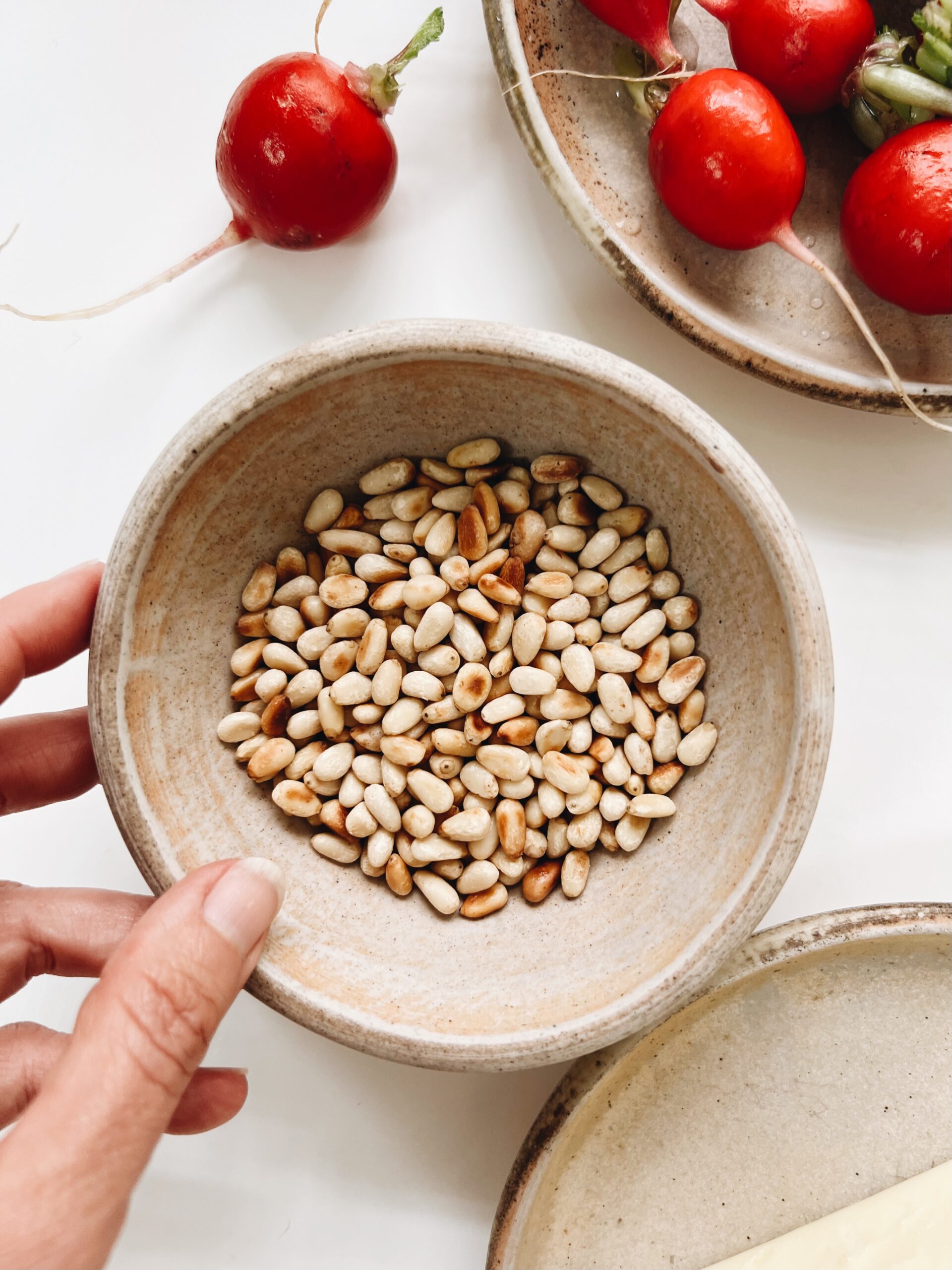 Let's just toast our pine nuts for the pesto, 'mkay?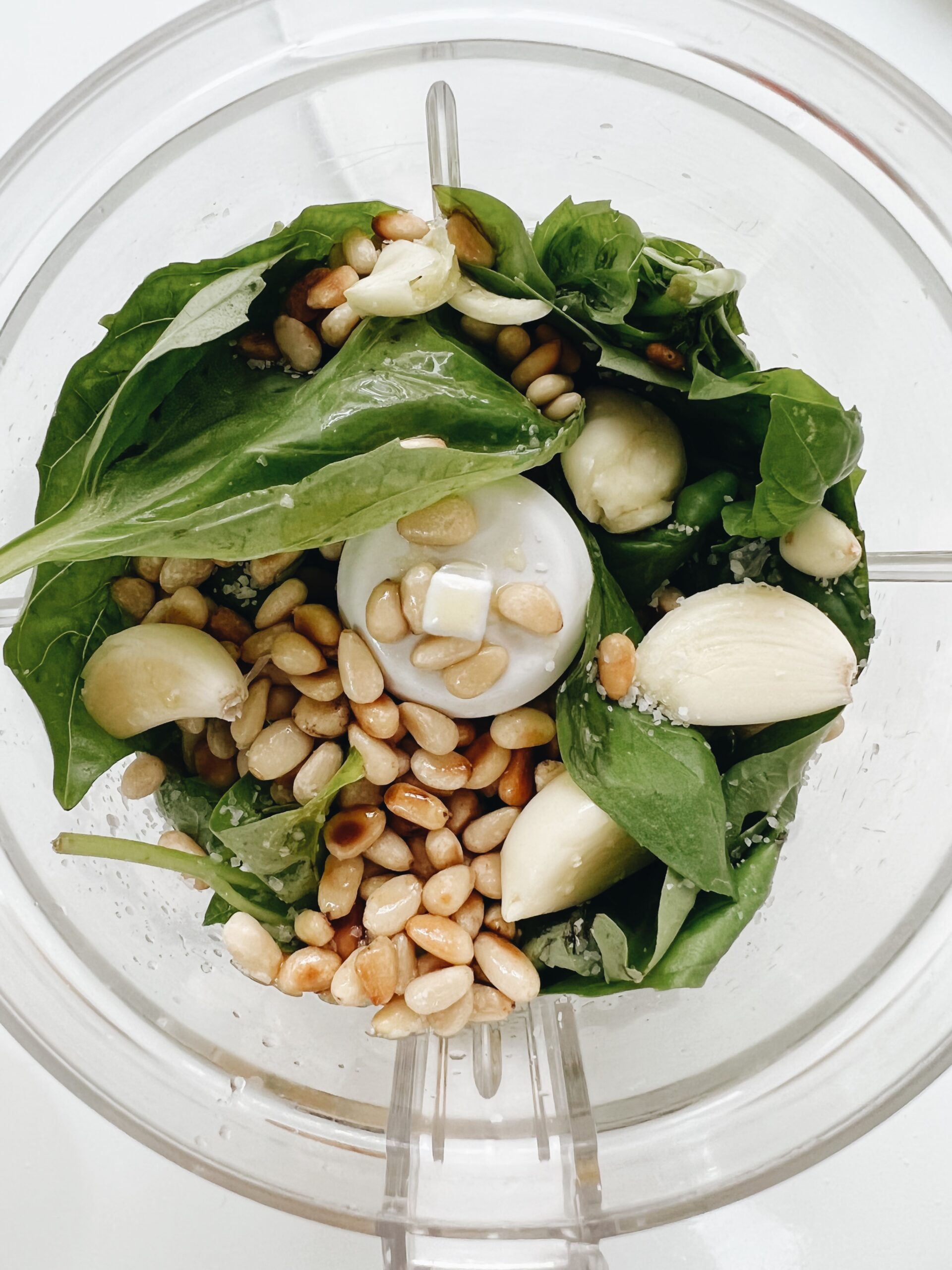 Into a mini food processor goes the fresh basil, garlic cloves, pine nuts (yes I'll be posting a reel on this, girl), salt and olive oil. You know the pesto drill.
Blitz blitz. Summer bliss. Blitzed bliss. Ha! Ha?
I forgot to photograph the pesto going into the room-temp butter (it's in the reel!) but you'll lit-rally just stir it in. Stir it on in and store it in the fridge for a little bit. You don't want it warm because ew. But a little stint in the fridge to firm it up is brill. (<–not sure how I felt about brill.)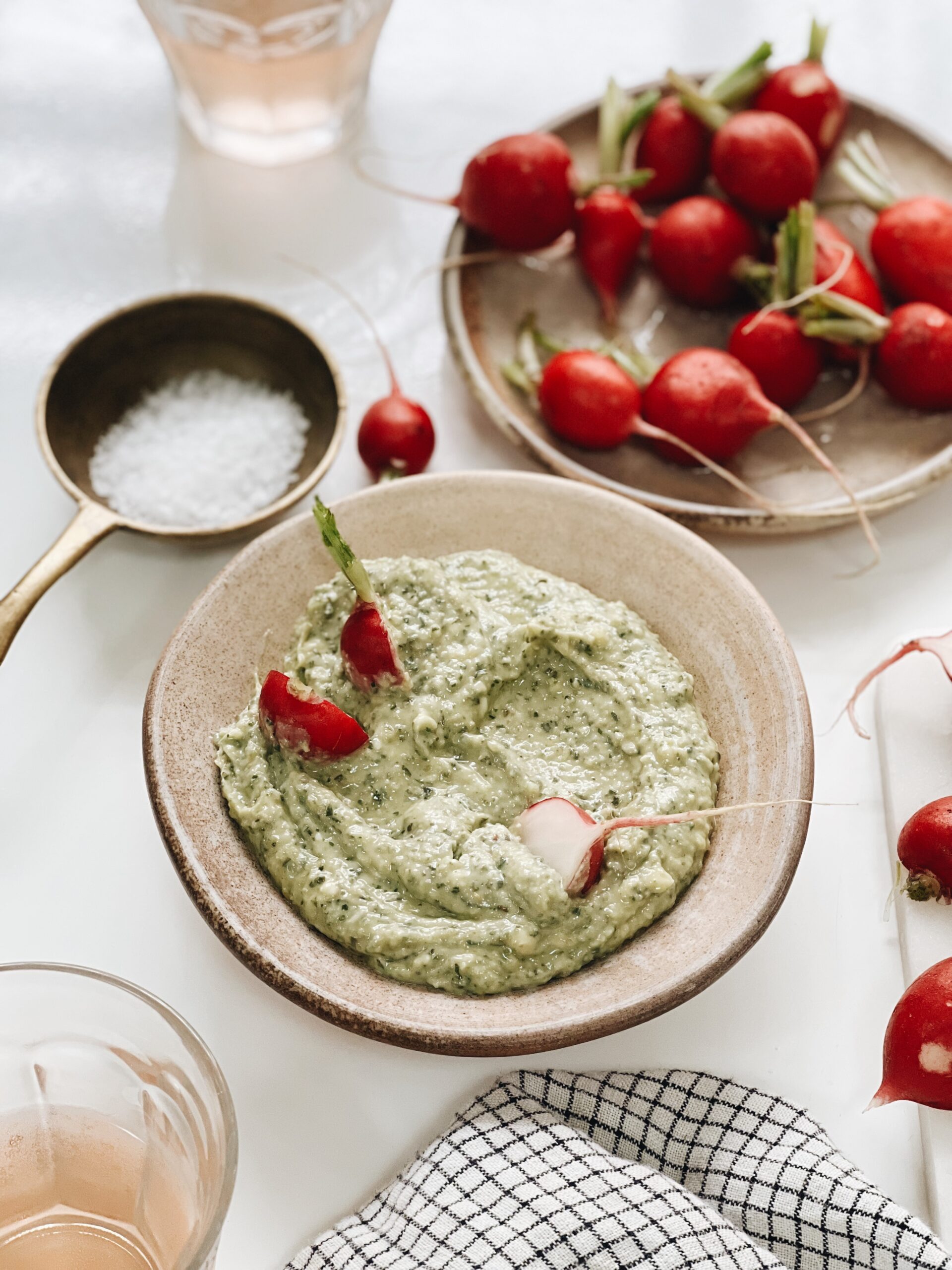 And then you just dredge your crunchy radish through the buttah, bay-buh. That pesto butter is ALIVE, I tell you. The basil is sophisticated and classic, and so savory smooth paired with the crisp, peppery veggie. And you know what, you don't even have to pair it with radishes if you're not feeling it. Throw a dollop on a grilled steak, or add some to a pan before you sear some chicken thighs. Or a little pat over some steamed green beans. It all works! The pesto butter is gorgeous, so make that happen in your life. The radishes? A total snacking bonus.
Get in that.
Radishes with Pesto Butter
Ingredients
1 bunch radishes, cleaned, stemmed and cut in half
1-2 cups loose fresh basil leaves
4 garlic cloves
1/4 cup pine nuts, lightly toasted
3-4 Tbs. extra-virgin olive oil
Coarse salt
1 stick room temp butter
Instructions
In a food processor, combine the basil, garlic, toasted pine nuts, and a pinch of salt. With the motor running, add the oil in a thin stream, pushing down the sides if needed, until it forms a pesto consistency.
In a small mixing bowl, add the pesto to a stick of room temperature butter and stir to fully combine. Place in a small bowl or butter crock and let it firm up in the fridge for a little bit.
Serve with radishes! (Or chicken, steak or veggies. Anything goes.)
7.8.1.2
587
https://bevcooks.com/2022/07/radishes-with-pesto-butter/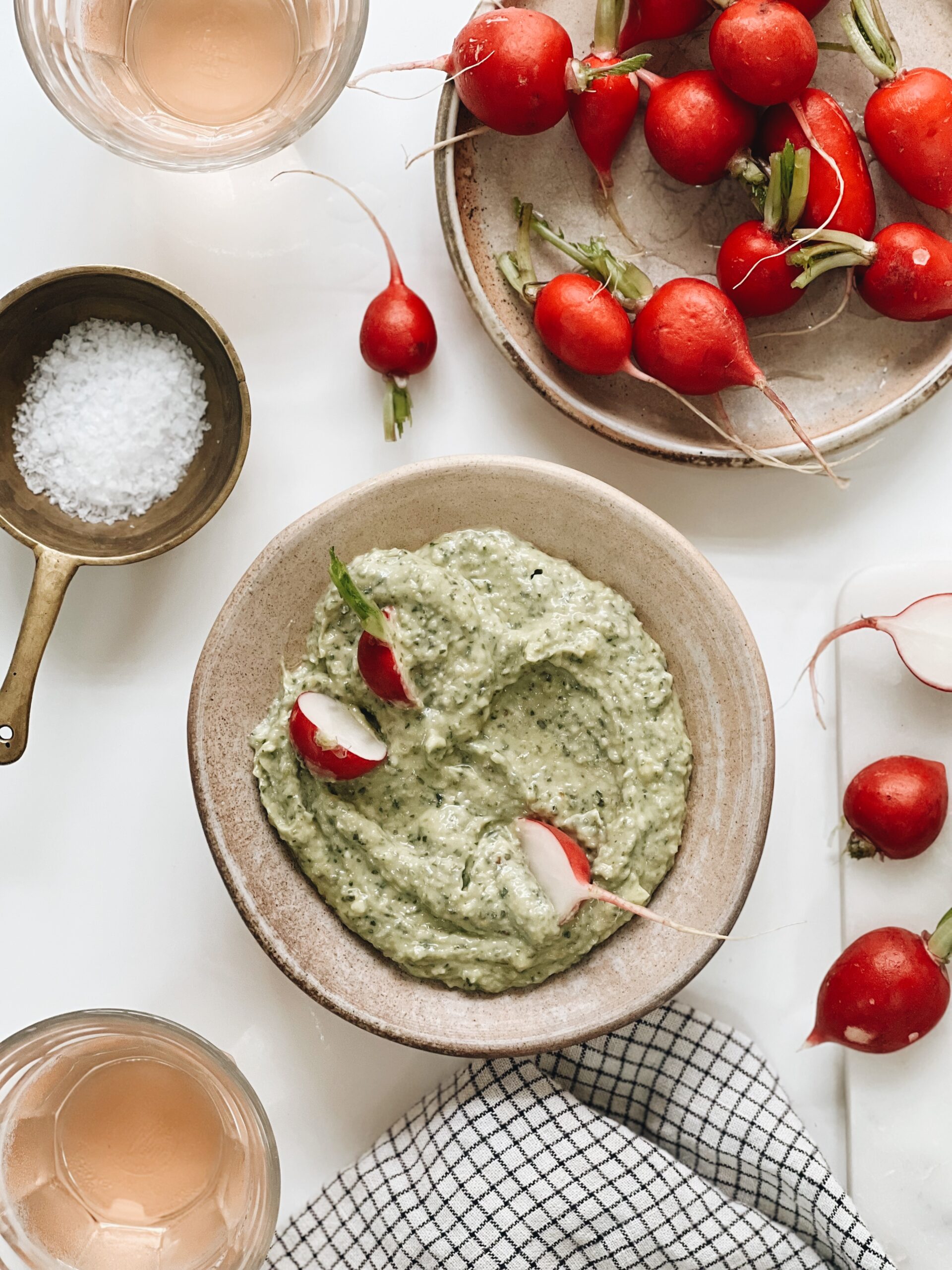 And then invite me over.