It's a side dish! And okay we need to talk about these flowers before you freak.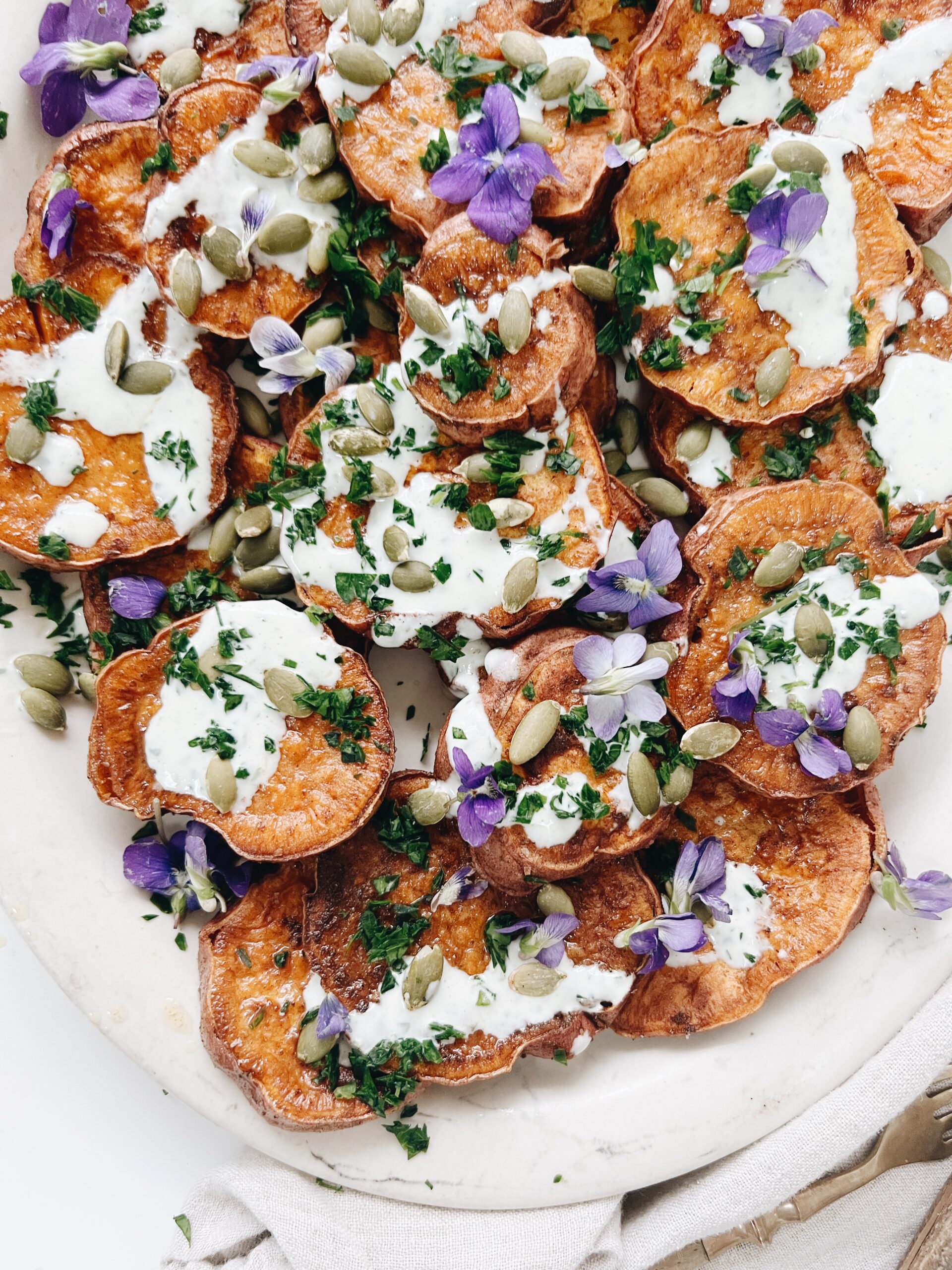 But we before we get there, this is cripplingly delicious. I cannot express it enough. I implore you to make this appetizer or side dish at some point this summer. Yes it requires your oven on, but you'll be doing that anyway I'm sure. It's so good! And gorgeous to boot.
Leeeeet us peepeth.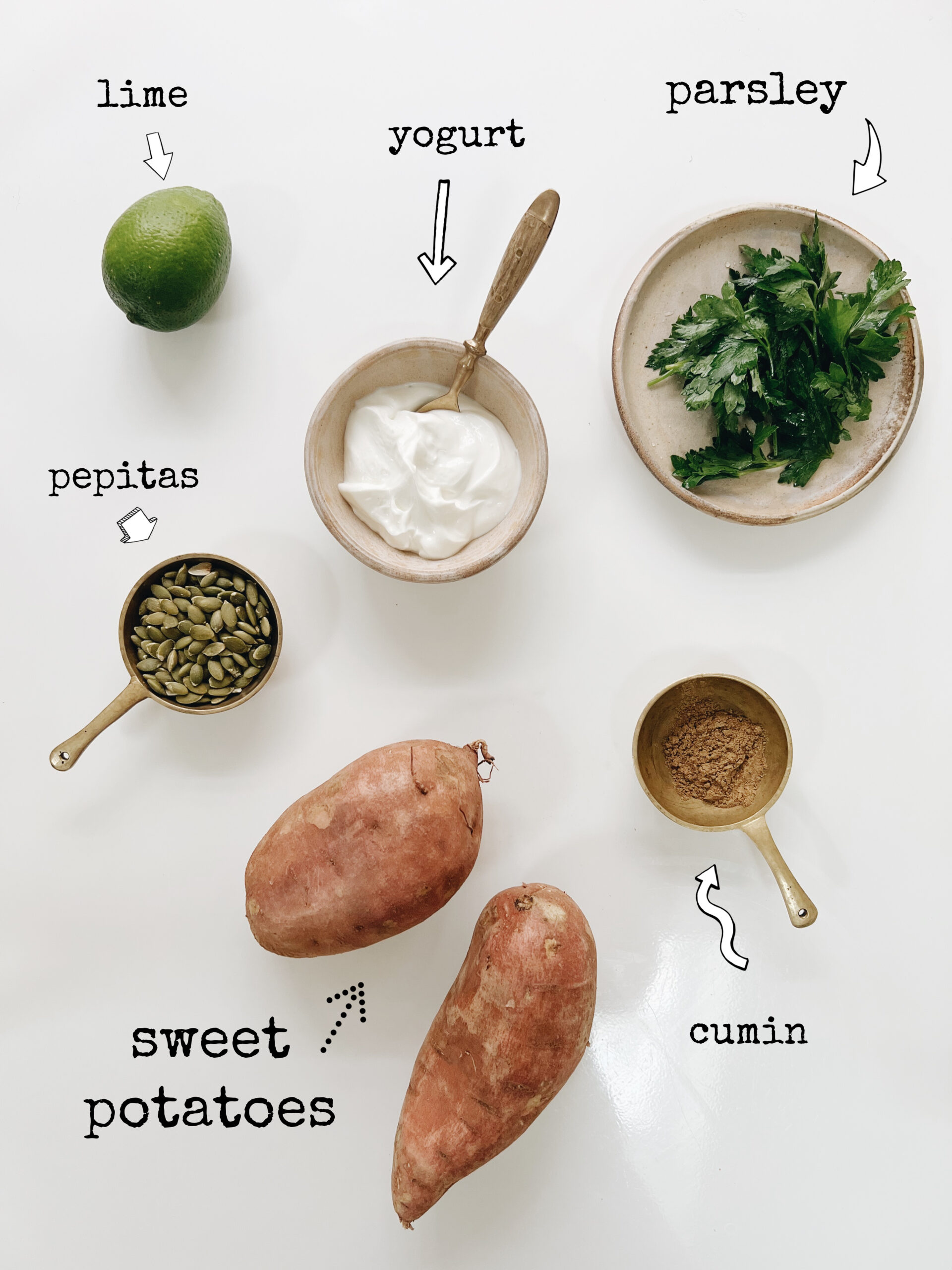 Absurdly straightforward. The flowers were a last second add-on, hence no appearance in this photograph. But! We're basically doing two things: roasting sweet potato discs, a. And b, making a drizzle. The pepitas are already toasted, but if you prefer to give them a little extra toasting, even better.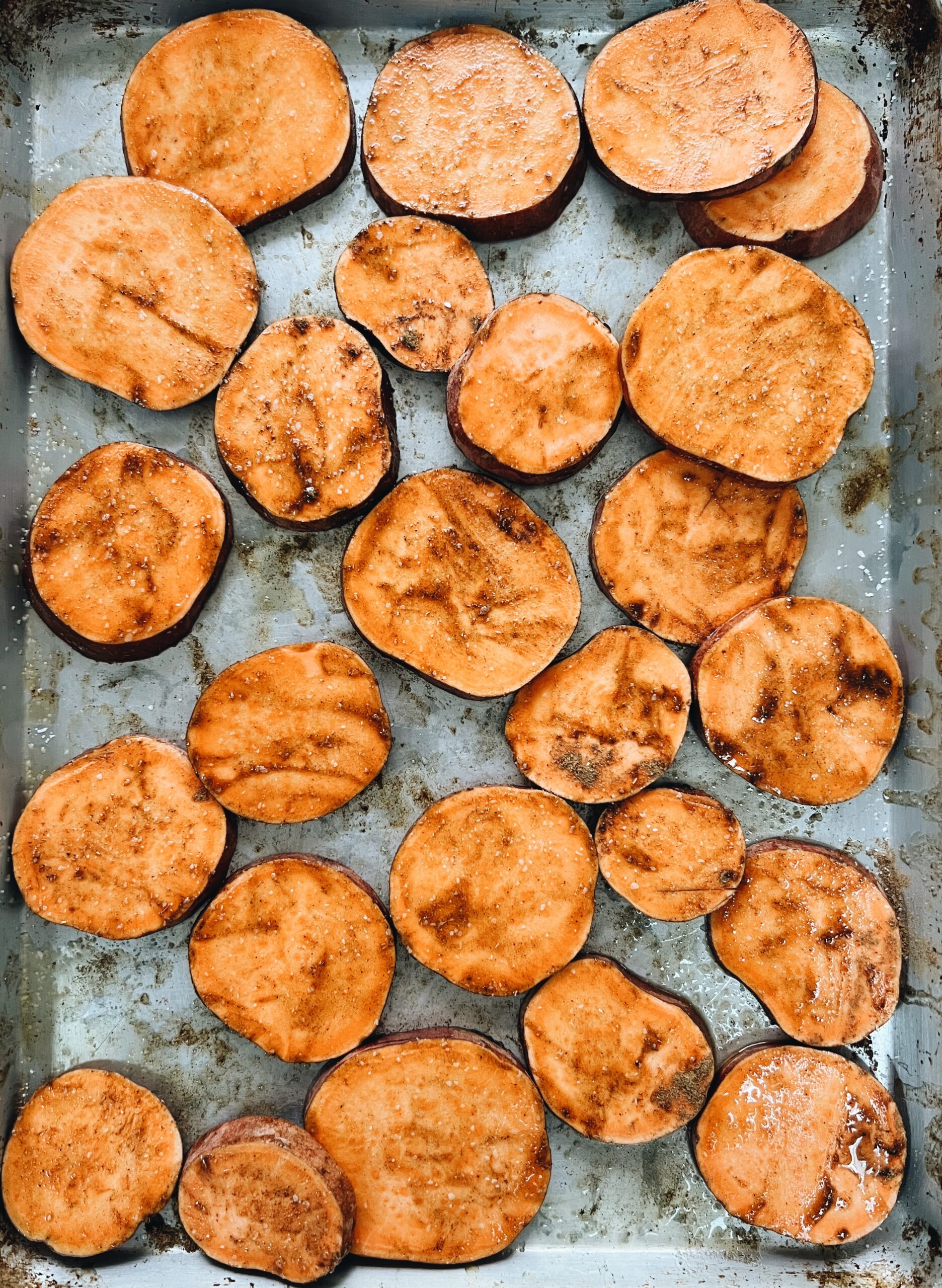 So I cut the sweet potatoes into rounds, or discs, or whatever your inner soul fairies feel like calling them today. You could definitely cut them into traditional wedges, or even fries. I just felt like changing it up for some visual keep-me-on-my-toes action. (<–a sure sign I need a life.)
Let's dust them with cumin (my favorite sweet potato seasoning), a good pinch of salt and some extra-virgin olive oil. Rub it all around with your fangies. (Mom, that's fingers in weird speak.)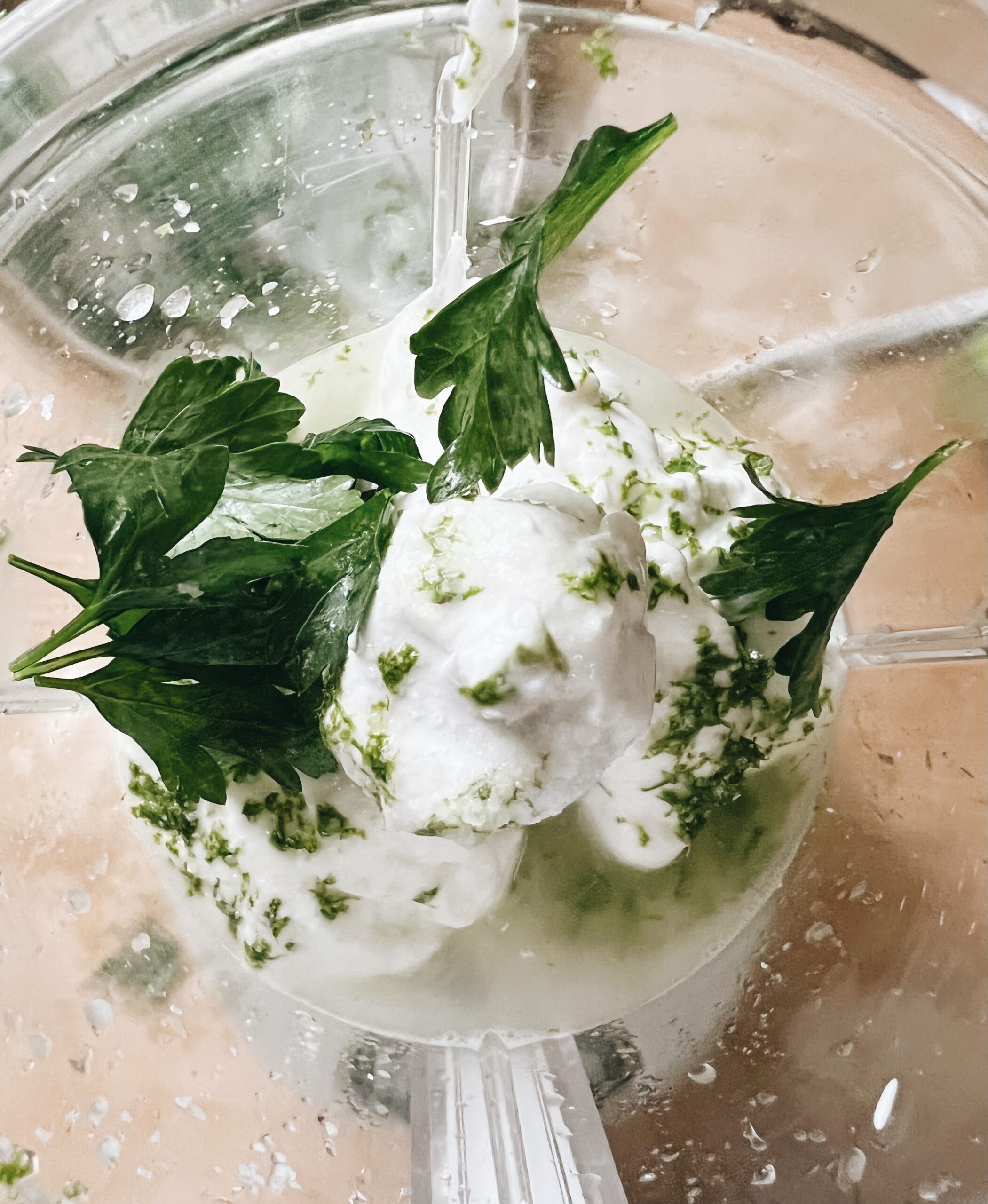 While the potatoes roast, let's jump on our sauce. It's plain Greek yogurt, some lime juice and zest, and parsley. That is it. Get it goooood and blitzed. Also, I added a teeny tiny splash of water to thin it, as I didn't want a gloopy gloppy droopy droppy mess on my finished product. I needed a drizzle, man!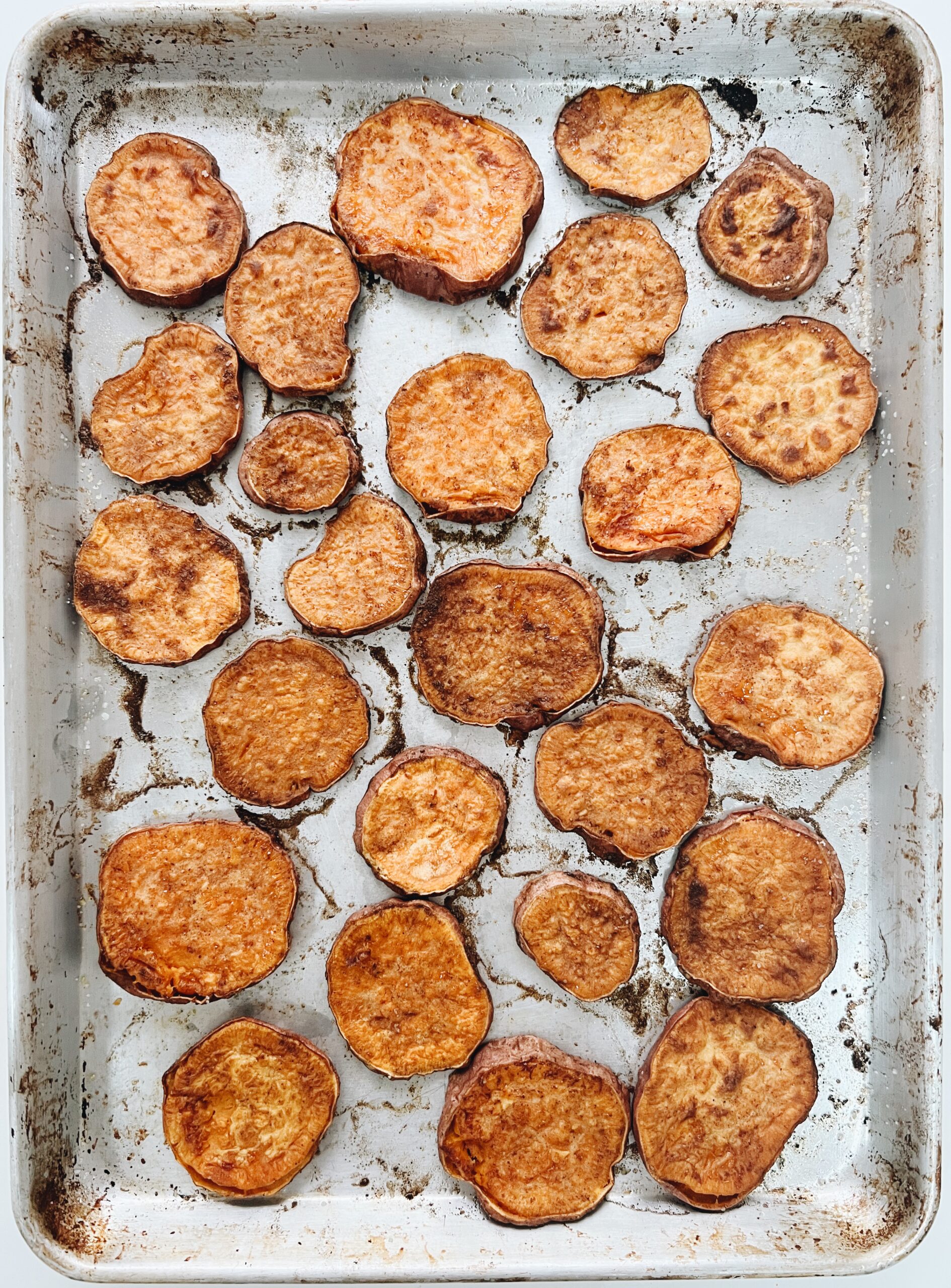 Yep, perfect.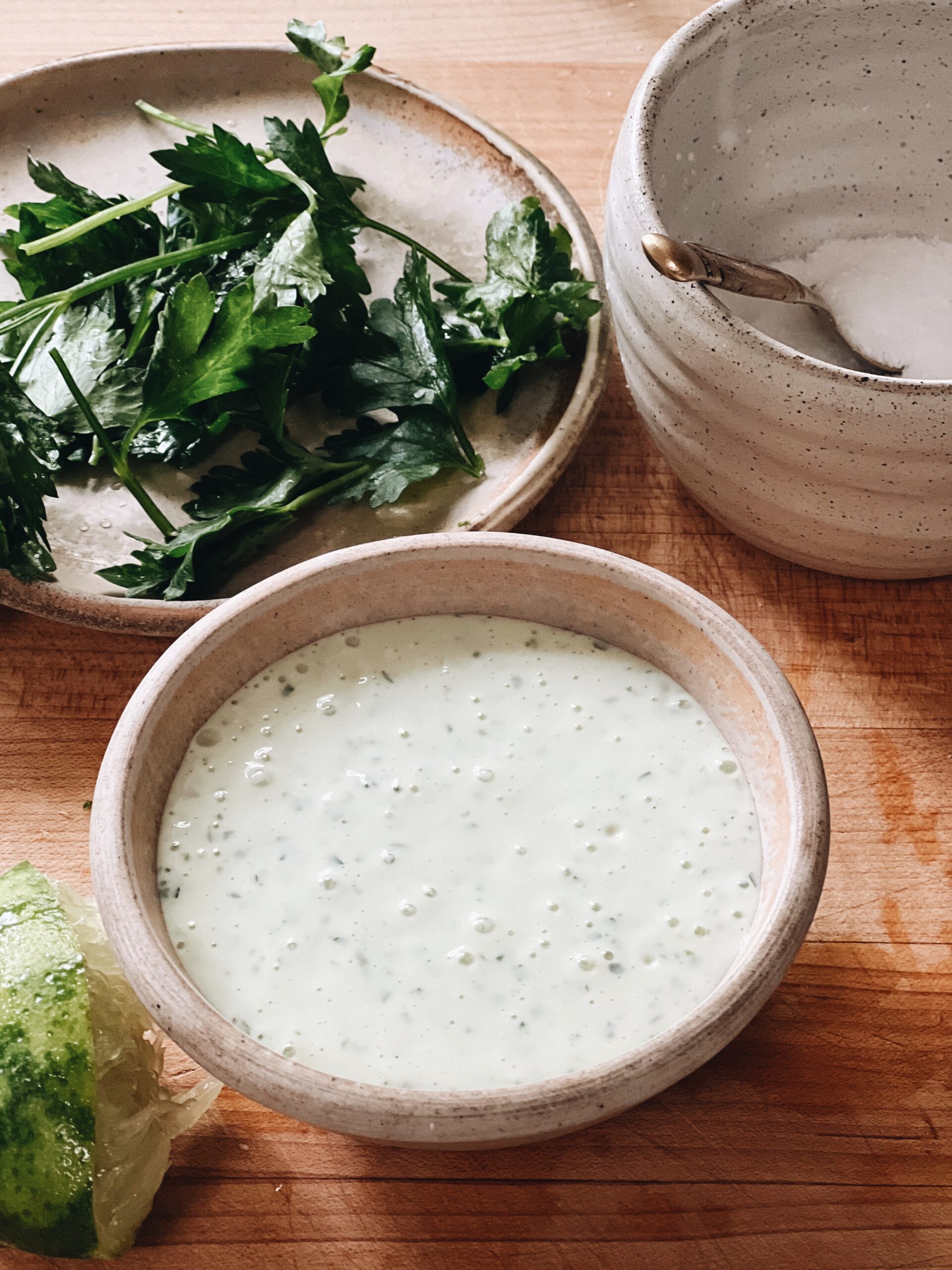 Yep, perfecter. HOW did I not get a squiggly line on perfecter? HOW.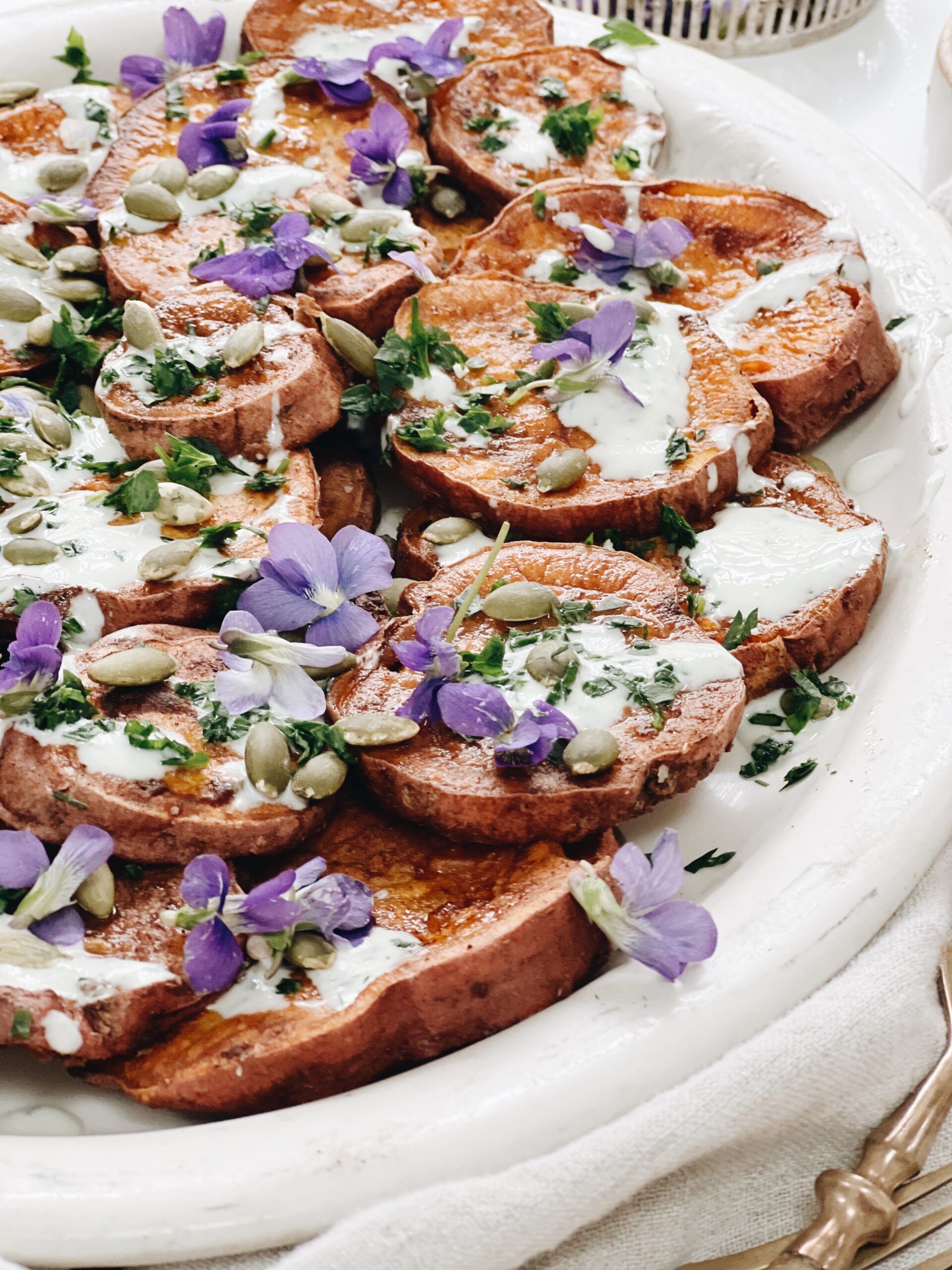 Aaaaand it comes together. We've got a tangy yogurt drizzle, some toasted nutty pepitas, a little more minced parsley for a hit of garnish, and the flowers!
Okay, the flowers. Don't come @ me. This is one hundred thousand percent optional, as I'm not totally sure if they'll kill you or not. They're the common wild blue violets that you find in your yard during the spring before you mow. Know what I mean, Vern? Aaron SWEARS they're edible, but I can't vouch for that. I've done zero research. I just thought they were beautiful on this. He and the kids are collecting them for jam. Apparently you can make jam out of these flowers. Which I suppose makes them edible? Again, I've looked into this none. But look how pretty!
So pretty.
So, so pretty. And that's why we're here together today.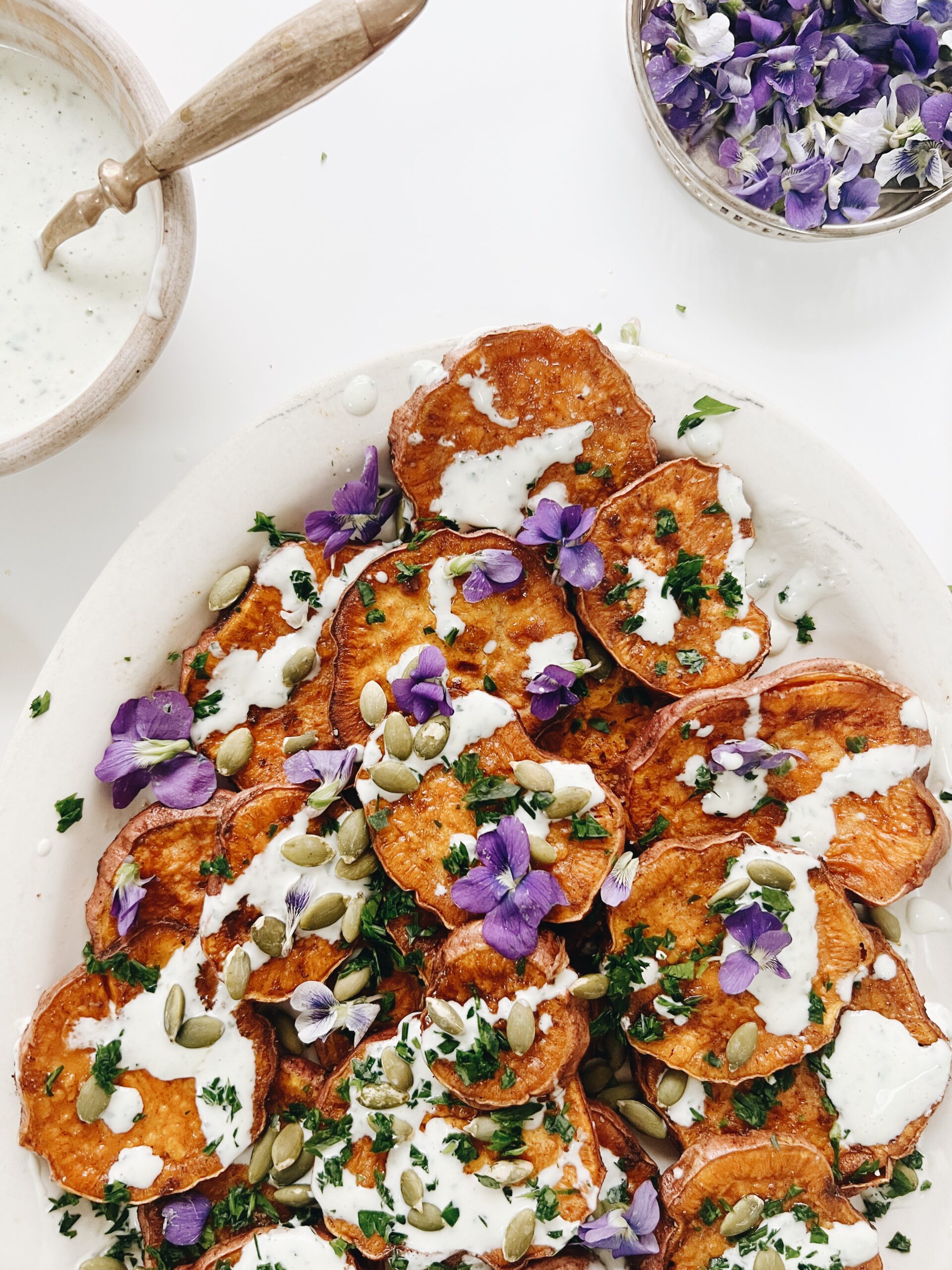 The potatoes are roasted and tender, perfectly seasoned with the cumin, and that tangy yogurt dressing is perfection on top. Especially with the nuttiness of the pepitas. You must must must must must must must mu-
(I had to breathe)
-must must must must must MUST make these. EVEN IF it's early fall. I don't care. I love roasted veggies year round and think this is a showstopper in appearance AND in flavor. Both. You will just die. Please get in these.
And if you can actually eat the flowers, tell me!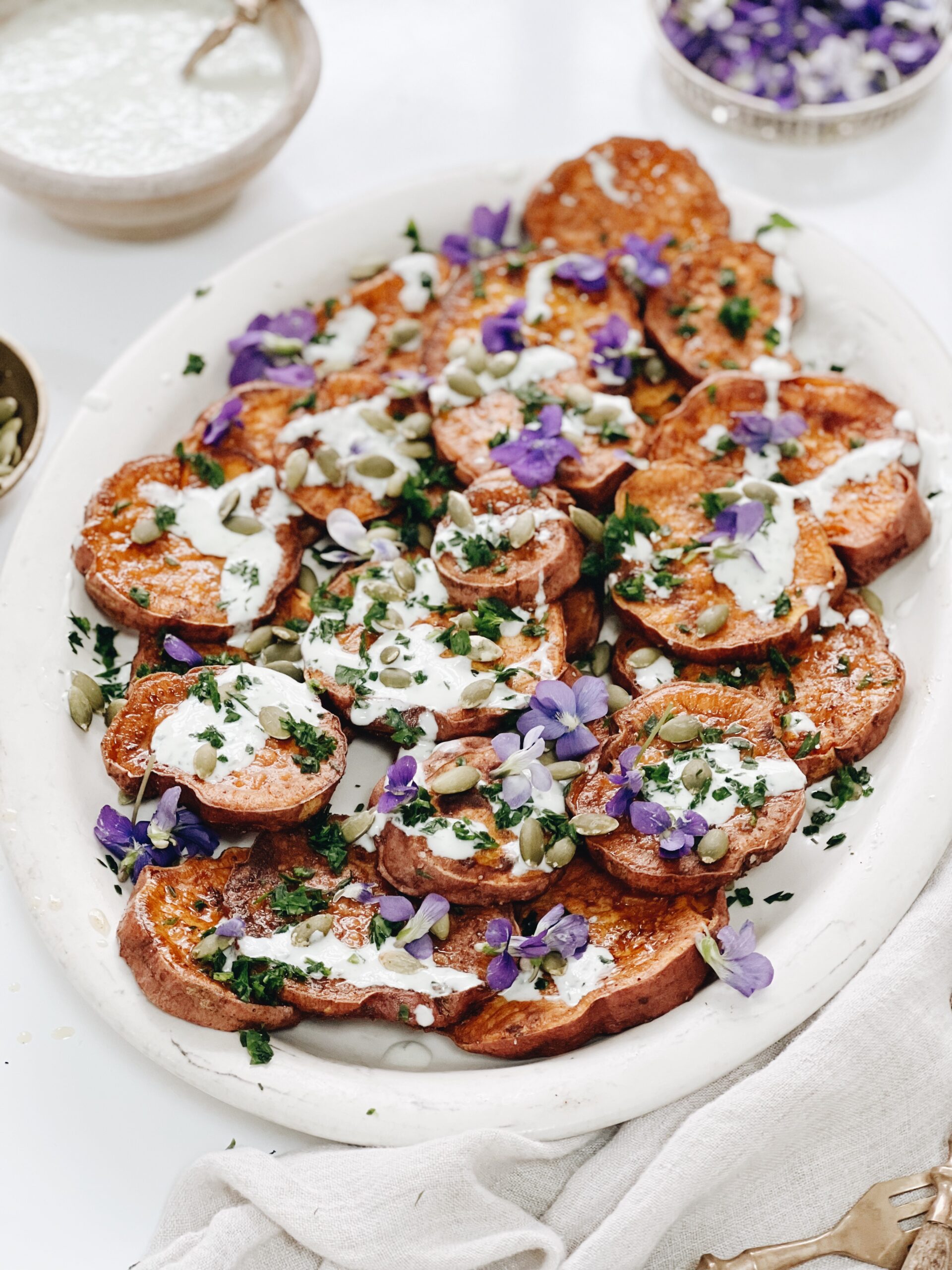 I'm telling you, bite after satisfying bite, this is.
Roasted Sweet Potato Discs with Yogurt and Pepitas
Ingredients
2 medium sweet potatoes, cut into 1/2 inch rounds or discs
1 Tbs. cumin
2 Tbs. extra virgin olive oil
5 oz plain Greek yogurt
1 Tbs. parsley, plus more for garnish
1 lime, juiced and zested
1/4 cup pepitas, lightly toasted
Pinch of coarse salt
Instructions
Preheat the oven to 400.
Place the potato rounds on a rimmed baking sheet. Season them with the cumin, a pinch of salt and the olive oil. Use your fingers to rub the mix all over the potatoes. Roast for 20 minutes, then gently flip each potato over. Roast another 20 minutes, or until the potatoes are tender and not tearing.
In the meantime, place the yogurt, lime juice and zest, plus a Tbs. of loose parsley leaves into a food processor. Blitz until smooth. Add a tiny splash of water to the sauce to thin it out if needed.
Transfer the potatoes to a serving dish and drizzle with the yogurt sauce. Sprinkle the pepitas over the sauce, along with extra minced parsley for garnish. For the final touch, add any edible flower you prefer. LOOK how gorgeous.
Serves four!
7.8.1.2
575
https://bevcooks.com/2022/05/roasted-sweet-potato-discs-with-yogurt-and-pepitas/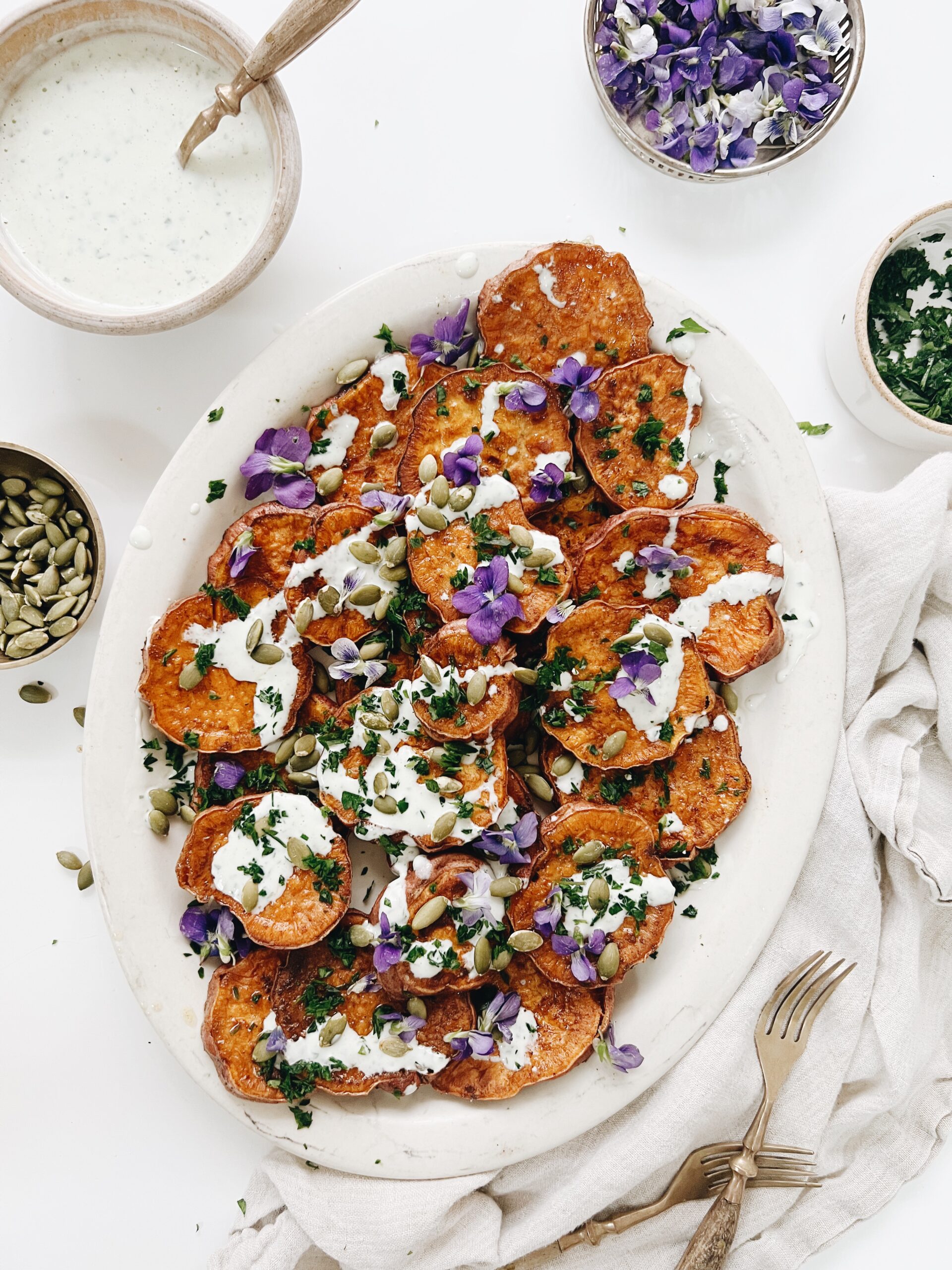 So really, can you eat the flowers?