Rich but not a total gut bomb, I've got an eaaaaasy Thai dish you can whip up yesterday.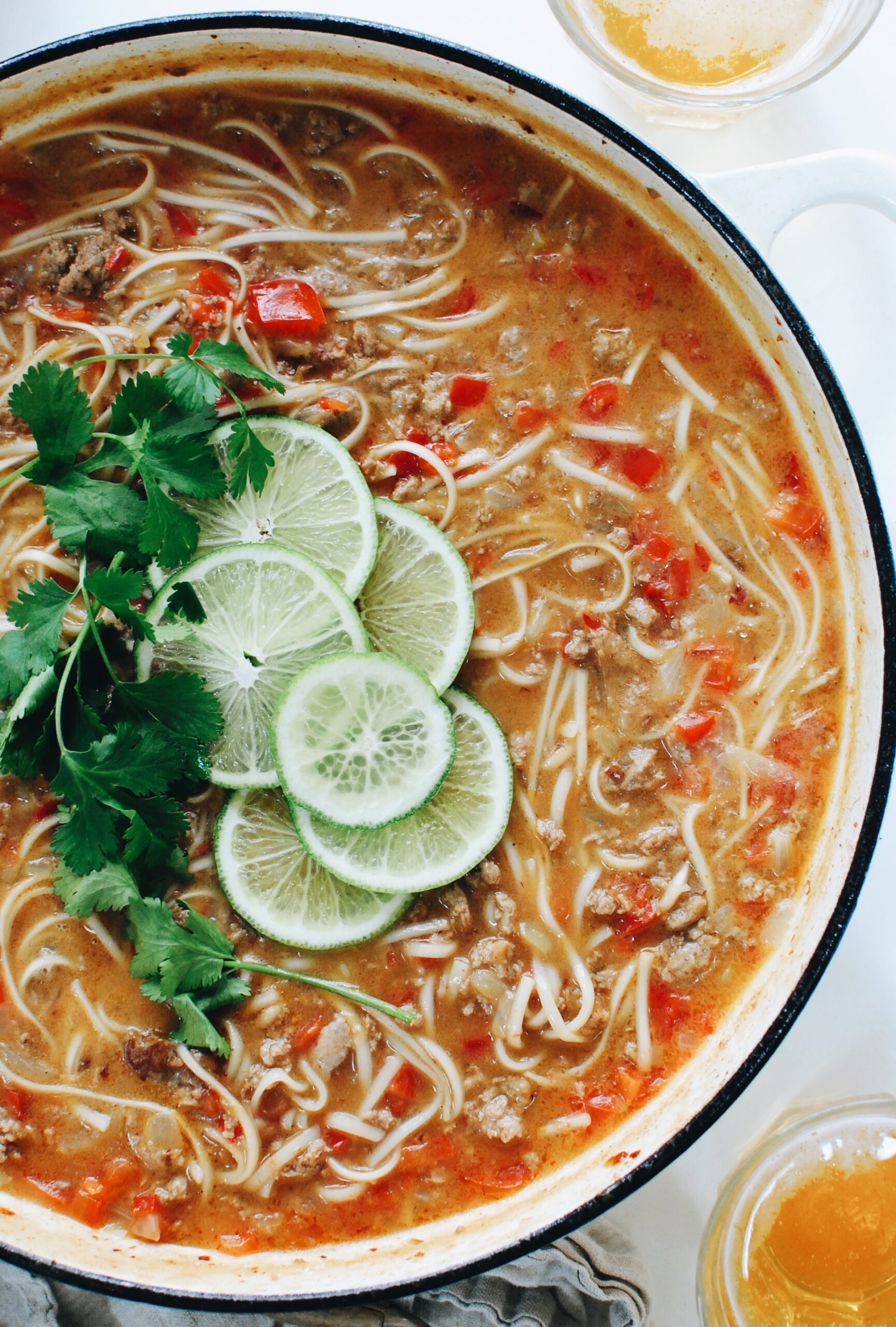 It almost doesn't even look Thai, does it? The whole thing has this "spaghetti and meat sauce" feel but with a twist! Coconut milk. Ground turkey. And a ROASTED red chili paste. Not the regular red curry paste. But ROASTED. (ignore the "smoked" below)
ROASTED.
I'd never seen it in the store before and it.is.beautiful. Such depth! Right next to the regular paste. Grab it!
Alright, let us peepeth this mess.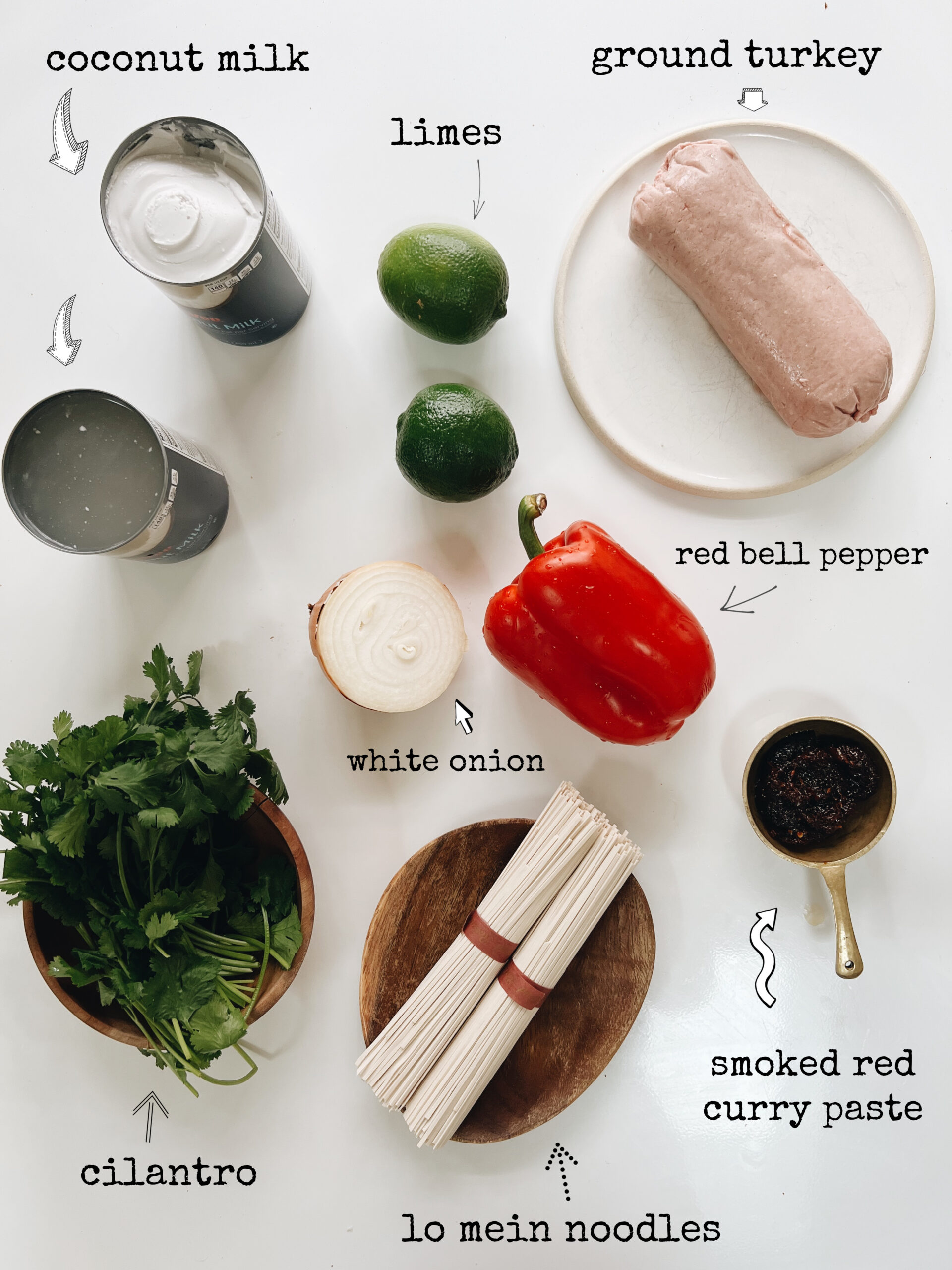 So, the noodles. I've had these two lo mein bundles in the pantry since Watergate, and I've been on a mission lately to use what I have before buying something else. So these got violently thrown in. If you have or want to use a different Asian noodle, totally fine. Thai noodles work. Vermicelli works.
Also find that paste! Look at that color.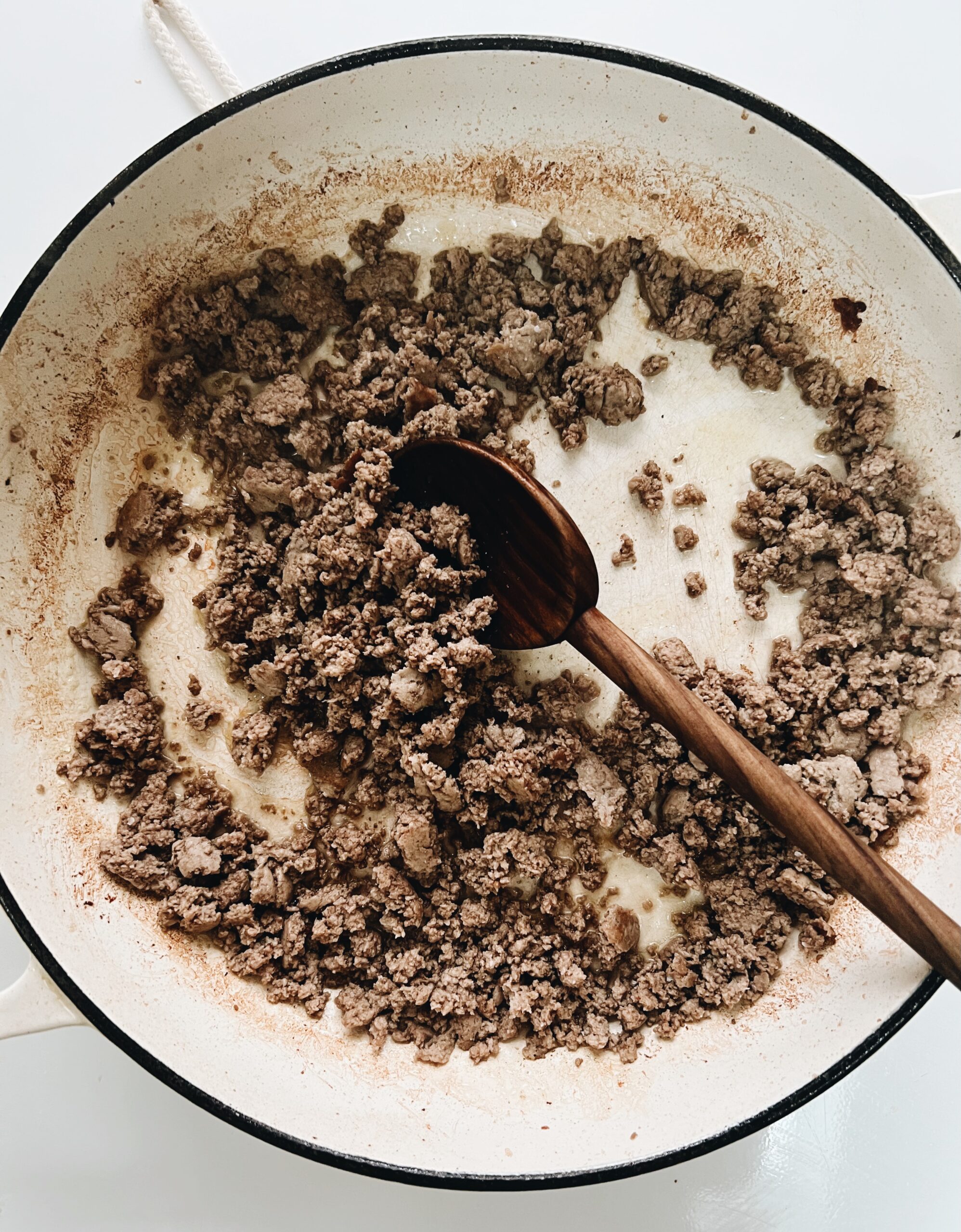 Let's brown some ground turkey.
And this is the trick with ground turkey – don't use the breast meat in the tubs. It's rubbery, a strange color, and has zero flavor. Go for the tubes of ground turkey. Those tend to have dark meat in them, which browns up nicely (like ground beef) and has a lot more flavor. Turkey still needs help, but getting the tube is the place to start, bruh.
Season with salt! You know this.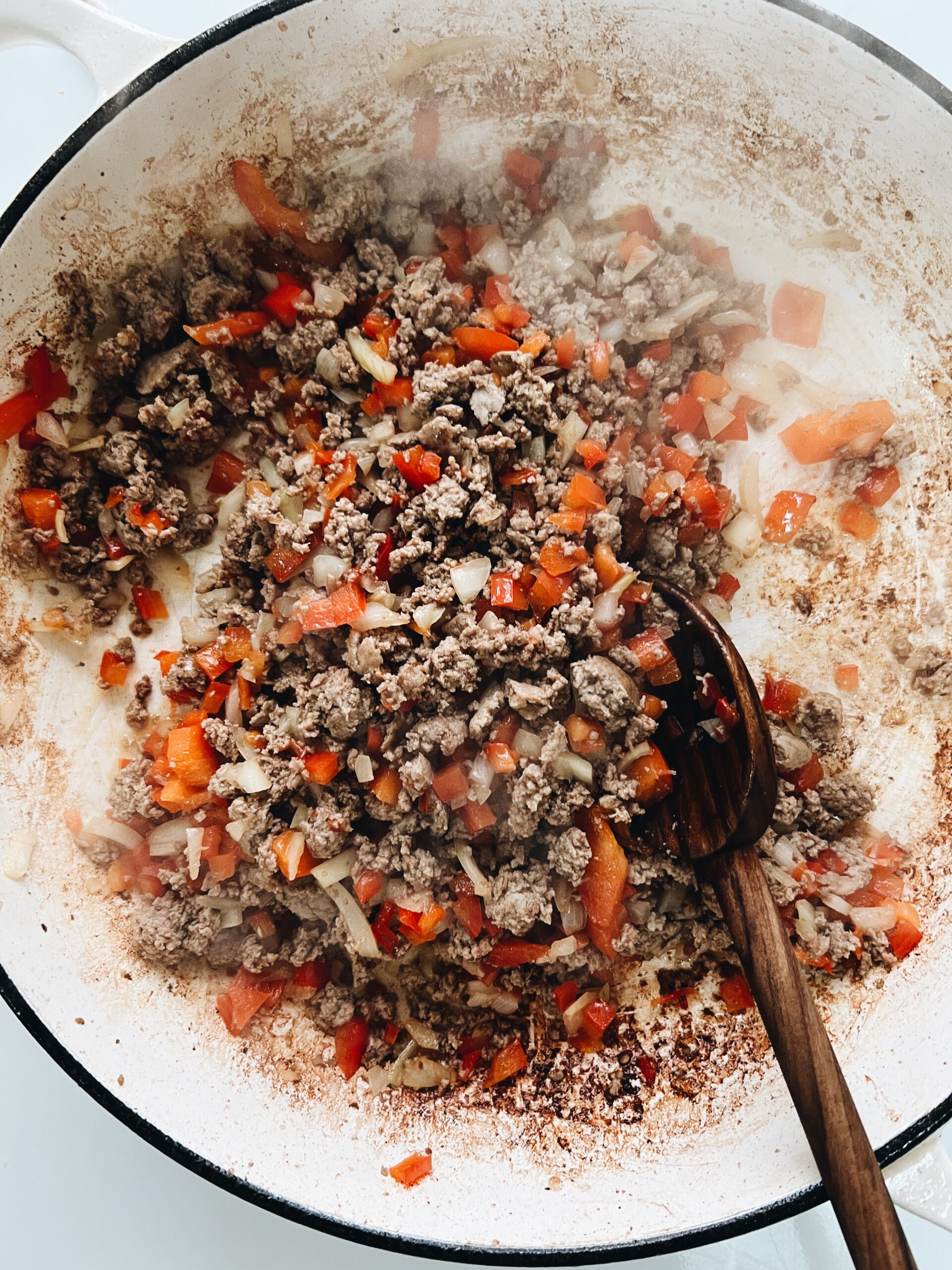 Next up we'll throw in some chopped white onion and a chopped red bell bottom. I mean bell pepper. Get that seasoned as well (just salt!) and let it sauté until the veggies have softened and are taking on a little color. Just like we like it.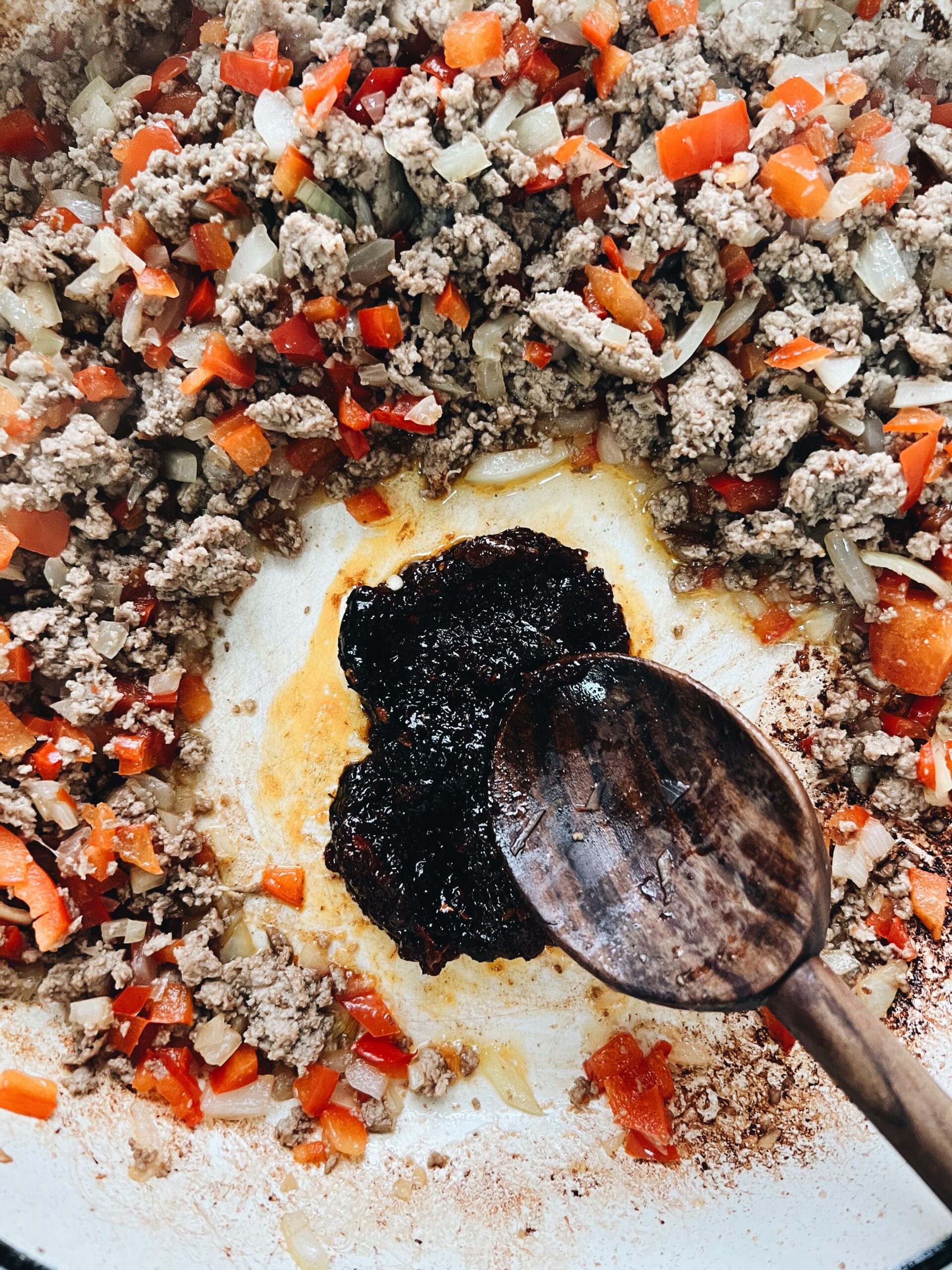 Nooooow we'll really build flavor. This roasted paste isn't made from scratch, so don't come at me please. I used the jar. And I'm still a good person. It's a Tuesday, okay?
Get that paste in and using your wooden spoon, press it into the skillet until the oils release and the flavor slaps you across the face. (don't make a joke here, don't make a joke here, don't make a joke here)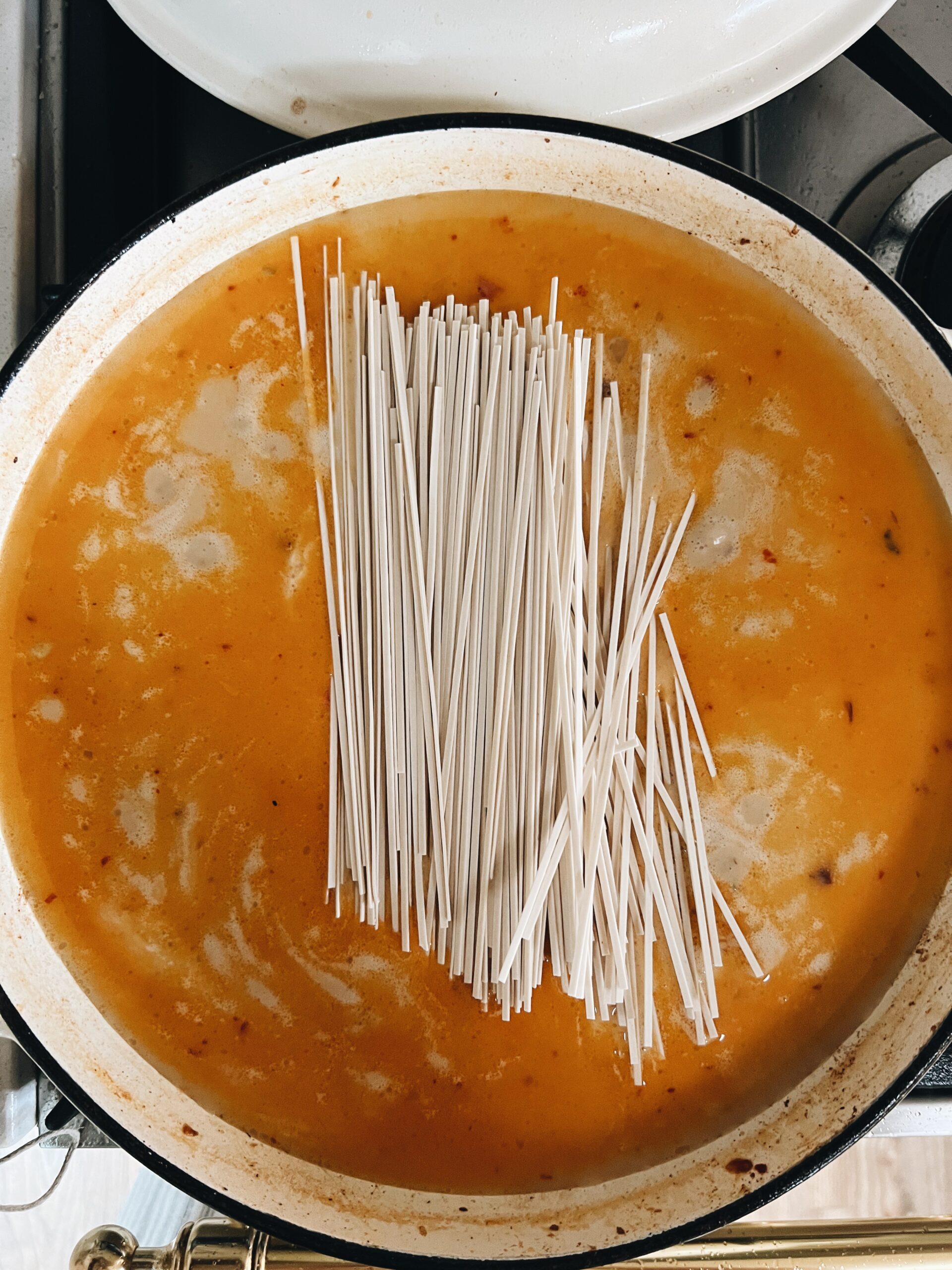 Then you'll stir the paste into the turkey and veggies until coated, add your two cans coconut milk – oh!
Let's talk about the coconut milk. You see up there how sometimes the coconut cream stays at the top? Totally okay. Just pour in the coconut water underneath it and scoop the rest out. It all goes.
Add some chicken stock as well. Then add those noodles! Super simple. Let it simmer on a medium heat while stirring the noodles around with tongs, letting them soften and cook, about six minutes. Really doesn't take long.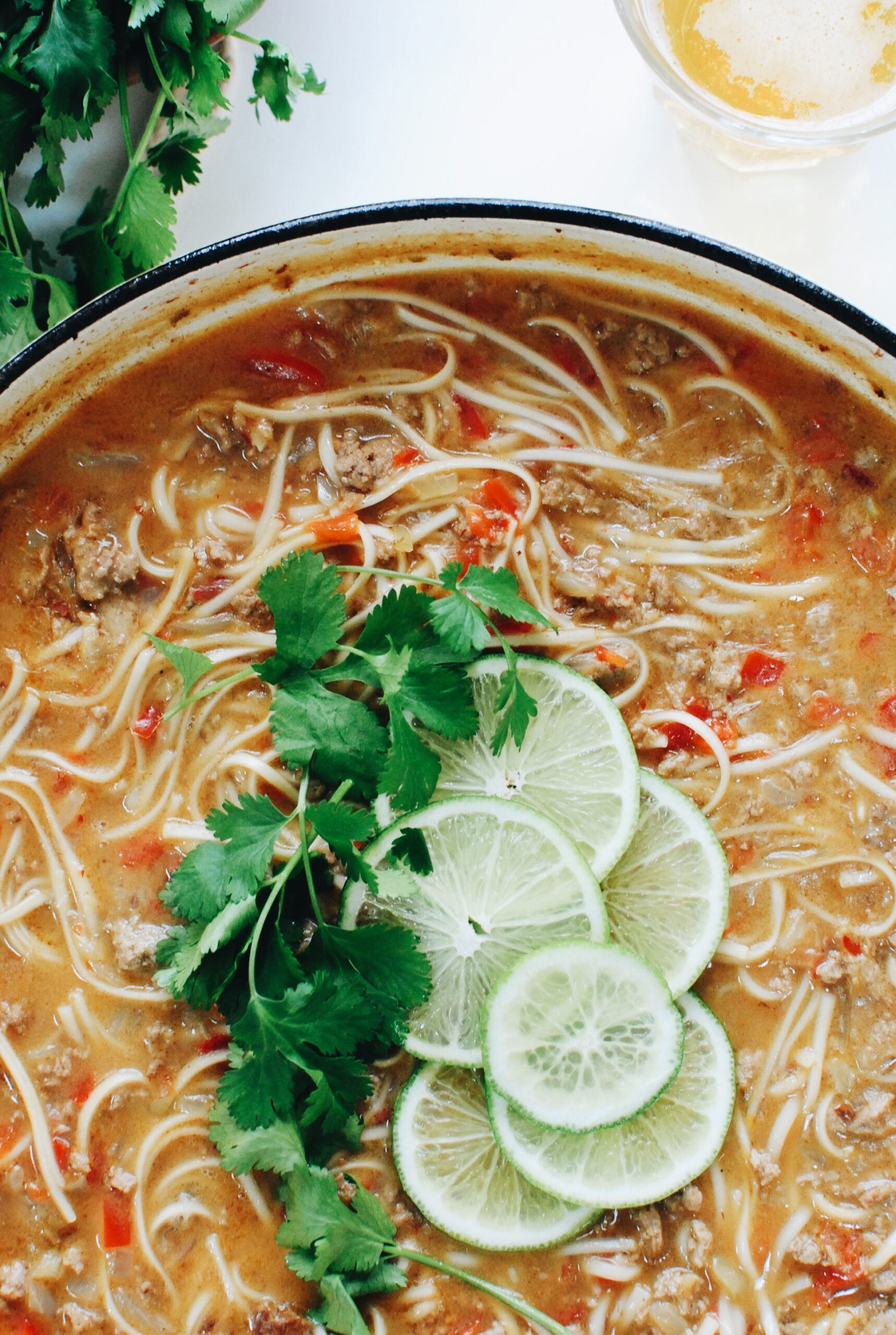 And hi, this is what you'll get.
Let's squeeze half a lime into that and give it a taste. Need a little more salt? Throw in a pinch.
Have some cilantro sprigs and extra sliced lime at the ready for some pretty garnish.
It's creamy, comforting, lighter, vibrant, and just all around face-plantingly delish.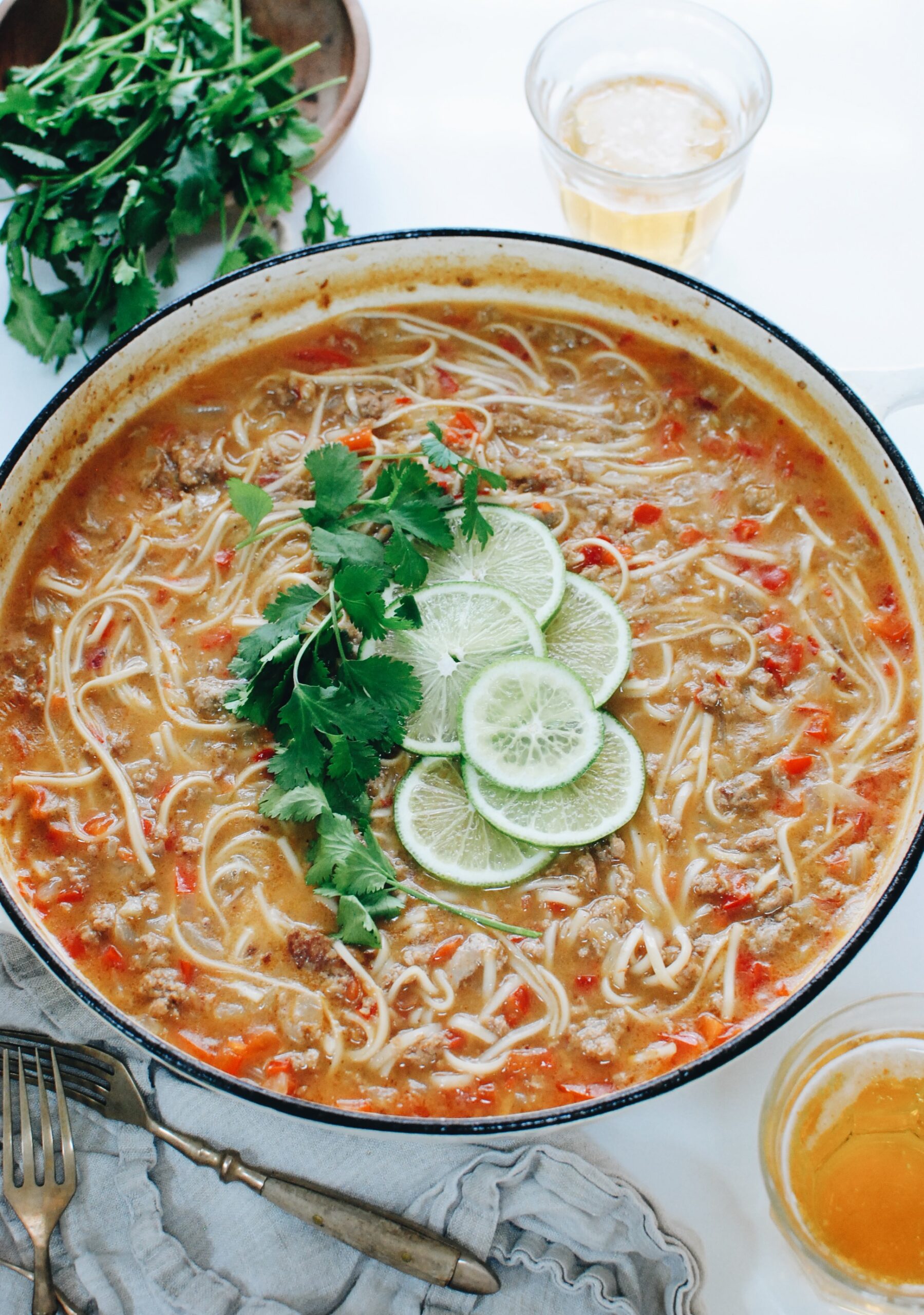 You can serve it family style like this for a little drama, or just tong/ladle out portions into little bowls with some individual garnish and call it.
My kids added peanuts to theirs for a little extra sweet. They weren't wrong about this, you guys.
How many times did I just say little?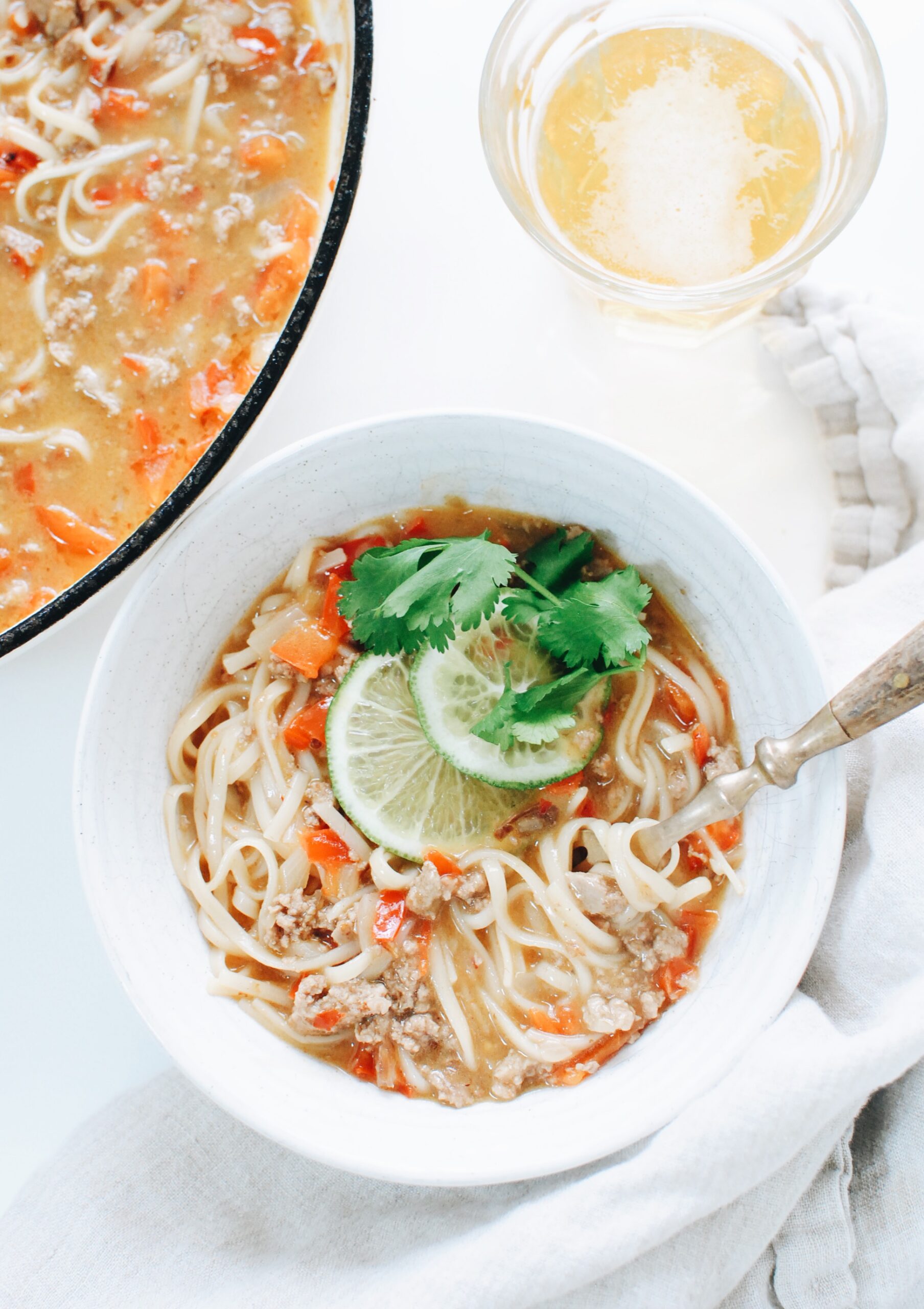 One pan weeknight Thaaaai! You gotta get in that.
Thai Coconut Turkey Noodles
Ingredients
1 pound ground turkey (dark meat is best!)
1 red bell pepper, seeded and diced
1/2 white onion, diced
2 Tbs. roasted red chili paste
2 (13.5 oz) cans coconut milk
2 cups chicken stock
2 bundles Lo Mein noodles
2 limes
Cilantro sprigs for garnish
Coarse salt
Instructions
In a wide skillet, add a tsp of olive oil and the log of ground turkey. Let it sear right there in the pan for two minutes. Roll it over and let it sear another two minutes. Those browned seared bits will add to the flavor and texture. Now using a wooden spoon, break the turkey up and let it completely brown and cook through. I didn't use too much oil here because the turkey releases so much water, it's not really needed. Give it a good pinch of salt as well.
Now add the diced onion and pepper. Add a couple tsp of extra-virgin olive oil at this point. Sauté with the turkey for about five minutes, letting the veggies soften and take on a little color. Season with salt as you go.
Scoot the veggies/meat over and add the chili paste to the skillet. Press it into the skillet, letting the oils release and the flavors become wildly fragrant. Then stir the paste into the veggies and turkey, coating all over.
Add the coconut milk and chicken stock and give it a gentle stir. Let's add the noodles, and on a medium heat, simmer this until the noodles have softened and cooked until al dente, just a few minutes.
Squeeze half a lime in and taste it. Need more lime? Any more salt? Get it good.
Garnish with cilantro and extra lime wedges or slices and serve!
Serves 4.
7.8.1.2
566
https://bevcooks.com/2022/03/thai-coconut-turkey-noodles/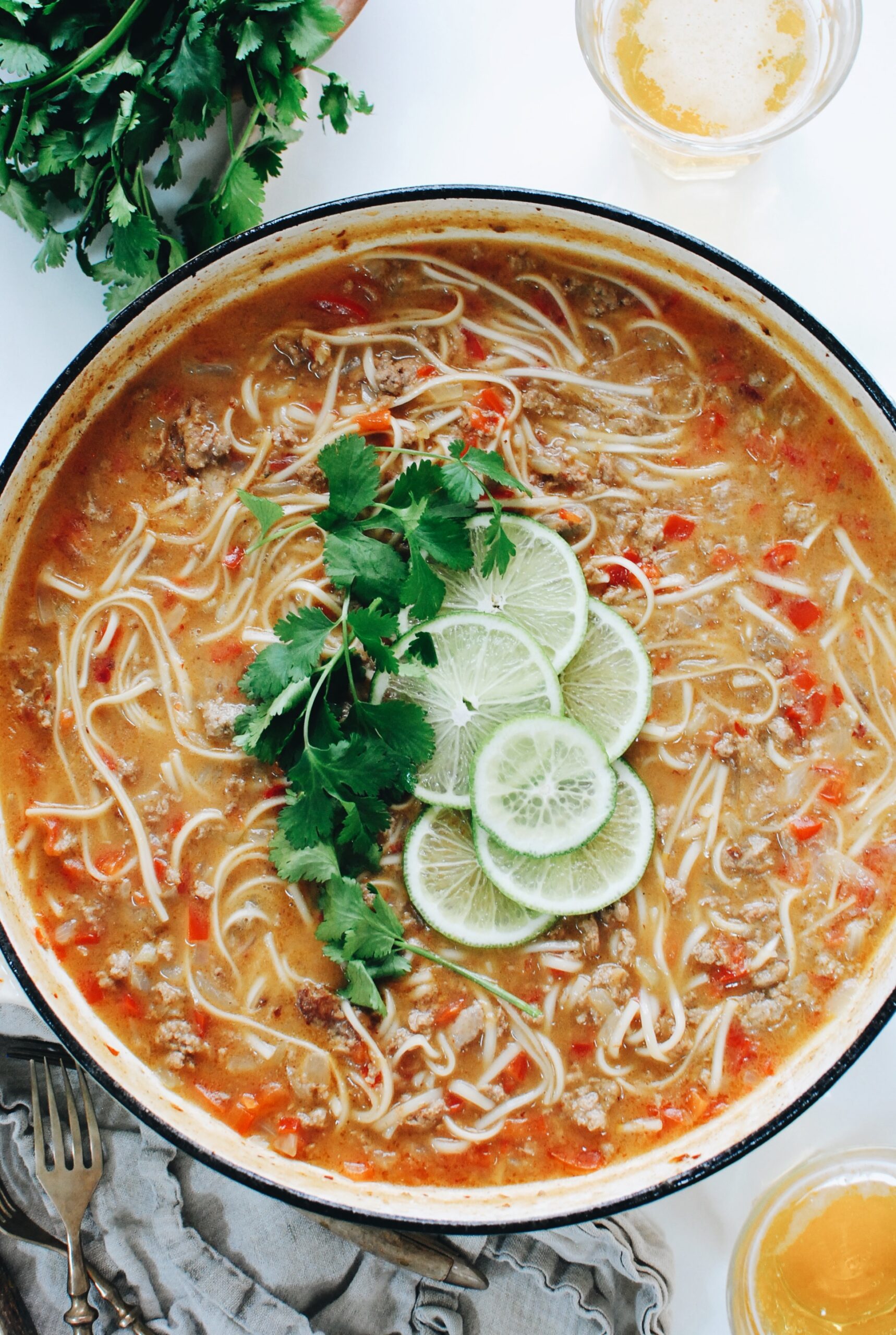 Slurp slurp.