More scones! I feel it only appropriate.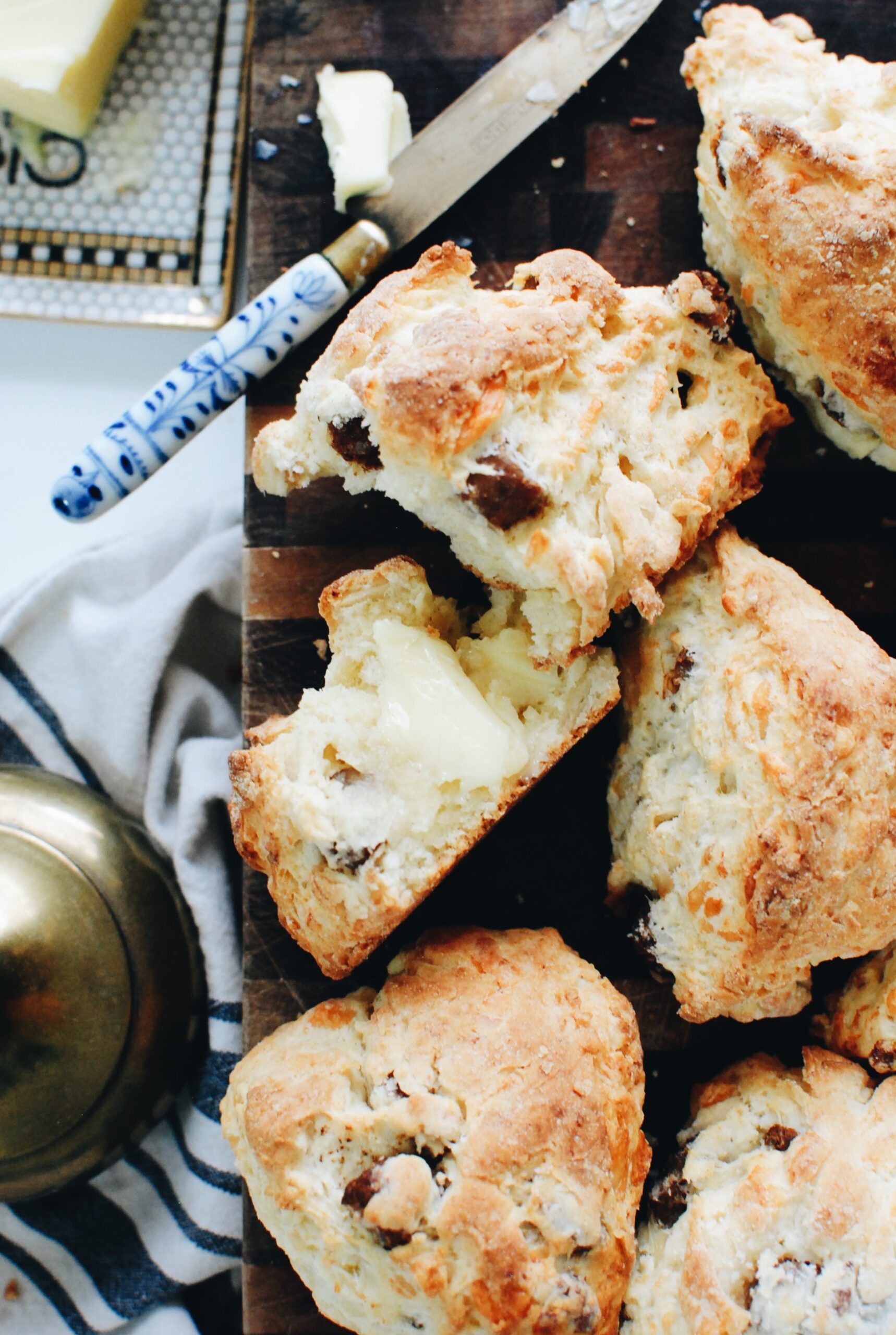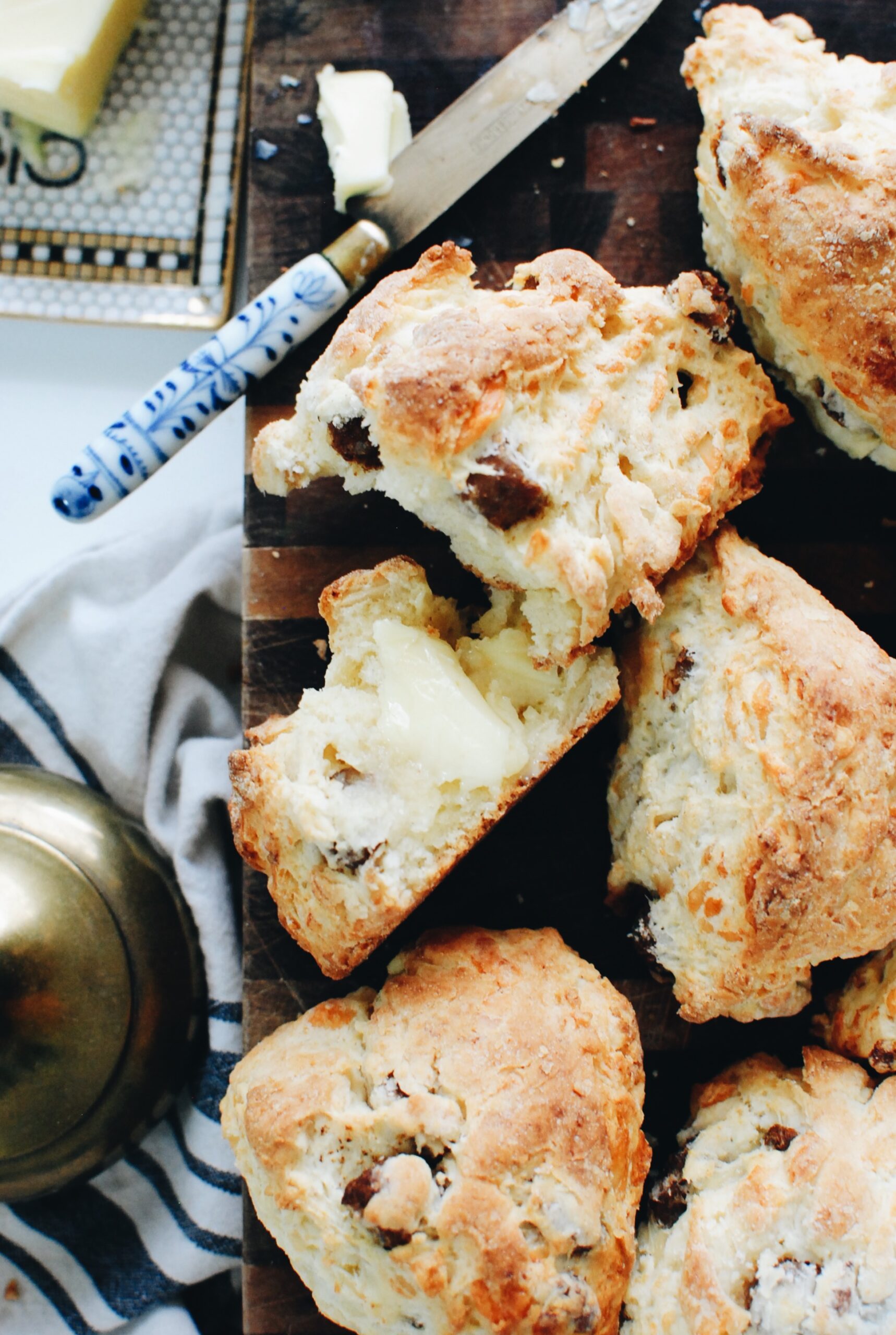 These rustic beauts have quickly become something about I dream about because you can really do anything with them. Remember my first version with cheddar and dried Italian seasoning? Slayed, yes.
Well this one I added some seared breakfast sausage links (solid decision) and some grated GRUYERE (all caps necessary) and oh, okay, yeah. So good. If you need motion, here's how I made it. 🙂
Let us peepeth already.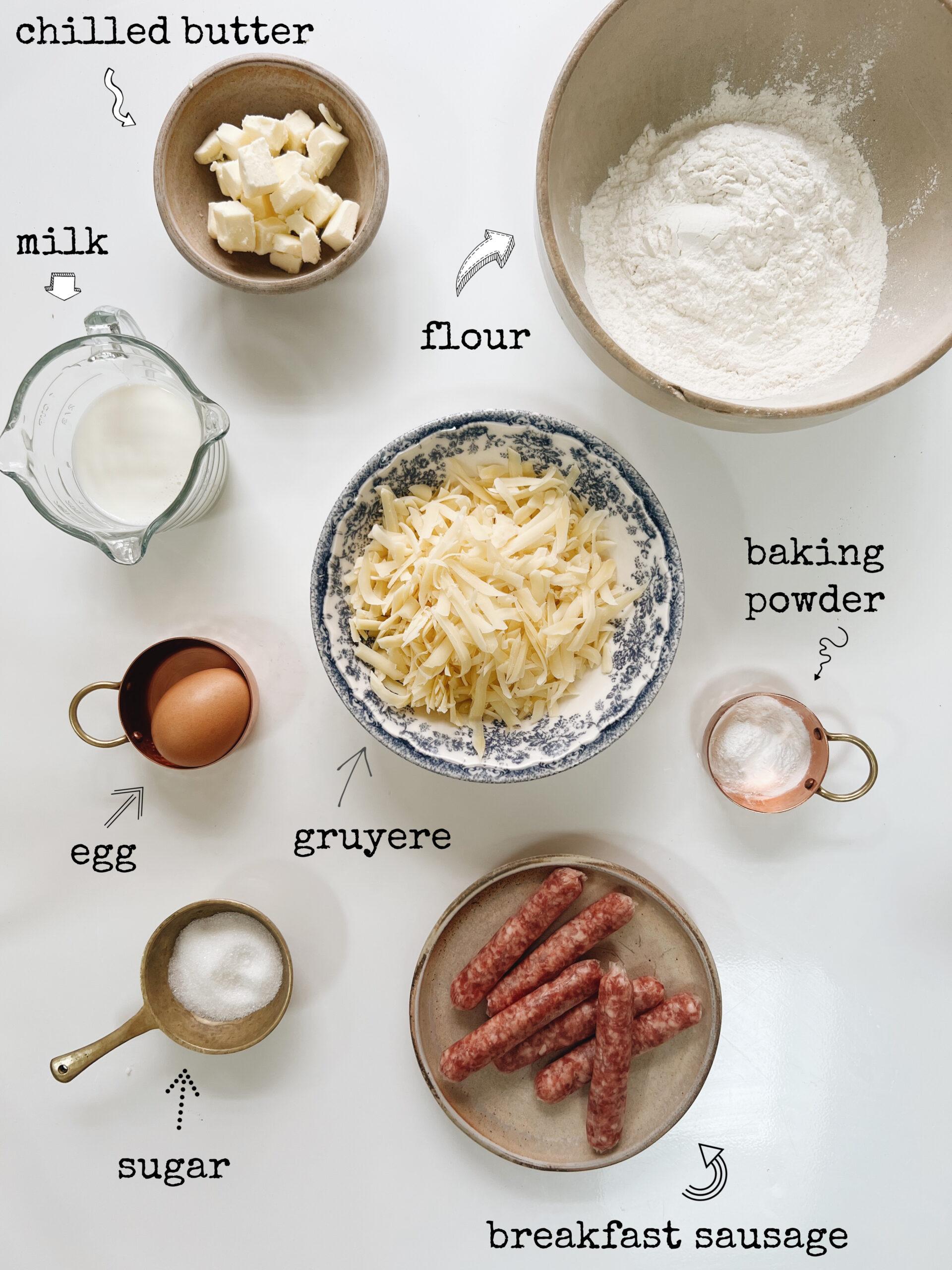 Standard.
Nothing crazy.
Just organize it all before you start so you don't scream at anything or anyone.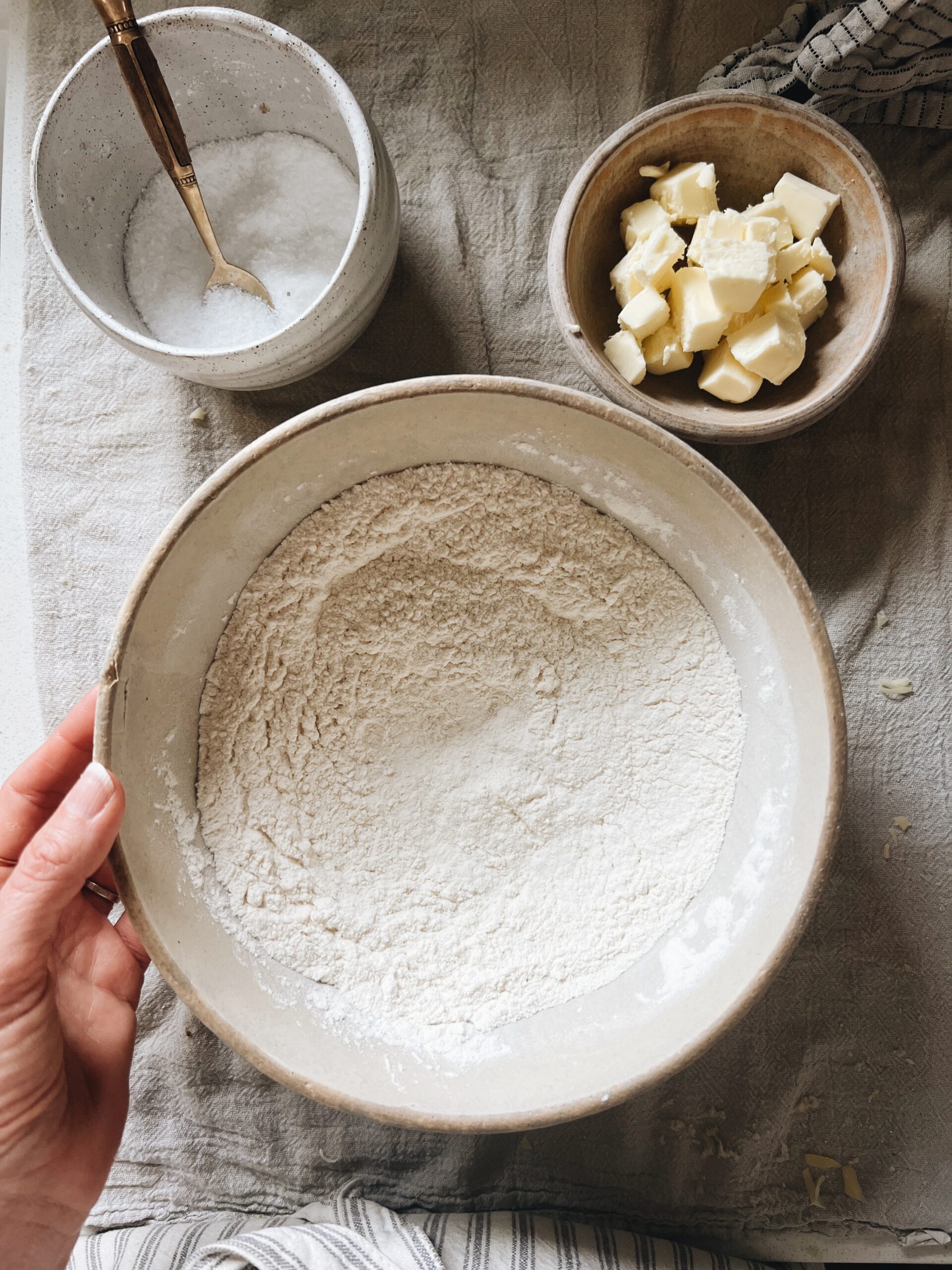 Dried ingredients first! Four, baking powder, sugar, salt. You know how this goes.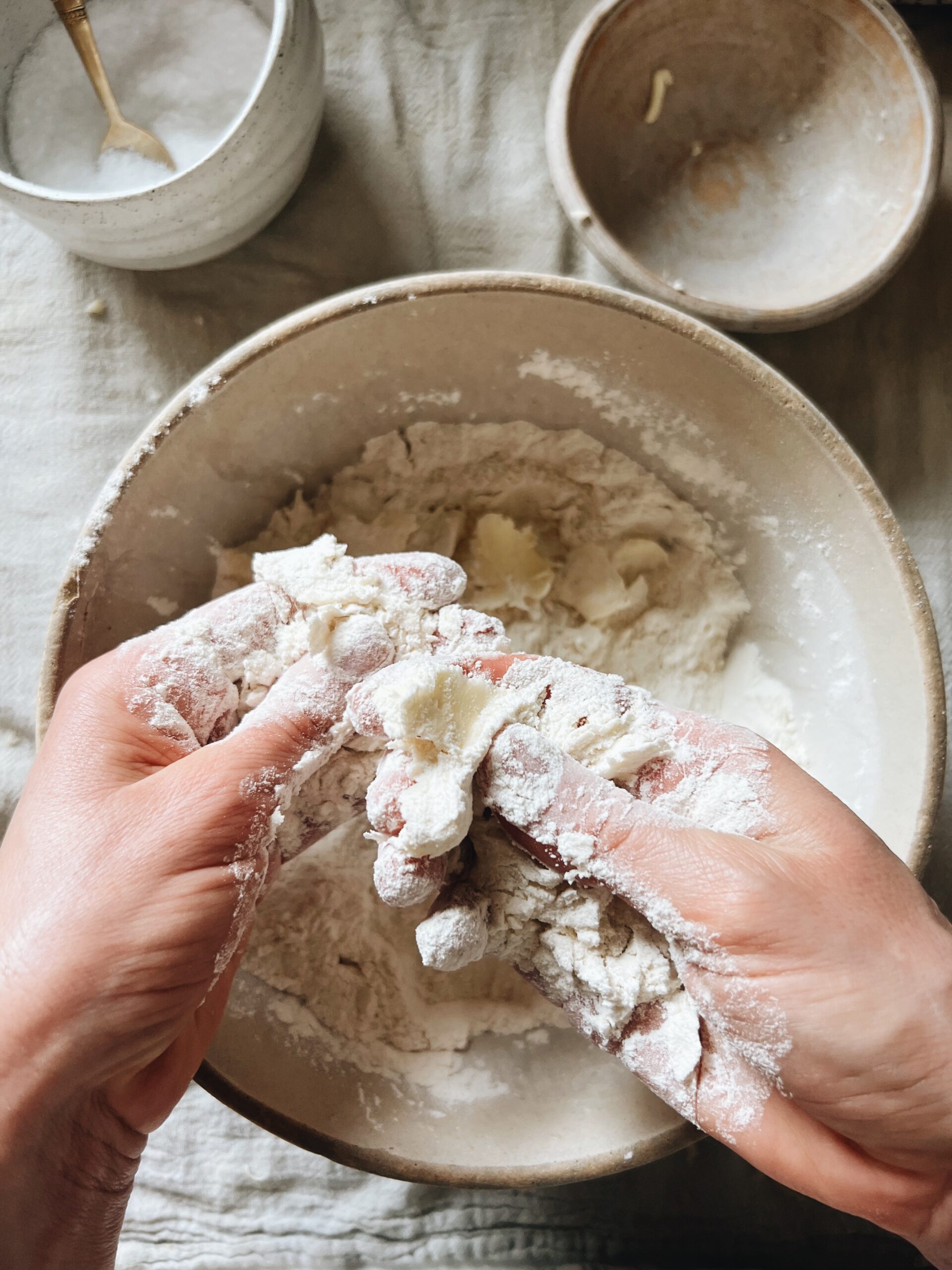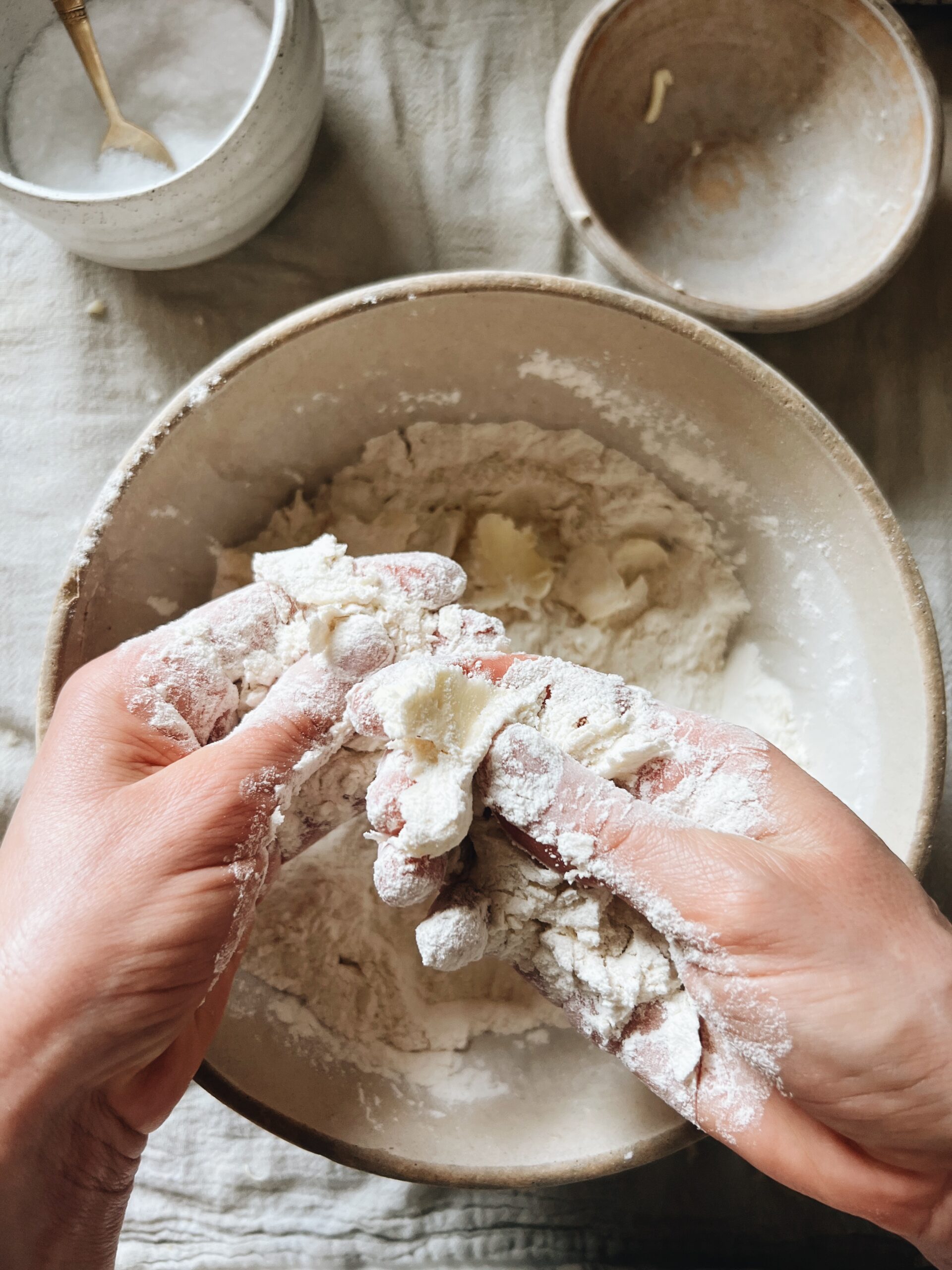 And then you'll take the chilled butter (that you've cut into small pieces) and run this thinly through your fingers, until they become flakes (at first) and then crumbly, the more you work it. Everything should be incorporated with no mammoth butter lumps.
Band called Mammoth Butter Lumps?
No?
Oh.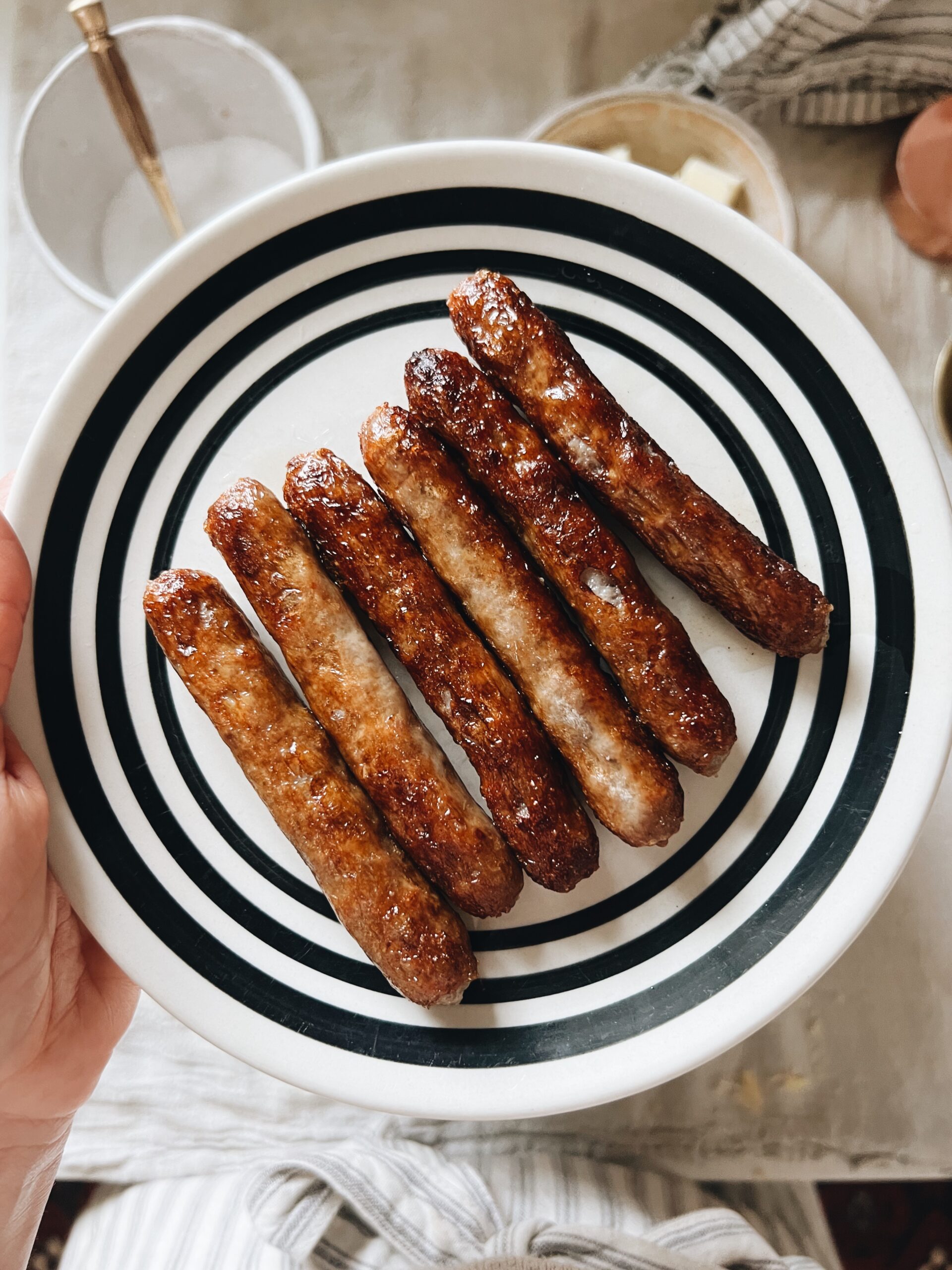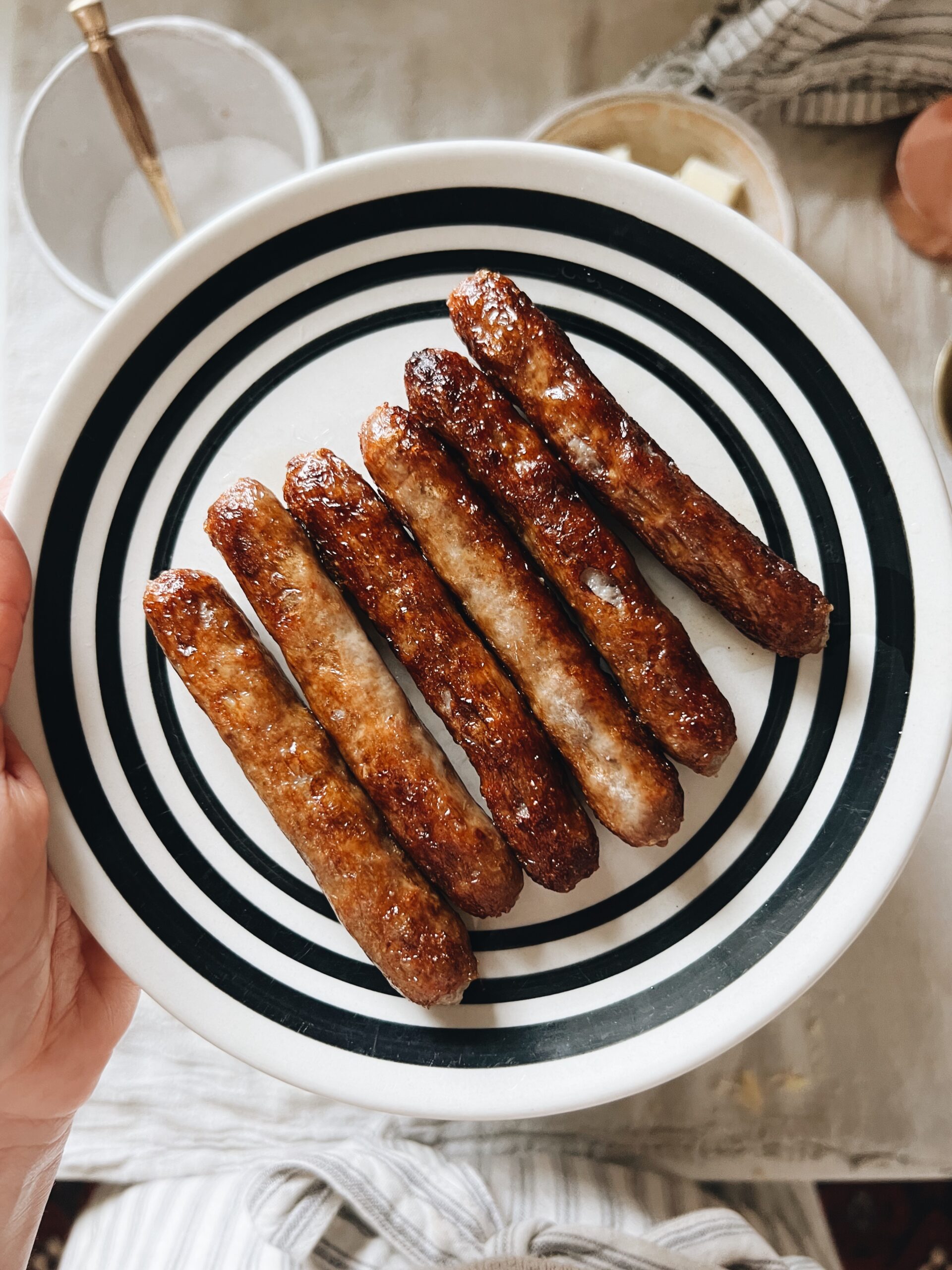 Breakfast sausage! This is regular, not maple. And links, not patties. But listen, use what ya got and call it good. And the amount isn't overly crucial, you just want a bites of savory sausage here and there. I knew we understood each other.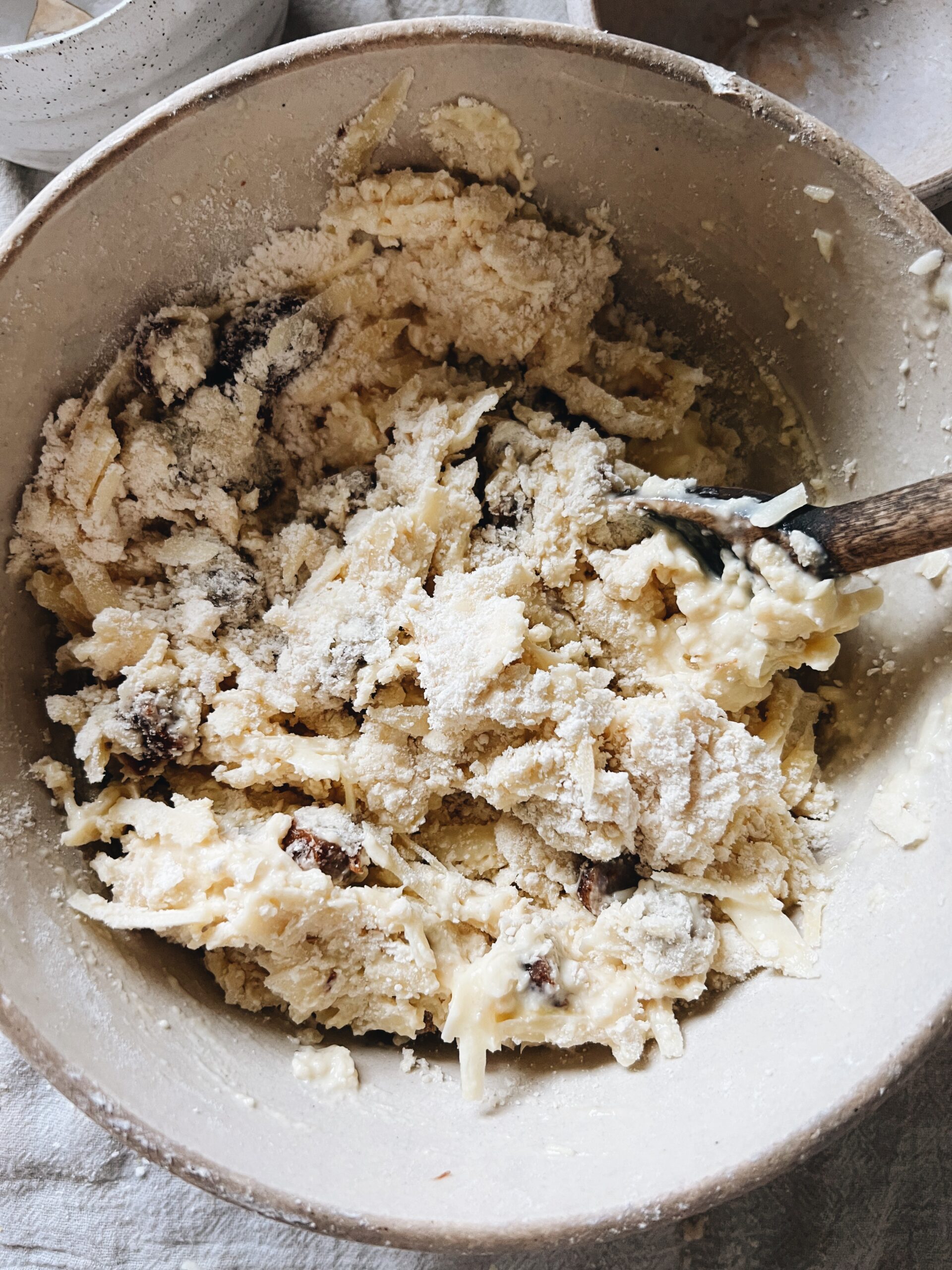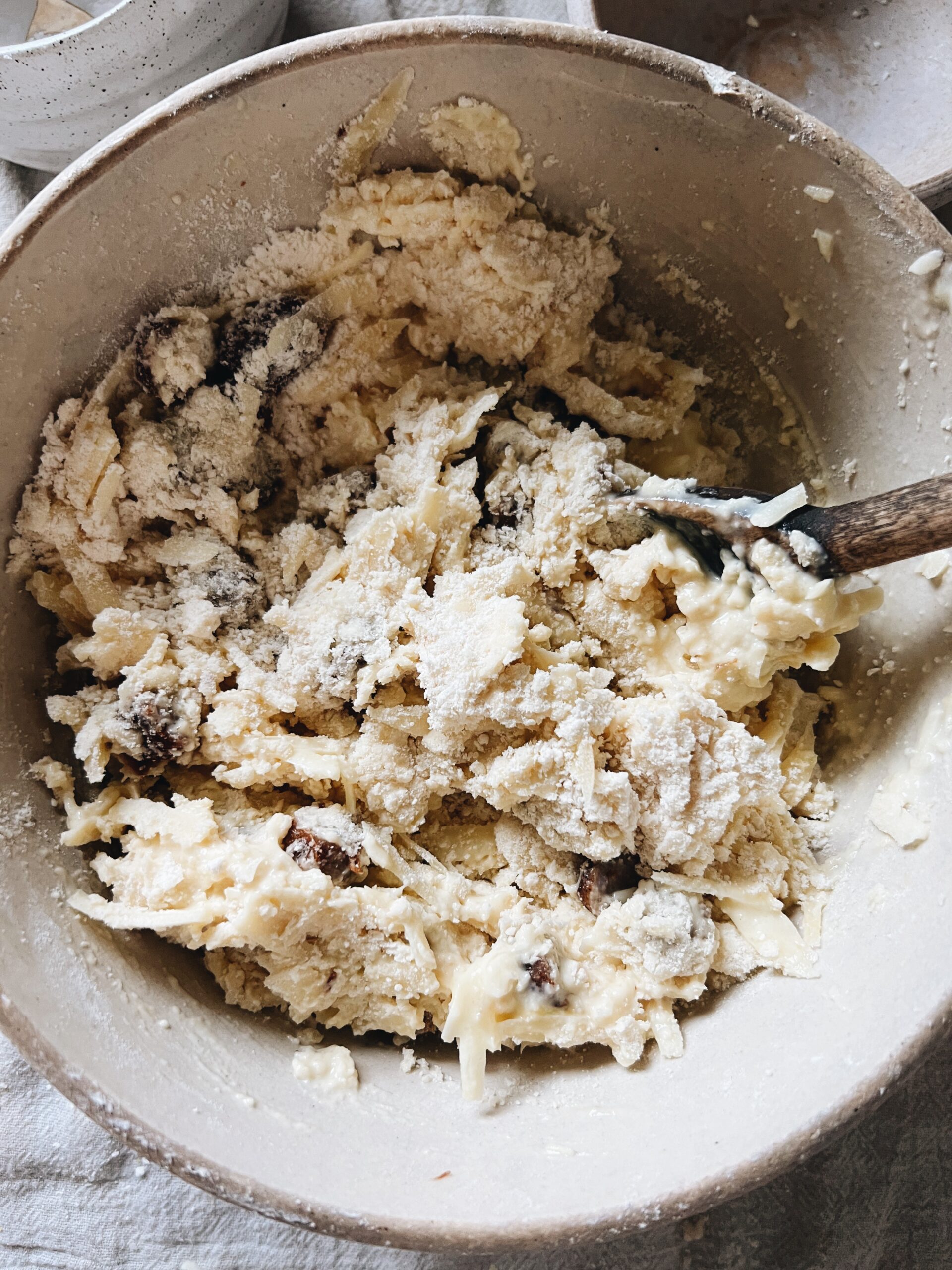 Then we'll add the egg and milk (pre-whisked!), the grated cheese and sausage. Stir it up for a second in the bowl, then turn it all onto a floured work surface and knead it until it becomes a smoothish mound. You'll probably need to add a bit of flour to it as you work it. No prob.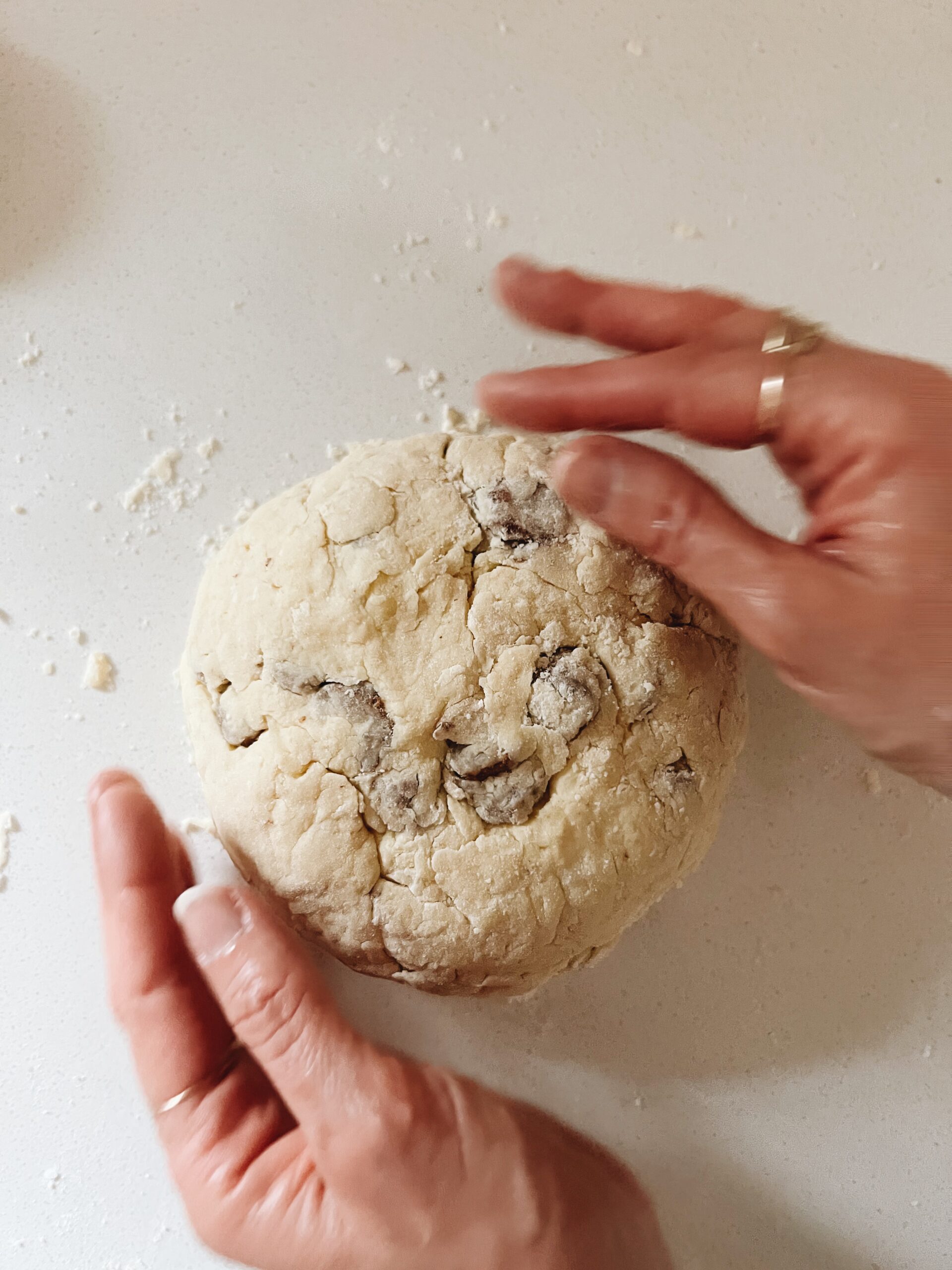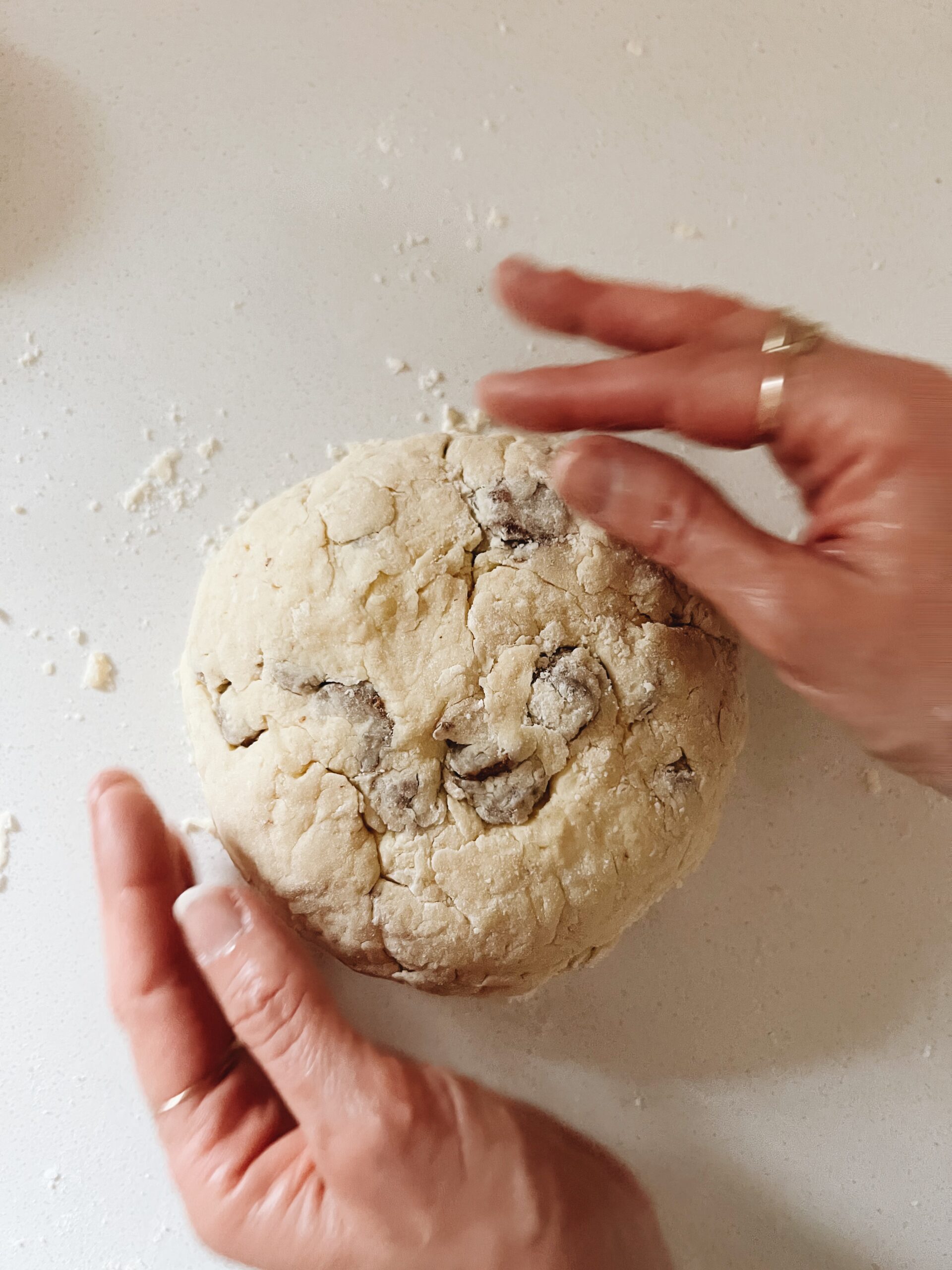 Mine had a few cracks in but I feel like that's just life.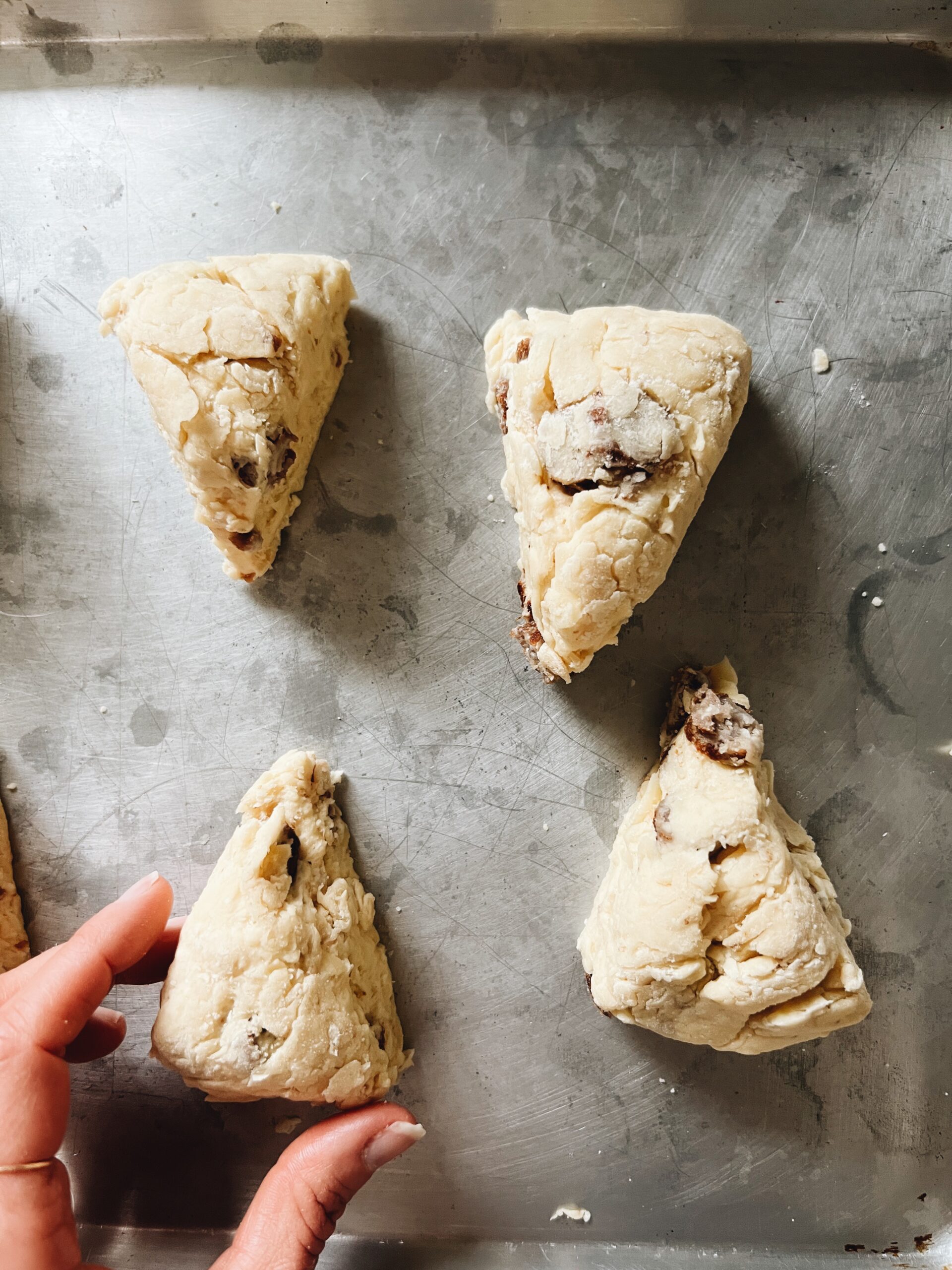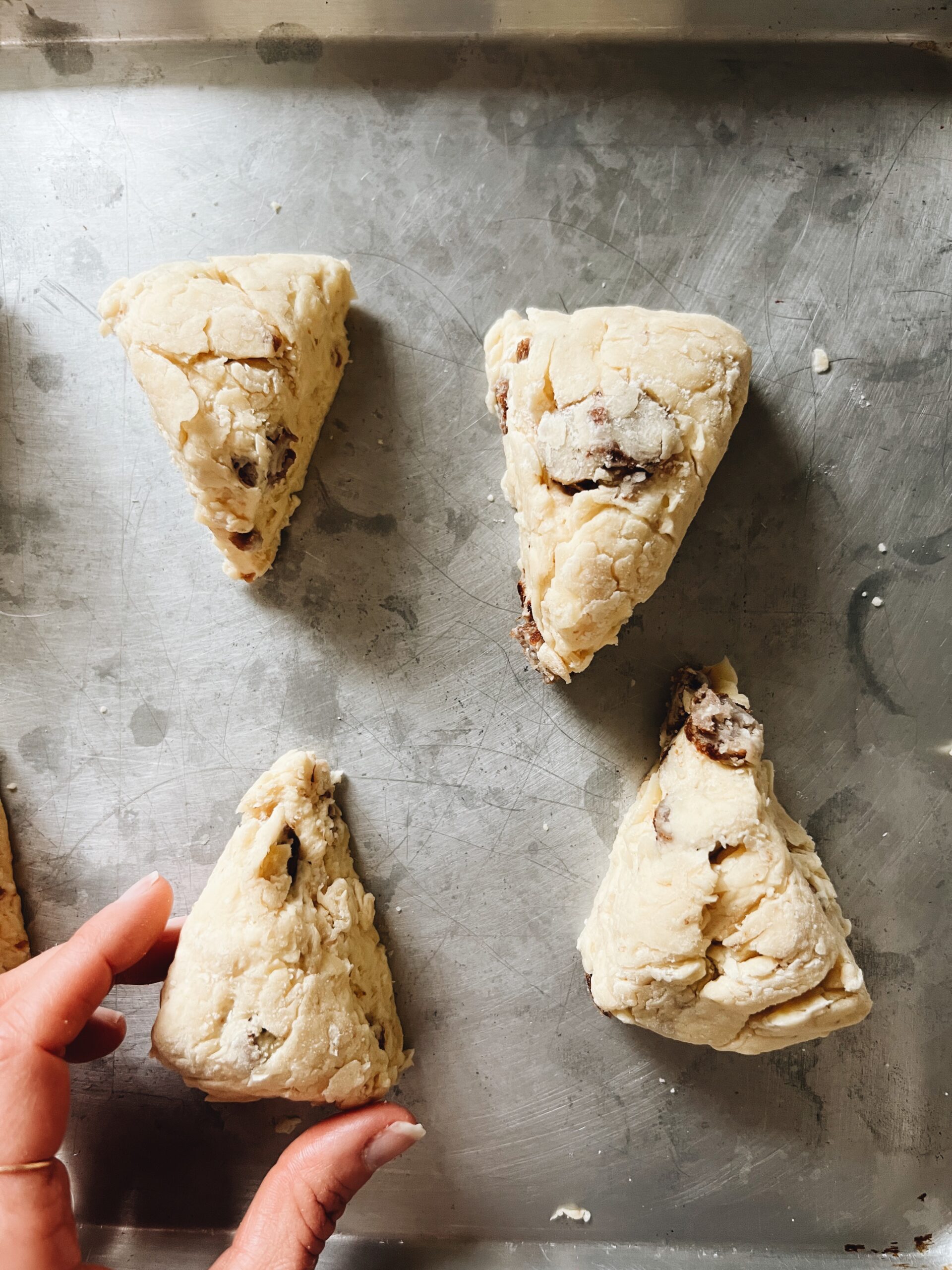 Then use a pastry cutter and cut then into eight small even-ish scone sizes. Last time I made four and they were ENORM, so this time I made them way smaller and once they bake and puff up, they're the perfect size. Just perfect.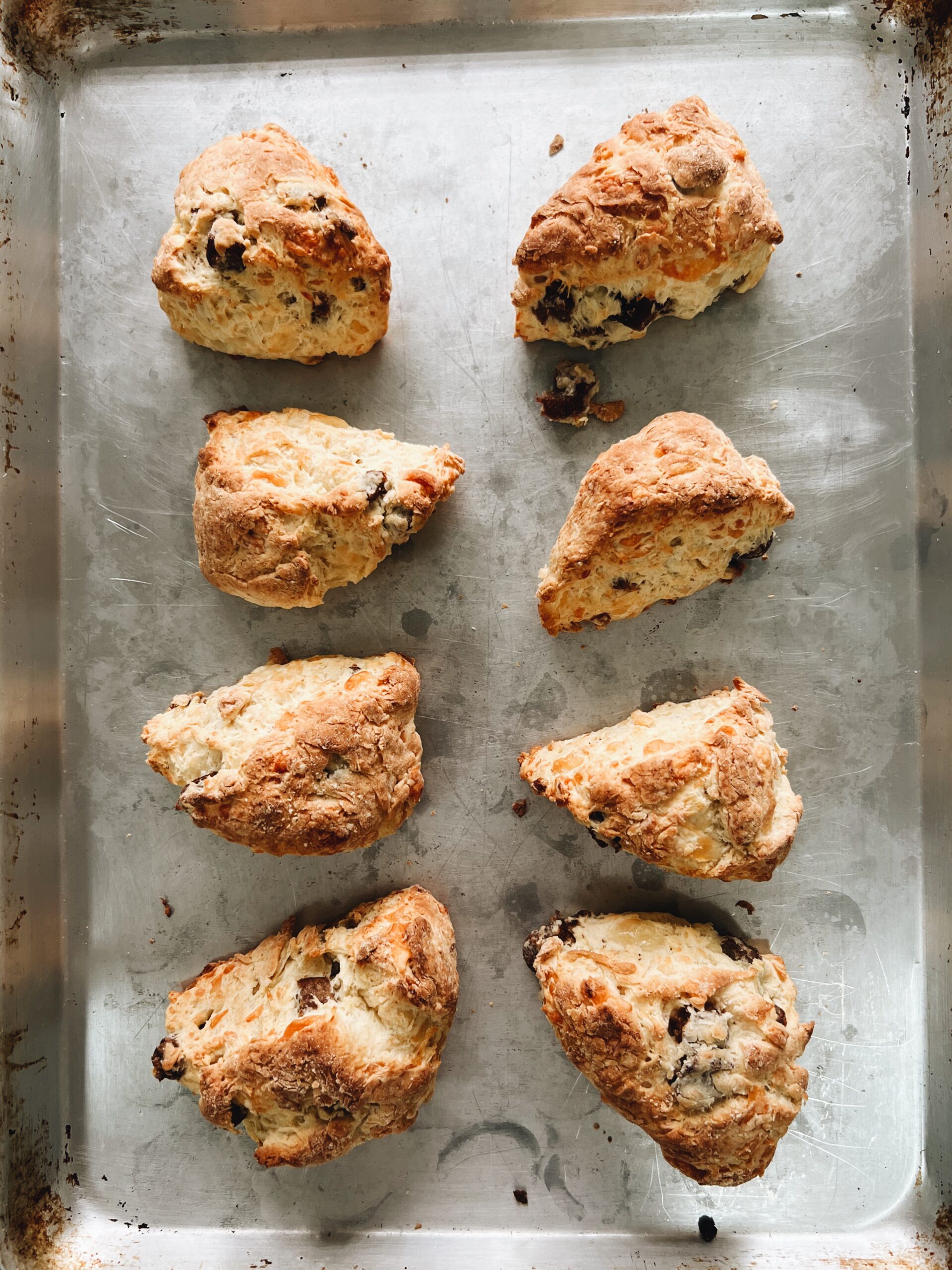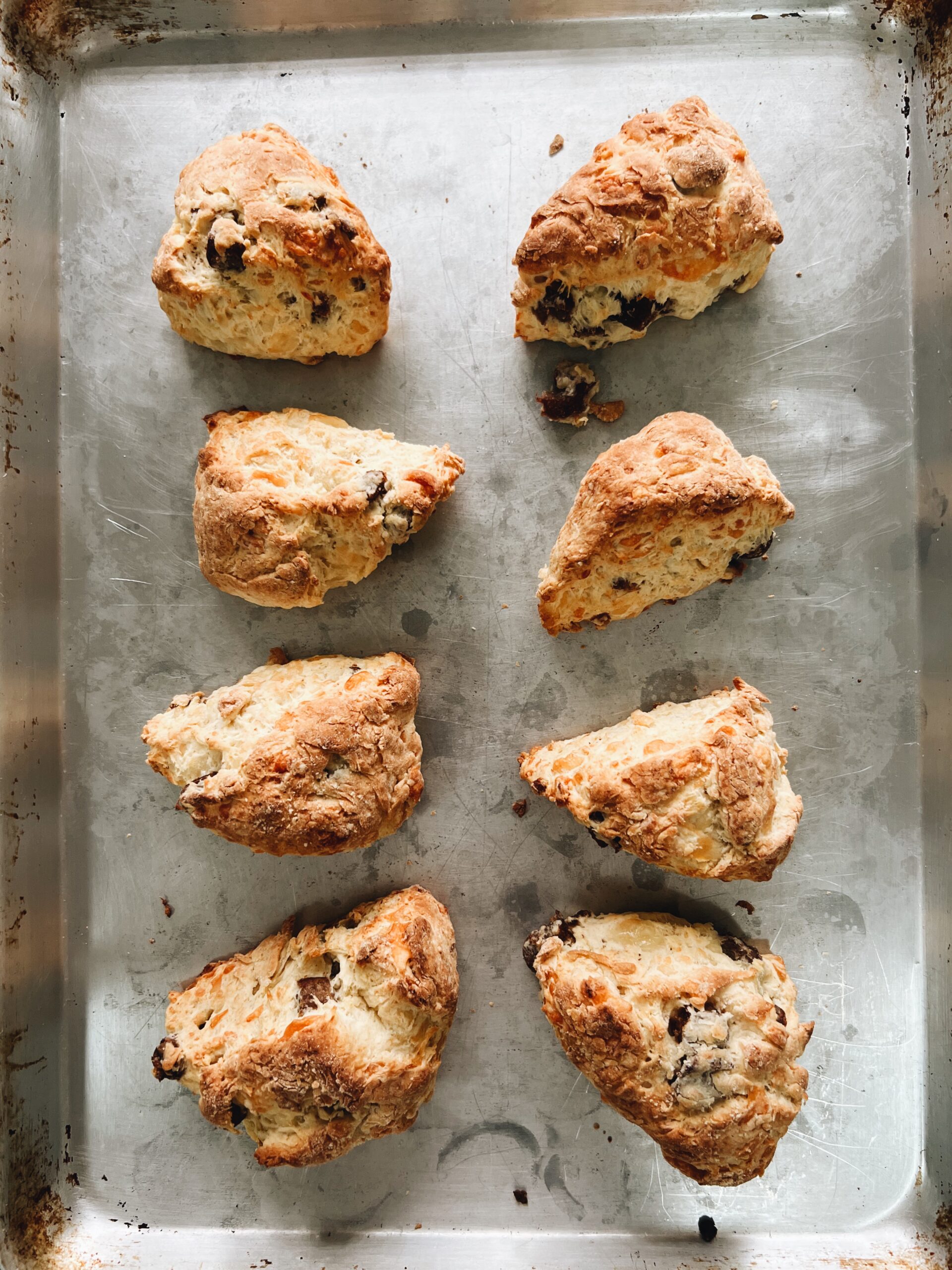 See? Ugh, the scent will knock you over. The nutty Gruyere is faaaaancy in this, so buckle up.
And I couldn't love the rustic, wobbly look of these more. Get your butter ready because it's about to be party time.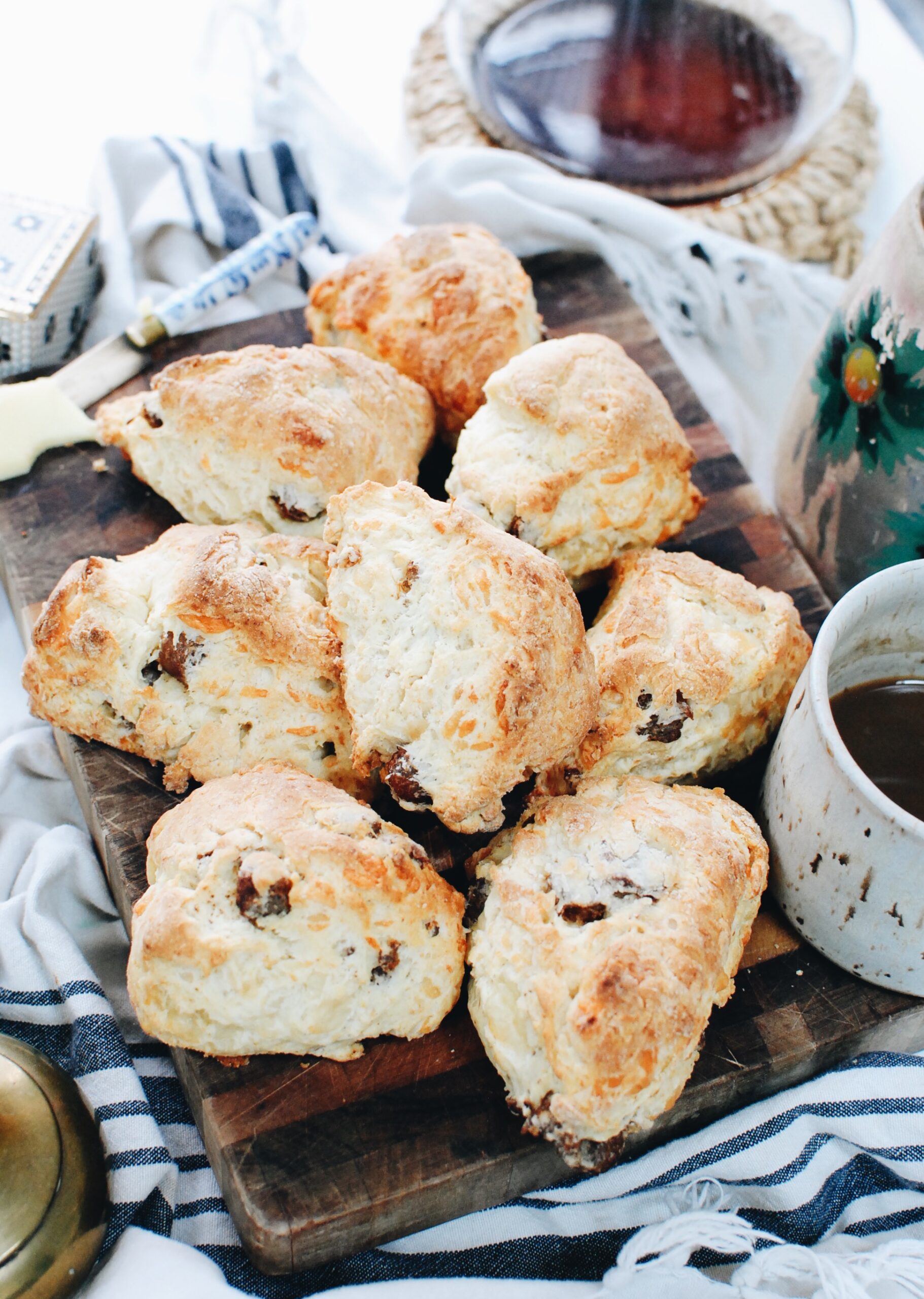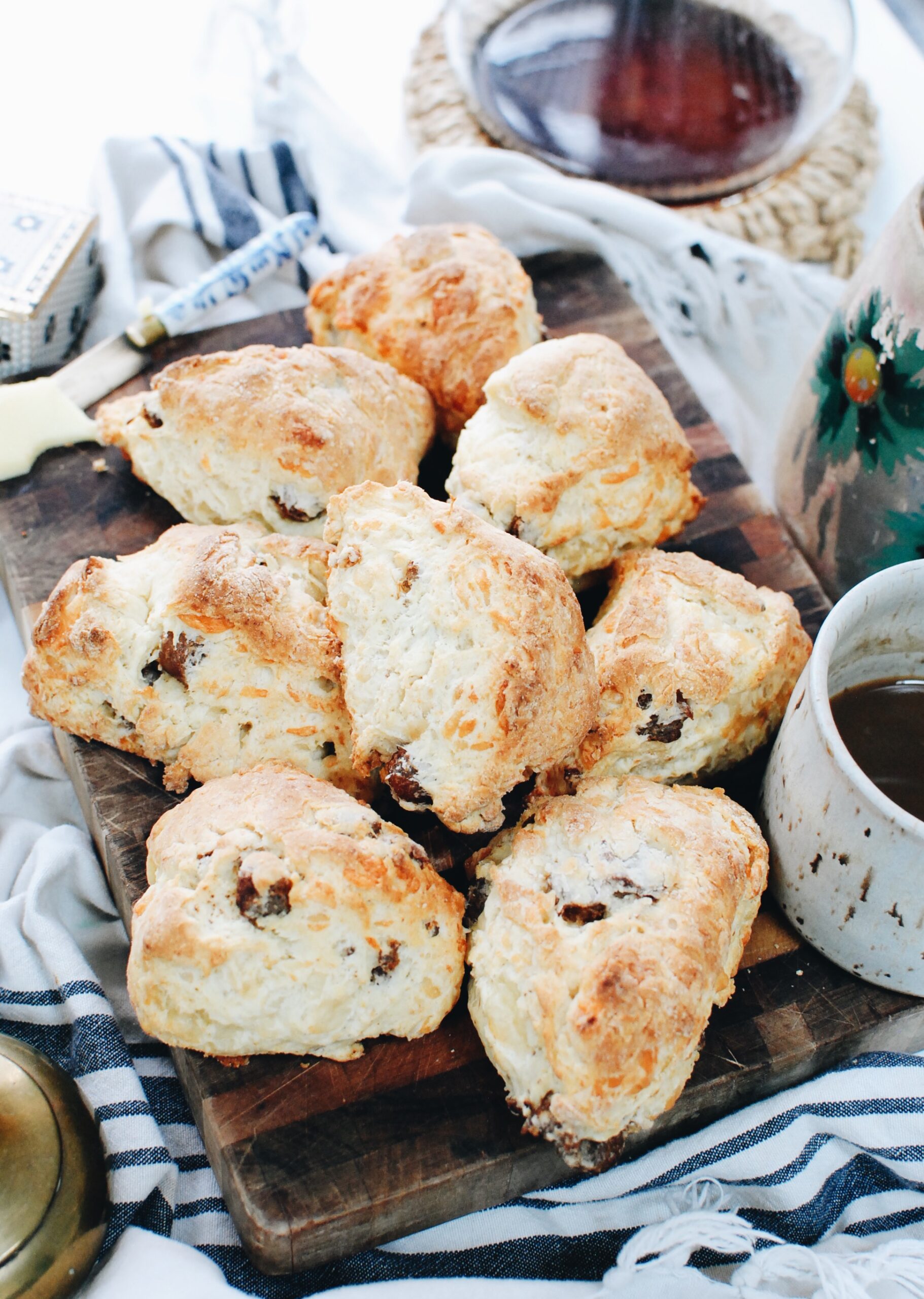 Heeeeeello. If you tear right in, you'll see a little cheese ooze, and it's glorious. I was taking photos so the cooling affected the ooze, but I'm still a good person.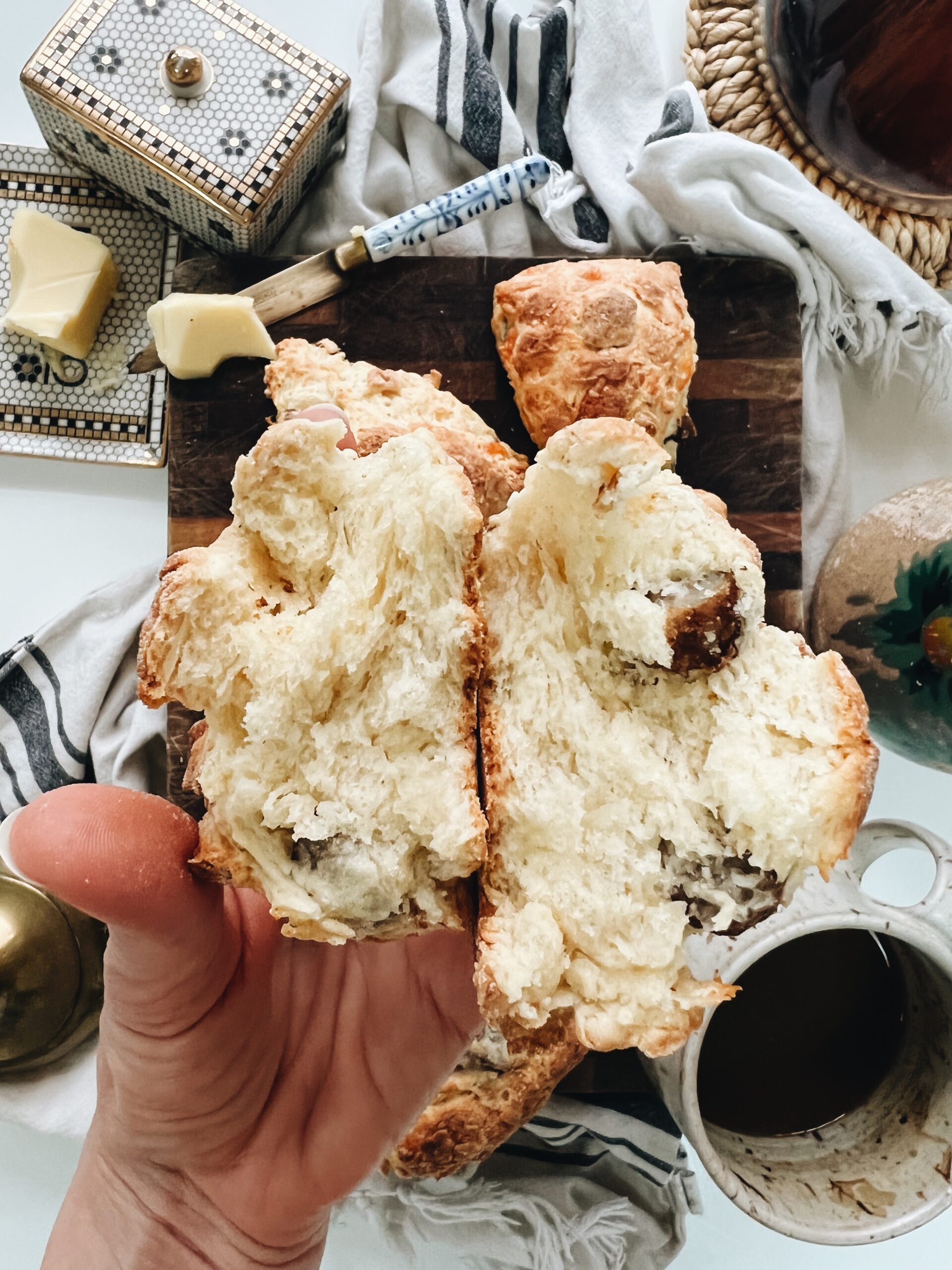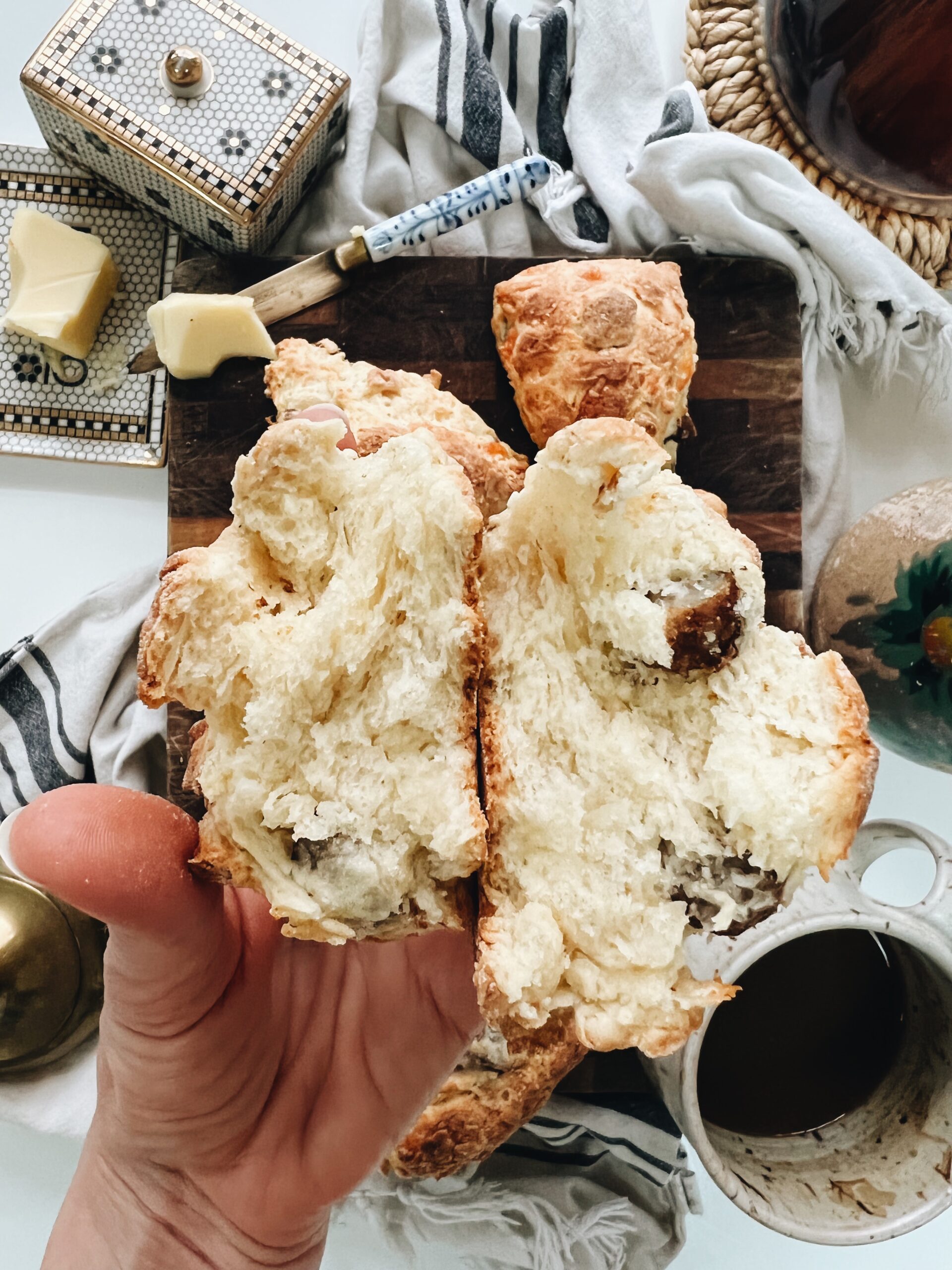 Little pockets of sausage, flaky dough, gorgeous cheese, these are unreal. So satisfying and comforting and at the ready all week for a quick breakfast bite! Pair an egg with it and you're set for the day.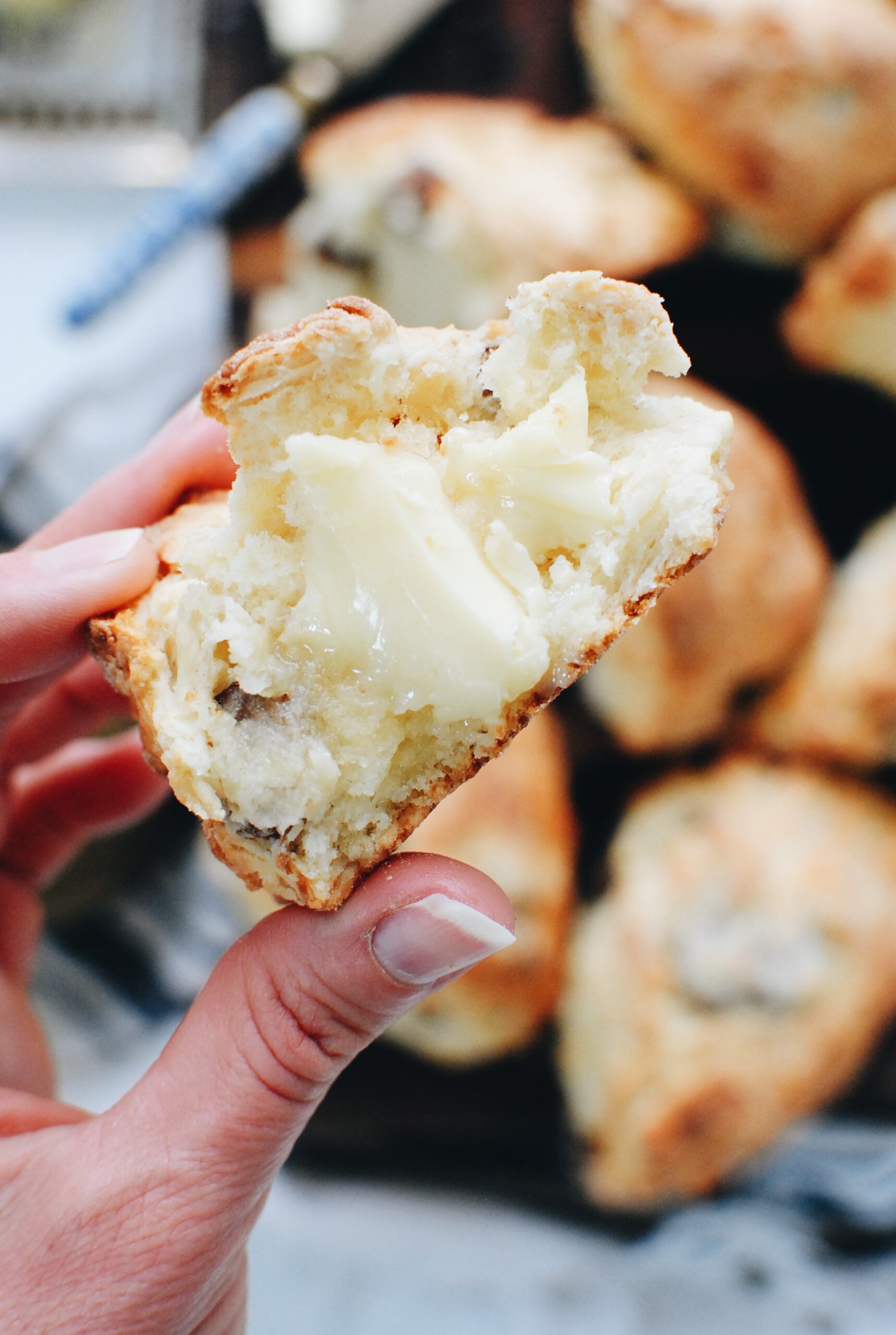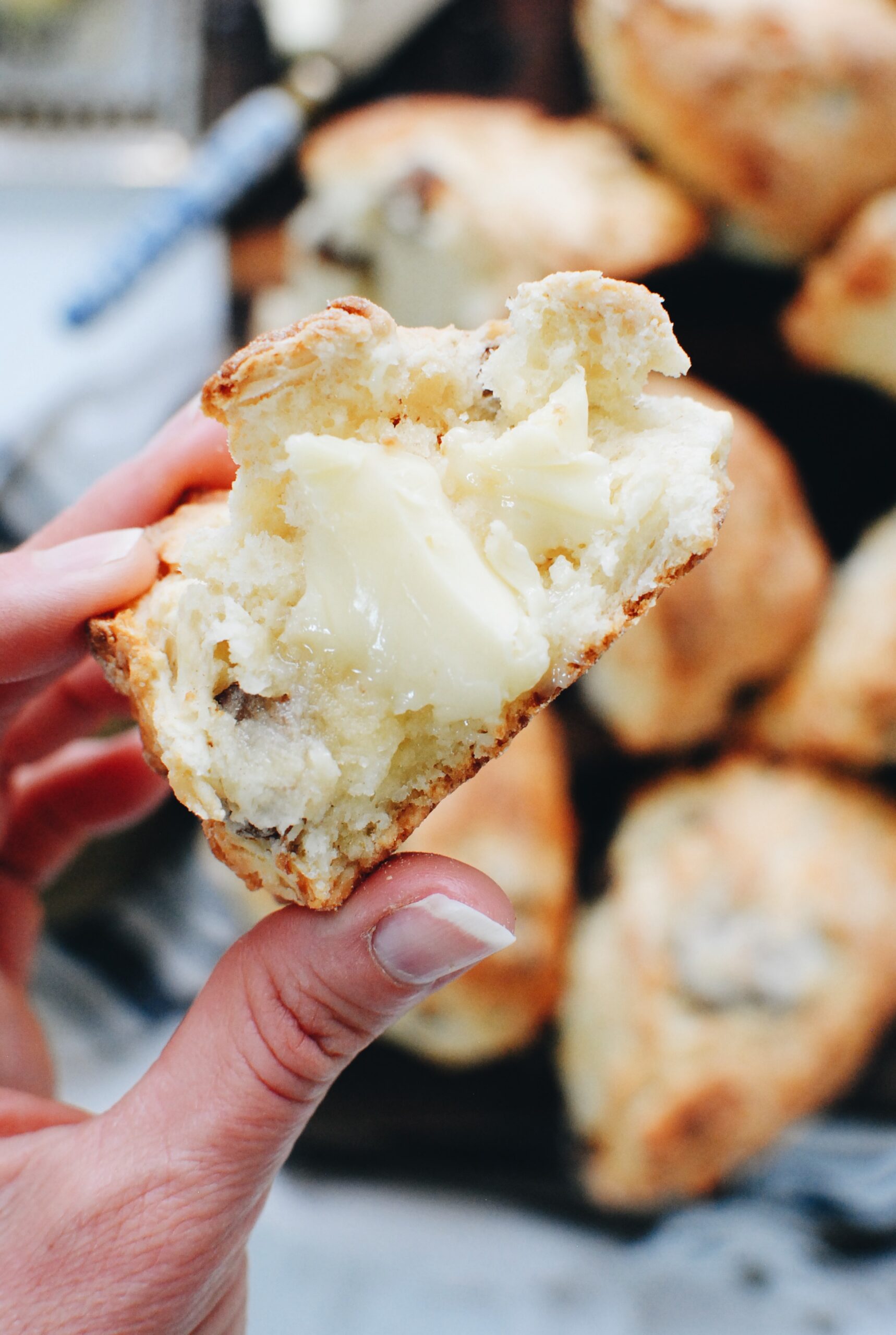 I mentioned the butter, right? Slab a little on. It's spring.
Gruyere and Sausage Scones
Ingredients
1 1/2 cup all-purpose flour
2 Tbs. sugar
3 tsp baking powder
Pinch of salt
4 Tbs. cold butter, cut into small pieces
1/2 cup milk
1 egg
1 1/2 cup grated Gruyere cheese
6 links breakfast sausage, seared and sliced into smaller pieces
Instructions
Preheat your oven to 400.
In a large mixing bowl combine the flour, sugar, baking powder and a pinch of salt. Whisk that real quick. Now take the chilled butter and add it to the bowl. Using your fingers, press the butter through them to create thin flakes. Keep going until the butter has completely crumbled and fully incorporated into the flour. We don't want any large chunks of butter.
In a smaller bowl, whisk together the milk and egg and add it to the flour mix. Add the grated cheese and chopped sausage as well. Using a wooden spoon, give this a rough stir to start combining. Then tip it onto a floured work surface and knead the dough until it becomes a mound.
Using a pastry cutter, cut the dough in half, then into fourths, then into eighths. They'll be little triangles, which are scones shaped. Cute, huh?
Transfer onto a baking sheet and bake for 15 minutes, until the scones have baked through and are puffed and golden.
Serve with room temperature butter for spreading and dive in!
Makes eight scones.
7.8.1.2
565
https://bevcooks.com/2022/03/gruyere-and-sausage-scones/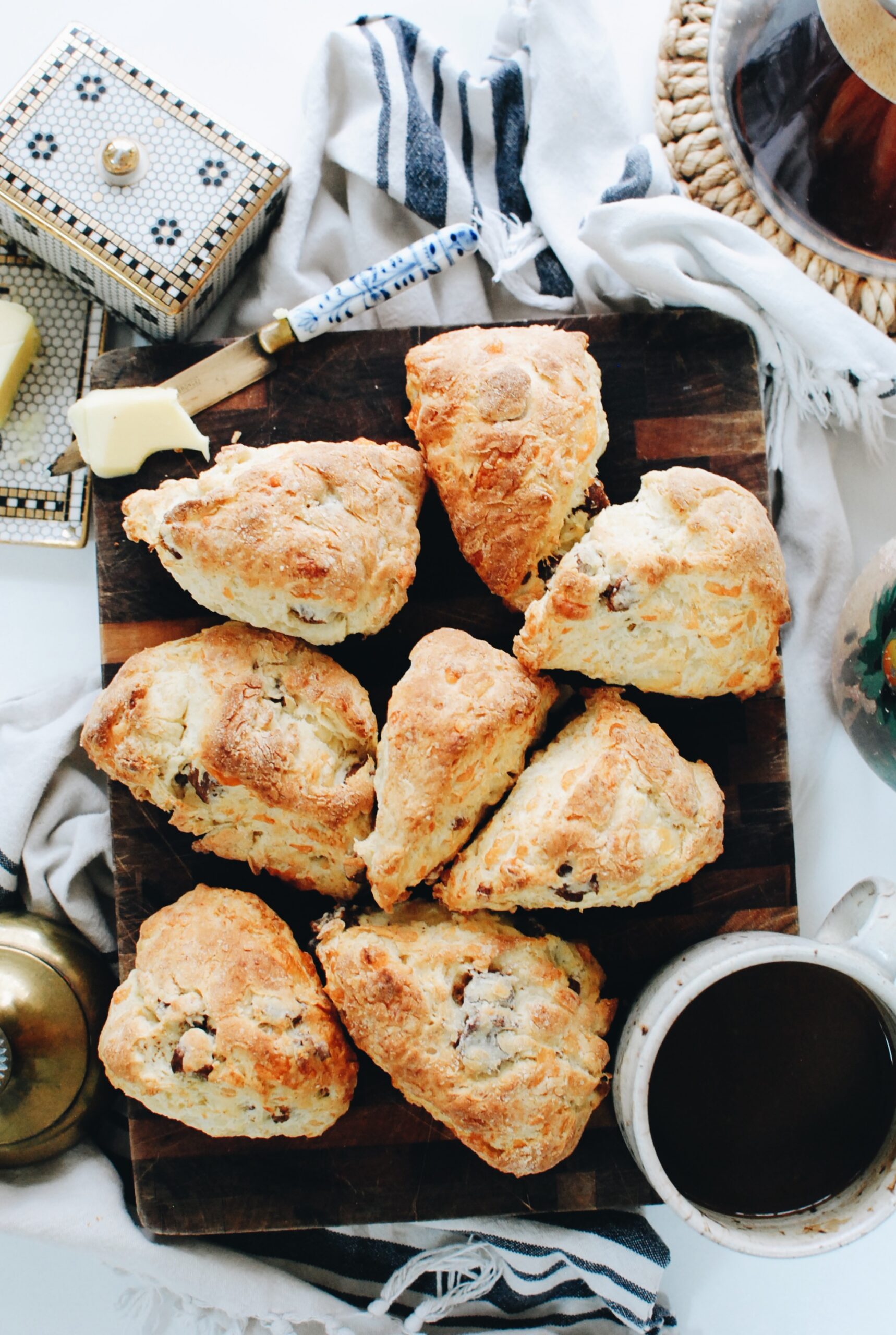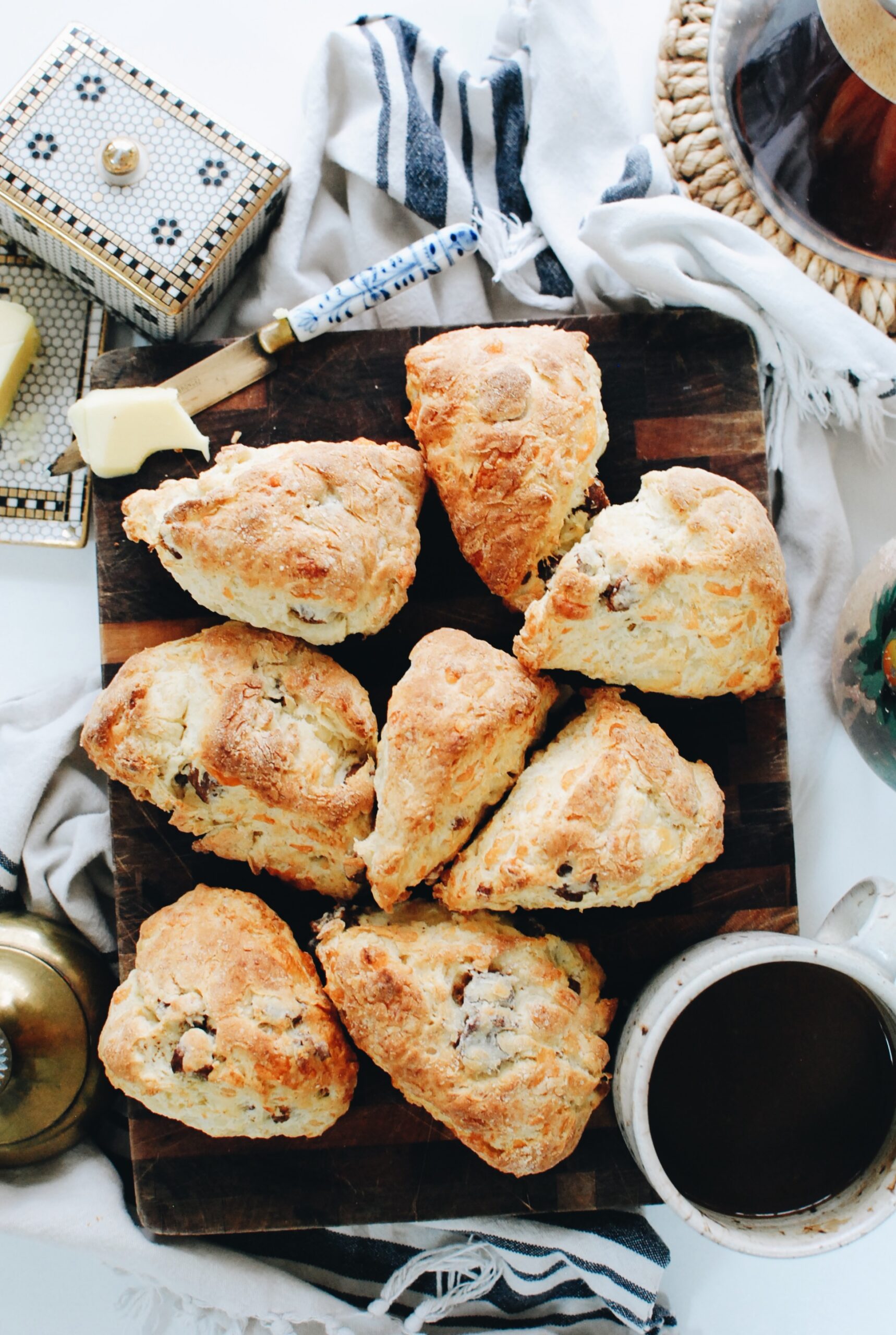 Your new go-to scone. Wanna bet?