Otherwise known as Kitchen Sink Pasta! If you're into it.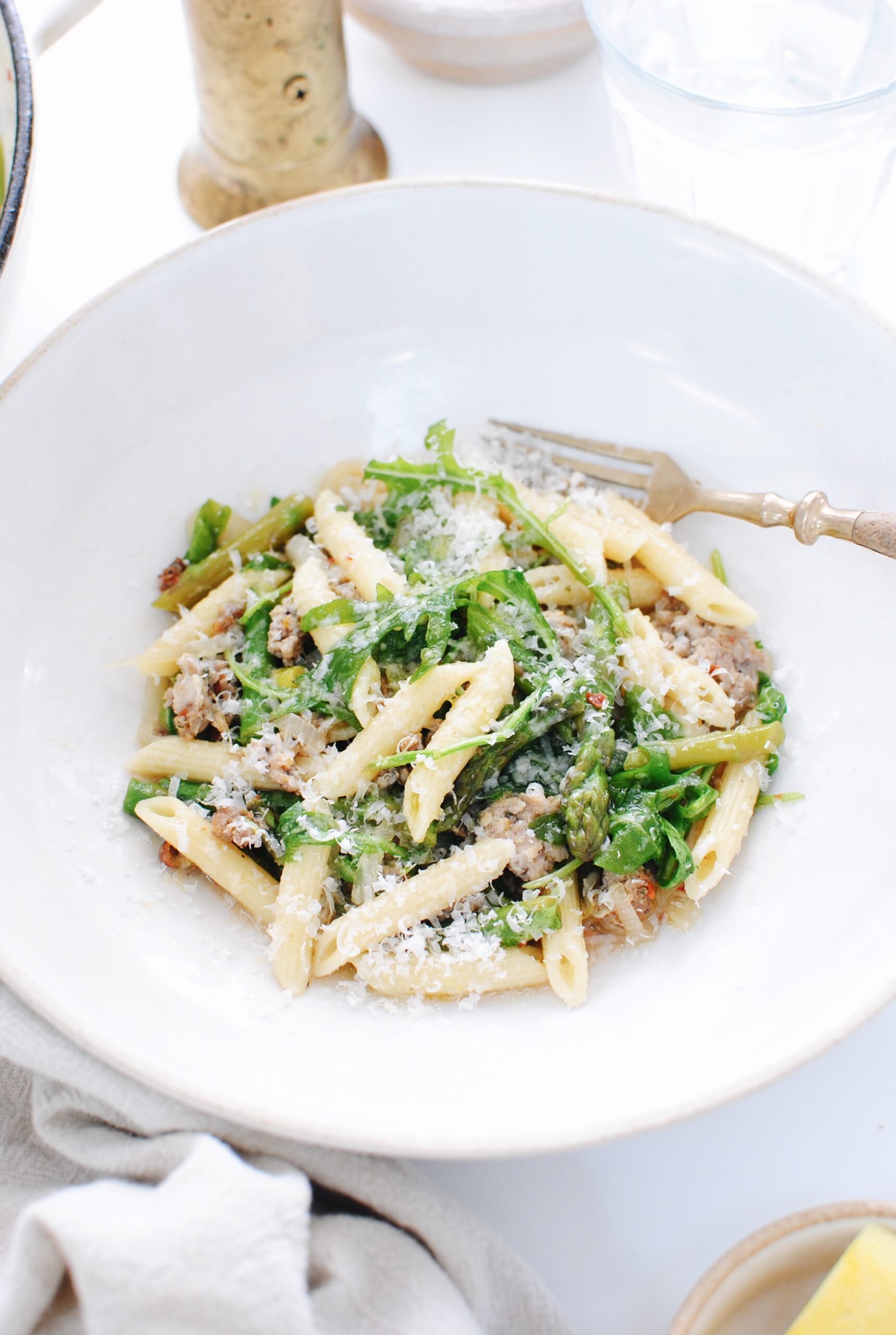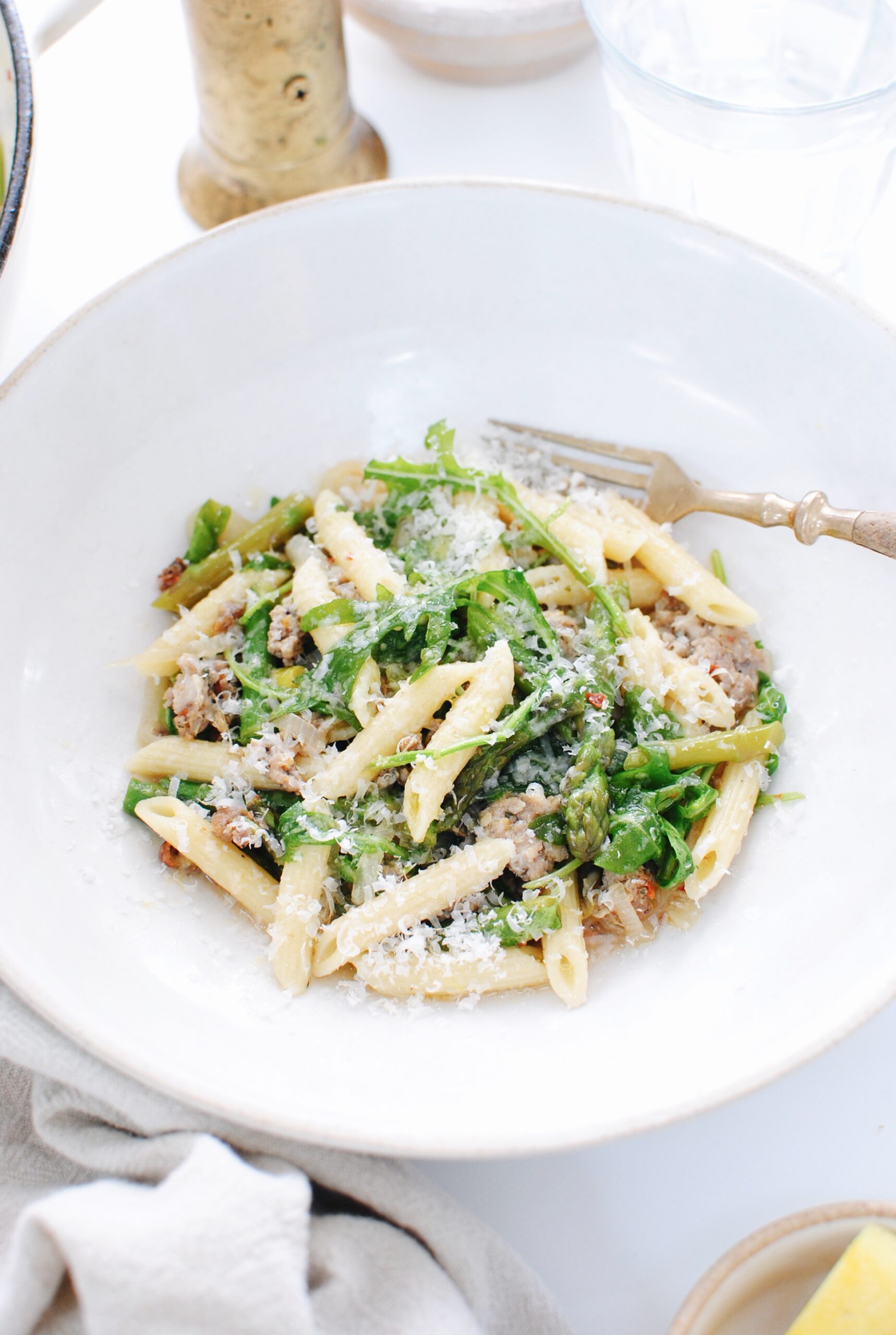 I call it that because there was this one Friday afternoon when I desperately needed to clean out the fridge and eat everything in it before I screamed. And shopped. Screamed and shopped. And as I perused the contents I found everything I needed to make a little hodge podge pasta situation like this. Which might happen to resemble your fridge. But if it doesn't resemble it, just pick up the ingredients for this. Ha!
Never mind.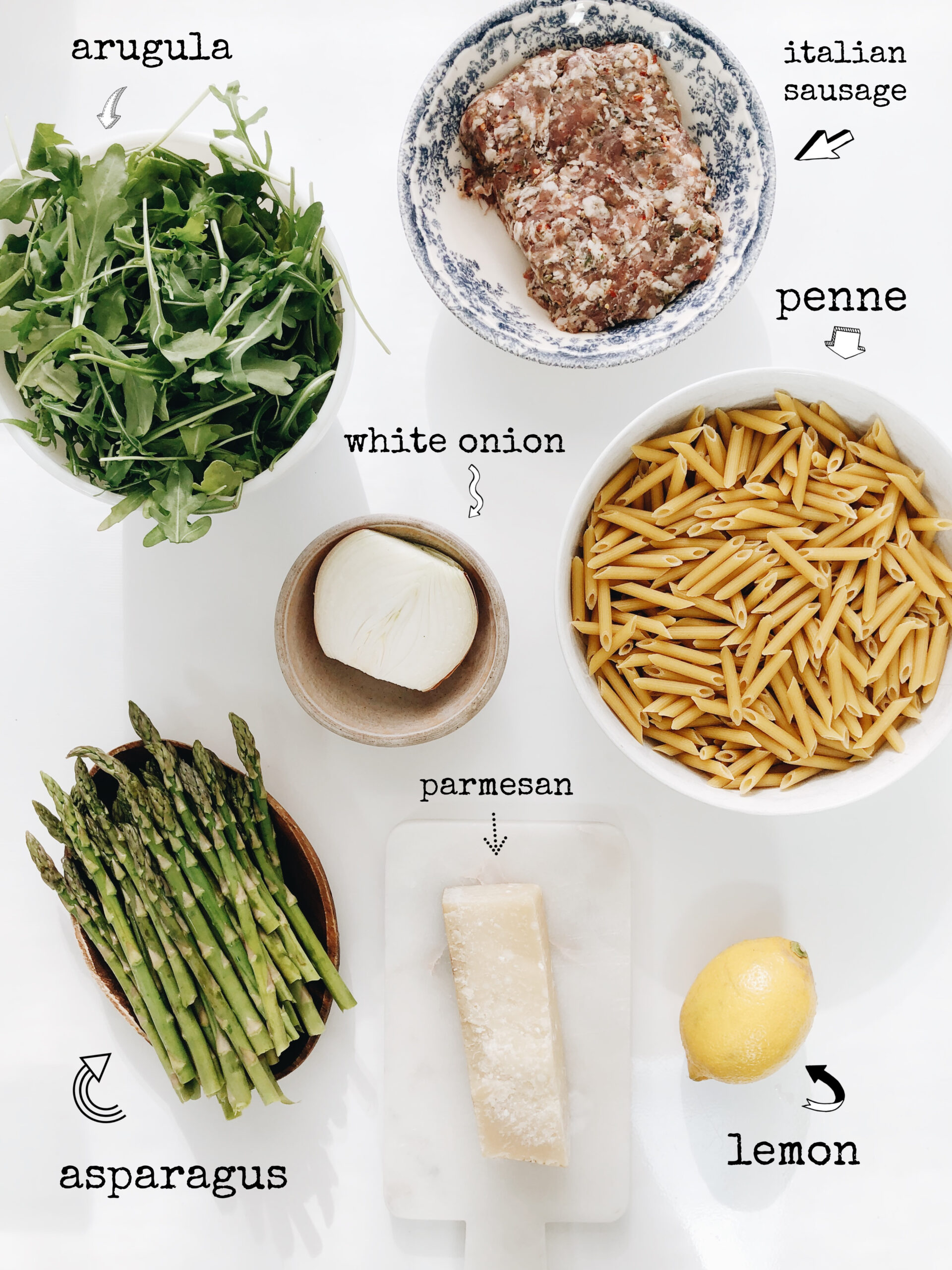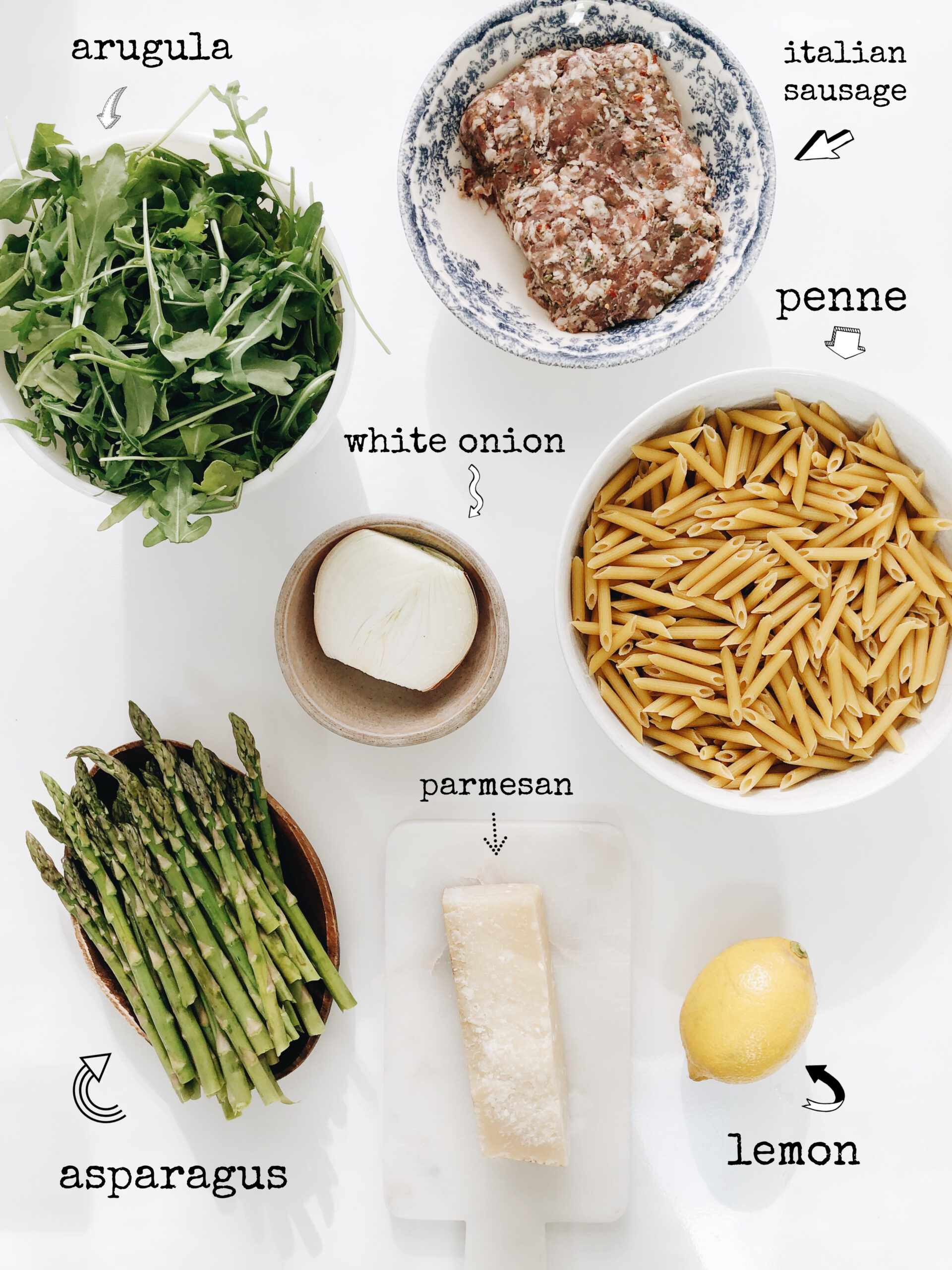 And look, that's only a half pound of Italian sausage. I had used the other half pound for something else (OH! I remember – pizza quesadillas. I was making them for the blog and it was a complete disaster so I need to start over and rethink those. Different pan. Less cheese. Folded tortilla vs. stacked. But I'll figure that out later.), and was left with this. Which is seriously all you need.
The asparagus, Aaron had plans for it and it never happened. The arugula, I'd used half for a mini salad and needed to use the rest before it rotted. The pasta, well, it was what I found in the pantry, so here we are.
The rest are fridge staples. We know how this rolls.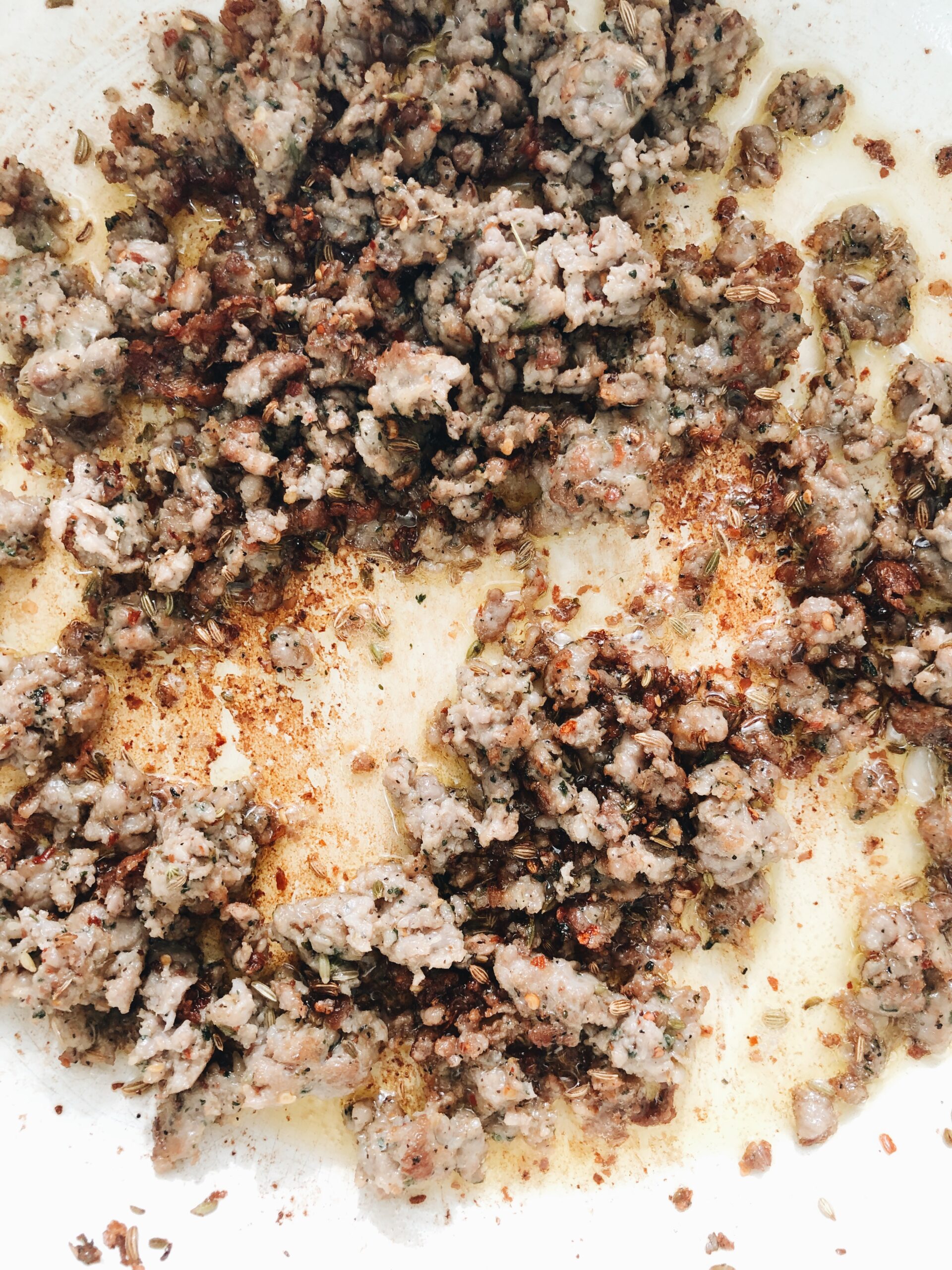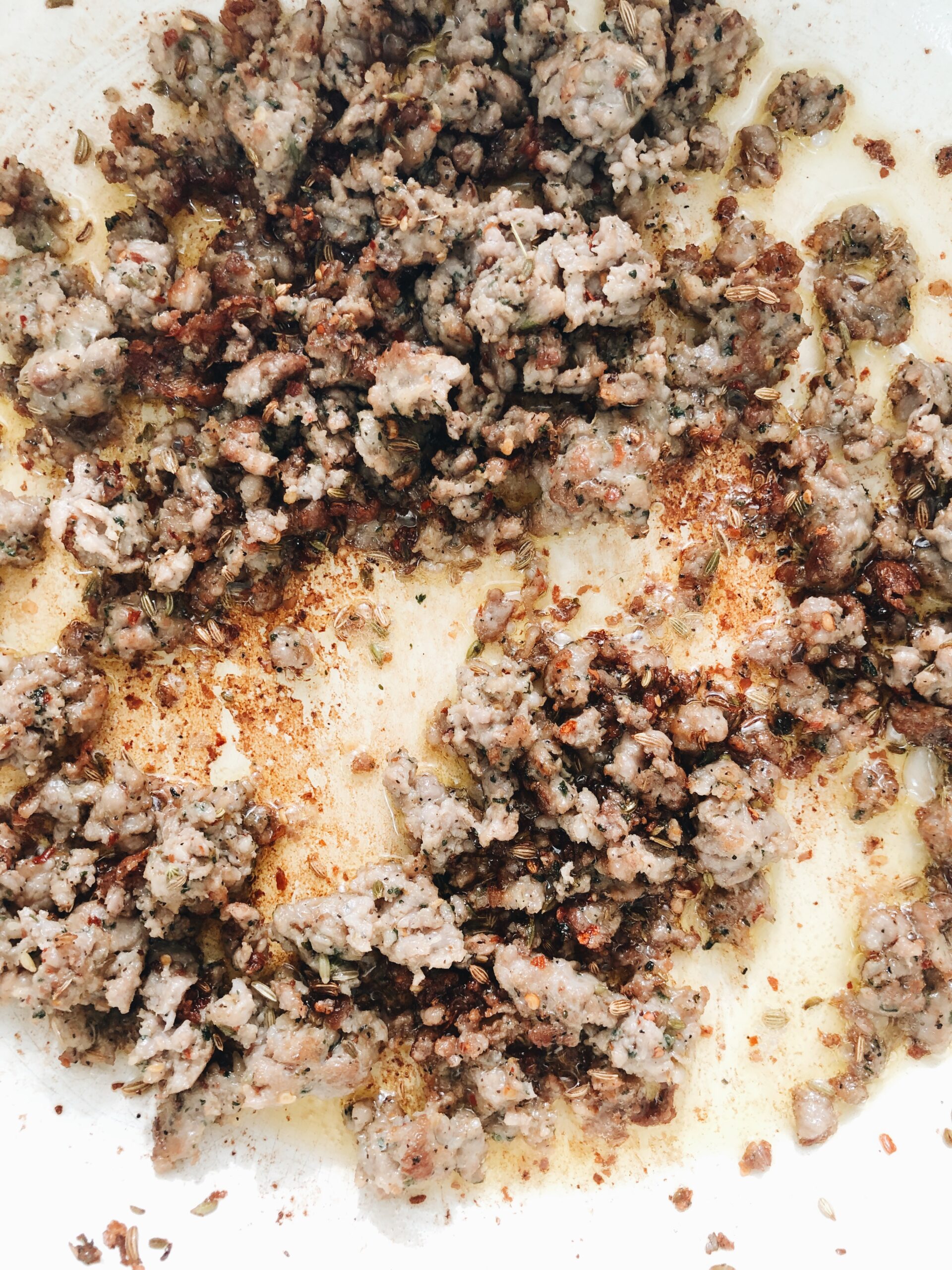 Get your Italian sausage browned in a pan. You'll have to add a little oil, otherwise it will stick. And mine is a medium heat, flecked with crushed red pepper, so it has loads of flavor, with a little kick. Get what you want! You might have a package lurking in your freezer. Go take a look. Report back.
You don't have to.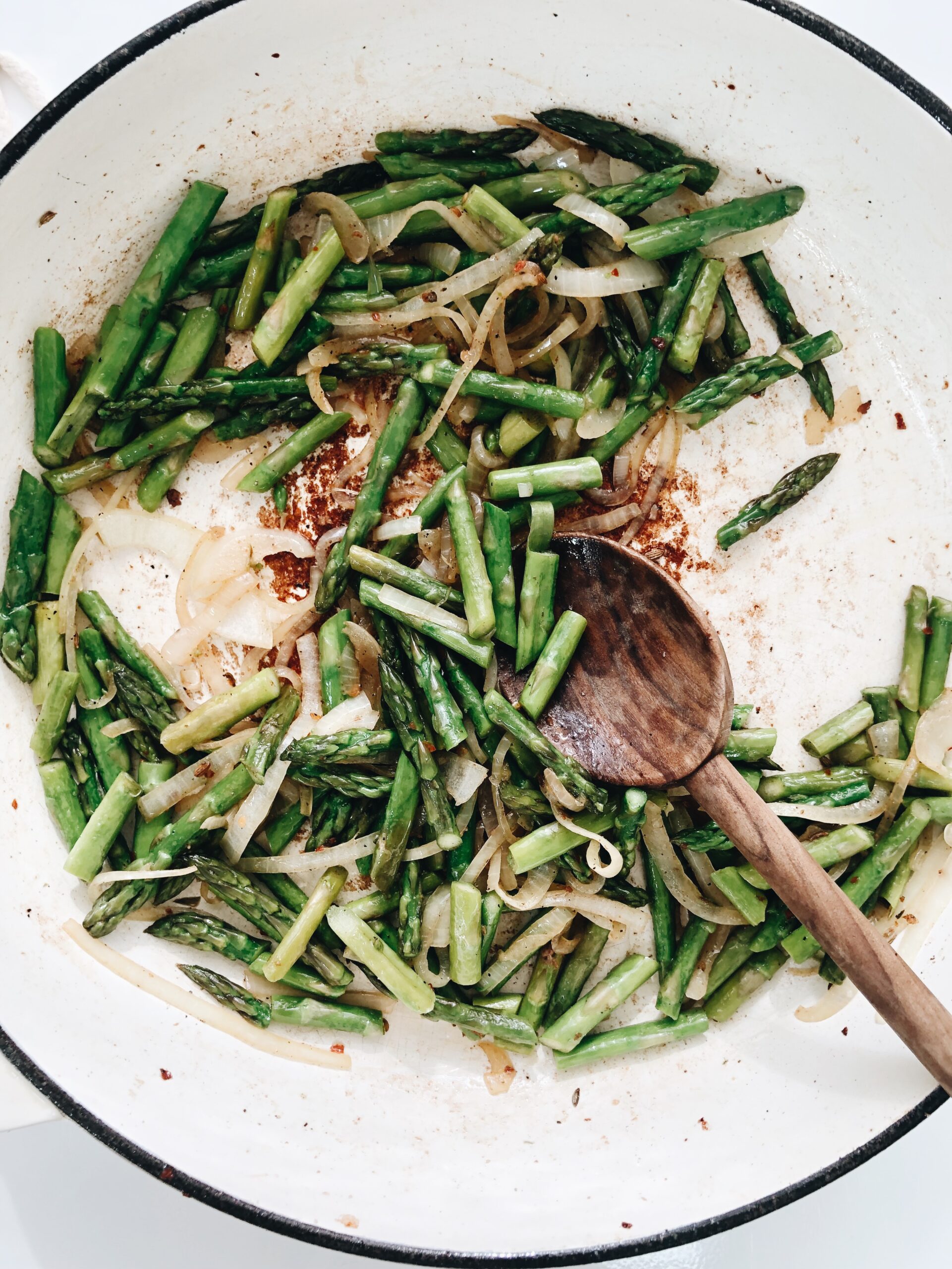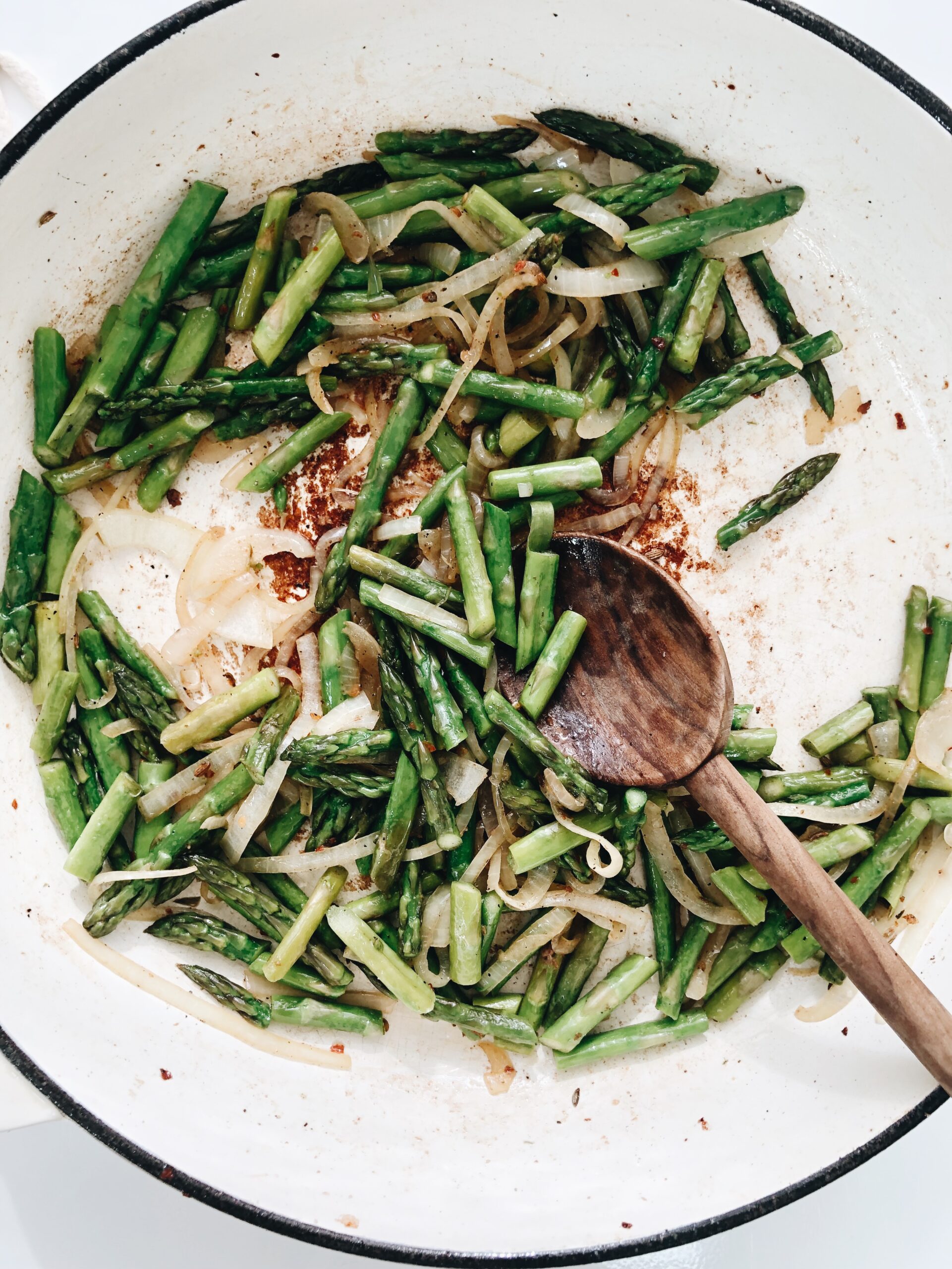 We'll just sauté our sliced onion with the asparagus. And see, we do this in the sausage pan. You might want to deglaze the browned bits in the bottom of the pan with a splash of water, stock or wine. Just get those bits bubbled up and loose in the pan. That's flavor, man!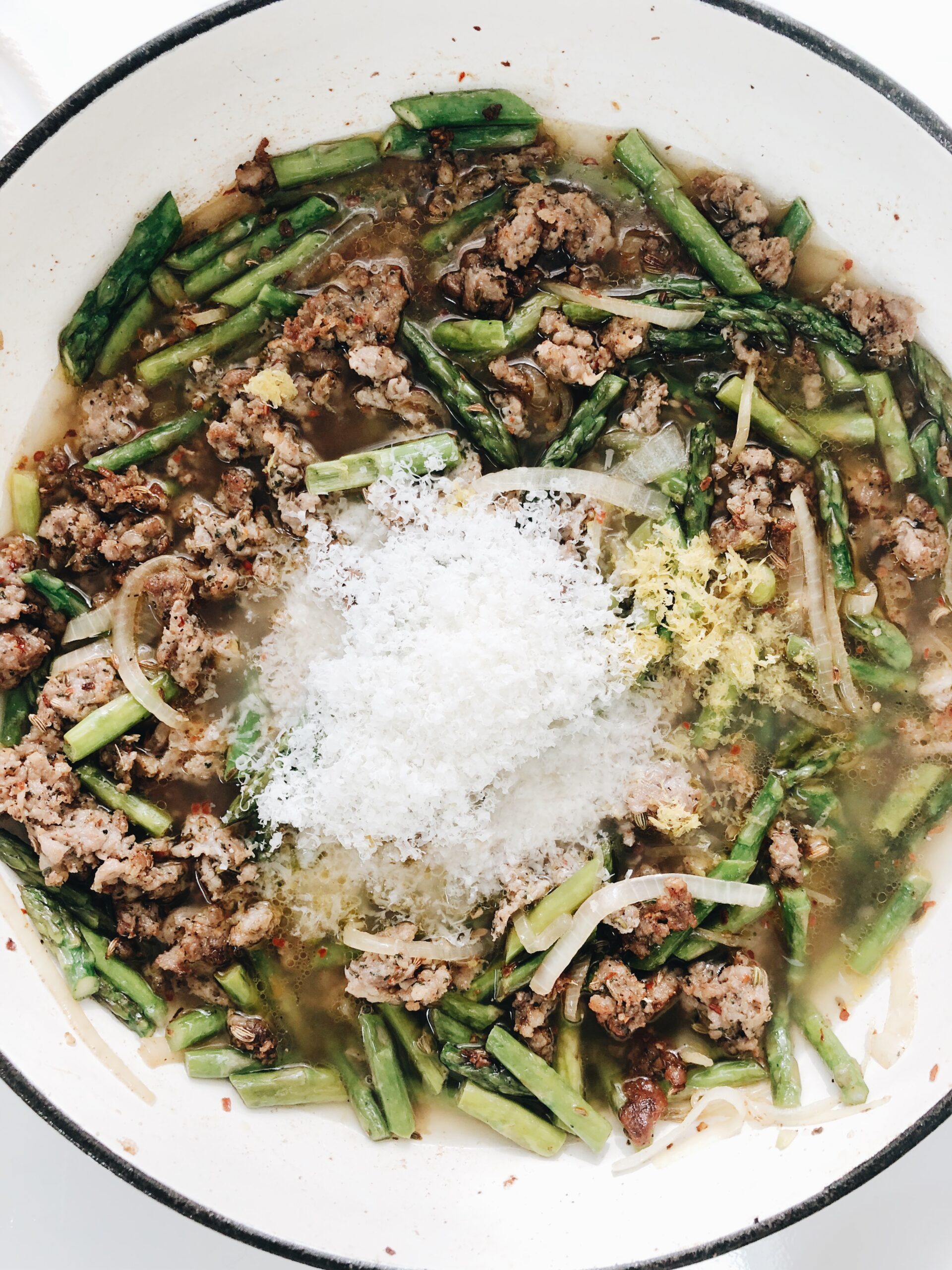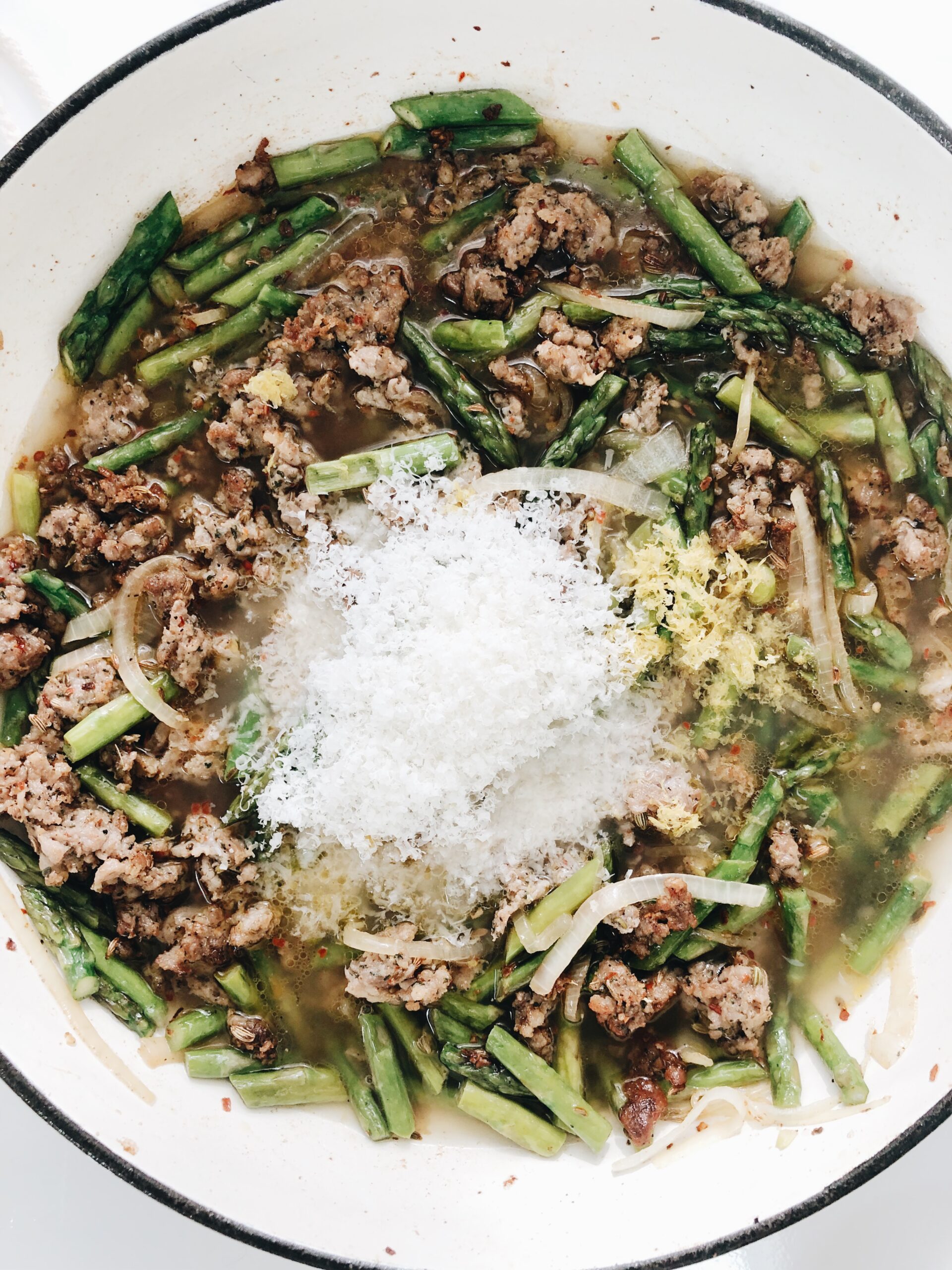 Then we'll add our Italian sausage back, two cups (yes, two whole cups) of the starchy pasta water, a mountain of grated Parmesan cheese, and the zest of a lemon! And the juice. Get half of the juice in now.
ALSO, I forgot to stir in the arugula until after I added the al dente penne, so add that now, or with the pasta. Remember, this is willy-nilly-weeknight-kitchen-sink-throw-together-deliciousness, so do it how you want.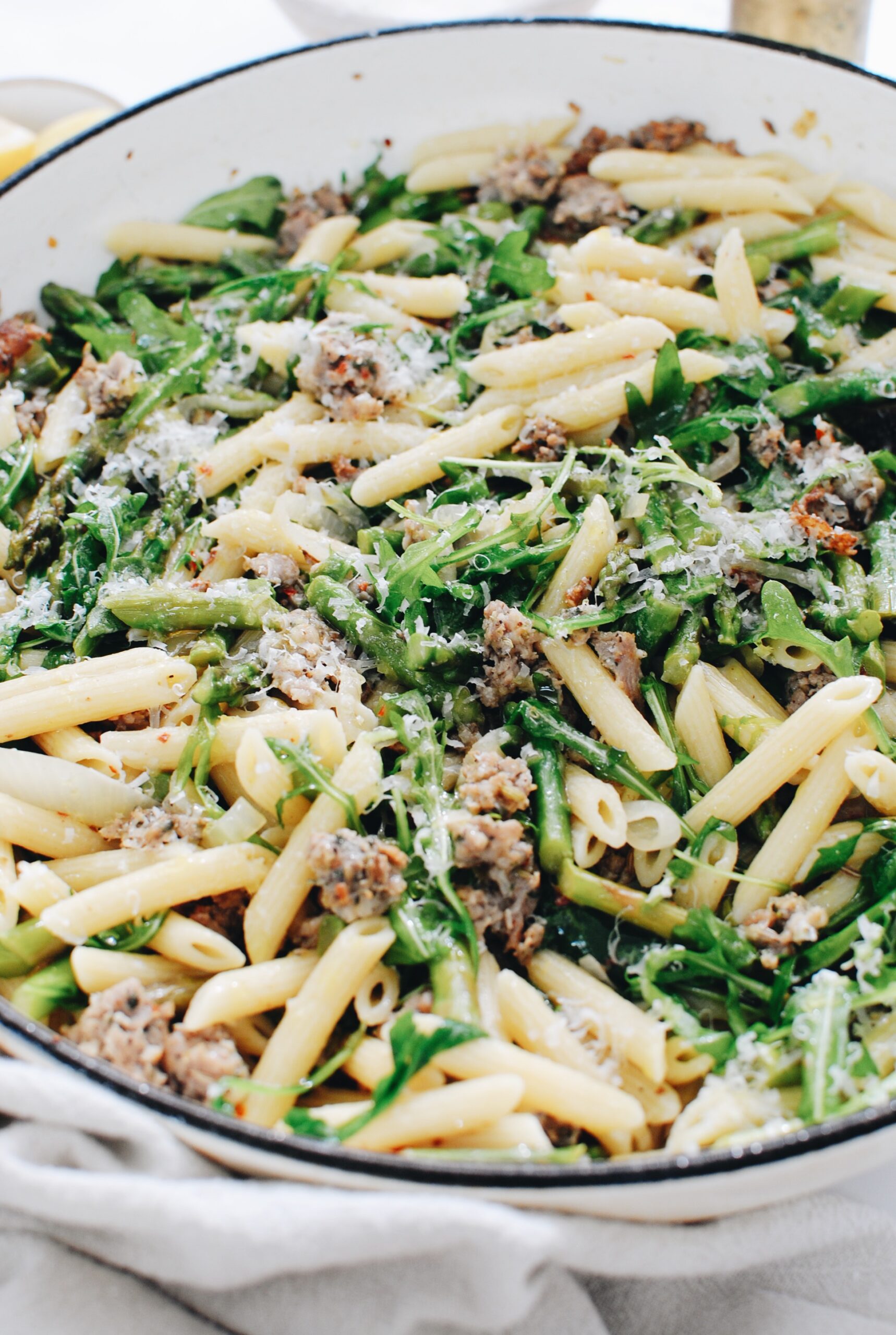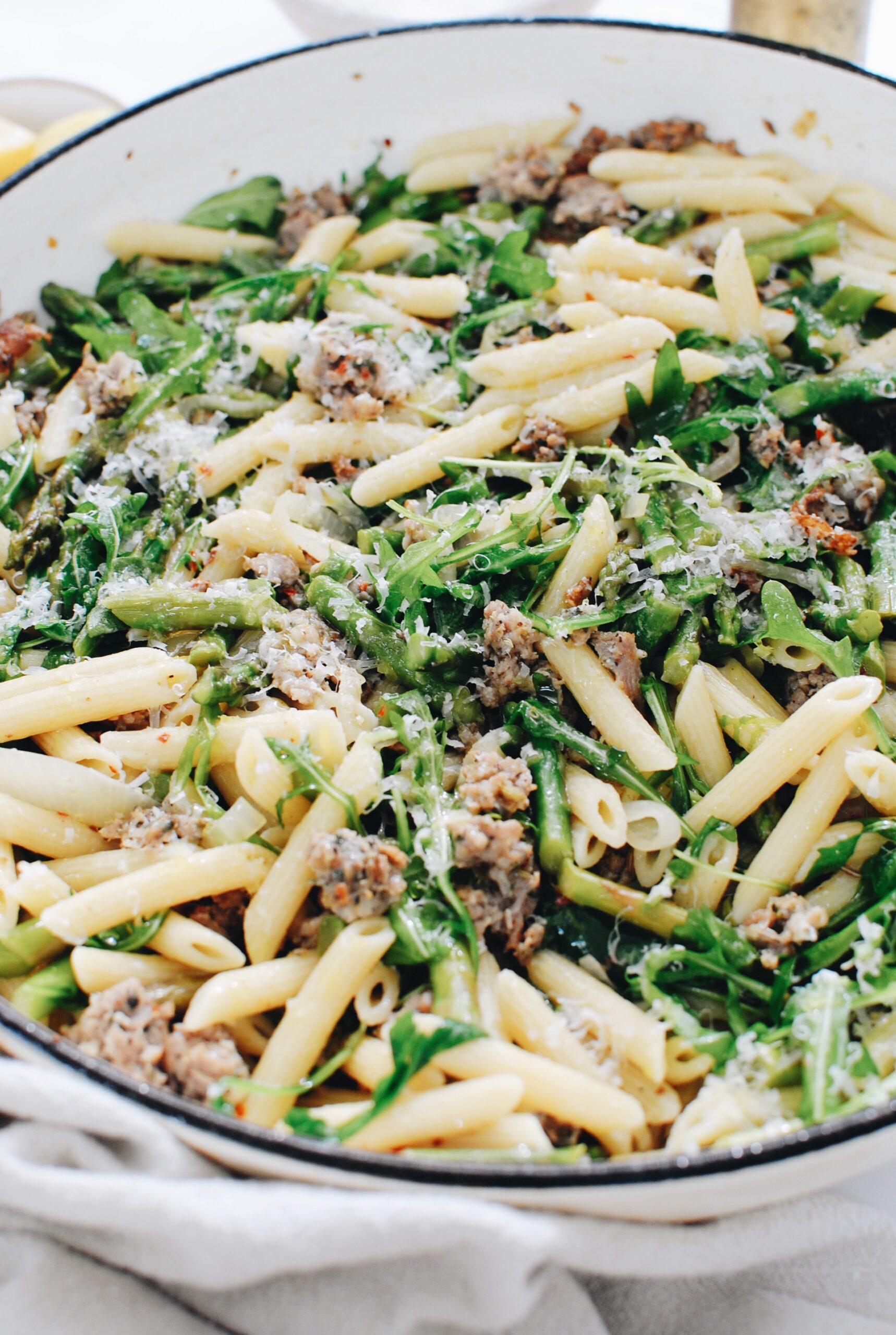 Hi, hello, how are ya.
Just stir the pasta in (tip! I always boil an entire pound of pasta, then add as much as you want to the dish, leaving you some plain pasta for later on. Just if you want it.) and let the arugula wilt a little. Salt it to taste, and you're golden.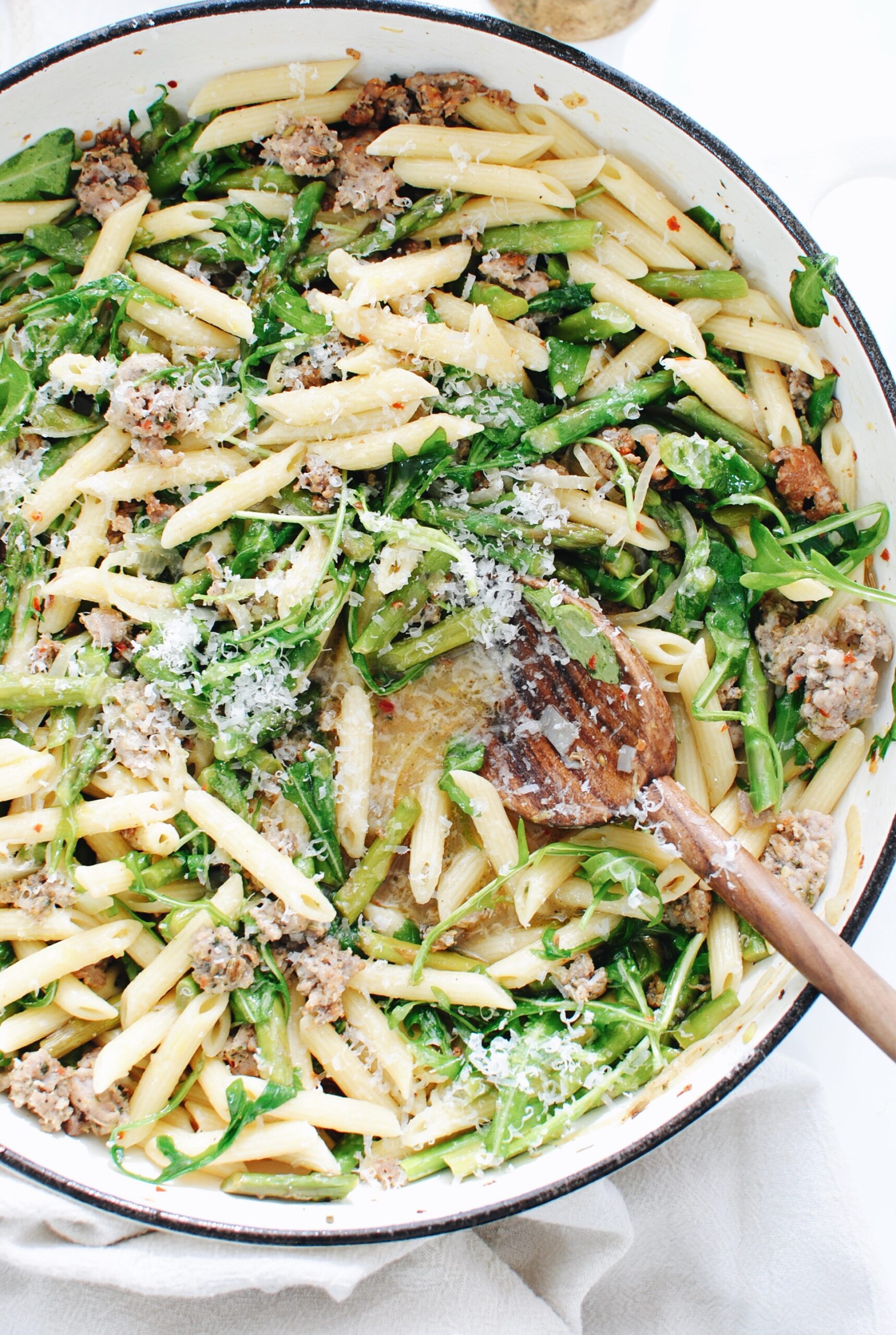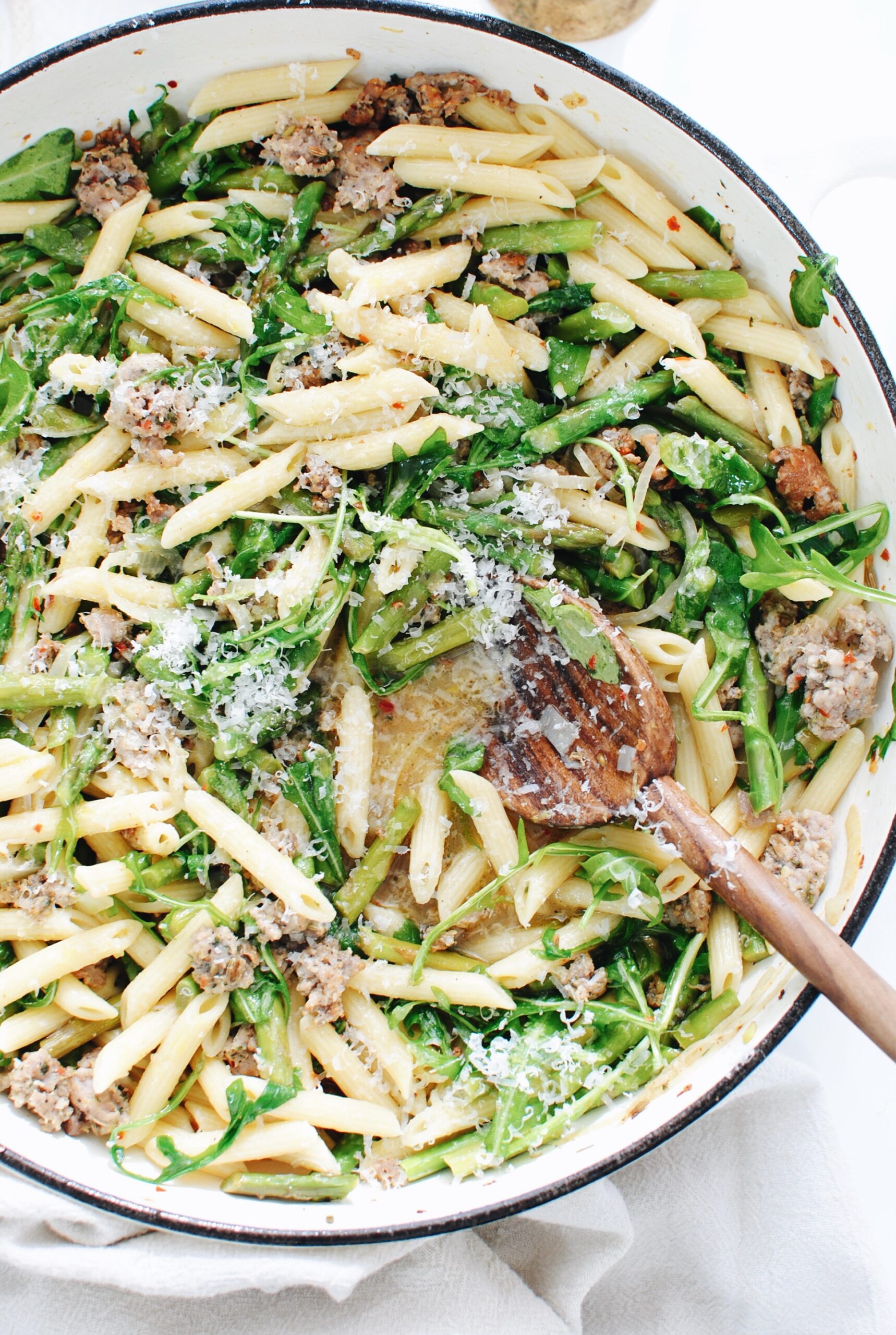 And look, here's a photo of how soupy it starts. You want that. The pasta will absorb a little more when you serve it, and it's nice to have a thin little sauce to coat everything. It's lemony, with sausage essence (We'll never start a band called Sausage Essence so don't even try), a bit nutty with all that parm, a little bite from the arugula. It's just great. So filling and comfortable, with still loaded with veggies. Look, you have no excuse to get upset with me today.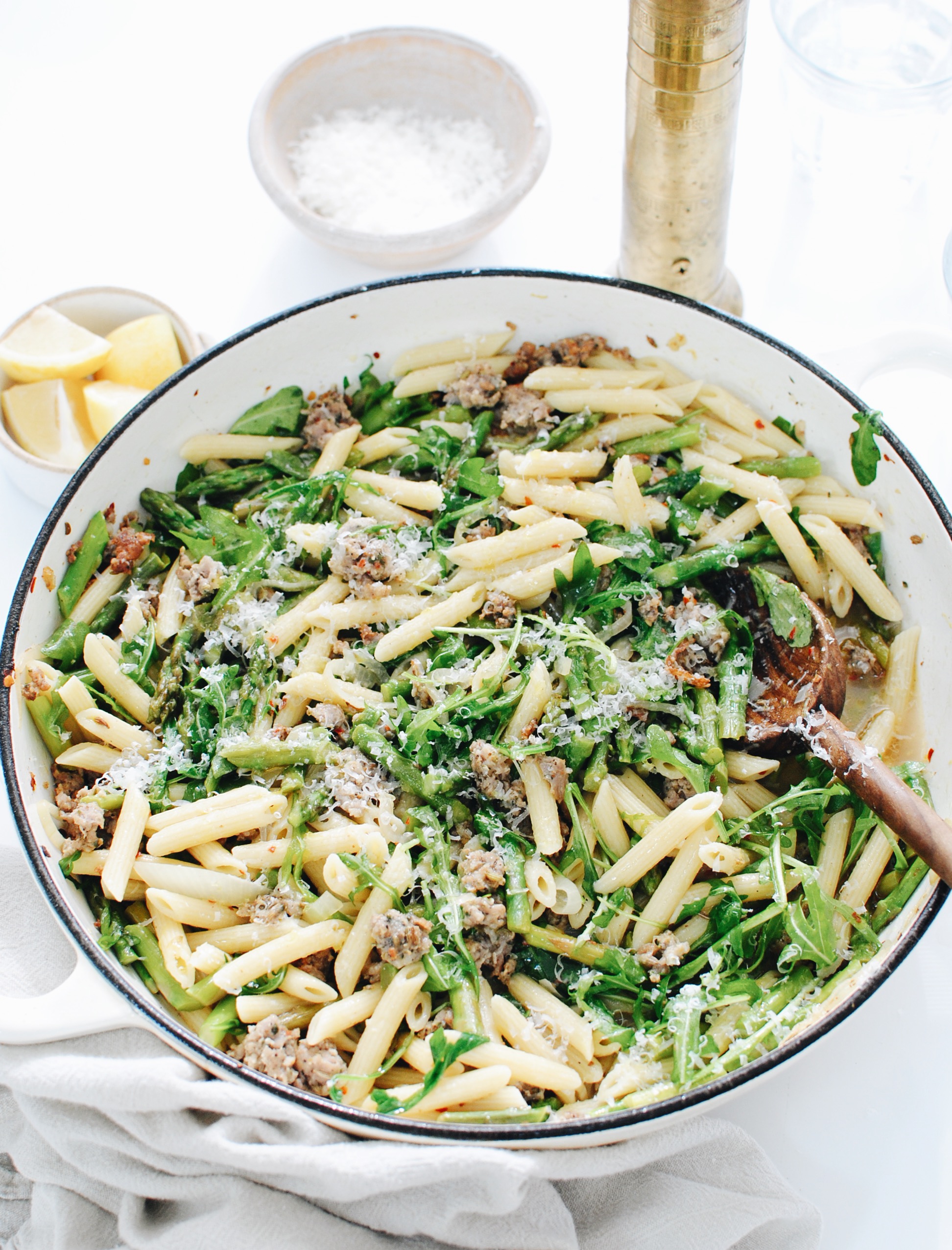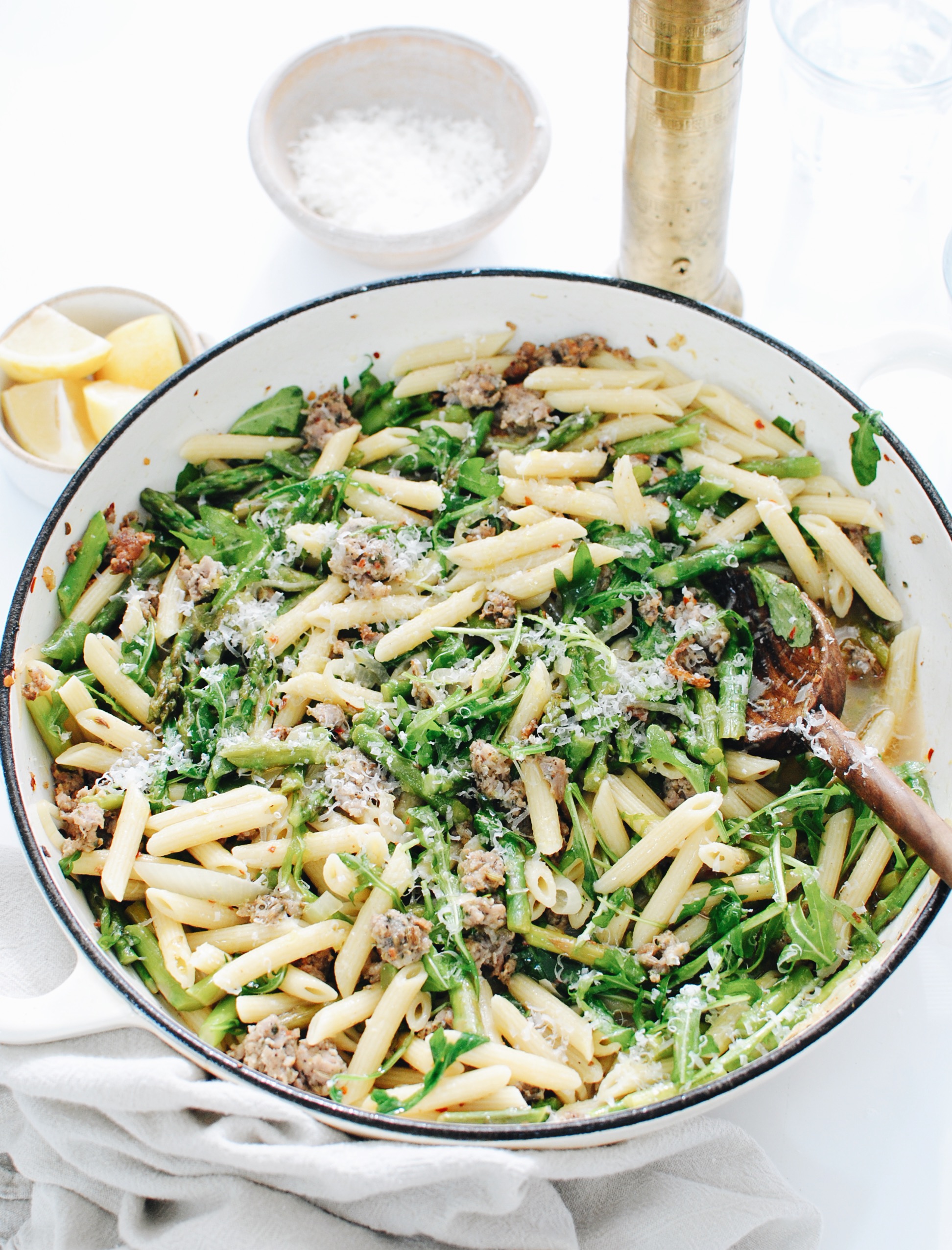 So good! Add other things to this, too. Make it your own kitchen sink business. Garlic that needs to be used up, a bell pepper that's screaming to be included in something. A different cheese. A totally different pasta. Anything works. But I'll also say that these ingredients together work some magic in your mouth, so even if they're not hangin' out in your fridge already, grab them next time you're at the store, 'mkay?
'Mkay.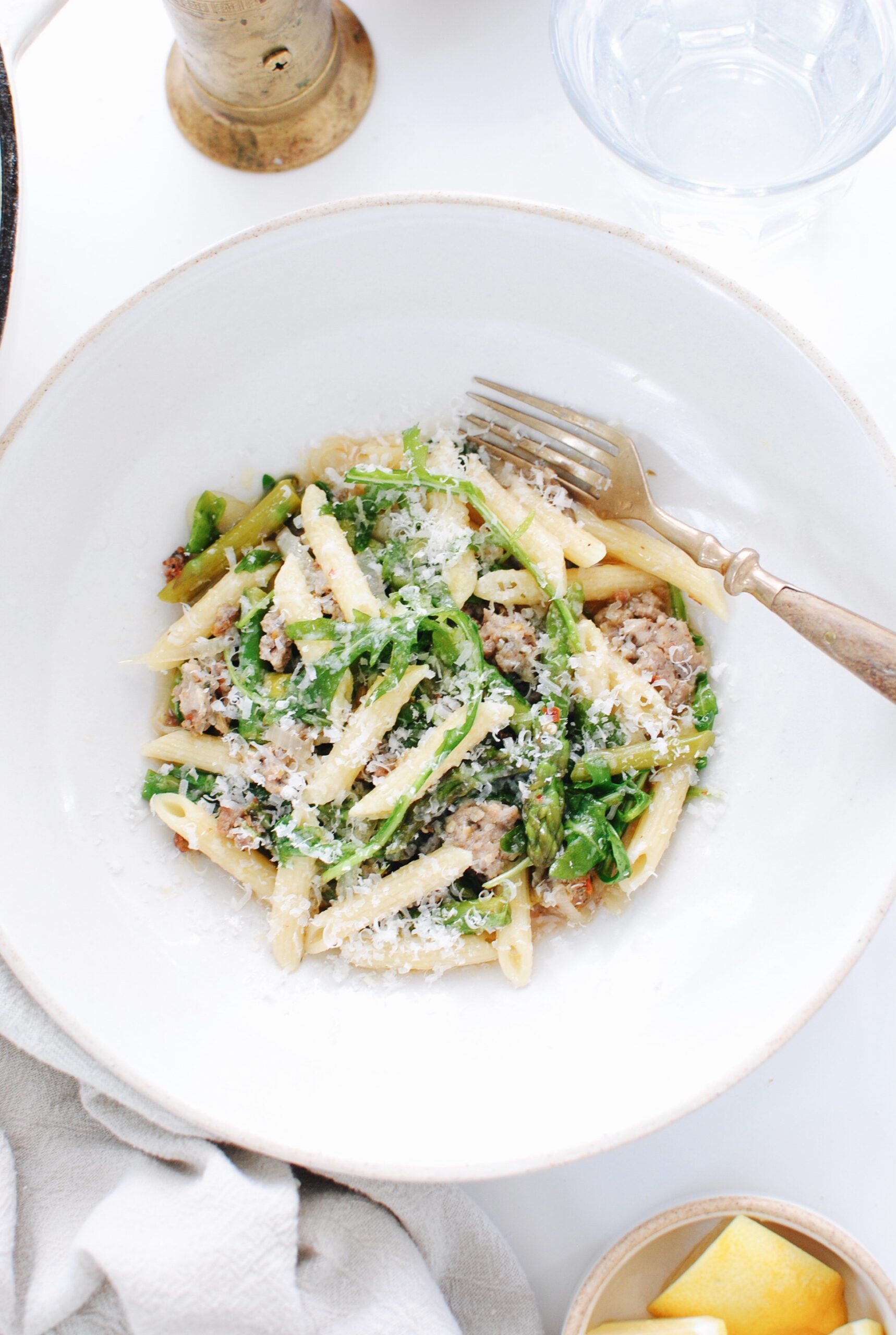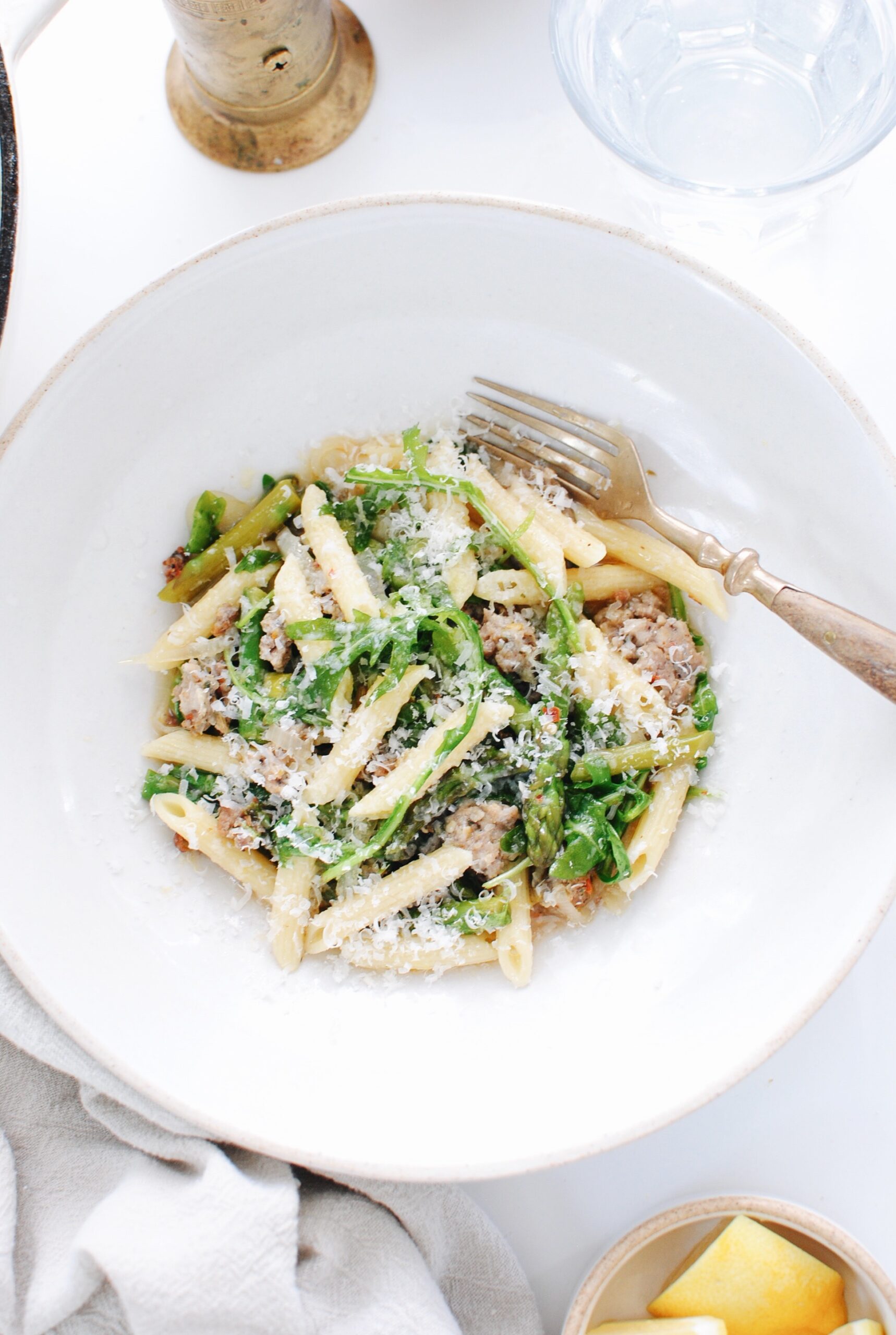 Just perfect.
Penne with Arugula, Asparagus and Italian Sausage
Ingredients
1/2 pound Italian sausage
2 Tbs. extra-virgin olive oil
1/2 white onion, thinly sliced
1 bunch asparagus, ends trimmed and stalks cut into one-inch pieces
1/2 bag arugula (two or three cups)
1 pound penne
1 lemon, zested
1 cup grated parmesan cheese, plus more for garnish
Coarse salt
Instructions
Bring a large pot of salted water to a boil. Cook the penne until it reaches al dente, according to package directions. Save two cups of starchy pasta water and drain the rest.
While the pasta cooks, heat the oil over medium high in a large skillet. Add the sausage and break it up, using a wooden spoon. Brown it all over until it's cooked through. Spoon it out and let it rest in a bowl.
Back in the pan, deglaze any browned bits on the bottom. You can use a splash of water, stock or white wine. Now add the onions (and a little more oil if needed) to the pan. Sauté about three minutes, then add the asparagus. Go another five minutes, until the asparagus pops in color. Throw in a pinch of salt.
Add the sausage back to the pan, along with the reserved pasta water, arugula, grated parmesan cheese and lemon zest, and a pinch of salt. Stir that for a second, then add the cooked pasta, along with the juice from half the lemon. There we go. Taste it. Needs salt, I'm sure. Give it a pinch until it's perfect.
It will be a little on the soupy side in the bottom of the pan, but that's what we want! A delicate lemony sauce to coat. Ladle into bowls and top with extra Parmesan cheese, along with the rest of the lemon cut into wedges, for spritzing. Just perfect.
Serves four to six!
7.8.1.2
550
https://bevcooks.com/2022/01/penne-with-arugula-asparagus-and-italian-sausage/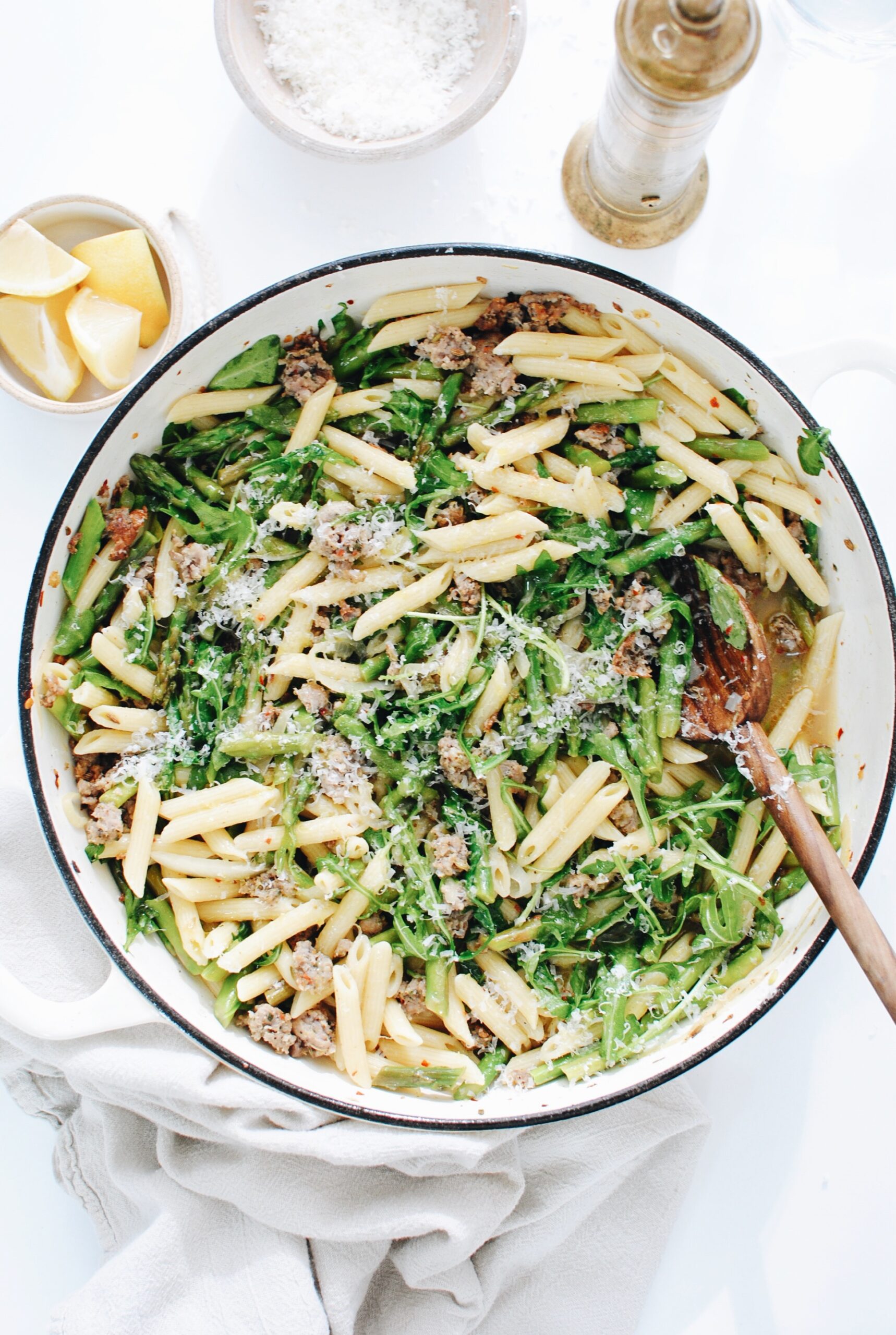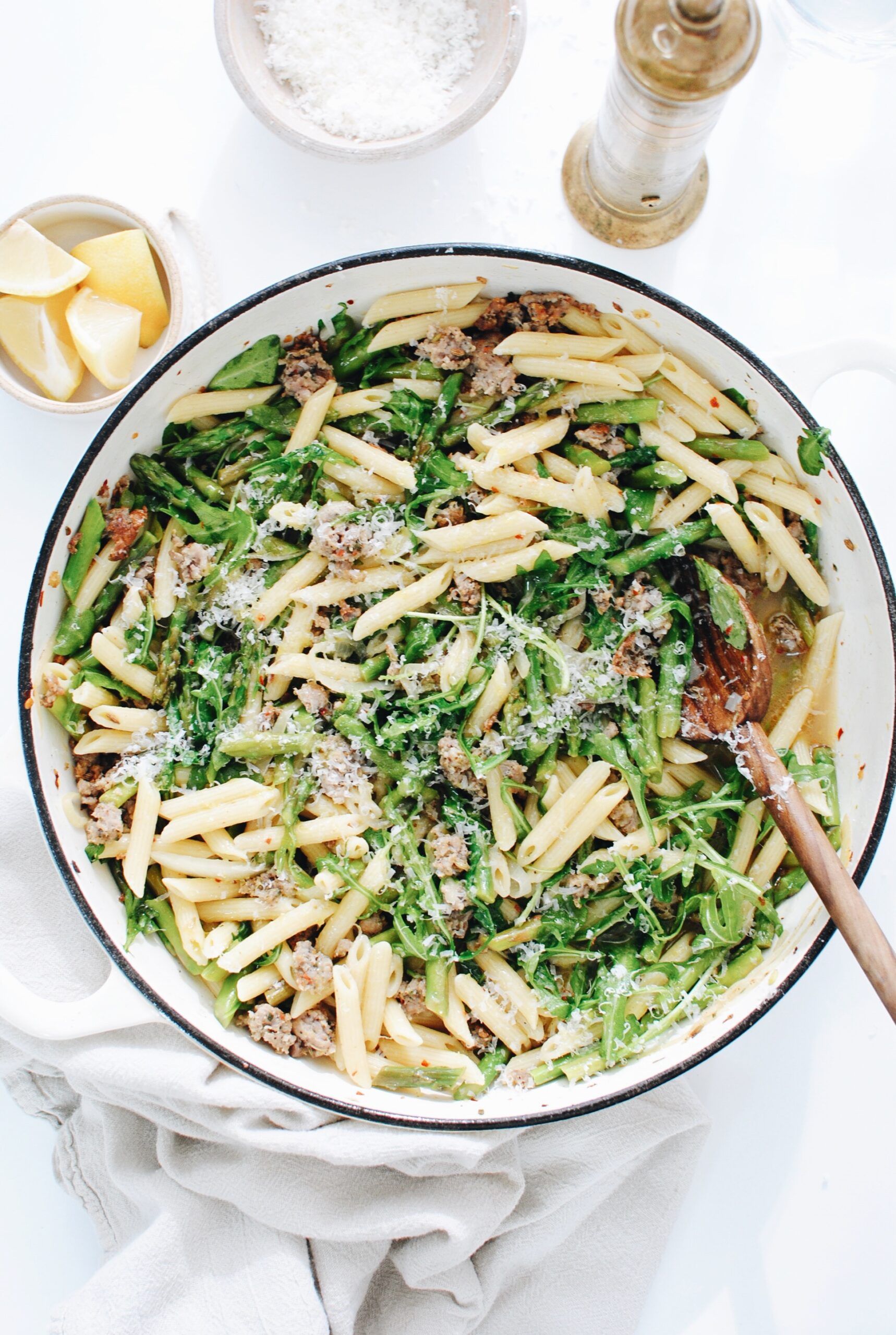 Now this is how we start a week.