My new obsession. (!)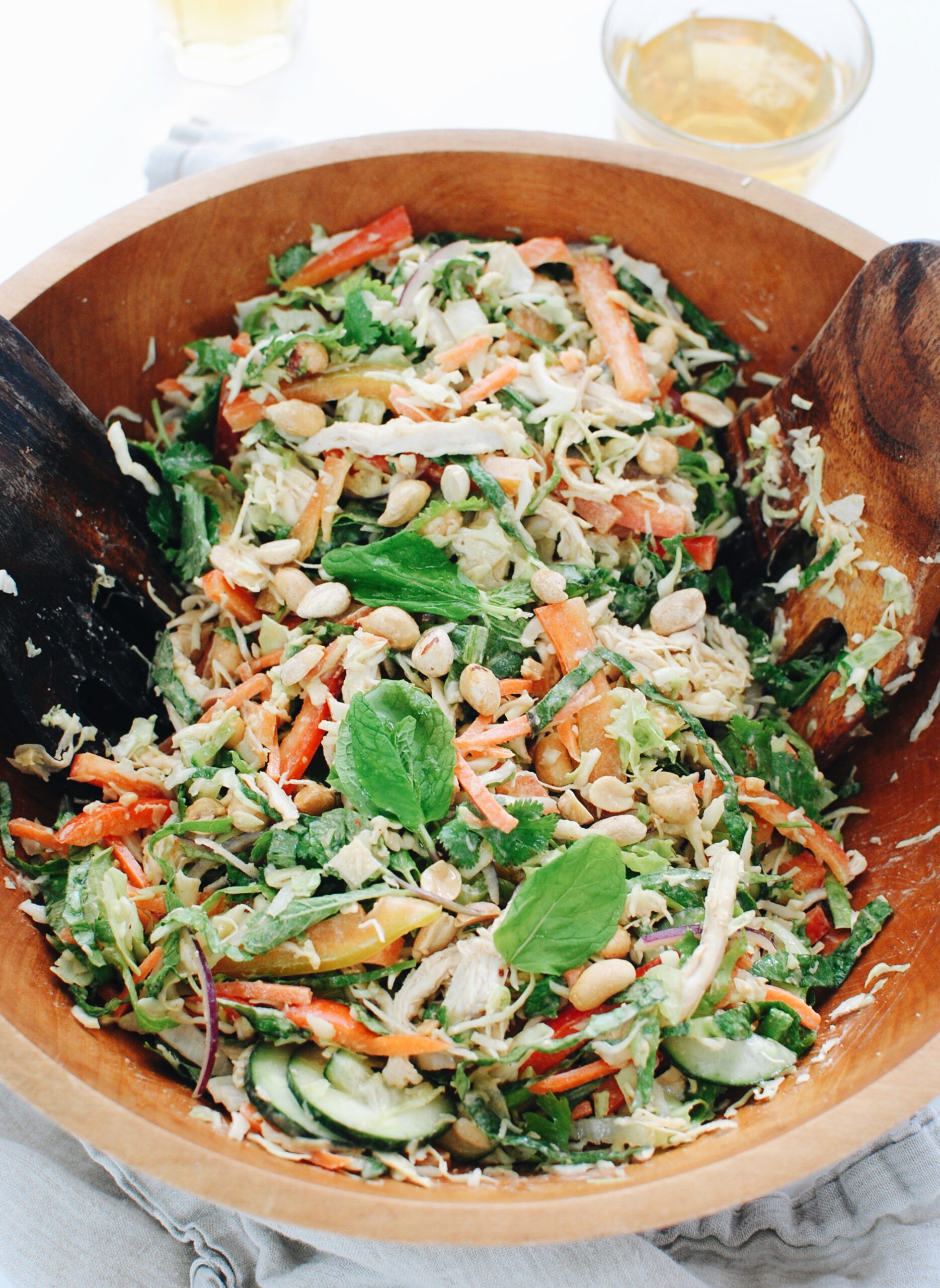 And before you're like, "Whoa that's a lot of ingredients, Bevy," I know. But you know what took the longest? Organizing this photo! For you it will be n b d.
Plus that shredded cabbage was from a bag so get excited.
Let us peepeth.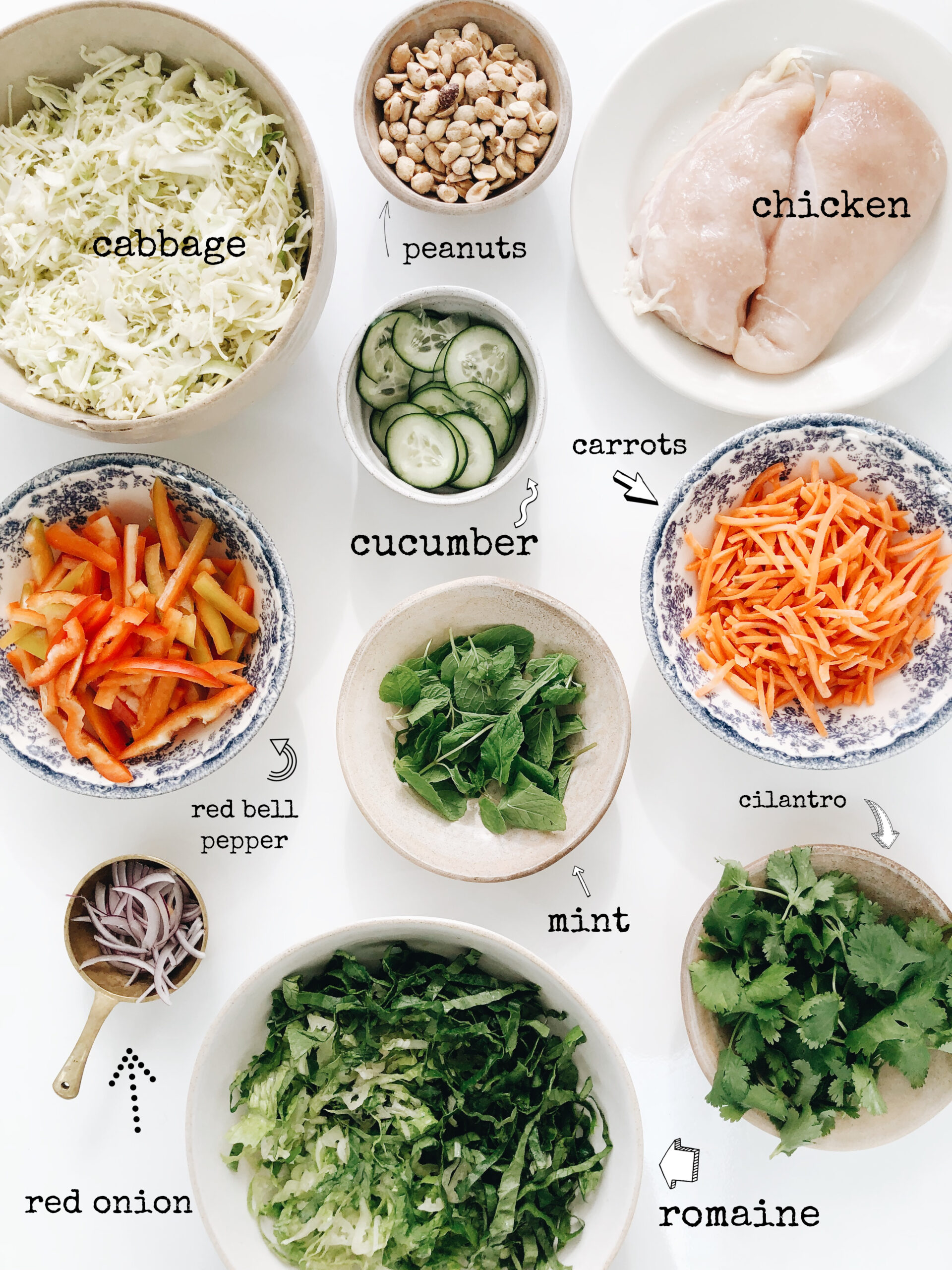 Besides the chicken, there's nothing to cook. It's genuinely just slicing, rinsing, mixing and tossing.
Those carrots? They're the matchstick kind in a bag, so get thrilled.
And you know, this is really just a springboard for what you want in your salad. I need all the crunch in mine, so everything is fresh and raw. (besides the chicken. which we'll get to. chill out.)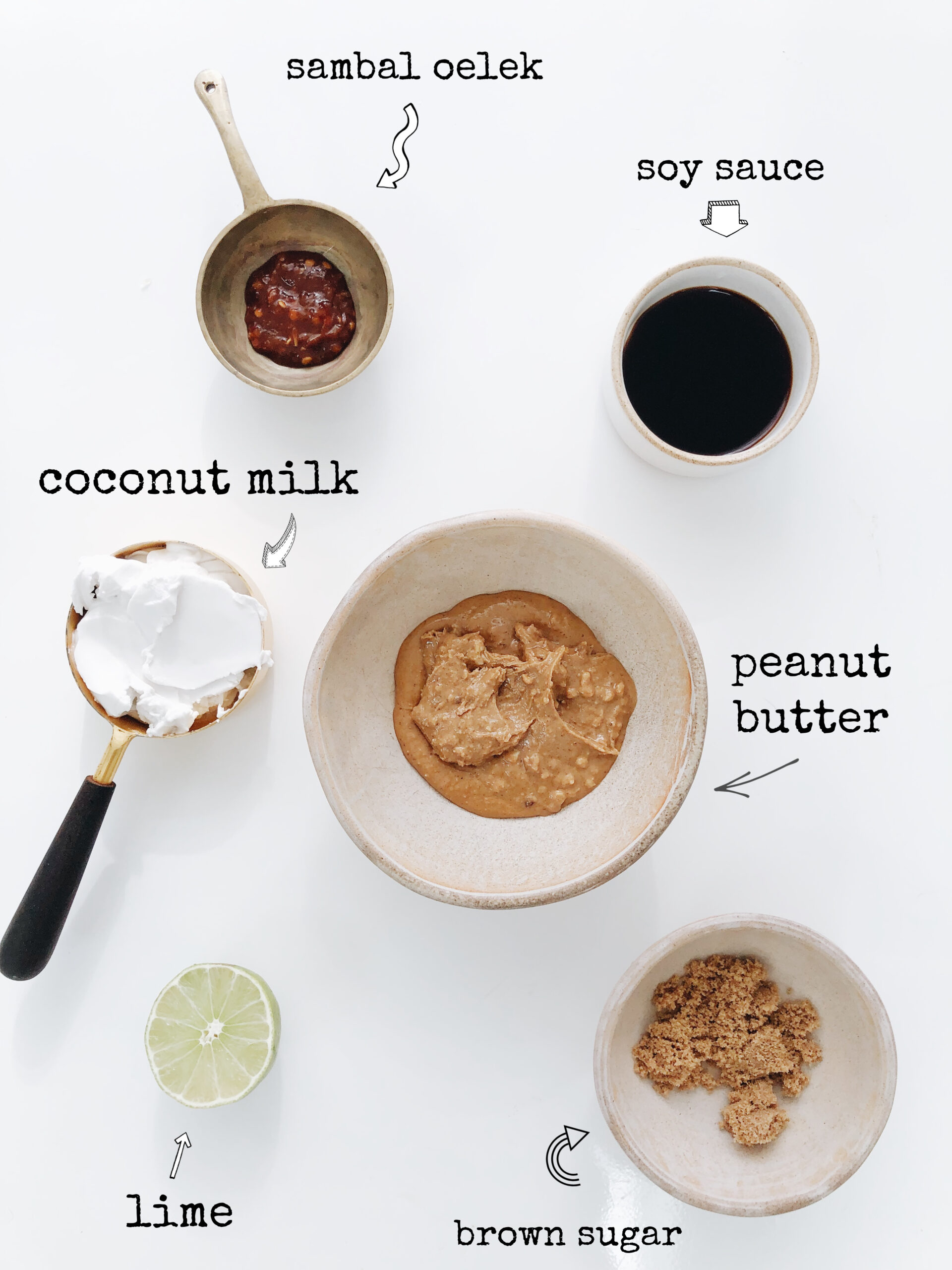 It's the dressing that I want to freak out about with you today.
It's perfect. Peanut buttery, (oh – I was out of my (not frozen) creamy peanut butter and only had (not frozen) crunchy, and I'd say the creamy is better, but use whacha gawt.) coconut milky, a ting of heat, a hit of salt, the zing of lime, the sweetness of sugar. Amen and glory to all.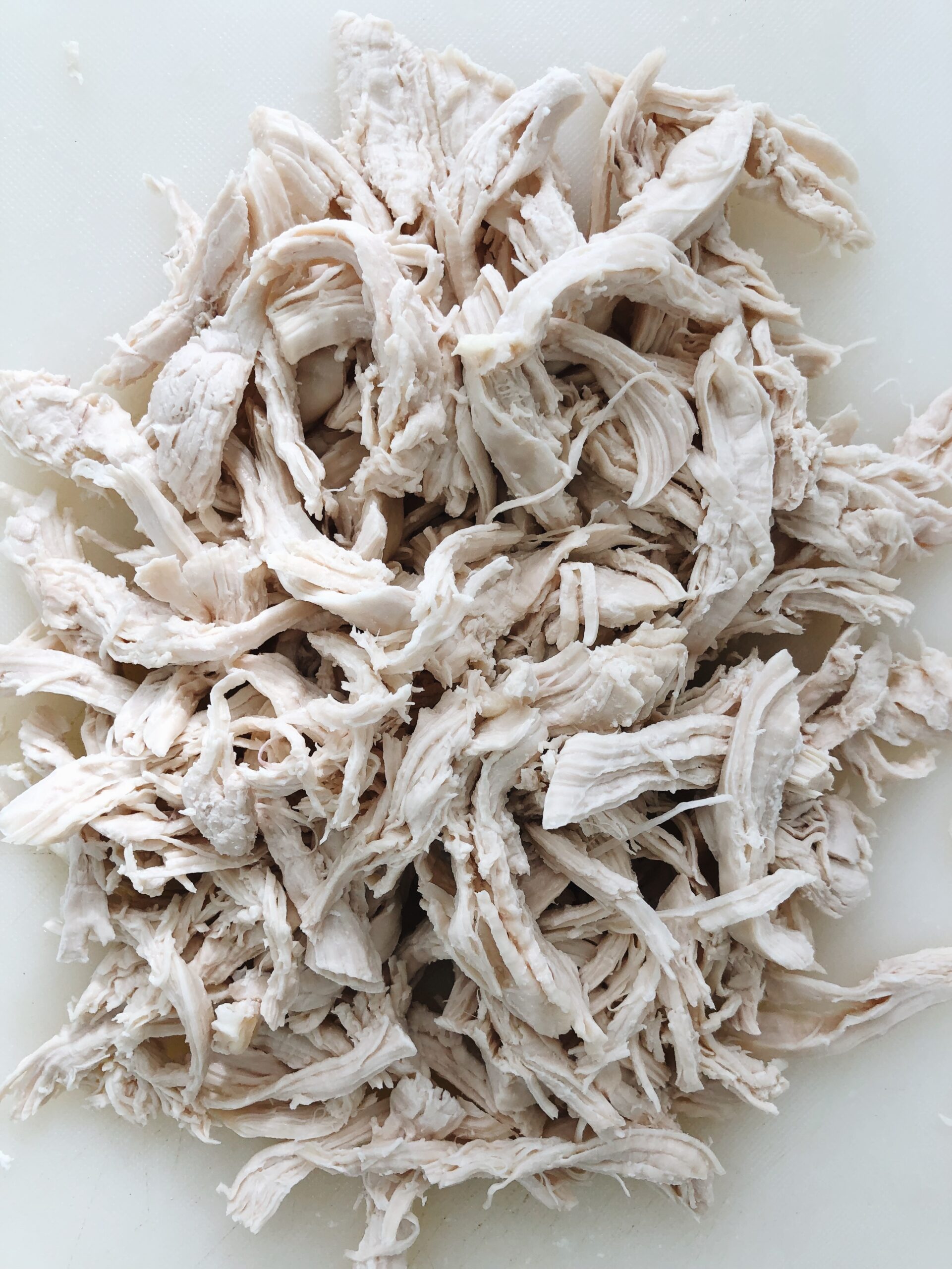 The chicken: I poached two breasts and shredded them. I've made this salad before and seared the chicken in a pan and shredded it. But truly, I liked this route more. Less to fuss over. (my mom says fuss) You can even use a rotisserie!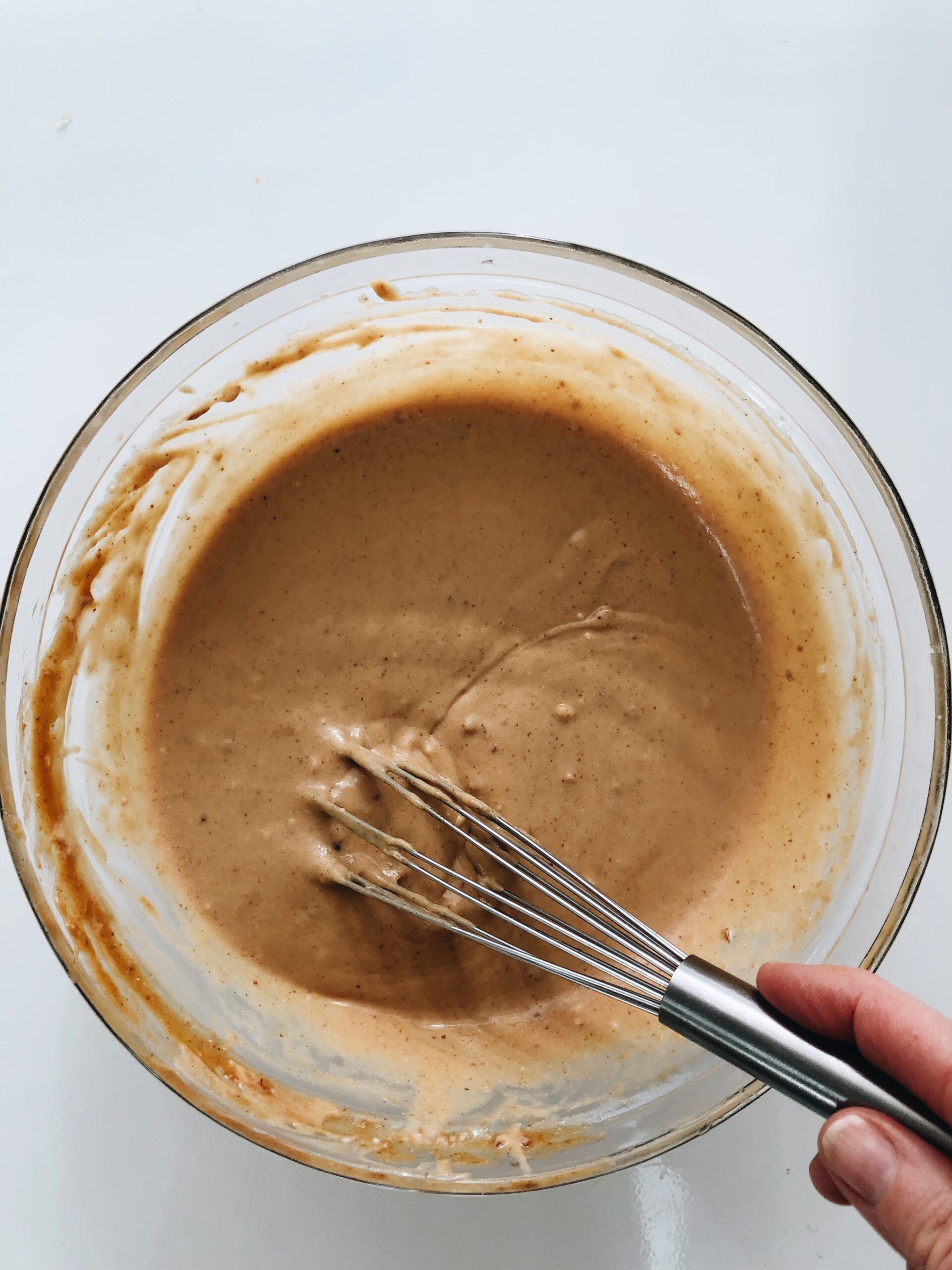 Whisky whisk that sauce together. Get it juuuuust right. Add more sugar or salt if you need.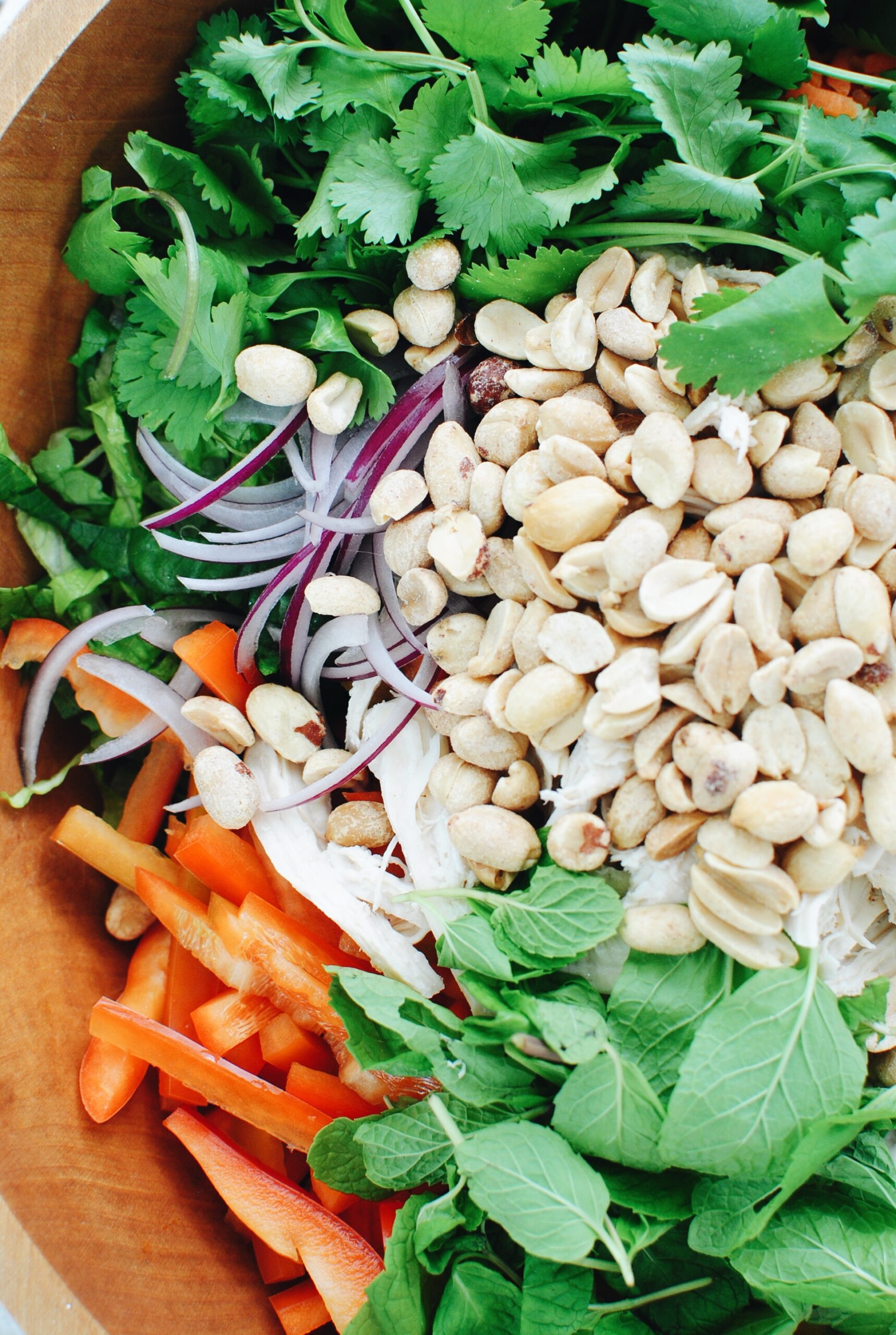 Feel like you might need to see this texture up close and personal. Because it's intensely superb.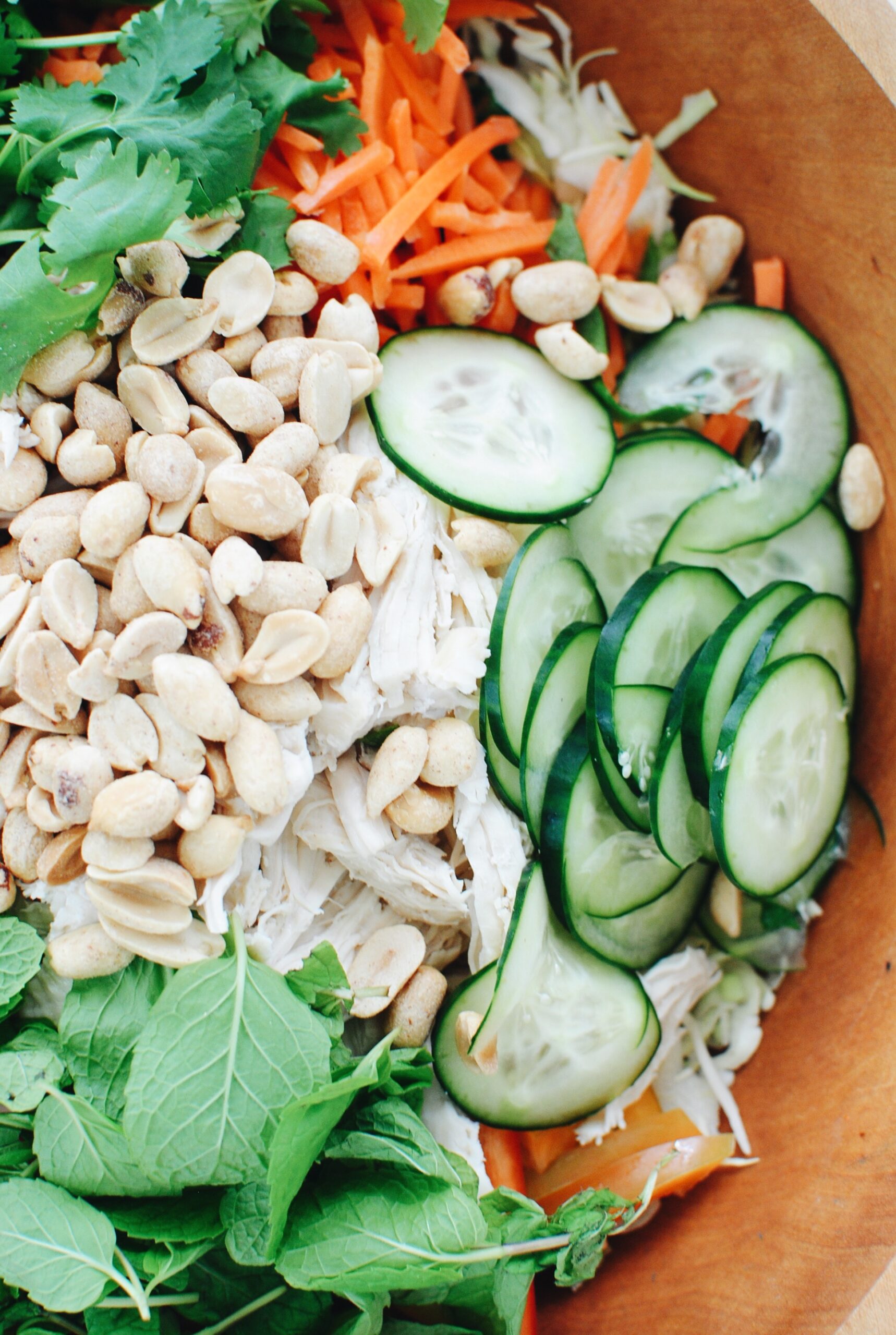 Let's look at the other side. All those fresh herbs, girl your face will sing.
And then we just spoon our luscious creamy nectar of the peanut butter and coconut gods over the salad, close our eyes and wait for the impending euphoria to wash over us.
But I'm not hyperbolic about it or anything.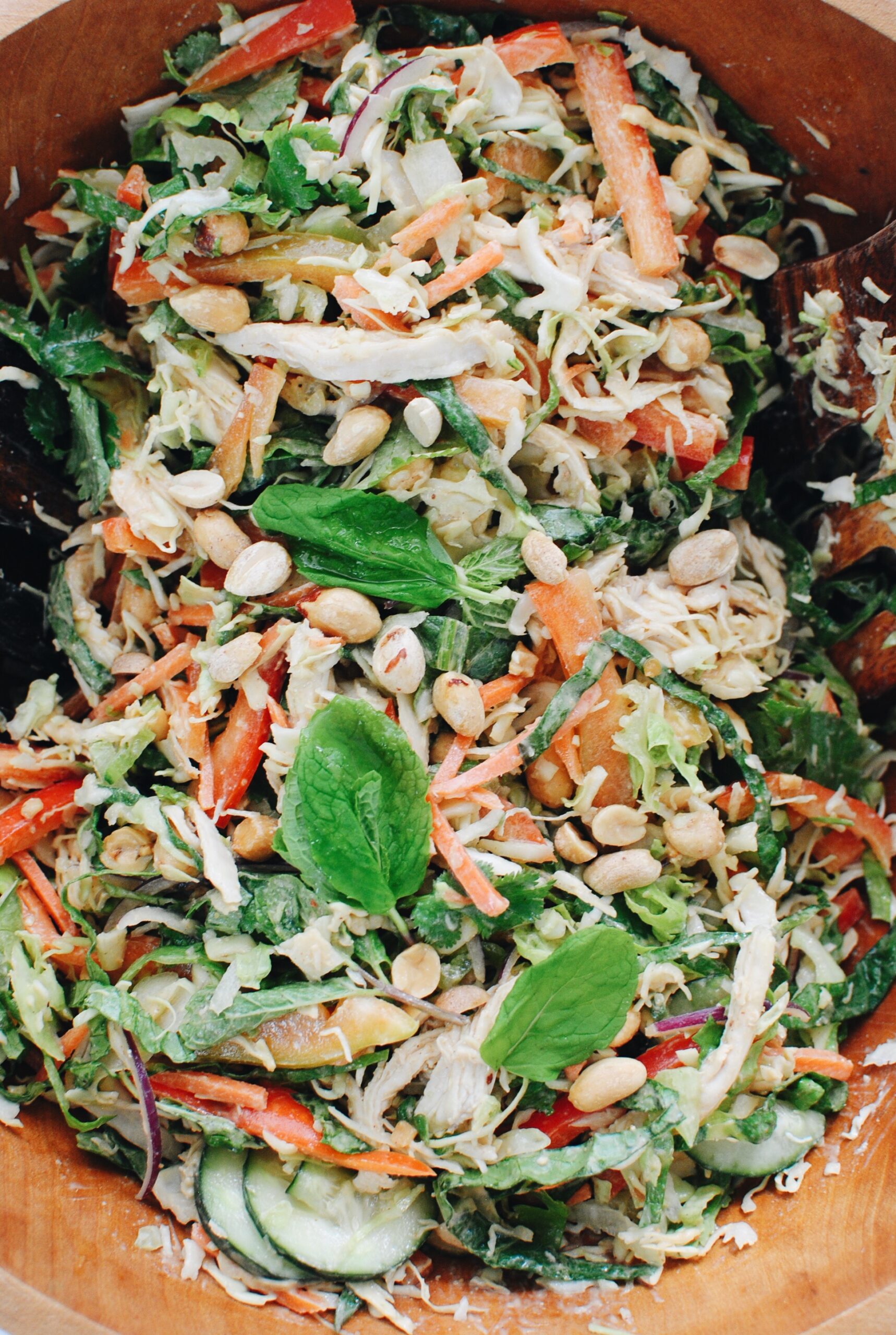 THAT is what I'm talking about. If you're not into crunch, texture, freshness for days, layers and layers of rainbow (leprechaun sold separately) and tender shredded chicken, what are we even doing here?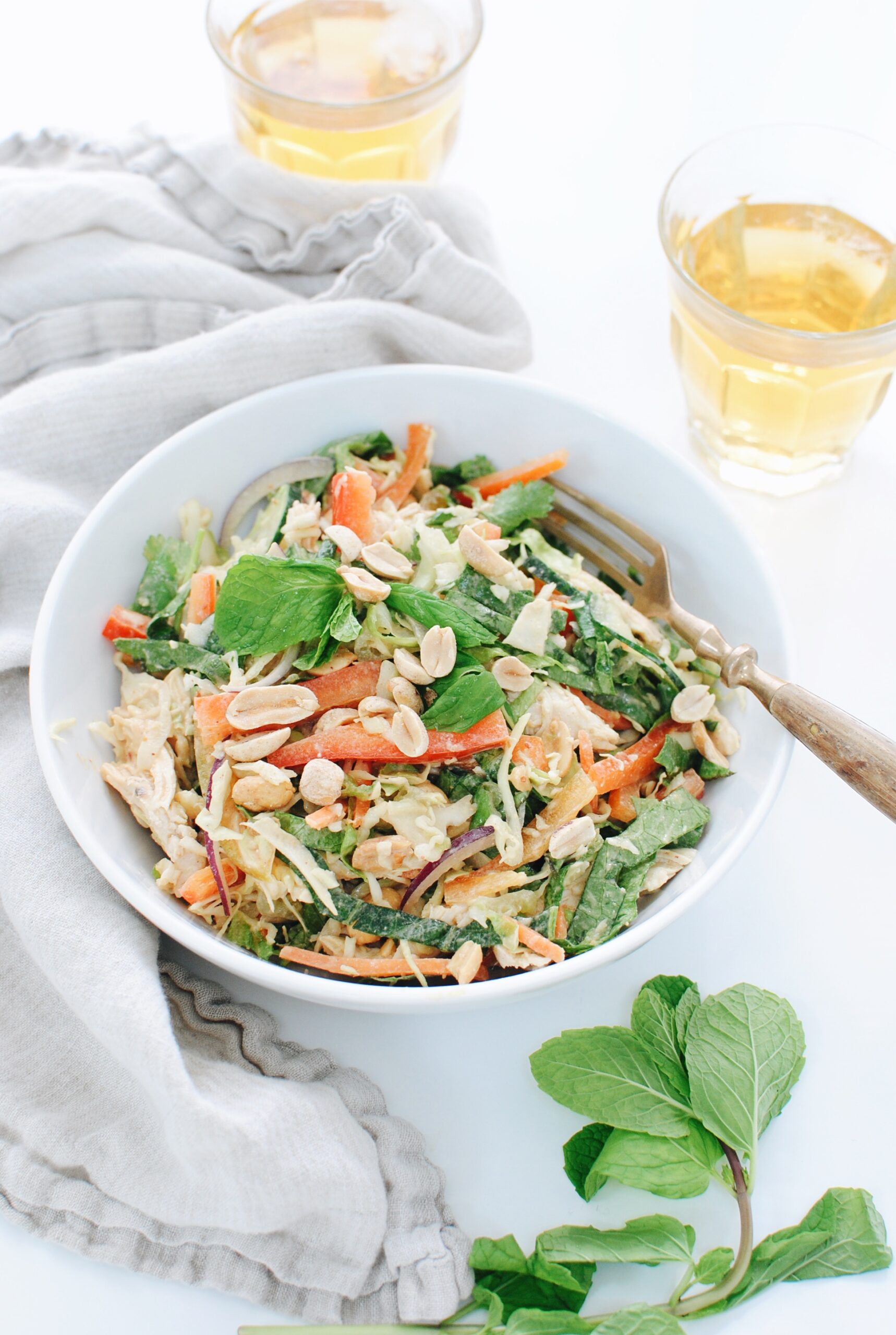 One last squirt of lime? I think so, too.
Loaded Thai Chicken Salad
Ingredients
2 chicken breasts, poached and shredded
10 oz bag shredded green cabbage
5 romaine leaves, washed and finely shredded
1 cup matchstick carrots
1/2 cup thinly sliced red onion
1/2 cup thinly sliced cucumber
1 red bell pepper, seeded and thinly sliced
1 cup loose cilantro leaves
1/2 cup loose mint leaves
1/2 cup smooth peanut butter
1/2 cup coconut milk
2 tsp Sambal Oelek
3 Tbs. soy sauce
1 lime, juiced
2 Tbs. brown sugar
Peanuts, for garnish
Pinch of salt
Instructions
In a large bowl, combine the cabbage, romaine, carrots, red onion, cucumber, chicken, cilantro, mint and peanuts.
In a smaller bowl, whisk together the peanut butter, coconut milk, soy sauce, lime juice, Sambal and brown sugar until smooth.
Pour the dressing over the salad and toss to full coat! Taste that. Need the salt? Give it a pinch and toss a little bit more. Serve immediately! Maybe have an extra lime on hand for last minute squeezing.
Serves four!
7.8.1.2
551
https://bevcooks.com/2022/01/loaded-thai-chicken-salad/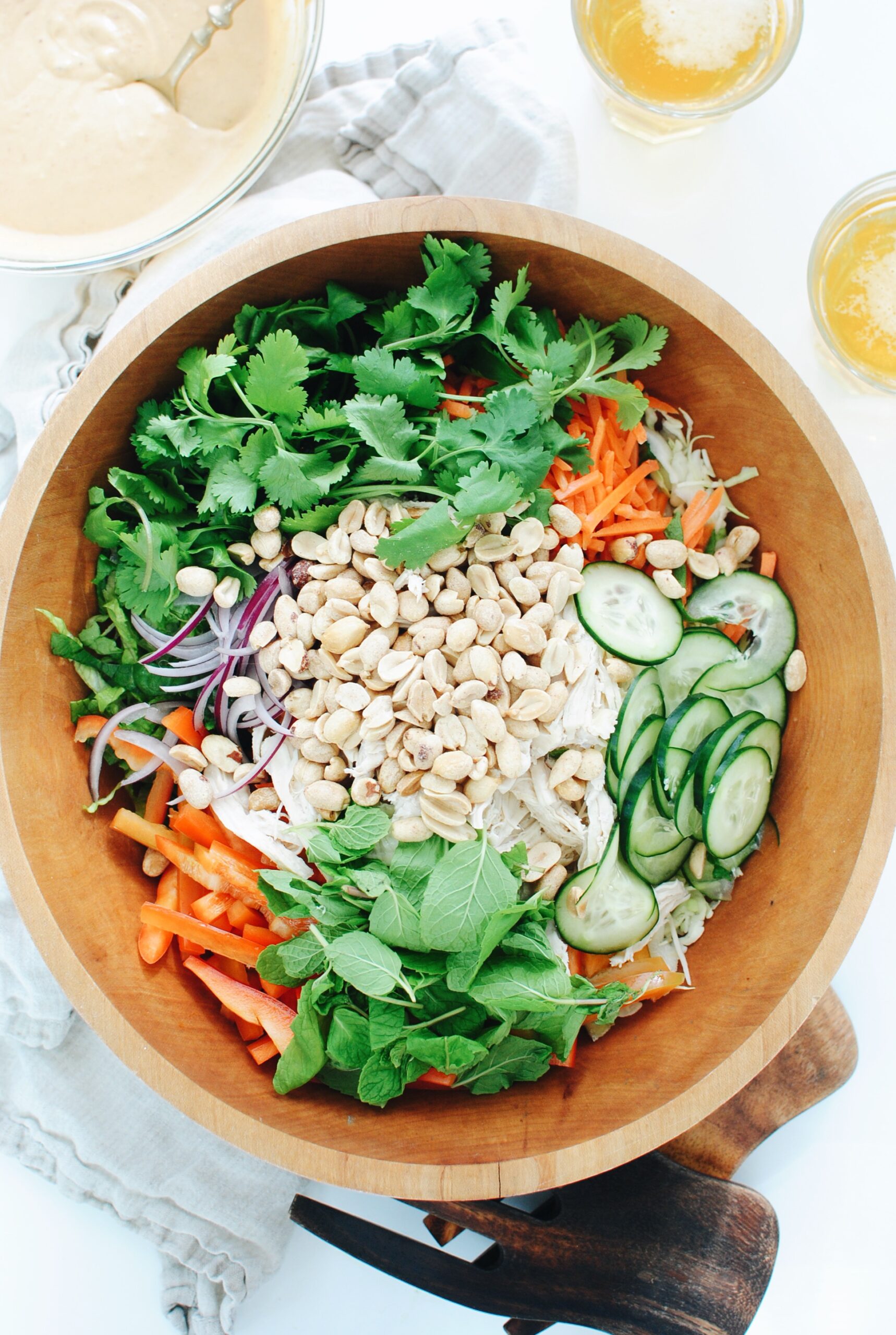 It's a workout for your mouth, but you will obsess!