One last tomato recipe! I think. Maybe. If you're lucky.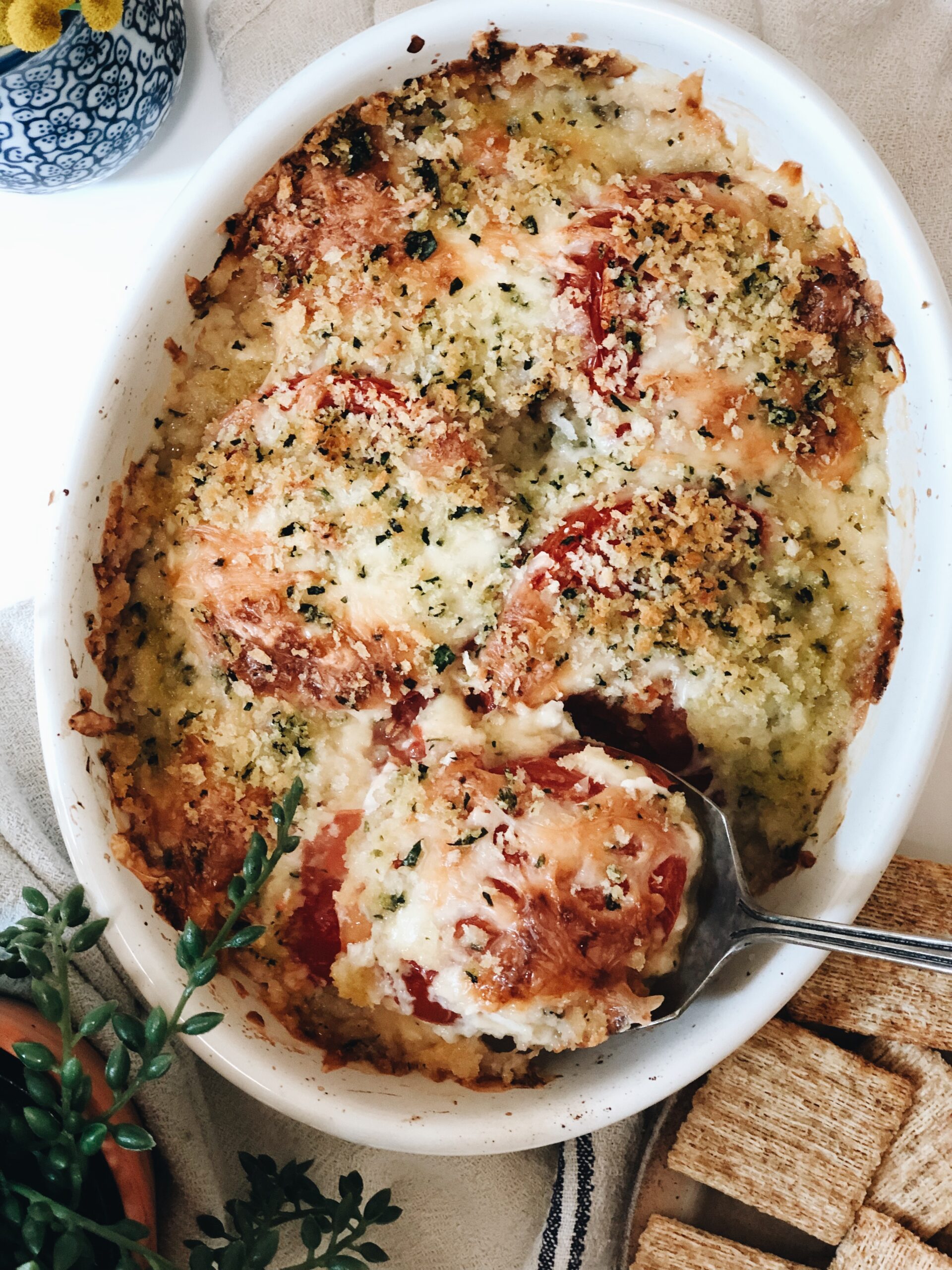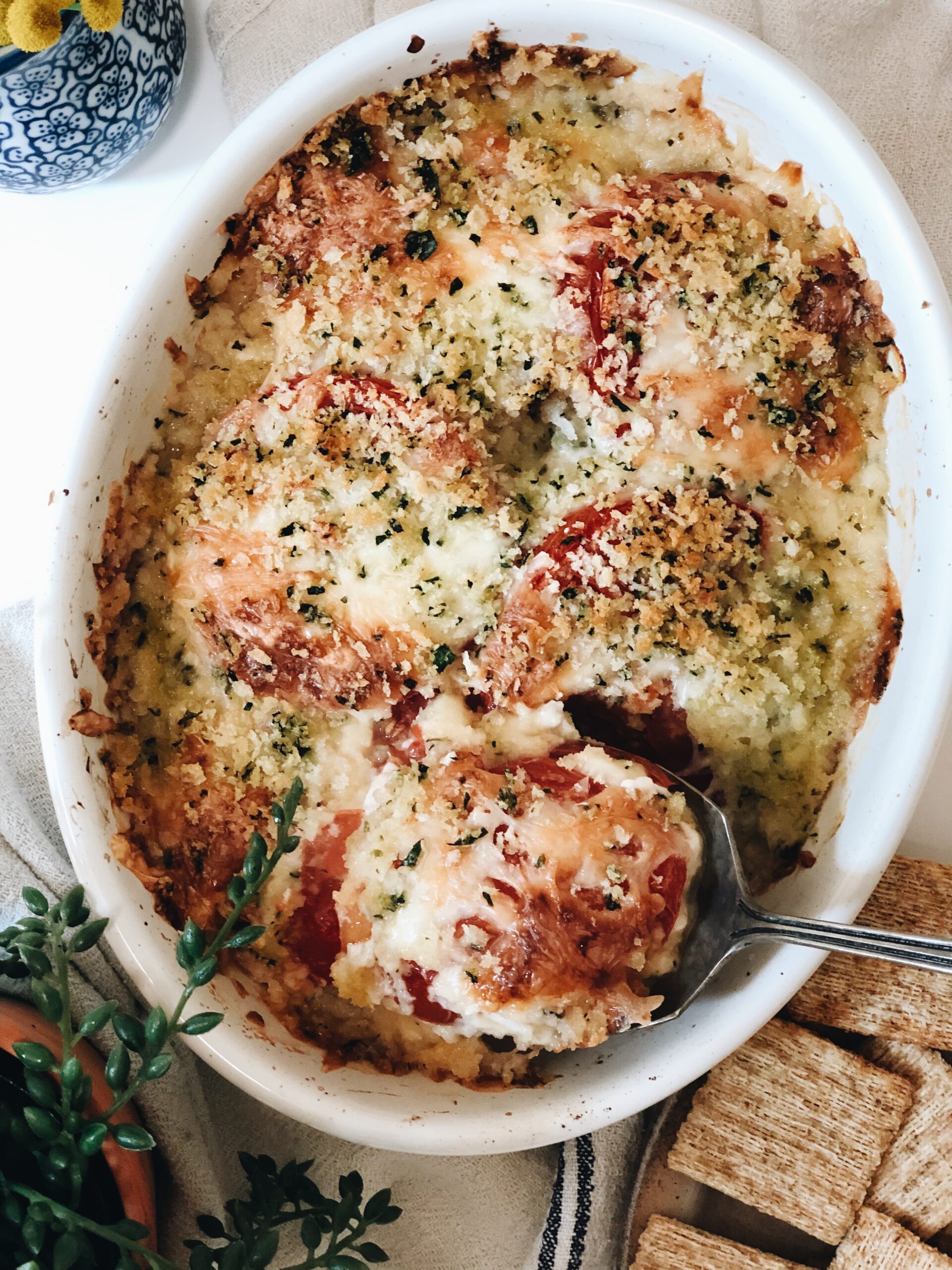 I swear, every summer I get super psychotic about things to do with tomatoes. LET US BE CLEAR REAL QUICK: there's nothing more supreme than a freshly sliced tomato with a sprinkle of salt on top. Nothing. It's pure and perfect.
Buuuuuut, I mean, if we're already in the mood to get creative, what's the harm in adding a bunk ton of cheese to it and baking it all? None, I tell you. None.
So that's exactly what I did here.
Let us peepeth. (<–I would ask who here is over that phrase but I prefer to live in oblivion.)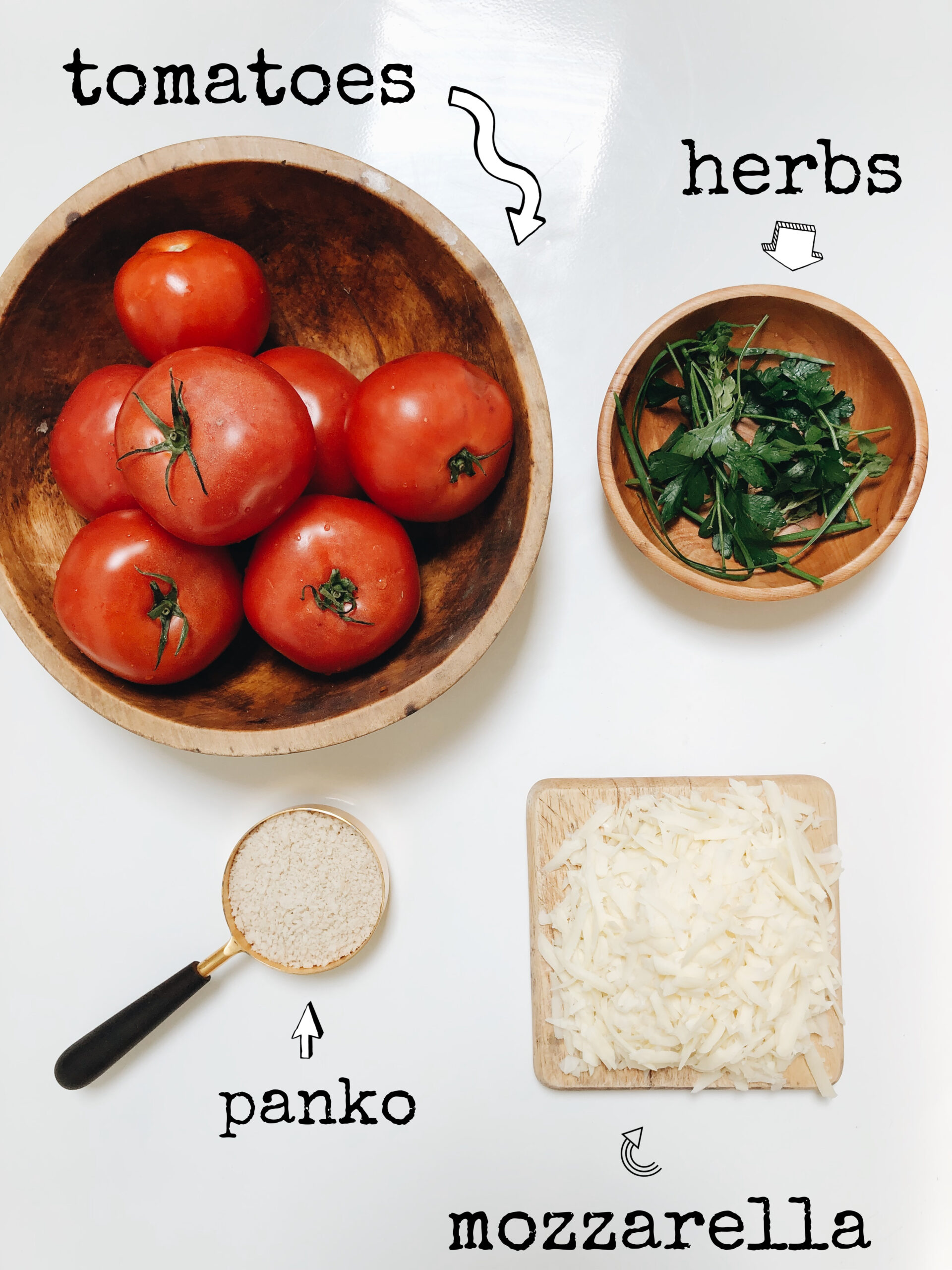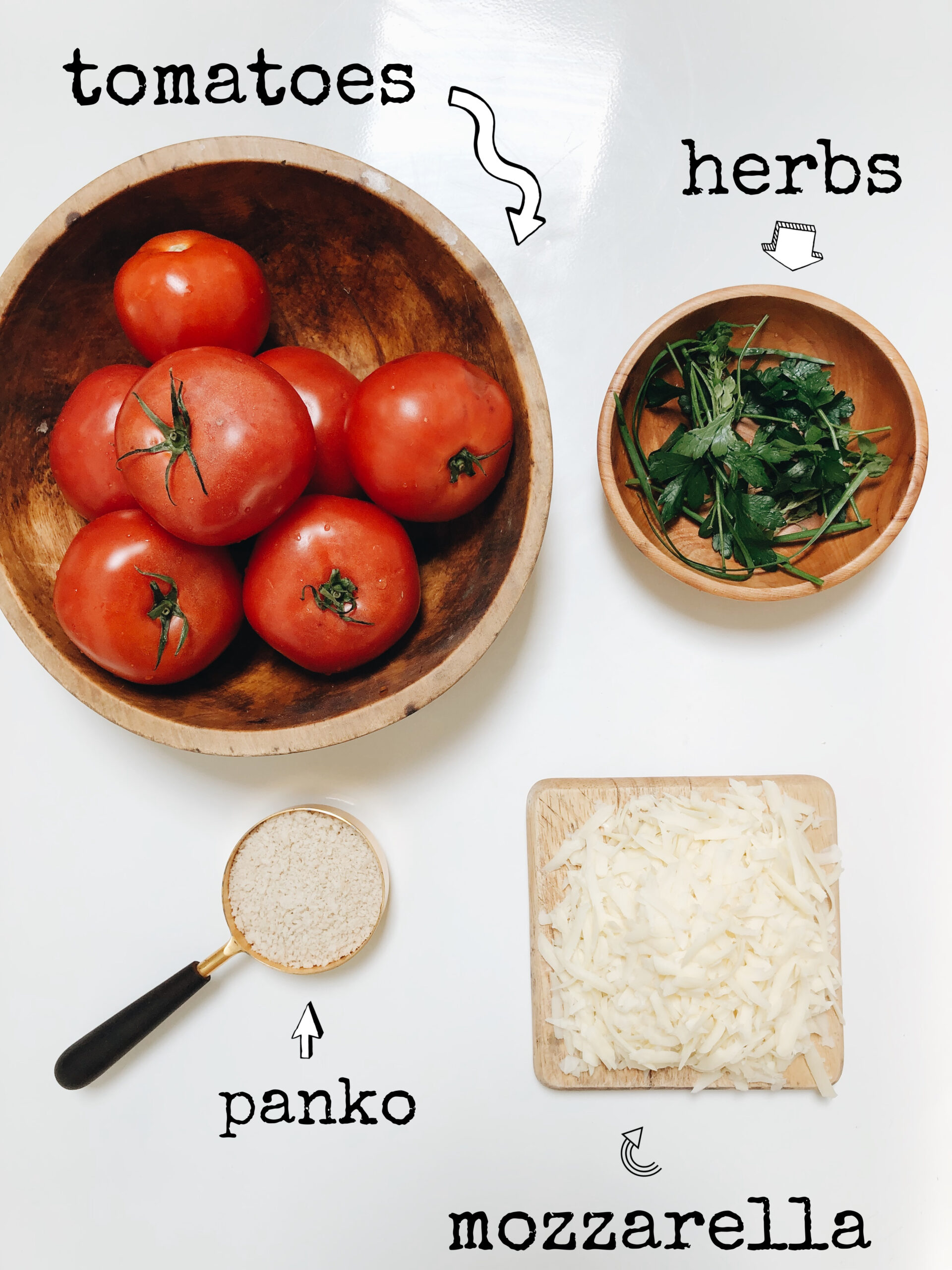 It's THAT simple. Except! I did sprinkle some garlic powder in this. Like, over each layer, which I'll show you in a second.
Also, who here can spot the skylight reflection? I ask as if it's like almost impossible to see. It's RIGHT THERE. But I'm in for it.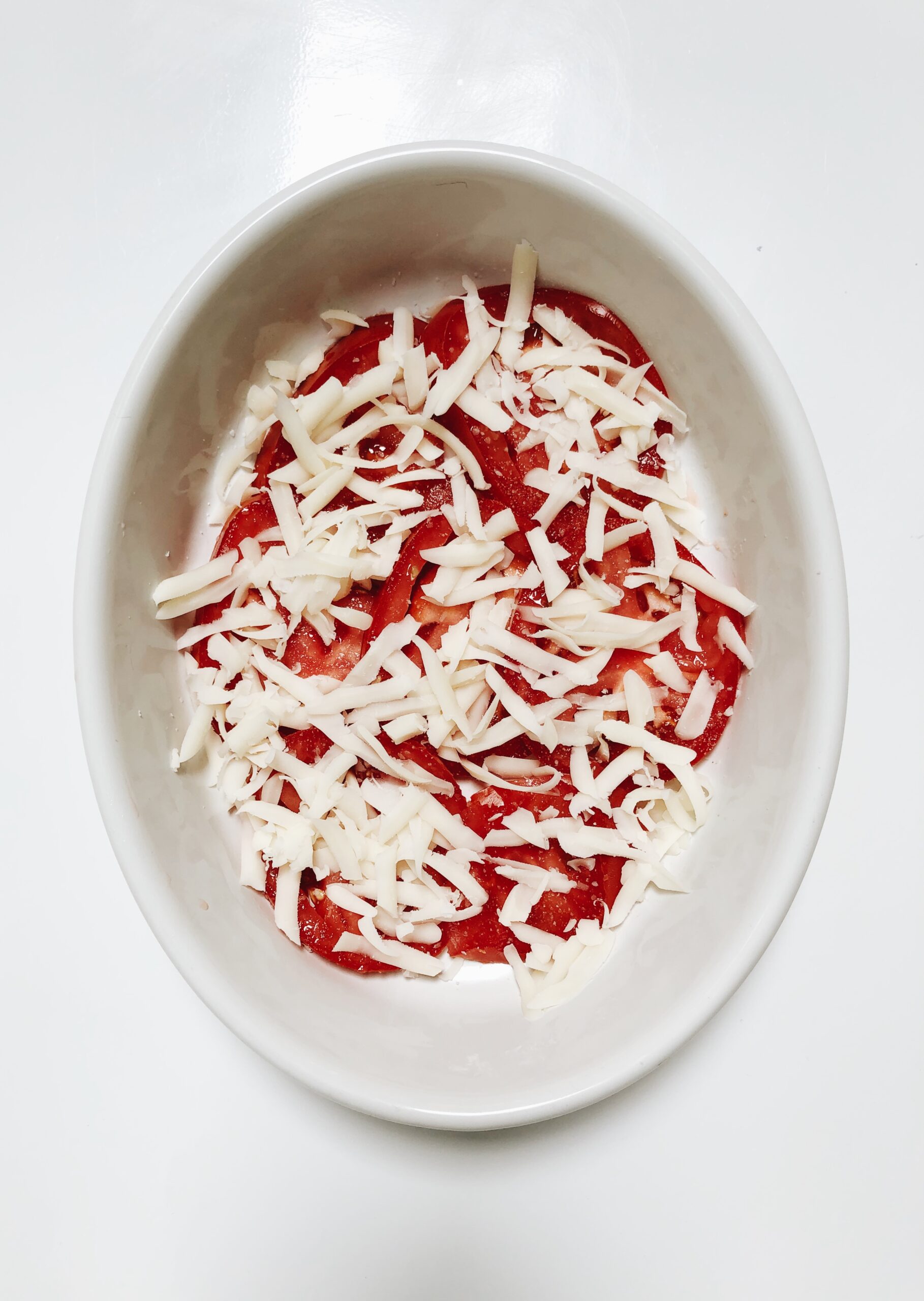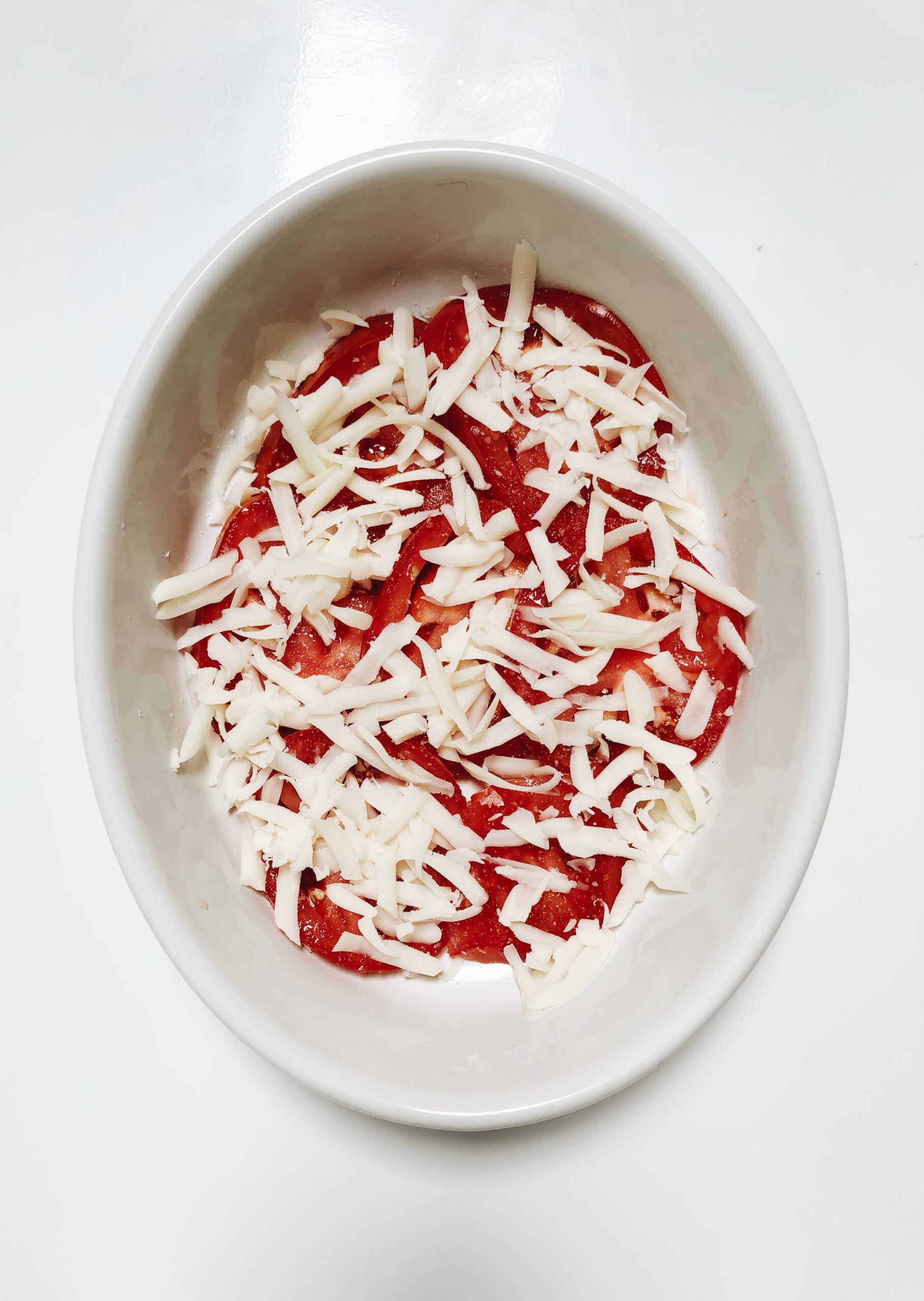 So what happens is the classic layering game. Sliced tomato on the bottom (I did six slices per layer which ended up being one tomato per layer, which ending up being four tomatoes in all, but you can go with less or more if y'awnt! I'm not bossy.)
So it's sliced tomatoes, the tiniest sprinkle of sea salt, a barely-there sprinkle of garlic powder, then a small handful of grated mozzarella. Just eyeball it, ya know. It's still summer.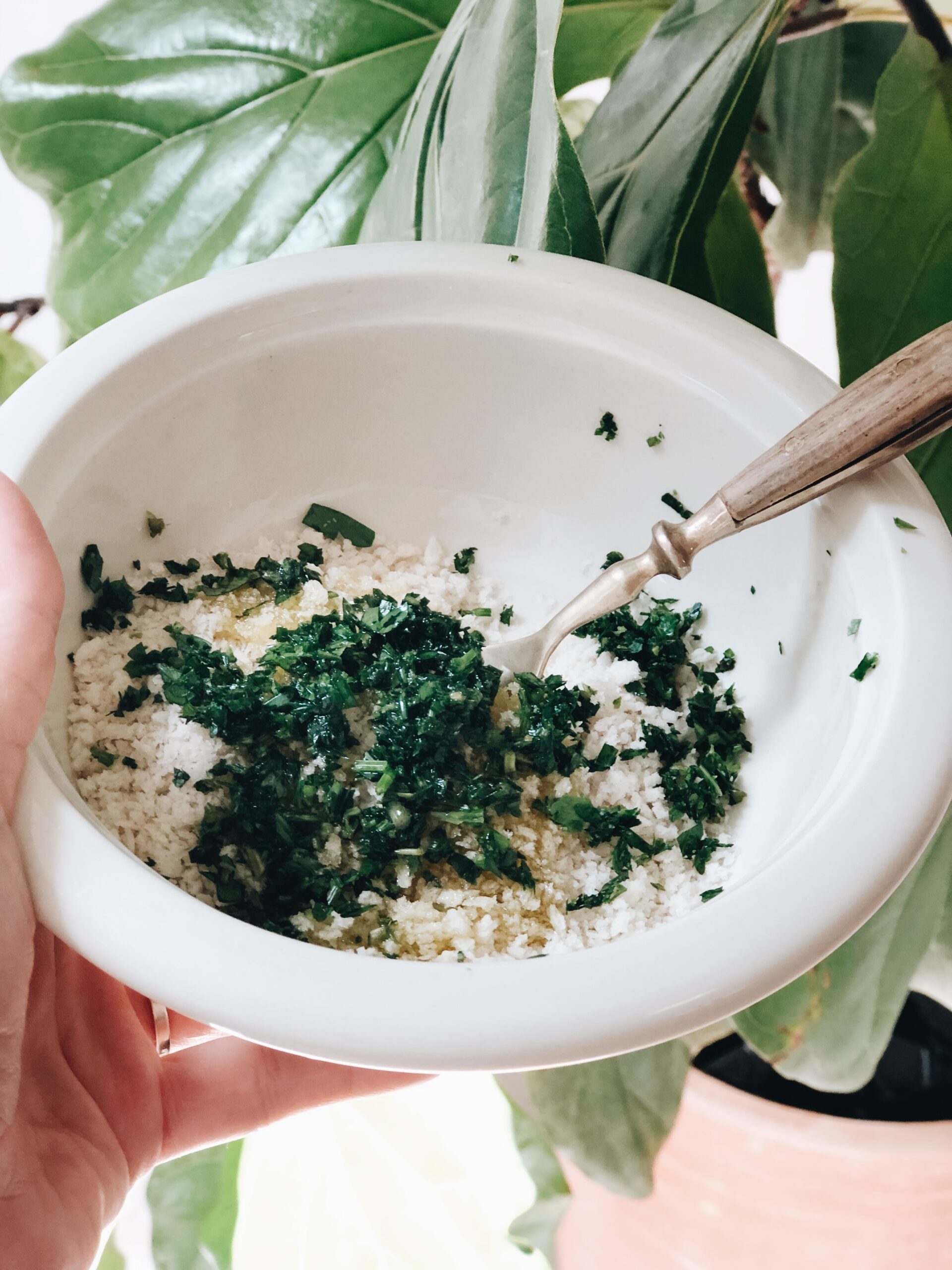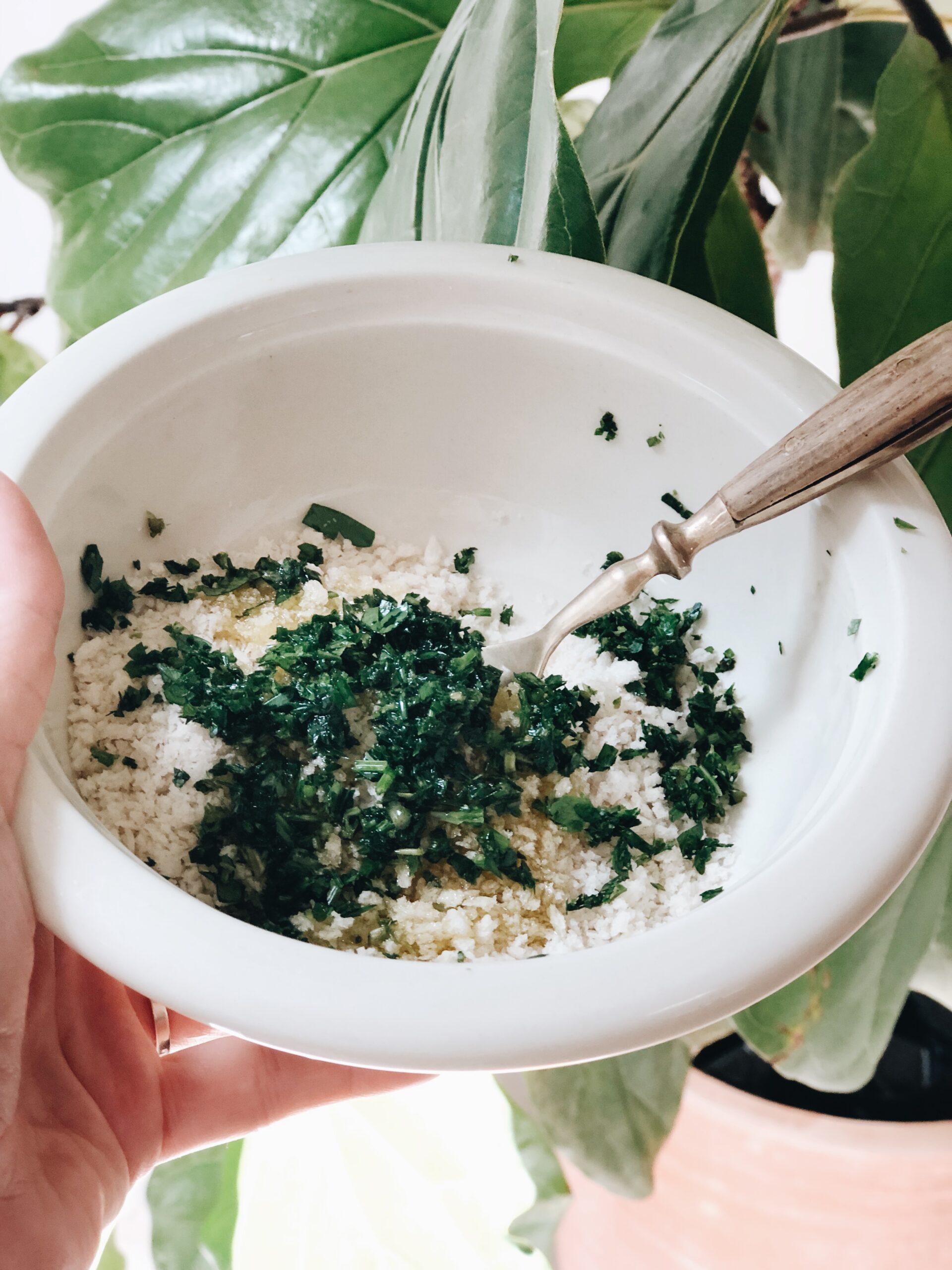 Then we'll make the topping. Which is 1/3 cup panko breadcrumbs + minced mixed herbs. I took some scissors to my herb garden all willy nilly and end up with basil, chives and parsley. Anything goes (except mint, don't use mint here), but I liked this mix the best!
Just mix your herbs into the panko with a tiny drizzle of extra-virgin olive oil and a pinch of salt. You're in business now, bruh.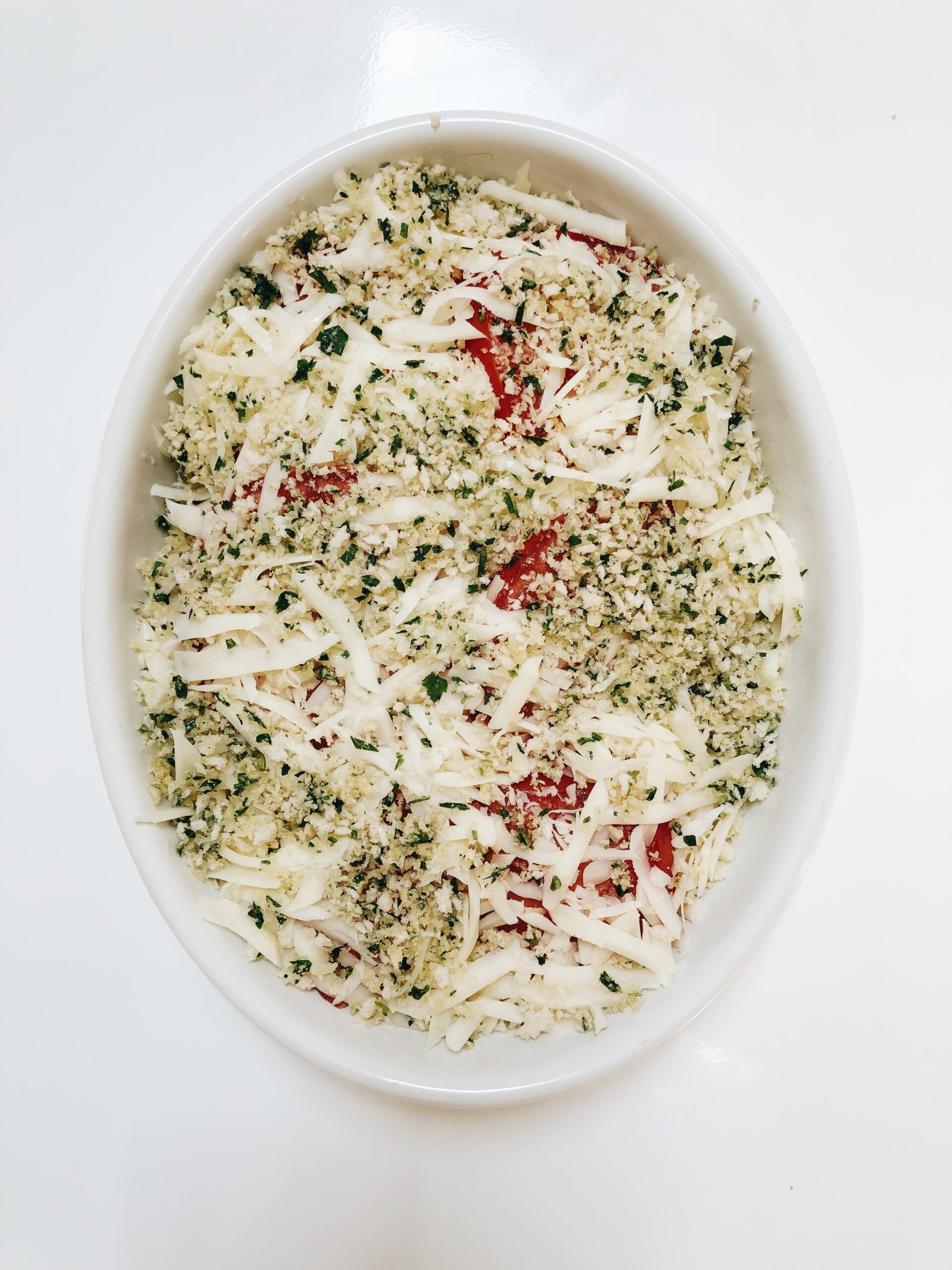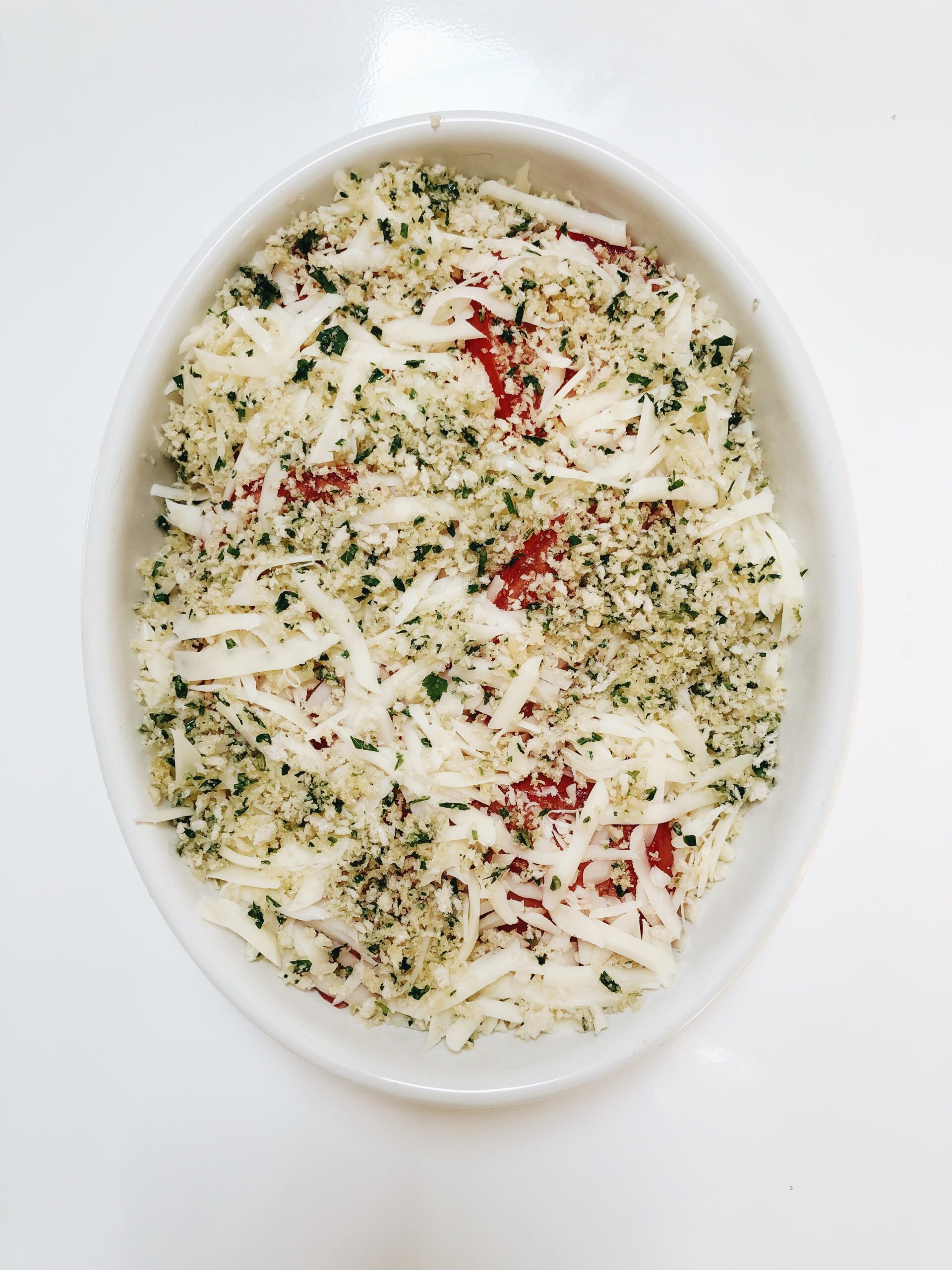 So after four layers of tomatoes and cheese, evenly sprinkle your herby panko mix over the top and viciously throw her in the oven. 375 for 40 minutes. You want that cheese starting to bubble and brown in places, and you want the panko golden brown and so crunchy you could scream at a guinea pig.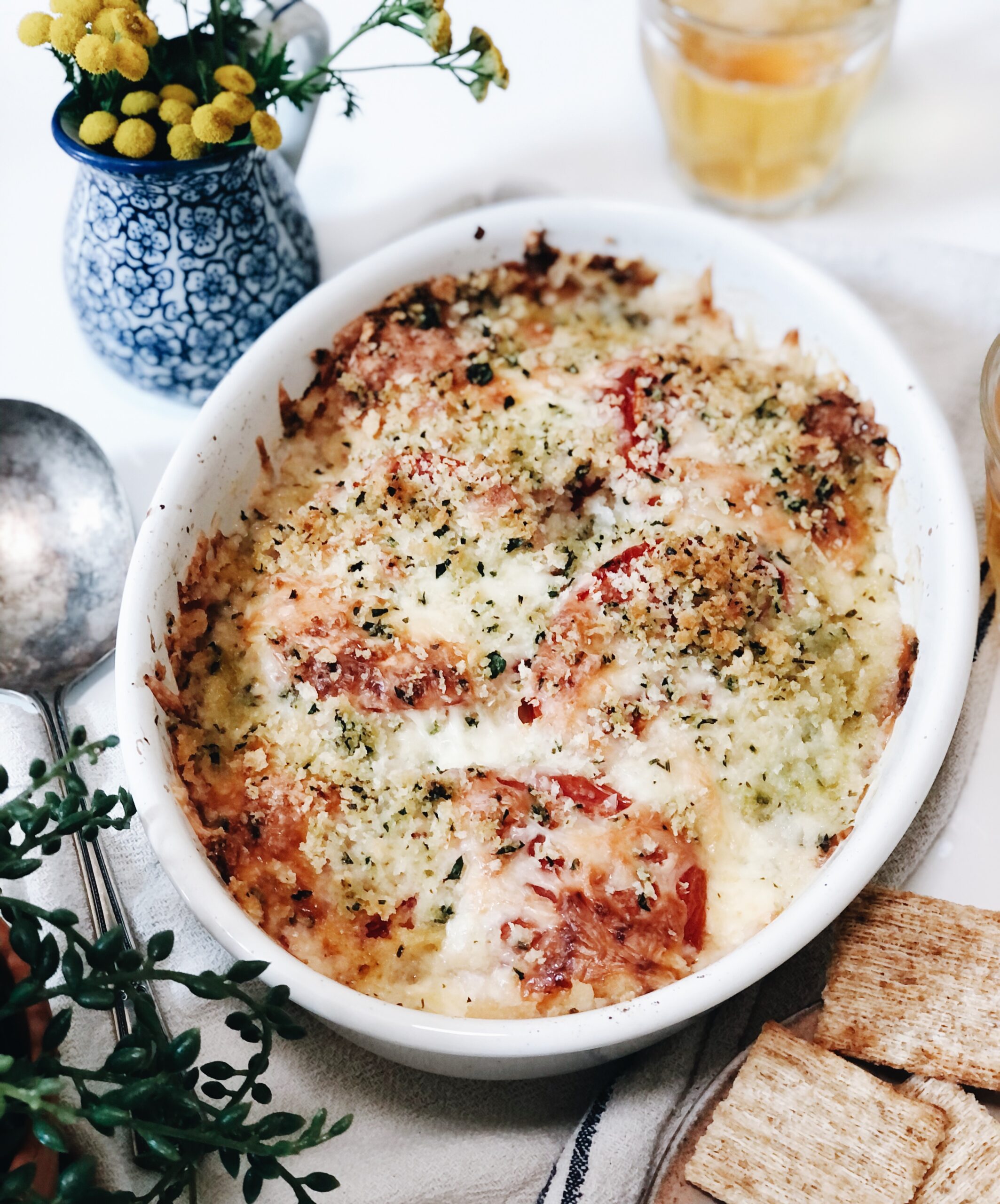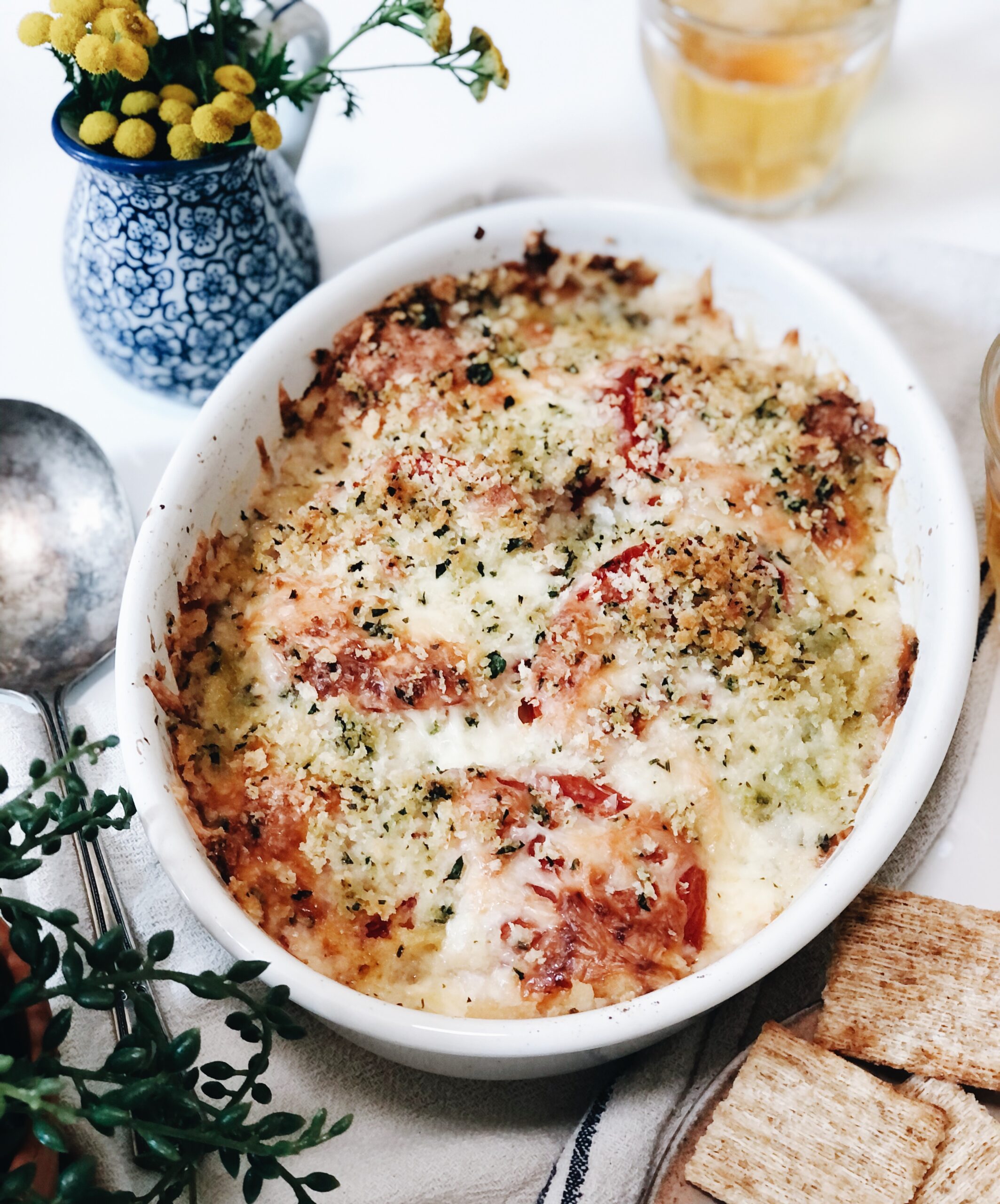 Hi, hello my darling of luscious tomato heaven. It's SO perfect. Baked, cheesy, tangy, mellow, crunchy on top, yes yes. Yes. How could you not want to immediately live in that? You can't.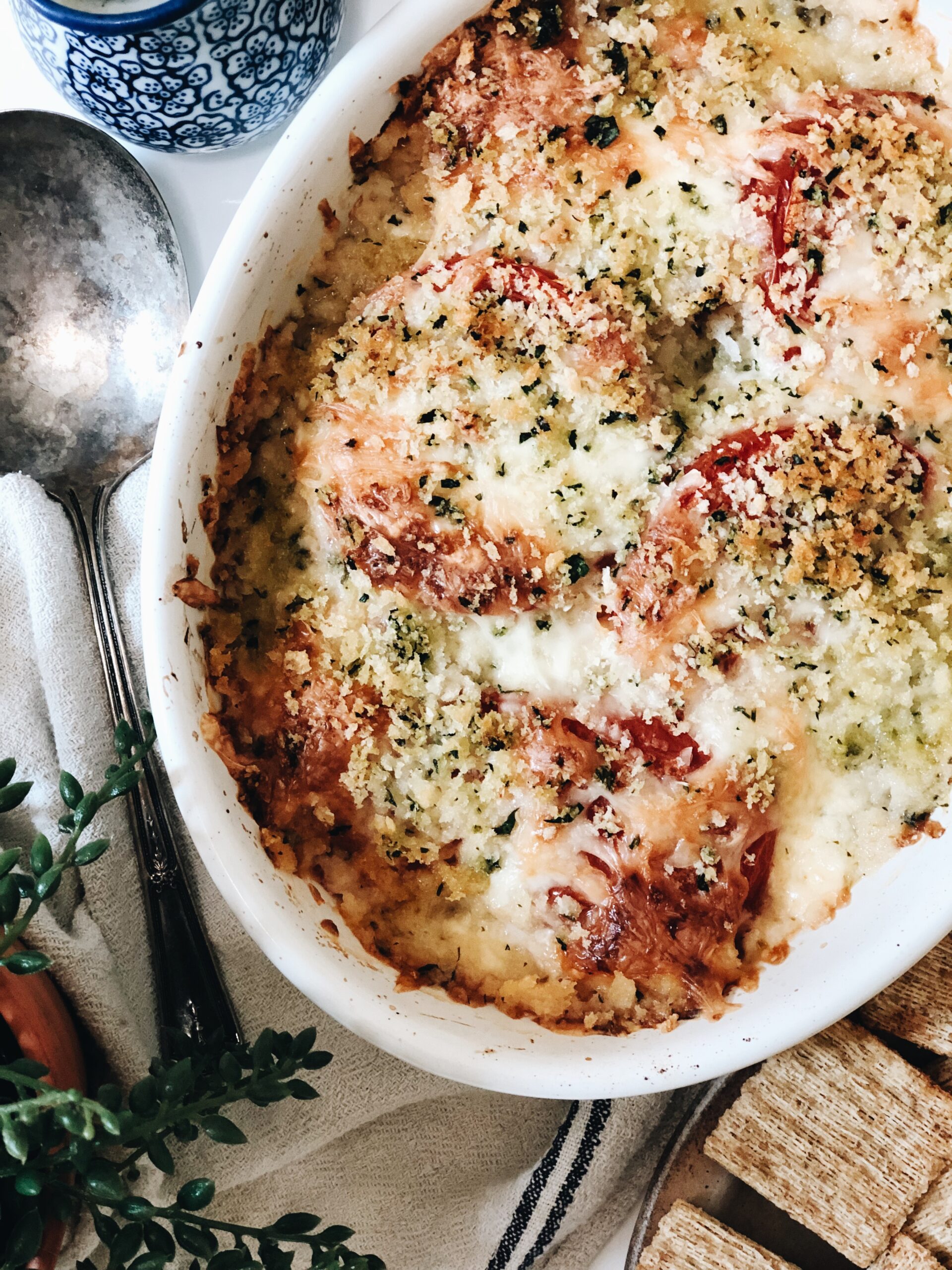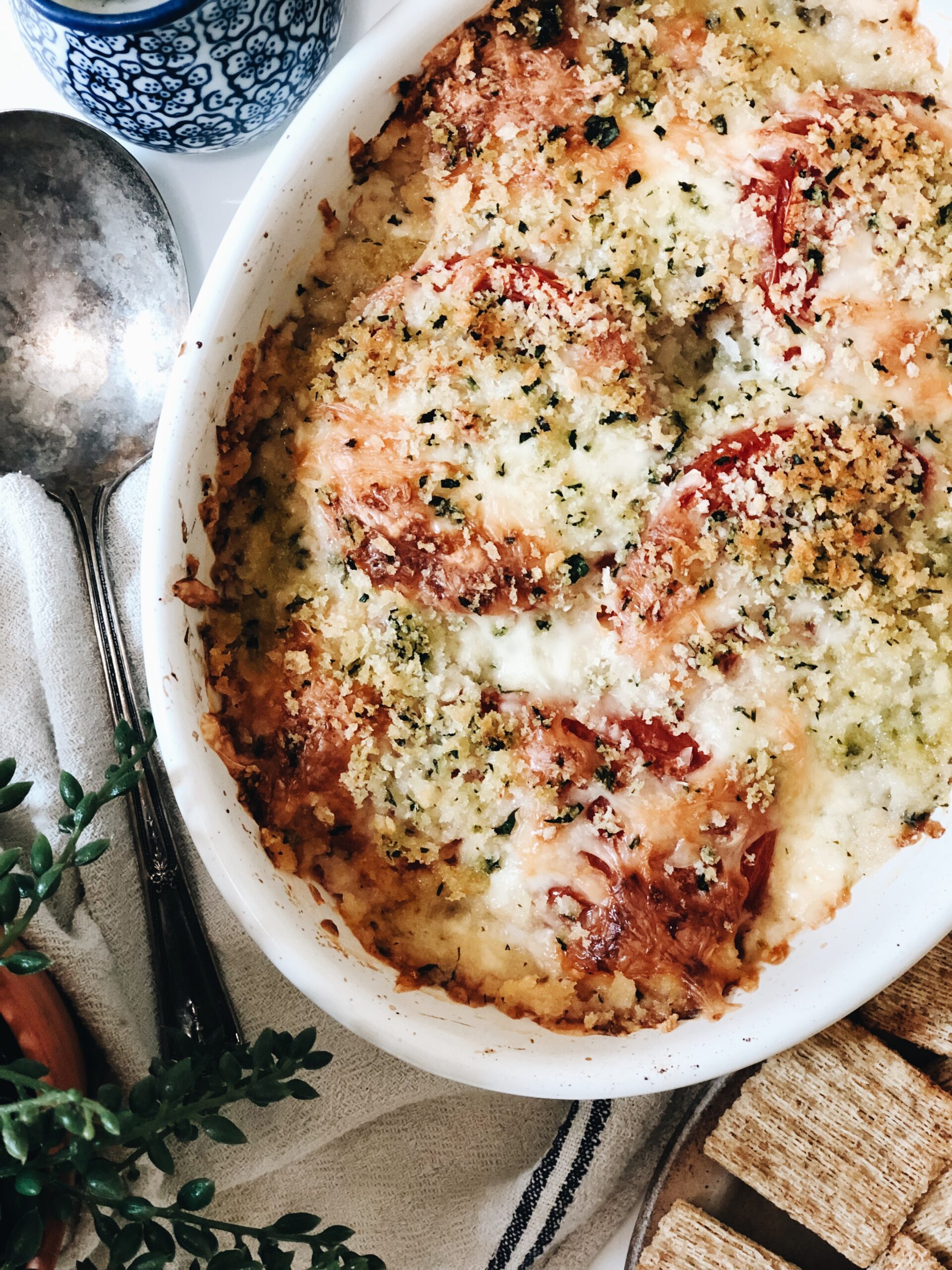 Is it runny in there? Yep! I'll tell you that now. Let the dish sit about ten minutes or so, but the tomato juices will definitely be there. Which I don't mind. They're acidic. They're tangy. The juices add to the whole experience. I was going to shoot this with crusty bread but the remodel has taken up every molecule of my brain hole (it's done now!!), so I used Triscuits. Which work, too! You could serve this a side dish at dinner. Roast chicken and something green. Or just dig in and spoon/spread it over any carb of your choice.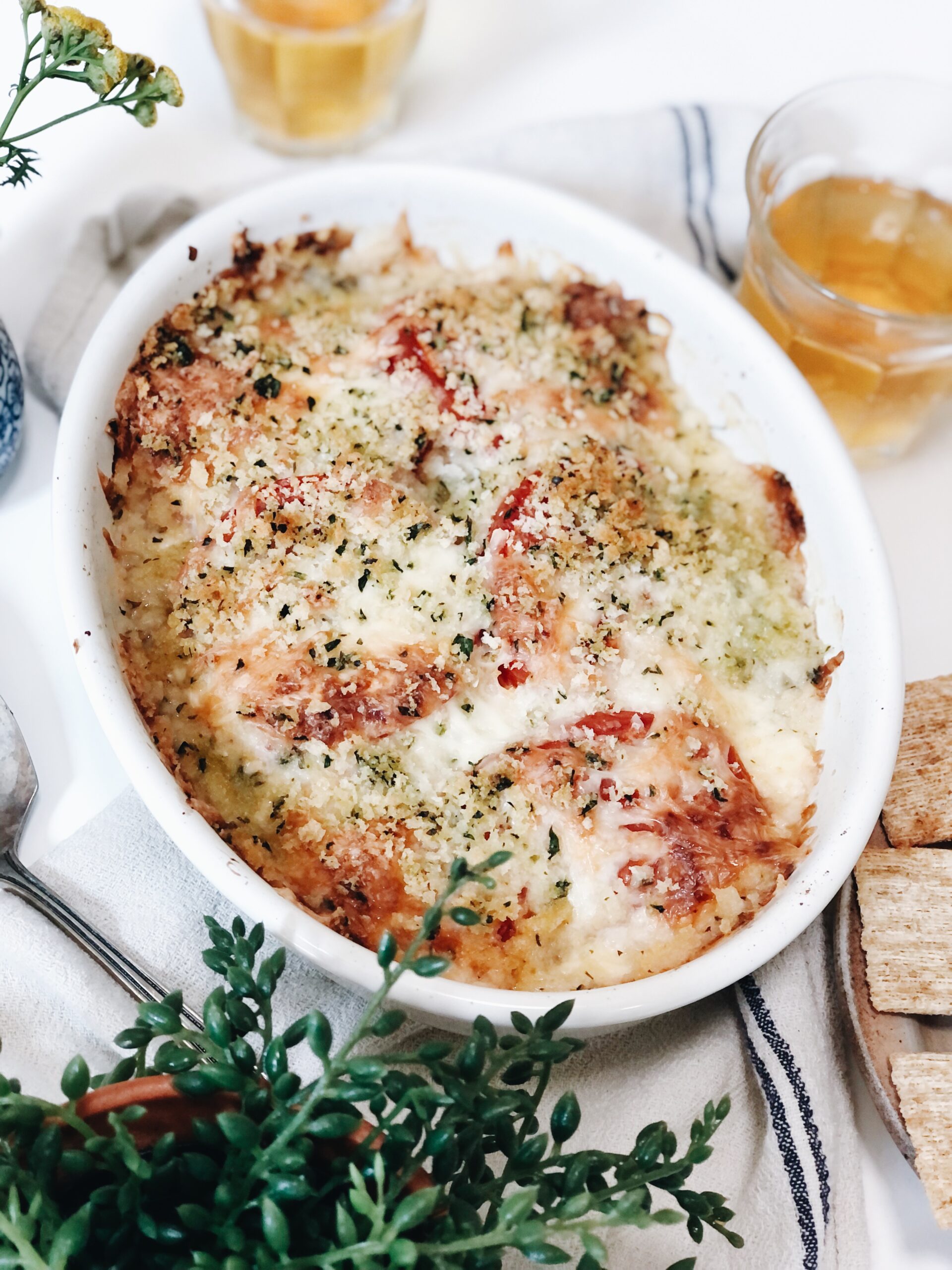 It's so French, too! I'm not sure why or how, but it gives me some rustic French countryside vibes that a grandmother or mother or young lady or anyone would serve at a picnic potluck on a flowery hillside, and I'm all.about.it.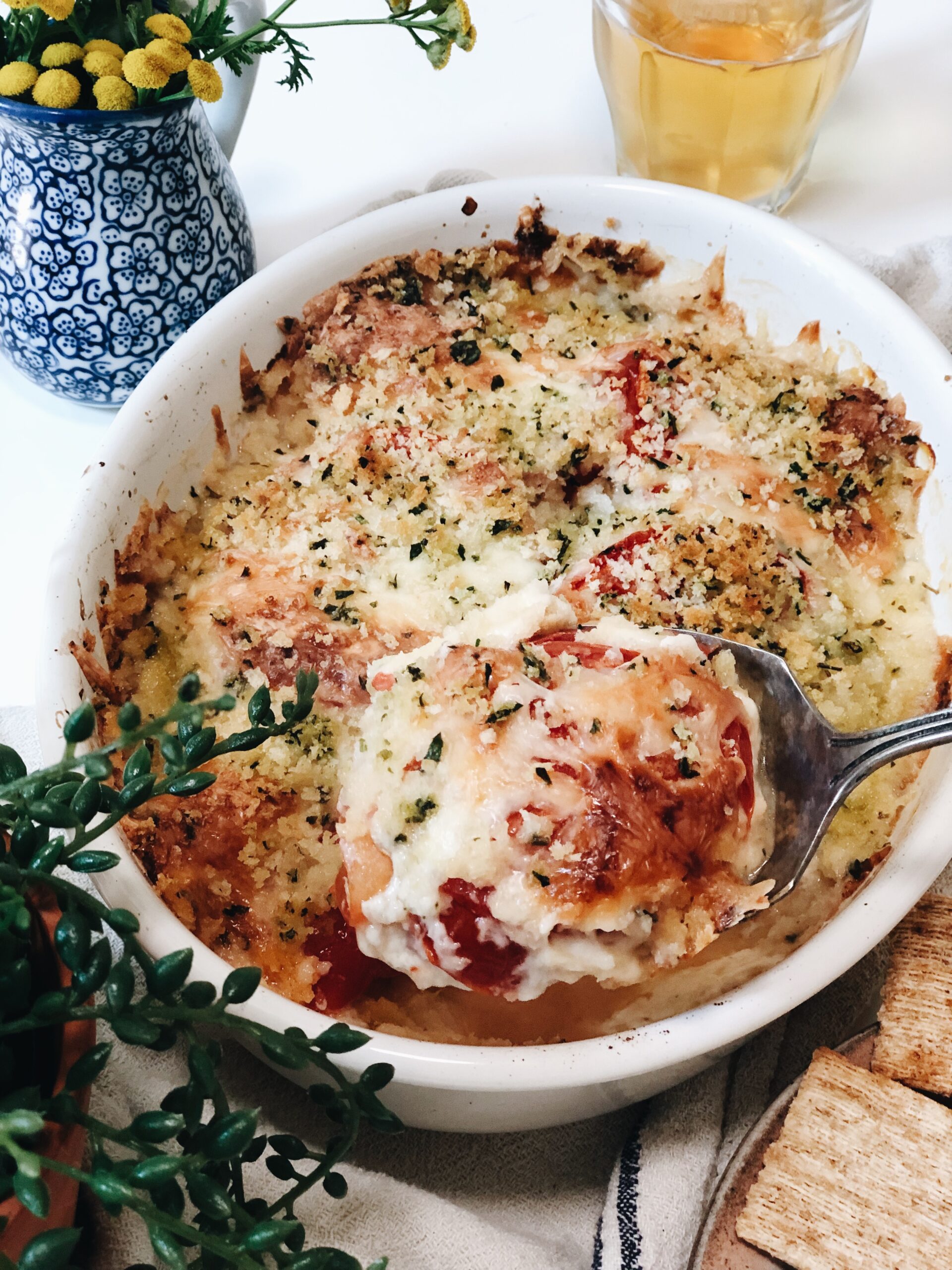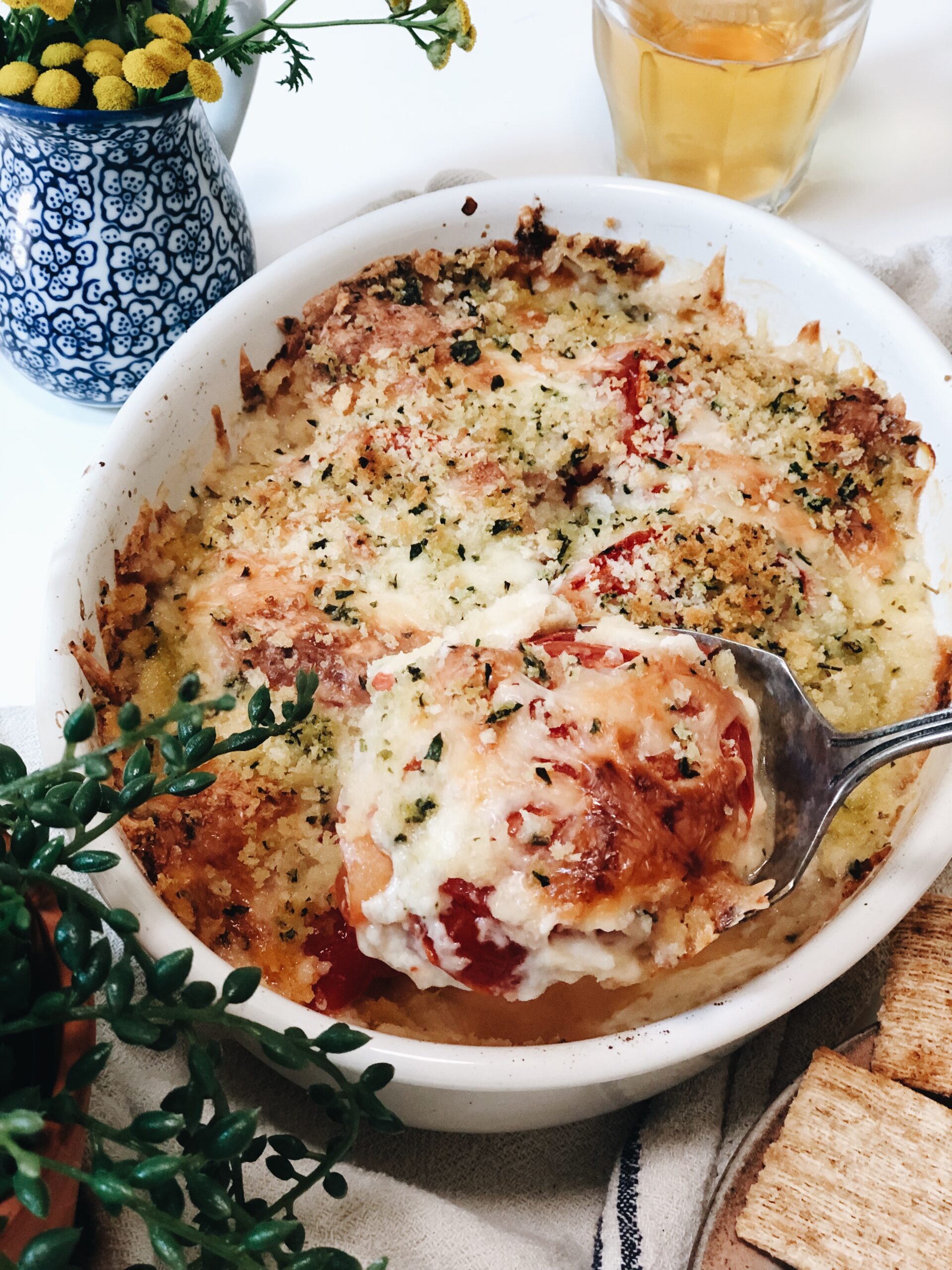 We can call it a side dish. A casserole. A bake. The ends of the earth. Your blistering soul. Whatever you need today.
It's the end(ish) of summer, maaaaaake it!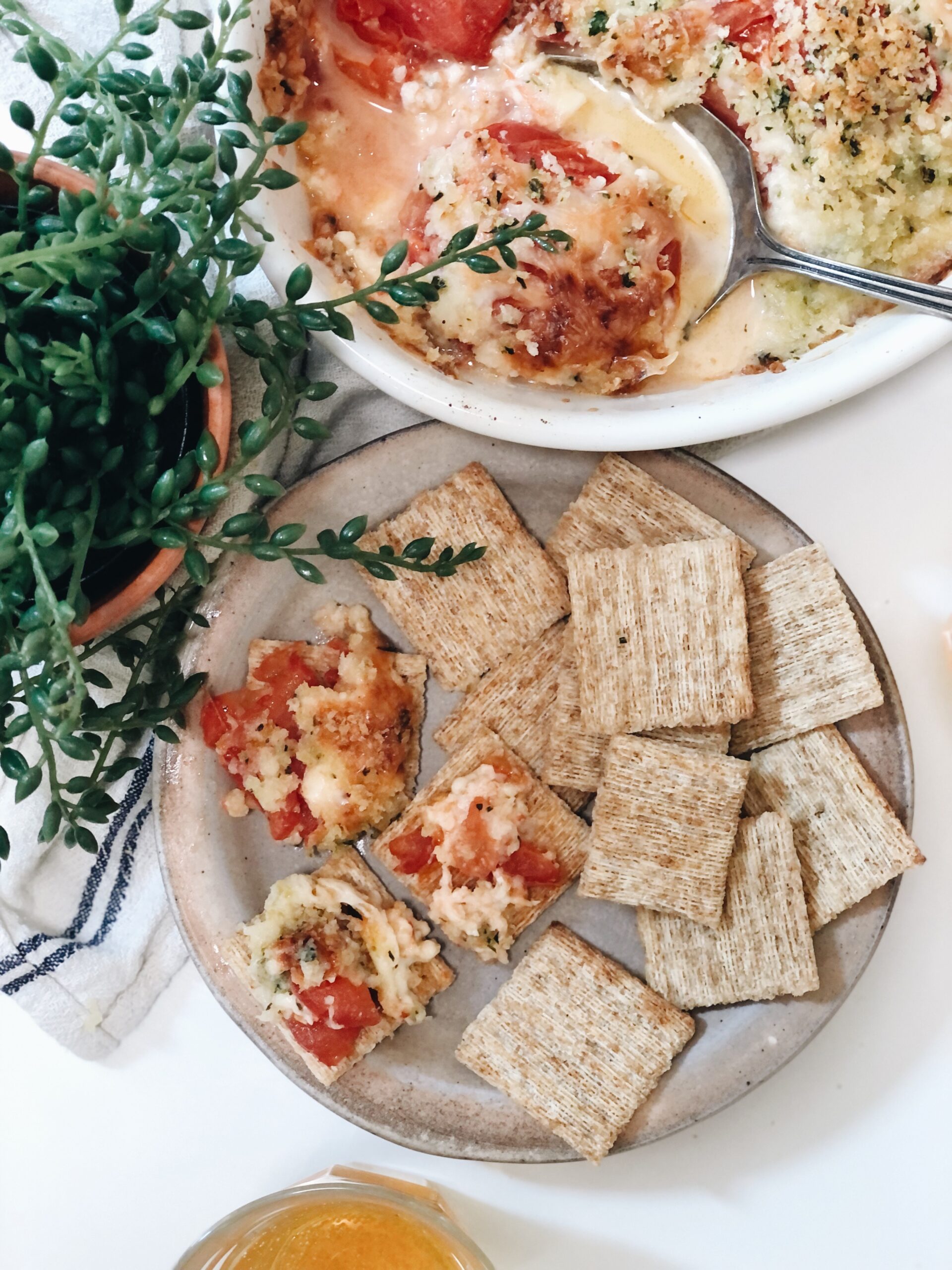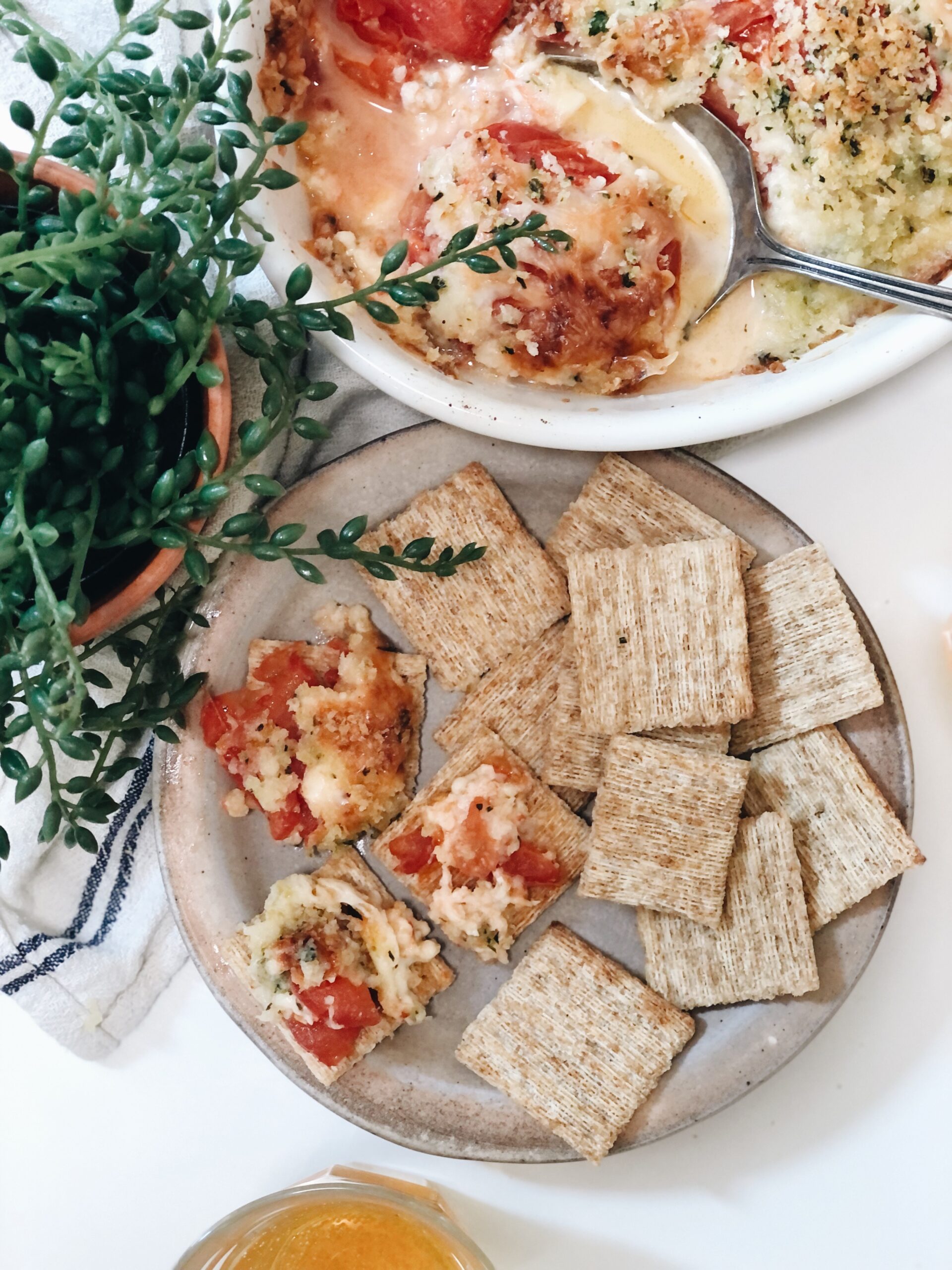 See you at that French countryside potluck? Well yeah.
Ingredients
About 2 pounds tomatoes (4-5 beefsteak), sliced
1 tsp garlic powder
8 oz mozzarella cheese, grated
1/3 cup panko
A small handful mixed herbs, finely minced (I used basil, parsley and chives)
1 tsp extra-virgin olive oil
Coarse salt
Instructions
Preheat your oven to 375.
In a small casserole dish (like 8x5-ish), start by layering six slices of tomatoes along the bottom. Give a tiny sprinkle of salt, a dusting of garlic powder, and a layer of grated mozzarella cheese over them. Layer again, three more times just like this. Tomatoes, salt, garlic powder and cheese.
In a small bowl, combine the panko, minced herbs, the oil and a tiny pinch of salt. Mix together and sprinkle over the top of the cheese.
Bake, uncovered for 40 minutes, or until the cheese is browned and bubbly and the panko is golden brown. Let rest about ten minutes before cutting into it.
Serve with crusty bread or crackers! Absolutely delicious.
Serves 4-6.
7.8.1.2
519
https://bevcooks.com/2021/08/cheesy-tomato-bake/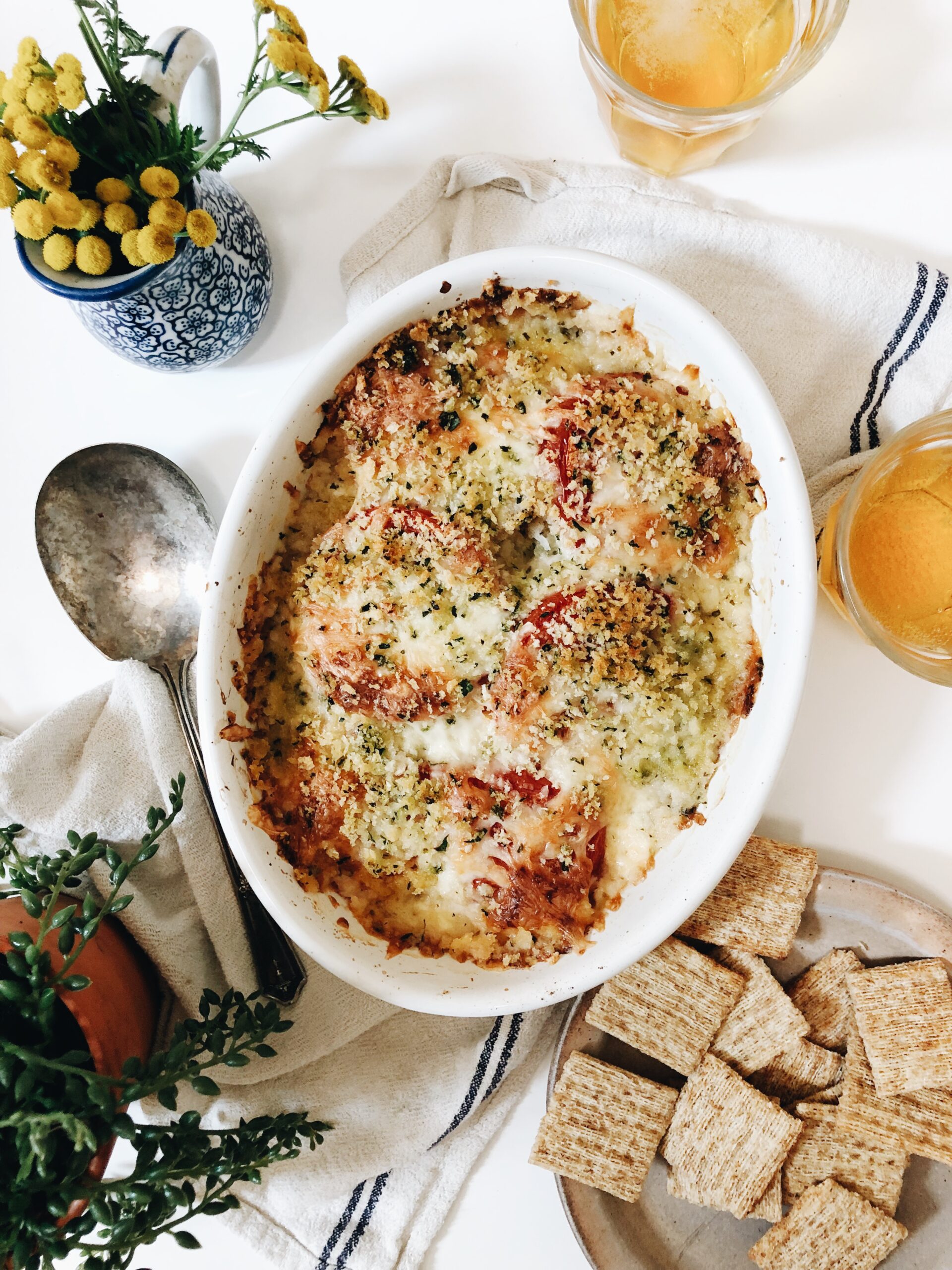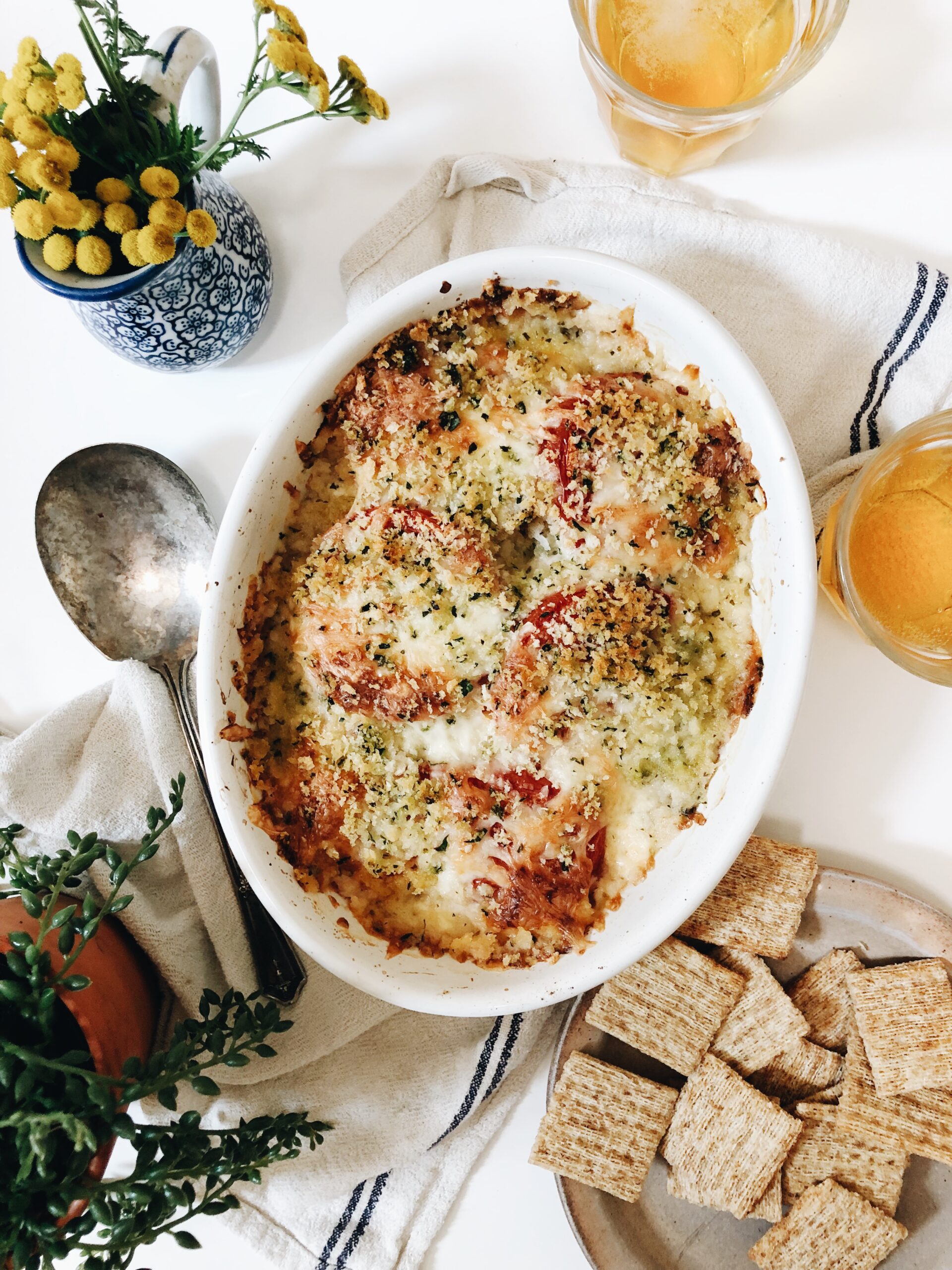 I'll bring the Sancerre.