More gruyere! Just get into it.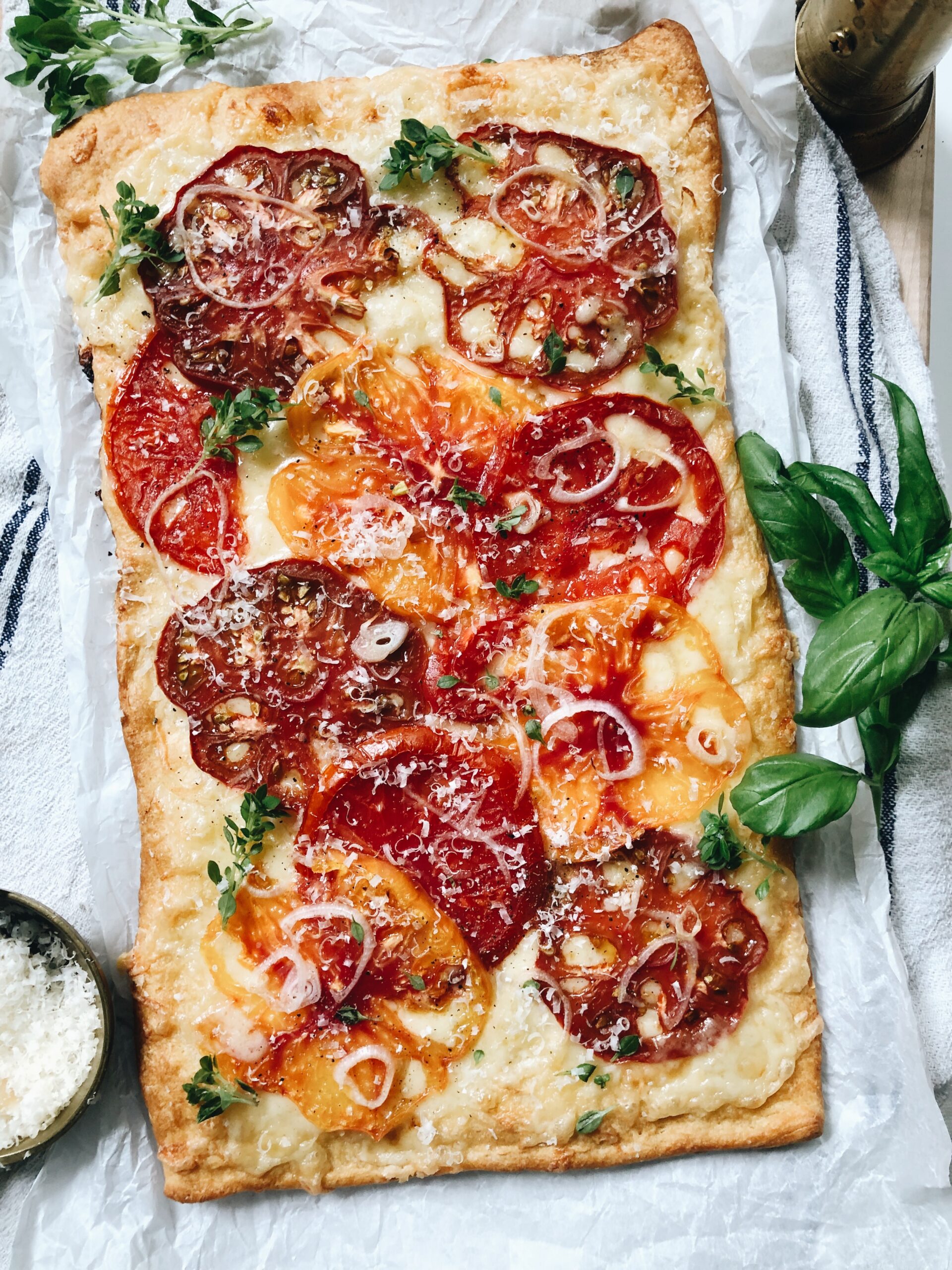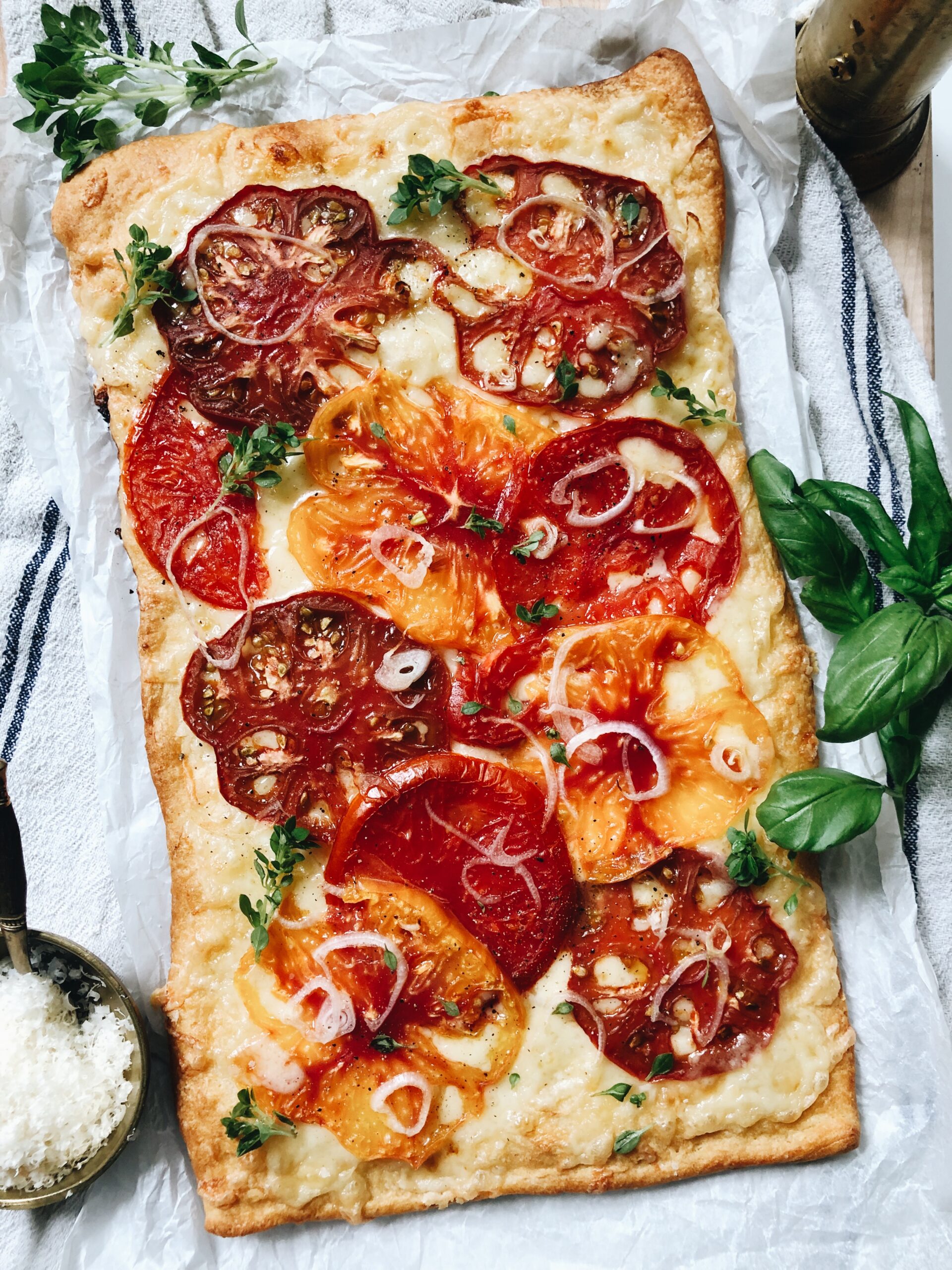 Listen, when it's July, you tomato. You just do. This isn't something to be negotiated. As of this moment, you're officially on a mission to hunt down (Liam Neeson style) the most spectacular heirloom tomatoes you can possibly find and make your entire life about them.
Because look at this thing! Is it a slab pie? Is it a tart? Is it a flatbread? Is it your future? (yes) I have no idea. I'm going with slab pie because it sounds rustic summer. Let's lean in.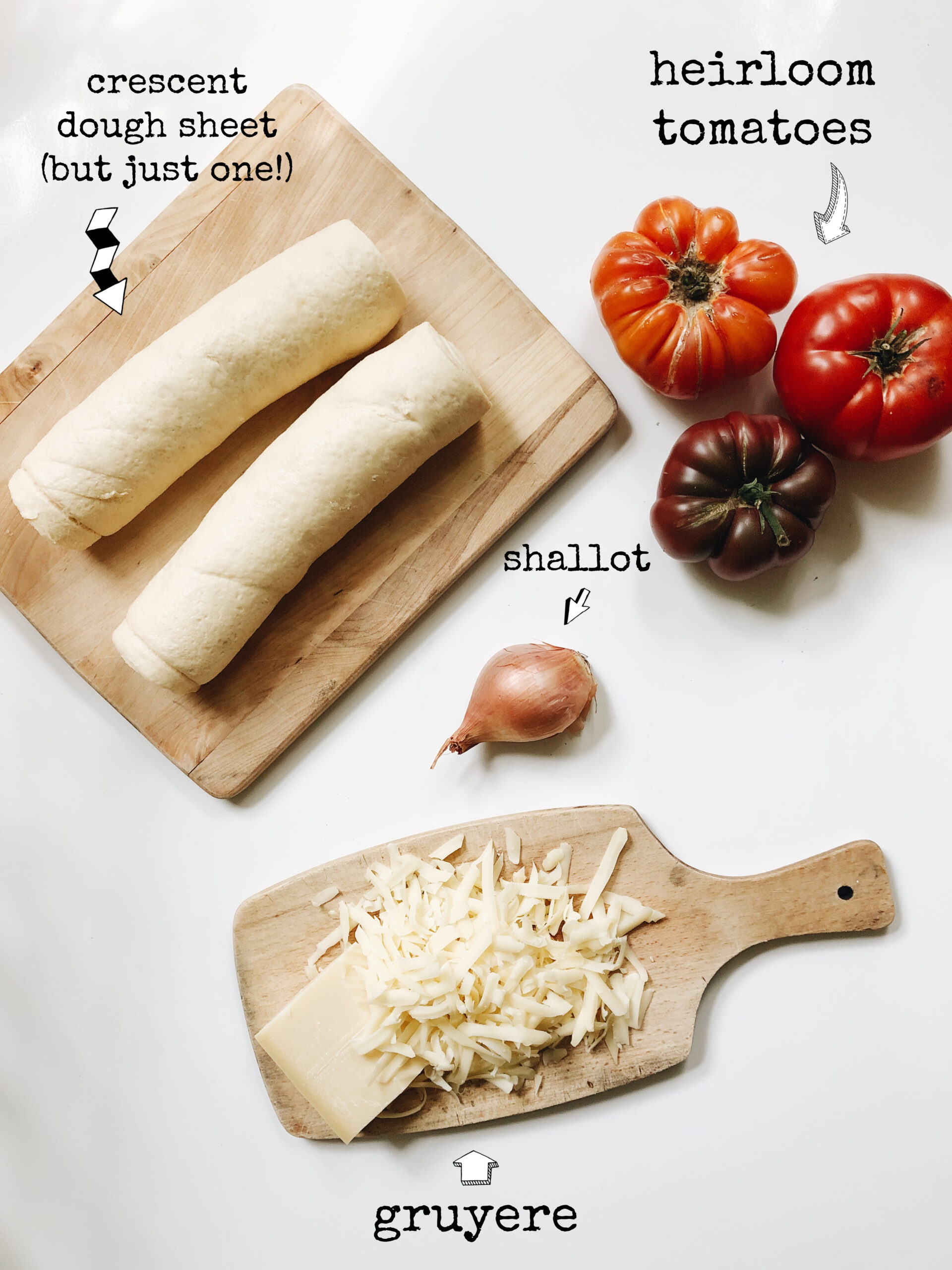 And these are the only ingredients. See how I take care of you?
And listen, you'll only need one crescent dough sheet. I bought two thinking they were super tiny and that I'd pinch (my sister says peench) them together and make a bigger pie, but one ended up being perfect. So buy one. Just buy one, okay!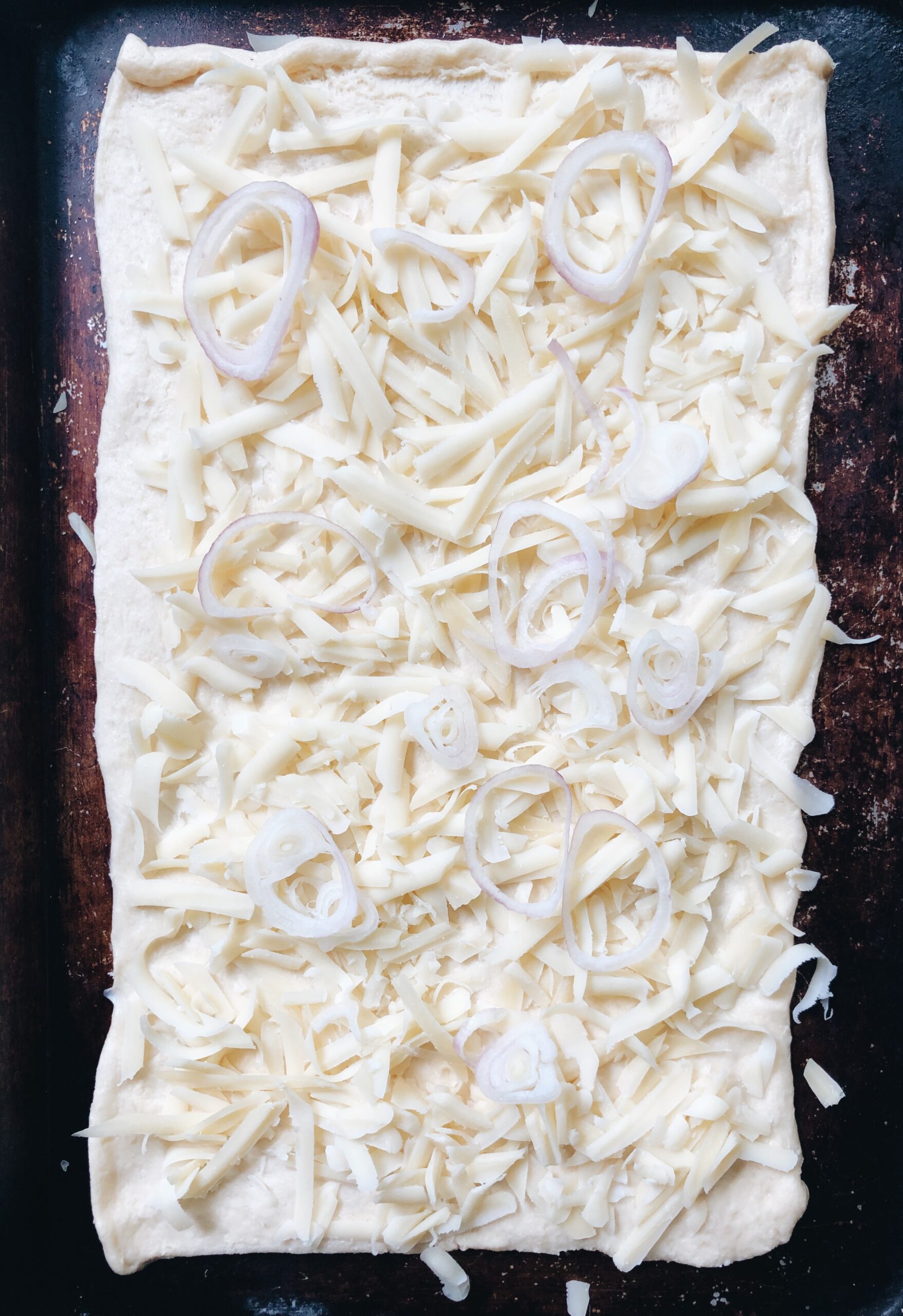 It's stupid simple. You'll roll your crescent dough sheet out. And yes! You buy it as a sheet. Which I know you've seen, but in the off chance you haven't, they do some in sheets, and not the little perforated lopsided triangles that make you want to yank out nostril hairs one by one.
And then just sprinkle your grated gruyere over it! Of course you can go with another cheese, but this is fancy and nutty and super yum, so hunt it down (Liam Neeson style) if you can.
Then violently scatter some thinly sliced shallot over the cheese. Why shallot? Because we're refined humans, DANG IT.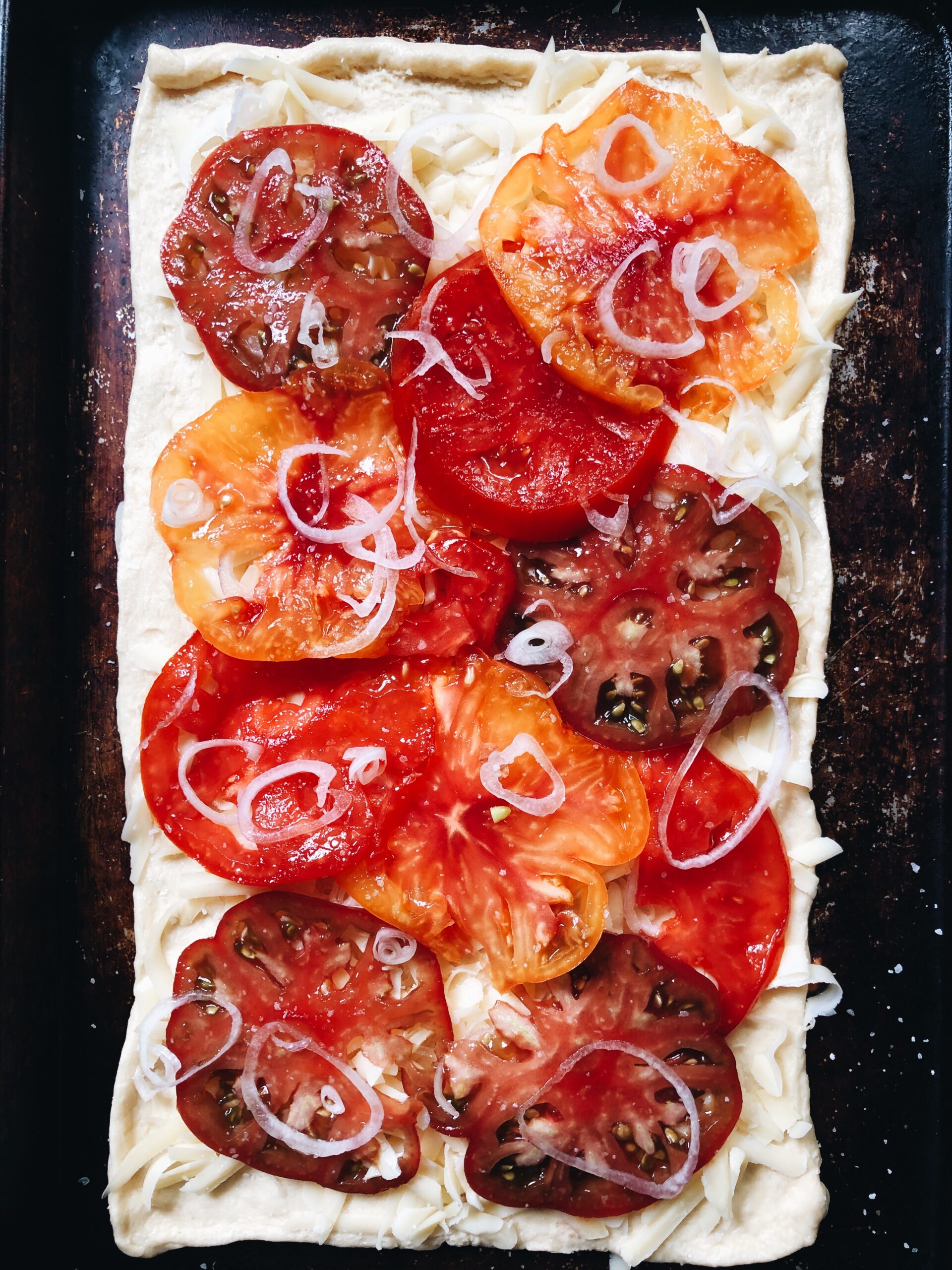 Now, thinly slice your heirlooms and arrange slash layer them over your dough. And this is the fun part because of the heirloom shapes and colors. At 4(almost)5 years of age, this is what gives me utter joy and I'm cradling it.
Sprinkle of salt, a few more scattered shallots, bakey bakey. (<–sorry)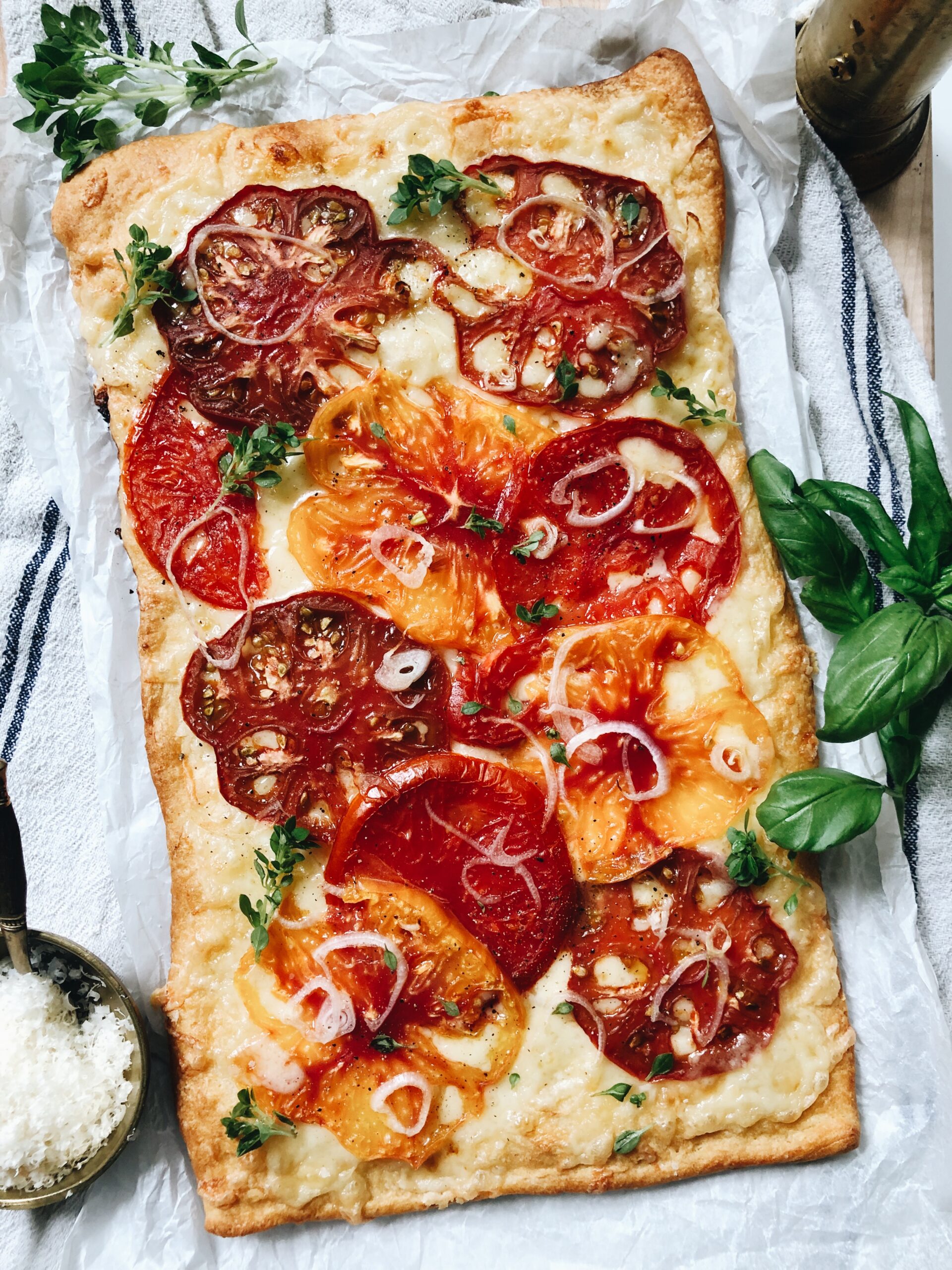 Oh hi, next chapter of your LIFE.
Look at that thing! The golden brown crispy edges of the crescent dough, the bubbling gruyere, the wilted tomatoes under that barely-there aromatic flavor. It is sublime. And then you'll add a little fresh basil as a garnish and maybe some freshly grated parmesan cheese and look how things just turned around for you.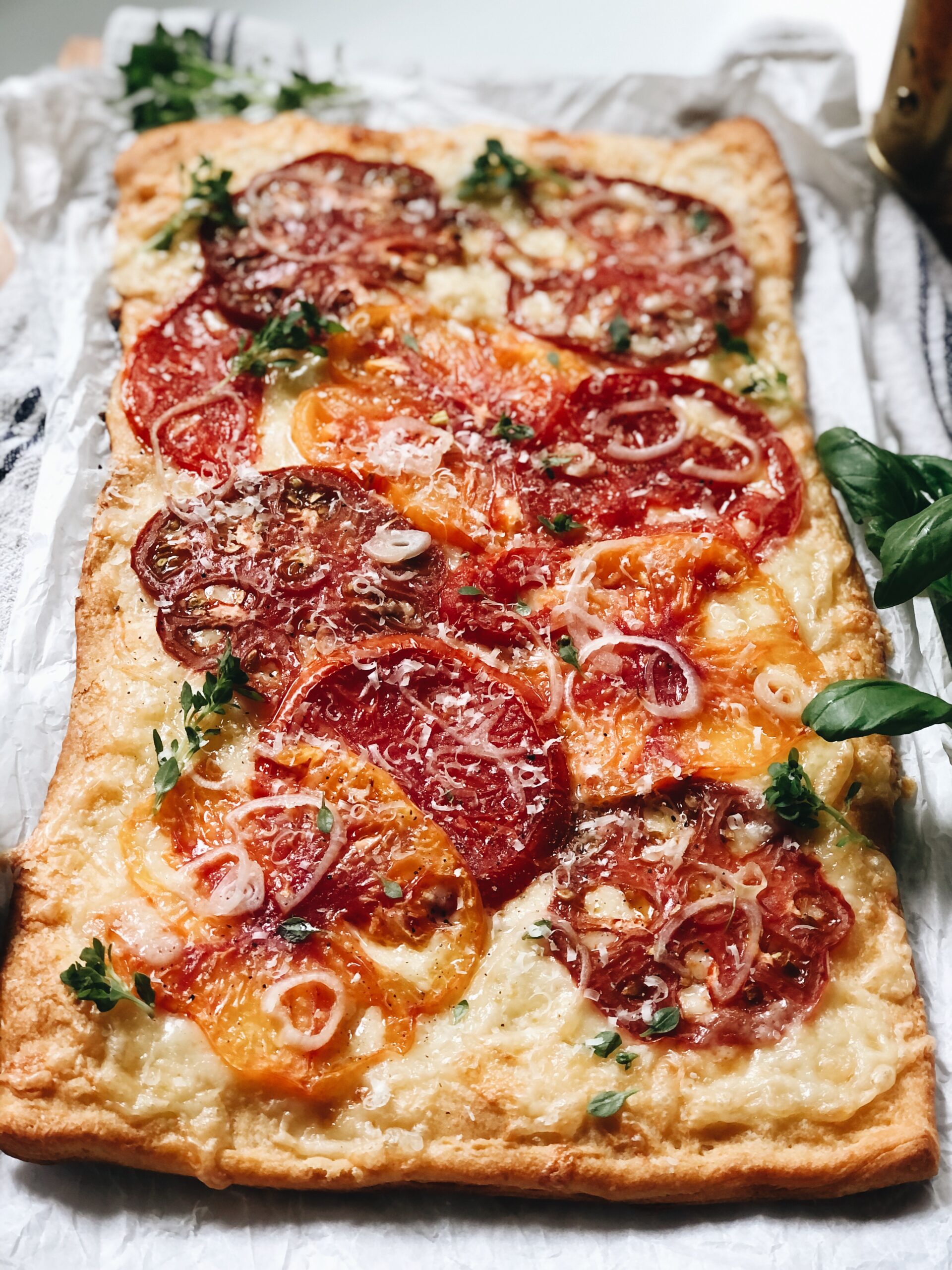 It's a showstopper, without a single doubt. But so simple. And that's what summer has to be. We need all the eye-popping food with like, zeh-row effort. I know you dig this.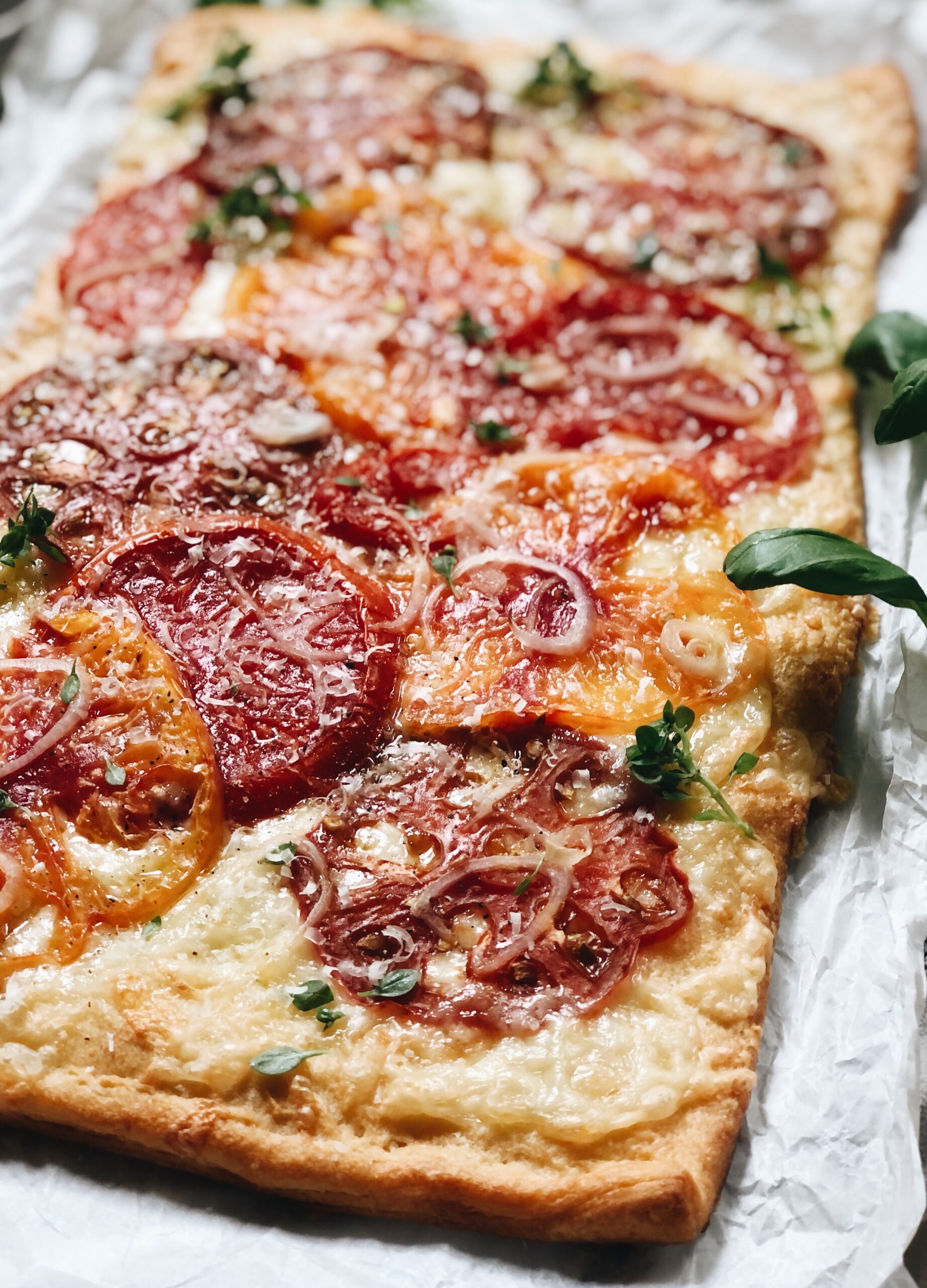 "But aren't the tomatoes super watery?" Naw! You can even pat them a little dry once you layer before you bake.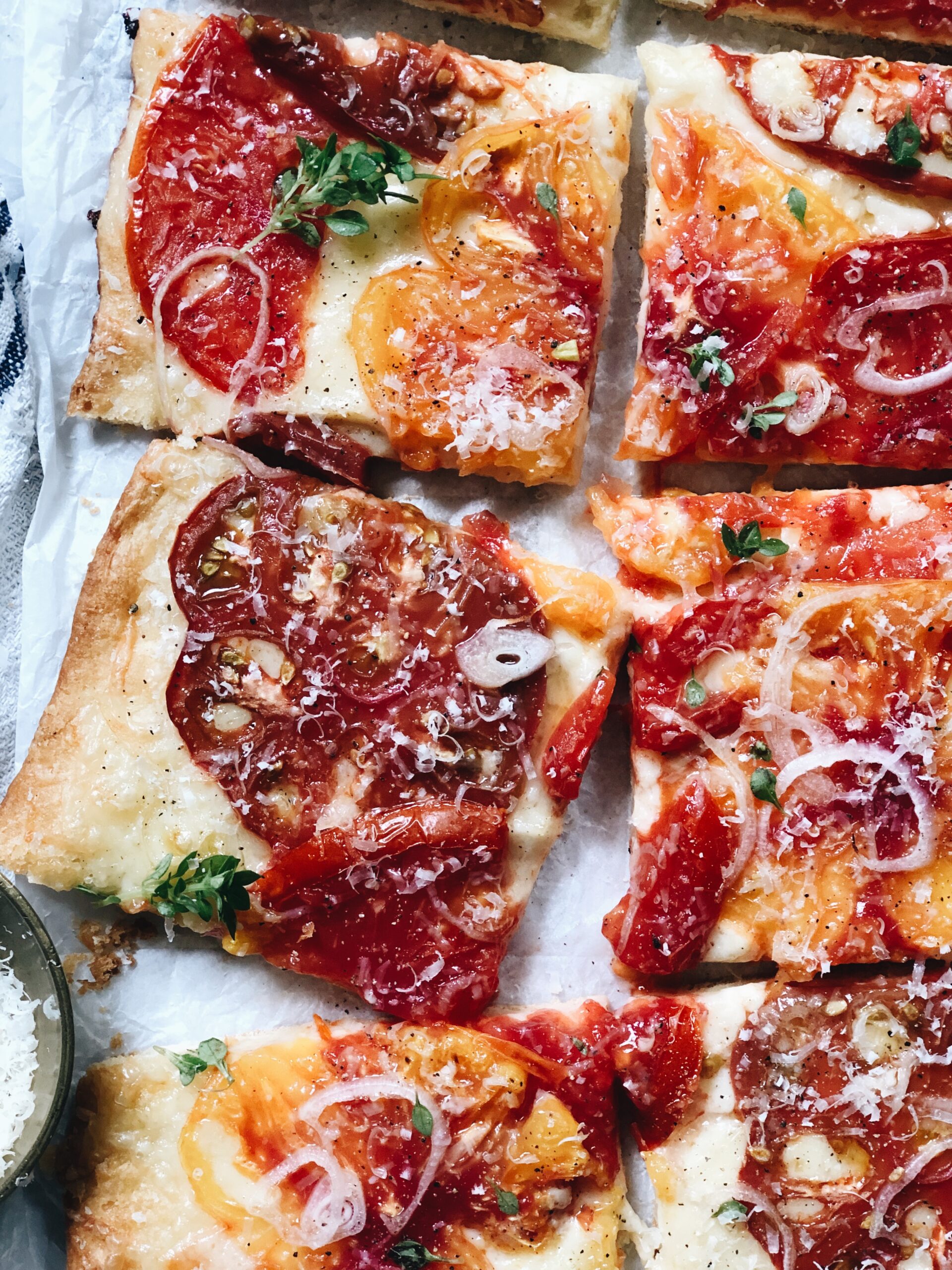 The shallots are essential, don't skip them! They add that perfect depth of flavor right under and on top of all the vibrant tomatoes. You know it's all about that acidic-meets-depth for me. I stand by it.
This makes a perfect appetizer if you've got franz over. An exquisite addition to Sunday brunch. A fantastic afternoon backyard picnic snack. It even makes a festive summer dinner if you've got leftover cold chicken and a small crunchy green salad. See how I take care of you?
You don't have to answer that.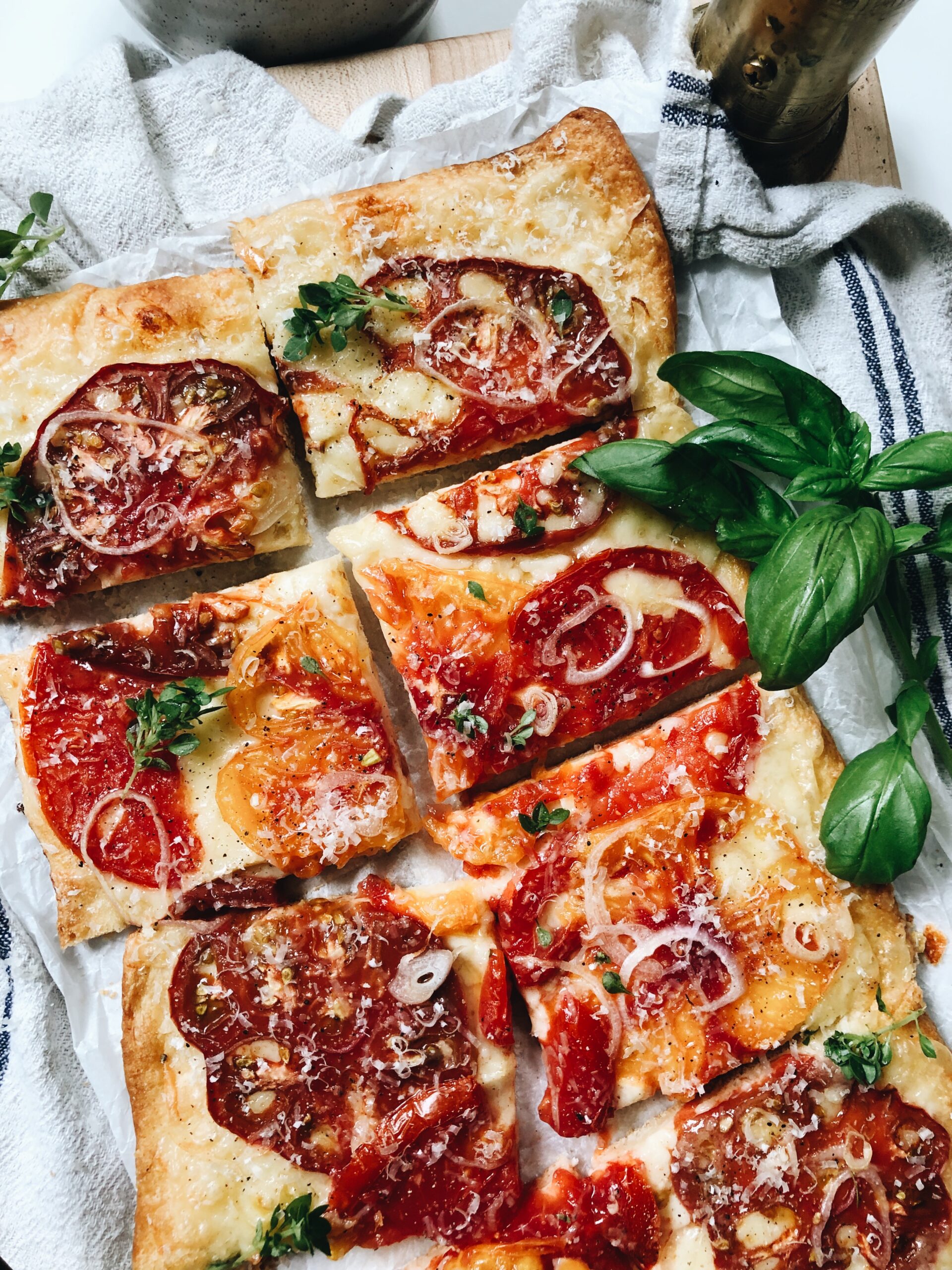 But uh, I'm begging.
Heirloom Tomato and Gruyere Slab Pie
Ingredients
1 (8 oz) crescent dough sheet
1 (6 oz) block of gruyere cheese, grated
1 small shallot, thinly sliced
2-3 heirloom tomatoes, thinly sliced
Fresh basil, for garnish
Freshly grated parmesan, for garnish
Coarse salt
Instructions
Preheat your oven to 375.
Roll out the crescent dough onto a rimmed baking sheet. Sprinkle the grated gruyere over the dough. You might not use the entire block. Just use as much as you want. Layer with half the shallots. Now arrange the heirlooms any way you want. Overlap them and get creative with how it looks. This is your life. Lightly pat the tomatoes to soak up any excess juice. Scatter the remaining shallots over the tomatoes. Sprinkle with a little pinch of salt.
Bake for 13-17 minutes, until the dough is golden brown and crispy, the cheese is bubbling and starting to brown, and the tomatoes are perfectly wilted. SO GORGEOUS.
Let cool about five minutes, then garnish with fresh basil and parmesan. Slice and serve!
Makes about 8 servings.
7.8.1.2
513
https://bevcooks.com/2021/07/heirloom-tomato-and-gruyere-slab-pie/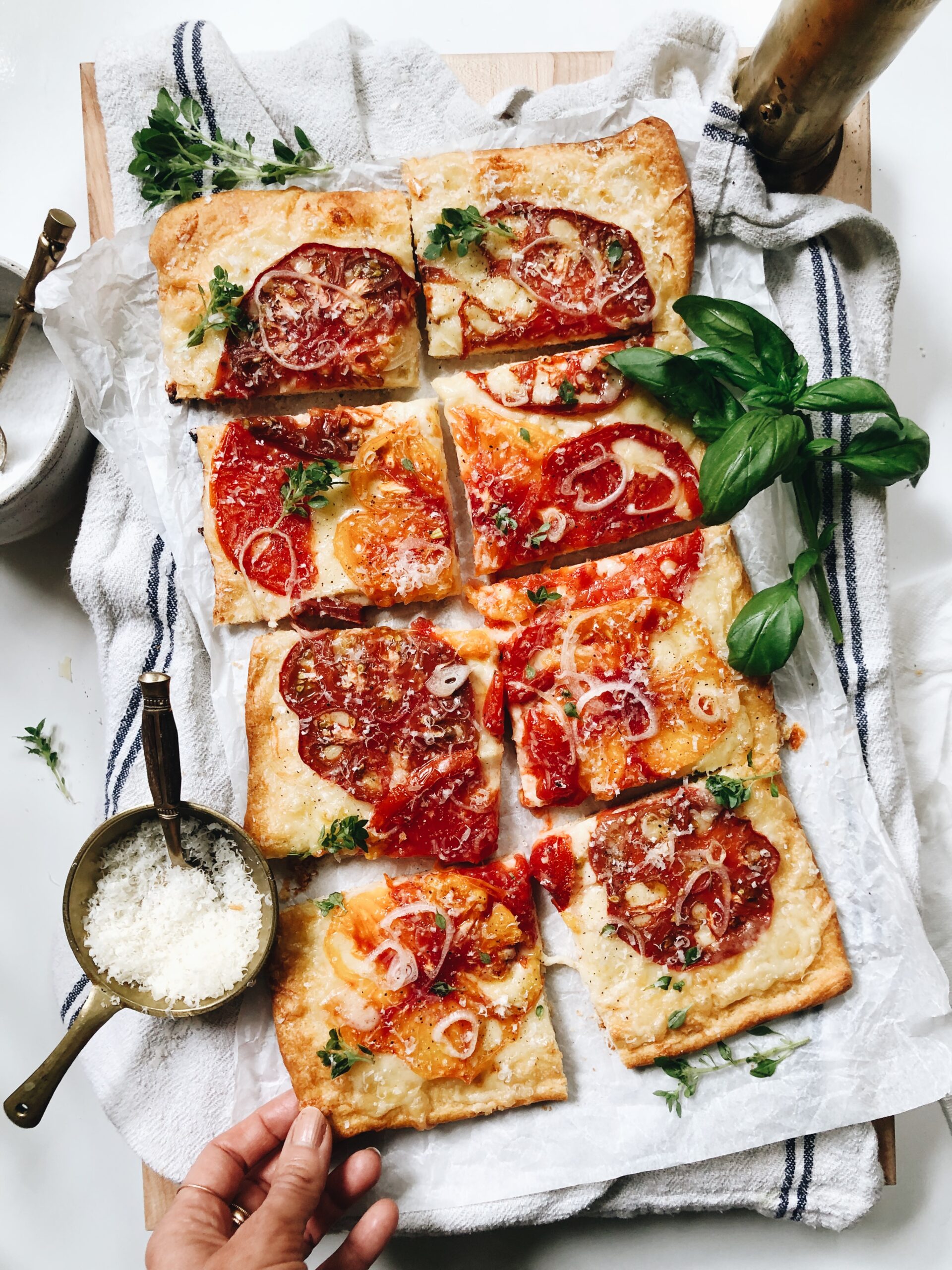 THIS right here is why you're here with me. ^^