Picnic style! You know we need all the simple dinners in July, n'est ce pas?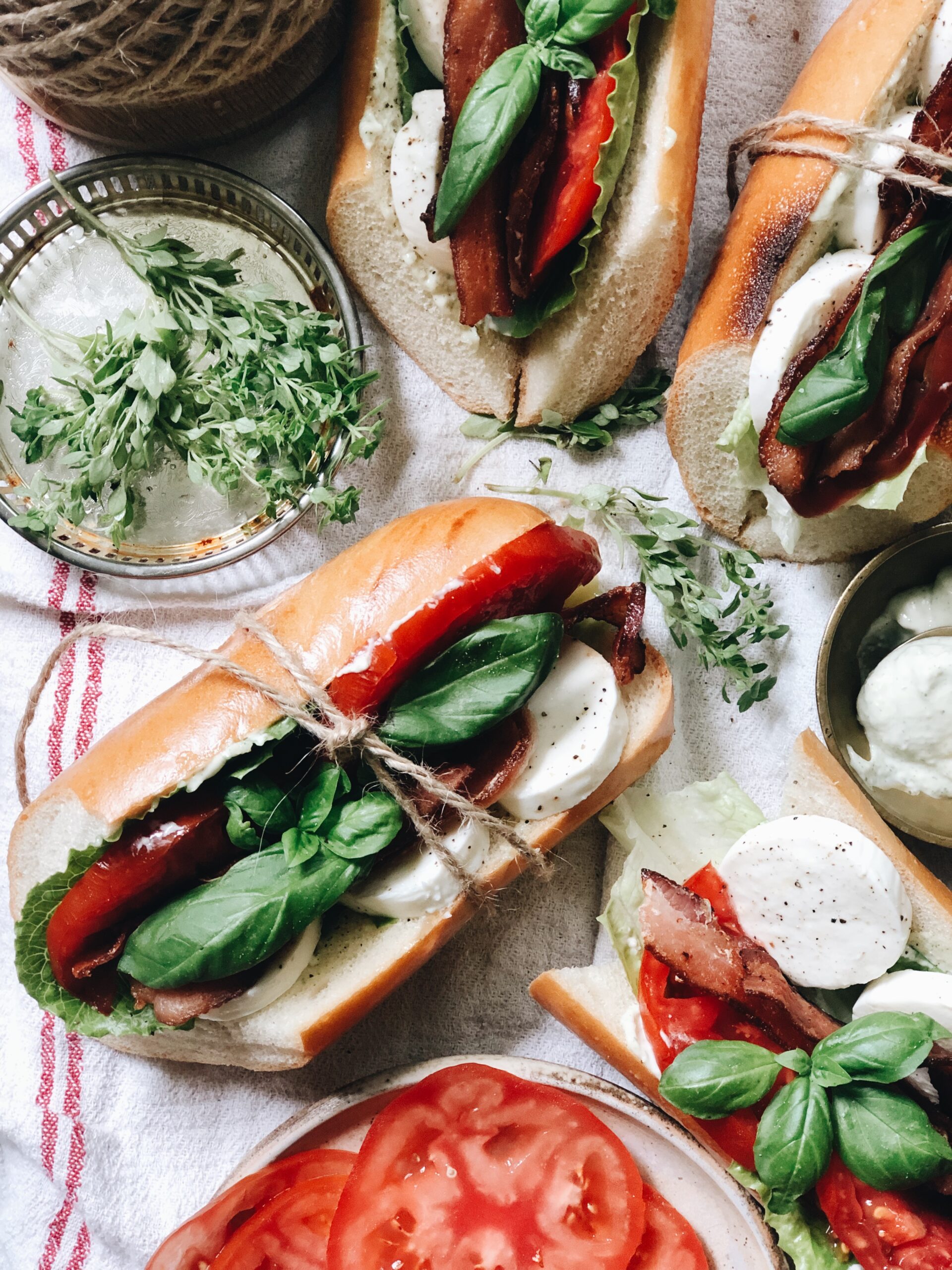 Well this one takes you places. In your head. You might actually be planted firmly in front of your air conditioner vent, but you're still a good person.
These baguette sandwiches are a) unbelievably flavorful, like serious summer explosions in your face, but b) they take like twenty minutes to pull together which is perfect for right after camp or right after the pool or snuggled right into a beach book break.
Lemme show ya.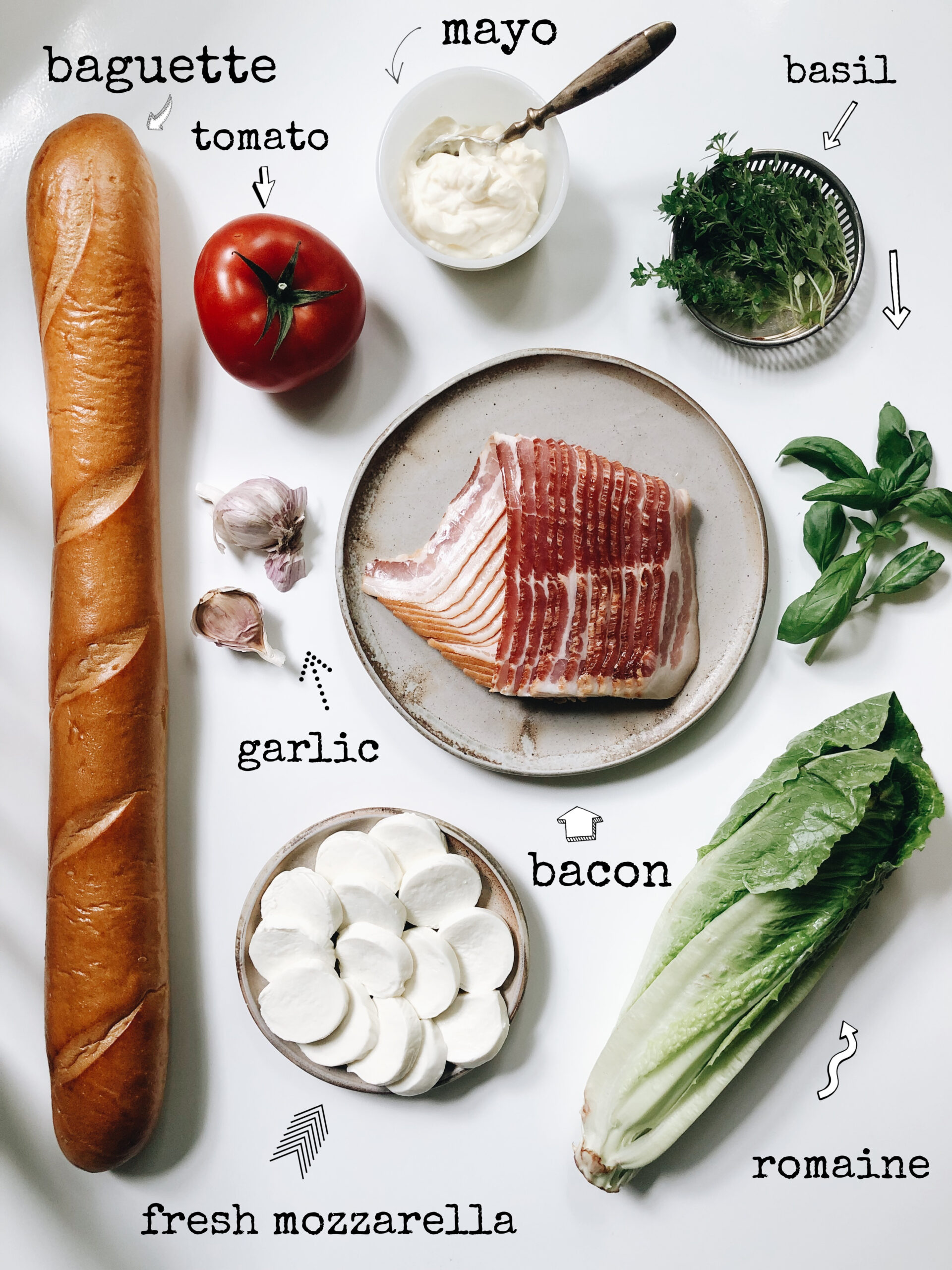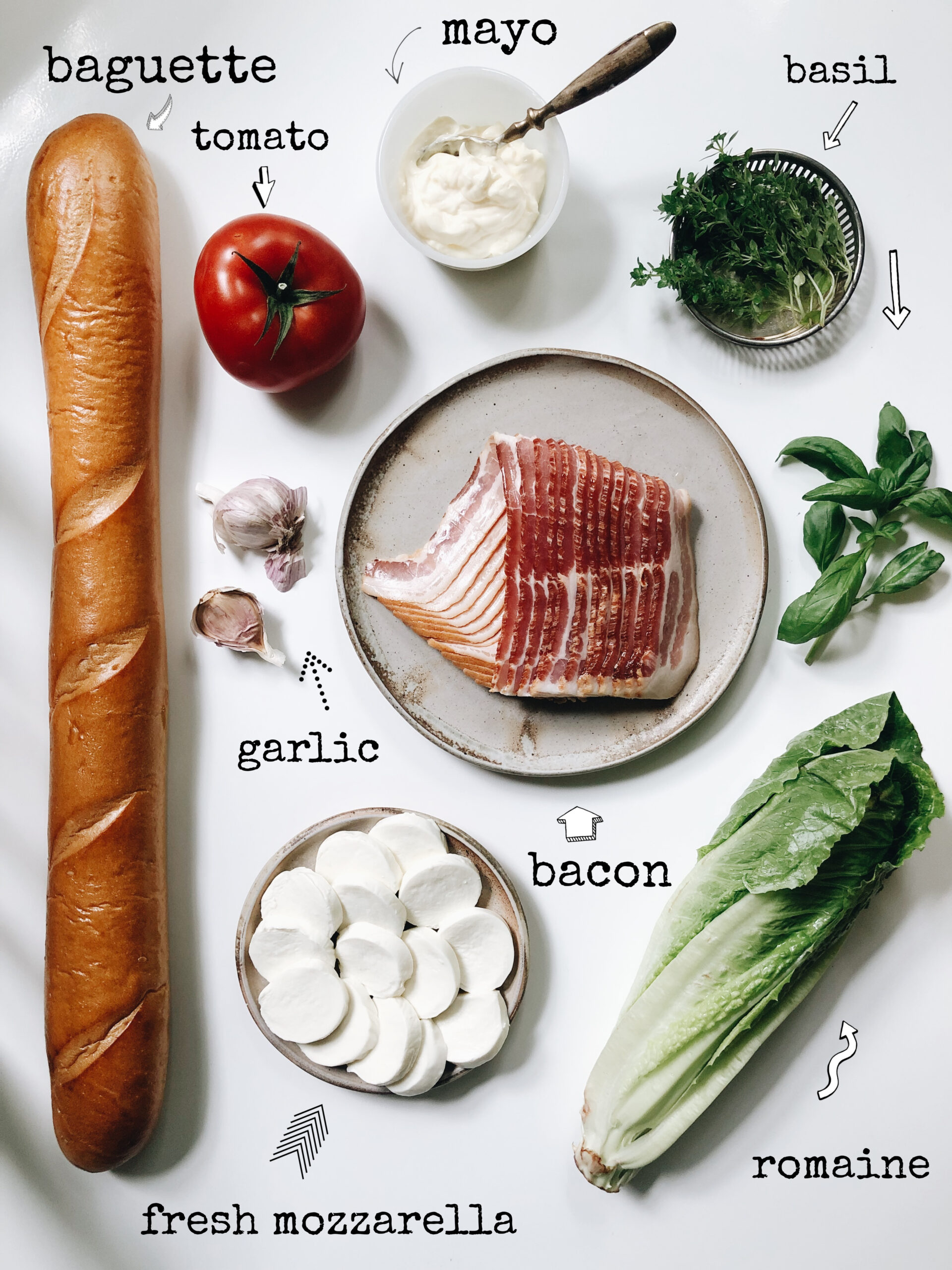 A few things:
Of course you don't have to use a baguette, but it feels French and picnicy and like something Grace Kelly would pick. Use fresh mozzarella if you can find it! It's just more authentic in something like this, since we don't need any melting. Also, you don't need two kinds of basil. I'm just a weirdo and have a couple varieties in my garden, so I'm using both! Also also we're making a garlic basil mayo, so go ahead and get your giddy pants on.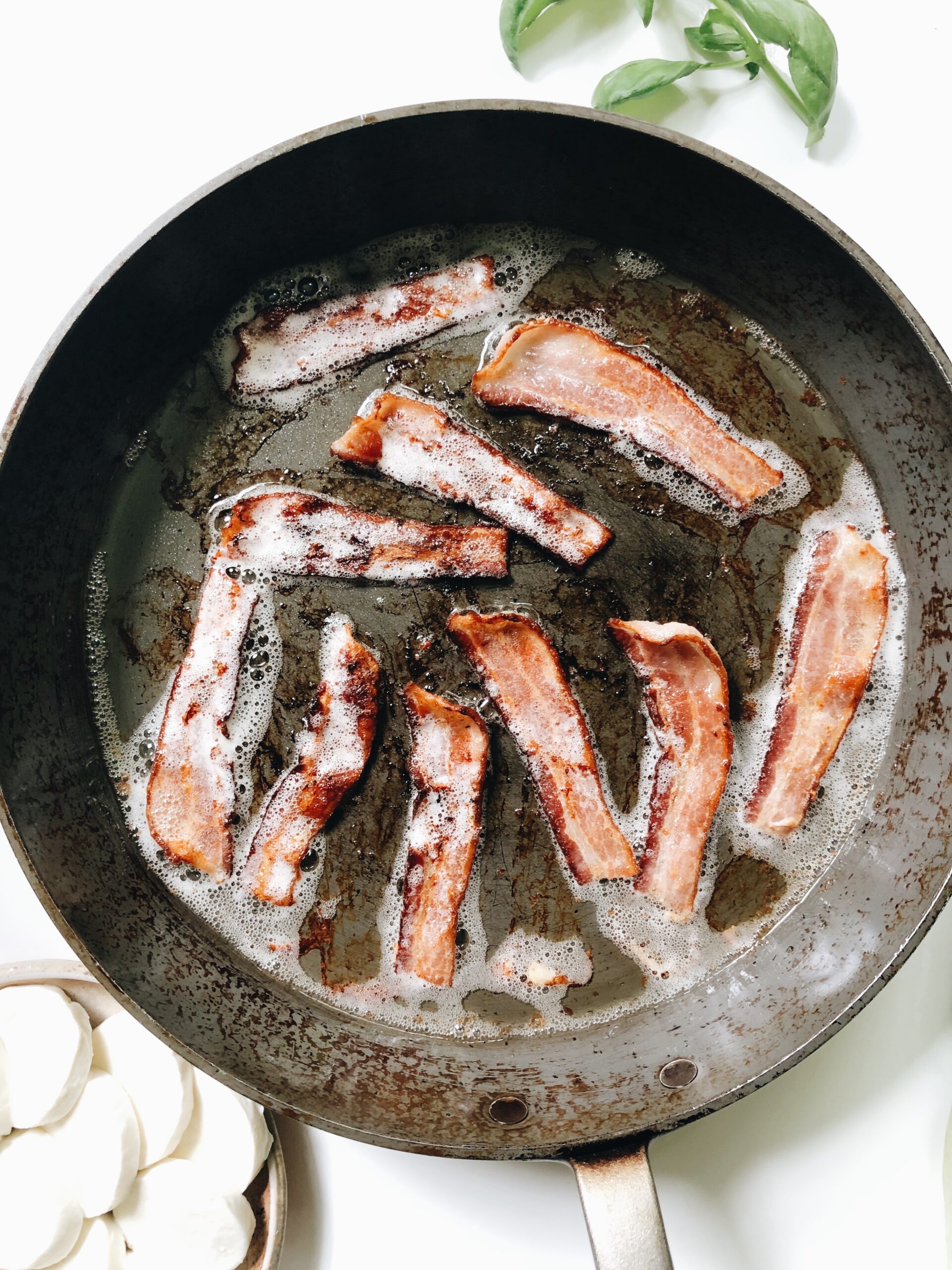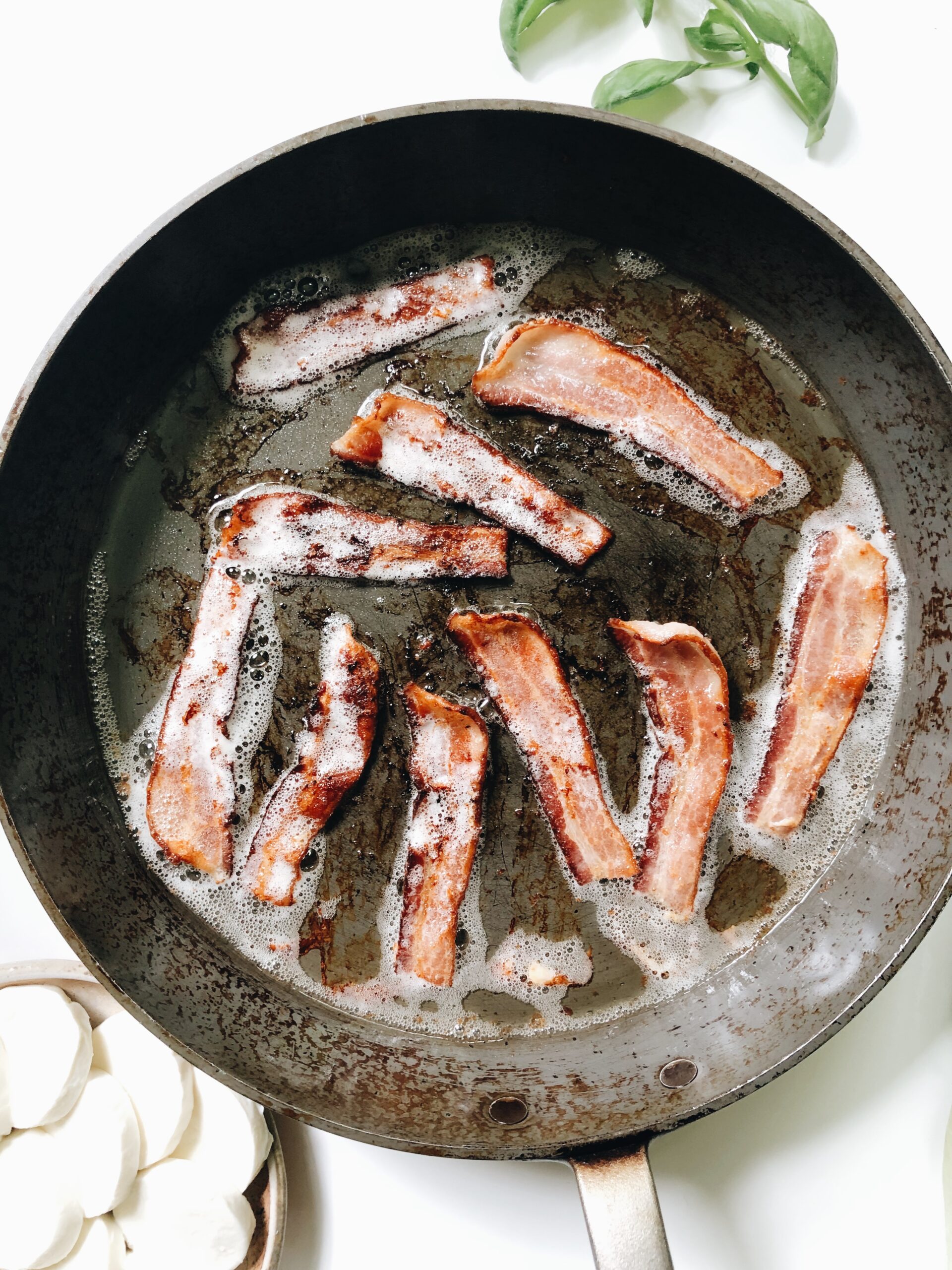 Sear your bacon! Do you say fry? Render? Cook? Sear? Pet? Adore? I feel like these are possible fightin' words.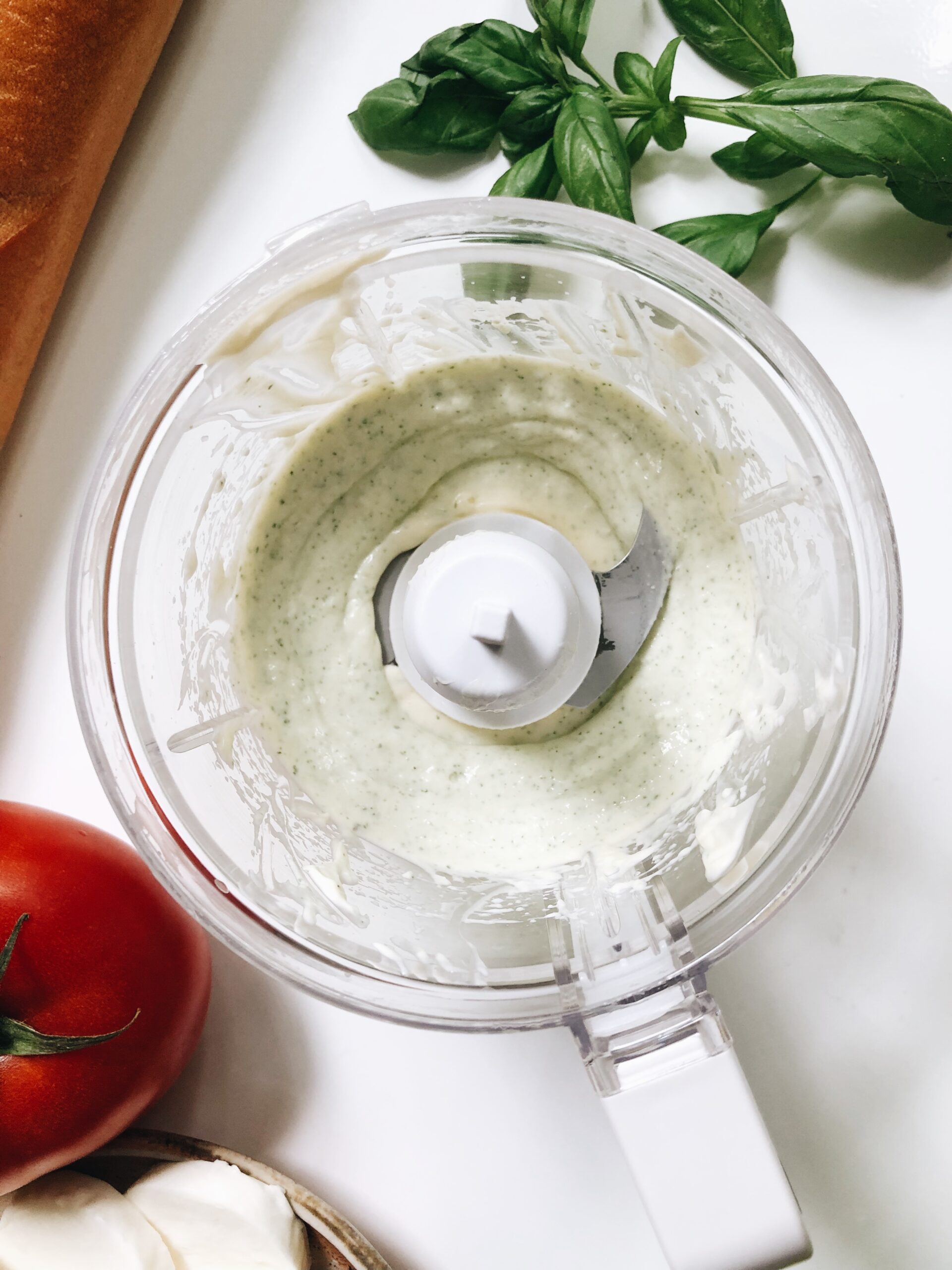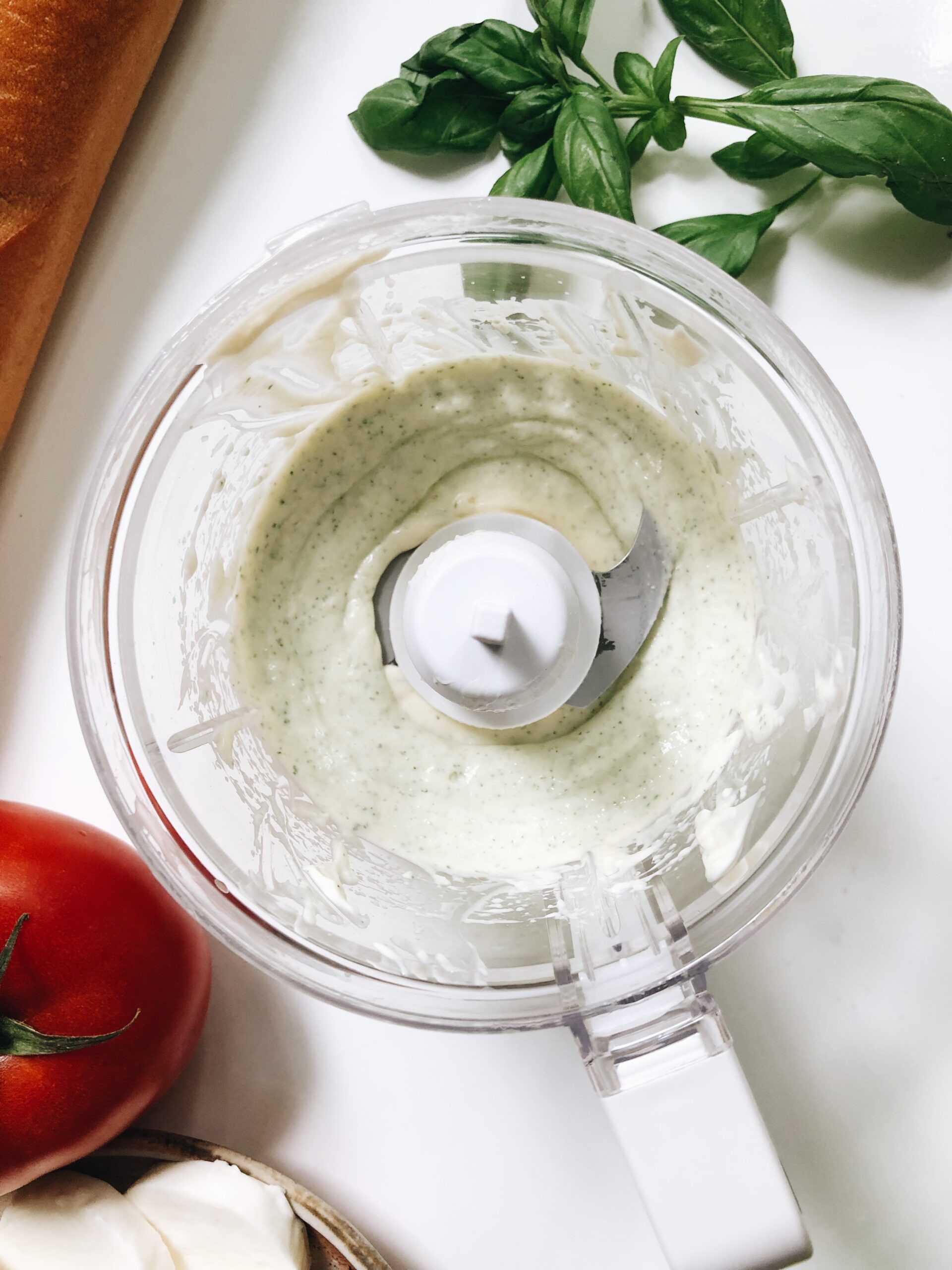 Okay thiiiiiiis part is absolute splendor. Don't skip it. If you skip it don't tell me because I prefer oblivion.
Mayonnaise (matter of fact, Friday we'll take a poll. I have a very important question for you all. but you'll have to simmer down until then) + fresh basil + a pinch of salt + a couple cloves of garlic. Blendy blend. BLISS. Absolute deliciousness. Once you taste this mayo you'll slather it on everything. Matter of fact I just developed a recipe in my head right this second that I'll shoot soonish based on this. I'm already excited.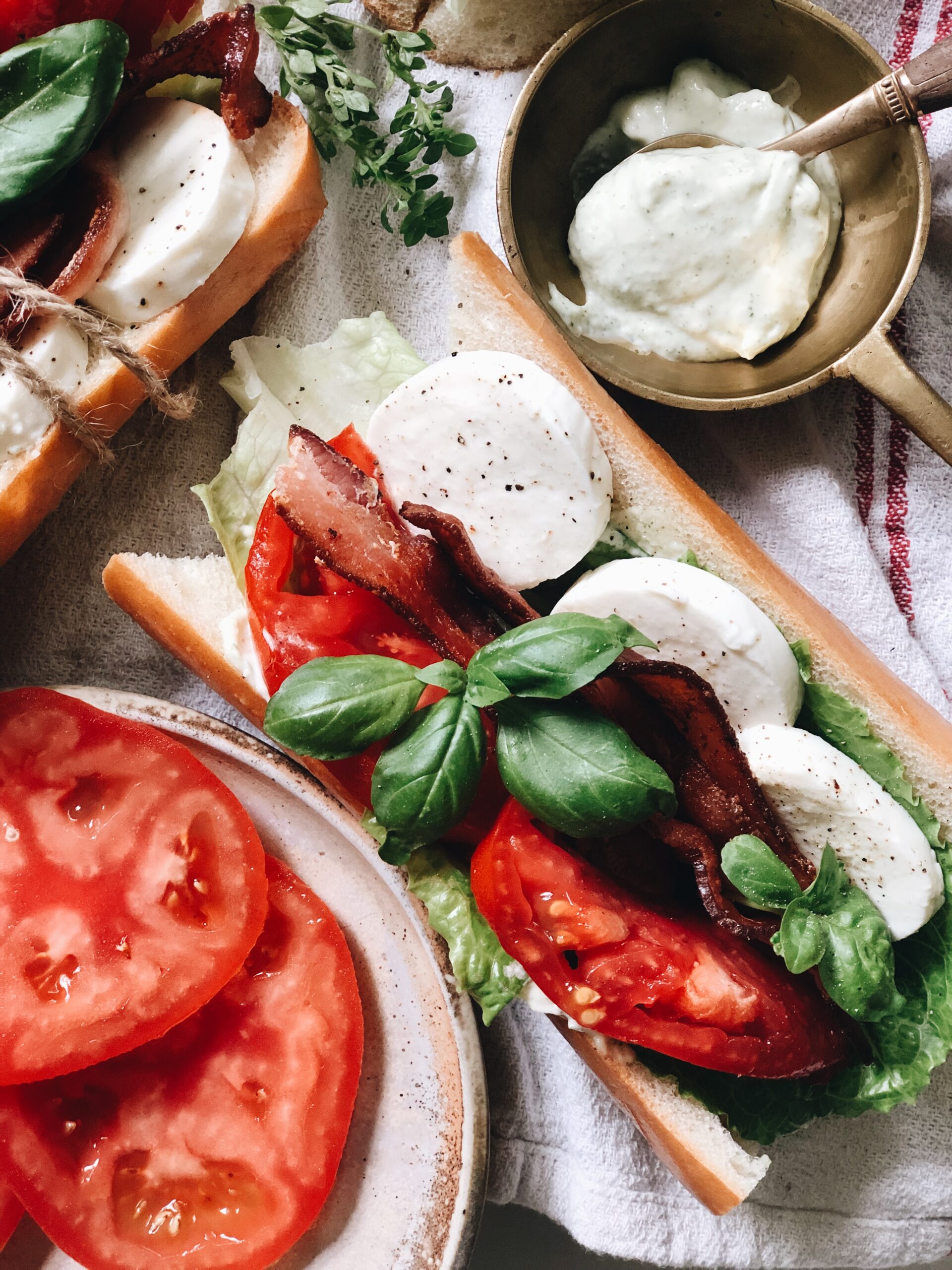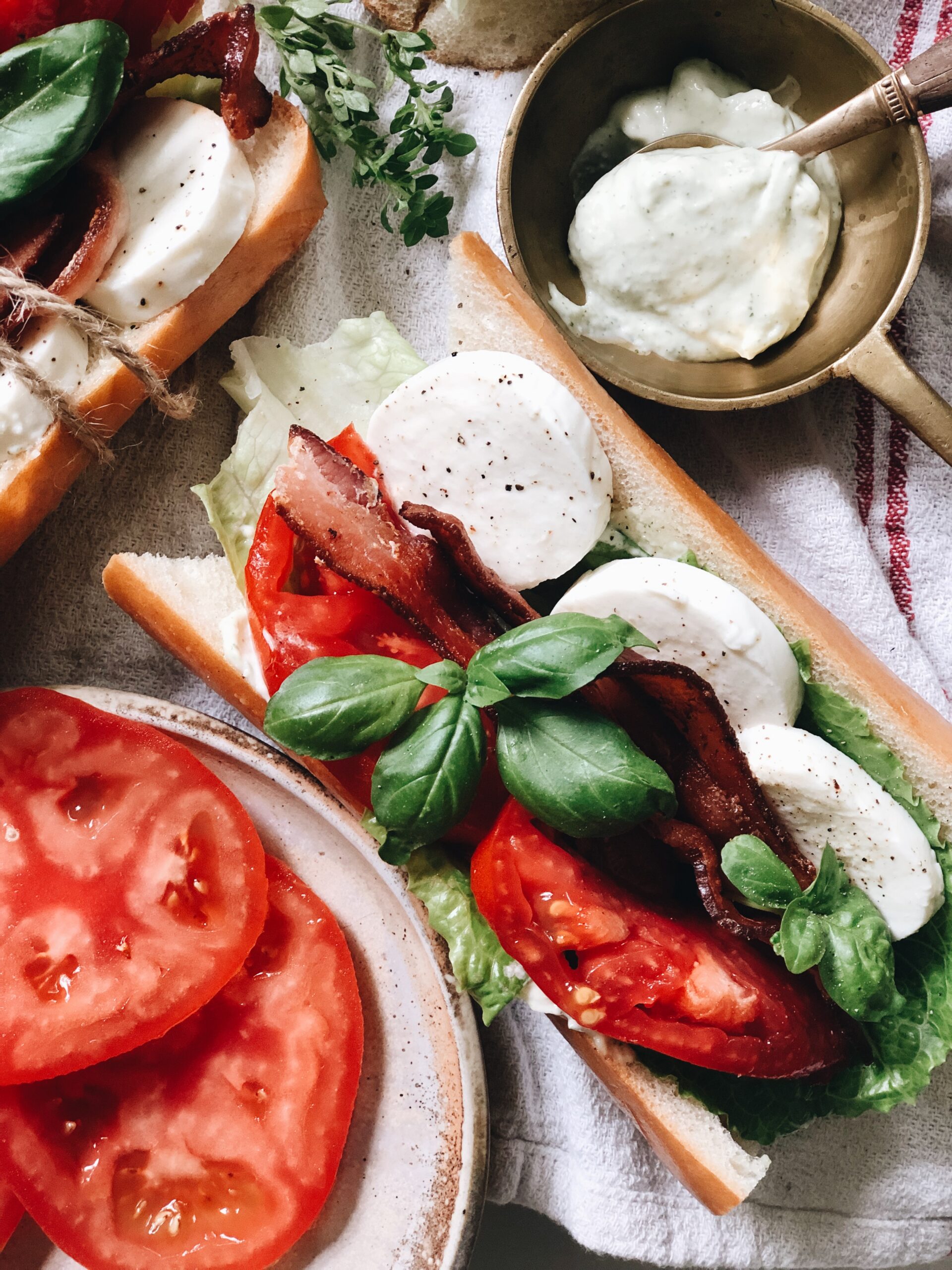 And then you simply build! I sliced and lightly toasted my baguette, just to have that barely-there crispy outside, and that warm and pillowy-ness inside.
You'll smear the garlic basil mayo on the insides of bread, followed by a couple (or few) romaine leaves. Then layer three pieces of fresh mozz on one side, a couple of insanely ripe summer tomato slices on the other side, followed by a glorious crispy bacon tuck-in. Fresh basil leaves on top, a sprinkle of coarse salt and a grind or two of black pepper – UNREAL.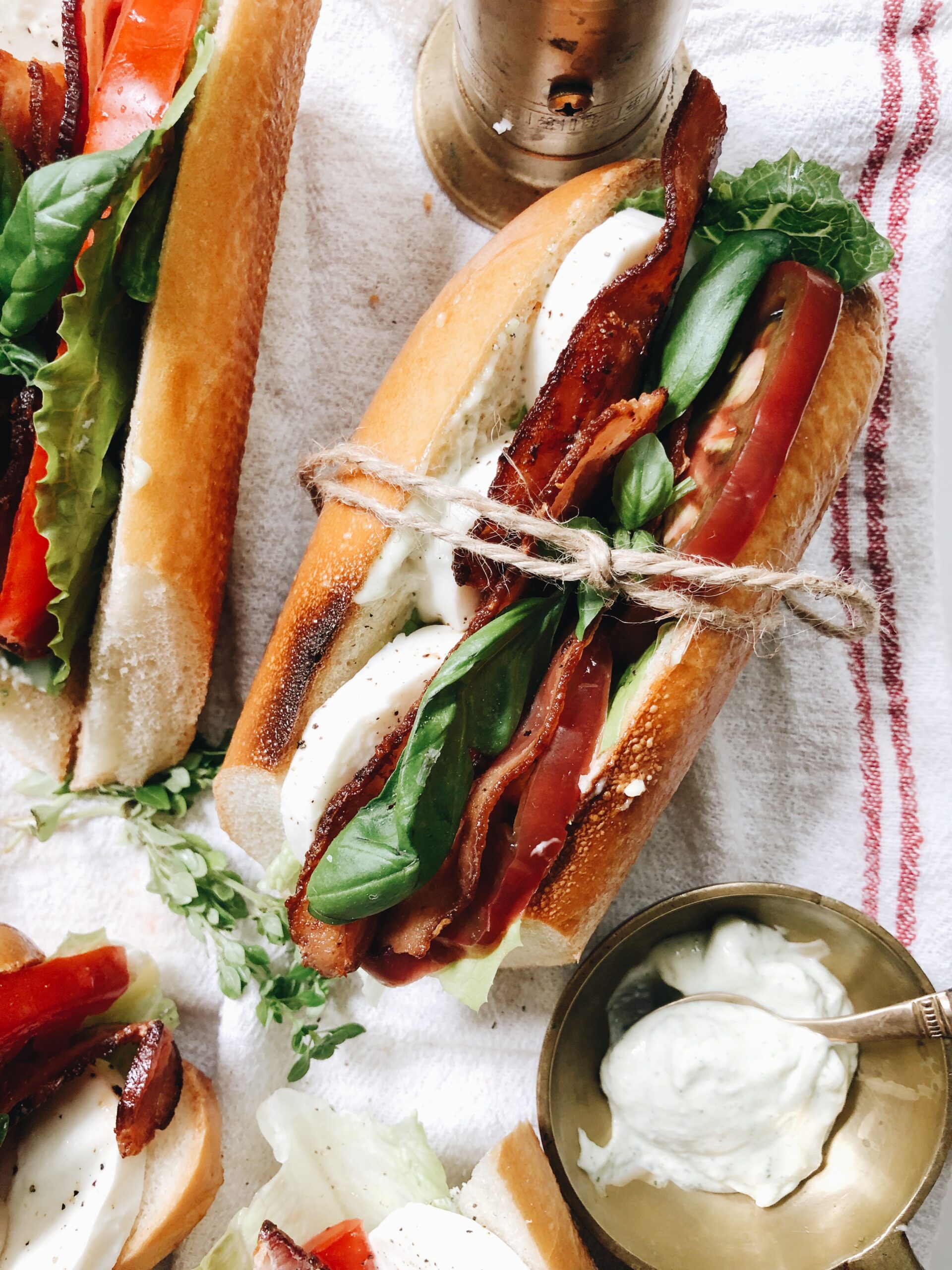 So festive, yet it's simple and so chill. It just works on these hot and muggy summer nights. Or you can make a bunch, twine them up and carry outside on a big wooden tray if the humidity allows for dinner al fresco. Anything goes! You've got the perfect mix of fresh flavors meets warm and crispy bacon and the toasted baggy.
That's what I just called a baguette and I'm not sure if I'm grossed out or in love.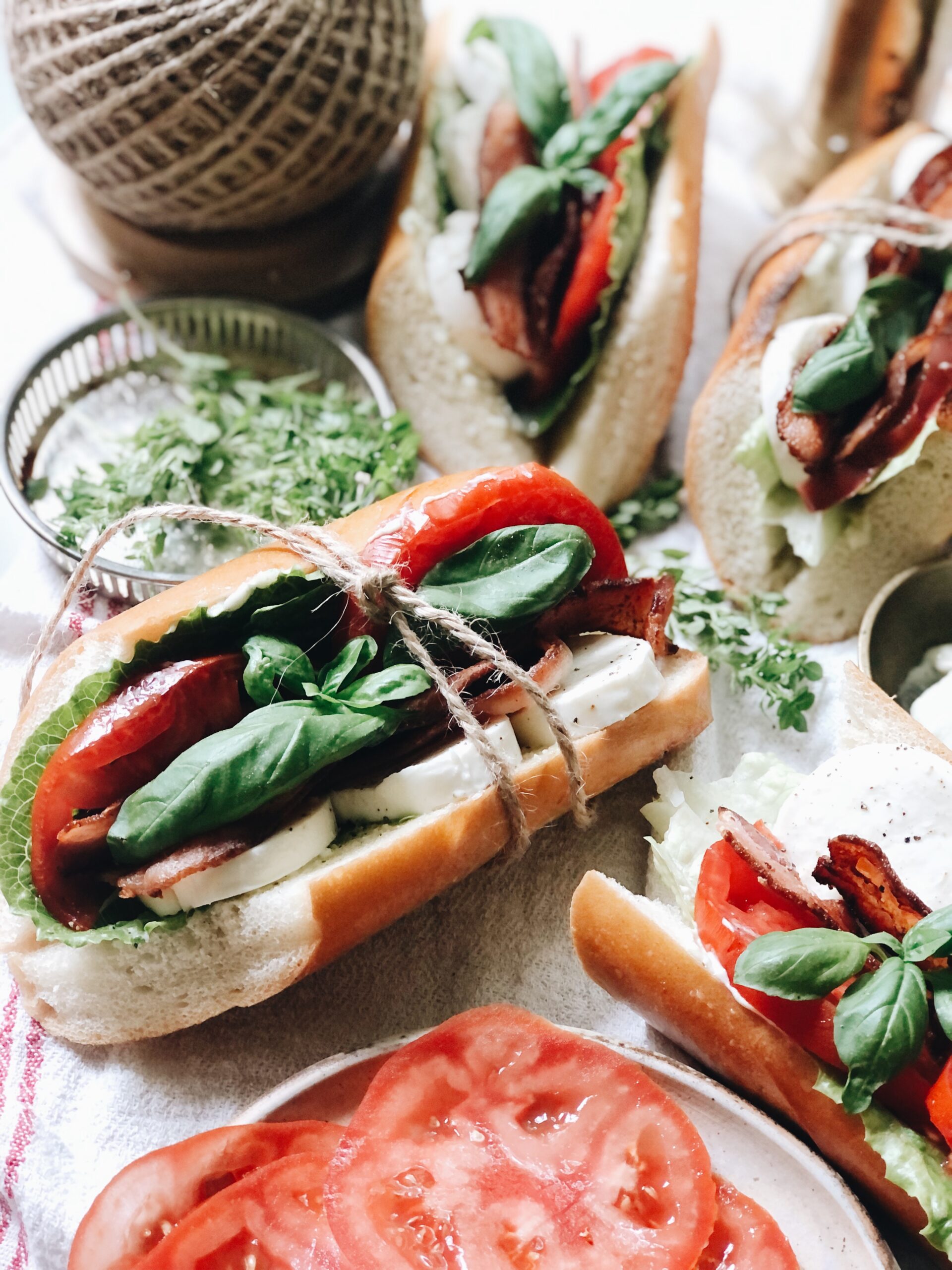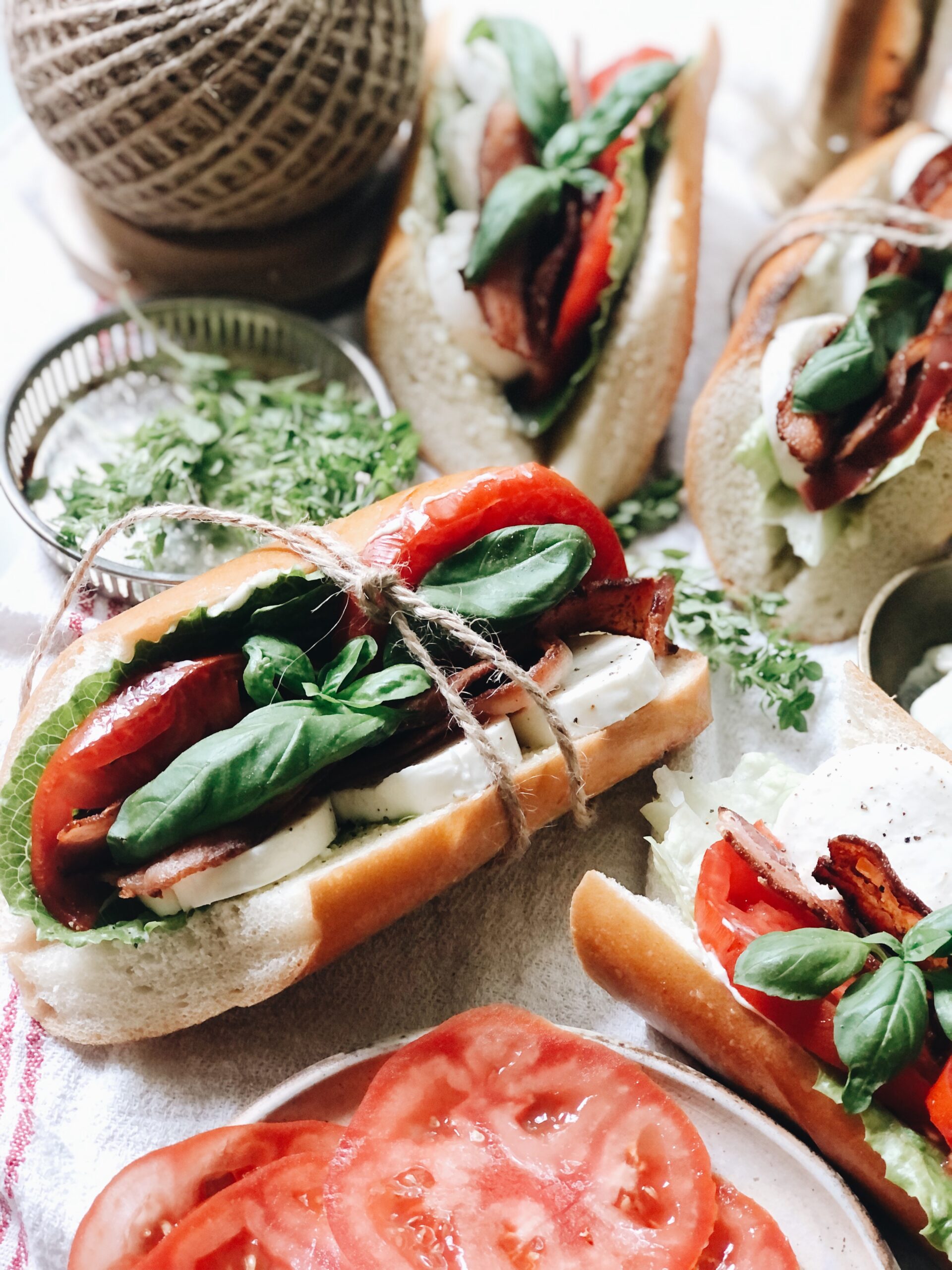 It's rustic picnic grub, but also feels like something out of a vintage Hitchcock movie. Add a giant straw sunhat, and faded checkered blanket and amber bottles of beer. Done. There's the rest of your summer.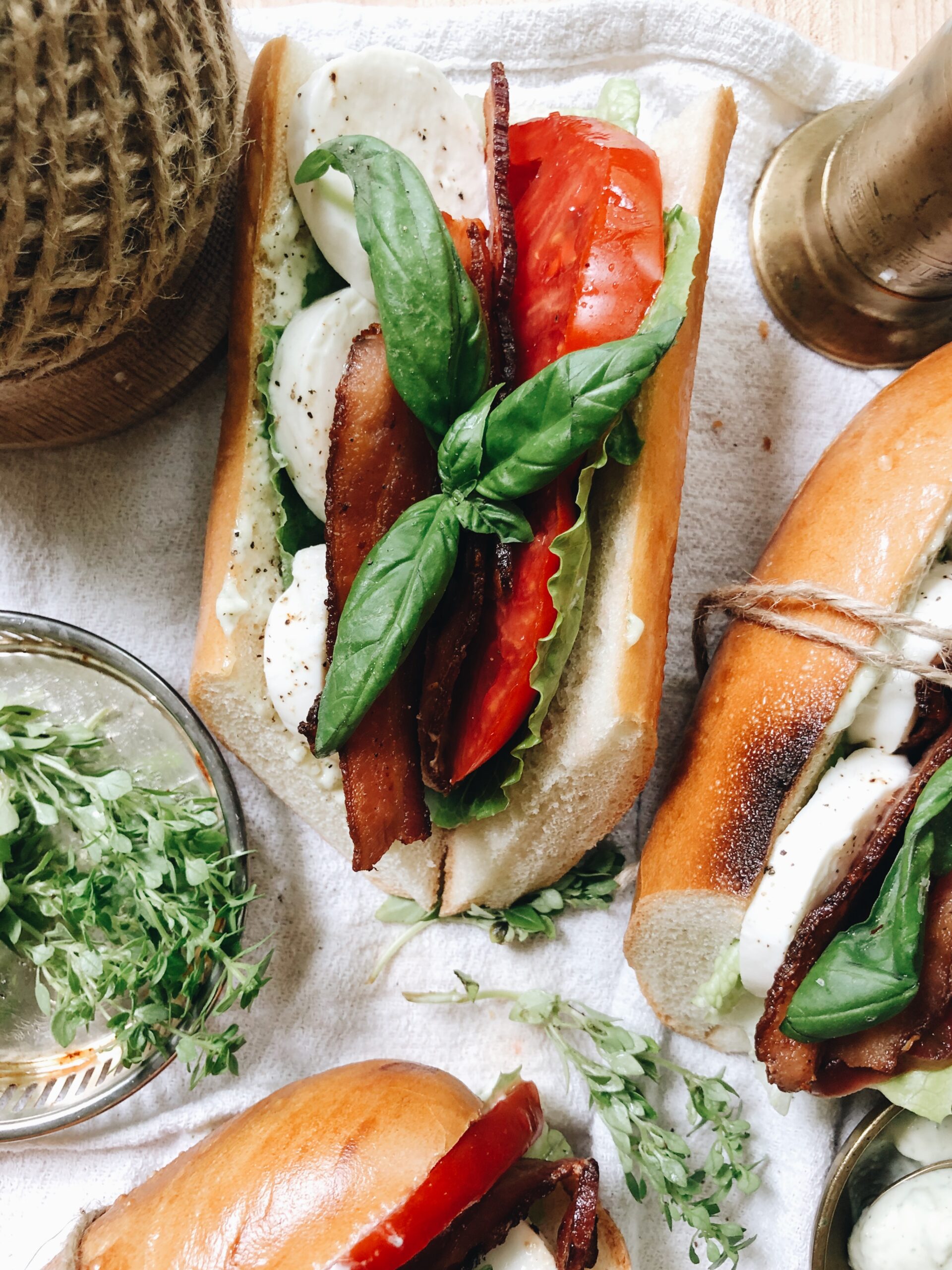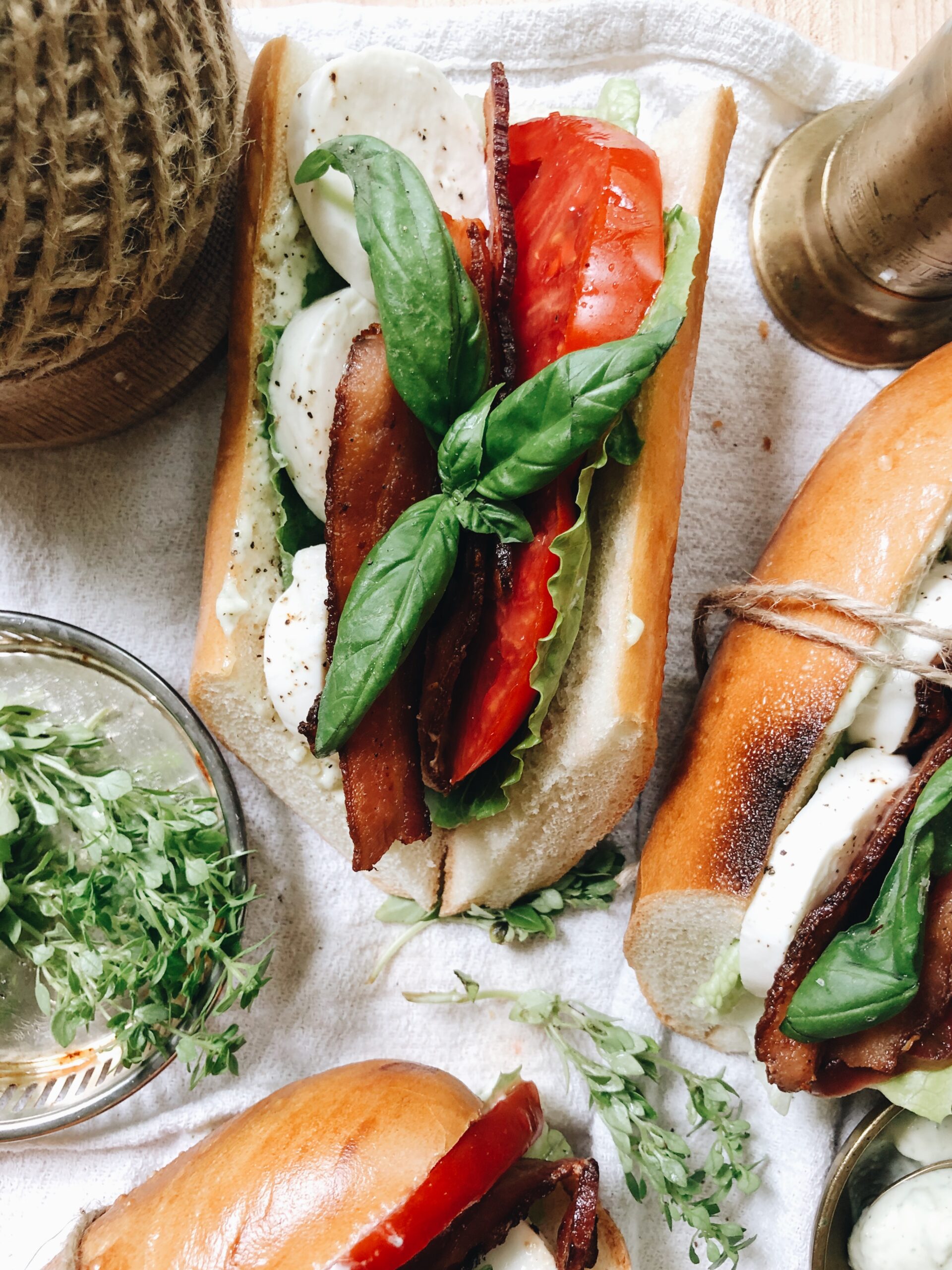 But maybe invite me?
BLT Caprese Sandwiches on Baguette
Ingredients
1 baguette, cut into fourths, split and lightly toasted
Half a head of romaine, broken into leaves (rinsed)
8 oz tube of sliced fresh mozzarella
1(12 oz) package bacon strips (you might not use the whole package)
1 large tomato, sliced
A handful of fresh basil leaves
4 Tbs. mayonnaise
2-3 cloves garlic
Coarse salt and freshly ground pepper
Instructions
Cut the bacon strips in half and render in a pan until crispy. Place on a plate with paper towels to drain. In the meantime, combine the mayonnaise, about six basil leaves, the fresh garlic and a pinch of salt in a mini food processor. Blend until completely smooth. Taste that. You will FALL APART.
Now you build. Spread the mayo on the insides of the baguette, followed by a few crisp romaine leaves. Add three slices mozzarella, a couple of tomato slices, the crispy bacon, followed by a few more basil leaves to garnish. A tiny pinch of salt and freshly ground pepper to finish. That's it. Get outside and enjoy with a chilled Sancerre!
Makes four sandwiches.
7.8.1.2
514
https://bevcooks.com/2021/07/blt-caprese-sandwiches-on-baguette/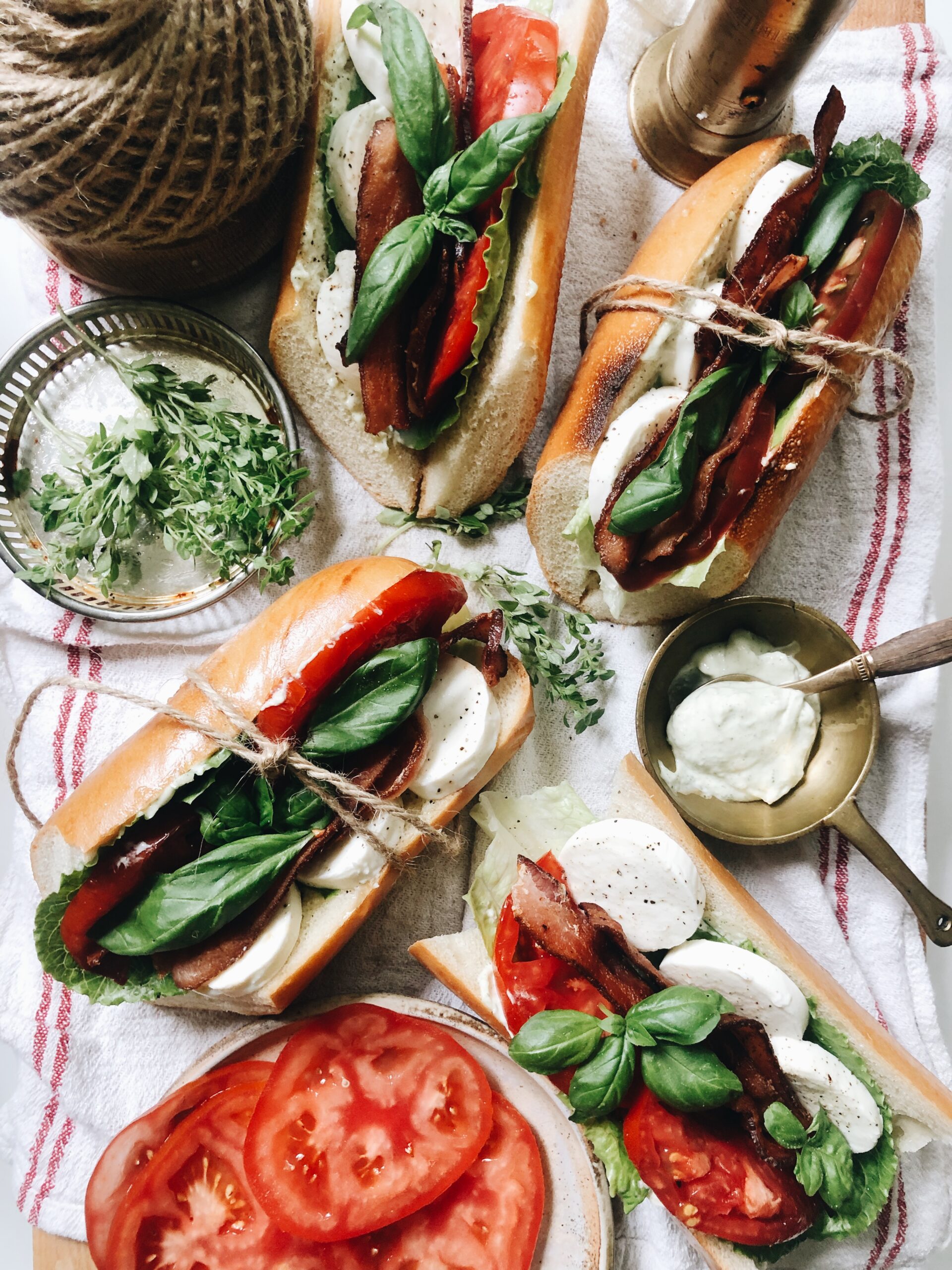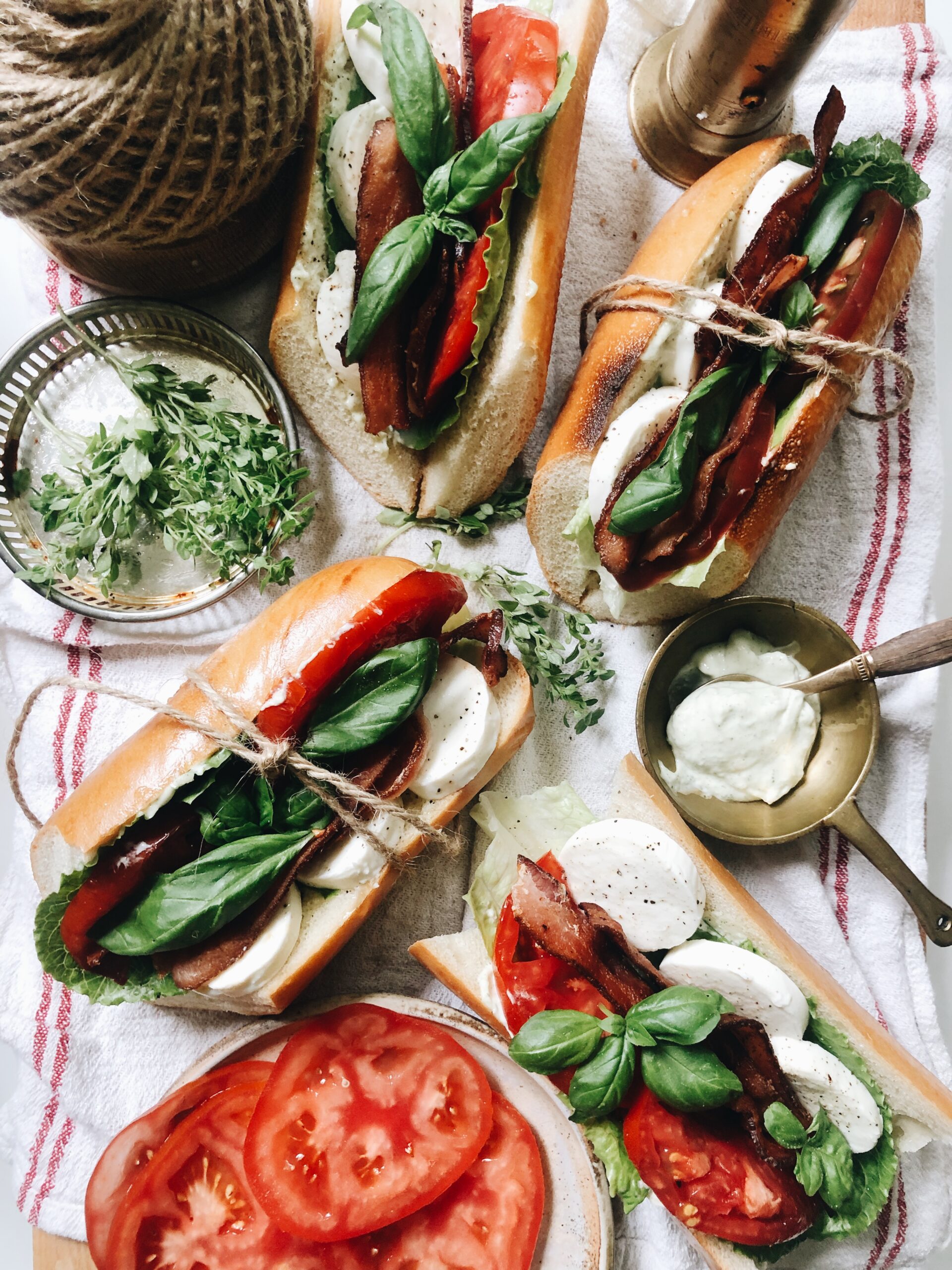 If you need to smear that garlic basil mayo all over your face you have no judgement from me. Like, ever.