It's still SEOUP season. (you have to hear my voice say that. Kind of like when Orlando says SNEOW. But for me it's SEOUP. never mind.)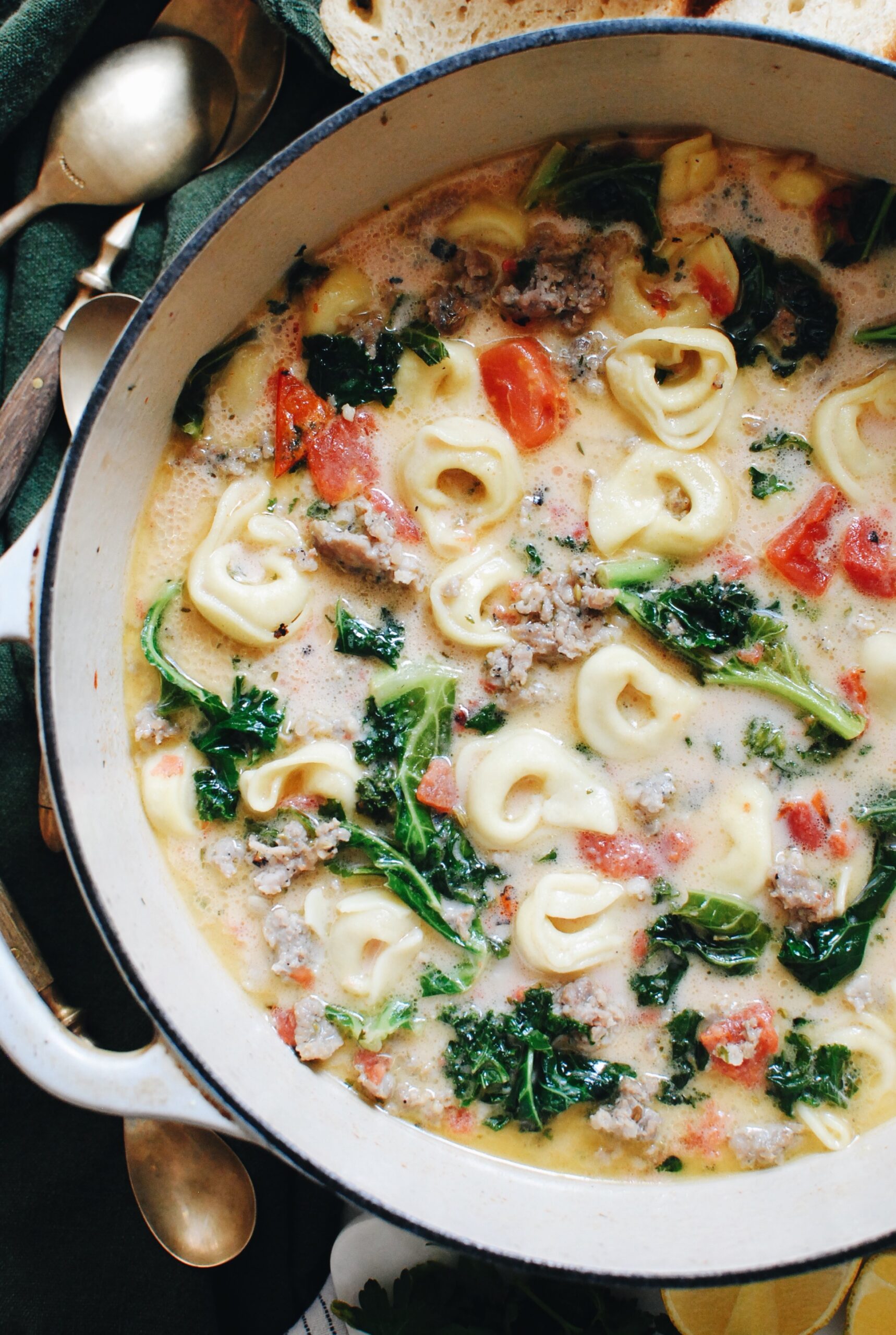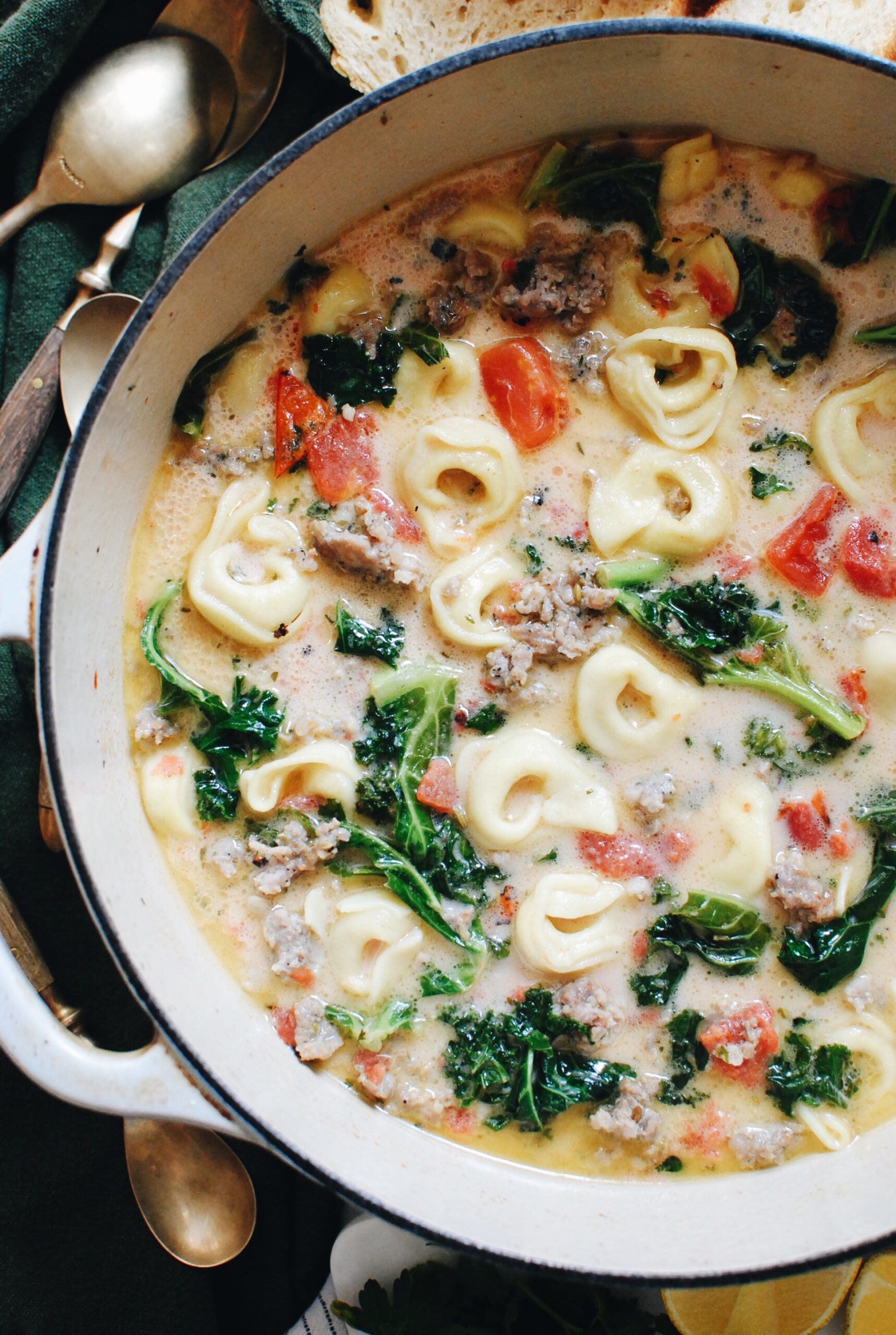 I'm sliding in one last slurp fest before the official spring doors blow open, but you know what – I slurp all year. It's not a problem, a stumbling block or a troubling life issue. It's just what I do. And I know you do, too.
Also this one has only seven ingredients. SEVEN. (said like Maria in the Sound of Music) The whole thing. So your weeknight dinner just landed in your lap with batting eyes. But it's also seductive enough to slide into a Saturday or Sunday night slot. See how I take care of you?
Don't answer that.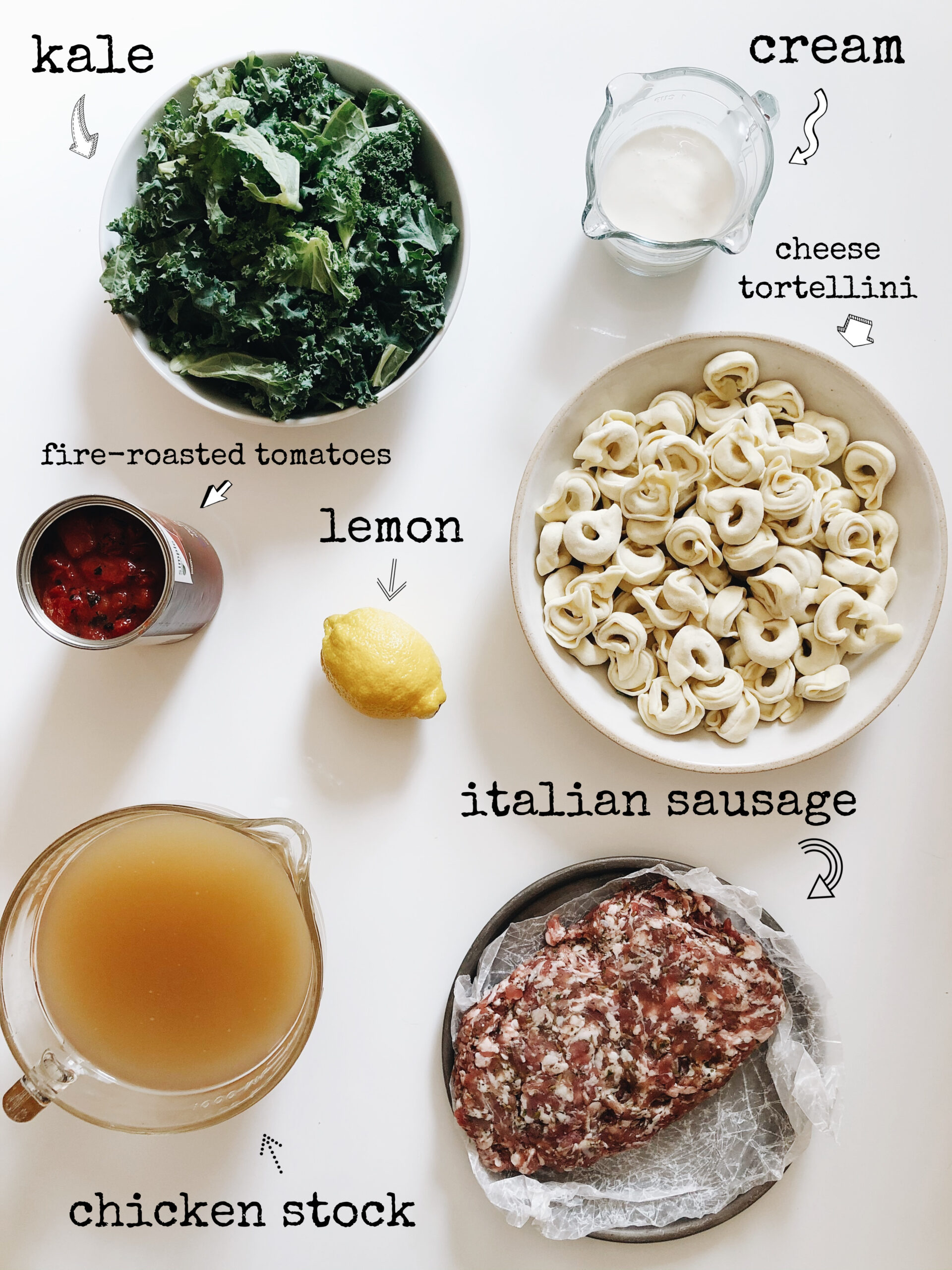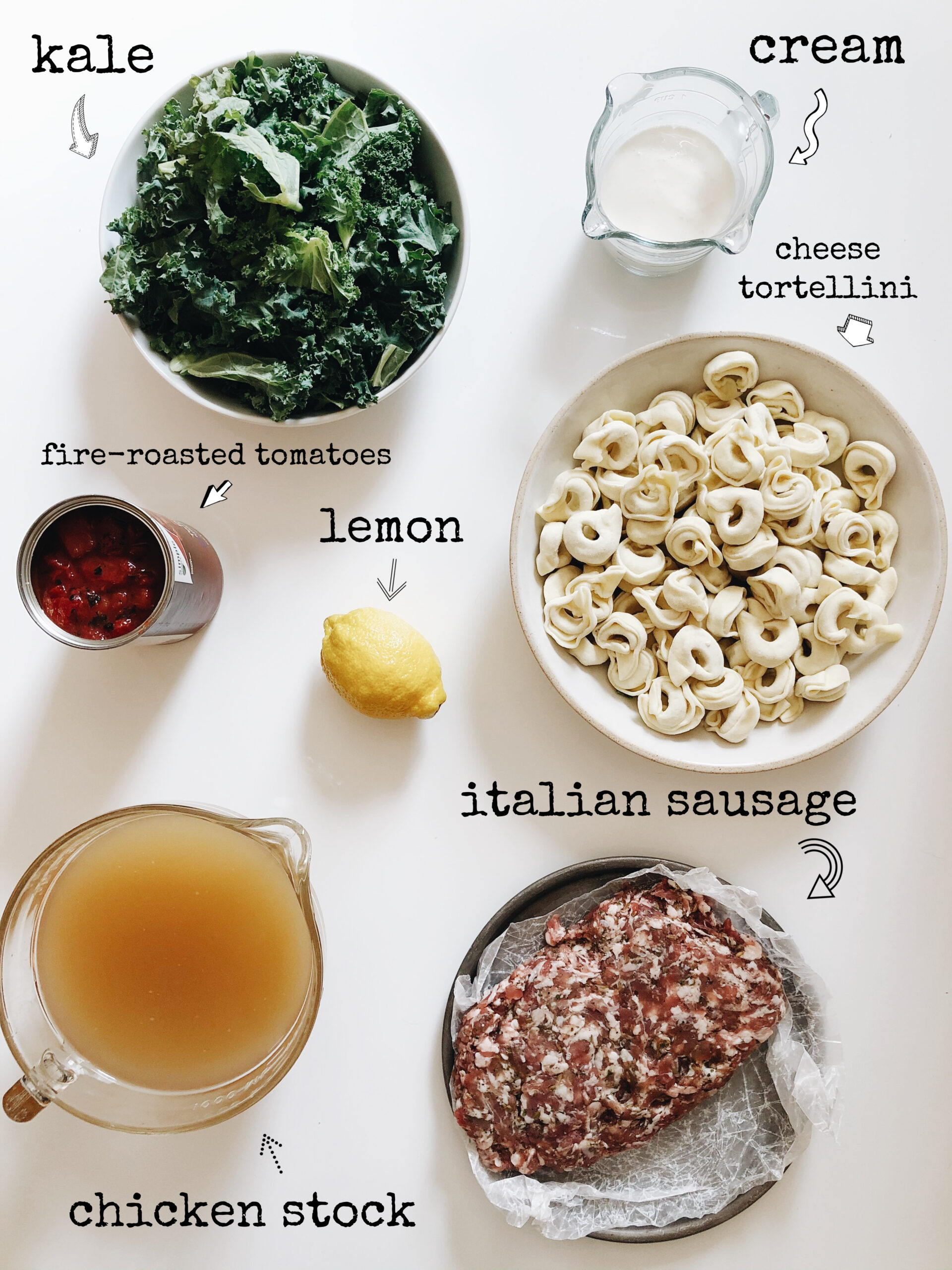 It's really as simple as simple gets. Mild but flavored Italian sausage, cheese tortellini (frozen!), robust fire-roasted tomatoes, a bit of silky cream (hi), dark green leafy kale and a vibrant pop of lemon. It's impossible to hate this, unless you're vegan, so let's whip this up and see where it gets us.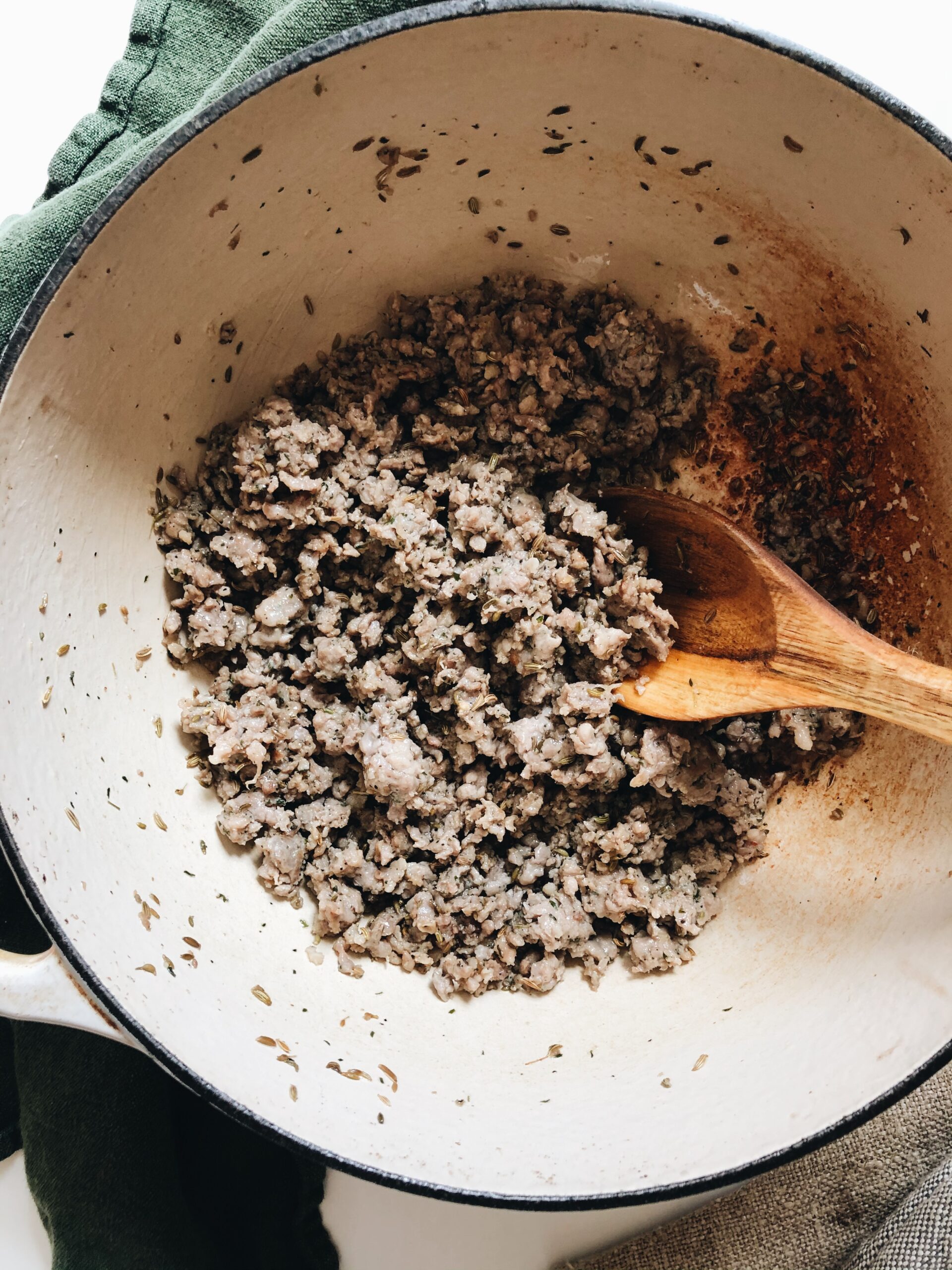 It's a joke really, how easy this is. And all the ingredients already pack so much punch, you don't really need to add much else. A pinch of salt at the end to balance flavor, and you're set.
Brown the sausage, bruh. Oh! A note – I used mild since I have little faces, but go medium or even spicy if you like living on the edge. I see that devilish look in your eye.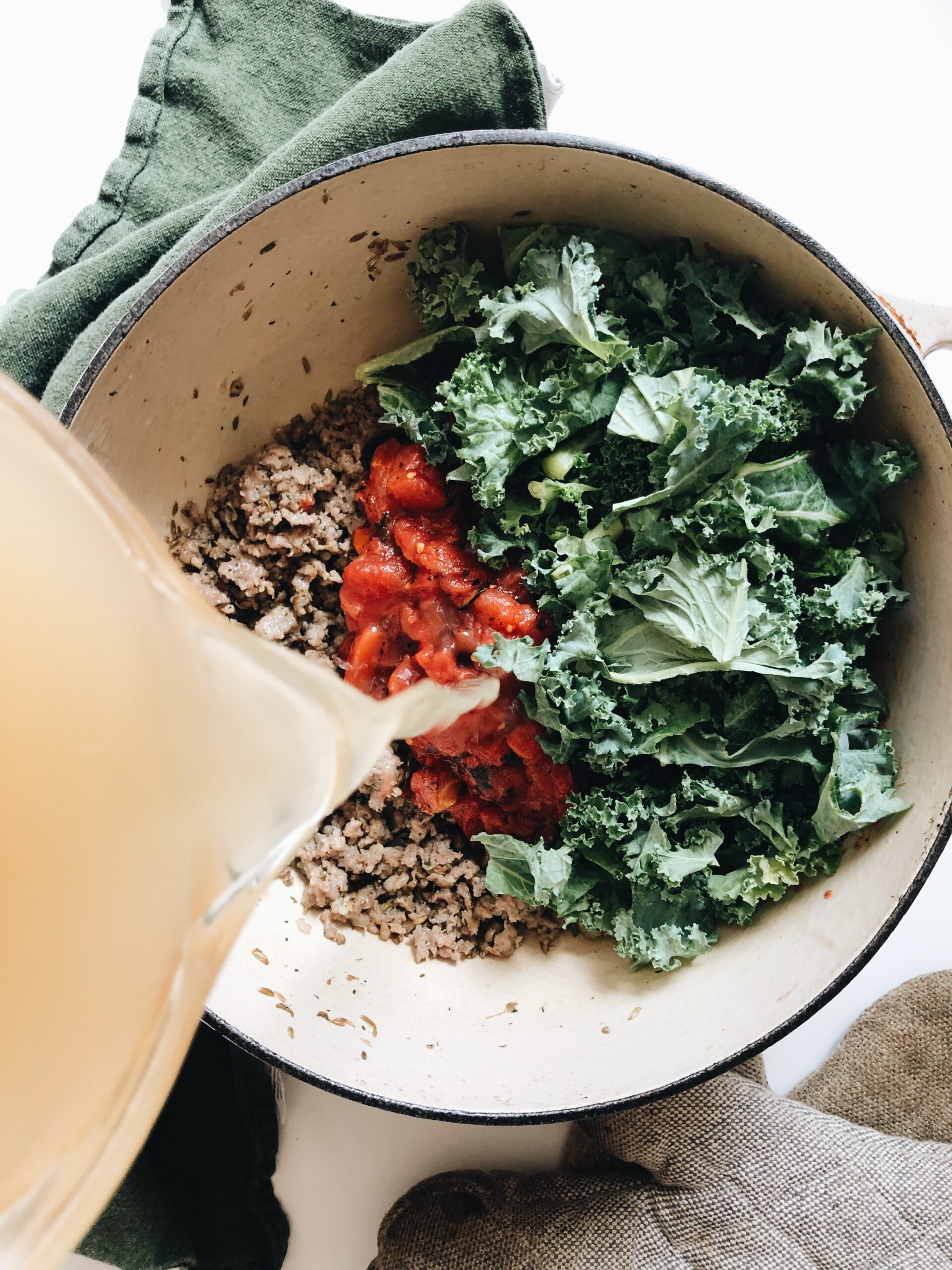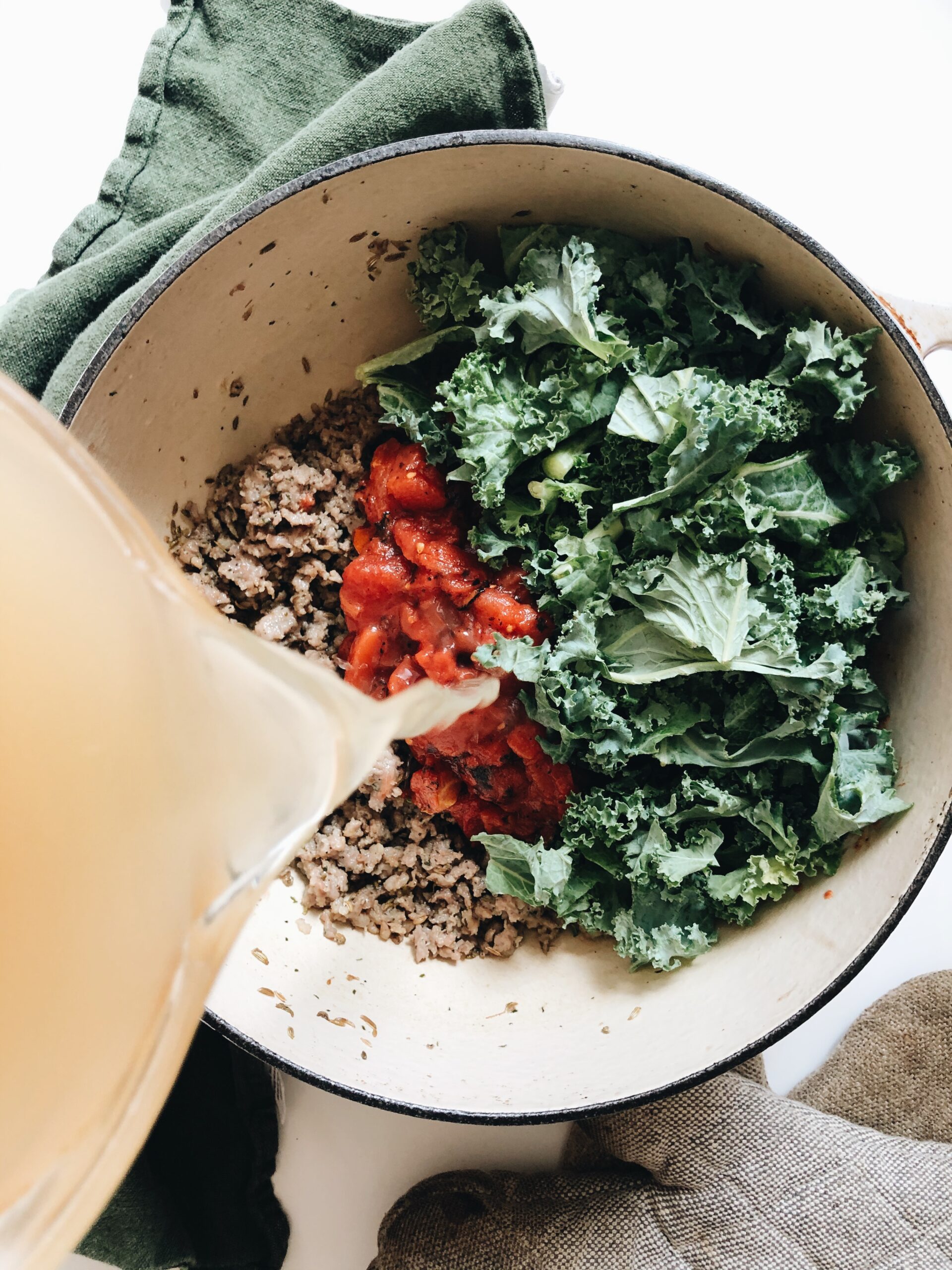 Once that's browned, you'll violently plop in the fire-roasted tomatoes (regular diced toms work here, but the fire-roasted is other level, so hunt those down), and the kale. All we're really wanting to do is wilt the kale and cook the tortellini. This is a 15-minute operation, soldiers.
Add your stock and bring that to a slight boil, theeeeeen….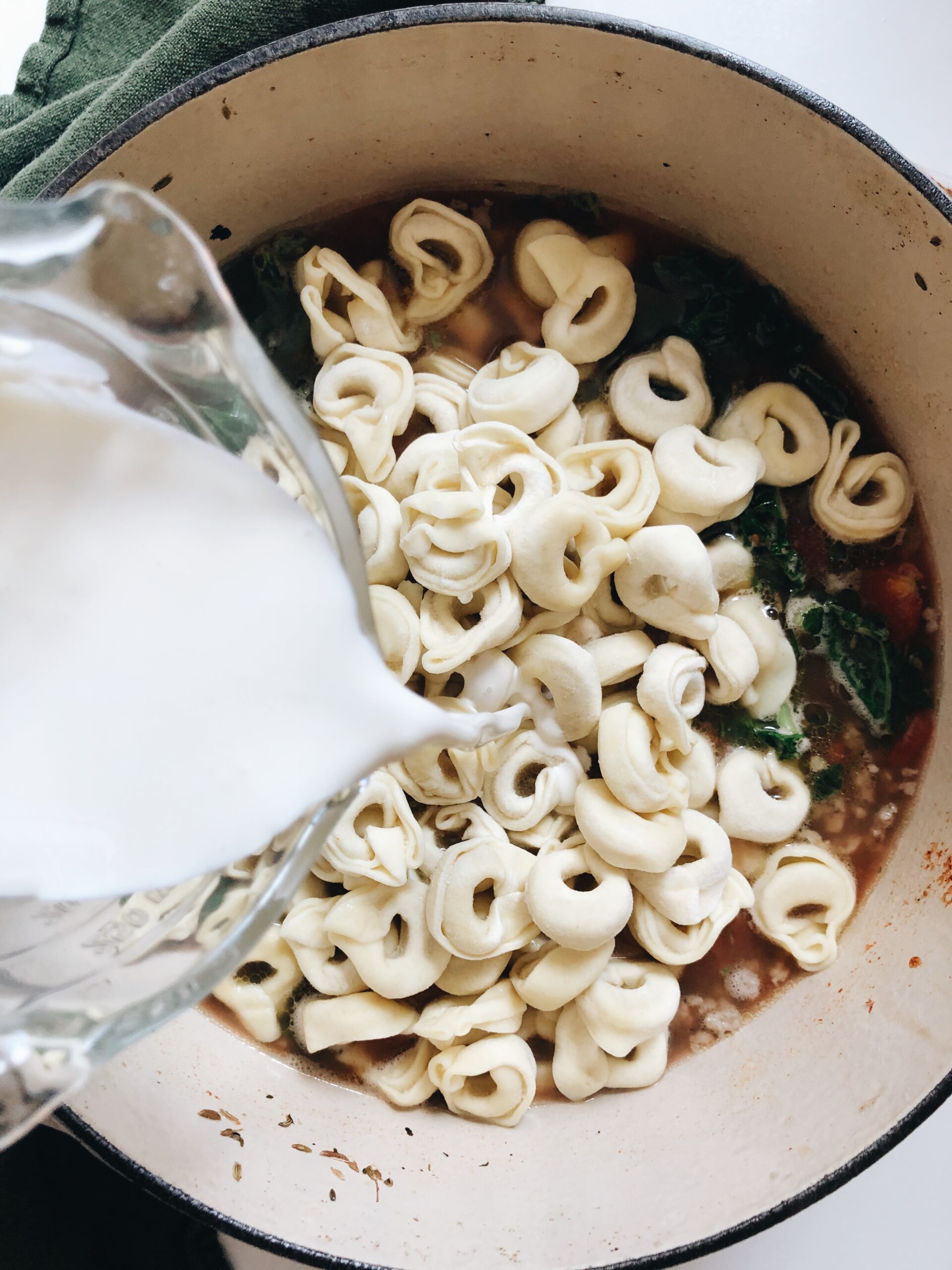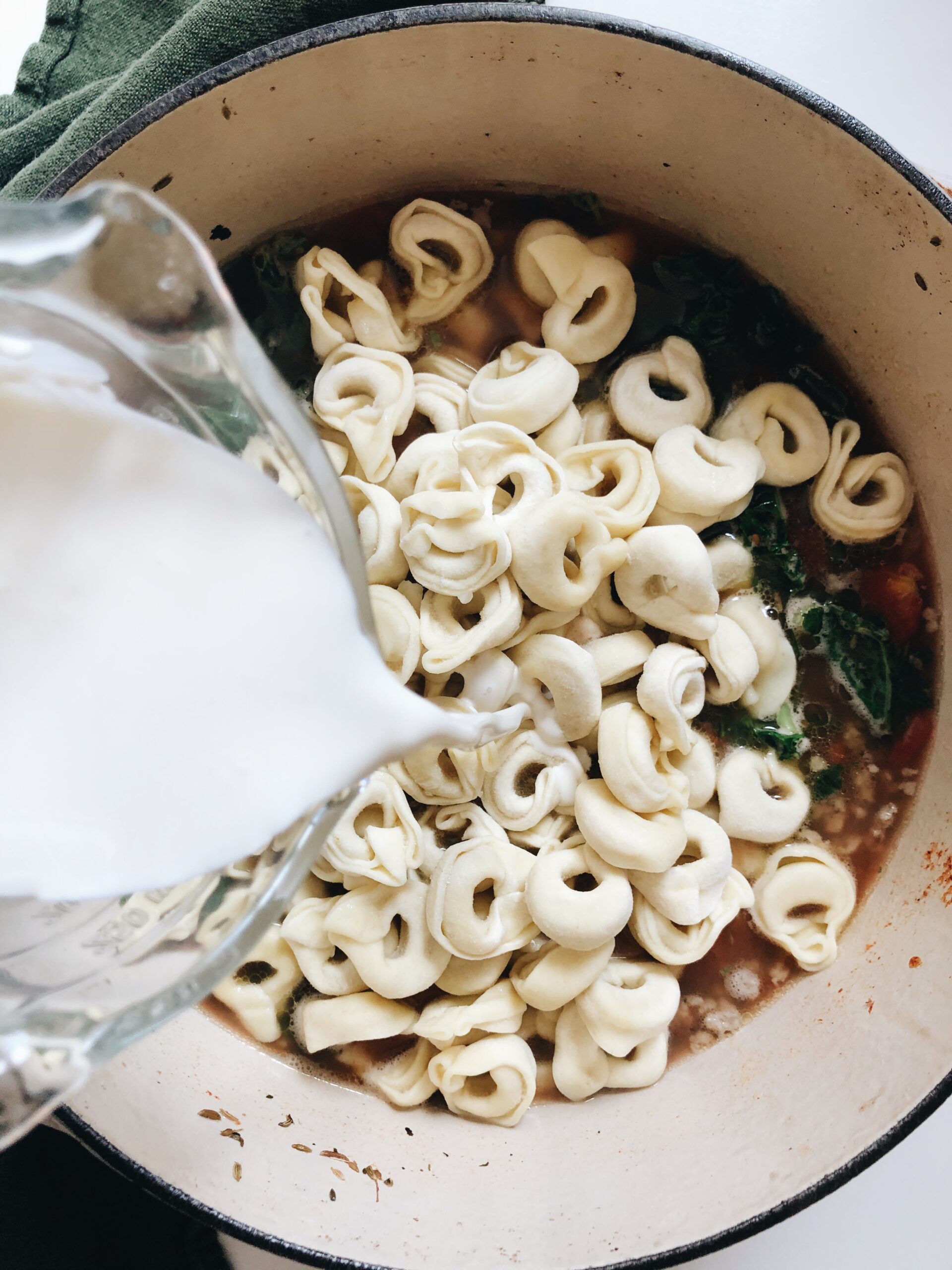 Throw in the cheese tortellini (which is still really cold) and the cream. Bring the heat up back to a rolling simmer, and let it go about ten more. If that. The torts will plump and soften and the whole soup is creamy and wild with flavor.
Taste that. Salt? Maybe one pinch? Add that and then squeeze half the lemon in. Yep, that's it. There it is. It's now awake and ready for all the unhinged salivating mouths. (ew)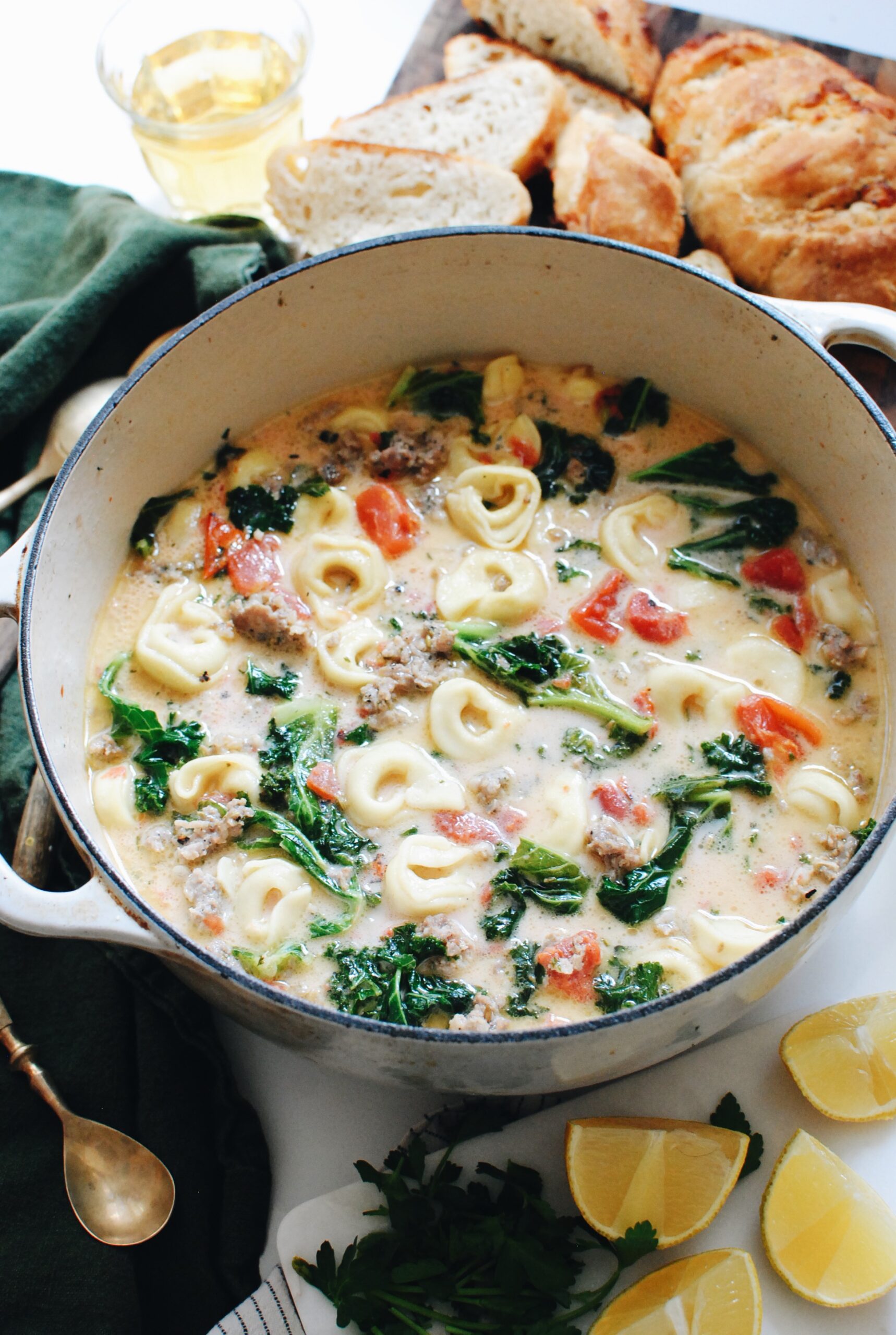 Perfectly delicious. Like, problematically good because you think you'll have a small bowl and NU UH. Not happening. Grab a bigger bowl. "We're gonna need a bigger bowl." ha!
Oh.
Also, see that crusty bread back there? Yeah. Um, plan ahead for that because it's to flippin' flip for.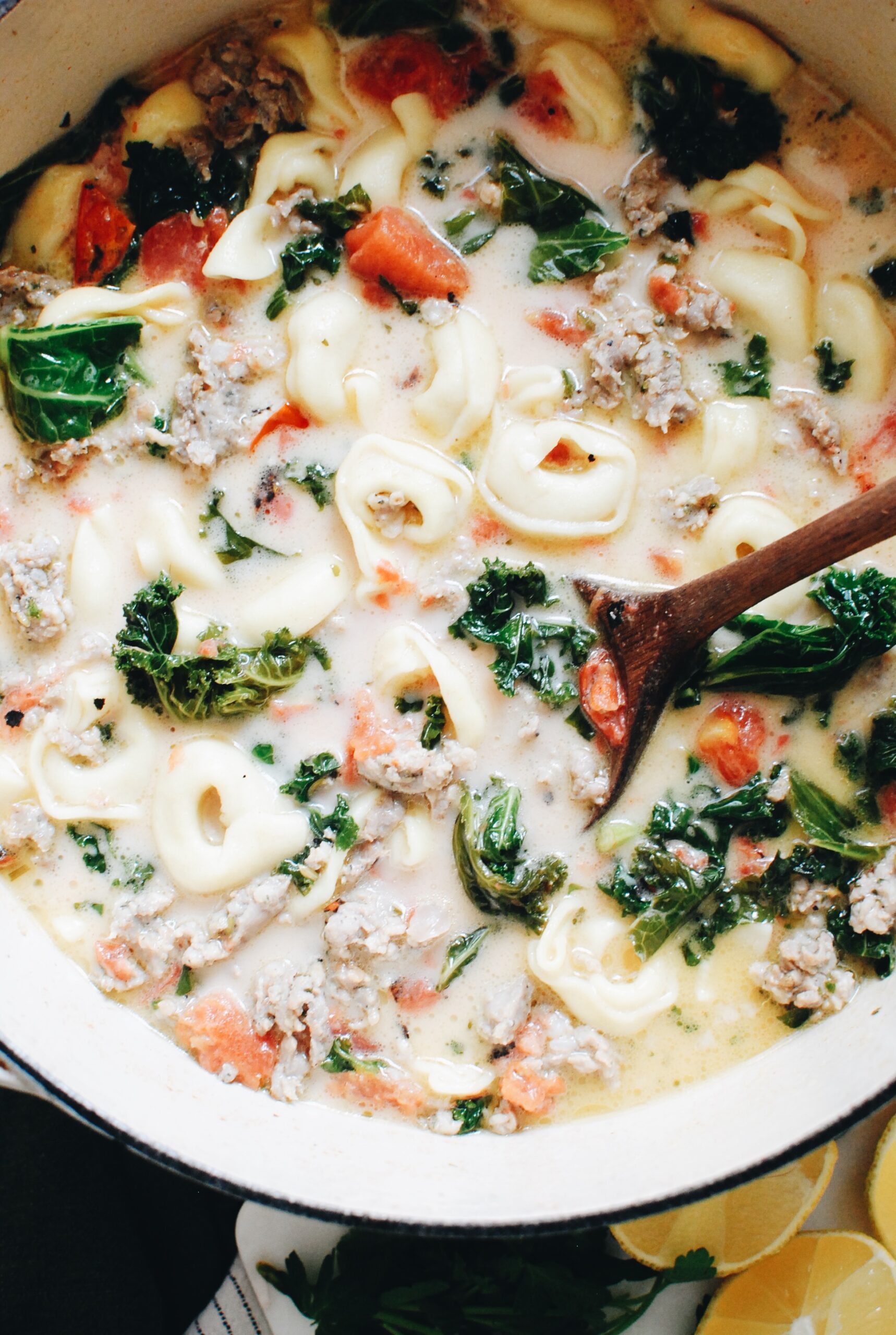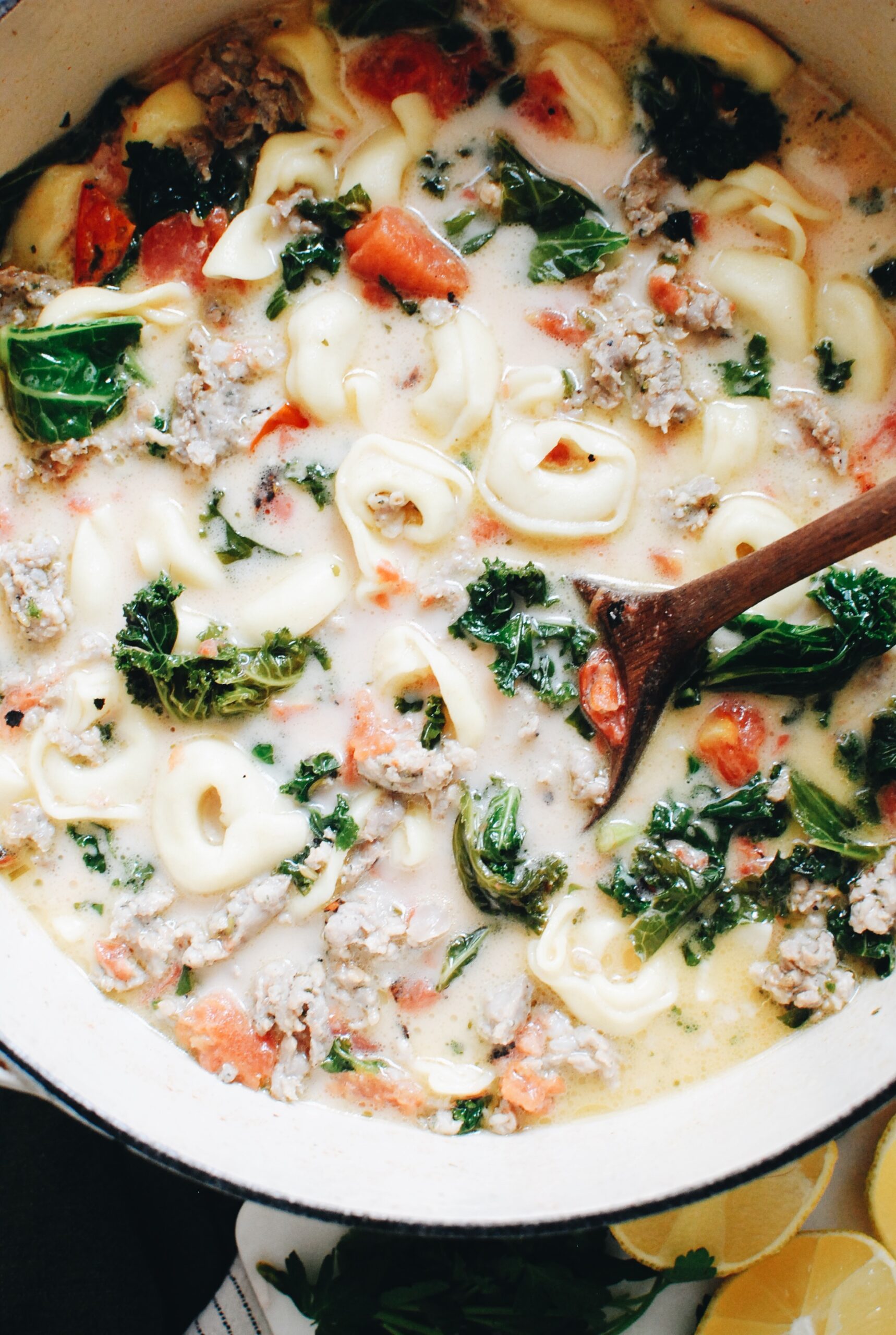 There's something about cream and lemon that makes my soul soar. I know you're the exact same way. And then add in those plump cheese tortellini with earthy wilted kale and it's almost too much. But not because I keep eating it. Also, I think something like this would make a perfect early spring dinner outside. Sit out back with some music, this slurpy pot o' glory and jot out patio plans. See, this is what I imagine for your life.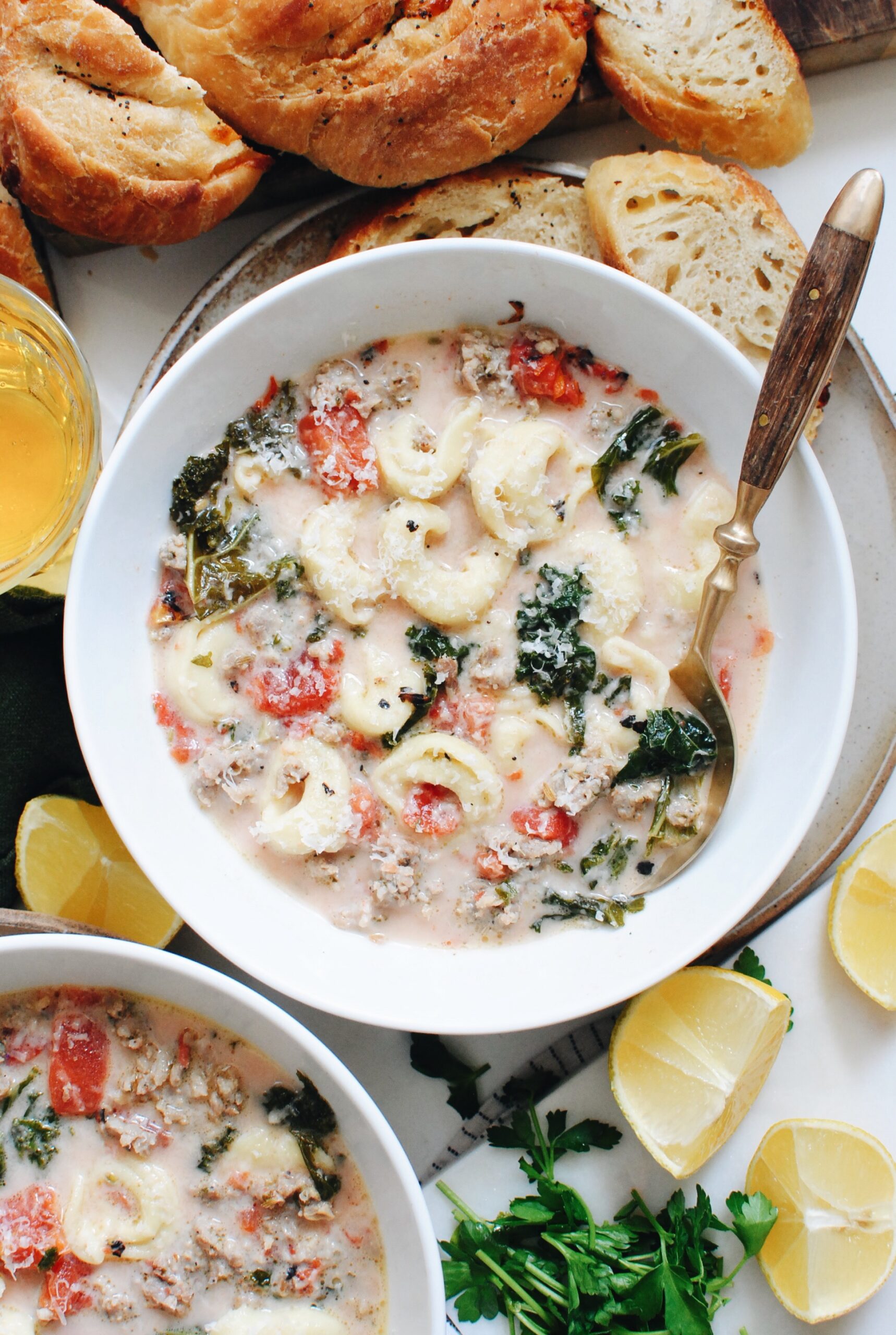 And then you dunk the bread in the creamy broth and completely black out at the table. Unbelievably delicious. And you barely did a thing.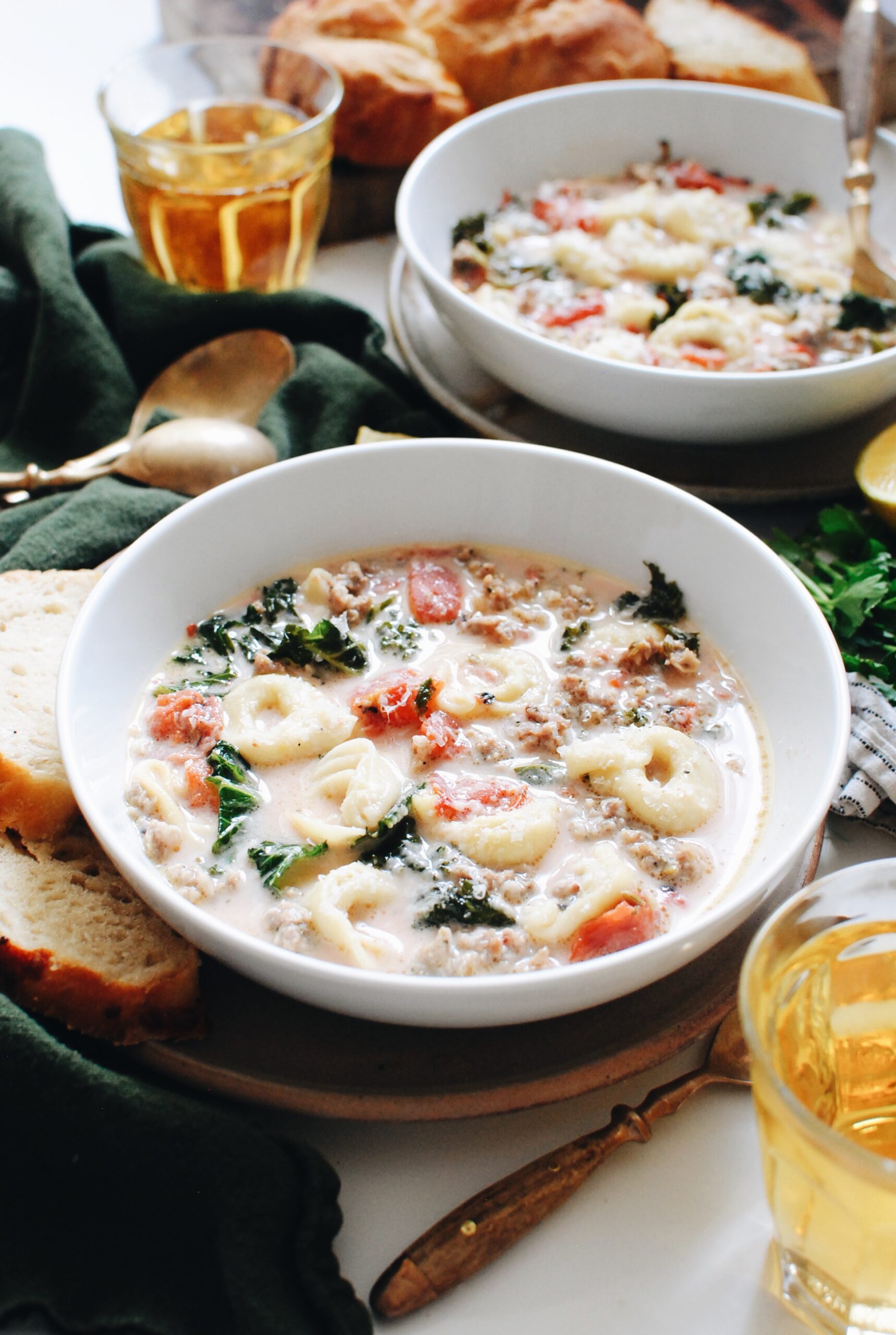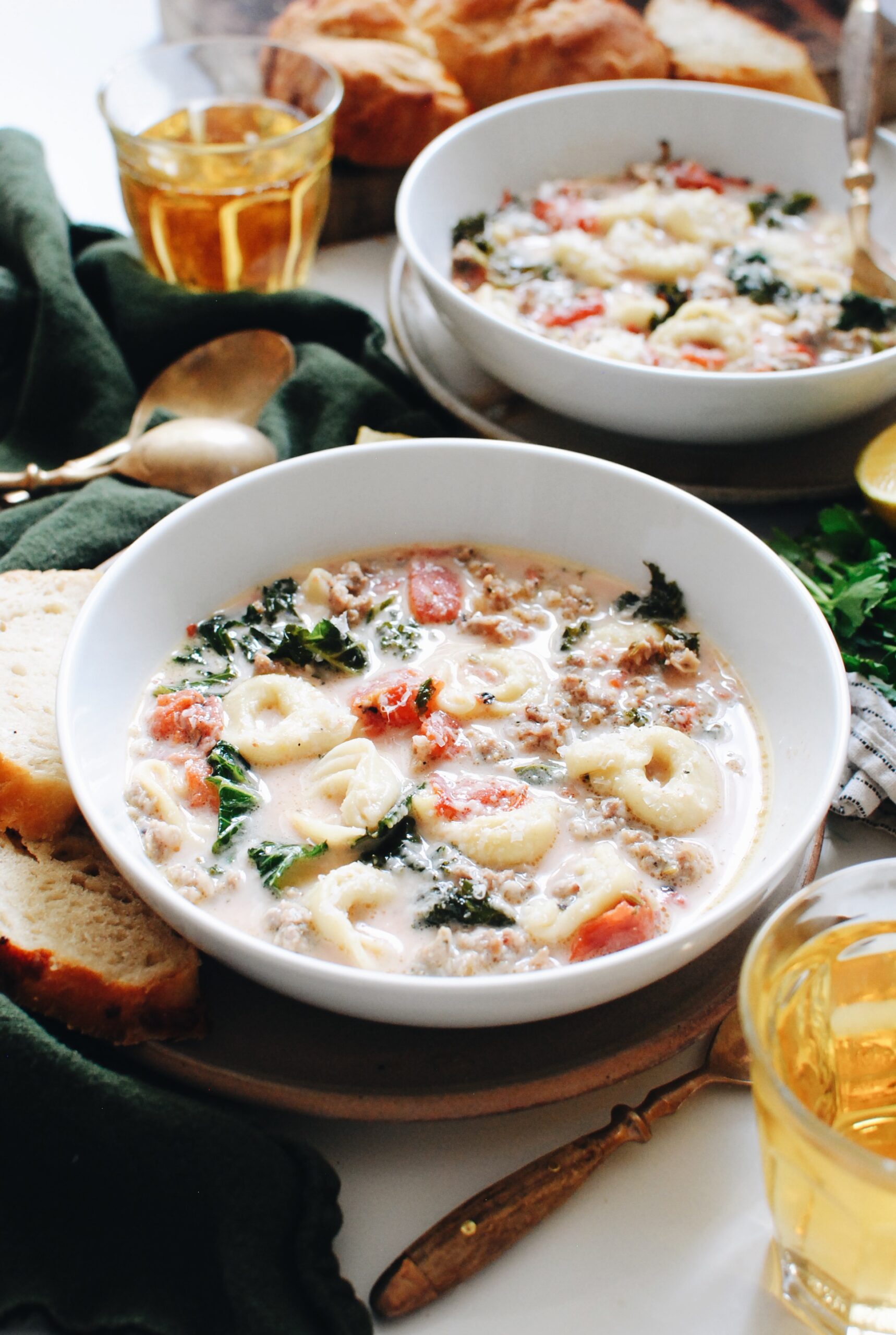 If I go full-on caveman on this, just look the other way, okay?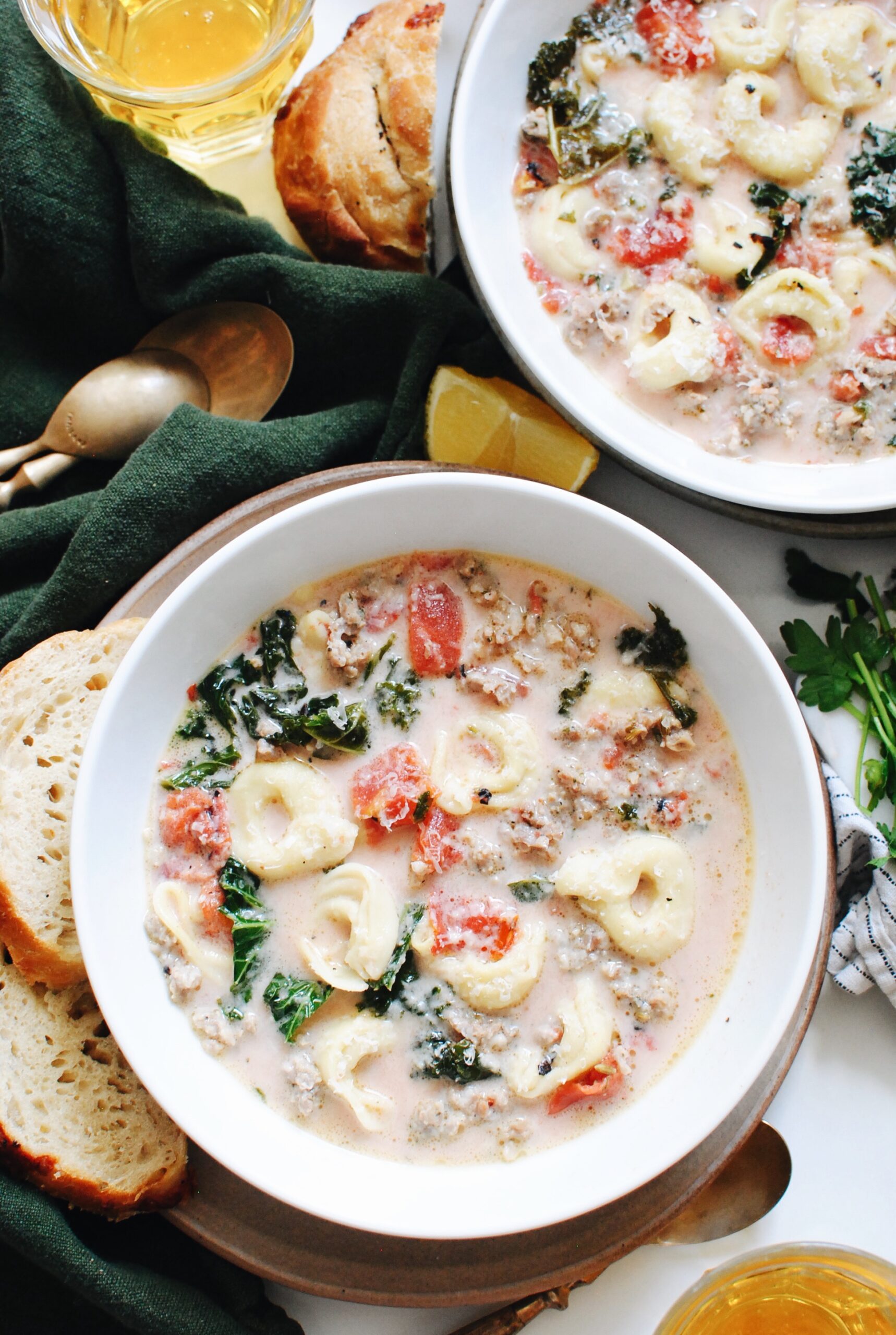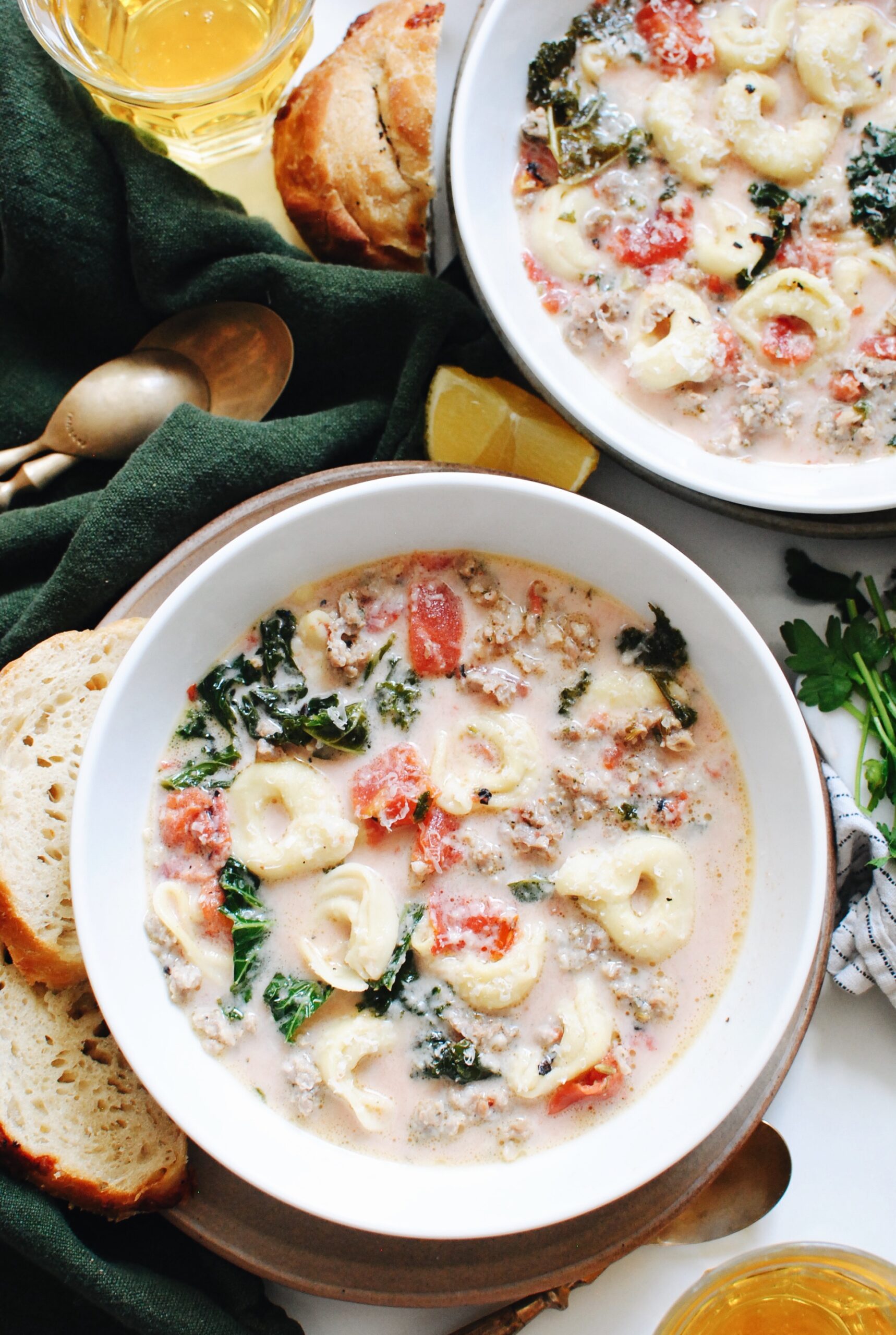 Little bit of fresh parmesan on that and it's over. OVER.
Creamy Tortellini Soup with Sausage and Kale
Ingredients
1 pound Italian sausage
1 (14.5 oz) can fire-roasted tomatoes
4 cups chopped or torn kale
4 cups chicken stock
1 (1.25 pound) package frozen cheese tortellini
1/2 cup heavy cream
1 lemon
Coarse salt
Fresh parmesan, for garnish
Instructions
In a large soup pot, brown your sausage until no longer pink, about six minutes. Add the fire-roasted tomatoes, chopped kale and chicken stock. Bring the heat to a boil, then reduce to a simmer. At this simmer, add in the tortellini (which is still very cold) and the cream. Let this warm up and simmer for five to ten minutes. We really just want the tortellini to soften and cook through. Doesn't take long at all.
Season with a pinch of salt and squeeze half the lemon in. Taste that. UNBELIEVABLE.
Serve with parmesan cheese at the ready, extra lemon slices and crusty bread for dunking. Obviously.
Serves six!
7.8.1.2
487
https://bevcooks.com/2021/03/creamy-tortellini-soup-with-sausage-and-kale/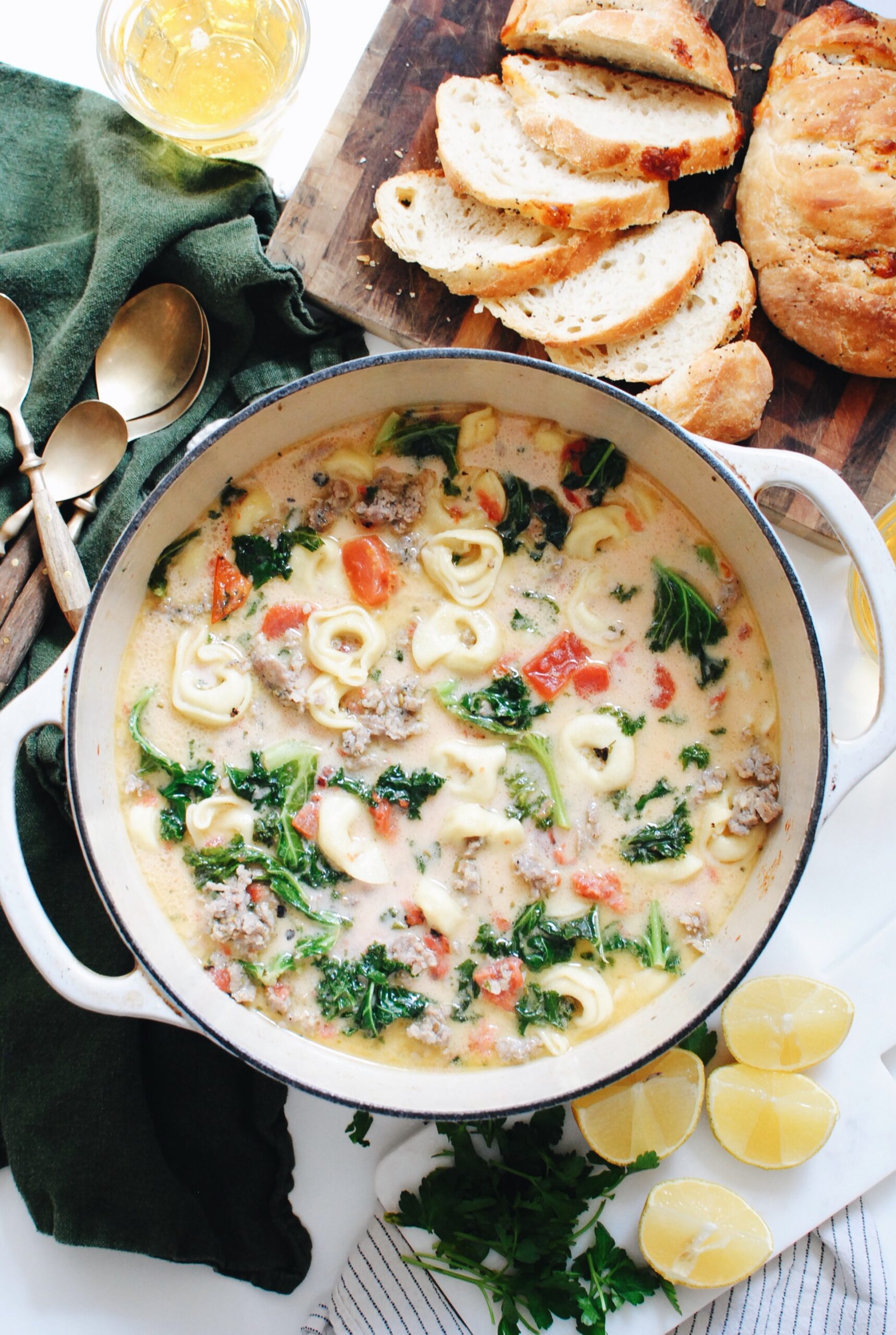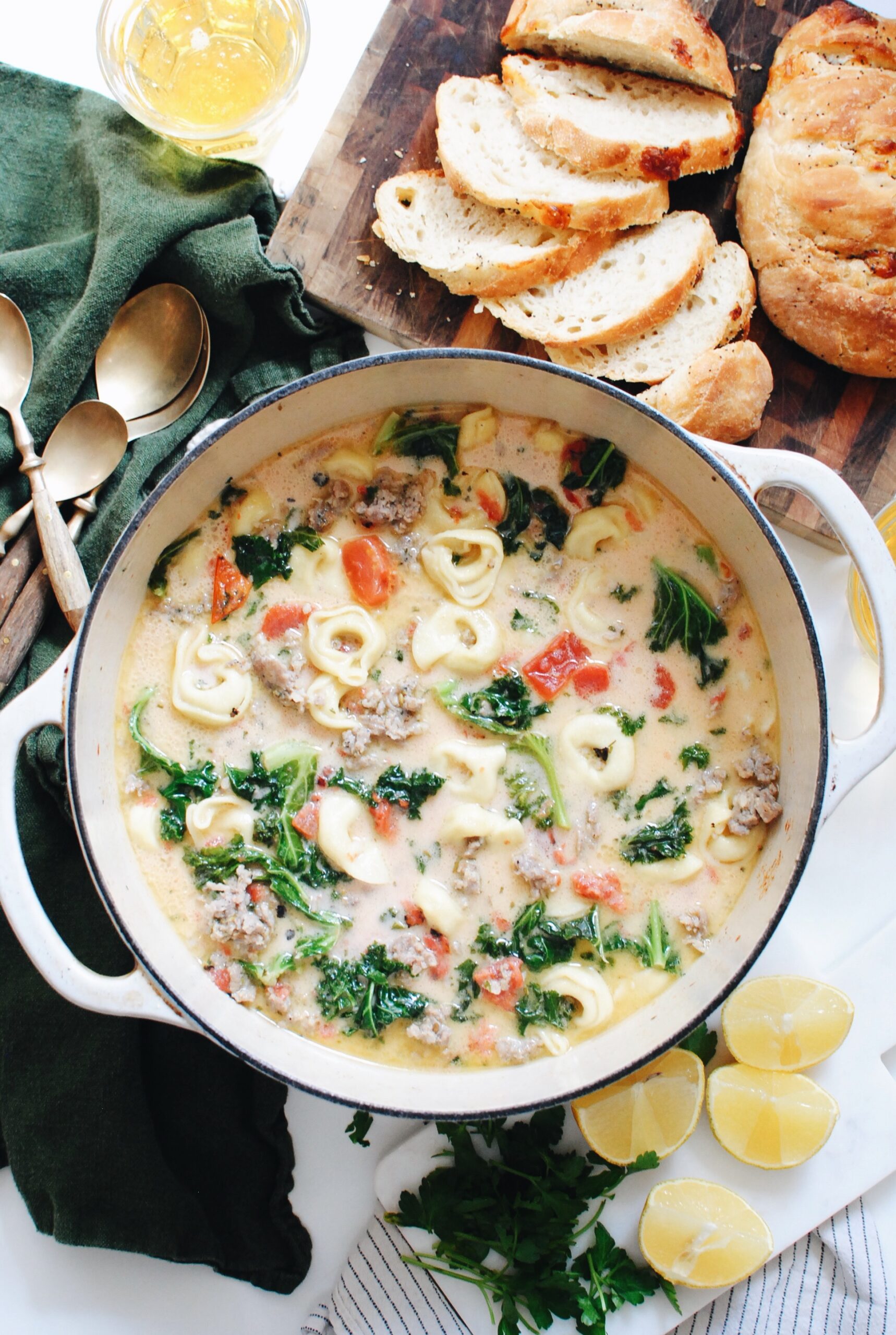 I hereby declare unabashed year-round slurping.