I've started and stopped and re-written and stopped and backspaced this opener thirteen fifty times because are you kidding there are NO WORDS.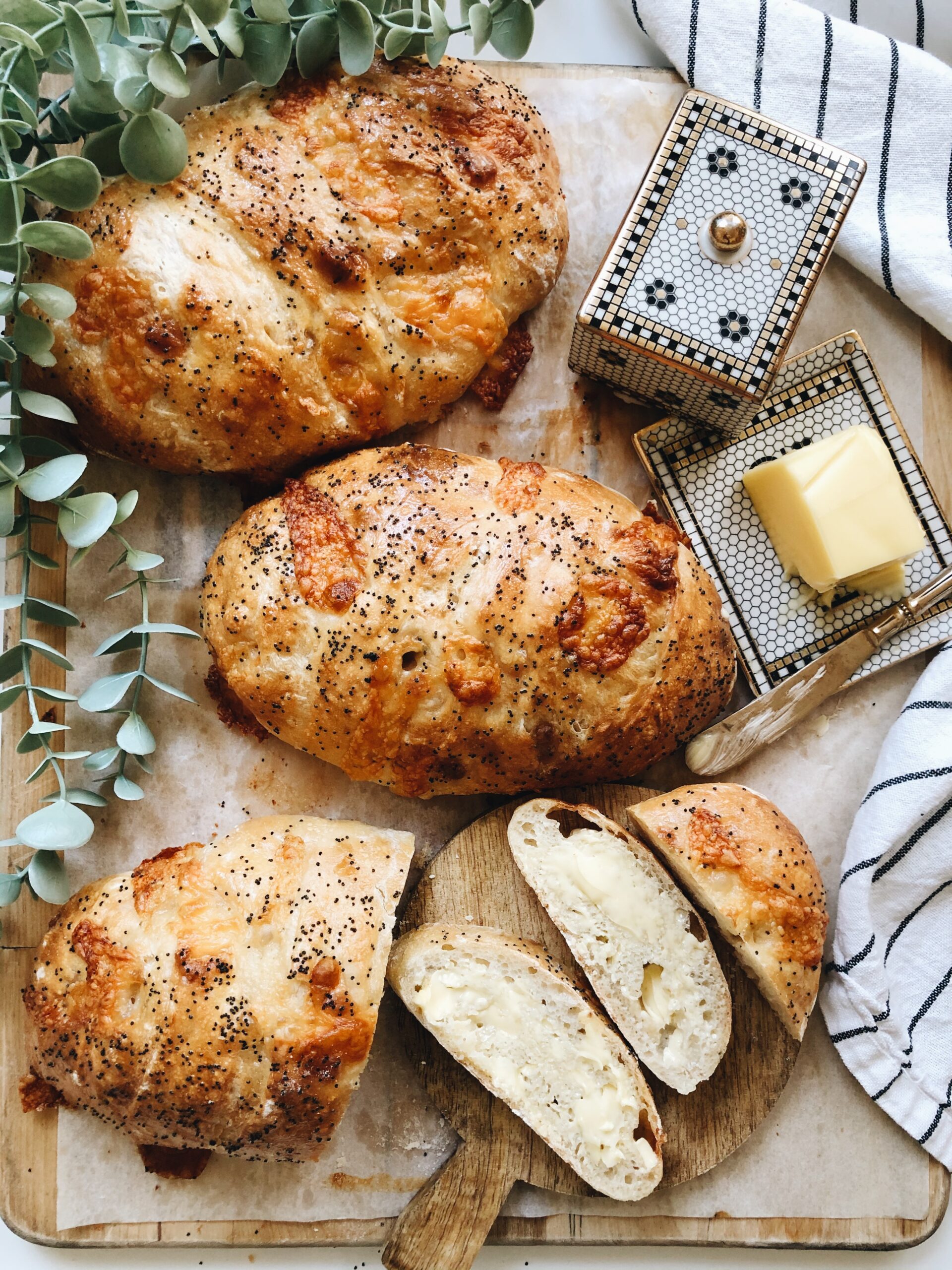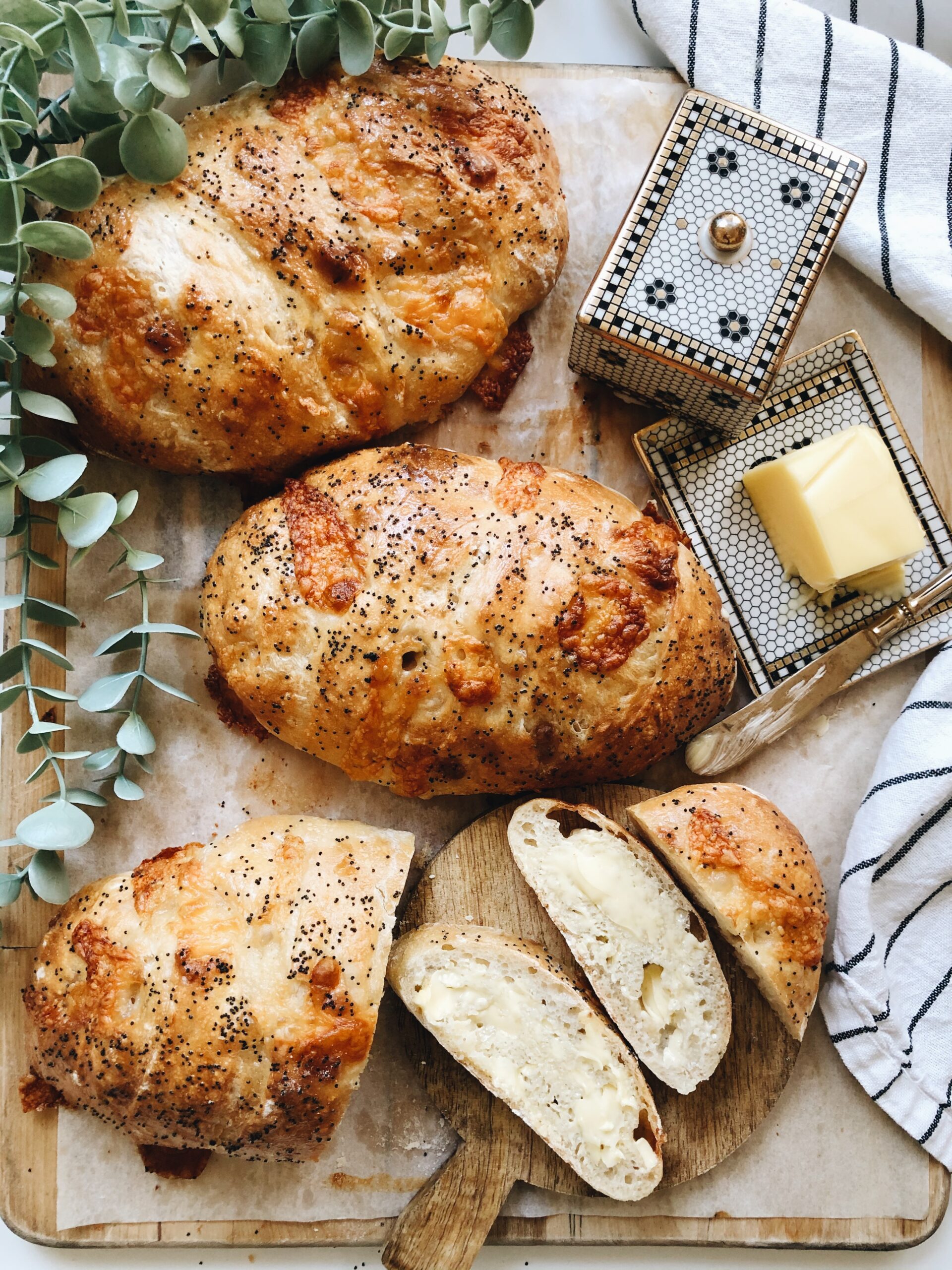 Your new favorite no-knead bread. To die for. Show stopping. Tiny melted surprise parmesan pockets of glory. Crispy crusty outside speckled with poppy seed. The most comforting pillowy texture inside. And you barely did a thing.
No I swear. You're going to make the rest of your life about this bread. Just you wait, 'Enry 'Iggins. Just you wait.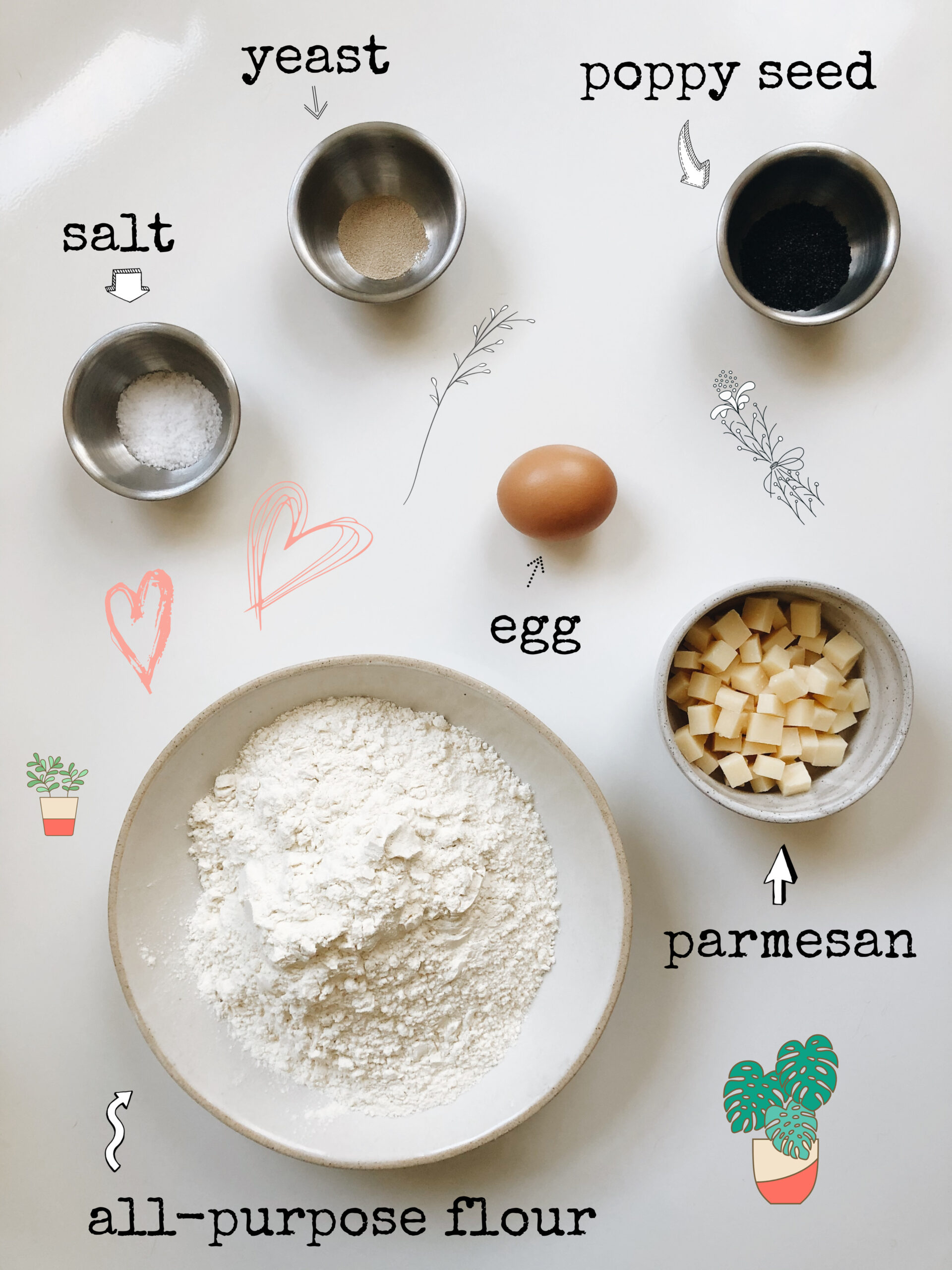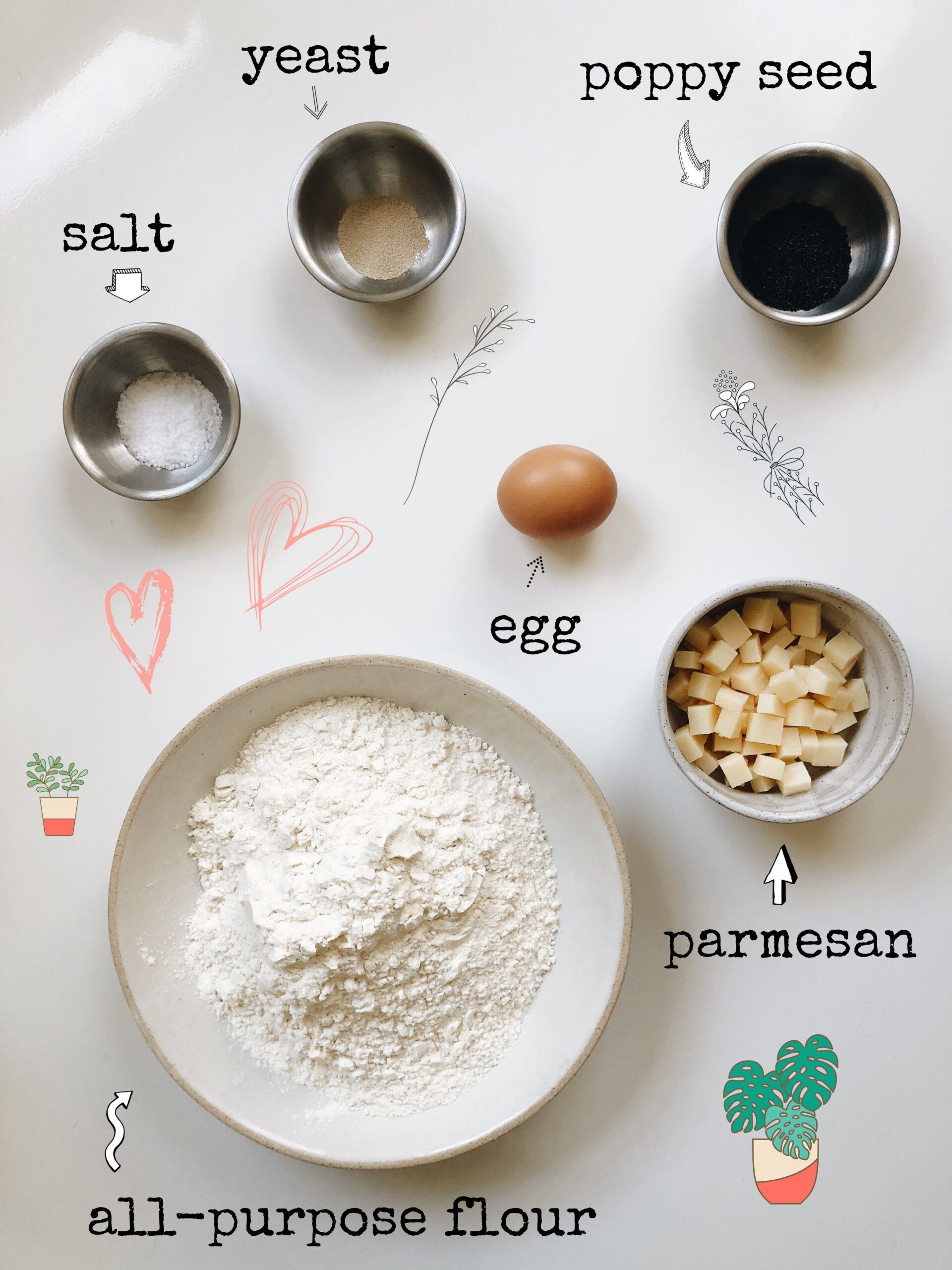 It's much like my other cheesy no-knead crusty bread, but we're taking the exact same amounts and dividing them into three loaves (don't ask me how we get so much bread with the SAME AMOUNT of flour. I'll never know.), slicing some pretty slits in them, loading them with parmesan cubes, giving them a milky egg wash and dusting with poppy seeds. This is what we're doing.
And the hearts and plants? They mean nothing. I felt like a) the photo lacked color, and b) I live with doodling seven year olds, so.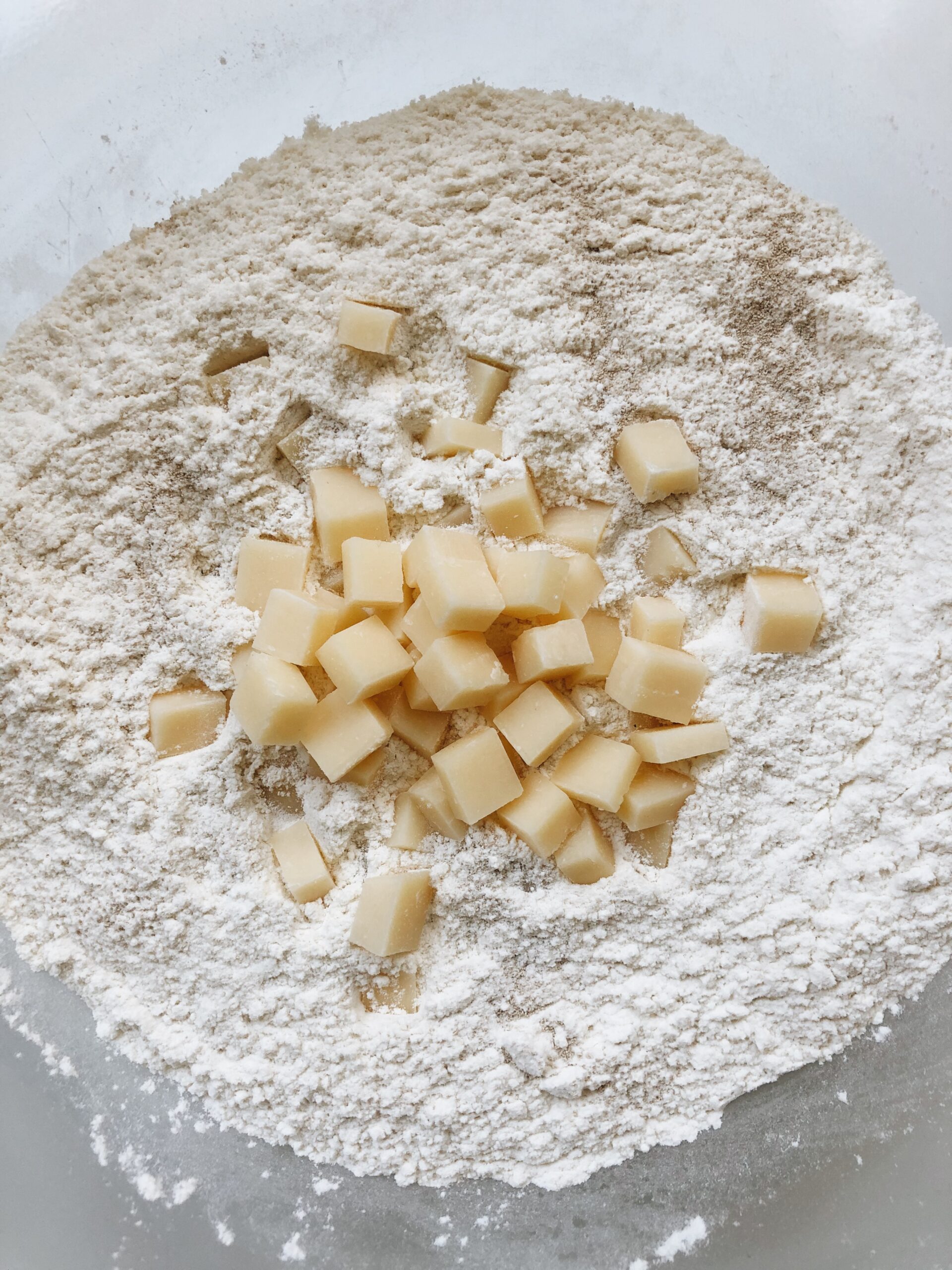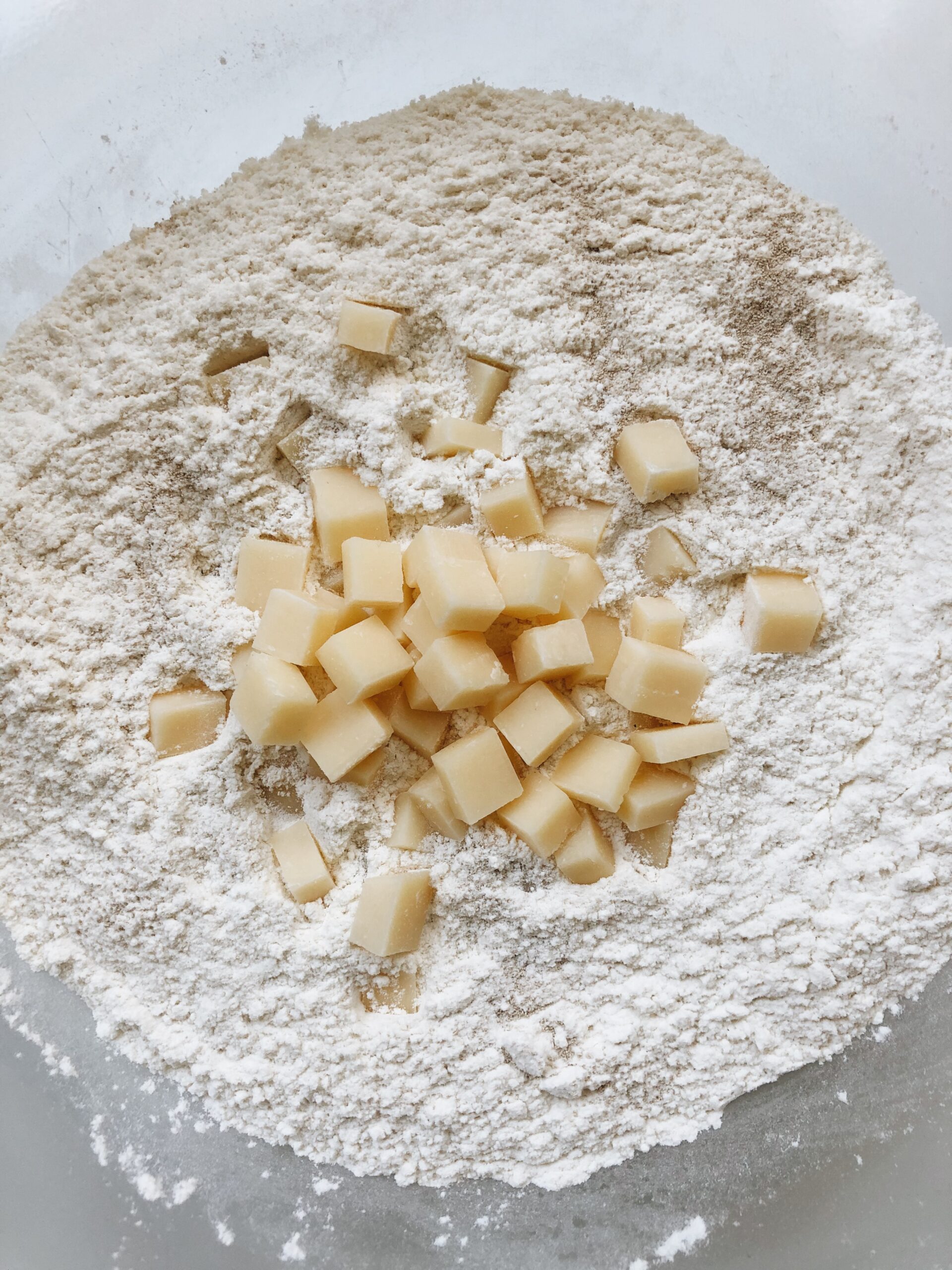 You'll mix the flour with the yeast, salt and parmesan cubes.
You can go domestic with this cheese, or you can use your good Parmigiano Reggiano. I'll let your soul fairies guide that one.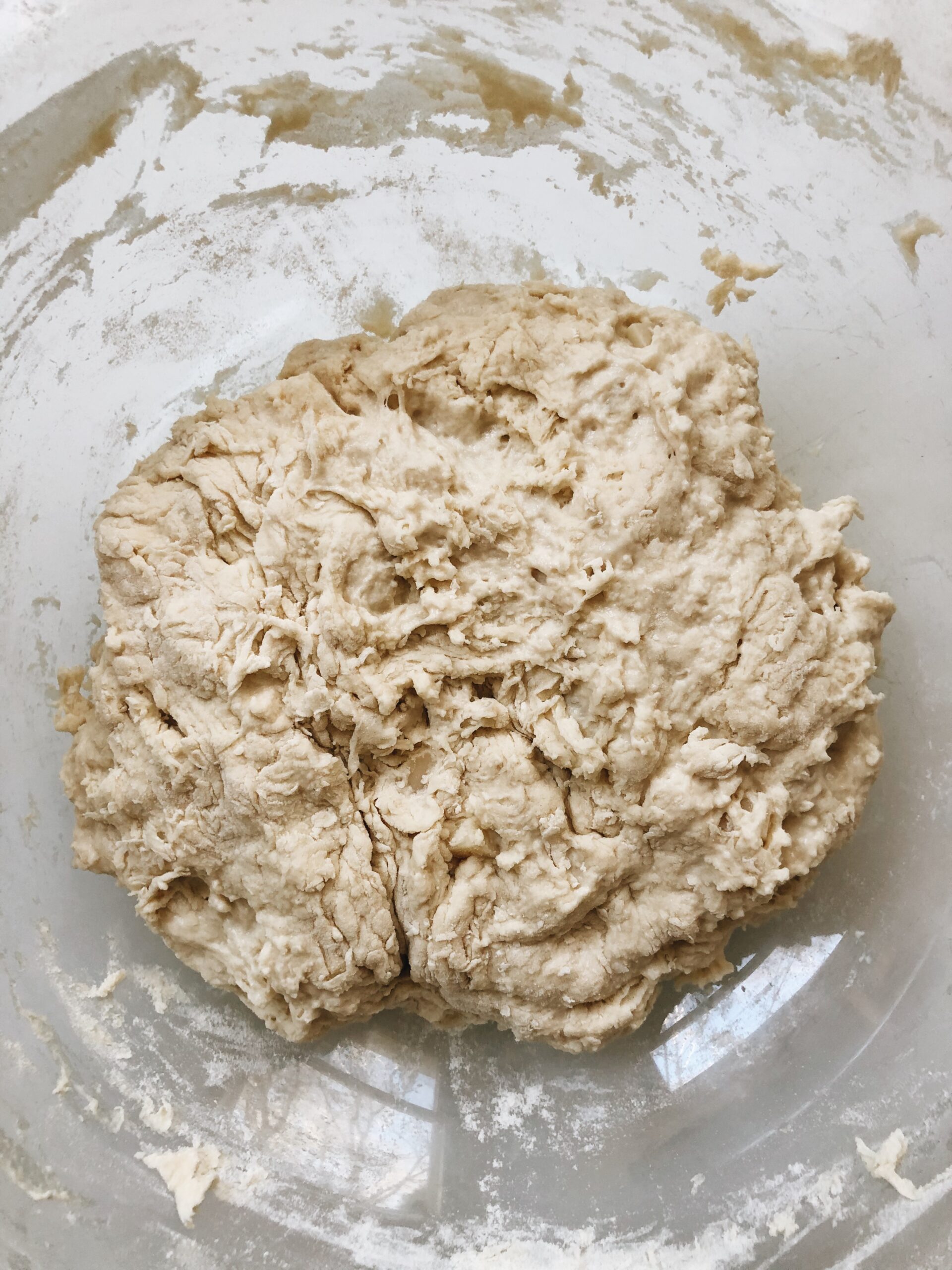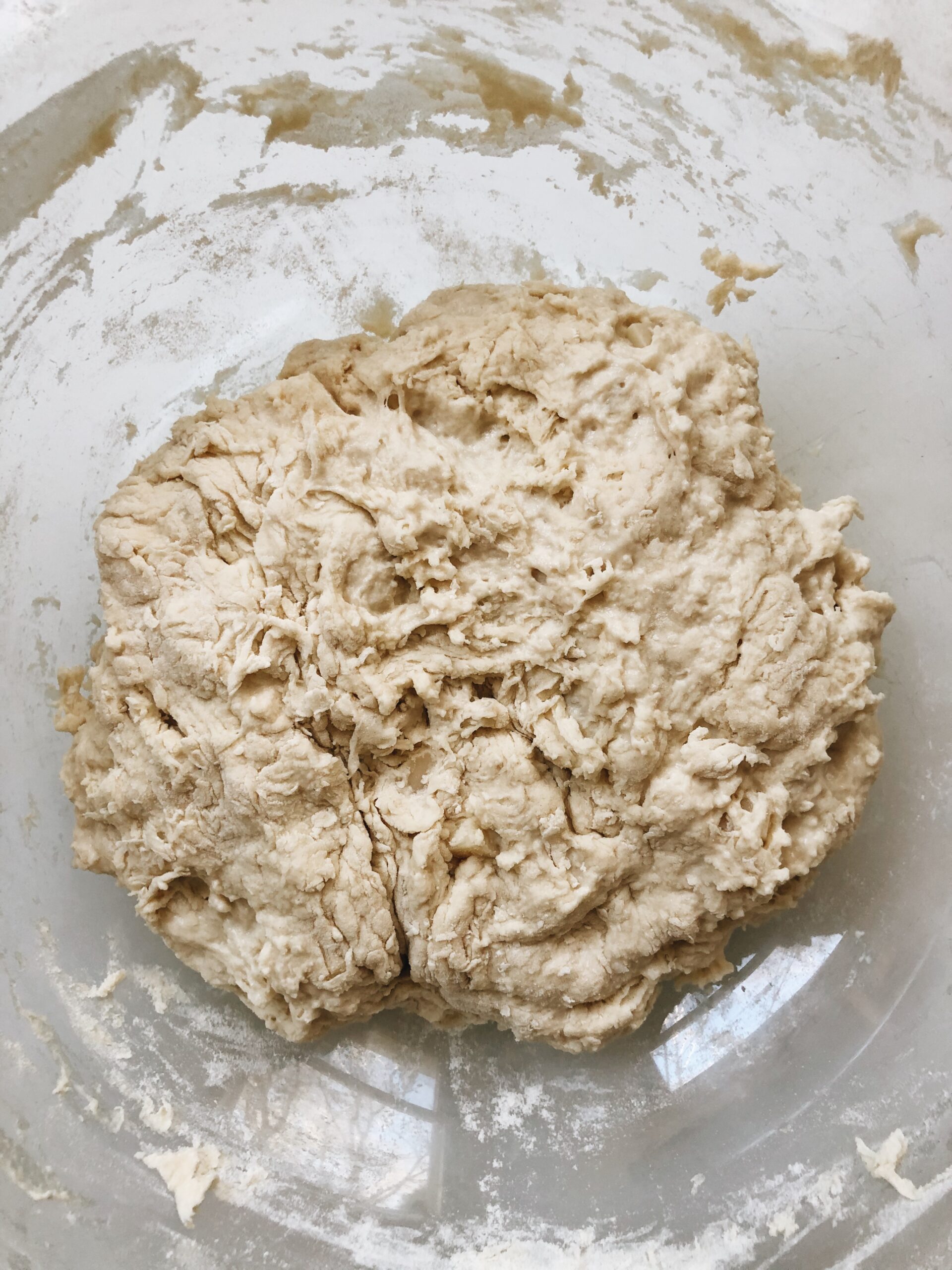 This is what the dough looks like after you've added the water. My water was slightly on the warm side, which I feel like made a better bread. I have no idea, I'm not a seasoned baker. But perhaps the warmth of the water and the yeast of the . . . yeast made some magic? I like to think so.
The dough will be craggy and sticky. This is fine. Cover tightly and leave it on the counter overnight.
Next day! Look at all delicious bubbly-ness. It will triple in size with all those air bubbles. Exactly what we want. You'll throw some flour on your fAngers and pull it out onto a cleaned and floured work surface.
I'll obviously break down the no-kneading process and the rising in the recipe card down there, but you'll let the mound rise once, then divide it into thirds.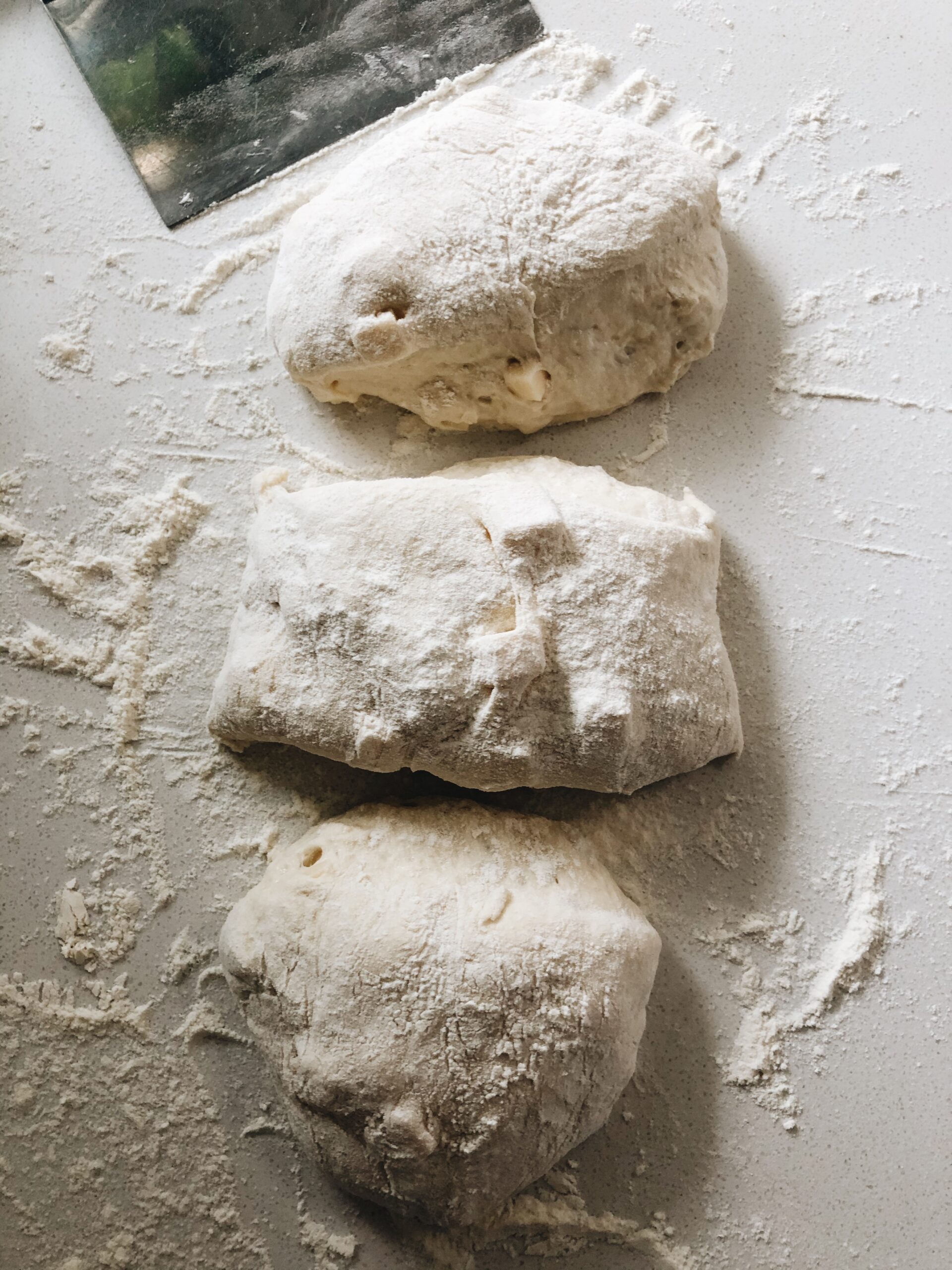 And then you'll divide it up into thirds, like this. This is mostly hands-off work, so don't get stressed, pigeons. It's all worth it in end.
Let these three mounds rise another two-ish hours, and then we'll add some slits! Which I'm awful at, but we'll be okay.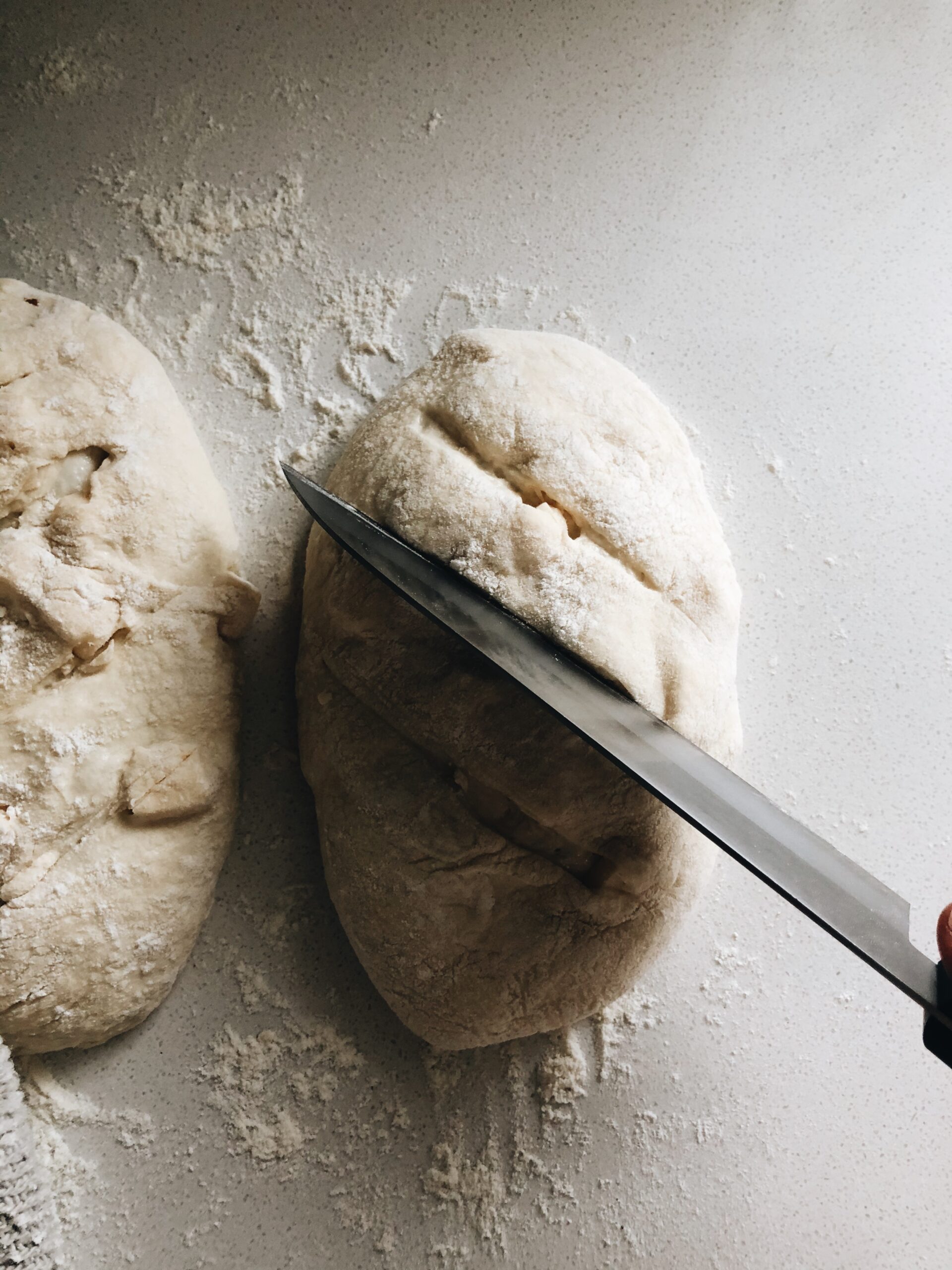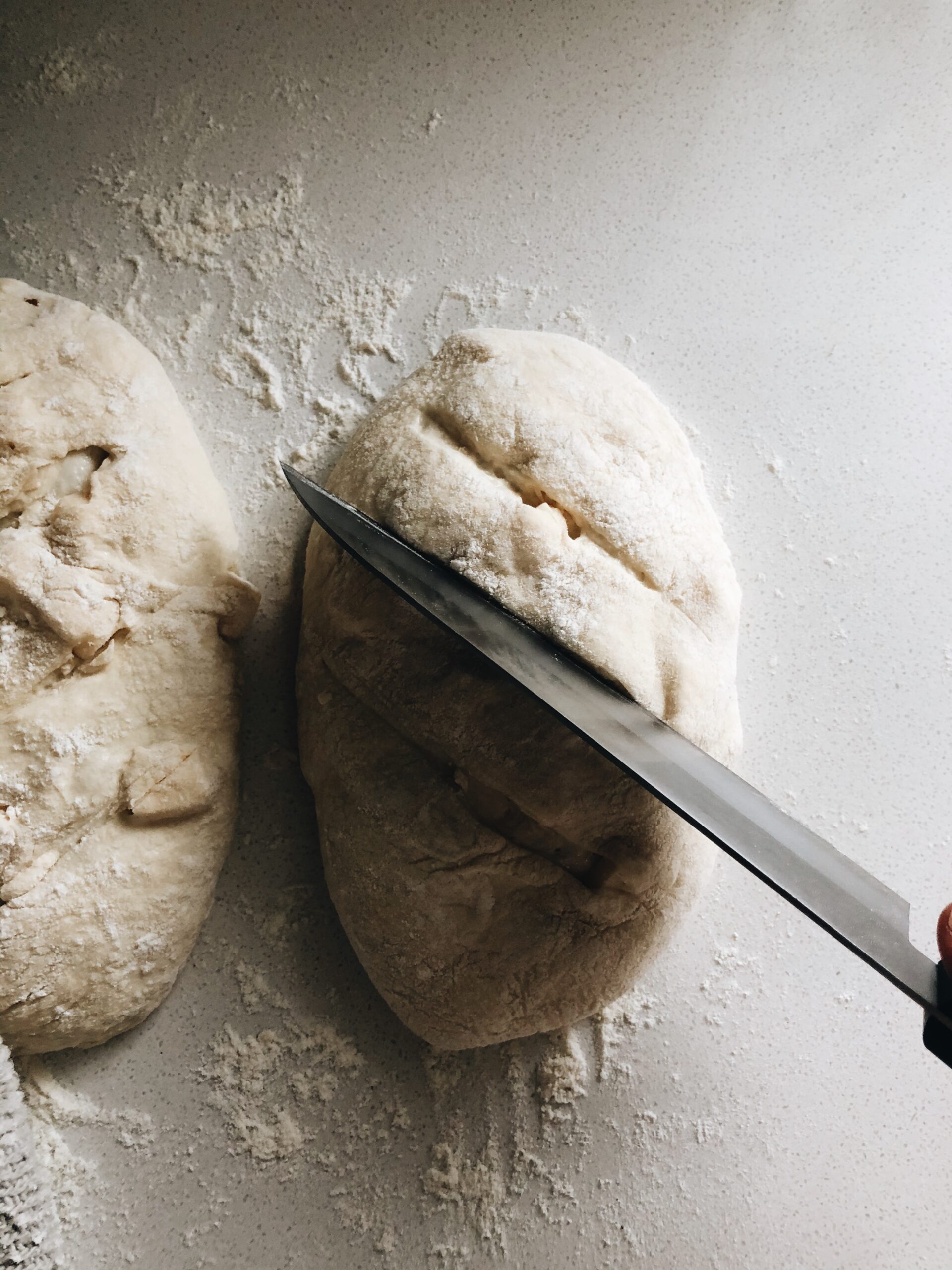 Give the bread some sexy diagonal slits across the top. Grab your sharpest knife! Go a little deep with it, because the bread may spring back, and we want to see at least SOMETHING on top, for crying out loud.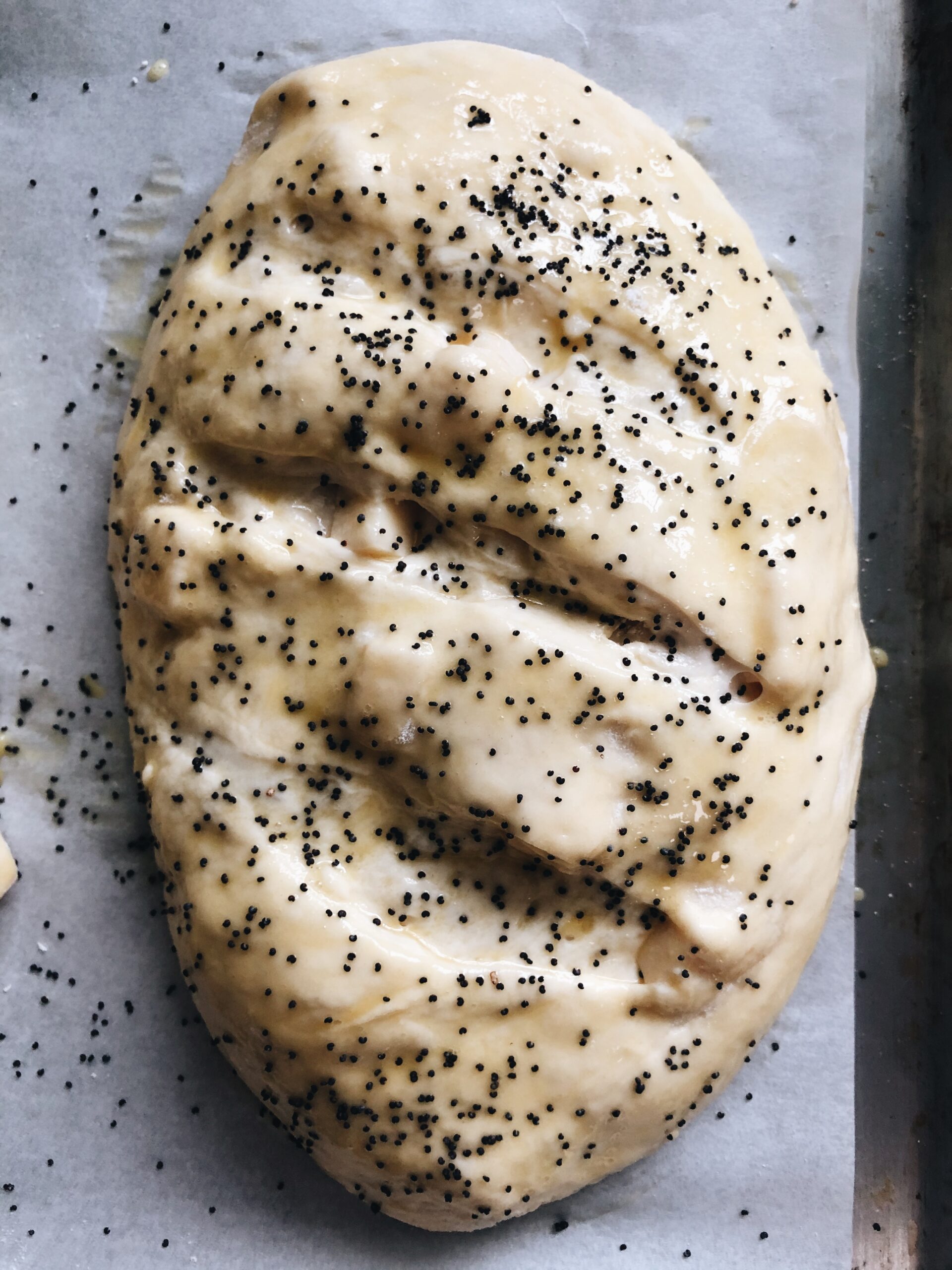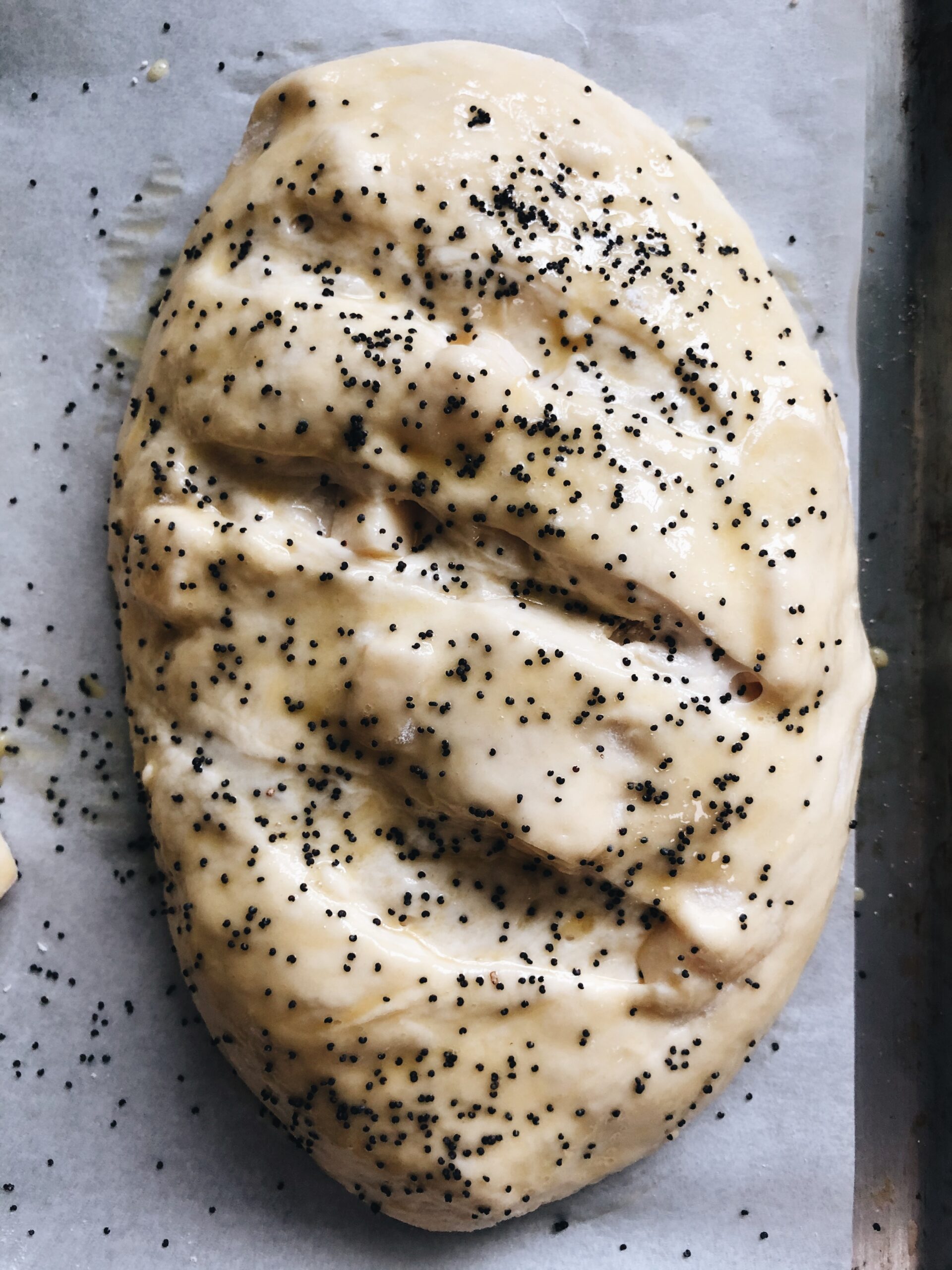 You'll brush the tops with a milky egg wash (apparently the secret to shine and crust.) and dust with poppy seeds.
"Bev, are you sure the cheese is okay in the bread like that? It won't go bad?"
Naw, dude. The cheese was covered all night, and is about to get baked. We're good. It's good. It's all good.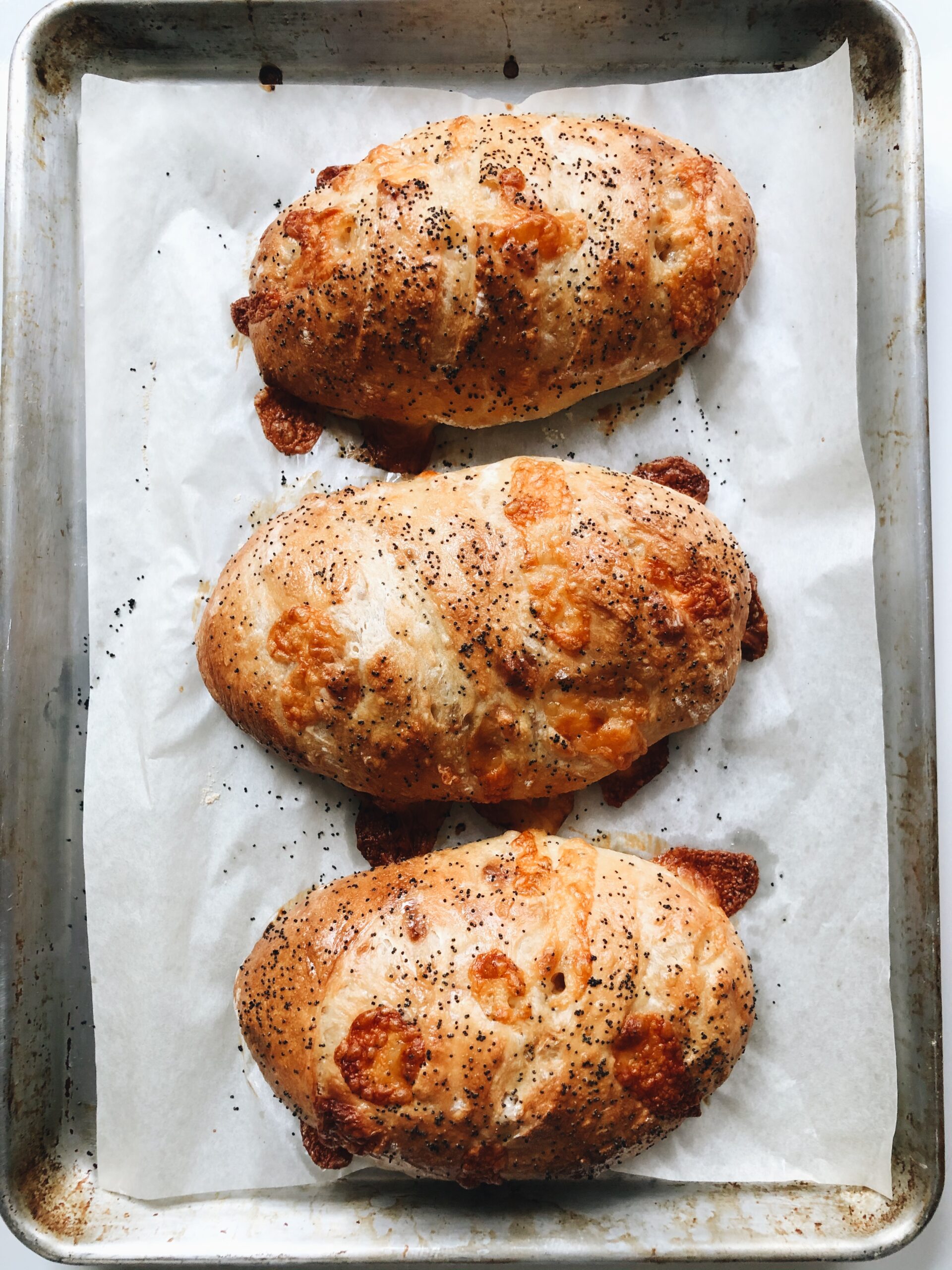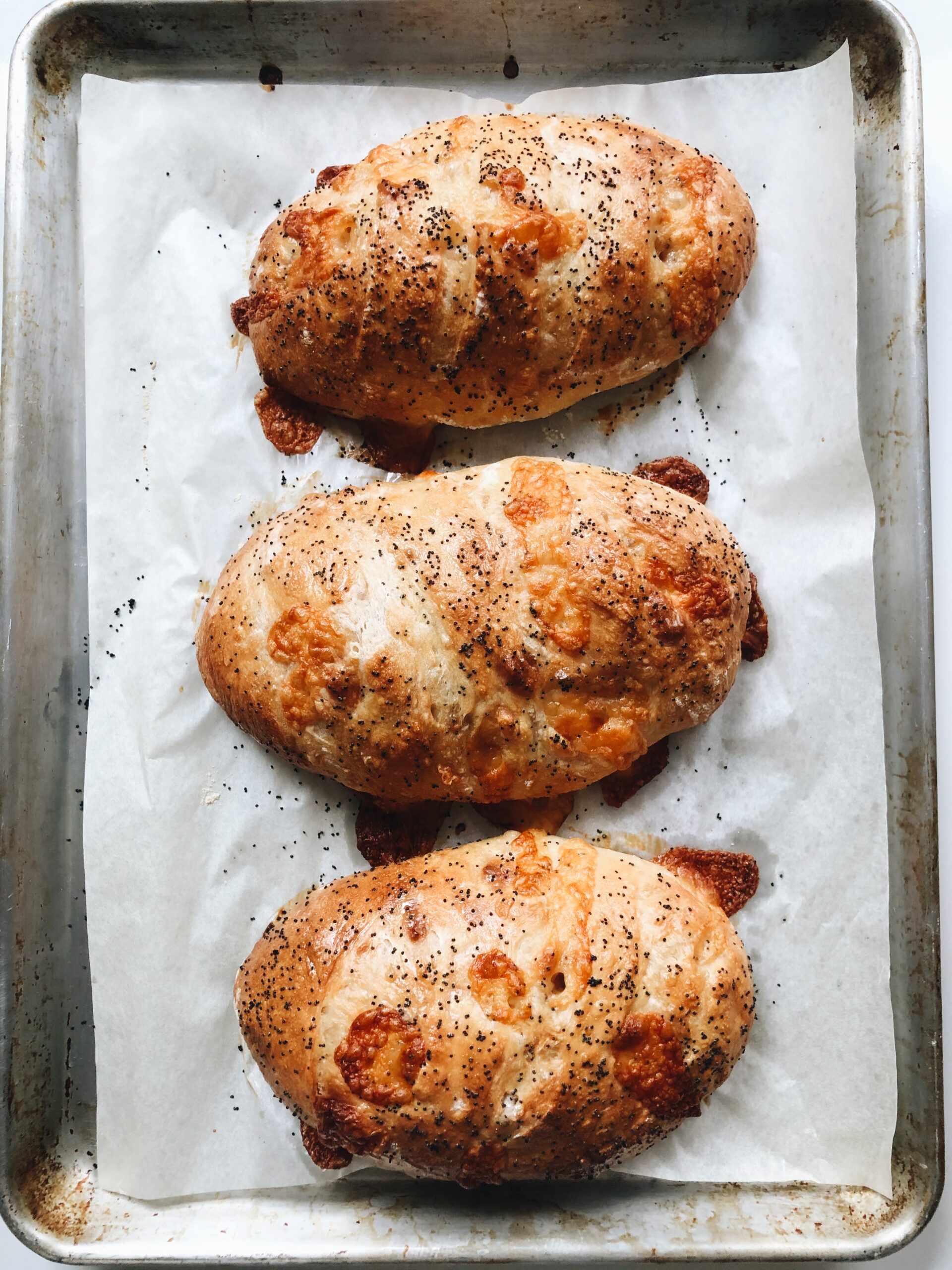 Honey child, please.
Are you seeing that cheese? Of course you're seeing that cheese. This is serious business and I need you to see that cheese.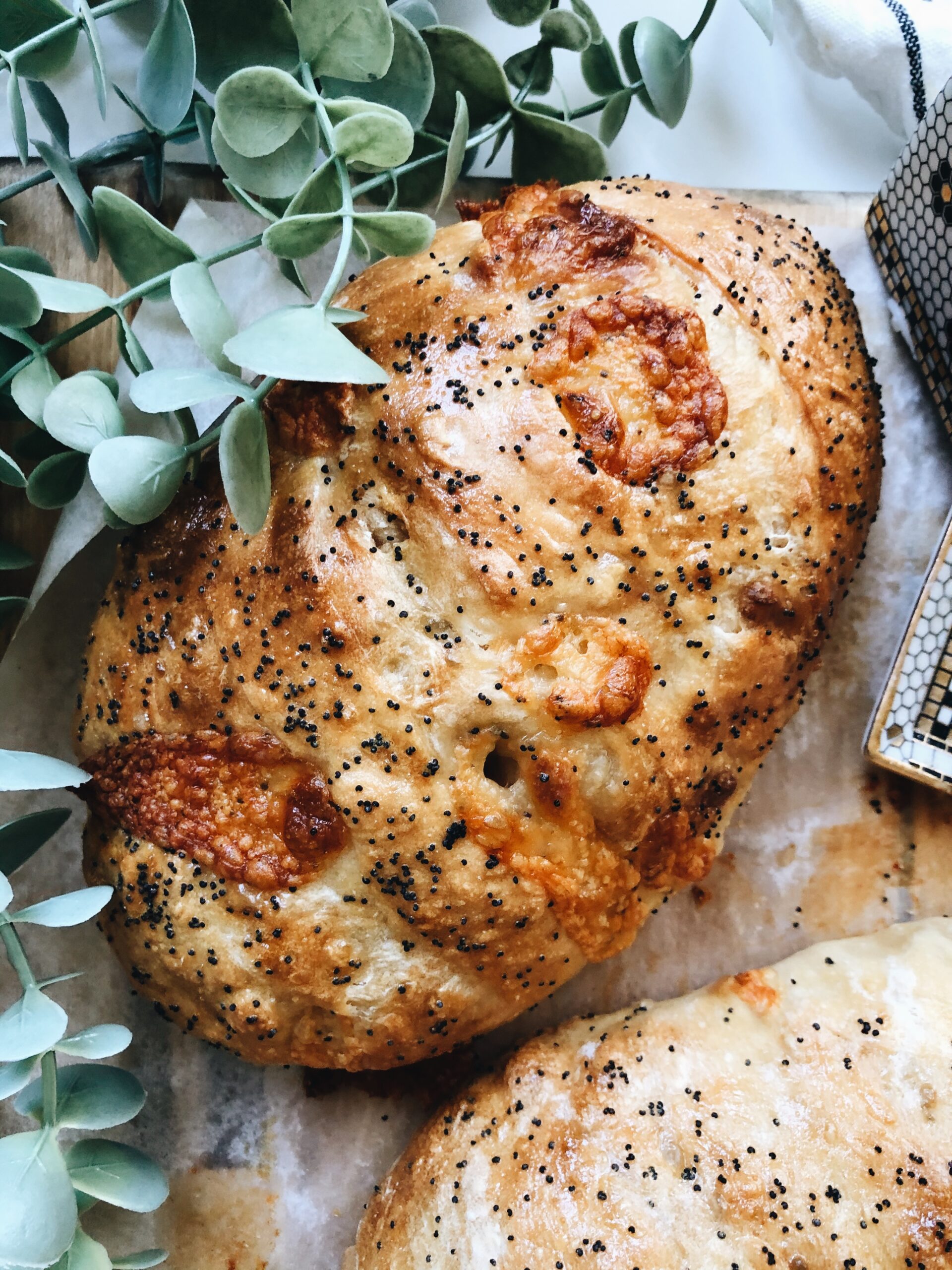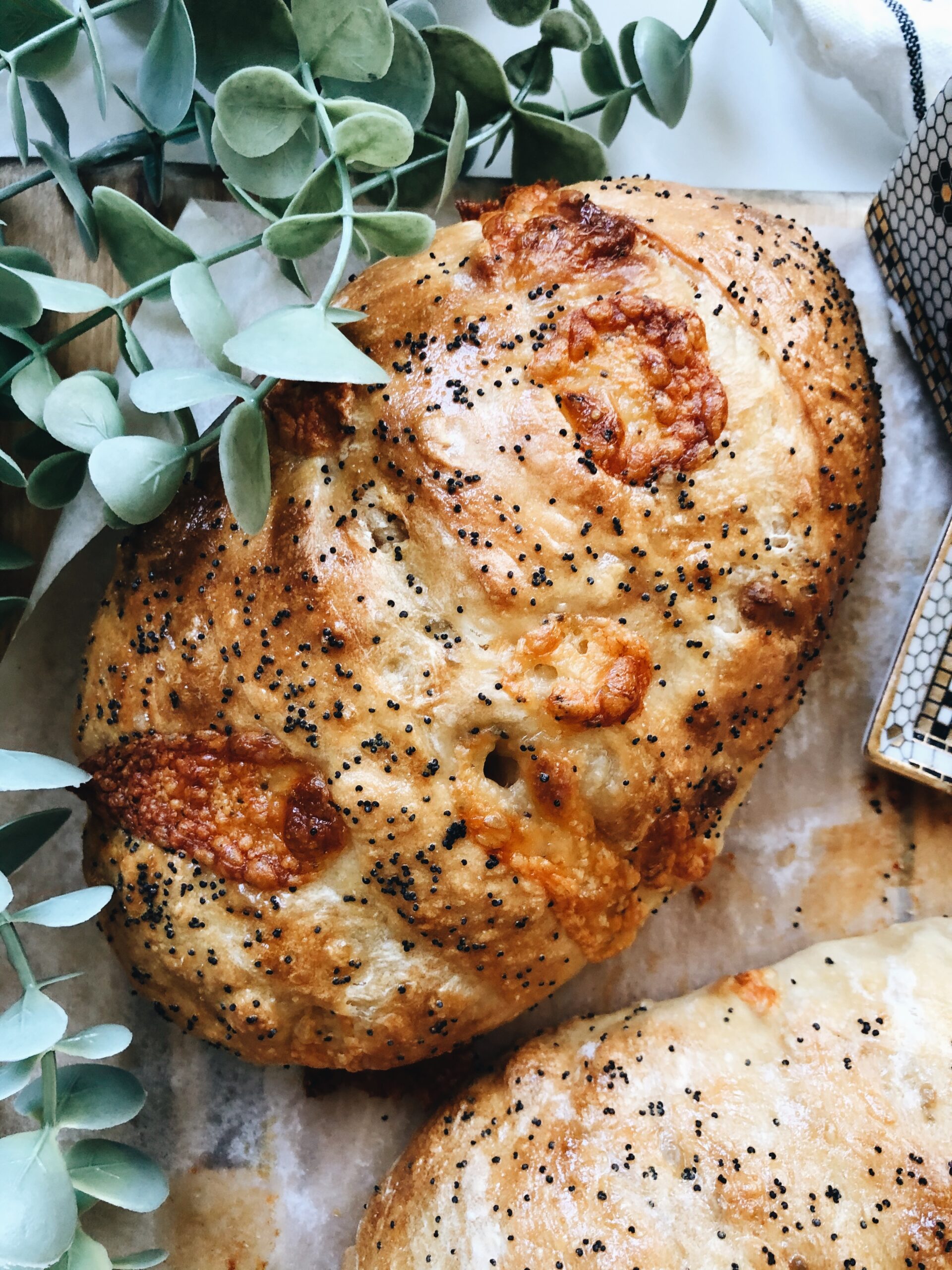 Painfully delicious. Exquisitely comforting. It's like a long-awaited savory carb mouth hug.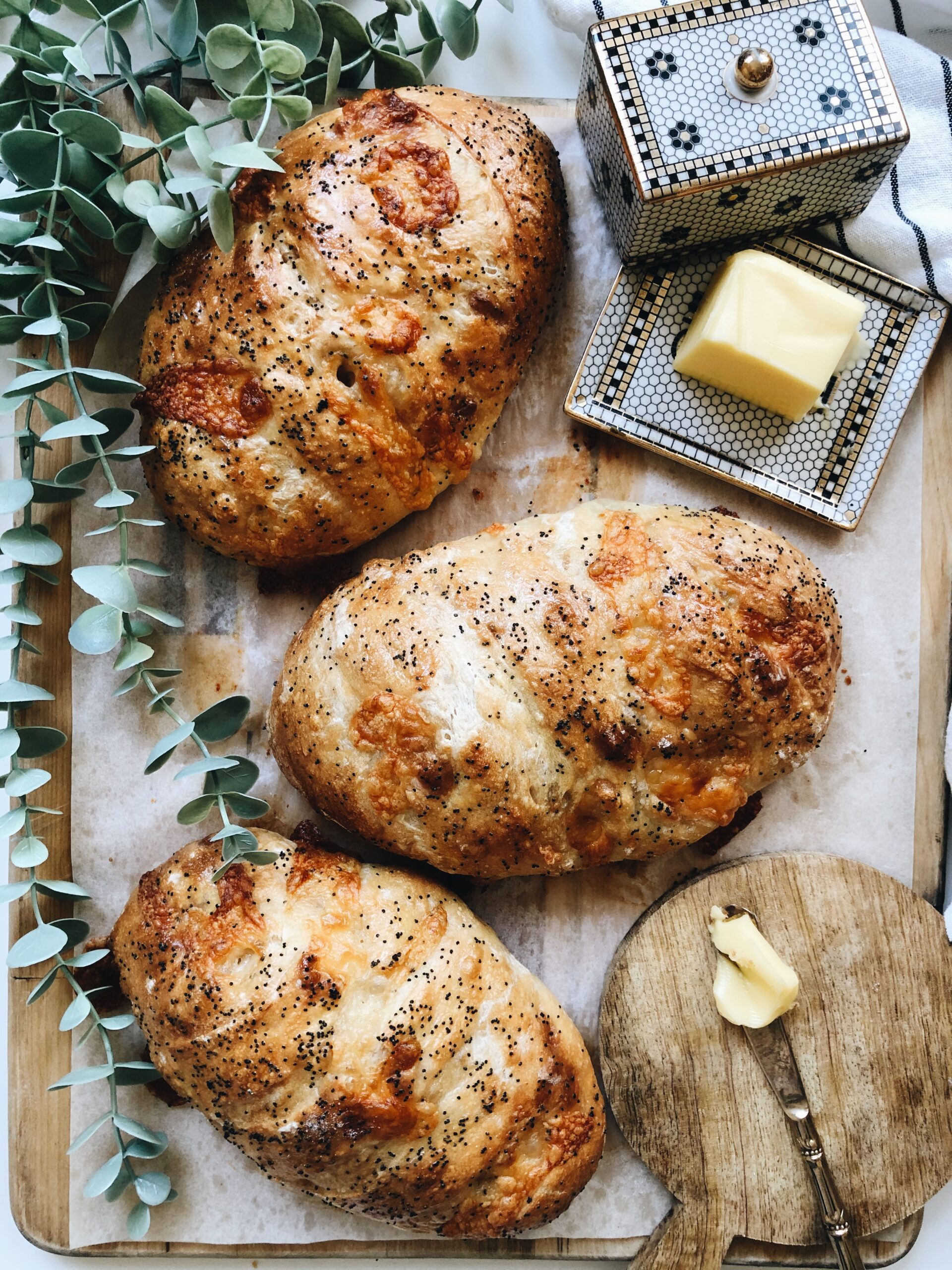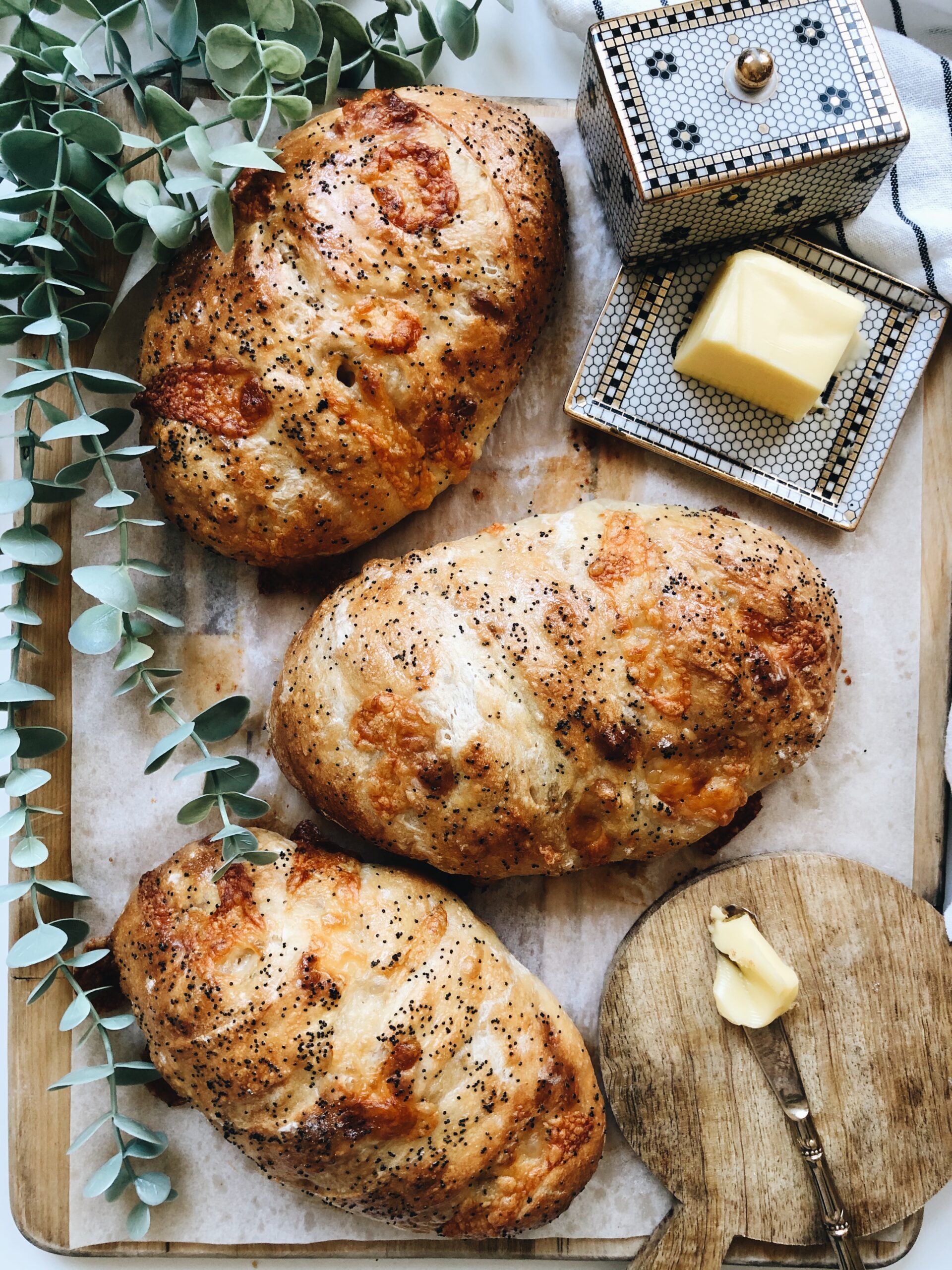 Sliced and slathered with salted butter? SO MUCH YES.
Toasted individual slices for loaded turkey and avocado sandwiches? Totally did and will again.
Ripped apart with your fingers and dunked into warm brothy or creamy soups? Herculean duh.
Toasted and open-faced with creamy scrambled eggs, lox and chives? Wouldn't kick it out of my mouth.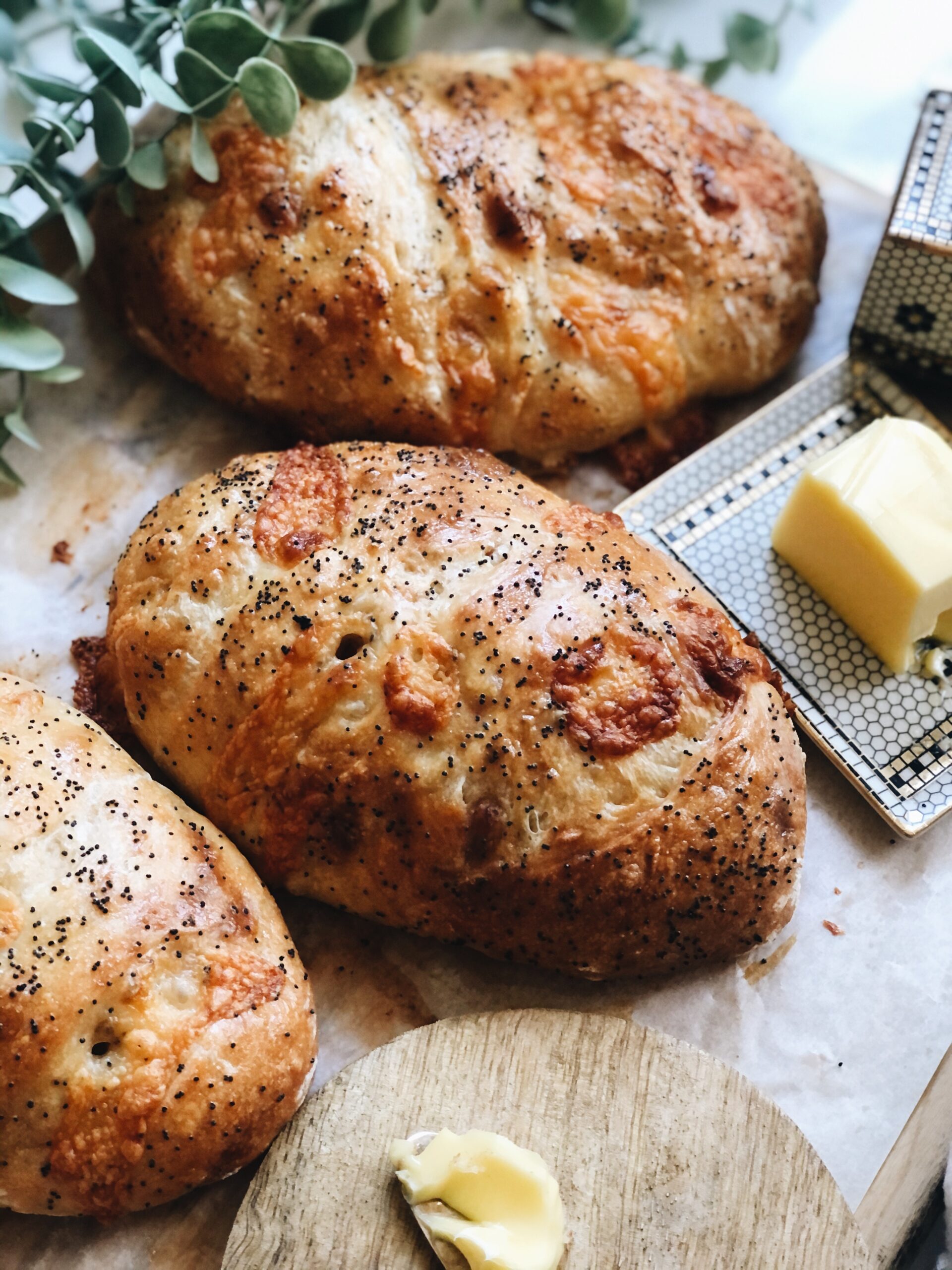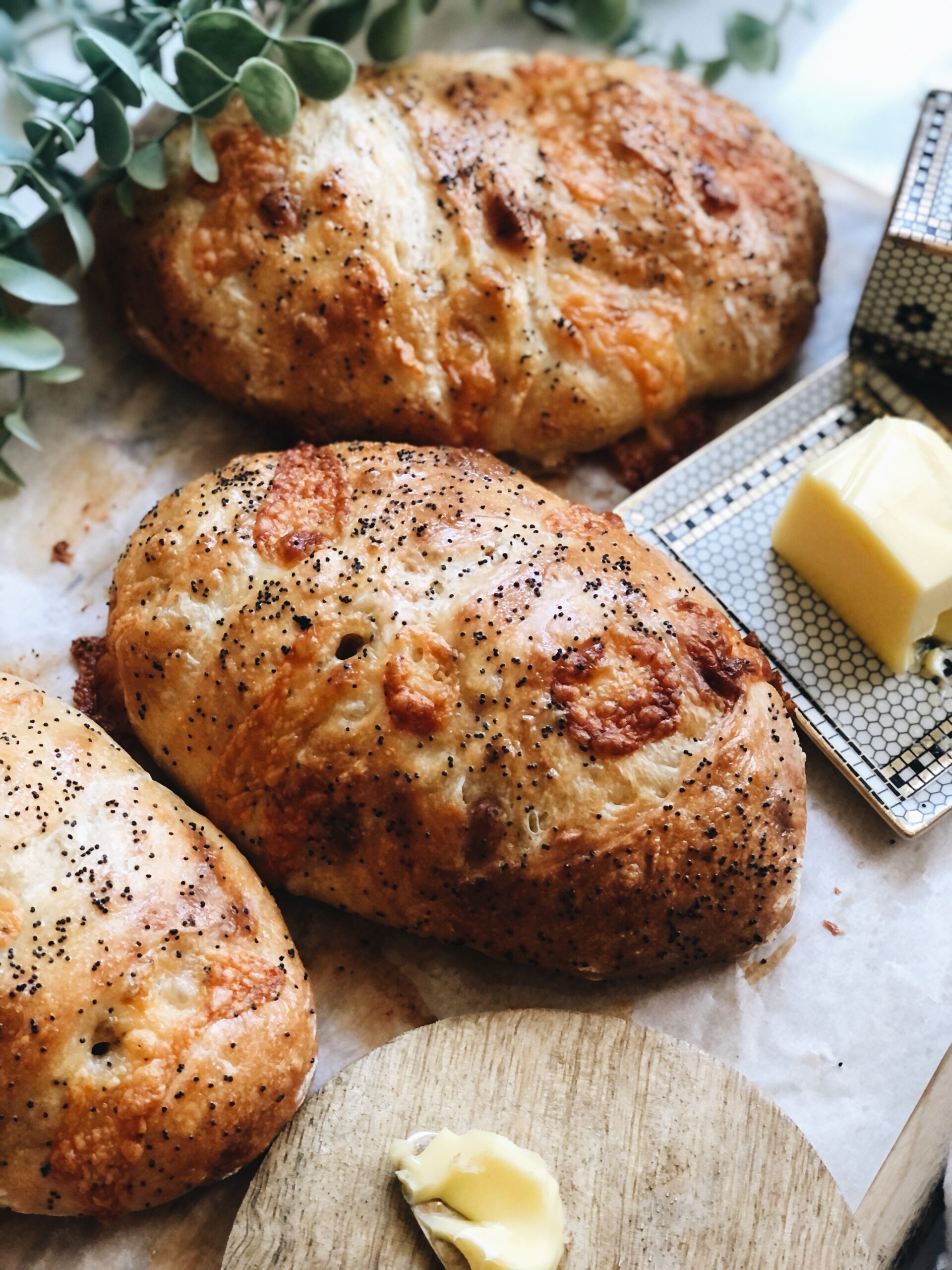 The only real thing that matters here is how quickly you whip this dough together this afternoon. This morning. Right now.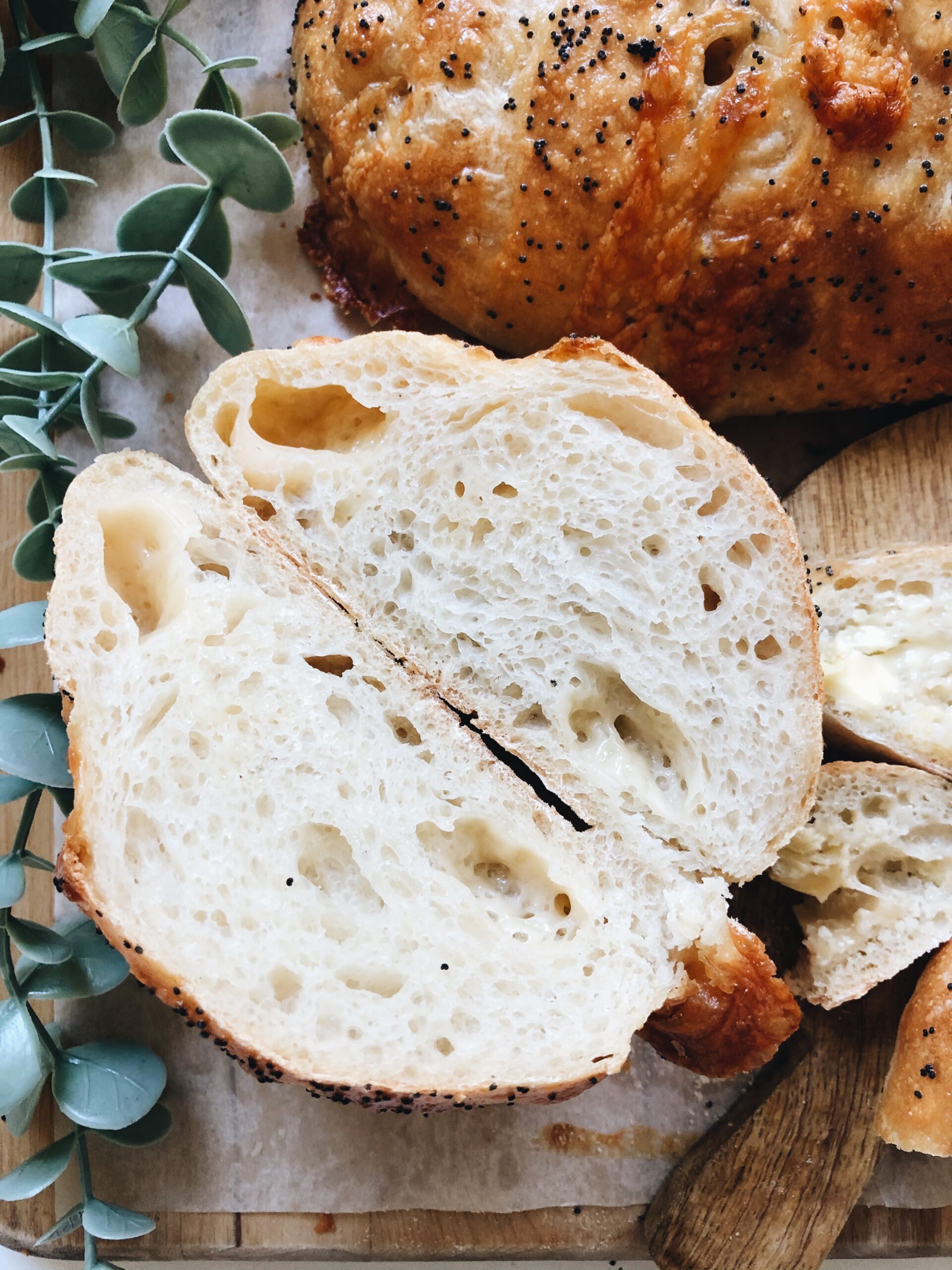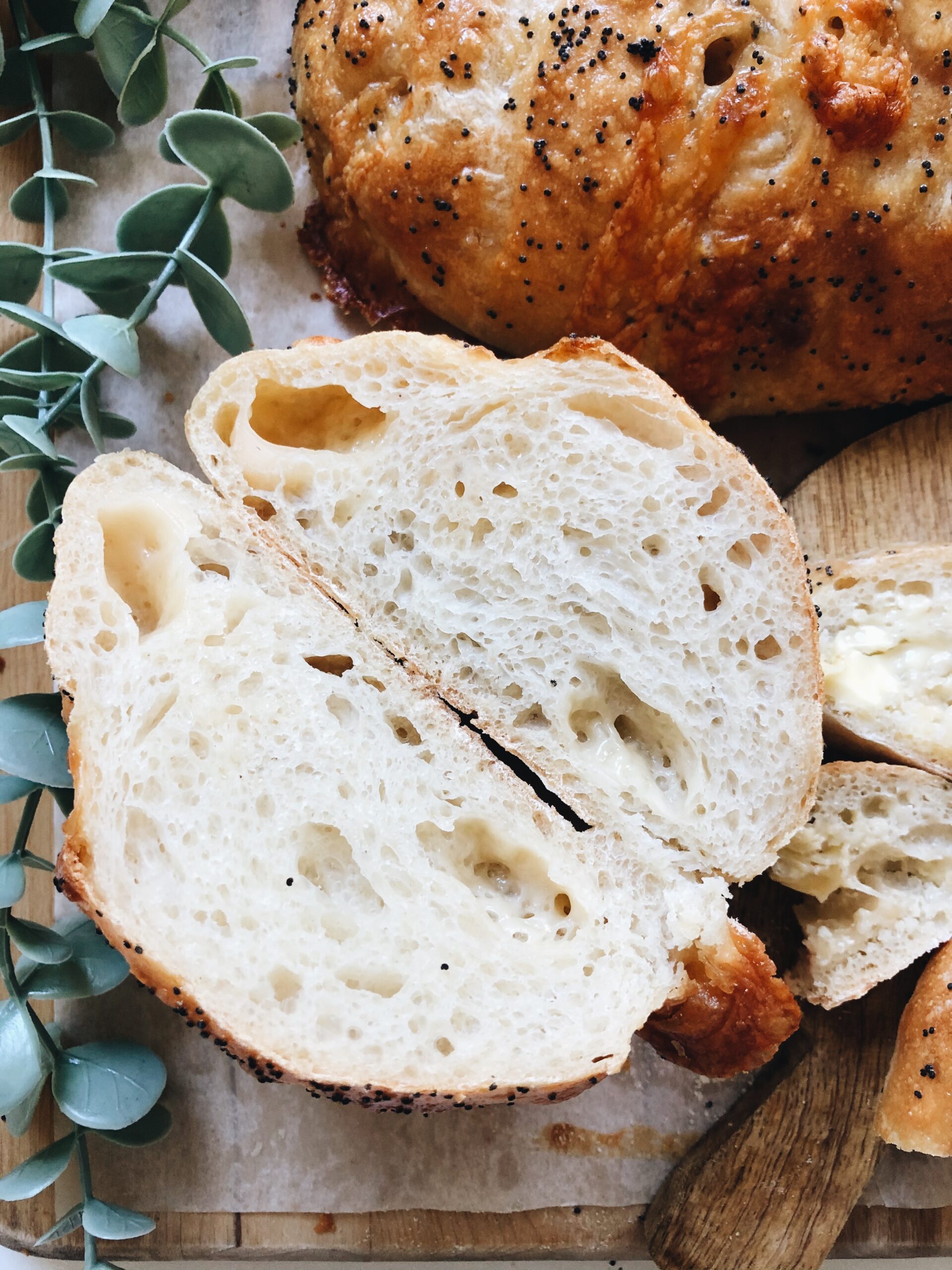 I mentioned the oozing parmesan pockets, right?
No-Knead Parmesan and Poppy Seed Crusty Bread
Ingredients
3 cups all-purpose flour
1/4 tsp dry active yeast
1 1/4 tsp coarse salt
3/4 cup small parmesan cheese cubes (a whole cup is fine, you devil!)
1 egg, lightly beaten
1 Tbs. milk
2 tsp poppy seeds
Instructions
In a large mixing bowl, whisk together the flour, yeast and salt. Add the cheese cubes and toss to combine. Add 1 & 2/3 cup warm water to the bowl. Use a wooden spoon to mix together, creating a craggy, sticky dough. Cover tightly with plastic wrap and drape a kitchen towel over it. Let this rise overnight, anywhere from 12-18 hours.
Next day:
Lightly flour a clean work surface, along with your hands. Pull the risen, bubbly dough out of the bowl and plop it on the work surface. Using your hands, gently pull the dough a couple of times, to wake it up. Then turn it over on itself a couple of times, forming a round dough ball. Throw a kitchen towel over this and let it rise 20-30 minutes.
After this first rise, take a pastry cutter and divide the dough into three equal parts. I went with an oval shape for my dough, but if you want to keep them round, that works. Cover these with your towel again and let them rise for two hours.
At the 1:45 minute mark, preheat your oven to 400.
Gently move the risen dough to a rimmed baking sheet. (I threw some parchment paper on mine for easy cleanup.) Take a sharp knife and create diagonal slits across the top of each loaf.
In a small bowl, whisk together the beaten egg with the milk and stir. Lightly brush the tops of the bread dough with the milky egg wash, and sprinkle with poppy seeds.
Bake the bread for 30-40 minutes, or until golden brown on the tops, and the cheese is crusted in places and oozing out. These are the good things in life.
Let the bread rest for about 10 minutes, then slice and spread with salted butter!
Enjoy your life because this makes THREE LOAVES.
7.8.1.2
484
https://bevcooks.com/2021/02/no-knead-parmesan-and-poppy-seed-crusty-bread/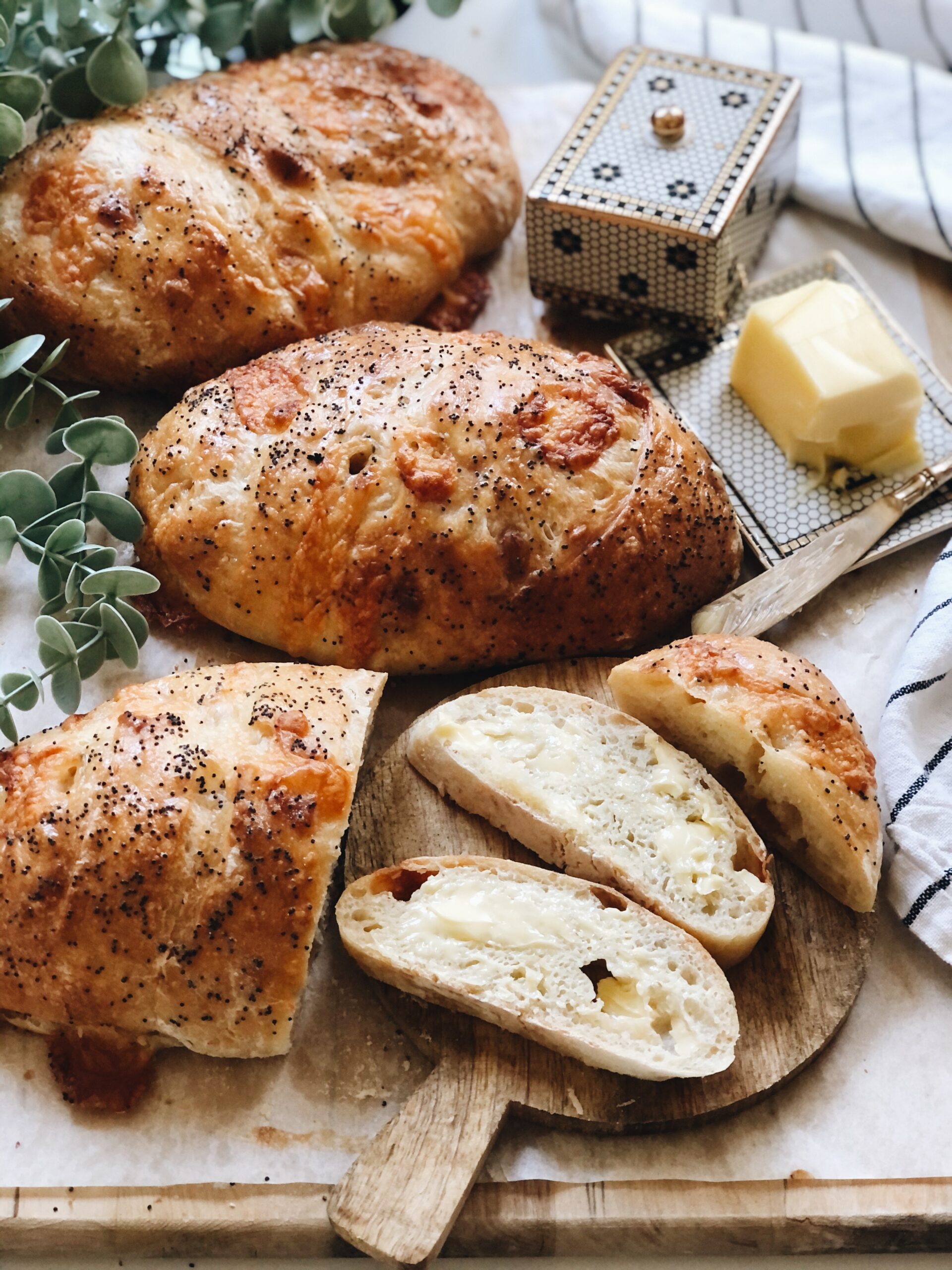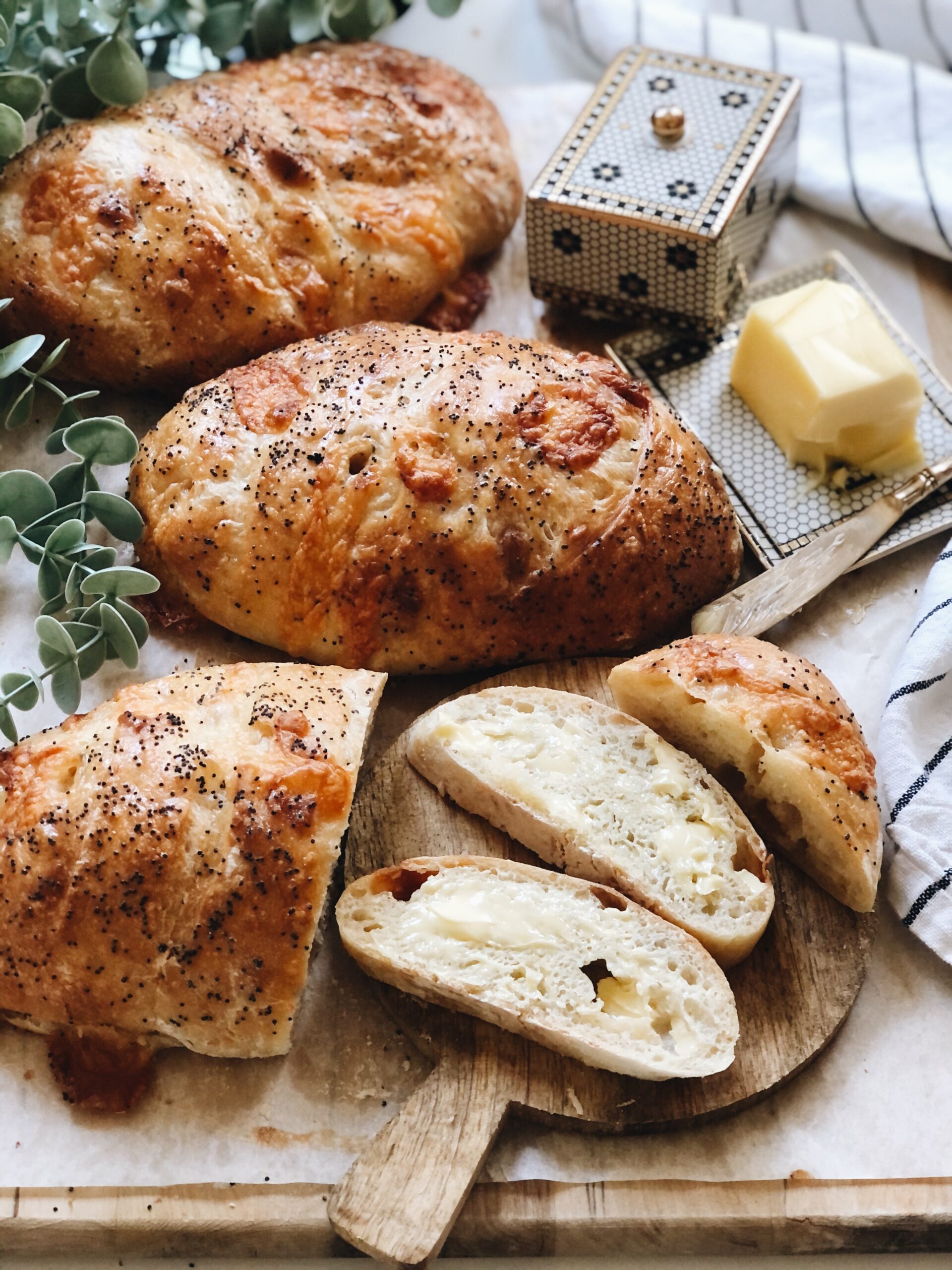 Bread + butter = life. This is non-negotiable.