Look at me, coming at you with something completely different today! We'll be fine.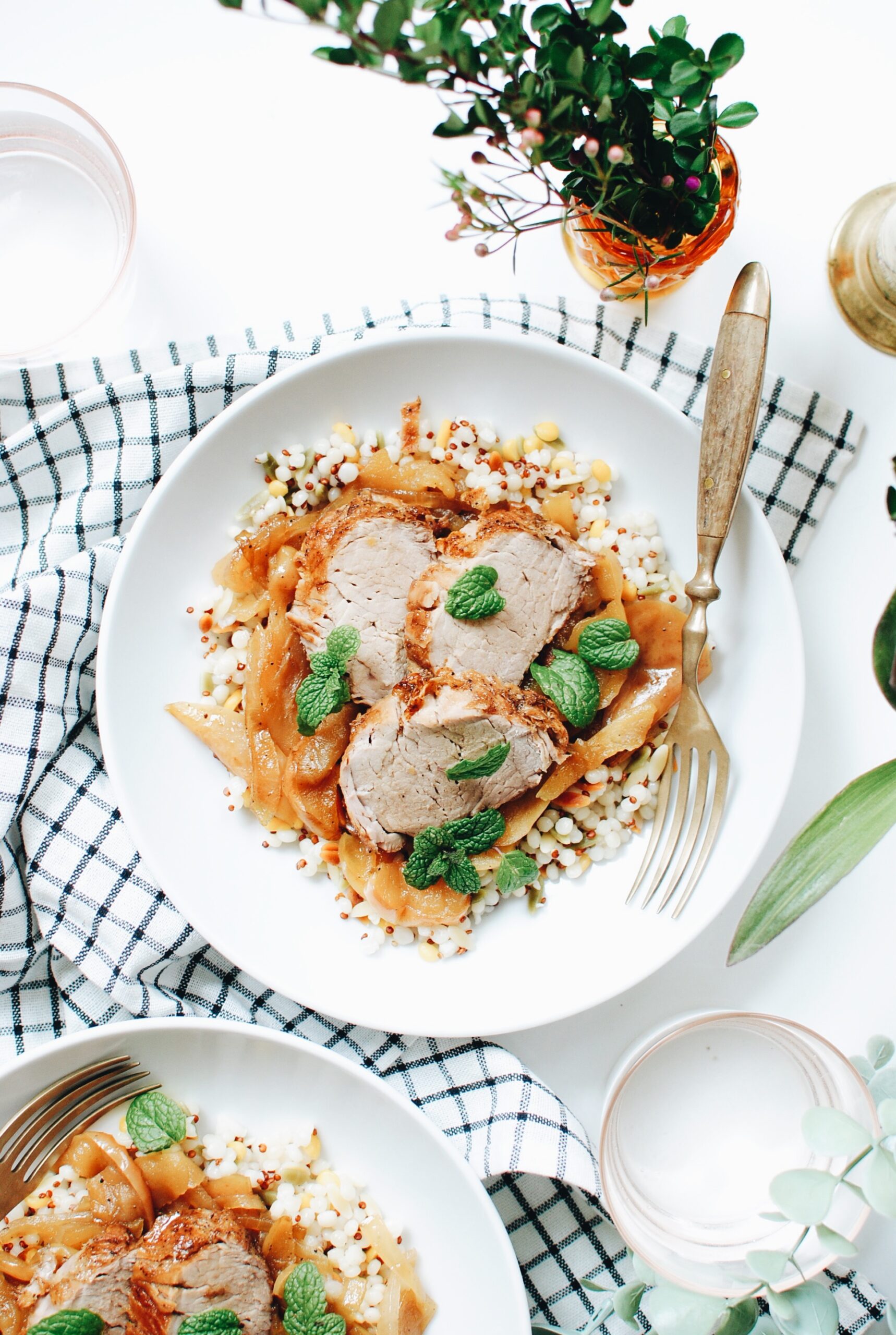 Sometimes I forget about pork tenderloin. Don't tell it I said that. It's just one of those proteins that lives in the back corner drawer of my cerebrum with quinoa and liquid smoke. (does one ever use liquid smoke? I'm still fuzzy on what it actually is.)
I have this little journal that when recipe or ingredient inspo strikes, I write it down. And back in January my soul sprang into my right hand and violently scribbled pork + maple syrup + apples + mint.
You're bored.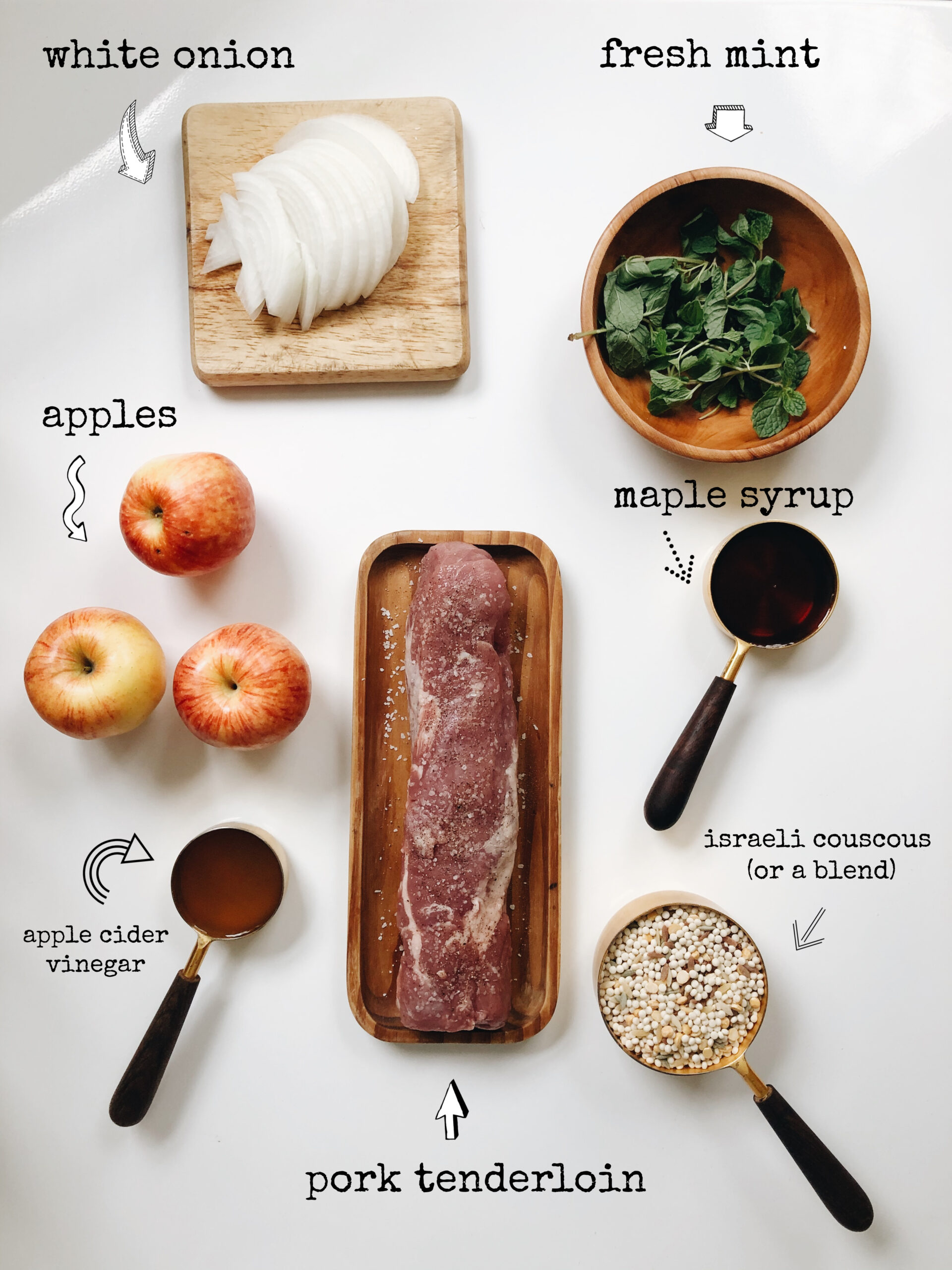 Look, I'm fully with you. No one should ever post a photo of a raw pork tenderloin. Ever ever. Yet here we are.
Just look at the pretty apples if you feel the acid rising in your stomach.
I'm not selling you on this very well, am I?
It's a simple recipe, really! We'll sear. We'll braise. We'll slice. We'll drape. We'll inhale.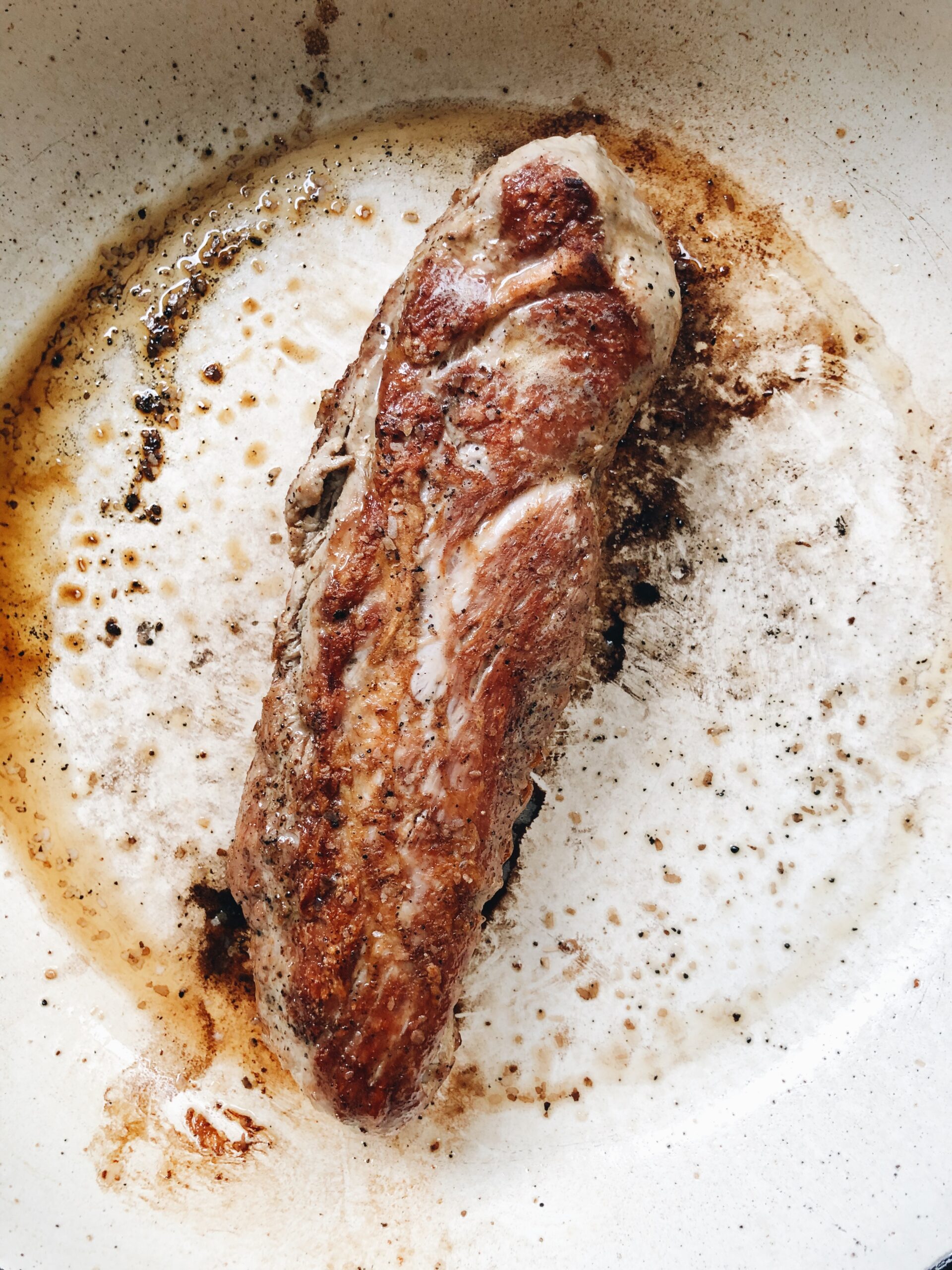 Sear that loin (sorry) all over. Like three minutes per "side." If a tenderloin has a side. They do, though, ya know? A loggy side, but it is a side. Just sear it, already.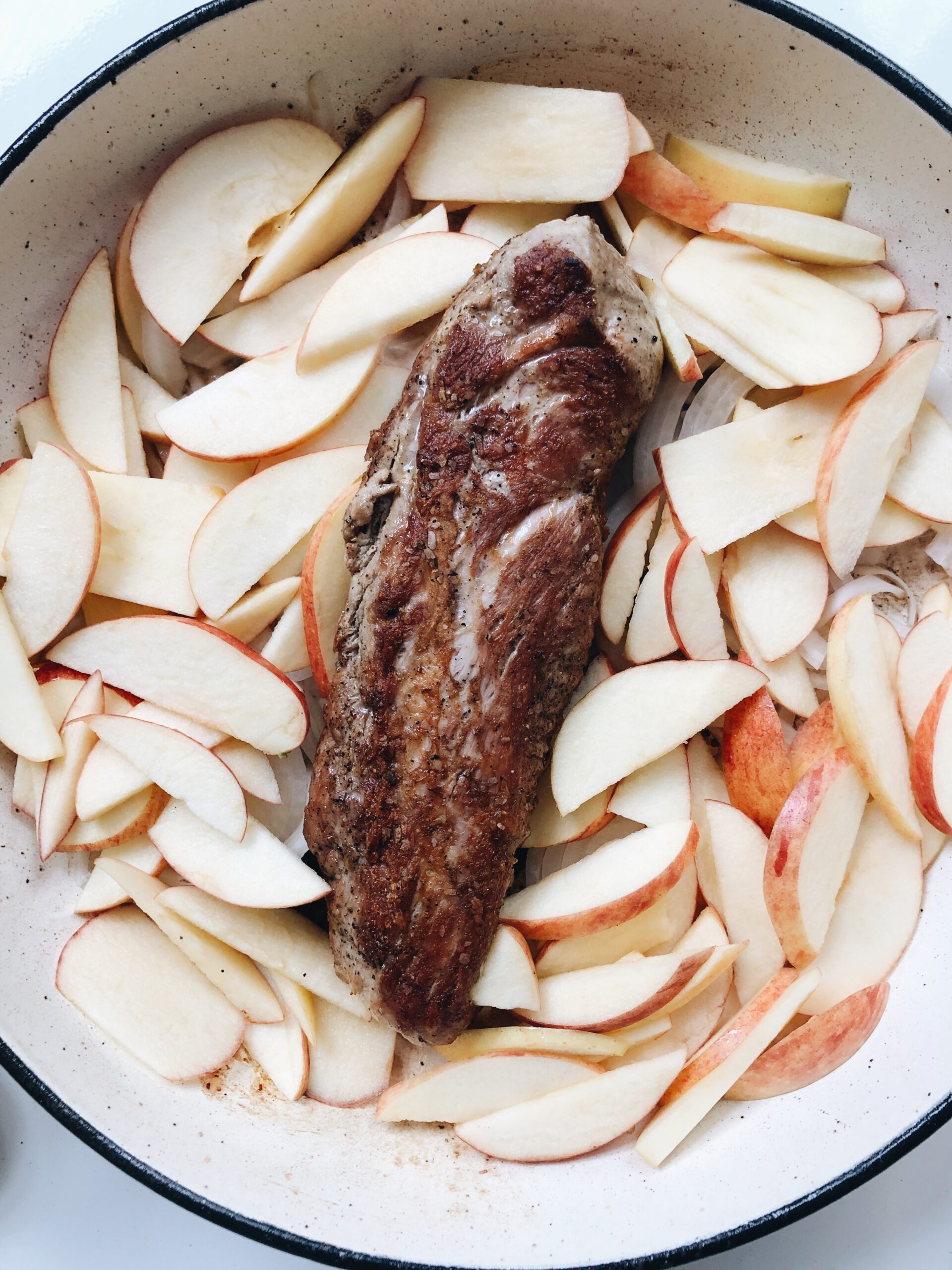 Now we're going for a sweet/savory thing. Thinly sliced onion + a couple of thinly sliced apples. Just eyeball it. Fill it up like this. Because after a cozy stint in a hot even it'll all shrink up like whoa. (<–do people still say that? I saw that the laughing emoji is cancelled and that breaks my heart because I use that ALL.THE.TIME. But the sideways laugh is in? Who even makes up these rules? I need to have a chat with their mother.)
Okay so after you add the onions and apples, toss them around to coat in in the oil just a tad. Then add the maple syrup and apple cider vinegar. Sweet + acid. This is the goal.
Into the oven it goes for about two hours. Check it at the one-hour mark.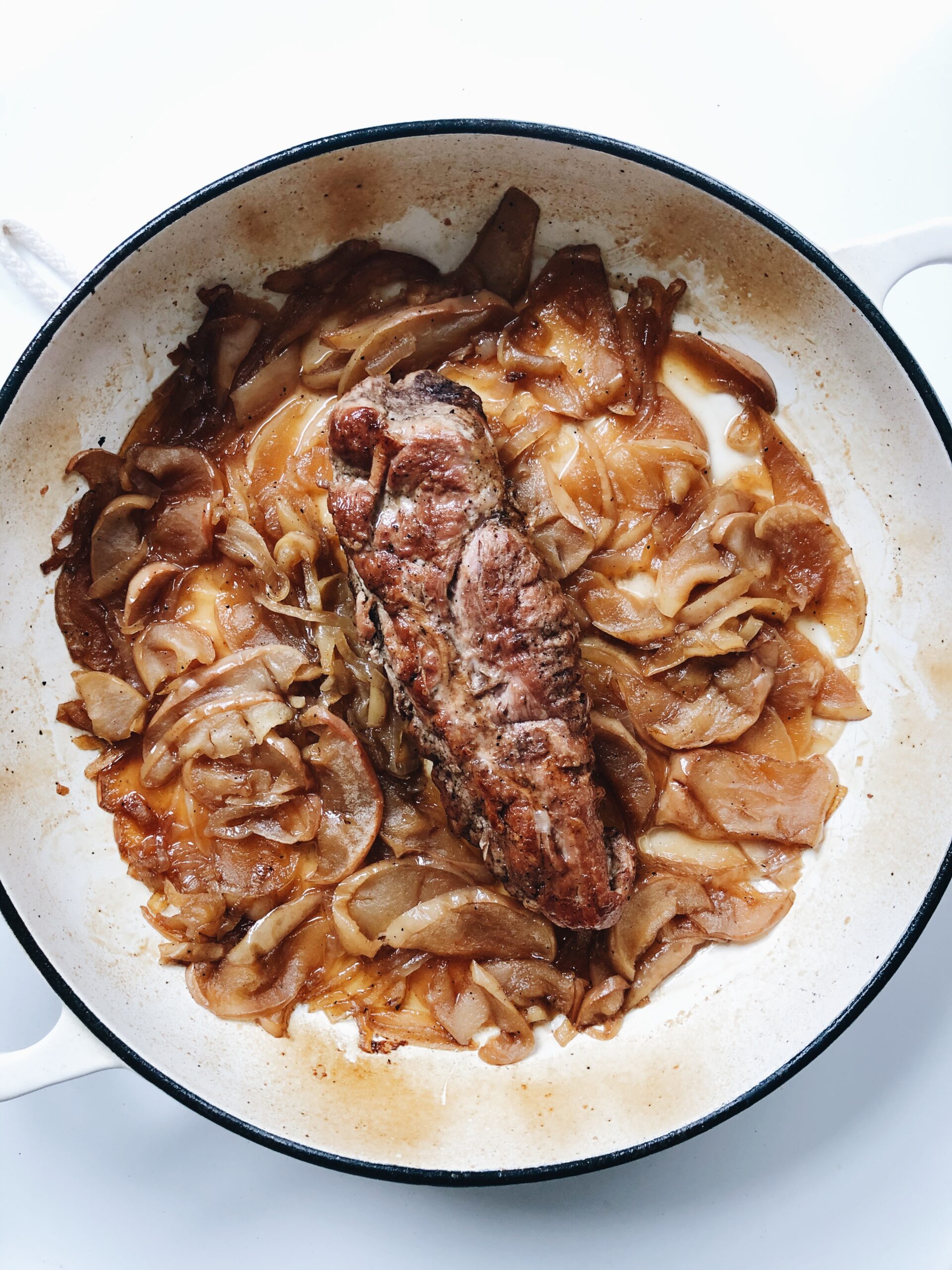 Hello, gorgeous. (said like Barbra Streisand winning her Oscar)
It's all shriveled and braised and tangy and sweet and straight up bonkers good.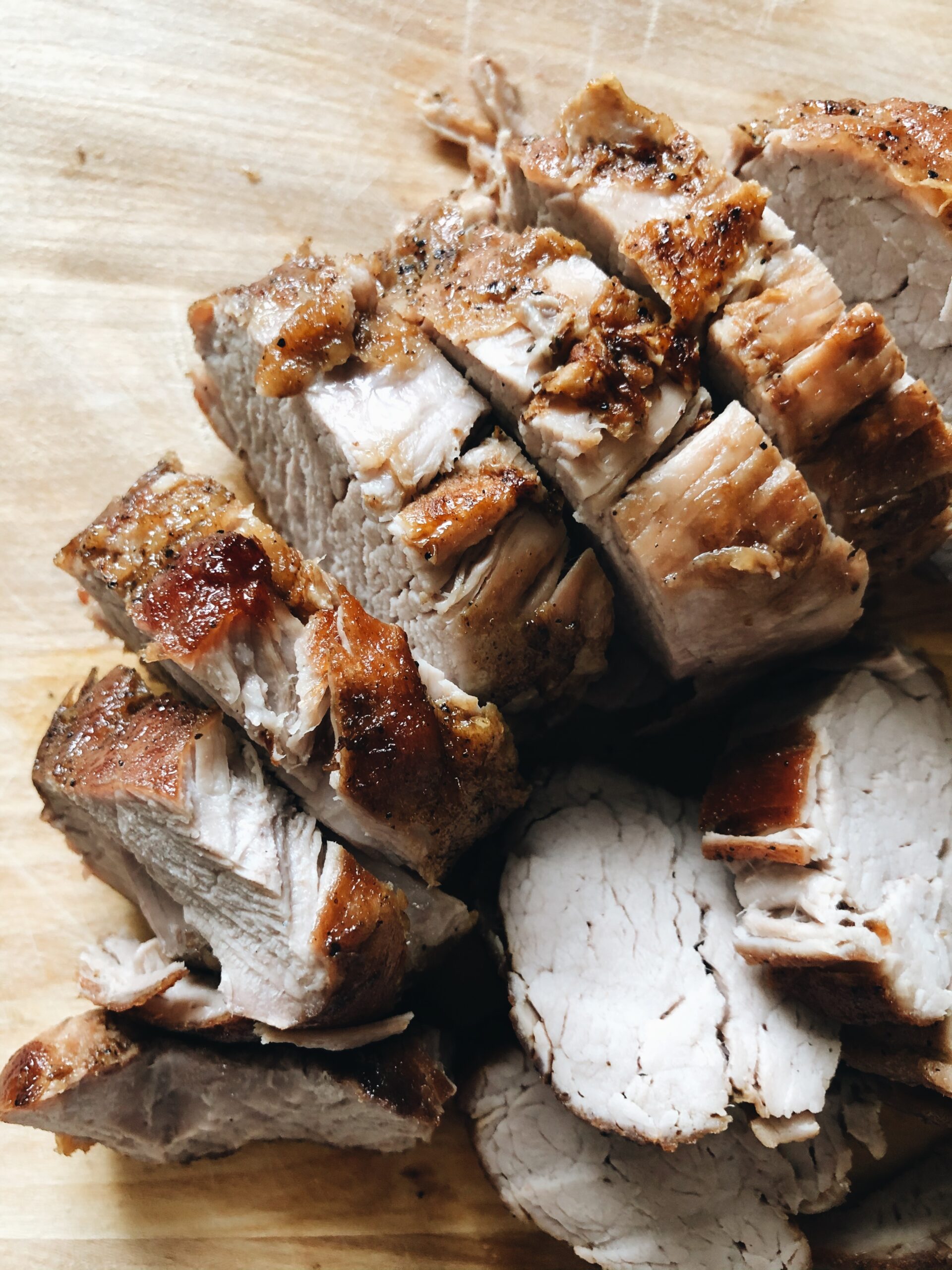 Give her a slice. We've got a little crust, see that? And the insides are tender and juicy, holy mamas.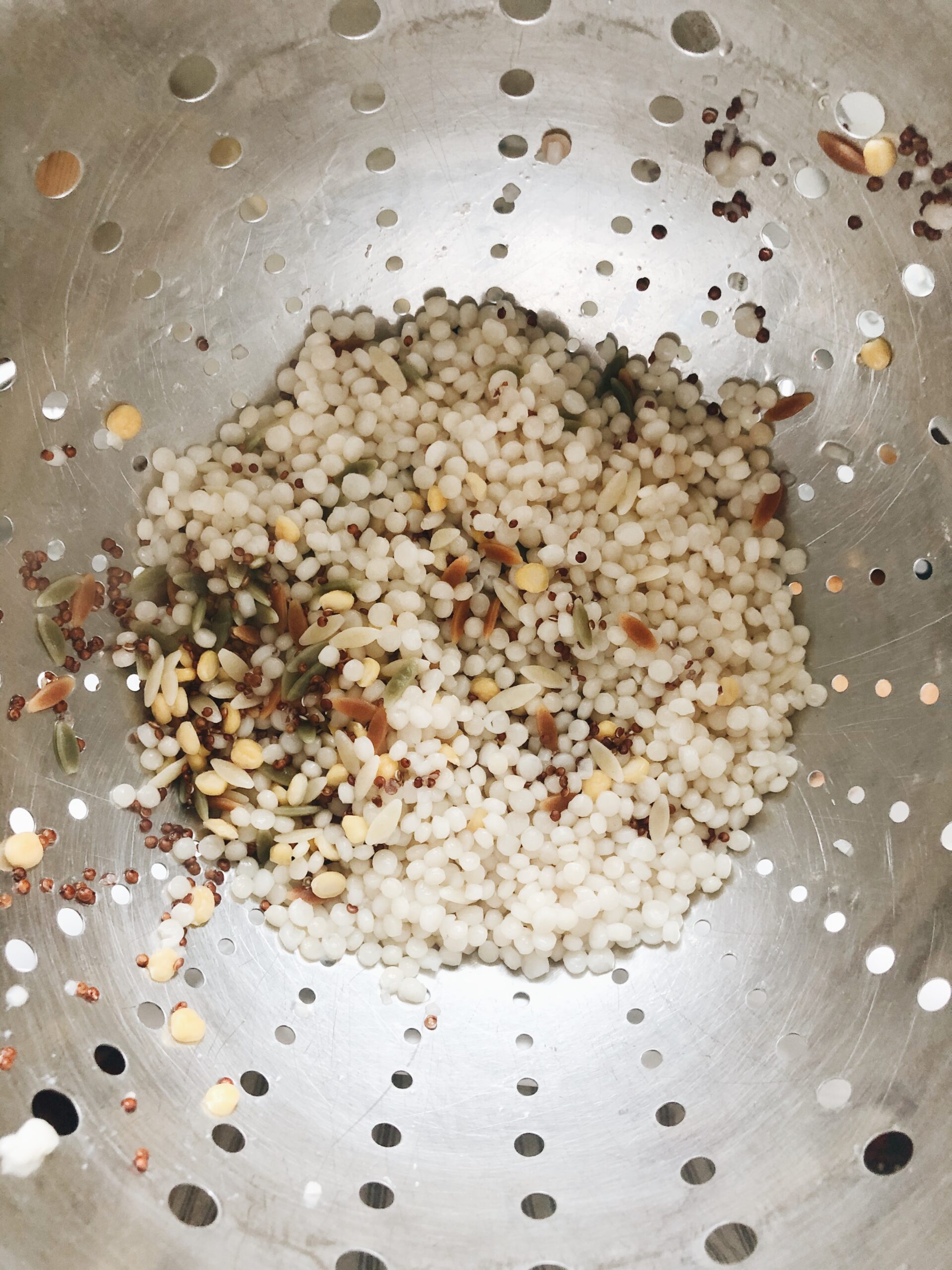 In the meantime, boil some Israeli couscous! Mine was a blend from Trader Joe's, but honestly use what you want. Orzo is even fine. Any toothy grain works wonderfully.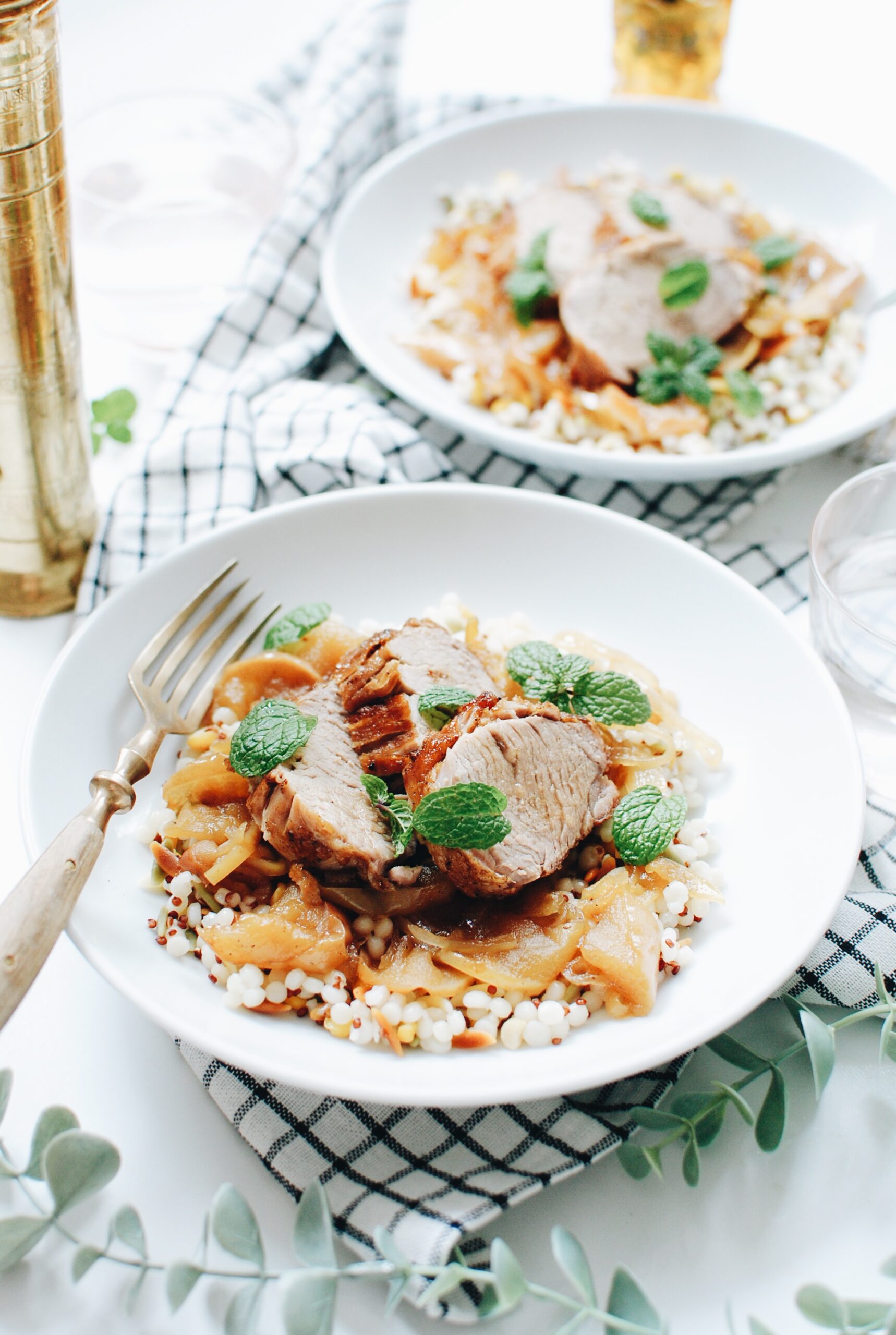 And that's what happens, girl. You'll start with the couscous, and top it with the sweet maple-braised apples and onions, and finish with seared pork. A bit of fresh mint for pop and vibrancy, and all is well.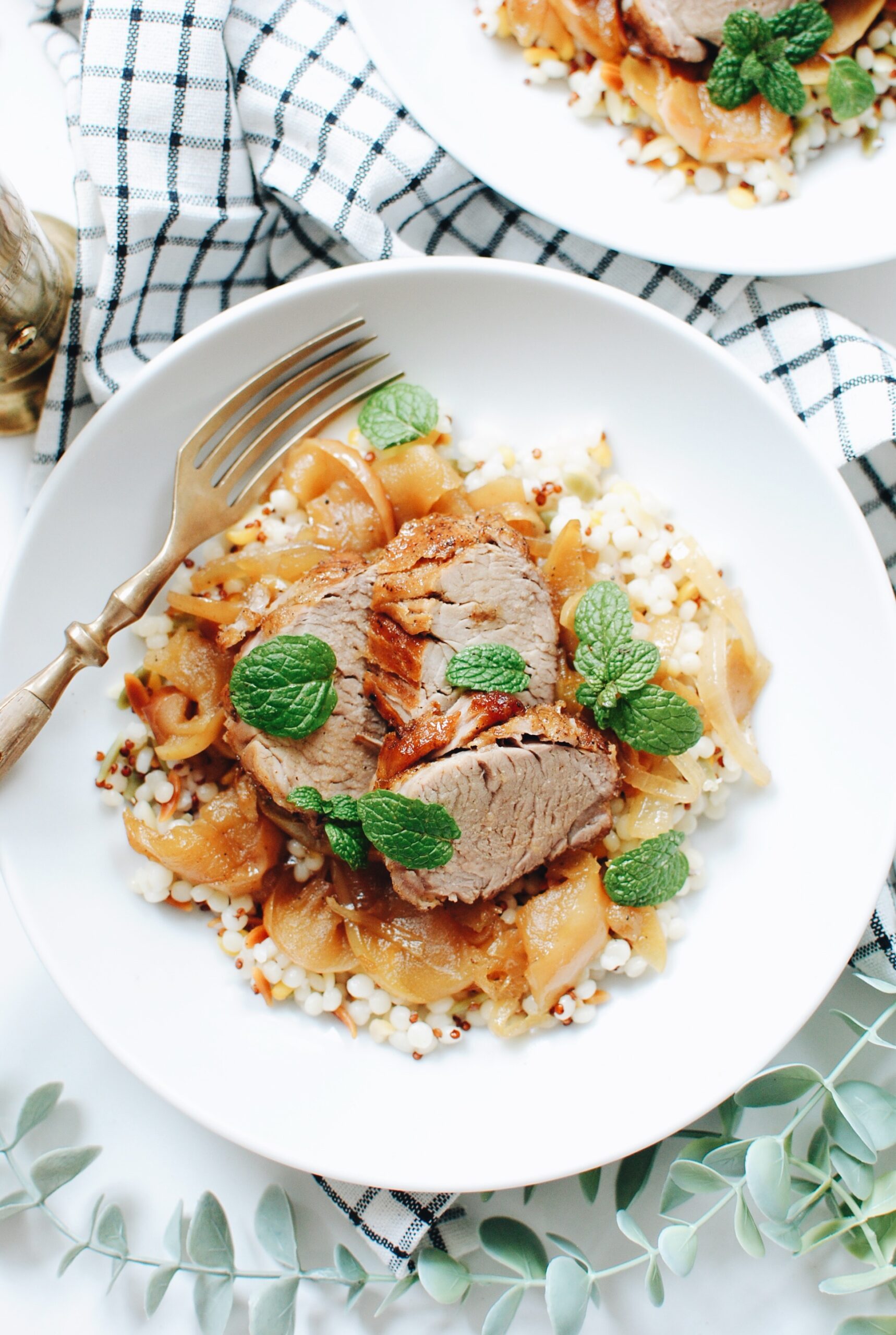 And tell you what, tilt your pan to the side and spoon those reserved juices over the pork for extra gloss and sauce.
We're starting a band called Gloss and Sauce. (Think G. Love would open for us? I kissed him once. I did. Just gonna leave that one riiiiiight there and see if anyone is actually paying attention.)
This is really, really good, you guys. Different flavors than you'd expect!
Pork tenderloin, you may officially visit the front of my brain from now on.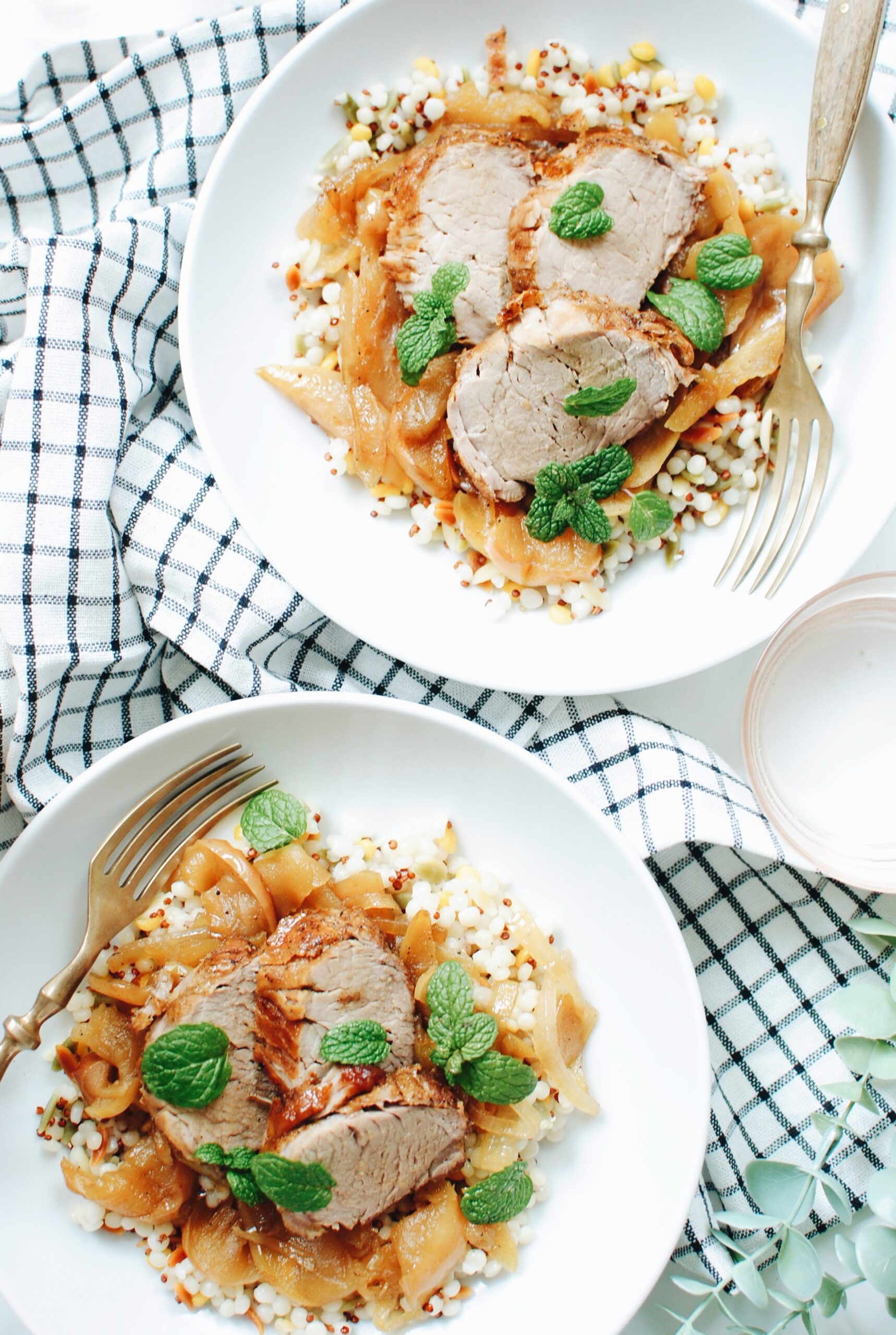 And only seven ingredients! Ha-boom.
Maple Braised Pork with Apples and Israeli Couscous
Ingredients
1 pound pork tenderloin
1/2 large white onion, thinly sliced
2-3 apples, thinly sliced
1/3 cup maple syrup
1/4 cup apple cider vinegar
1 cup Israeli couscous (or a blend)
Coarse salt
Fresh mint, to garnish
Instructions
Preheat your oven to 300.
Heat a large skillet with a Tbs. of extra-virgin olive oil to medium-high. Season the pork on both sides with salt and pepper, and sear it in the pan for three minutes per sides (four "sides" total). To the pan, add the sliced onions and apples, and stir it around with tongs for two minutes, letting the oil coat them. Season with a pinch of salt. Now add the real maple syrup and apple cider vinegar, stir to coat, and slide it into the hot oven for two hours. Check it at the one-hour mark to make sure nothing is sticking. Nothing should! You just want to check.
Bring the skillet out of the oven and remove the pork with tongs. Slice the pork into medallions.
In the meantime, cook the Israeli couscous in a pot of lightly salted water until cooked through and toothy, about 15 minutes.
Serve the sliced pork over the couscous with the maple apples and onions. Garnish with mint and serve immediately!
Serves four.
7.8.1.2
482
https://bevcooks.com/2021/02/maple-braised-pork-with-apples-and-israeli-couscous/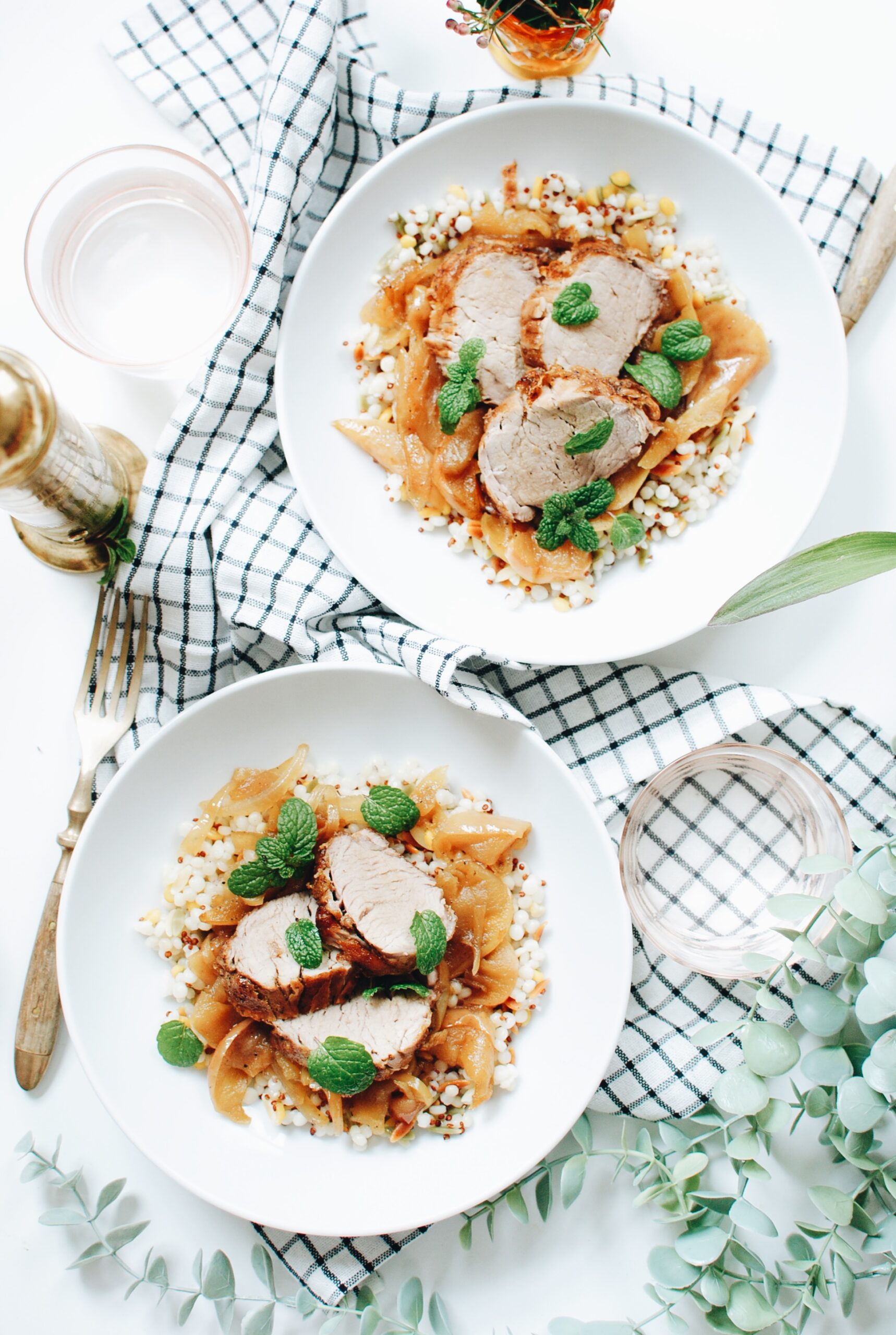 You want the G. Love juice, don't you?