Another summer recipe! Because . . . well, July.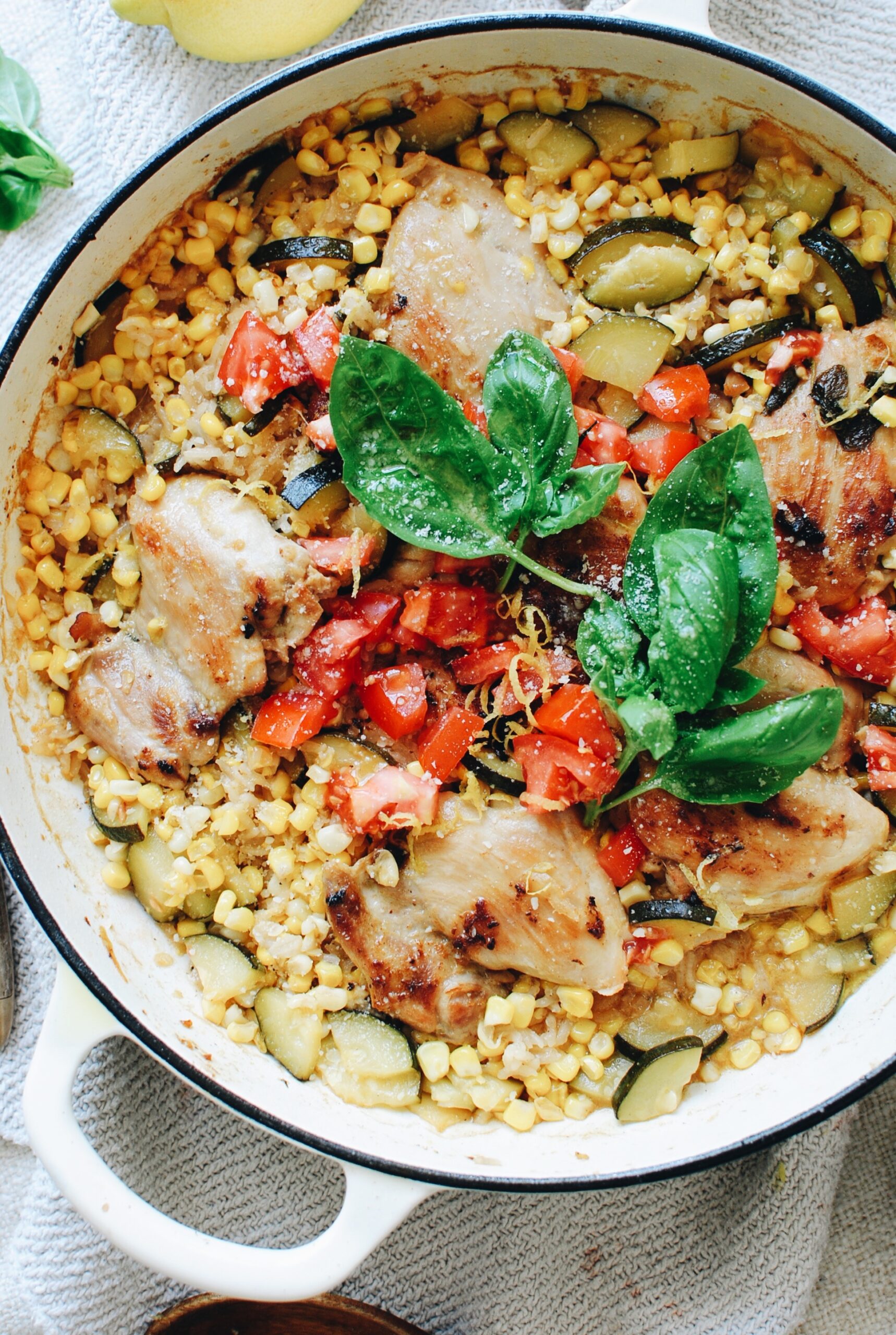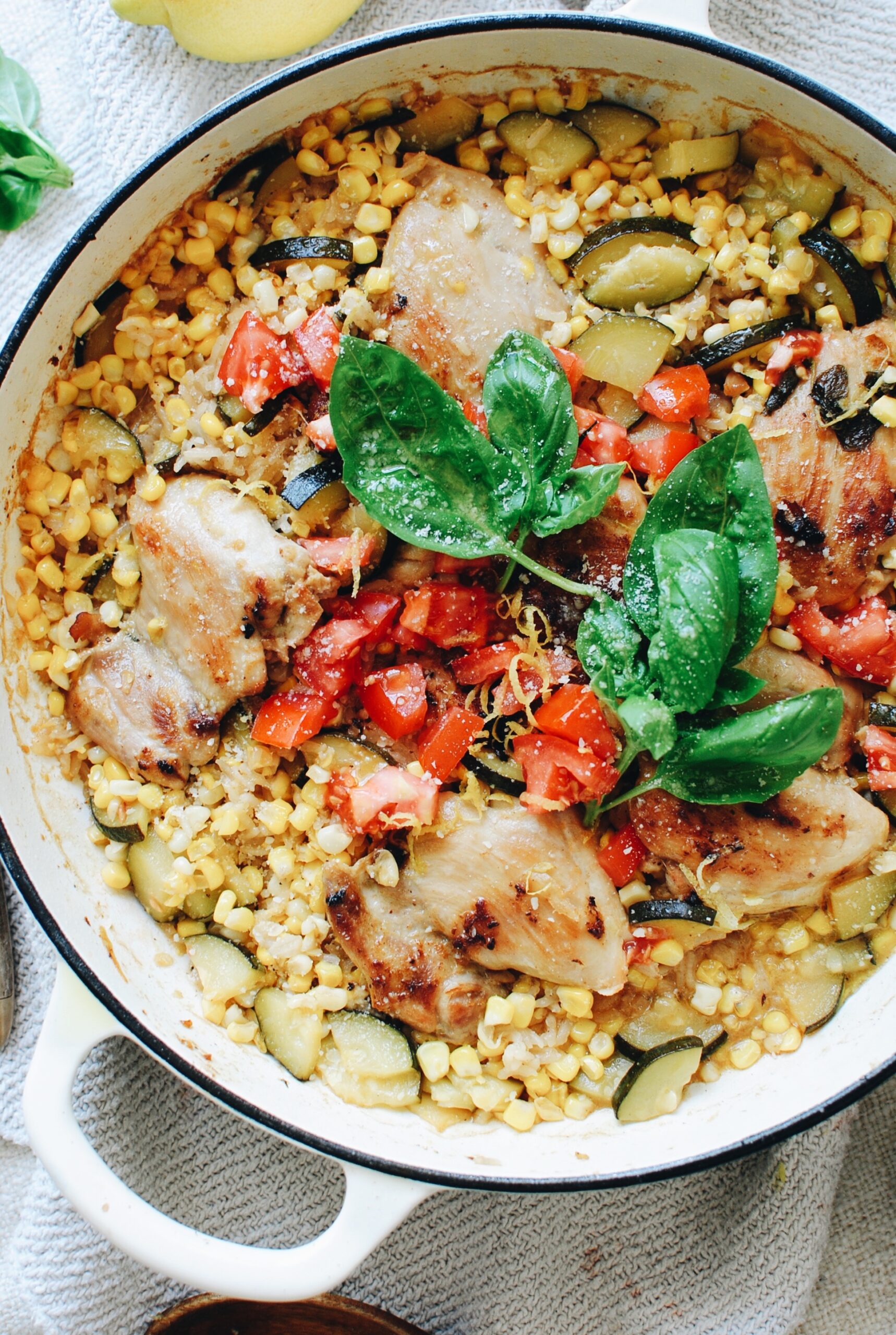 It's a two parter (you know how I like a good two parter), but still has that lazy, thrown-together feel of summer. Because a) we'll marinate chicken thighs (thighs are life and this is part one), and then b) we'll sear it in a skillet with RICE (I felt your ears perk up), corn, zucchini and fresh tomatoes and basil at the end. How summer is that?! It's so summer. This is mandatory eating. Let's look.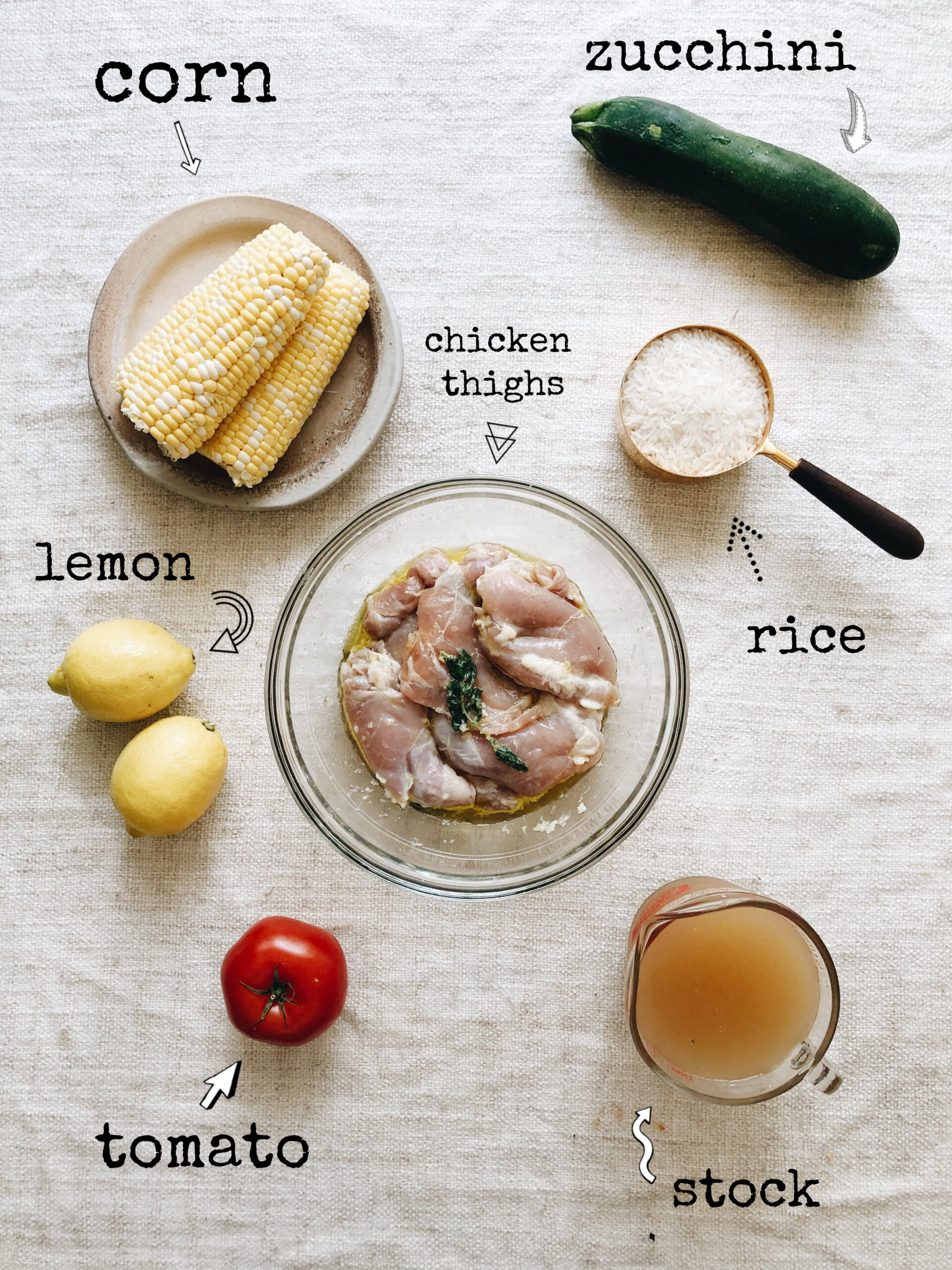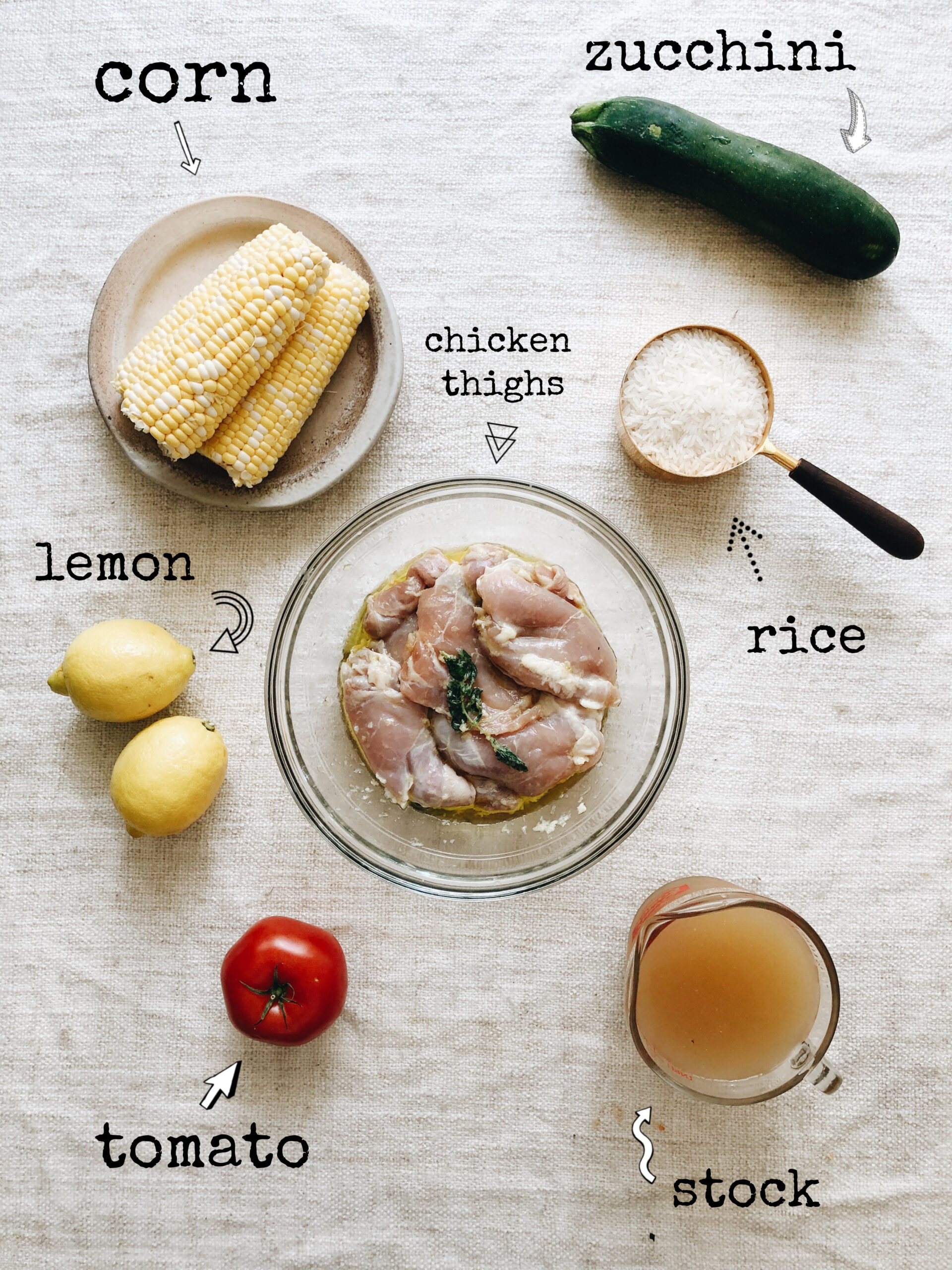 The marinade is so simple – it's my go-to. We're looking at extra-virgin olive oil, fresh lemon juice, zest, grated garlic, oregano and salt. If you don't have much time, you can honestly just mix this together in a bowl and let it sit on the counter for an hour while you pour a glass of white and catch up on the headlines if you're into self torture.
Or you can marinate early in the morning and let it sit in the fridge all day, then bring it to room temp about an hour before dinner. We good? Sweet.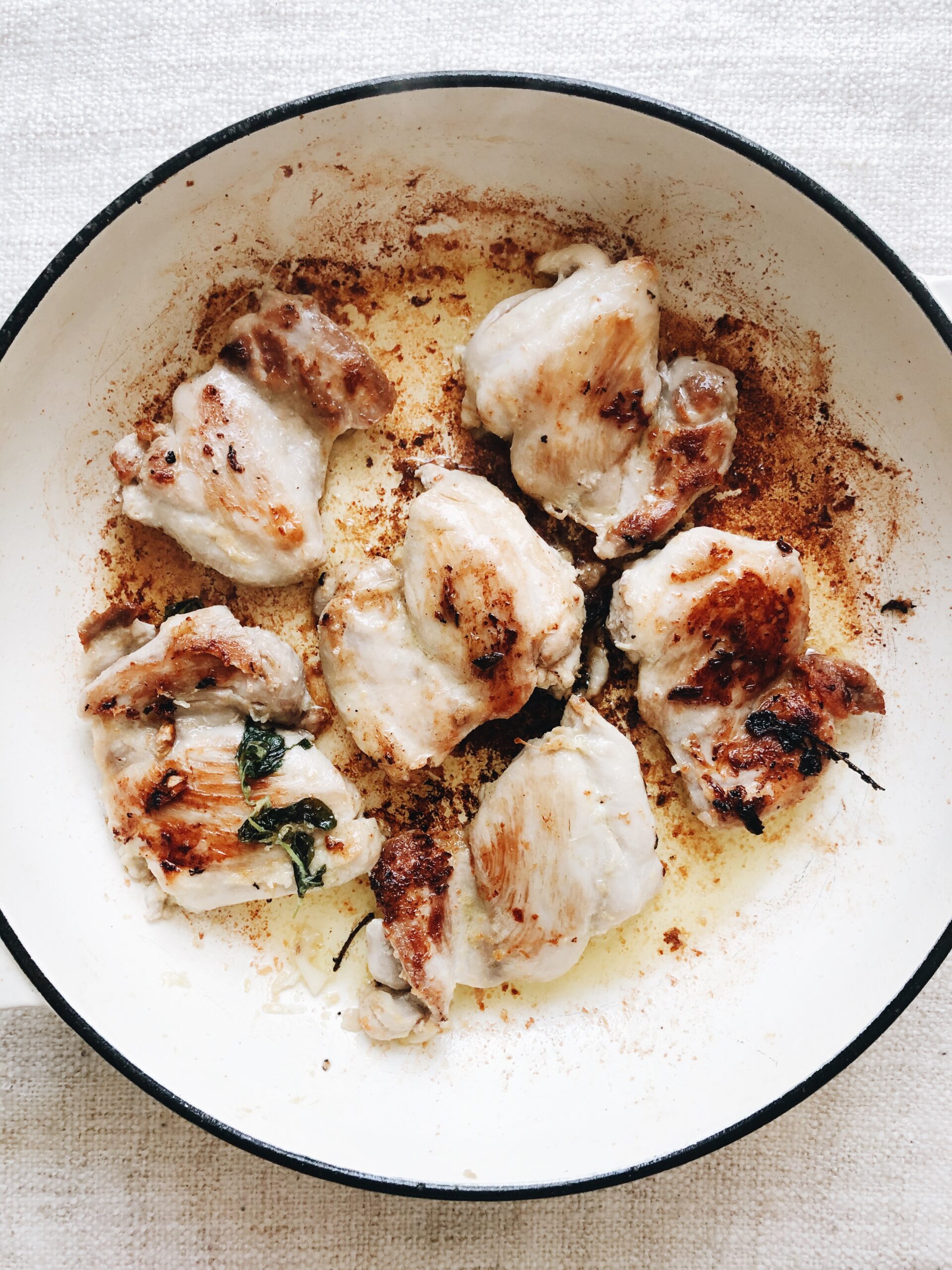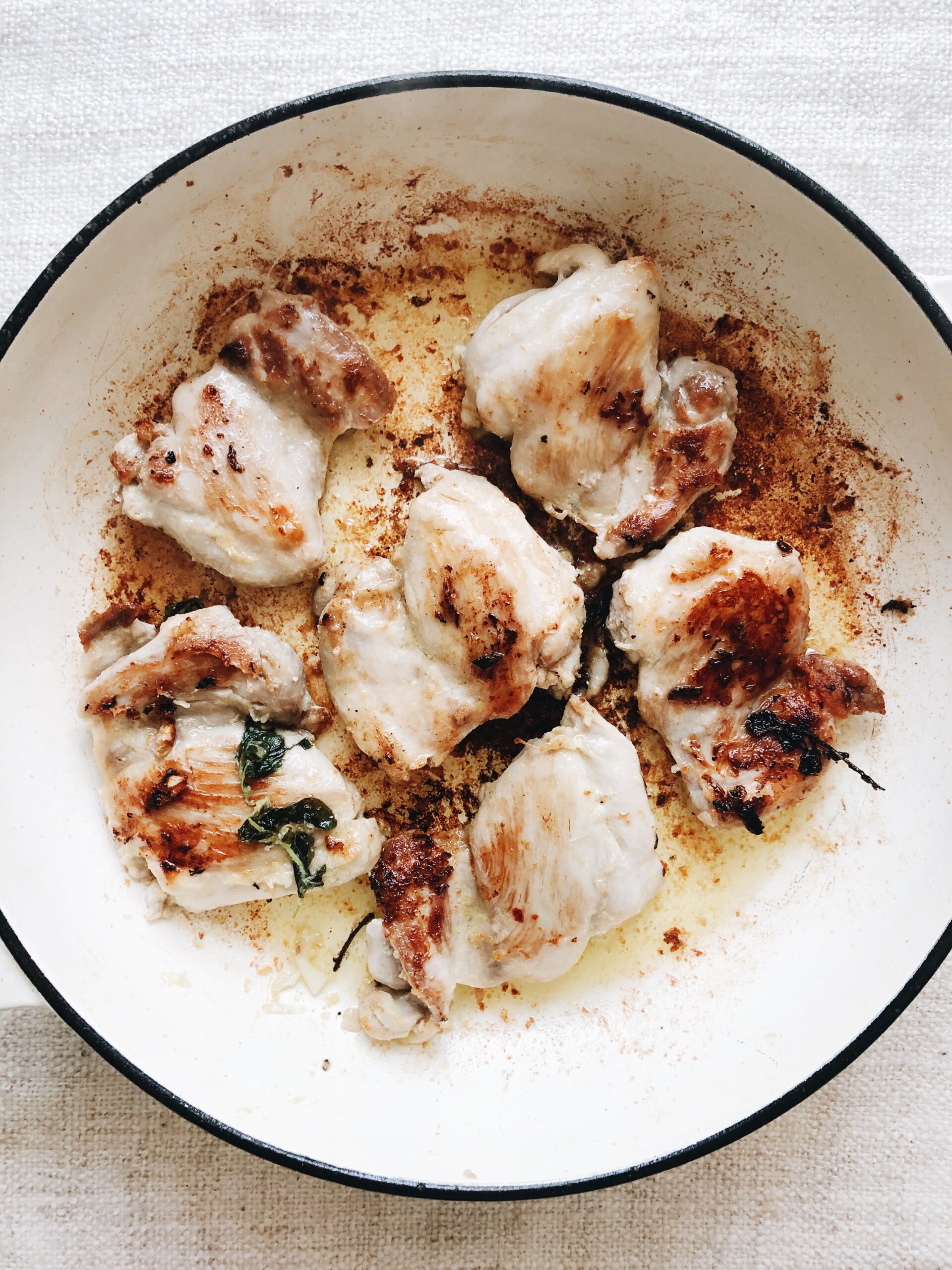 Get your chicken good and seared all over, about six minutes per side, and then another two more minutes per side if you need it, in order to get it cooked all the way through. You'll feel it in your soul.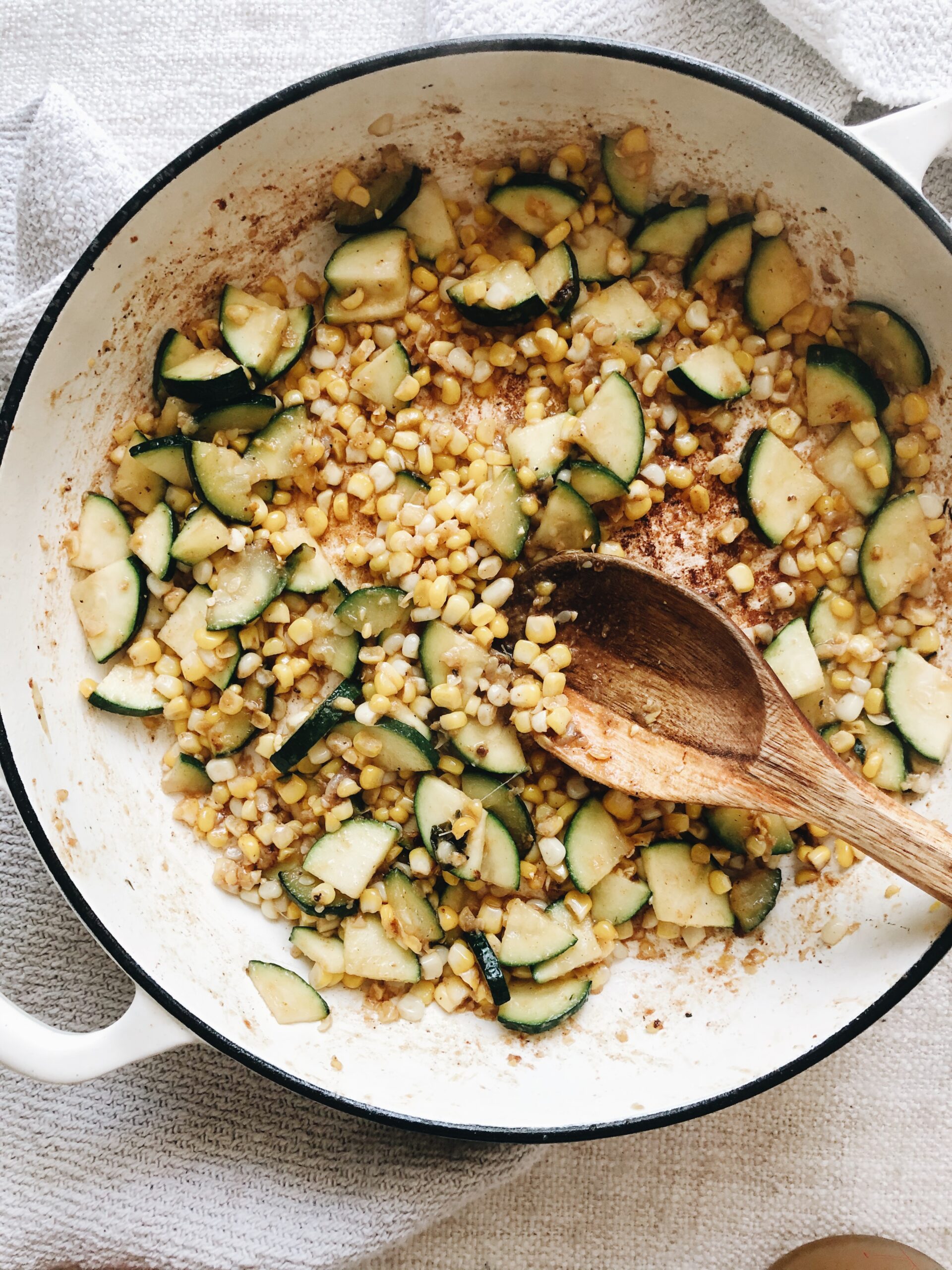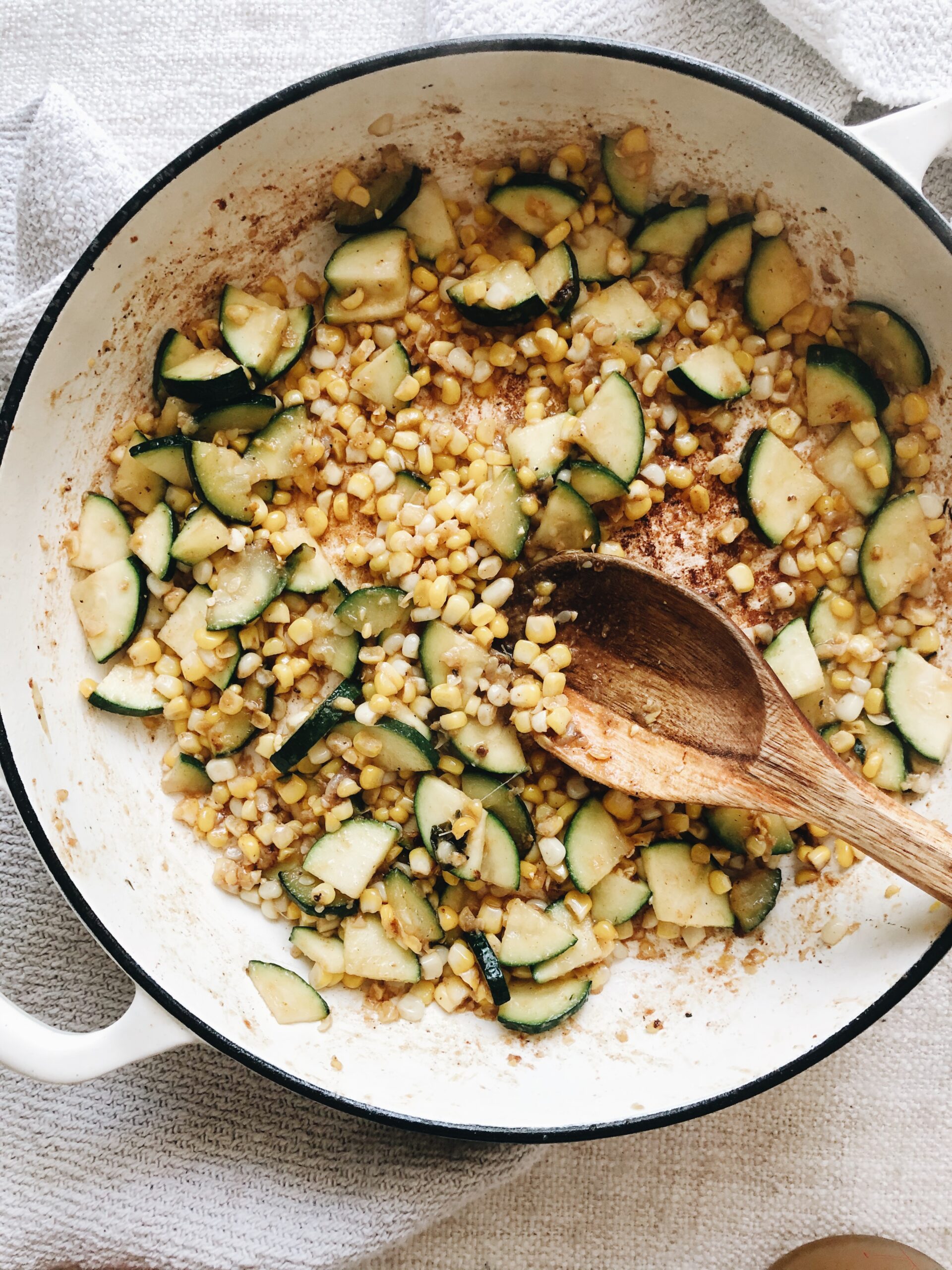 Slap the chicken in another bowl, and get your corn and zucchini sautéed.
Also, you've seasoned these veggies with garlic and onion powder because it's just the way we do things around here.
See that browning in the pan? Listen, if it gets a little intense in there, pour a tiny bit of chicken stock and use your wooden spoon to scrape it up – this is called deglazing. I know you know this, but I felt like being a teacher for a second. Those browned bits will become gorgeously sludgy and mix in with the corn and zucchini and you'll see stars. Good stuff, man.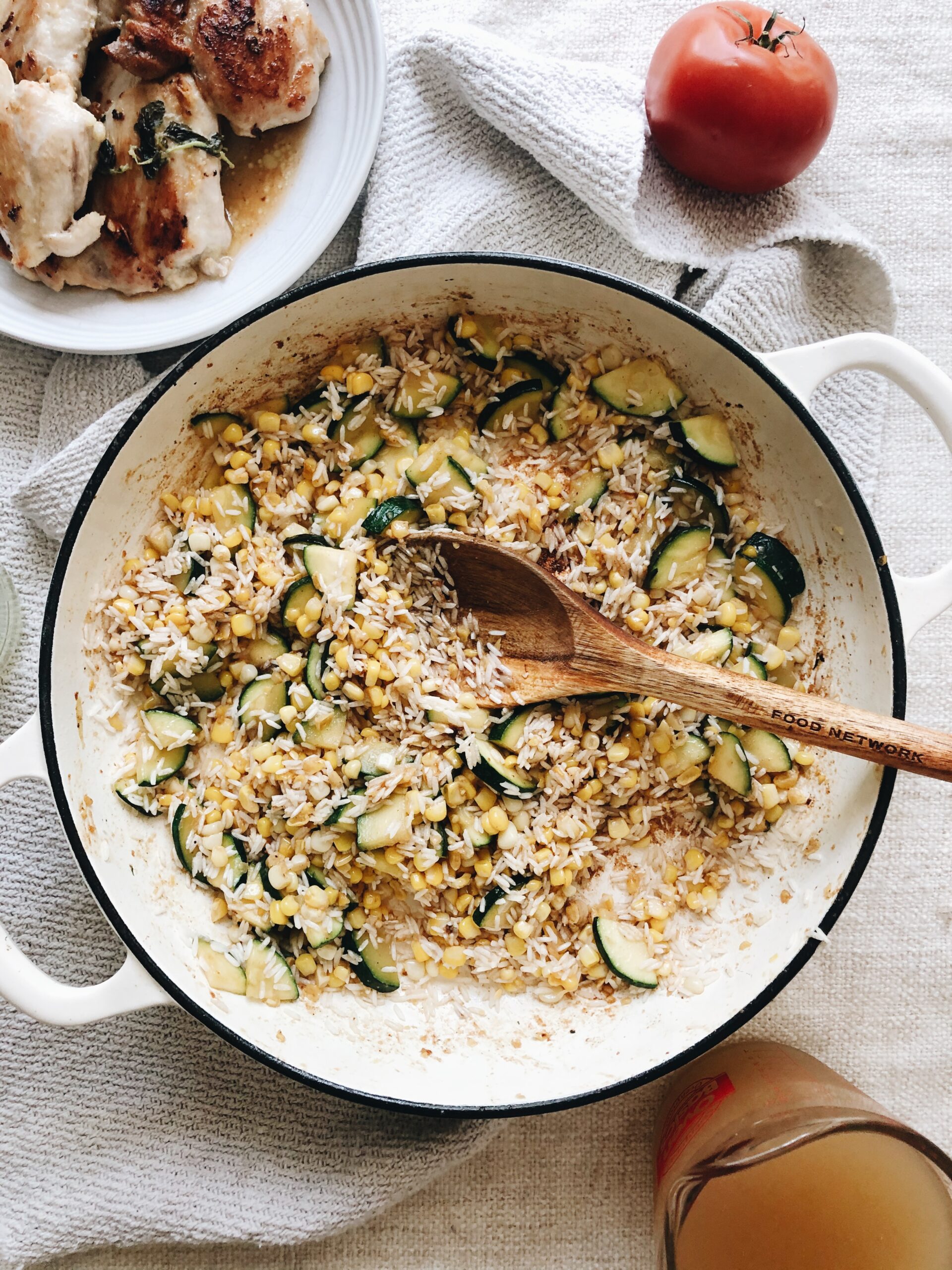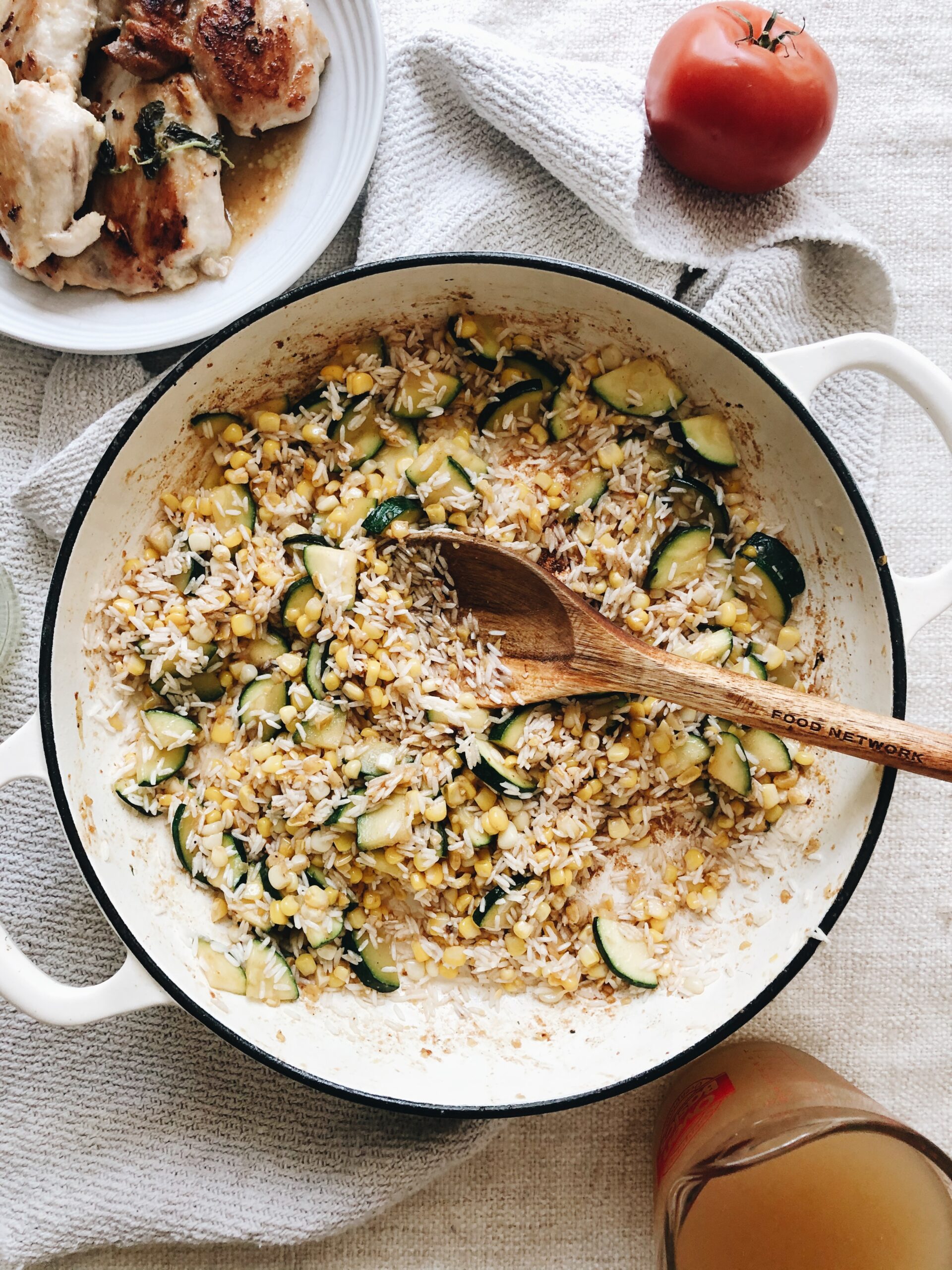 Add the rice! This is where the oomph comes in. The starchy substance. Toss the dry rice around with the veggies, then add in the stock + 1/4 cup lemon juice. It sounds like a lot of lemon, but it's truly nothing aggressive. It's delicious acidity that will wake this mess up.
Slap (apparently I'm into slapping today) that lid on and let it go 25 minutes or so on a medium-low simmer, checking on it every ten to make sure nothing is sticking. You should be good. And if you need more than 25 minutes, just keep going until the rice is toothy and tender. You know the rice drill.
Let's start a band called Rice Drill.
No?
Oh.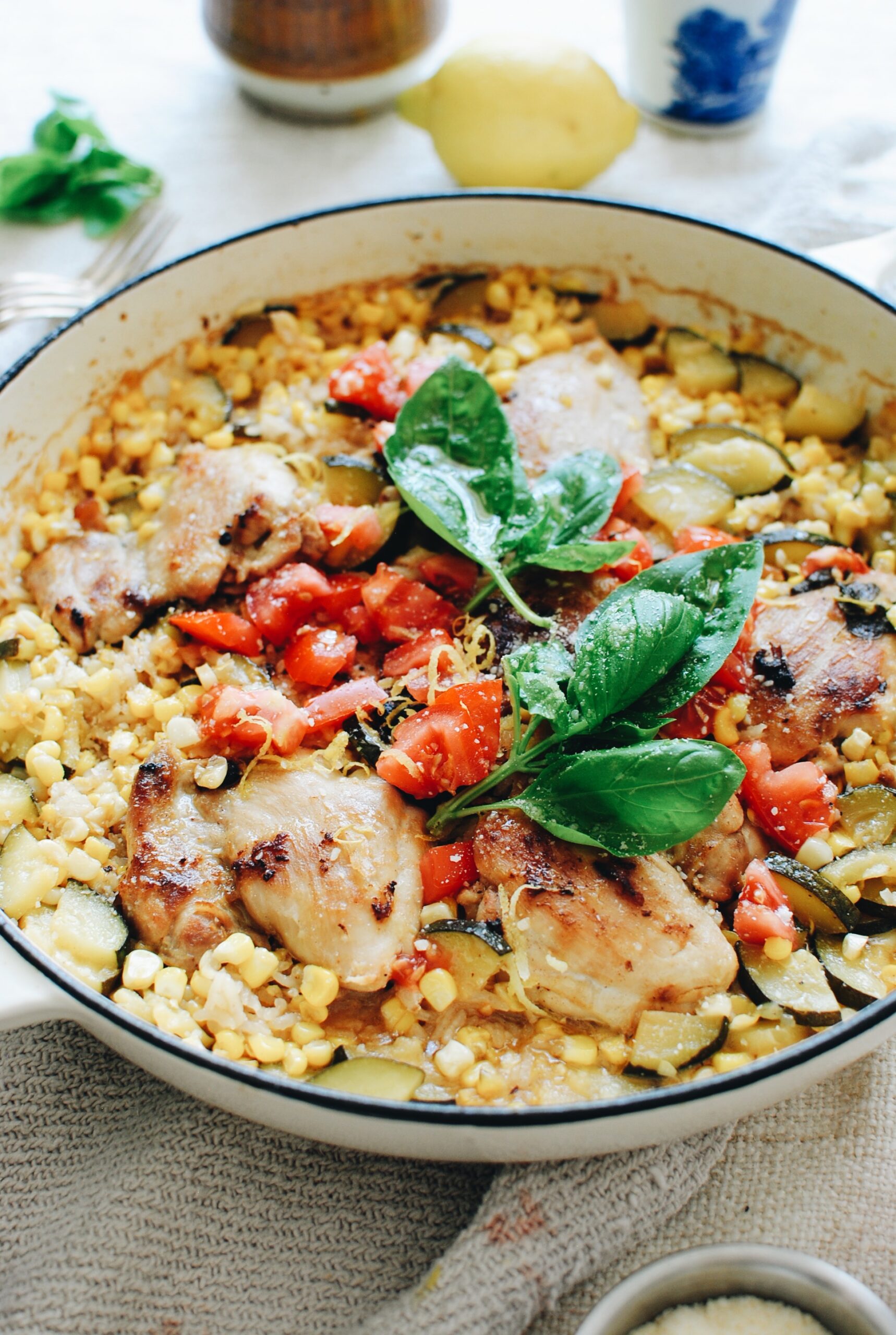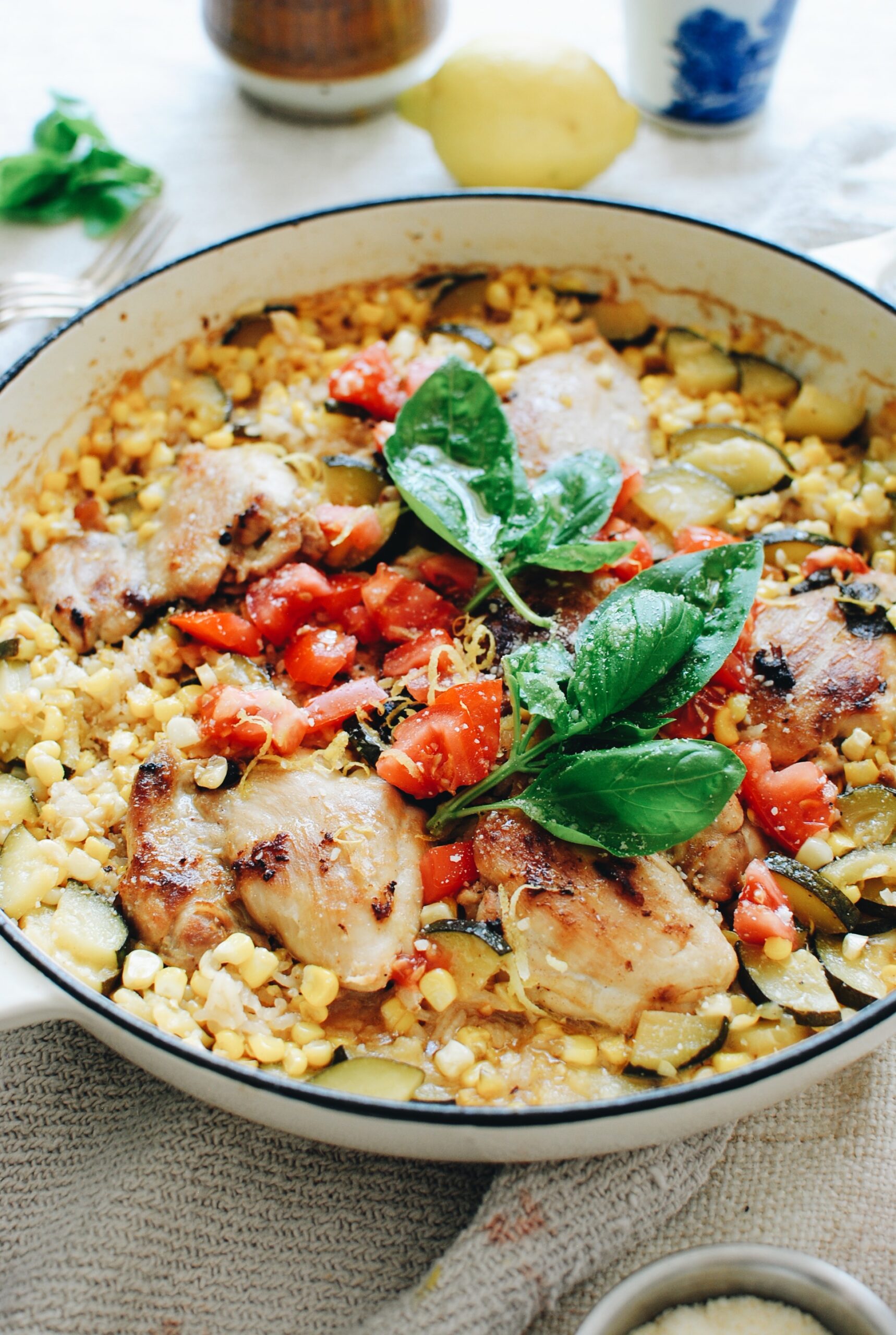 Well hello there, you beautiful summer thing.
You'll nestle the chicken back in and top with some freshly chopped tomatoes! Now listen – about the tomatoes: I diced them and let them sit in a little oil and salt for a while on the counter. You can even grate a garlic clove right in if you want. I do that a lot, too. No bigs, either way. Just chop and toss, or chop and rest and toss. Or chop and toss and rest and toss and toss.
You're like, I have no idea what you're talking about right now.
You know what, neither do I.
All I know is that I took a side photo of the rice underneath but it was blurrier than I expected, so I left it out of this post. Ha!
But it's under and in that mound of bliss and I already can't wait for your mouths.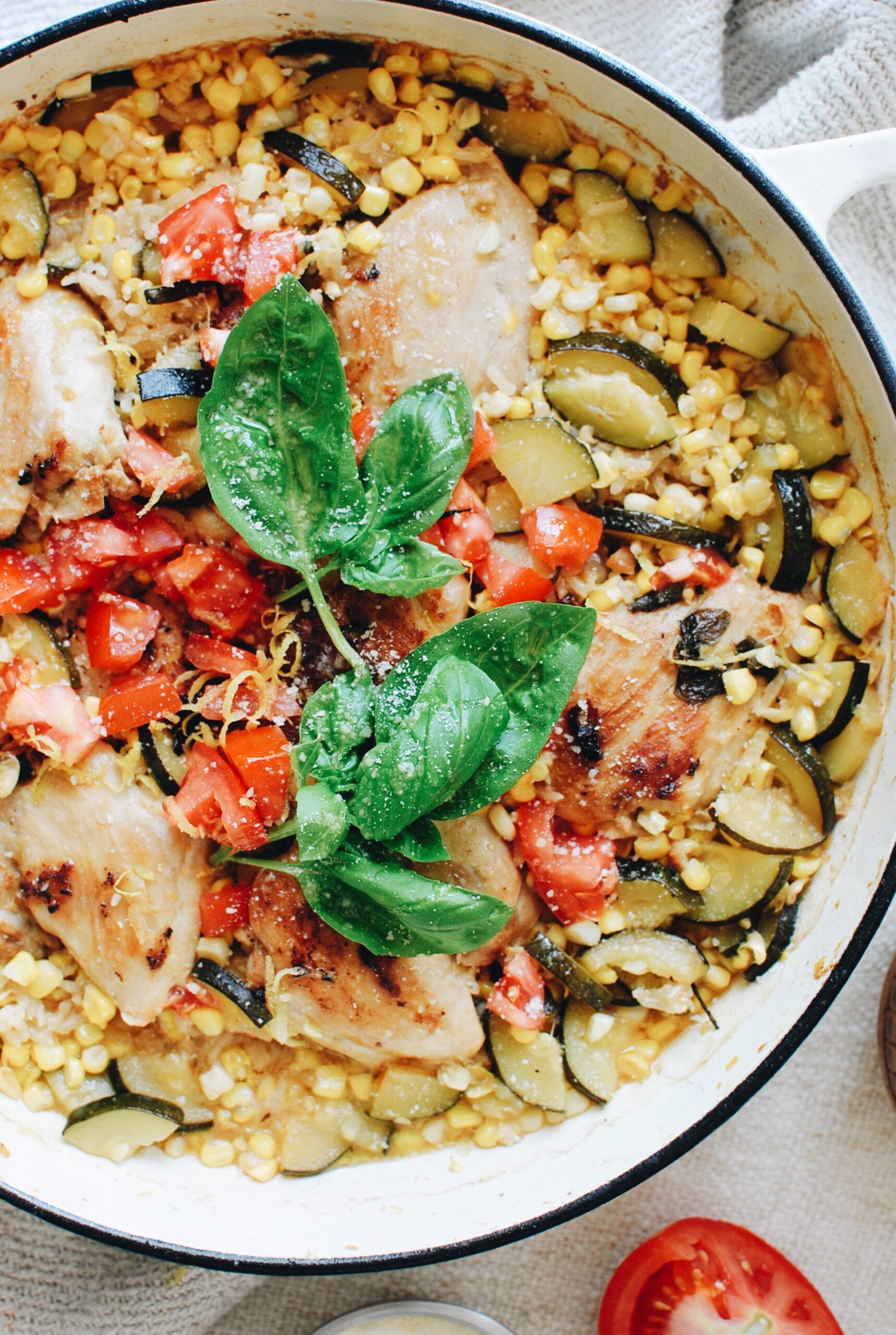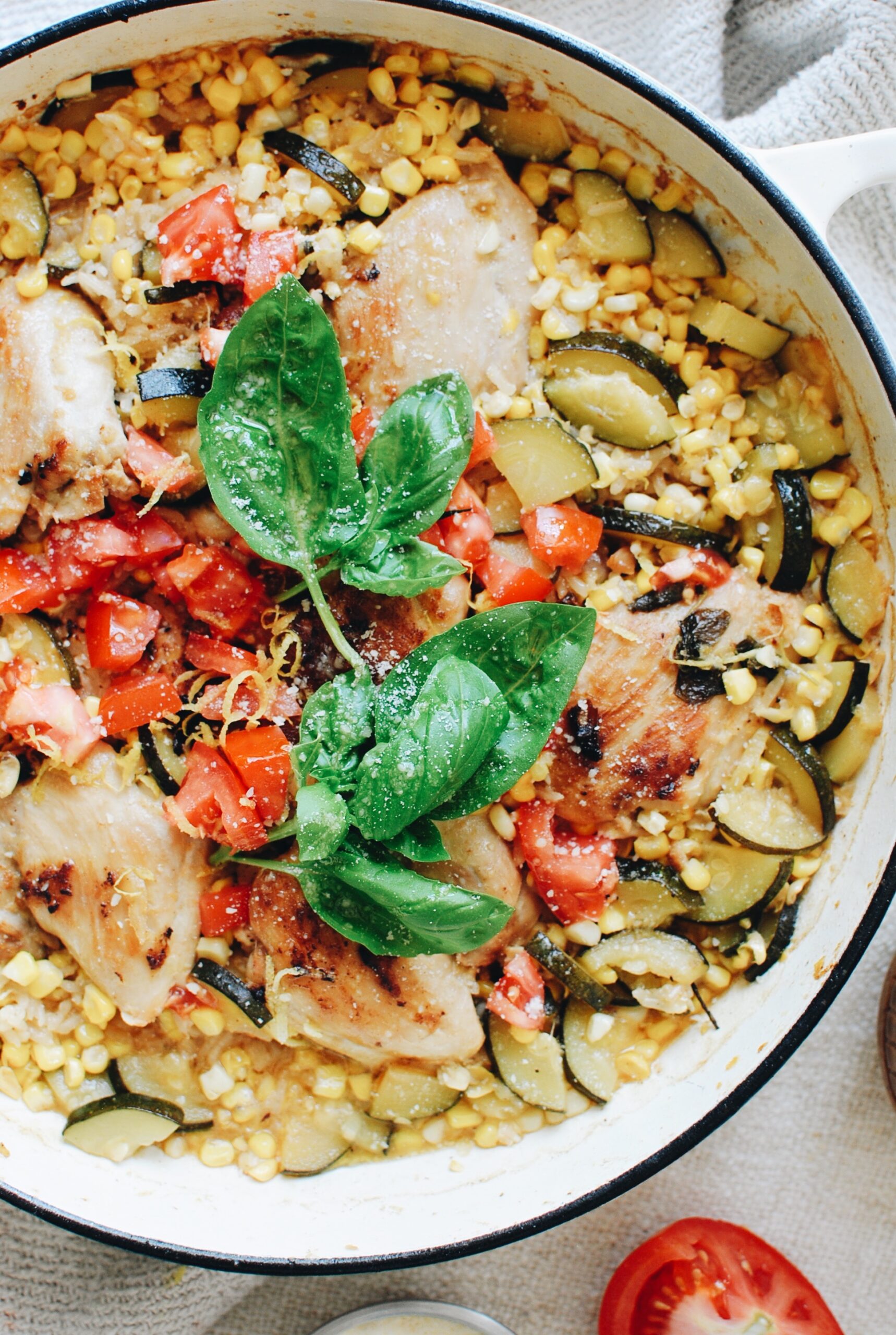 Parmesan cheese on top? Well, duh.
Skillet Chicken with Rice, Zucchini and Corn
Ingredients
22 oz chicken thighs
4 Tbs. extra-virgin olive oil, plus more for cooking
3 garlic cloves, grated or minced
1 lemon, zested and 1/2 juiced
1 Tbs. oregano leaves
1 tsp coarse salt
1 zucchini, cut into a dice
3 ears of corn, kernels cut off
1/2 tsp each garlic powder and onion powder
1 cup white rice (I used Jasmine but anything works)
2 cups chicken stock
1/4 cup lemon juice
1 tomato, diced
Fresh basil, for garnish
Parmesan cheese, for garnish
Instructions
In a bowl, combine the chicken with the 4 Tbs. oil, garlic, lemon zest, juice, oregano and the salt. Toss and let marinate for an hour on the counter, or all day in the fridge. (Bring it back to room temp about an hour before you cook!)
Bring a skillet to medium-high heat and add the chicken straight to the pan, searing on each side for six minutes. If you need to sear an additional two minutes per side to get it cooked through, get her done. Let the chicken rest while you cook the veggies.
To the skillet, add the sliced zucchini and corn, along with another Tbs. of olive oil. Season with the garlic and onion powder, along with a good pinch of salt. Sauté these veggies until you get some nice browning in places, three - five minutes. Add the rice to the skillet and toss with the veggies for a minute, sort of toasting it. Then add the stock and lemon juice; bring to a boil, then cover with a lid, reduce the heat and simmer on medium low for about 25 minutes, until the rice is toothy and tender. Off the heat, nestle the chicken back in, letting it rewarm. Then top with chopped tomato and fresh basil. Maybe some parmesan cheese? Of course! Extra squeeze of lemon juice with a drizzle of good oil? 'Atta girl.
Serve immediately!
Serves 4.
7.8.1.2
437
https://bevcooks.com/2020/07/skillet-chicken-with-rice-zucchini-and-corn/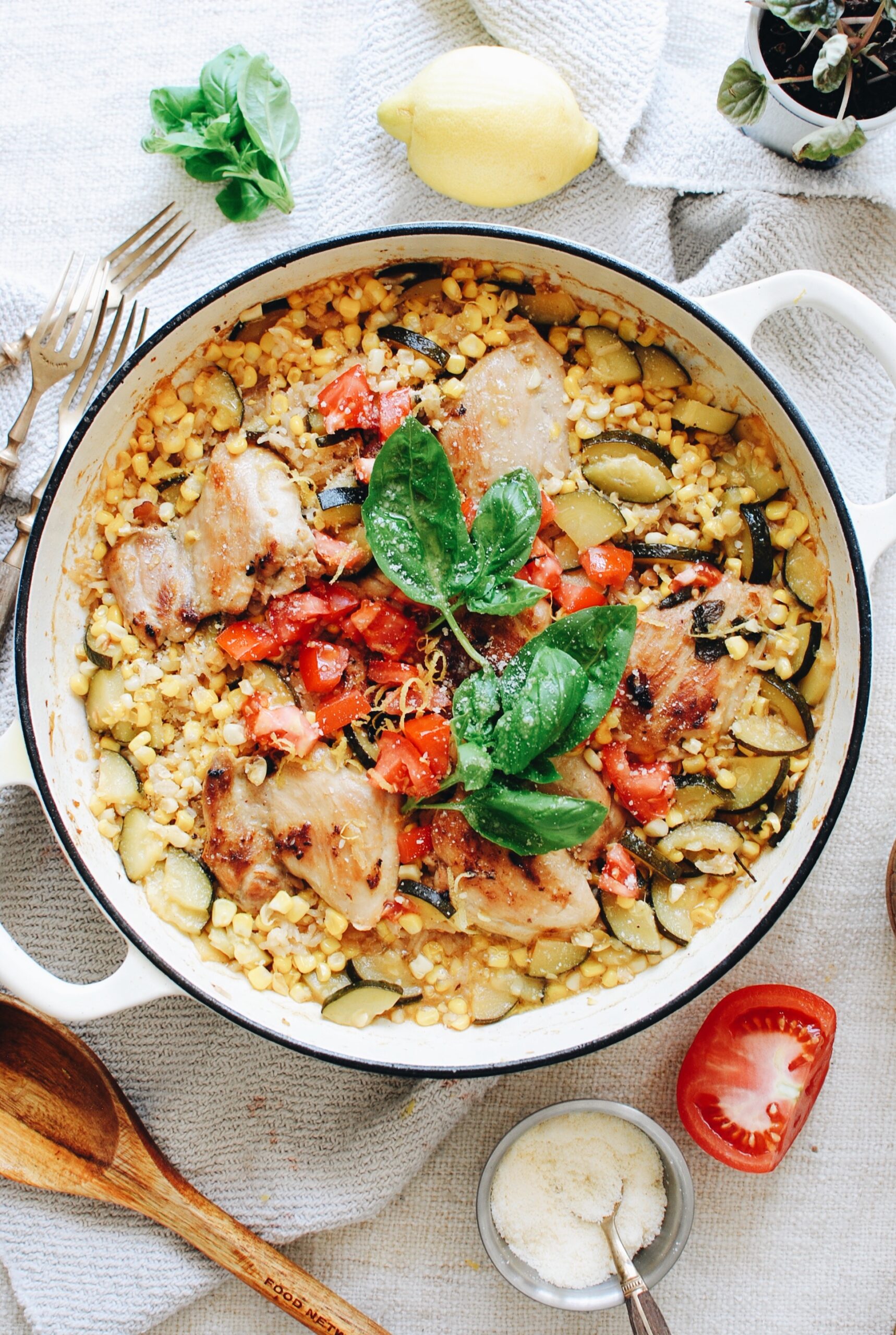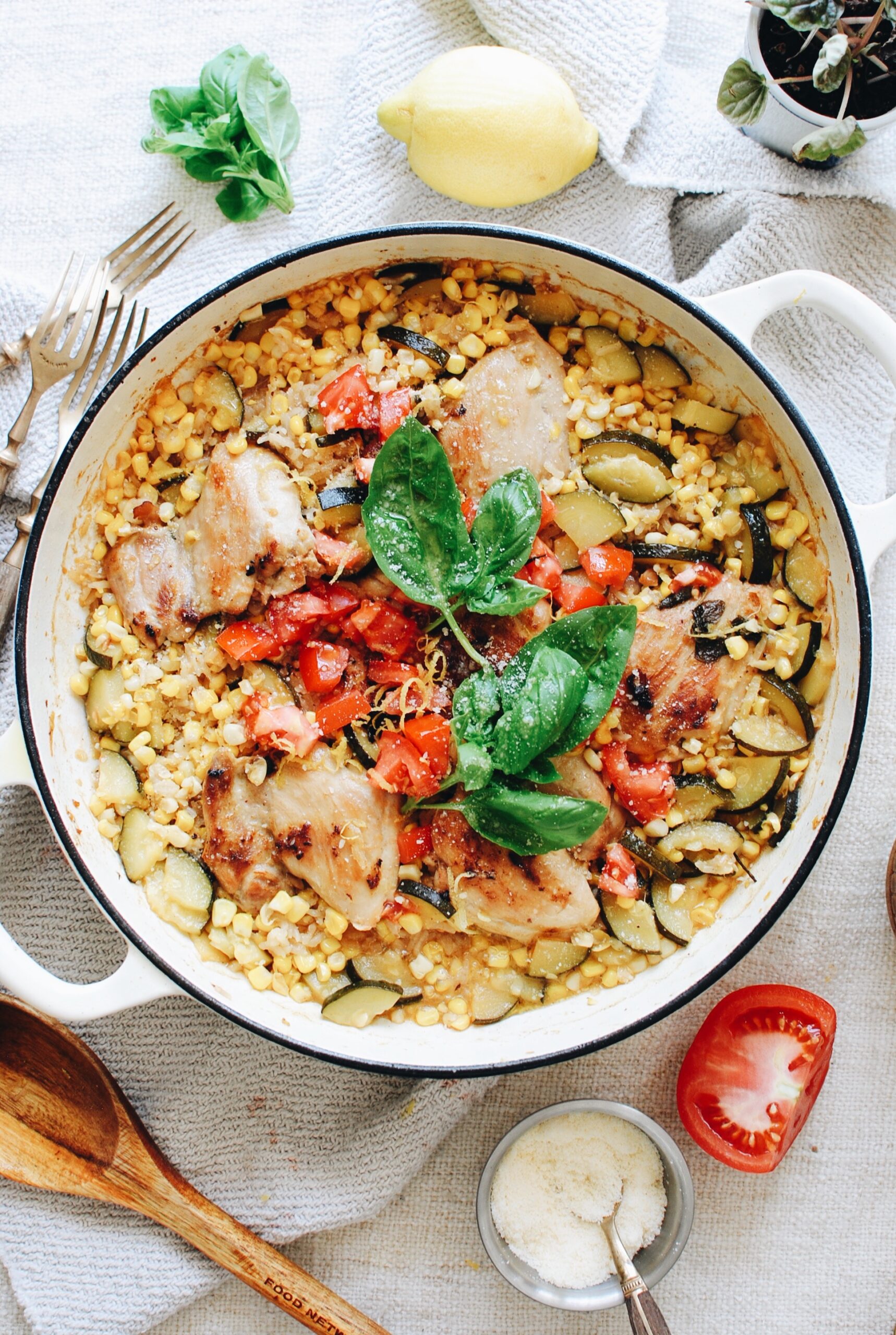 All I see is my face in that.