It's like a taco/shawarma hybrid baby love child!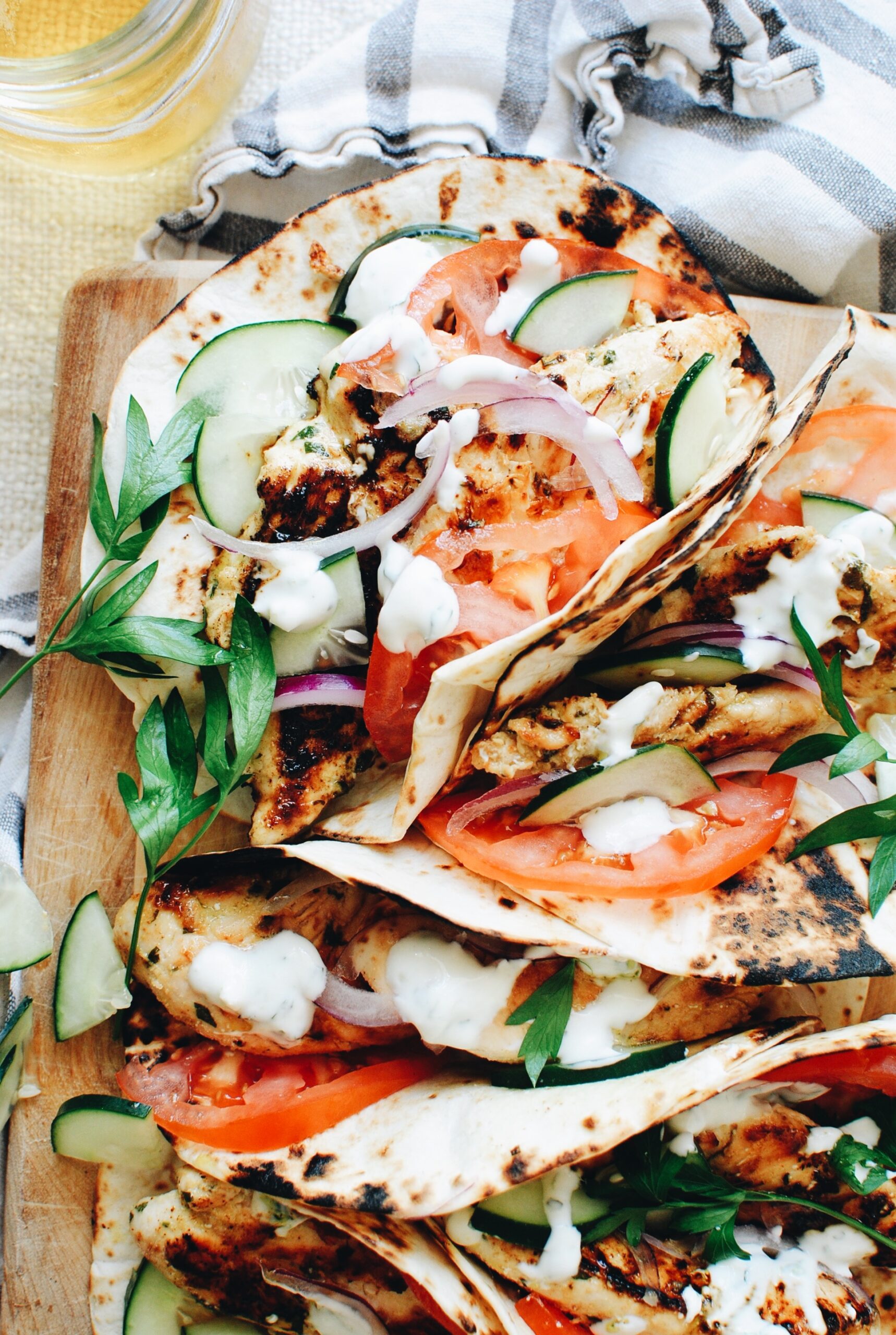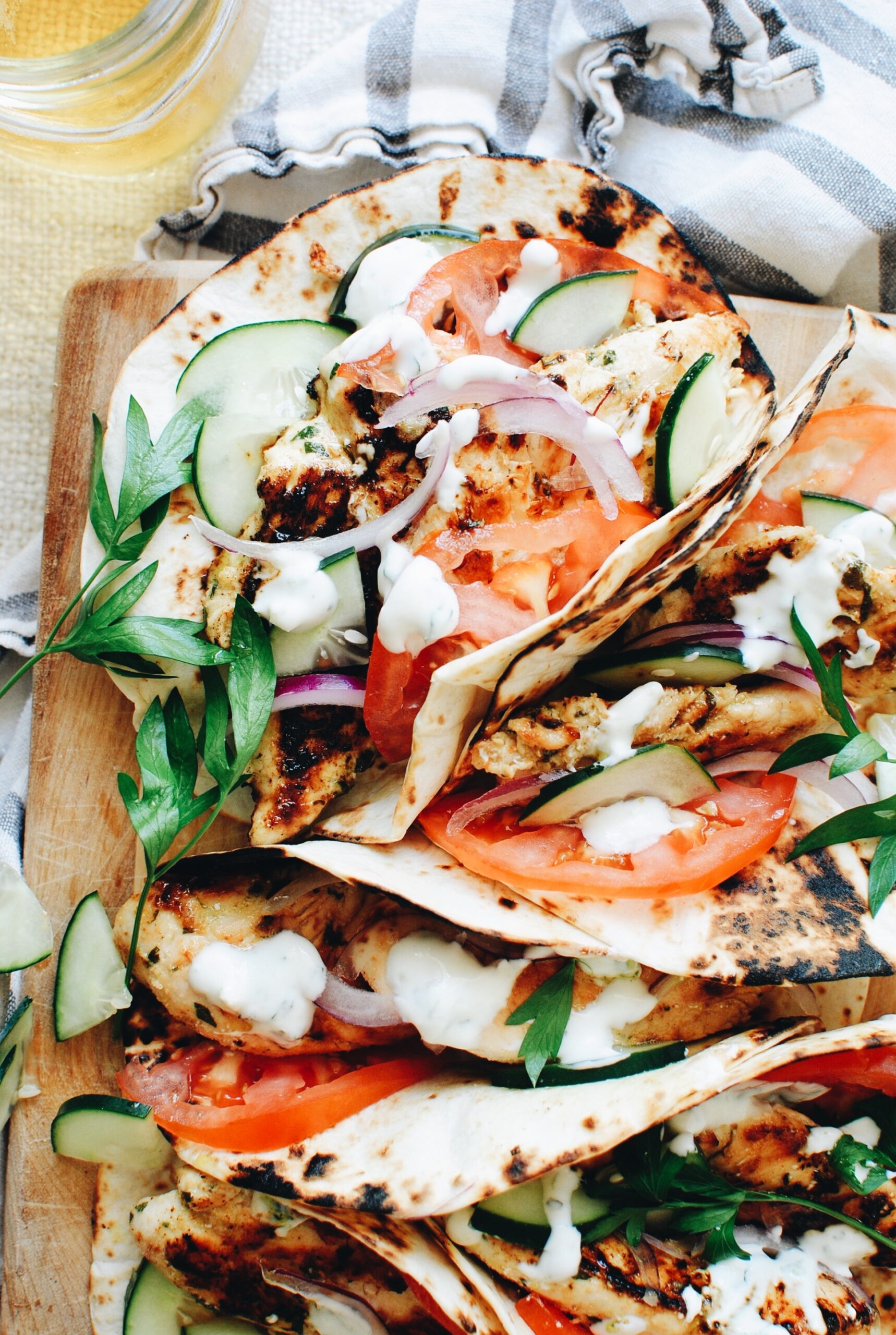 These tacos are my new life. My boyfriend. My everything. I mean we've all had troughs of chicken tacos in our lifetime. But not like this.
Not like this.
It's three things that come together for the mega mama wowza factor: marinated chicken, (tenders this time! but you'll see why in a nano), toasted flour tortillas that billow up and get crispy and charred, and a tangy yogurt sauce loaded with herbs that will straight up blow ya down and sideways.
Y'all ready for this DUN DUN, DUN DUN DUN DUN DUN, DUN, DUN.
never mind.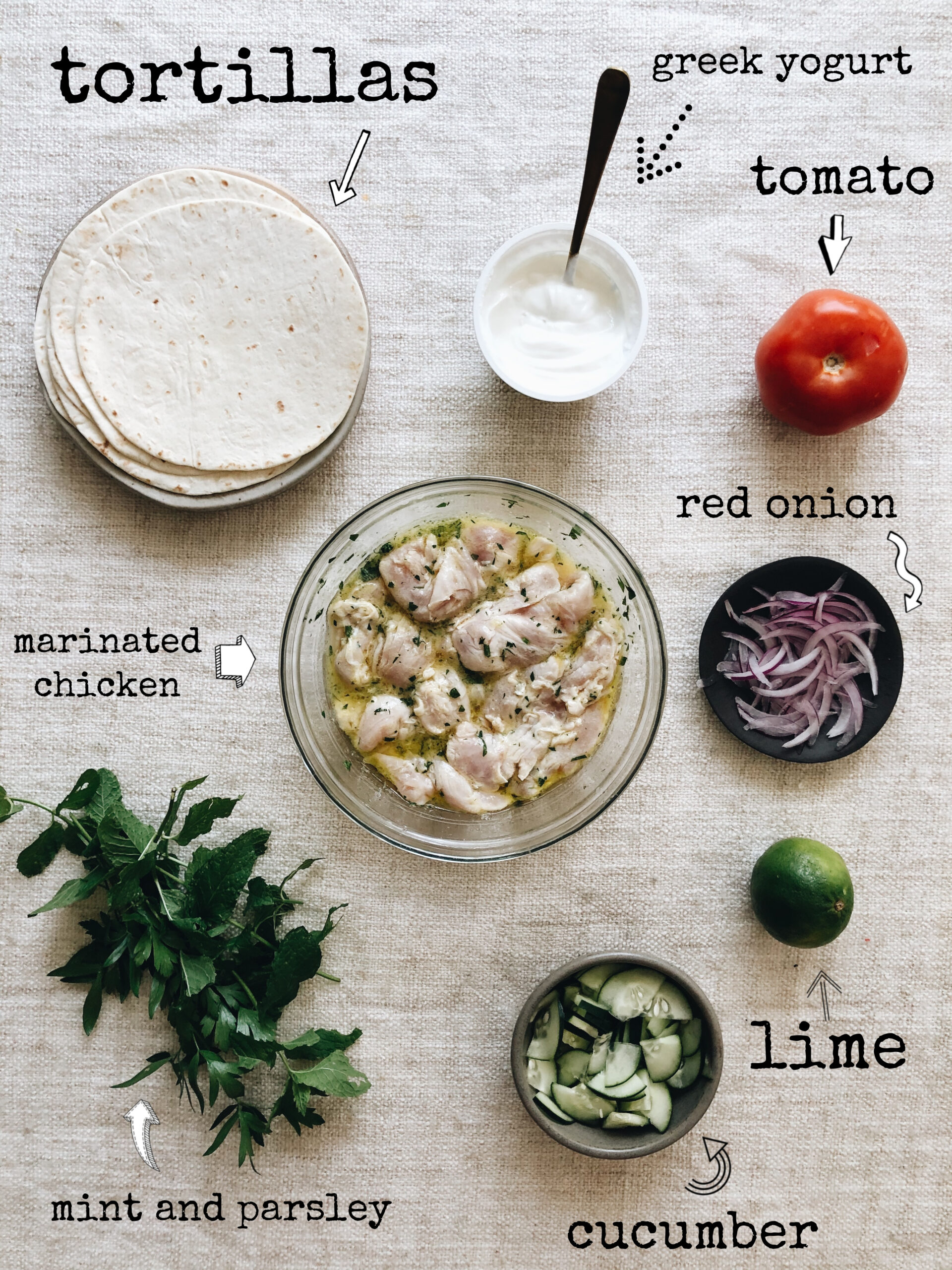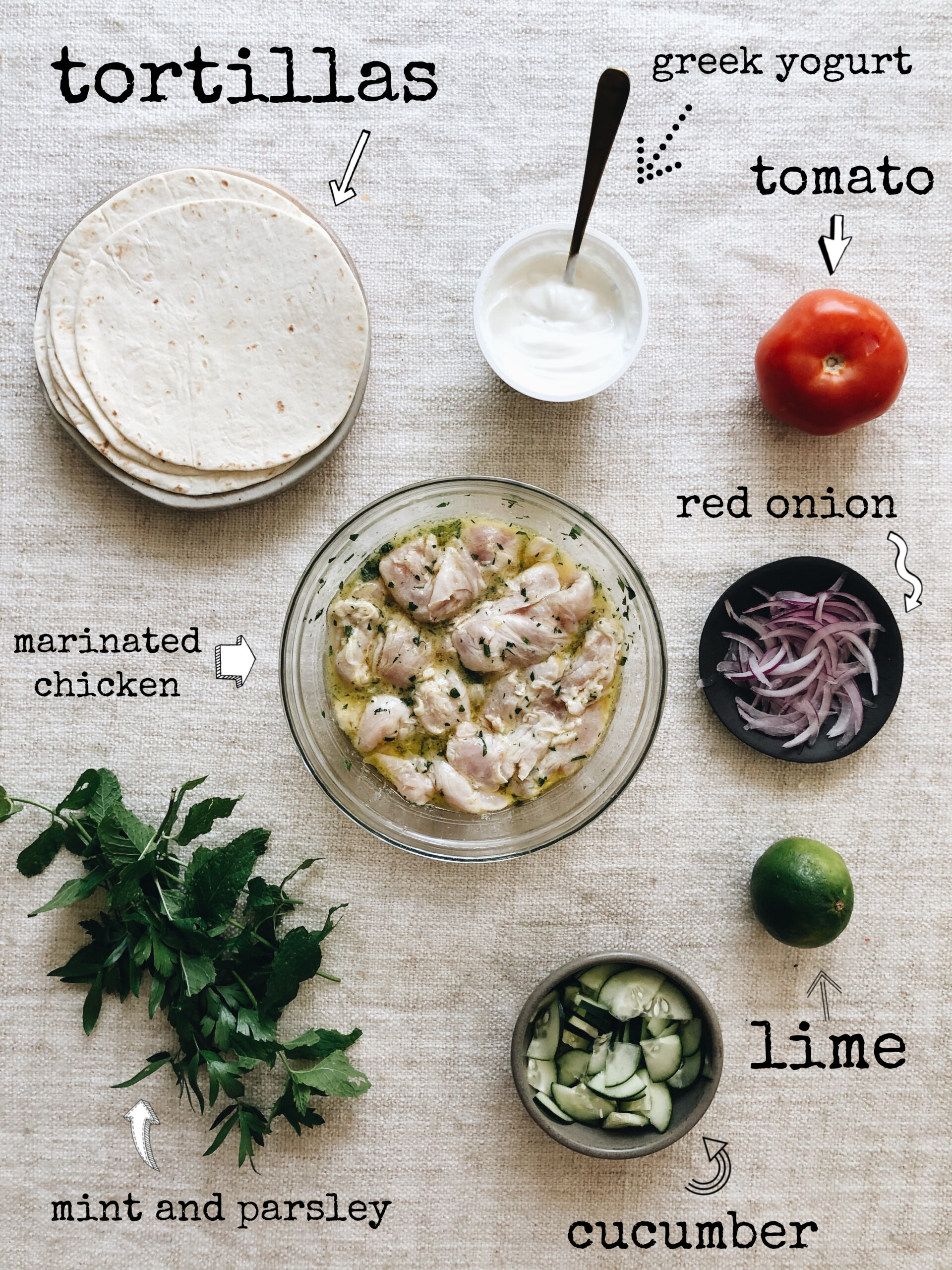 This marinaded chicken has been my summer JAHM. So much my jam that I even posted it on Tuesday. As in, two days ago I showed you this marinade. Or a version of. Anyway, it's delish and make it your life.
The cucumber, red onion and sliced tomato are sort of what gives it that shawarma feel, ya know? You could EVEN add a little cumin or turmeric to the chicken marinade, to up the Mediterranean flavors, but I kept it summer simple, Sandra.
Who is Sandra?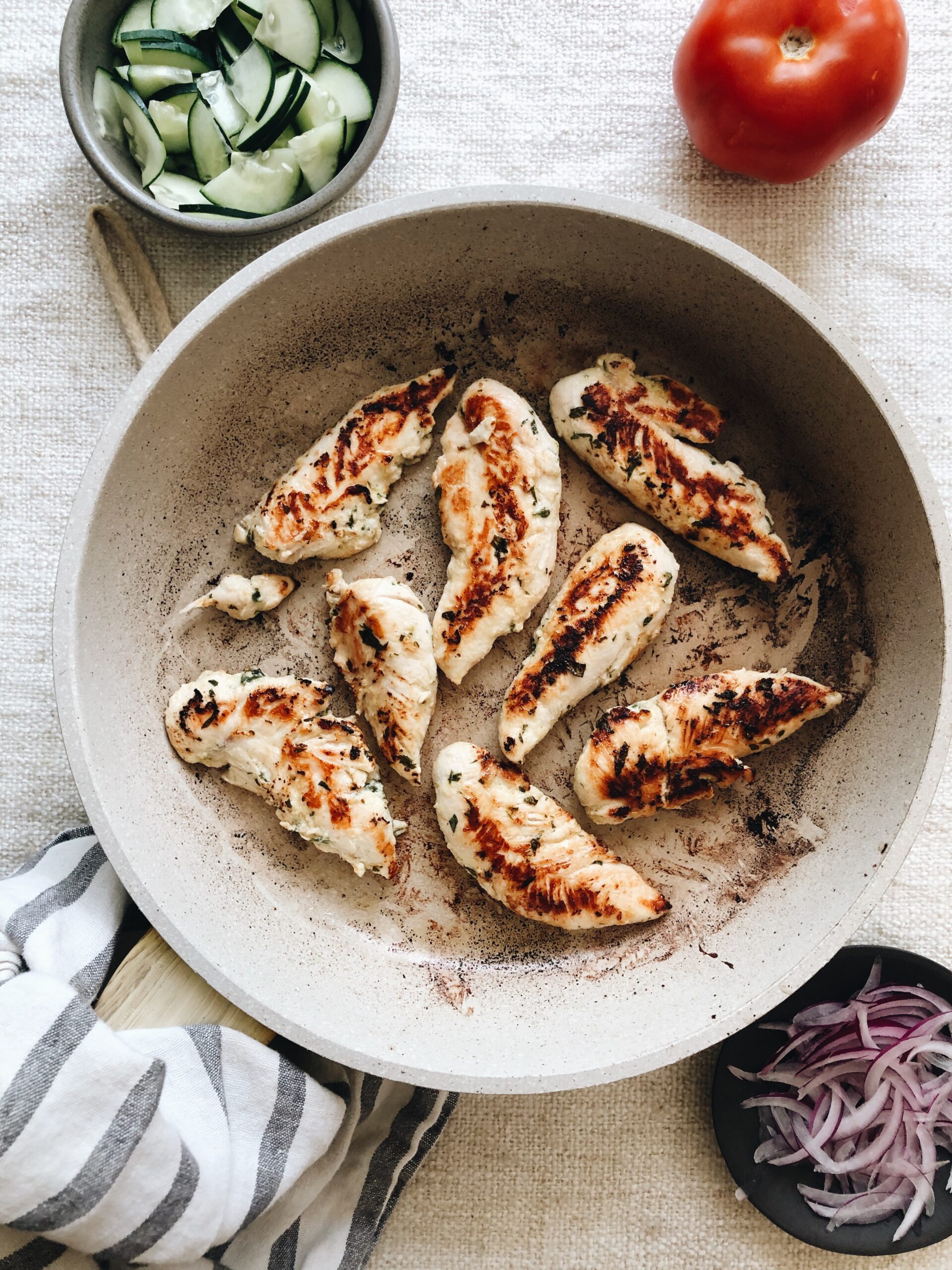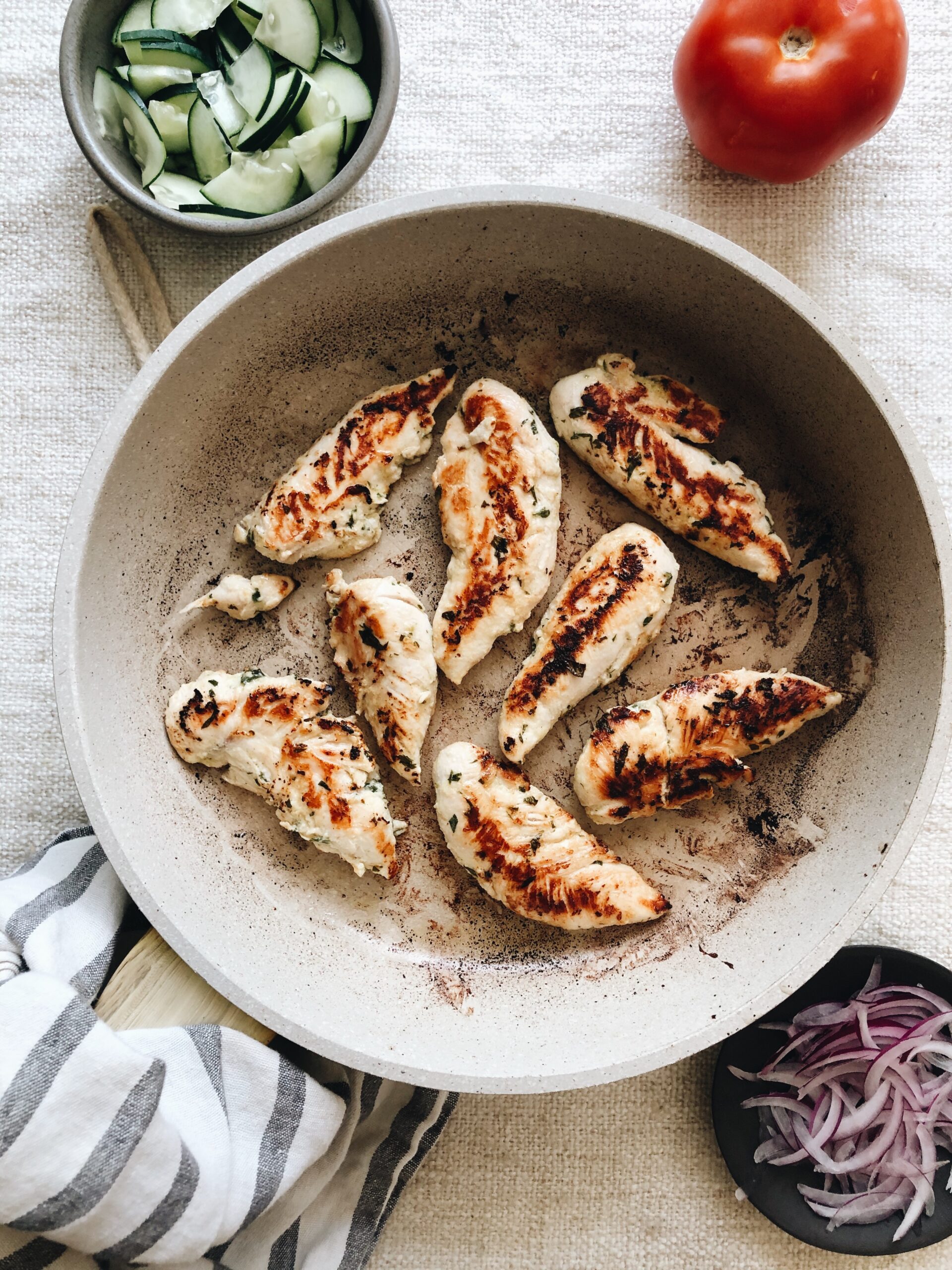 Get those tenders seared in a hot skillet. You want some sexy browning on both sides.
ALSO – tip here: when you add the chicken to the pan, just tong it straight out of the marinade with the tiniest shake to drip off excess oil, then lay it in the pan. No need to add EXTRA oil to the skillet, because otherwise the juices will release and you might end up braising. And we want none of that. We want a good char all over. Alternatively, throw these mothers on a grill if it's not a 110 heat index with a humidity of stupid.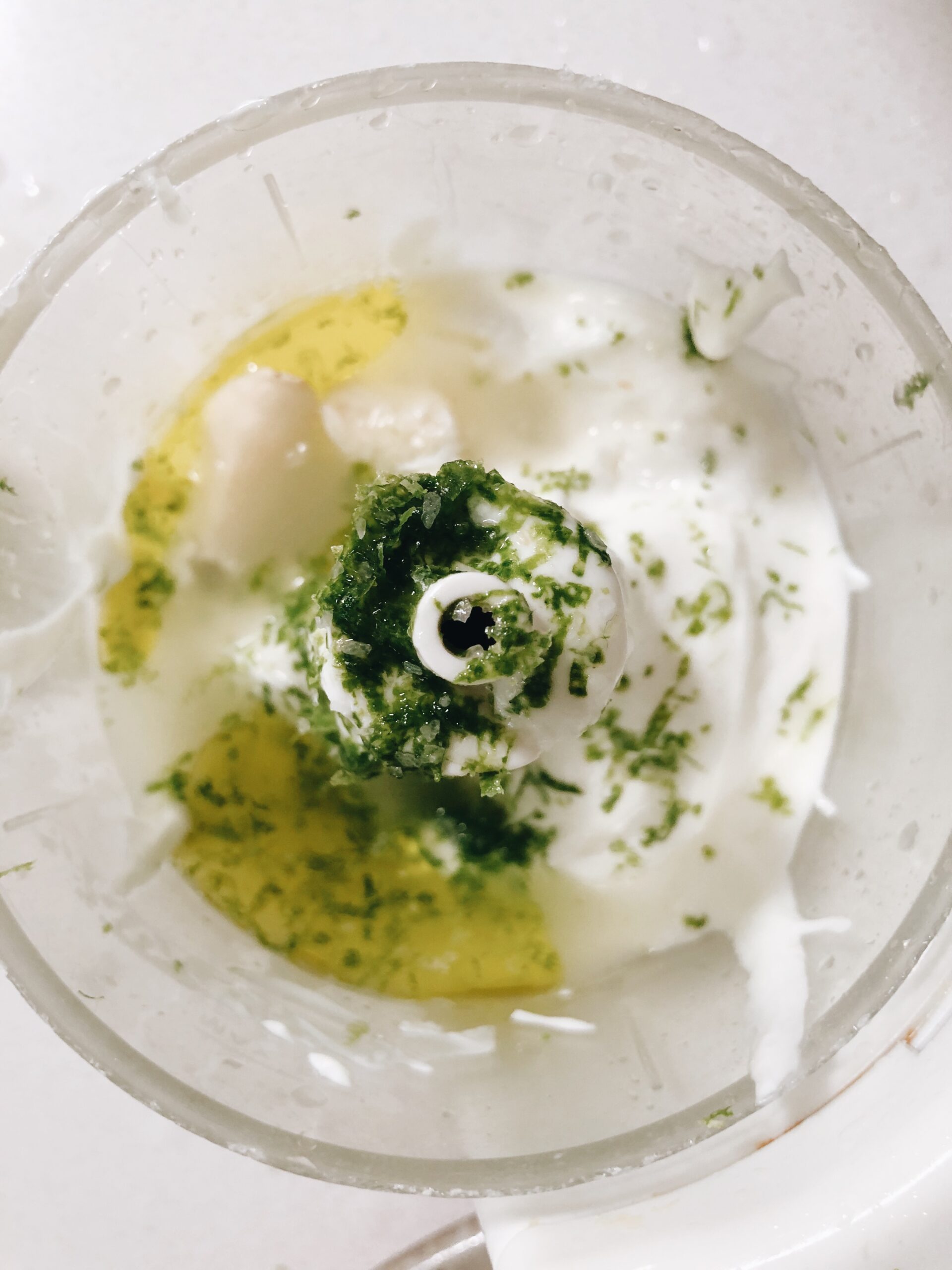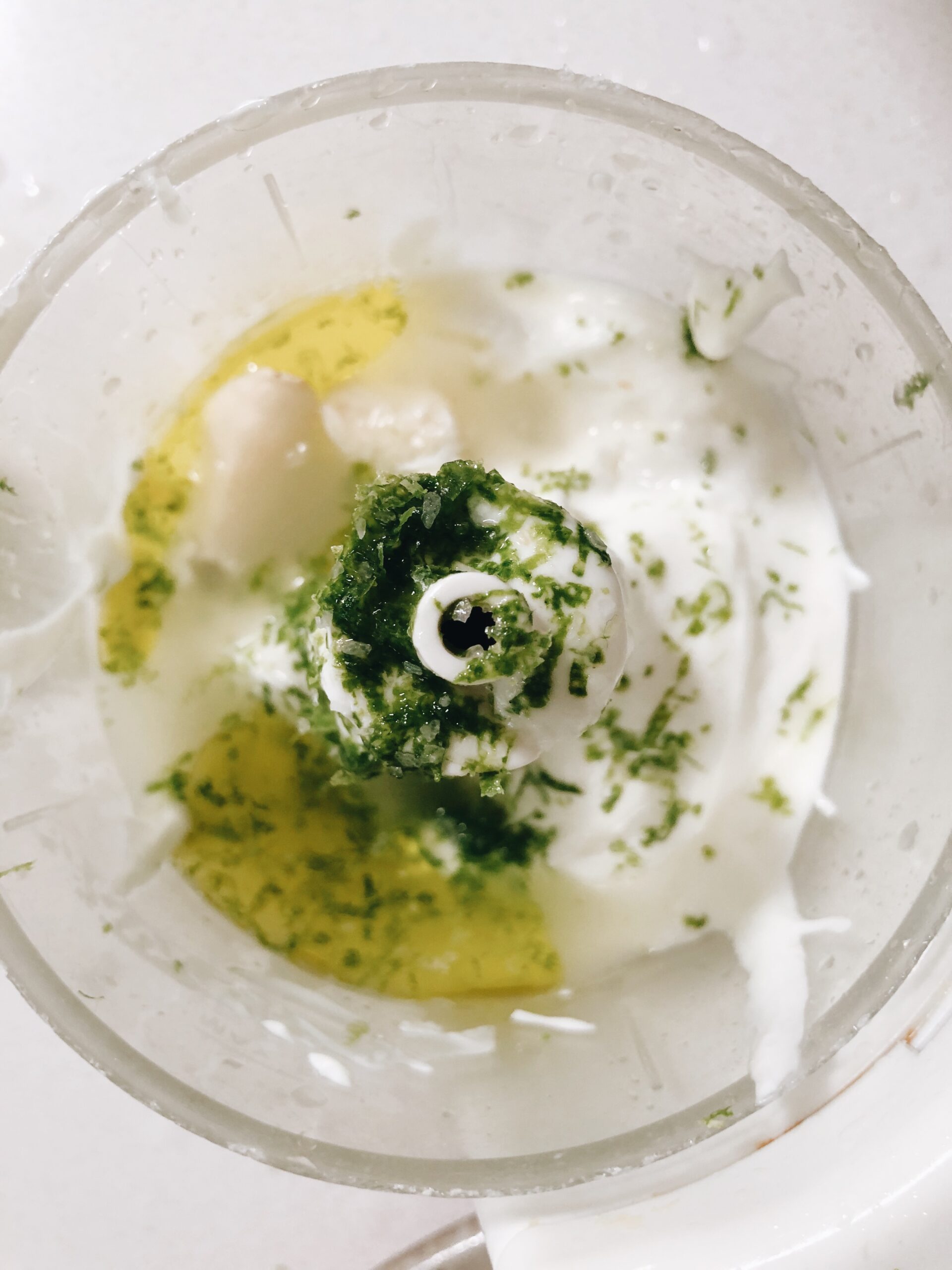 The sauce! Because sauce. Okay, in a food processor it's: Greek yogurt, one garlic clove, juice and zest of a lime (you can go lemon here to keep on theme), a little bit of olive oil, salt and mint.
This photo is right before I added the mint, actually, because you might be thinking to yourself out loud to no one, "Why did she pre-chop the mint, if it's going into a food processor? That makes no sense." That minced green is the lime zest. 🙂
Also I make no sense.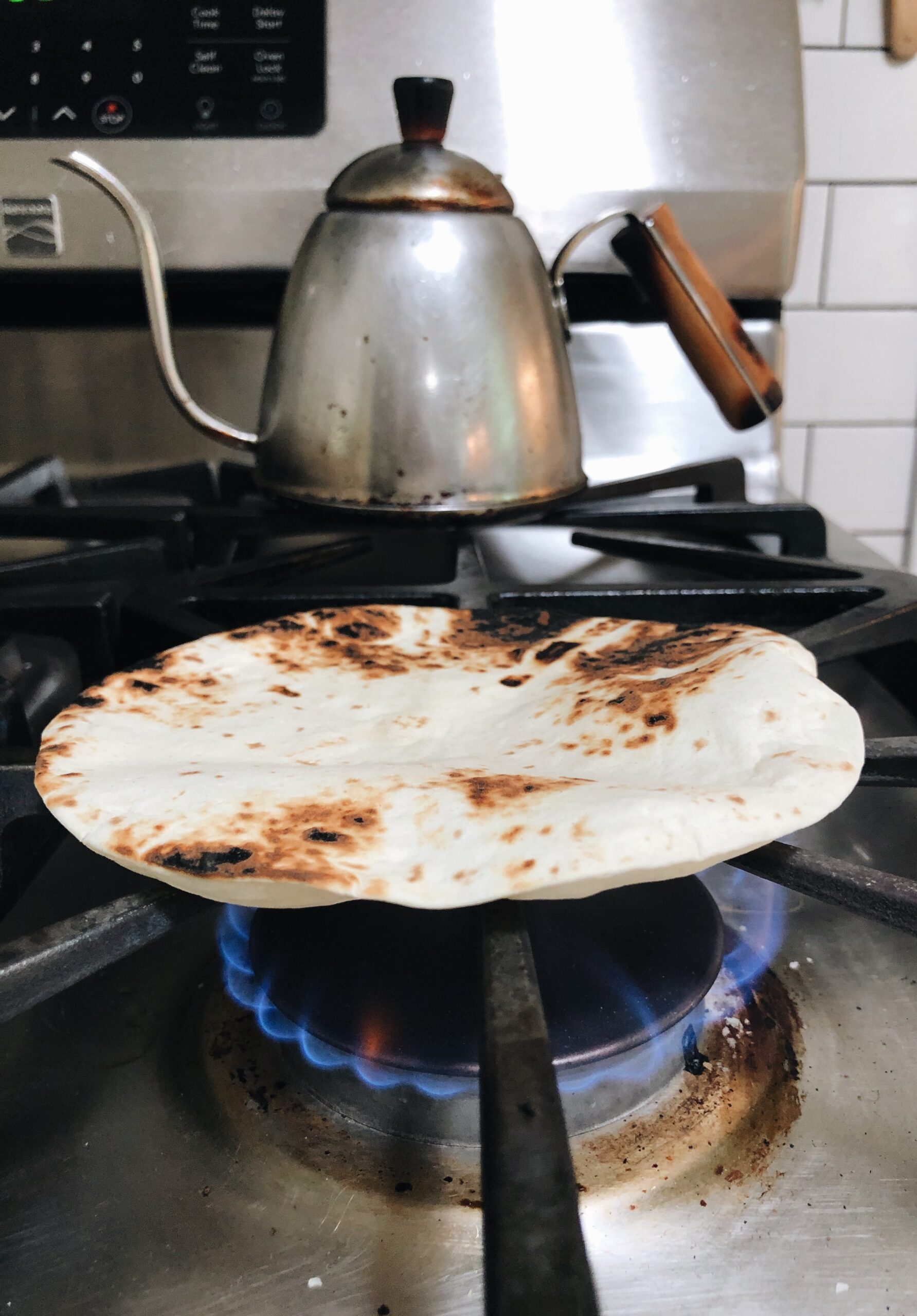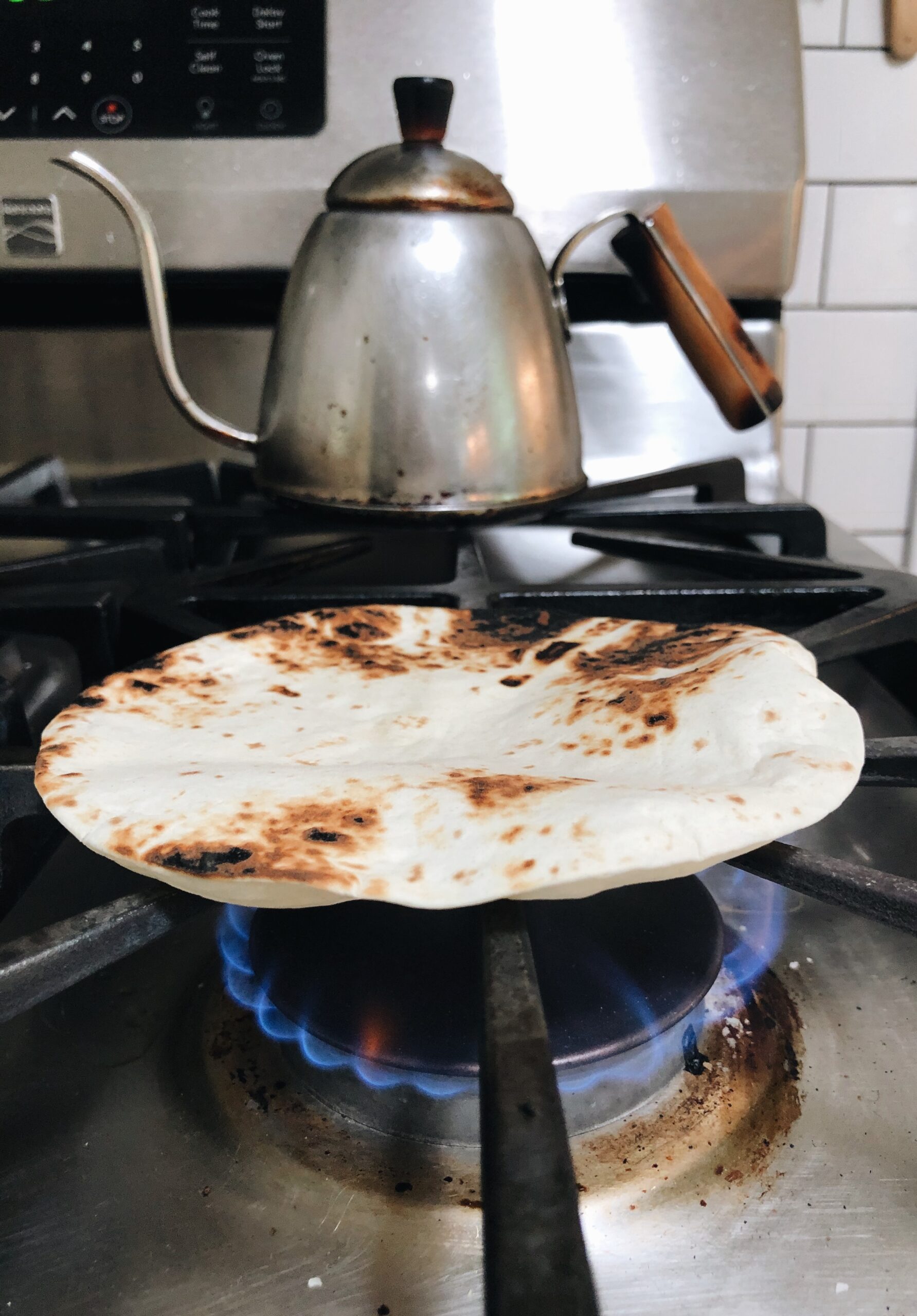 You'll have to ignore my dirty stove. We're in the middle of a pandemic, go easy on me.
Blister your tortillas! Place them right on top of that open flame, and using tongs, just flip sides until they puff up and get nice and toasty. This is a vital step and adds SO MUCH CHARACTER to the final experience. No skipsies, ya hear?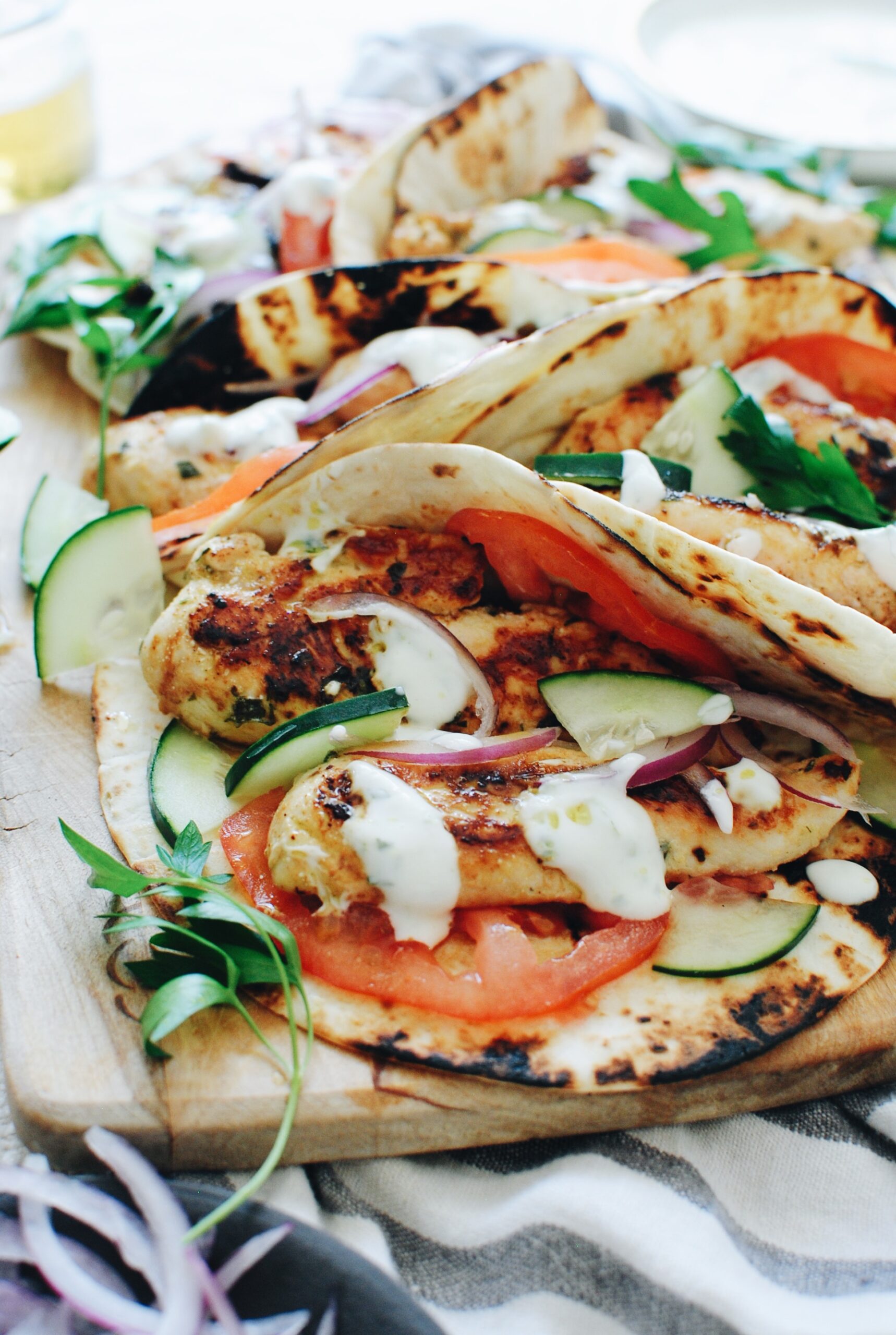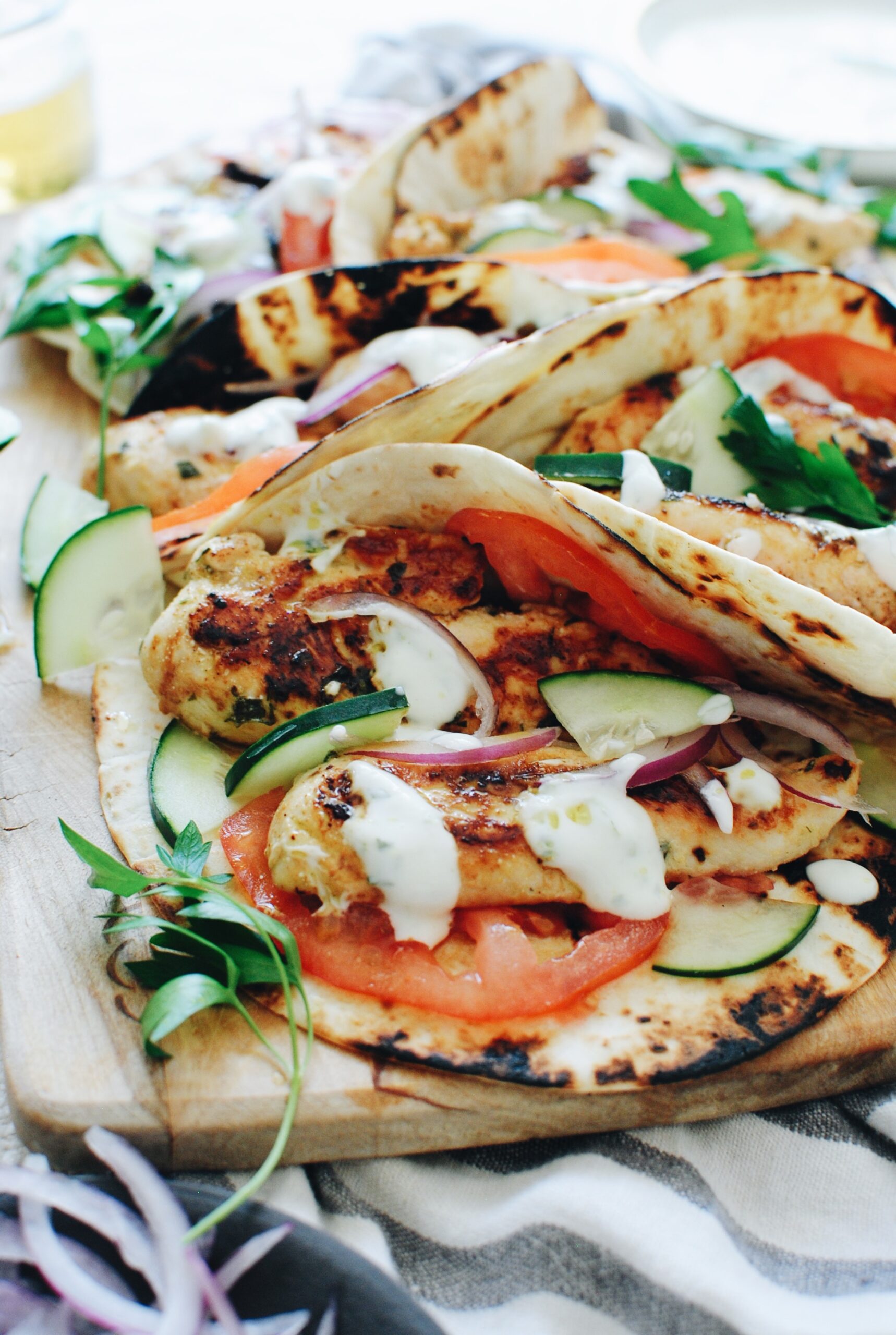 And there you go! The chicken tenders, you just plop them right down in the center of the tortillas because they're already perfectly fit for taco noshing.
Tuck in some thinly sliced cucumber, red onion and tomato, and drizzle with your tangy sauce. Boom. So good. So much happening. I can tell you're here for this.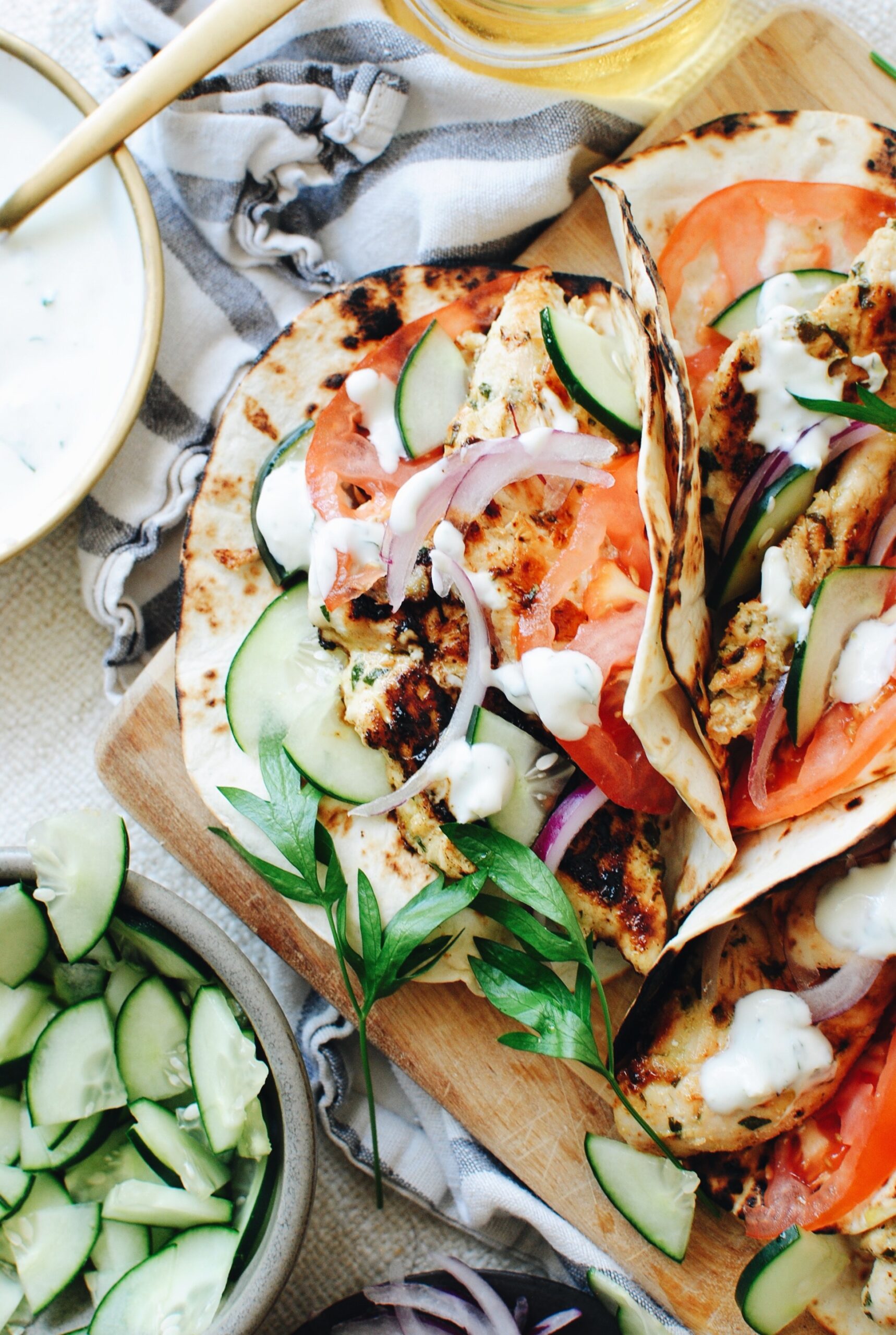 A note on the sauce – add the tiniest bit of water to thin it if it feels too gloopy for your taste. Either way. Anything goes.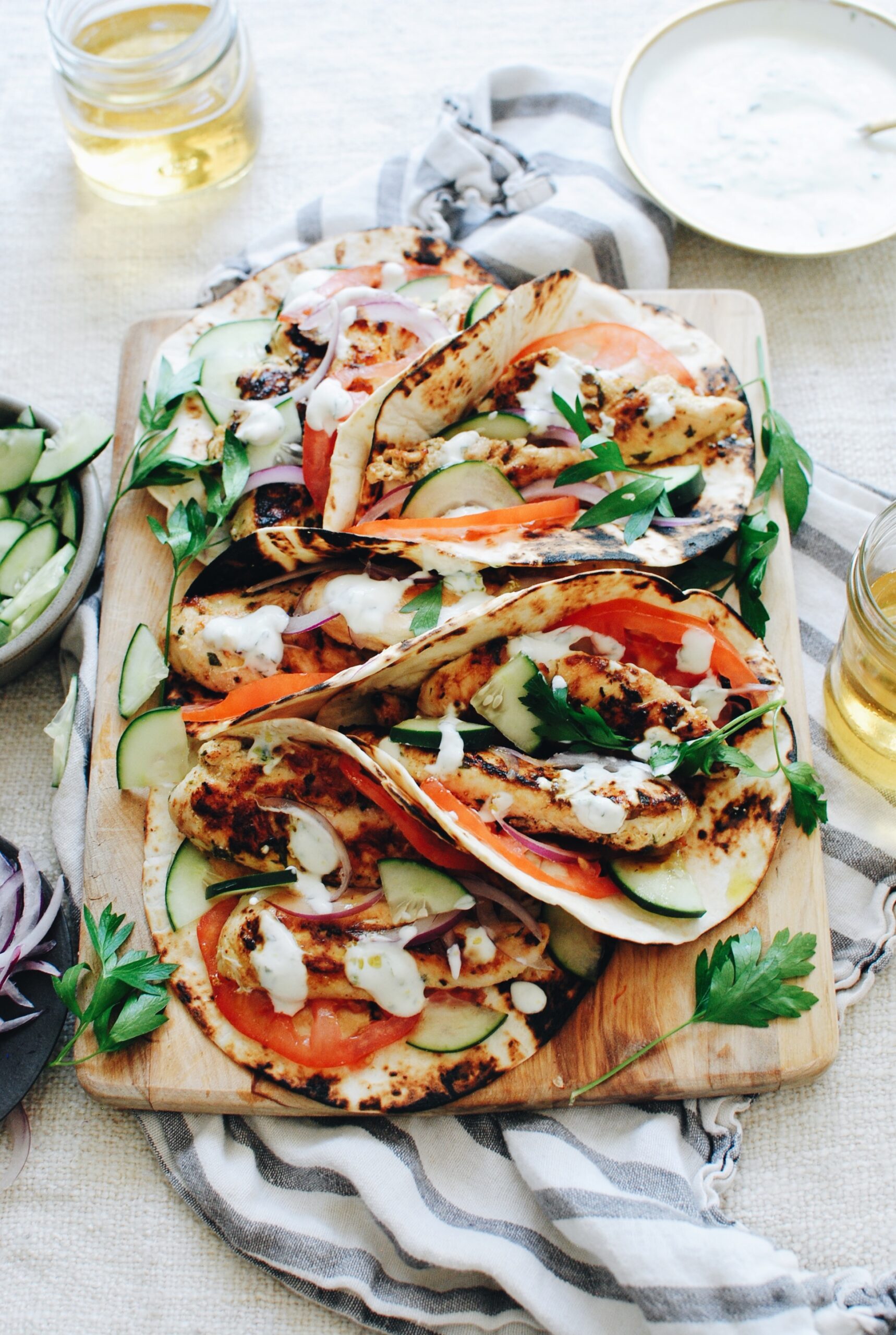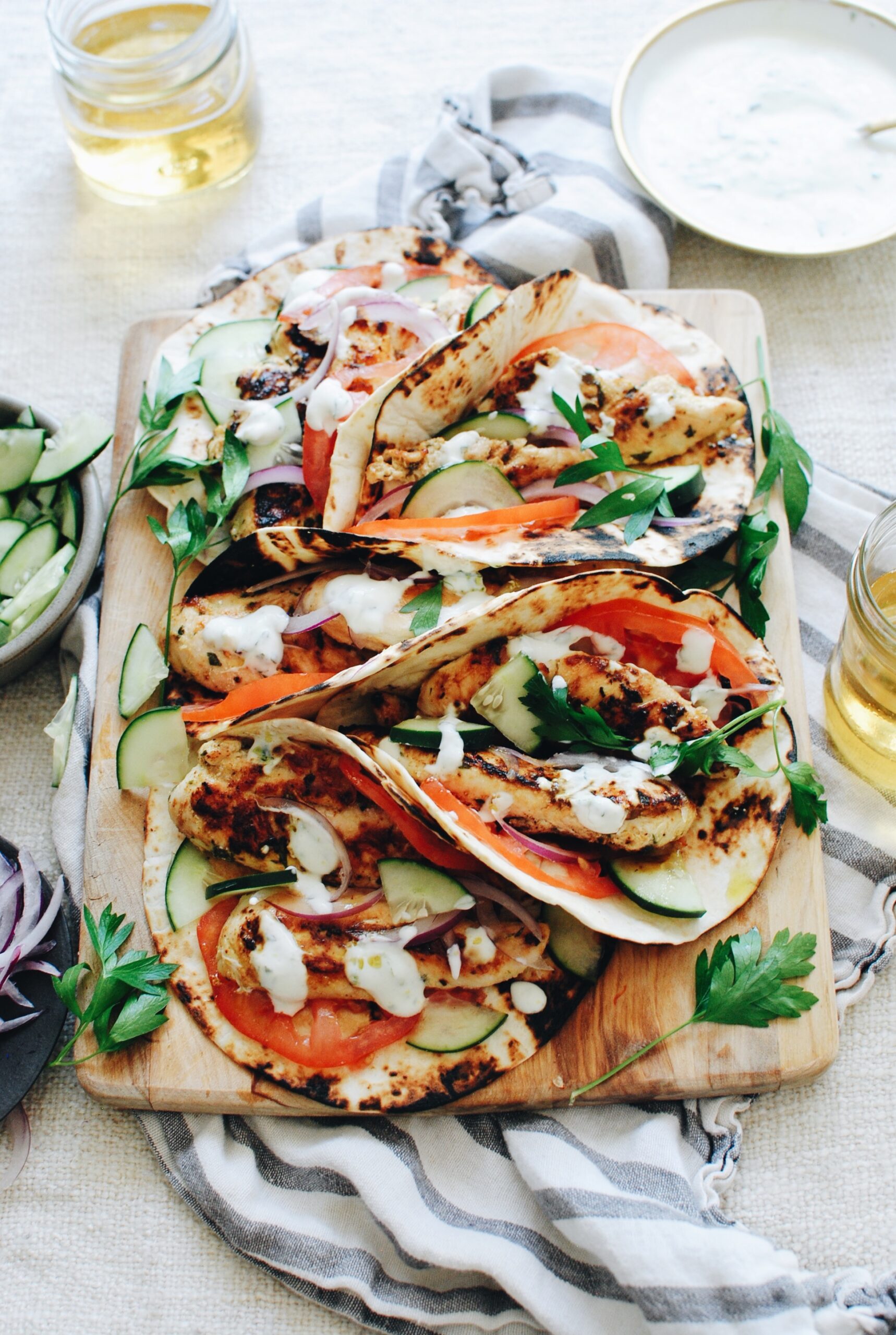 A bit of a parsley sprinkle last second? Sure! Add more mint if you dare. Pile it on. Load 'em up. Go bonkers. You have my full permission.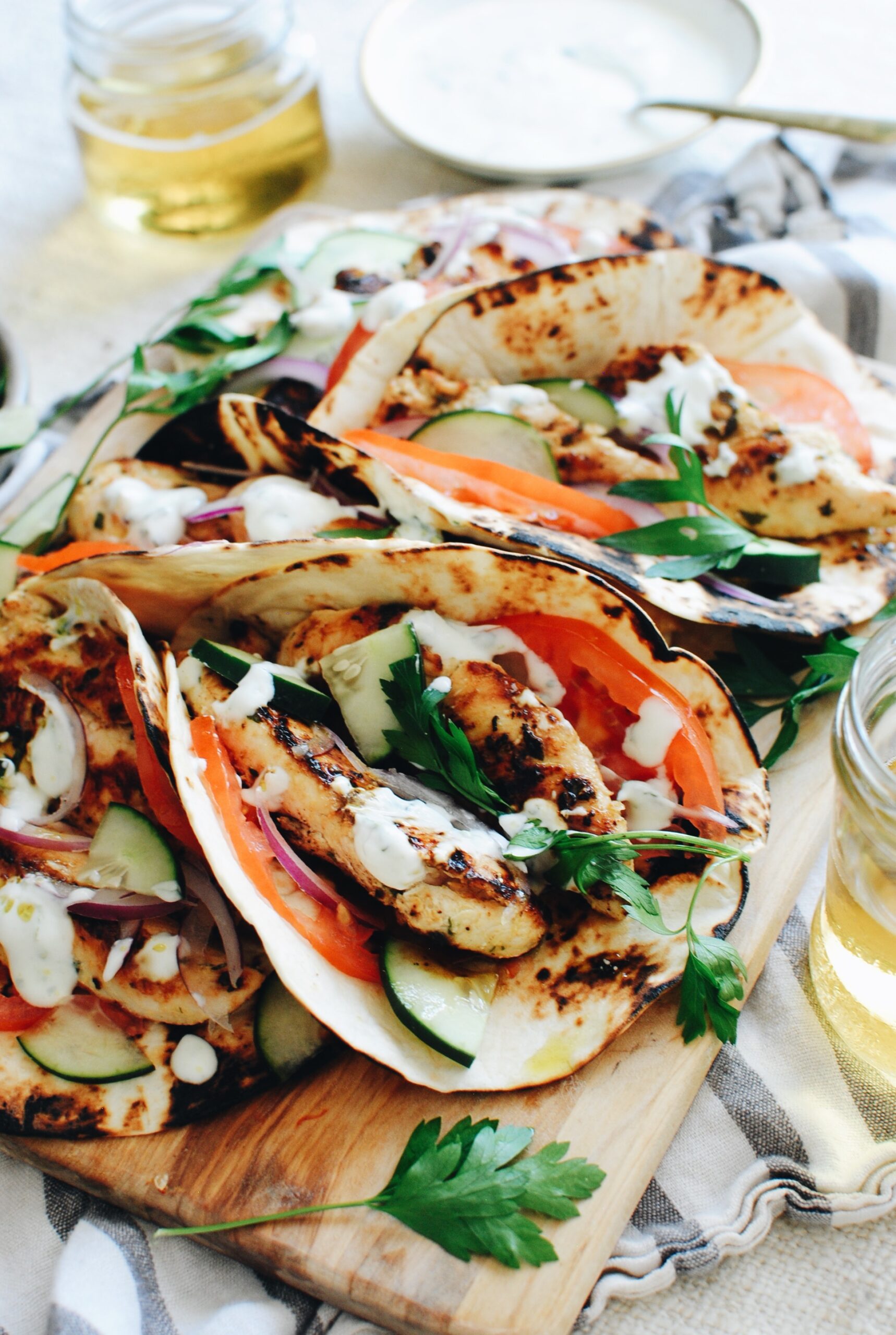 Taco Thursday. It's our new thing.
Ingredients
For the chicken:
1 1/2 pound chicken tenders
1 tsp garlic powder
4 Tbs. extra-virgin olive oil
1 lemon, zested and juiced
1 Tbs. chopped parsley
Coarse salt
For the sauce:
1 (5.3 oz) container Greek yogurt
1 lime, zested and juiced
2 Tbs. extra-virgin olive oil
1 small handful mint
Coarse salt
The rest:
1 tomato, thinly sliced
1/2 a cucumber, thinly sliced
1/4 cup thinly sliced red onion
6 inch flour tortillas, lightly charred
Fresh parsley, for garnish
Instructions
Combine the chicken, oil, garlic powder, lemon zest and juice, parsley, and a good pinch of salt in a bowl. Gently toss and marinate as long as you like. An hour on the counter, up to all day in the fridge. Just bring it back out about an hour before you cook, letting the chicken come to room temp.
Bring a skillet to a medium high heat. Tong each chicken tender into the pan, not adding any additional oil. This will ensure better browning all over. Sear in the hot pan until charred and browned on both sides, three-to-four minutes per side.
In a small food processor, combine the yogurt, lime zest, juice, oil, mint and a small pinch of salt. Blend until smooth and thin. (Add a little water if needed)
Arrange the seared chicken in the middle of each charred tortilla, followed by red onion, cucumber and tomato. Drizzle the yogurt sauce over each taco, and garnish with extra parsley if you like. And you'll like. Trust me.
Serves 4!
7.8.1.2
438
https://bevcooks.com/2020/07/greek-chicken-tacos/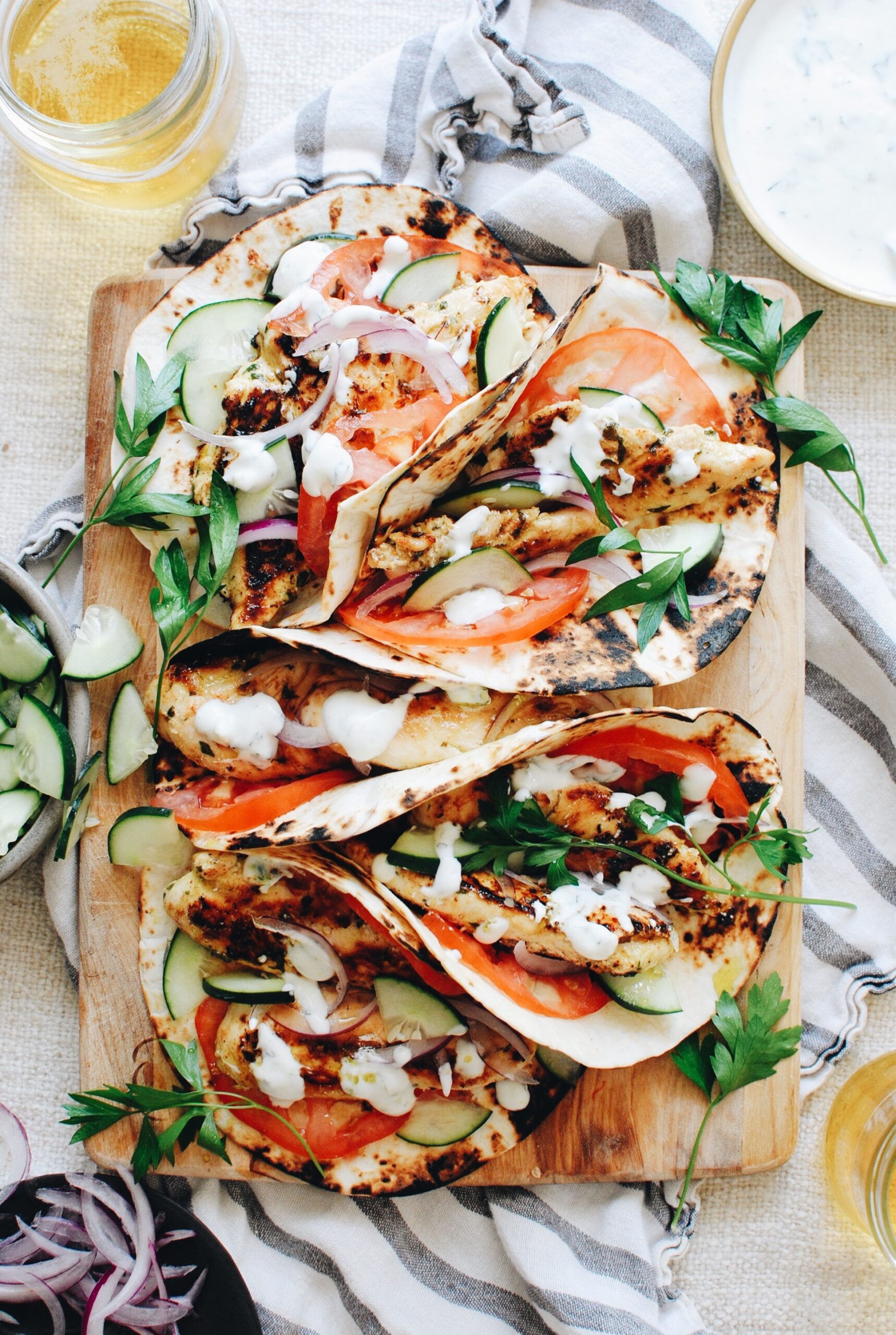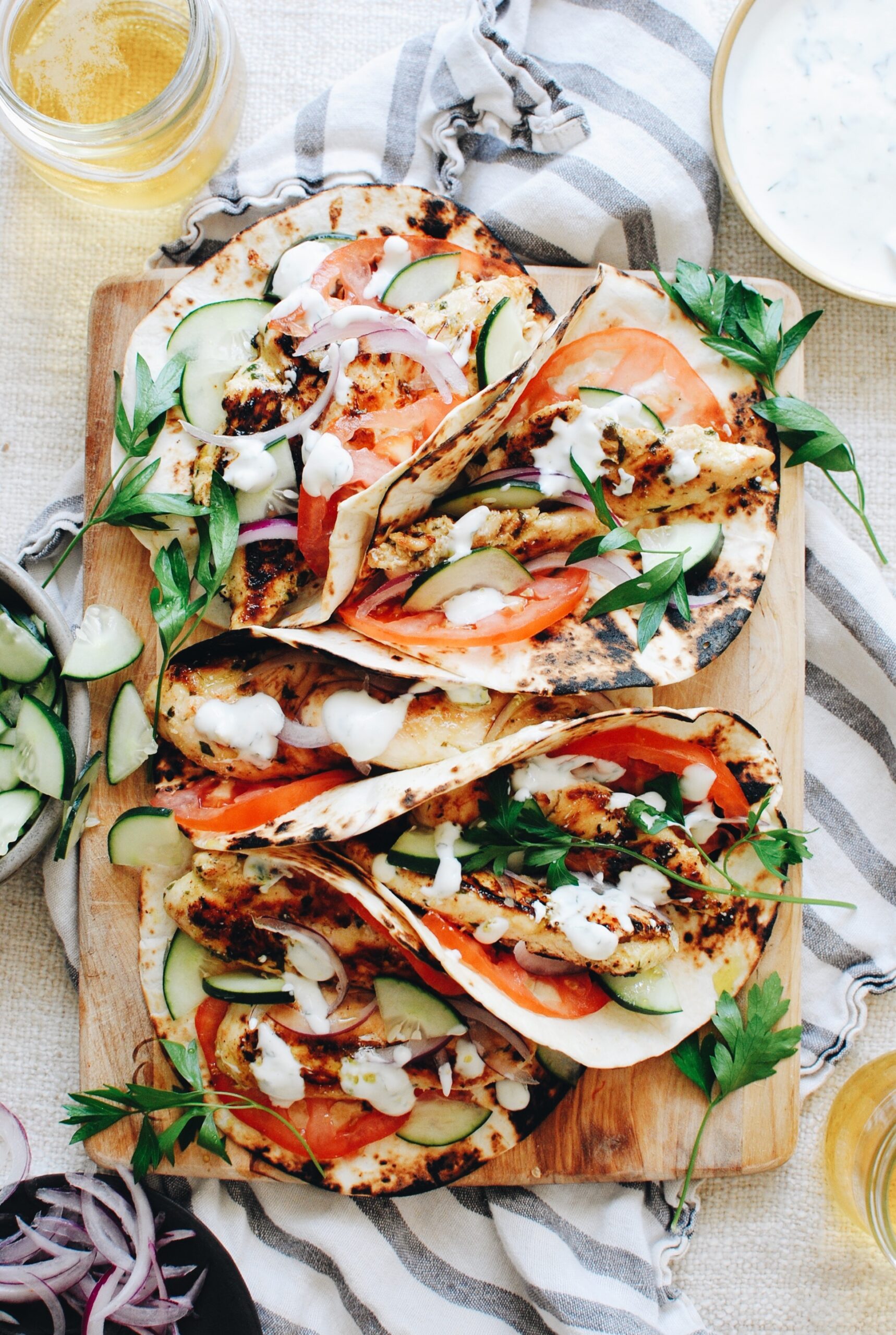 See you never.