Hey hooo, my vegetariananians! (it's a word.)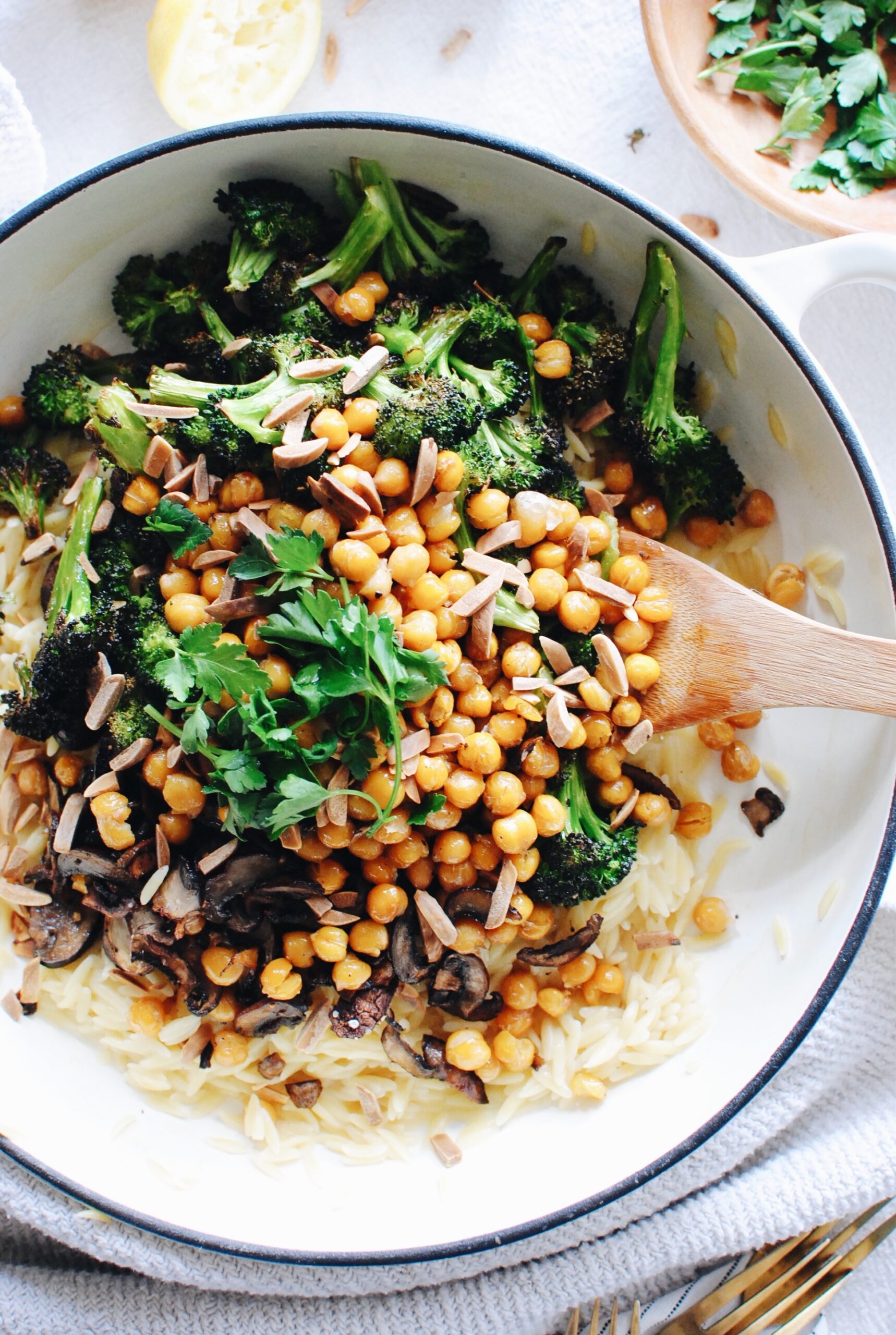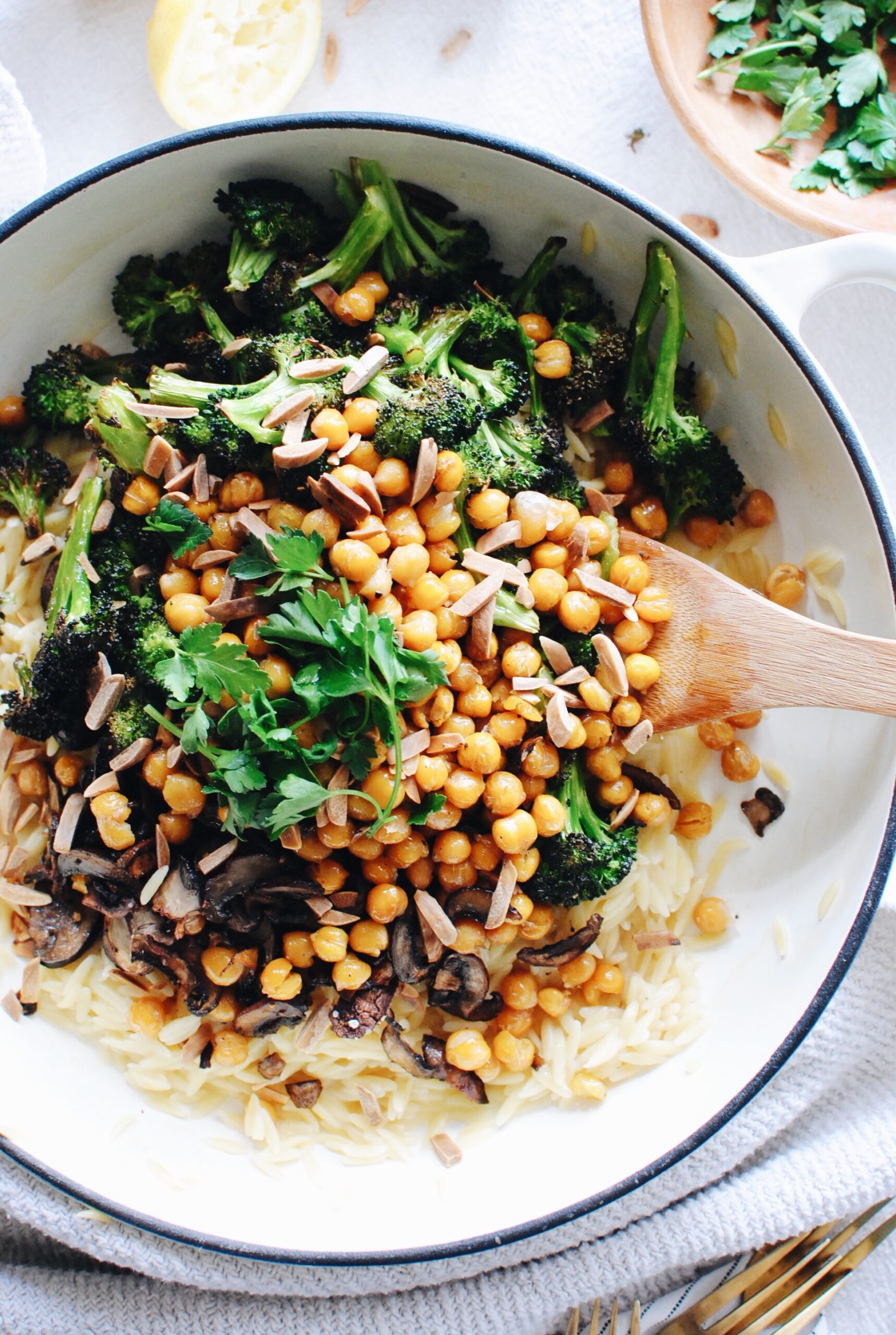 Everything is absolutely bonkers wonk right now, so let's focus on something that does us some good, k?
Like creamy carbs + roasted veggies + crispy chickpeas + crunchy almonds. See, we're already in a better mood!
I think.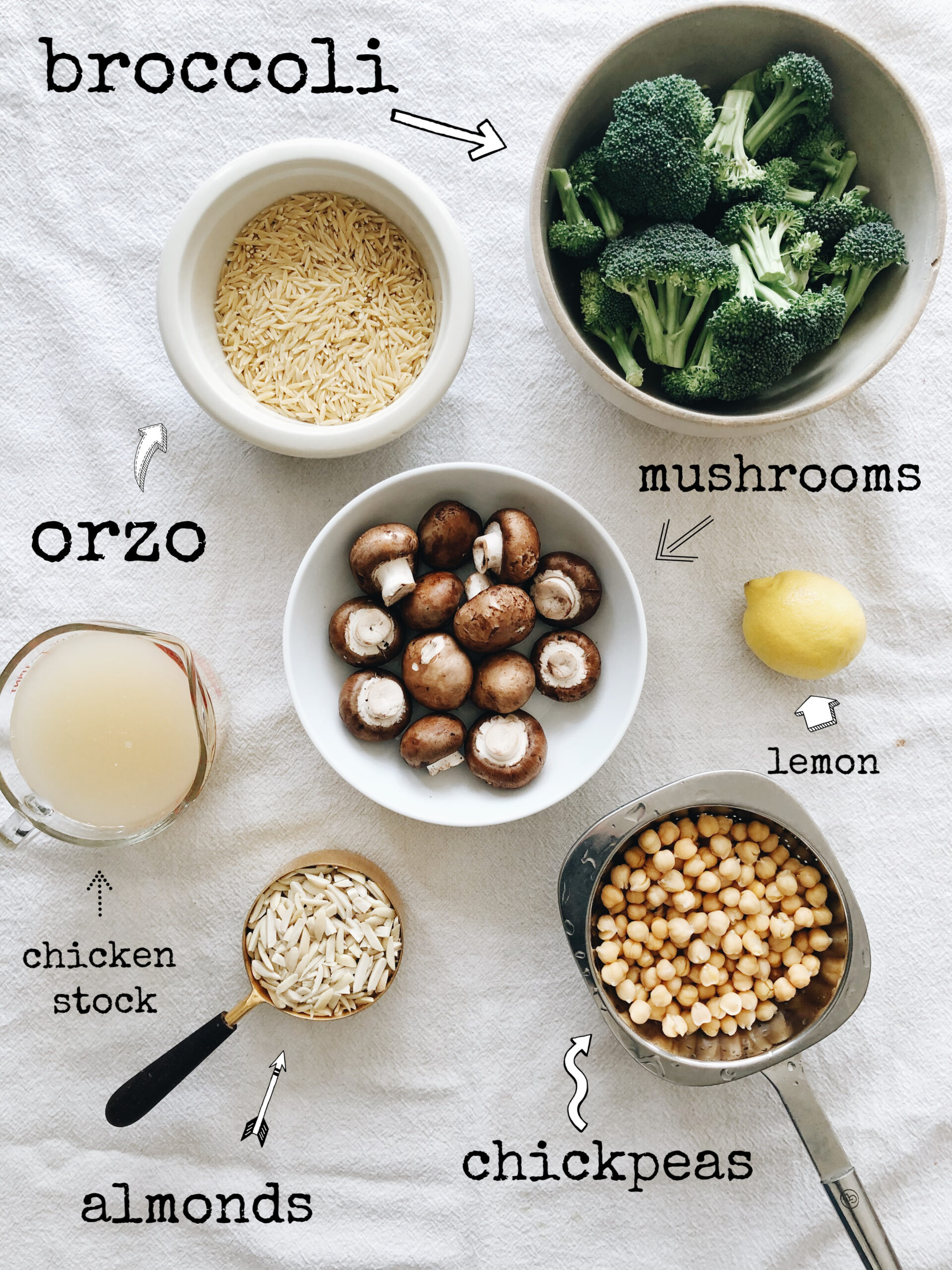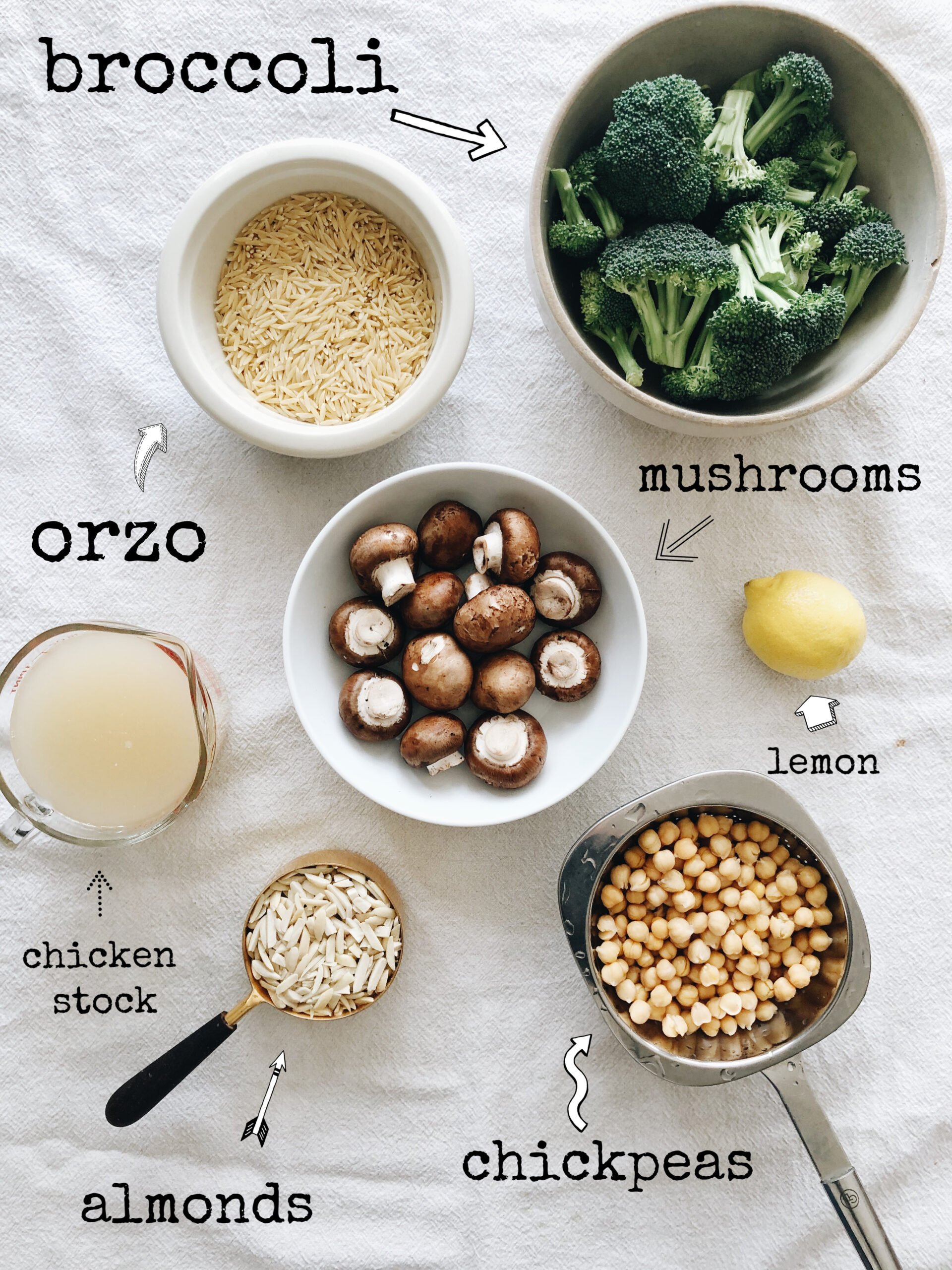 So check it – all so simple. And see those slivered almonds? If you can't find those, any sort of almond'll do. Honey roasted, lightly salted, sliced, it's all good. In the hoo- no?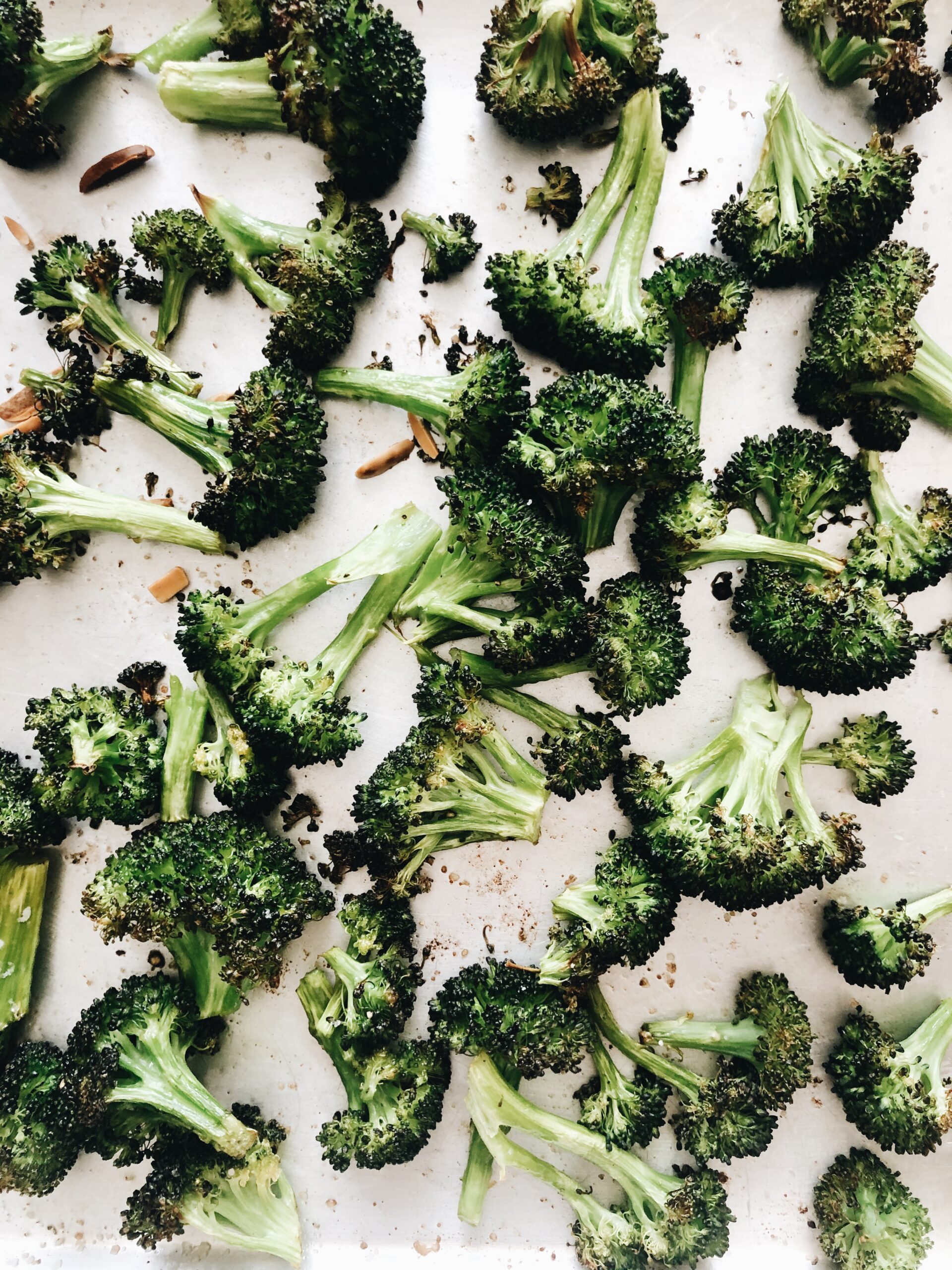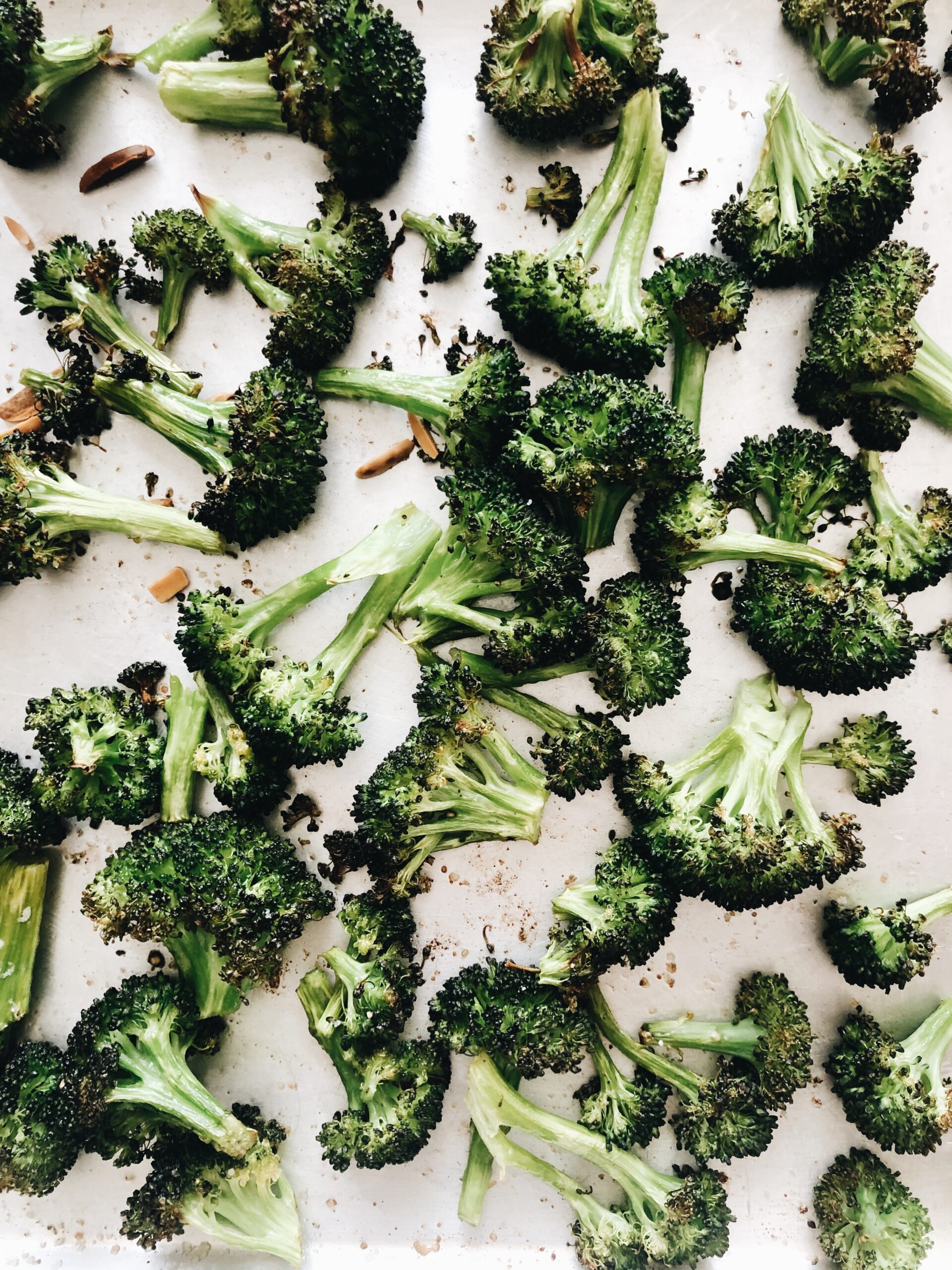 Let's roast! On two baking sheets we'll arrange the broccoli and almonds (that's on one). And on the other, the sliced mushrooms and chickpeas. AND YOU KNOW WHAT? (whoa that got intense) I don't roll the chickpeas around to get the skins off. I decided a short time ago that life is too precious for skin rolling. So I nixed it. And I'll never look back. Goodbye.
Okay, see how on the broccoli pan there's some rogue toasted almonds? I HAD roasted them a little bit on the broccoli tray, but moved them off because I was afraid they were going to burn. So move yours off after about ten minutes or so, and let the broccoli go a bit more. K, Vern?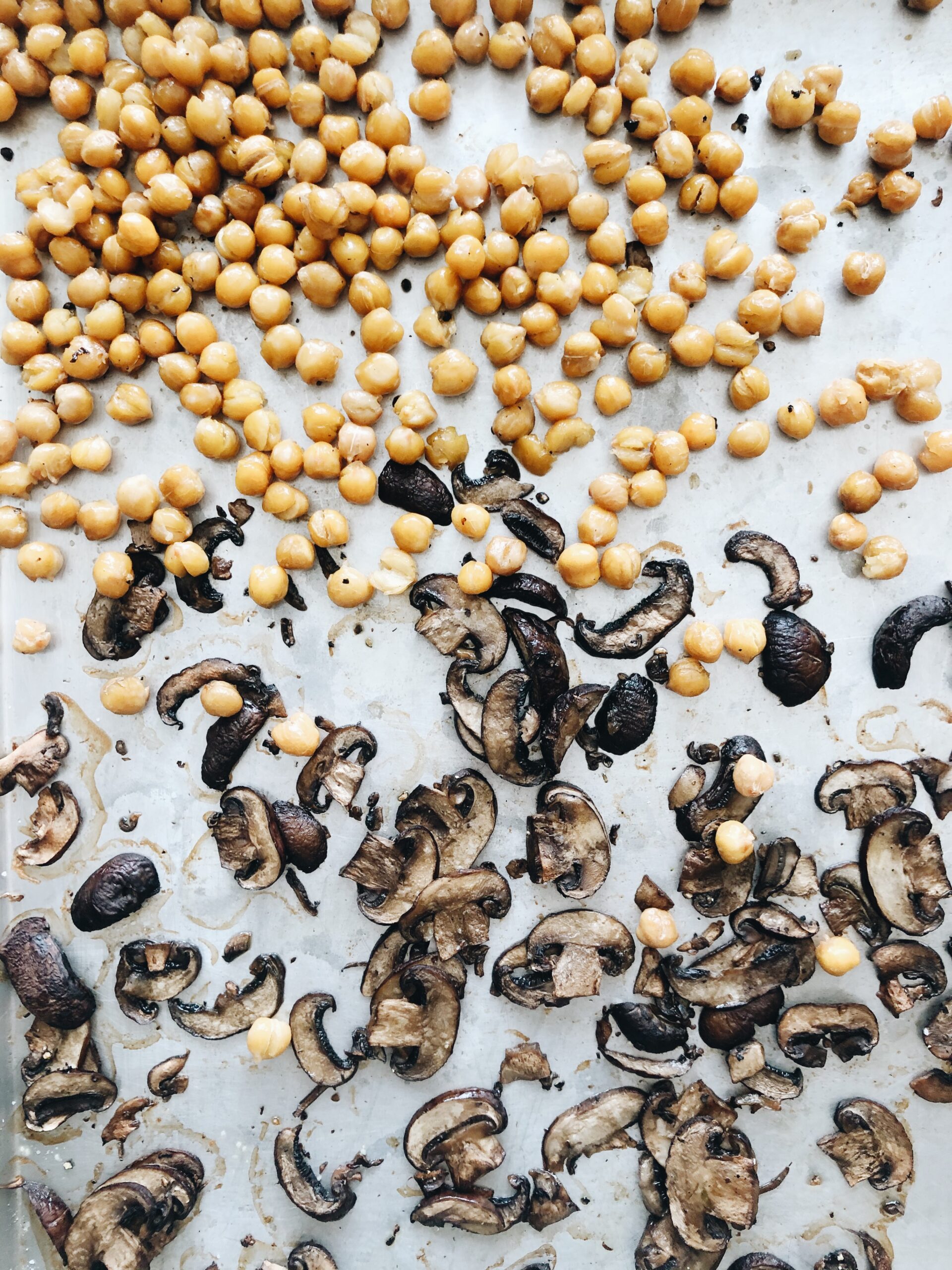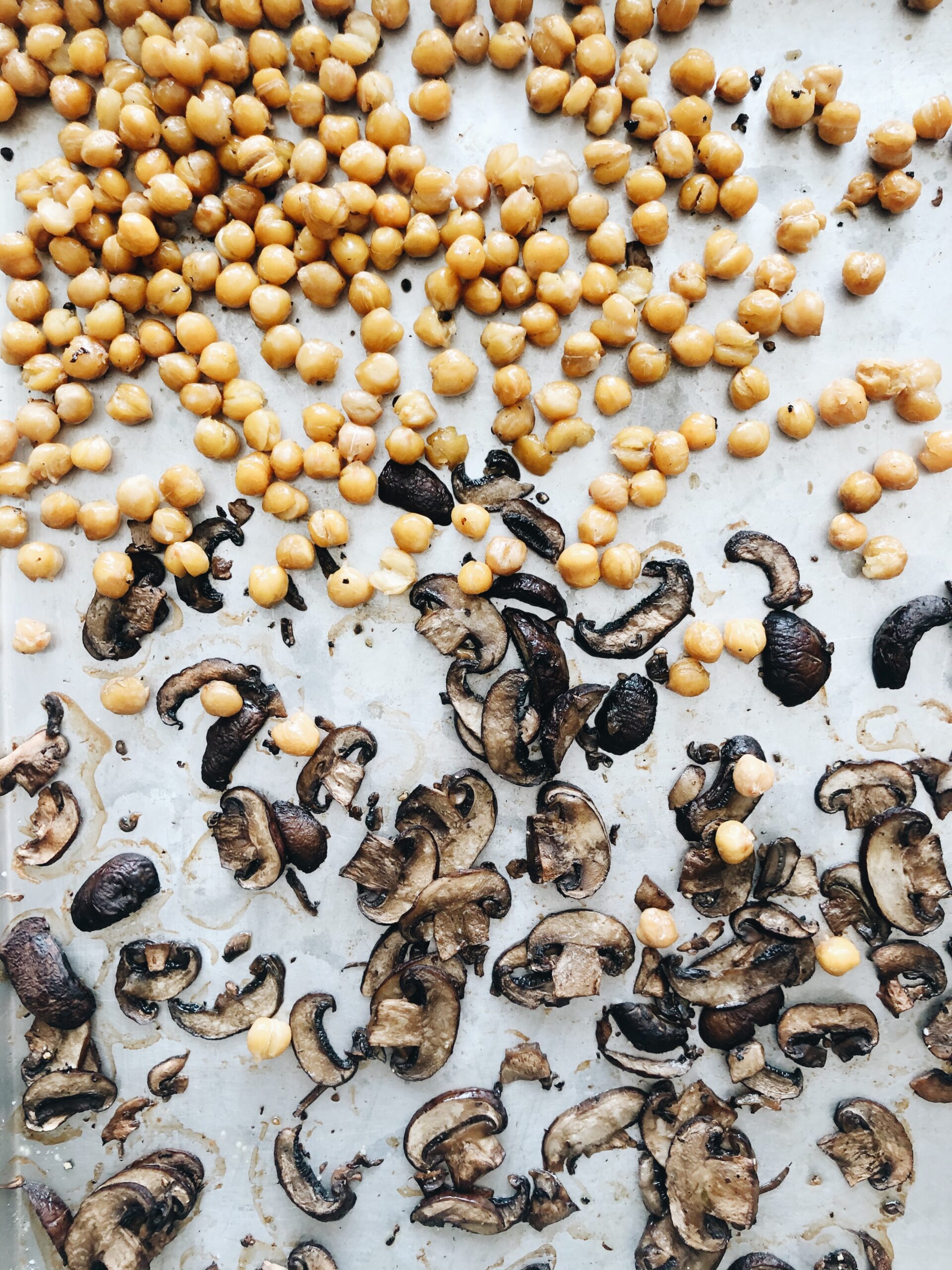 It's hard to tell with the naked eye, but those chickpeas have a roasted crunch to them that will have you howlin' at the moon in your underpants.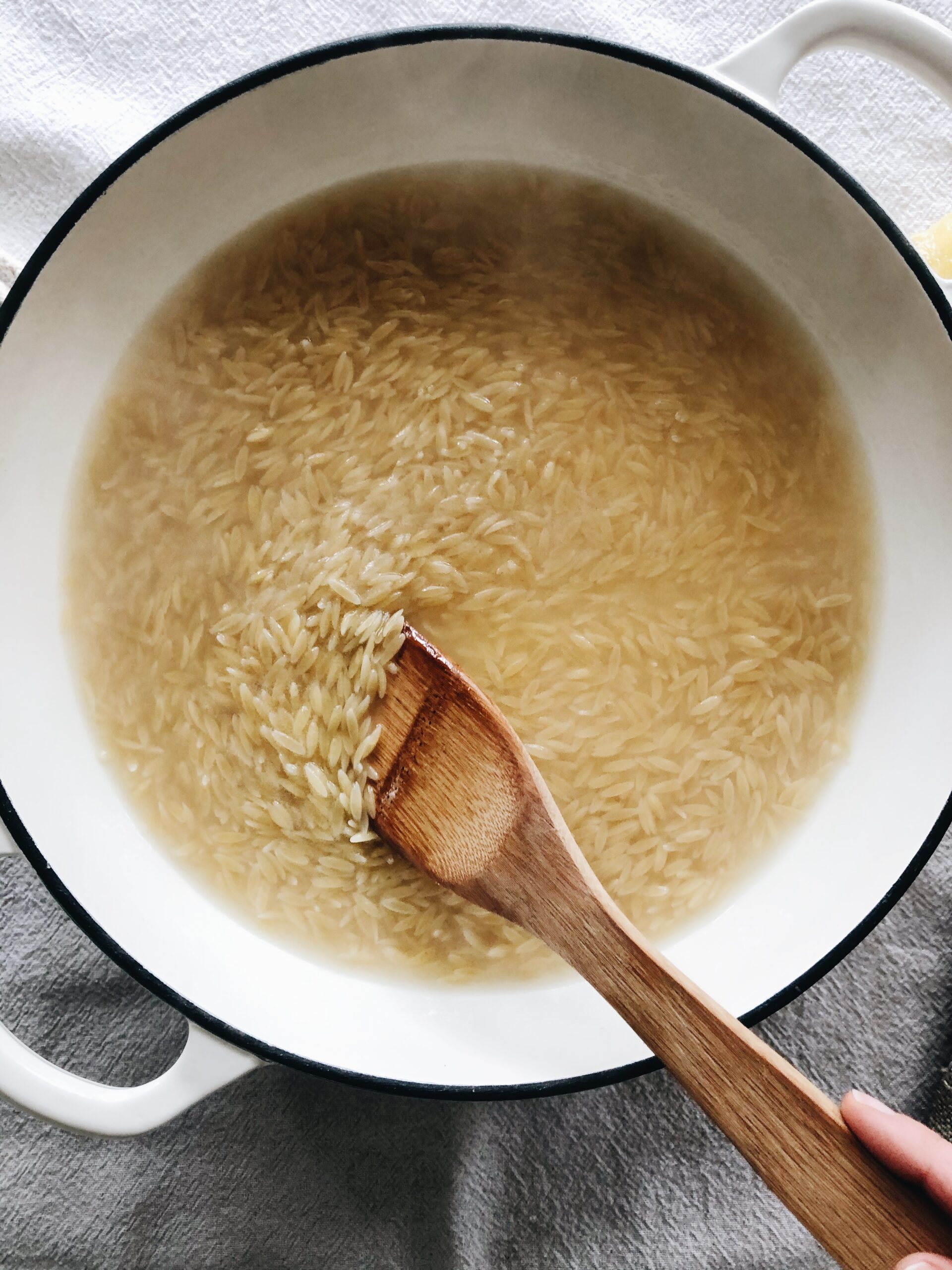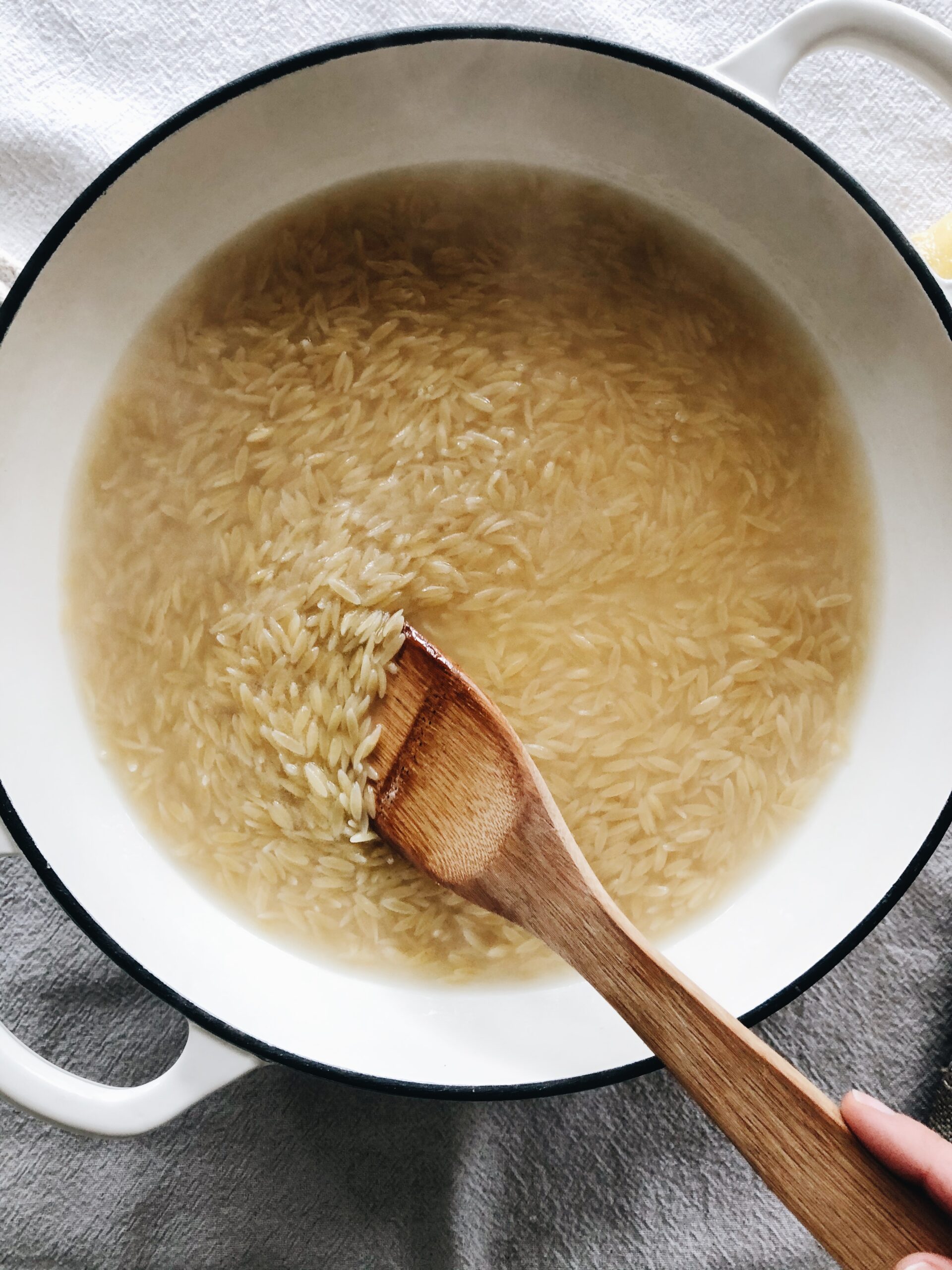 In a shallow pan or skillet, just simmer the orzo in chicken stock. I like the stock instead of water because it's added flava, man!
Not to be confused with Flava Man. He's not in this dish. See how important comas are, kids?
Get that orzo creamy and tender and soul cracking. Amen.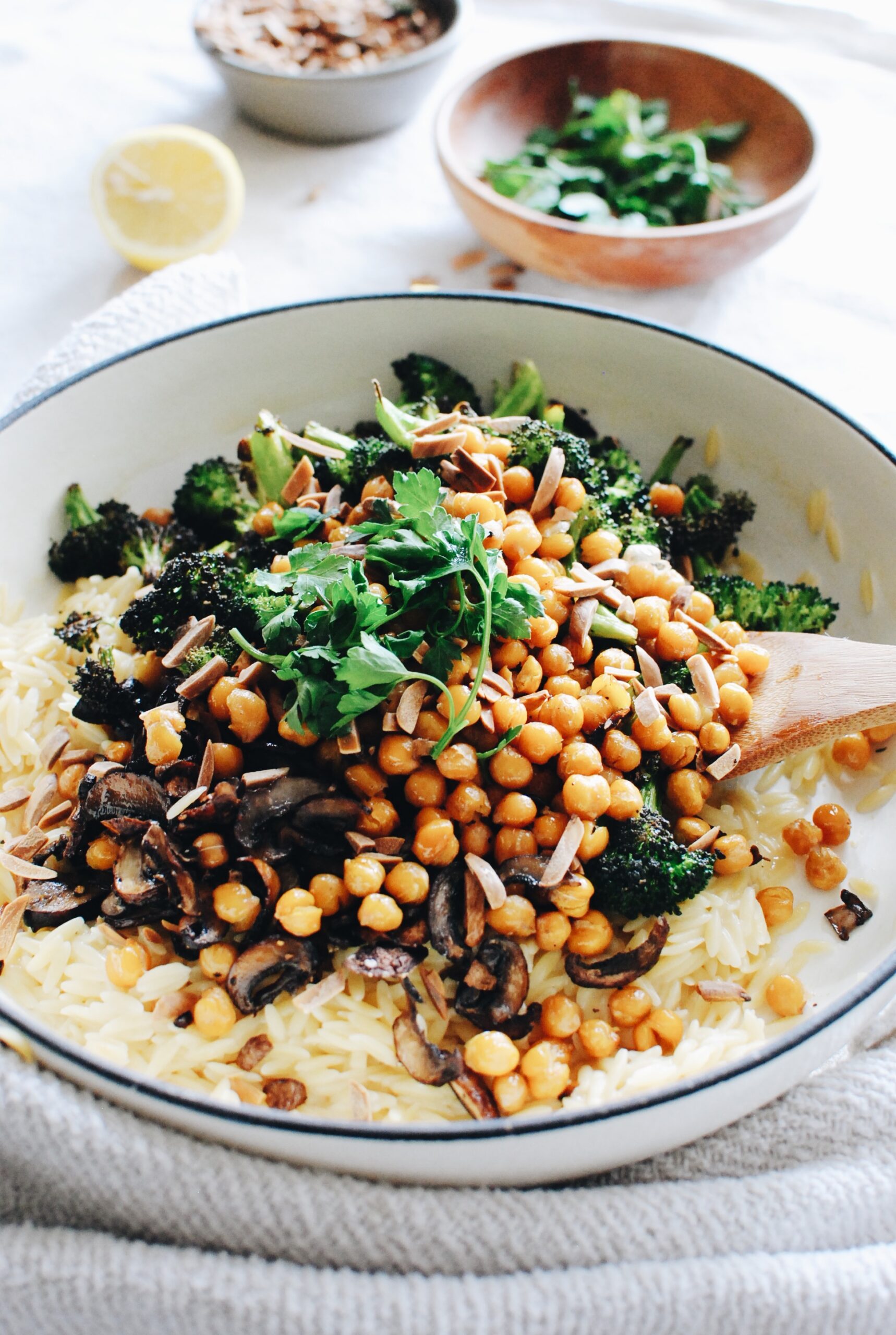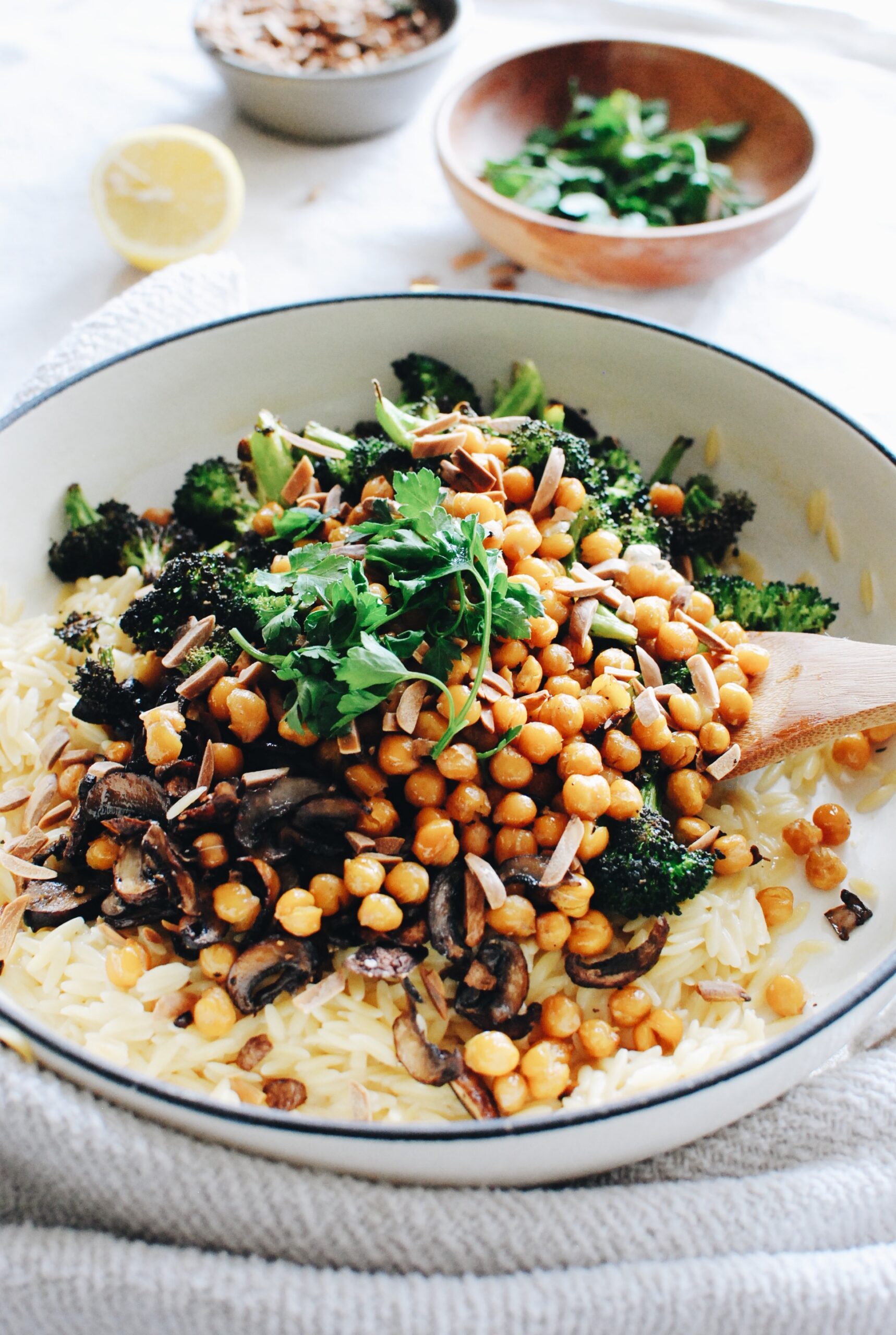 And then viciously dump everything on top and let that single tear fall from your face. It's just all so dang delish because you've just squeezed fresh lemon over the whole thing, so IT JUST GOT WOKE. (<–did I use that right?)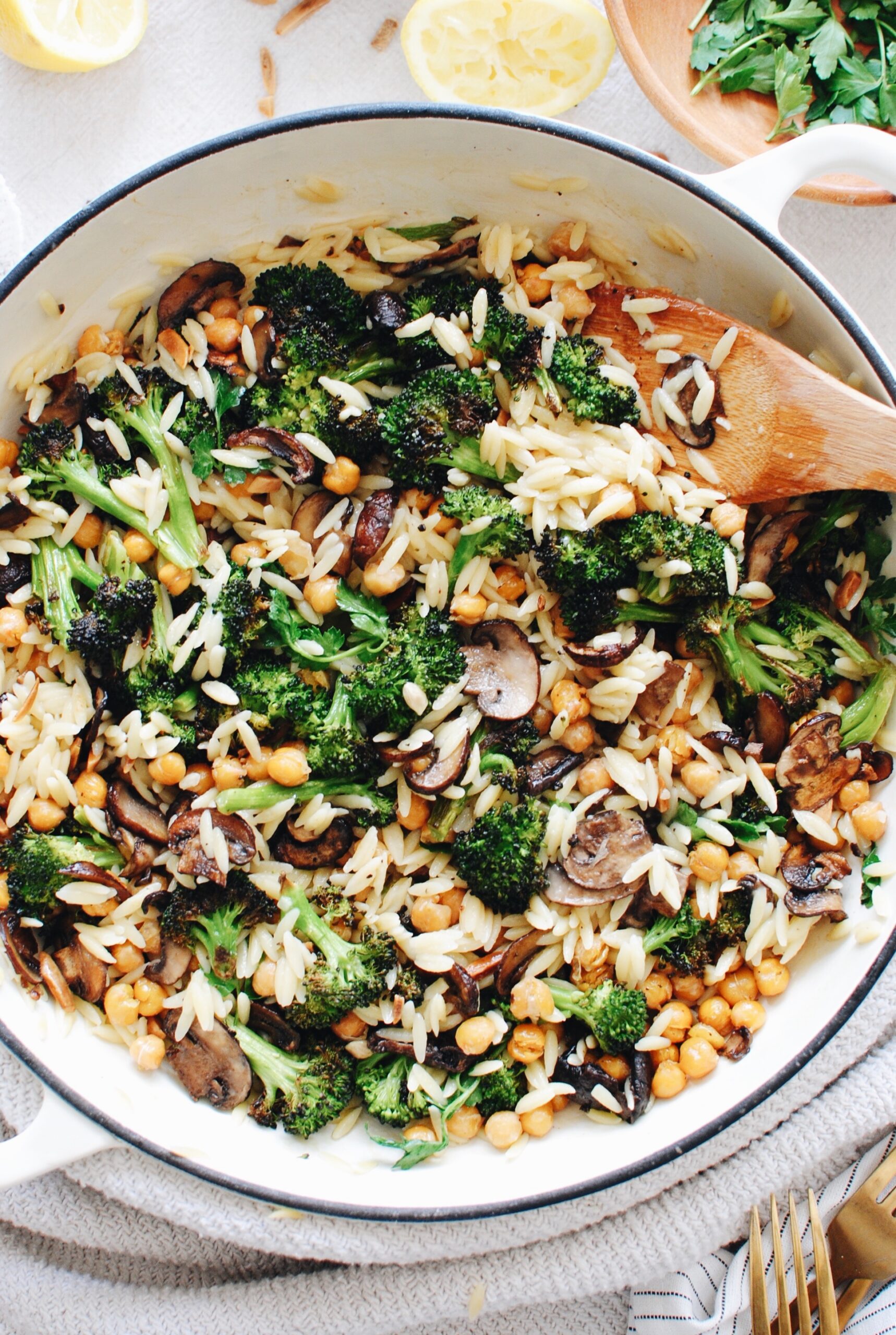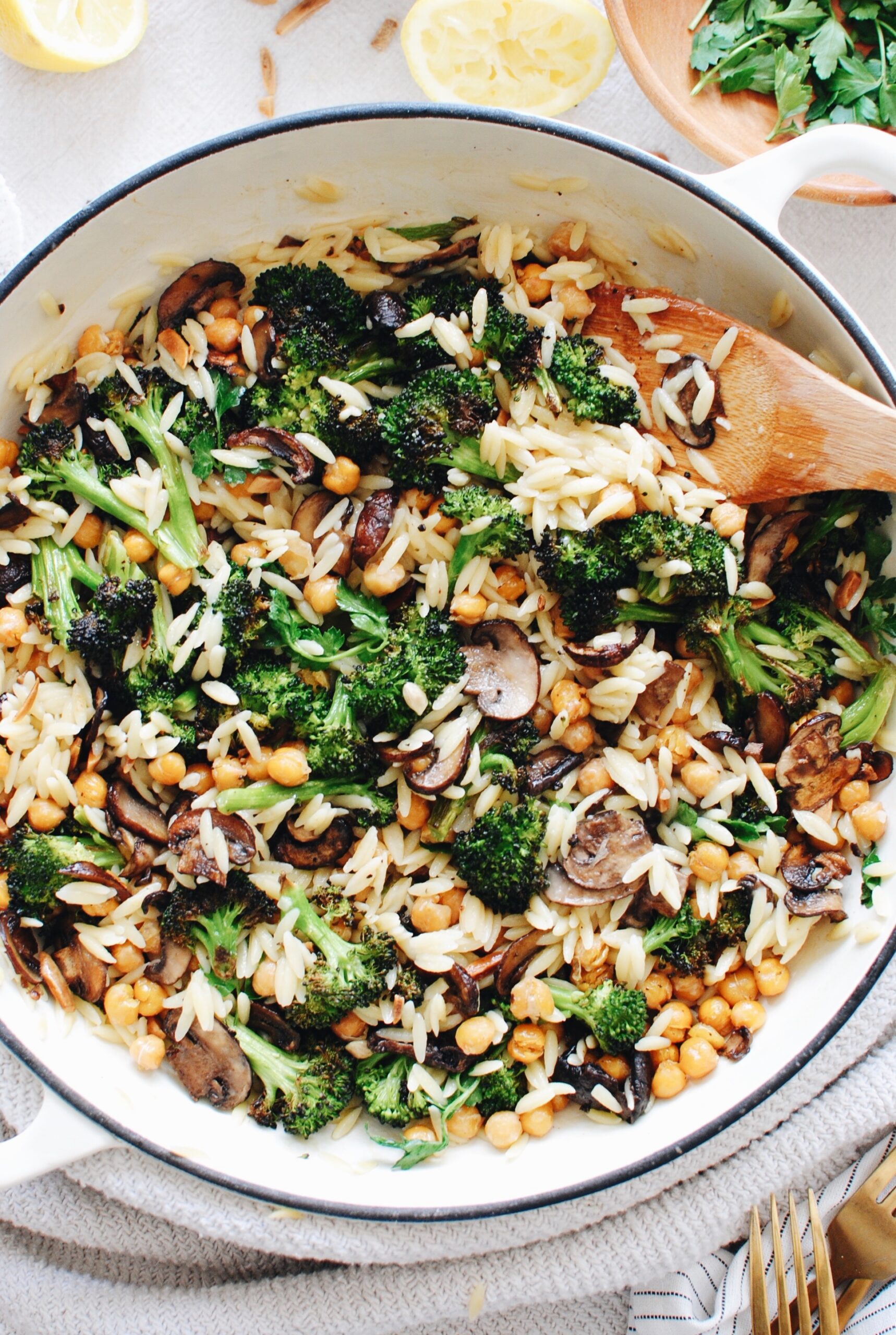 And remember it's vegetarian? (okay besides the chicken stock, but we can let that one slide. swamp in veggie stock! no hate mail. simple as that.)
I have a vague memory of serving this to myself and grating so much parmesan cheese on top to the point that I lost my vision. So maybe join me in that direction.
Whatever you do, it's FANTASTIC flavors. Roasted depth meets all the crunchy textures and the creamy orzo, ugh. And you do remember how simple it was, right?
Also also, it's kid approved. (yeah I can hear your soul angels erupting in glee.)
Make make make!
Skillet Orzo with Roasted Broccoli, Mushrooms and Chickpeas
Ingredients
12 oz broccoli florets
1 (8 oz) package baby Bella mushrooms, rinsed and thinly sliced
1 (15.5 oz) can chickpeas, drained, rinsed and pat dry
1/2 cup slivered almonds
3-4 Tbs. extra-virgin olive oil
2 cups chicken stock
2 cups orzo
1 lemon
1/2 cup parsley leaves
Coarse salt
Instructions
Preheat your oven to 400.
Arrange the broccoli and almonds on one rimmed baking sheet, and the sliced mushrooms and chickpeas on another. Drizzle the oil evenly over the vegetables and season liberally with coarse salt. Roast the veggies for 40 minutes total, but pull the almonds out of the oven right around the 10-minute mark, once they start to brown. (Just scoop them up and reserve them, then stick the broccoli back in!) Alternatively, you can toast these separately in a small skillet. Easy!
In the meantime, simmer the orzo in the chicken stock in a large skillet or braising pan, until it's tender but al dente, about 8 minutes. Transfer the roasted veggies to the orzo and squeeze the lemon (the whole thing, yes!) over the dish. Garnish with parsley and the roasted almonds. Serve as is, then toss it all together on the table for a little pizazz. Because we all need a little pizazz in life.
Serves 4!
7.8.1.2
409
https://bevcooks.com/2020/03/skillet-orzo-with-roasted-broccoli-mushrooms-and-chickpeas/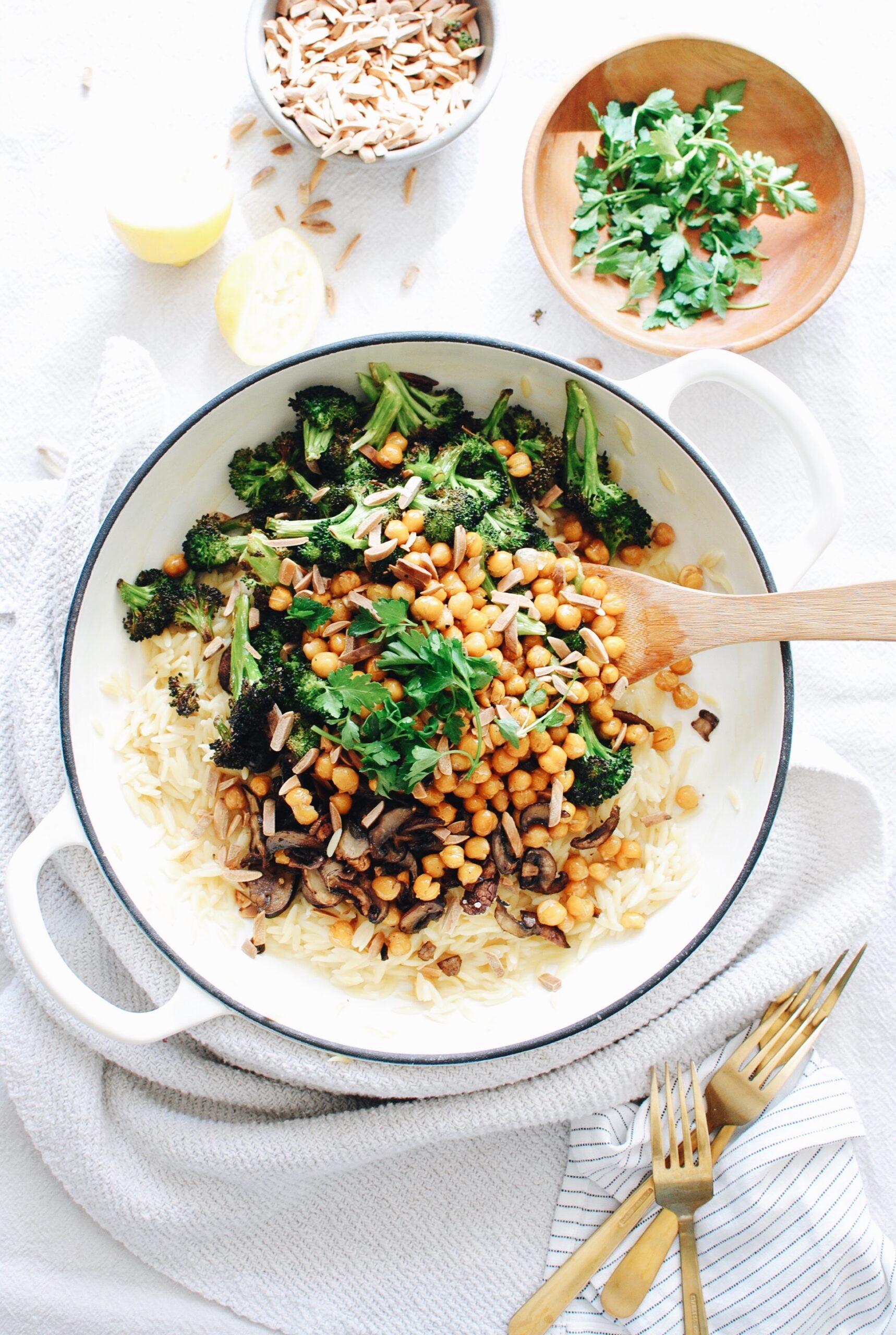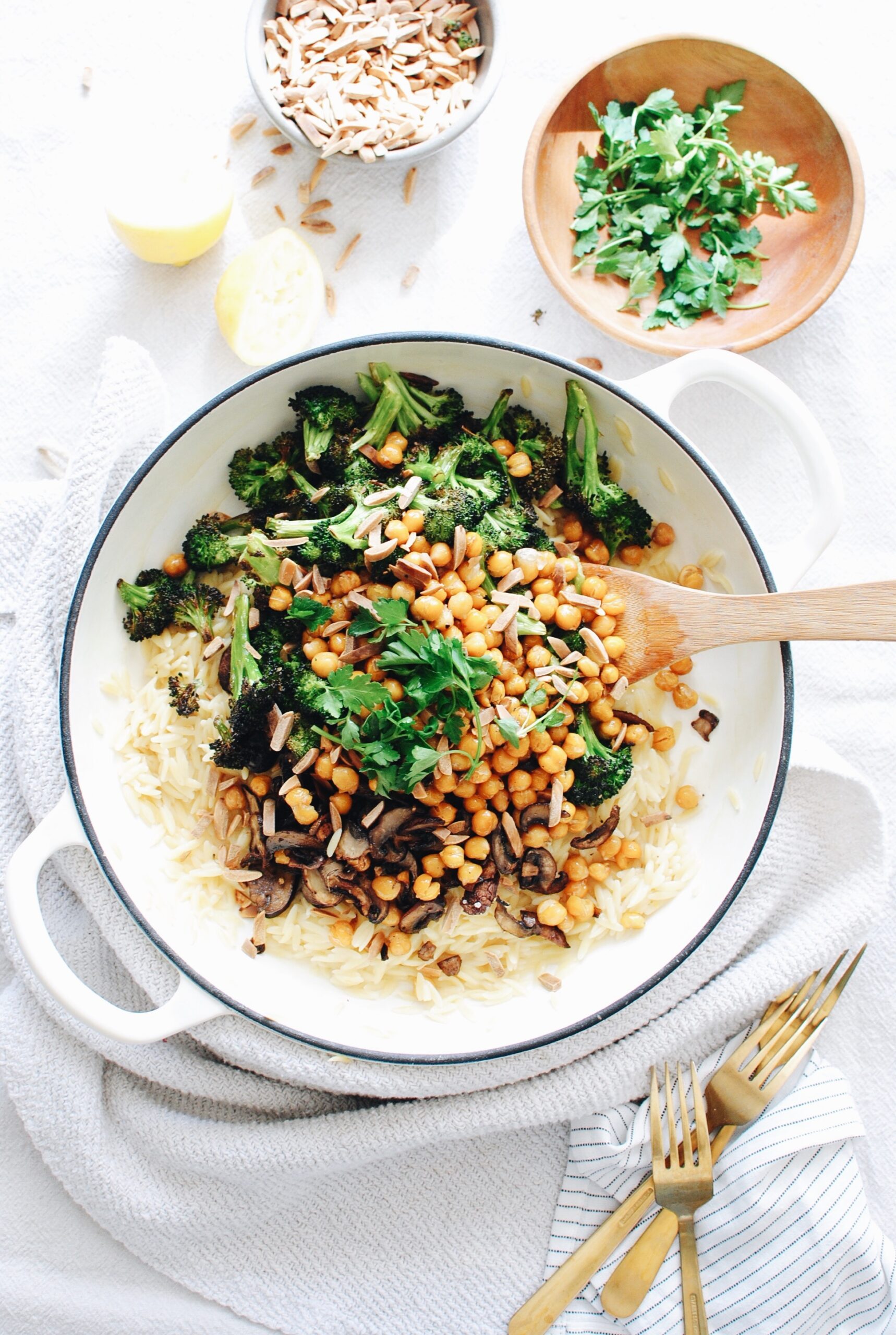 I think I recall a time when mama said knock you out.