New favorite soup alert! And I mean it. Oh, do I mean it.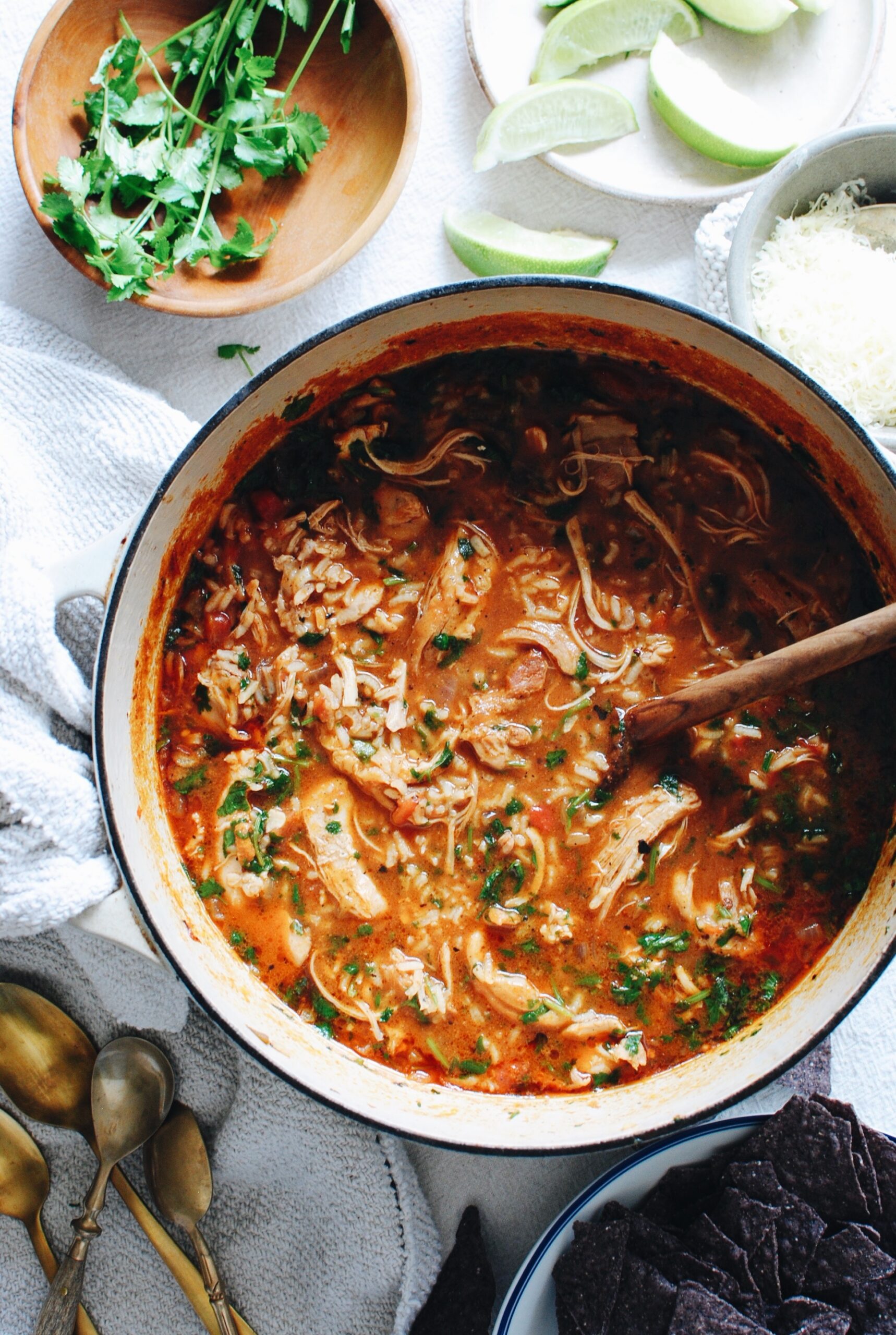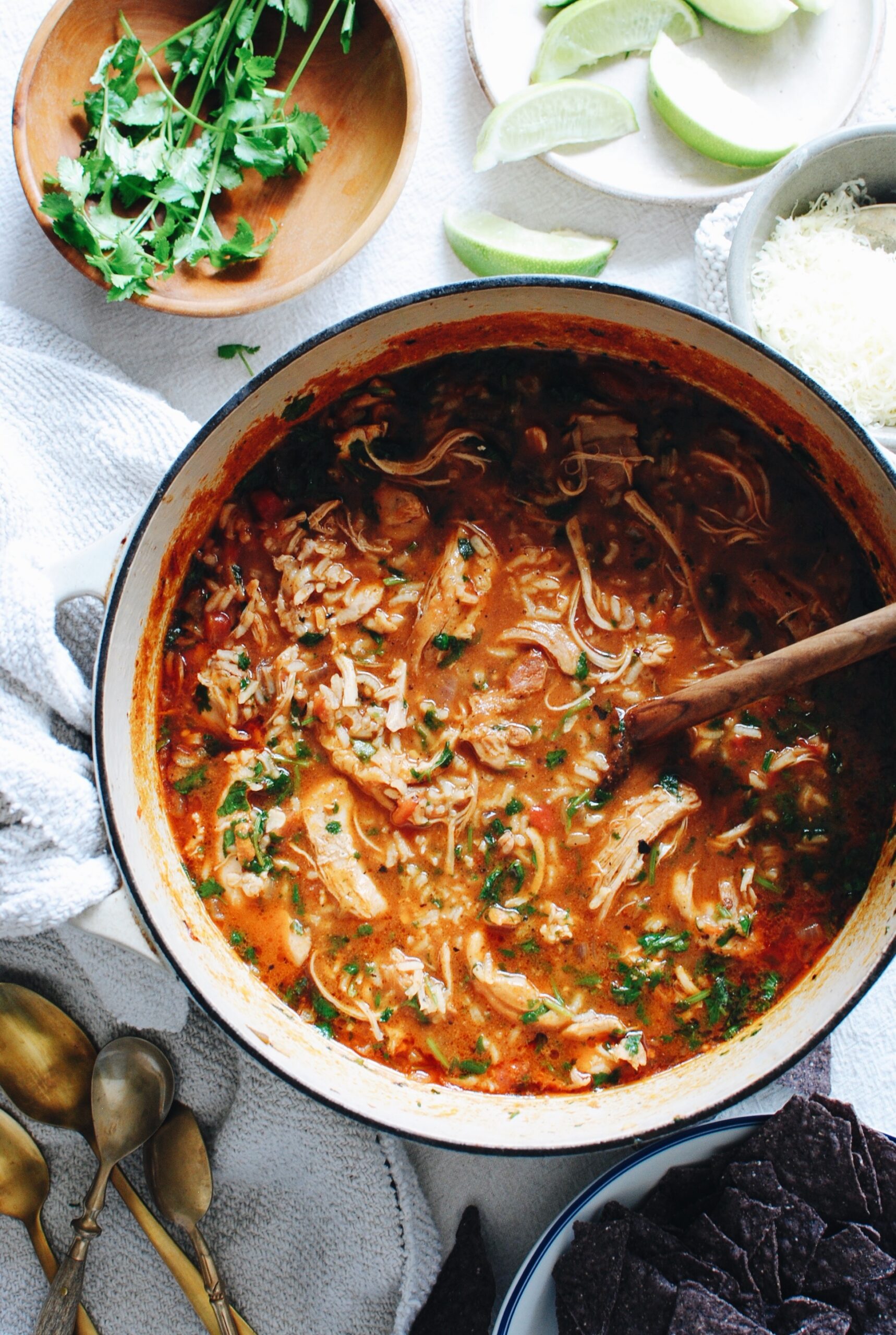 And guess what – this falls into my UNDER TEN INGREDIENT meals!
Well, it's 11 in total, but I feel like you already have the pantry staples on hand, so in a way it's like, six ingredients. And you might already have the chicken thighs in the freezer, so it's really just three ingredients. And you most likely have the garlic and onion on hand because they're life necessities, so really it's zero ingredients in total.
Zero ingredient meal!
Never mind.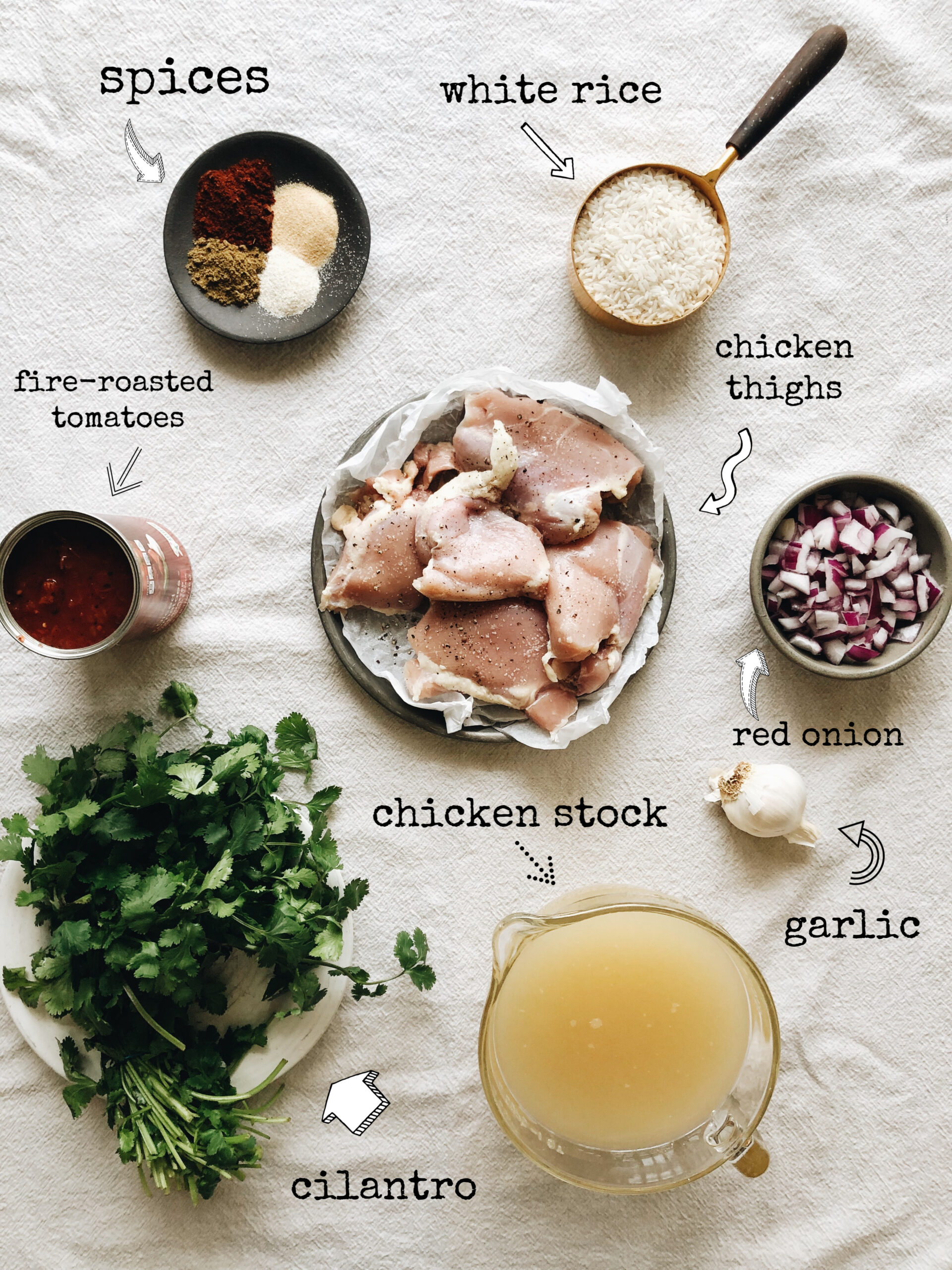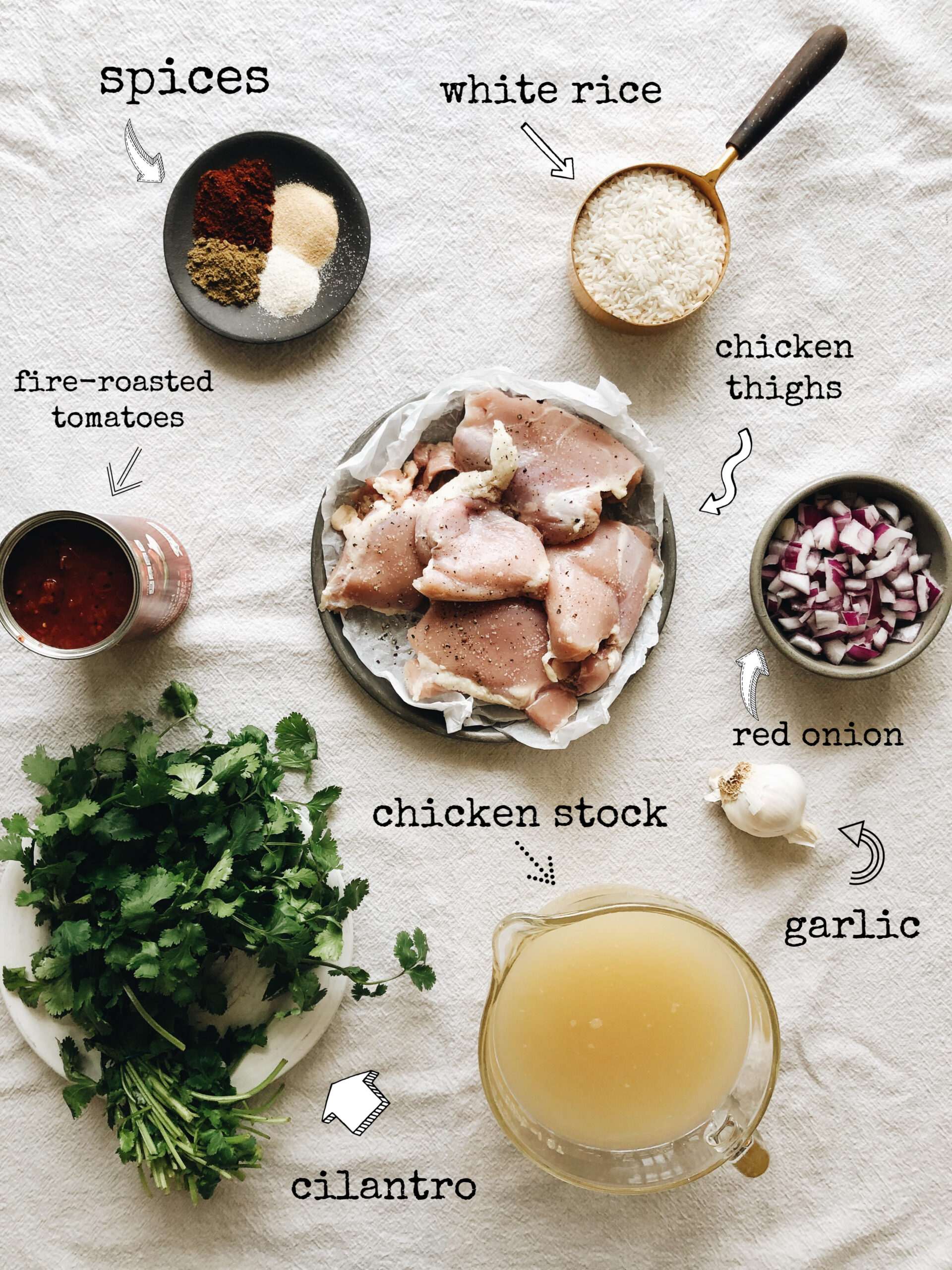 Point is, look how simple that mess is.
And the spices are everyday – cumin, chili powder, garlic powder and onion powder. Yes, ma'am. Over and out. Roger Roger. 10-4.
(Who's Roger?)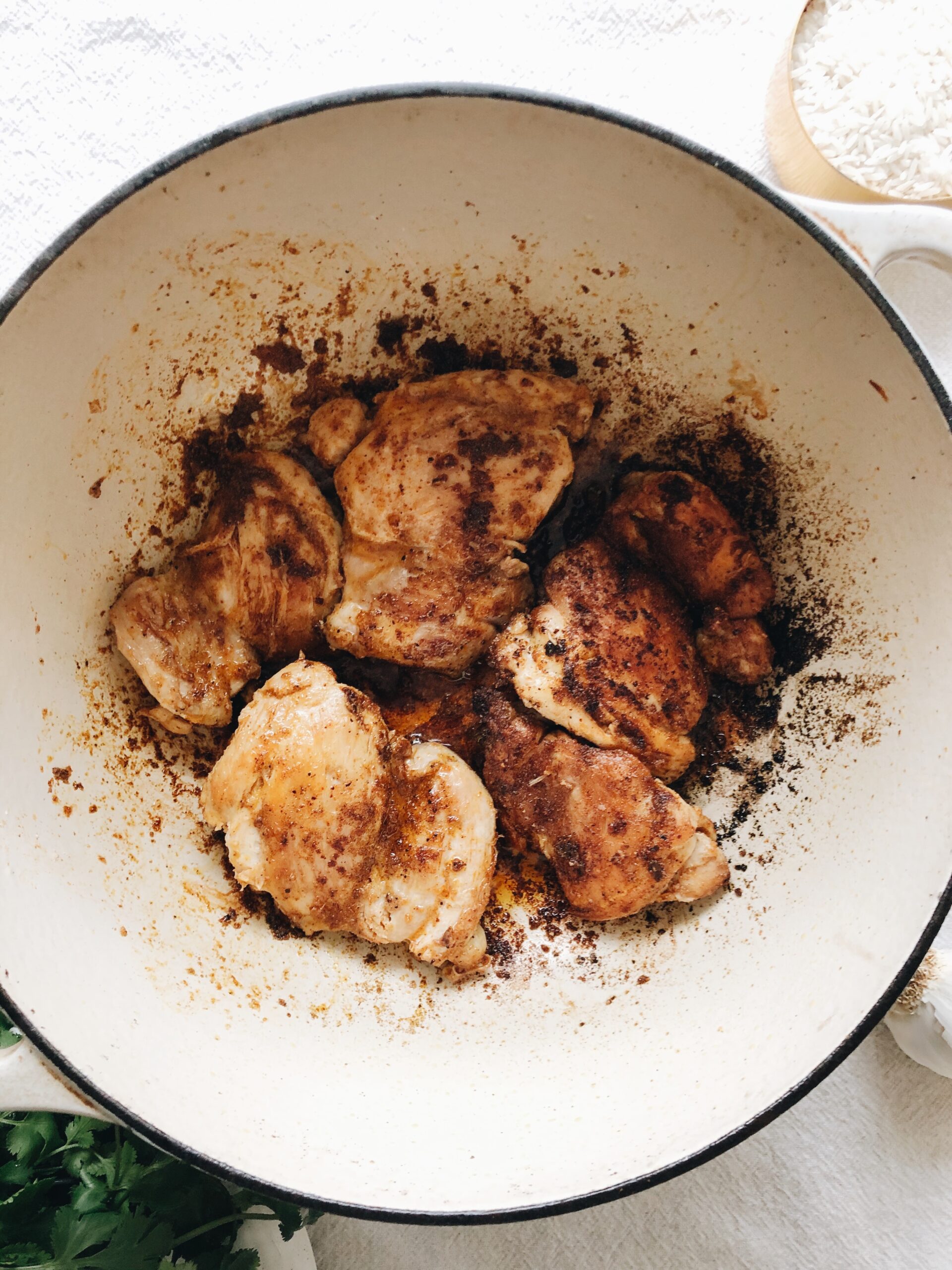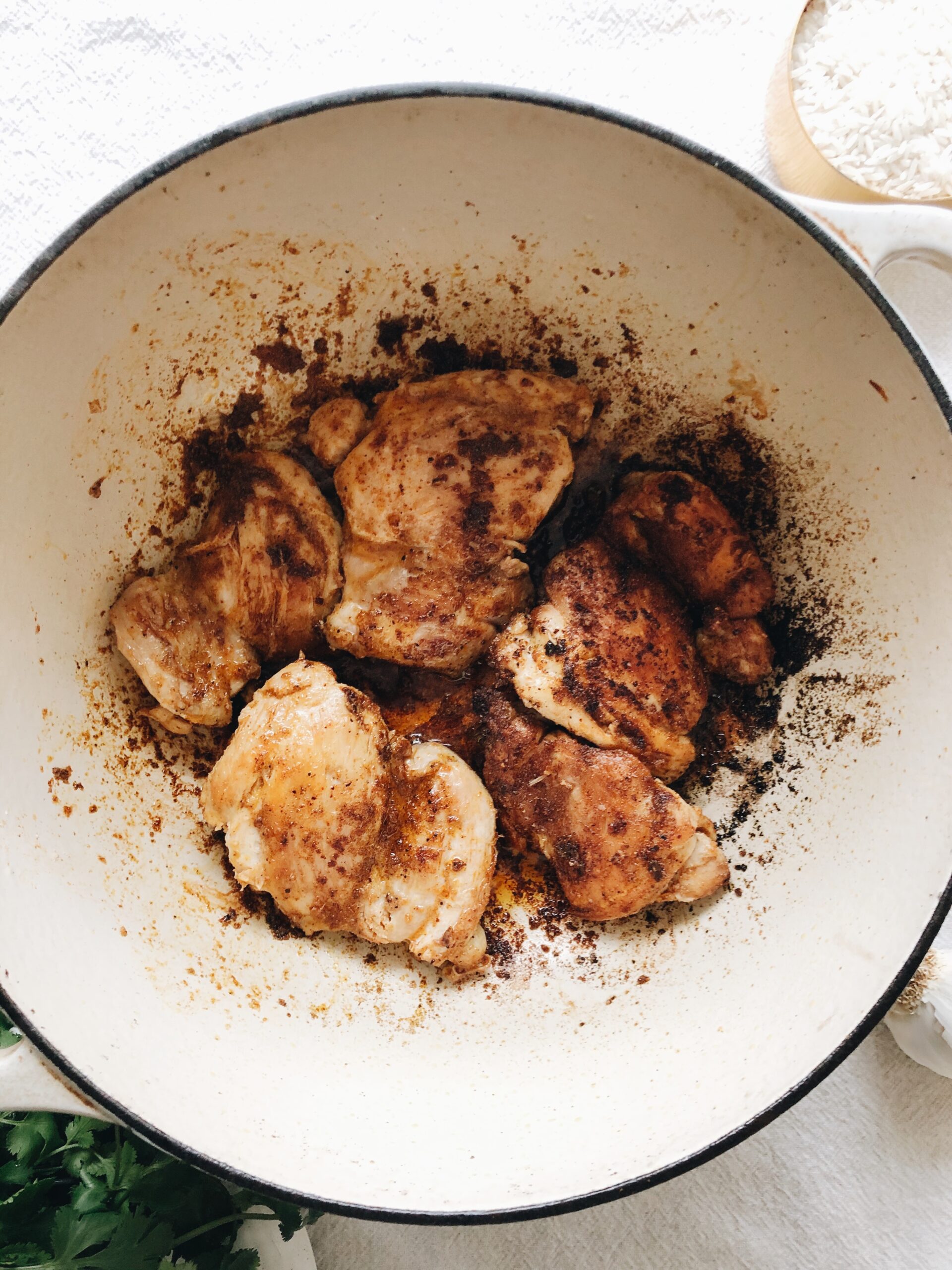 This is whacha dew: mix the spices together (along with a tsp of coarse salt!) and sprinkle it over the chicken like a happy little rain spice shower. Then sear the thighs (you can use breasts, but honestly who would even do that.) in a pot for about six minutes per side, until you get goooood browning. The chicken won't be cooked all the way through at this point, but that's totally fine. We'll eat it raw.
JAY KAY, ya boob. What kind of lunatic do you think I am? (don't answer that.)
We'll simmer in a bit!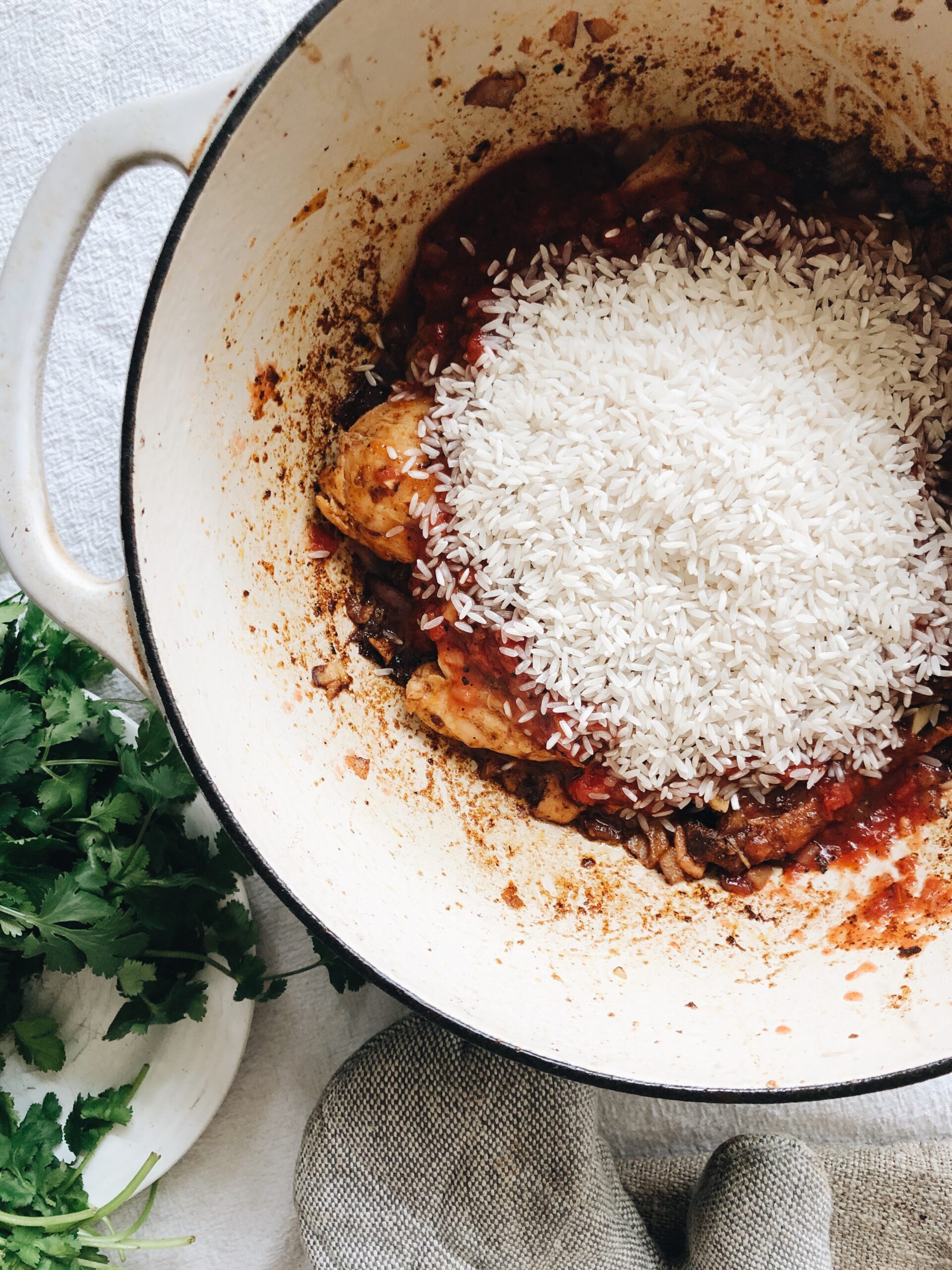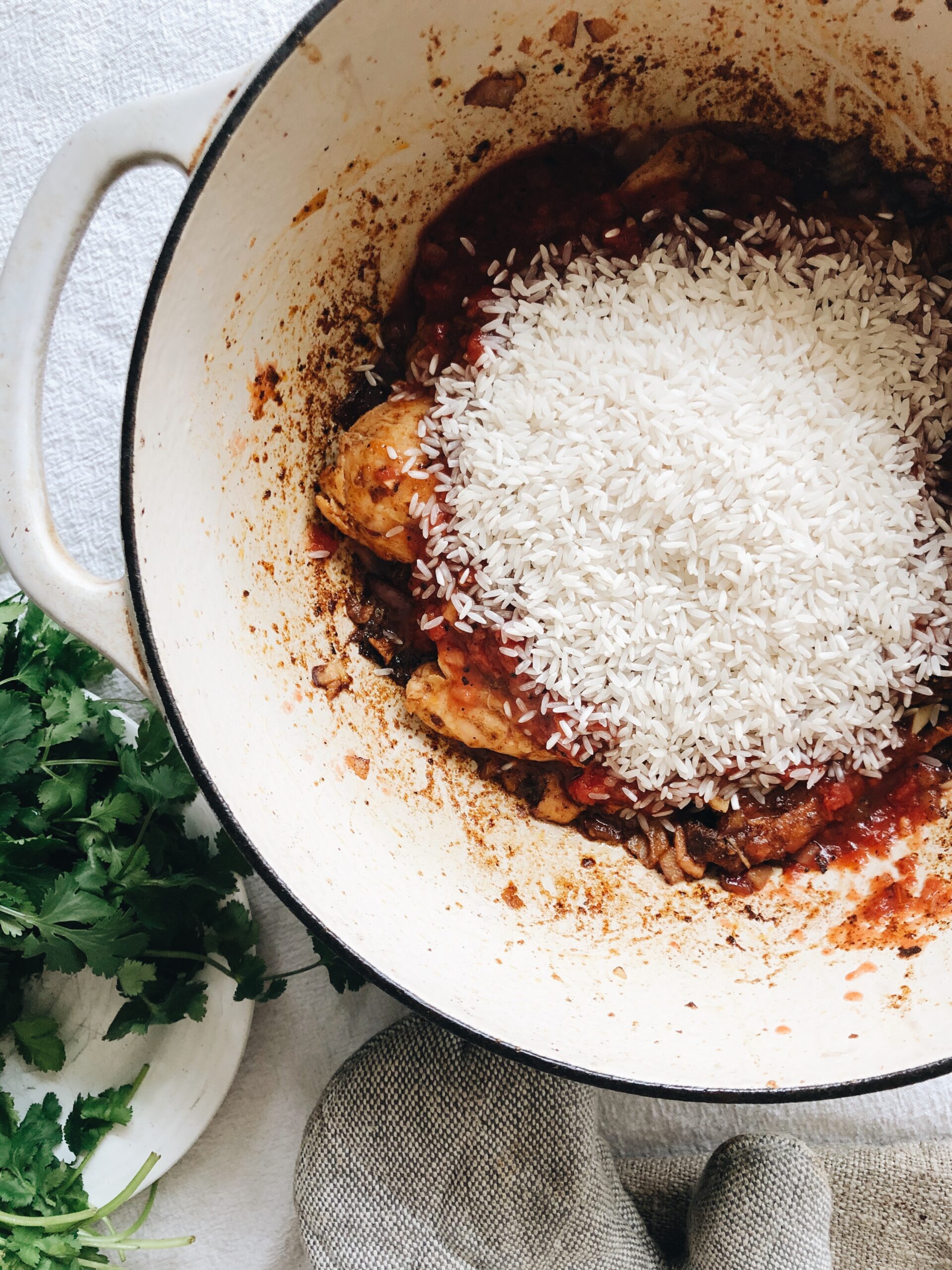 After you've added diced onions and garlic to the pot and sautéed for about five minutes, you'll add in the canned fire-roasted tomatoes, and the white rice. Toss that around and add yer stock, brah.
Bring it to a boil, then reduce the heat the simmer until that rice is toothy and tender, about 15 minutes.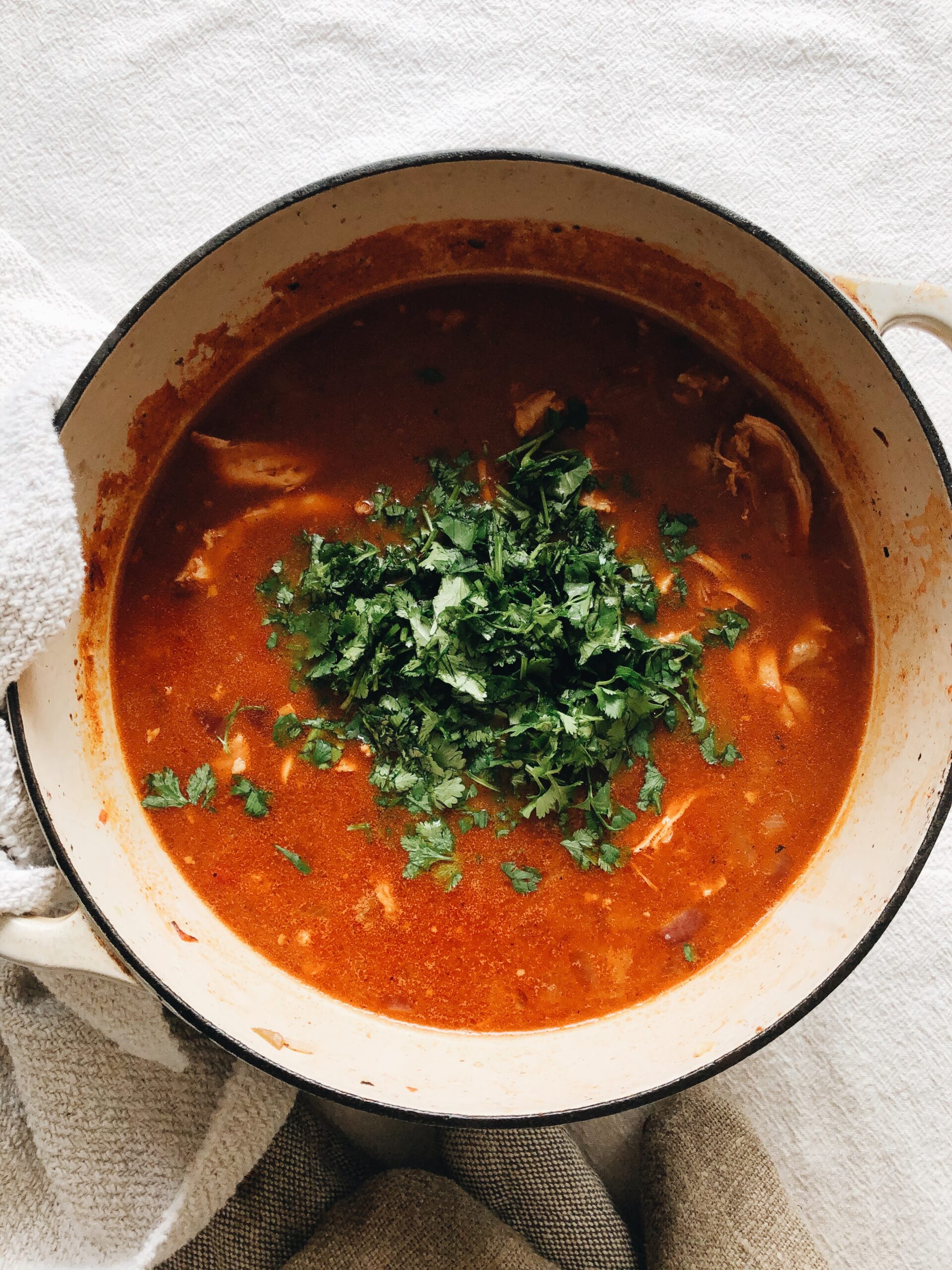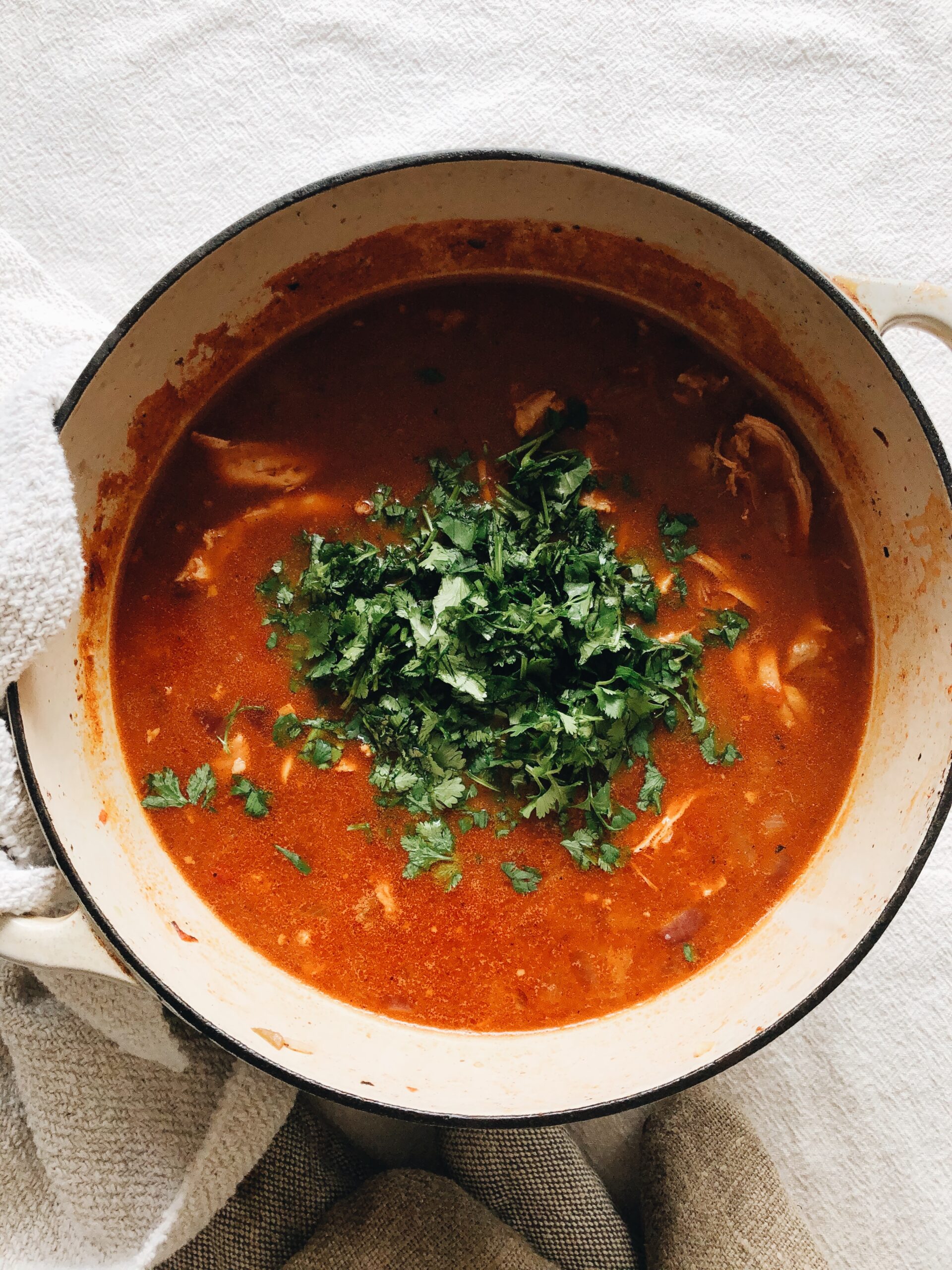 Then stir in most of your chopped cilantro bunch! I say most because you'll want to garnish with a lil' bit right at the end. But if you're not into garnishing that's okay. You're still a good person.
But if you're one of those who hates cilantro, then I don't know how to help you.
Therapy?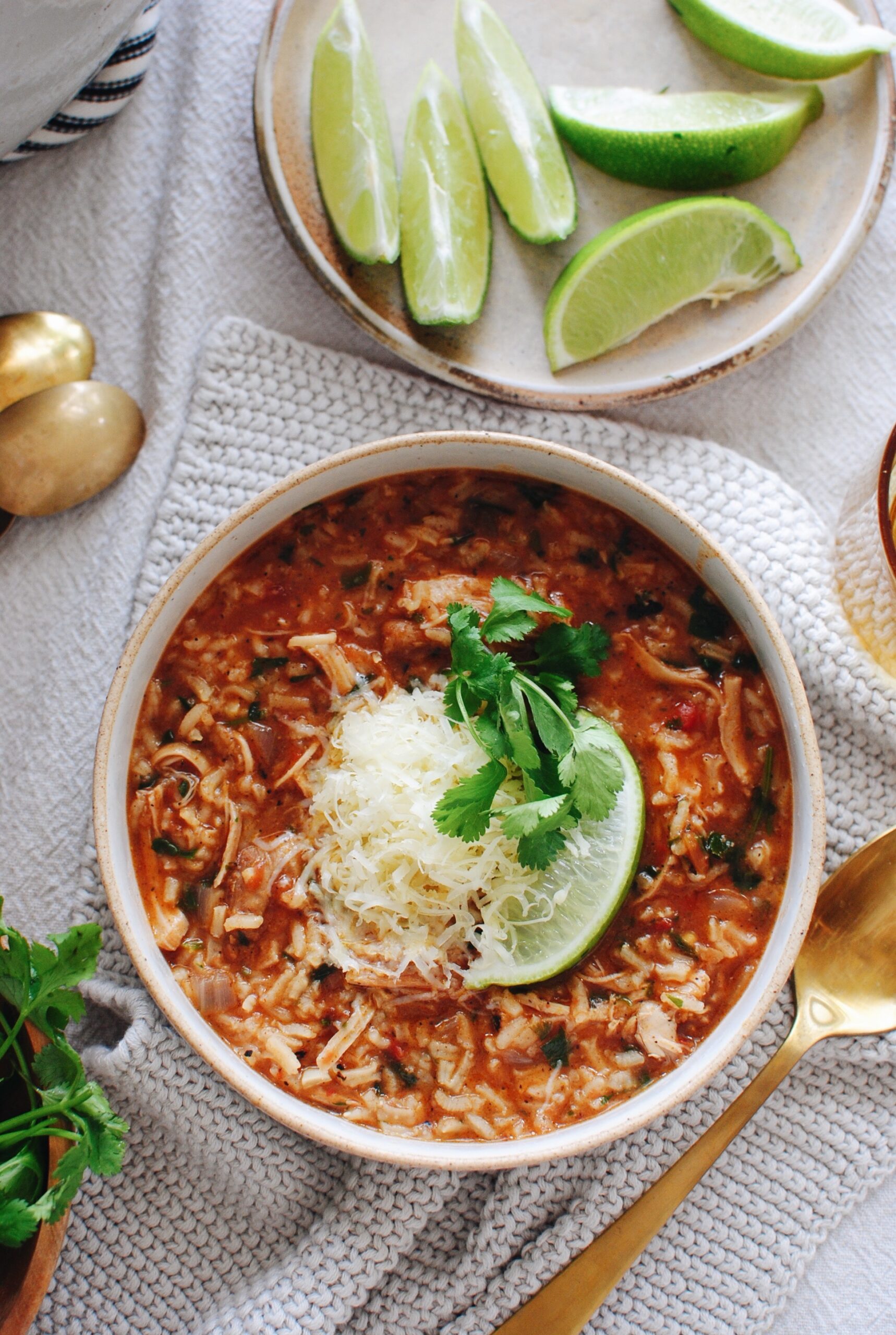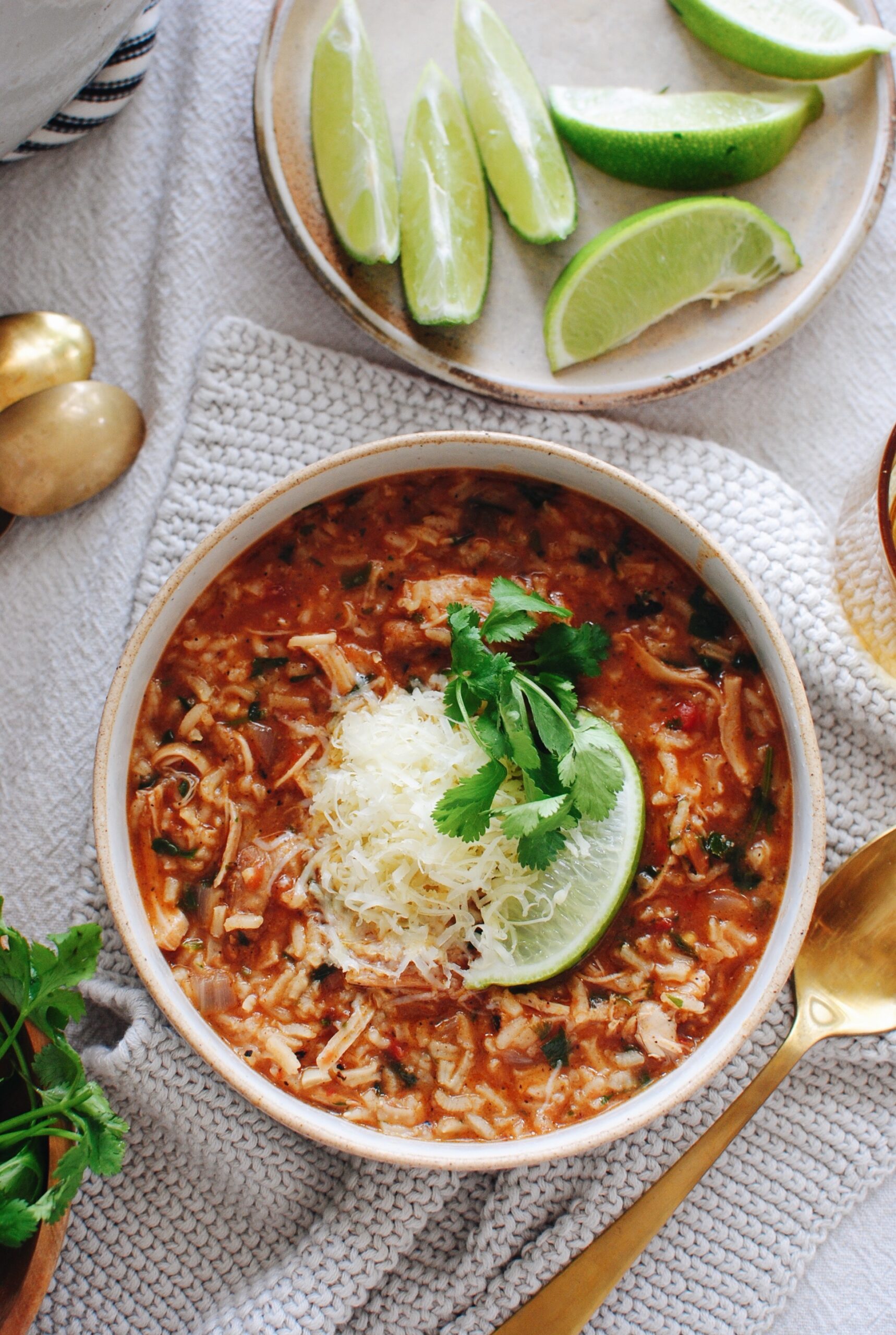 Once the cilantro sort of wilts into the soup and becomes one, you're done! And you simply have no idea what lies ahead for you and your mouth hole.
Garnish with shredded cheese, a sprig of cilantro, a wedge of lime, your entire upper torso.
I T I S T E X – M E X H E A V E N I N A B O W L, S O N.
Absolutely scrumptious. Not overly spicy. But flavor for days.
Oh! Before you serve you'll stick two forks down into the soup and gently shred the chicken into chunks. Big ones, tiny ones, live your life. You can even tong the chicken out for the shredding if that suits the demands of your inner soul fairies. I just shred it right in the soup because I have the patience of a hummingbird on speed.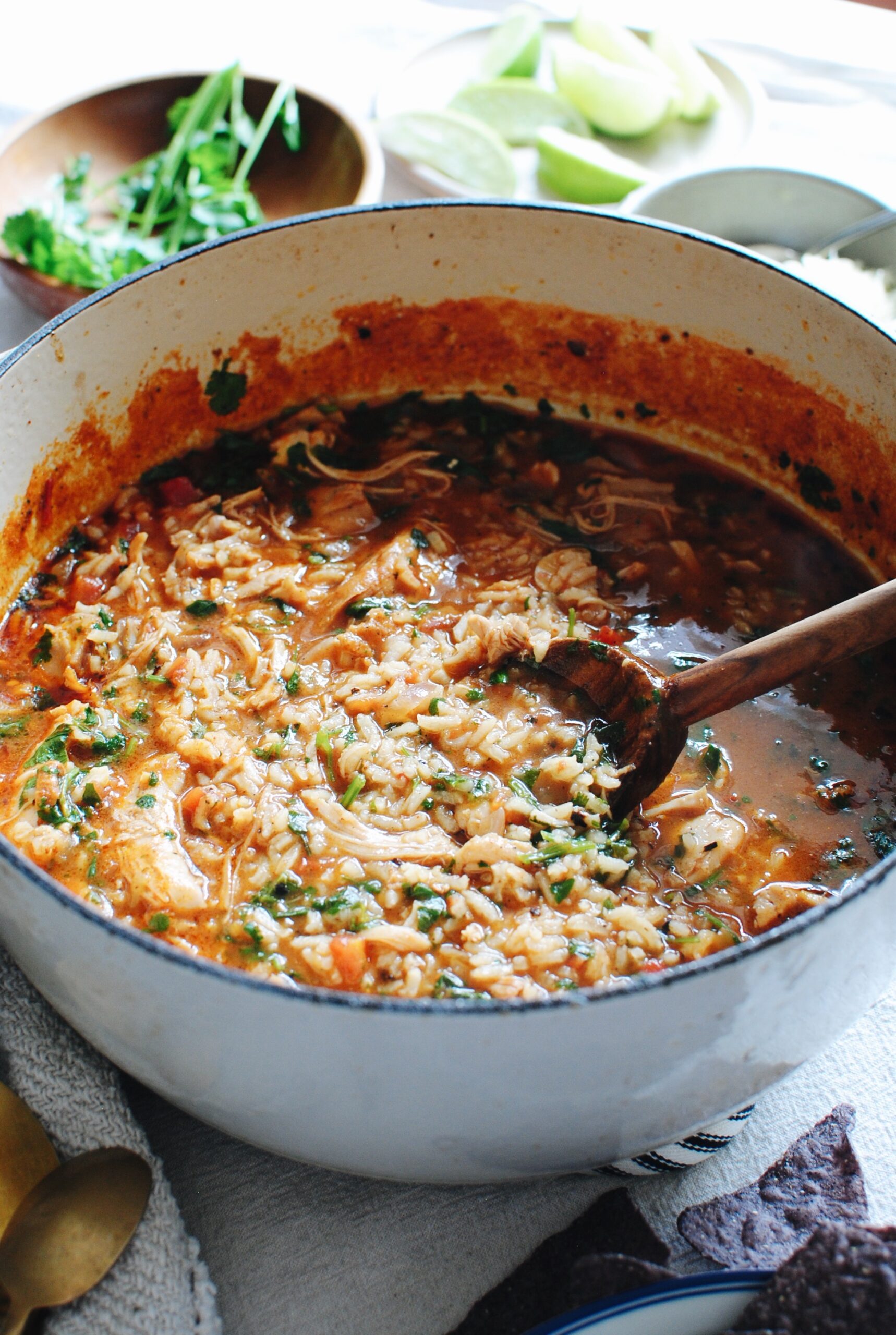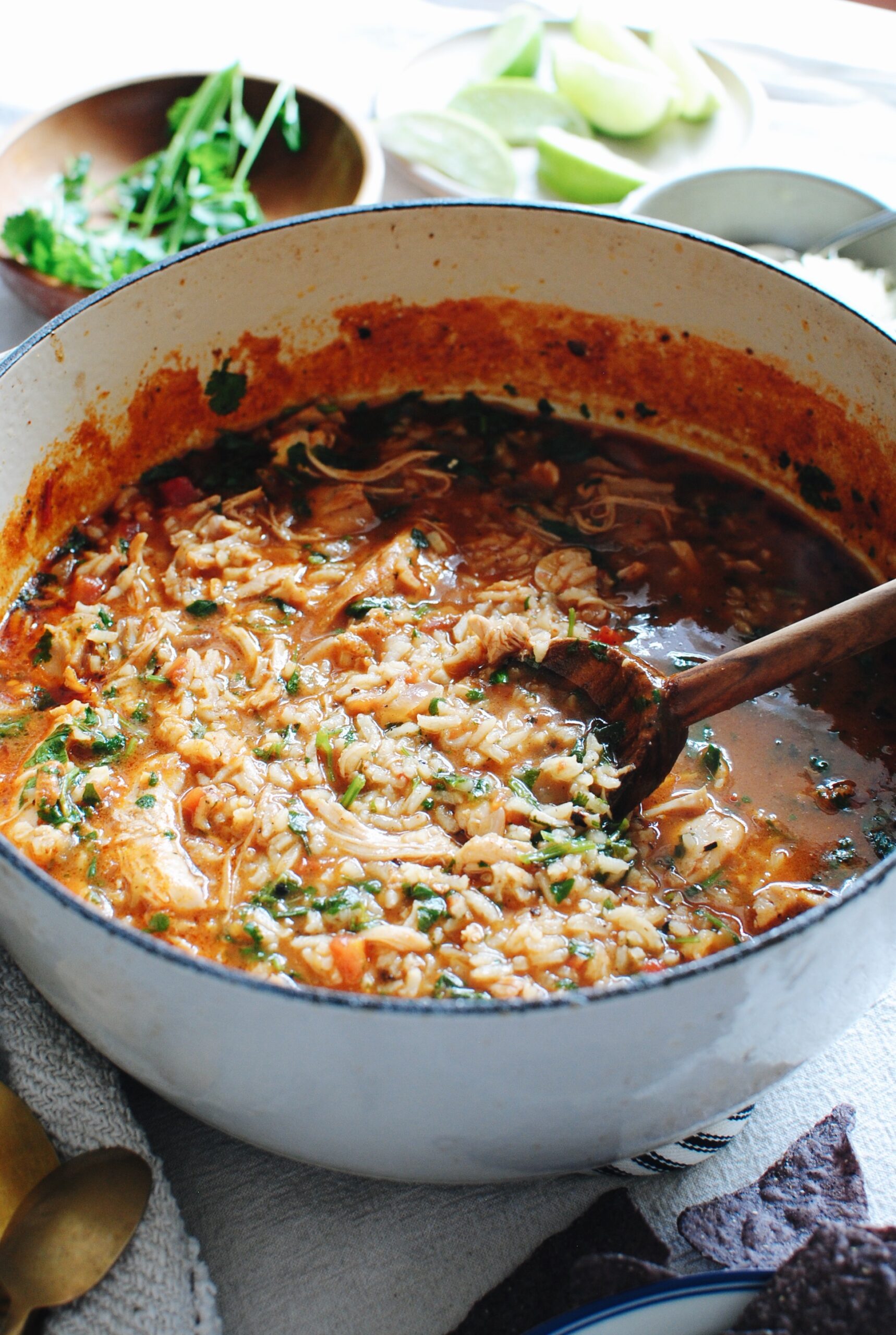 Gaaaaah, it's SO GOOD. The kids beyond devoured it because hi, it's chicken and rice with Tex-Mex savory flavors. Easy. Done. All she wrote. Goodbye forever.
I'm telling you, you'll make it once and rearrange the next 58 months of meal planning after you taste it.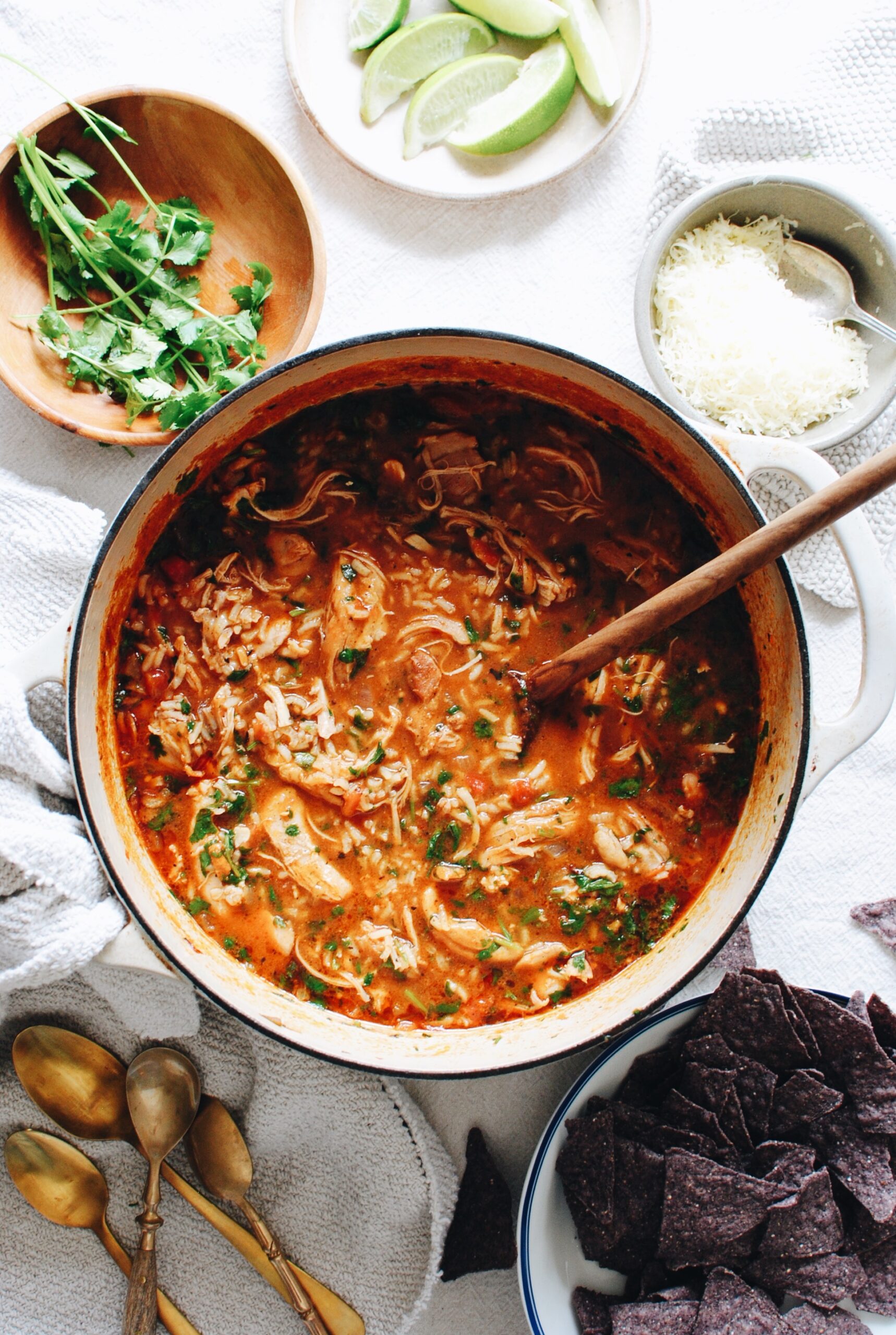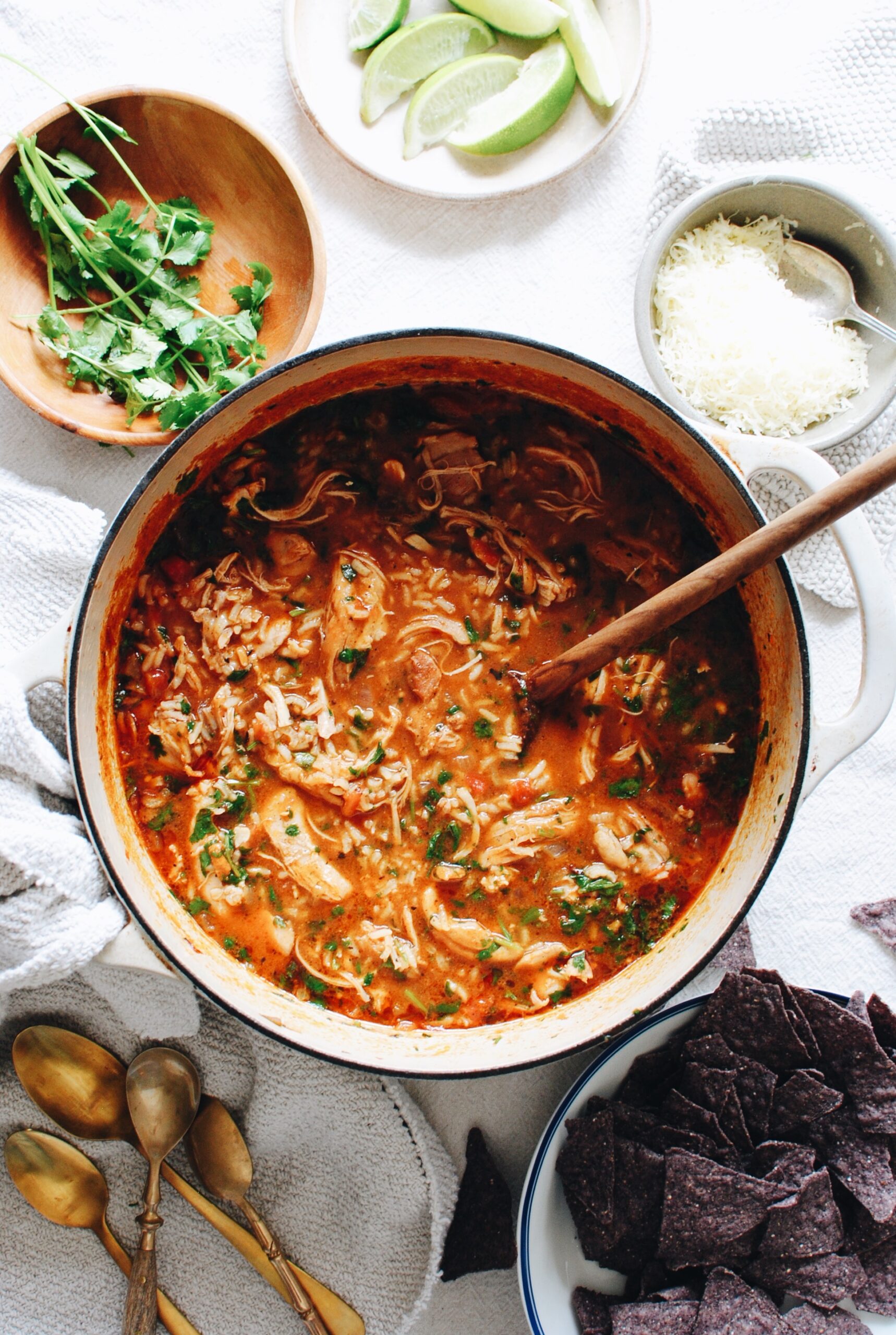 Wanna make a bet?
Tex-Mex Chicken and Rice Soup
Ingredients
1 1/2 pound boneless, skinless chicken thighs
1 teaspoon each: garlic powder, onion powder, cumin, chili powder
1 tsp coarse salt
2 Tbs. extra-virgin olive oil
1 cup diced red onion
3 cloves garlic, minced
1 (14.5 oz) can fire-roasted diced tomatoes
1 cup white rice
6 cups chicken stock
1 bunch of cilantro, leaves chopped
Lime wedges and shredded cheese, for garnish
Instructions
In a small bowl, mix together the spices and the salt. Sprinkle the seasoning over both sides of the chicken.
Heat the oil in a dutch oven over medium-high. Add the chicken thighs (splay them out so a lot of the skin touches the plan) and sear for six minutes. Flip and sear another six minutes, getting good browning all over. Add the garlic and onion and sauté about five minutes, letting the veggies get tender and perfect. Add the diced tomatoes, white rice and chicken stock. Bring to a boil, reduce the heat and simmer (lid partially on) for about 15 minutes, until the rice is tender.
Off the heat, add the chopped cilantro. Stir to let it wilt into the soup. Taste for salt. Need any? Tiny pinch? You're good!
Ladle the soup into bowls and garnish with extra cilantro, lime wedges (gotta have that brightness right at the end!) and shredded cheese. YUMMMM, guys. All the yum.
Serves six!
7.8.1.2
408
https://bevcooks.com/2020/03/tex-mex-chicken-and-rice-soup/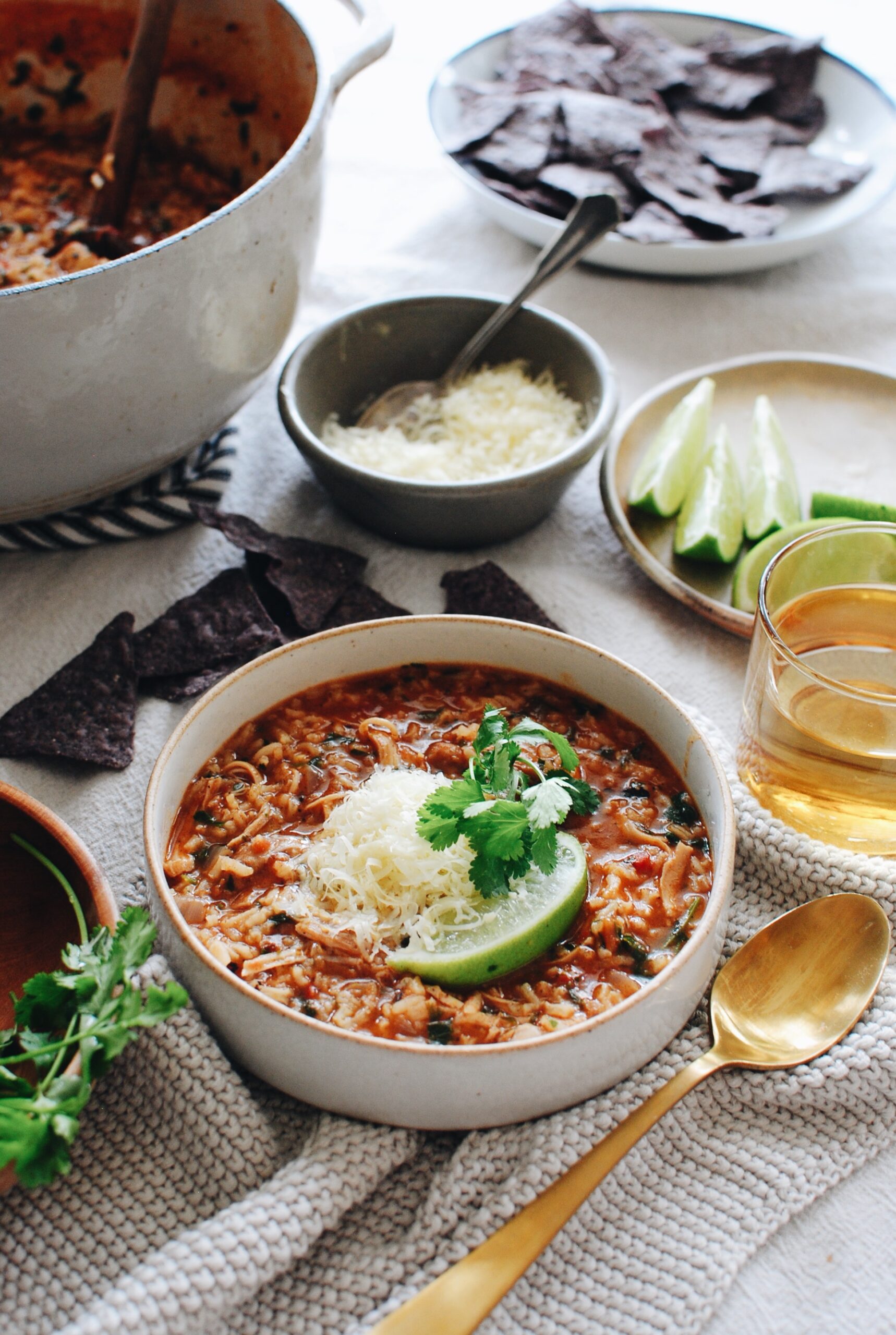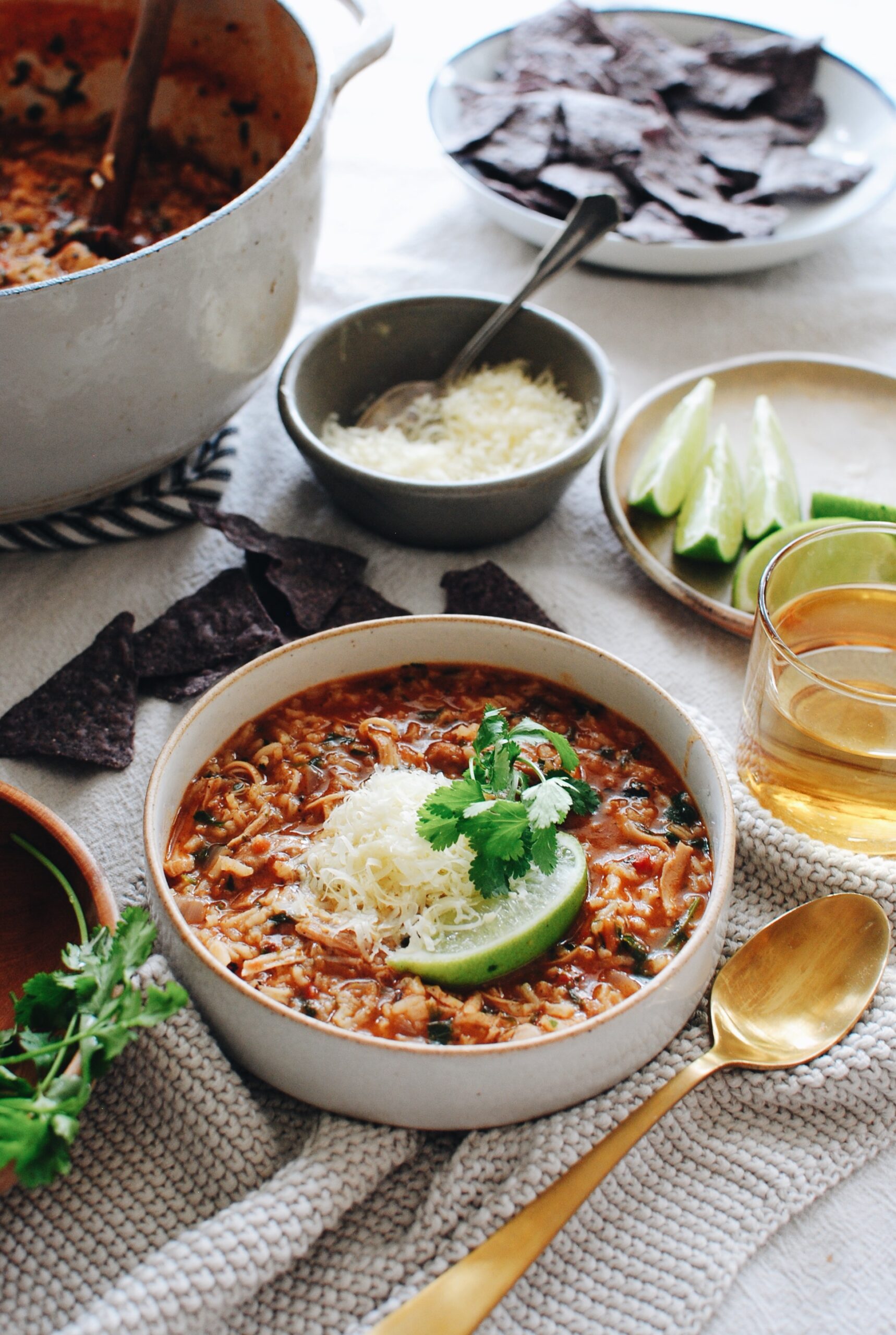 See you at the bottom of that bowl, sister.