And they're lightly fried, let us rejoice.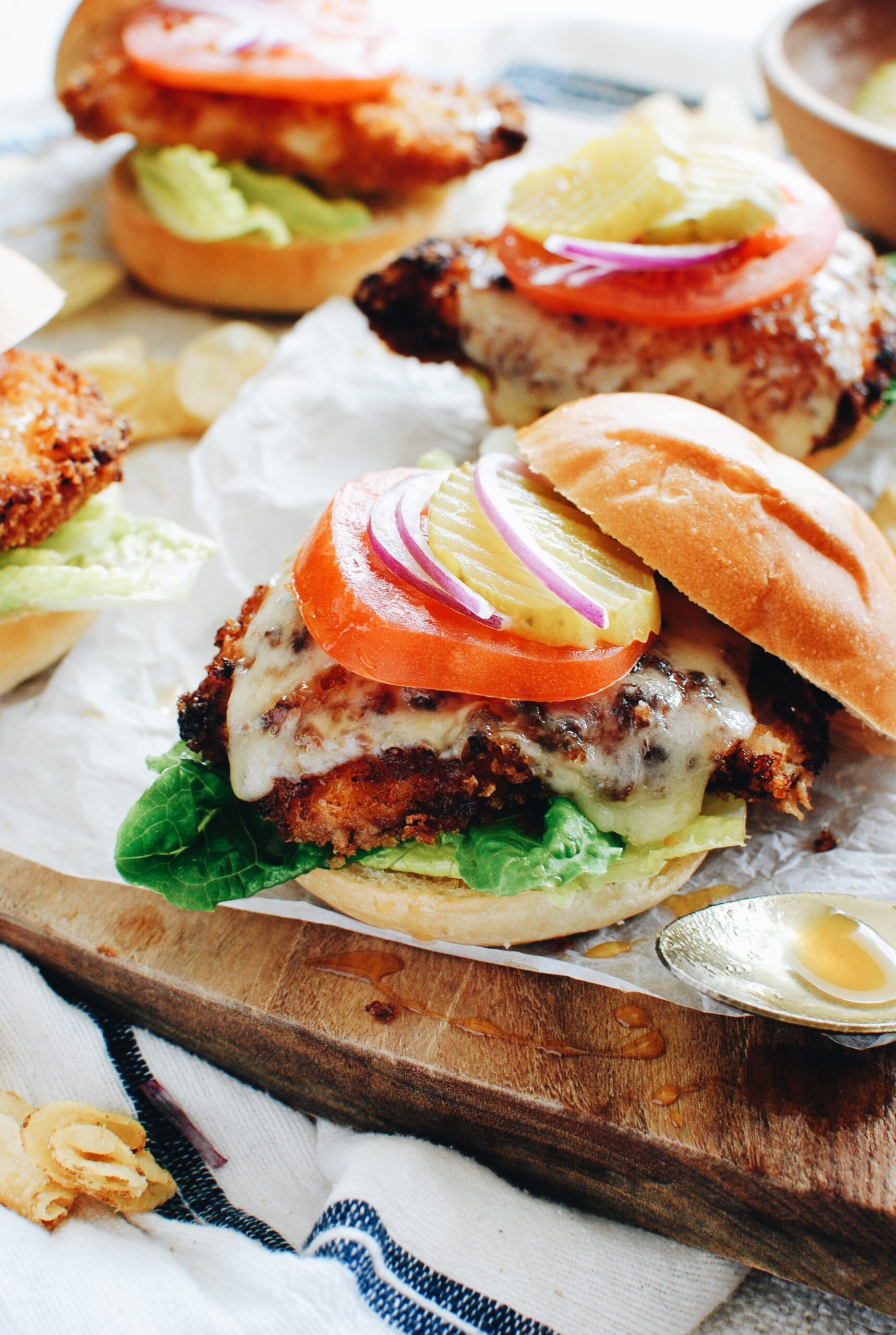 You know, I have to admit. I really do like a fried chicken sandwich. I don't care who you are or what you do, chicken sandwiches have always been and will always be that food that makes everybody's head turn a half notch and stomach growl a full 33 notches. This is a fact of life and living. So I made you some!
And it's not an ultra-heavy breading so stop giving me the stink eye.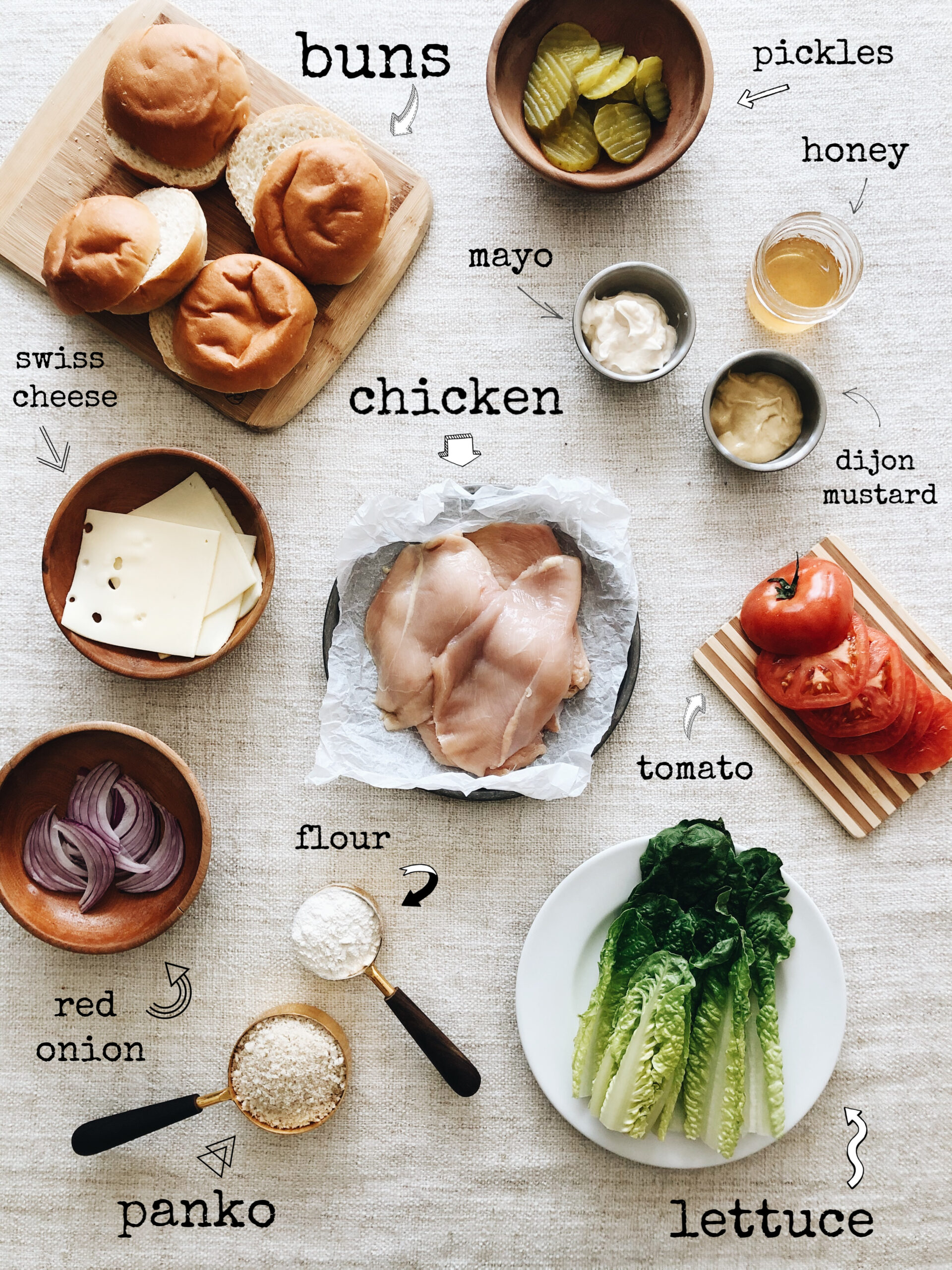 I went the honey mustard route, because my inner soul fairies were rather frisky this particular day and put their tiny foot down. Feet down.
And this is the thing, you can build these mothers however you like. Hate red onion? Leave it out! Add in creamy avocado? By all means. Simply prefer melted cheese and nothing else but the sound of your soul cracking open? Fly, little bird.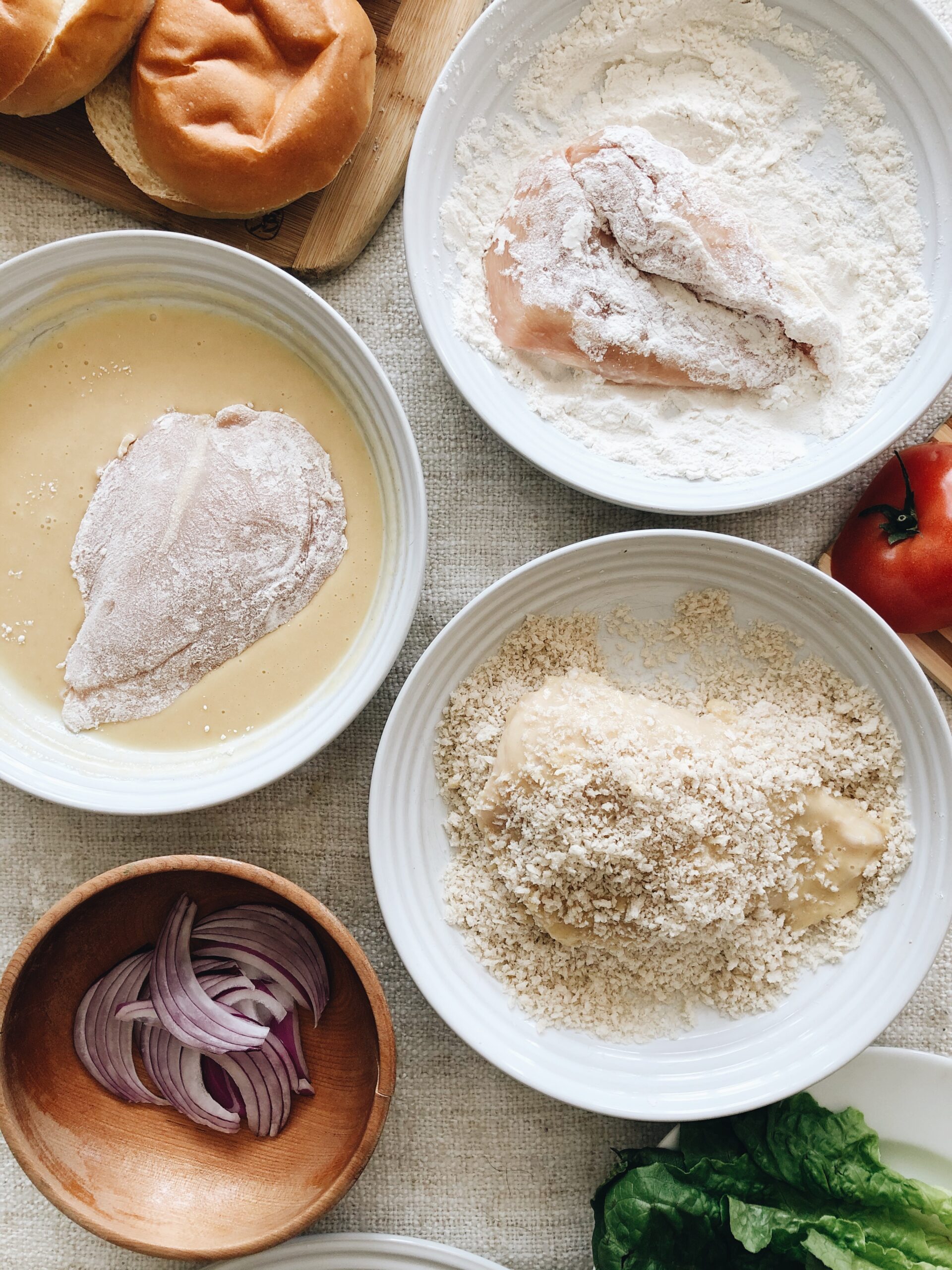 This is how it goes: Take two chicken breasts and slice them in half, lengthwise. You can pound them out just a tad if y'awnt. Then dredge them through a little flour, then through the honey/mustard/mayo mix (why is that combo just so perfect?), then a quick dip in crunchy salted panko. Badda bidda bing. (that's not how it goes, is it.)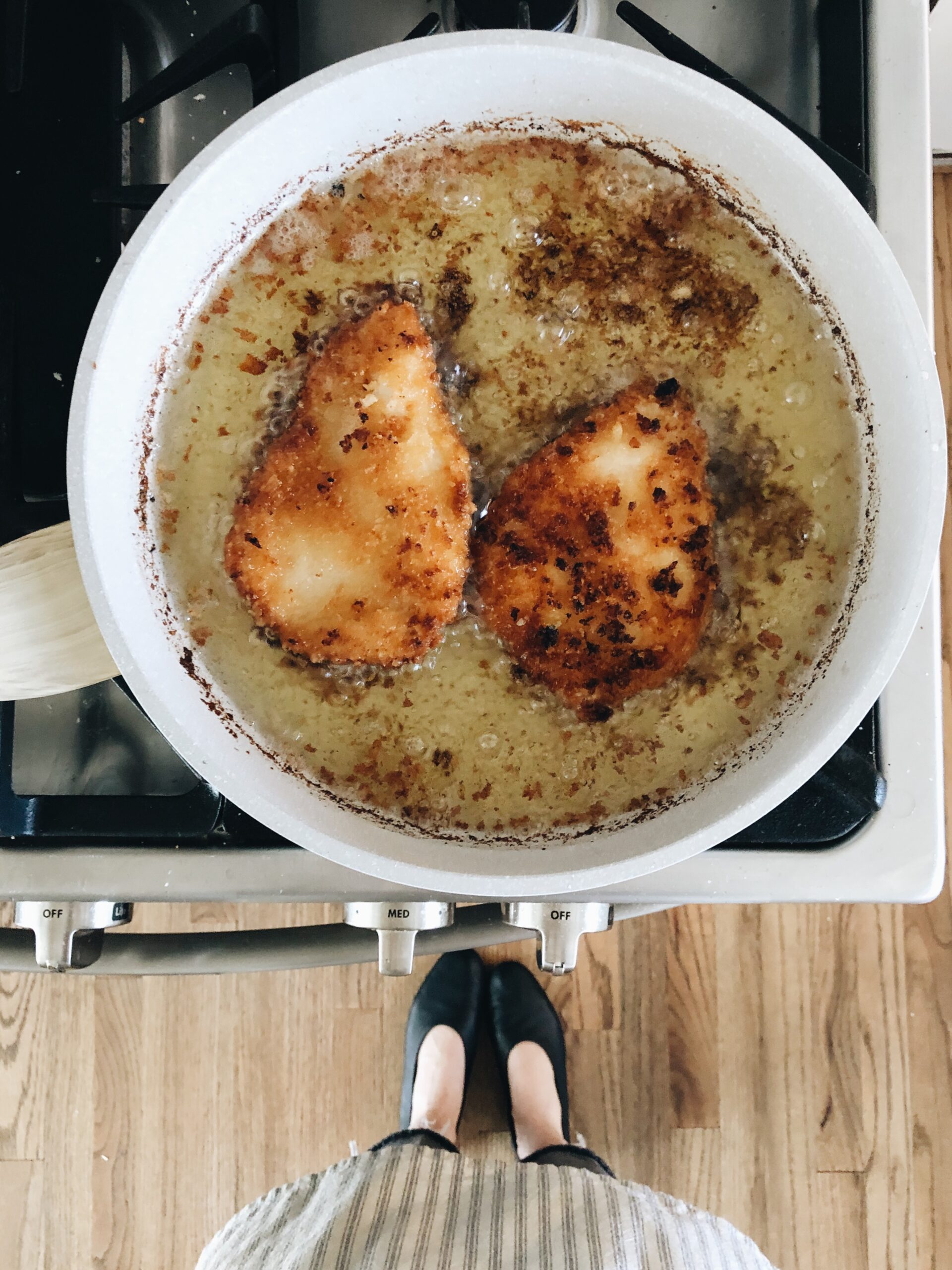 Then you fry! It's not a DEEP deep fry, like the ocean. It's just a wading pool fry in a bit of canola or vegetable oil. About five minutes per side, just long enough to cook the chicken through and to get a nice golden brown crunch on the outside. And be careful when you're flipping – I recommend a fork! I used tongs for the first one and the panko scraped right off and I cursed. So use a fork, baby stab, gentle flip, another fork to release, and off you go. I mean it. Off it goes. The chicken. In the oil. To fry. Never mind.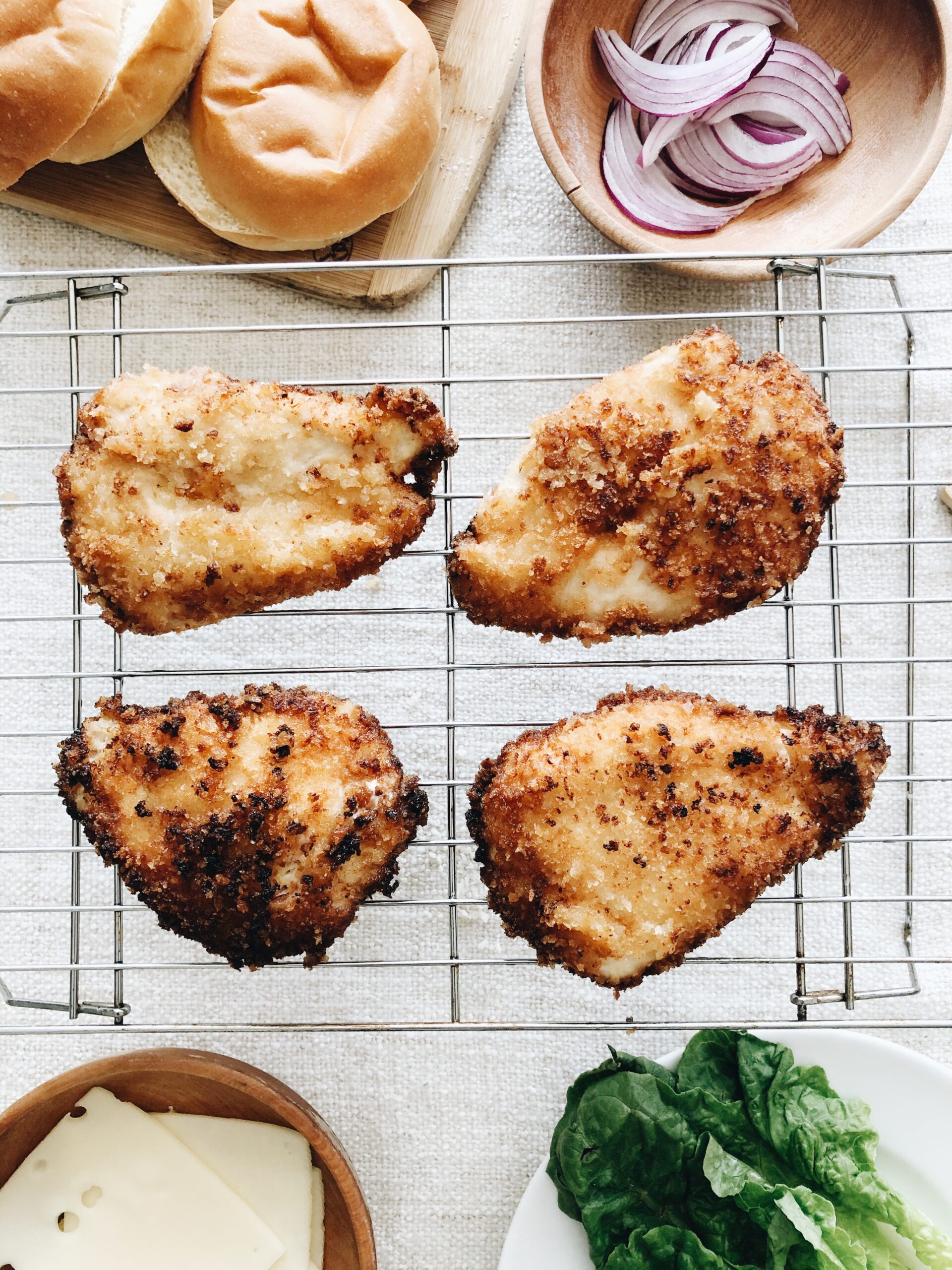 Let the chicken rest a little bit so you can admire the crunch you just achieved. And you know what, it's totally fine if parts are darker than others. This is 2020. It's trendy, bruh.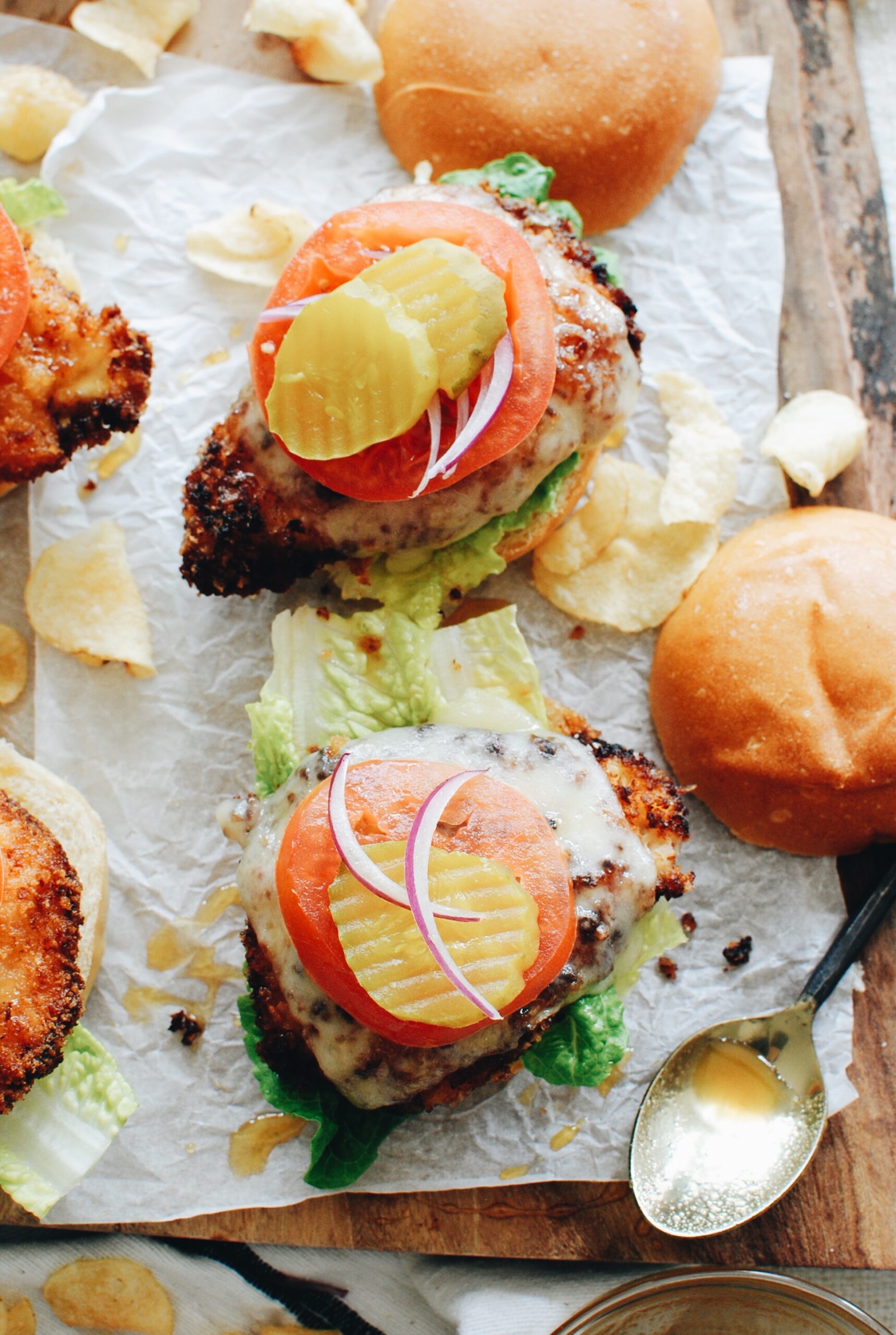 And then you build. I WILL say, I mixed together a little bit of honey and mustard and spread it on the bottom buns for extra honey mustard-ness. And it was a solid decision. I EVEN drizzled more honey over each chicken breast with melted cheese and that as well was a correct move in life.
Oh and – hate Swiss? Slap any ol' cheese you dig on that thar sandwich. (remember when I told you last year that Swiss was having a slump in cheese sales? Well I happen to love Swiss so I'm supporting it before it ends up in self-esteem camp.)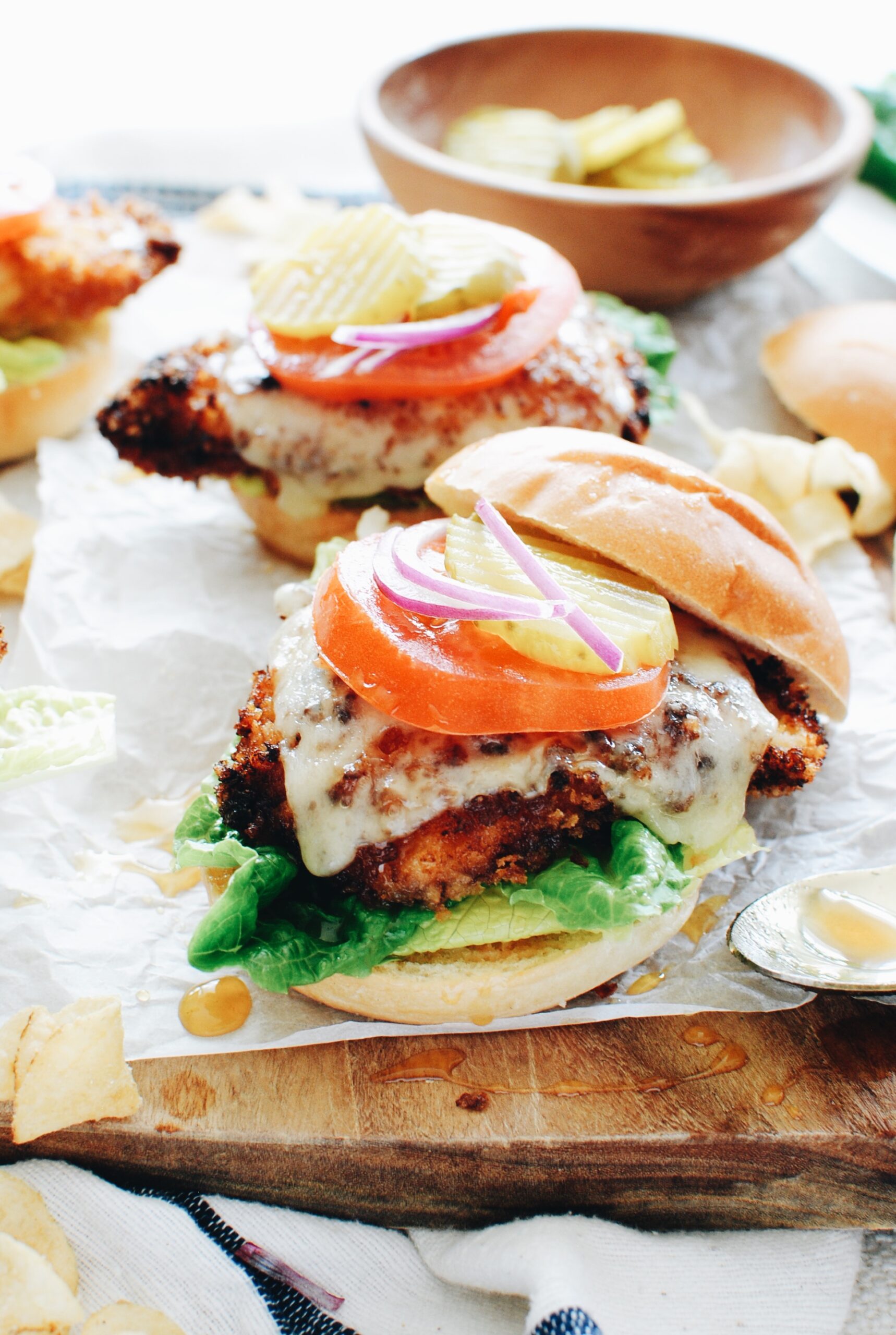 Good gosh gracious Gulliver. It is fantastic. Just what your mouth and heart need in times like these. Crunchy, flavorful, classic, tender, pub-like, family-friendly, ALL THE THANGS.
(who is Gulliver?)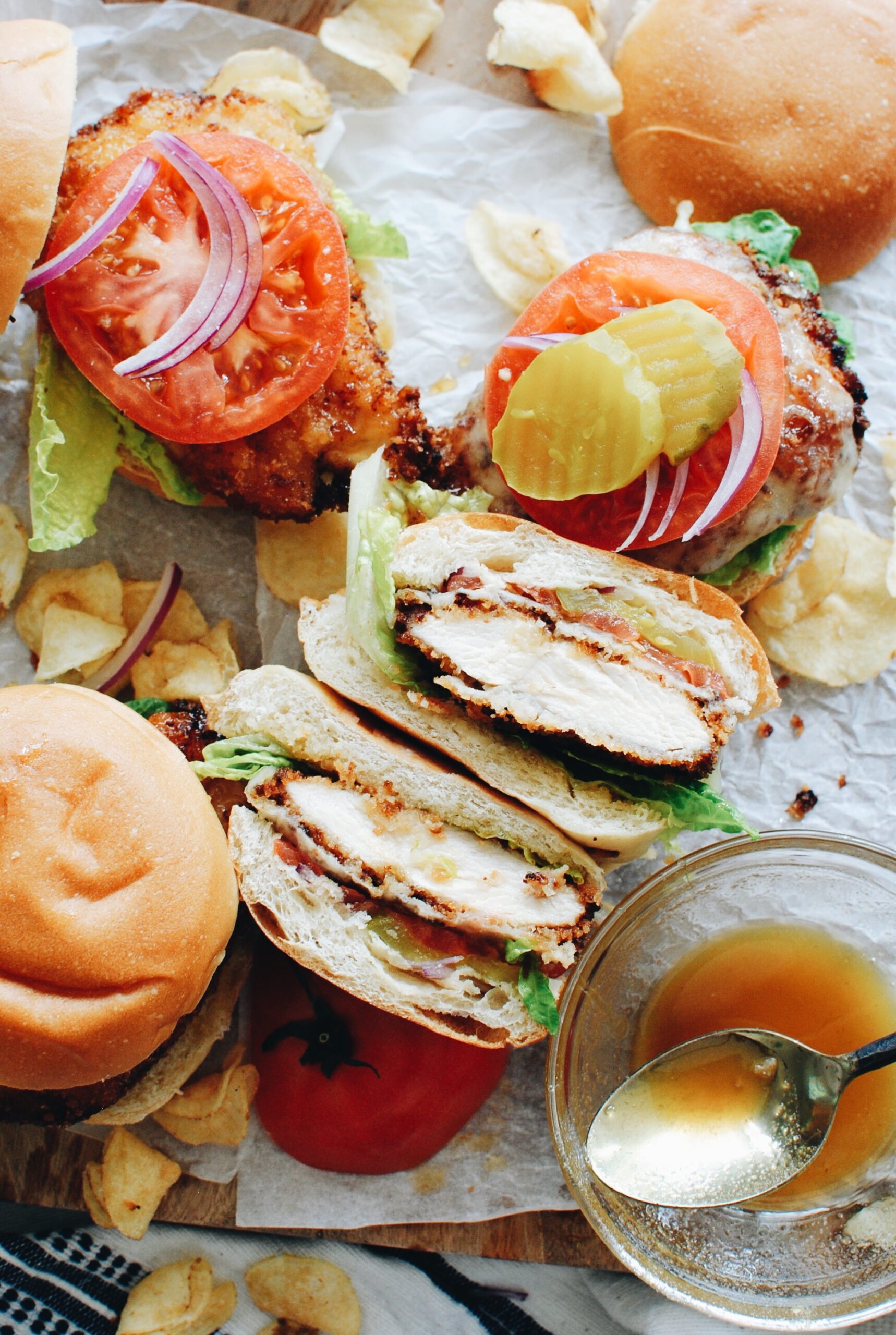 It's almost Friday and these beggeth.
Honey Mustard Chicken Sandwiches
Ingredients
2 chicken breasts, sliced in half lengthwise
1/4 cup dijon mustard
1/4 cup mayo
1/4 cup honey
1 cup panko breadcrumbs
1/4 cup all-purpose flour
4 eggs buns (or any hamburger bun), split (lightly toasted, if you desire)
Sandwich add-ins: slices of cheese, lettuce, thinly sliced red onion, hamburger pickles, sliced tomato - anything goes!
2 Tbs. honey
2 Tbs. mustard
Coarse salt
2 cups vegetable or canola oil
Instructions
Bring the oil to a medium heat in a medium skillet.
Mix the mustard, mayo and honey together in a shallow bowl. Place the flour in its own shallow bowl along, and the panko and a good pinch of salt in its own shallow bowl. Lightly dredge the chicken through the flour, then dip it into the mustard mix, ending with a final dip in the panko to coat. Gently fry in the oil about five minutes per side, until the coating is golden brown and the chicken is cooked through. Let drain on a rack for a minute or two before you build.
Mix the remaining 2 Tbs each honey and mustard together and spread on each bun bottom. Layer with lettuce, the chicken, cheese (you can melt under a broiler if you want!), tomato, onion and pickles! Drizzle with more honey if desired and dive. in. already.
Makes four sandwiches!
7.8.1.2
407
https://bevcooks.com/2020/03/honey-mustard-chicken-sandwiches/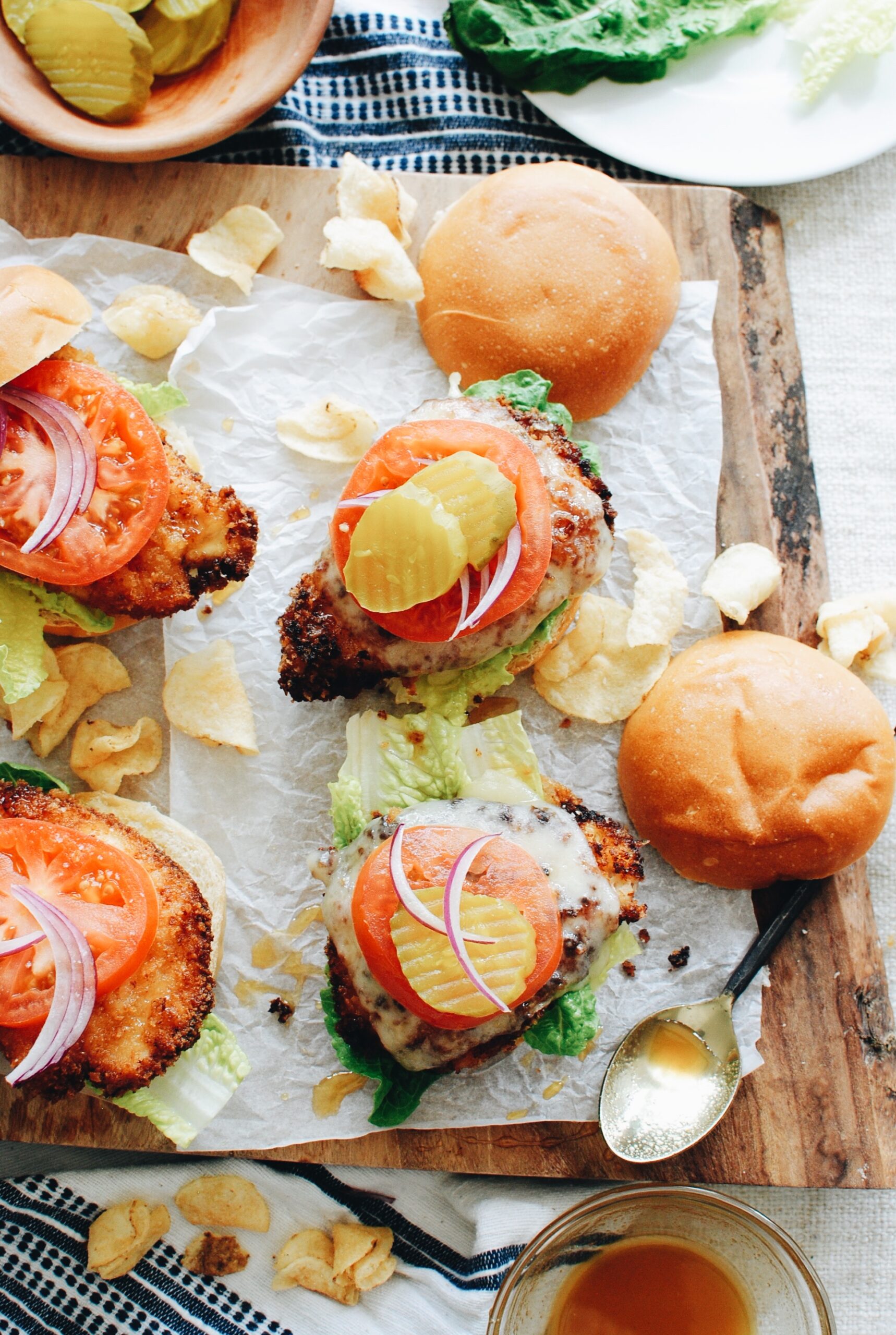 Or you could just make them now.