Comfort meets carbs meets fresh meets creamy = honey child, yes.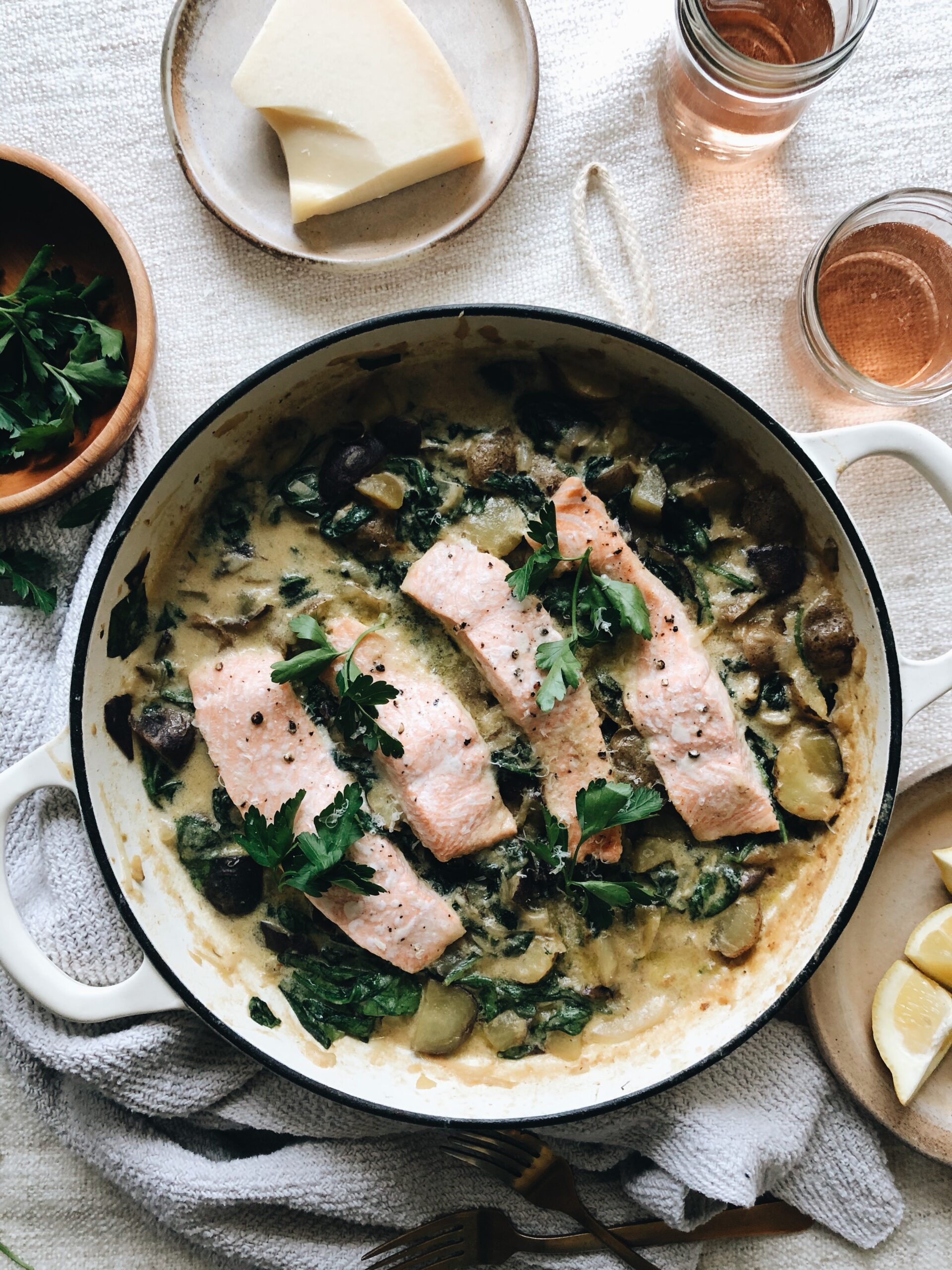 It might not be the sexiest looking meal, but the physical reaction your body will have once this makes contact with your mouth is that one emoji with the brain exploding.
And guess where the inspiration comes from. The Nightingale! Remember the part (this isn't a spoiler) where Vianne is cooking potatoes and onions in a skillet and German dude catches a fish and brings it to her? Well I took the mental imagery of the potatoes crackling in the skillet, the aroma of the thinly sliced white onions, and the freshest of fish frying alongside it – and I made you this! Except I added half and half because quarantine.
Let's peep it.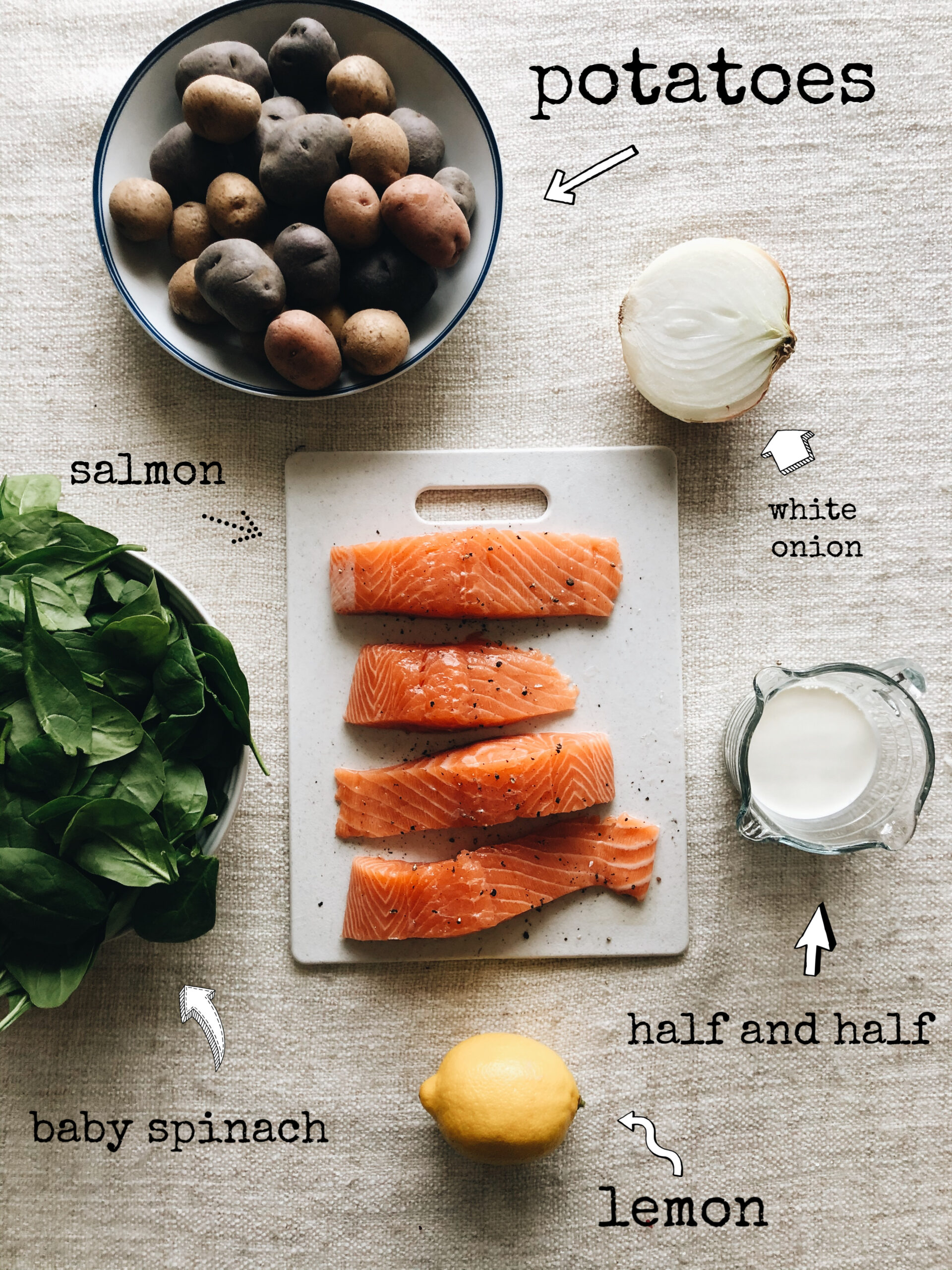 The good thing about this meal is if you have frozen fish, it's works brilliantly. If you have some fresh fish you need to use up, here ya go, son. It's a good mix of pantry meets fresh.
Also, you don't have to use half and half. Cream or milk is just faaaahn.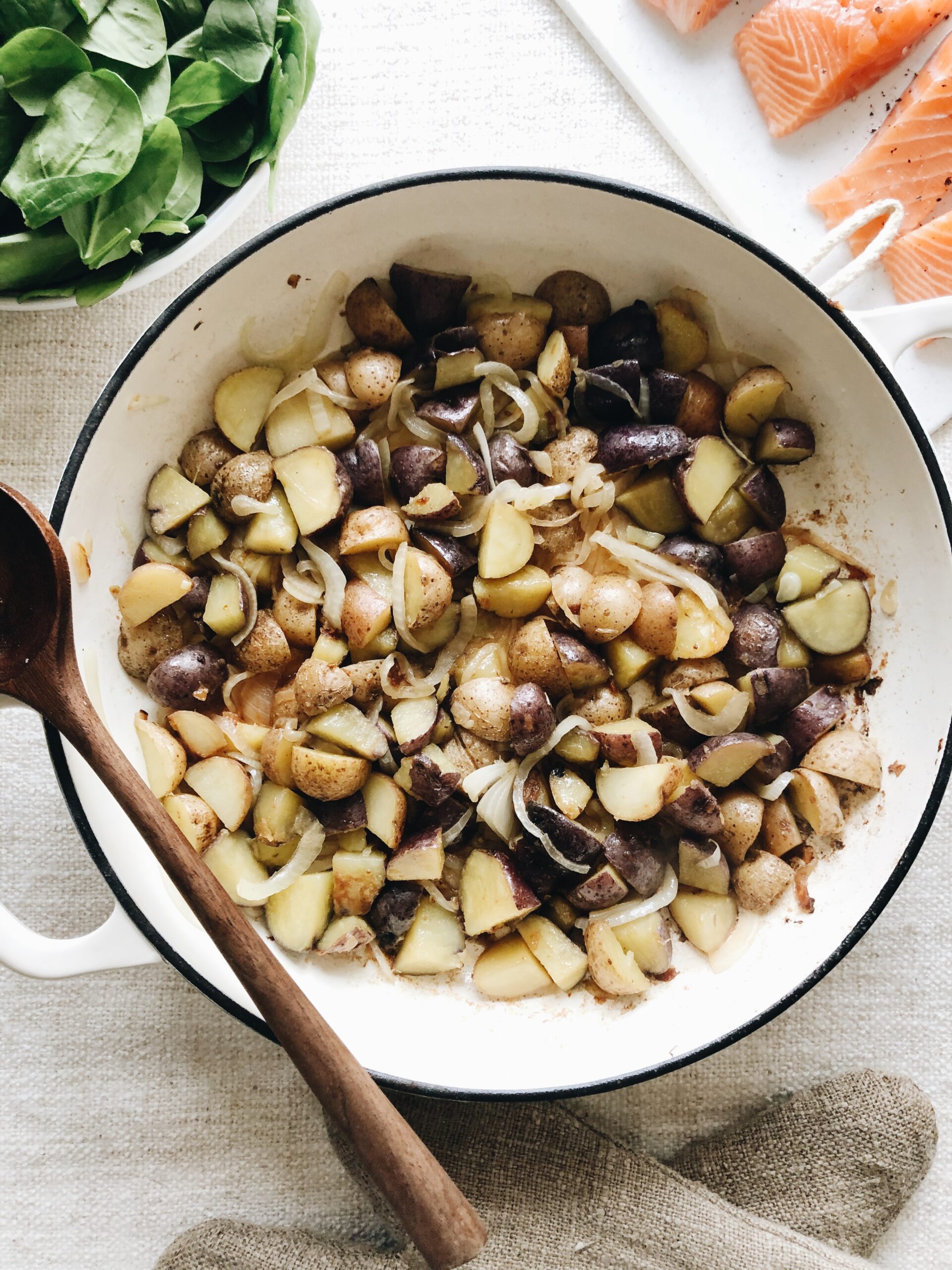 So cut up the potatoes and get them into a skillet. You'll need a few good glugs of oil, so that the starches don't immediately stick. And listen, the potatoes take a good while to cook, so let's stay patient and get this done with ease. (I'm telling myself this, not you. but also you. i mean what else do have going on right now?)
The potatoes will sear about five minutes. Get them crispy here and there, then add 1/2 a large white onion – thinly sliced. Let the onions cook and soften and wilt into the potatoes, beginning to brown and smelling like the most wonderful thing you could imagine. Close your eyes and visualize happiness ahead. Do that. Breathe deeply and smell the food. (telling myself this, not you. but also you.)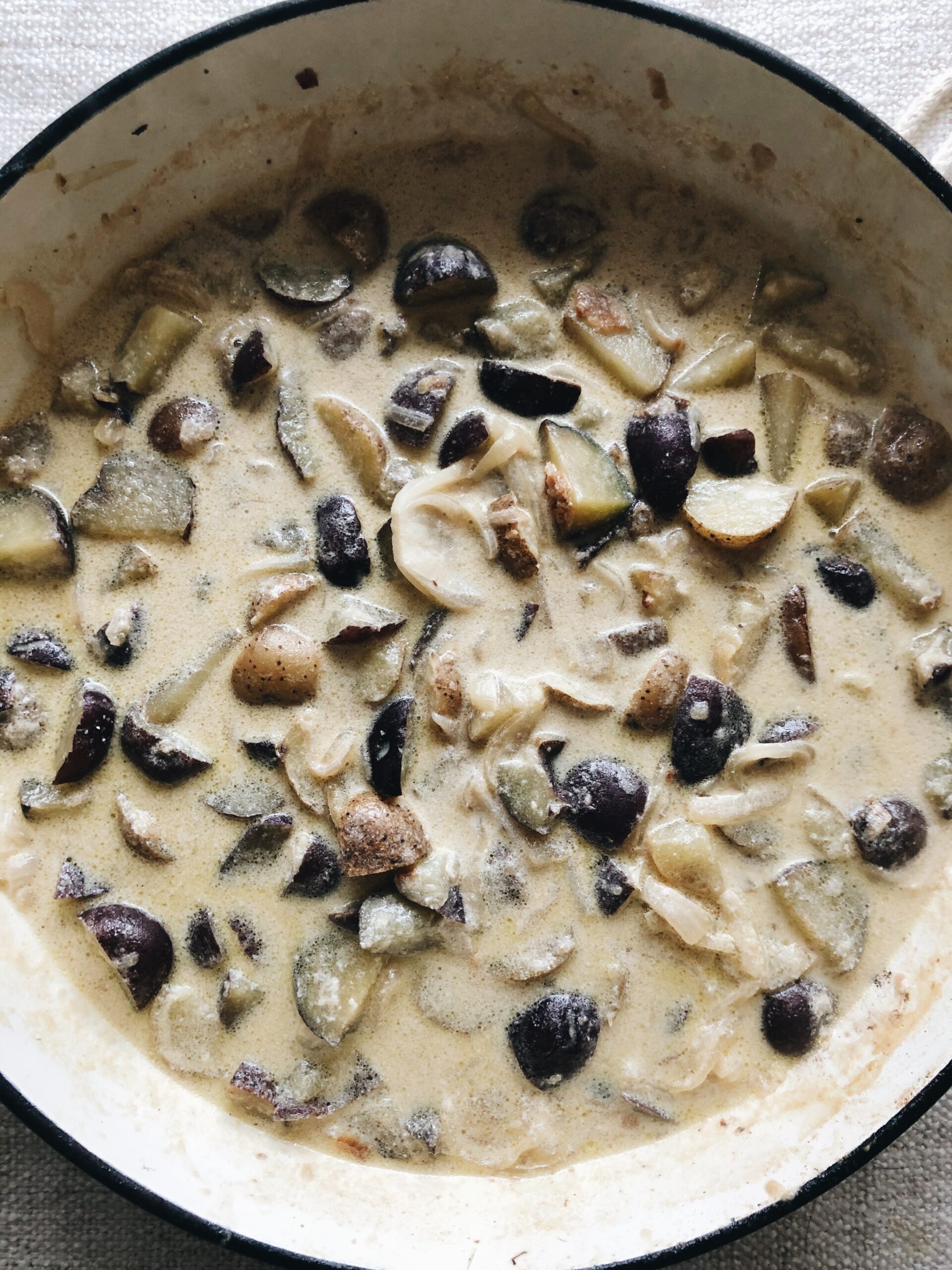 Then add a full cup of half and half, plus a cup of chicken stock! (I left this out of the photo, and then ended up needing it. You can sub water if you want to save your stock for something else. But the stock will give better flavor! bye.)
Turn the heat down just at tad and simmer this on a medium low, lid on, for 10 minutes. The potatoes are GETTING soft, but we're not quite there yet.
After ten, wilt the spinach in batches over the next five minutes. Theeeeeennnnnn…..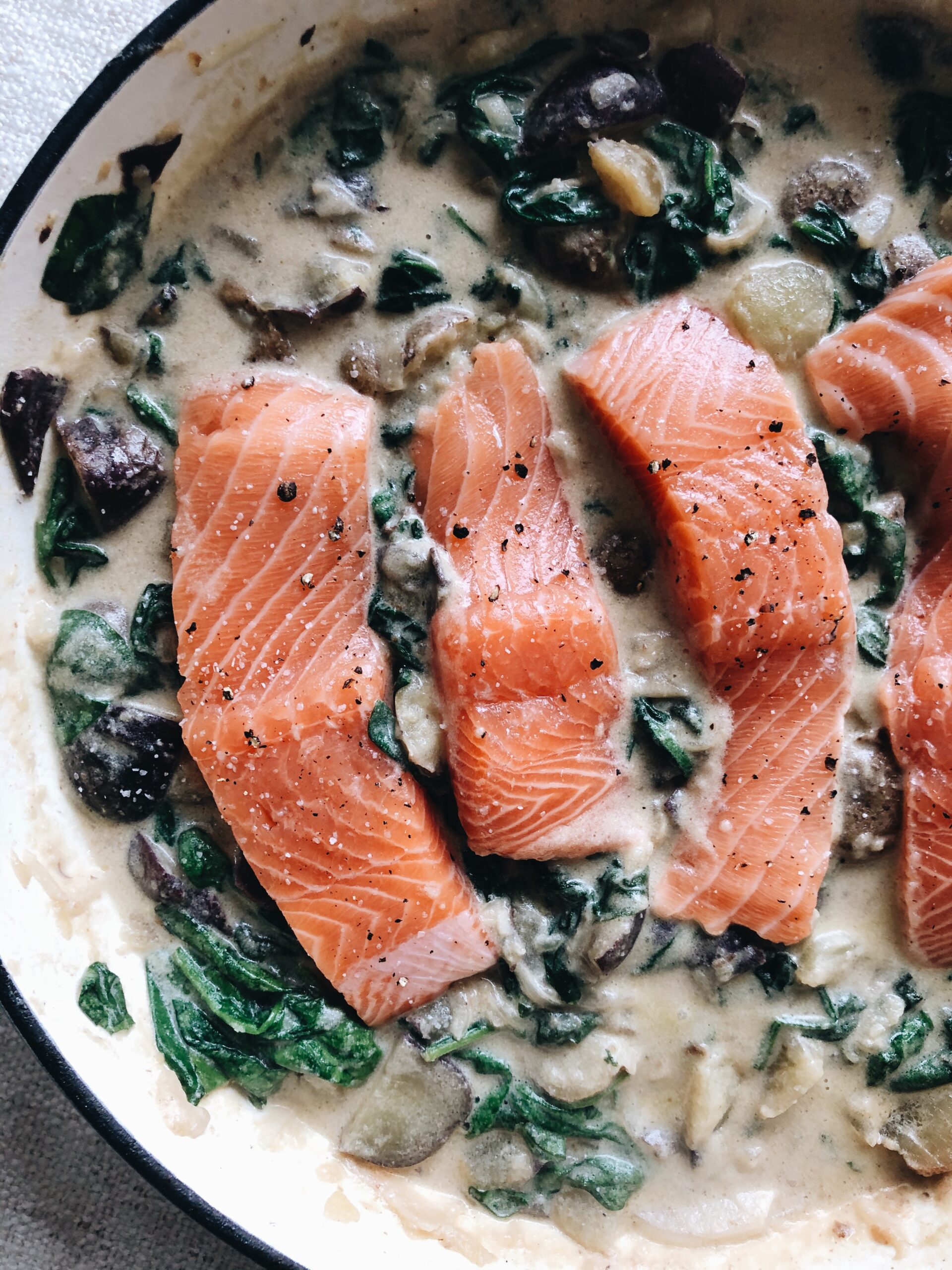 Nestle your fish right in. Give the tops a good sprinkle of salt and peppah, slap the lid back on, and simmer 8 more minutes. If you need to go a hair longer, totally fine. Just get the fish flaky, and make sure the potatoes are tender, and you're good to go!
ALSO, you've been seasoning with salt along the way. Can't forget that.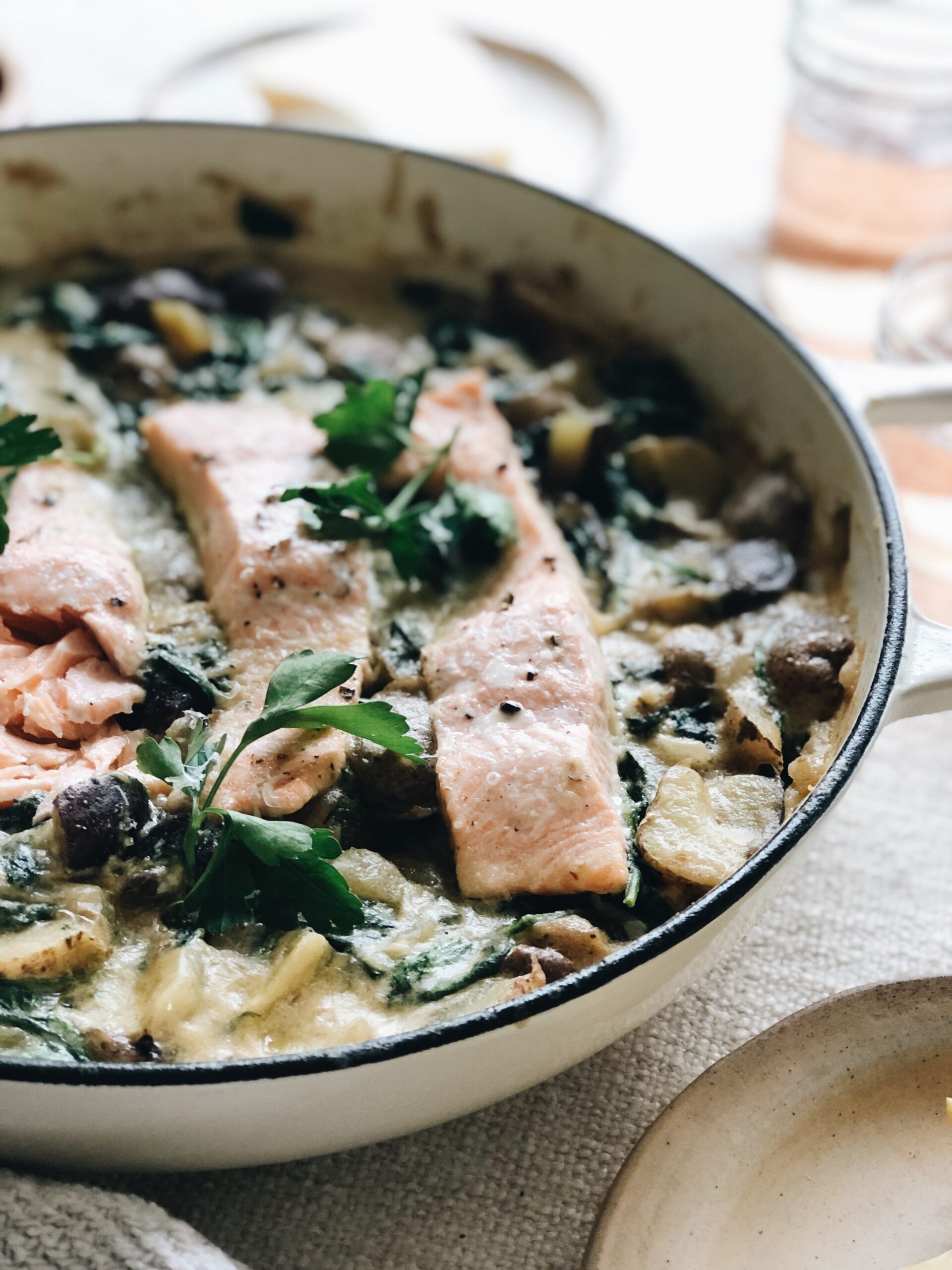 And here we are! Give the whole thing a massive spritz of lemon and a healthy scattering of fresh parsley. Maybe a parmesan dusting? Oh yeah, girl. Yeah.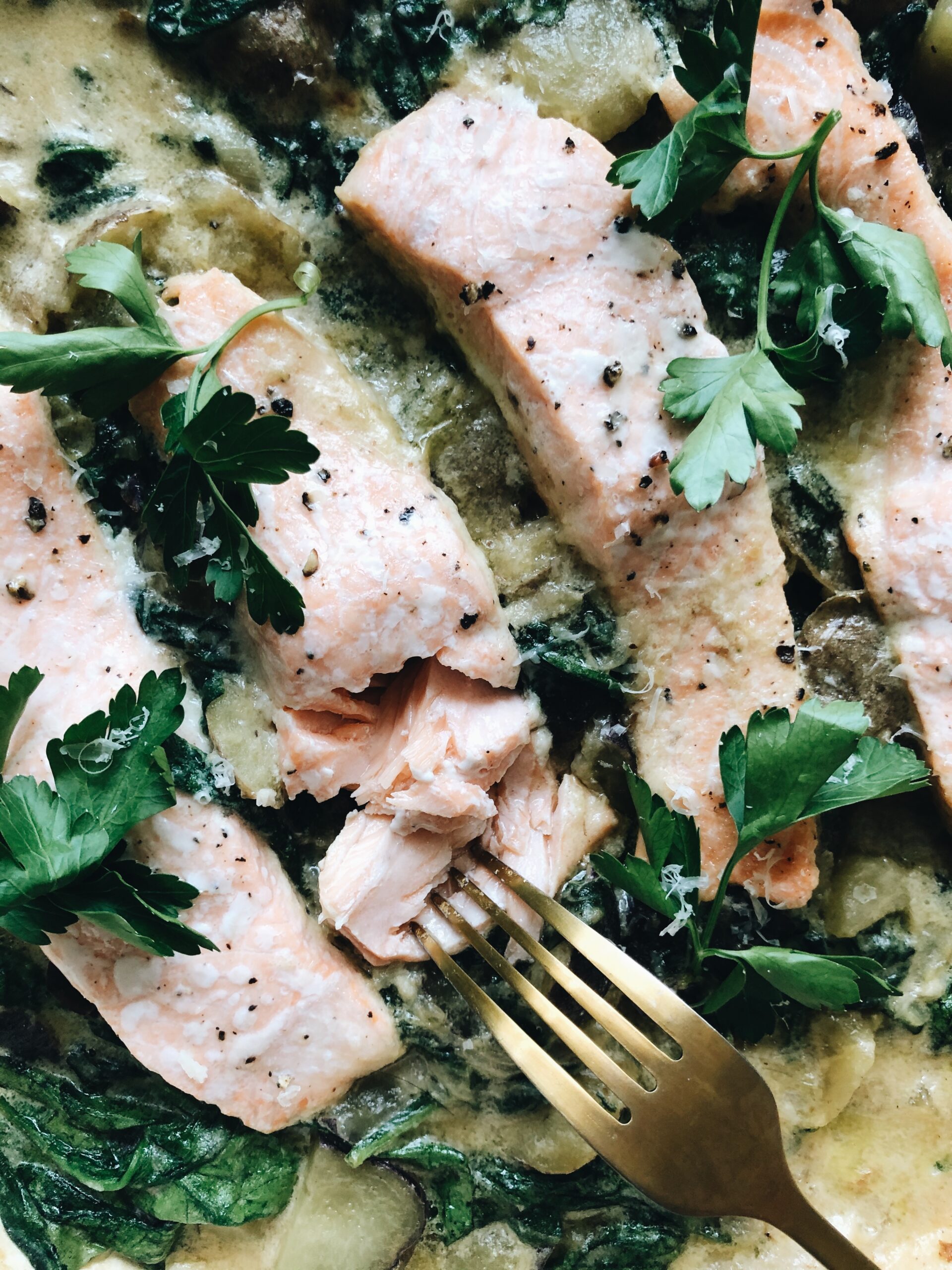 It's all so comforting. Exactly what we need right now. But without sacrificing the nutrition, which is also what we need right now. I'm trying not to cry right now. Which is also what we need right now.
wait what?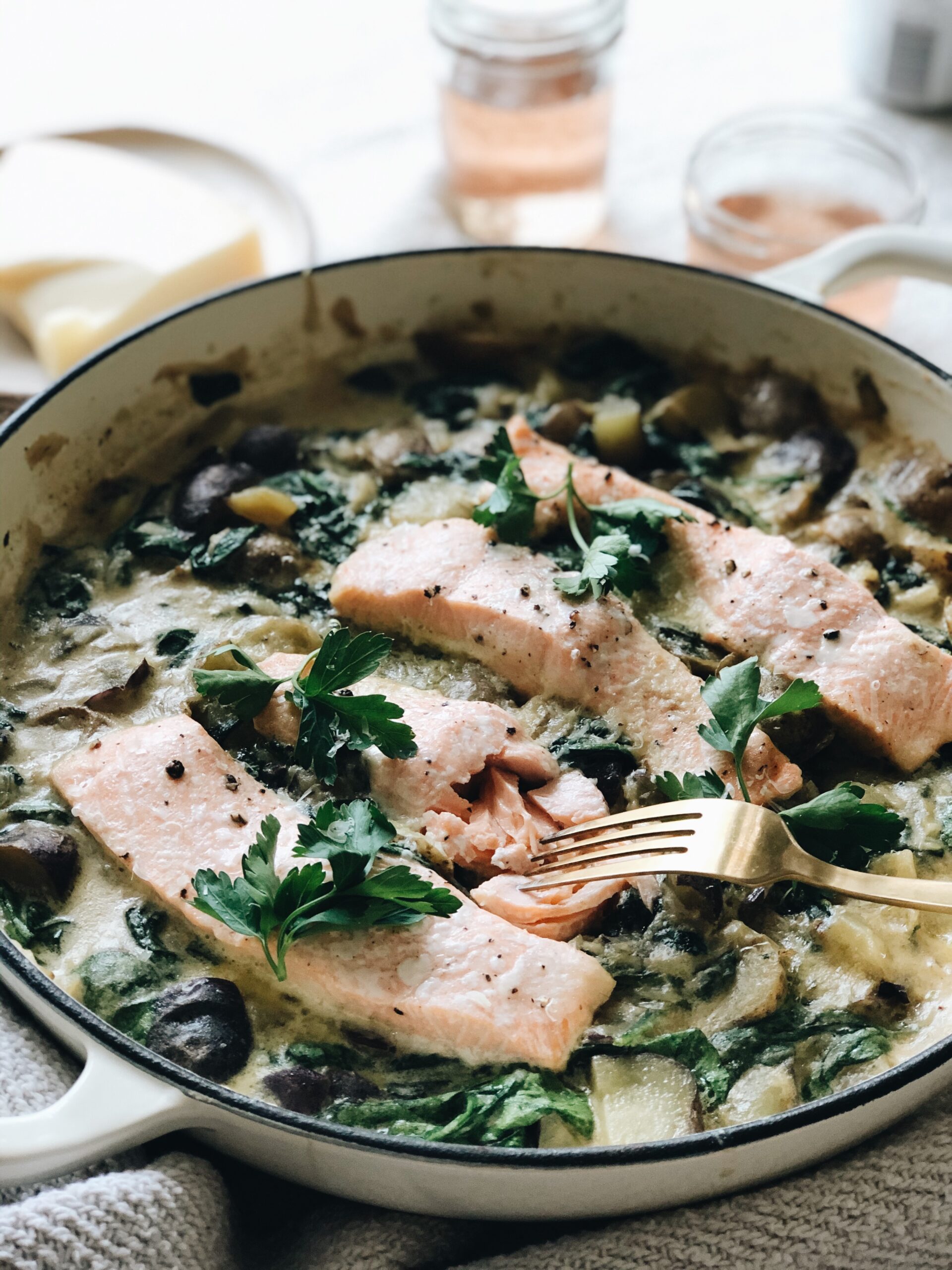 Creamy, flaky fish over a bed of delicious hugs. (<– yeah that made more sense in my head.)
Creamy Potatoes with Spinach and Salmon
Ingredients
2-3 Tbs. extra-virgin olive oil
1.5 pounds baby potatoes, quartered
1/2 large white onion, thinly sliced
1 cup half and half (cream or milk are fine!)
1 cup chicken stock (water works here, too)
4 oz baby spinach
1 pound salmon fillets
1 lemon
Coarse salt
Fresh parsley and parmesan cheese, for garnish
Instructions
Heat the oil in a large wide skillet over a medium heat. Add the potatoes and season well with salt. Sear in the pan for five minutes, until you start to see browning and crisping here and there. Toss the potatoes around to keep from sticking as you do this. Add the sliced onions with another pinch of salt, and keep sautéing another five minutes. (Add a splash of water if you need to deglaze any sticking.)
Now pour in the cream and stock with another pinch of salt. Reduce the heat to a medium low, cover with a lid and simmer for ten minutes. After ten, add the baby spinach in batches to wilt. Once it's all wilted, nestle the fish right on top. Season with a pinch of salt and pepper, slap the lid back on and simmer on medium low for eight minutes, until the fish flakes and the potatoes are tender.
Looks perfect! Now squeeze half the lemon over the top of the whole thing, and garnish with fresh parsley and a dusting of parmesan cheese. Look at you. Delish.
Dive in!
Serves four.
7.8.1.2
410
https://bevcooks.com/2020/03/creamy-potatoes-with-spinach-and-salmon/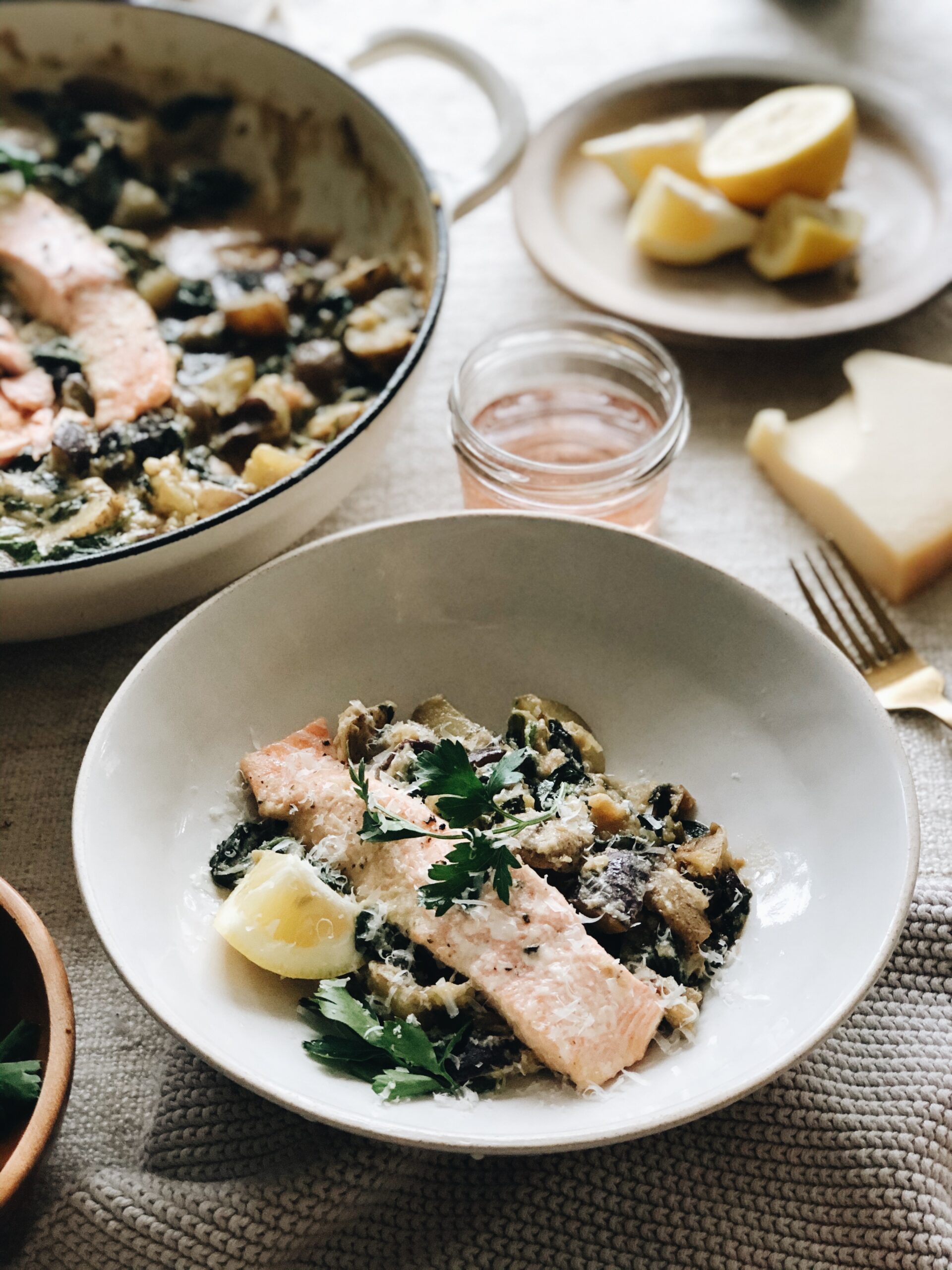 In your face, QUARANTINE.