Hi! How are you coping? 2020 is weird, right? But I've got something for you today juuuuust in case you need it at some point. Because hoarders be cray.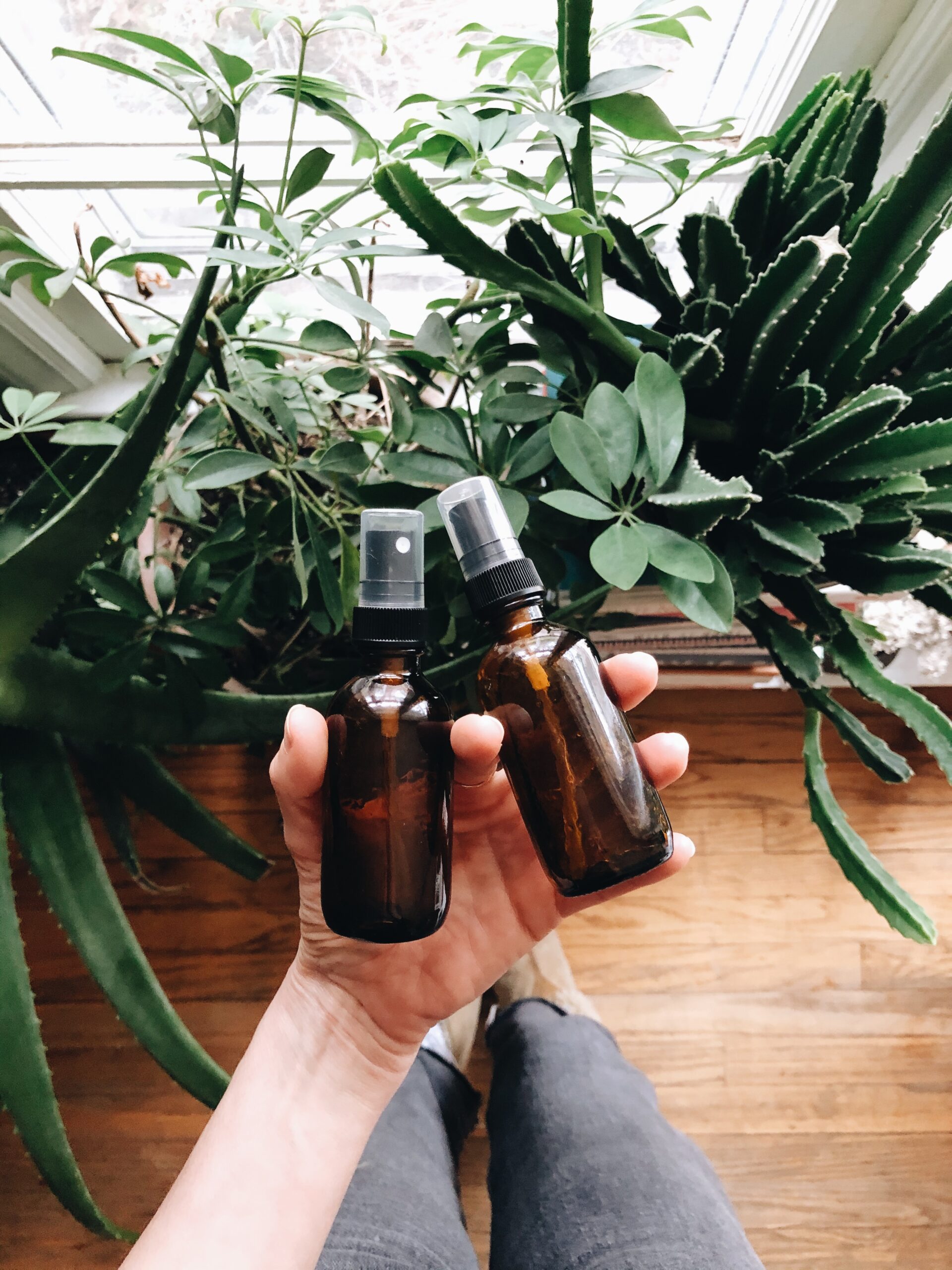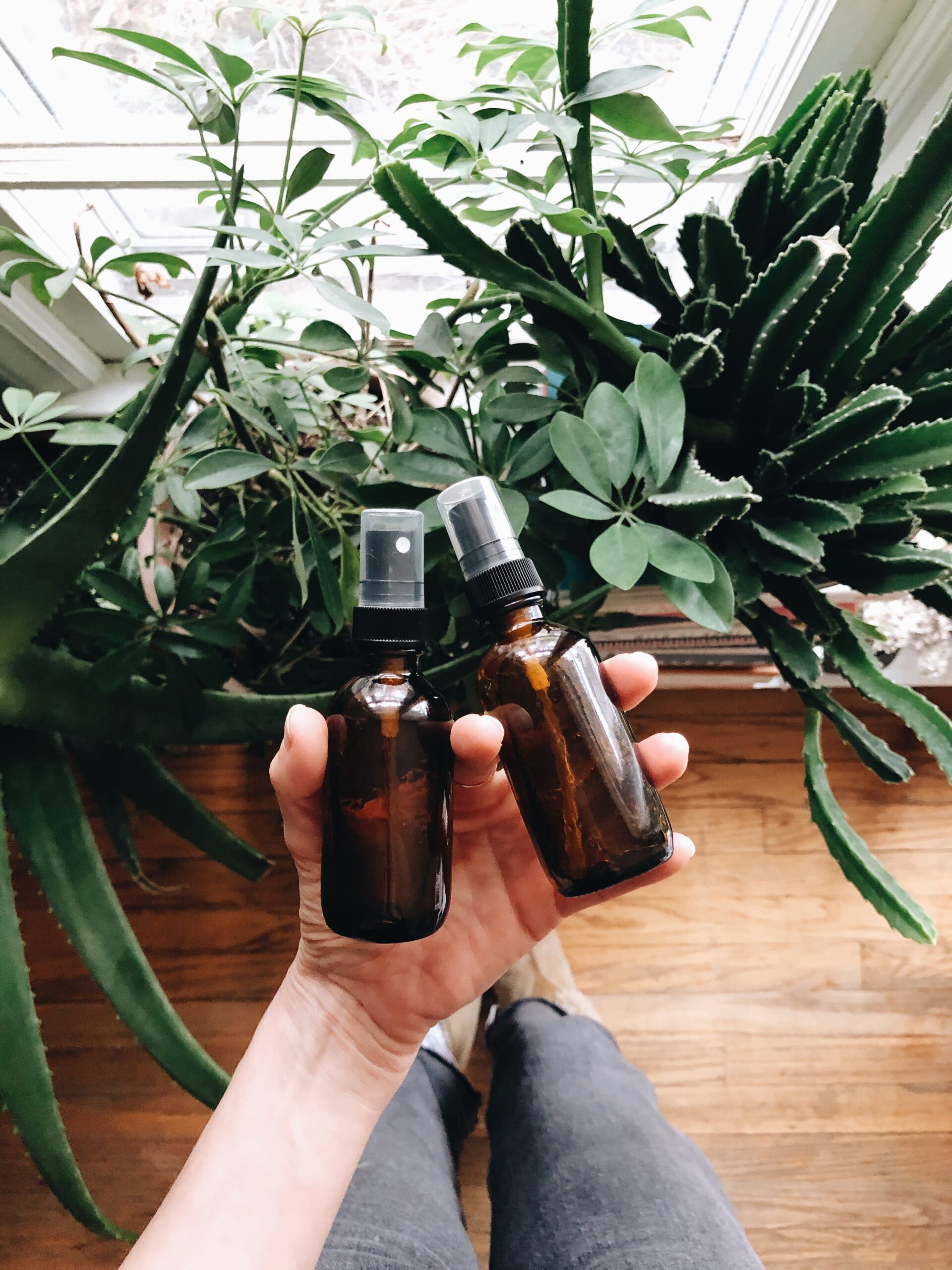 Also, I decided back in, what – 2017 that I would no longer say "cray." LOOK AT WHAT THIS VIRUS HAS DONE TO ME.
Also also, before I dive into this verrrr simple recipe for hand sanitizer, let me just tell you that there are definitely substitutes for these ingredients, because no normal human being should have EVERCLEAR in their possession. But times are hard, guys.
Aaron said the look on the liquor store guy's face last week when he asked for it something along the lines of "whoaaaa" meets "eeeeew" meets "duuuude" meets "nooooo" meets "are you okay?" And I said, "So wait, why did you buy Everclear?" And he said, "Because we have no rubbing alcohol." And I said, "You mean this jug of rubbing alcohol right here?" Oh.
But the Everclear is a prettier bottle so that's what YI GIT, ha!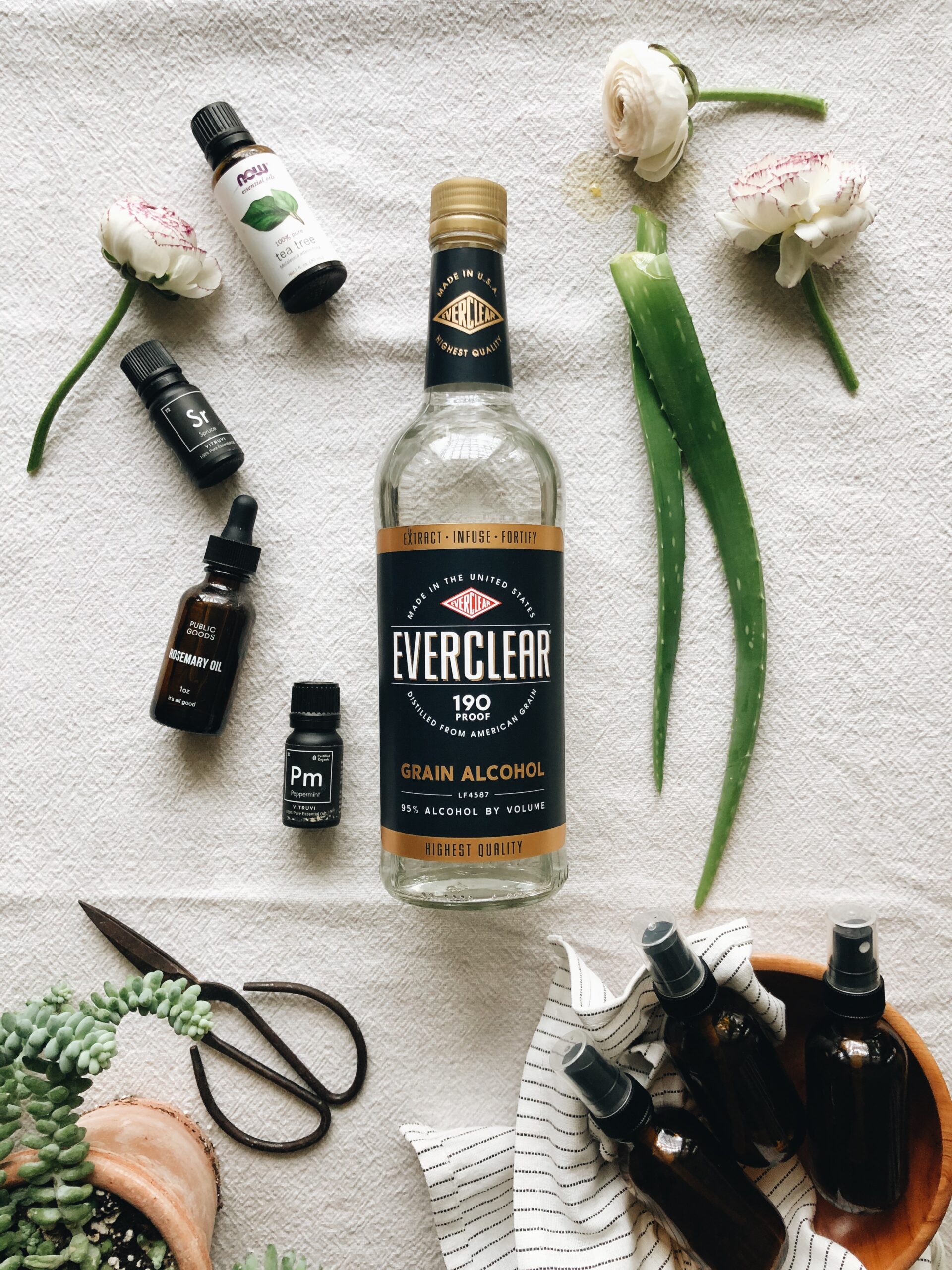 Another thing, you might have a bottle of aloe stashed away from the summer. We uh, didn't. And Amazon was sold out! So I resorted to my ENORM aloe plant to assist, and here we are, folks. Let us maketh.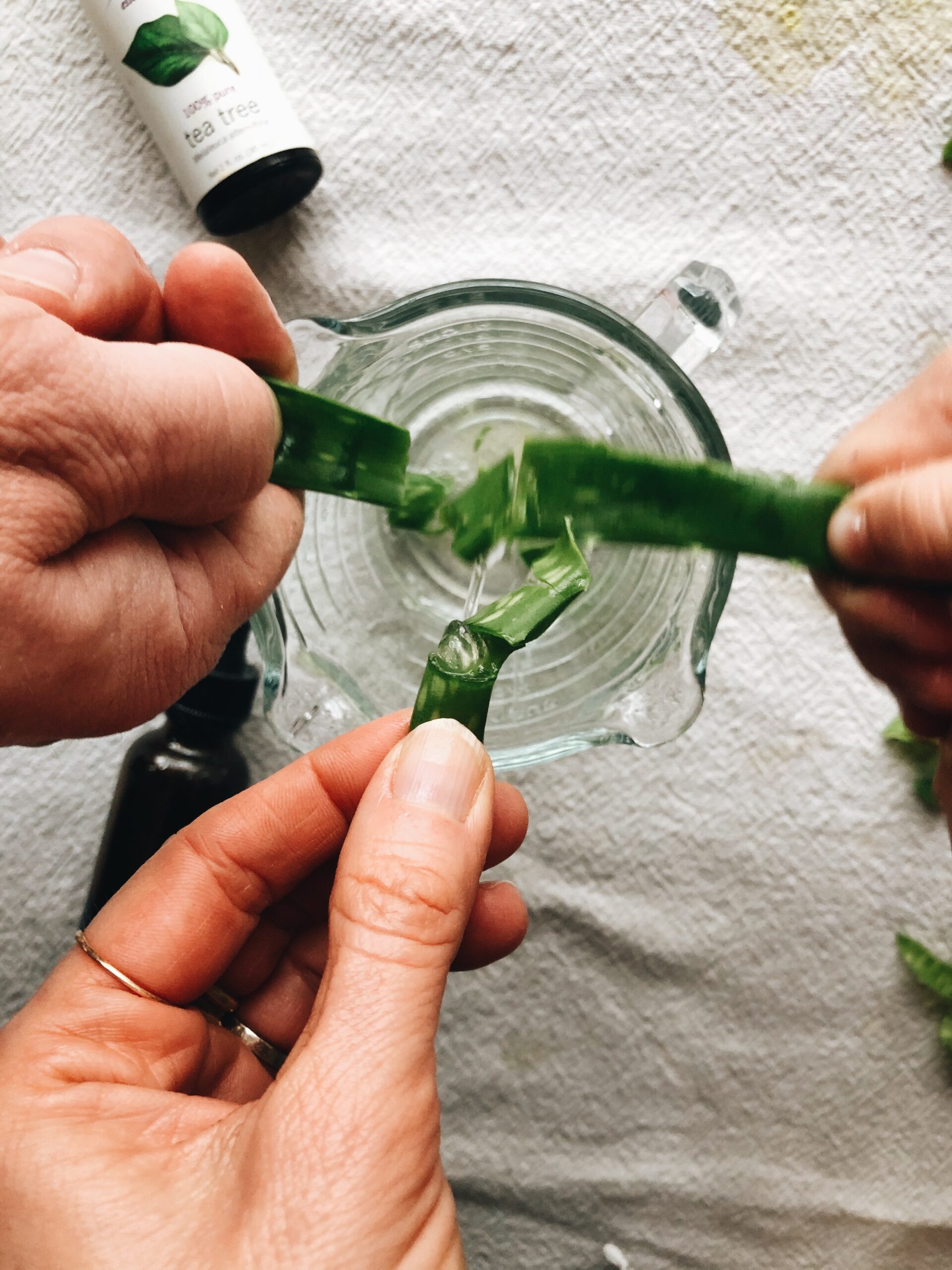 You're going to want an ounce of aloe. Unless you're making a bigger batch. I made enough to equal half a cup, which filled these two small bottles. But double or triple up if you need more.
Obviously spooning an ounce of aloe out of a container is a much simpler route in life. But this works in a pinch. And it's cuter, so. #familytime?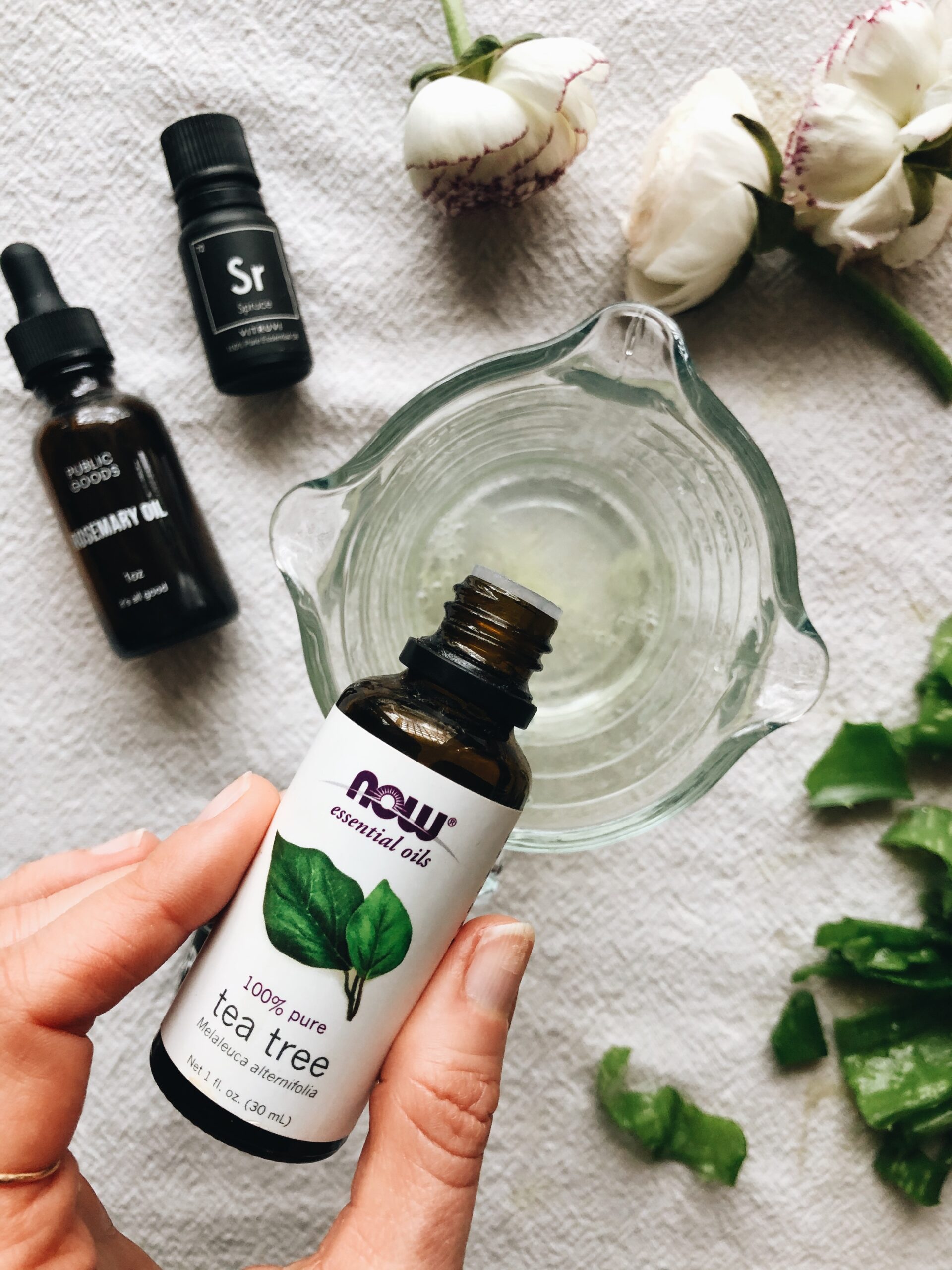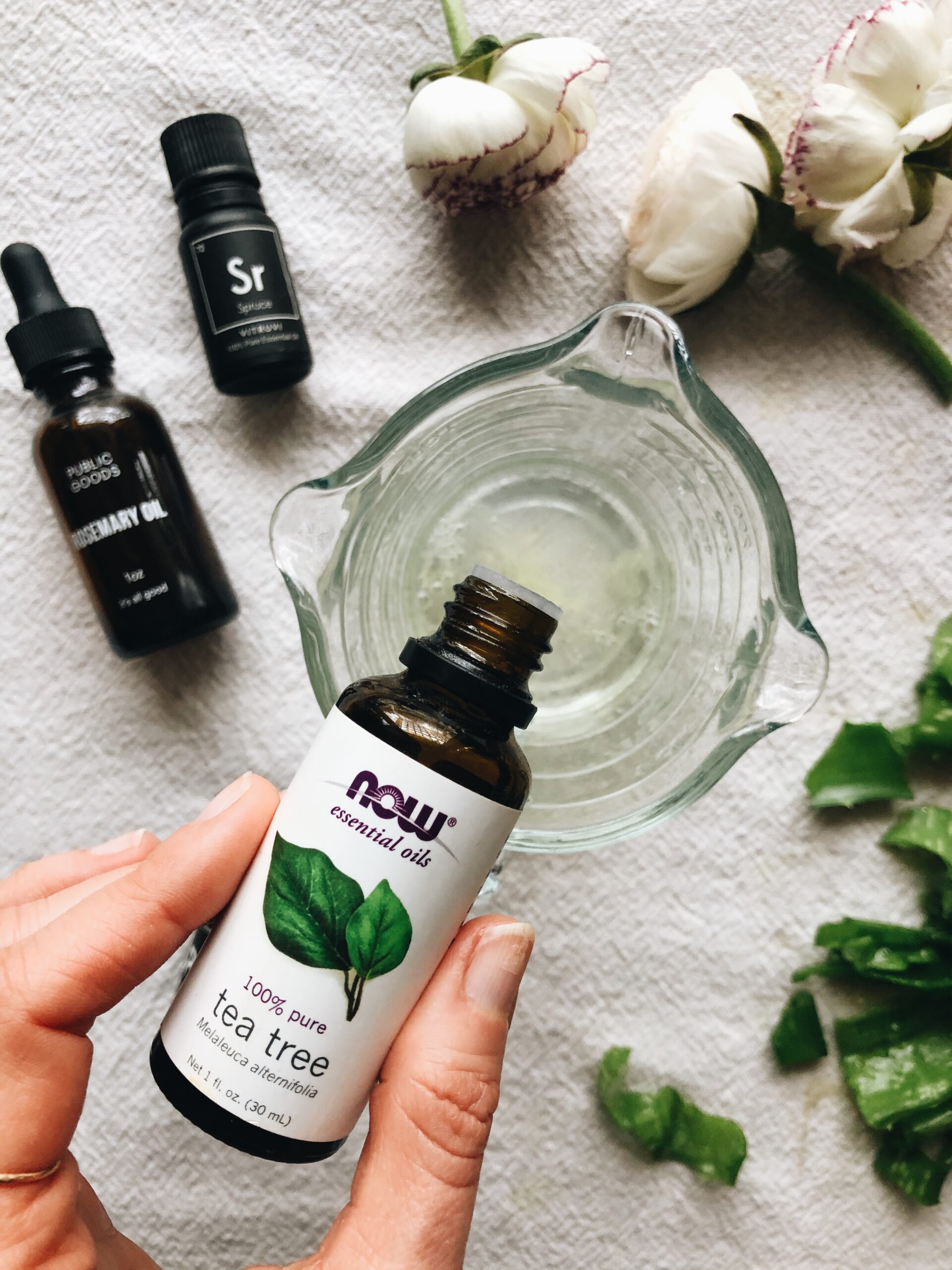 TEA TREE OIL. This is key because it's got antibacterial, anti-inflammatory, antiVIRAL and antifungal properties. It's good stuff, man. Add thirty drops to your aloe. Even more if y'awnt.
Then after the tea tree oil, I added in peppermint, rosemary and spruce oil, just to give it a fresh meets herby meets foresty fragrance. And I'll never regret it. Just a few drops each. Whatever your raging inner soul fairies demand.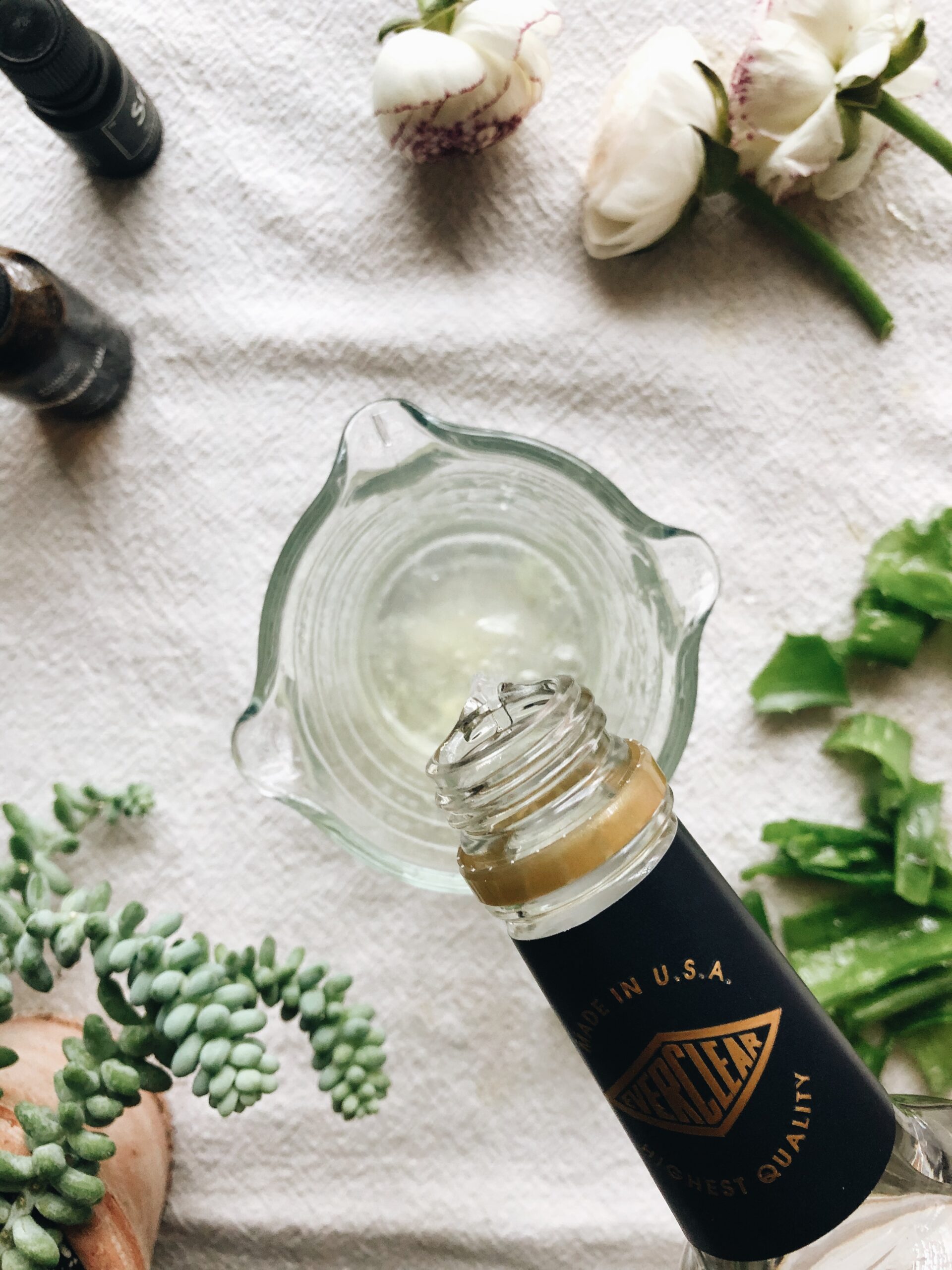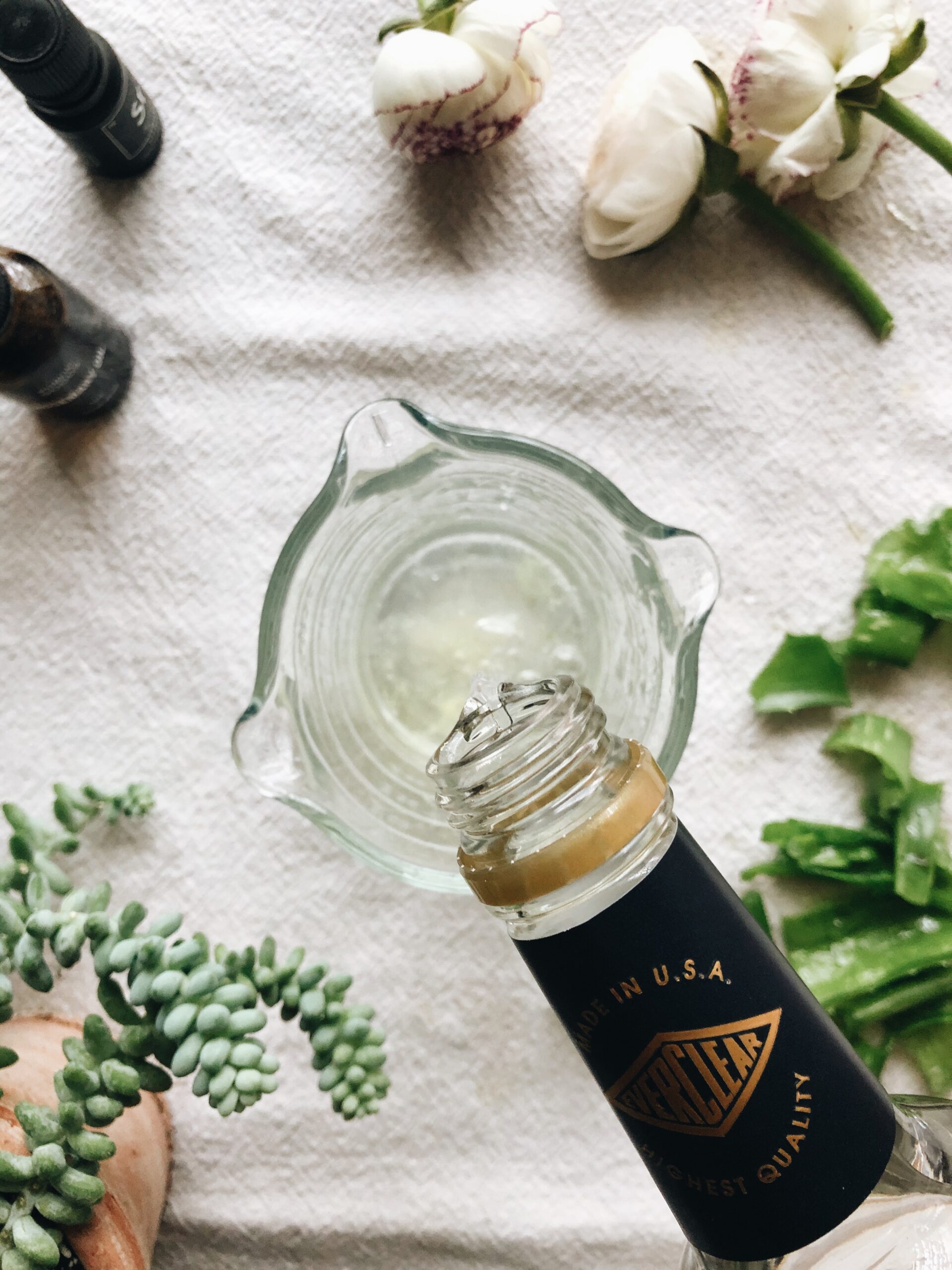 Then the alcohol. Rubbing alcohol is just fine here. You just want something that's like, a hundred billion proof. And Everclear is, apparently.
Hey, get it away from your mouth! I know how you people are.
Add three ounces.
I will say – I poured the mix into a bigger mixing bowl because I needed to whisk it more ferociously than I planned. You want the aloe to break down and not be snot. It can be snot fibers, that's fine. Just less loogie-ish.
We're starting a band called Loogie Fibers. Let's just hold on planning our tour, okay?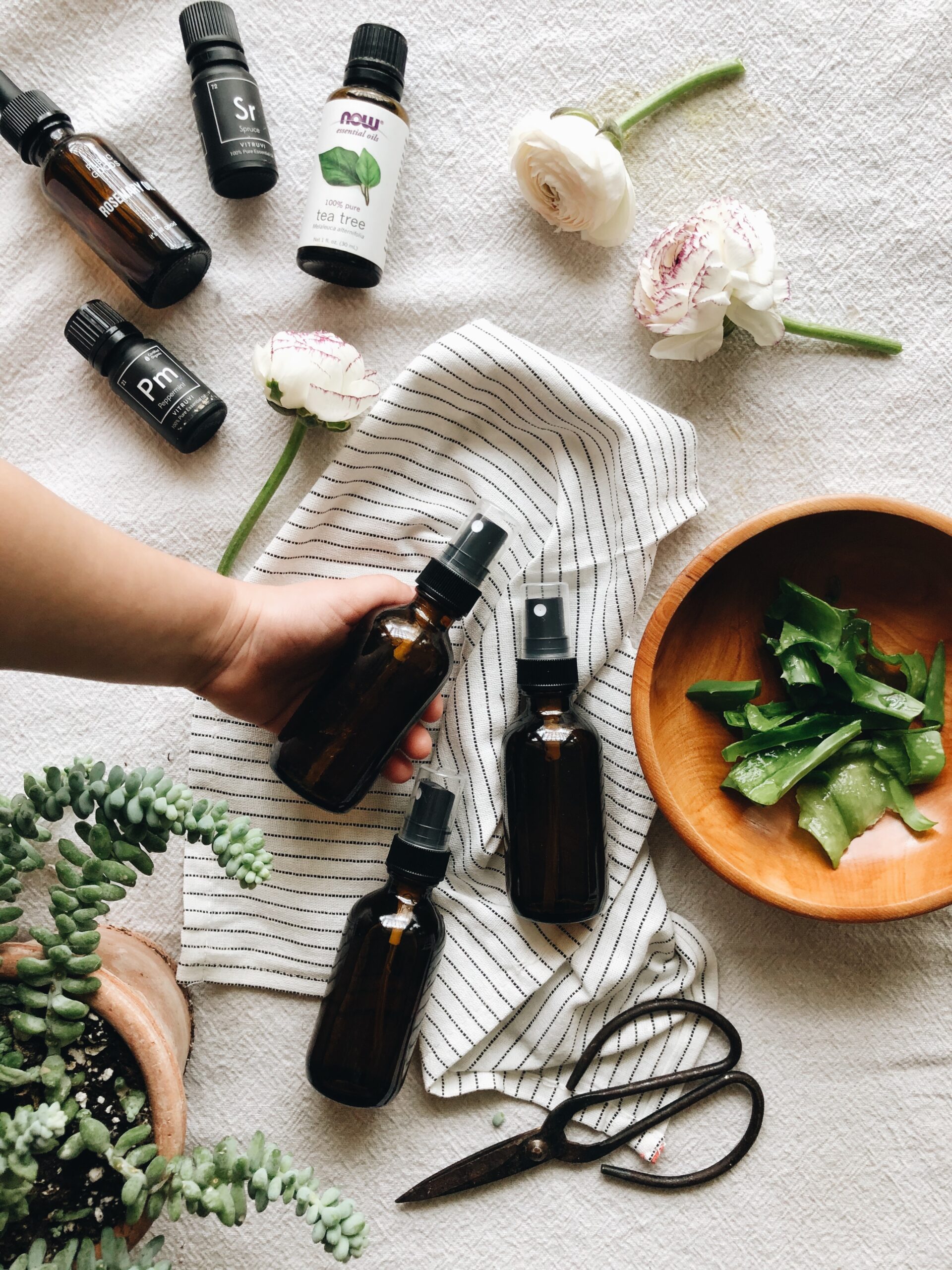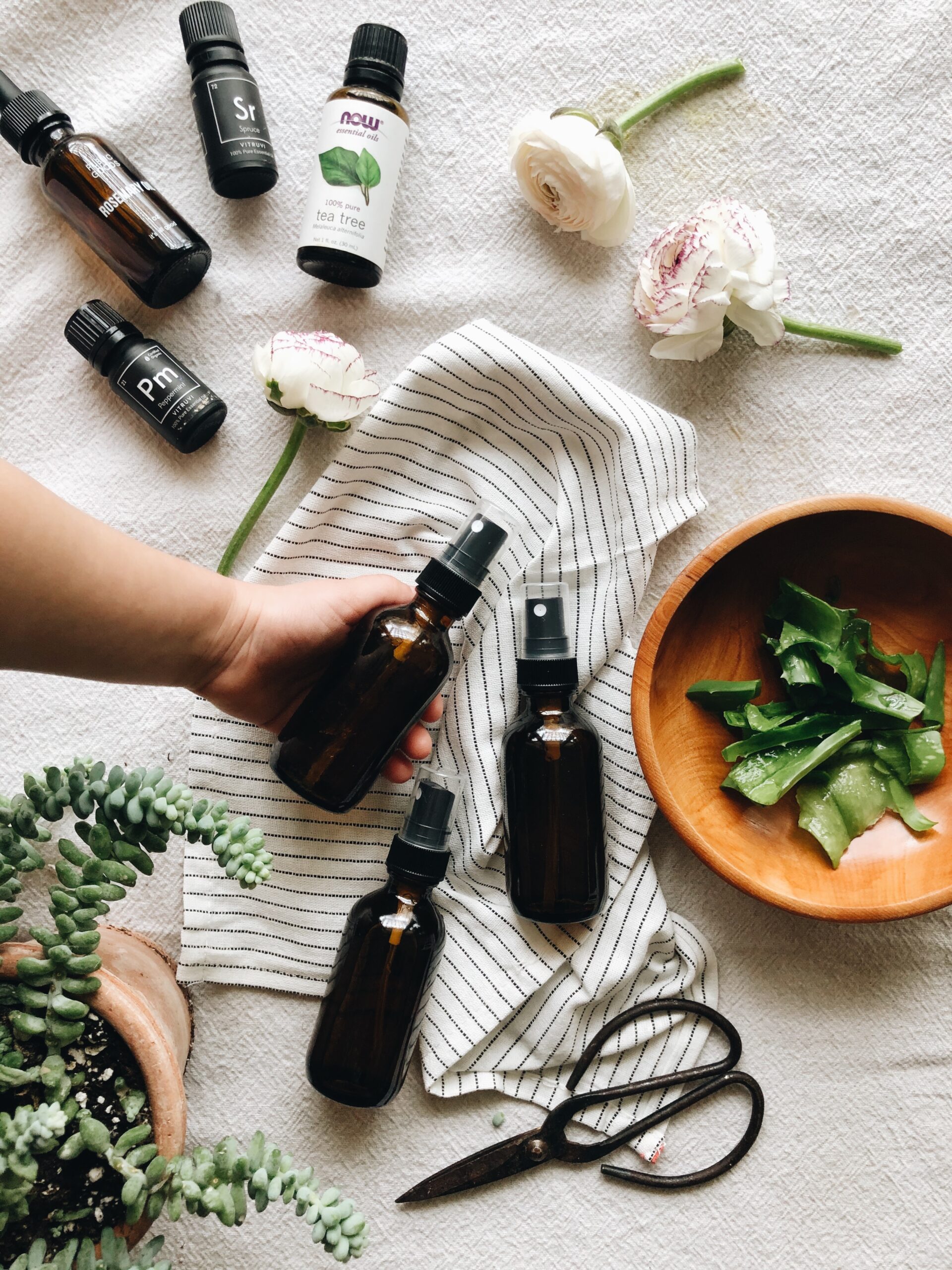 And that's it! Once you whisk it up, pour the mix into any little spray containers you have lying around. And you can even put cute little labels on them to prettify your life. My embosser thingy is broken, but I do plan on slapping some masking tape on them later with the name CAN IT, CORONA.
(* please read this from a reader! I'd like to emphasize two important things to readers, from a physician's perspective, if I may. The Everclear must be the 190 proof version, and the ratios must be the 1:3 ratio you gave, in order to meet the virus-effective 60% alcohol recommendations from the CDC. Also, some people develop contact allergies to essential oils, so if one's hands become itchy/red/bumpy/blistered (more than just dryness from alcohol and washing), just remake the batch without the essential oils. *)
Let me know what you're making this week! Crafts, baking, cooking, DIY sanity savers – I'd love to hear them all. And if the curriculum is simply Sex and The City reruns, you're doing it right, too.
We got this.
xx – b