And it's vegetarian(!), for those rationing out their meats like it's World War 2.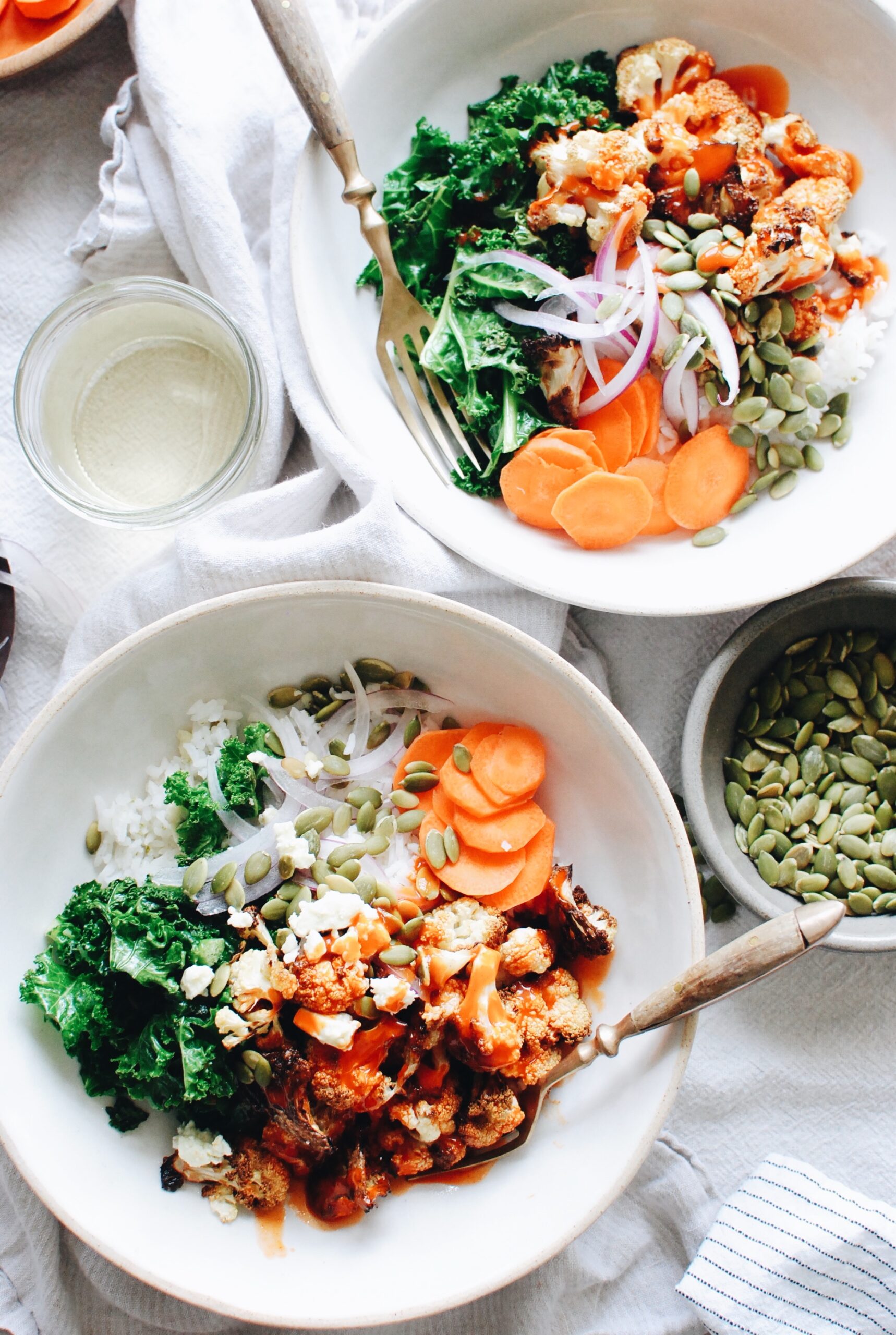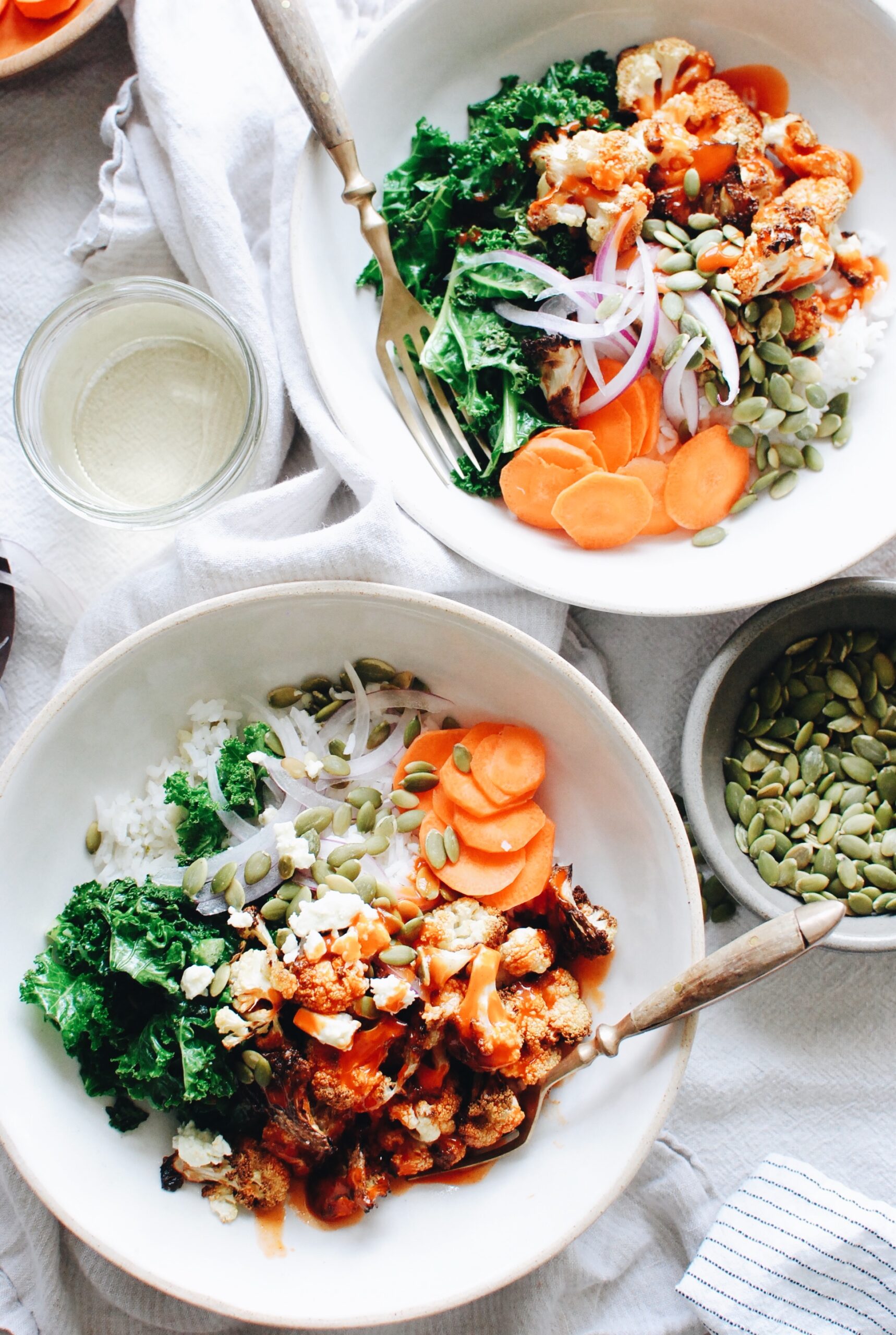 I had my groceries delivered yesterday for the VERY FIRST TIME IN HISTORY, and I kind of loved it. Didn't have to leave. Stayed home and safe. Touched no one. Wiped every single thing down like that Santa doctor man in the video did. And they had mostly everything in my order, which I didn't expect! Of course that was yesterday and now Instacart is apparently going on strike, so . . . great. BUT! If you can get groceries delivered, I highly suggest it. That's all, y'all. #STAYHOME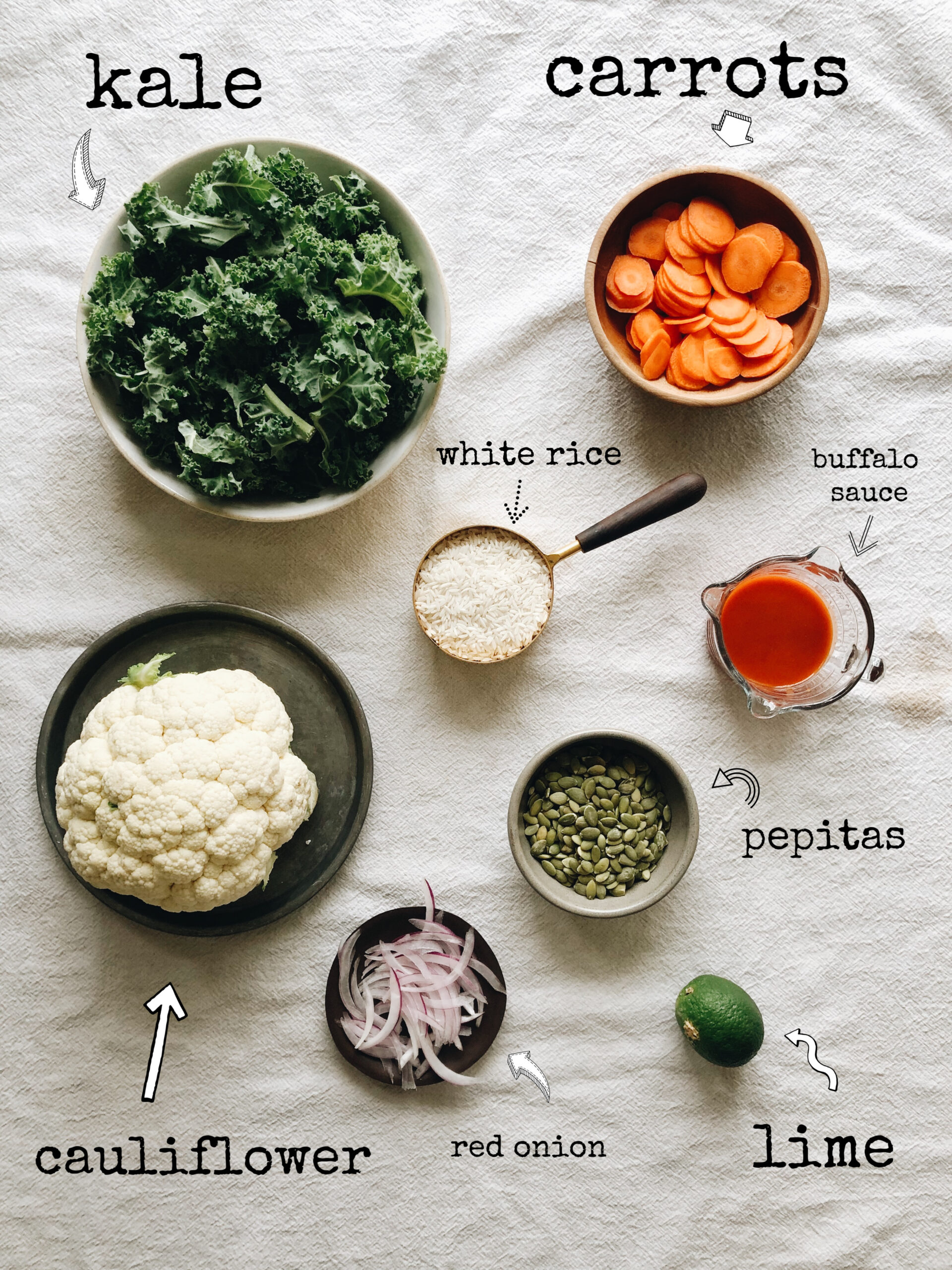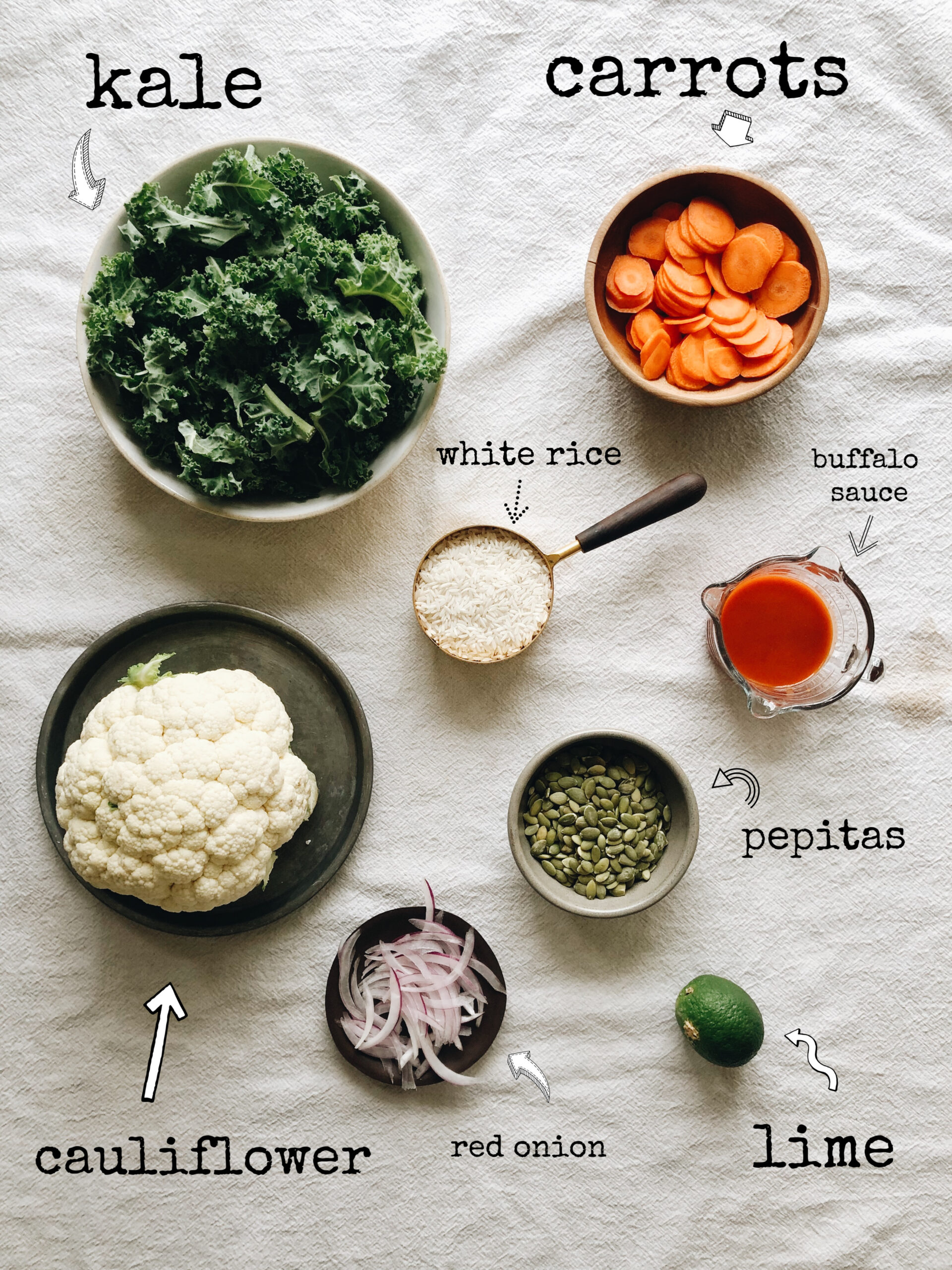 My point is, if you don't have fresh cauliflower, frozen is fine! Or you can put in an order for next week. Whatev works for ya.
This is a really, really simple situation here. You roast some cauli. You cook some rice in a rice cooker (or stove top, you fancy). You lightly sauté some kale until it's barely wilted. You toast pepitas in a little skillet. You drizzle buffalo sauce over the roasted cauli. You insert your entire upper torso into the bowl and everything feels okay, George.
Who's George?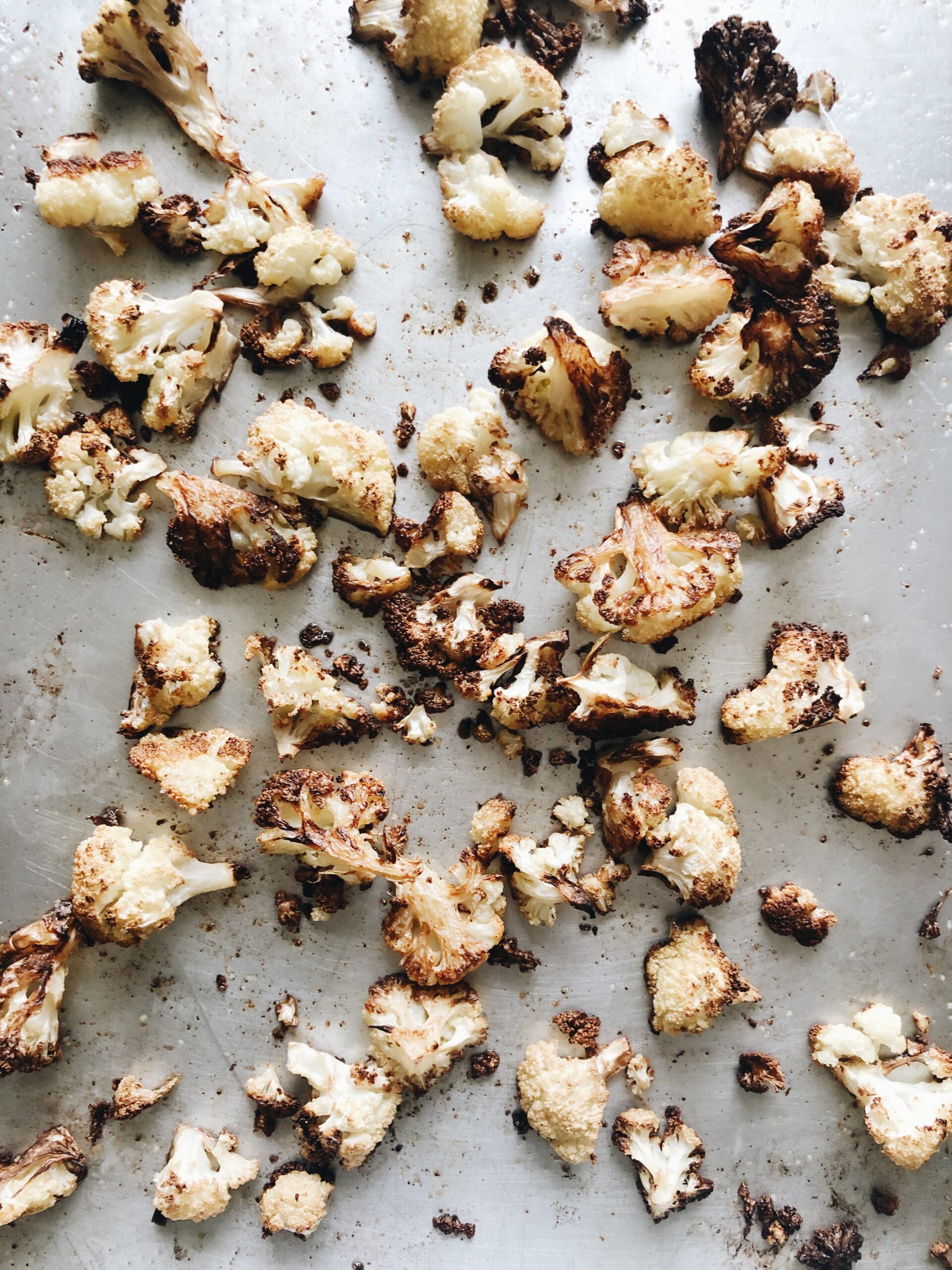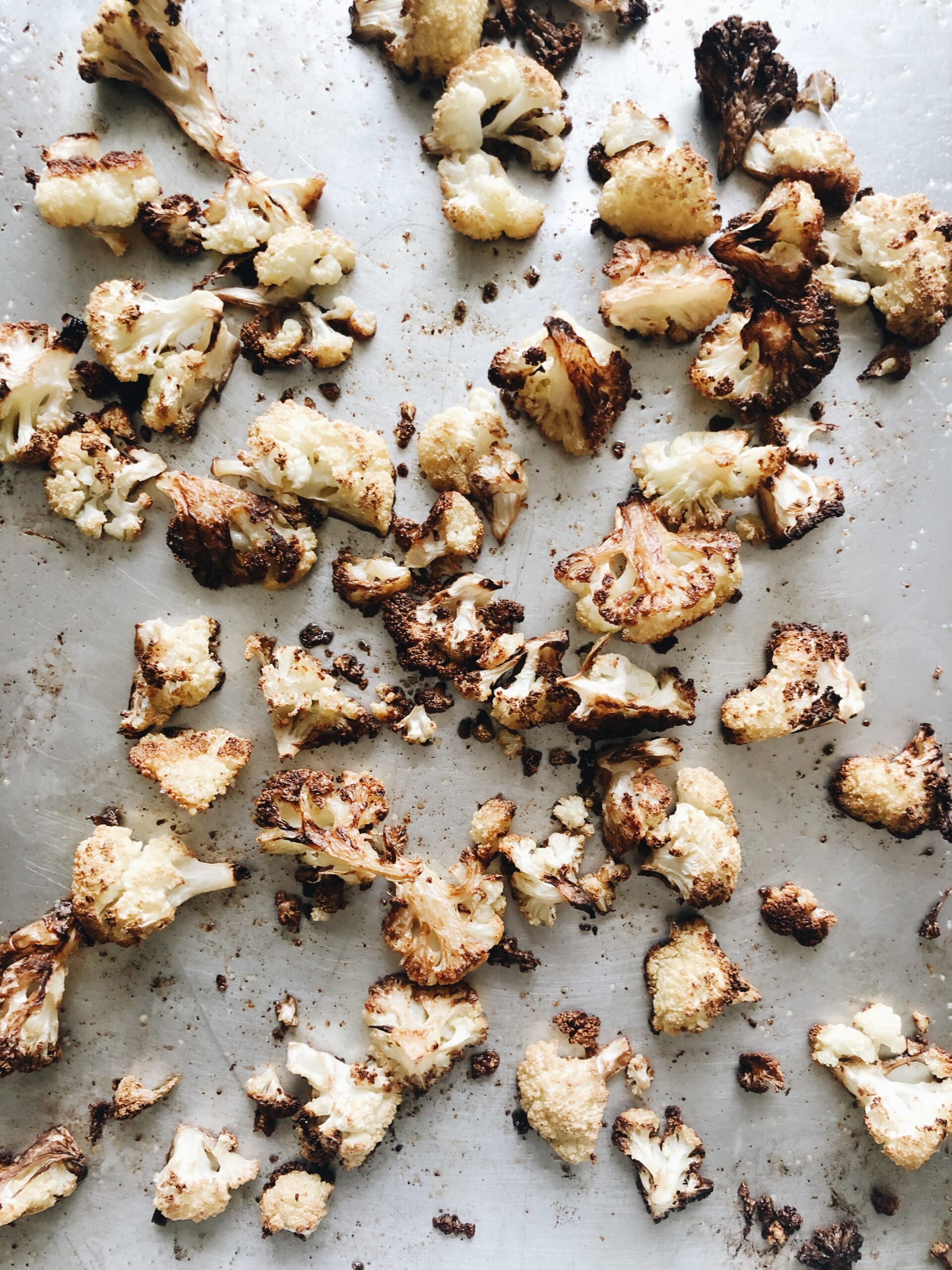 I leave my cauliflower in for a FULL HOUR. CAULIFULLOUR. That didn't work.
Look at that color, though! Charred, roasted, so tender, crunchy in places. These are the good things in life. (go ahead and order two heads of cauli. that would be smart.)
(do you hate that I call it cauli? is it annoying? yay, we're back on track!)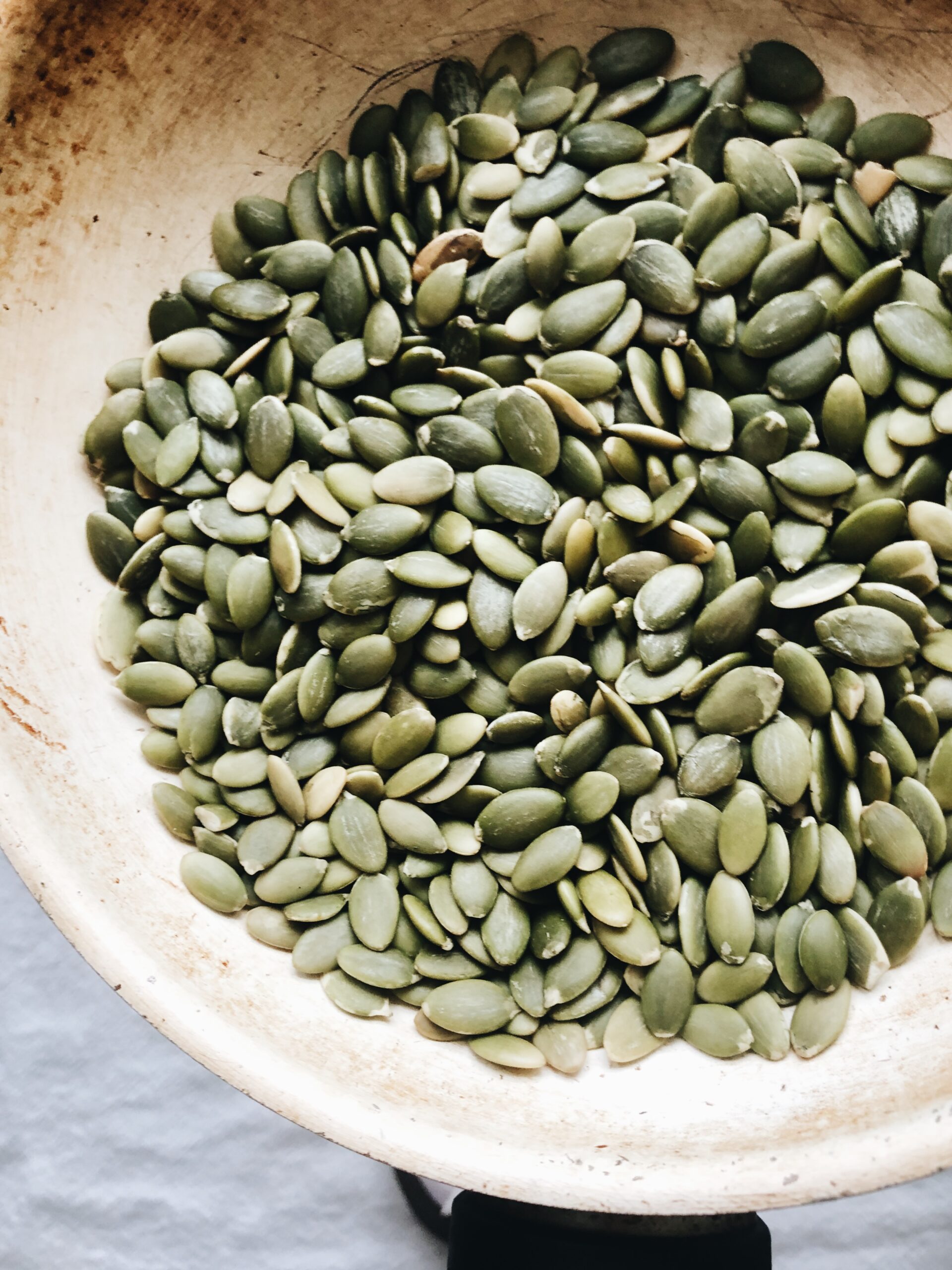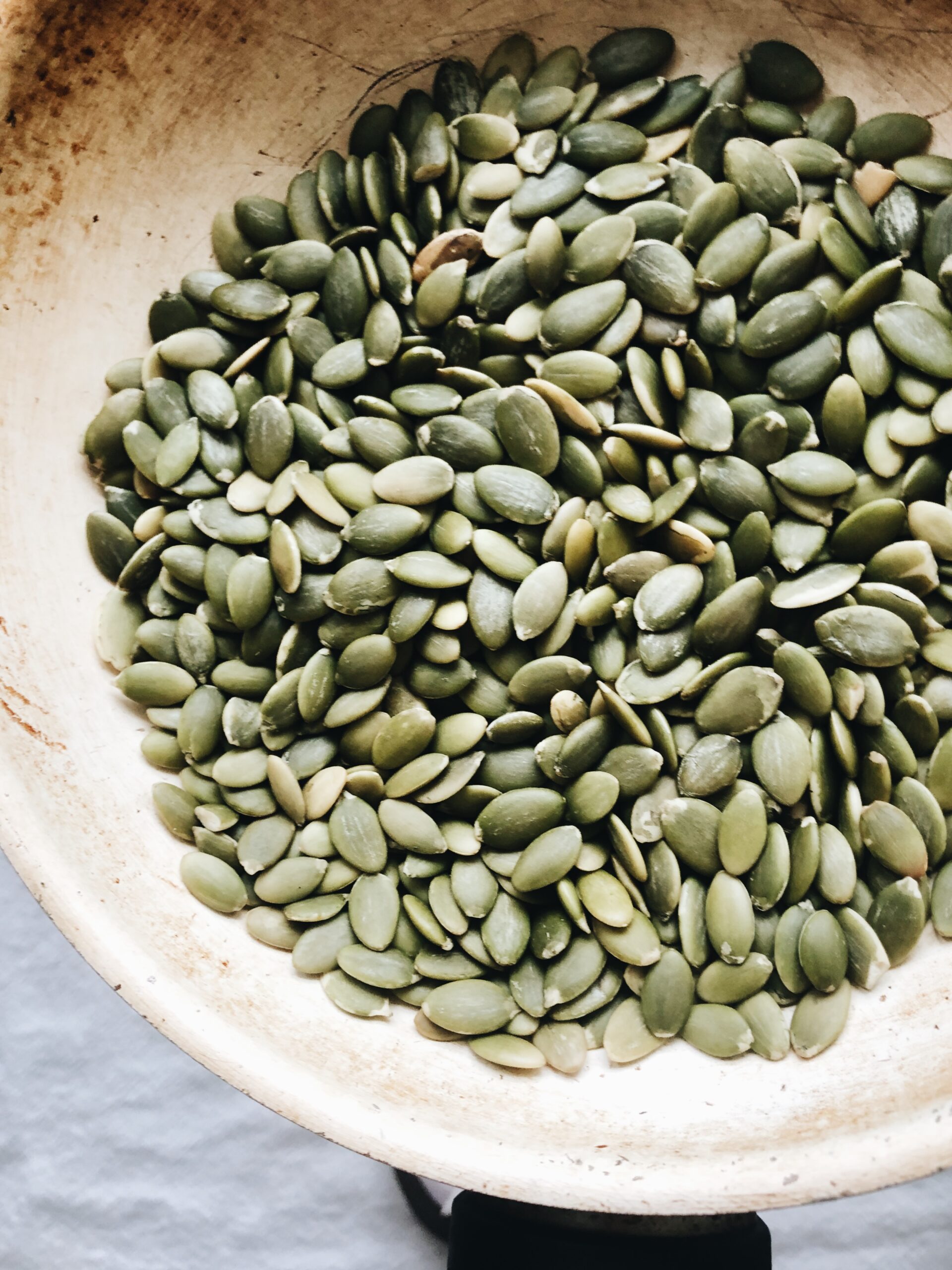 Pepitas! If you don't have these, no sweat. Honestly, anything crunchy is great. Peanuts, chopped almonds, toenails.
Just toast them gently in a little pan until you see a tiny bit of browning here and there. Yuz.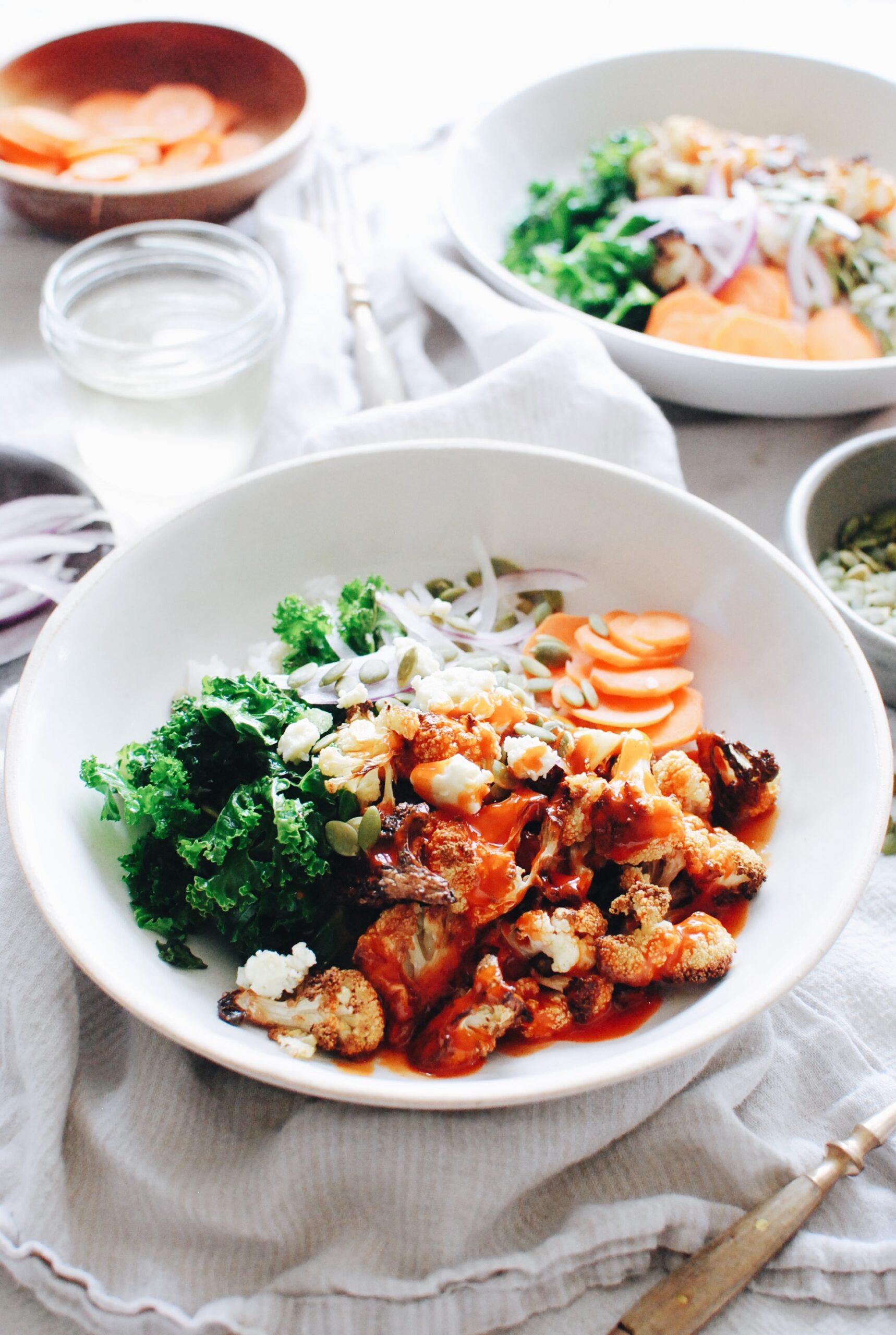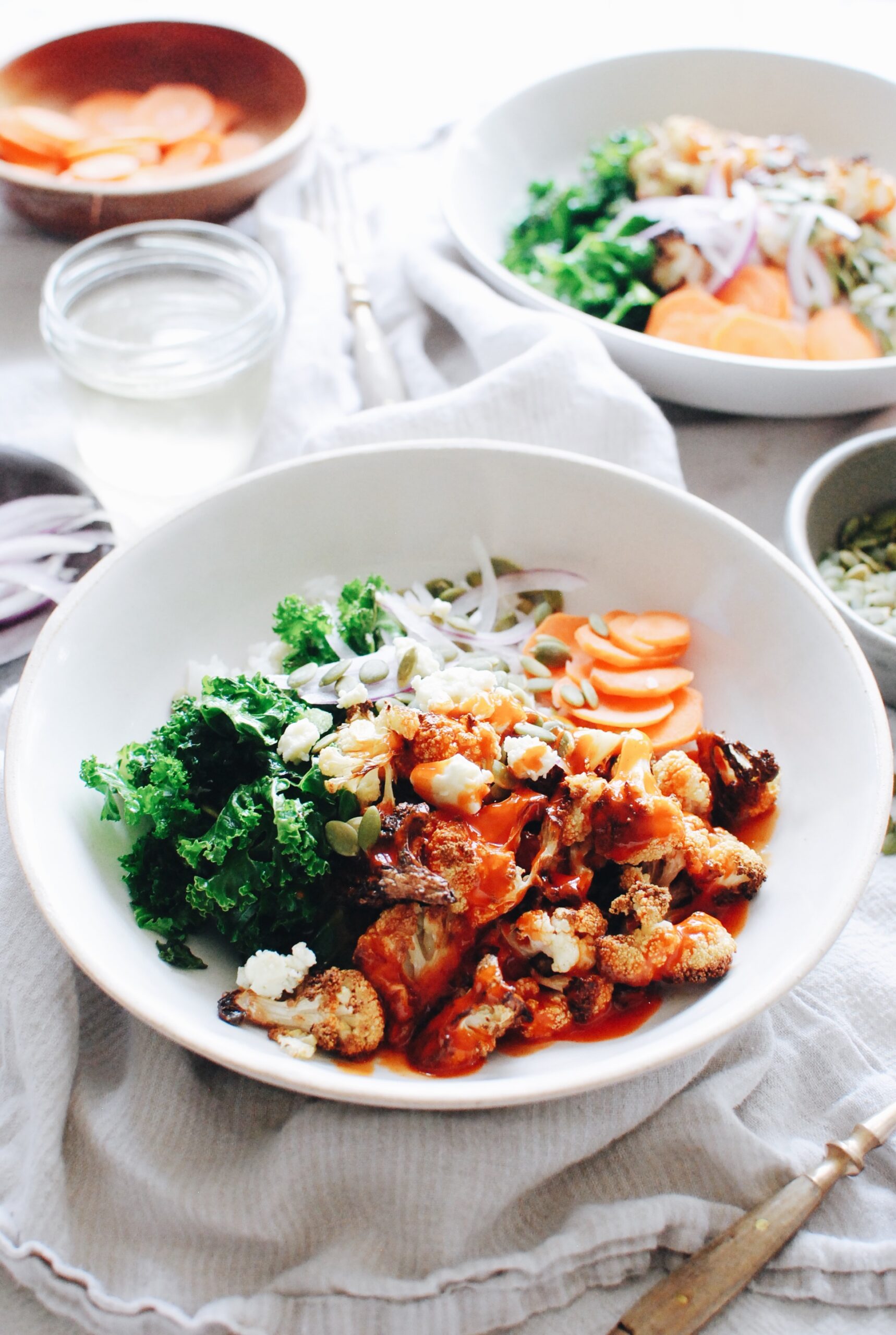 I forgot to show you what I did with the rice, so I'll tell you here! Once it's fully cooked in the cooker, just zest and juice the lime right into it. Add a small pinch of salt, too. Toss it all together. It just wakes the rice up with a hit of acidity. A punch of brightness. So good. Takes it to 11.
And this is truly it! Drizzle the buffalo sauce over the cauliflower, nestle the wilted kale right next to the rice, add some thinly sliced red onion and carrot coins for crunch. And the toasted pepitas! All that TEXTURE, you guys. And you didn't have to defrost a single package of meat.
I didn't like the words "package of meat" just now.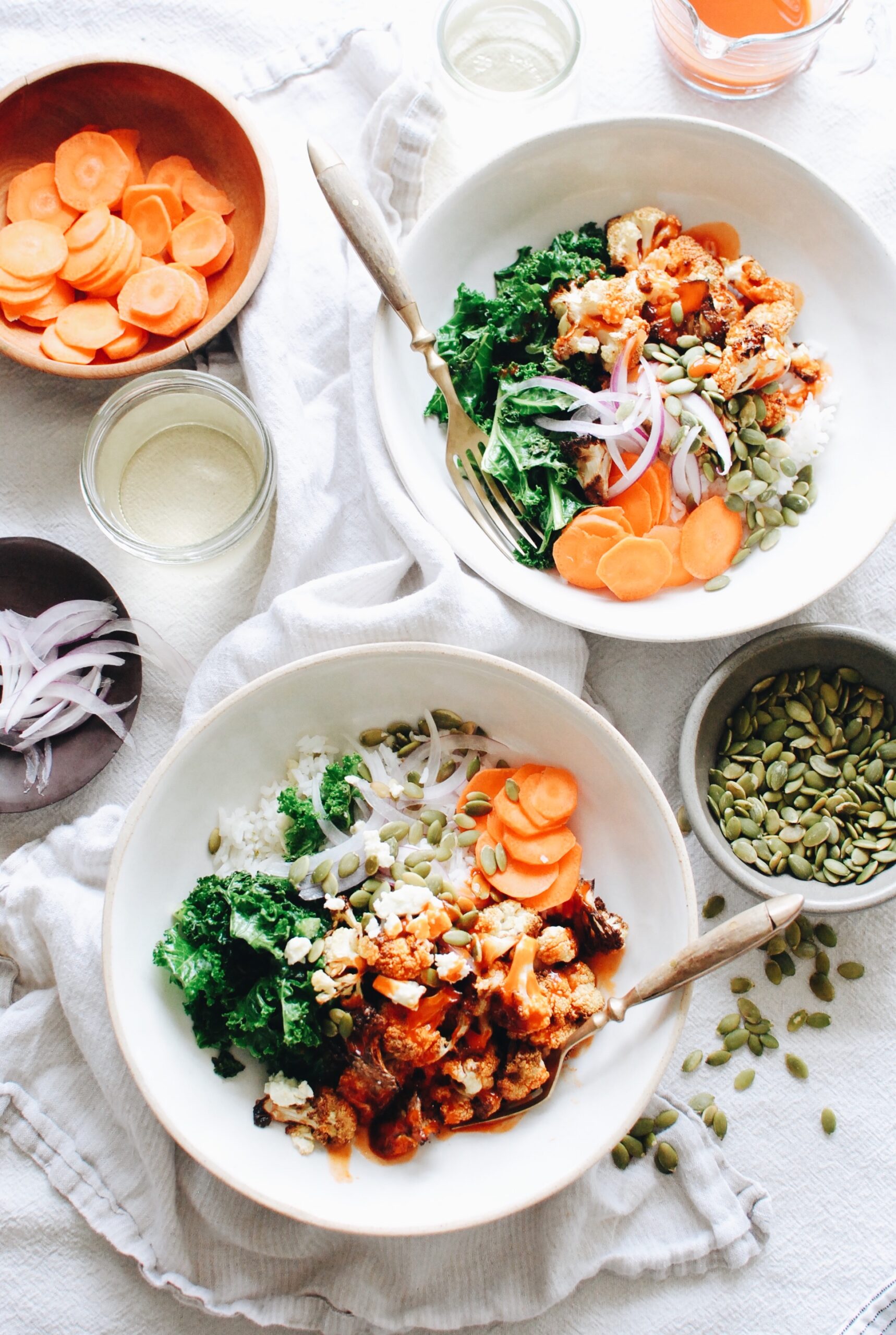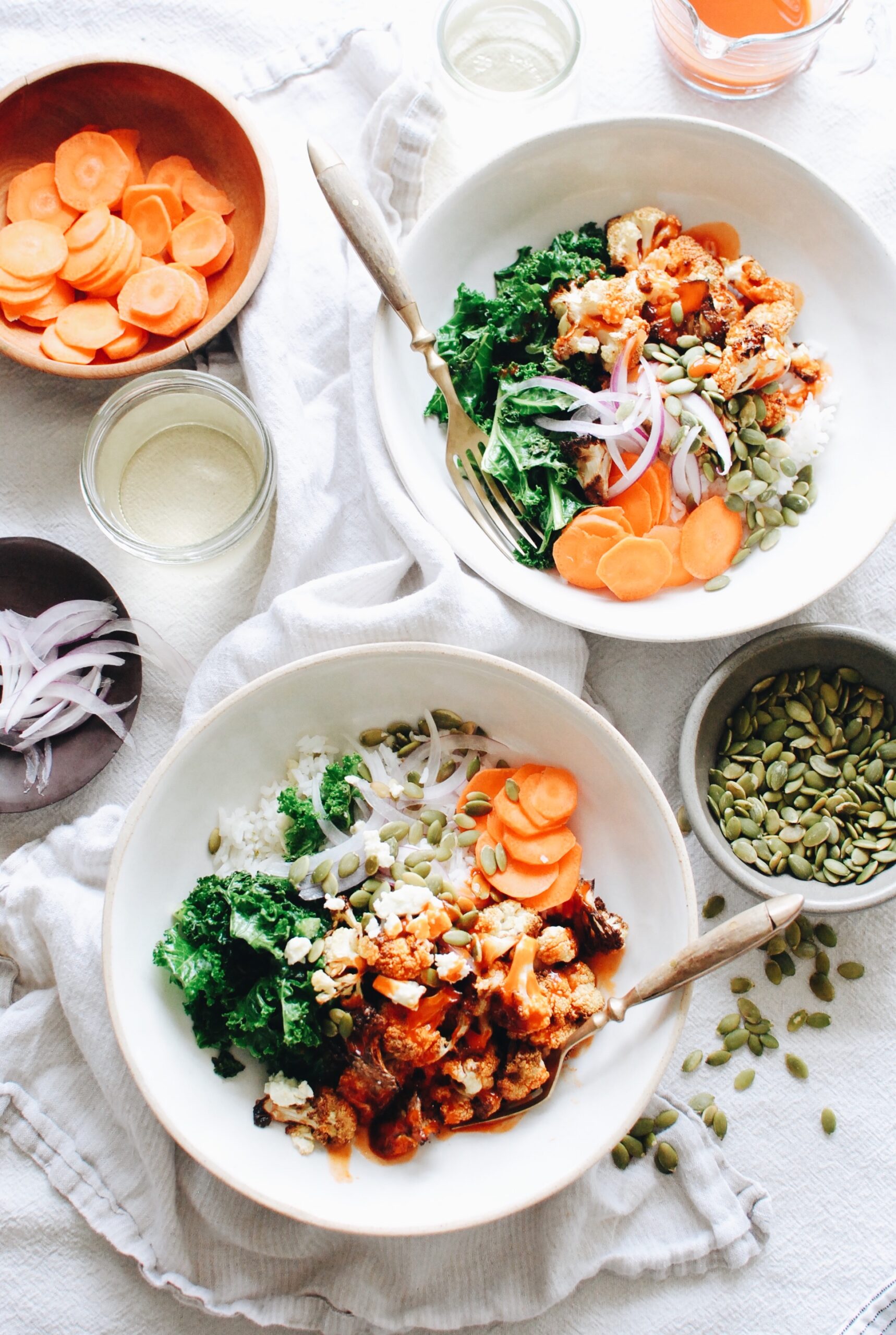 And you know what, add in anything you want here. Avocado going bad? Slice it in. Spinach instead of kale? Absolutely. Brown rice instead of white? Dude, of course. BBQ sauce instead of buffalo? FLY, LITTLE BIRD.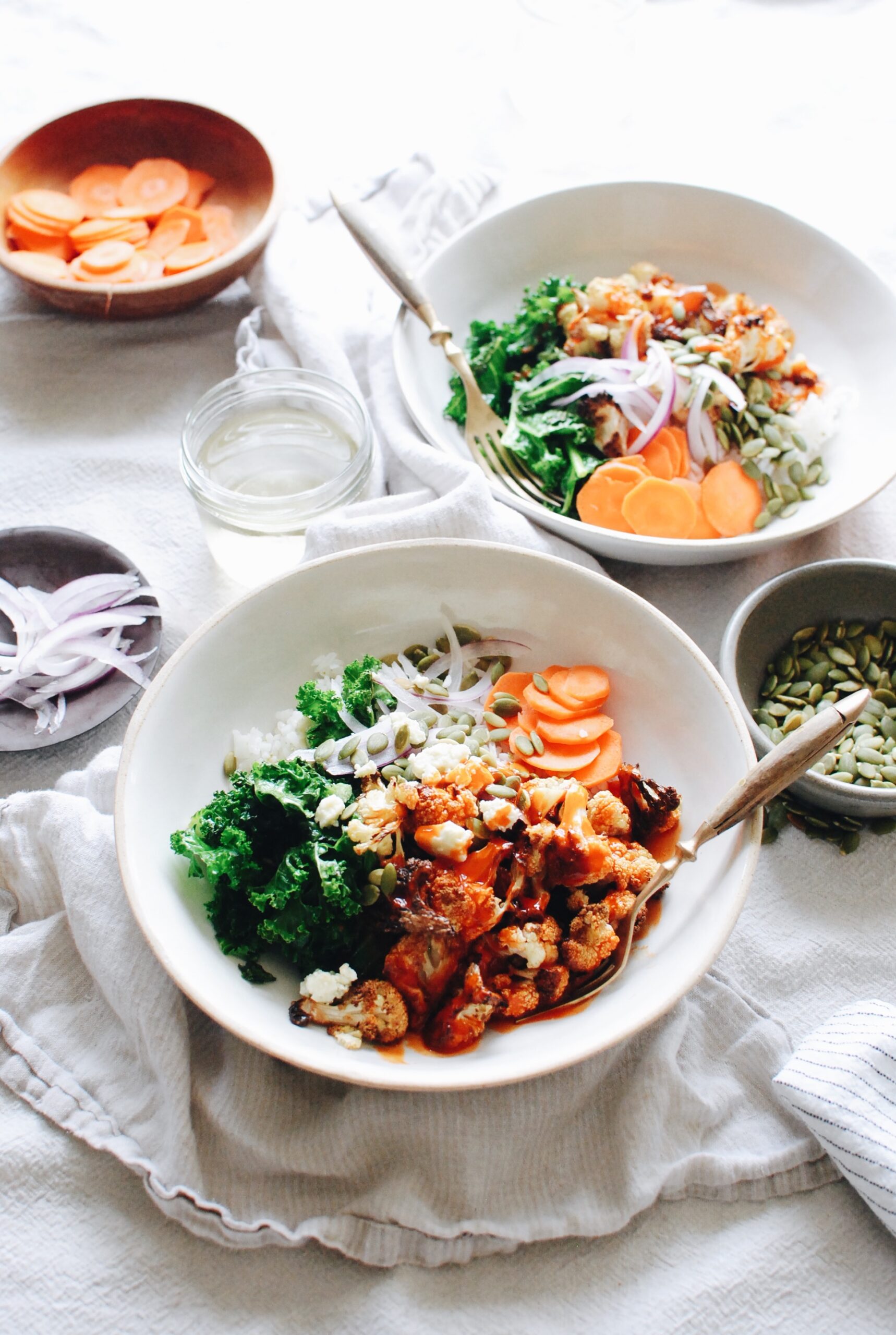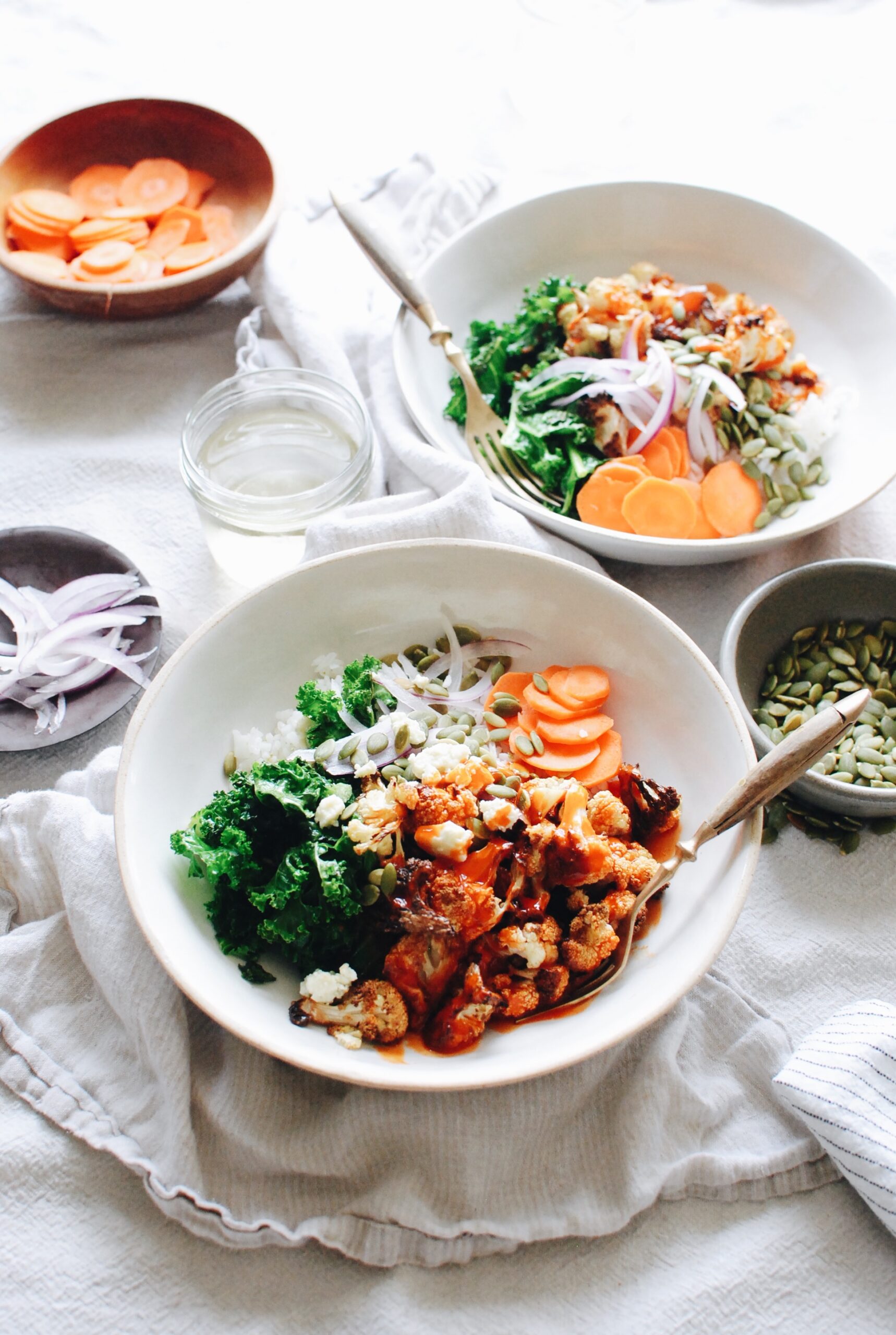 Completely delicious. Mounds of comfort. Simple to pull together. Game-day flavors (RIP March Madness and all the sports). Layers of textures. And a good dose of veggies for the soul and attitude and health and life.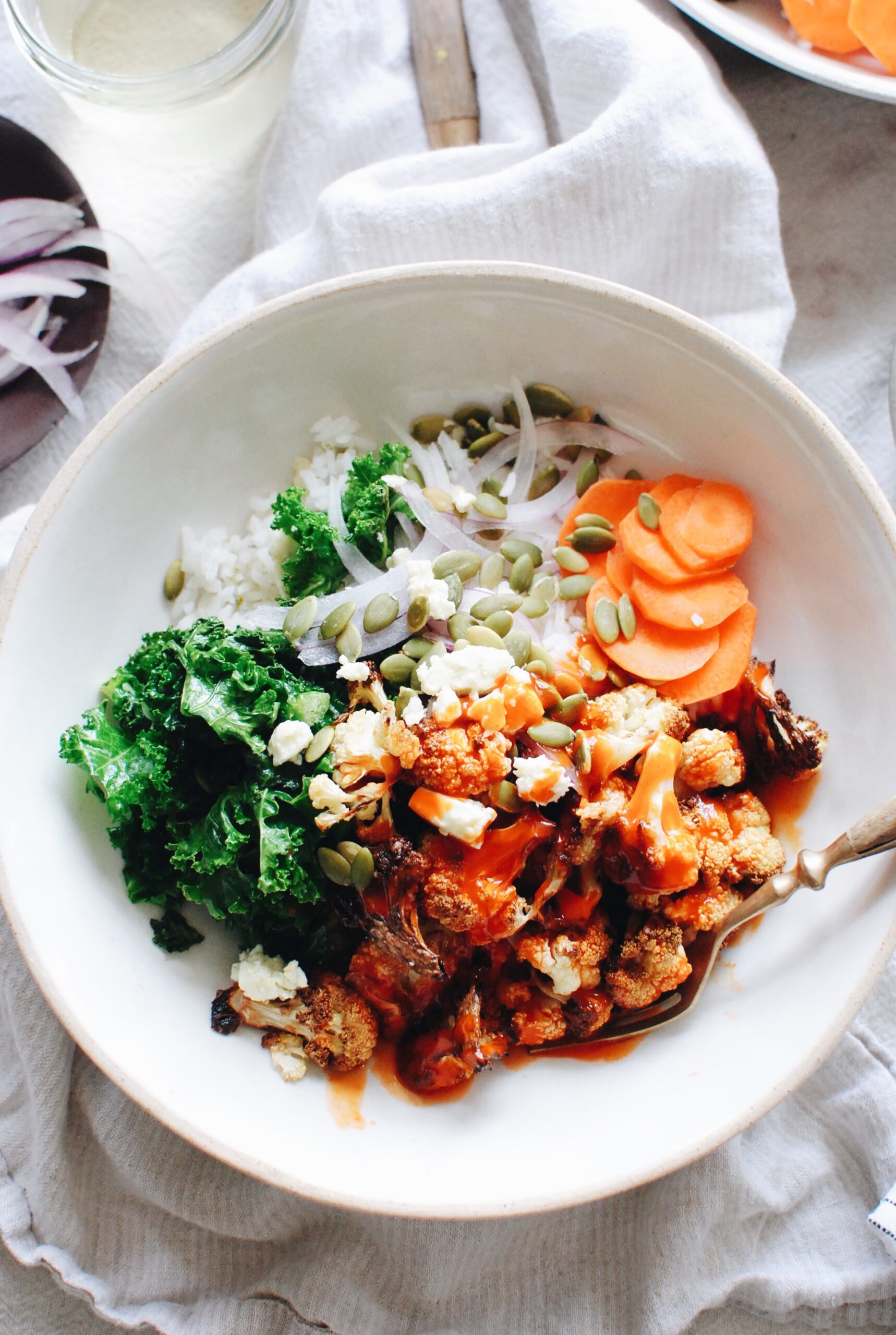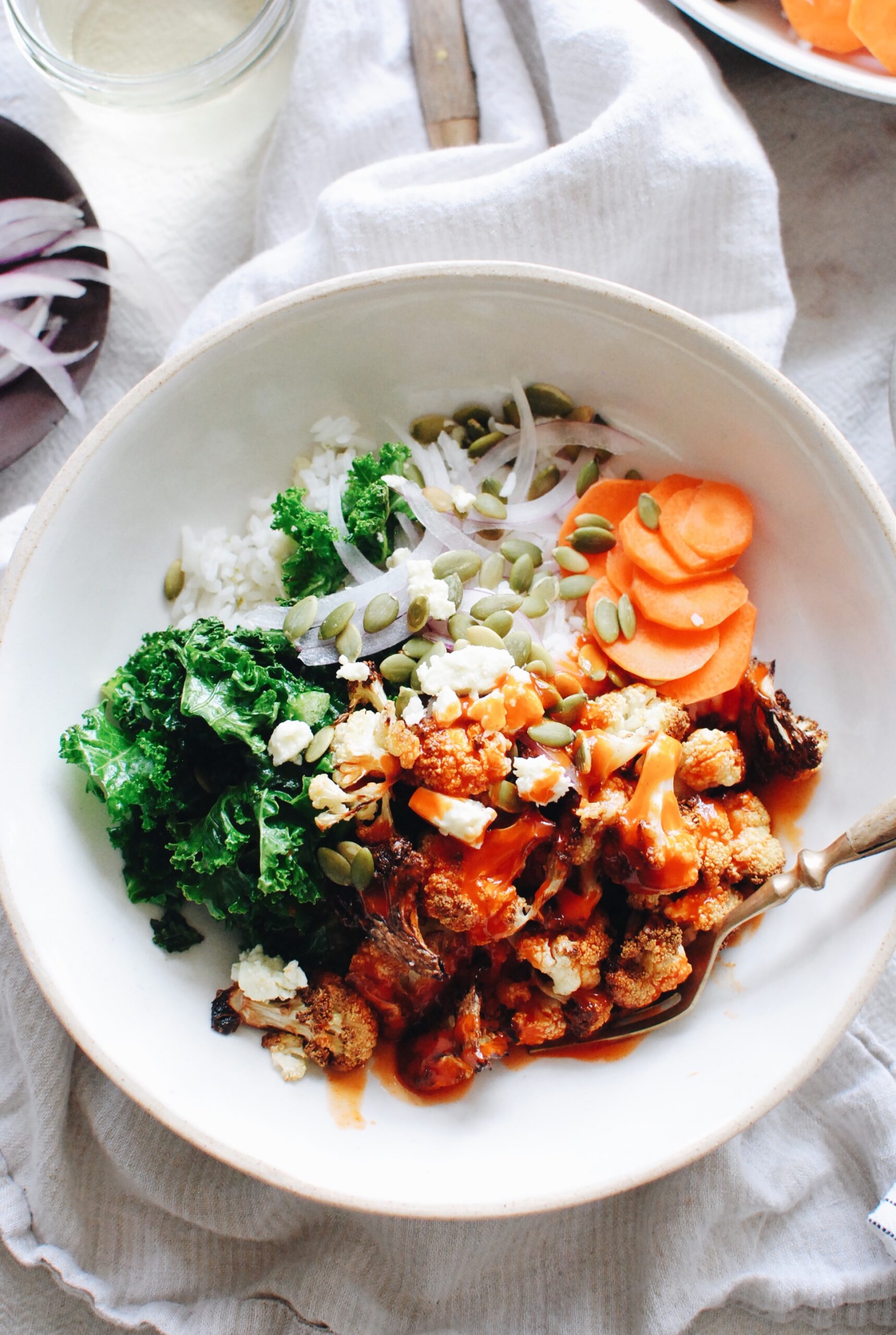 NEW WEEK, WHO DIS. (<–sorry)
Buffalo Cauliflower Rice Bowls with Kale
Ingredients
1 large head cauliflower (frozen is fine!)
3 Tbs. extra-virgin olive oil, divided
1 cup white rice
1 lime
6 cups chopped kale
1 large carrot, thinly sliced
1/3 cup thinly sliced red onion
1/2 cup buffalo sauce
1/3 cup pepitas, lightly toasted
Coarse salt
Instructions
Preheat your oven to 400. Break the cauliflower into small-to-medium florets and arrange them on a baking sheet. Drizzle 2 Tbs. oil and season with a good pinch of salt. Toss with your fingers. Roast for one hour, tossing at the 45 minute mark.
Cook the rice in a rice cooker (or on the stove!). Once cooked, zest and juice the lime into the rice. Add a small pinch of salt, and toss to coat.
Heat the remaining Tbs. oil in a medium skillet over medium heat. Add the kale and sauté until wilted, just a couple of minutes. Season with a pinch of salt.
Divide the rice over shallow bowls and top with wilted kale, roasted cauliflower, red onion, sliced carrot and pepitas. Drizzle the buffalo sauce over the cauliflower and serve!
Serves 4 medium bowls.

if using frozen cauliflower, you might need to add about 20 minutes to the roasting time
7.8.1.2
413
https://bevcooks.com/2020/03/buffalo-cauliflower-rice-bowls-with-kale/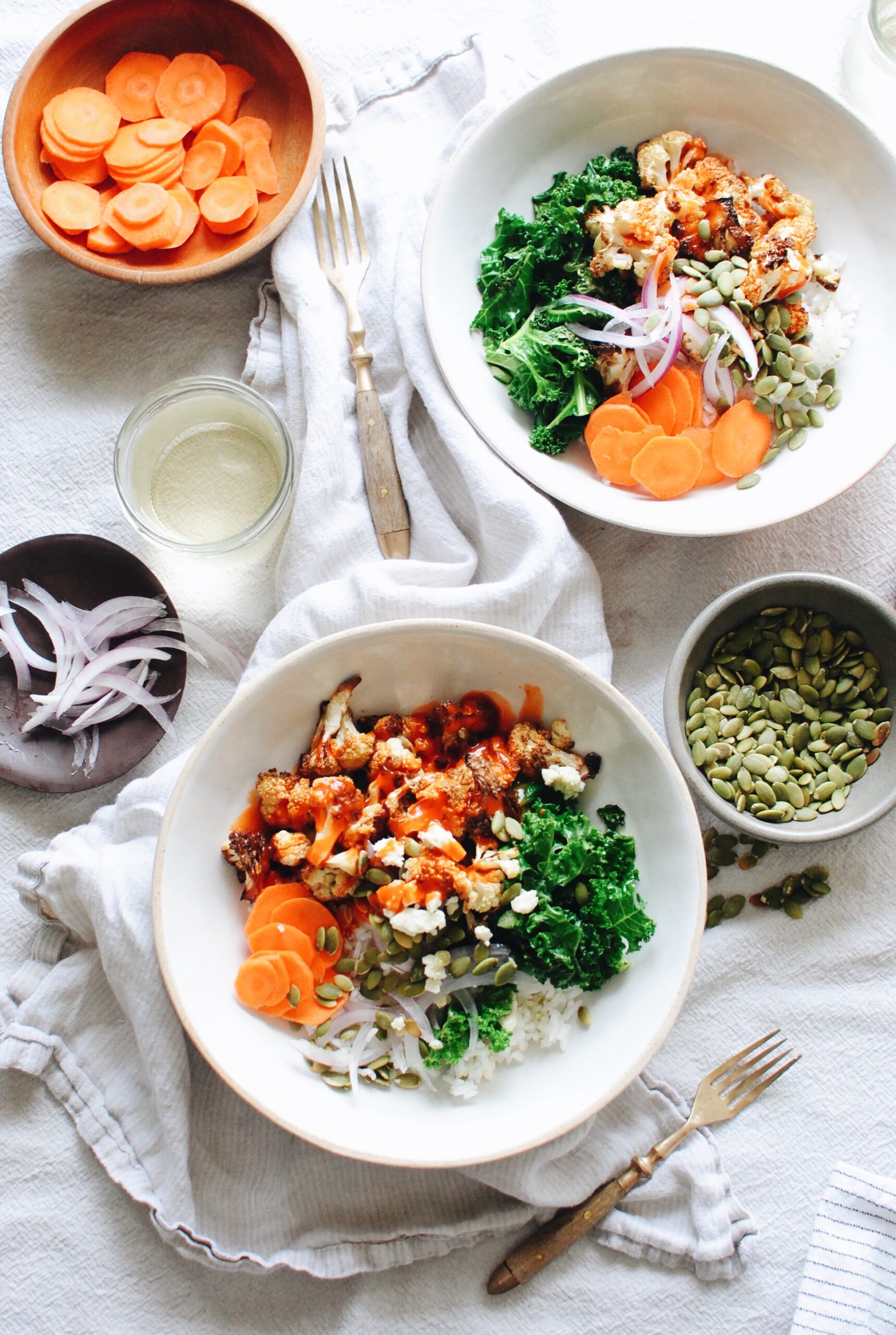 I'll be in that bowl until this quarantine is over, thanks bye.