Okay let's see how theeeese bowls work for ya.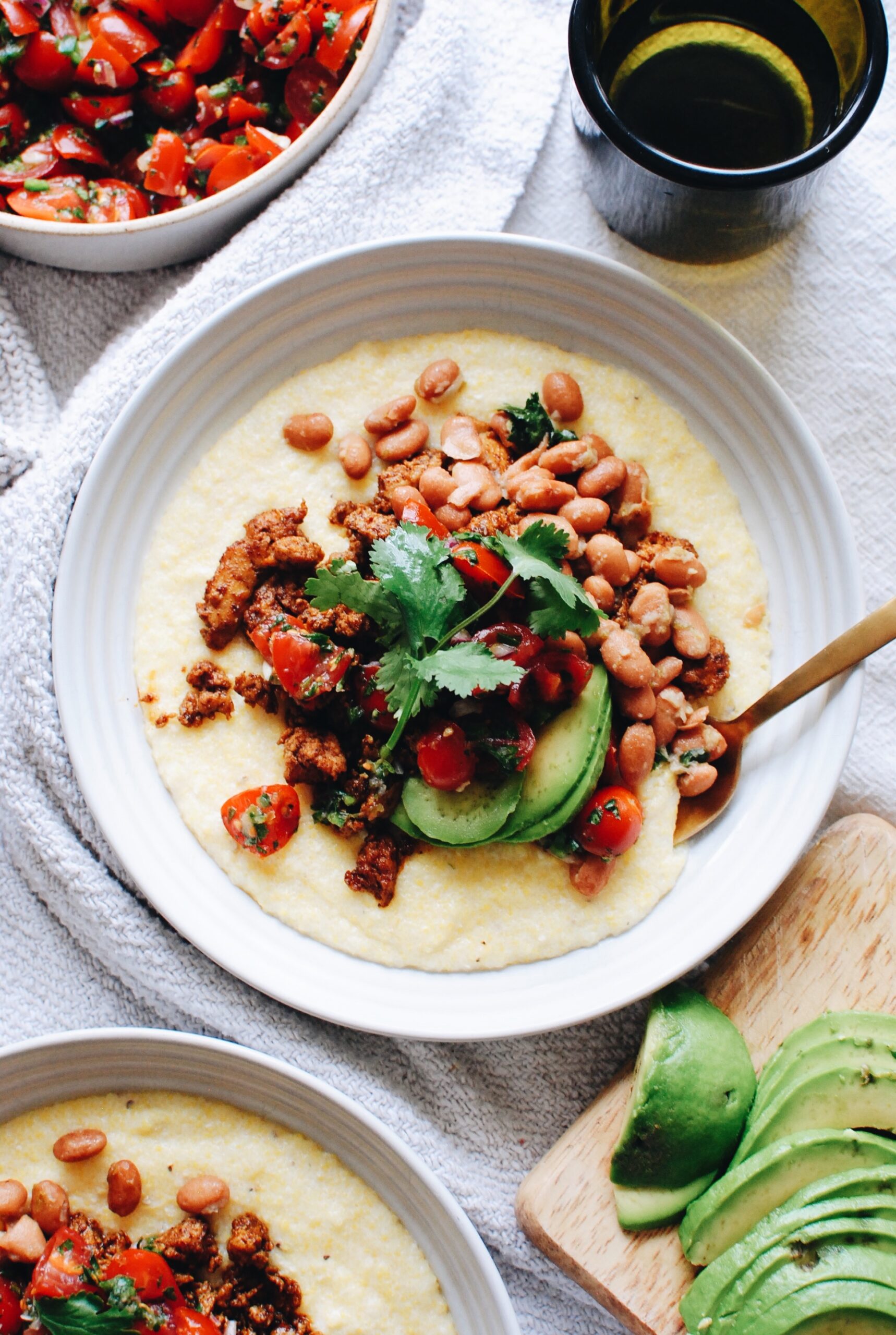 First of all, it's creamy polenta so I feel like things are off to a solid start between us. That's the base. The foundation. What happens from here is up to the moods of the soul fairies that dwell within your stirring soul chambers.
Let me show you what I did, and the exact levels of pimpness that unfolded, and then you can springboard from here, k?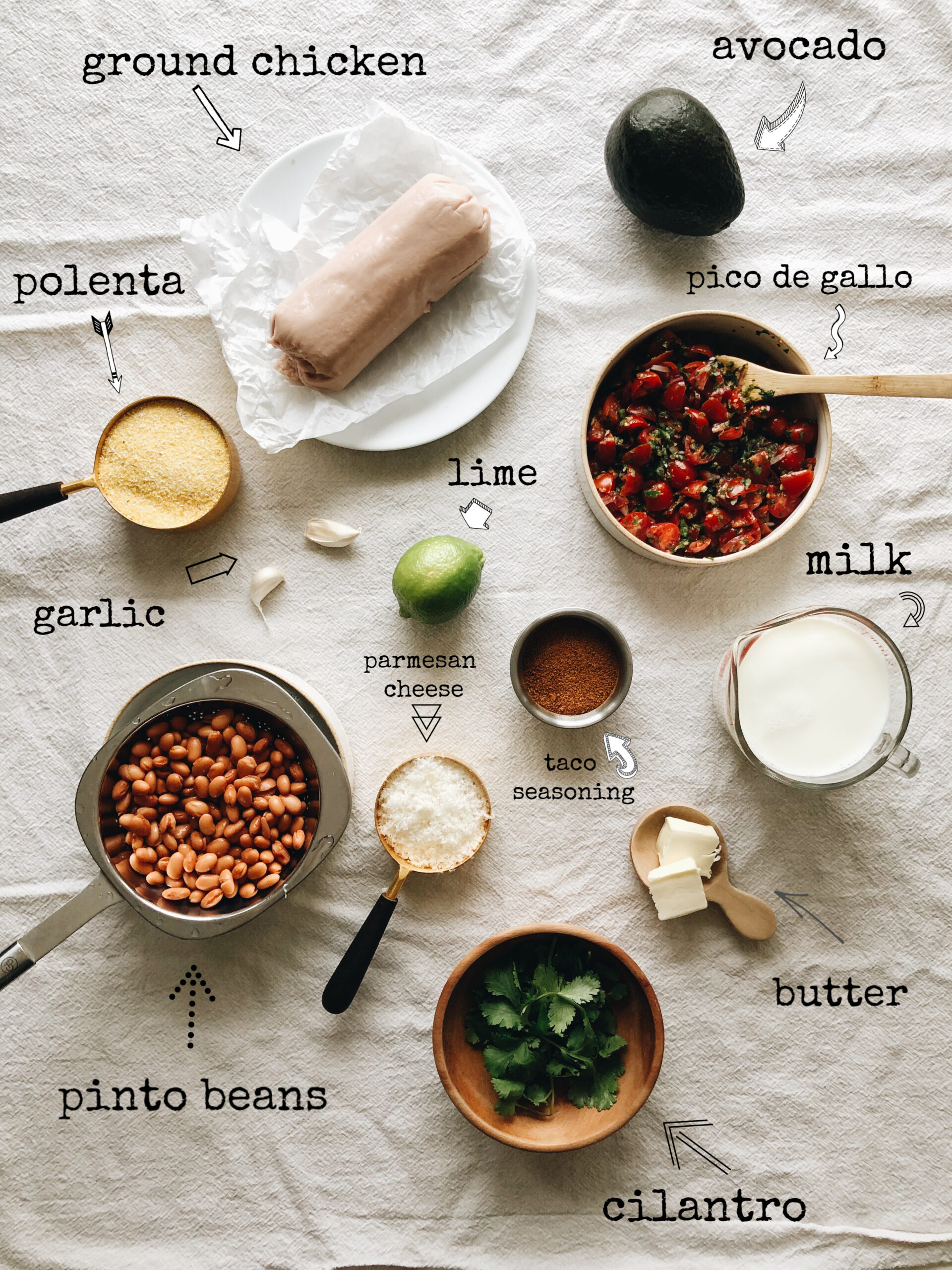 First up, we're making the pico! I LOVE making pico de gallo. It's simple, it's flavor like a punch in the face, and it's so fresh.
We're also making soupy garlicky beans! I've been making these since the beginning of 2020 and it just feels right.
I'd also like to take this moment to officially make a public apology for the pale log o' ground chicken in that photo. Sometimes things can't be helped and this was one of them.
How about I distract you with a photo of fresh tomatoes under running water! Let's try it.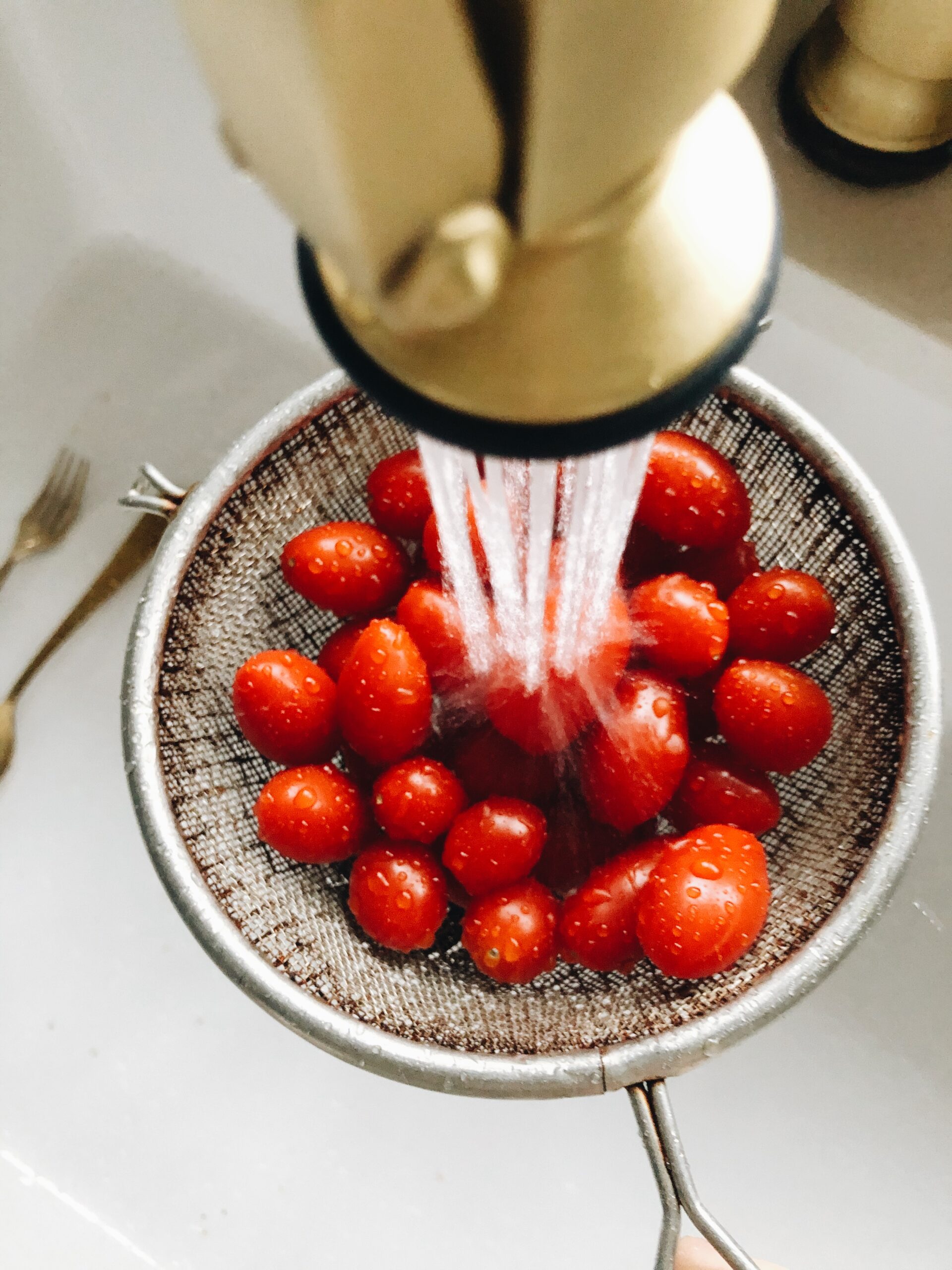 OoooooOOOOOOOoooooOOOOOO.
Did it work?
Never mind.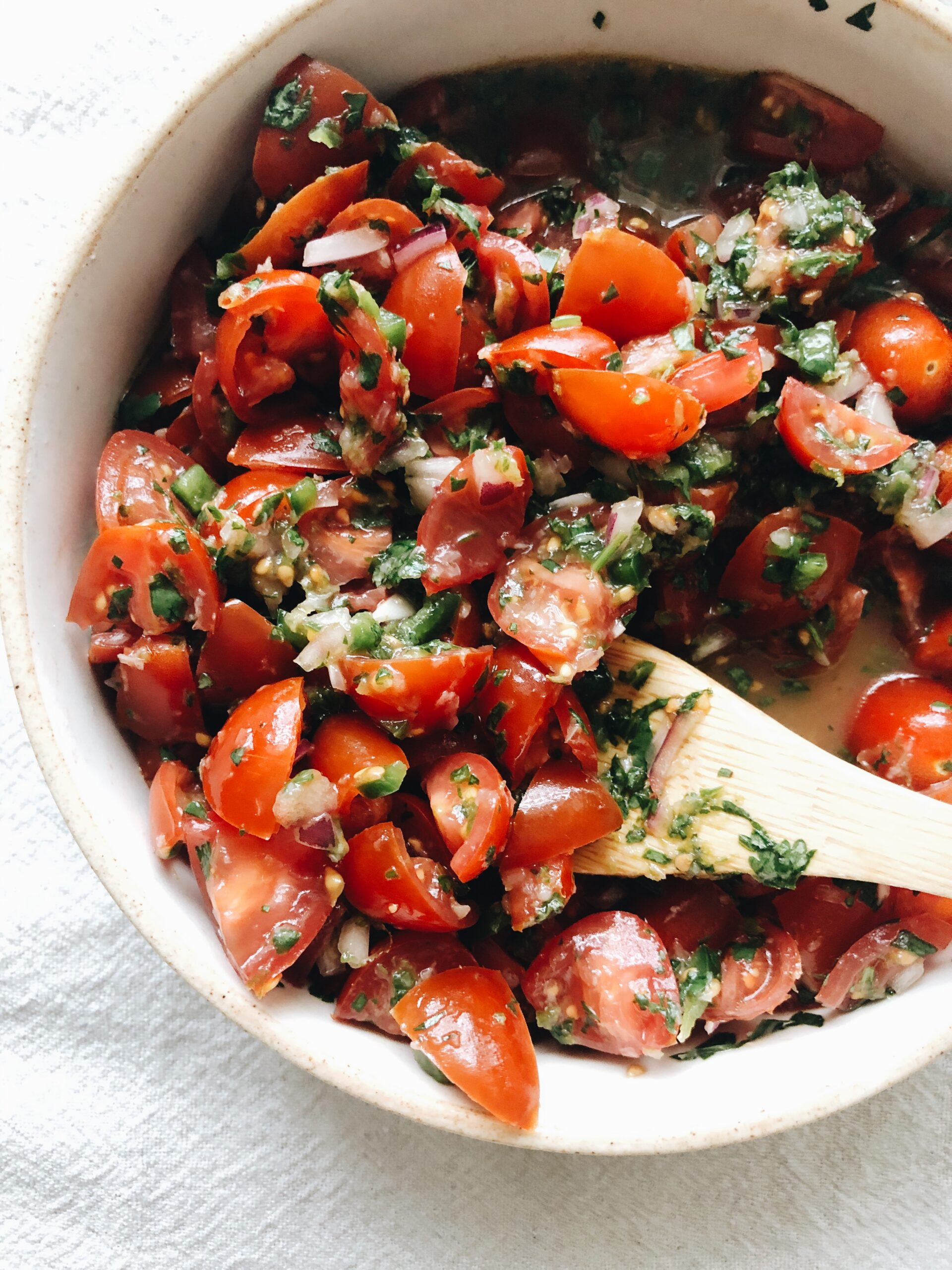 So here's our pico! It's tomatoes + red onion + jalapeno + garlic + lime juice + cilantro + salt. Maybe a tiny drizzle of good extra-virgin olive oil. It's SO GOOD. Just stick this in the fridge to sit and date and sneak out of the house and later elope.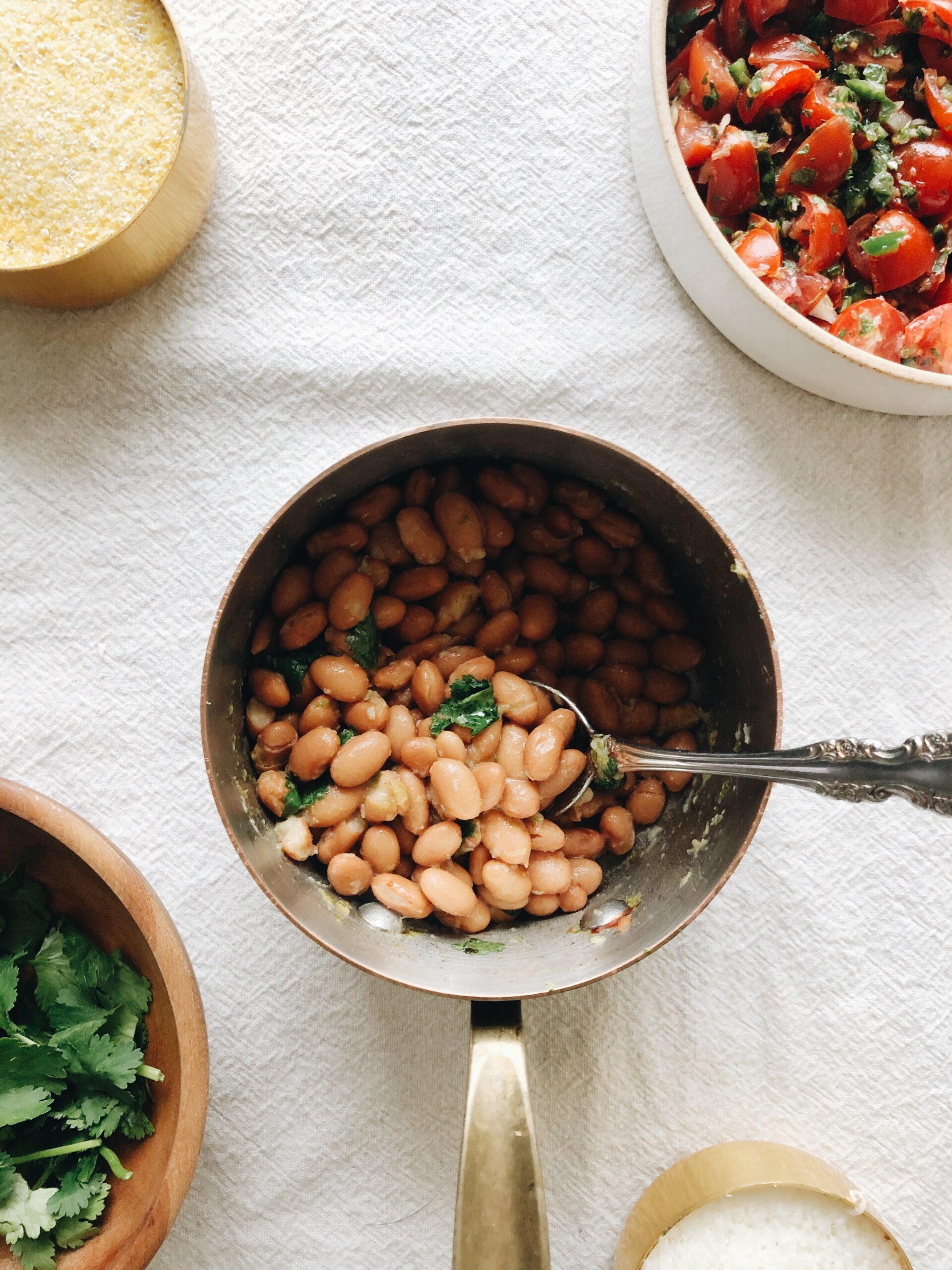 Now for the beans! It's pinto + garlic + cilantro + lime + a tiny bit of chicken stock + salt. (Also, thinly sliced scallions in this is also super fab. I've tried it and never looked back.) You want them just barely soupy slurpy. 'Atta girl.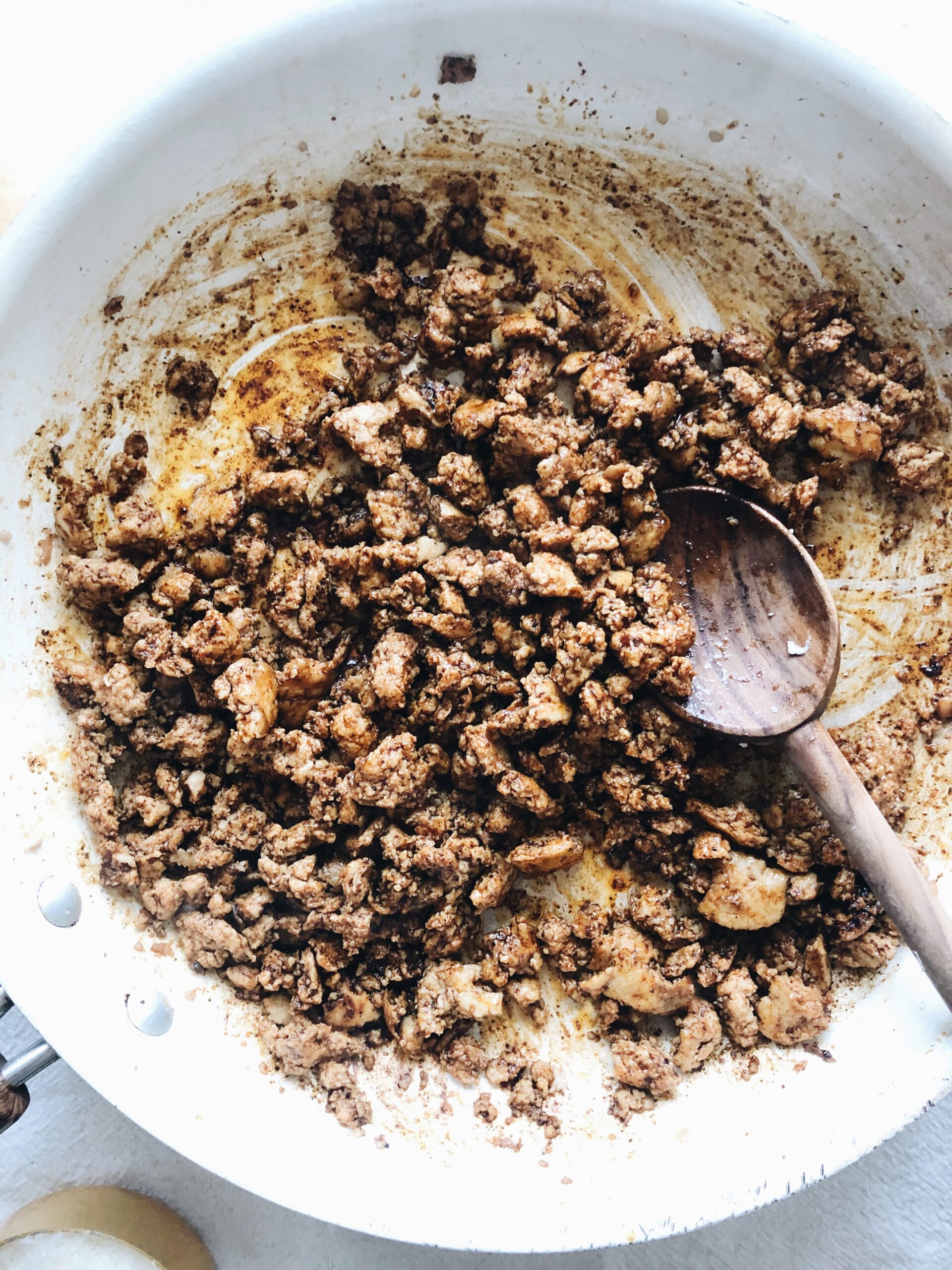 For the chicken! (which you can obviously sub in ground turkey, pork or beef. Anything goes, boo.) I used a taco seasoning packet as my only short cut. Because short cuts are absolutely fine and don't ever let anyone tell you otherwise. (just look for ones without the crud in them. you want straight spices and nothing weird. k cool bye.)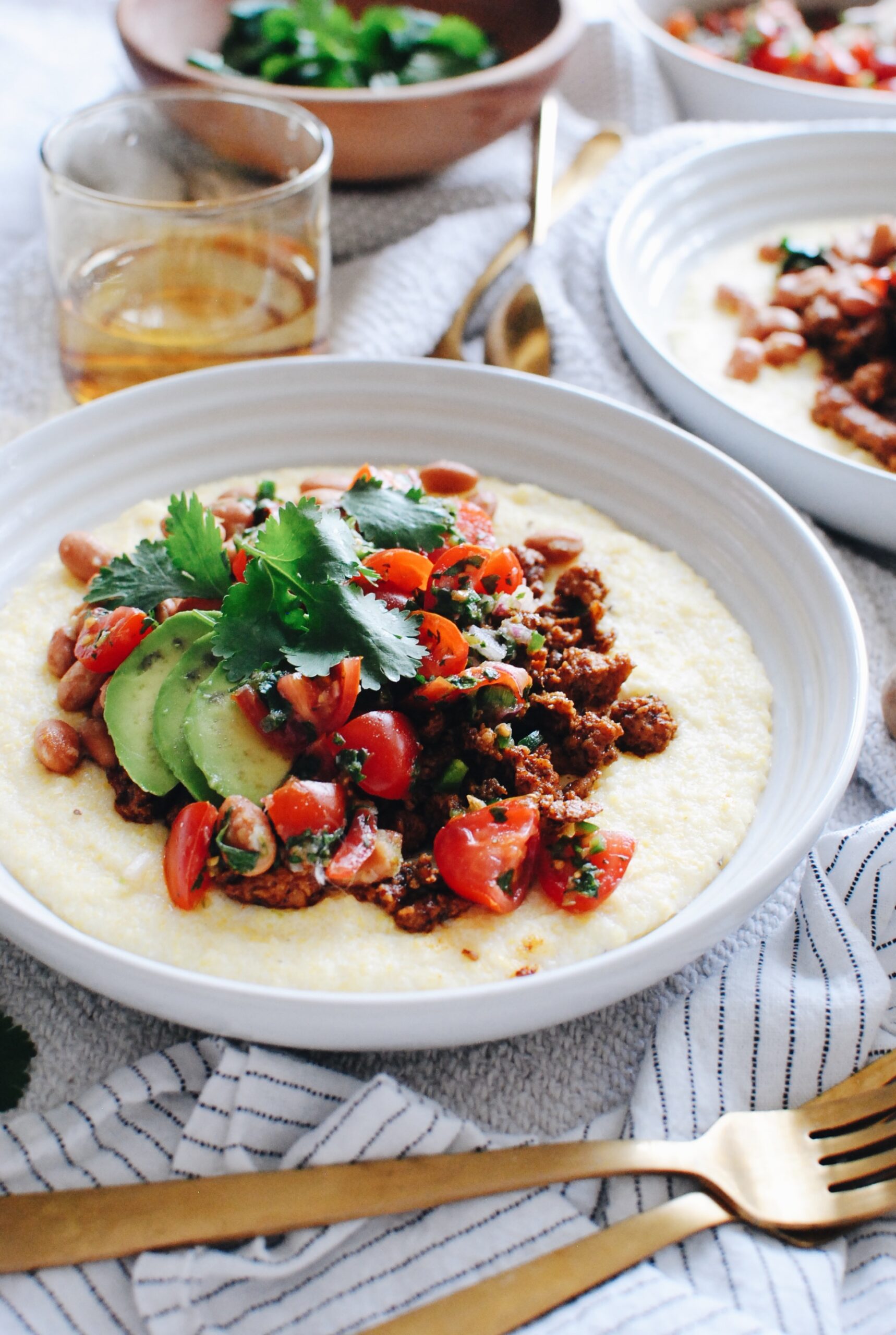 And you guys, that's it. YES, it's a three burner operation with the polenta on one, the beans on another and the meat on another, if you do this all at once, which is most likely the case. But you won't curse my name because these flavors are REEDIC. So creamy, so fresh, so seasoned and savory. Ugh! I want to punch myself in the face for coming up with this.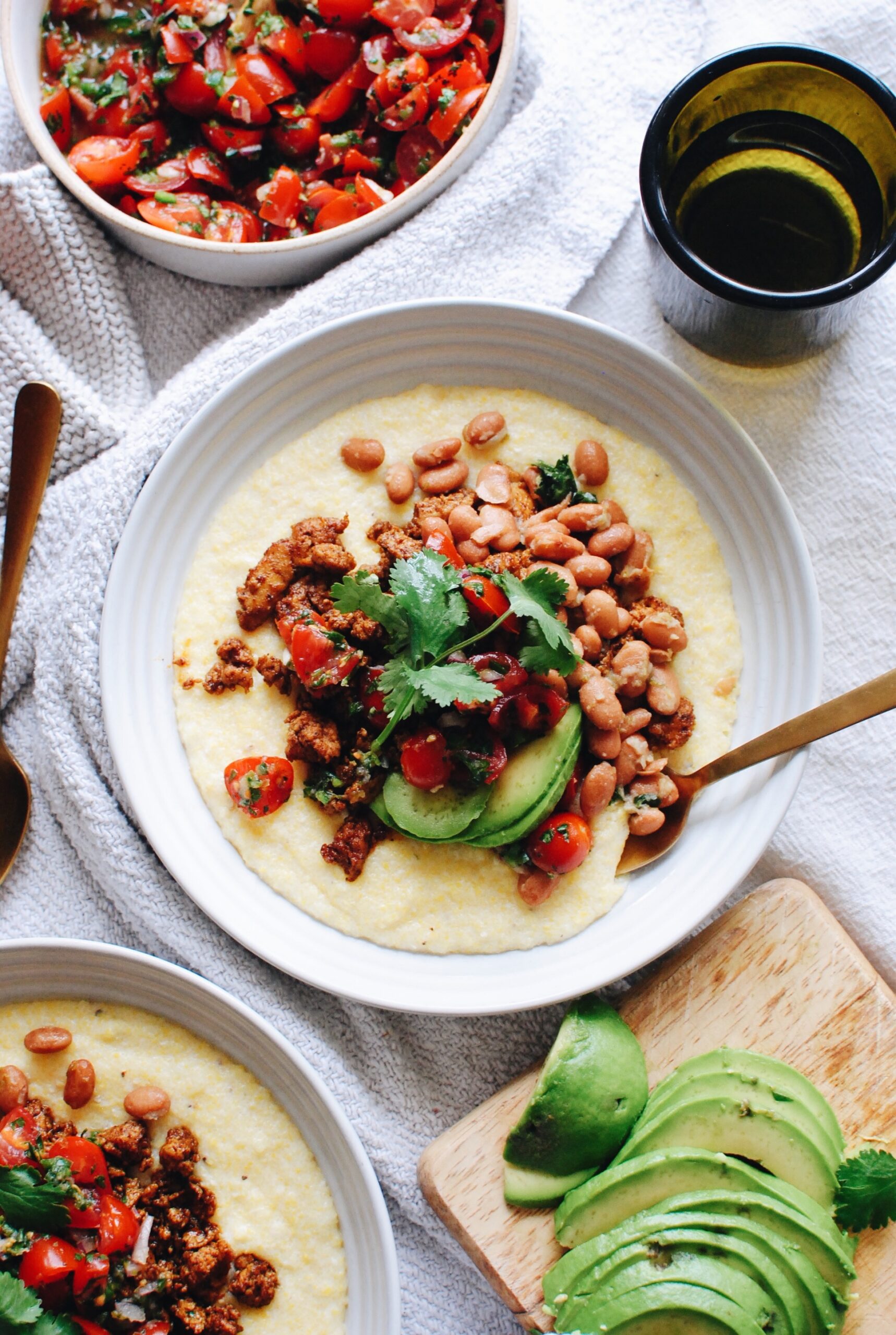 Something to note! I put parmesan in the polenta, only because Aaron CAN deal with that for some reason I can't figure out but will accept, but you can absolute sub in grated cheddar if you want. I've done it before and it was straight up duh-lush.
Garnish the whole thing with sliced avocado if you wish, and even more cilantro. And oh! – a few squirts of lime juice to wake it all up once more.
Can you dig?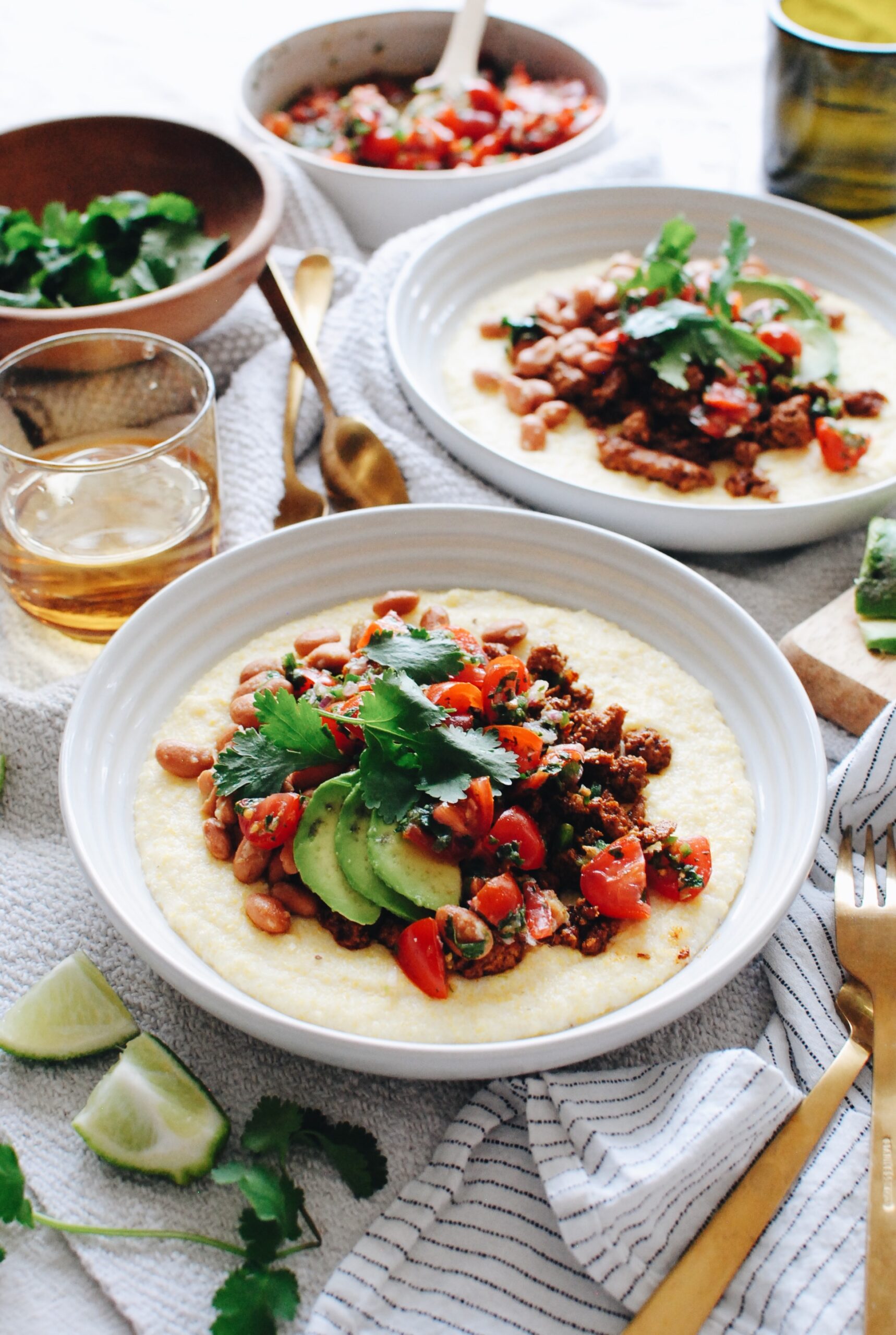 Yes, yes you can.
Ingredients
For the pico de gallo:
10 oz cherry tomatoes, quartered
1 jalapeño, seeded, ribbed and minced
2 garlic cloves, minced
1/4 cup finely chopped red onion
1/4 cup finely chopped cilantro
one lime, zested, and half of it juiced
1 tsp good extra-virgin olive oil
1/2 tsp coarse salt
For the beans:
1 (15.5 oz) can of pinto beans, drained and rinsed
1 clove garlic, grated
Juice from half a lime (the other half from the pico!)
1 Tbs. chicken stock
1 Tbs. finely chopped cilantro
For the polenta:
1 cup ground polenta
2 cups milk
1 cup water
1/3 cup grated parmesan
2 Tbs. butter
Coarse salt
For the rest:
1 pound ground chicken
1 oz taco seasoning packet
Sliced avocado, for garnish
Extra cilantro and lime wedges, for garnish
Instructions
In a medium bowl, combine all the pico de gallo ingredients and stir together with a spoon. Cover and chill in the fridge as long as you want!
Heat a small pan on low. Add the beans, garlic, lime juice, stock, cilantro and a small pinch of salt. Let these simmer very gently while you prep the rest.
Brown the ground chicken in a medium skillet until cooked through. Add the taco seasoning and about 1/4 cup of water and let it simmer for a few minutes while you make the polenta.
To a medium pot, add the milk, water and ground polenta. Bring to a medium heat and keep gently stirring until the mix becomes creamy and pulls away from the sides of the pan easily, about 7 minutes. Turn the heat off and add a good pinch of salt, the butter and cheese. Stir to mix, and taste it. Need more salt? You can adjust right here if needed!
Now we build. The polenta on the bottom, topped with beans, seasoned chicken and a dollop of fresh pico. More cilantro if y'awnt, and of course sliced avocado and extra lime! UM, this is to die for. I dare you to make it.
Serves 4!
7.8.1.2
404
https://bevcooks.com/2020/02/mexican-polenta-bowls/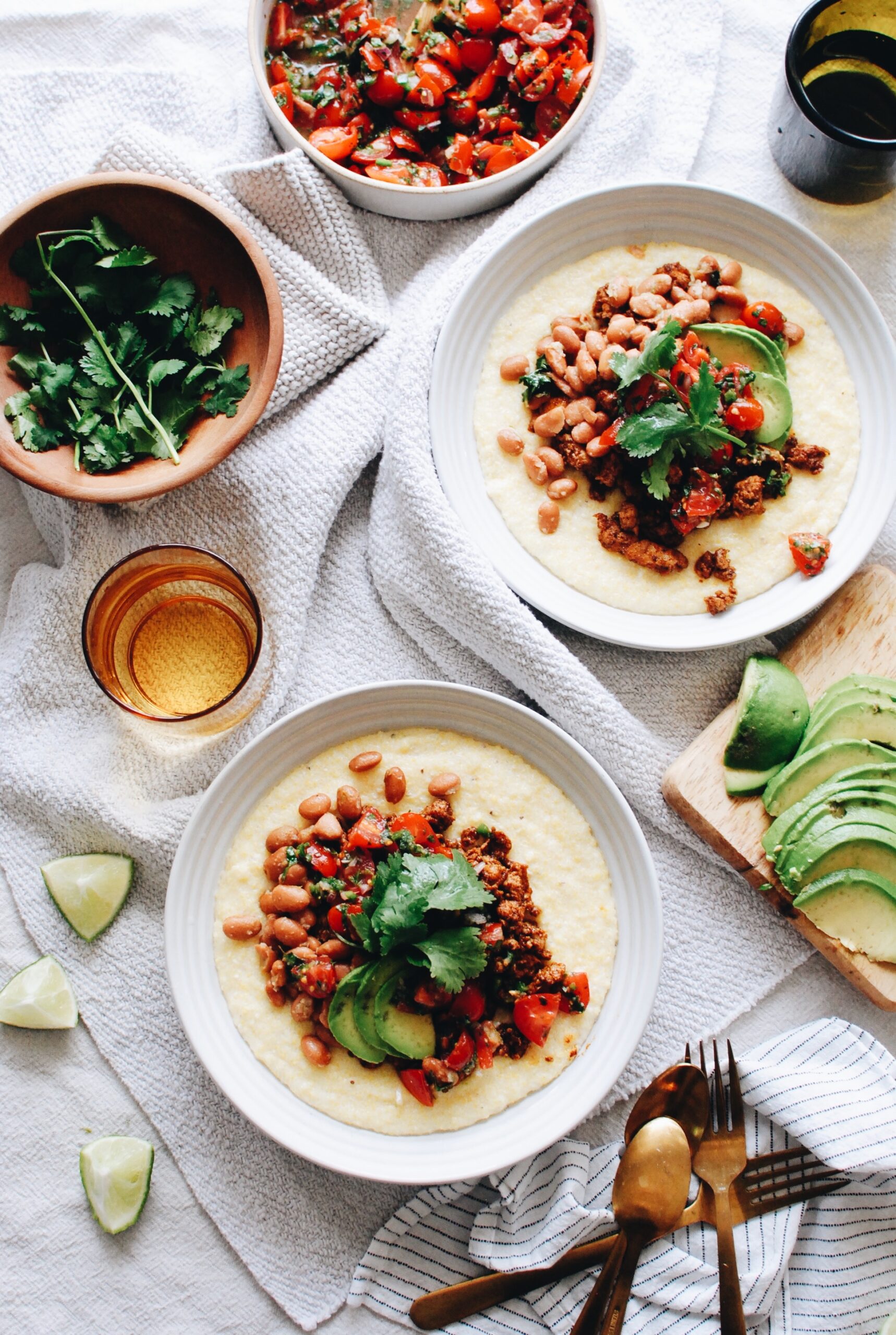 See you at the bottom on that bowl?