I love when a recipe brings me to my knees and face.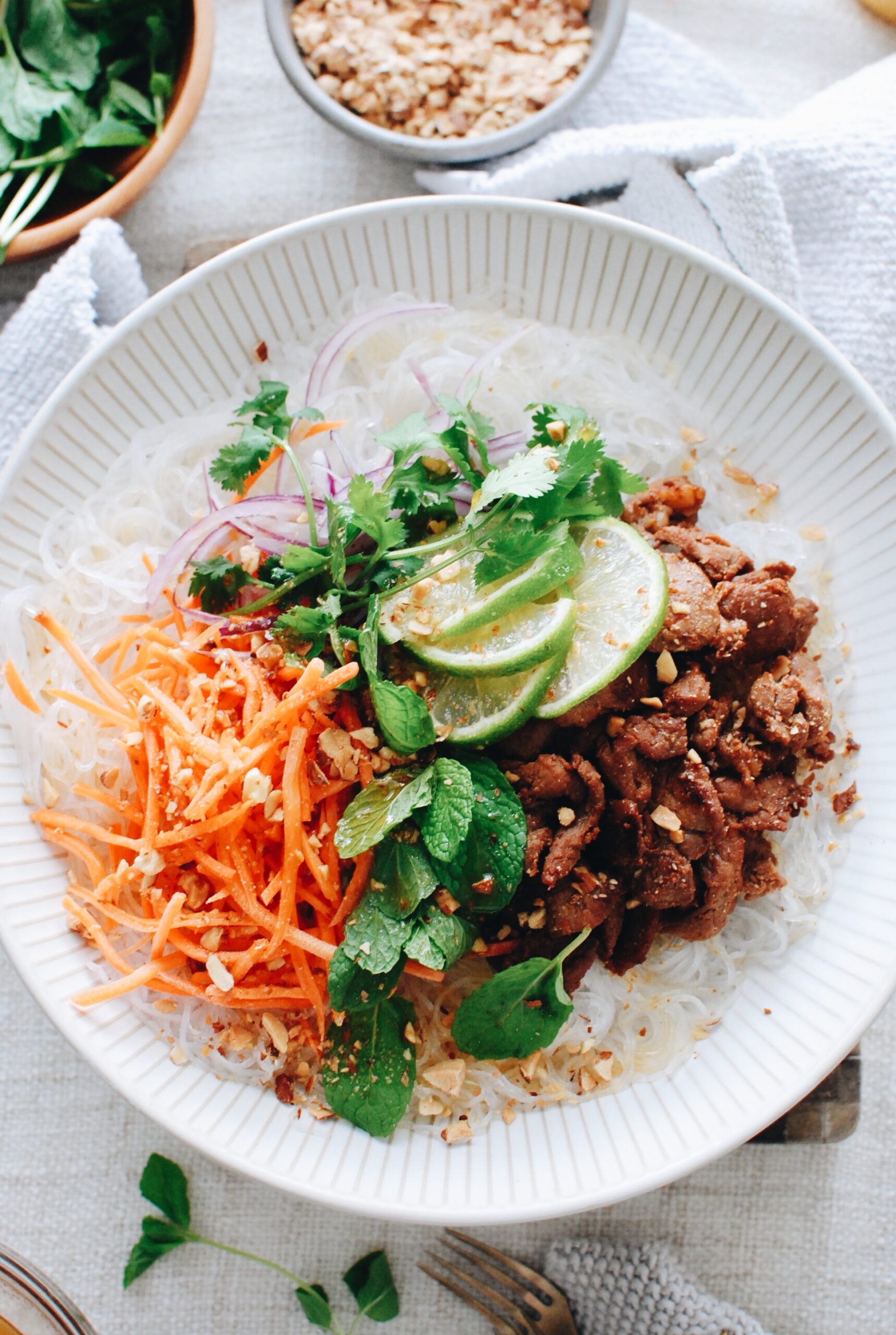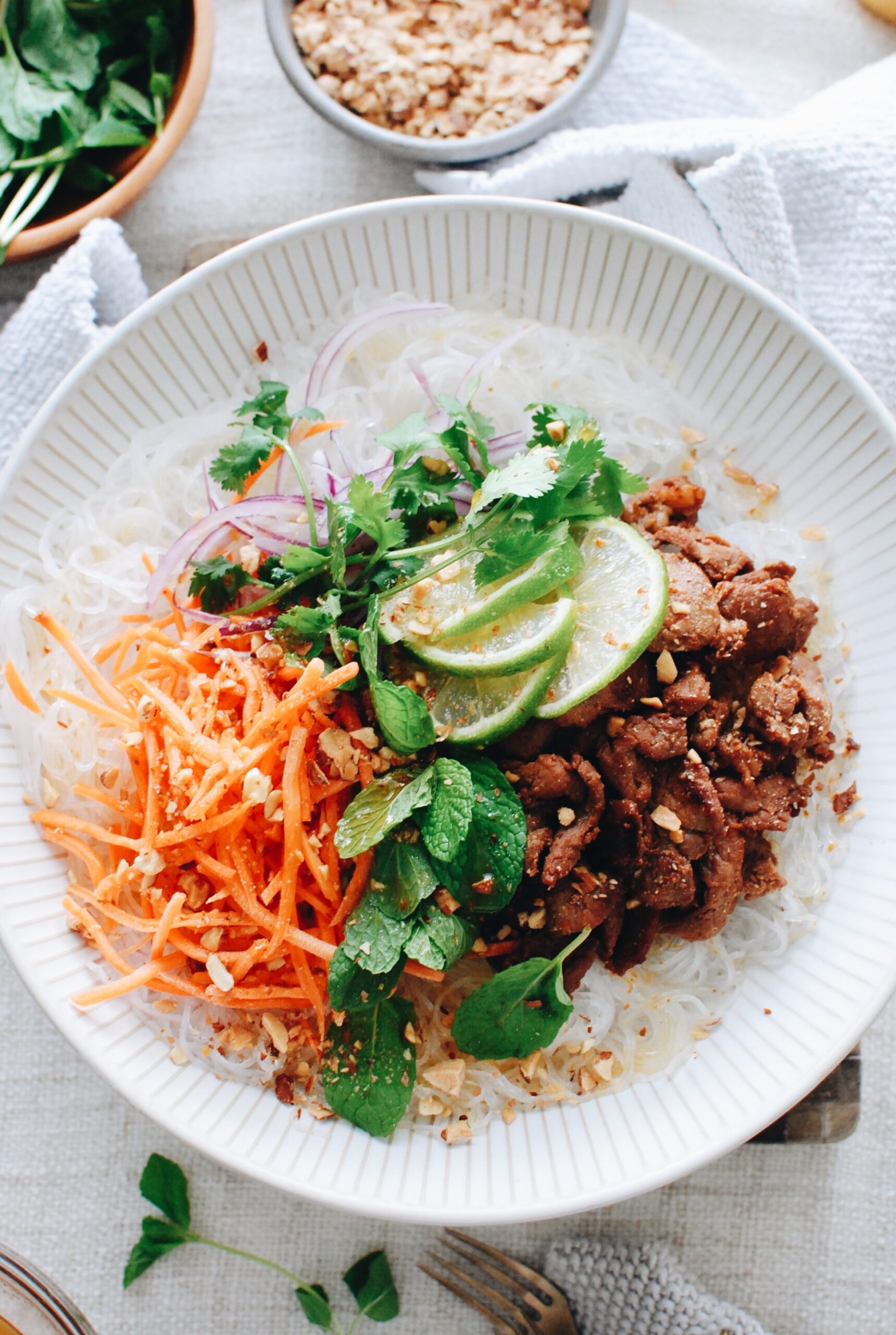 Much like a pizza or a taco.
Just kidding, I'm talking about this one.
UM, it is incredible. It's one of those meals that has so many layers of texture, which is exactly what my soul craves. CRUNCH, crisps, marinated pork, tender noodles, a zingy sauce, fresh herbs, and then the extra crunch of chopped peanuts on top. Have like, a punching bag nearby because we don't want anyone getting hurt.
Let's look at this.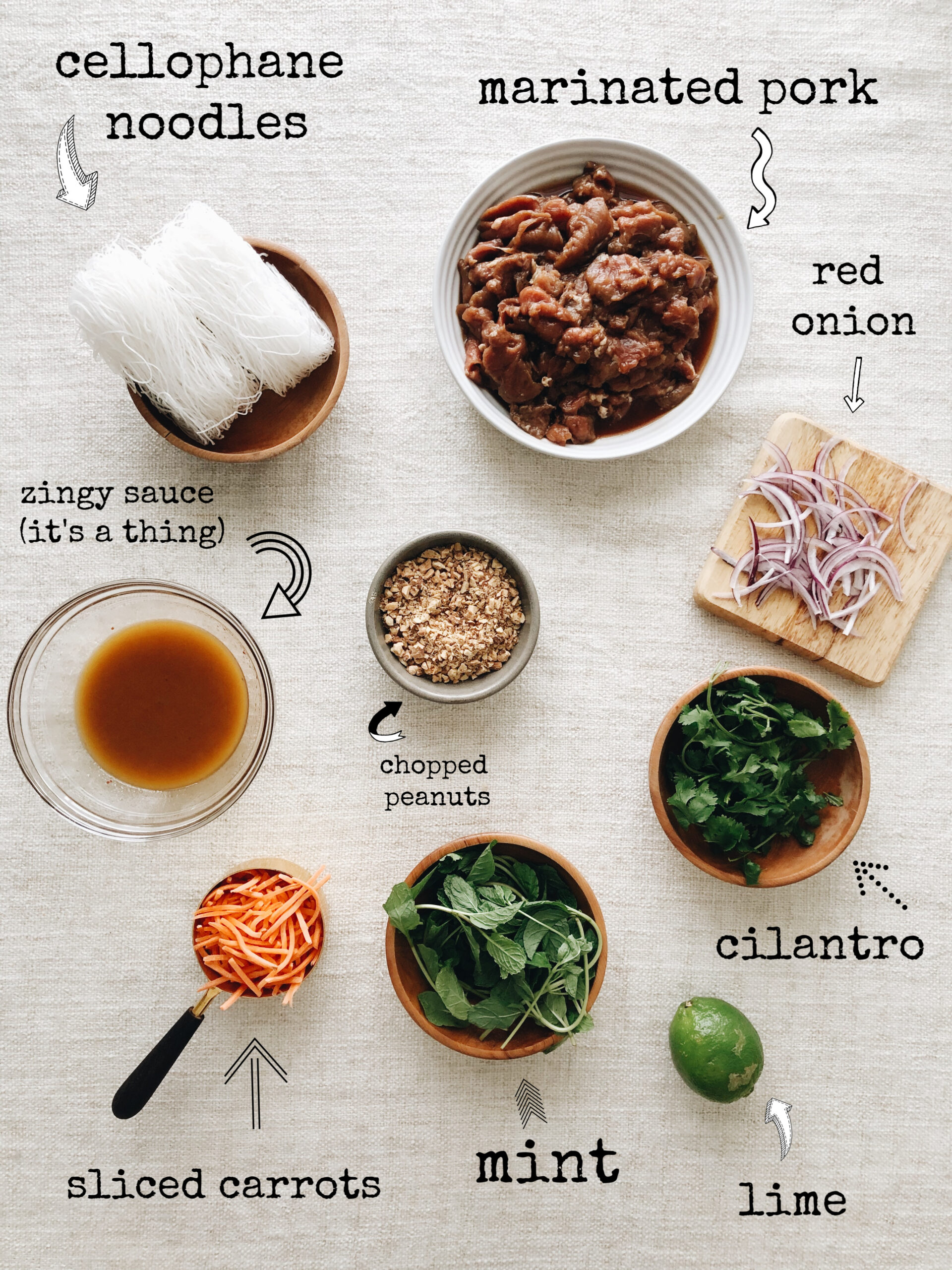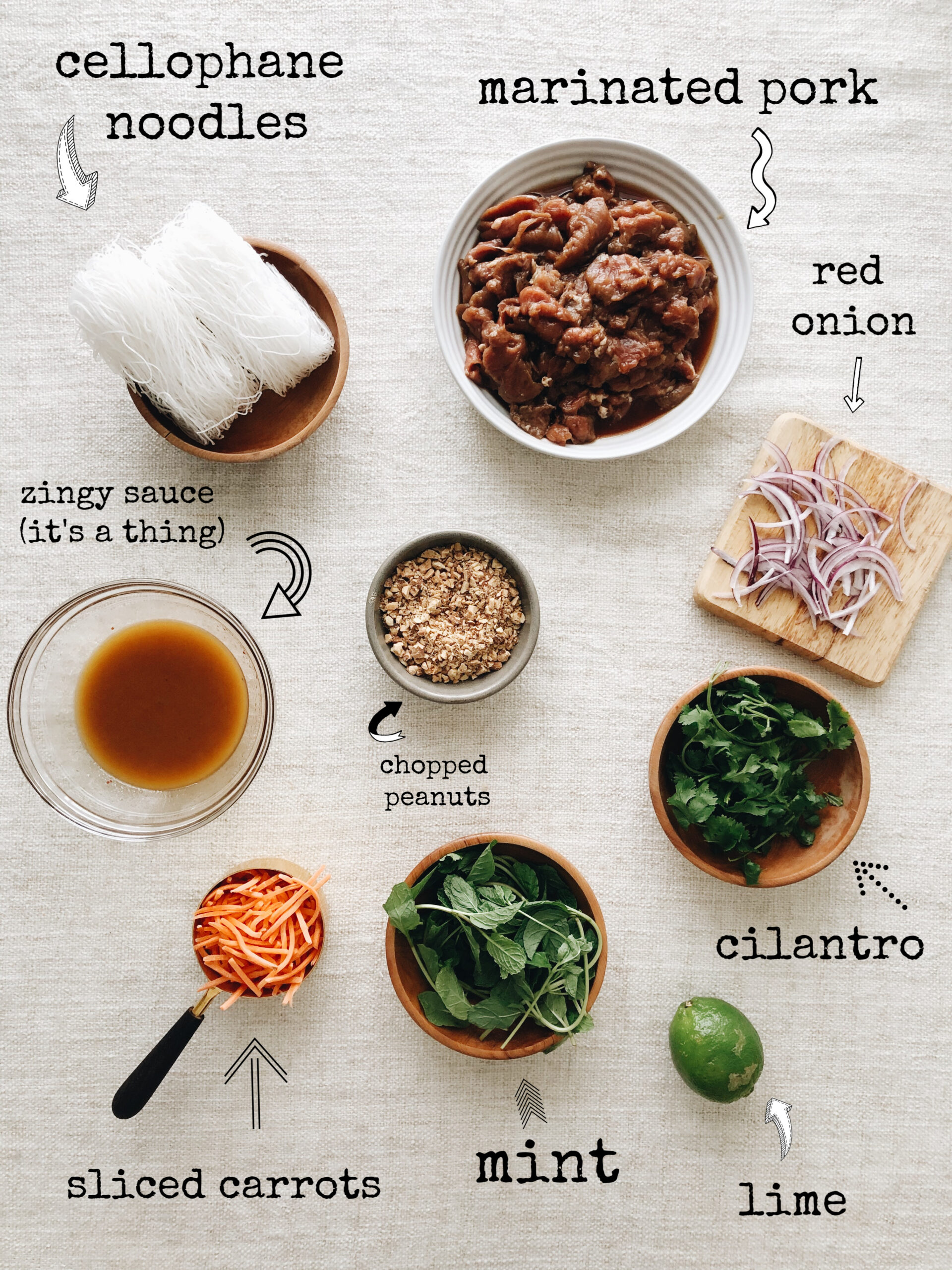 It's sort of a two-parter. You know how I love a good two-parter.
The first part is early in the day, when you thinly slice a pork tenderloin and marinate it for a few hours with soy sauce, brown sugar and lime. There's enough salt in the soy sauce, so there's zero need to add any.
Praux tip: don't let this marinate overnight. That's gonna be a BIT MUCH for the pork and it will become something waaaay too salty. I mean, I LOVE salt just as much as the rest of us, but I've made this mistake before, and let me hark you now – half a day in the fridge. Das all. Swollen fingers have no place here.
Also, see that zingy sauce up there? You can absolutely whip that up early in the day as well and have it ready!
Shoot, man, chop your peanuts and slice your onion while you're at it. Nothing wrong with some biggidy boom in the morning time. (<–no idea what that meant.)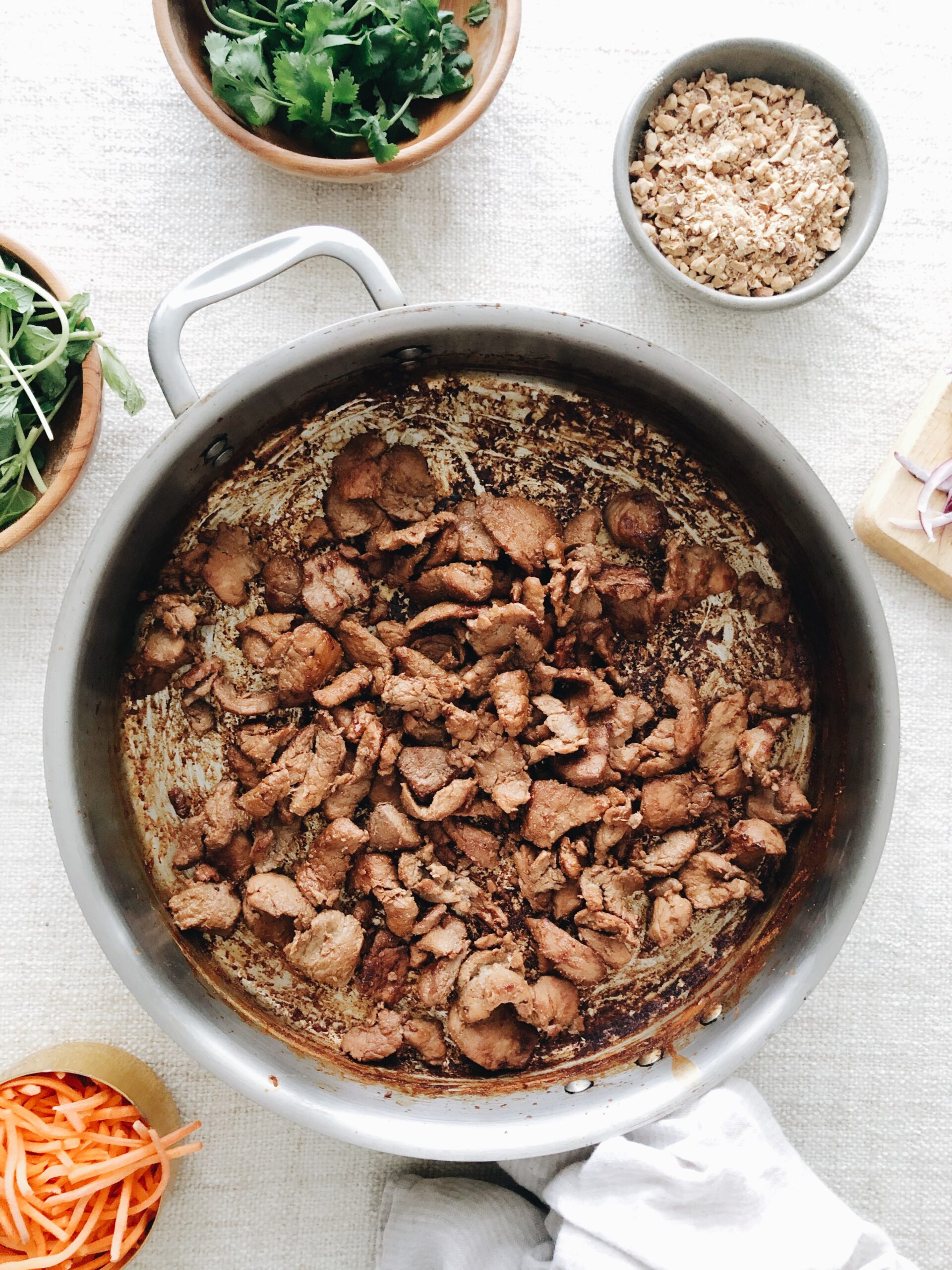 The only actual cooking is the searing the pork and boiling the noodles. And what happens to that pork is you'll tong it straight out of the bag and arrange it in a single layer in a large skillet. The marinade will bubble up around it and it will braise for a few minutes. It just will. Don't freak out though because in a matter of two minutes it will all evaporate and the pork will get nice and sticky and browned and glossy and perfect.
I don't have a photo of the boiled cellophane noodles because I feel like you know what that looks like. It looks like boiled cellophane noodles. Clearish, toothy, I love them so.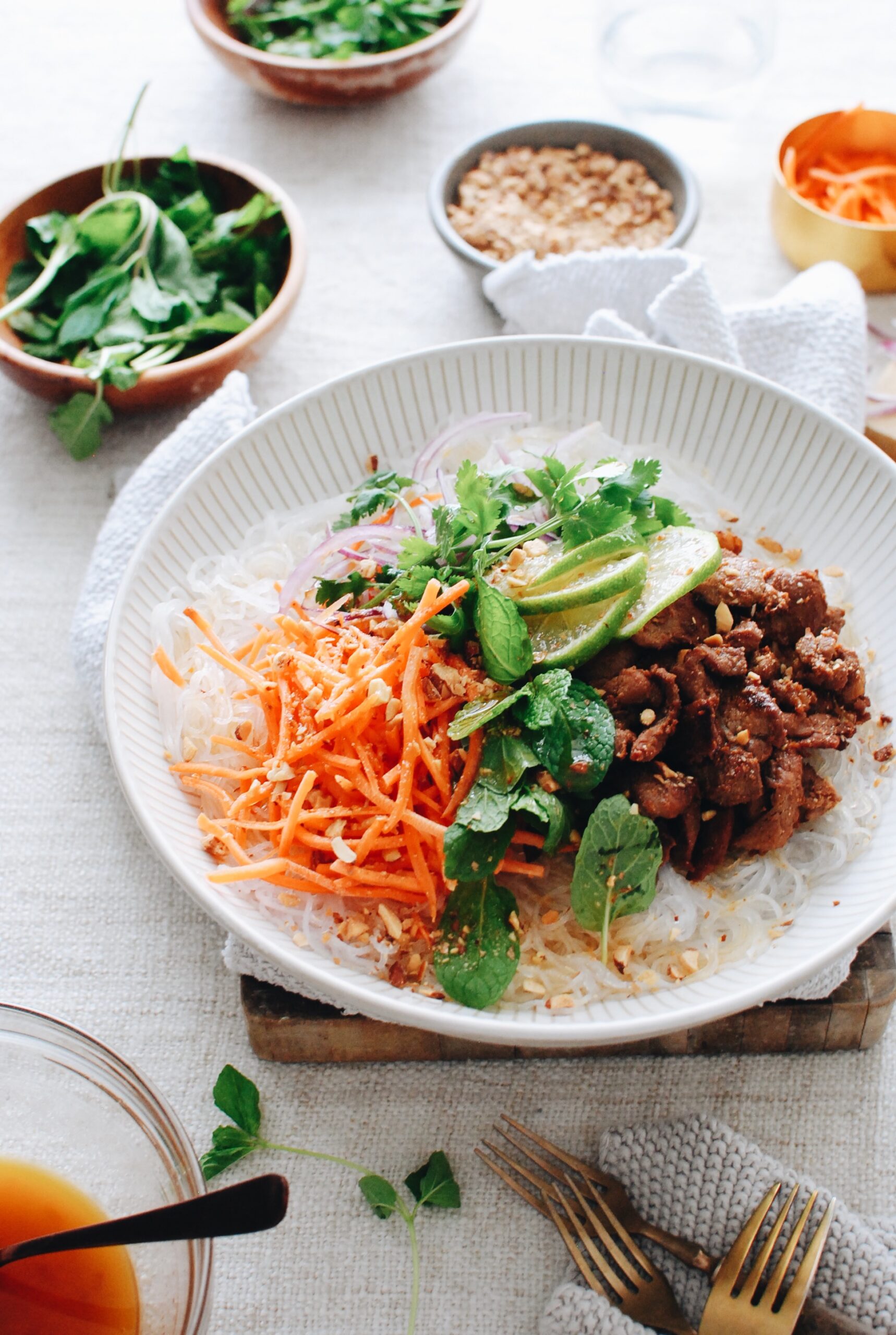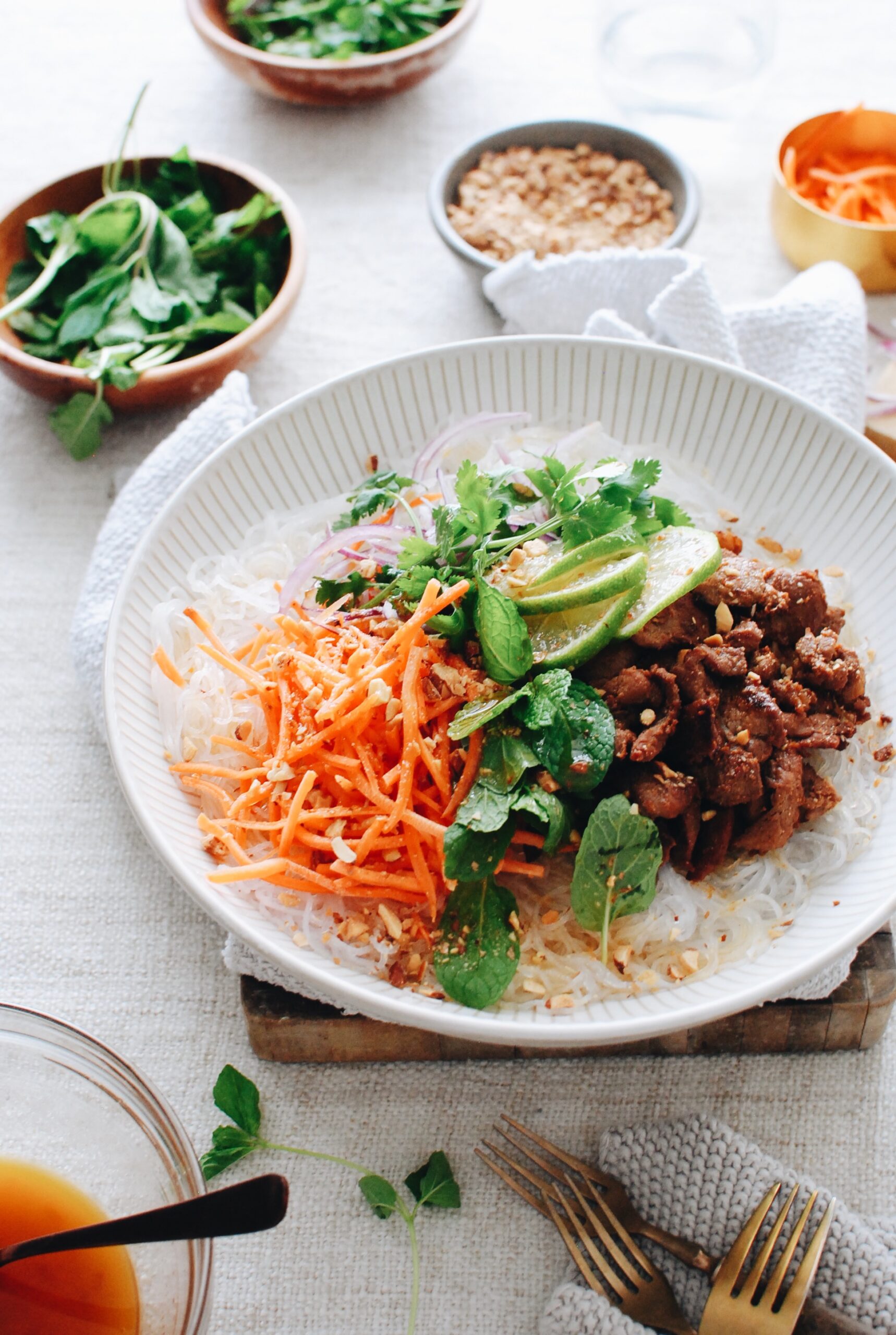 And now you just layer it up!
I always start with a giant serving bowl before I toss and serve, but you can do this however you want. (we're getting to the sauce, hold up!) Noodles on the bottom, seared pork on top, matchstick carrots (you can buy them already sliced like this!), thinly sliced red onion (you know how I love raw red onion. I eat it thrice a day. seriously.), fresh mint leaves and torn cilantro for days, thinly sliced lime, chopped peanuts AND THE SAUCE.
The sauce. The zingy sauce. Let's discuss this zingy-ness.
It's olive oil, sesame oil, fish sauce (don't x out), sambal oelek, brown sugar and tons of lime. It's not really spicy, but it has so much pow you're likely to go blind. I can't wait for you.
Spoon (or viciously dump) the sauce over the whole serving bowl, letting it seep and drip all the way down to the noodles underlore, coating everything in an acidic pond of happy.
Then you just either serve it like THIS, or toss toss toss for days and see where your life takes you.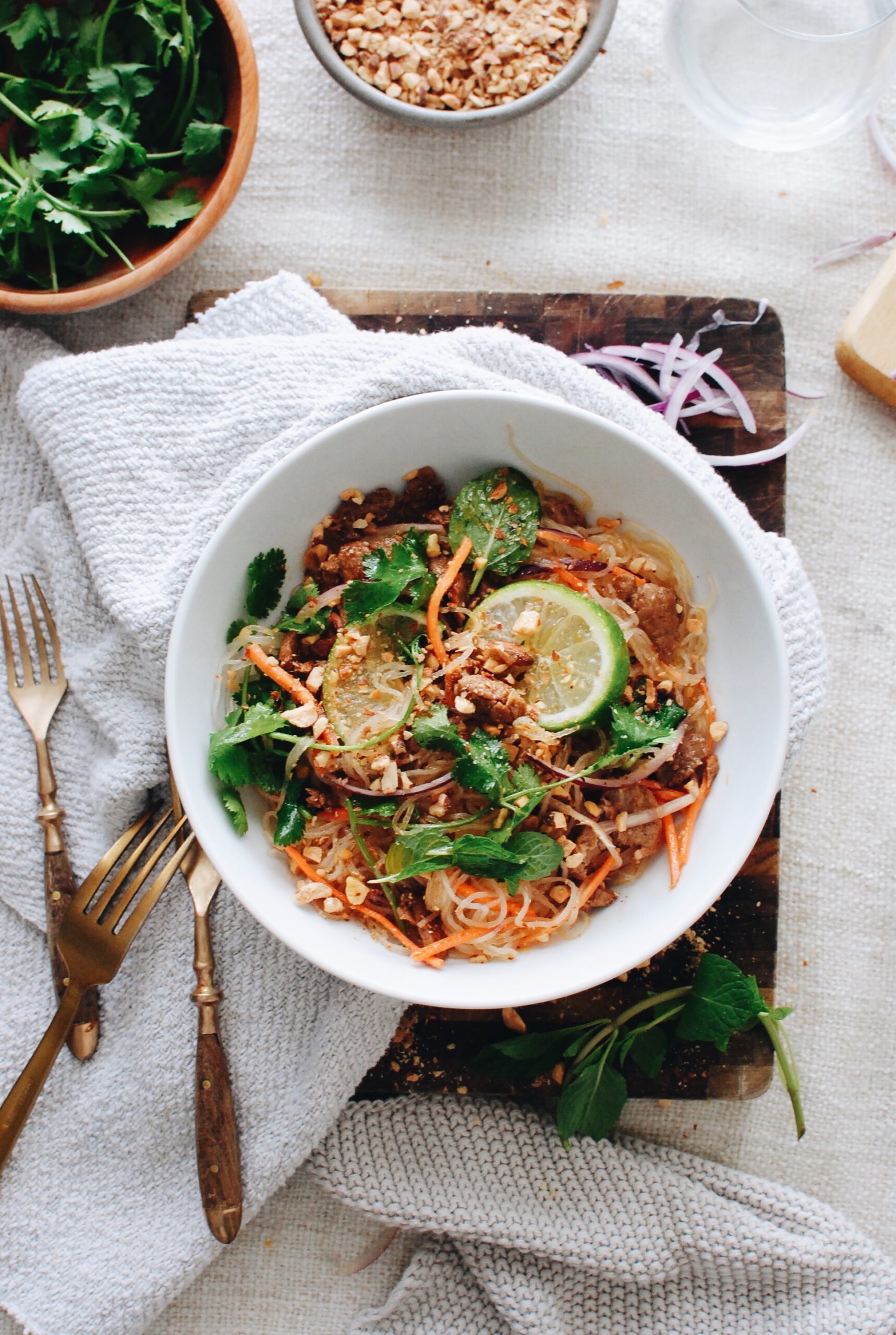 This is where mine took me. And I'll never regret it.
It's just delicioussssssss, you guys. Like I said, flavors on flavors on flavors. Textures on textures on textures. Tiny bit of leg room up front, and the reward is MEGA. MAMA. TOWN.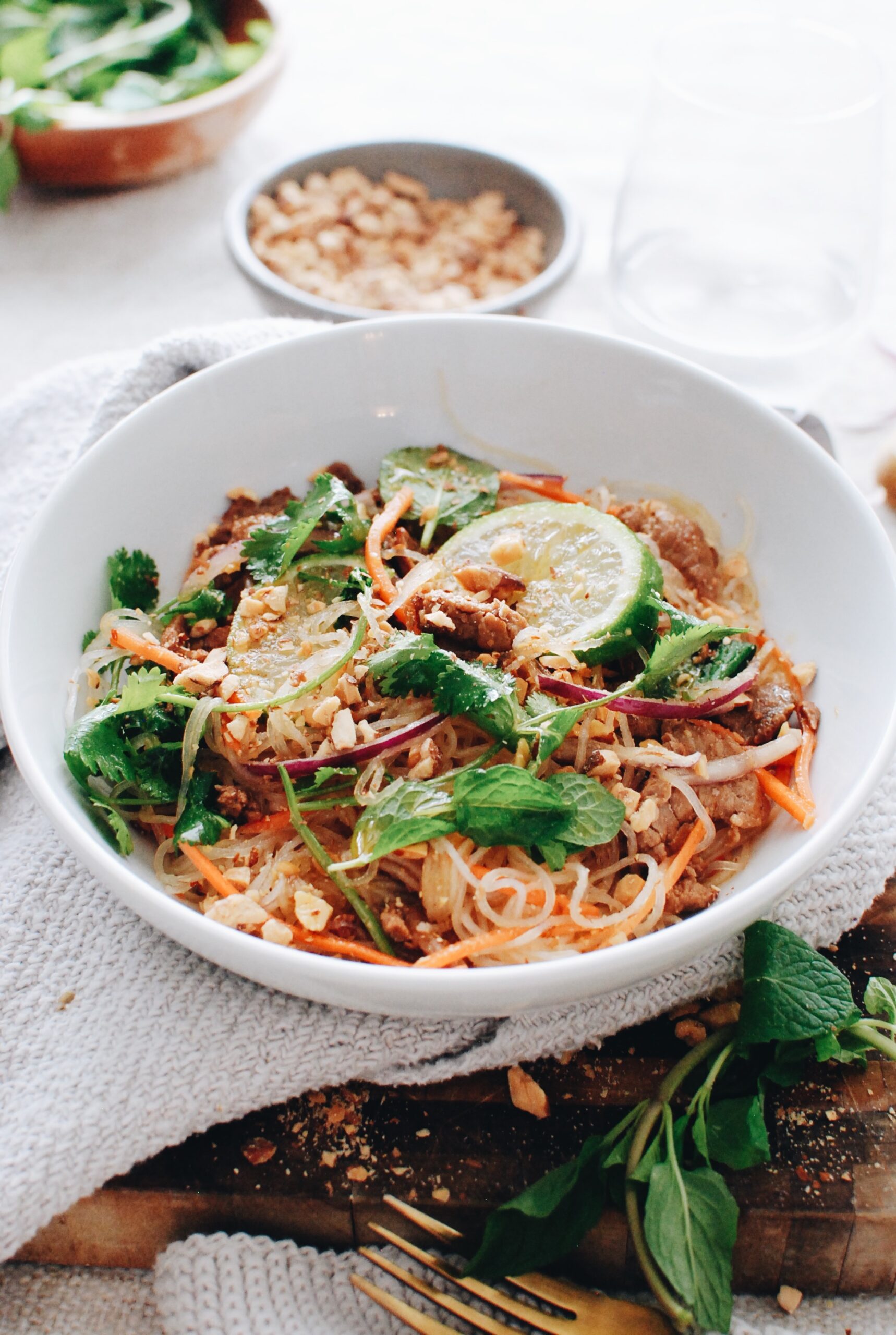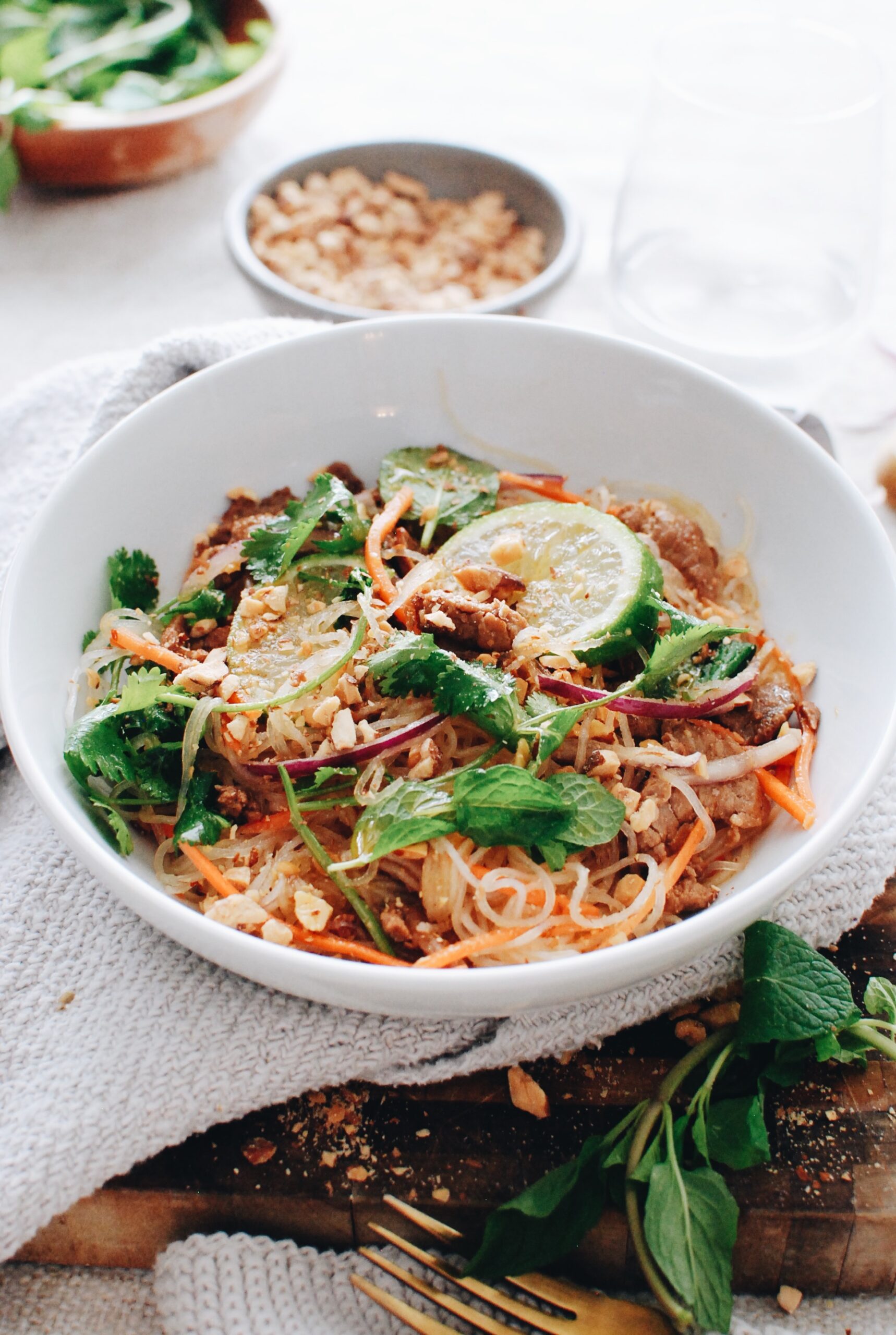 See you never.
Asian Pork Bowls with Noodles and Veggies
Ingredients
For the pork:
1 pork tenderloin (anywhere from a pound to a pound and a half), thinly sliced
1/2 cup soy sauce
3 Tbs. brown sugar
Juice of one lime
For the sauce:
3 Tbs. extra-virgin olive oil
2 Tbs. sesame oil
1 tsp fish sauce
1 tsp sambal oelek
1 Tbs. brown sugar
Juice of one lime
Remaining ingredients:
1 (3 3/3 oz) package of cellophane noodles (containing two bundles)
1 cup shredded carrots (you can buy them shredded)
1/4 cup thinly sliced red onion
1 cup fresh mint
1 cup fresh cilantro leaves
1/2 cup chopped peanuts
One more lime, thinly sliced
Instructions
Place the pork in a large sealable bag and add the soy sauce, sugar, and lime juice. Seal and marinate for about six hours. (Overnight is not a good idea, it will be way too salty!)
In a small bowl, whisk the sauce ingredients together and store in the fridge until you're ready to use.
Heat a large skillet over medium high heat and add the pork in a single layer. (Just tong it out of the bag and add it straight to the skillet. Disregard any leftover marinade.) Sear until all the marinade has bubbled off and the pork has turned nice and brown with sear marks here and there, five to ten minutes total. You can do this in batches if needed.
In the meantime, bring a medium pot of water to a boil and cook the glass cellophane noodles until al dente, just a couple of minutes. Drain and rinse them under cool water. Go ahead and add them to a large serving bowl and drizzle a little of the sauce over them, to keep the noodles from sticking.
Now just layer up! The seared pork, shredded carrots, red onion, fresh herbs, lime slices and chopped peanuts. Spoon the sauce over the top (or pour, seriously) and toss the whole bowl together right as you serve! SO GOOD.
Serves 4.
7.8.1.2
403
https://bevcooks.com/2020/02/asian-pork-bowls-with-noodles-and-veggies/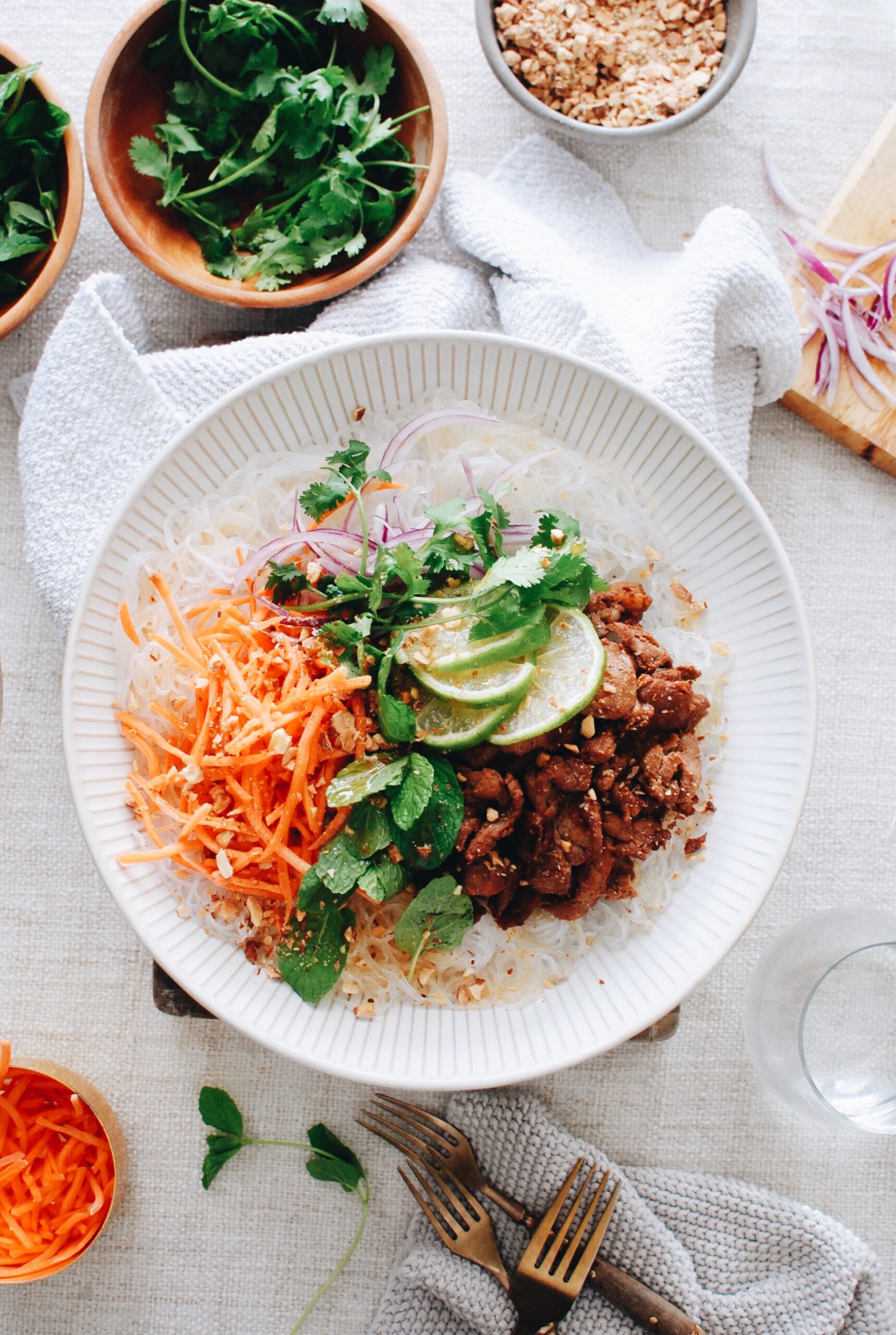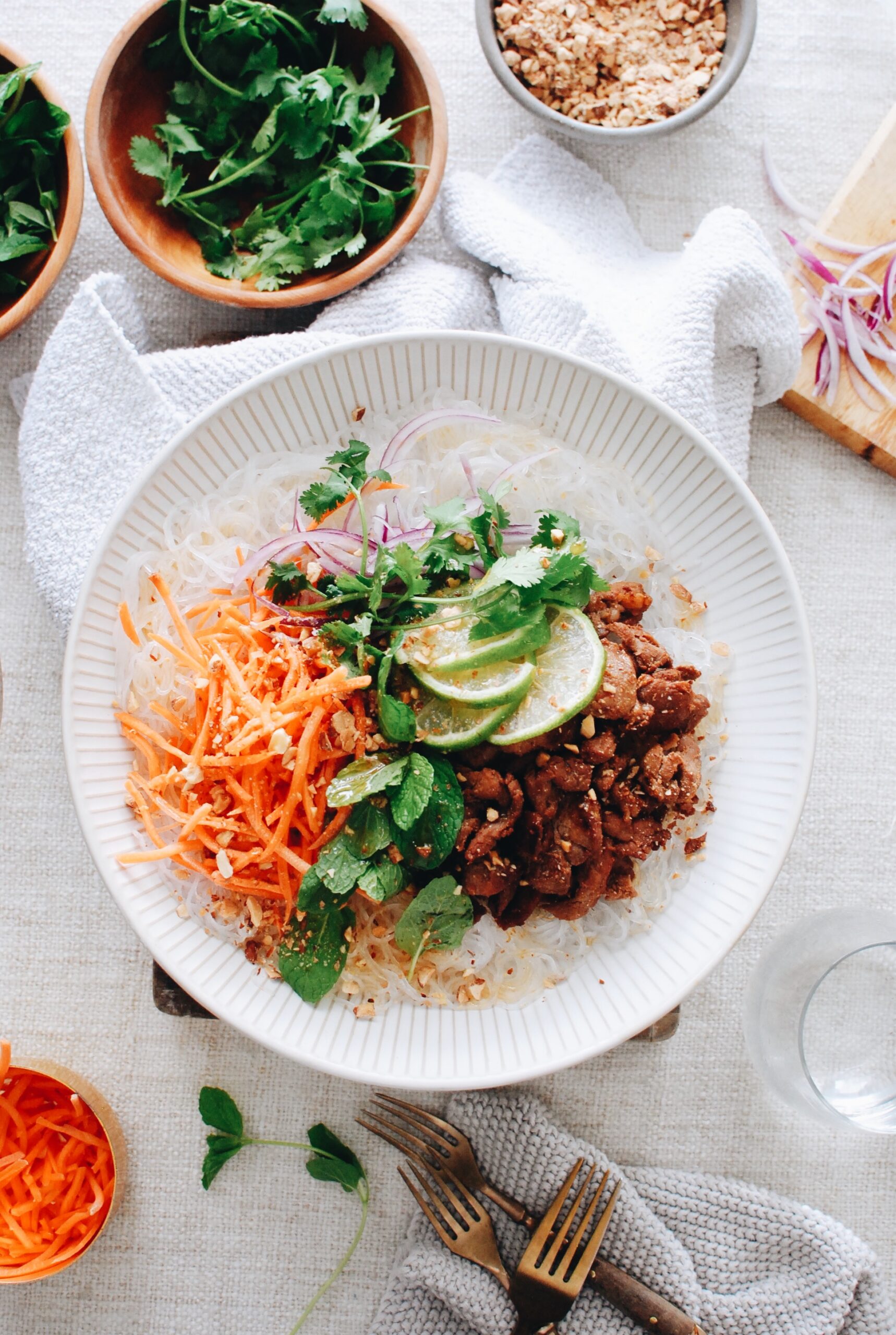 Report back immediately when you make this because I can't wait to celebrate your mouth.