Oh heeeeey I'm officially back with recipes. Summer recipes! Starting with raw fish! Ha! Oh.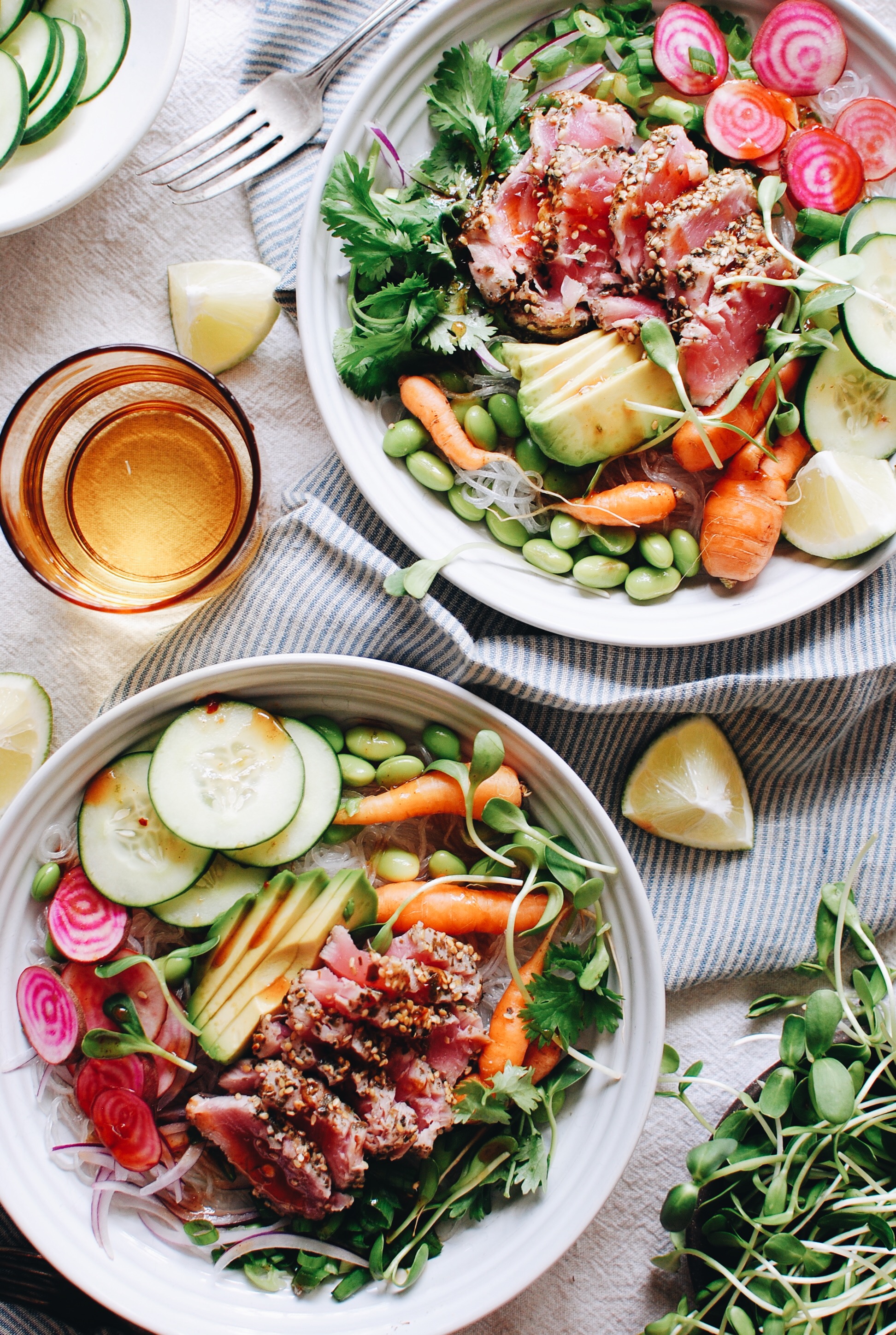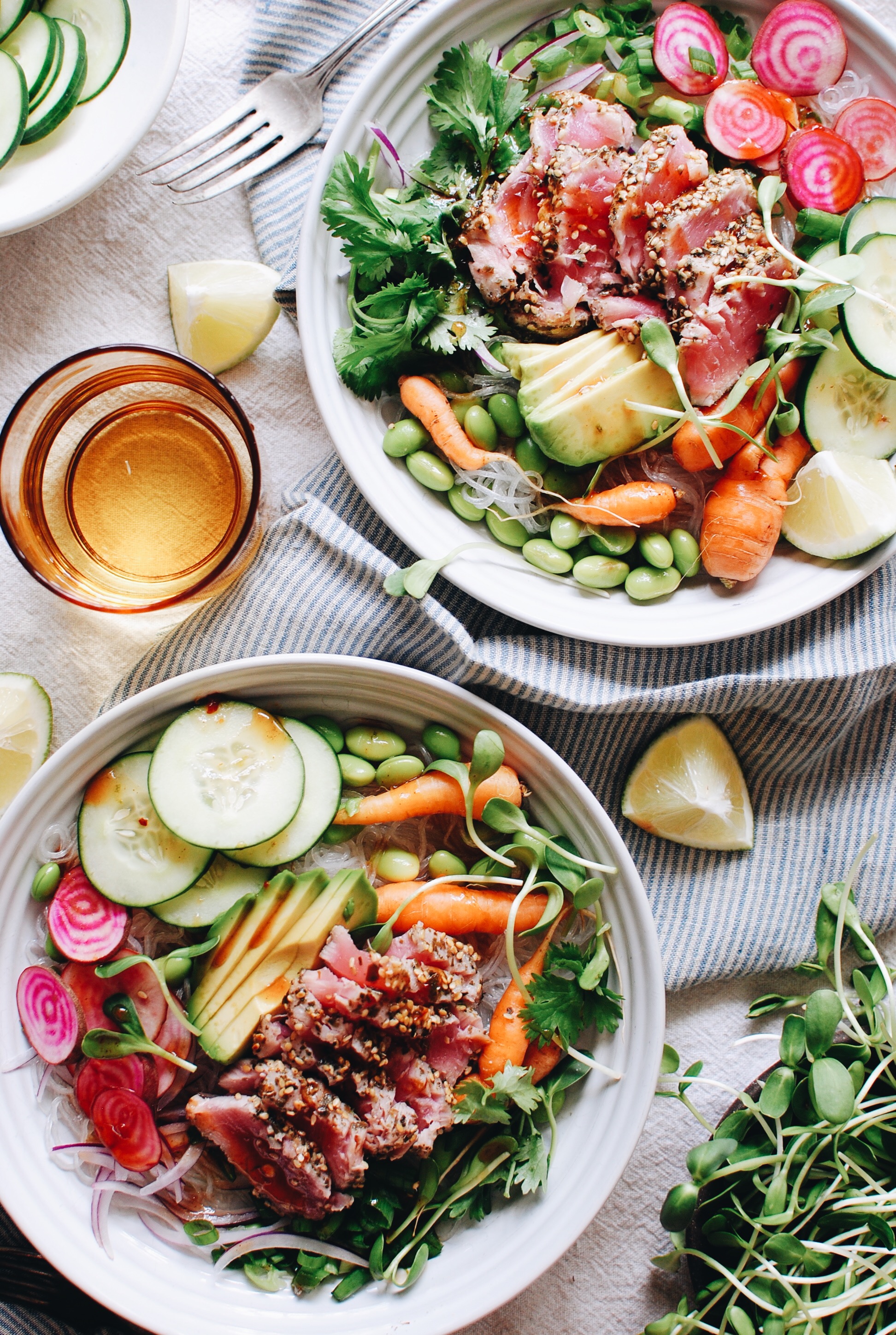 So I wouldn't necessarily call this a poke bowl, only because I seared the ahi tuna. This has been a recipe that I've wanted to make for so long, I still had my baby teeth. (that came out way grosser than I intended.)
It's just so illegally flavorful. And colorful! And FRAYSH. (<–fresh, but I'm a complete tool, so.)
Let me start by saying that I know you're scared of this. It's raw in the center, but it's totally supposed to be. And guess what, I bought this fish frozen in a bag! Absolutely works. Fresh fish behind the counter is great, too. Just ask to smell it first. If you're local, McGonigles is a must. There's my PSA. Goodbye forever.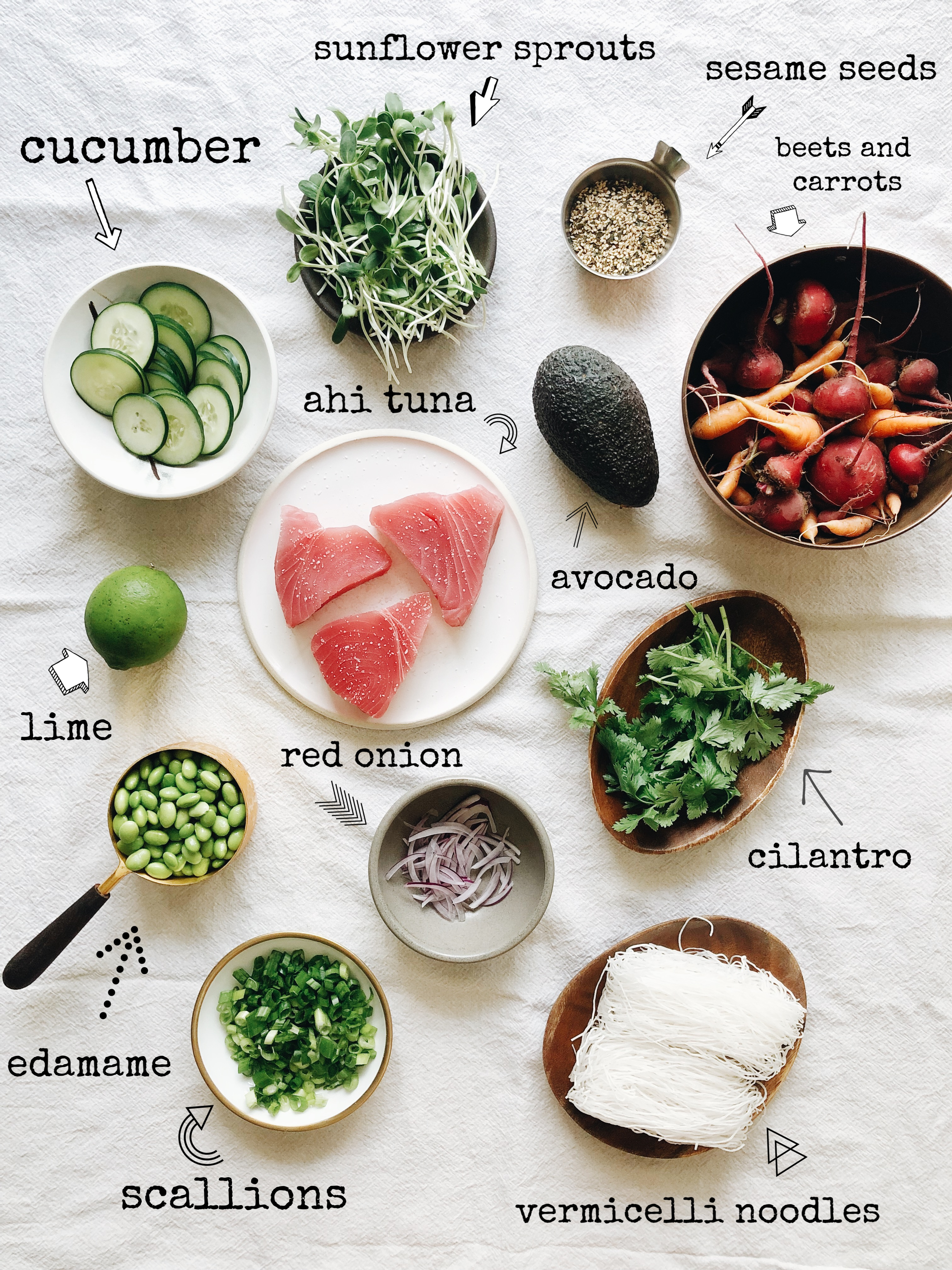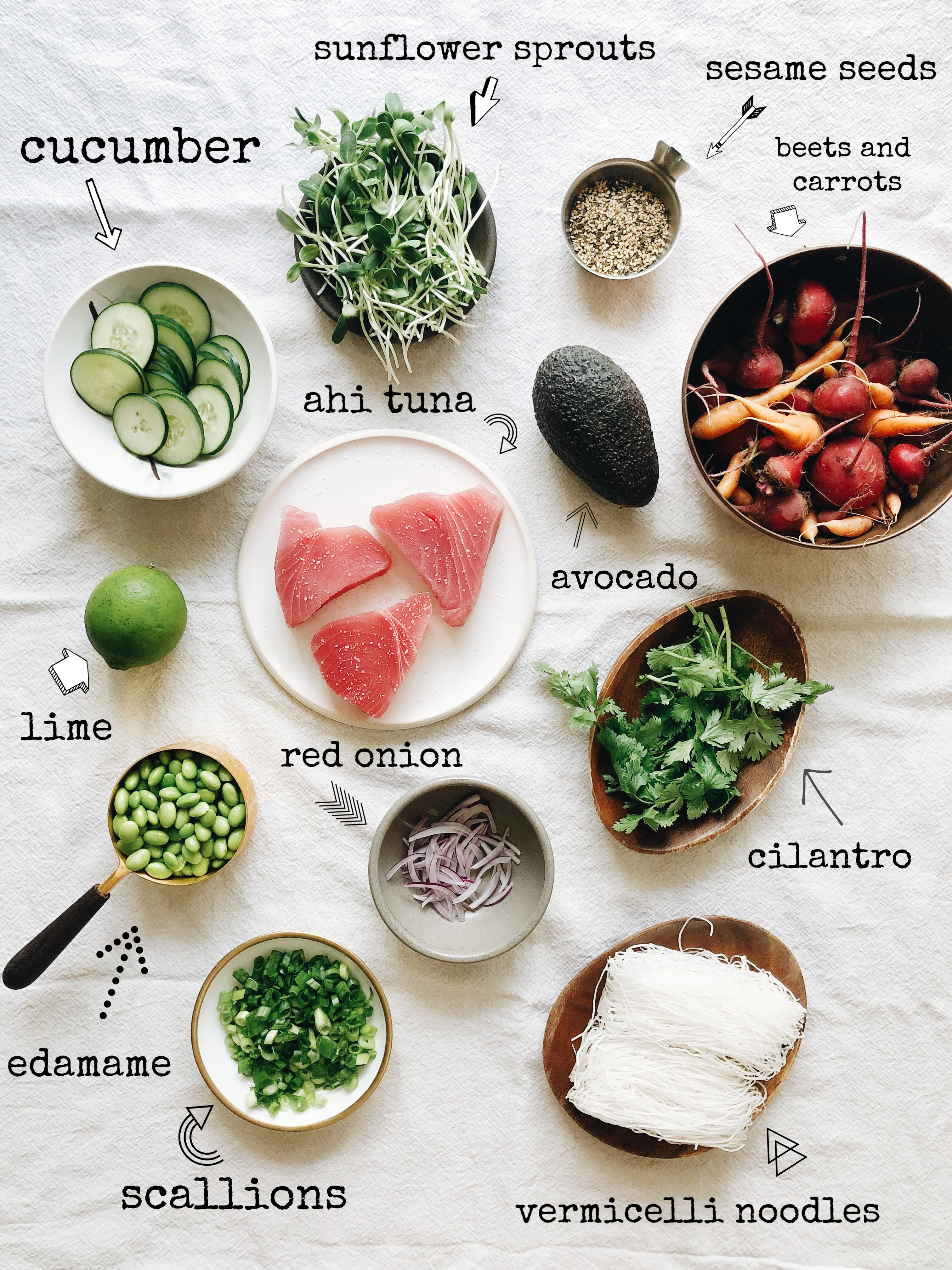 Except not.
So this is the way I take care of you – we're having glass noodles in the bottom of our bowls. Because listen. If it were just fish, veggies and greens, I'd be starving and eating my own face thirty minutes later. So let's add a shiny carb and love our lives!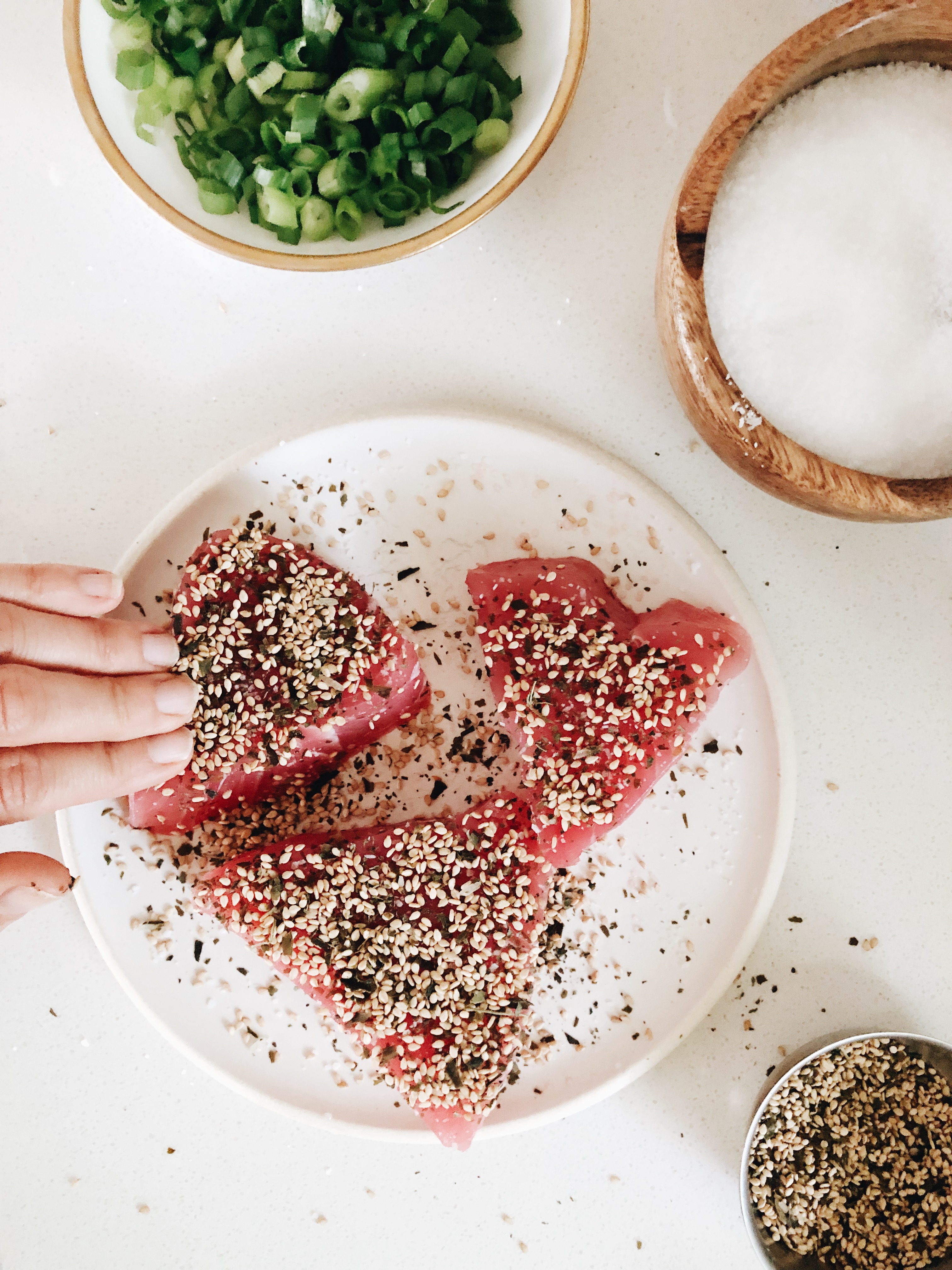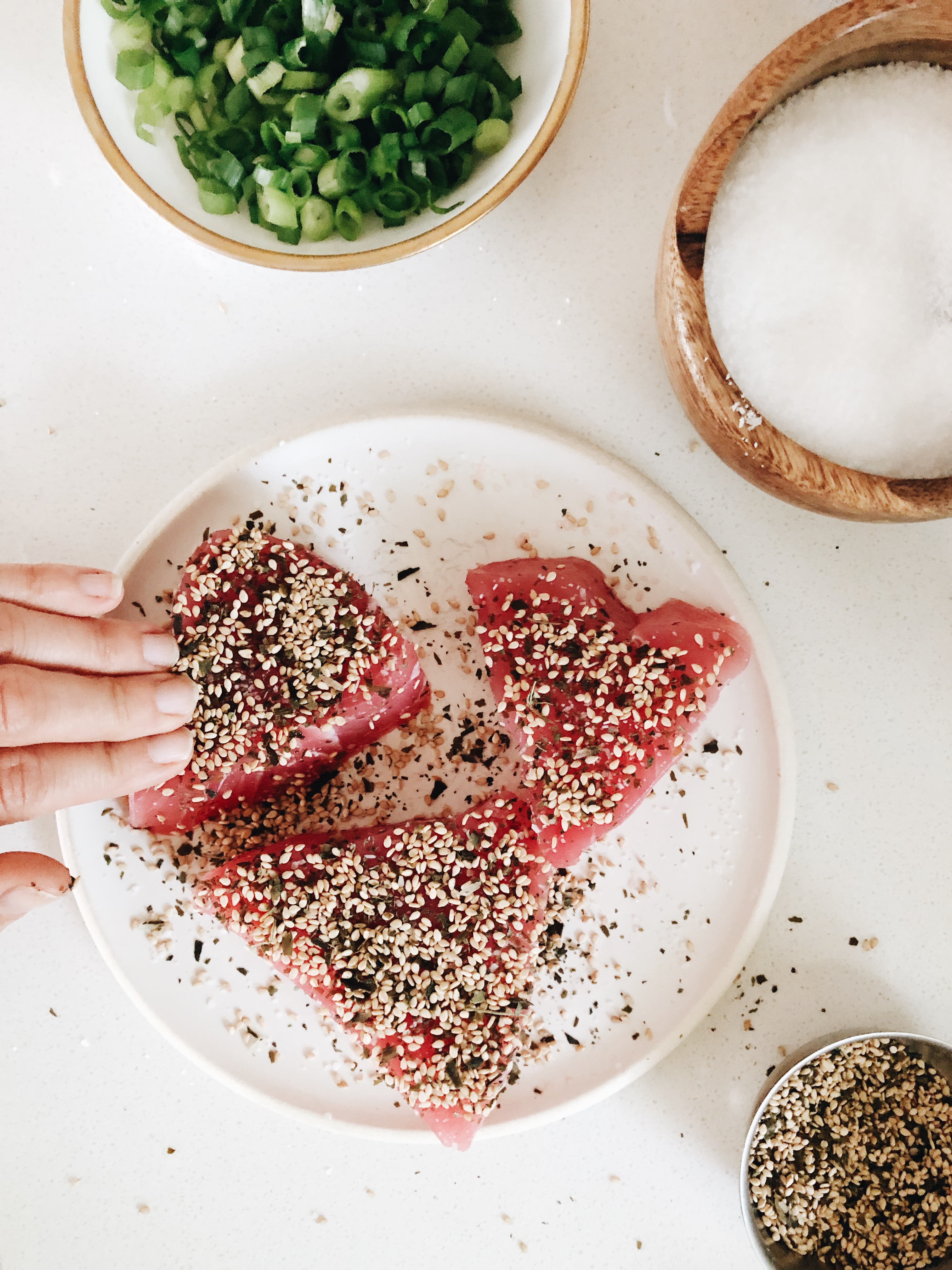 What ya do is pat those tuna steaks super dry. As dry as you can. Then give them a good sprinkle of coarse salt all over, followed by a hefty pressing of sesame seeds. My seeds were a mix of white, black and some dried nettles. But anything you find is glor! (<–glorious, but I'm a dweeb, so.)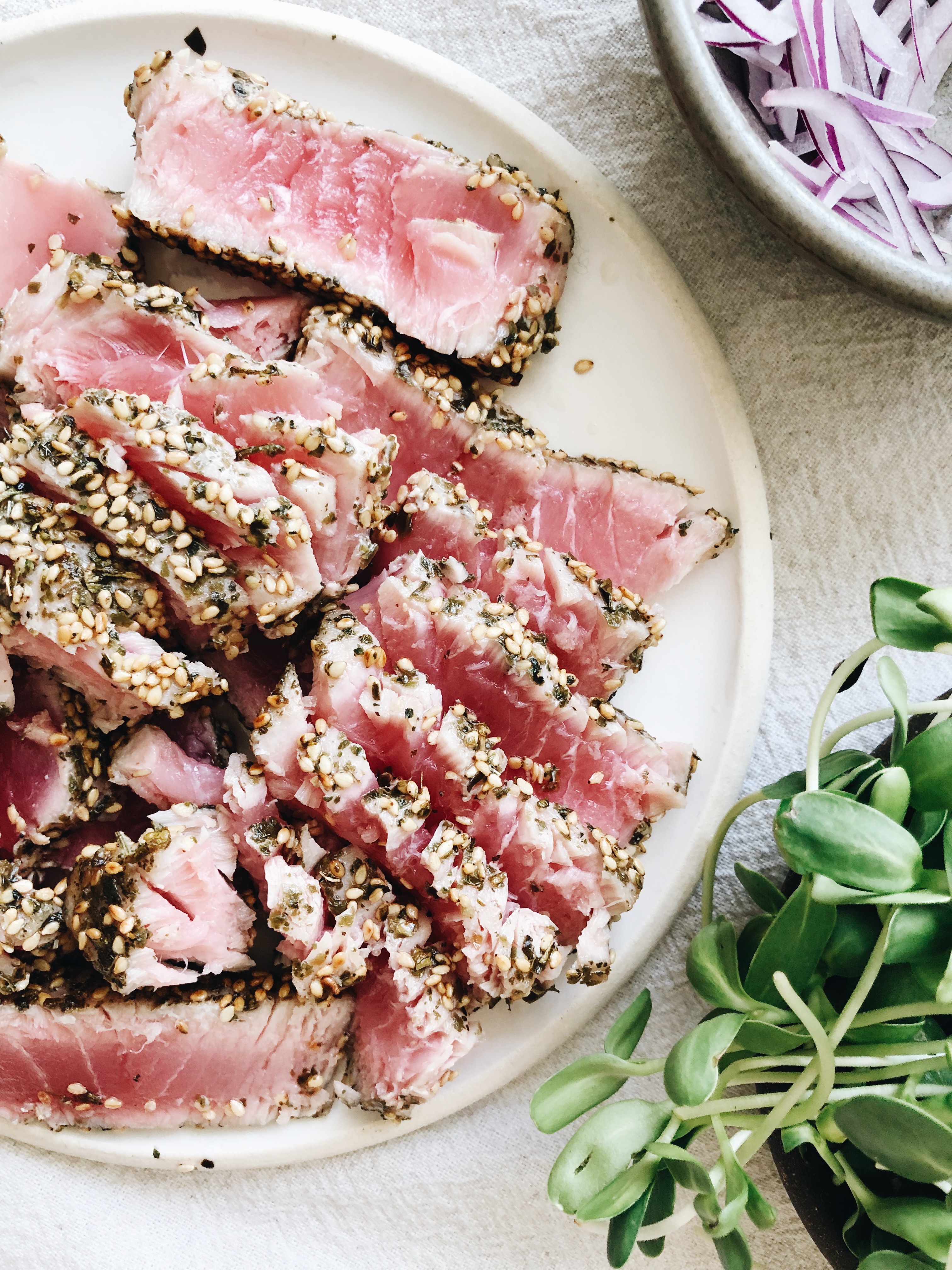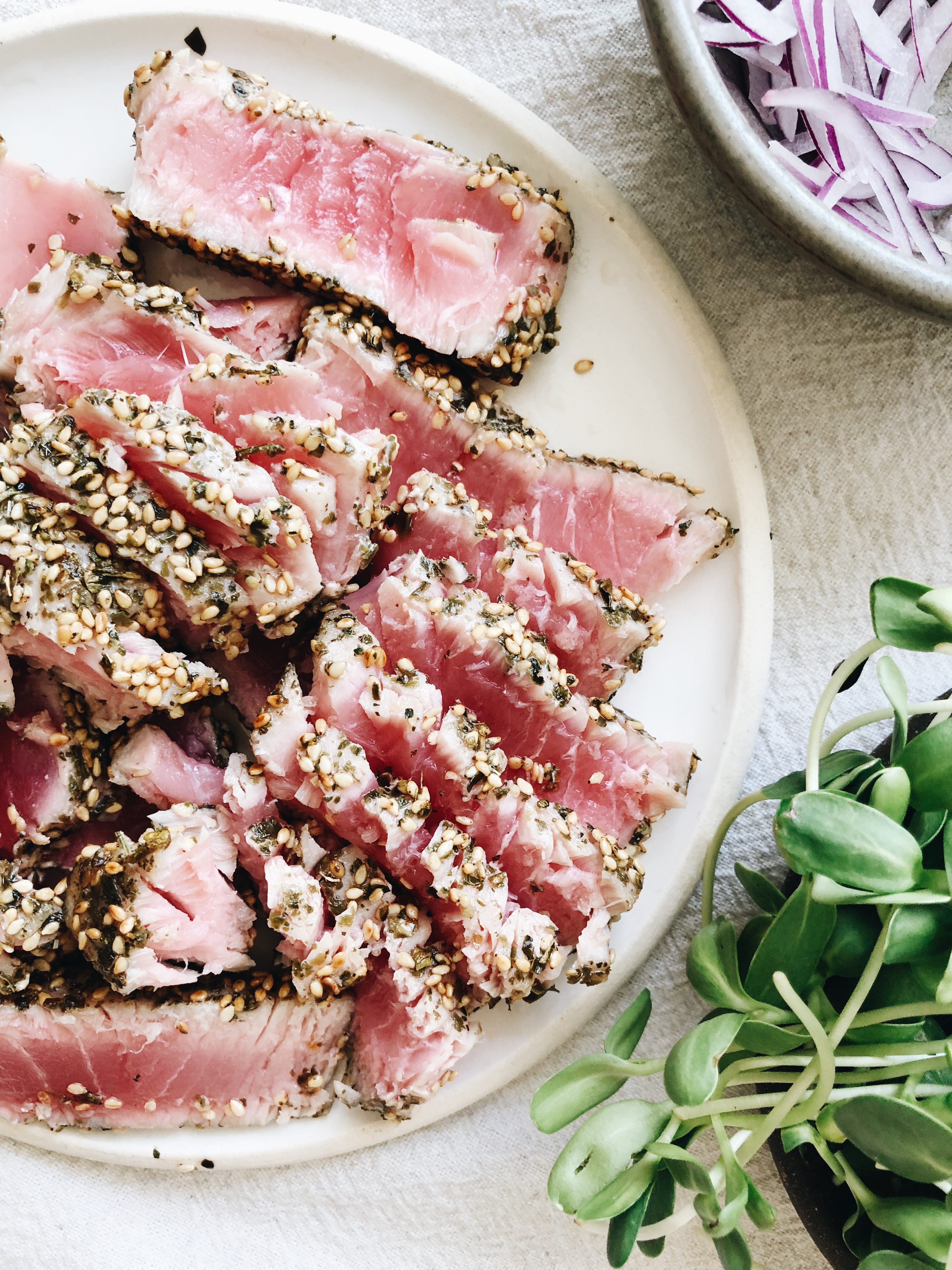 You'll sear them in a HOT skillet for seriously 30 seconds per side. That is all it takes. And give the edges of the fish a nice sear, too. For the good of man, sear it all.
And just look how lovely that is. Pink and fresh on the inside.
This is going to so deliciously ruin you.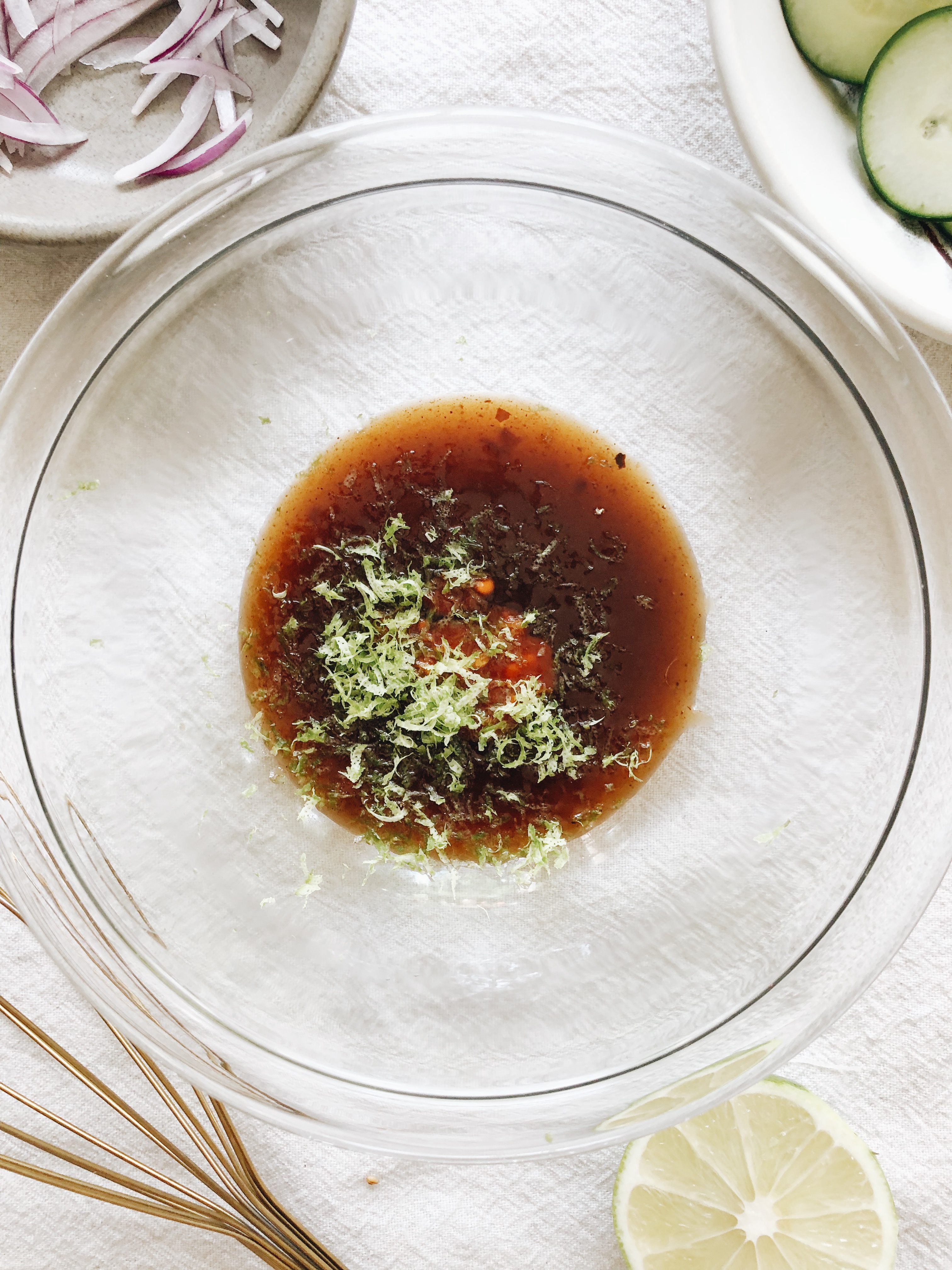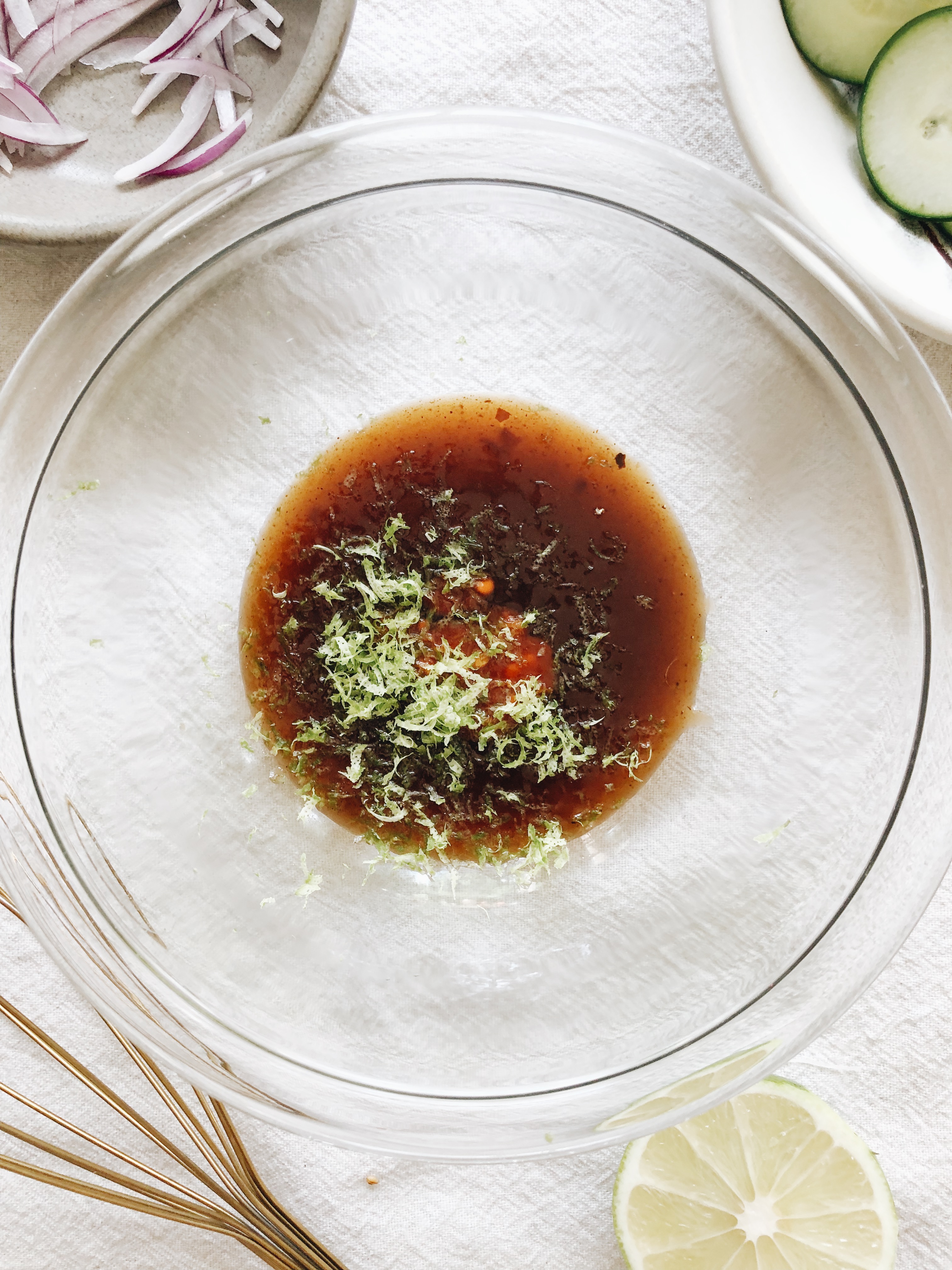 The dressing! Total happy accident. I thought I had soy sauce. I did not have soy sauce. But I did have hoisin sauce! So I swiftly changed direction and introduced some hoisin to some lime juice to some lime zest to some sambal oelek. Whisky whisk, and the most subtly sweet and spicy sauce was birthed. And I named it Phyllis.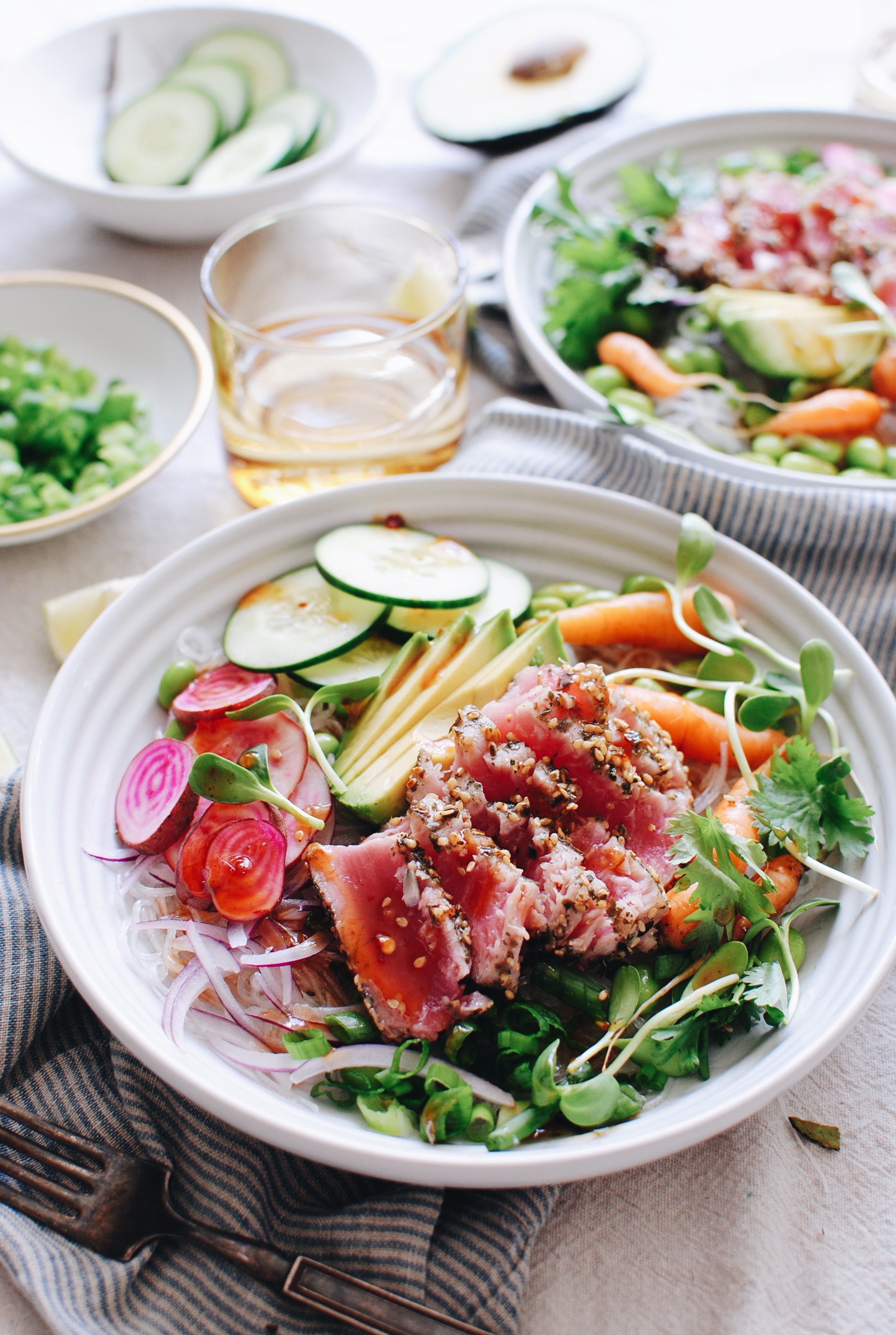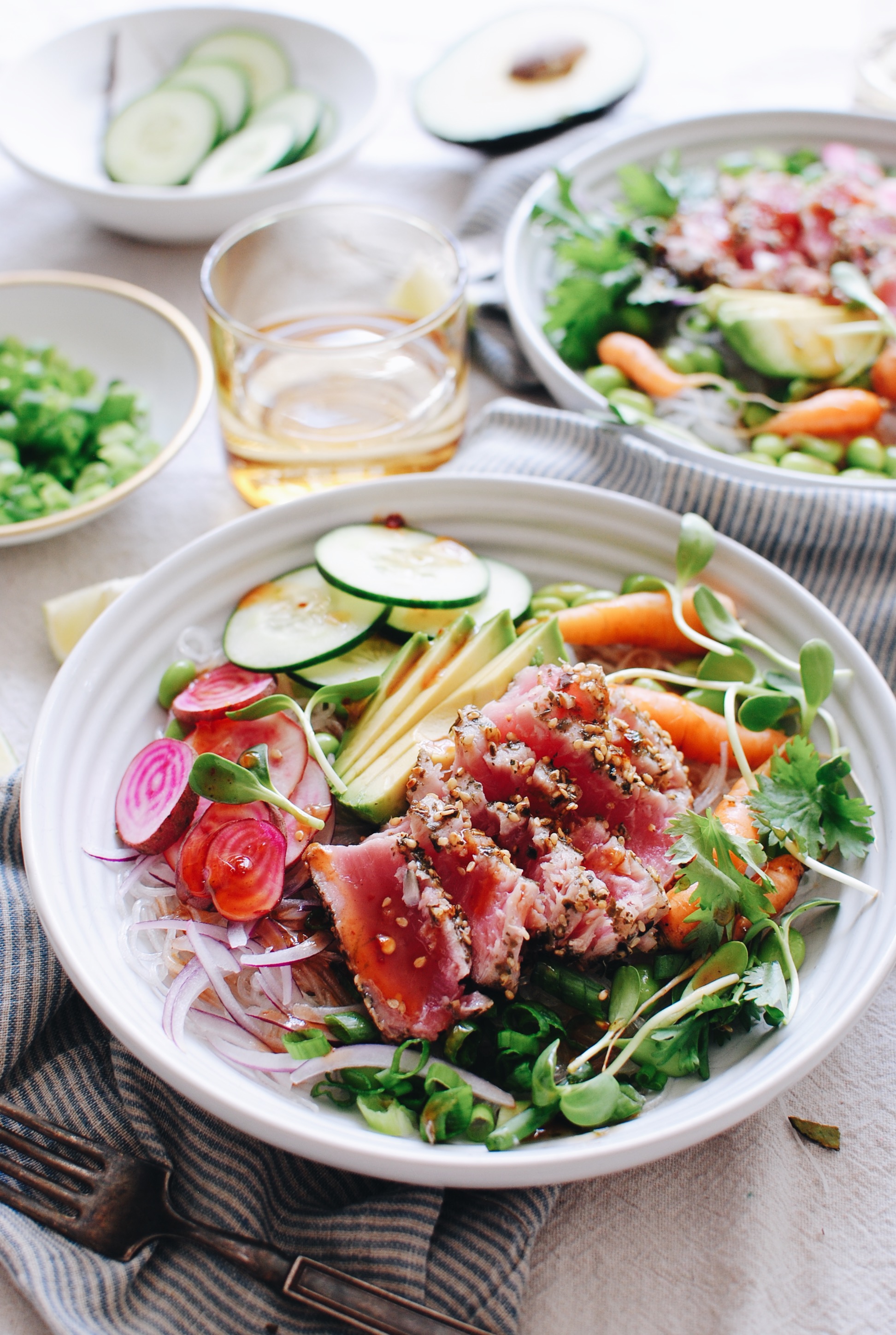 I'm sorry, but yes.
Cooked and cooled vermicelli noodles on the bottom (boil them with your frozen edamame for a quick time saver!), and then pile it on, babes. Thinly sliced red onion, the ahi tuna all fanned out purty like, sliced avocado, thinly sliced beets (or radishes! these are beets from our garden, but they seriously look like radishes, which would absolutely work), tiny nubby carrots (those carrots are also from the garden, and an obvious result of um, not thinning when we were supposed to. but I kind of dig their teeny nubby nature!), cucumber, sprouts of any kind, cilantro leaves, sliced scallions and the edamame.
And I mean, all this you can wing. The amounts are up to you. Leave anything out that you don't dig, and pile in other things that give you life. Peanuts? Sure! Fried garlic? Absolutely!
Then drizzle that sweet sauce over that mess and let your mouth get its party on.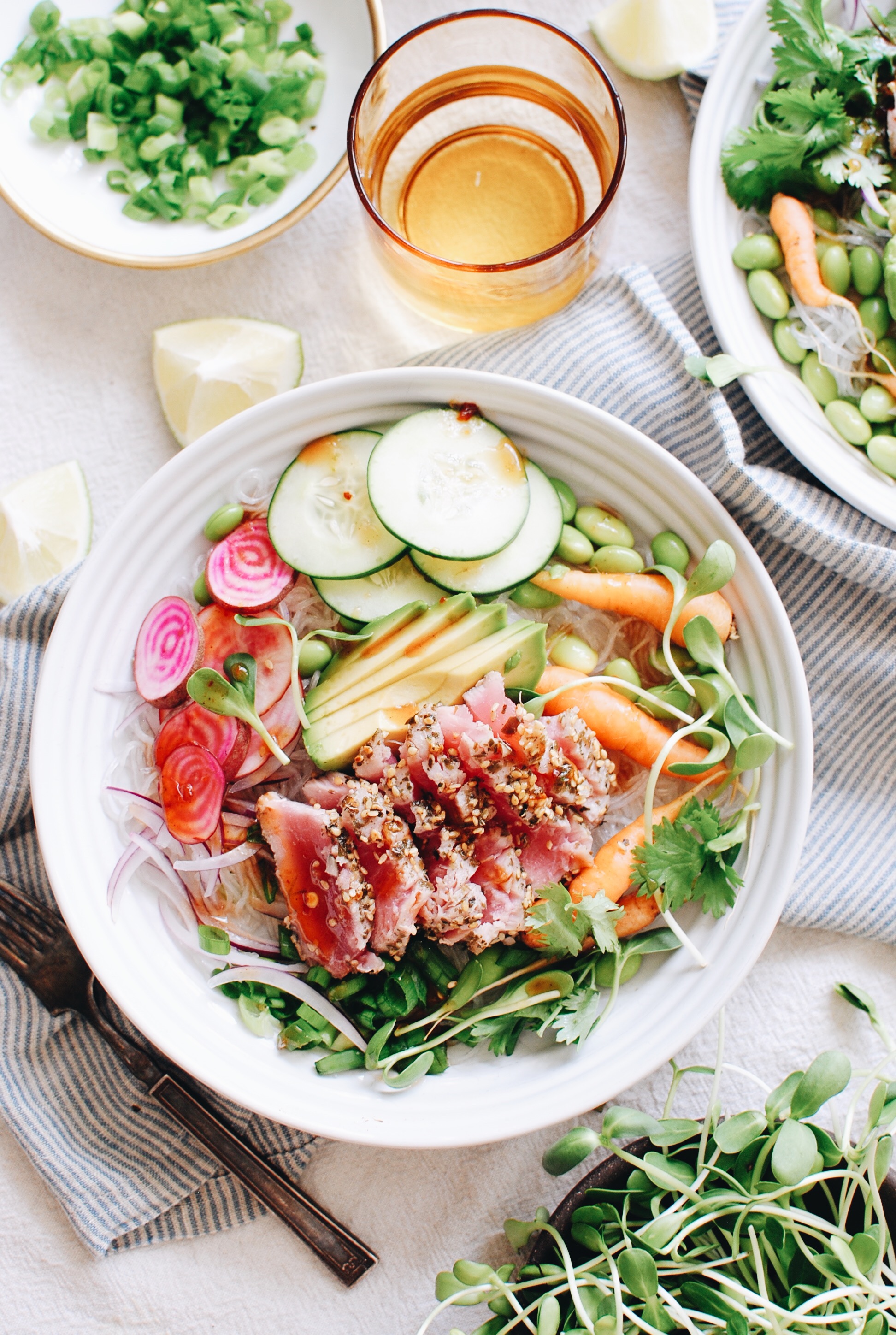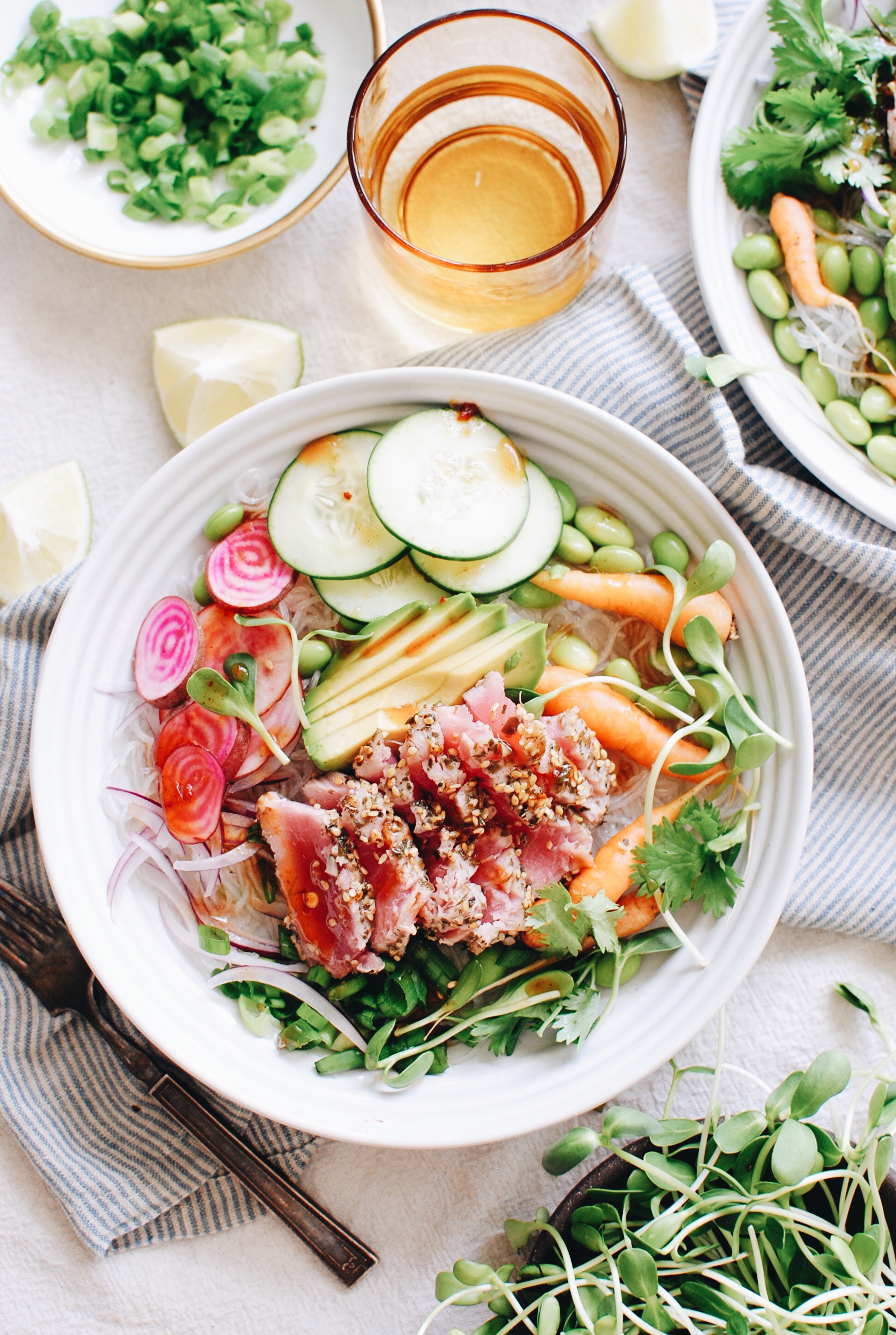 TASTE THE RAINBOW. (<–don't send me to jail.)
Ingredients
3 ahi tuna steaks (5 or 6 oz per fillet) (if frozen, thawed)
3 Tbs. sesame seeds (multi colored is fine)
2 Tbs. extra-virgin olive oil
1/2 cup thinly sliced cucumber
1/2 cup thinly sliced beets (or radishes)
A few petit carrots (if using regular carrots, thinly slice on the diagonal)
1/2 cup sprouts of any kind
1/2 cup frozen edamame
1/3 cup thinly sliced red onion
1/2 cup cilantro leaves
1 avocado, sliced
3 scallions, thinly sliced
3 or 4 vermicelli noodle bundles
3 Tbs. hoisin sauce
1 tsp sambal oelek
1 lime
Instructions
These measurements are just a springboard. Really, it's just a handful of anything you love!
Okay, pat the ahi tuna steaks dry with a paper towel. Season all over with a good pinch of coarse salt, then press the sesame seeds into the steaks, all over. Get them good and covered.
Heat the oil in a skillet over medium high heat. More on the high side. Sear the ahi tuna in the skillet 30 seconds per side. Rotate the edges in the oil, too. Just five seconds per edge. Remove from the skillet, let rest a minute, then thinly slice. You want a pink, rare center! It's just delicious, trust me.
Bring a small pot of water to a boil, then add the vermicelli noodles and edamame and boil for a minute, tops. Just until the noodles soften and the edamame pops in color. Drain and rinse under cold water to cool. (I drizzled in a couple tsps of sesame oil at this point, just to add flavor and keep the noodles from sticking. That one's free.)
In a small bowl, whisk together the hoisin sauce, sambal oelek, lime zest and juice.
Now layer your bowls! Noodles on the bottom, then just pile it on. The sliced tuna, and all of the veggies in whatever order you prefer. Drizzle the dressing over the bowls, and immediately serve!
Makes four bowls. And four extremely happy faces.
7.8.1.2
358
https://bevcooks.com/2019/07/seared-ahi-tuna-bowls/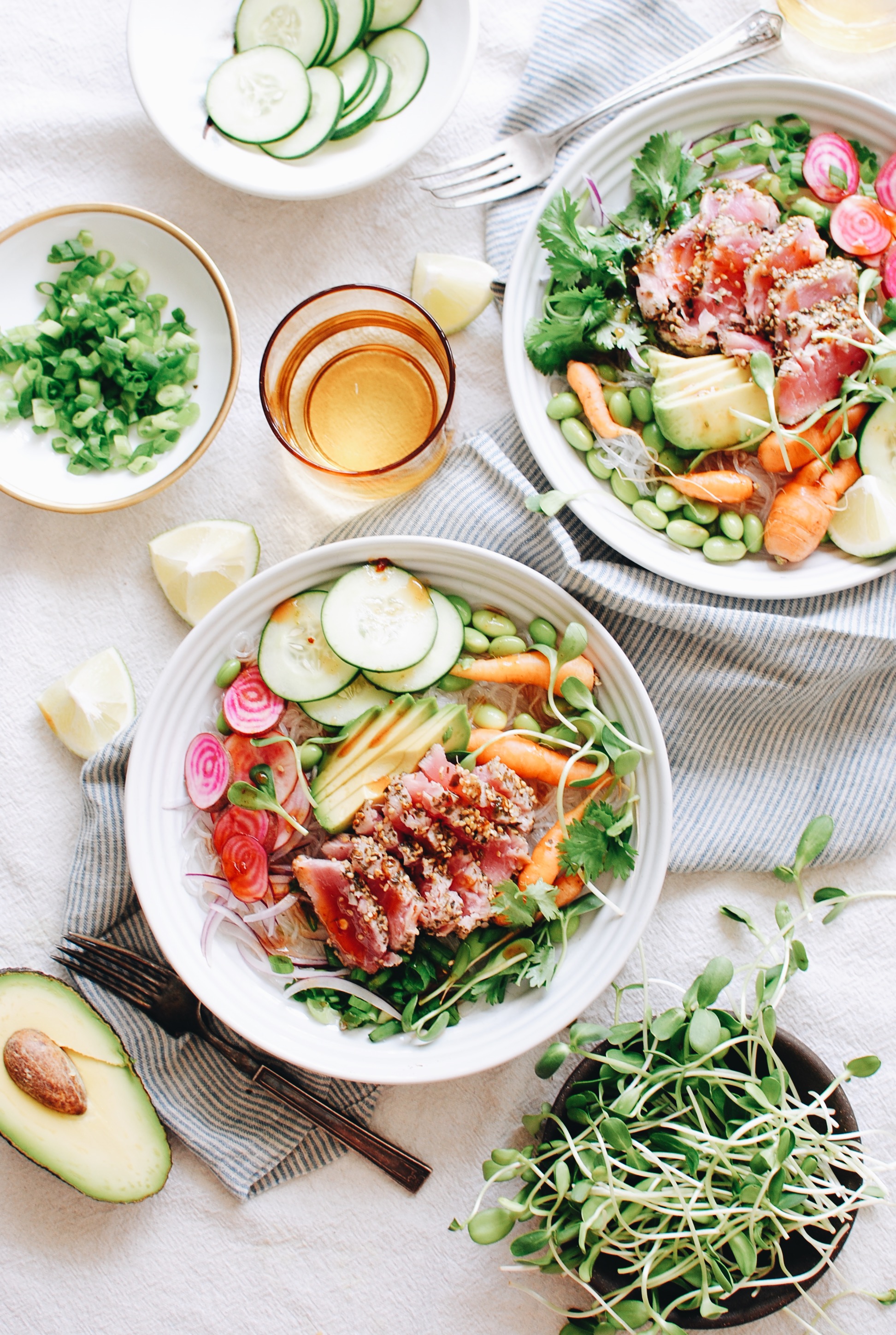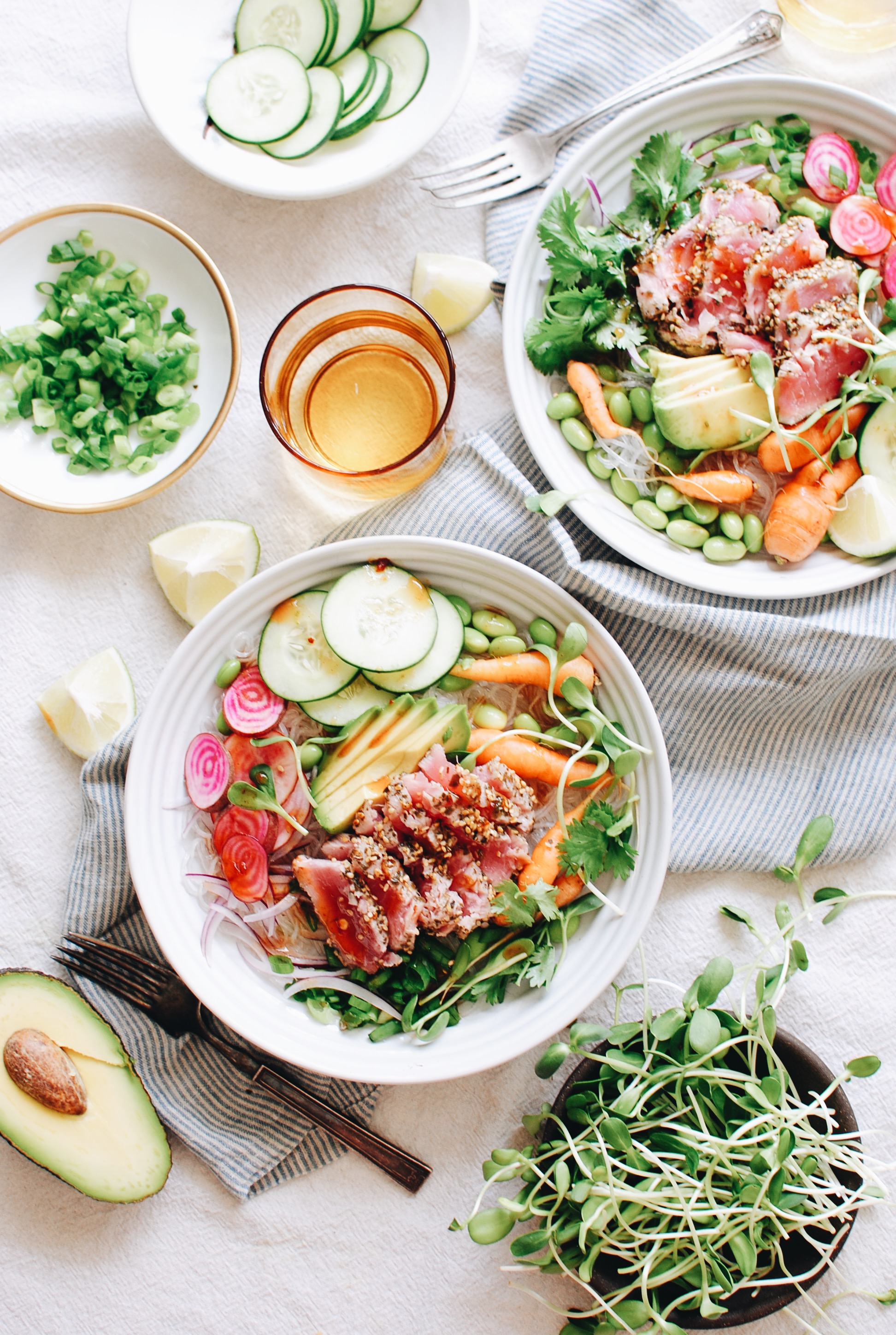 Yes and yes and yes again.