For Mother's Day! These would be for Mother's Day. This is my vision for your life.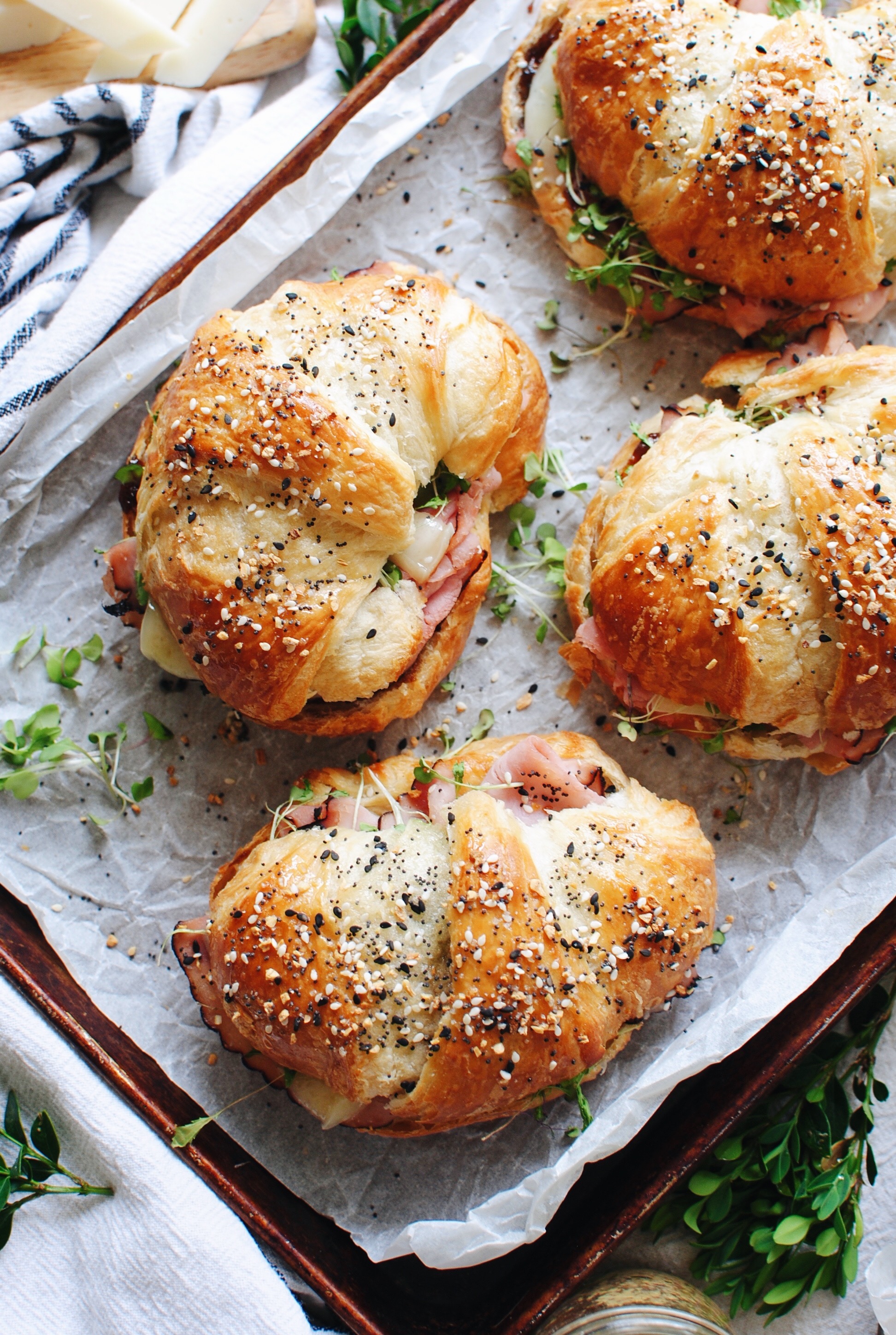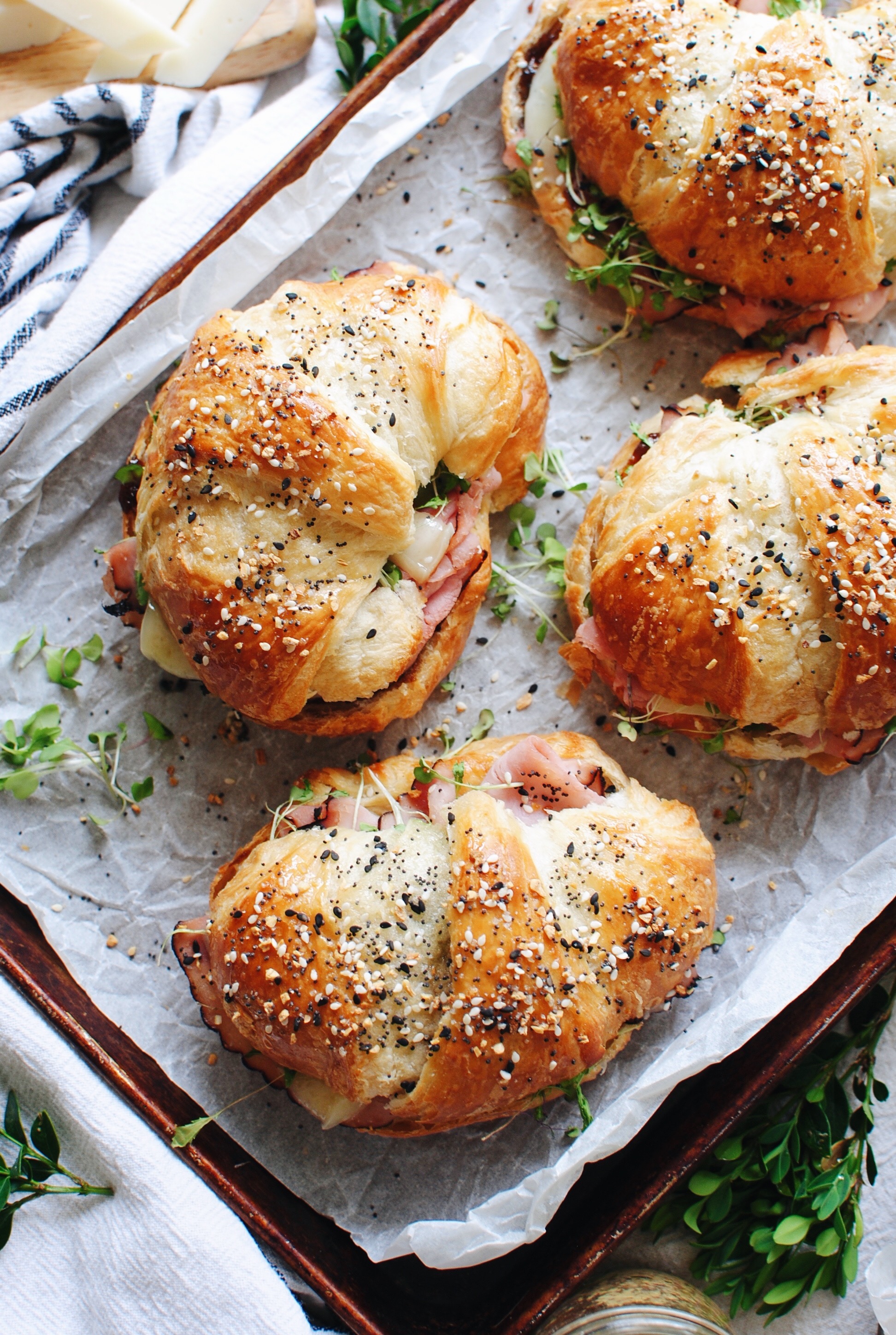 I never make croissant sandwiches at home. Matter of fact, I've never made CROISSANTS at home. Have you? I hear it's just awful. Not the final product. But the process. Takes like 18 days, and you have to pay suuuuuch close attention to the delicate dough the whole time. Is that right? Or am I thinking of a root canal?
But let me tell you, these sandwiches are unbelievable. Exactly like something you'd get in a French market or a little weekend bakery.
Just look at this.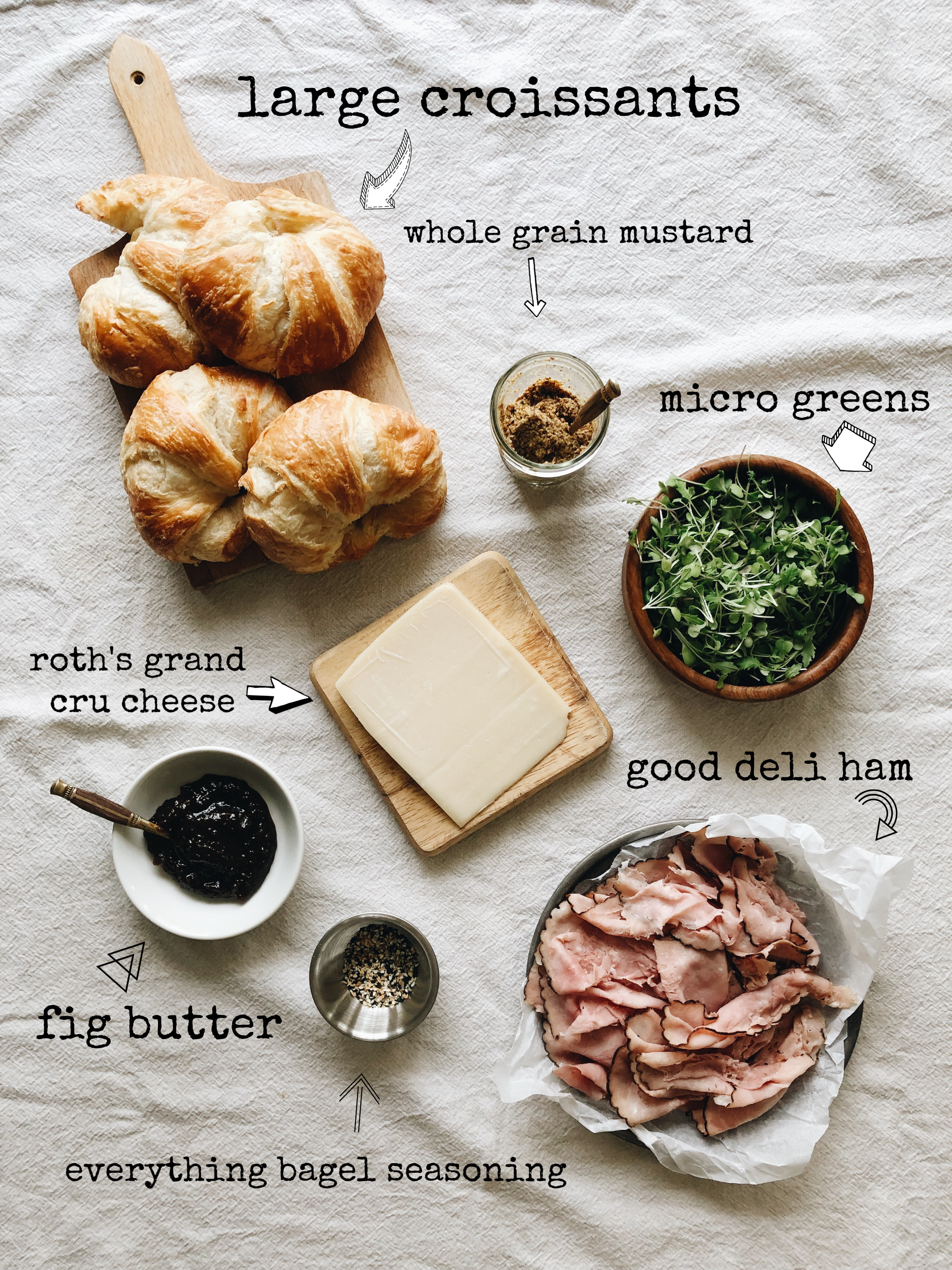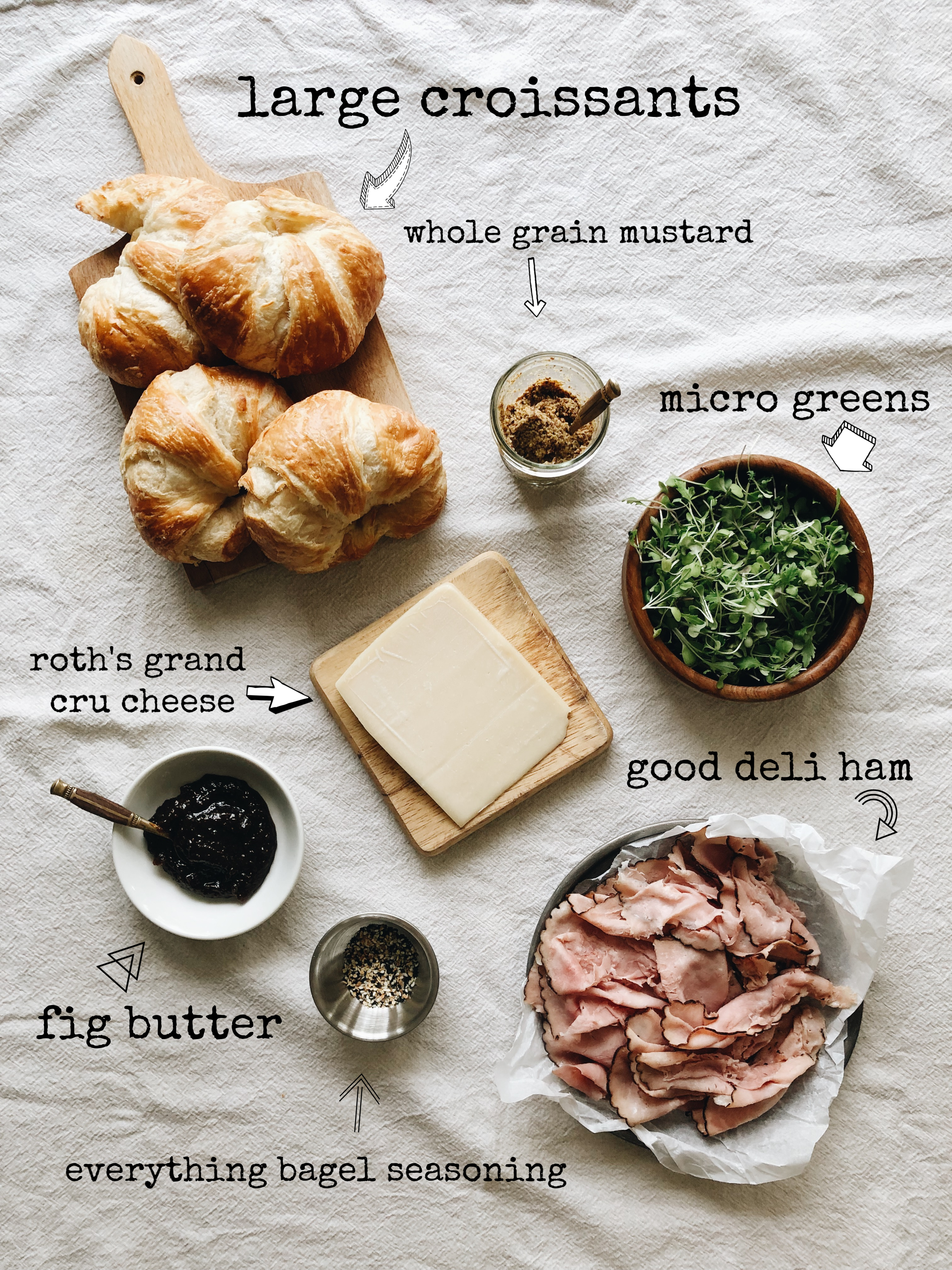 Your standard croissant fixins. We've got LARGE croissants (go big!), some jammy fig butter (for a kiss of sweet), whole grain mustard (that we're gonna actually make, dude), black forest smoked ham (any good deli ham will work here), some darling farmer's market micro greens (or any leafy green you've got!), everything bagel seasoning (just watch what we'll do in a minute), aaaaaaand the cheese. It wouldn't be a hot ham and cheese croissant-wich without a ding dong fabulous cheese, would it?
Hi, we're using Roth's Grand Cru Cheese. Award-winning, alpine-style, absolutely perfect in this sandwich. *cue all the applause. *and Beatles'-style teenage tears.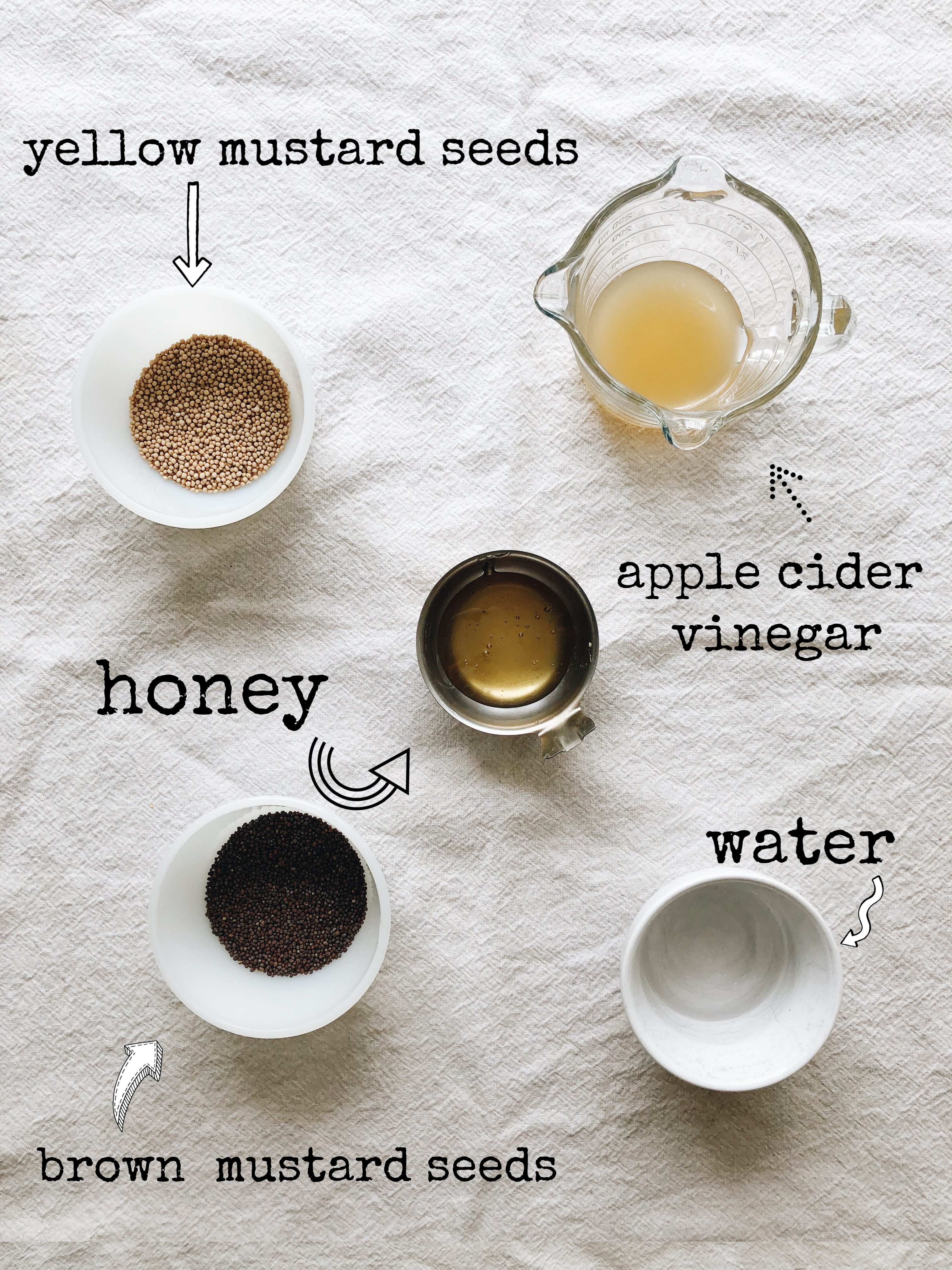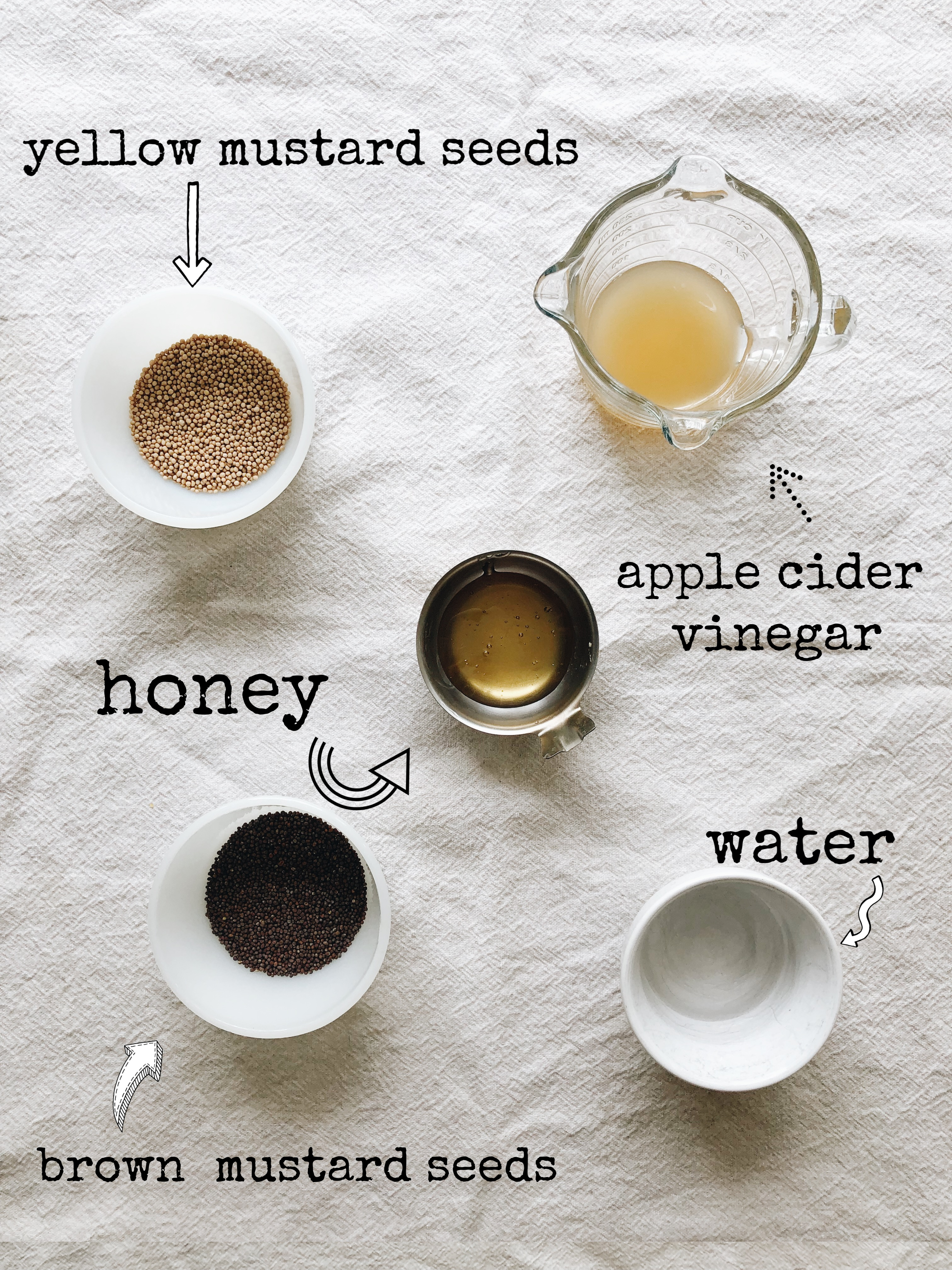 But first, let's make our own mustard!
Aaron randomly decided to make whole grain mustard a few weeks ago (this is why I married him), and it was sogood. Just like the jars. But way cheaper, and surprisingly simple.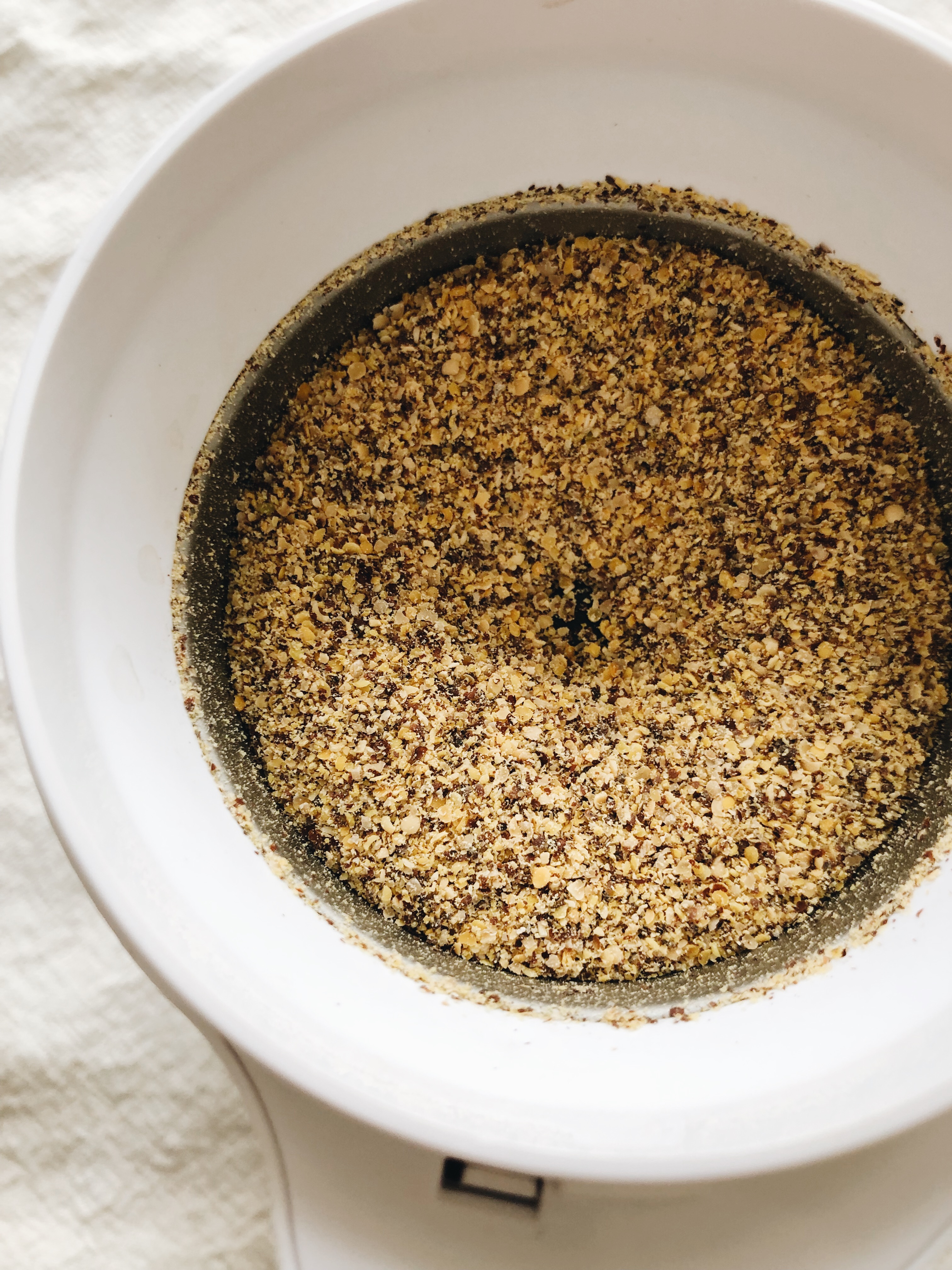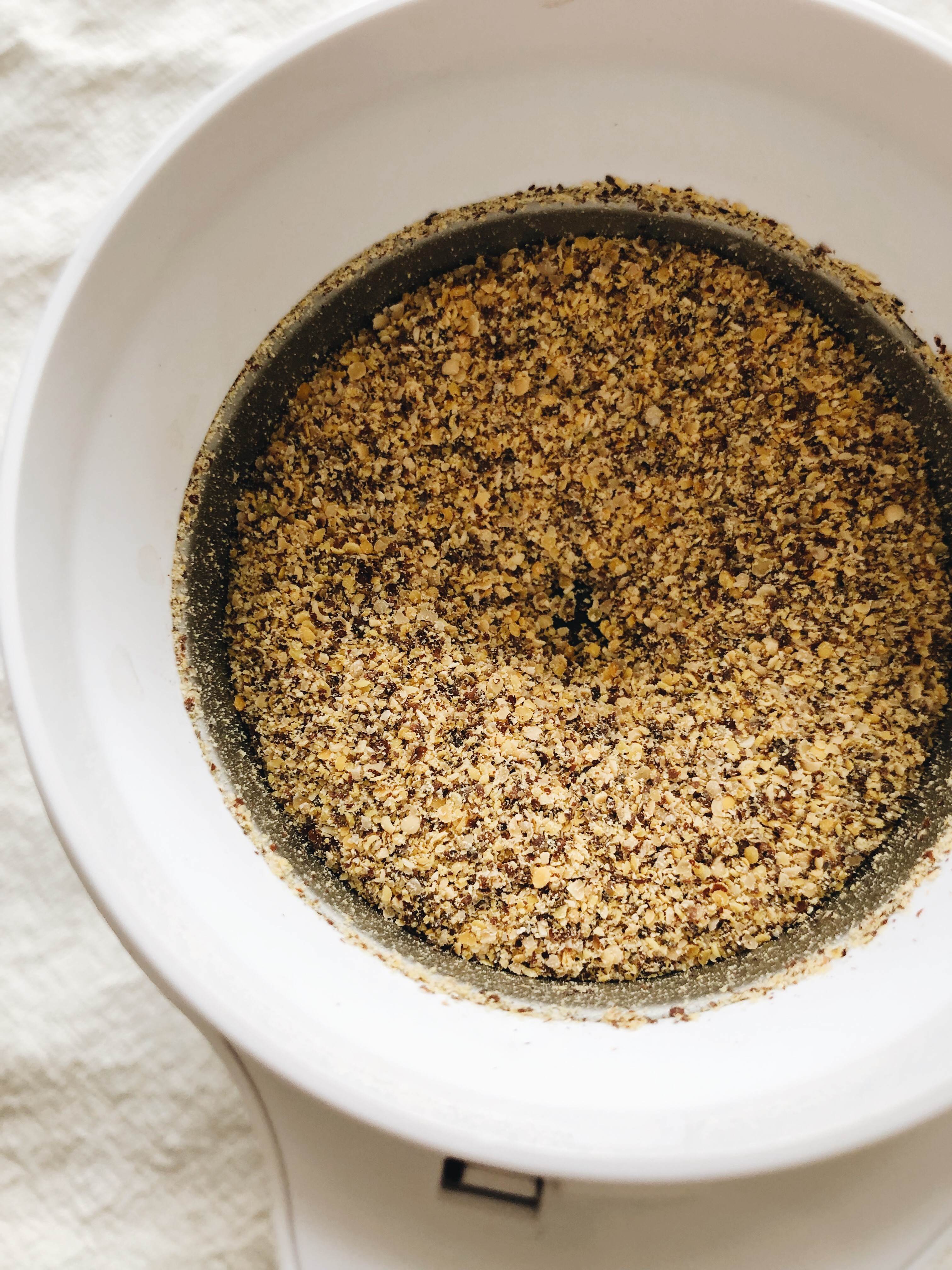 Really all you do is combine the brown and yellow mustard seeds in a spice grinder or mortar and pestle. I was impatient so I went the grinder route. If you're feeling farmhouse though and need a bicep workout, go with the mortar and pestle.
Just a few pulses. That'll do ya.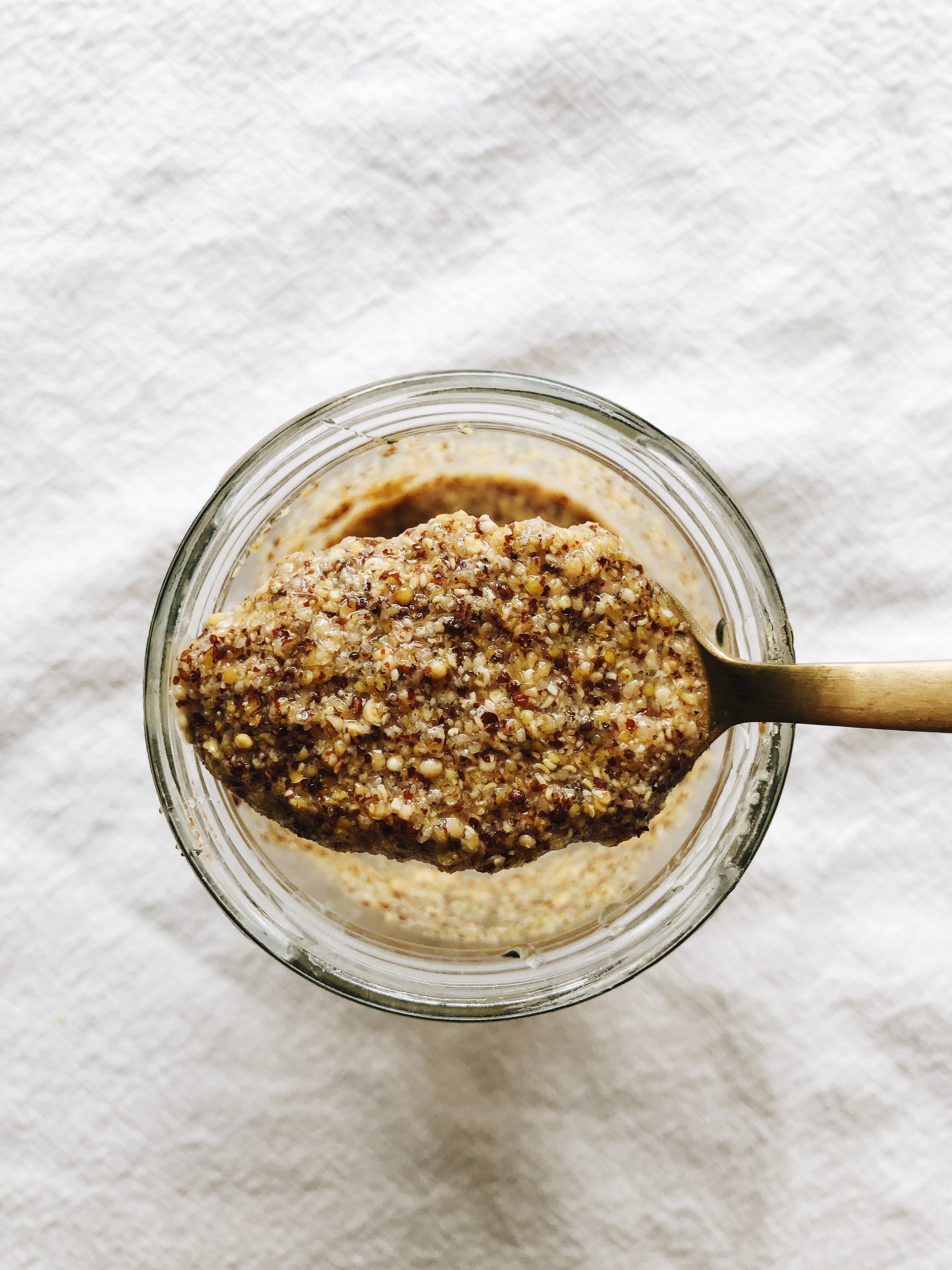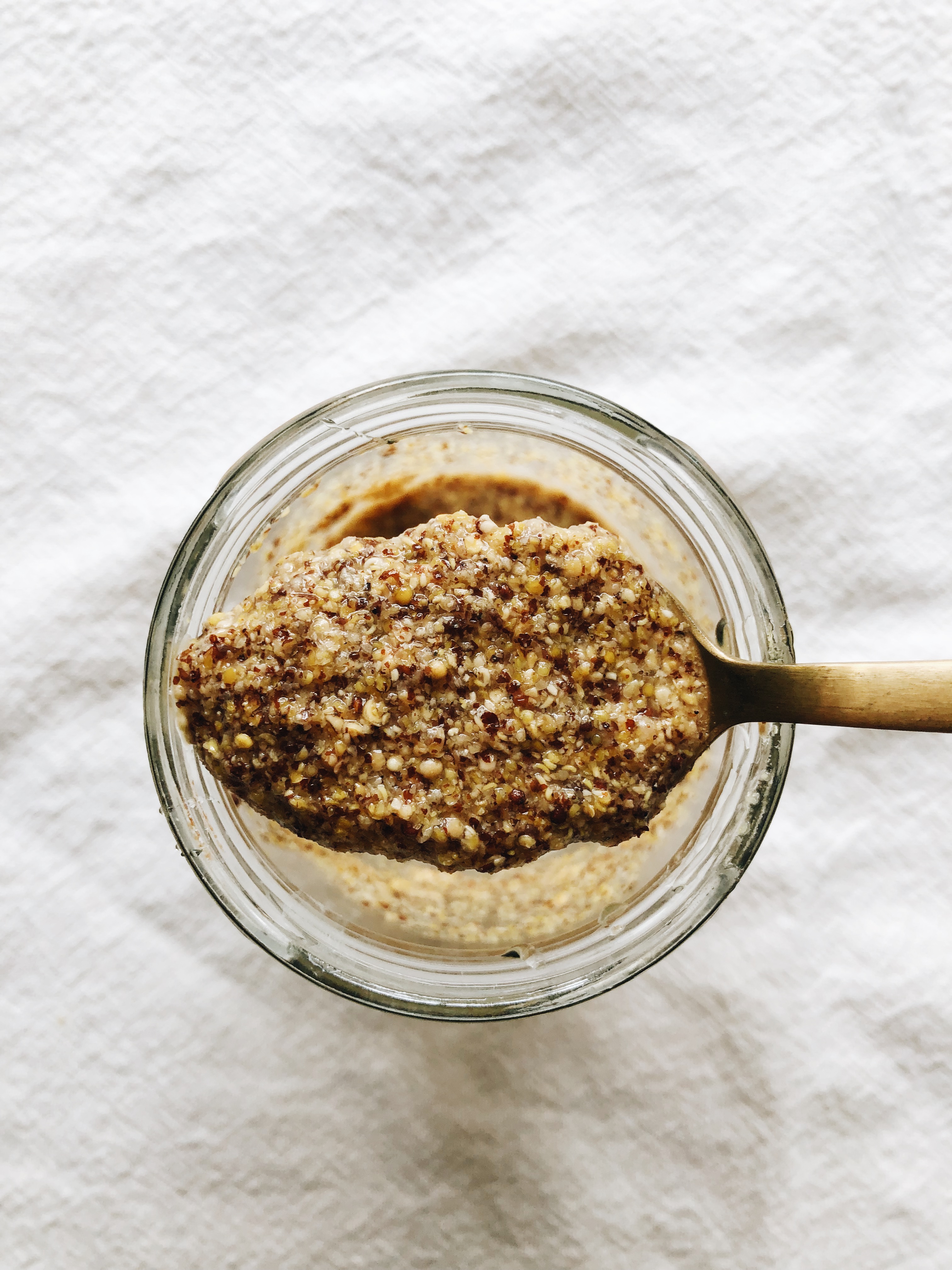 Then into a jar with the apple cider vinegar, water, pinch of salt and honey! That's IT. It'll be watery at first, and won't taste like much just yet, and that's fine. Shake it up in the jar, seal it and let it sit on the counter for eight hours. It'll mellow out and thicken a bit in the fridge, but if you want it spicy, let it sit for a good long time at room temp.
Neat, huh?!
. . . Hello?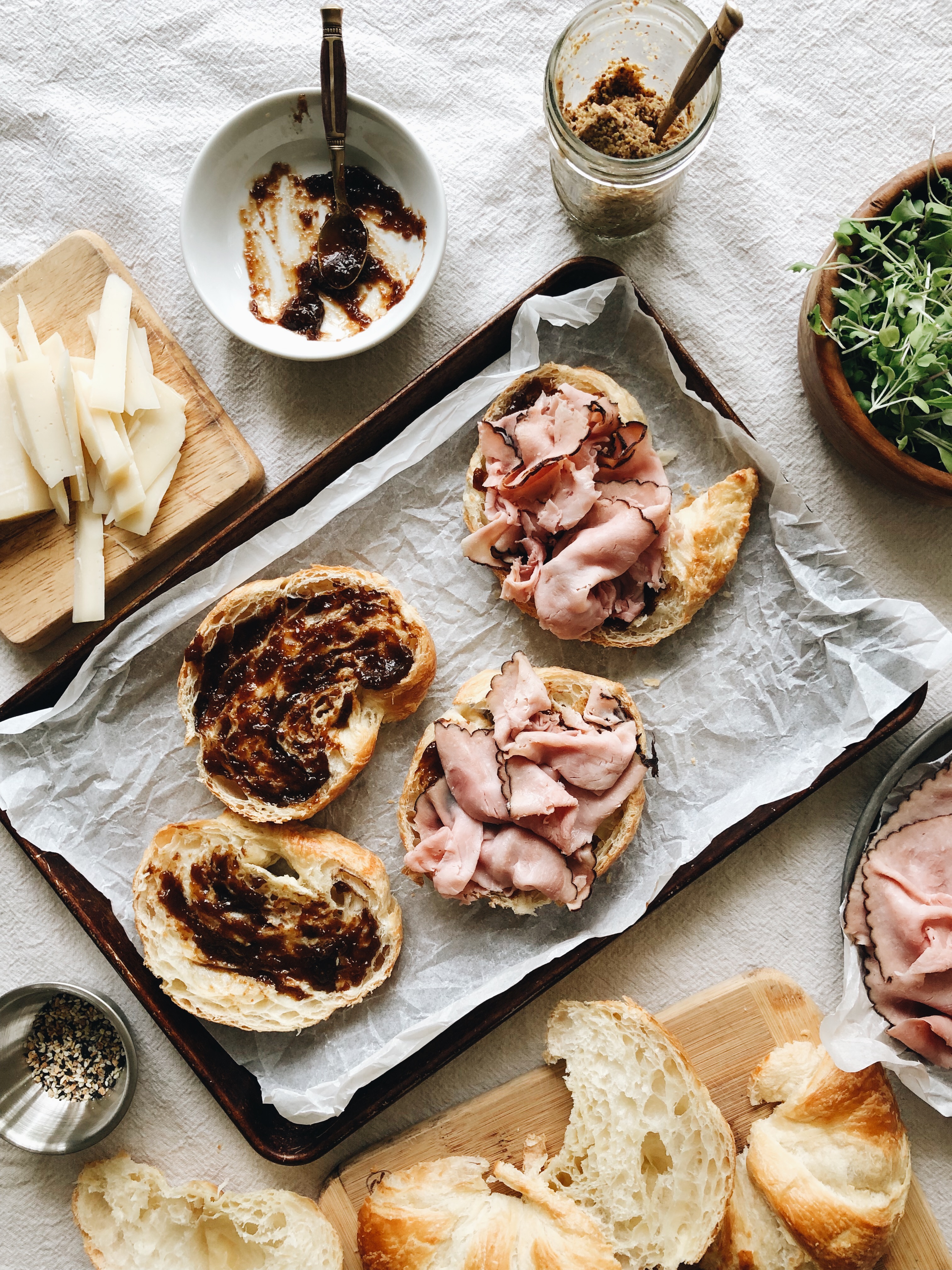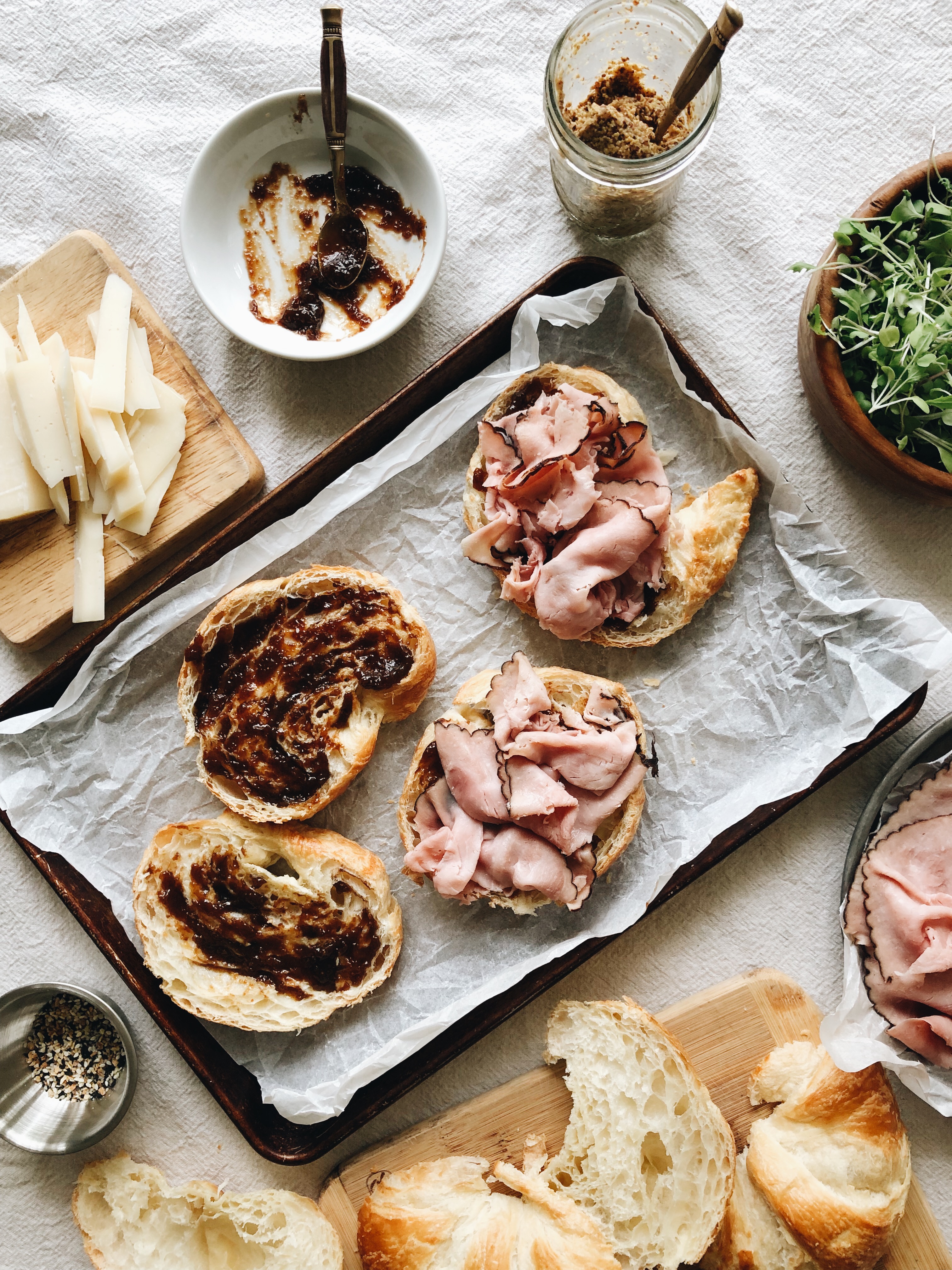 Back to the sams! This is all just layering, ya know.
Slice the croissants in half, and spread some fig butter along the bottom halves. On top of that, a few piled up slices of ham. Two or three slices, you'll know the answer in your soul.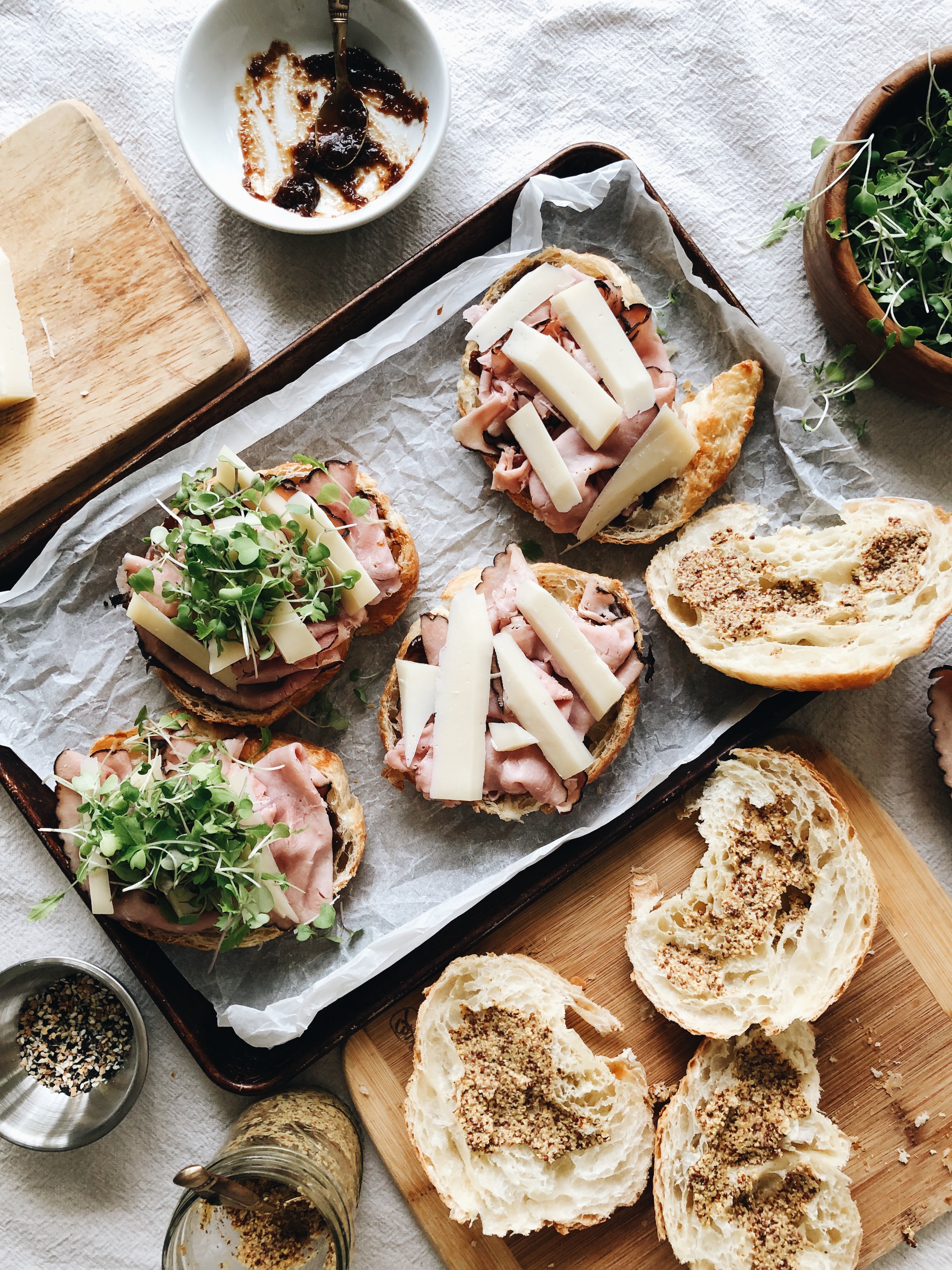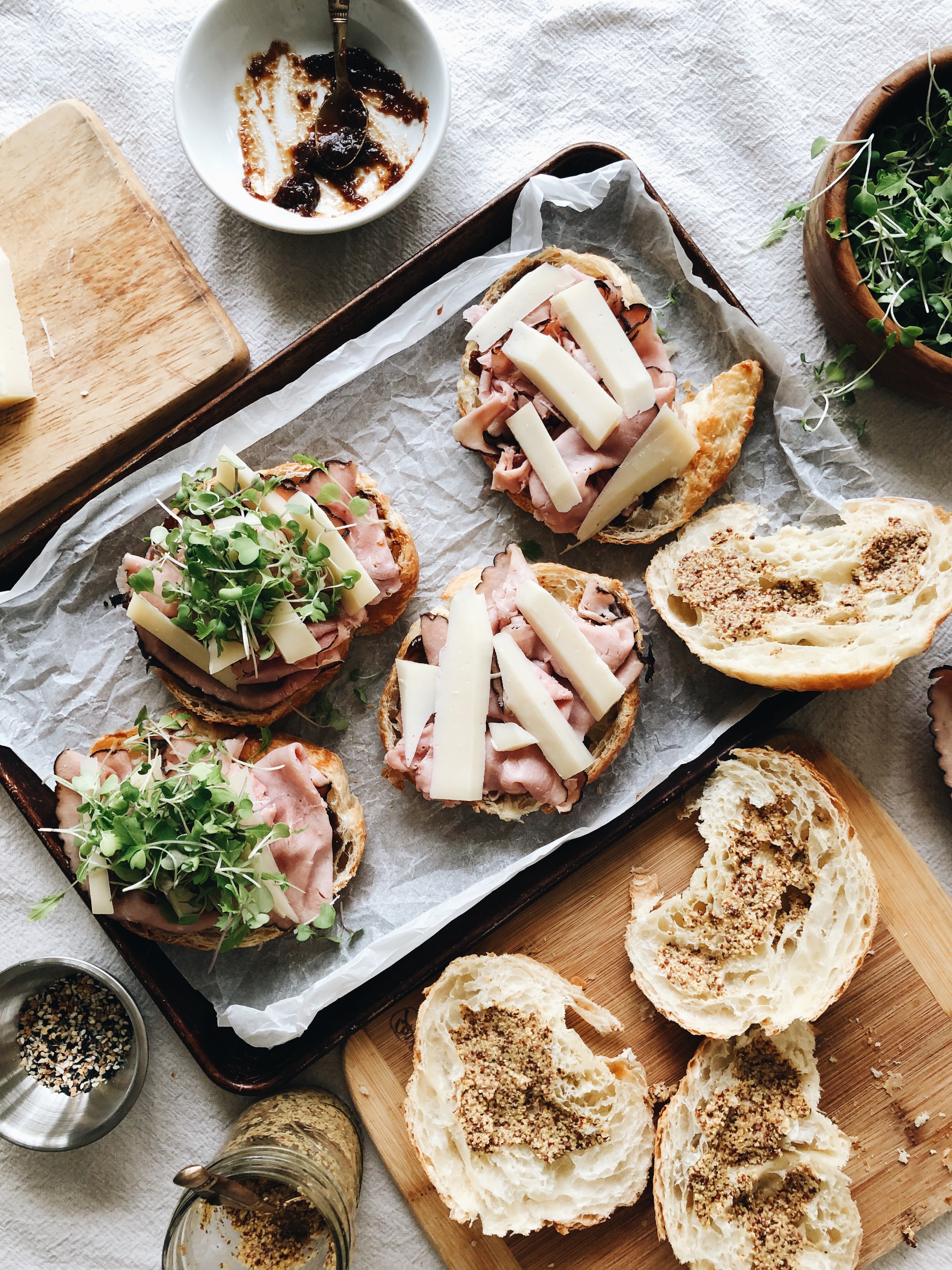 On top of the ham, the Grand Cru! Since it comes in a thin, slightly-wedged block, just slice away in thin strips. You'll feel the method in your heart.
Pile on a few stripy chunks of cheese and maybe nibble on 40. No one's looking.
Micro greens on top of the cheese. And then the mustard on the top halves. (this was Aaron's mustard from a while back! hence the much thicker spread.)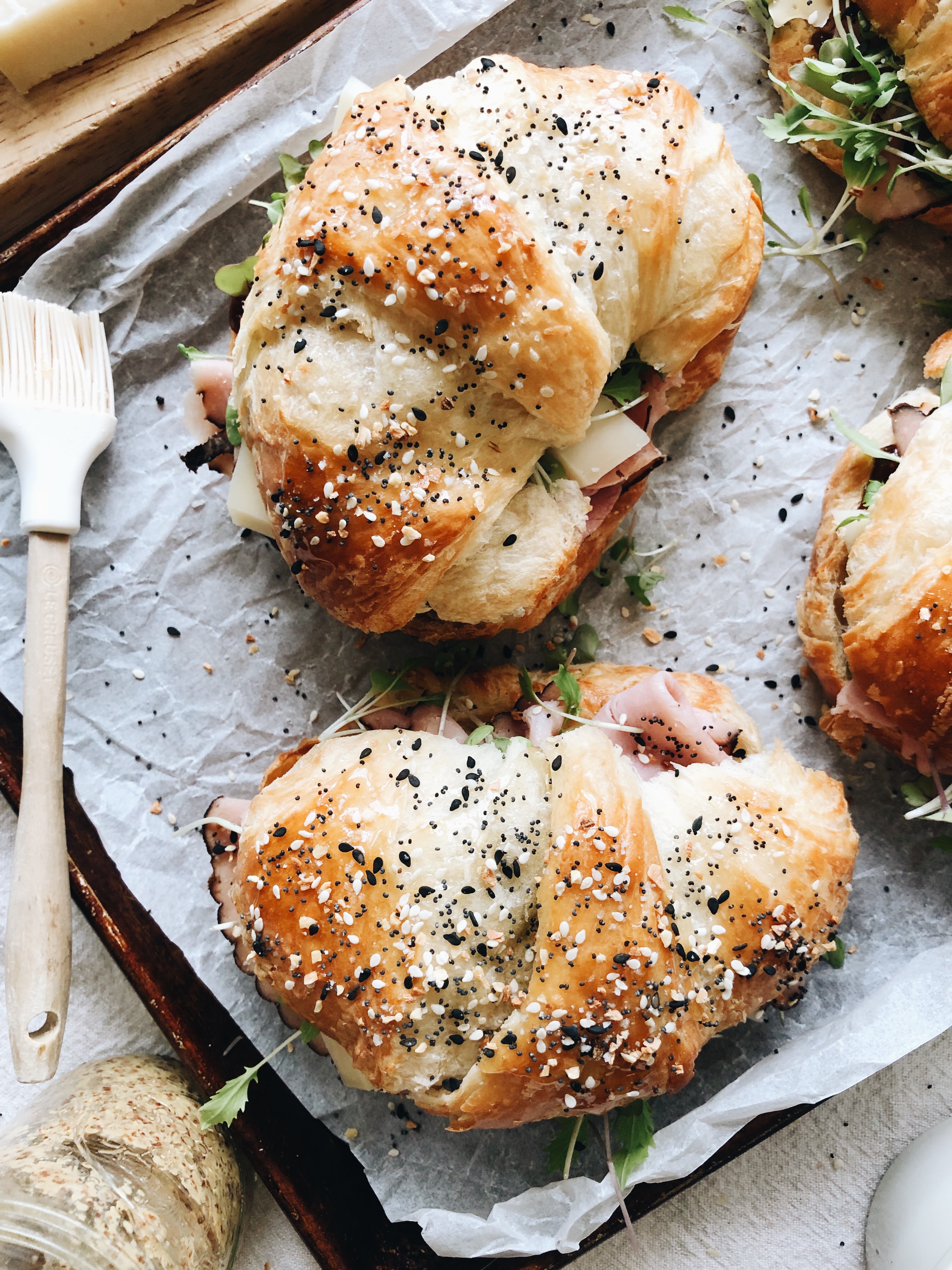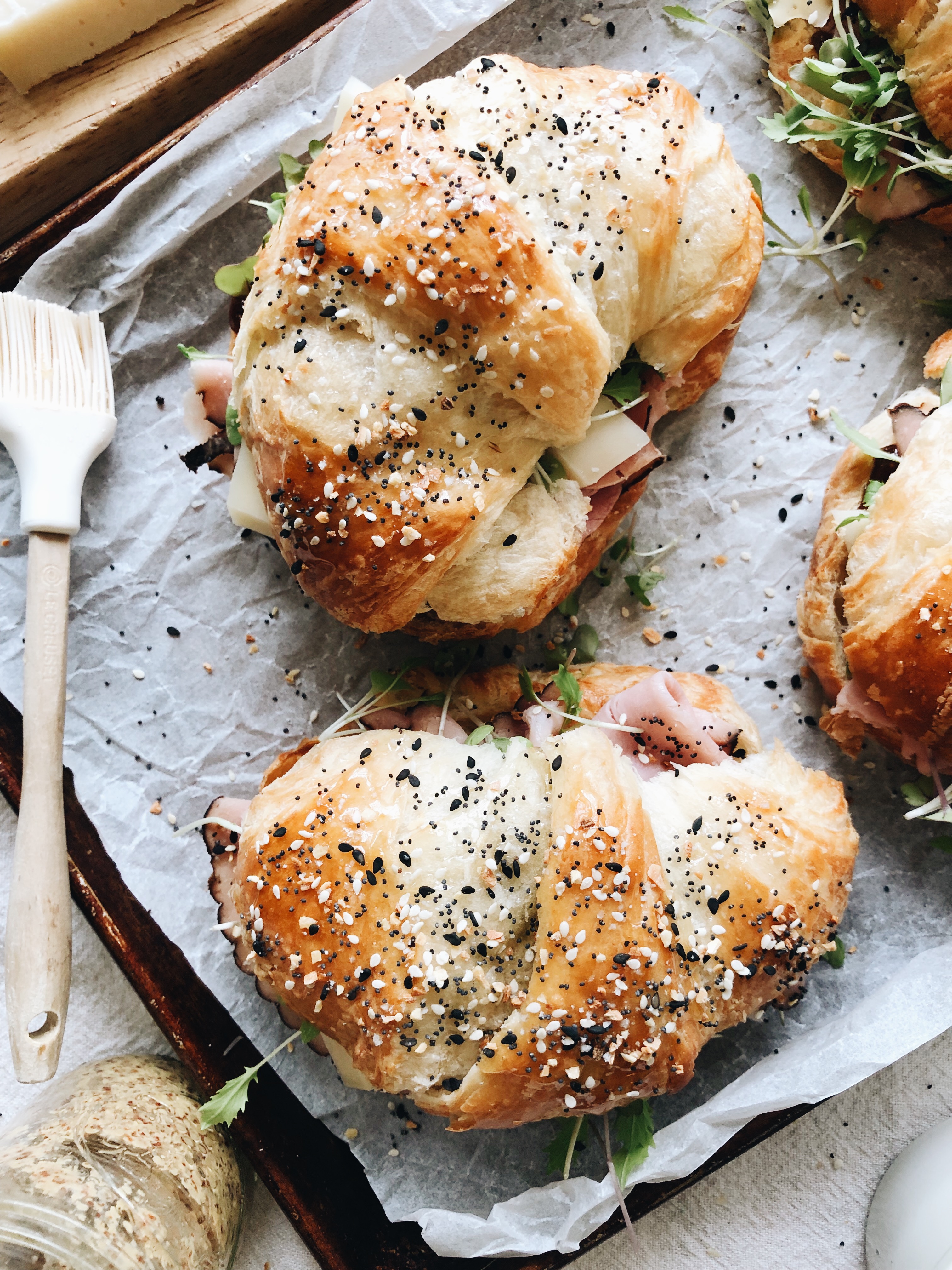 Theeeeen take a little bit of (warmed-to-make-it-thinner-and-easier-to-brush) honey, and brush it over the tops of the croissants. Now sprinkle some everything bagel seasoning on top! (if you don't have the seasoning, a mix of poppy seeds, garlic powder and onion powder will totally work.)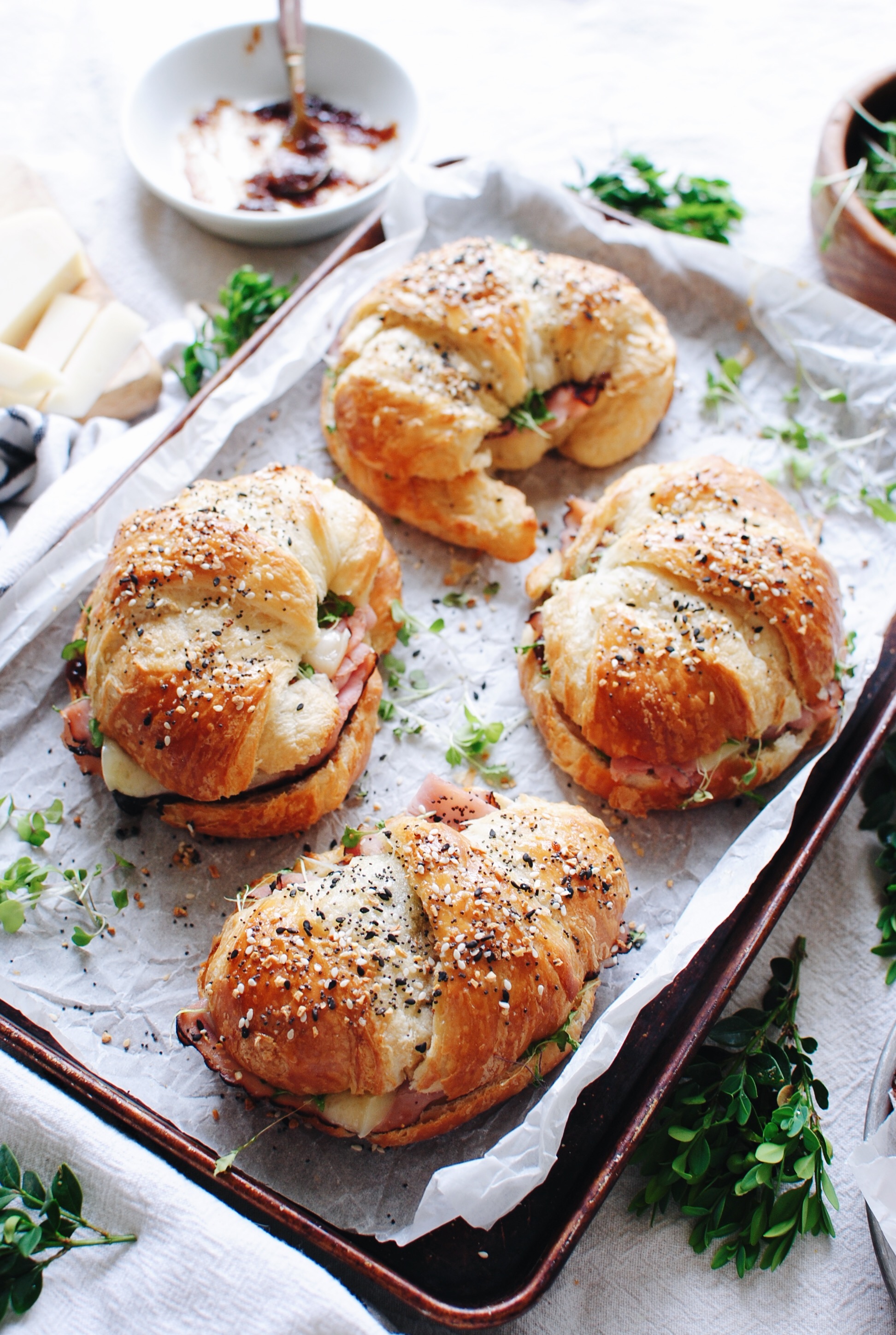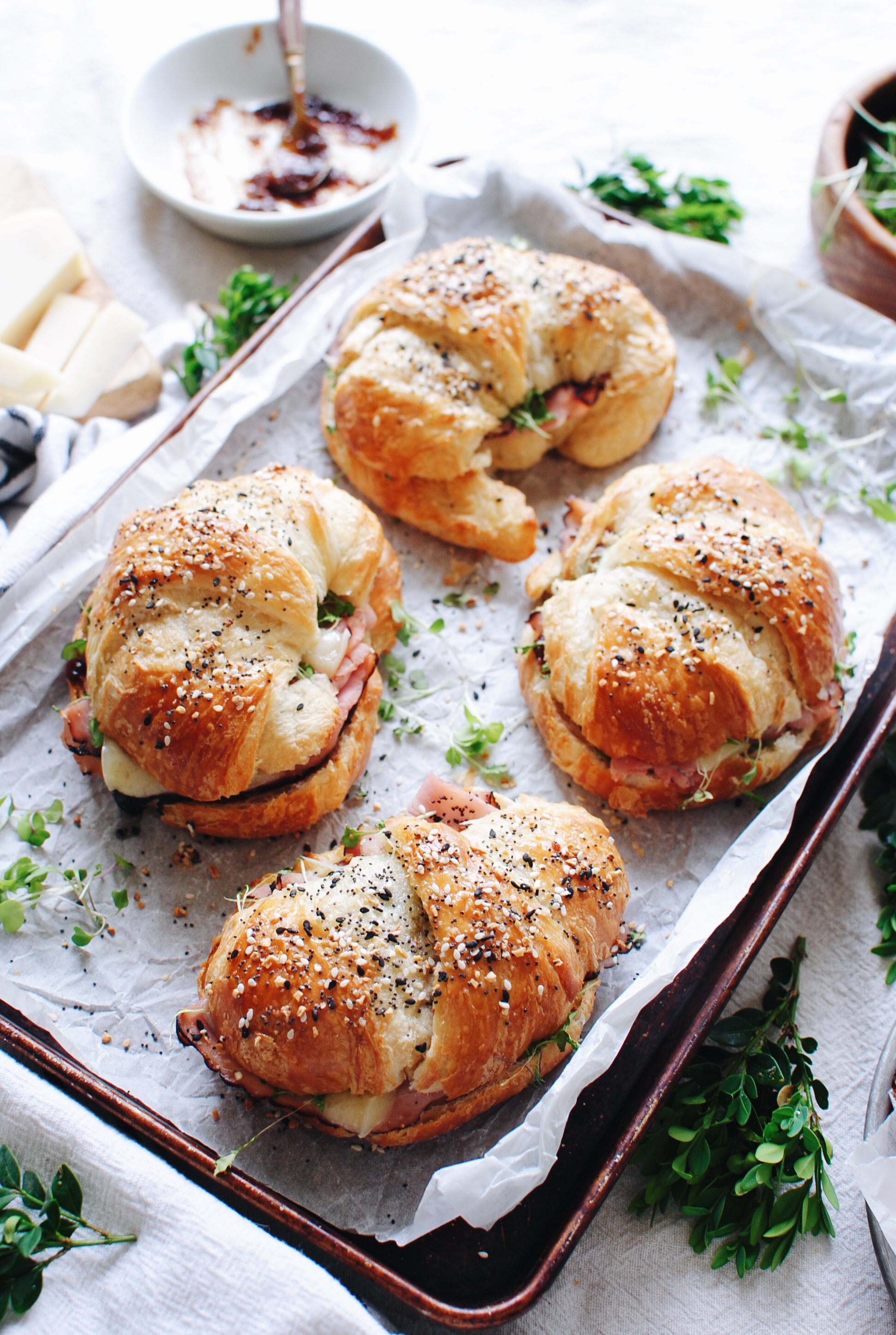 Under ten minutes in the oven, yo. You just wanted it toasted, and for the cheese to start oozing out in places! This is a cardinal rule of life: oozy cheese thrice a week. Don't argue with me.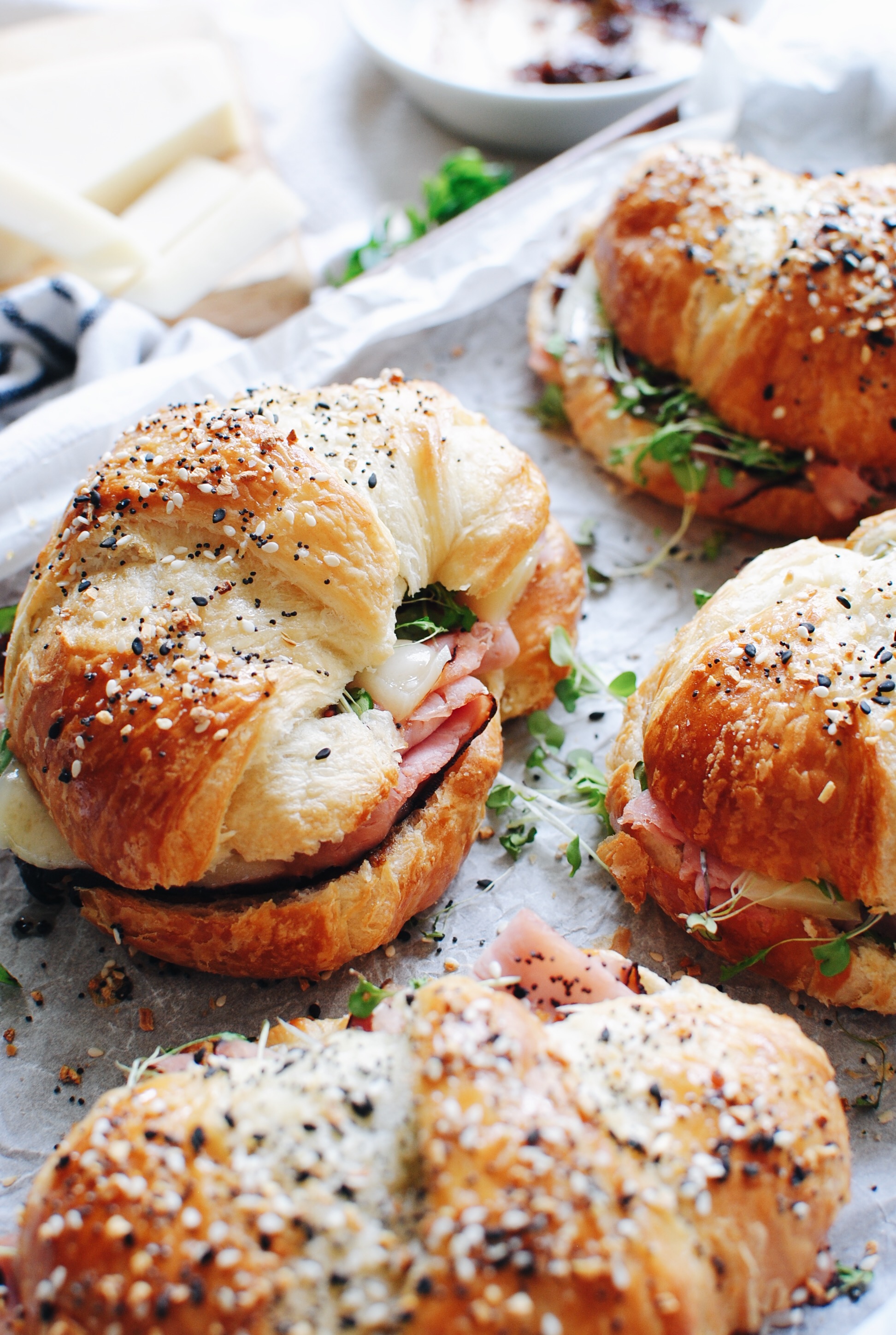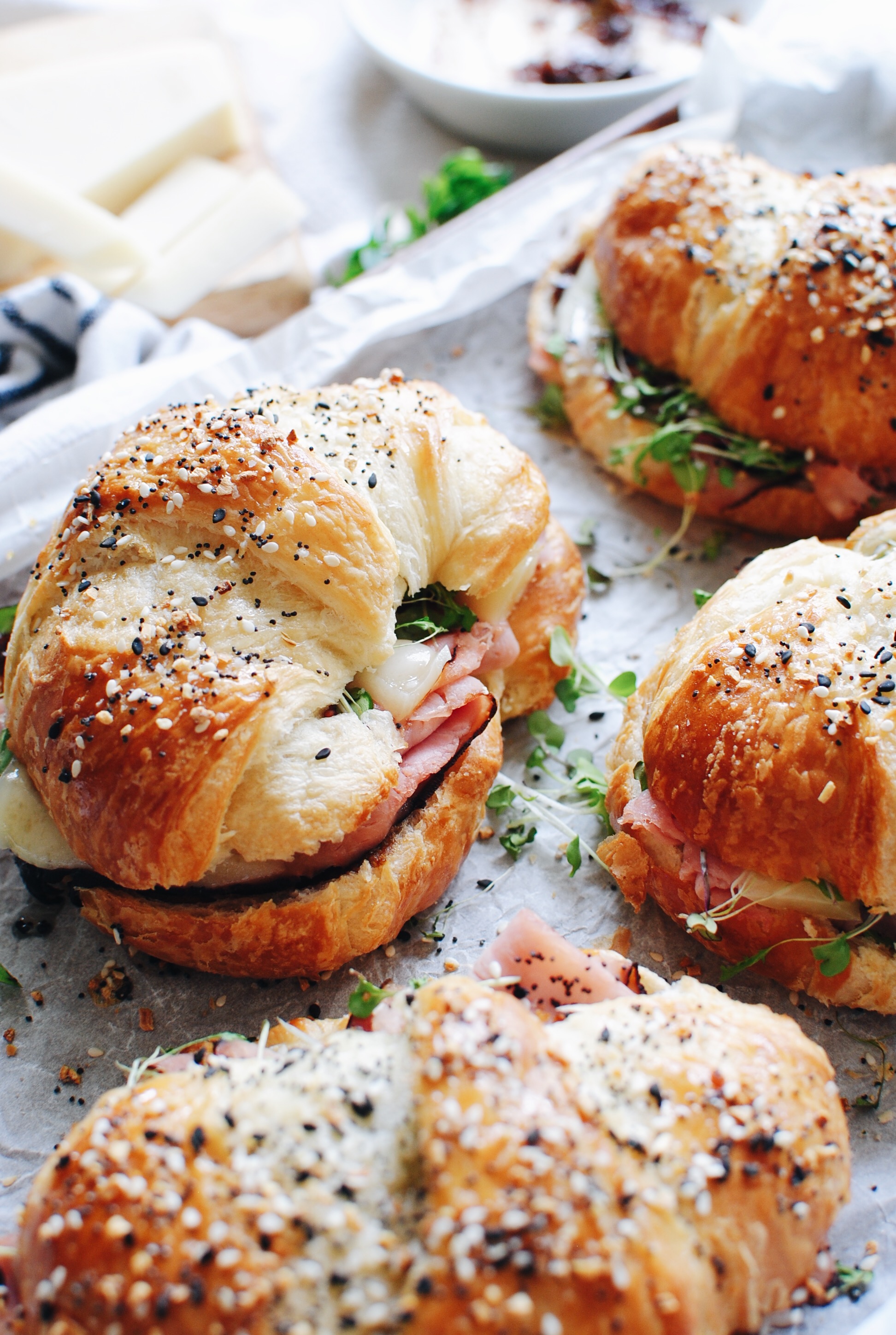 UGH. The croissant is warm to the touch, and flaky under the tooth. There's this perfect balance of sweet and savory bouncing around on your tongue with the fig butter and mustard (that you made, dude!).
And the ham and cheese, omg – just a match made in heaven. ESPECIALLY Roth's Grand Cru cheese. I just cannot express to you without sounding like a complete foaming-at-the-mouth lunatic how delicious and nutty and delicately salty and wonderful this cheese is.
And now I'm crying.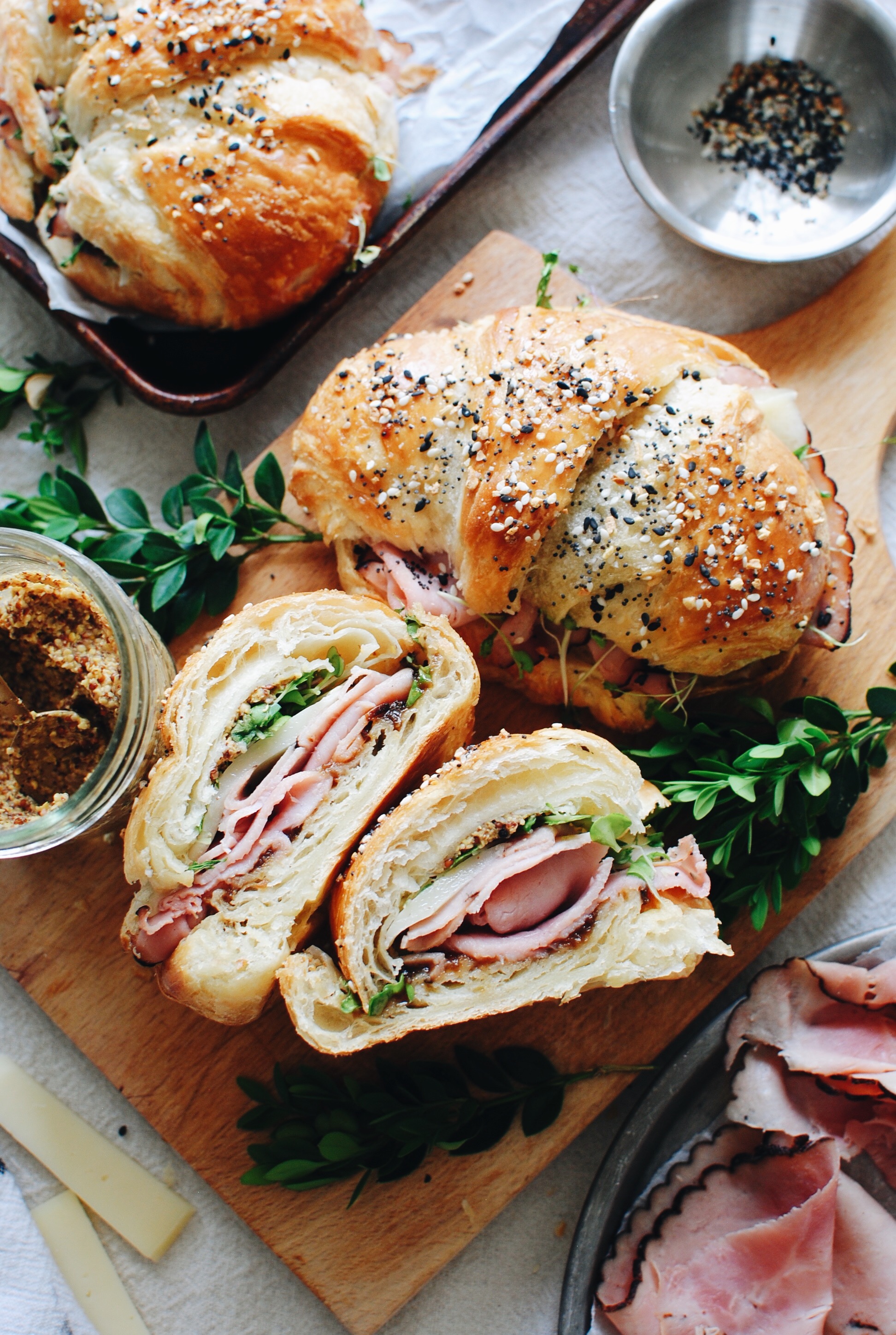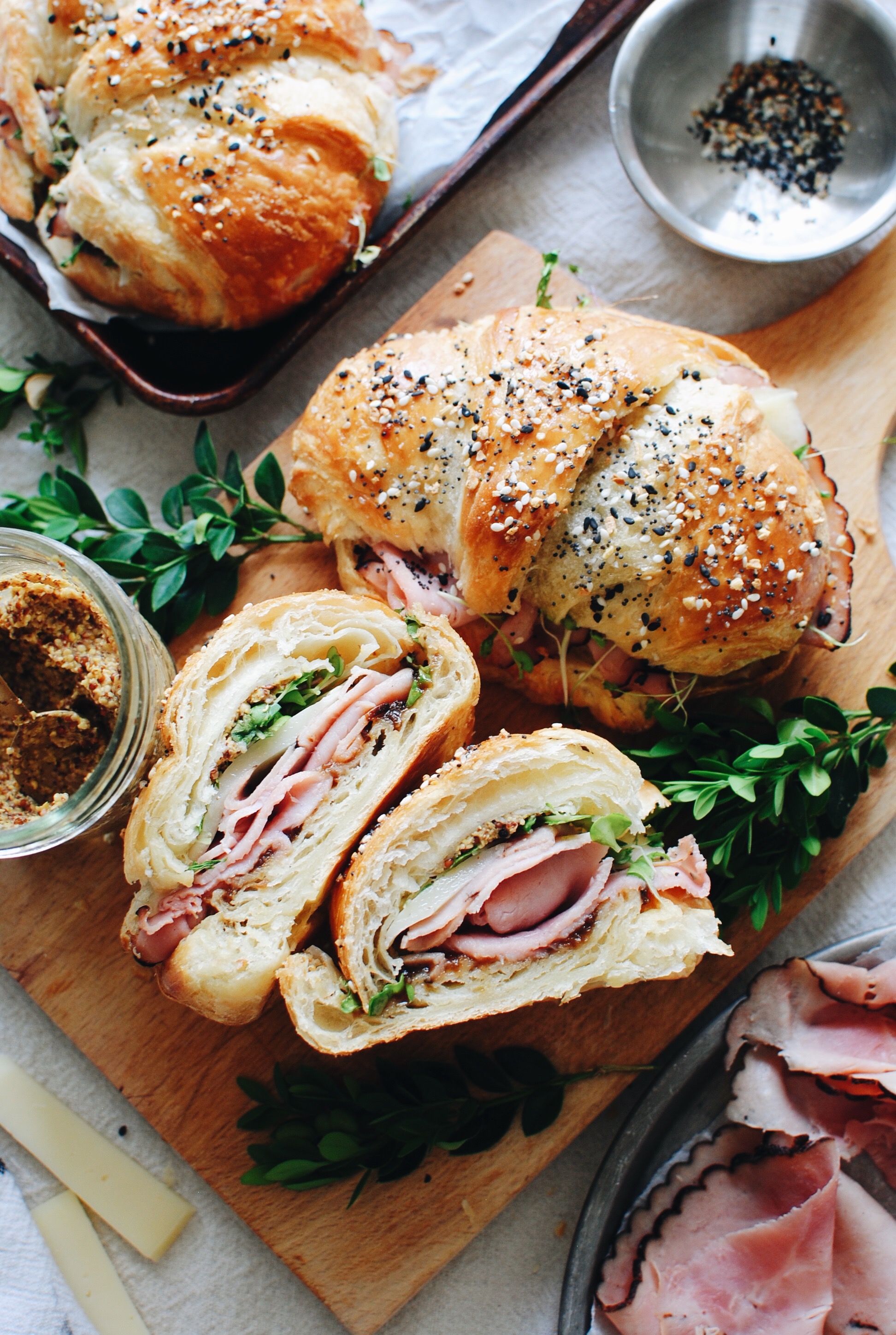 Mother's Day! Or today?
Toasted Ham and Cheese Croissant Sandwiches
Ingredients
For the whole-grain mustard:
2 Tbs. yellow mustard seeds
2 Tbs. brown mustard seeds
1/4 cup apple cider vinegar
2 Tbs. water
1 small pinch of salt
2 Tbs. honey
For the sandwiches:
4 large croissants, sliced in half lengthwise
4-8 Tbs. fig butter (or fig jam, anything you have!)
8-14 slices good deli ham
1 (6 oz) wedge Roth's Grand Cru cheese, thinly sliced
A few Tbs. whole grain mustard
Micro greens, or any greens you want to use
About a Tbs. everything bagel seasoning
2 Tbs. honey
Instructions
Place the brown and yellow mustard seeds in a spice grinder and pulse a few times until it's mostly ground. Transfer to a small jar and add the apple cider vinegar, water, pinch of salt and the honey. Cover and shake it up to combine, and let it sit, sealed on the counter for eight hours. Then transfer to the fridge to mellow and thicken.
Preheat your oven to 375.
Spread the fig butter on the bottom croissant halves. Layer a few slices of ham on top of the fig butter, then a few slices of cheese, then the micro greens. Spread the mustard on the top halves of the croissants. Place the top half on the sandwich, and brush the warmed honey over it. Sprinkle the everything bagel seasoning on top. Now bake the sandwiches on a rimmed baking sheet for 6-8 minutes, until the cheese starts to melt and ooze out the sides.
Slice and serve! (With coffee and mimosas, duh.)
Makes four sandwiches.
7.8.1.2
224
https://bevcooks.com/2019/04/toasted-ham-and-cheese-croissant-sandwiches/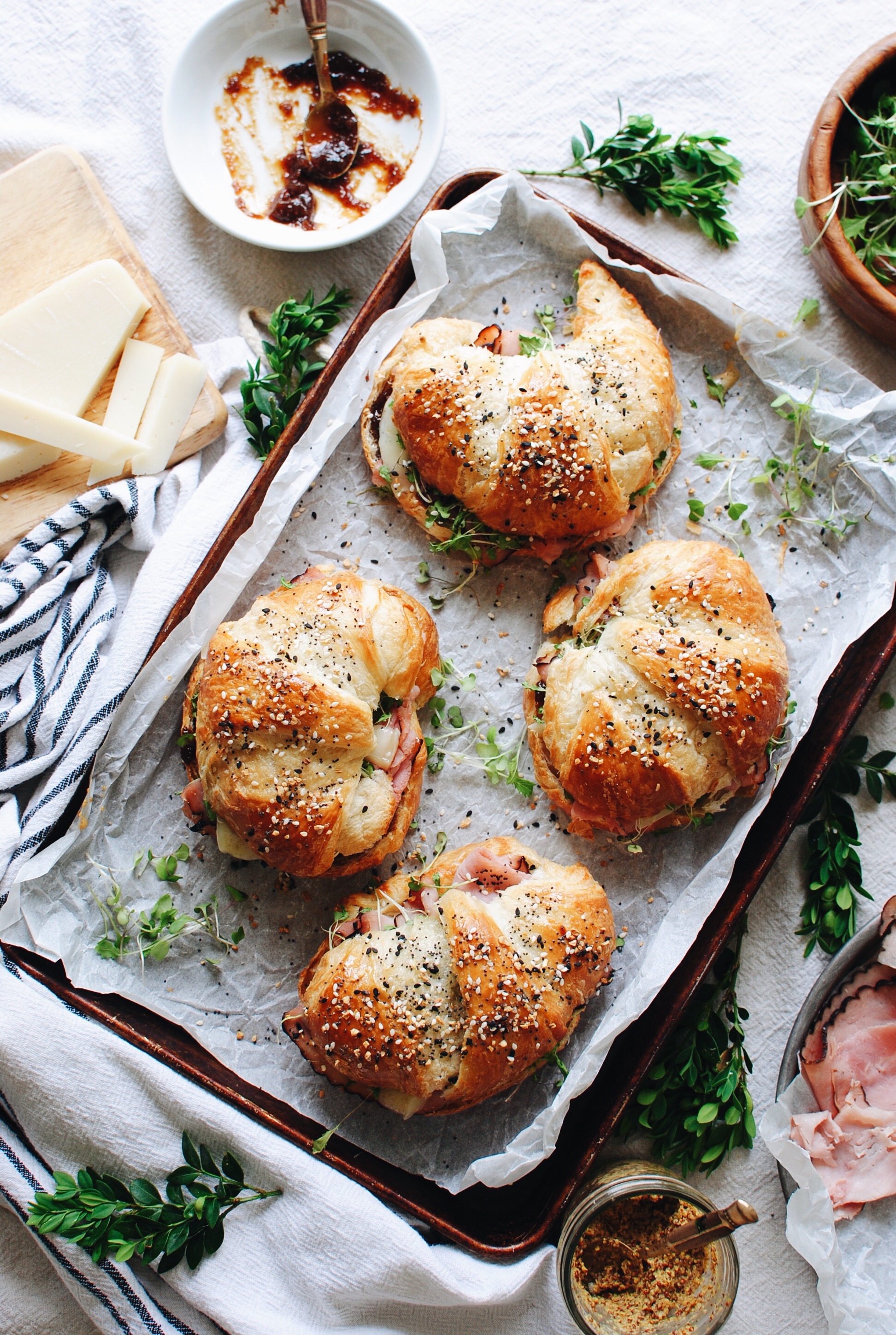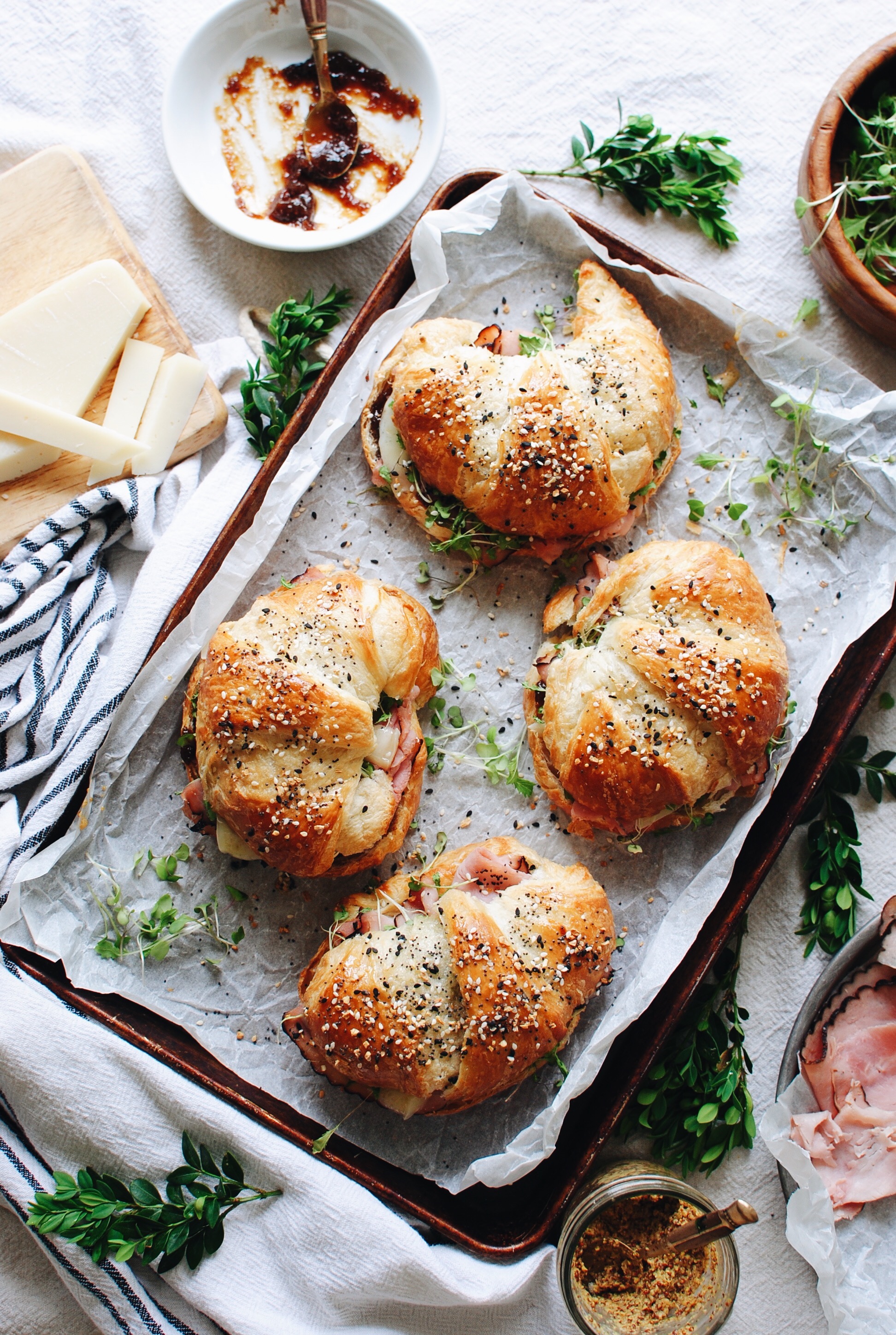 If you don't make these I know NOTHING ABOUT THIS LIFE.
(This post is definitely in partnership with my lover, Roth Cheese. But all ramblings and cheese snarfings are totally my own. We coo?)