Winner winner chicken di- you know what, no.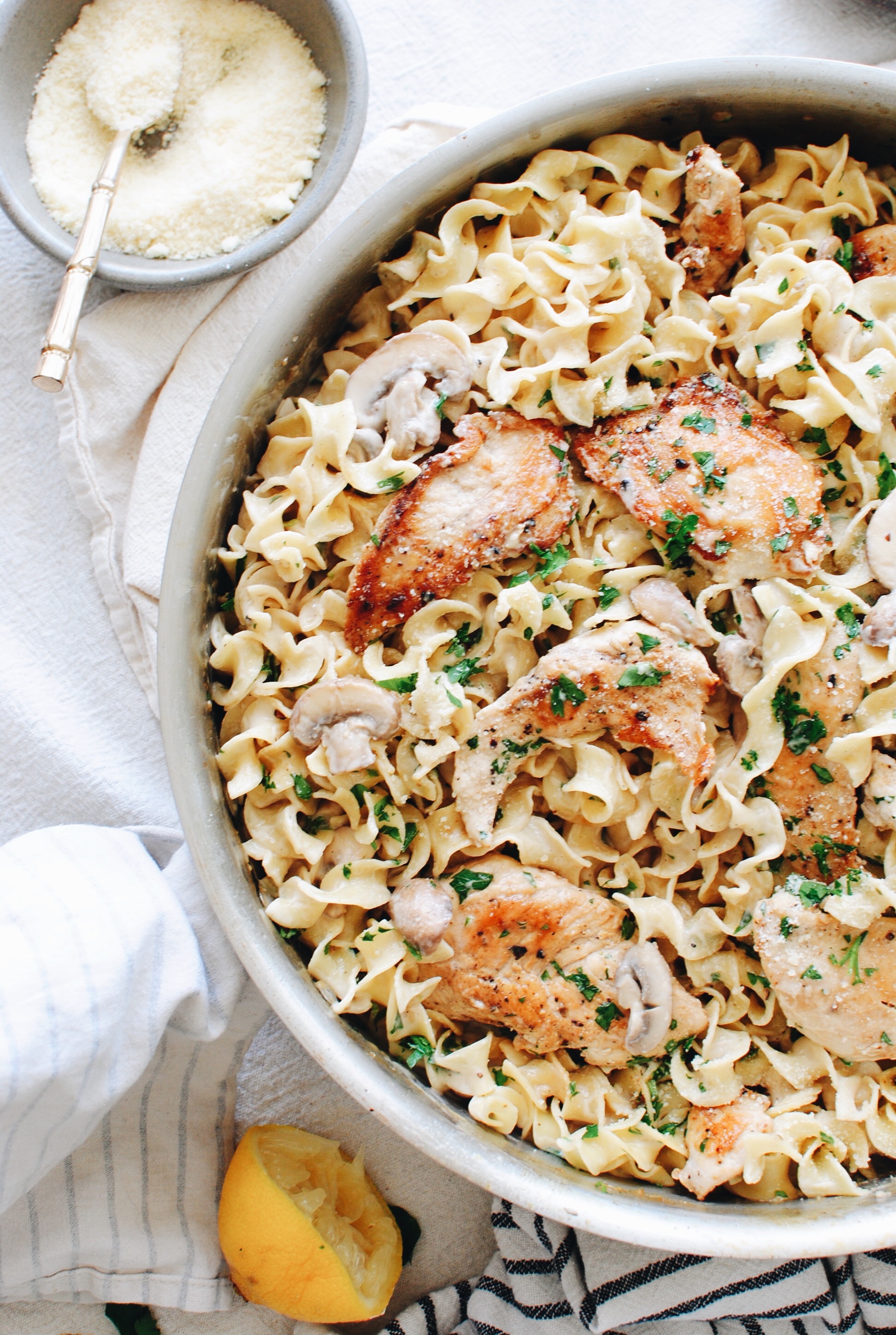 When did that whole weird thing start anyway? Who INVENTED that strand of strange words? And why wasn't it me?
I guess my time in life will come someday.
In the meantime ("on the other side of town" – name that show), I made you the creamiest, butteryest, chicken and mushroom pasta dish because it's spring and we need this energy for all the vicious gardening we've got coming up. That and, I dig your faces. You guys seem to really gravitate towards the creamy/carby stuff I post, as opposed to the lighter, sproutier, lettuce-y stuff.
Can you agree?
…hello?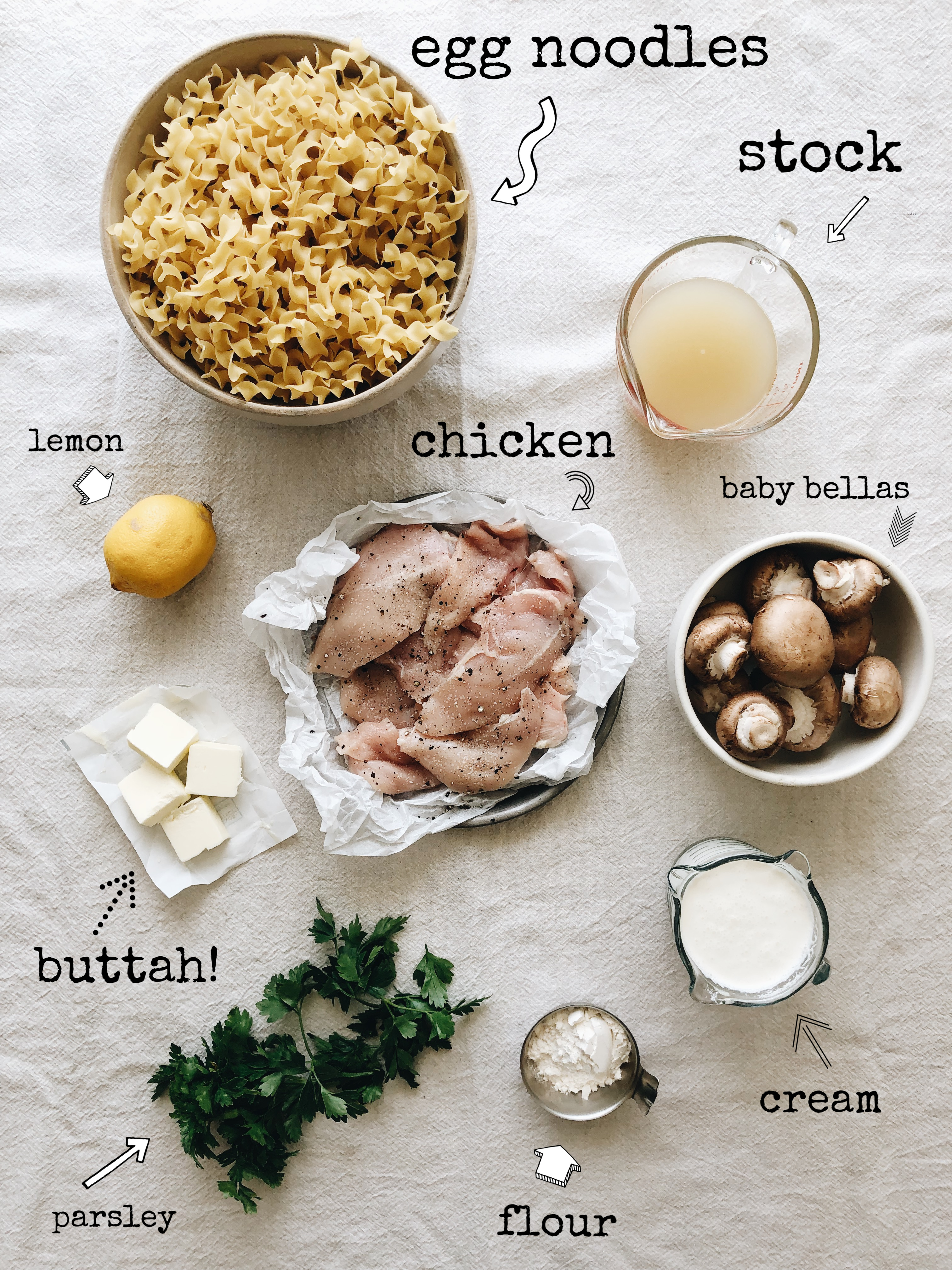 So check it! Nothing too out of the ordinary here. Basically all of those ingredients as a collective unit rejoices in comfort and splendor. You can't say I'm wrong.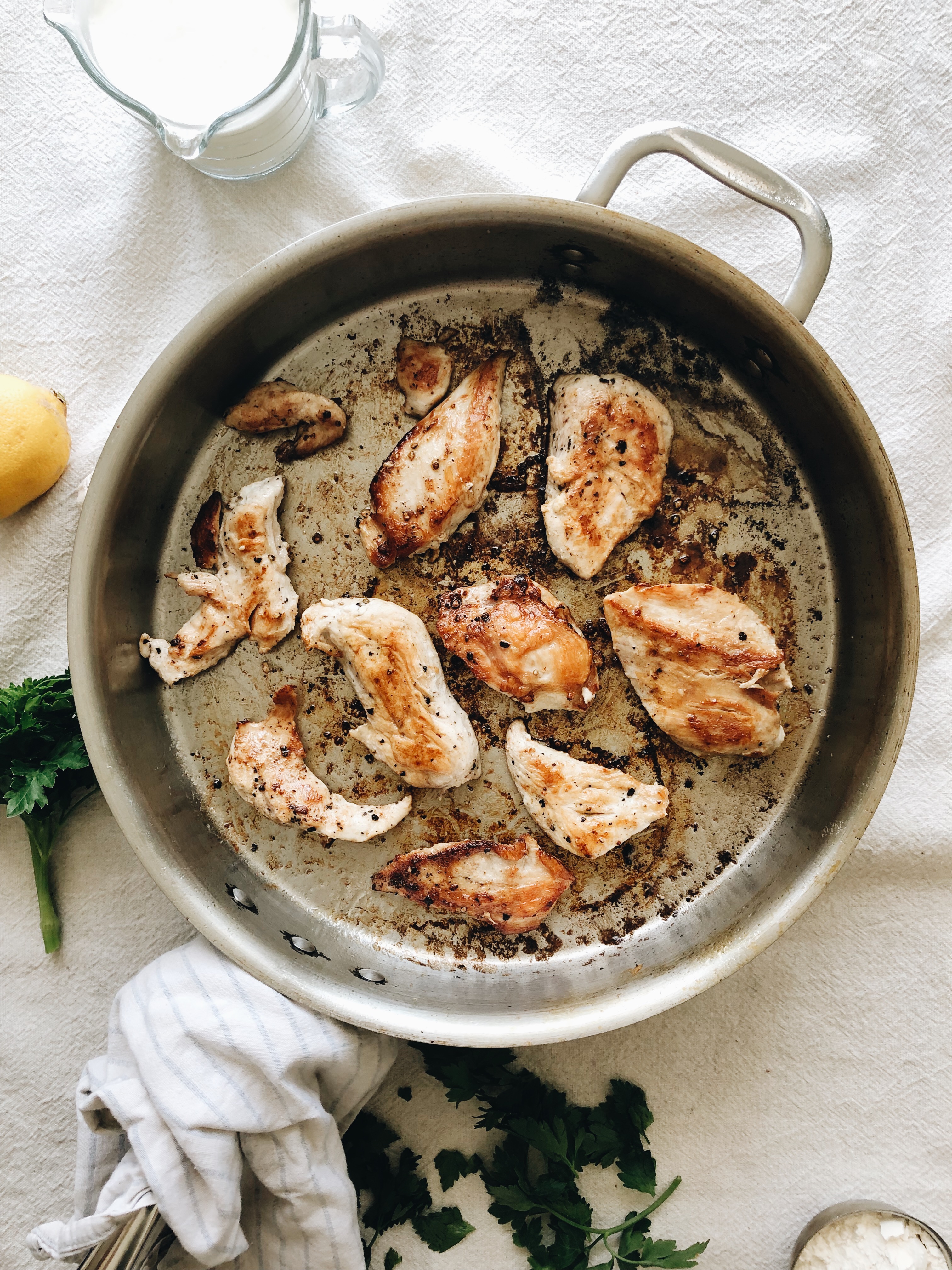 Buttery seared chicken. That is what you're looking at right now. I went full on butter (REAL butter, not the fake alien stuff in the tube) because I wanted that flavor, man. Butter just does something to food that adds richness and life fulfillment that oil simply cannot. It browns beautifully, and brings the food to an 11.
Also, I took two regular chicken breasts and butterflied them, then took THOSE pieces and cut into chunks. I like the look of it. The chunks. The buttery seared chunks. Amen.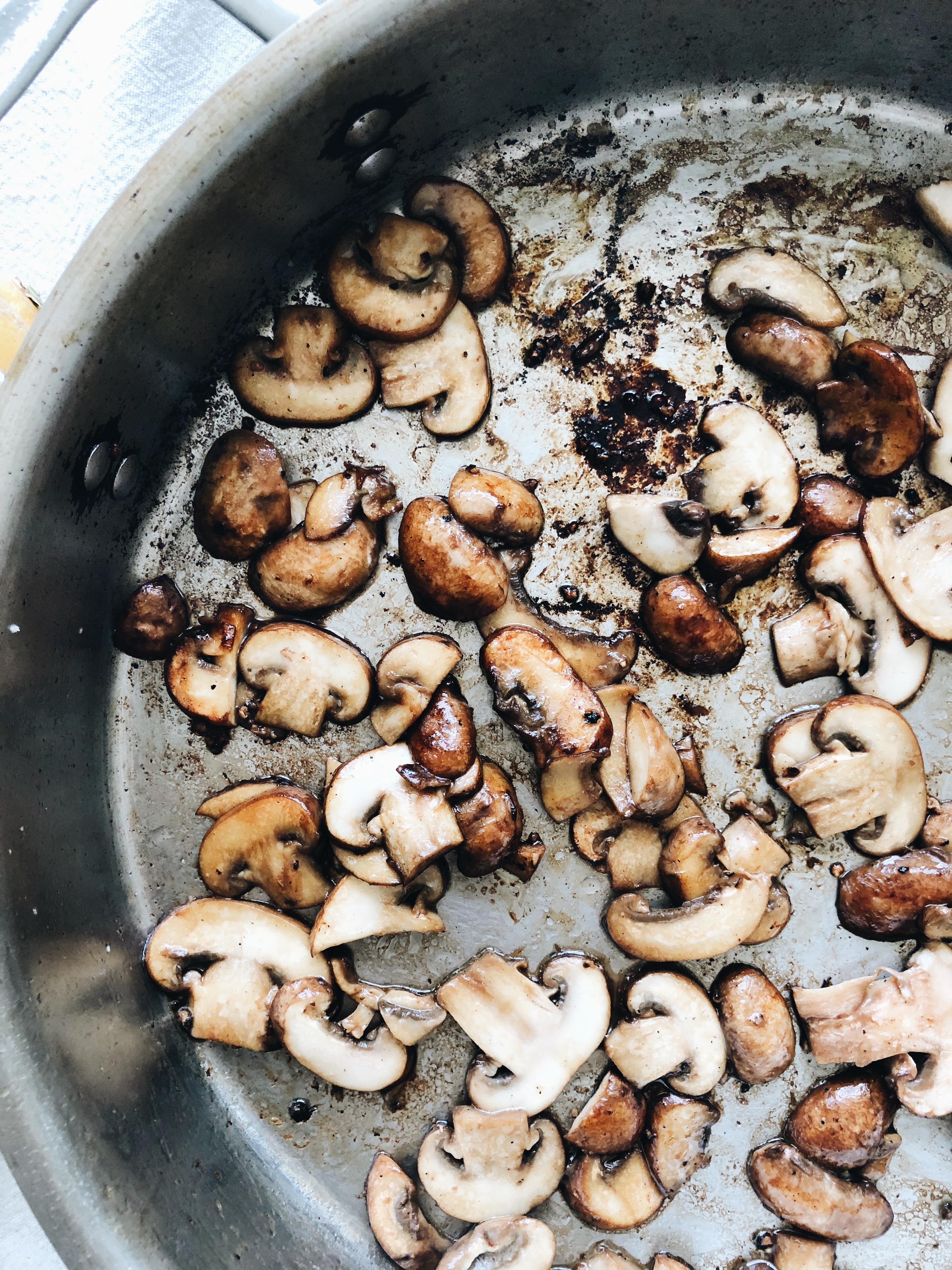 Once your chicken is seared and resting, add more real butter to the pan and get your 'shrooms (bruh) browned all purty like. And listen, the little browned bits from the chicken are heaven gravel. So leave them there. Let them be. This is good.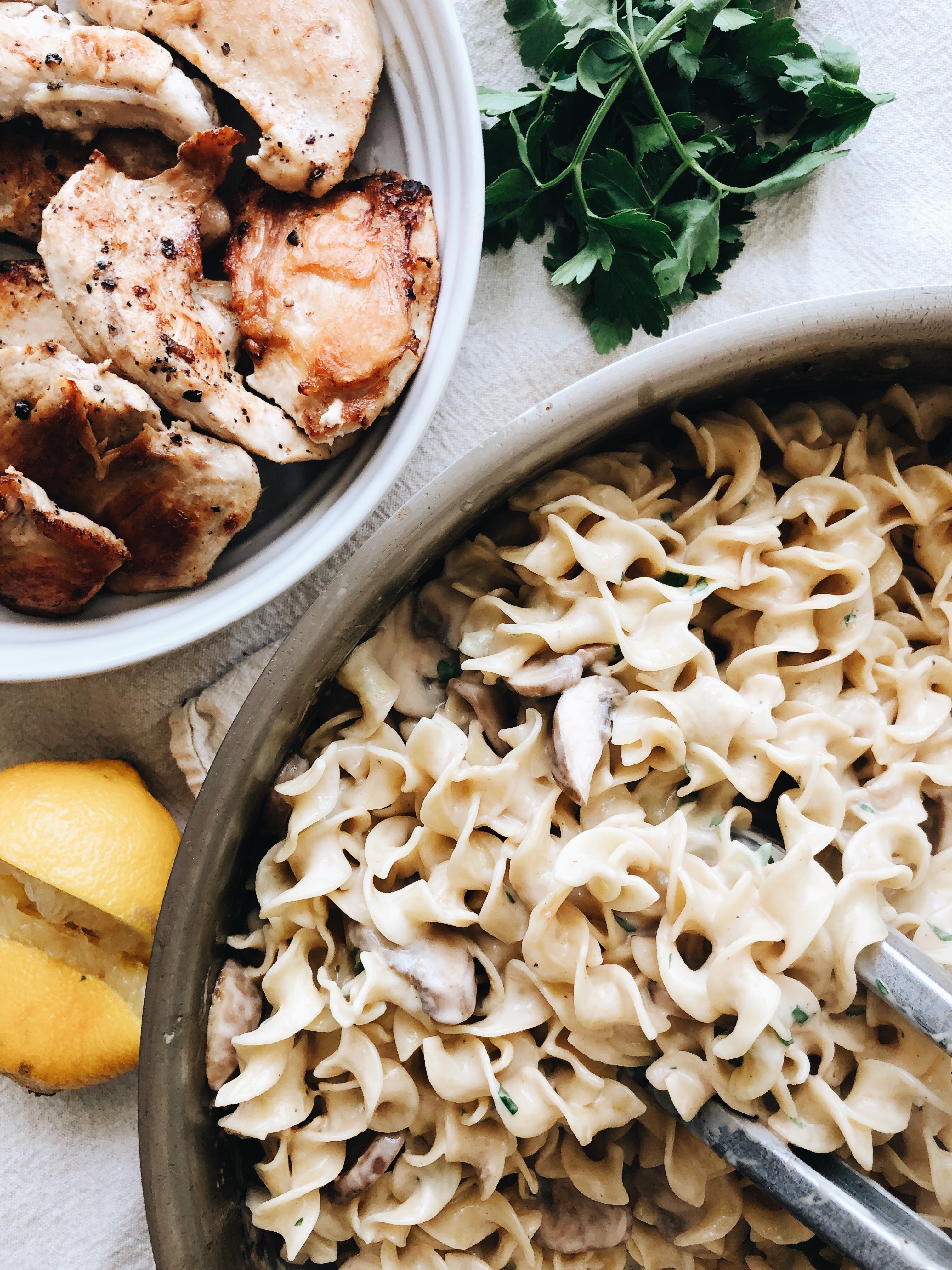 Then, you make the sauce! Which is simply cream, stock, the residual butter, and a little bit of flour. All whisked up and tossed with the al dente egg noodles and you'll get this show-stopping blanket of velvet in your face. It is so painfully delicious, everything else in your life will fade around you and vanish forever.
Theeeen, nestle the chicken back in and add a good squeeze of lemon juice to the whole mess to wake it up. You can't understand the level of gleeful soul crumbling that will occur right now.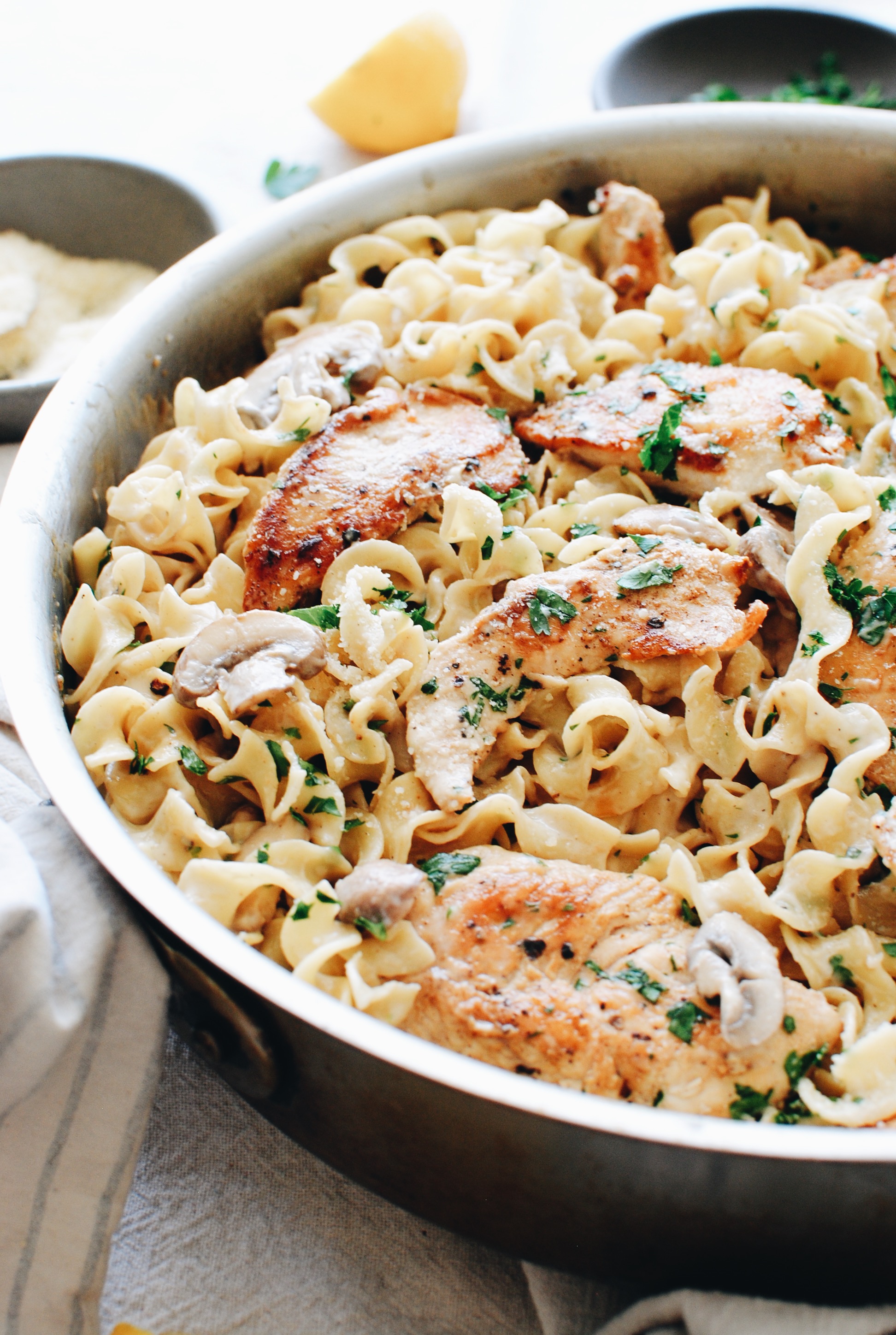 Chop up a handful of fresh parsley and SPRANKLE it on. And that.is.it.
Luxurious, but simple.
Comforting, but not a gut brick.
Fam friendly, but totally elegant.
Quick to pull together, but fresh and springy in your mouth.
I dare you to make this tonight.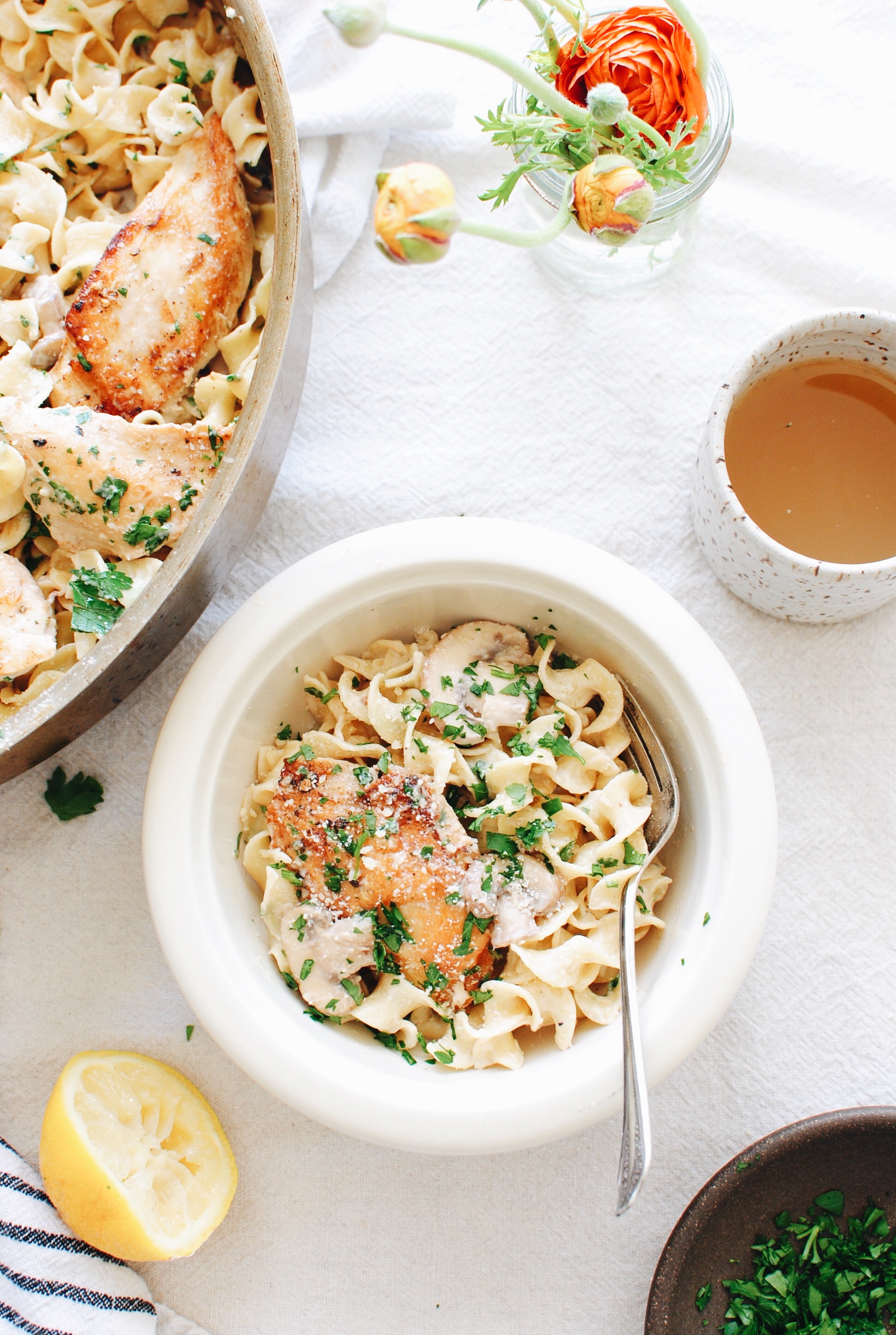 Don't make me come after you.
Creamy Chicken and Mushroom Pasta
Ingredients
2 medium chicken breasts, butterflied, lightly pounded out and cut into large pieces
12 oz egg noodles
4 Tbs. real butter
8 oz baby Bella mushrooms, rinsed and sliced
2 Tbs. all-purpose flour
1 cup chicken stock
1 cup heavy cream
1 lemon
Parmesan cheese and chopped parsley, for garnish
Coarse salt and freshly ground pepper
Instructions
Bring a large pot of salted water to a boil. Add the egg noodles and cook until just shy of al dente, according to package directions. (Just a few minutes, really!)
Heat 2 Tbs. of the butter in a large skillet over medium-high. Season the chicken with salt and sear in the pan for about three minutes on one side, then flip and sear another two. Since the chicken is cut into pieces we don't want to overcook them, but we still want the gorgeous browning on both sides. Remove the chicken from the pan and let them rest.
To the skillet, add the remaining two Tbs. of butter. Add the mushrooms, along with a pinch of salt and let them brown in the pan for about five minutes. Scoot the mushrooms to the side of the pan, and add a little bit of the stock. Then add the flour and whisk until it becomes a thick paste, just a few seconds. Keep pouring the stock into the pan, whisking as the sauce loosens a bit. Then slowly add the cream and whisk as the sauce becomes a creamy, velvety land of happy. Add a good pinch of salt and whisk a little more.
Transfer the cooked noodles to the sauce, and toss to coat. Look at that! Are you crying yet? Nestle the chicken back into the mix and squeeze the juice from half the lemon over the whole dish. If you want the full lemon, go right ahead! You just want the sauce vibrant and creamy.
Garnish with freshly chopped parsley and parmesan cheese, and serve it on up!
Serves 4.
7.8.1.2
217
https://bevcooks.com/2019/04/creamy-chicken-and-mushroom-pasta/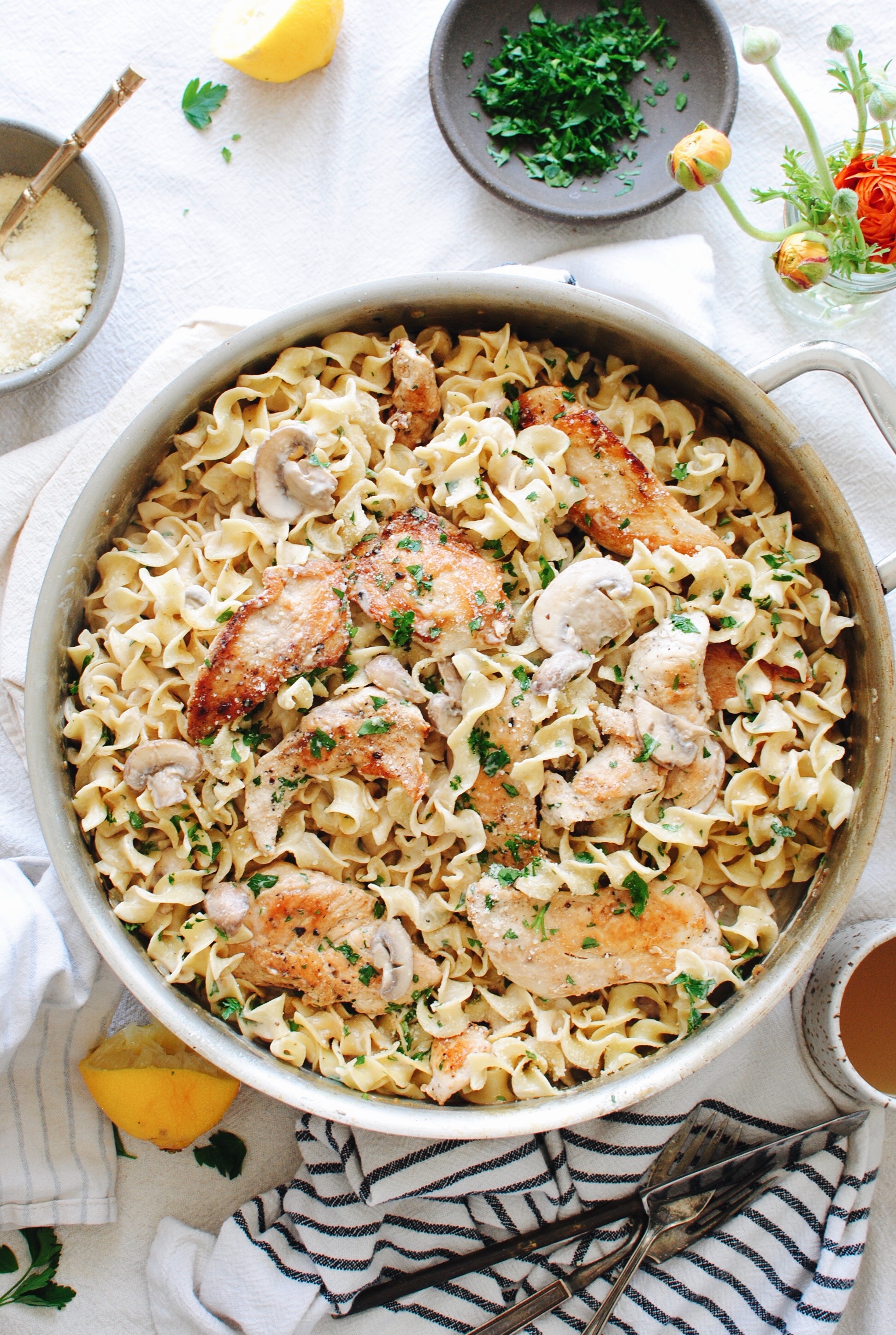 I want a bed made of this.
(This post is definitely in partnership with my lover, Real Butter. But all ramblings and butter slurpings are totally my own. We coo?)