Lunch idea! Or dinner. Or heck, now.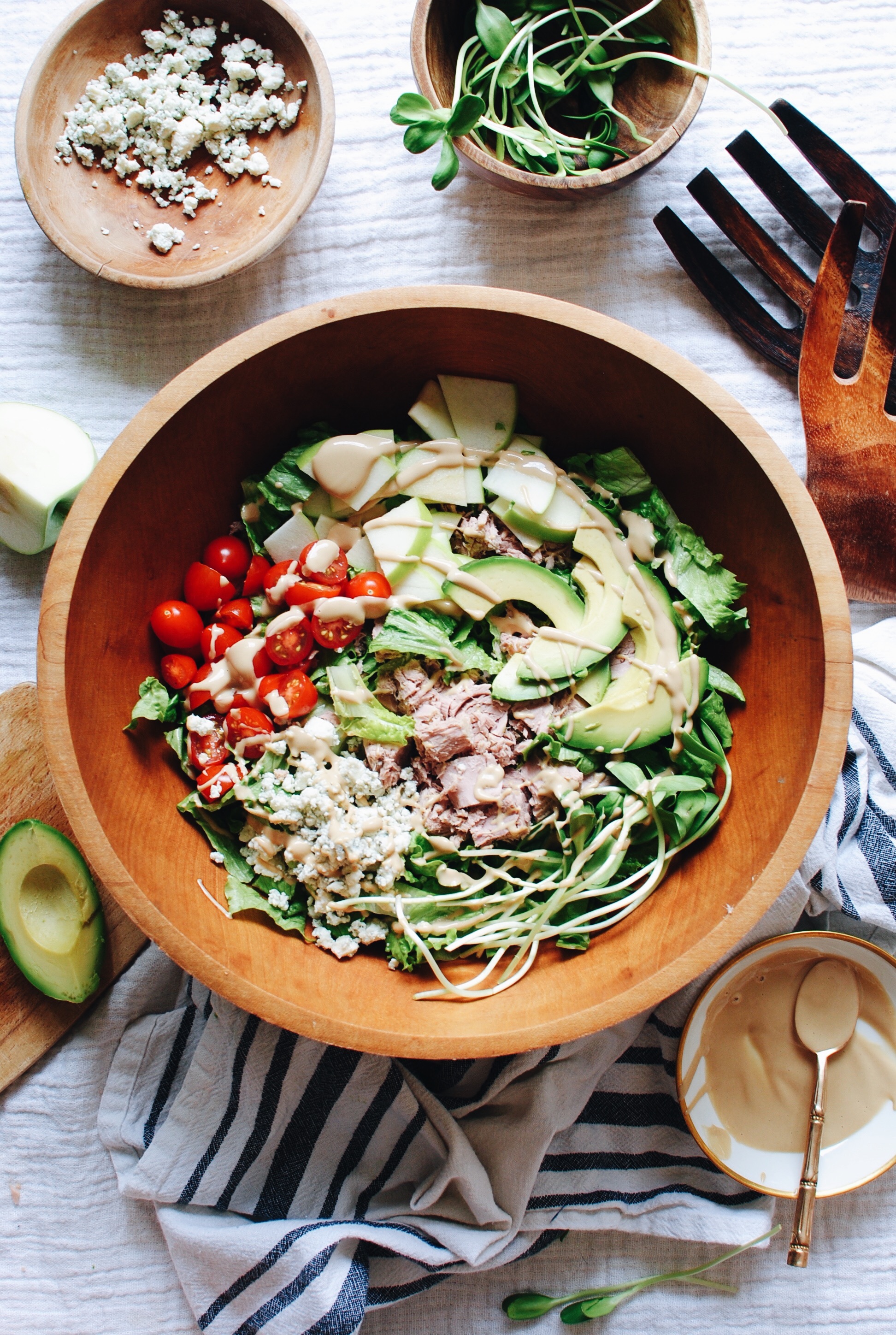 I knooooow it's just a salad. Yawn.
But hark THIS one, because it's on the ooo-la la side.
Why?
It's the dressing. But hold up. We'll get there.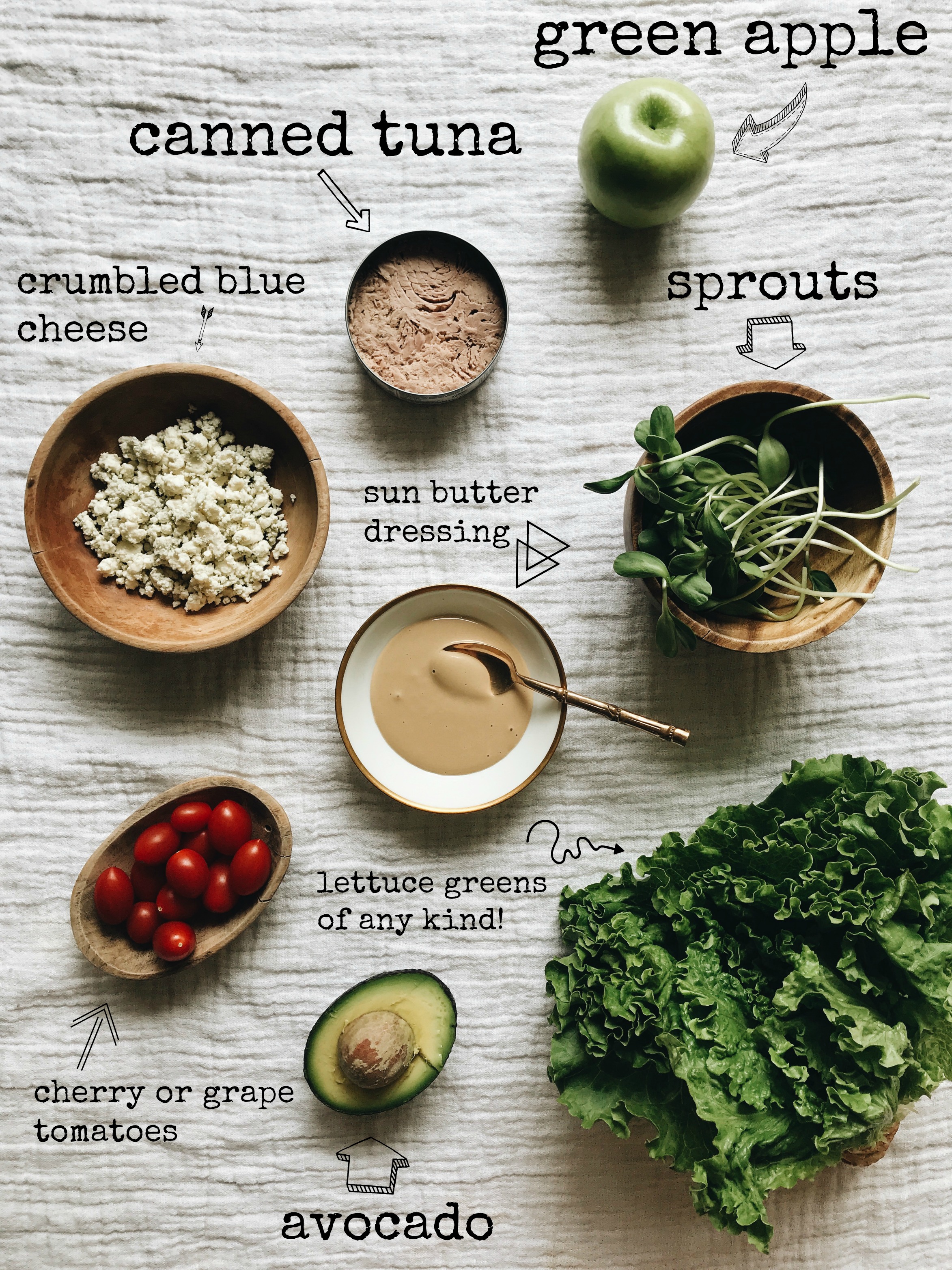 I realize not many of you will get excited about canned tuna. I ALMOST didn't post this, but then I thought, "You know what, just buy that foot exfoliator!"
Wait, that's something else.
But then I thought, "You know what, just post it! Someone out there digs canned tuna. It IS the chicken of the sea, after all." (<–can we still make that joke?)
And these days they come in fancy packets, so buy that if you makes you feel better about your status in this world. I bet MOIRA ROSE WOULD.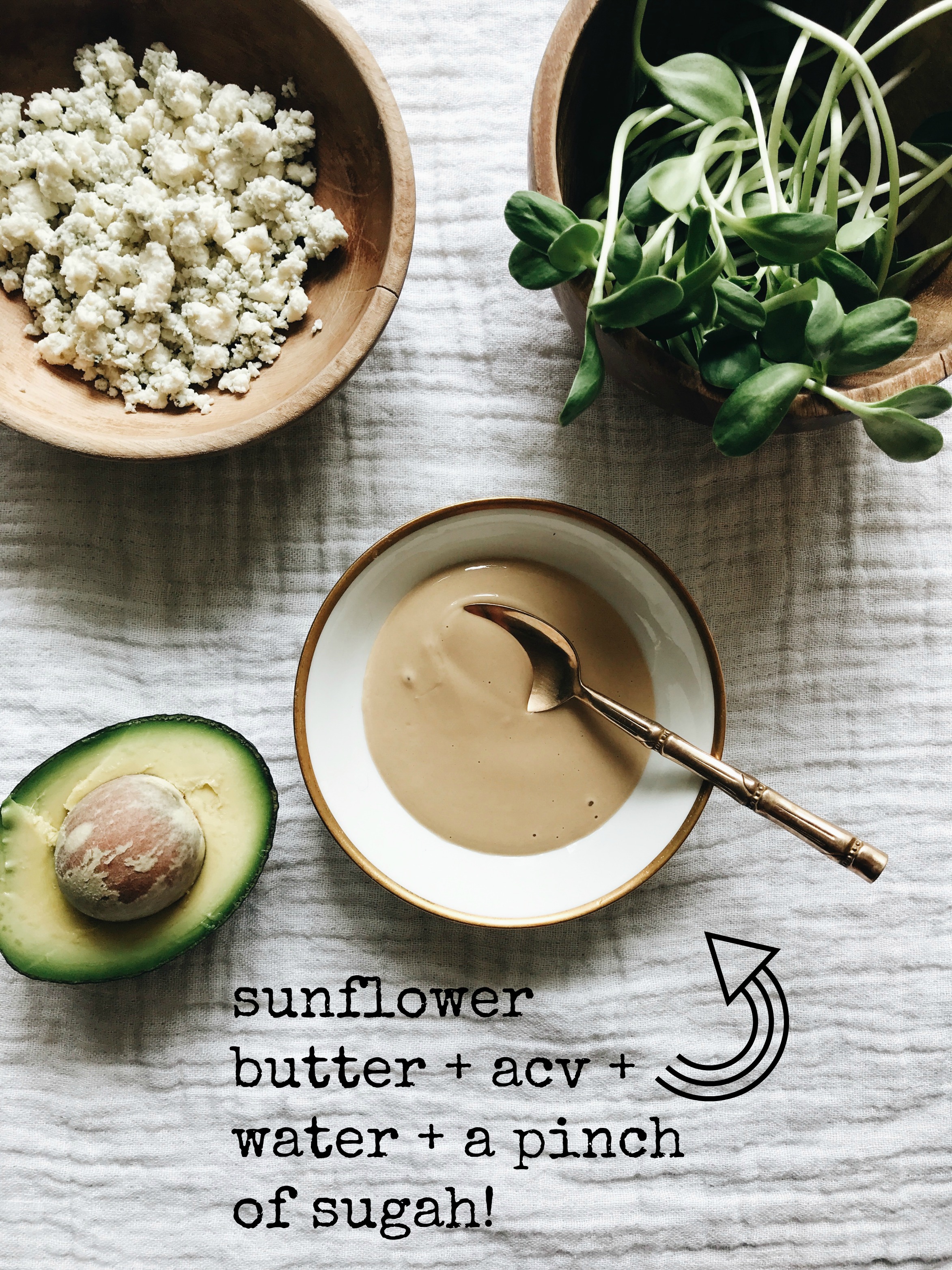 But it's the dressing.
THE DRESSING.
AND, I must admit, this isn't completely my idea. Don't delete me from your life.
The other day I was scrolling IG, and I came across Aran's stunning feed, and she'd posted something super simple in a photo about tossing bitter greens with a light vinaigrette of sunflower seed butter and apple cider vinegar. And I died right then. Because Aaron had JUST BOUGHT sunflower seed butter from the hippie section in our store, and I knew, with crystal-clear clarity, the new direction of my life.
So I made it. And then I tweaked it.
And then I made it again and stuck my whole hand in it and smeared it across my glorious new existence.
But I added the tiniest pinch of sugar, because the sun butter he bought was sugar free, which is great! But the dressing needs a tiny bit of sweet mama oomph.
So there you have it.
Also, buy the apple cider vinegar that has "the mother" in it. I deeply regret having to say those words just now.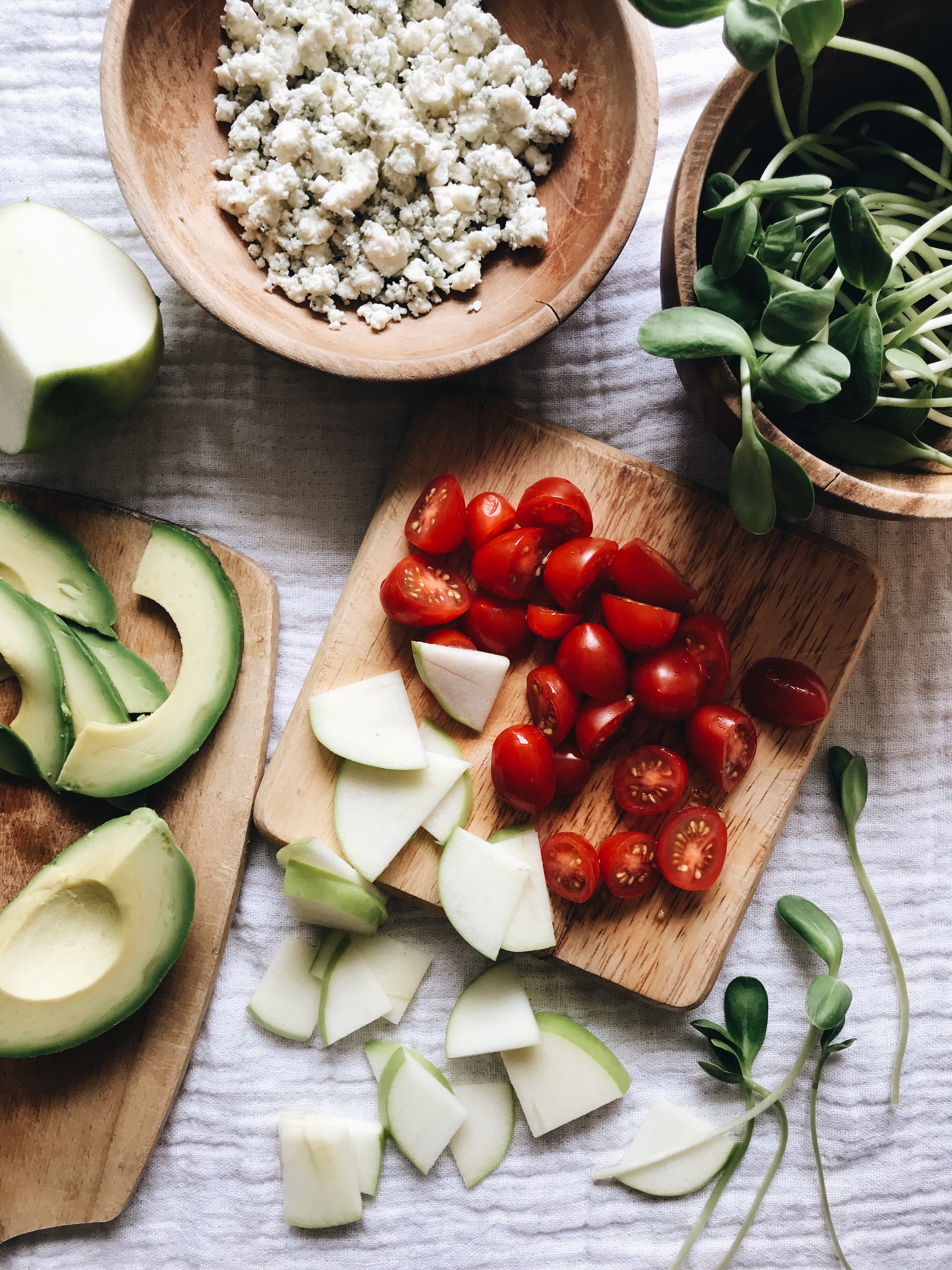 The guts::: we've got crisp Granny Smith apples, halved cherry tomatoes, creamy slices of avocado, sunflower sprouts (any sprouts work, though), and some crumbed blue cheese!
And you're probably like, "HULD ERP. That blue cheese tastes okay with the sun butter dressing?"
Child, please.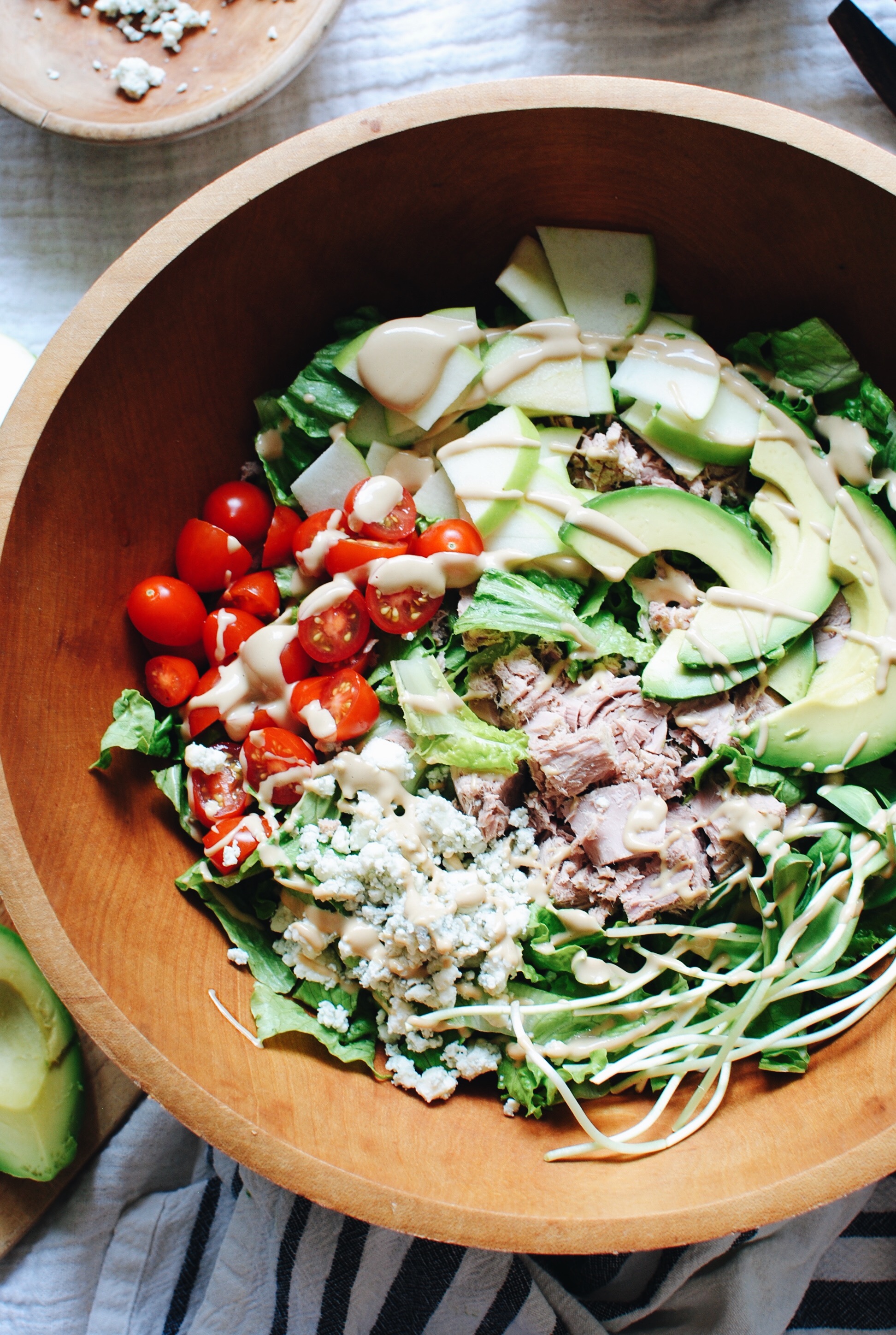 Voila! I went with green leaf lettuce this time around, because I'm still scared of romaine. (are we okay to eat it now? I'm nervous to check the news!) But honestly, a mix of chopped baby kale, mixed greens, baby spinach, anything goes here! Make your life happy.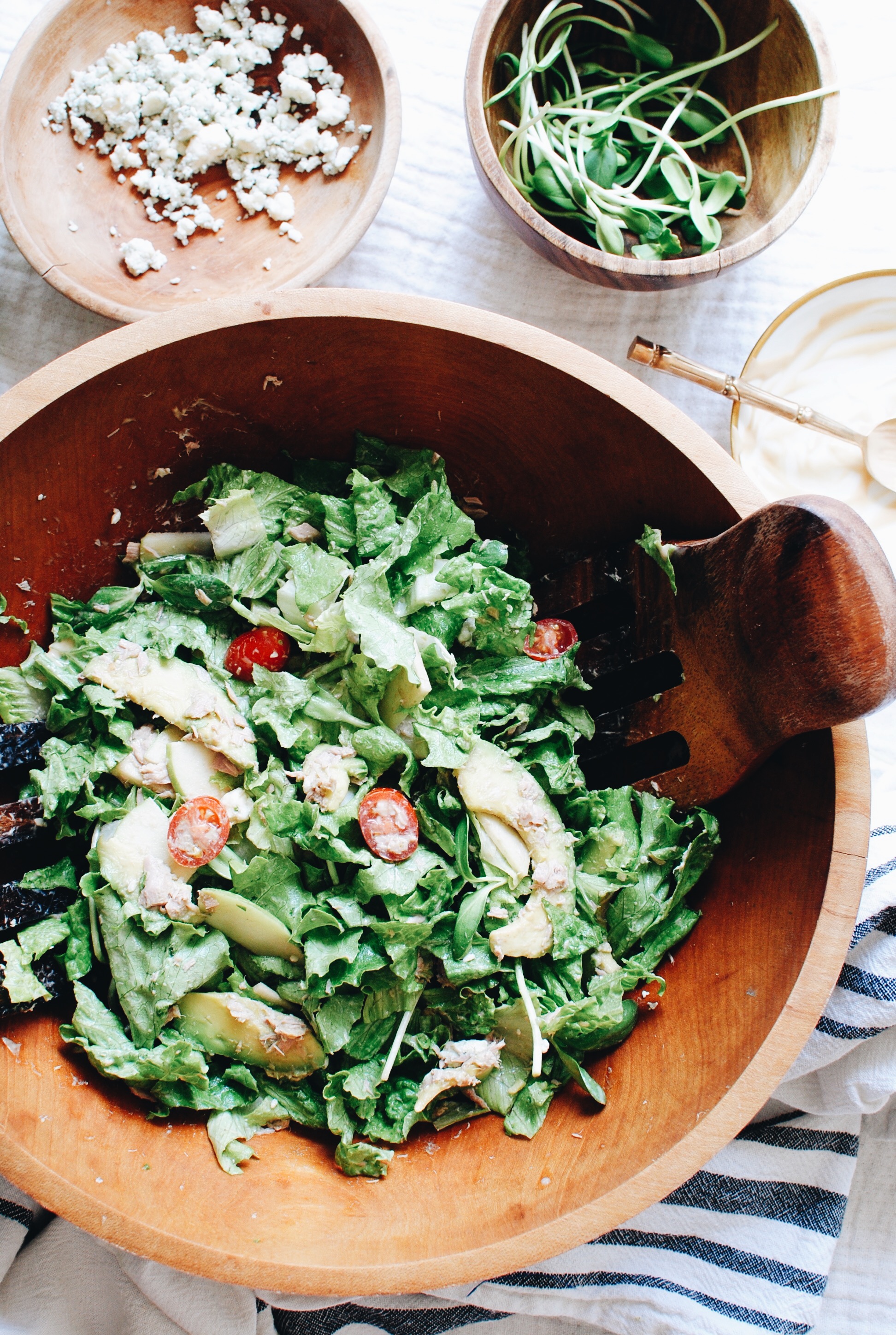 And it's not really about specific measurements, as most salads tend to be a casual tossage of this and a violent flingage of that.
You know salad drills. Just get insane with it.
It's light, it's cool, it's crunchy, it's sweet, it's tangy, it's creamy, it's got ALL THE THINGS.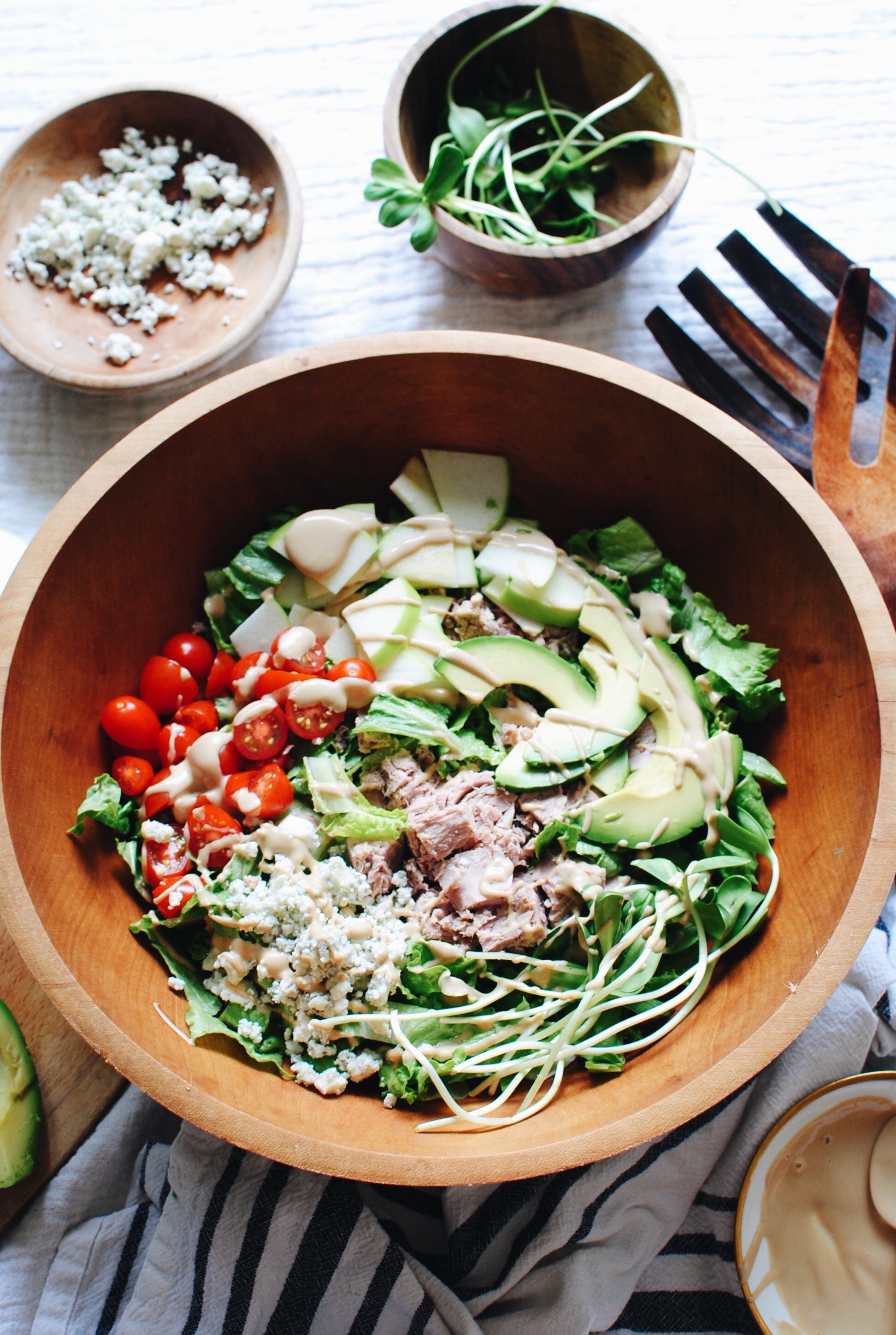 Now eat it.
Greens Salad with Veggies, Tuna and a Sunflower Butter Dressing
Ingredients
4-5 cups chopped lettuce (green leaf, romaine, whatever you want!)
1 (5 oz) can (or packet) tuna, in water (drained)
A handful of halved cherry or grape tomatoes
1/2 an avocado, sliced
A few Tbs. crumbled blue cheese
Sliced green apple
A small handful of sprouts (of any kind!)
2 Tbs. sunflower seed butter
1-2 tsp water
1 tsp apple cider vinegar
1 pinch of sugar
Instructions
In a small bowl, whisk together the sunflower seed butter, water, apple cider vinegar, and a small pinch of sugar. Get it to the consistency you like. If it's too thick, add another splash of water. Too thin, a tiny drizzle of the sunflower butter. And if you feel it's not salty enough, add the tiniest pinch of salt. This is all about what your mouth loves.
In a large salad bowl, combine the rest of the ingredients (don't worry too much about specific measurements. Add as much of anything as you like!), and drizzle with the vinaigrette. Toss it and serve immediately!
Makes two salad bowls.
7.8.1.2
160
https://bevcooks.com/2018/05/green-salad-with-veggies-tuna-and-a-sunflower-butter-dressing/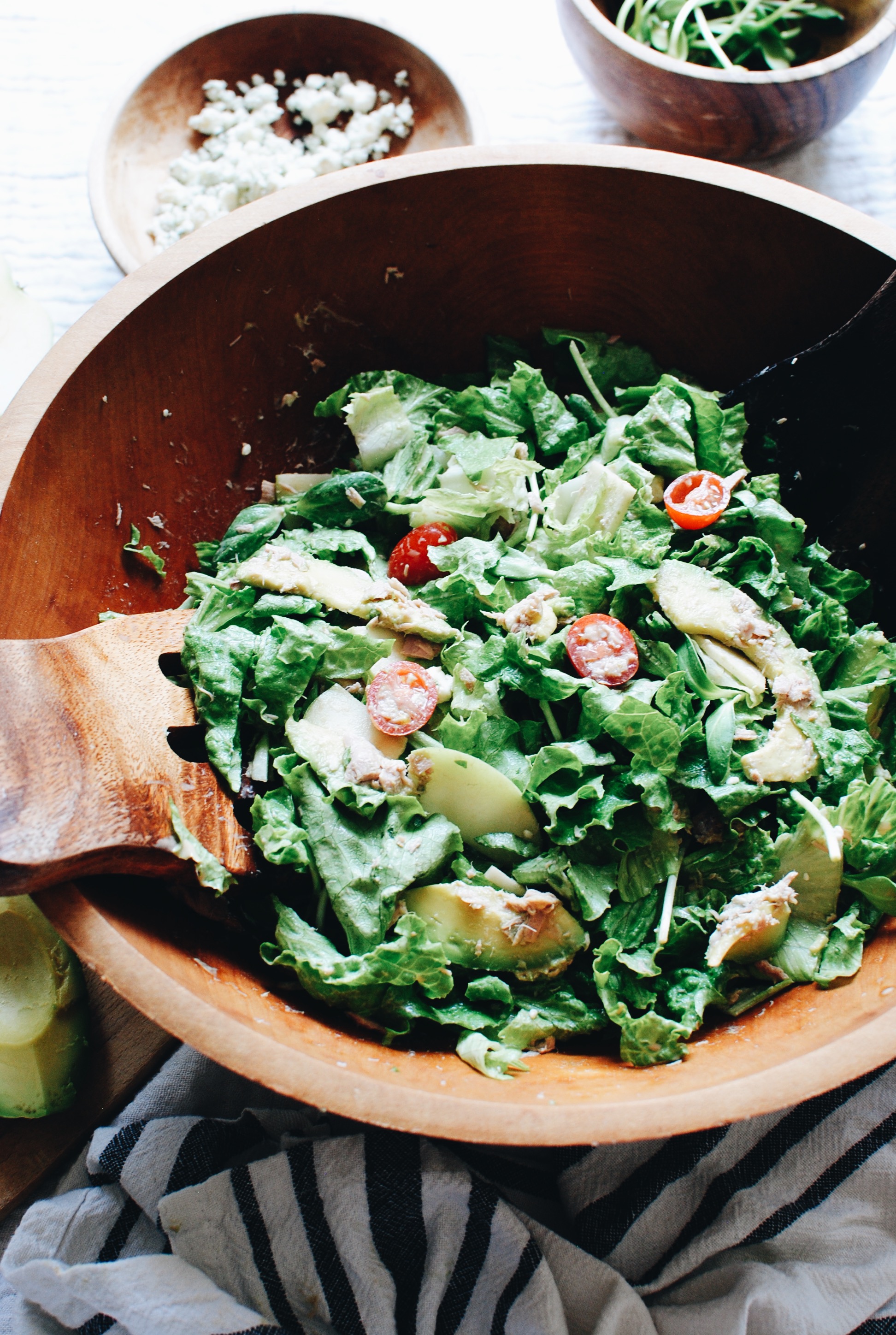 You could even do grilled salmon and dinner-fy this mother! Had to say mother again, didn't I.