With no-boil lasagna sheets! They're no-boil. The sheets.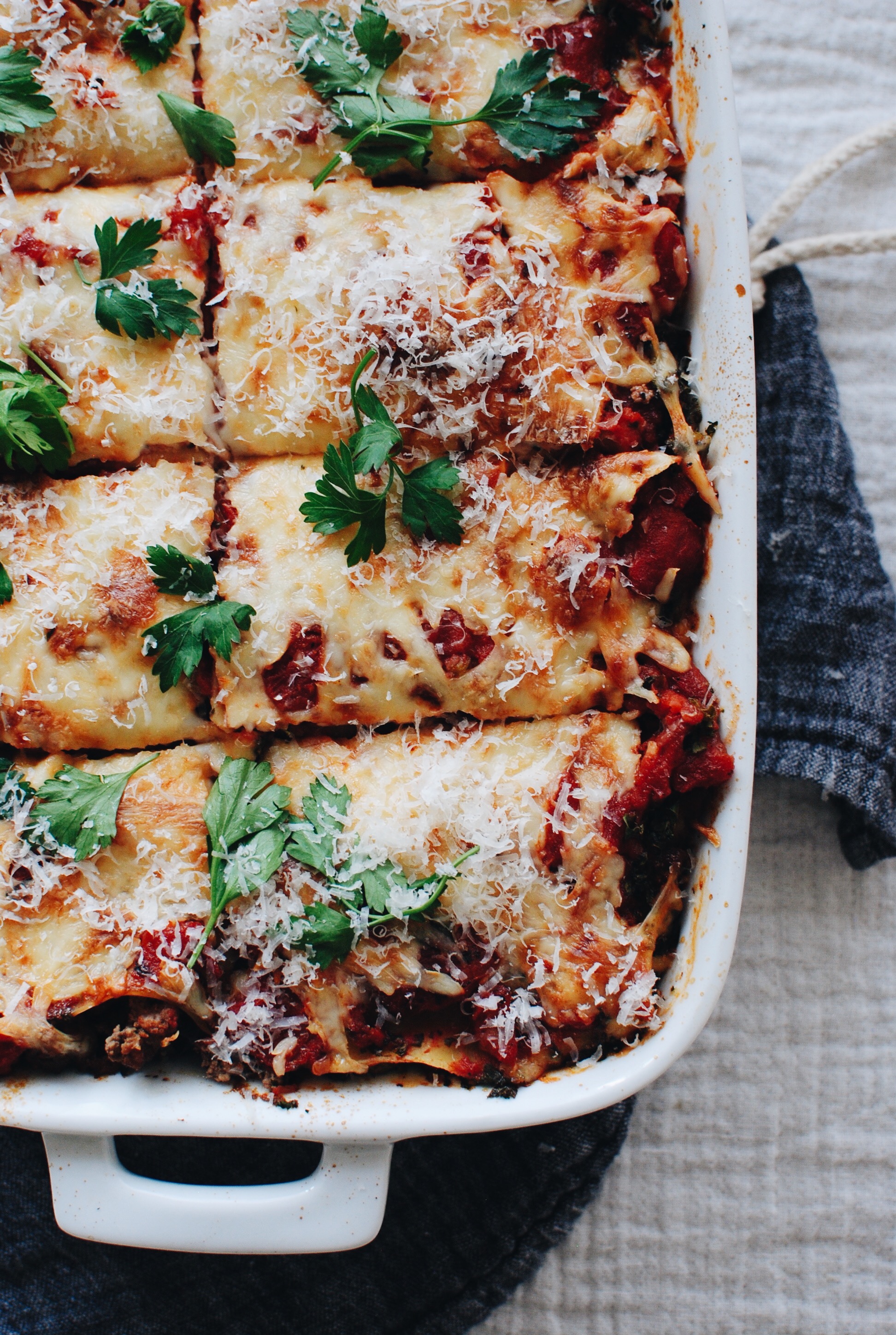 I know everyone has a fave recipe for a killer lasagna. I ain't trying to reinvent the casser-wheel. But! It's winter and freezing and icy and slick and bitter and snowy and polar-y and your soul need layers and layers of cheese and carbs. True fact.
So let me show you what goes into mine.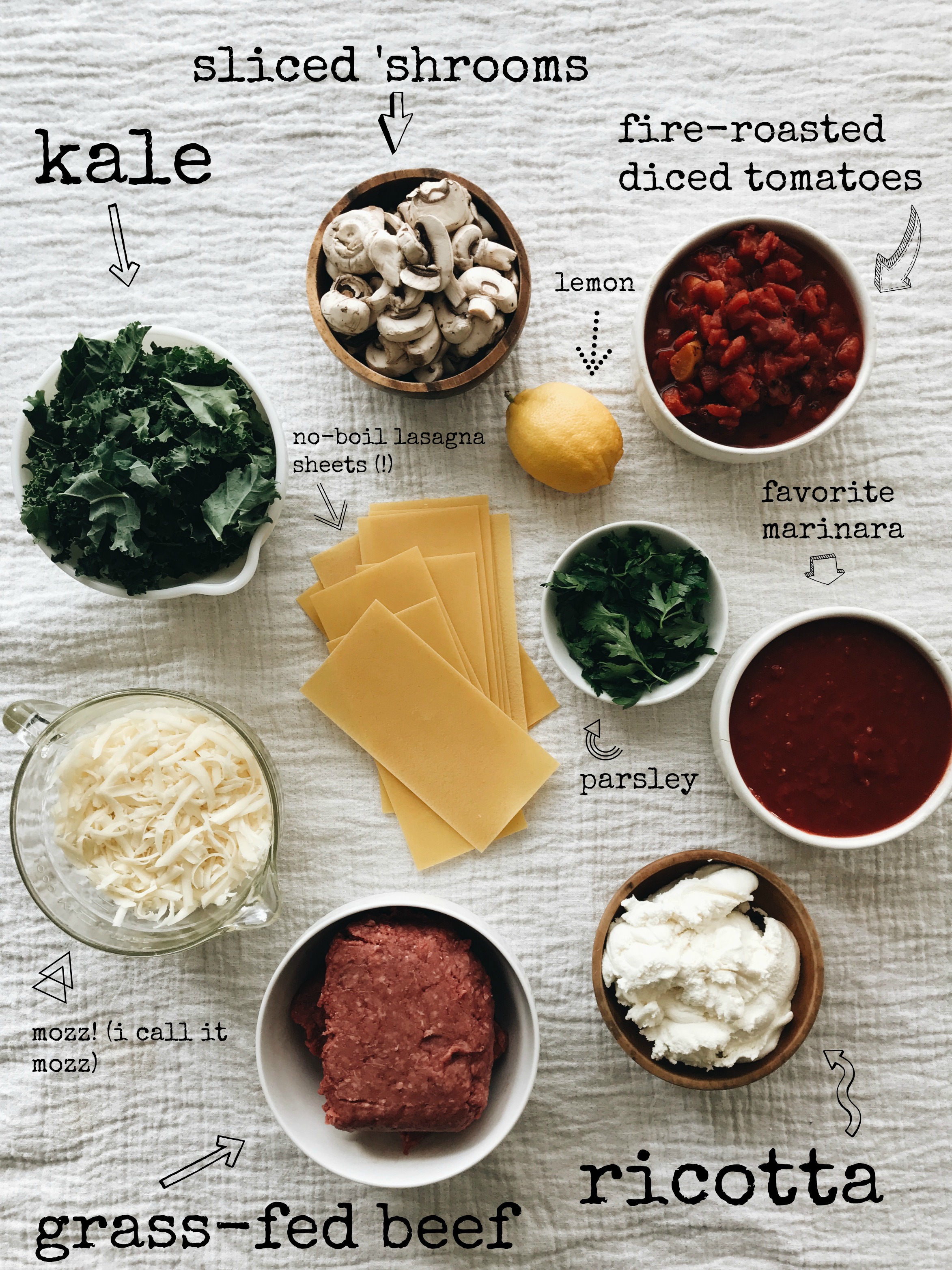 I have a few lil' tricks up mah sleeve here.
First up, the sauce – I like a little bit of texture, so TO a jar of marinara (I use this local restaurant's sauce, for anyone in KC), add a couple cans of fire-roasted tomatoes. Depthy! You know me and the depthy.
Kale! TIP – take a bunch of kale and pulse it in the food processor until it's finely minced. Makes a slightly pungent, earthy layer in the lasagna that you will absolutely die over. Plus #HAYELTH.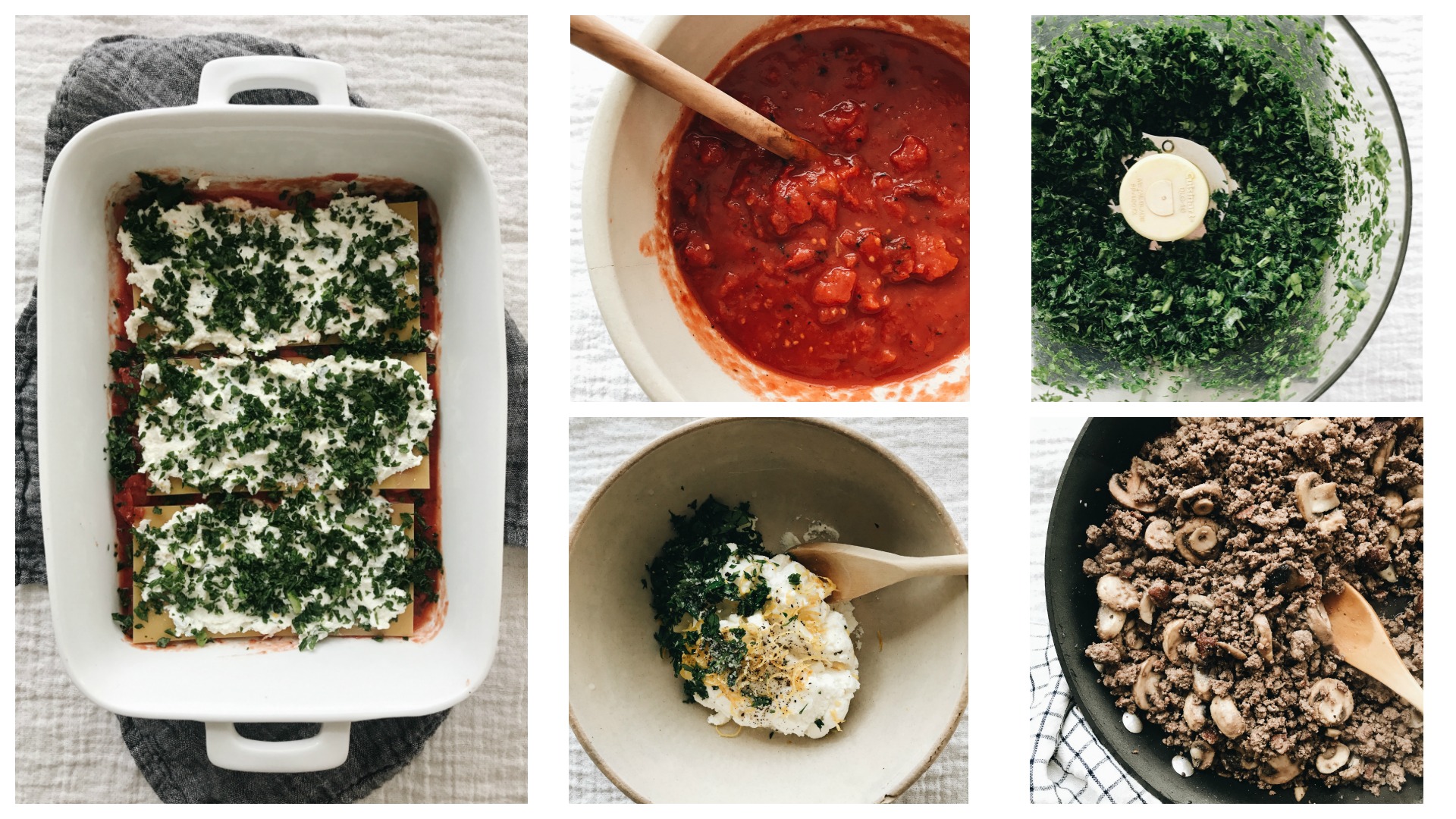 The ricotta! I go full-on whole milk, because living. But, add some lemon zest, lemon juice and parsley to zing it up. It'll add this bright essence to the lasagna that is straight legit.
The beef! I reaaaaally prefer the flavor of grass-fed, over traditional beef. And then you add garlic powder and onion powder and sliced mushrooms and you guys. Yes.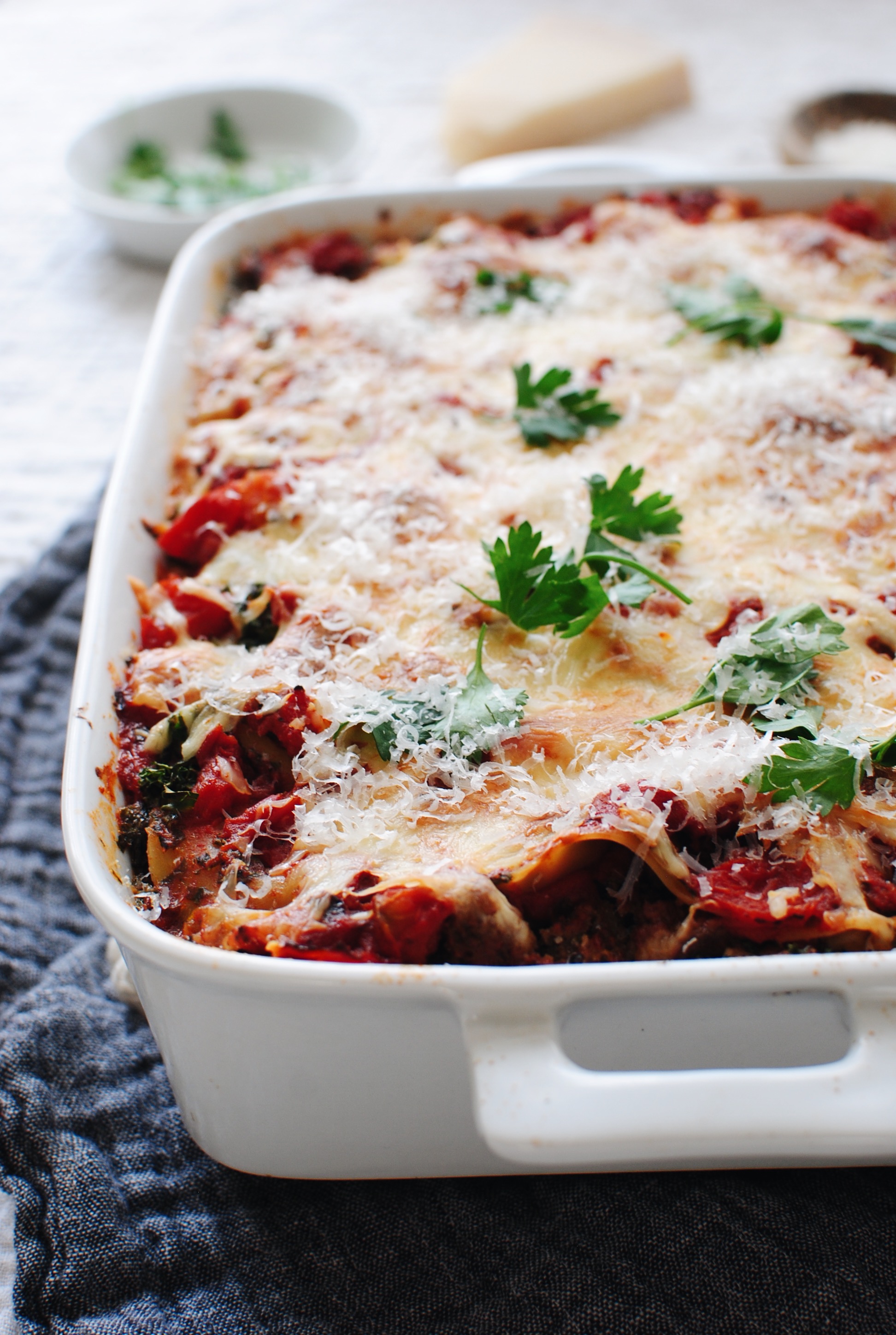 Aaaand of course the no-boil lasagna sheets. Obsessed. I got mine at Trader Joe's, and the package said that once you're done layering, to let the lasagna sit about 30 minutes so that the sheets can start to absorb the liquid. Which I did. And it was awl gud. So maybe do that. Just in case. Because I don't want you cursing my name. I have to paint my nails today and it's already too much on my plate.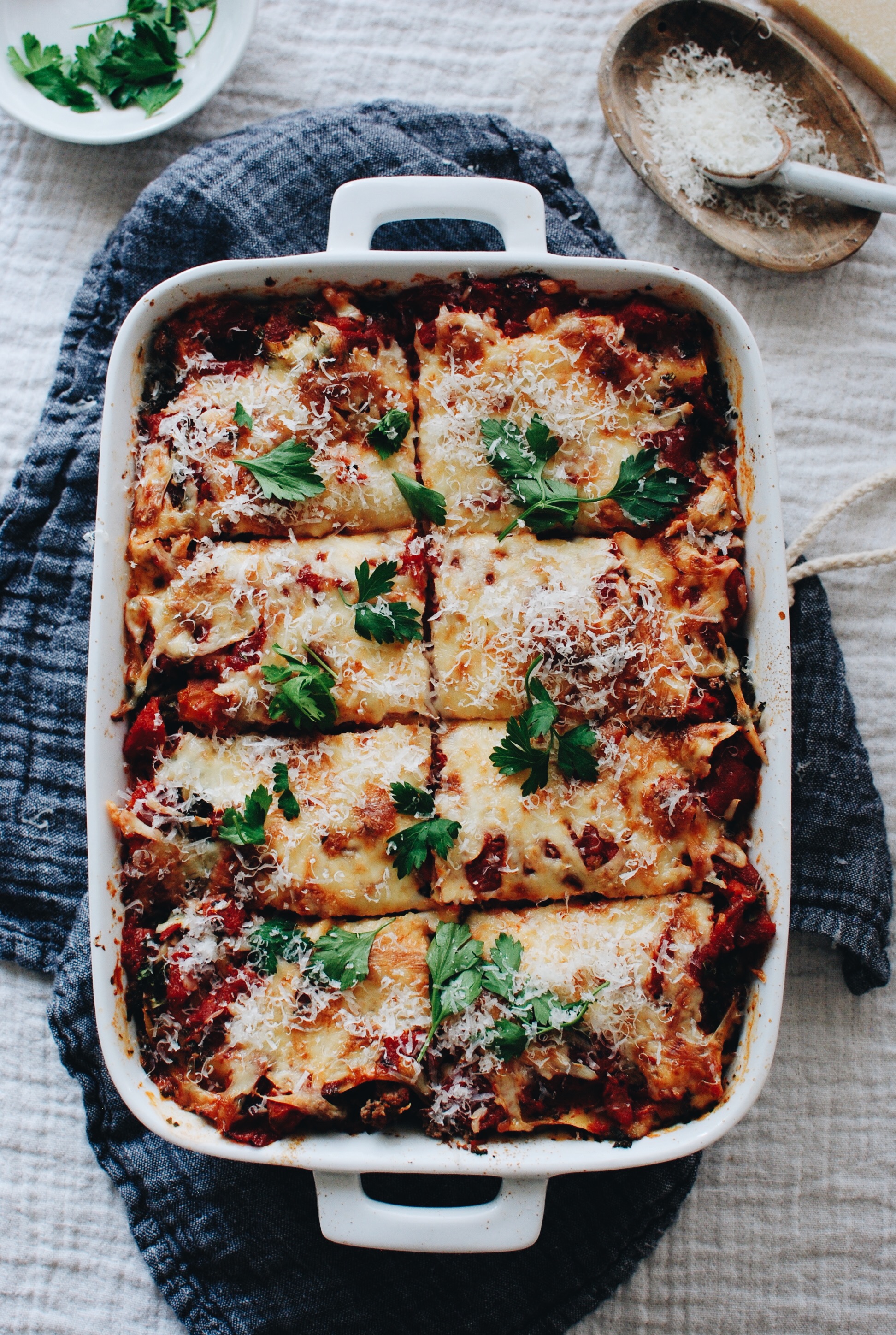 Pleeeeeeeeease, girl.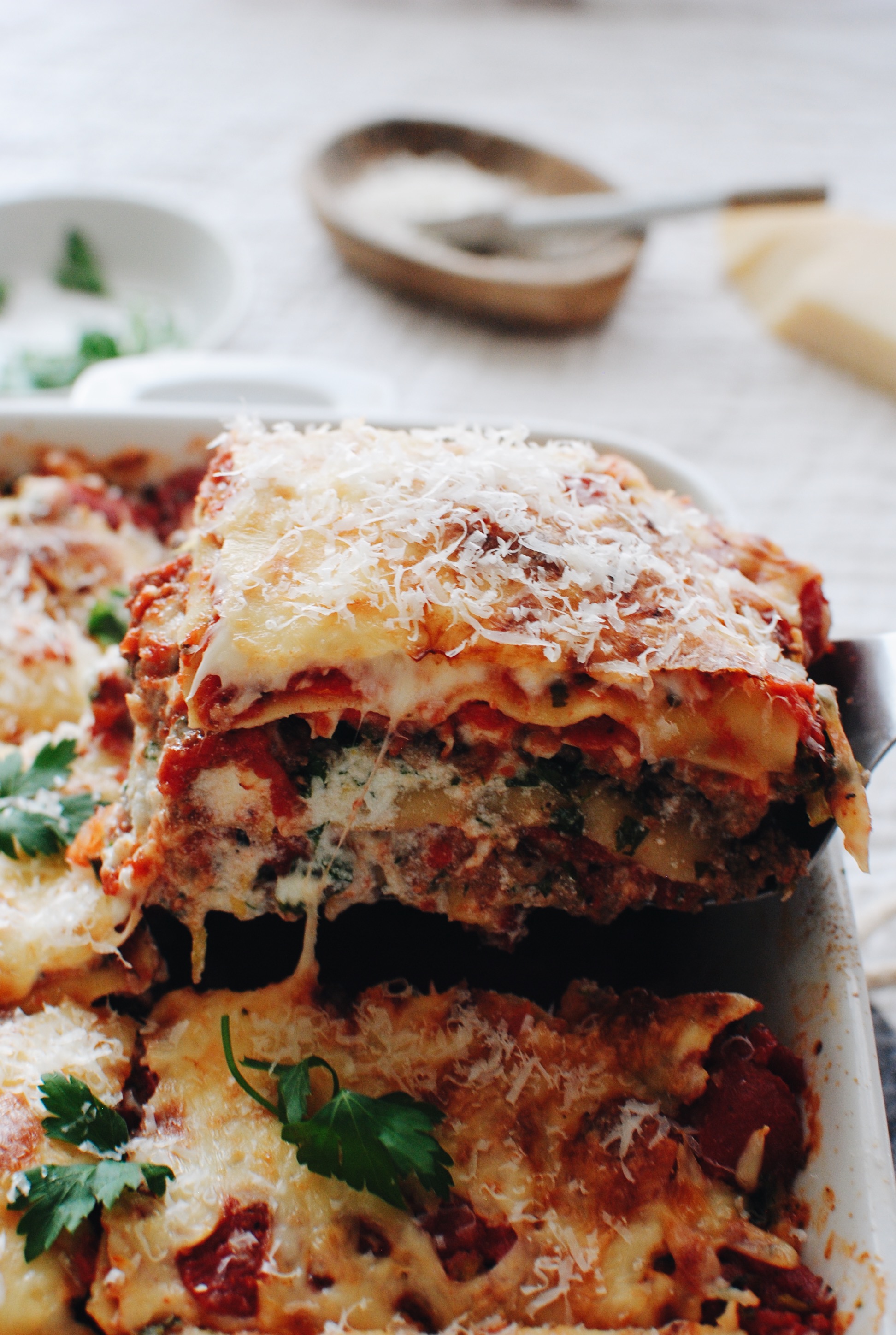 This photo is awful, but look at those layers! Let it rest about 20 minutes before you cut in, and tiny little cartoon birds will fly out of it and sing around your head in jubilee.
For all you veggie-only eaters, I DO plan on playing around with a creamy vegetarian version for ya. And meh. And yeh. And ma.
But for now? GET IN THAT.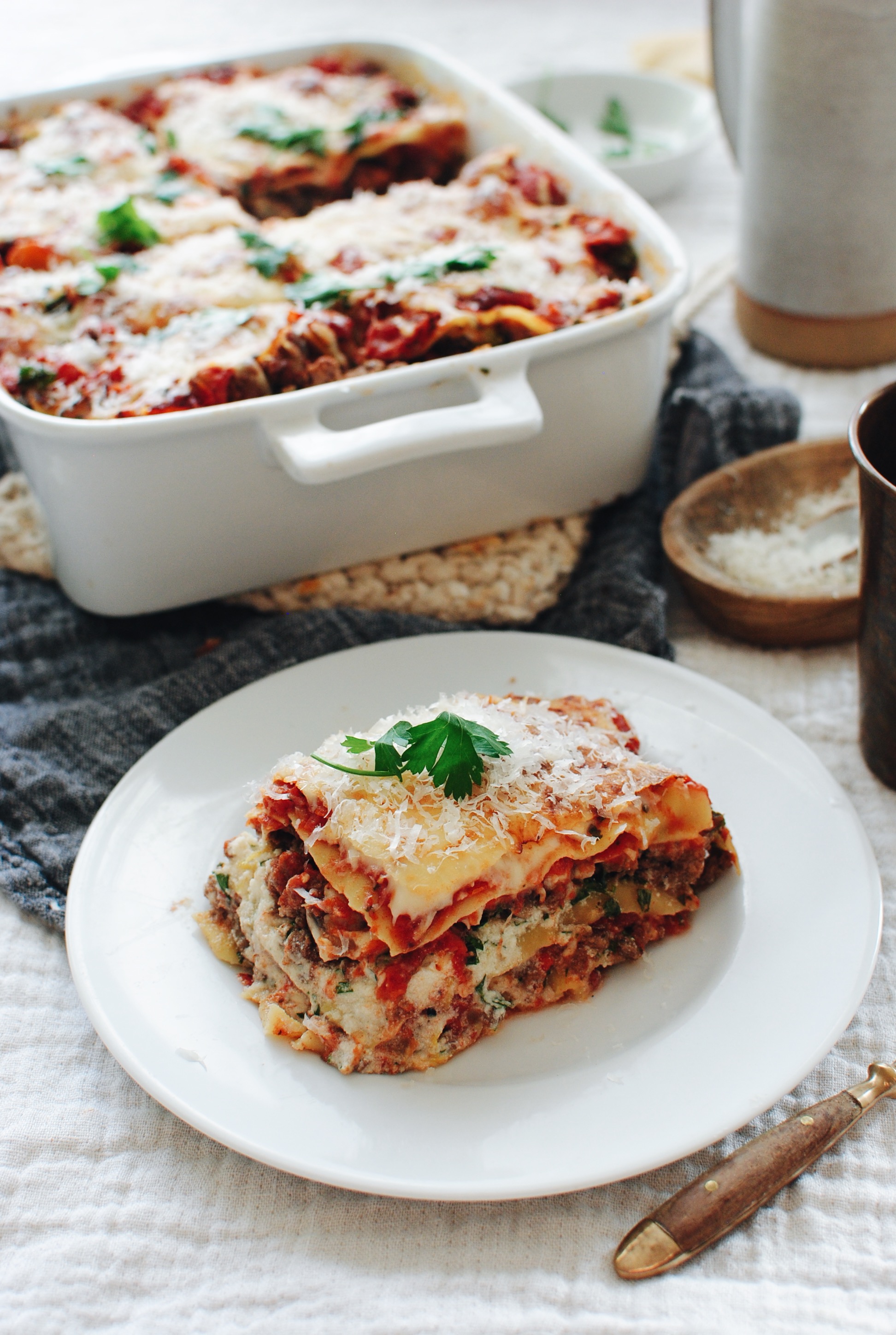 Mama did say knock you out, ya know.
Grass-fed Beef, Mushroom and Kale Lasagna
Ingredients
9 no-boil lasagna sheets
2 pounds grass-fed beef
1 tsp garlic powder
1 tsp onion powder
1 (8 oz) package sliced mushrooms
1 (15 oz) container ricotta cheese
1 lemon, zested (plus its juice)
3 Tbs. chopped parsley, plus more for garnish
3-4 cups kale, pulsed in a food processor until finely minced
1 (24 oz) jar of favorite marinara
2 (15 oz) cans fire-roasted tomatoes
About 4 cups shredded mozzarella
Parmesan and parsley for garnish
Salt and pepper
Instructions
Preheat oven to 375.
In large skillet, brown the beef until no longer pink. Drain any fat if you need to. Season with a big pinch of salt, along with the garlic powder and onion powder. Add the mushrooms and keep sautéing until the mushrooms have darkened and softened, about six minutes. Taste it! Maybe another pinch of salt?
In a large bowl, stir together the marinara and fire-roasted tomatoes.
In another bowl, stir together the ricotta cheese, the lemon zest (about a Tbs), two Tbs. lemon juice, chopped parsley, and a pinch of salt and pepper.
Now start layering! Coat the bottom of an 8x13 casserole dish with a cup of sauce. Place three lasagna sheets on top, followed by half the ricotta cheese, about a third of the kale, half the beef mixture, and a third of the mozzarella cheese. Pour another cup of the sauce on top, then another three lasagna sheets, the second half of the ricotta, another third of the kale, the rest of the beef mixture, and another third of the shredded mozzarella. Another cup of the sauce, then finish with the last three lasagna sheets, the rest of the kale, the rest of the sauce, and the rest of the mozzarella cheese. Whew! I'm tired.
Let it sit on the counter for about 30 minutes so that the sheets can start to absorb the liquid. Then bake for 45 minutes, until the sheets are tender and the cheese is browning and bubbly. Broil it for another minute or two if you need!
Let it rest for 20 minutes, garnish with freshly grated parmesan and parsley. Slice and SERVE, babes. Sorry I called you babes.
Serves 8!
7.8.1.2
131
https://bevcooks.com/2018/01/grass-fed-beef-mushroom-kale-lasagna/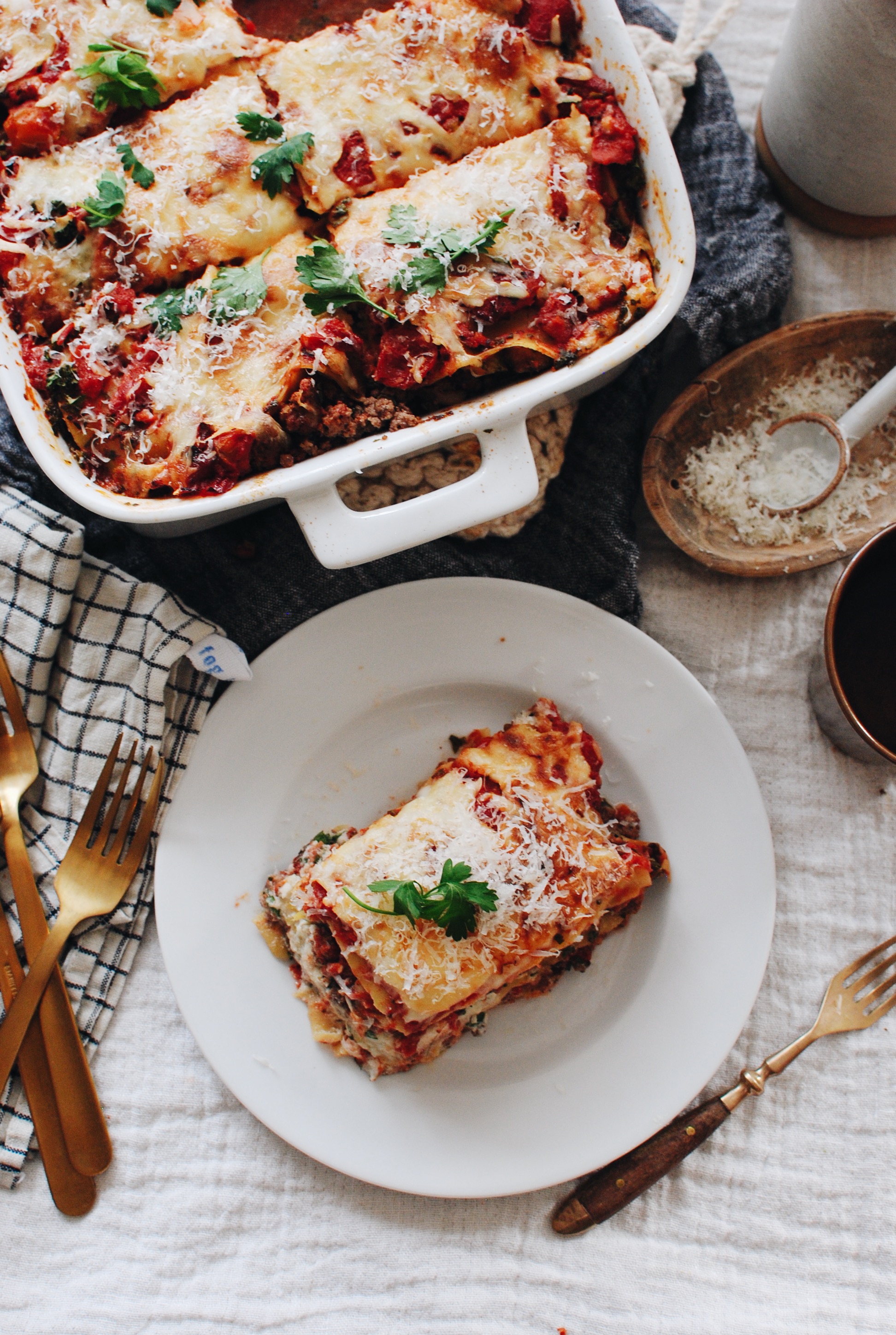 Hold me.