STRATAAAAAA. (said like, STELLAAAAA. you know, from Seinfeld? never mind.)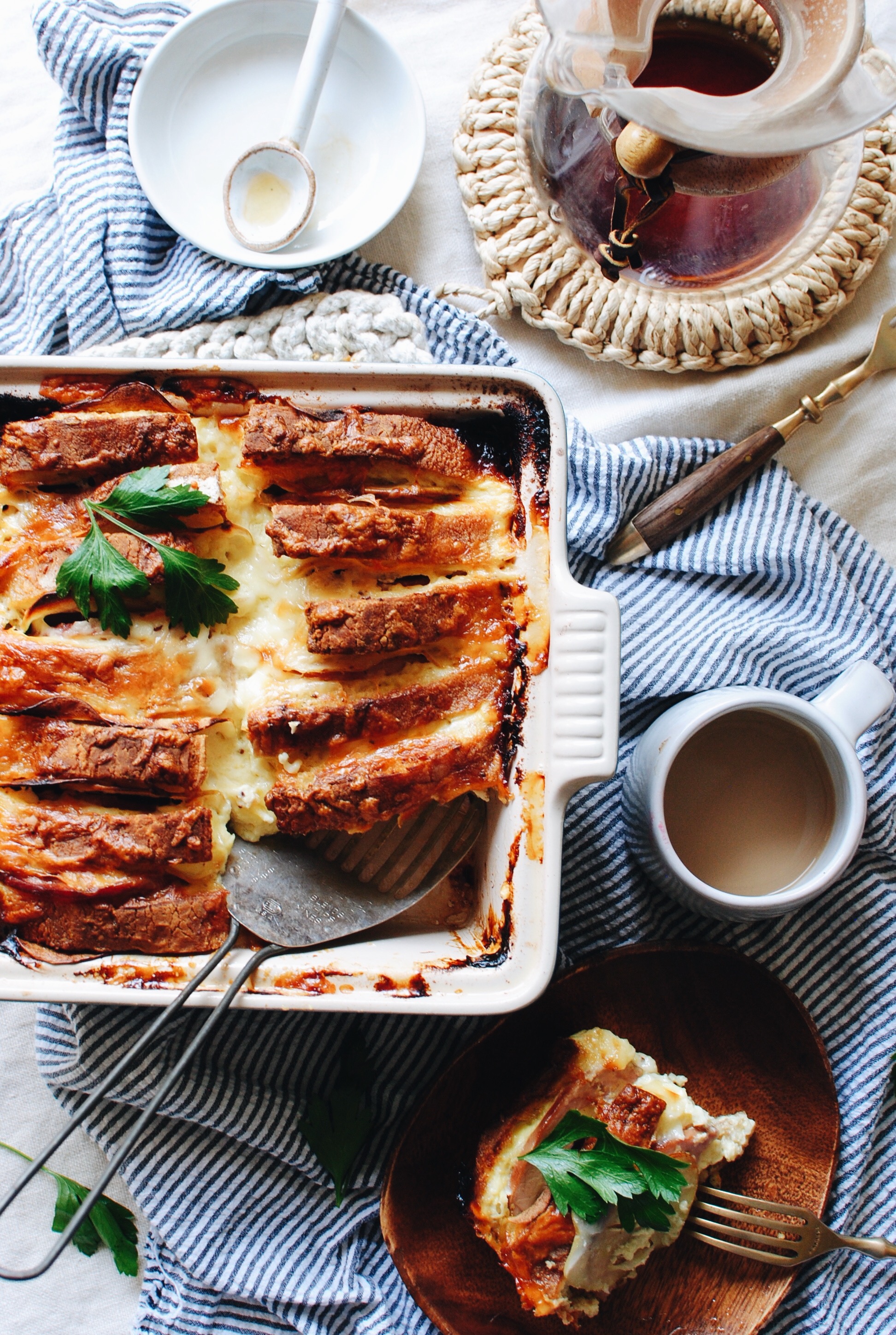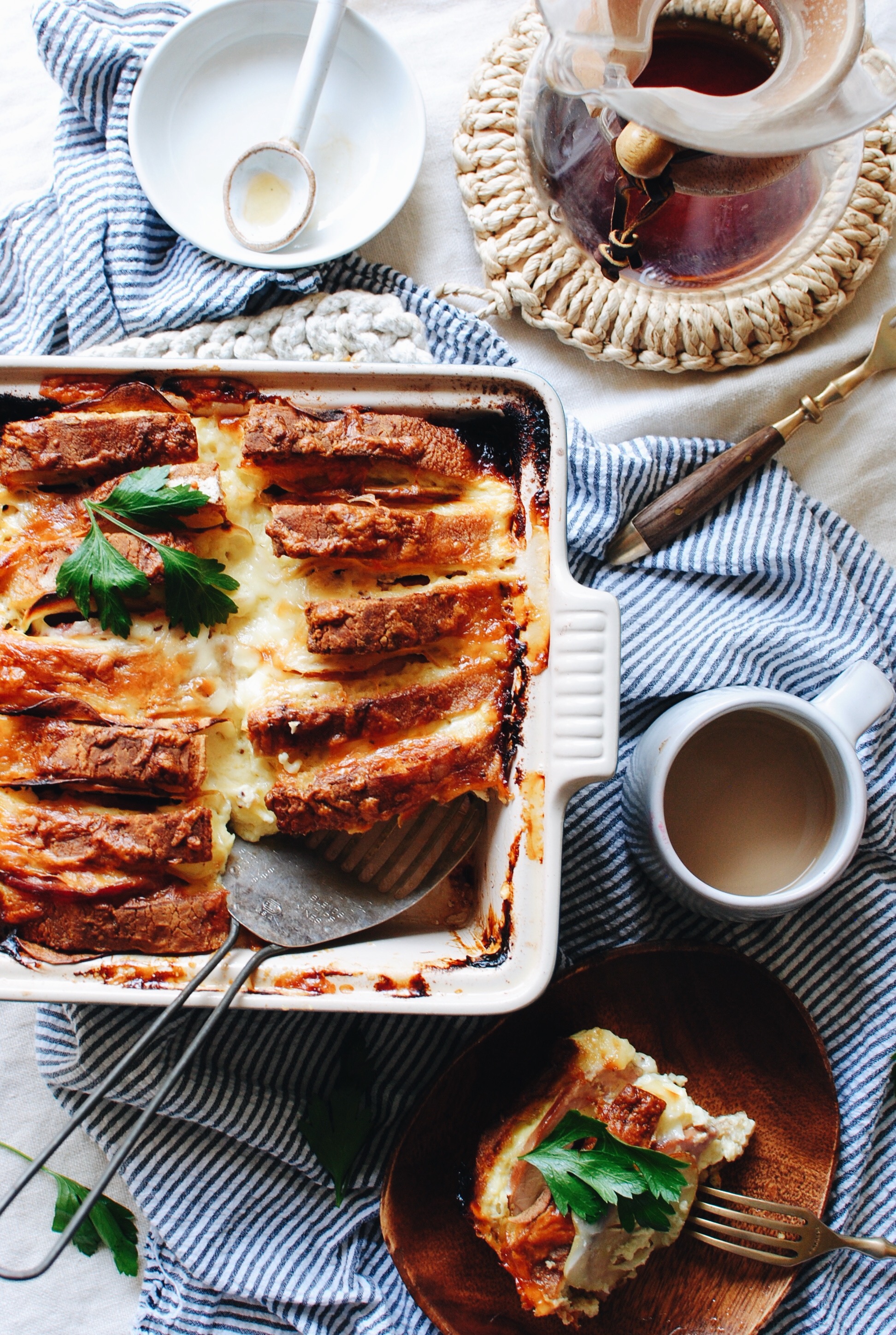 But seriously, you guys.
STRATA. With apples! And cheddar! And Canadian Bacon! (not gonna say, "oh my" against the rage of my inner soul fairies.)
Remember a long time ago a week ago when we went apple picking and Will pooped his pants and I beeeggggged you all to give me all the savory ideas? Well none of you gave me this one, but thank you anyway! Well I mean, you sort of did. In ways. But there was this deeply-buried strata idea hiding in the darkest corner of my cerebrum, threateningly crawling into the single light ray of my brain, wanting to be made and shared and eaten and burped up. So here it is, pigeons. THE STRATA YOU'VE ALL BEEN WAITING FOR.
But I'm not dramatic about it or anything.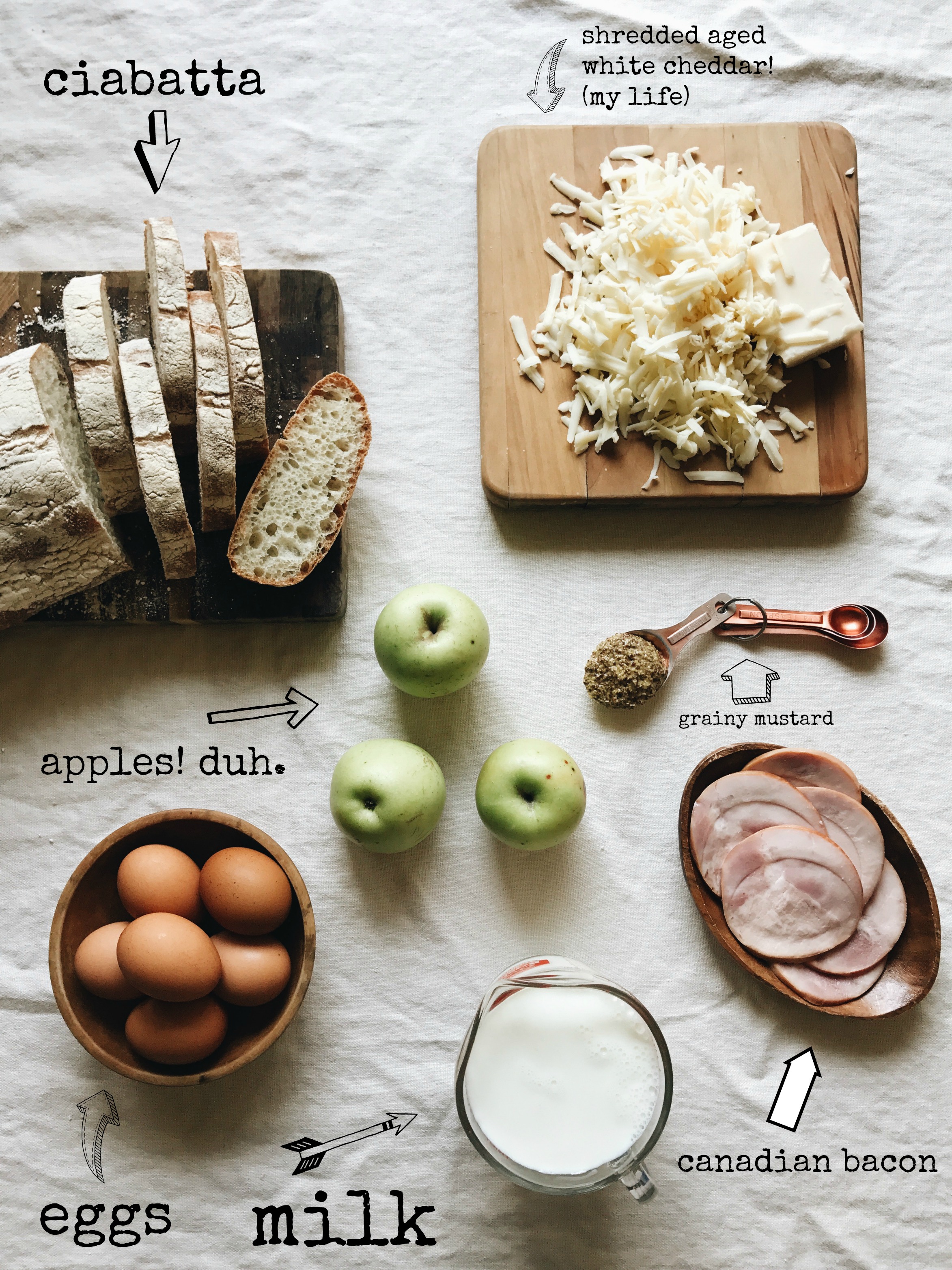 It's pretty simple! AND YOU KNOW WHAT, looking back, the moment it came out of the oven, I thought, "I could have added more apples! I should have added more apples." Coulda woulda shoulda.
So maybe you add more apples? Add more apples.
Apples apples apples.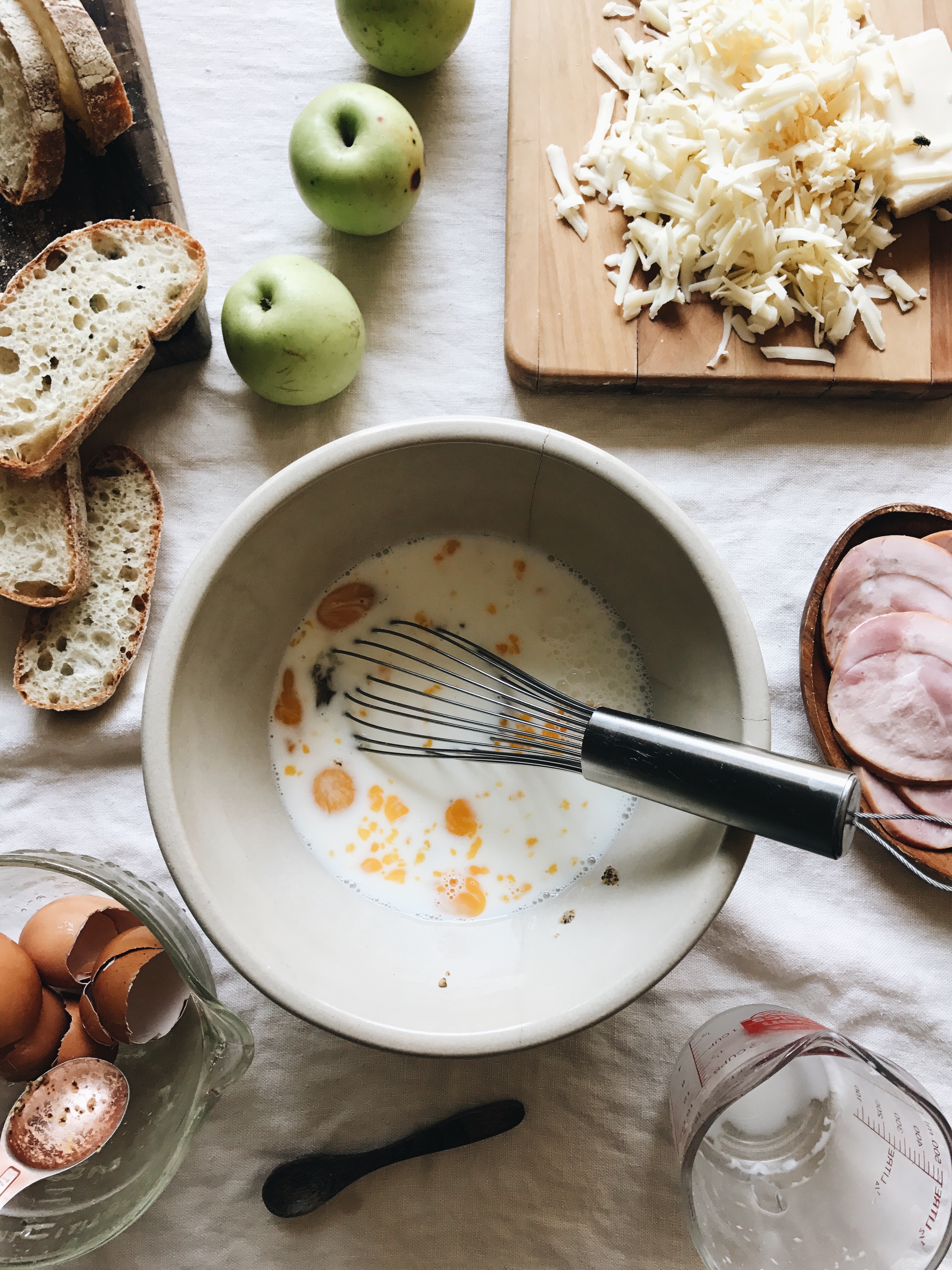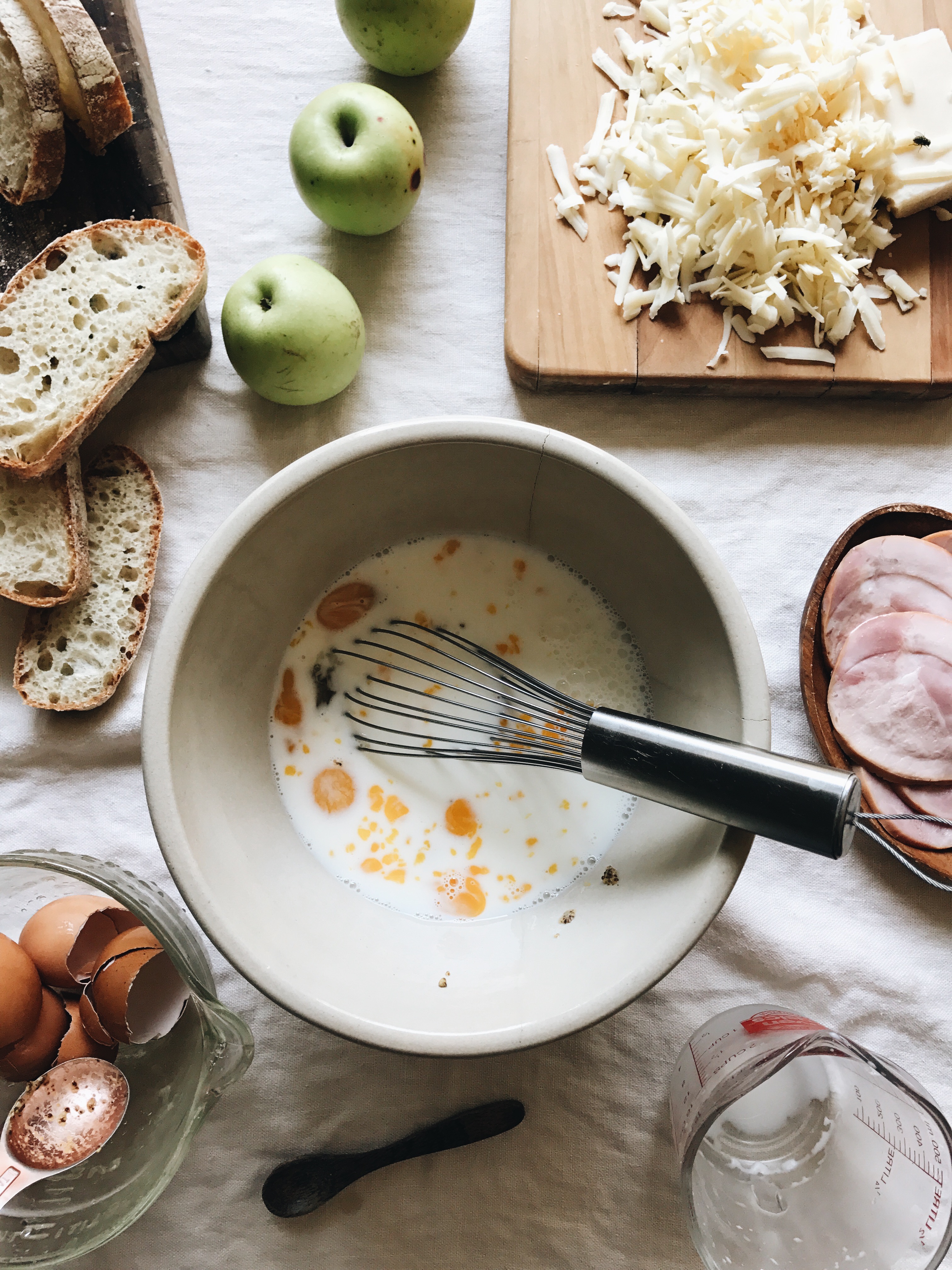 You'll basically build a breakfast casserole that you'll let sit for a few hours before baking. Technically, you could even make this the night before and let it chillax (<–I am so sorry) overnight in the fridge.
But here are a few things to think about before building::
1) Get a good CRUSTY bread. Ciabatta is always magic because of the gutsy heft. It stands up to being soaked in milk and eggs for hours and hours, and doesn't disintegrate like a moron.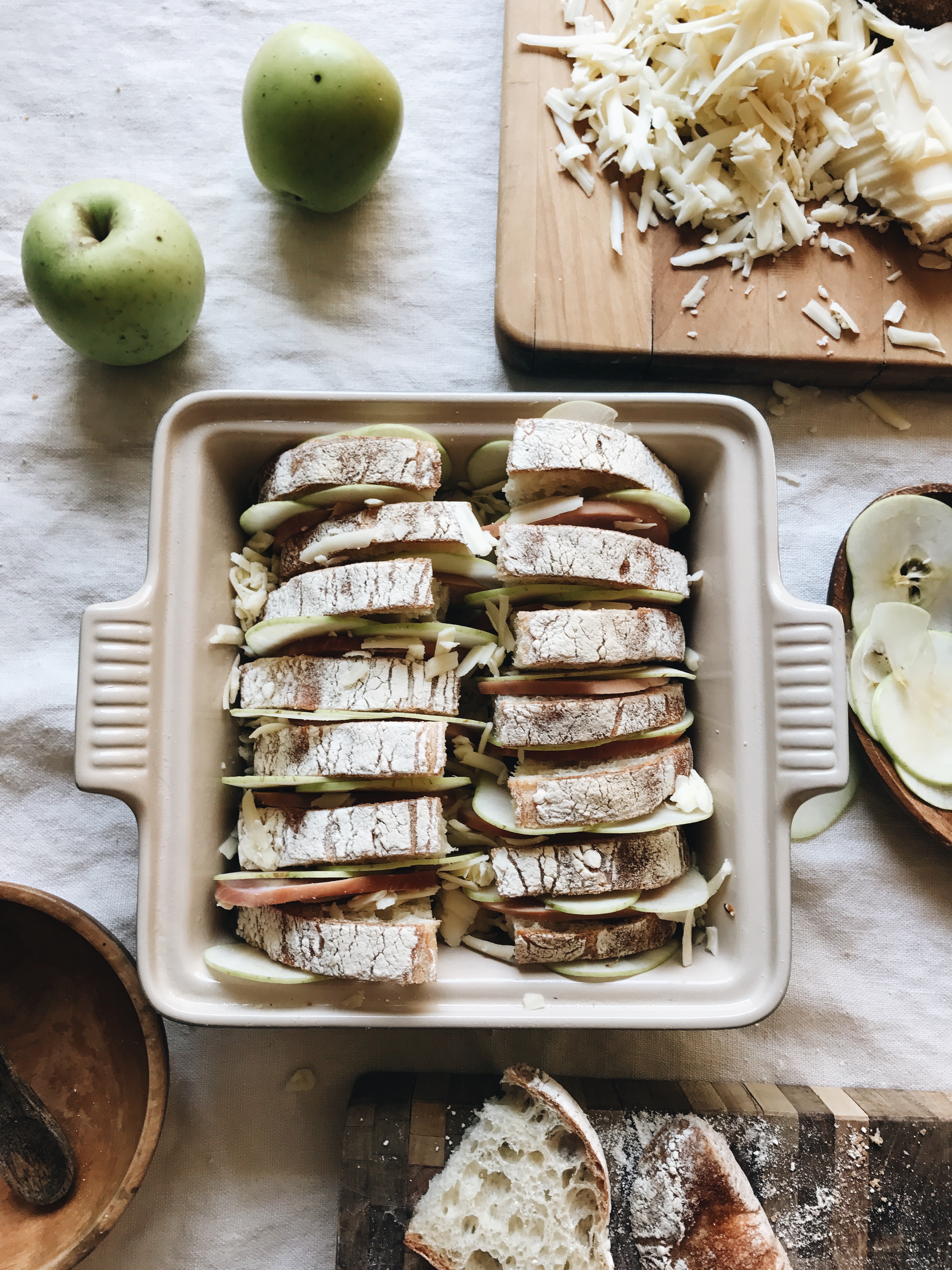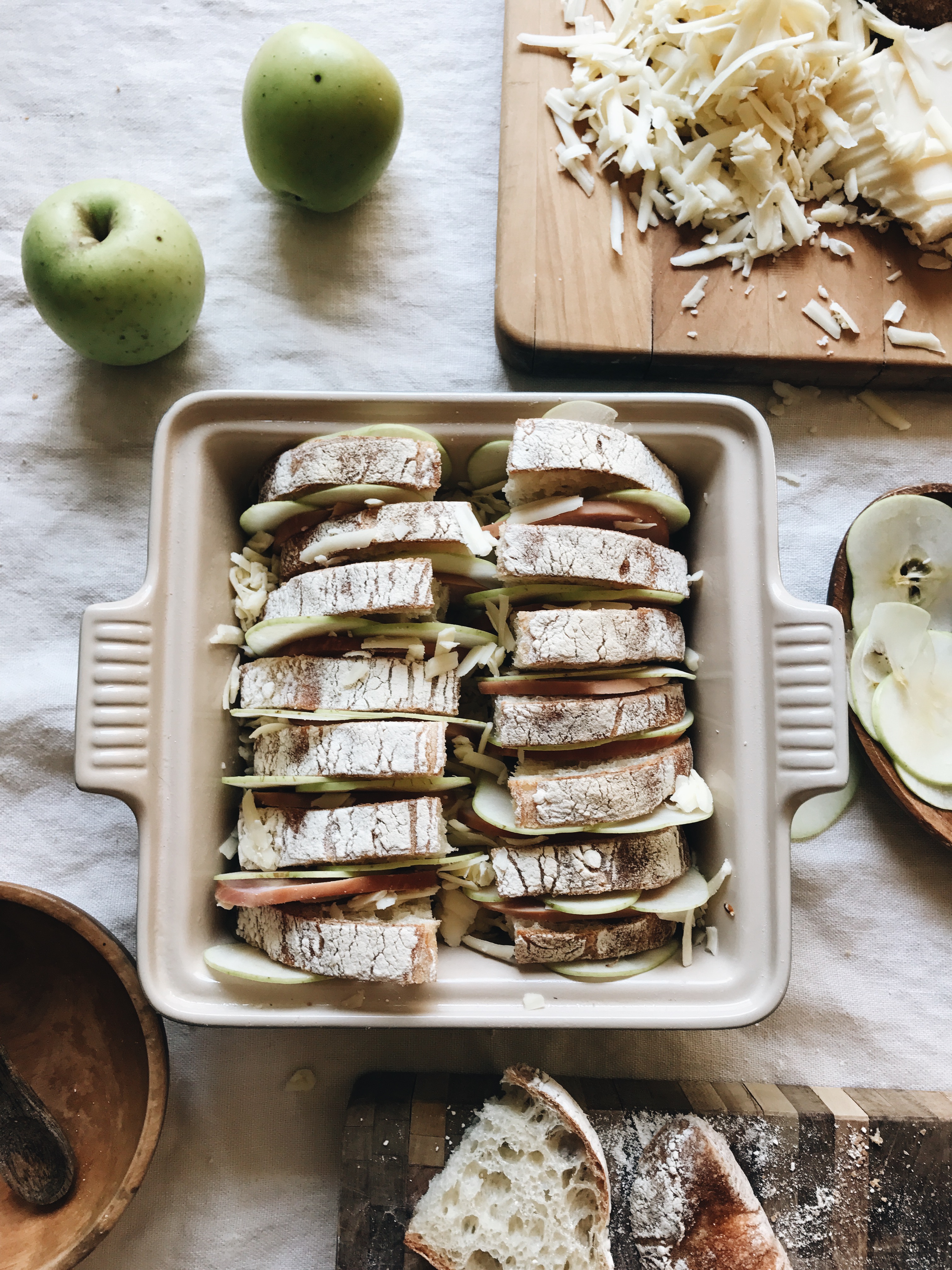 2) Add more apples! See how I thought I only needed a couple of thin slices per layer? Page? Flip? Whatever. Add more.
3) Really, any cheese'll do. If aged whited cheddar doesn't make you bawl like a bratty one-year old, then go with something fancier! Gruyere? Guuuh, huh.
4) You can ALWAYS leave the bacon out and go straight veg. You're still a good person.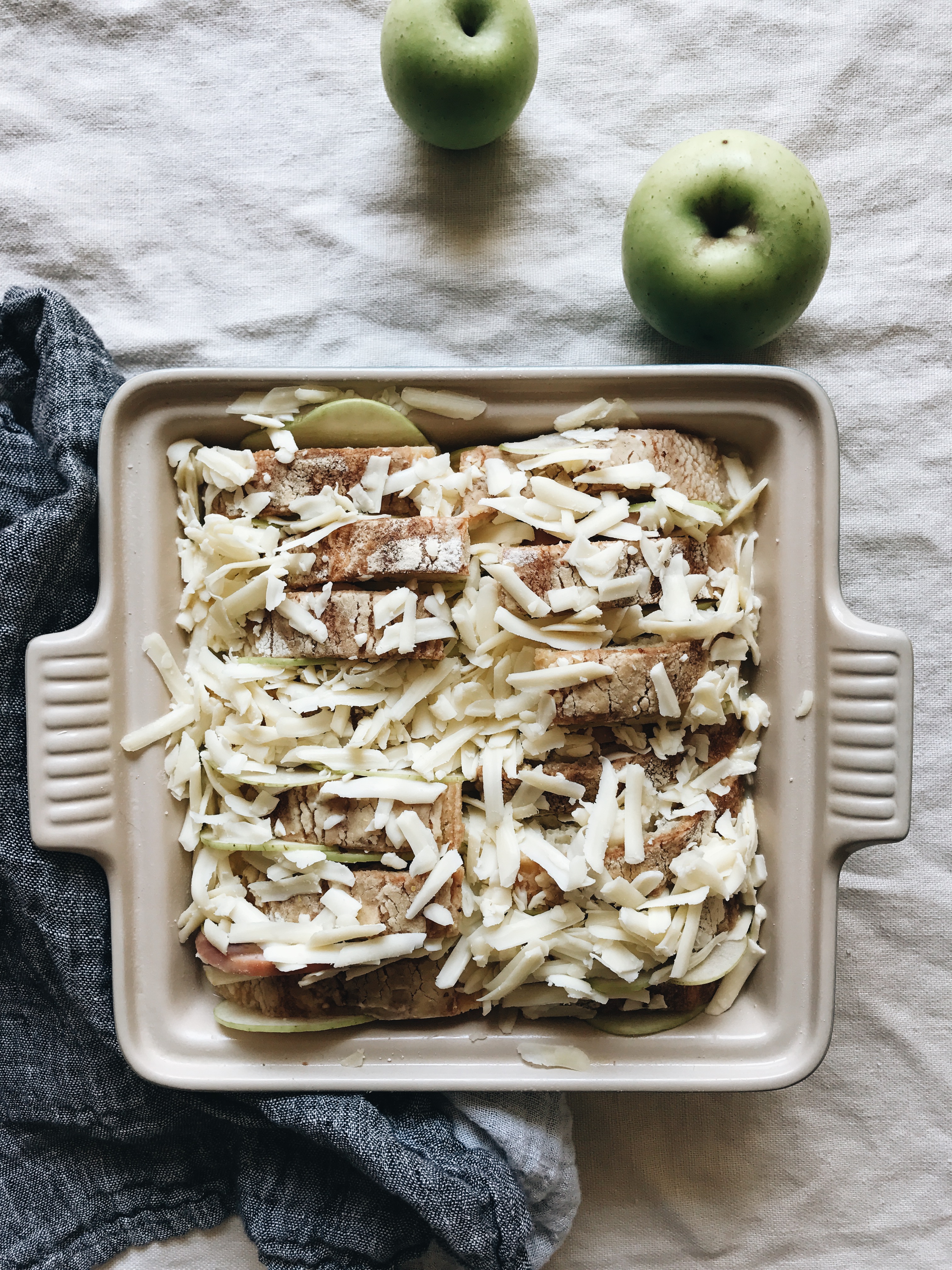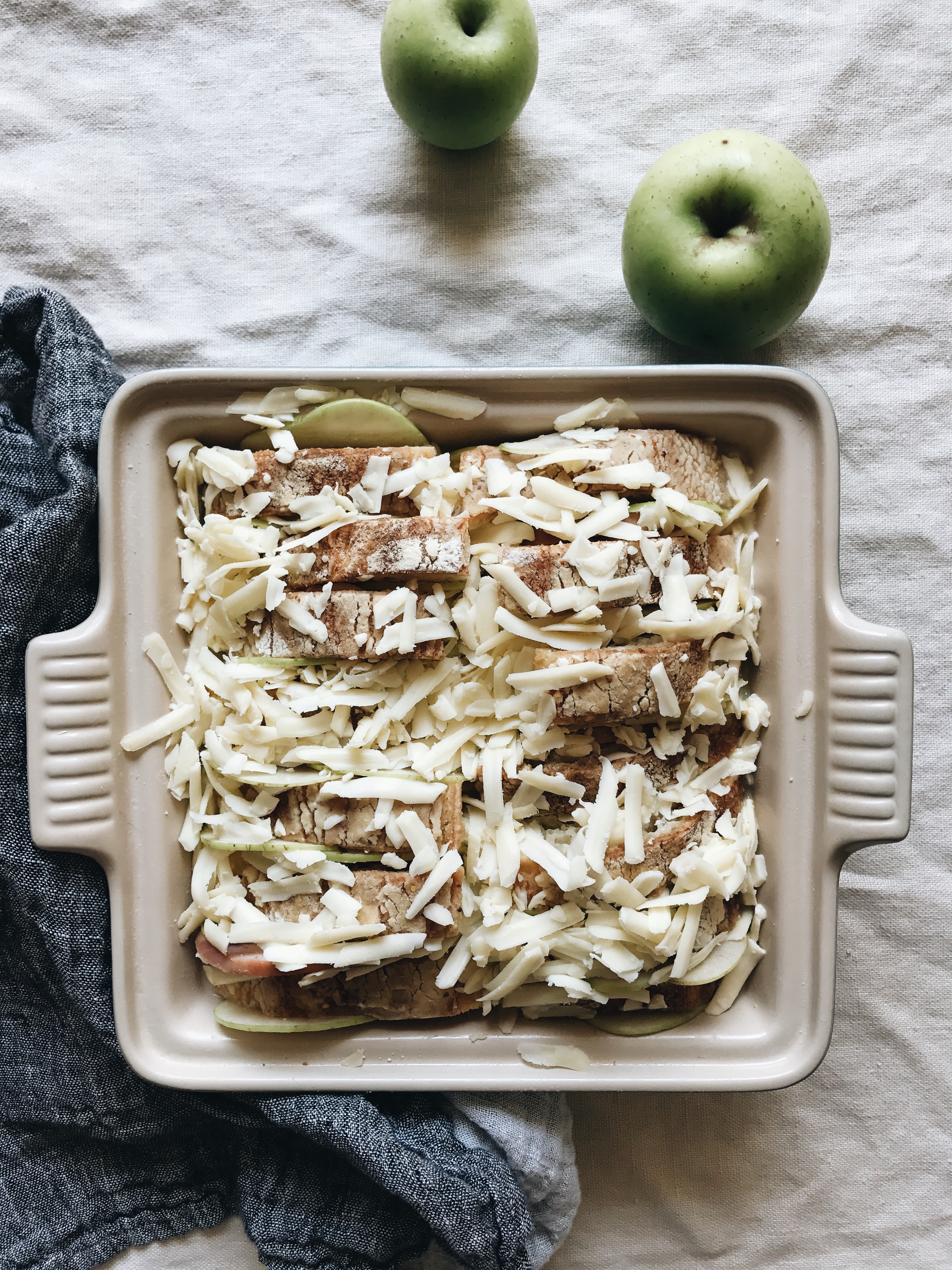 Pour the eggy/milky/mustardy (<–ESSENCE) mix over the bread, cover with cheese and say 35 prayers.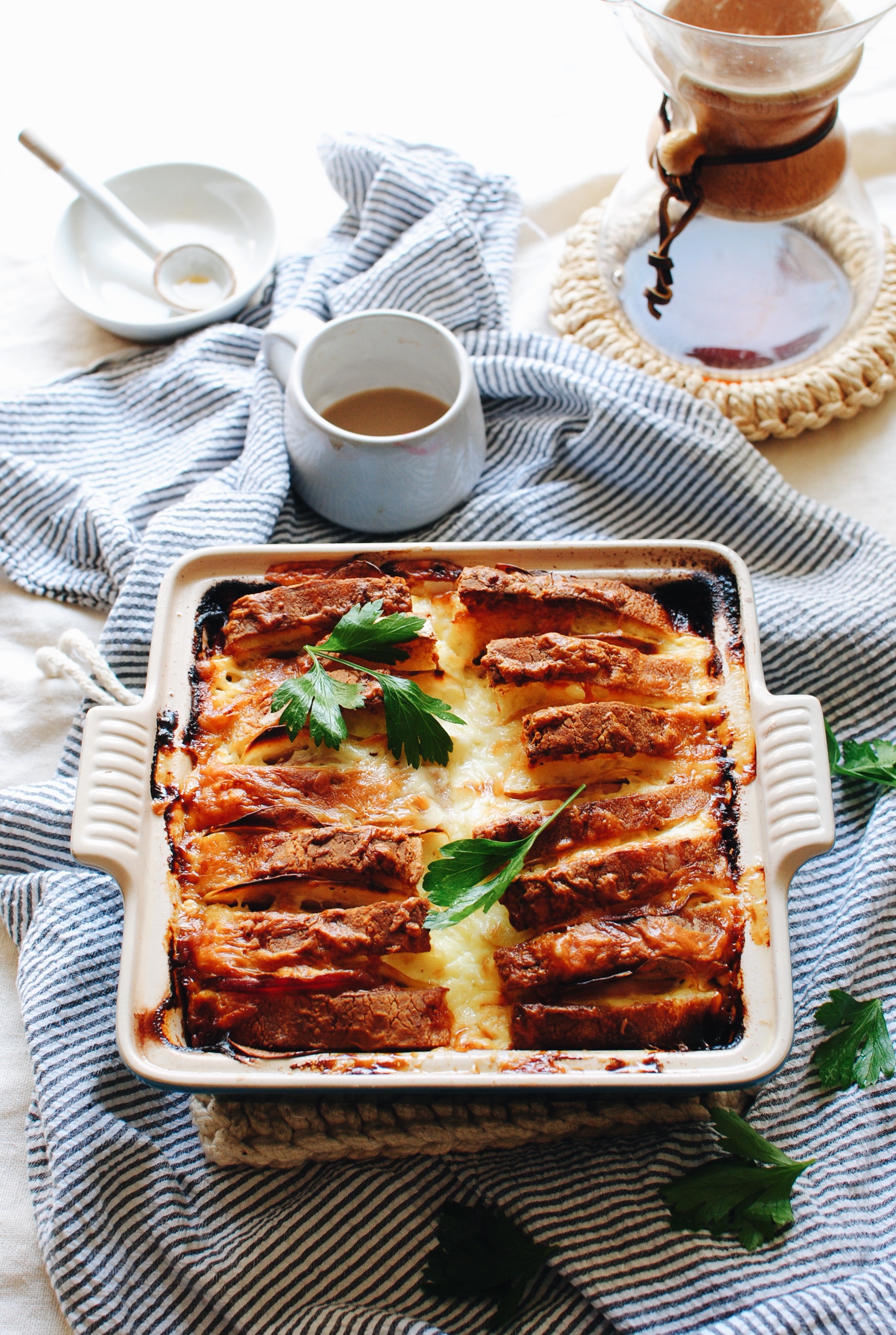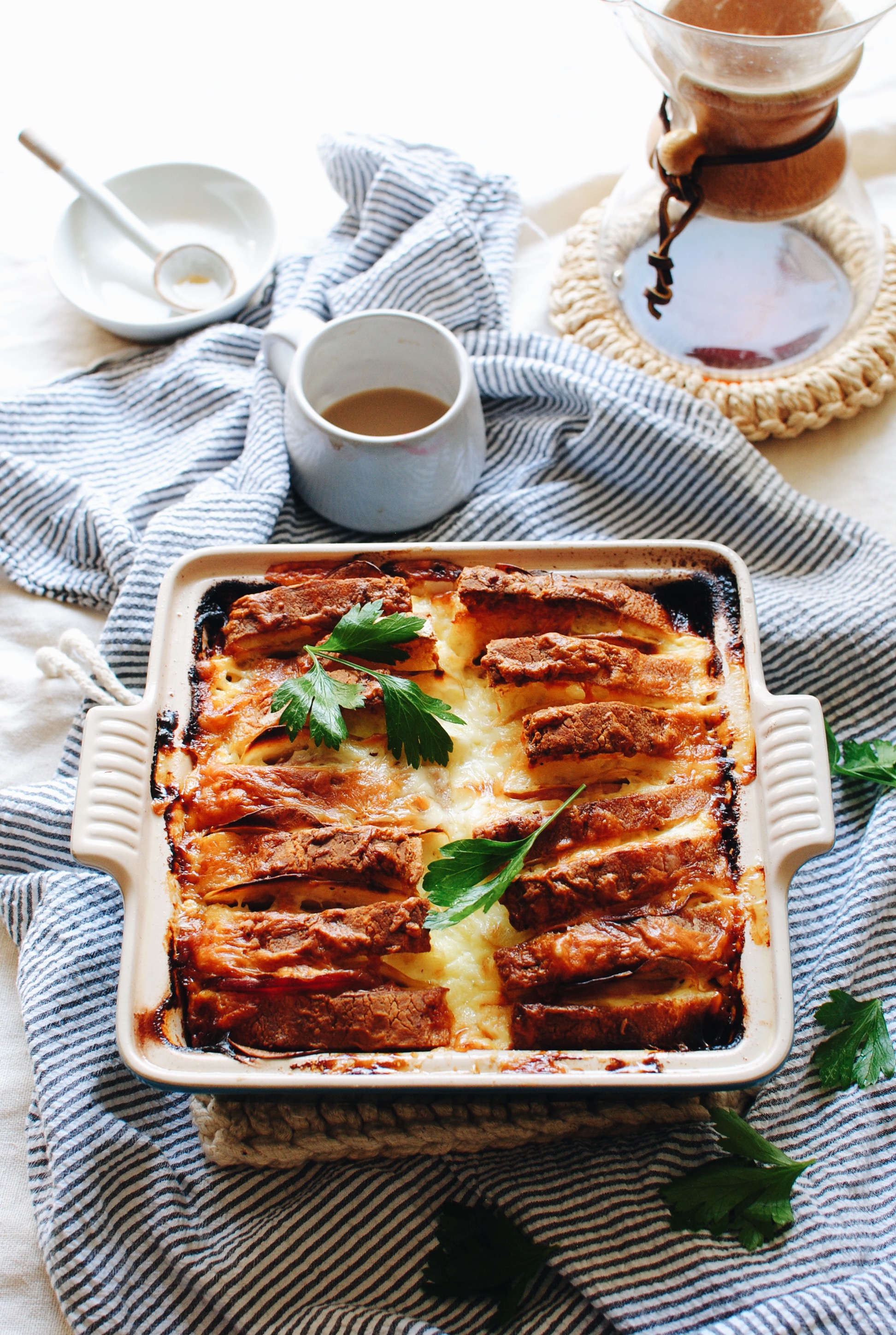 MOOOOOOOOOMMMMMMMMY.
This is after an hour and a half in the oven, omg.
Everything solidifies. Marries. Comes together. Has babies. Turns to cheesy, custardy breakfast bliss and you can't feel your upper torso.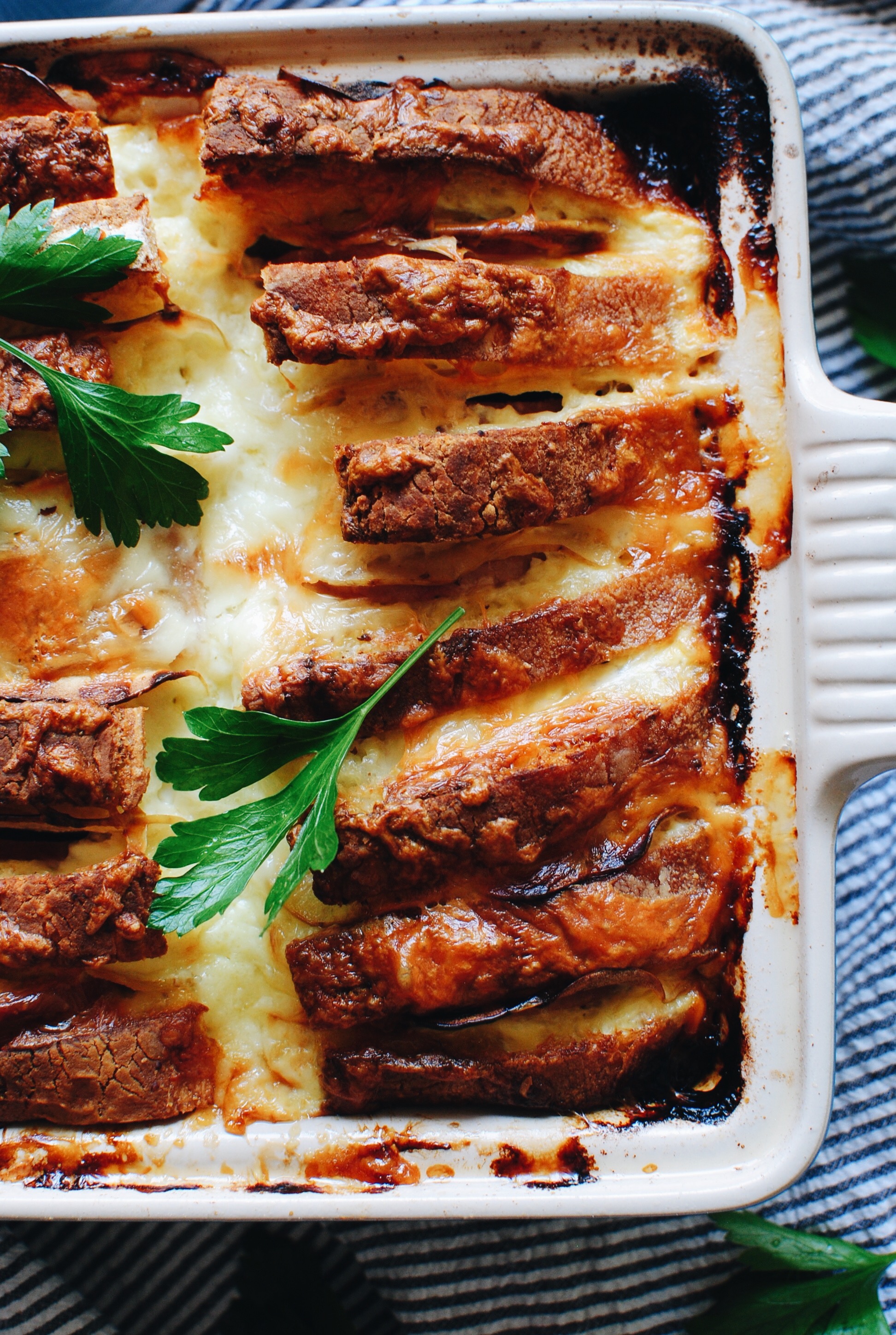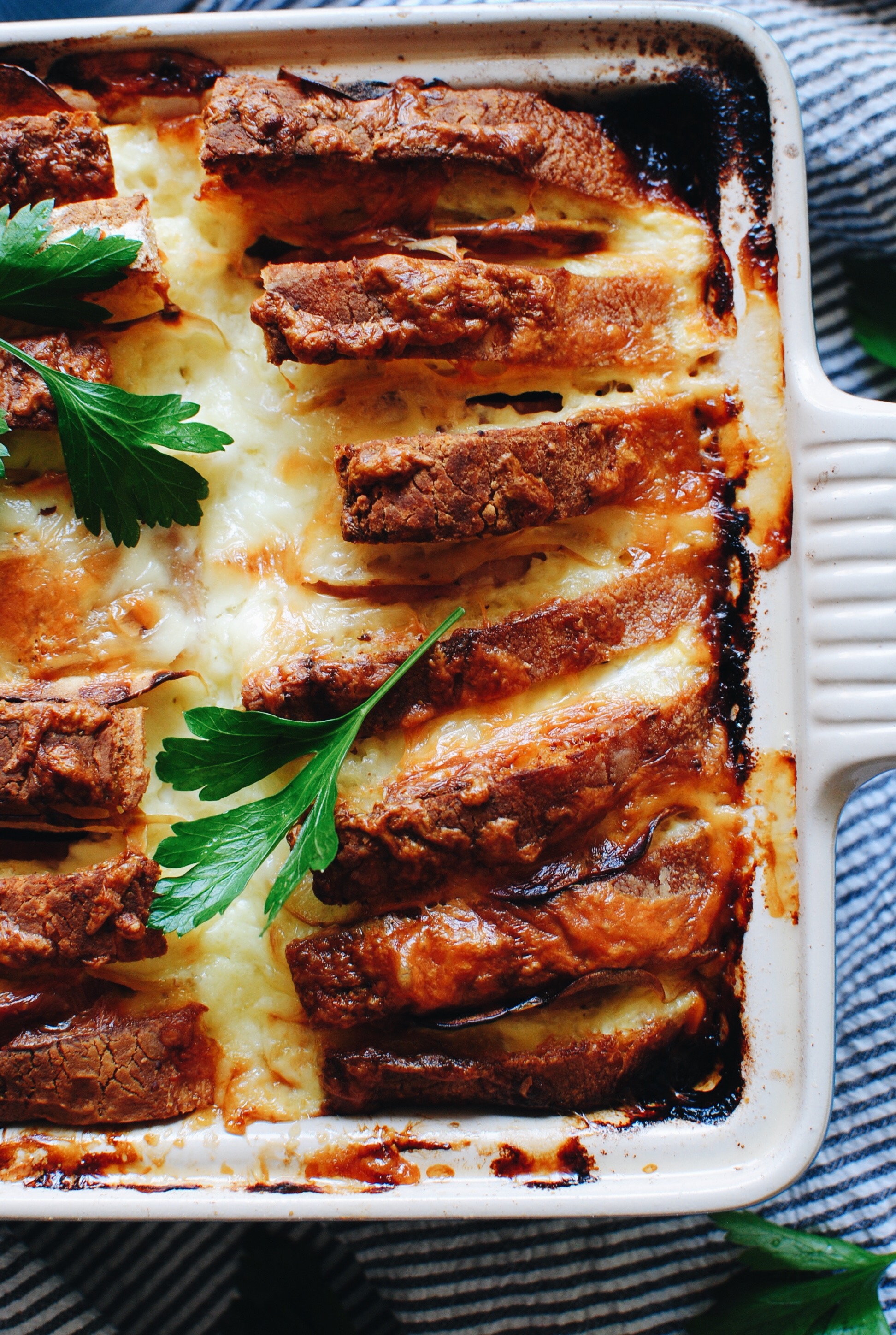 This would be exquisite at a fall brunch. Serve it with 18 pitchers of mimosas and more sliced apples with honey.
Or a simple green salad!
Or tiny adorable cups with granola, berries and yogurt!
Or none of that, and just hide in your bathroom, lock the door and eat the entire casserole with bare hands on the floor.
It's fine.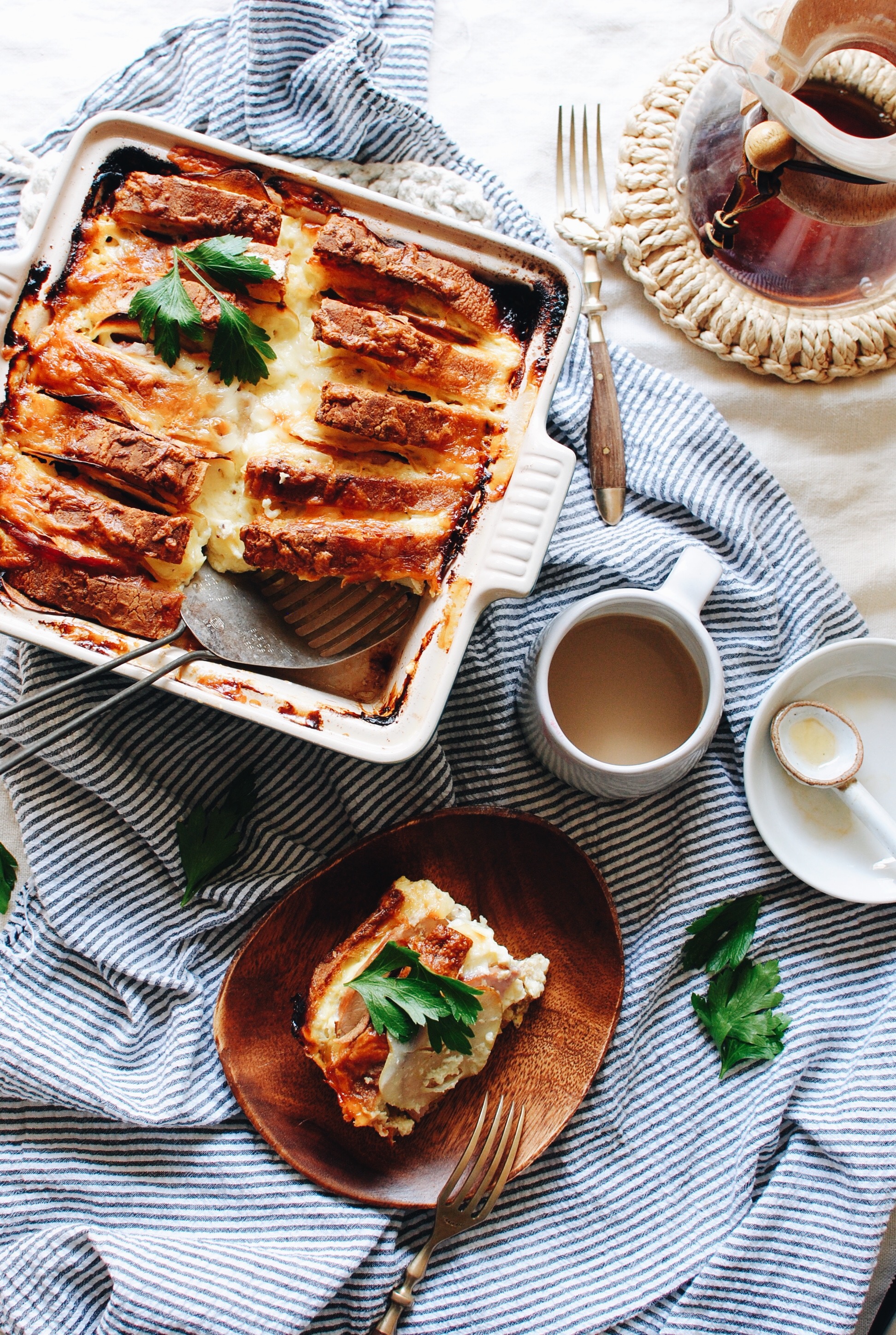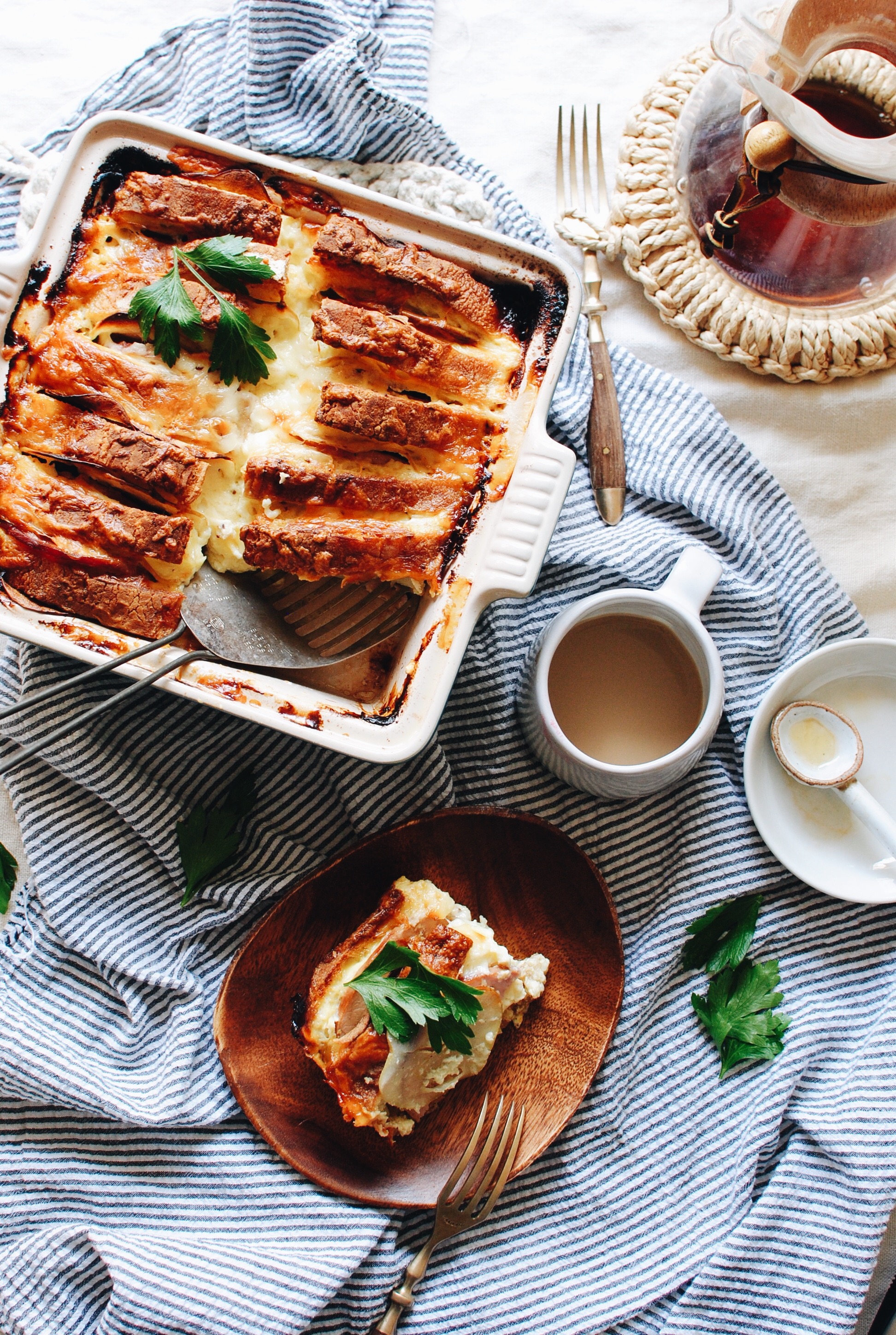 Get in that.
Breakfast Cheddar and Apple Strata
Ingredients
1 loaf ciabatta bread, cut into 1-inch slices, then cut in half (you may only use half the loaf, depending on the size of your casserole)
6 eggs
2 cups of milk
1 Tbs. grainy mustard
1-2 green apples, thinly sliced (use a mandolin!)
1 (6 oz) package of sliced Canadian bacon, sliced in half
1 (8 oz) block of aged white cheddar, grated
coarse salt
Instructions
Lightly spray an 8x8 casserole dish, then arrange the bread slices, standing up and next to each other. Between each slice, add a Canadian bacon slice, and a few thin slices of apple. Sprinkle about 1/3 of the grated cheese between the slices.
In a large mixing bowl, combine the eggs, milk, mustard and a pinch of salt. Whisk whisk whisk until totally incorporated. Pour the mixture over the bread in the casserole dish, and sprinkle with the remaining grated cheddar cheese. If needed, push the tops of the bread down into the mix, to make sure everything touches the egg/milk mixture. Cover and refrigerate for at least 4 hours. Overnight if you can!
Preheat oven to 350. Uncover and and bake for an hour an a half, checking at the one-hour mark. If the top of the bread and cheese are starting to brown, lightly tent with foil to make sure it doesn't burn. Bake until the eggs and milk are set, about an hour and a half.
Let cool for 10 minutes (IF YOU CAN), then dive in, baby.
Serves 4-6.
7.8.1.2
110
https://bevcooks.com/2017/09/breakfast-cheddar-apple-strata/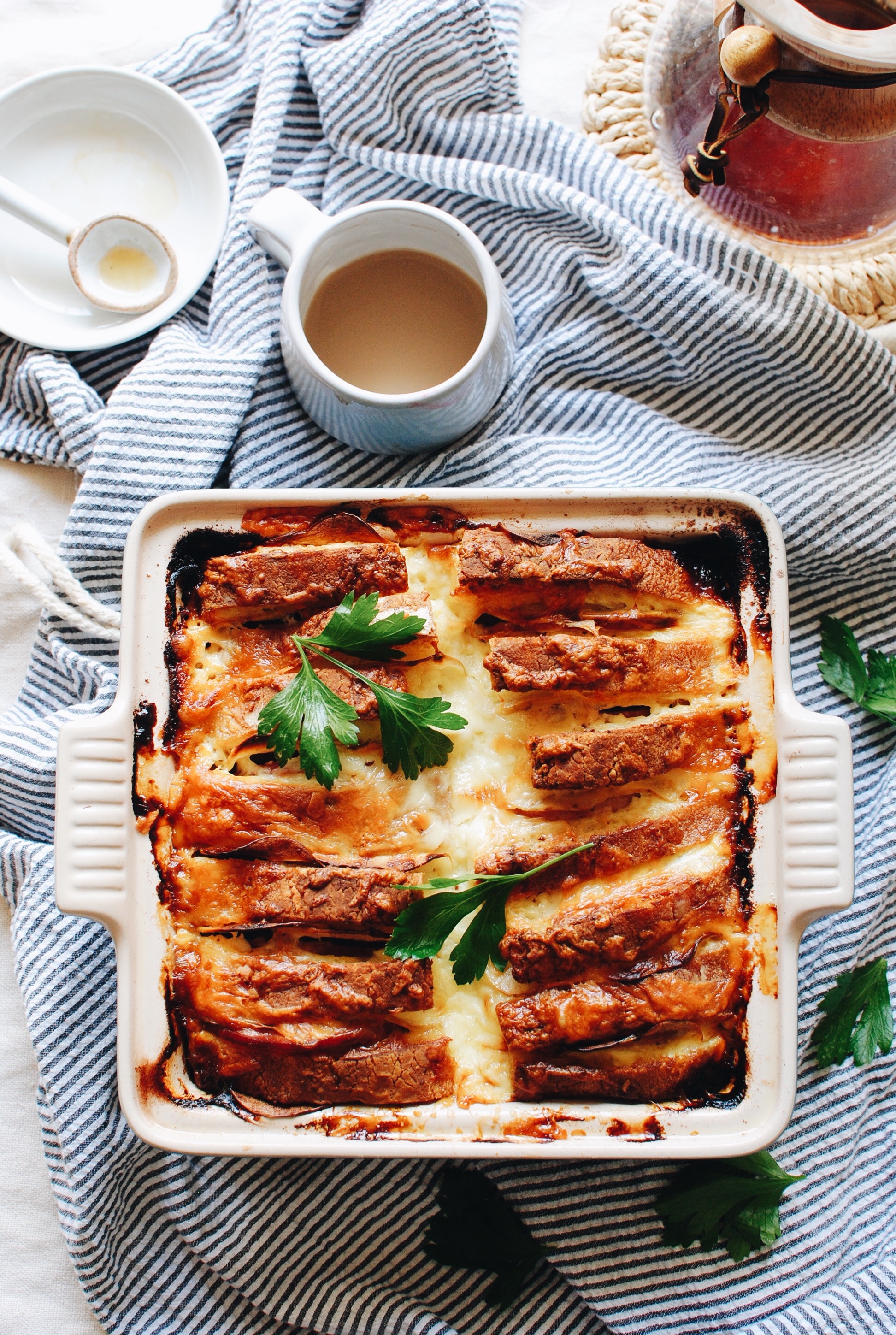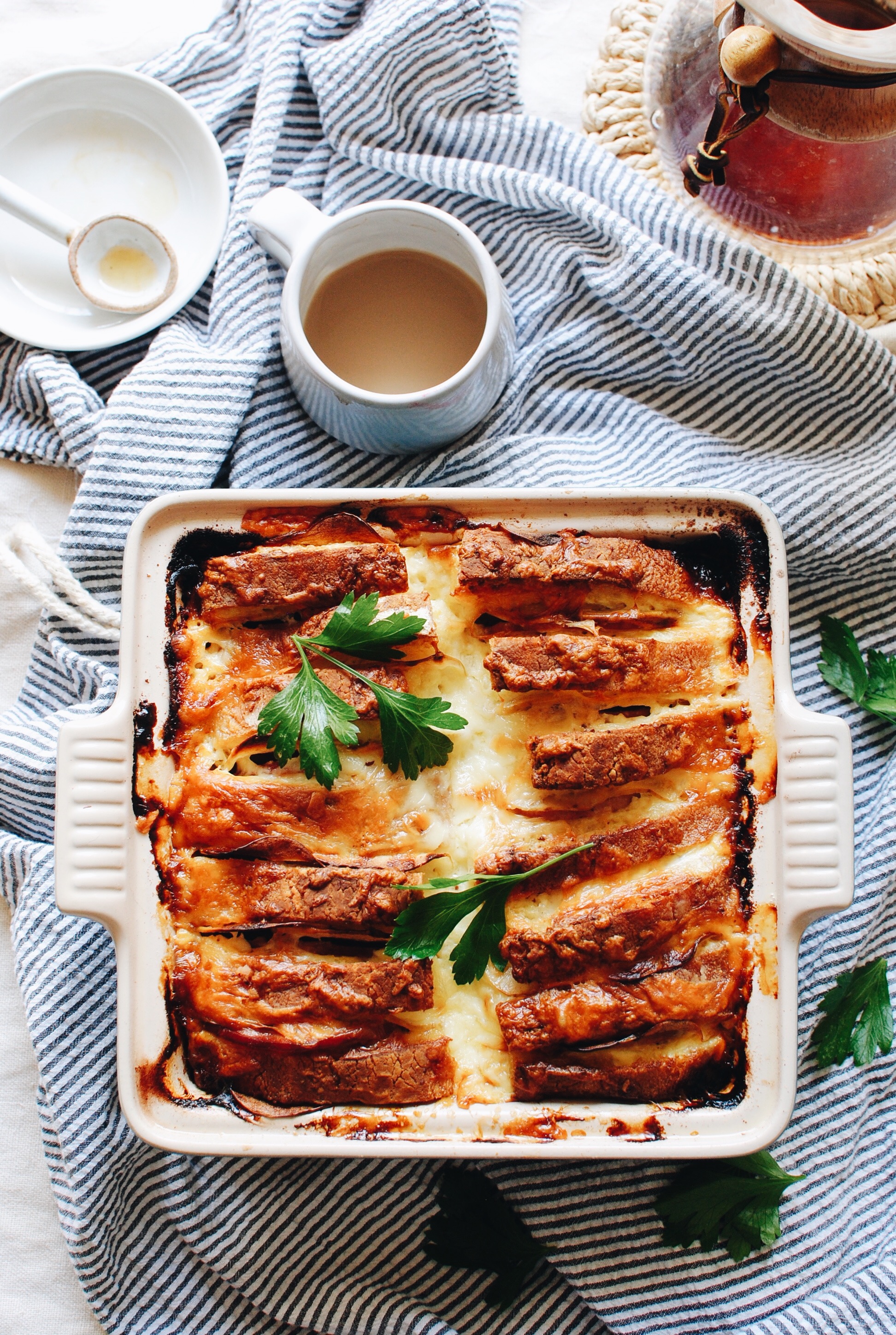 STRATAAAAAAA. (You really don't know the Seinfeld episode I'm talking about? You know, Elaine's all drugged up on muscle relaxers in public? And she's pretending to be Marlon Bran- never mind.)