Or – RRPPP for weirdos.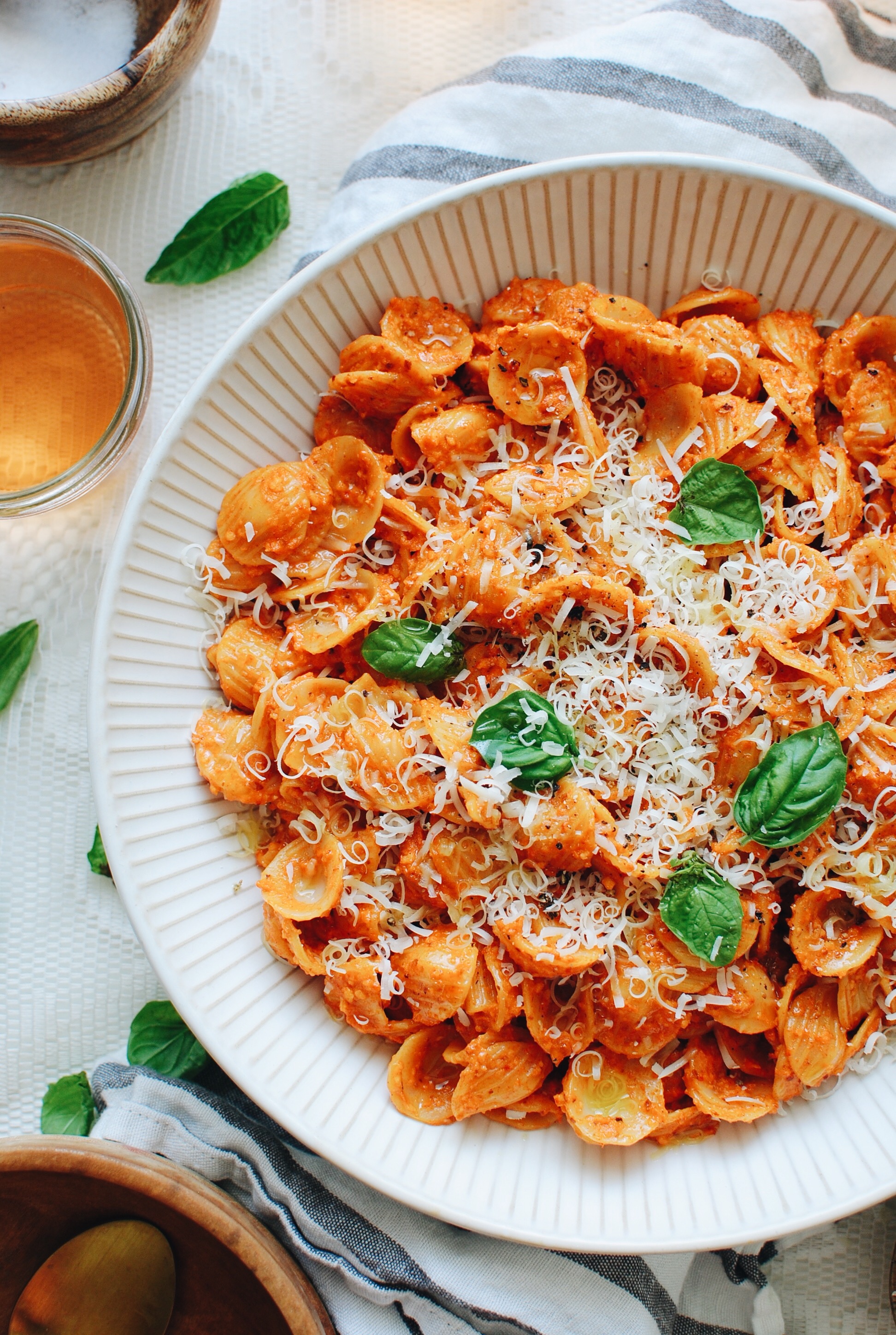 This one goes out to all my vegetarian peeps! (super grossed out that I said peeps just now.) (and that I gave a shout out at all.)
THIS IS WHAT HAPPENED. Our little neighborhood has a mini farmer's market. You may recall a certain voice I use every time we visit said neighborhood farmer's market. And for that I am sorry.
Well, this one time (at band camp), I bought a tiny jar of homemade SMOKED (not roasted) red pepper pesto from one of the farmers. I took it home, opened the jar, and dipped a chip in it.
And at that very moment, an army of choral soul trolls erupted from my body, leaving me for dead on my kitchen floor.
It was glorious. It was magnificent. It was like no pesto I've ever tasted before.
So I looked at the jar through the flood of tears shooting from my eyes, and saw this: smoked peppers, garlic, parmesan, oil and other secret spices, SUCKER. (just kidding about the sucker part right at the end.)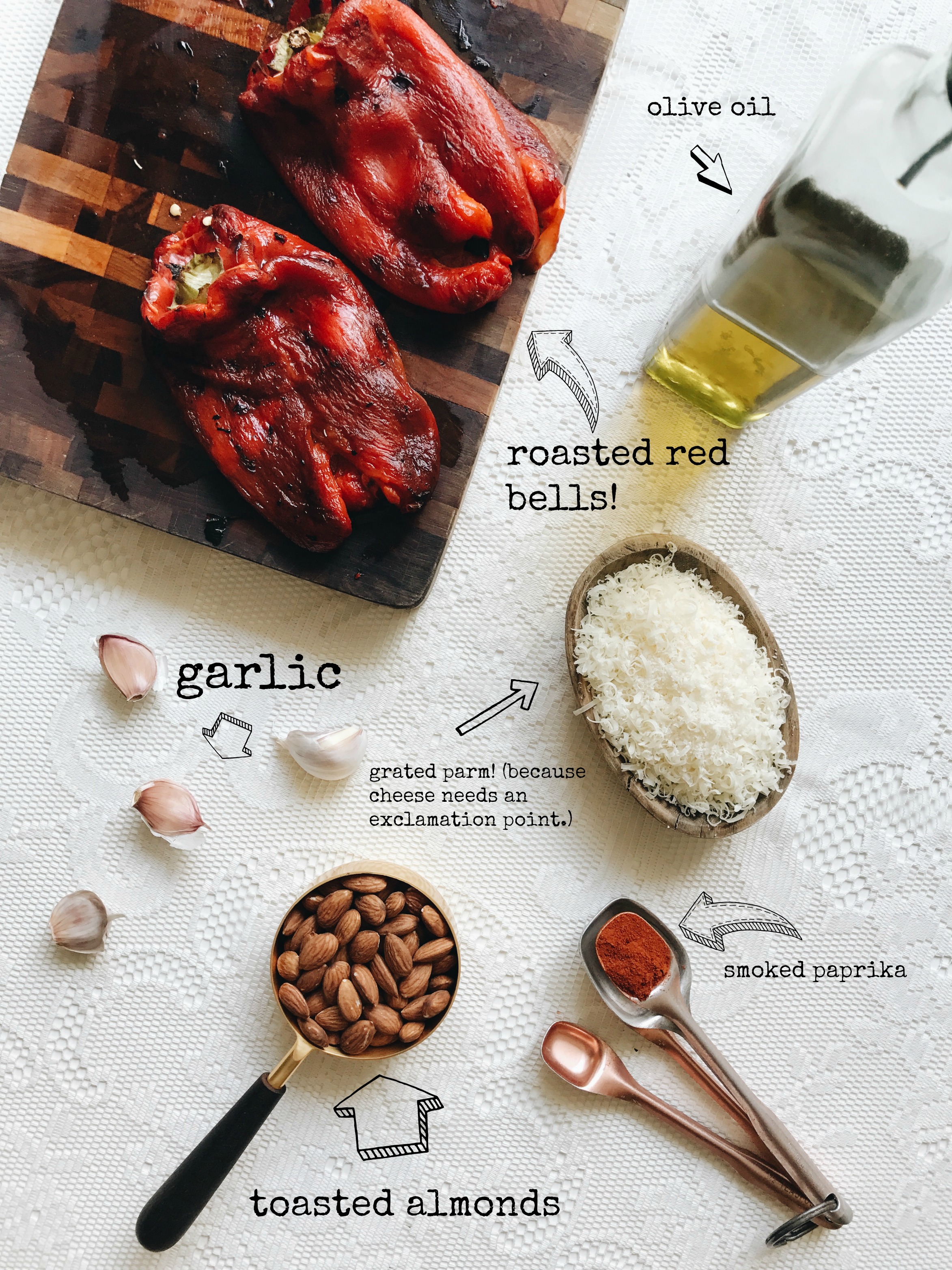 Obviously it became my mission to recreate this pesto for you. And my face.
Since I didn't SMOKE the peppers, I thought maybe adding a bit of smoked paprika to the pesto would suffice. And it's close! Not exactly the same, but dern close.
(My mom used to say dern a lot.)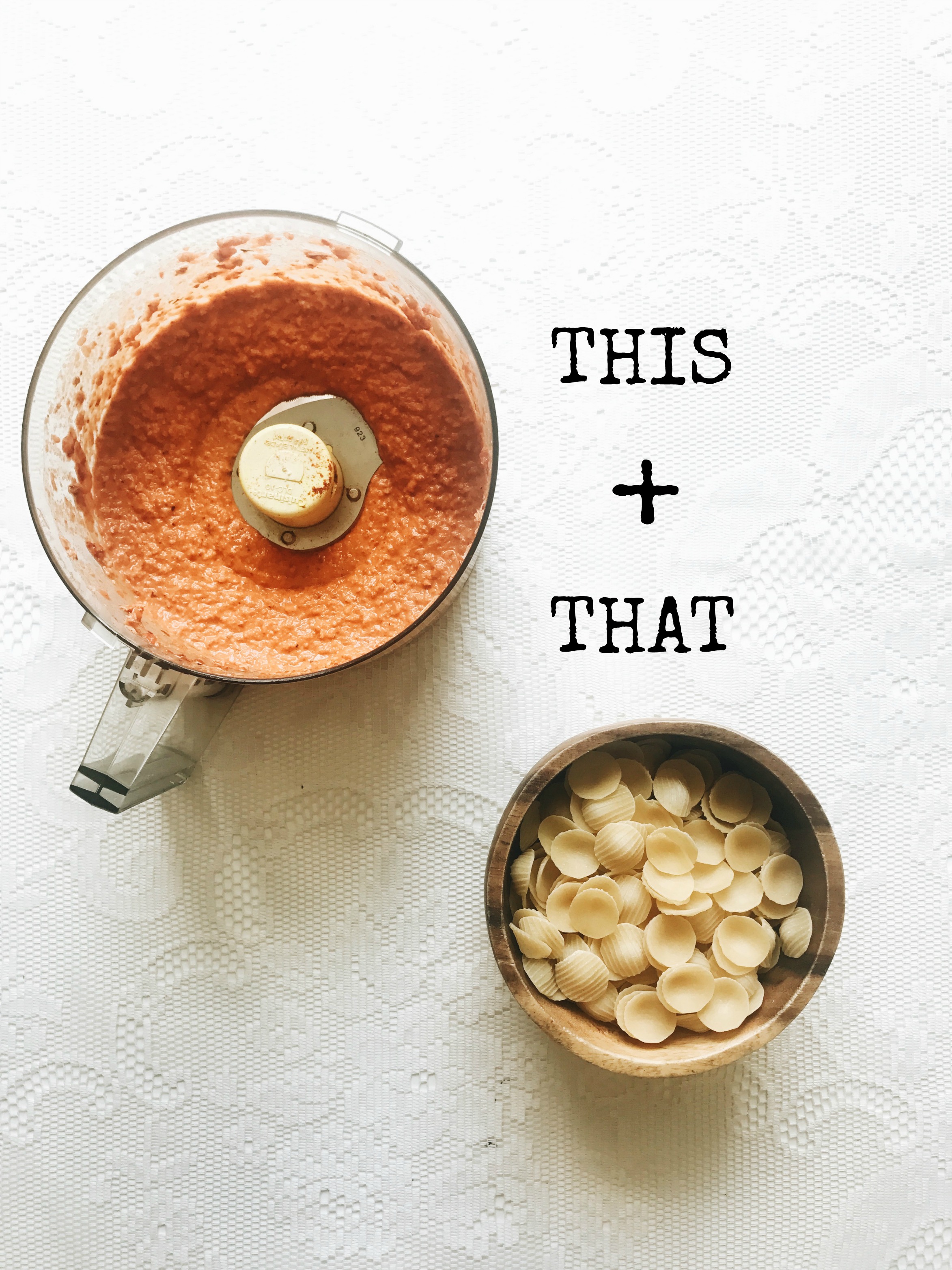 Orecchiette is one of my fave (not fav) pastas for pesto, because they're basically tiny bowls. Baby scoops. Wee vessels o' delight.
You mix the pesto and pasta together, aaaaaaand…..!
ALSO, it's not this freaking blast-your-eyes-out neon in person. WordPress does this squirrely thing with photos once you load them into a post by making the colors more vibrant. Whiiiiiich makes me more stabby. They look perfect on my desktop though! Ugh.
However, if you're into coordinating your pasta with your rosé, well look no further.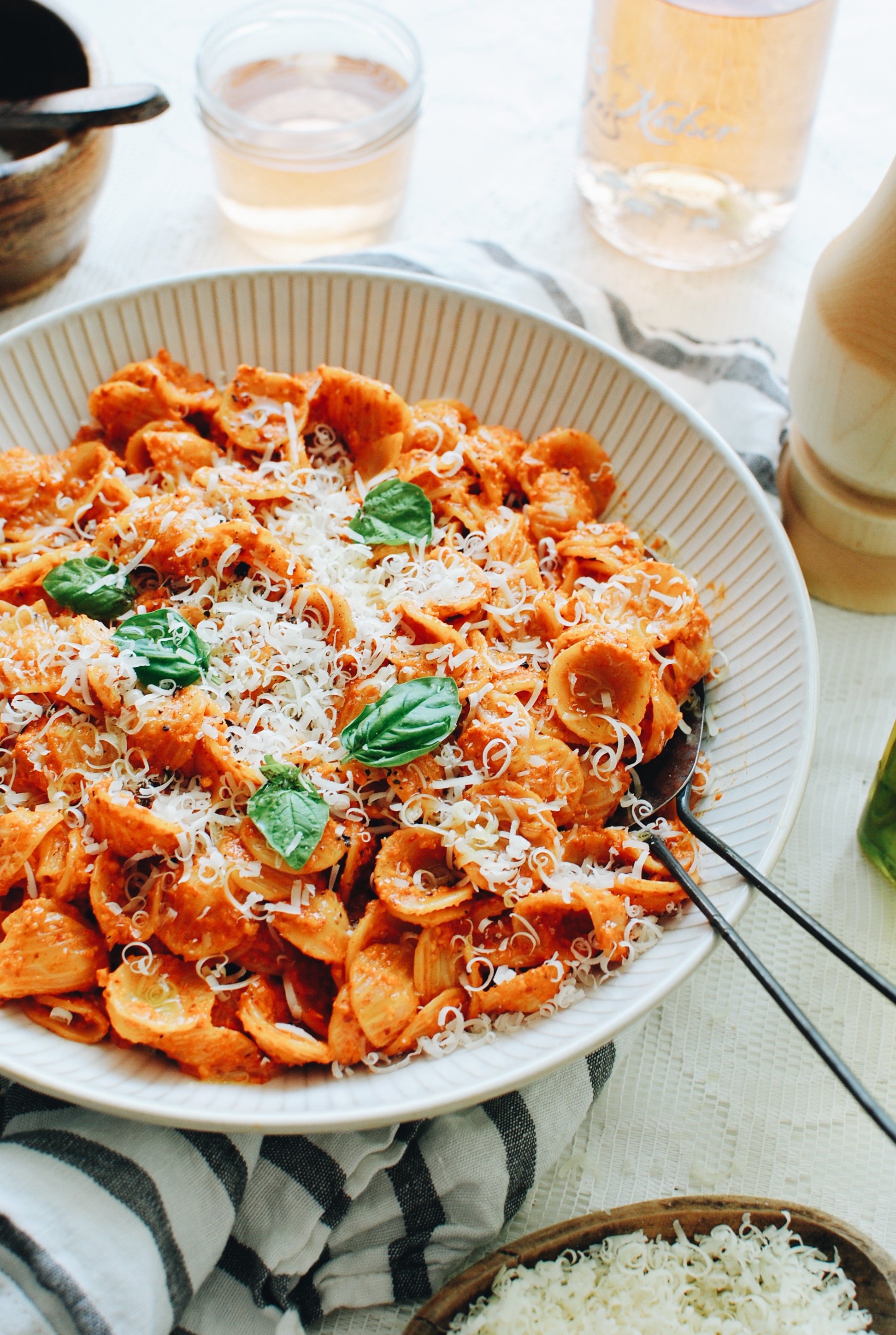 Flavor? I'd saaaaaay – peppery, but not spicy. Velvetty, but with texture. Subtle smokiness, but pleasant! In short, mama dig. (<–WHY did I have to go and say it like that.)
Now, I didn't exactly nail the exact flavor game that the farmer's market dude did, but I'm pretty sure he's an alien wizard from Mars. So.
You need to make this! Add some chicken if you want to bulk it up. I won't be mad at you.
But be suuuuure to sprinkle (and by sprinkle I mean blanket) the finished dish with extra parmesan, a scattering of basil leaves, coarse salt, and a healthy drizzle of your best extra virgin olive oil.
Deeeeuuuuuum.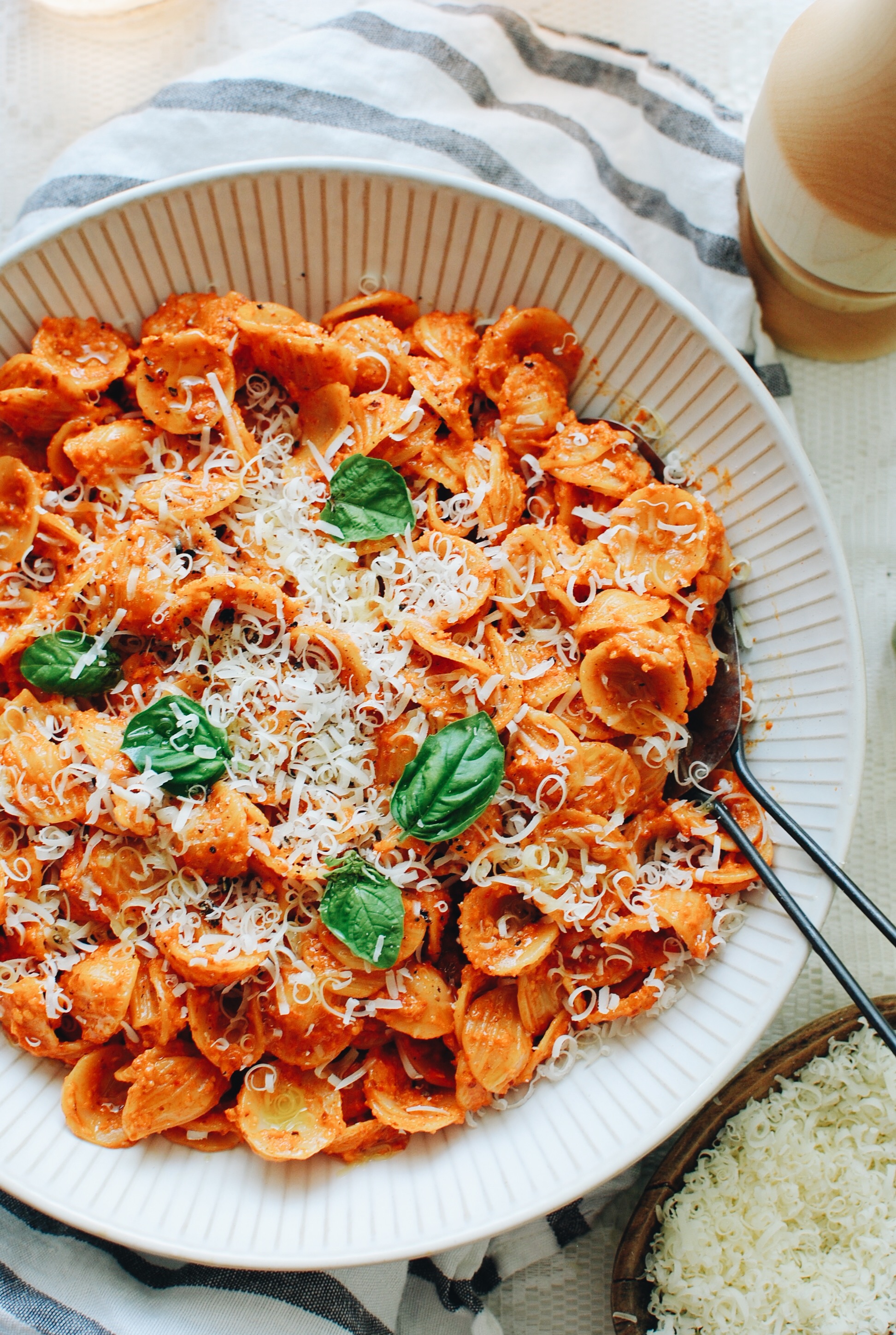 In ya go.
Roasted Red Pepper Pesto Pasta
Ingredients
2 red bell peppers
1/2 cup toasted almonds
1/3 cup freshly grated parmesan (more for garnish)
4 garlic cloves
1 tsp smoked paprika
1/3 cup extra-virgin olive oil (plus more for drizzling at the end)
Coarse salt
1 tsp fresh lemon juice
12 oz orecchiette pasta (or small pasta of choice)
Basil leaves for garnish (optional)
Instructions
Place the peppers on a baking sheet, and broil on high until the peppers have blackened all over. Using tongs, turn the peppers every few minutes or so, to make sure the entire thing is charred. Immediately transfer the peppers to a plastic bag, seal and let steam for 10 minutes. Once slightly cooled, place the peppers on a cutting board, the pull back the charred skins. Remove the stems and seeds as well.
In a large food processor, place the roasted red peppers, almonds, parmesan, garlic, smoked paprika, lemon juice, and a good pinch of coarse salt. With the motor running, add the oil in a thin stream, until it becomes a pesto consistency. Taste it. Need more salt? You know what to do.
In the meantime, boil the orecchiette until it reaches al dente, according to package directions. Drain and stir the pesto into the pasta. Toss toss toss!
Garnish with extra cheese, a good drizzle of oil, and fresh basil leaves. IT IS EVERYTHING.
Serves 4.
7.8.1.2
101
https://bevcooks.com/2017/08/roasted-red-pepper-pesto-pasta/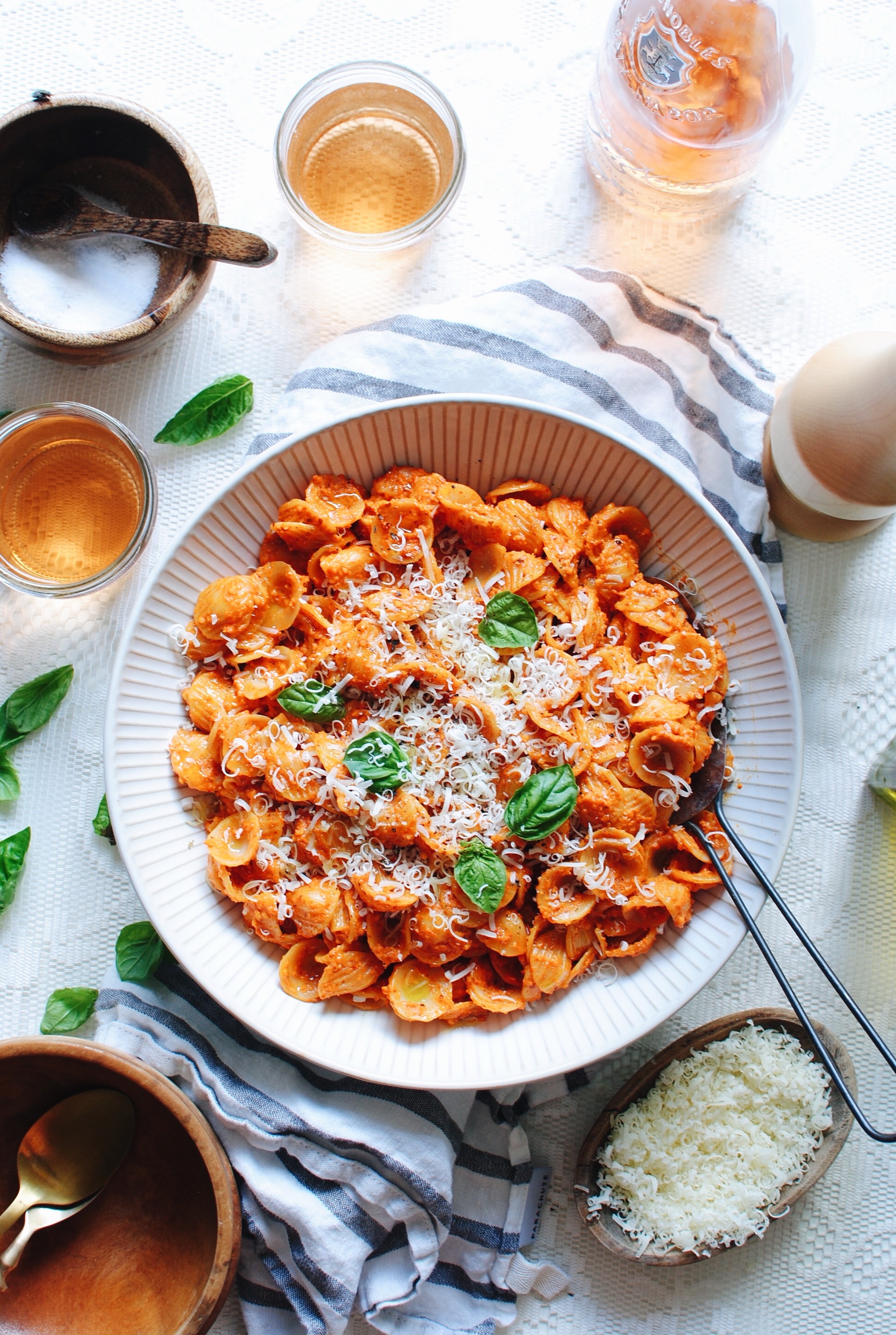 (aaaaand of course there's a fly on my salt bowl.)