And peas! Risotto with Shrimp, Bacon, Zucchini and Peas. The peas part.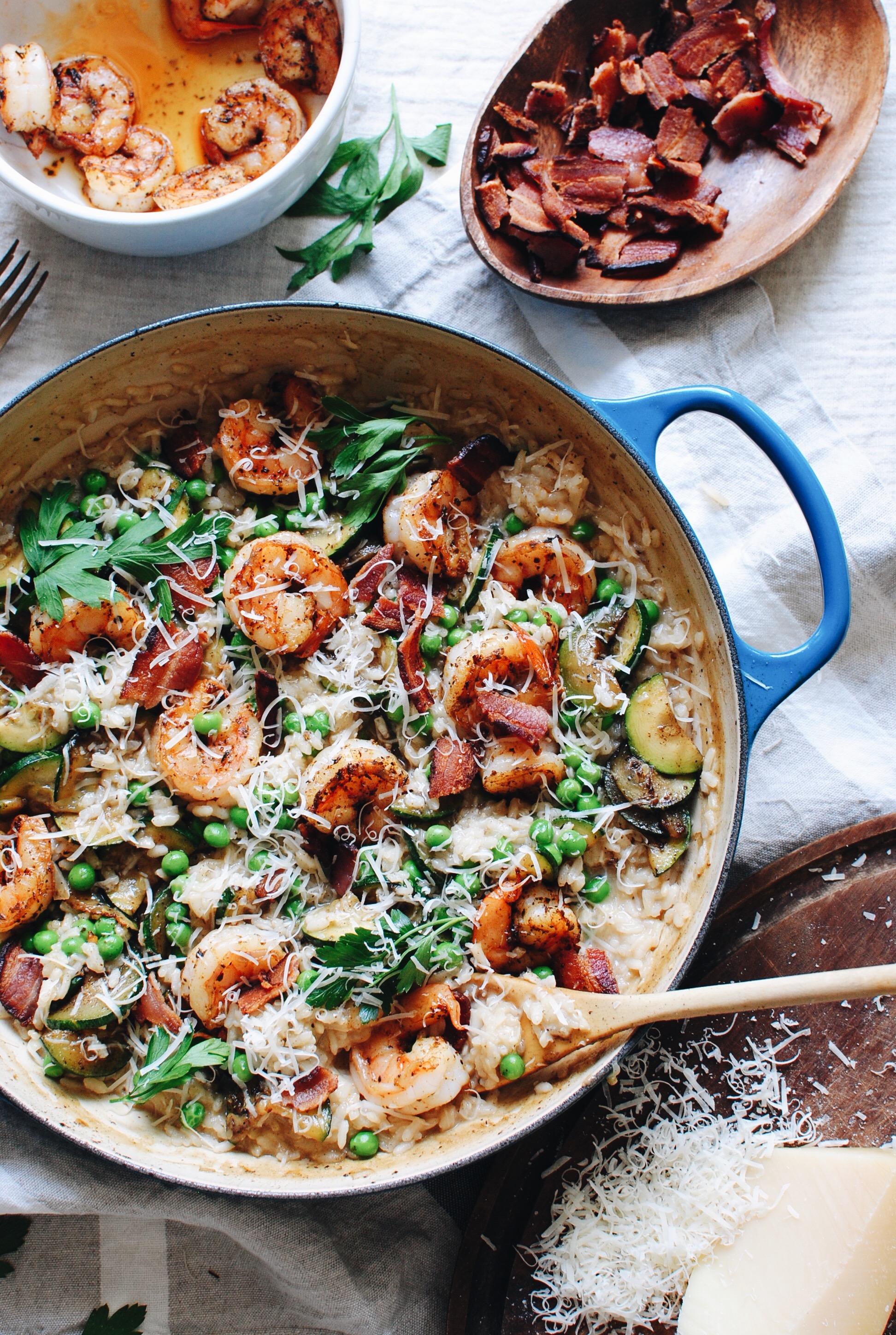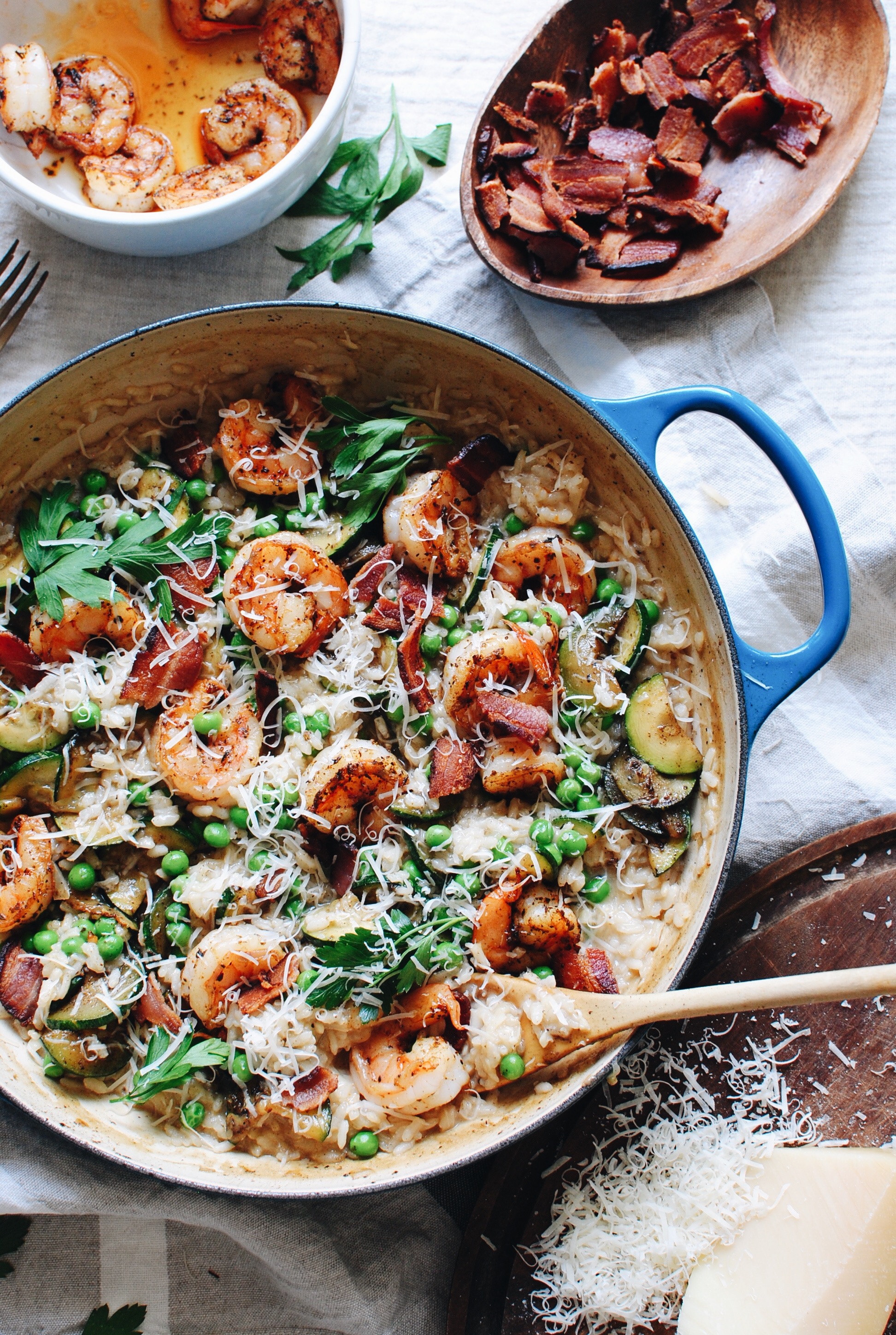 I'd like to think of this mess as a late summer kitchen sink risotto thingy.
I MEAN, you can make it any time of year really. But right now it's summer, so I'm calling it summer. Only because the shrimp isn't in season in January.
Just kidding.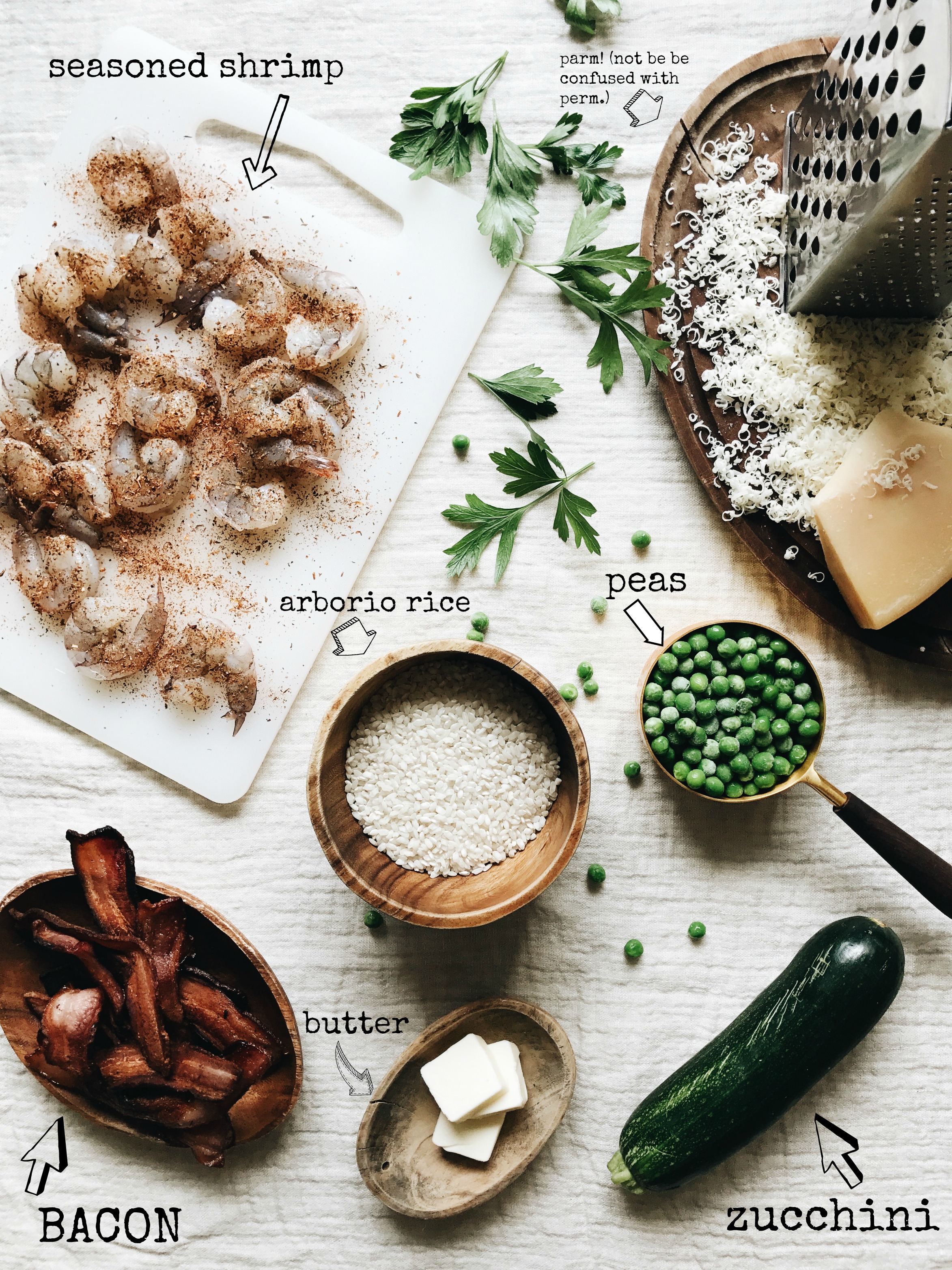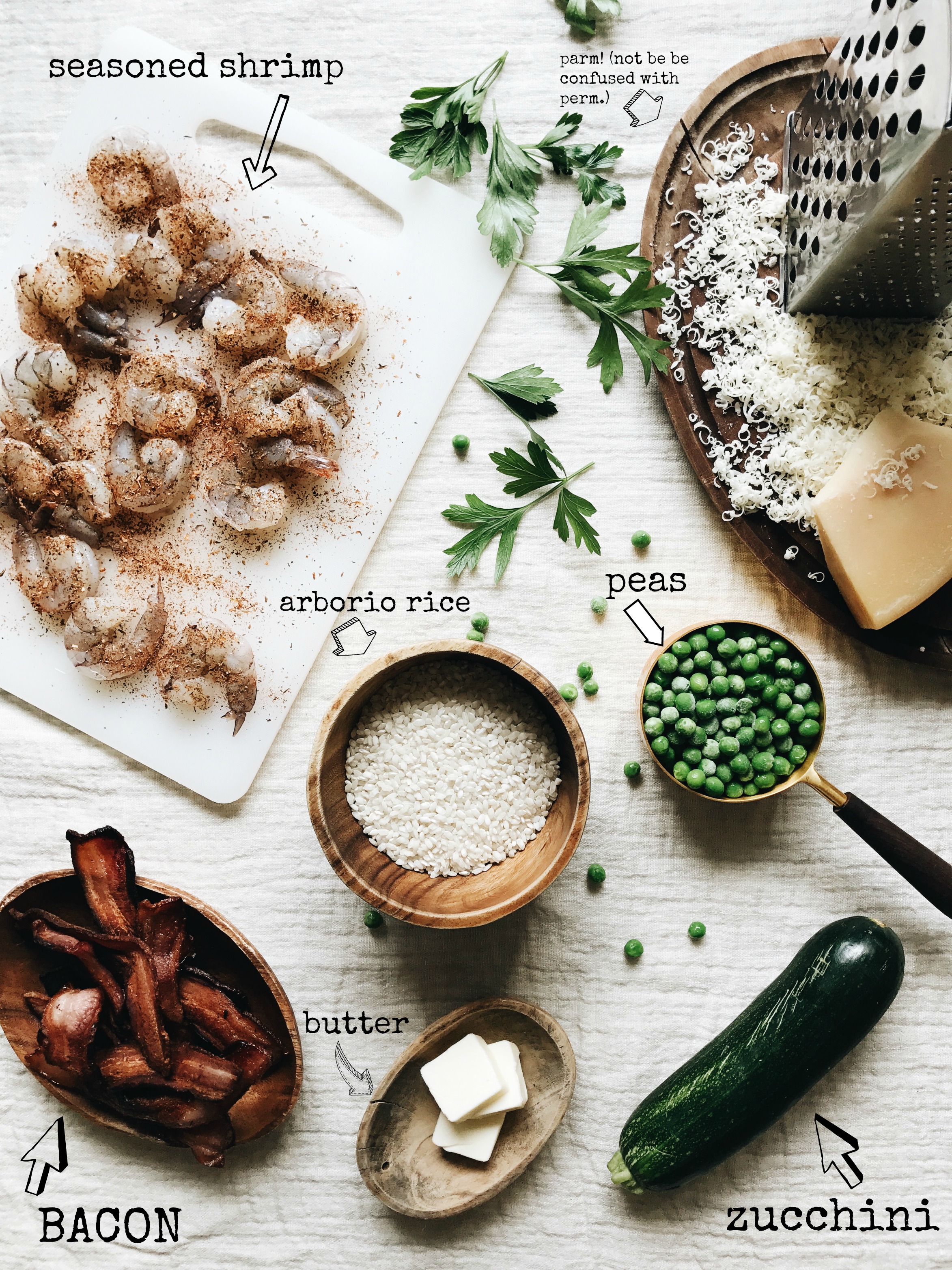 It's one of those meals that has all the components of a good life in it, but it's not overly intimidating.
First of all, BACON. I've been getting this bacon in my weekly Shatto box, and it's called Fantasma. FANTASMA. Have you ever heard of anything more wonderful in all your life? And I text my friend Lacy every time because we love the word Fantasma so much we want to punch/kiss it. "I got the FANTASMA bacon!" "Well isn't that FANTASMA."
Never mind.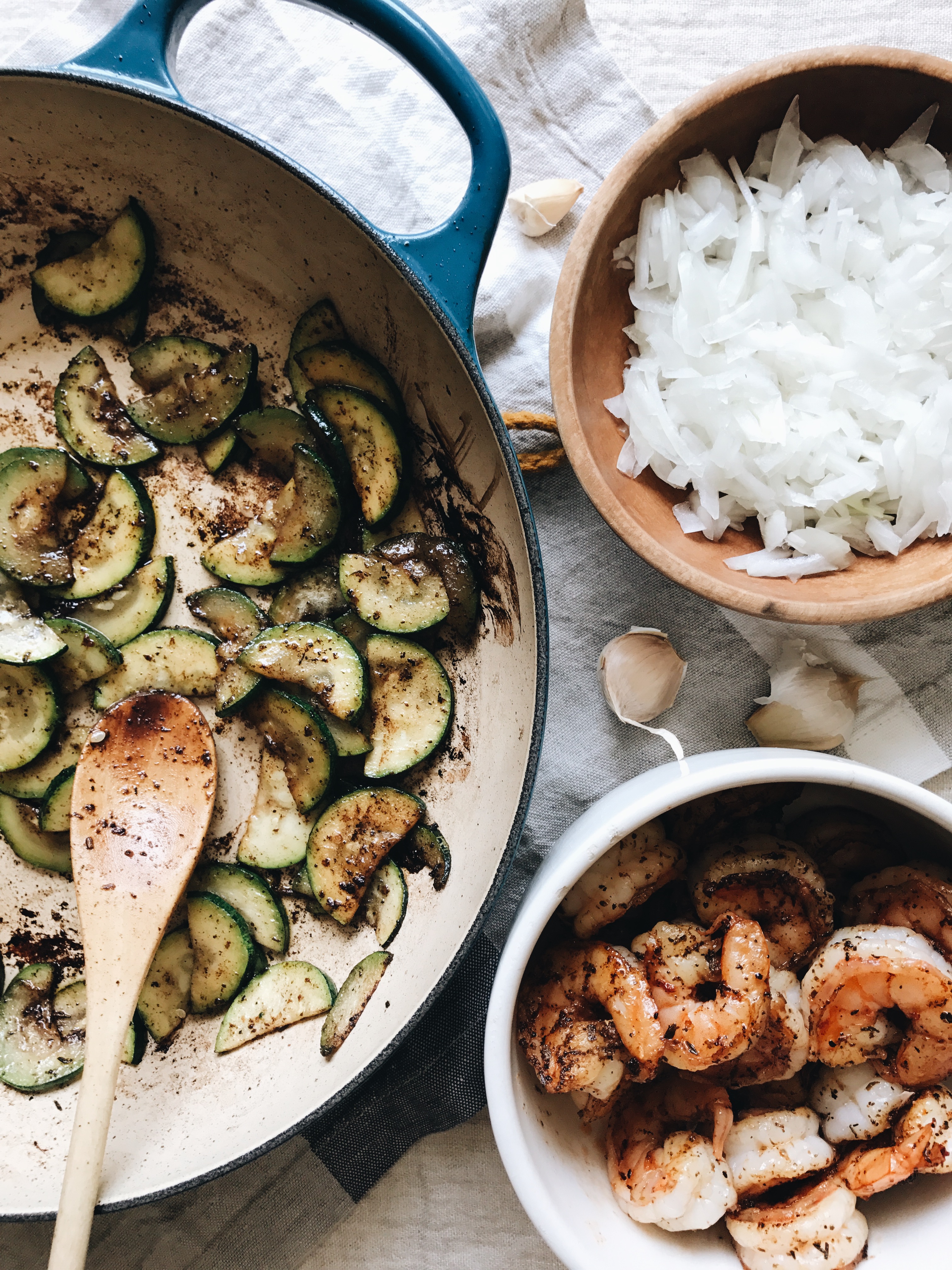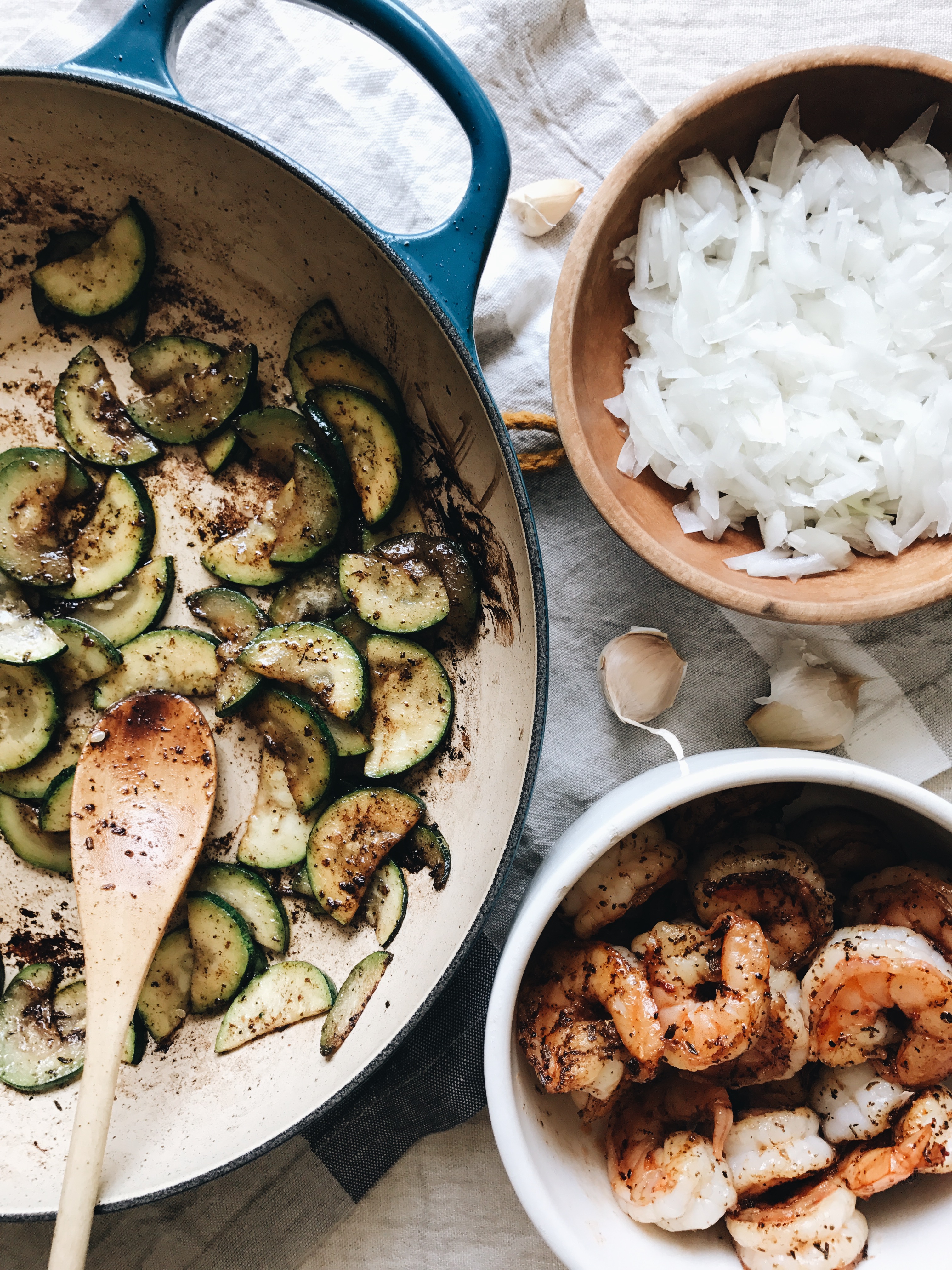 The shrimp! LISTEN, it's been dusted with dried Italian Seasoning. The one I just bought has a lot of red in it, which is odd, because usually it's just dried herbs like thyme and oregano. But this new one has a little more paprika in it, which basically gives me reason to go on.
Dust that shrimp. Sear it in the bacon grease. Then sear a sliced zucchini in the bacon grease. And I'll try not to say grease again.
After I say grease right now.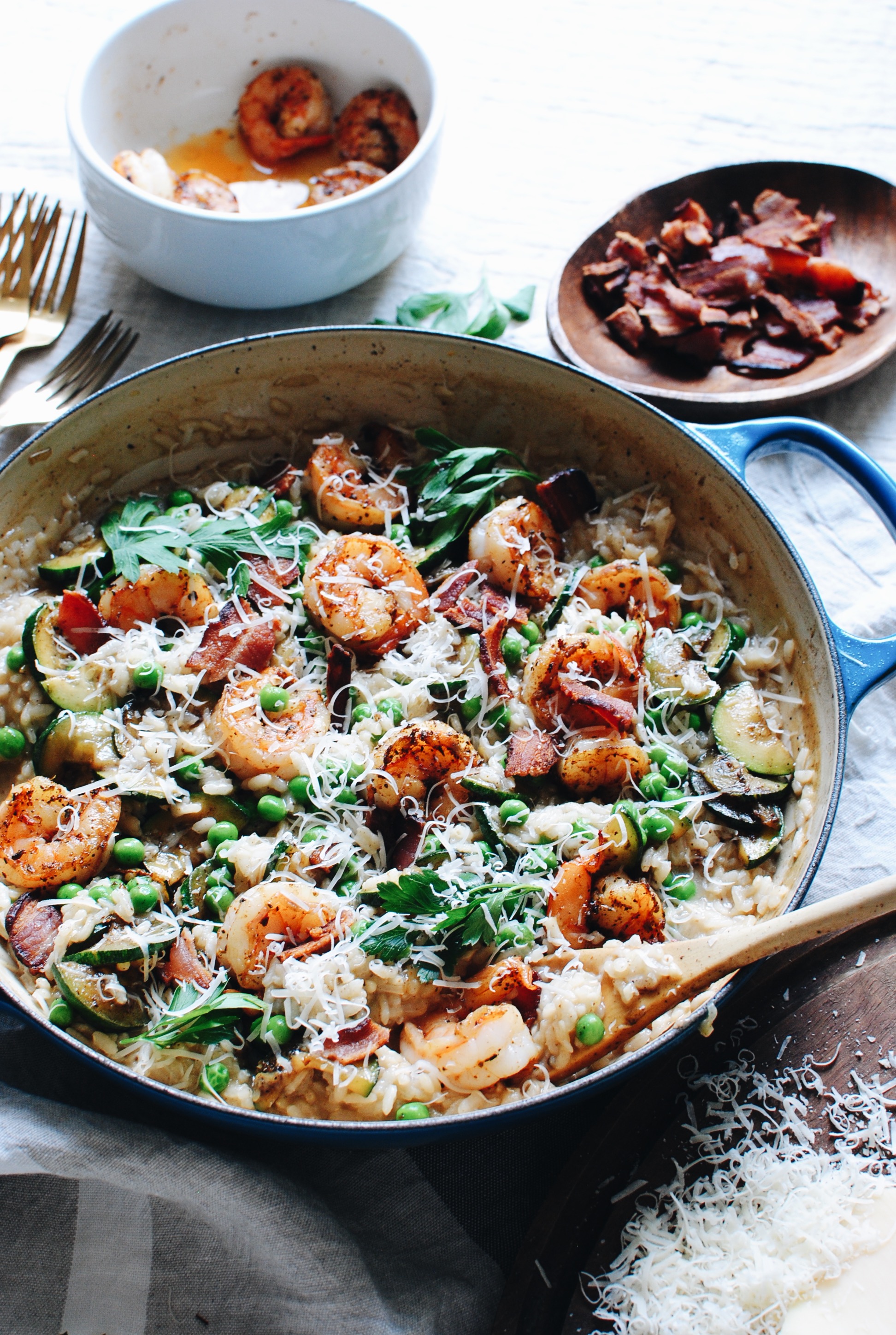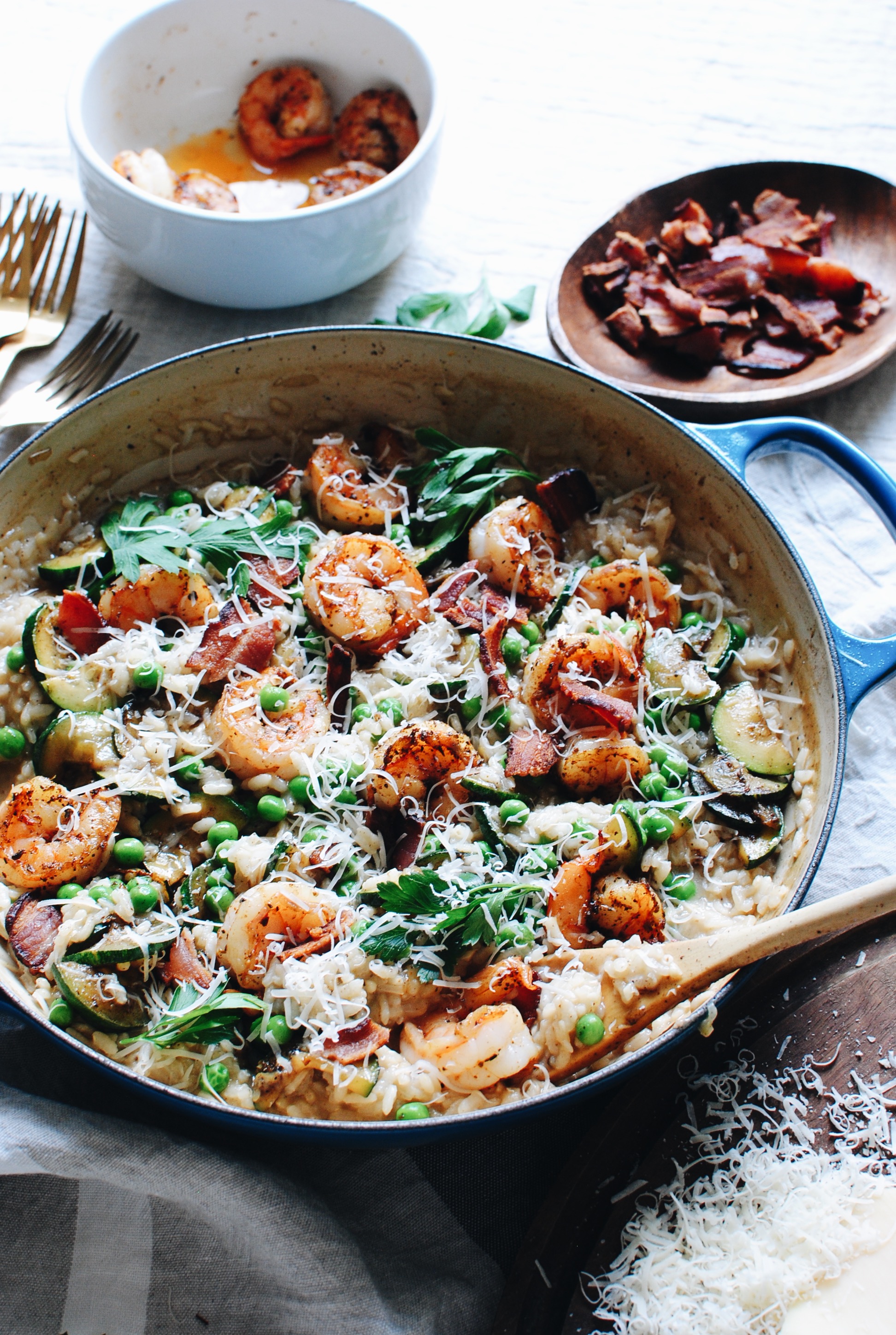 Then the risotto stirrage (<–it's a word) begins! You'll sauté diced onion and garlic in the pan with the browned bits (add a little water or stock if you need to deglaze), and theeeen add the Arborio rice and lightly toss it in the onions and garlic and a piece of your blistered soul. Add a little dry white wine to burn off, the start adding the chicken stock to the pan – cup by cup.
AND CHECK THIS – tip time. Instead of dirtying up a pot from warming the stock, just pour it straight from the carton! It's only 65% white trash.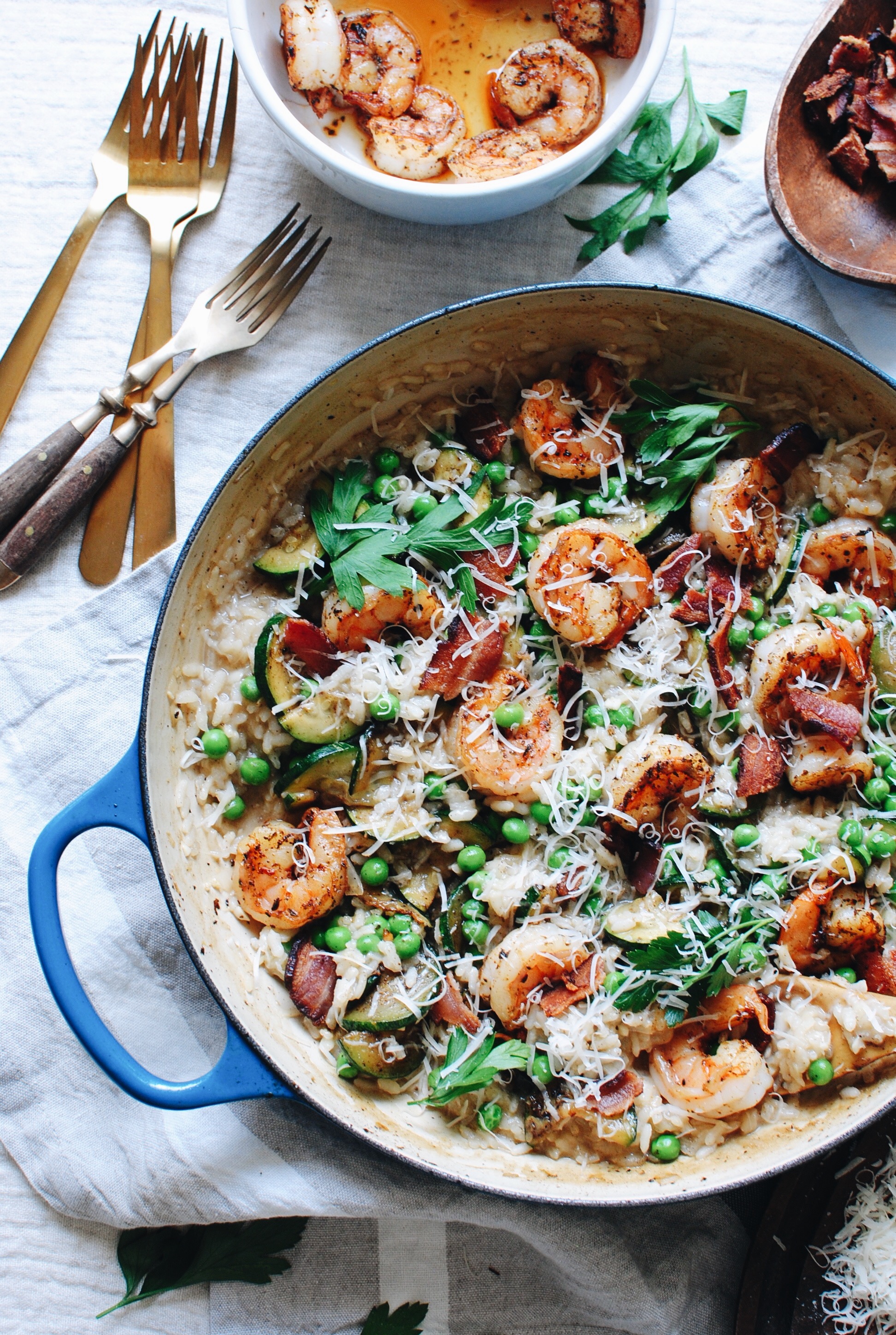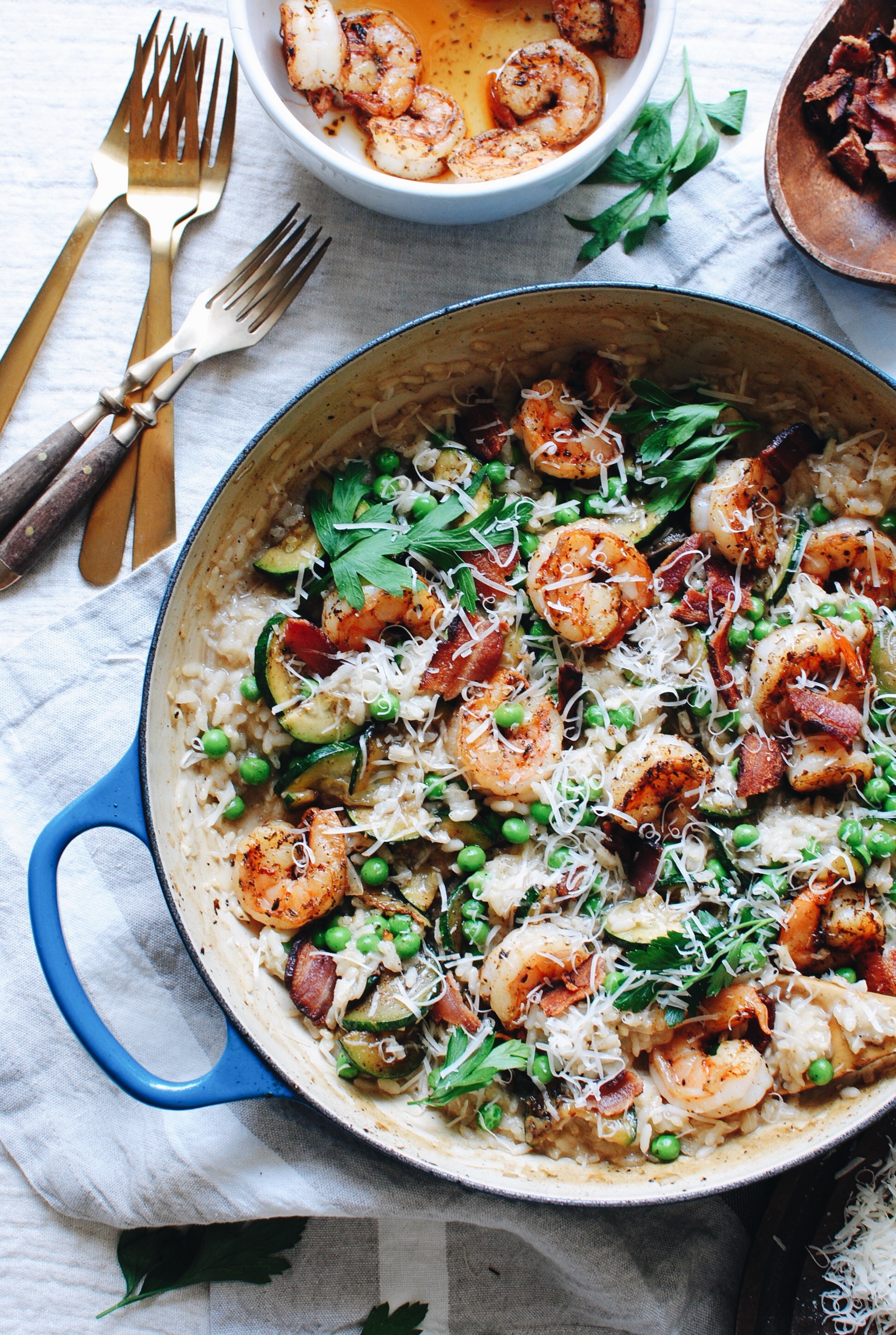 After about 20 minutes, four cups of stock and a personal private Macarena dance party, turn off the heat and stir a couple of pats of butter and the grated parmesan in it.
Sob.
Then throw in the thawed peas, reserved sautéed zucchini and seared shrimpies.
Bawl.
Garnish with the crispy crumbled bacon chunks, more cheese, fresh parlsey and I'M SORRY BUT MAMA SAID KNOCK YOU OUT.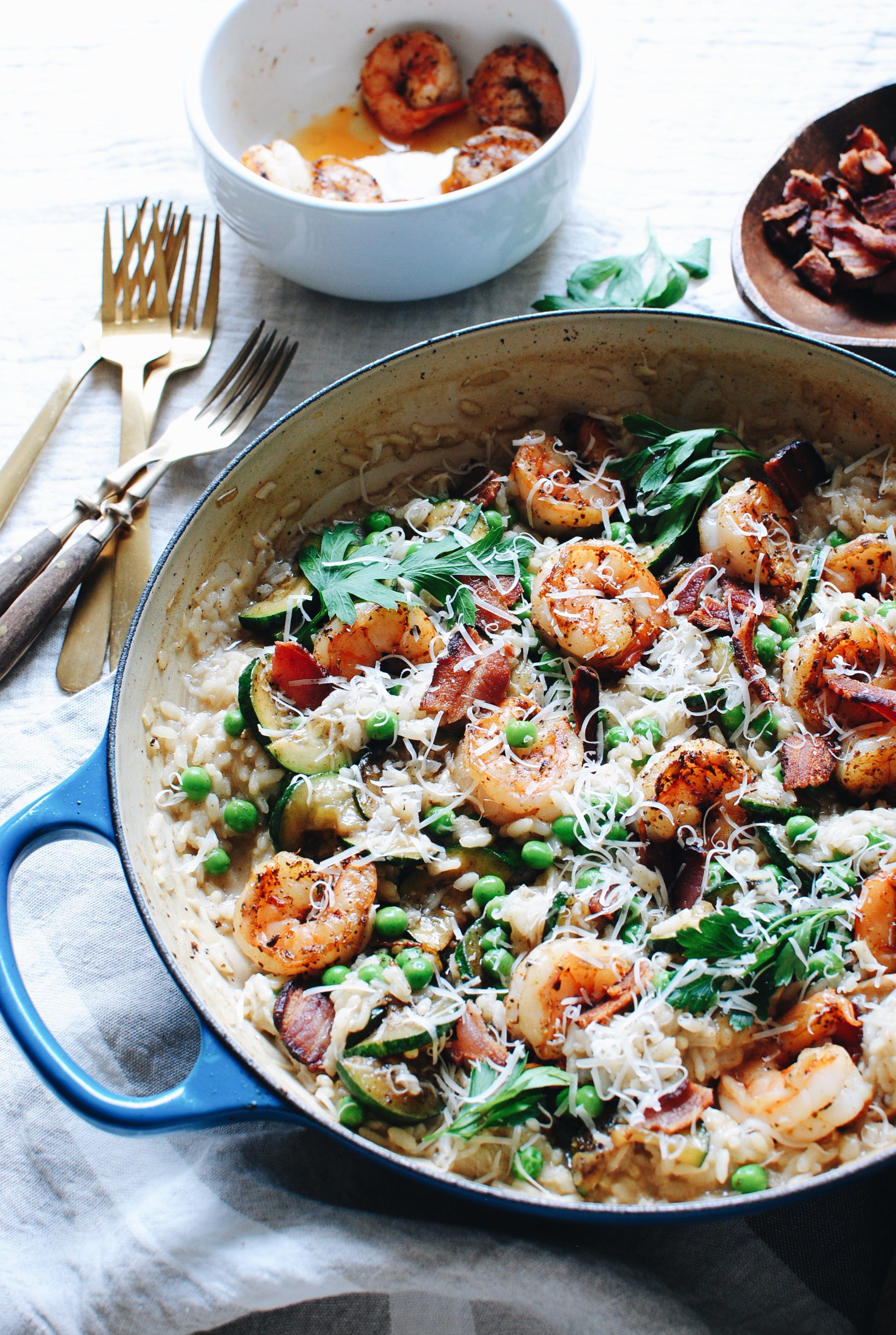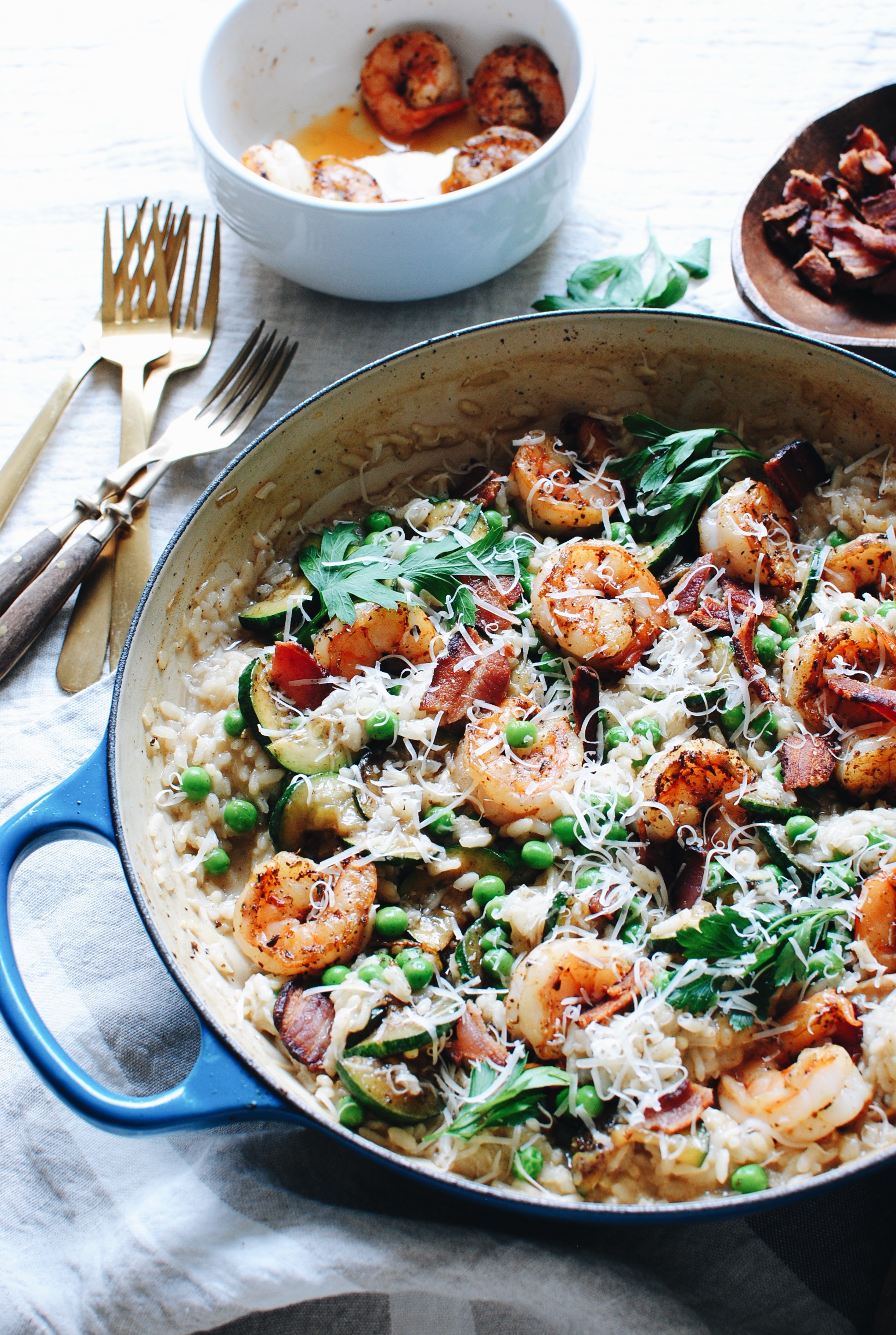 Risotto is a labor of love. Yeah, I know.
But it doesn't mean you can't take this on come Saturday night! Just open a can of (not whoop-ass) rosé, throw on this mixtape (ARE YOU NOT OBSESSED YET?), and just get your face in that already.
Late summer kitchen sink risotto thingy. It works.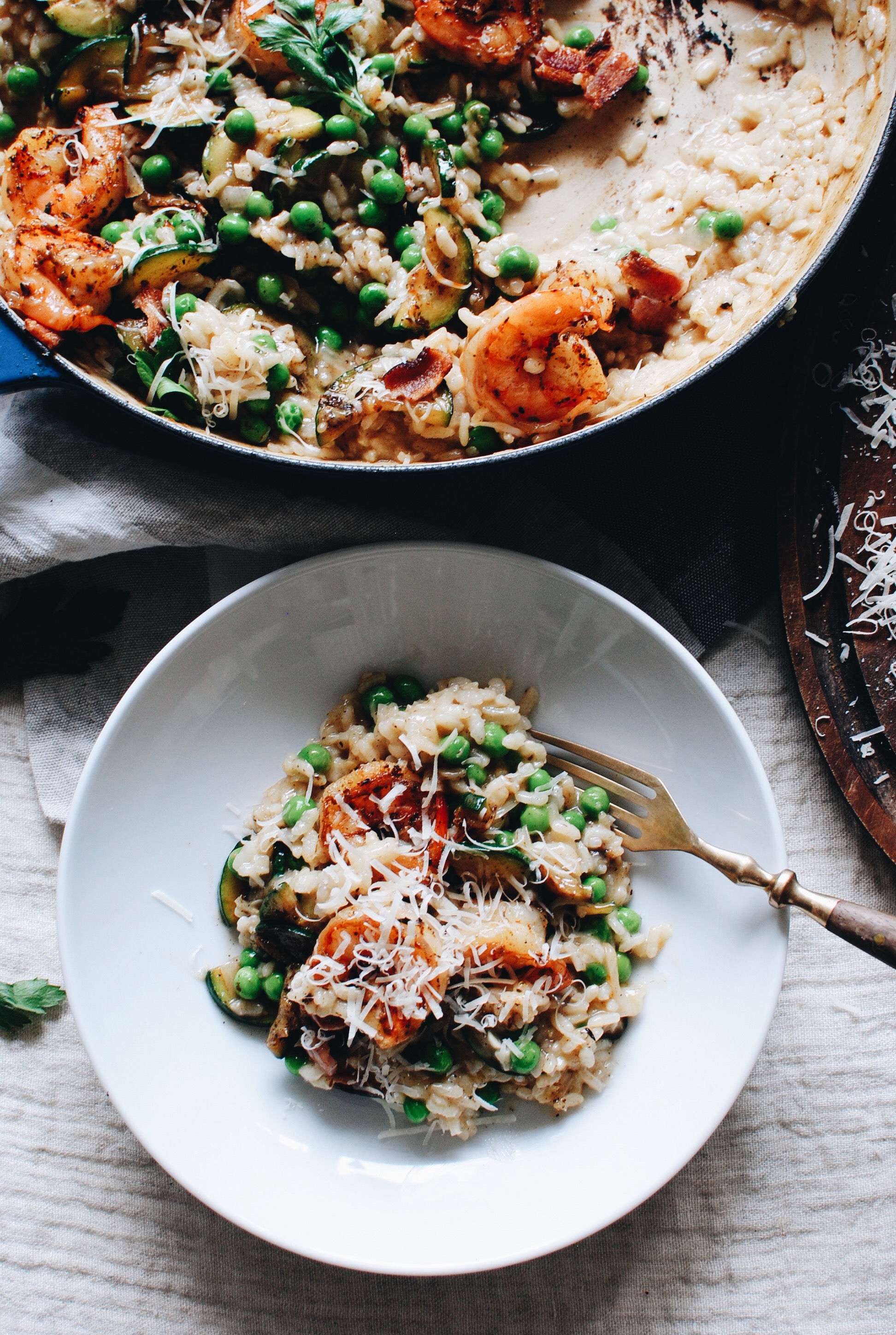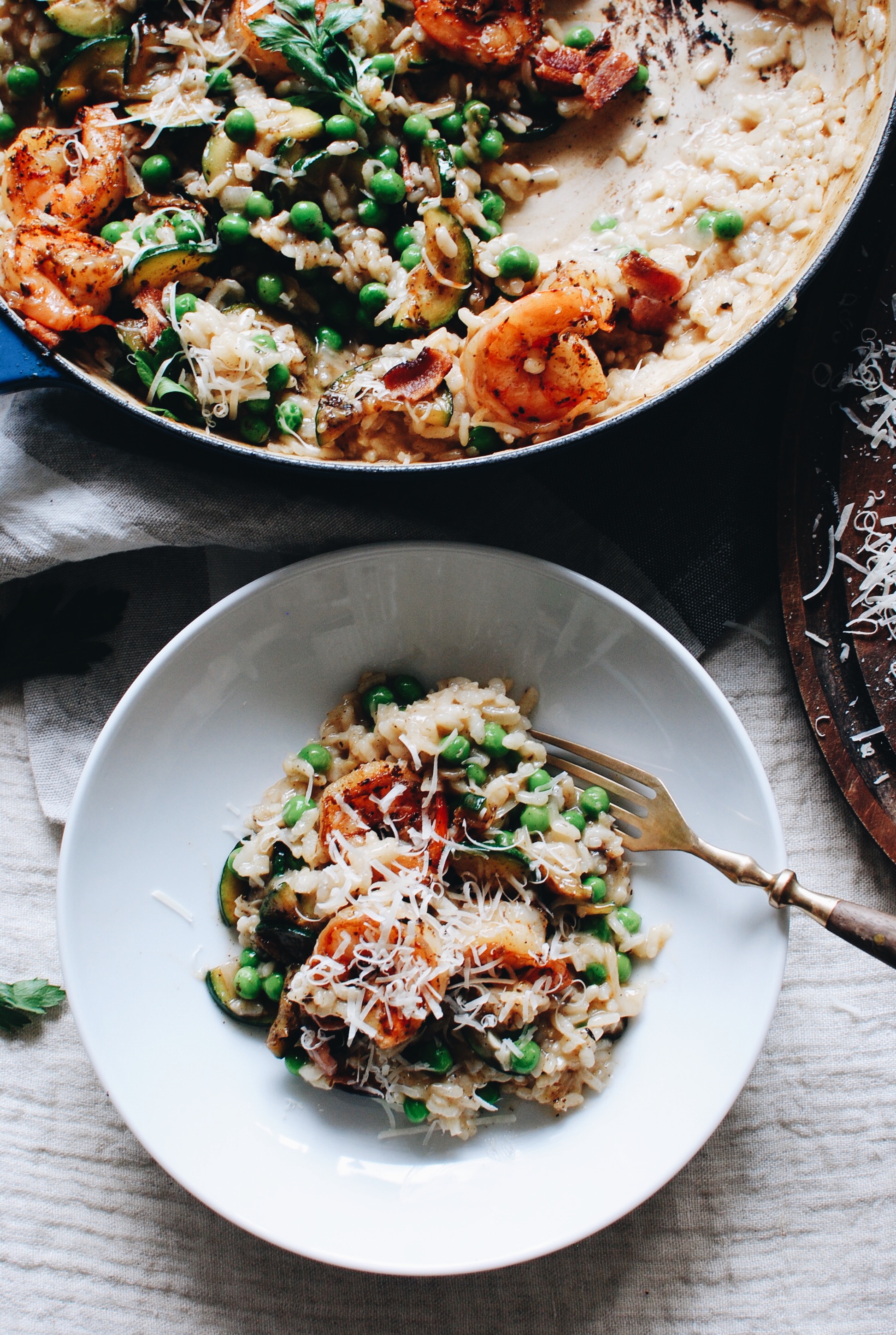 (add more cheese.)
Risotto with Shrimp, Bacon and Zucchini
Ingredients
6 slices bacon
1 pound frozen shrimp, thawed and pat dry
1-2 Tbs. dried Italian seasoning
1 zucchini, sliced and cut in half
1/2 large white onion, diced
3 garlic cloves, minced
1 cup Arborio rice
3 Tbs. butter, divided
1/4 cup dry white wine
4 cups chicken stock
1/3 cup grated parmesan, plus more for garnish
1 cup frozen peas, thawed
Salt and pepper
Instructions
In a large sauté pan, cook the bacon until slightly crispy (or your preferred doneness) and set aside on paper towels to drain. Pour off all but about a Tbs. of the bacon grease.
Toss the shrimp with the Italian seasoning, then sear in the pan for two minutes on one side. Flip and sear another minute, or until the shrimp is opaque but seared. Remove from the pan and reserve.
Back in the pan, add the sliced zucchini and season with a pinch of salt. (If you need to deglaze before adding the zucchini, just add a tiny bit of water or stock and scrape up the browned bits.) Sear until you get some nice browning all over. Remove from the pan and set aside.
BACK in the pan (I know), add one Tbs. of the butter and the diced onion; sauté a few minutes, until they begin to brown. Add the garlic and sauté another 30 seconds. Stir in the Arborio rice and toss to coat. Add the white wine and stir it until it burns off. NOW, over a medium/low heat, add the chicken stock, cup by cup, stirring continually, until the rice absorbs the liquid, and everything becomes creamy and luscious. This will take about 20 minutes.
Off the heat, stir in the remaining 2 Tbs. of butter and parmesan cheese. Taste it right now. Need any salt? Go ahead and add a pinch. Toss to melt everything together.
Lastly, add in the thawed peas, reserved zucchini, and seared shrimp.
Garnish with bacon crumbles, extra parmesan cheese and fresh parsley!
Serves 4, if you can even rightly deal.
7.8.1.2
103
https://bevcooks.com/2017/08/risotto-shrimp-bacon-zucchini/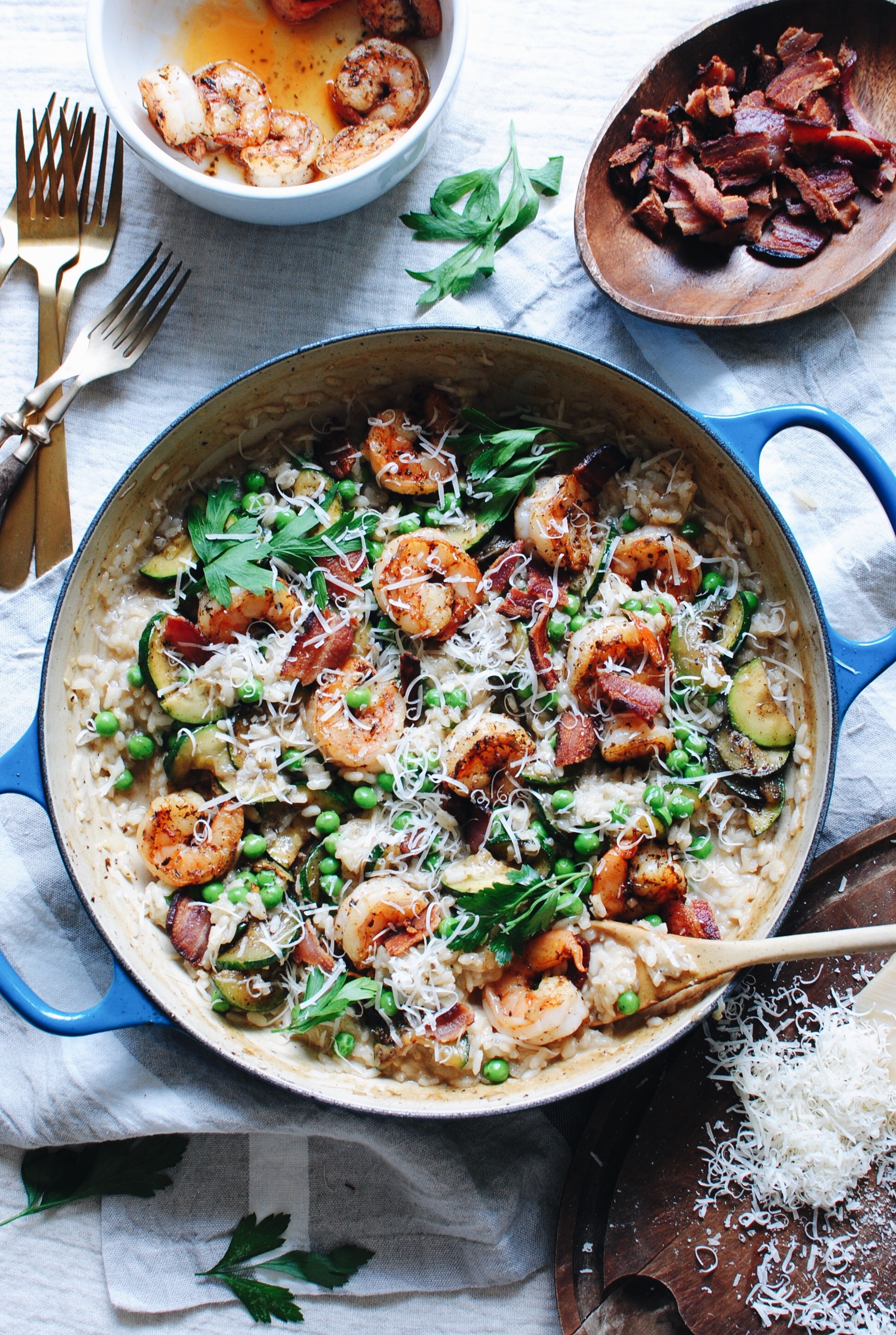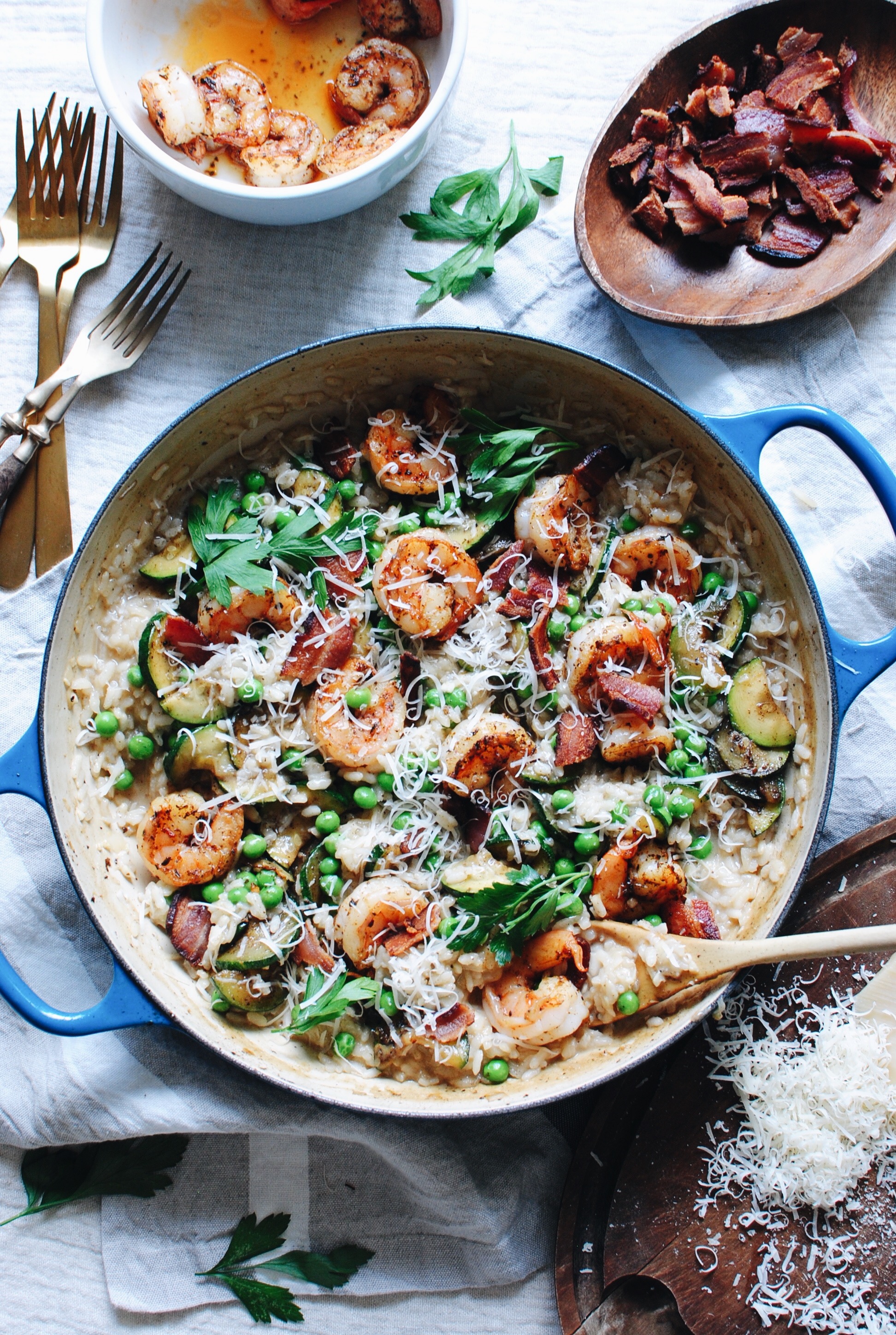 You're trying to remember the Macarena dance moves, aren't you?