Also known as, the exact ingredients in this meal.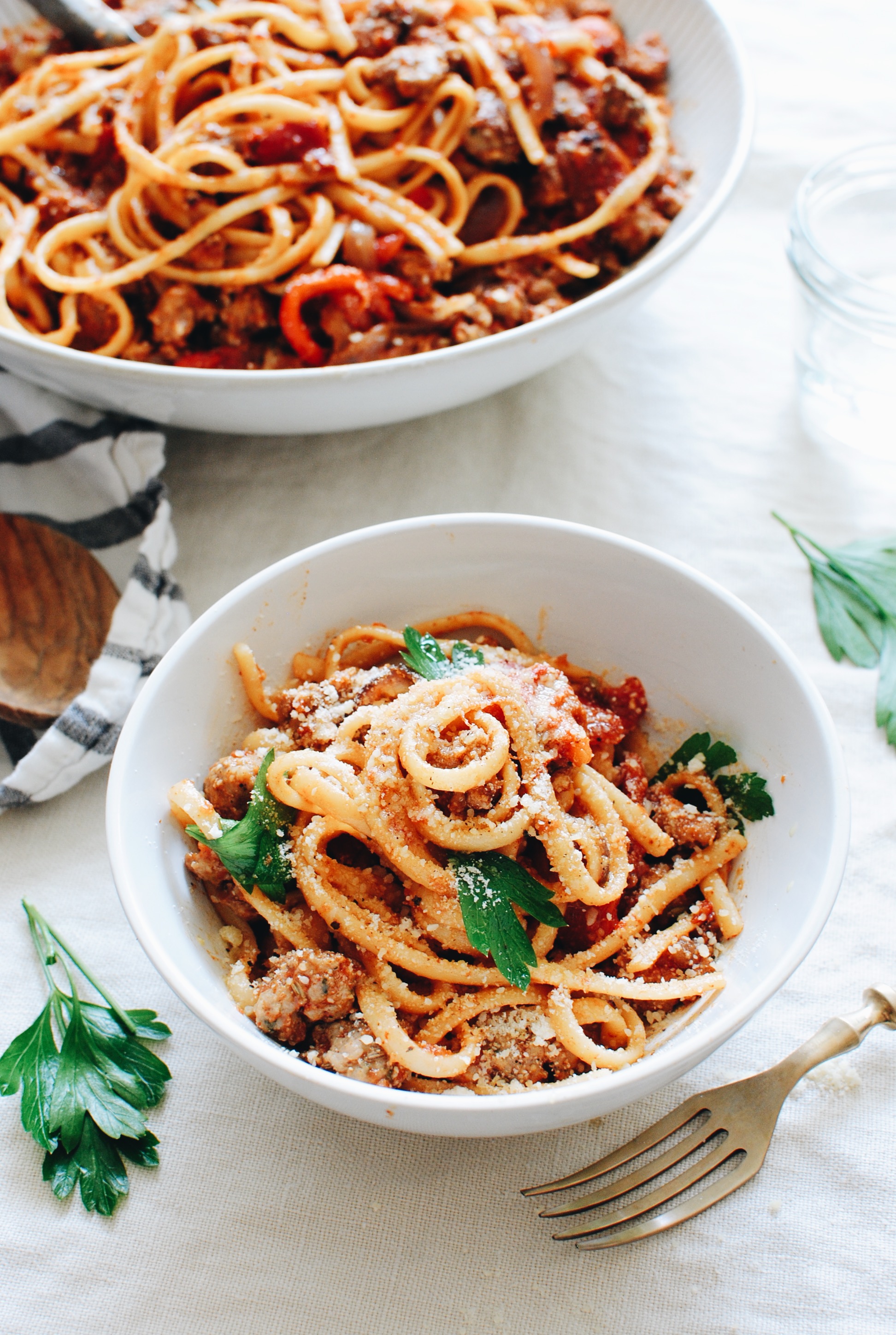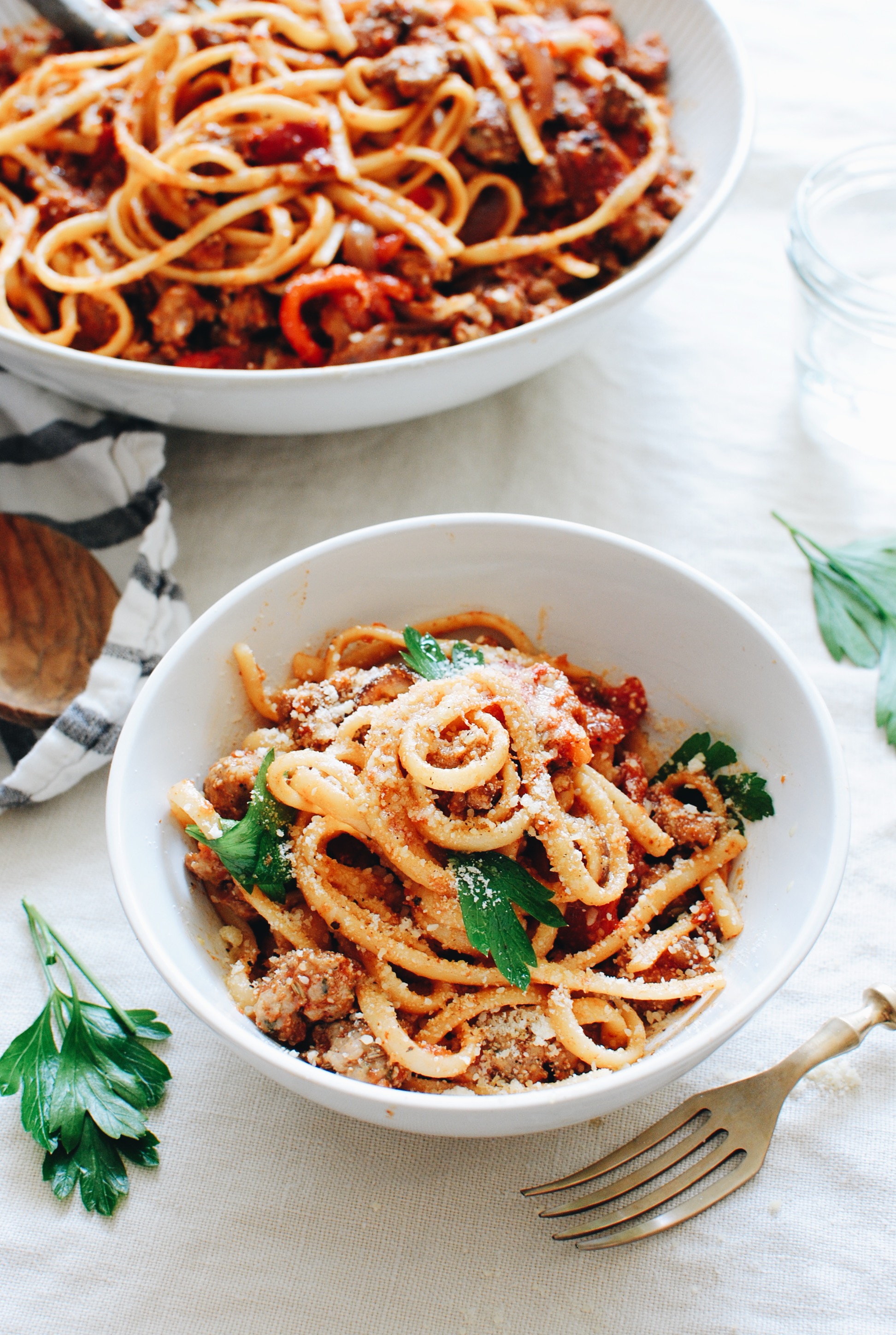 FUNNY STORY about how this recipe came to be.
Not funny HA HA, just, "Oh, that's funny." Never mind.
One of our favorite Italian restaurants in town, IF NOT our tip-top favorite, has this Giovonni pizza on their menu. It's ridiculous. Sausage, red bell pepper, and caramelized onion. The trifecta of tongue muscle party town. (<–super sorry about that strand of words just now.)
I don't know HOW it took me this long to put that glory in pasta form for you.
But I did.
Yesterday.
And we might be howling at the moon in our underpants together by the end of this post.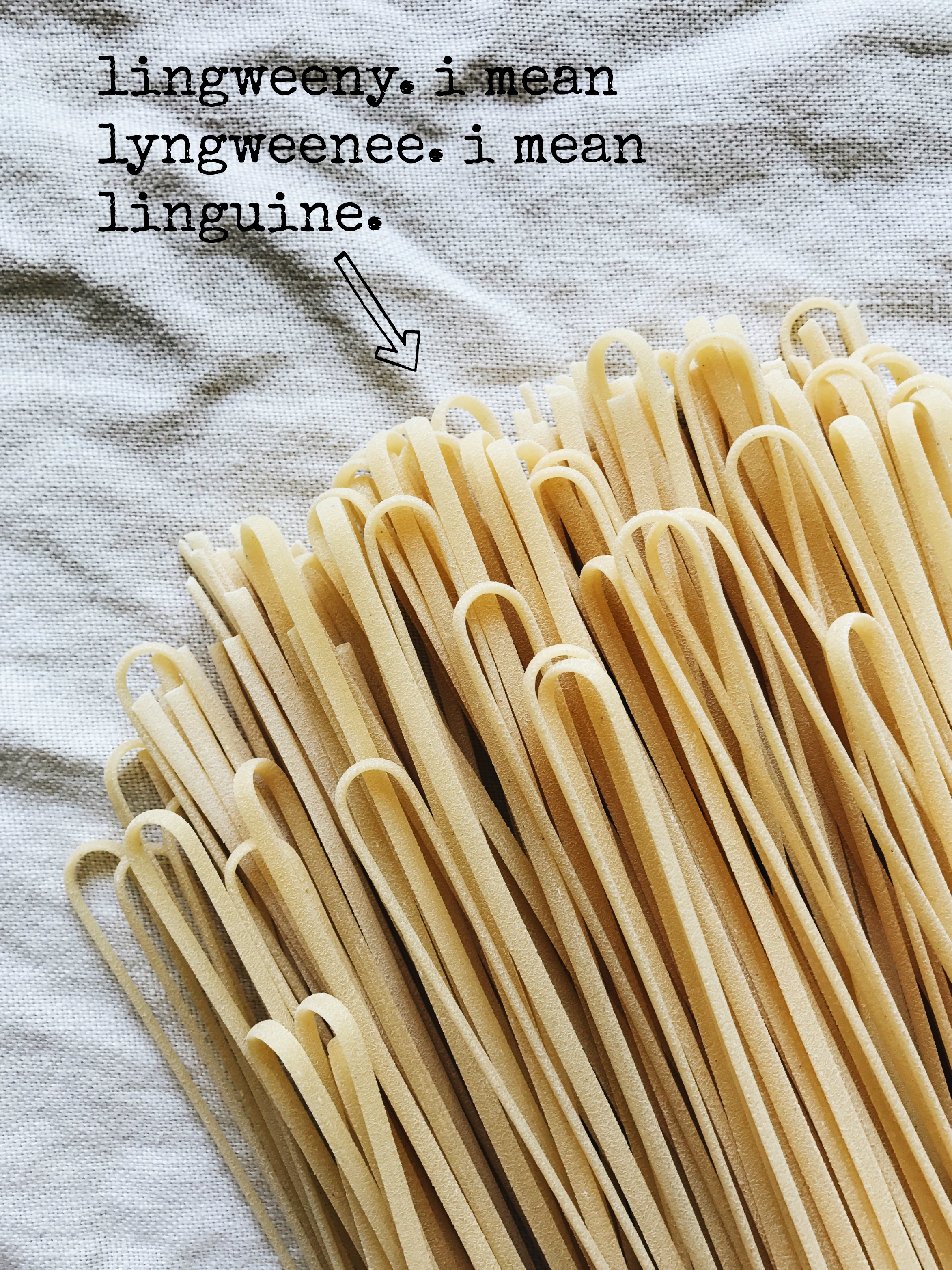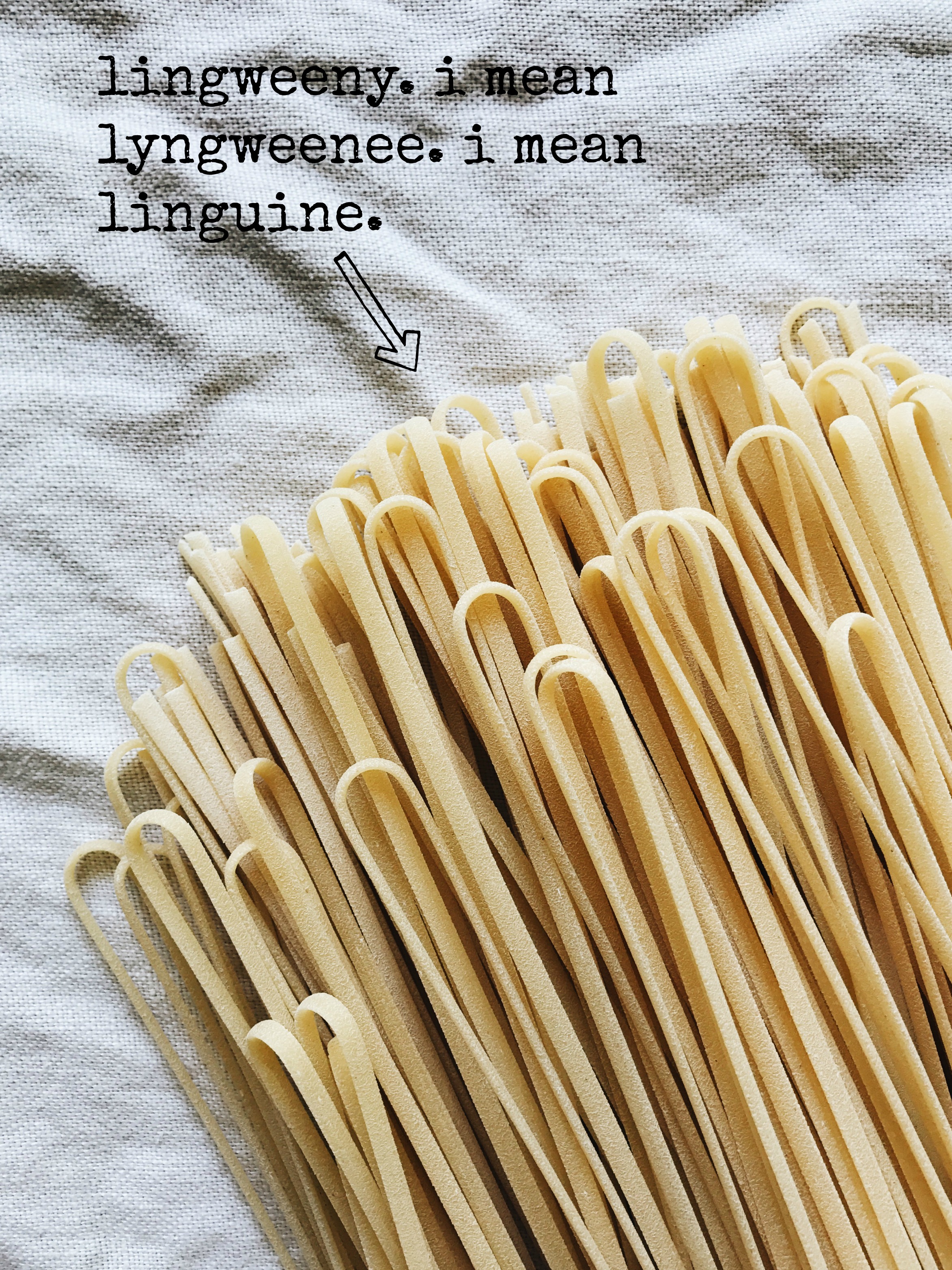 I went all out and bought the fancy imported looks-like-it-was-hung-on-an-outdoor-clothesline-line-in-Italy kind, but really – any plain old linguine'll dew.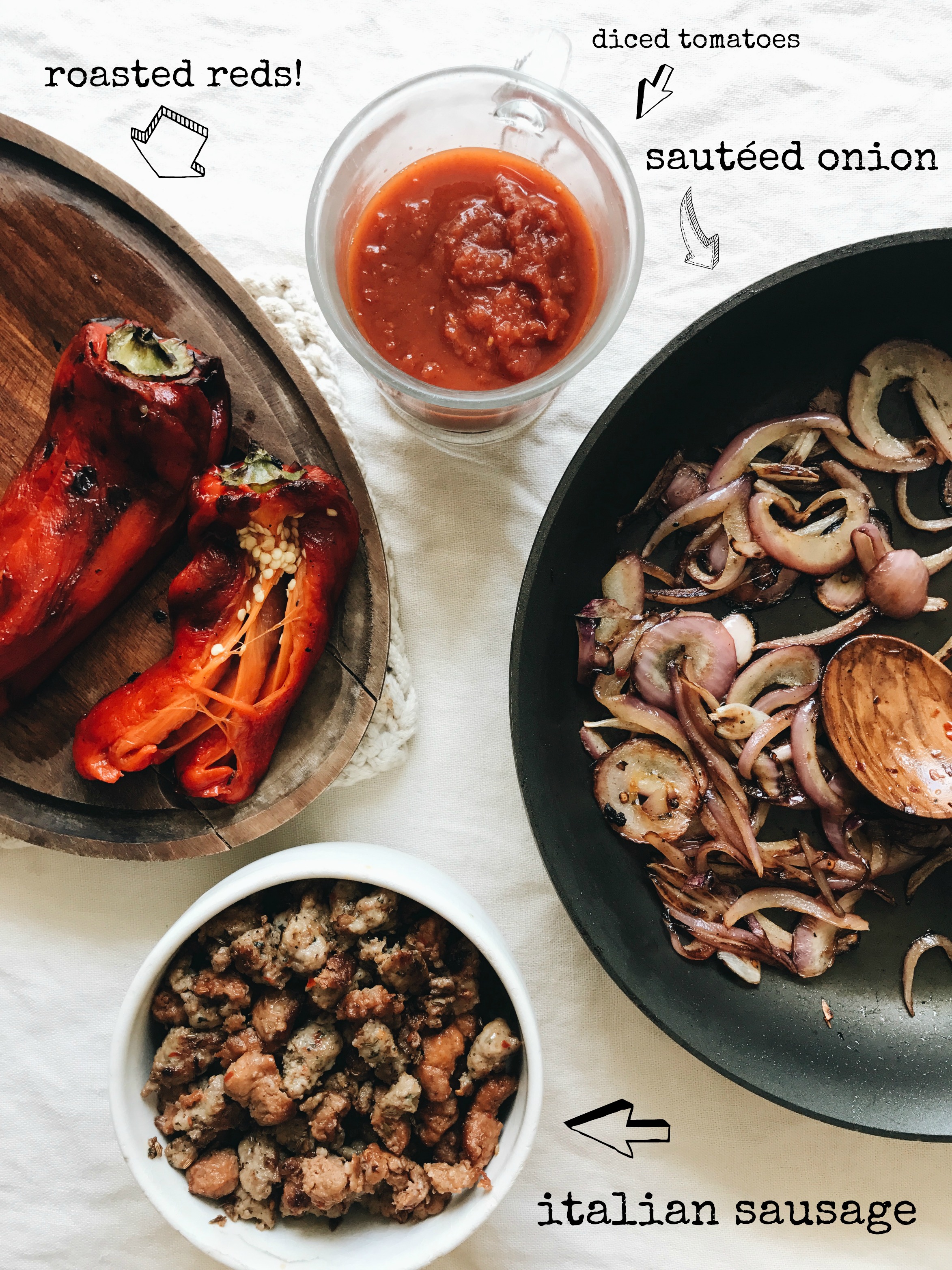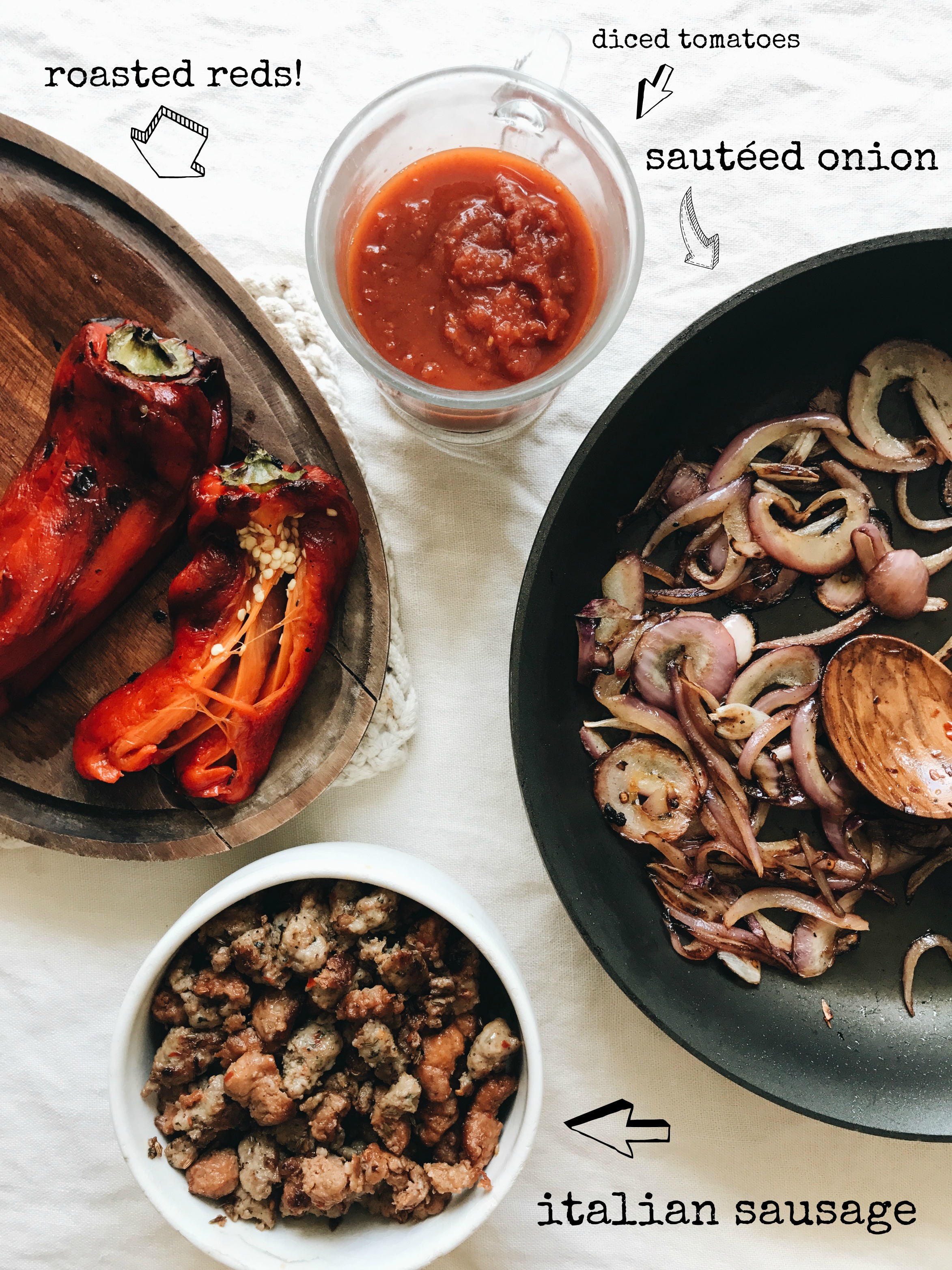 Other that that, it's pretty stripped down:
Homemade roasted red peppers. (I suggest making your own, only because store-bought tends to taste and feel like disintegrating slugs in your mouth.)
Browned Italian sausage. To the naked eye, it looks like I'm using two different kinds of Italian sausage here. That's because I'm using two different kinds of Italian sausage here.
One can of diced tomatoes, whizzed through a small food processor. (that's because I prefer a velvety-er sauce. but if you like it chunky, you're still a good person.)
Sautéed red onion. You can totally spend the time caramelizing these, but I have the patience of a hummingbird on crack, so a flash sauté it was.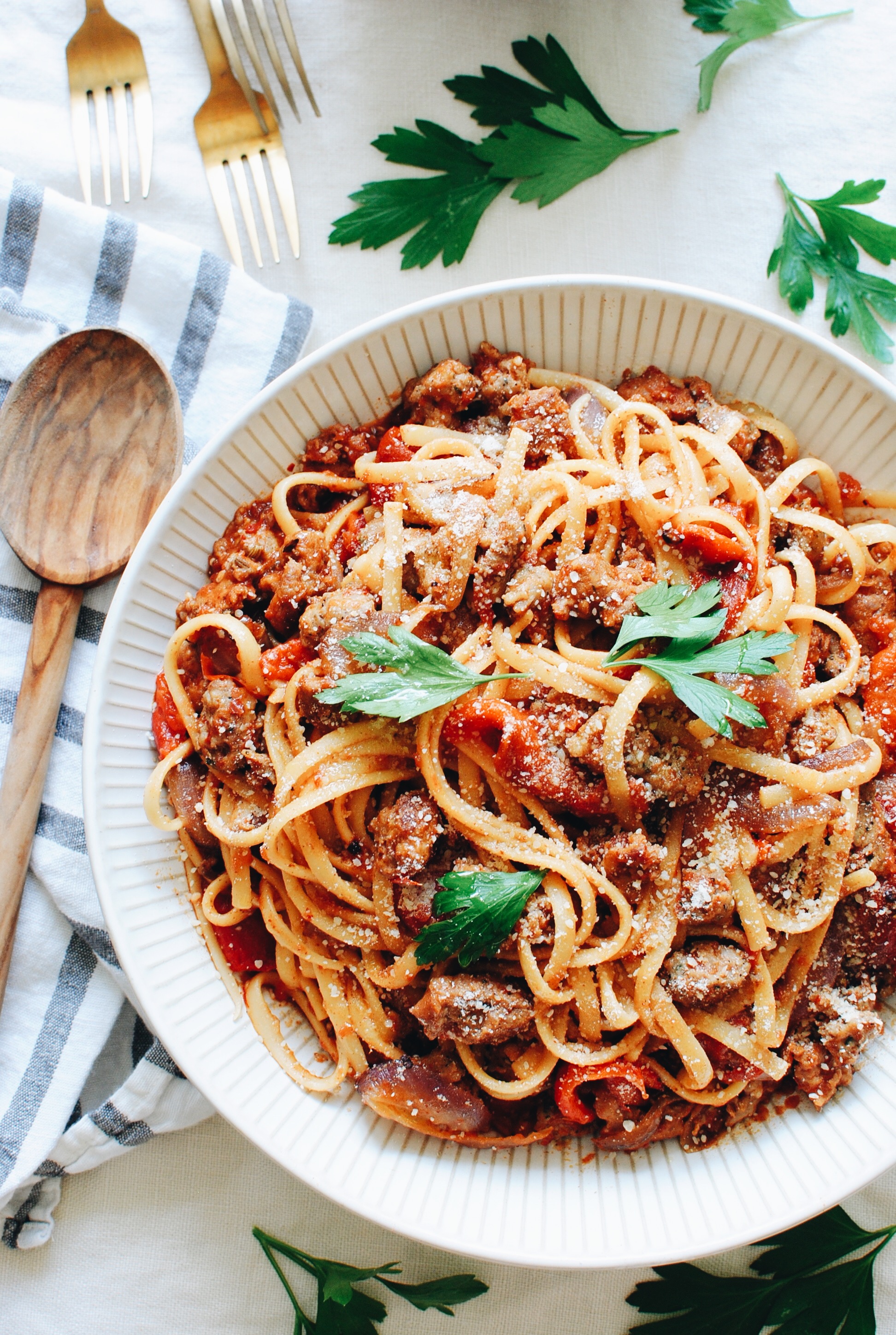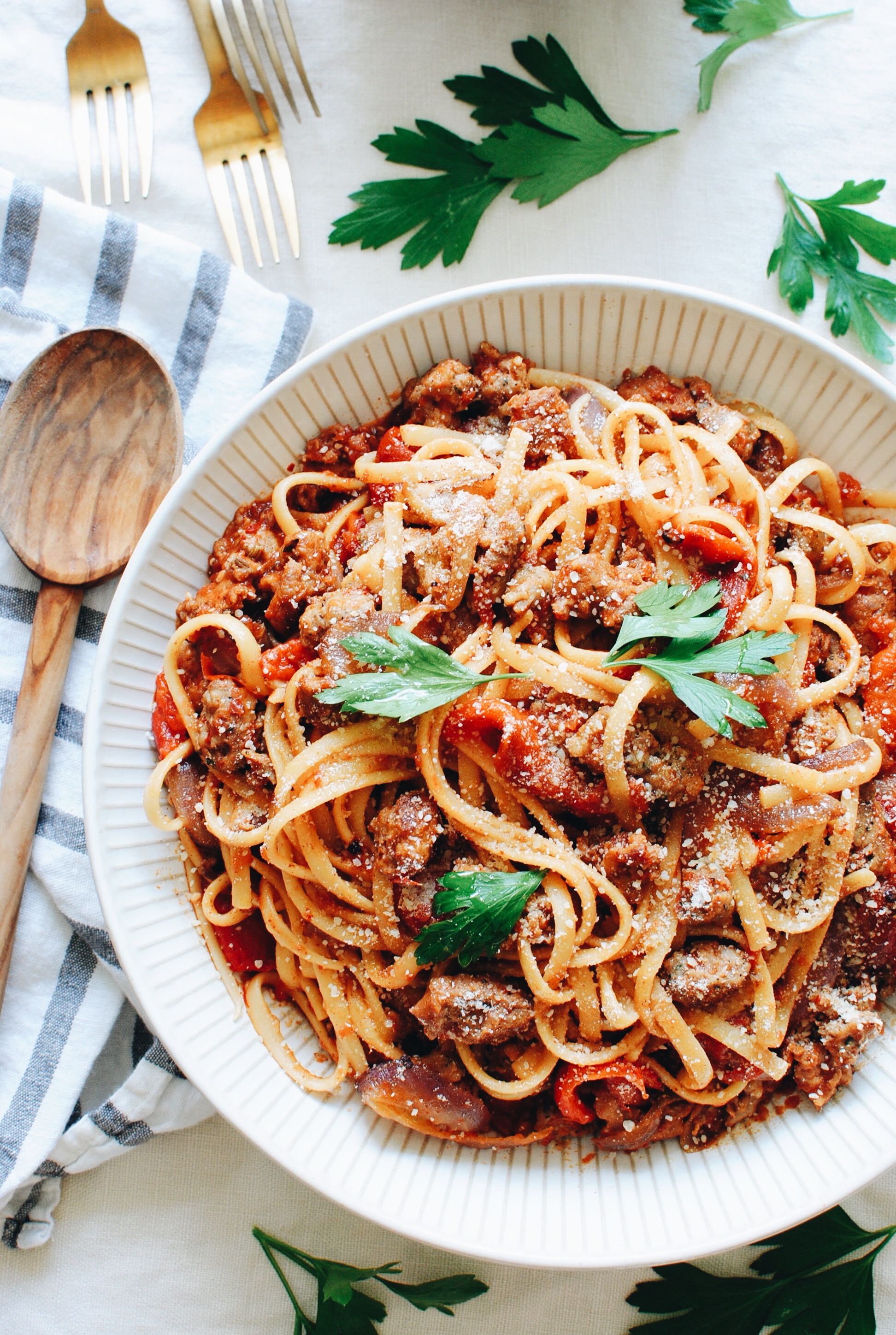 THAT. That is it. The flavors here are rich and bangin' and should live in your mouth forever.
Aaaaaand I feel like it's the obviously appropriate meal to segue your face into fall. Fall! FALL.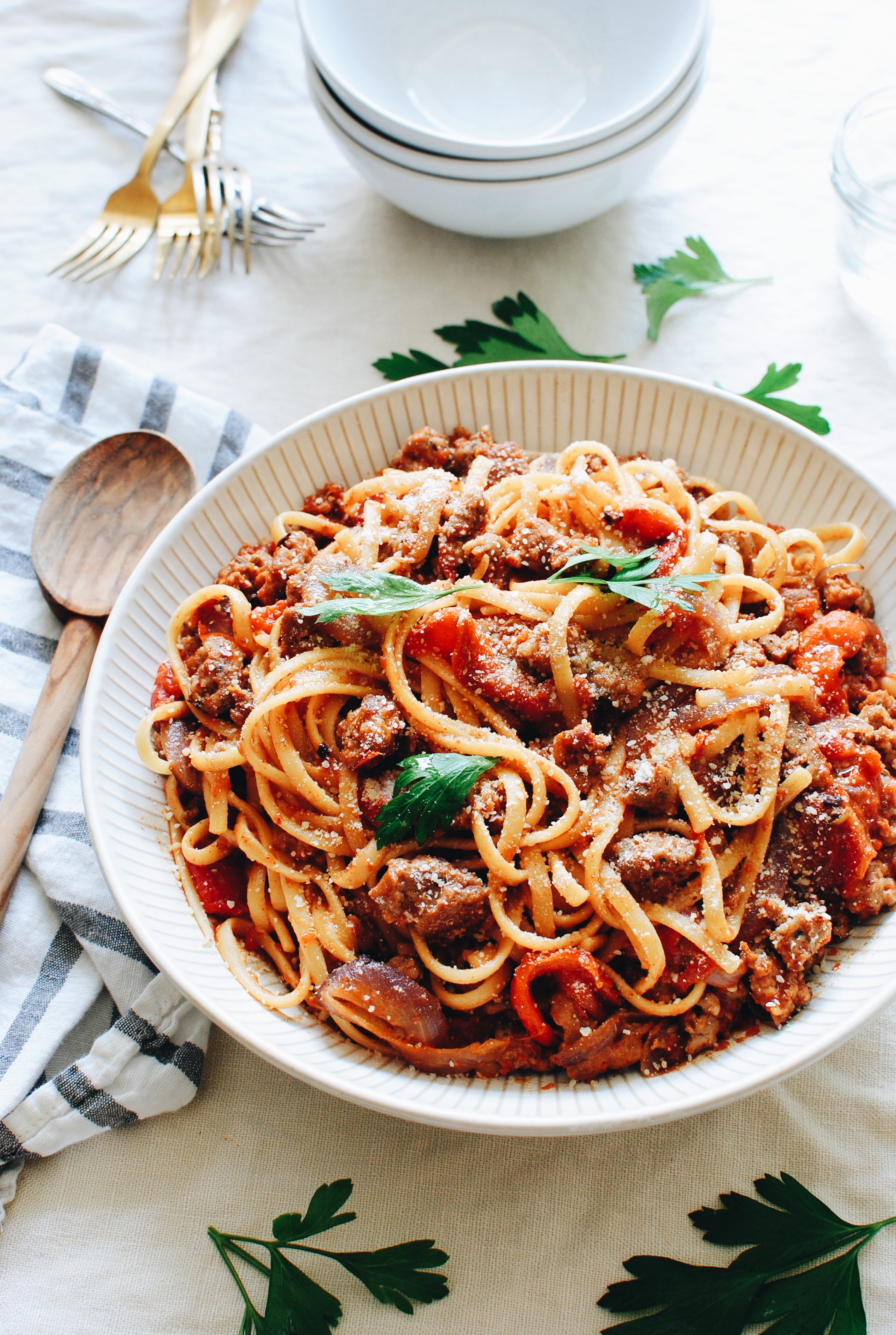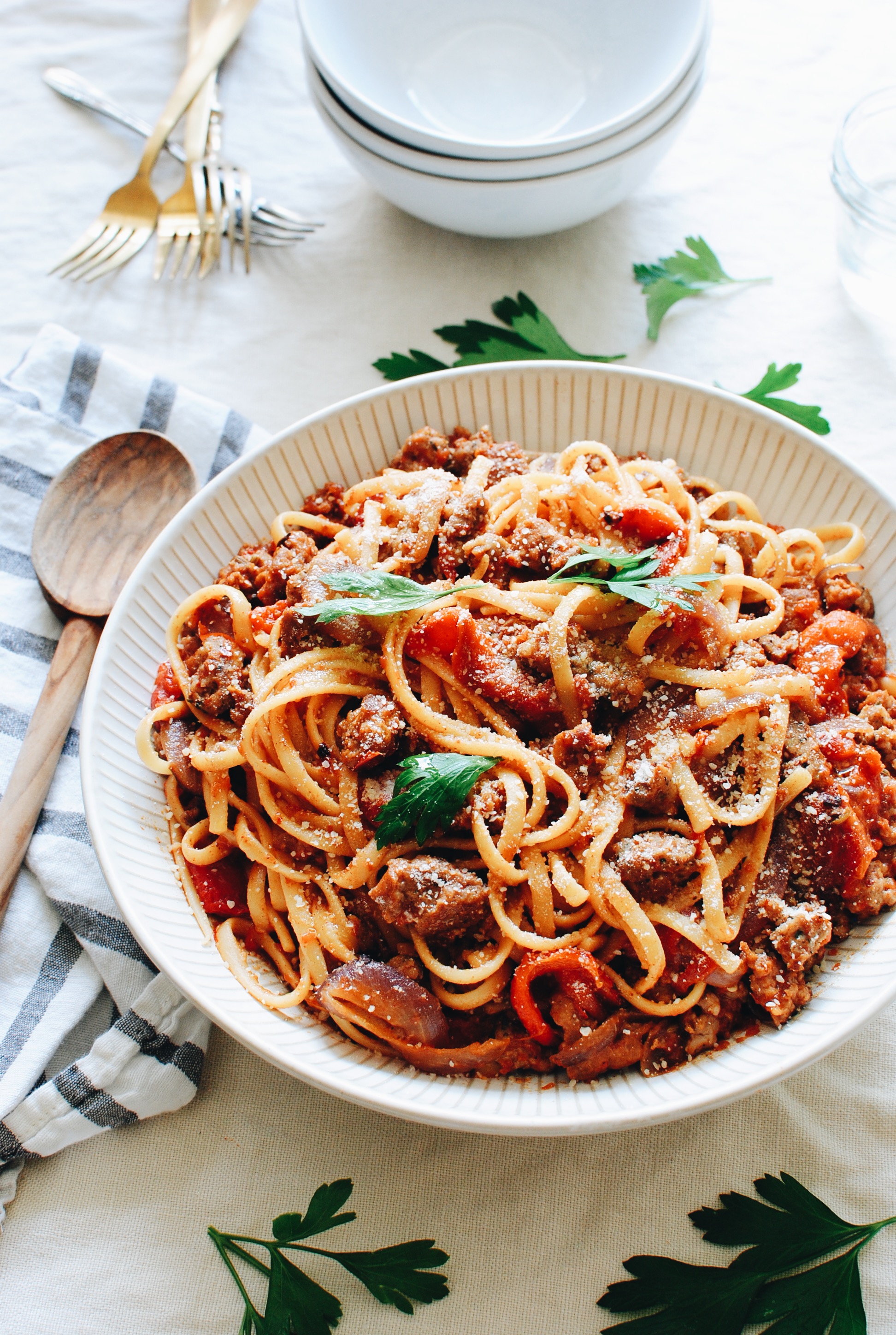 Ridic easy to pull together on a weeknight, and slurpy enough for the little faces in your crew.
You MUST make this or else I don't even see the point in this life.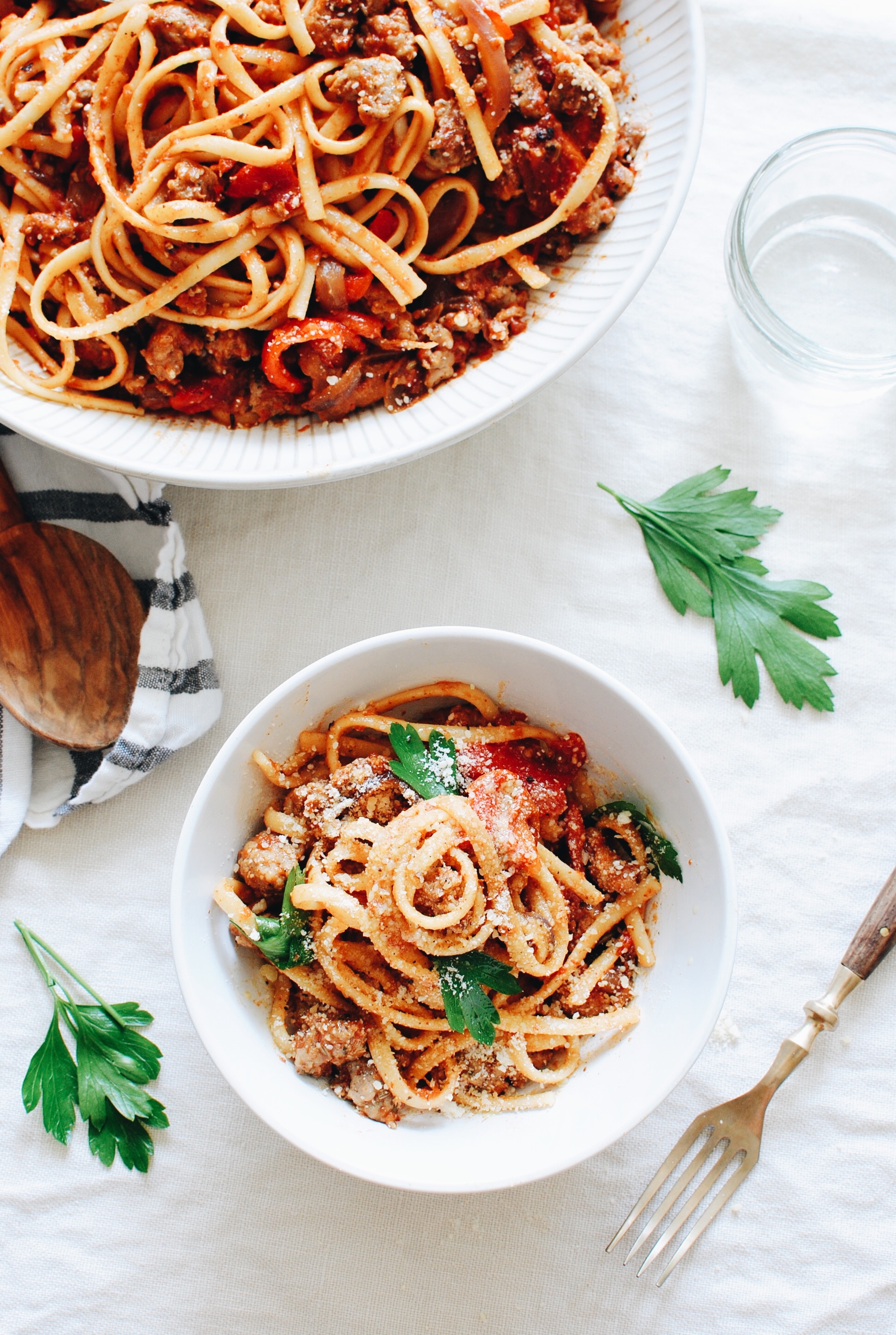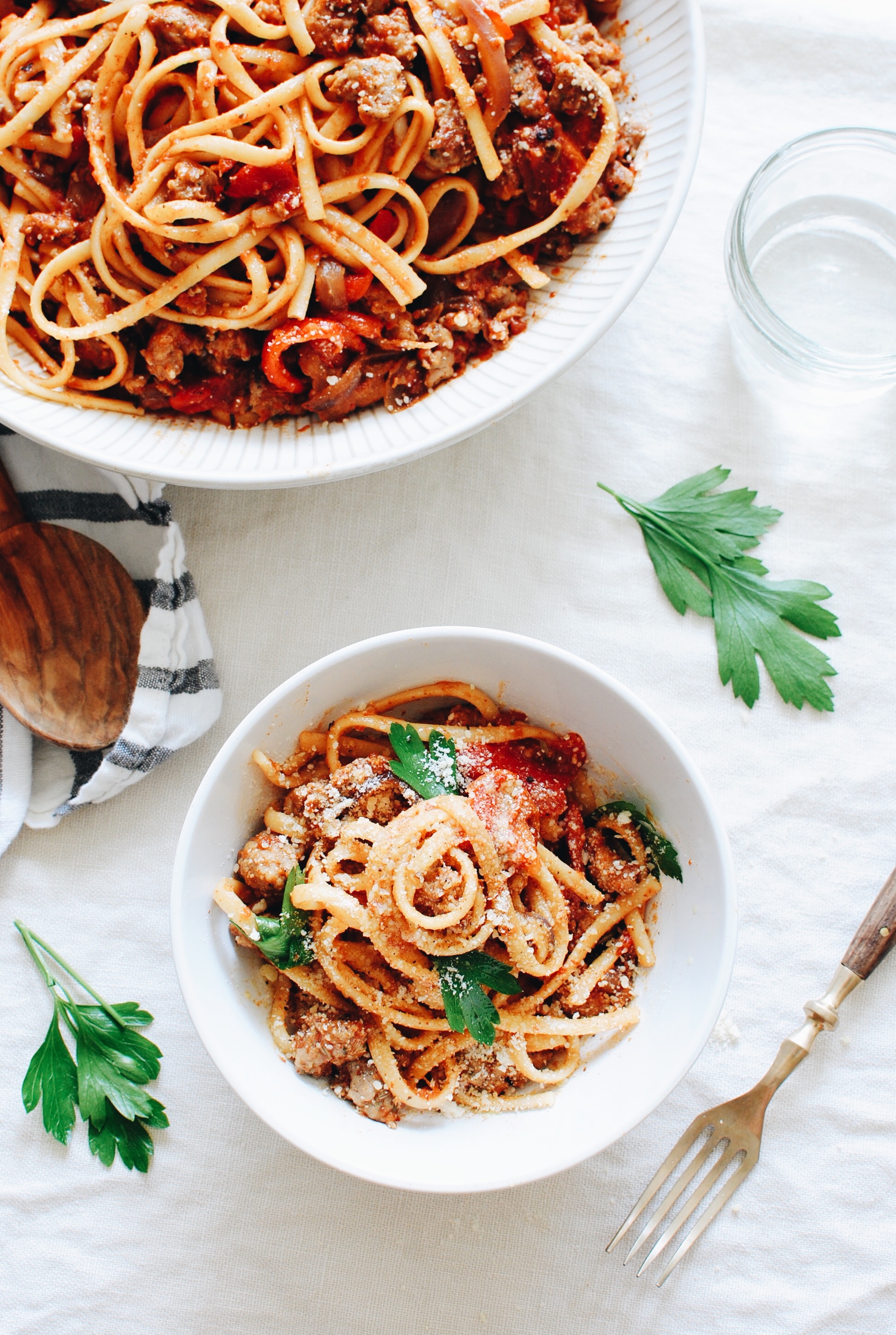 Are you seeing that illegal dusting of parmesan? Guuuuh.
Linguine with Roasted Red Peppers, Italian Sausage and Onions
Ingredients
12 ounces linguine
2 red bell peppers
4 links Italian sausage, casings removed and torn apart by fingers (the sausage, not the casings)
1 medium red onion, peeled and semi-thinly sliced
1 (15 oz) can diced tomatoes, whizzed in a small food processor until smooth
Salt and pepper
Parmesan for dusting
Instructions
Flip your broiler to high, and place the two red peppers on a baking sheet. Broil until charred and black all over, rotating the peppers every few minutes. Once black all over, place the peppers in a plastic bag and seal it up. Let it sit for about 10 minutes, until the peppers have cooled and you can pull away the skins. Then seed each pepper and cut the flesh into strips.
In the meantime, start a large pot of salted water to boil. Add the pasta and cook until al dente.
Also in the meantime, brown the sausage until no longer pink, remove from the pan, then sauté the sliced onions in the remaining sausage grease. Add a little oil and salt if needed. Once the onions have softened and gotten some good charring color on them, you're set. (<—6 or 7 minutes)
To the pan, add the reserved sausage, tomatoes and roasted pepper strips. Toss around, then add the cooked pasta to the pan. You can transfer it all back to the (drained!) pasta pot, if you need more room to toss everything together.
Dust with a bunk ton of parmesan cheese, and garnish with fresh parsley, if desired.
Makes 4 dinner servings. You'll flip out.
7.8.1.2
105
https://bevcooks.com/2017/08/linguine-roasted-red-peppers-italian-sausage-onions/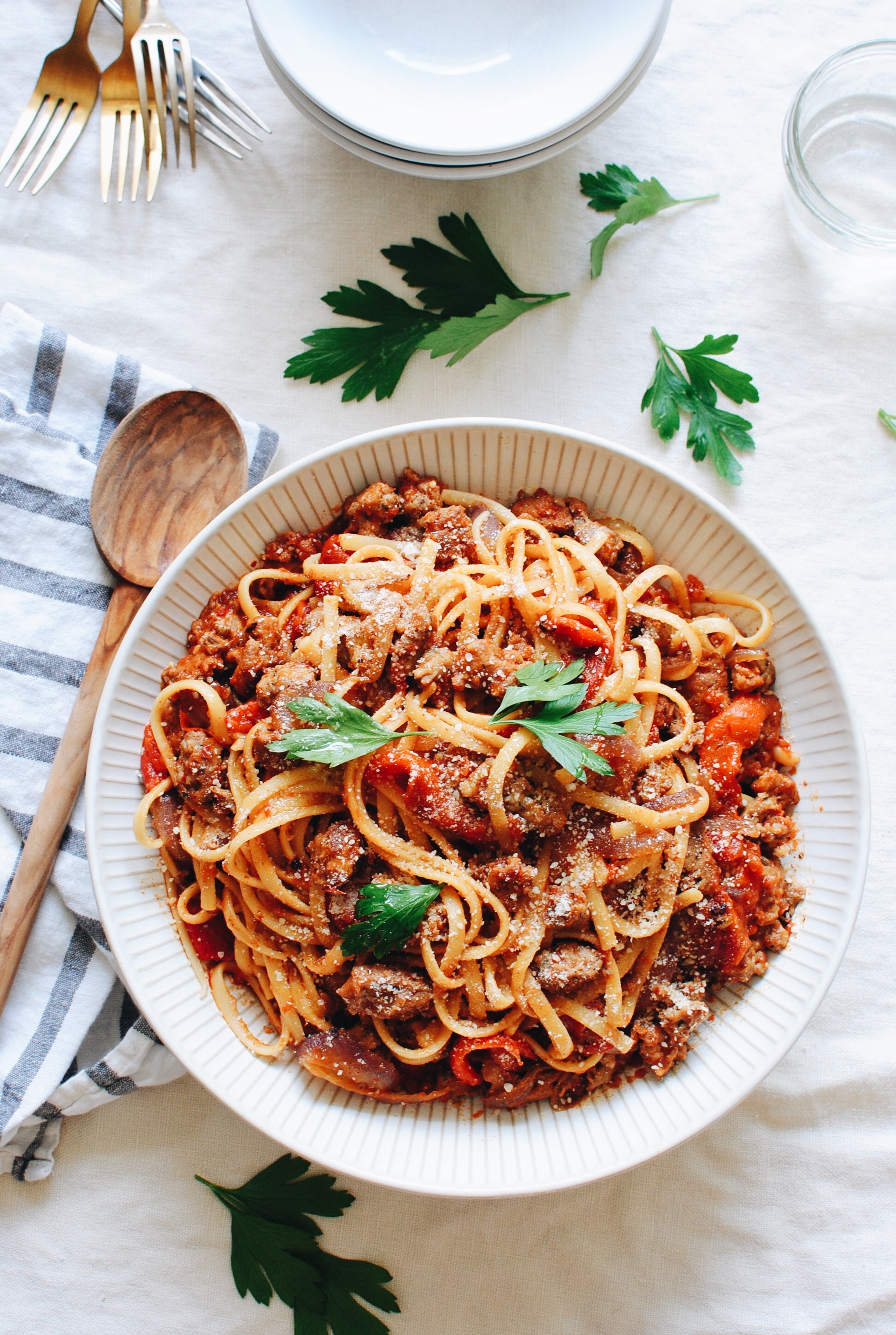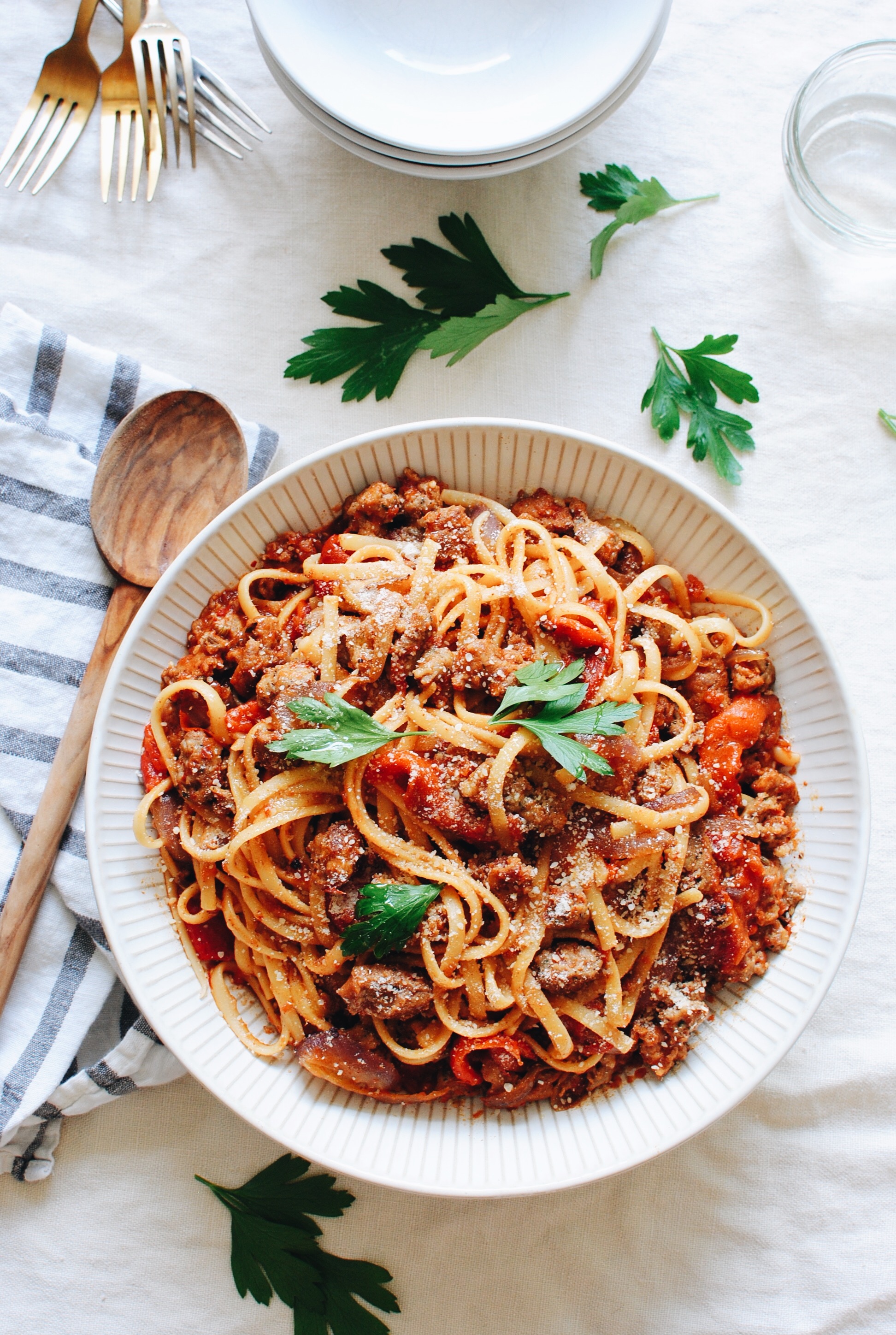 Commence underpants moon howling.