RIDICULOUS.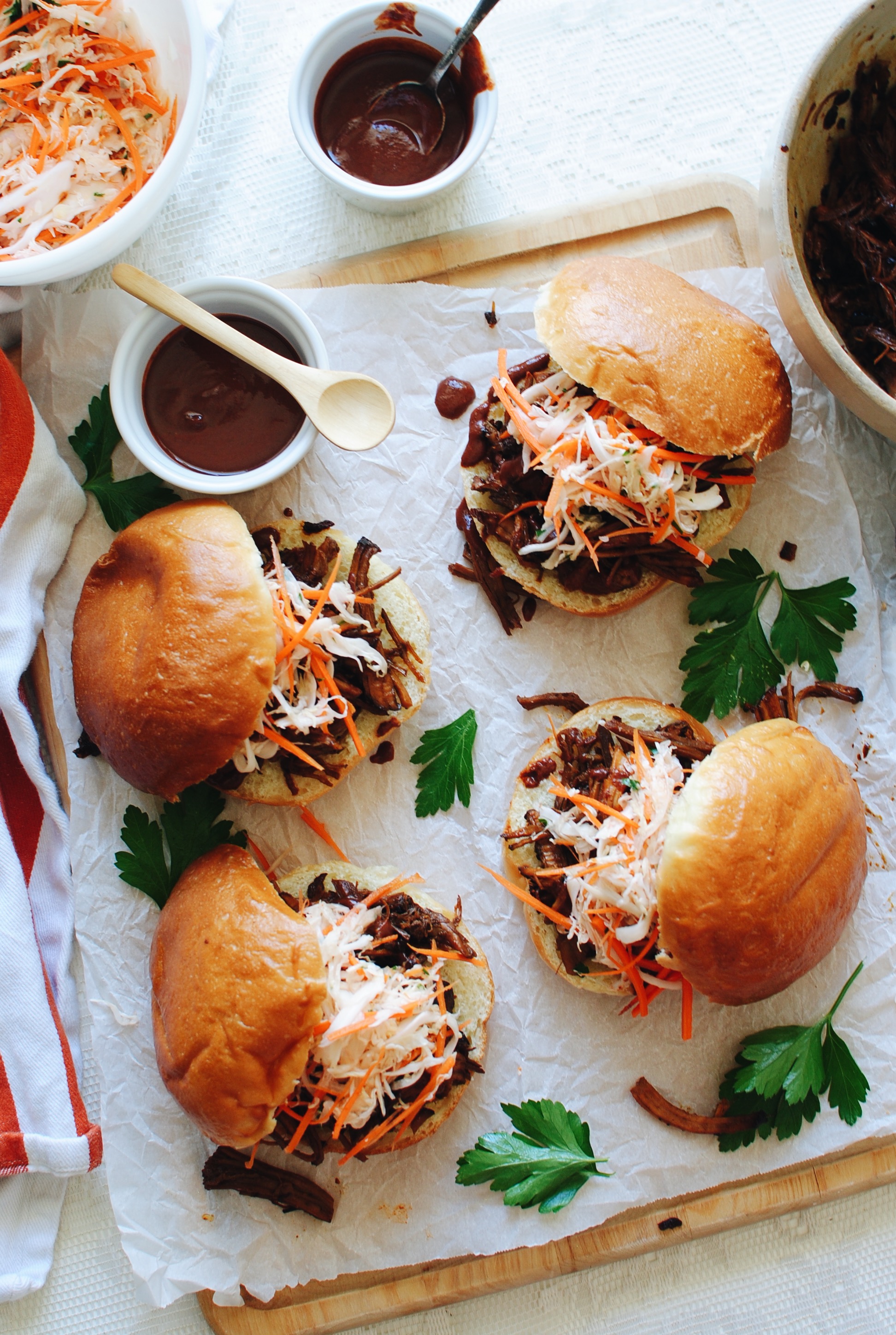 What's your favorite pulled meat? Or do the words "pulled meat" give you a Herculean case of the heebie jeebies?
Mine? PORK. All the way. Pulled pork for prez. Pulled pork for life. Pulled pork forever.
But get this! The other day we found this PICNIC pork roast at the farmer's market. A picnic roast. What the hay is that? I have no idea, but my inner soul fairies guided my hands (and wallet) right into its path. Later that day, my mom texted to say that her mom (my Memaw) made picnic pork roast all the time back in the day! Good story, huh?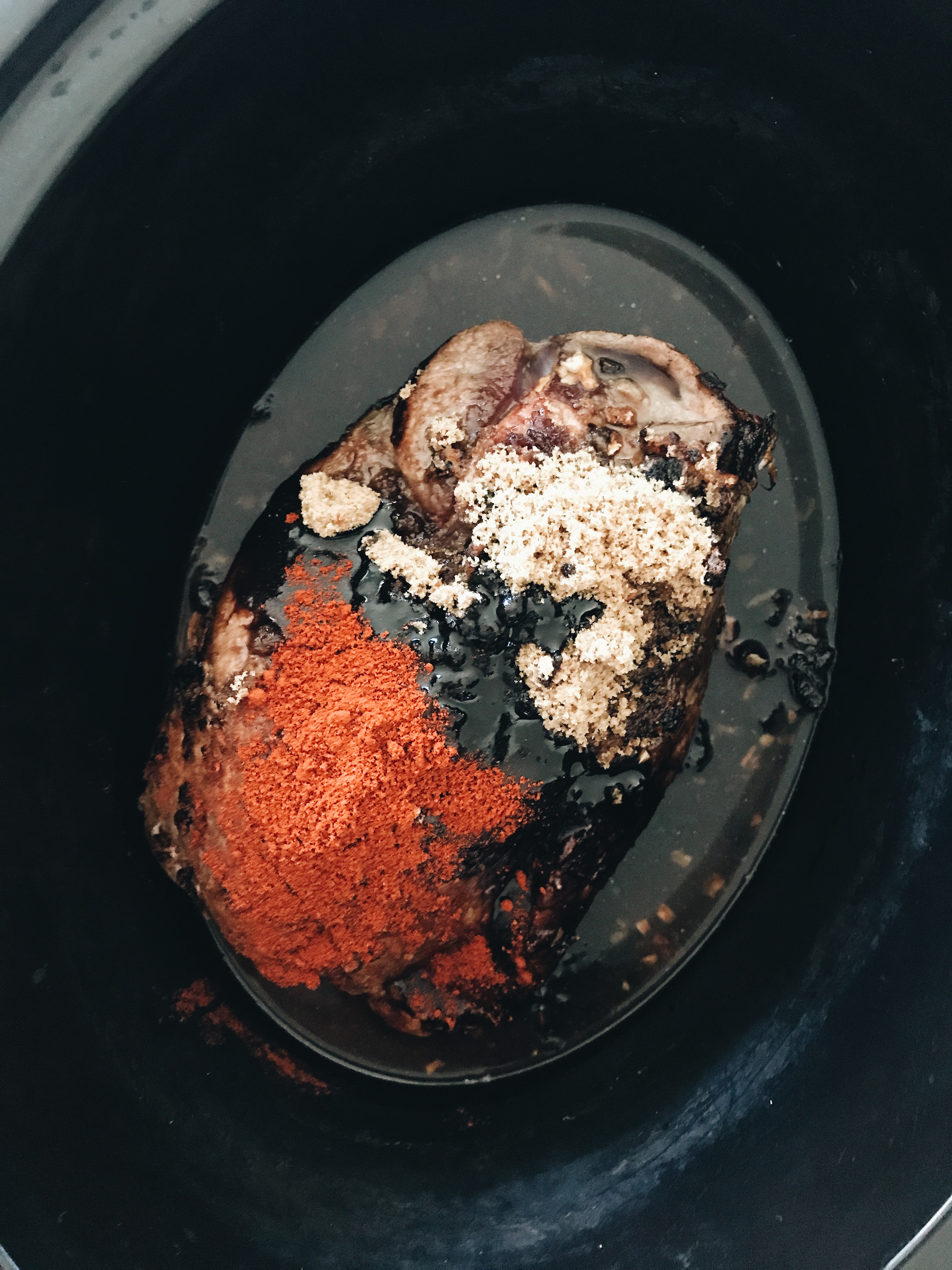 I have this thing about trimming meat fat. I LOVE IT. I get obnoxiously focused and obsessed, until there's basically a memory of meat left. But with this PICNIC biz, I left it alone. The farmer's market gal told me not to trim, as the fat would sort of melt and sift away in the cooking process. I think "sift away" might be the most disgusting thing I've ever said about meat.
So this is what goes in your slow cooker: The pork (about 3 pounds), a packet of onion soup mix, apple cider vinegar, brown sugar, smoked paprika, and molasses. And salt! A good pinch of coarse salt. And three tiny head hairs! Just kidding about head hairs.
This is waaaaay later in the day. Sobbing may occur.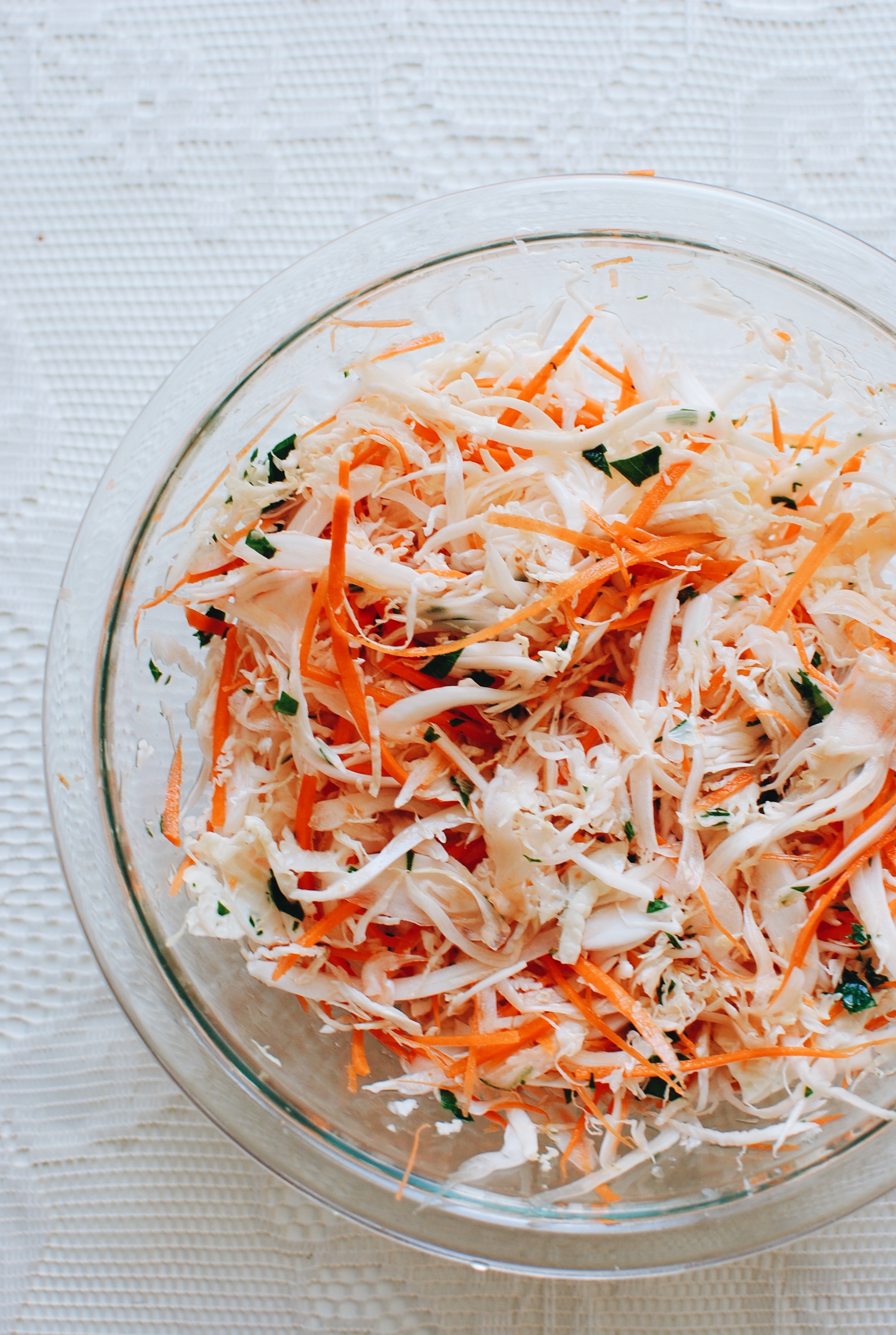 In the meantimez, make a slaw! I like my slaws SIMPLE. No mayo, nothing creamy, just zingy and crunchy and giddy. Slaw can be giddy. Don't argue with me.
It's simply cabbage (I used the rest of my enormo napa cabbage from the bison recipe, but you can use regular green cabbage!), carrots, cilantro or parsley, lime juice and salt. The end forever.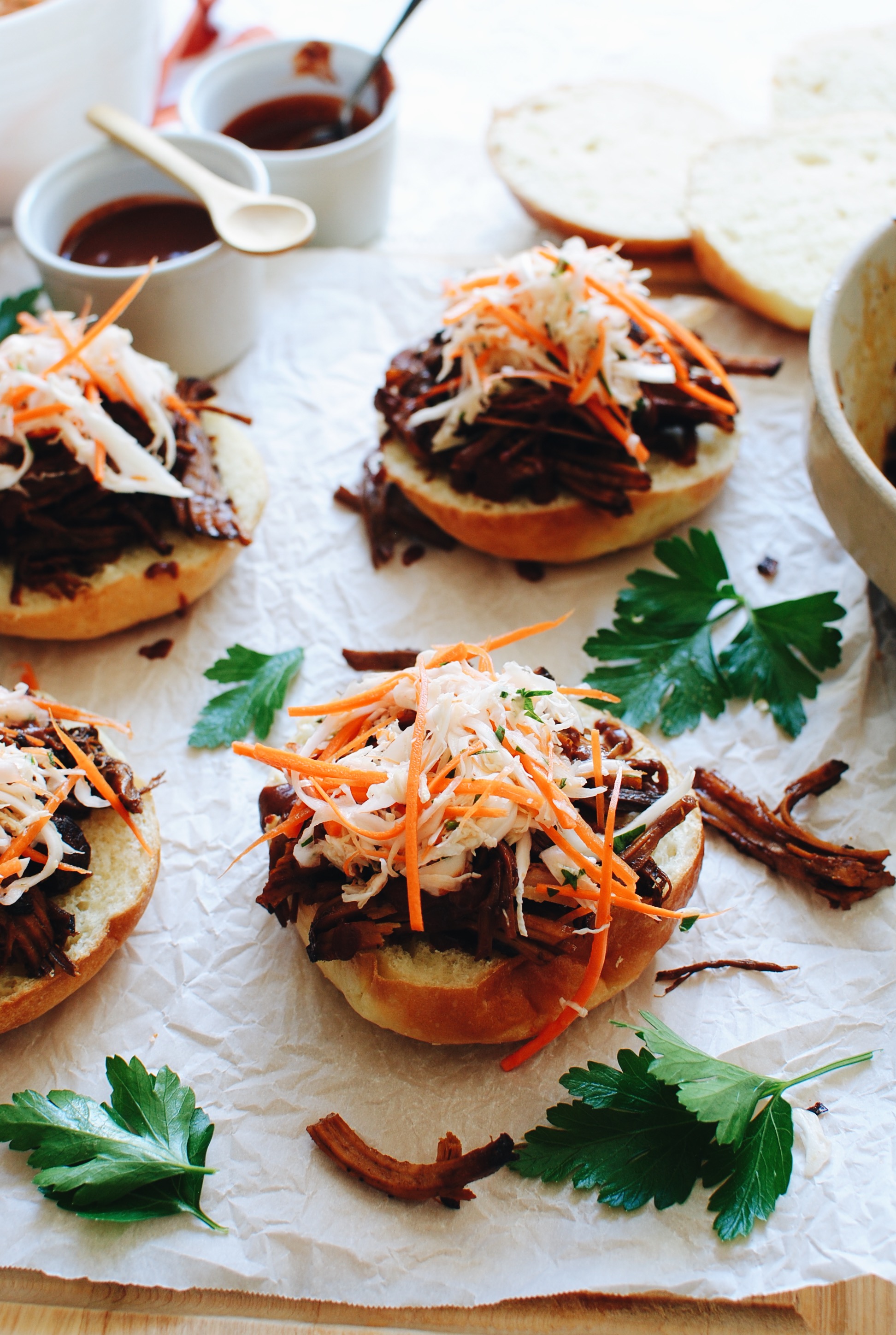 GUHHH. The pork, the slaw, your fave (not fav) bbq sauce (we used Arthur Bryant's), and some good GOOD buns. (I used Farm to Market.) You'll freak out.
Freak out.
It's so EASY. And beyond pimp for a crowd.
And the flavors! That picnic roast, man. I'm not sure exactly HOW it was supposed to taste different or better, but I digged it! Dug it? Dugged it? Doog it?
It has a nice DEPTH. And you know me and the depths.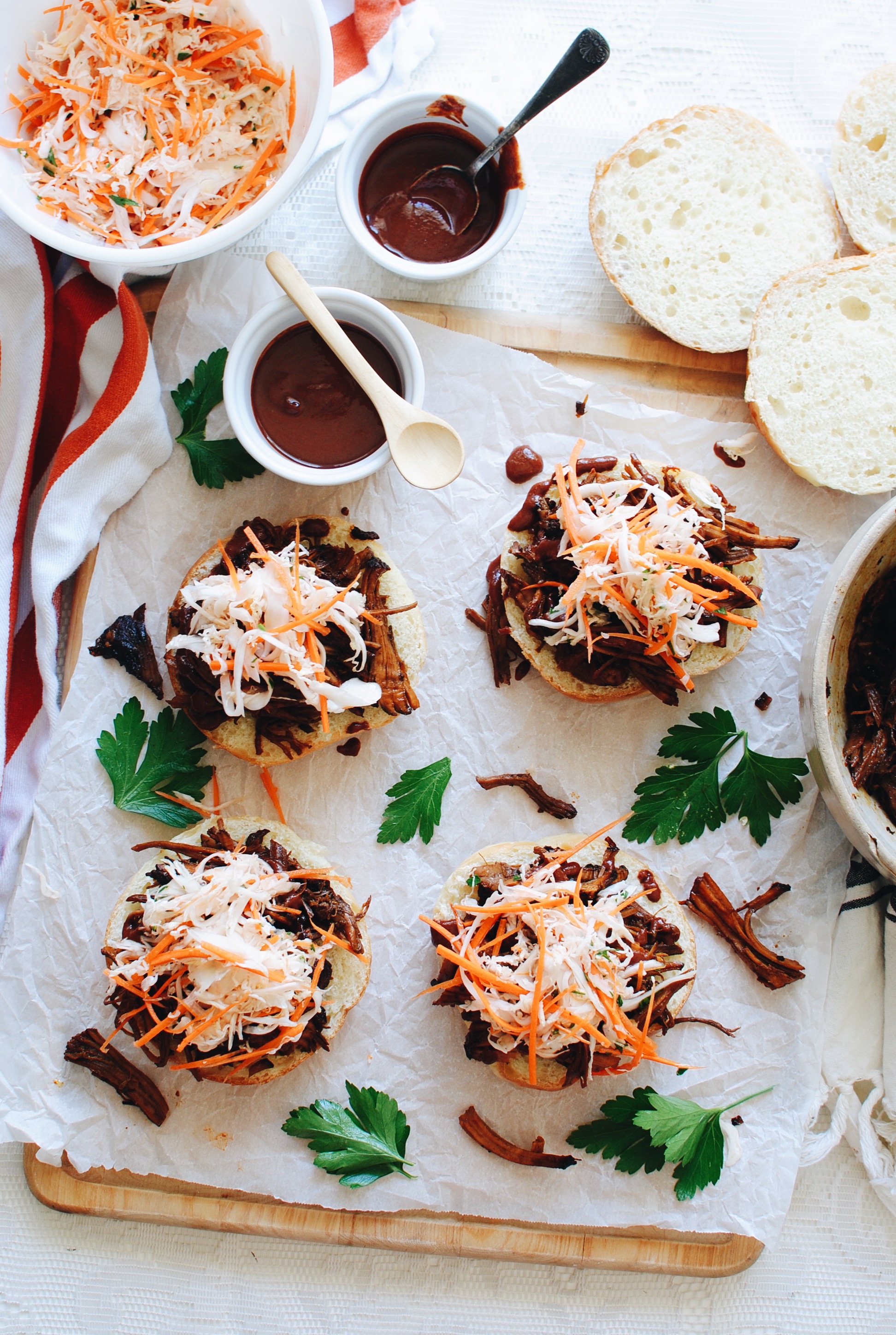 And paired with the giddy slaw? DUDES. All summer long. Do it.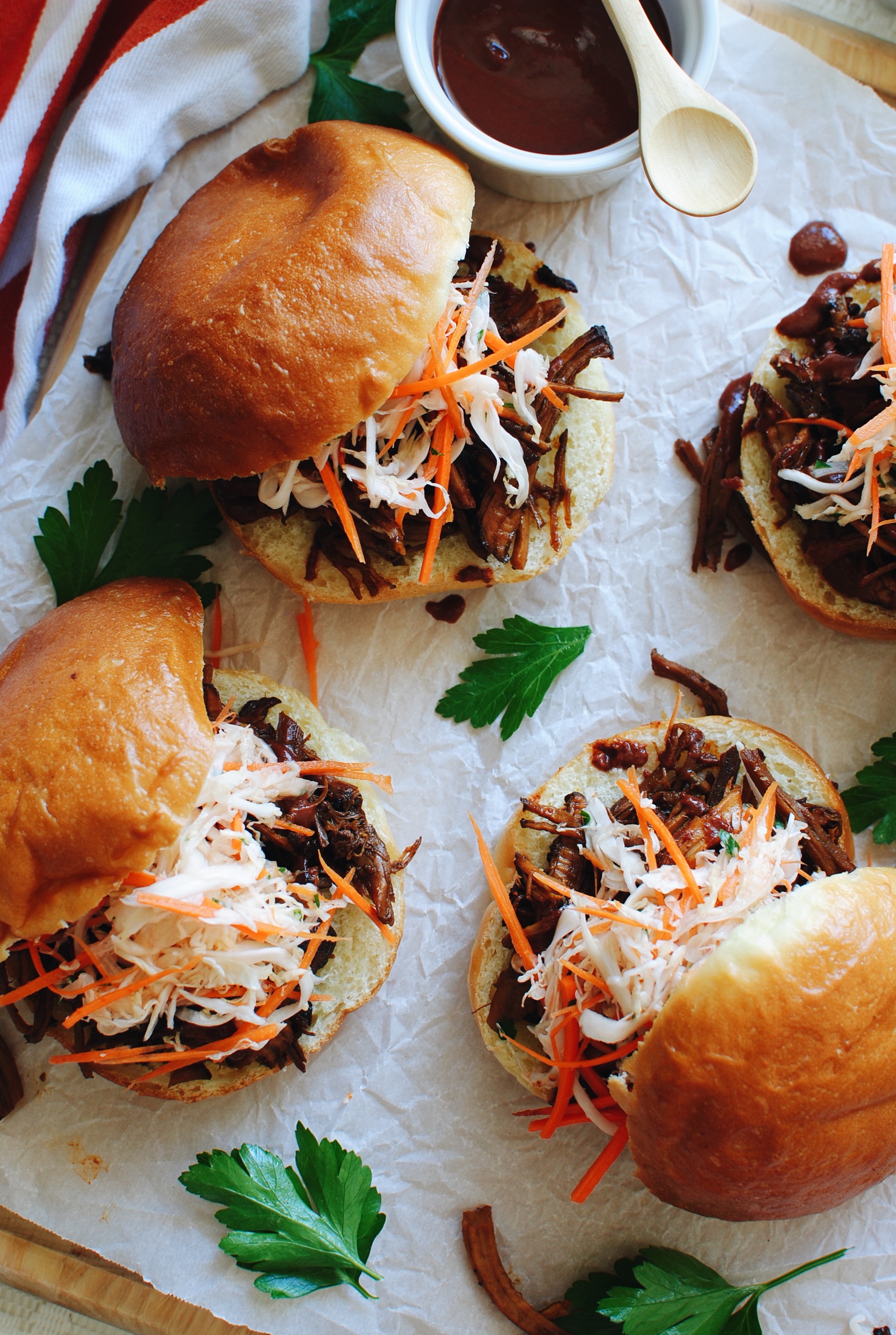 Winner winner, Slow Cooker BBQ Pulled Pork Dinner. (that didn't work, did it?)
Slow Cooker BBQ Pulled Pork Sandwiches
Ingredients
1 Tbs. Extra-virgin olive oil
1 (3 pound) pork roast (I used picnic)
1 packet onion soup mix
1/2 cup apple cider vinegar
2 Tbs. brown sugar
1 tsp smoked paprika
1 Tbs. molasses
Large pinch coarse salt
3 cups shredded green cabbage
2 carrots, julienned
2 Tbs. chopped parsley
Juice from a lime
Pinch of salt
Hamburger buns of your choice
Your favorite bbq sauce
Instructions
Rub the onion soup mix all over the pork roast, then sear it in a large skillet in a Tbs. of oil, until you get good browning all over. Transfer the pork to a slow cooker, then add the apple cider vinegar, brown sugar, smoked paprika, molasses, and a pinch of salt. Cook on low for 6-8 hours. Remove pork from the slow cooker, and gently shred with two forks. (Discard any fat) Toss shreds back in with the cooking juices. Weep.
In the meantime, combine the shredded cabbage, julienned carrots, parsley, lime juice and salt in a large bowl. Toss to combine and chill until you're ready to inhale.
Serve the pulled pork on split hamburger buns, and topped with your favorite bbq sauce and slaw!
See the light.
Serves 4-6.
7.8.1.2
93
https://bevcooks.com/2017/06/slow-cooker-bbq-pulled-pork-sandwiches/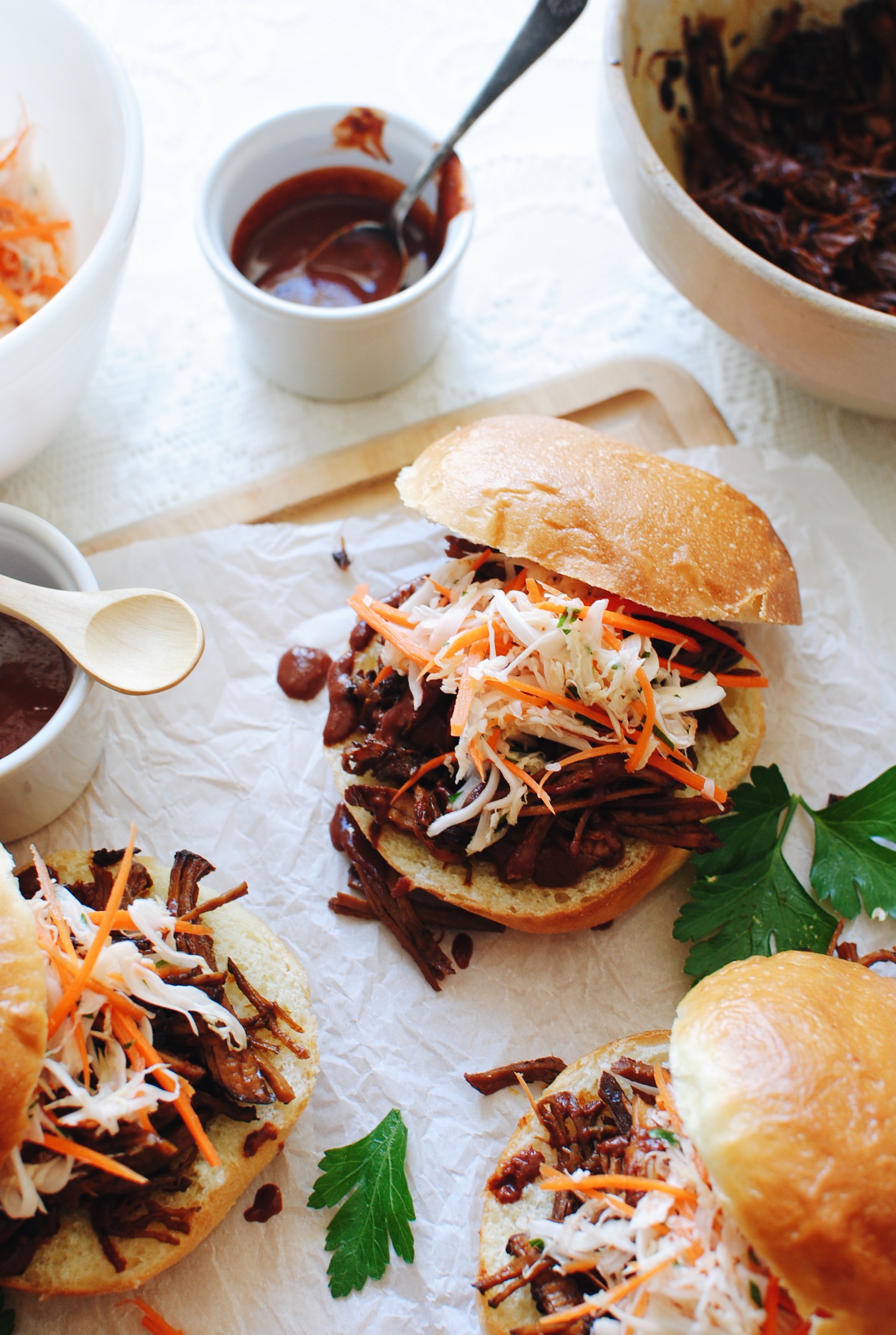 Remember the whole GUH thing I said earlier?