Is YAS QUEEN appropriate right now?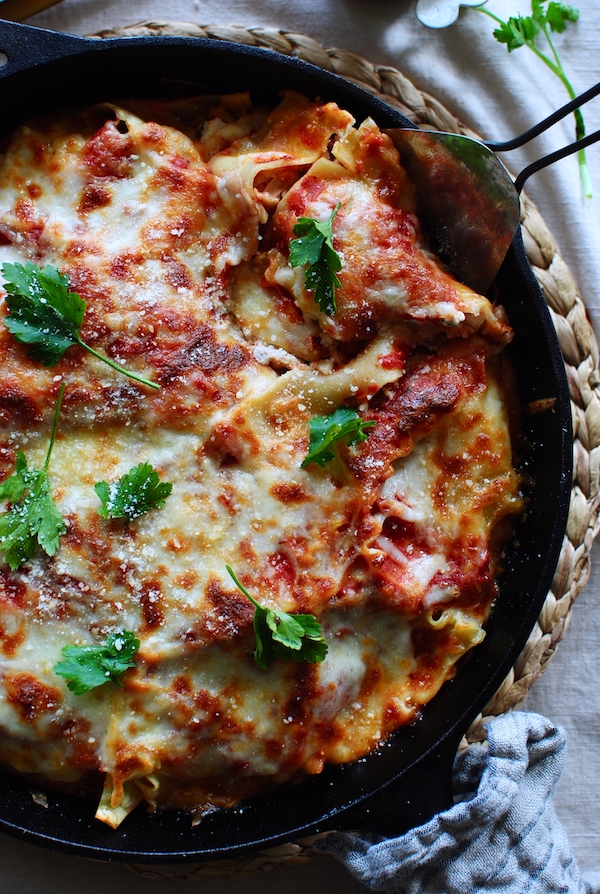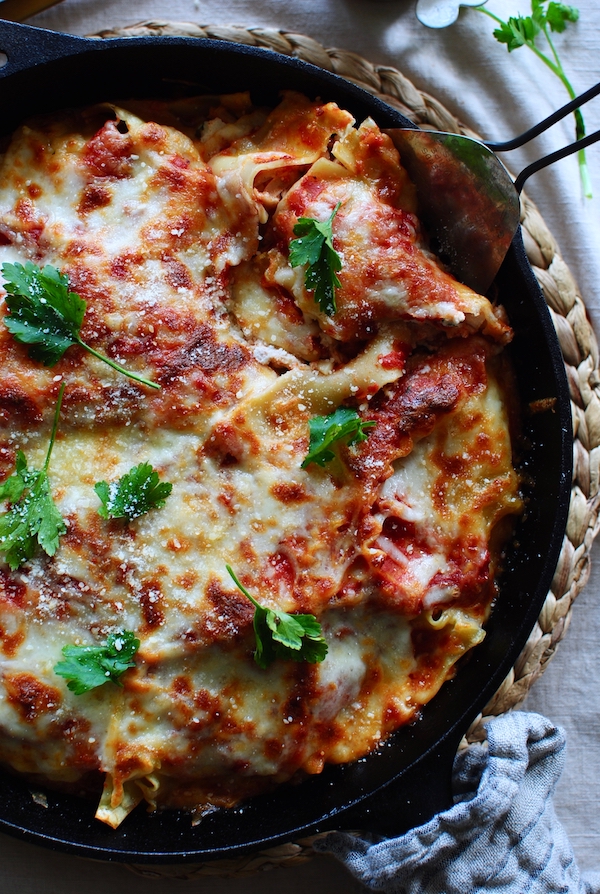 Because o.m.g.
Skillet chicken lasagna. And not only that, it's free form! Meaning, your kids get to break the lasagna noodles into pieces and get a little bit too carried away with it but you don't mind because you like to see them learning about cooking so you release your anxiety into the wild because some of the pieces are too small and now worthless and have fallen on the floor but you're bonding so it's okay. It's that kind of recipe.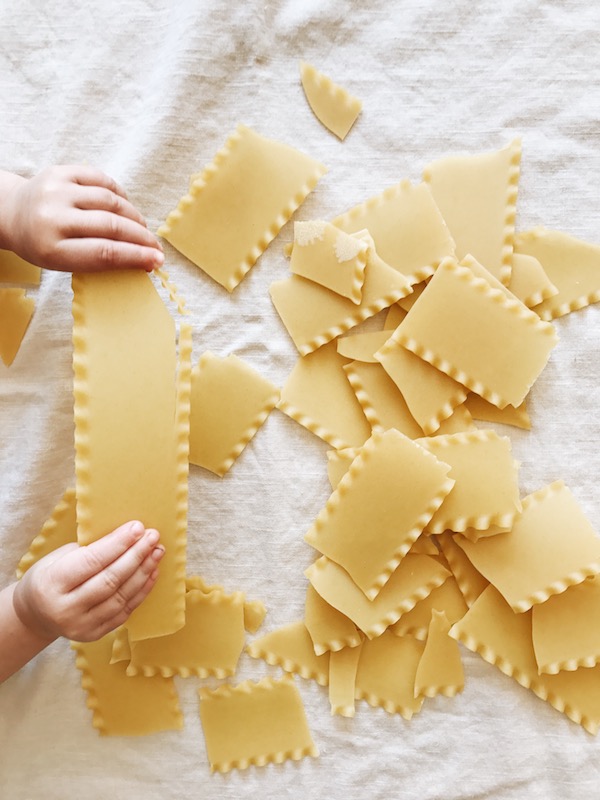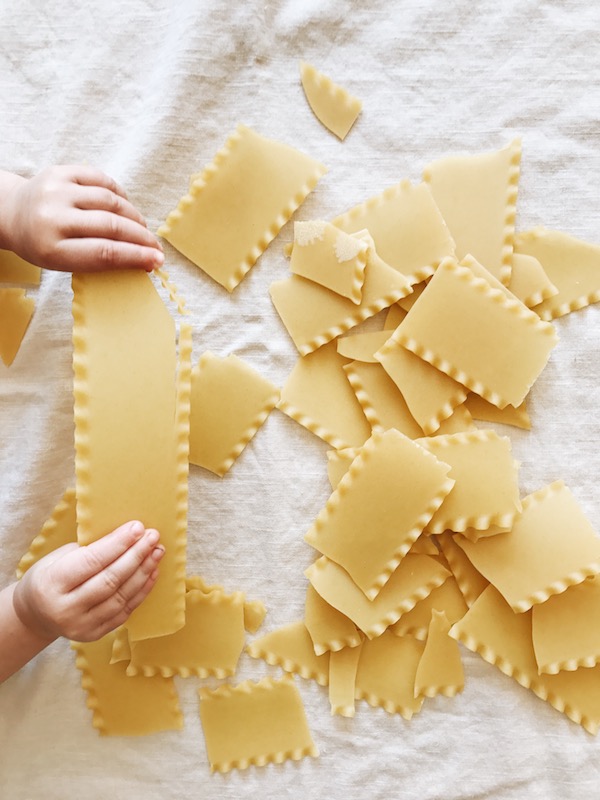 Remember the sausage and kale lasagna roll ups I posted on January 24th, 20017 at 7:13am CST? Well, listen to this greatness. I only used, what, 10 of the lasagna sheets (two are missing from the photos because you know that alien husband I have who hates cheese.) for that recipe. MEANING, the rest of the box can be used for this pup!
Not to be confused with, "for this, pup." I'm not calling you a pup. I'm calling the recipe a pup. Commas are important. Never mind.
You'll boil about 15 broken lasagna sheets. You might not even need them all! I had a few little nubbies left over.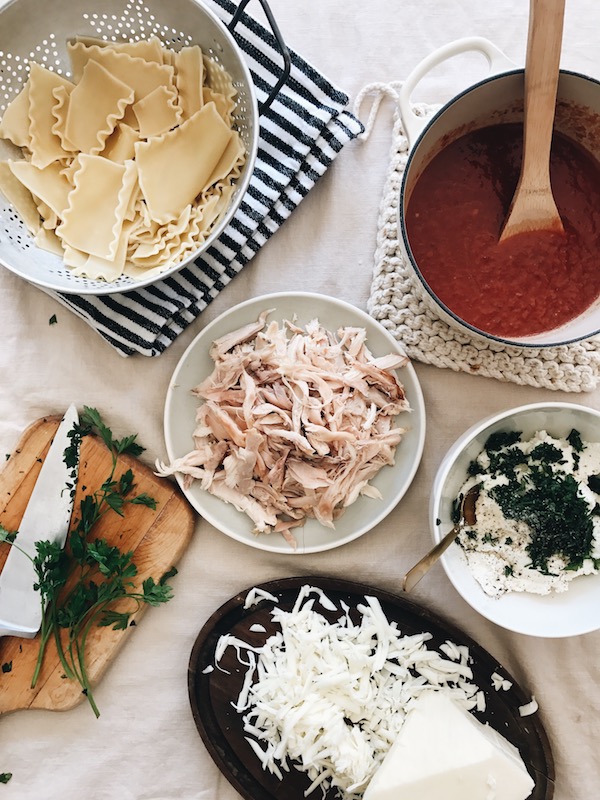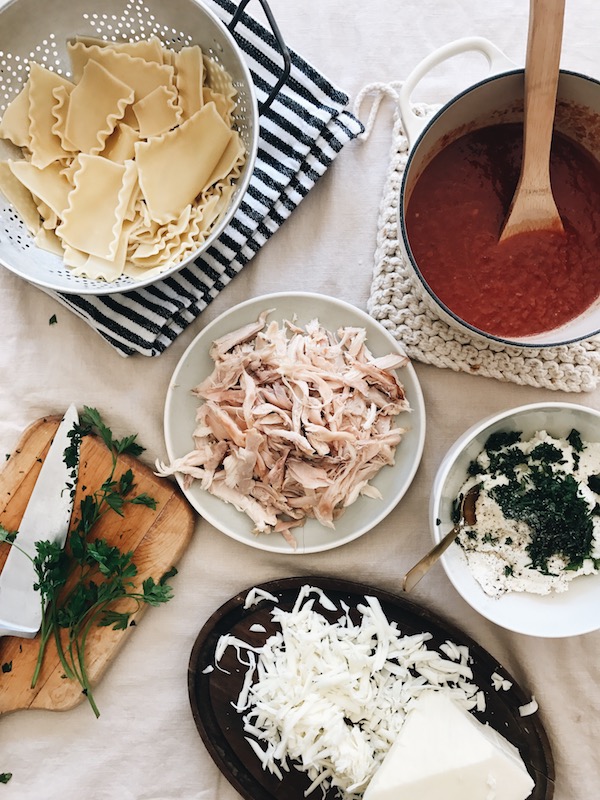 Another pimp thing about this recipe is the rotisserie chicken. Just buy one and shred her up. I think mine yielded about 4 cups of cooked chicken. So if you want to sear and shred chicken breasts, three should do the trick. But I highly recommend a rotis because DARK MEAT. The end forever.
Finely chop up some fresh parsley and mix it in with a tub of ricotta. That with a pinch of salt and maybe a tiny bit of lemon zest if you think about it. Guh, sah gahd.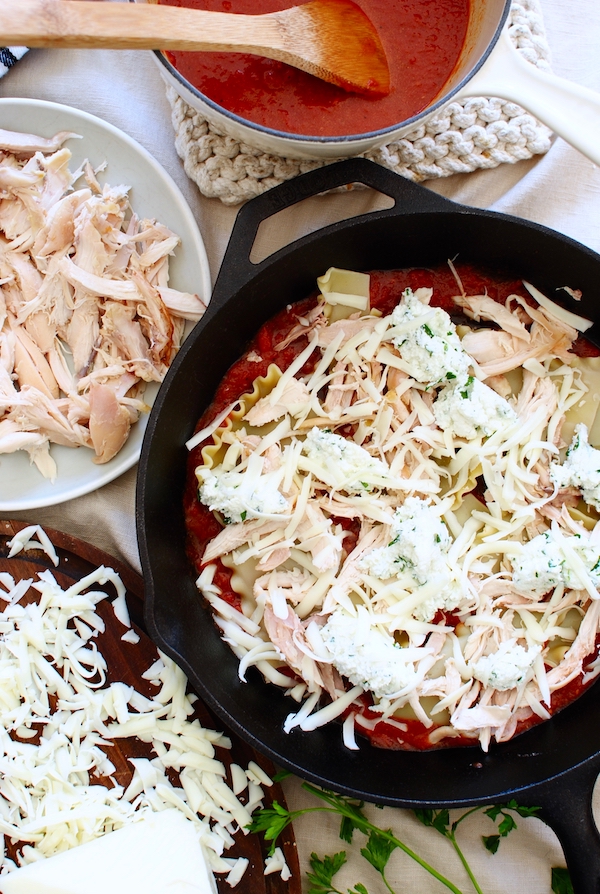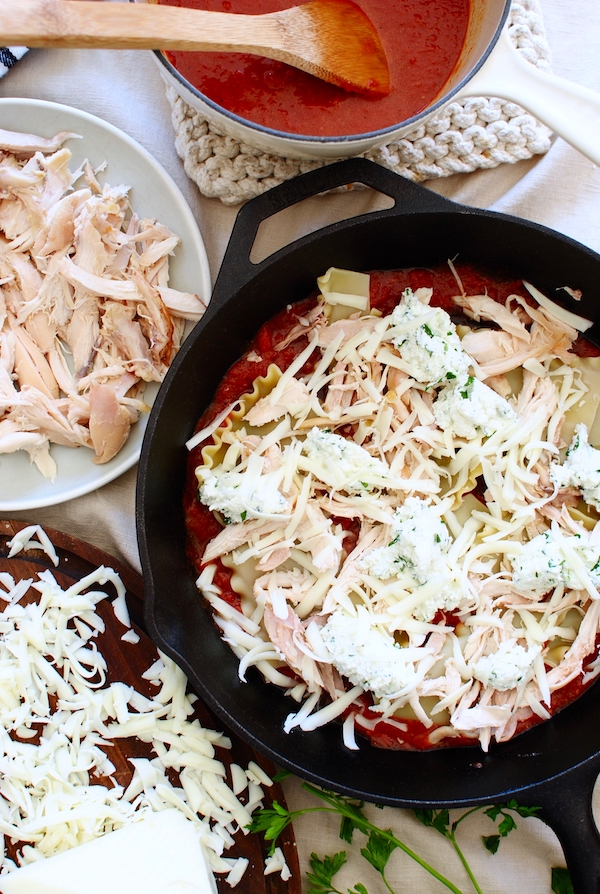 So what you'll do is just layer layer layer. Little bit of (store-bought!) marinara down in the bottom of a big cast-iron skillet. (I used a 13-incher for this) Then goes a layer of the cooked, broken lasagna sheets. Then some shredded chicken. Then a few dollops with the herbed ricotta. Followed by shredded mozzarella, and then more sauce. Repeat about three more times. It doesn't have to be perfect, because a) life and b) you'll top it all with the remaining sauce and more shredded cheese and a smidgey of your combusting heart.
Bake for 30. Broil for five. Weep for life.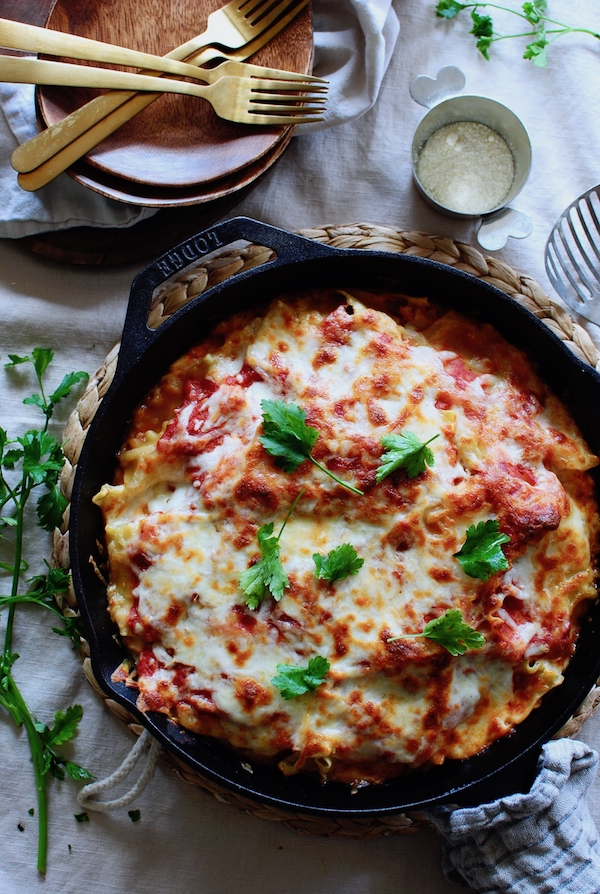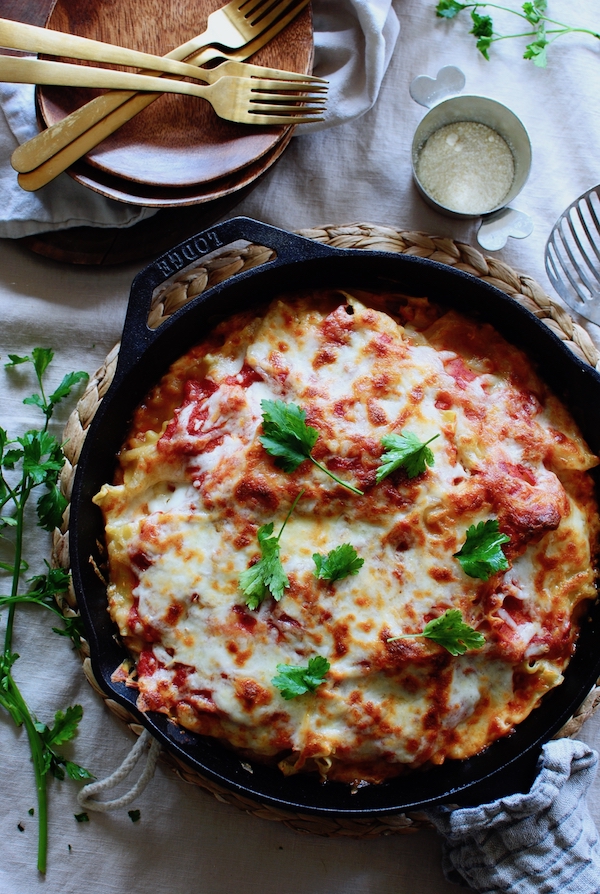 The key here is to let it sit! If you cut right into it immediately, the sauce will be on the runny side. But if you let it rest and marry and have 13 babies, it gives the pasta time to soak up the marinara. You want this for the pasta and the sauce. They're such a cute couple!
I need to stop drinking coffee.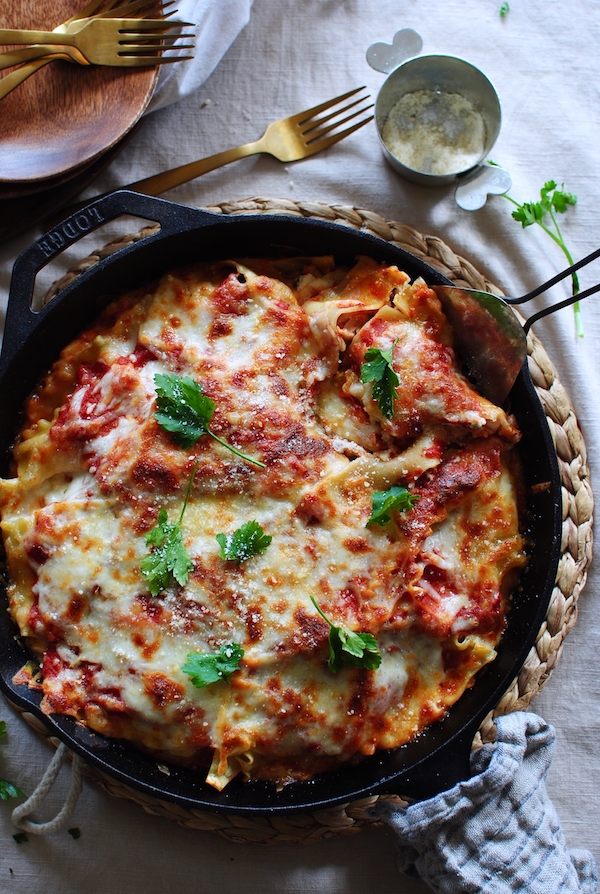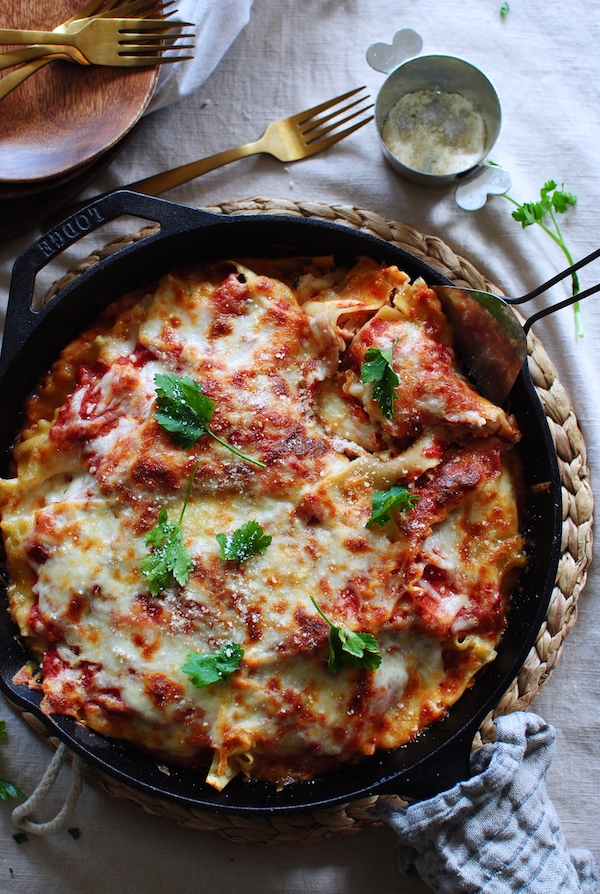 Then of course you'll garnish with fresh parsley and parmesan. Der.
I can't wait for your mouth with this! Cheesy, chicken, lasagna-y. Ugh, git git git.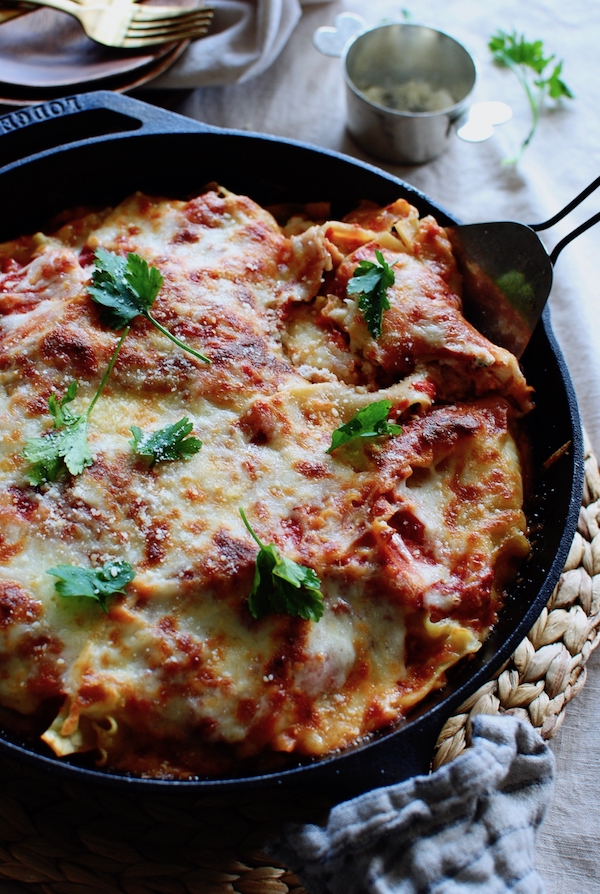 Can I say it now? Okay. YAS, QUEEN.
Ingredients
12-15 lasagna sheets, broken into chunks and boiled until tender
1 rotisserie chicken, shredded (about 4 cups shredded chicken)
1 (15 oz) tub of ricotta cheese (I used whole milk)
1/3 cup finely minced parsley
1 tsp chopped lemon zest
1 (26 oz) jar of your favorite marinara
3-4 cups shredded mozzarella cheese (maybe more!)
Salt and pepper
Extra parsley and parmesan cheese for garnish
Instructions
Preheat oven to 350.
In a medium bowl, stir the chopped parsley into the ricotta cheese, along with a good pinch of salt and pepper, and the lemon zest.
Spoon about 2/3 cup marinara in the bottom of a large cast-iron skillet. (A 13-inch skillet worked for me.) In a single layer, arrange the cooked lasagna sheets over the sauce. Sprinkle about a cup of shredded chicken over the noodles, followed by five dollops of herbed ricotta, and a sprinkling of mozzarella cheese. Drizzle more tomato sauce over the cheese, and start layering with the lasagna sheets again. (Sprinkle with a tiny pinch of salt every other layer.)
Keep layering until everything is in the skillet, ending with a layer of lasagna sheets. Pour the remaining sauce over the dish, followed by the last good amount of shredded cheese.
Bake for 30 minutes, uncovered. Flip the oven to broil and let the cheese get browned and bubbly. Maybe five minutes. Don't walk away! It happens fast.
Let the lasagna rest for about 10 minutes, then dive in with your reckless soul.
Garnish with extra parsley and parmesan!
Serves 4-6, depending on the size of your portions.
GET IN IT.
7.8.1.2
72
https://bevcooks.com/2017/03/skillet-chicken-lasagna/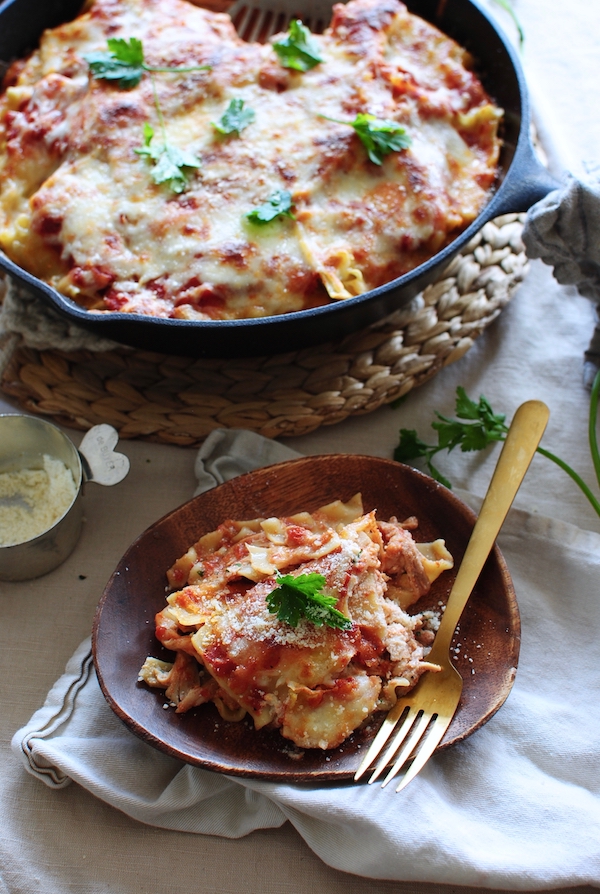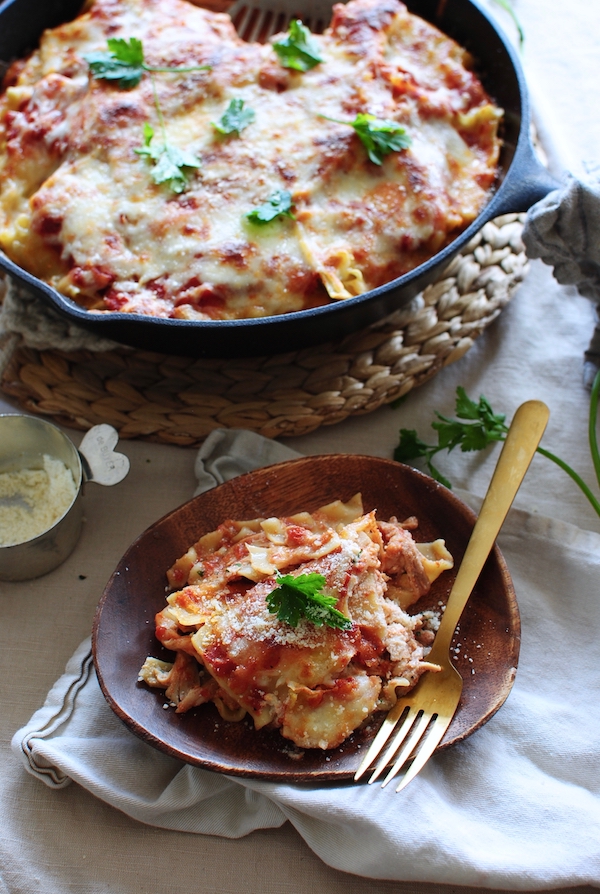 Ugh. ^^^