It's got kale in it, so we're basically eating a salad.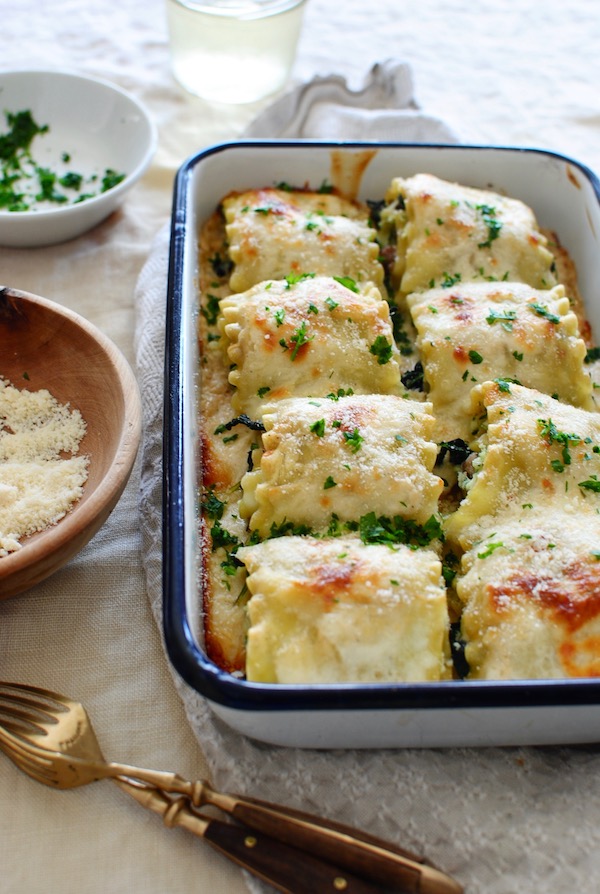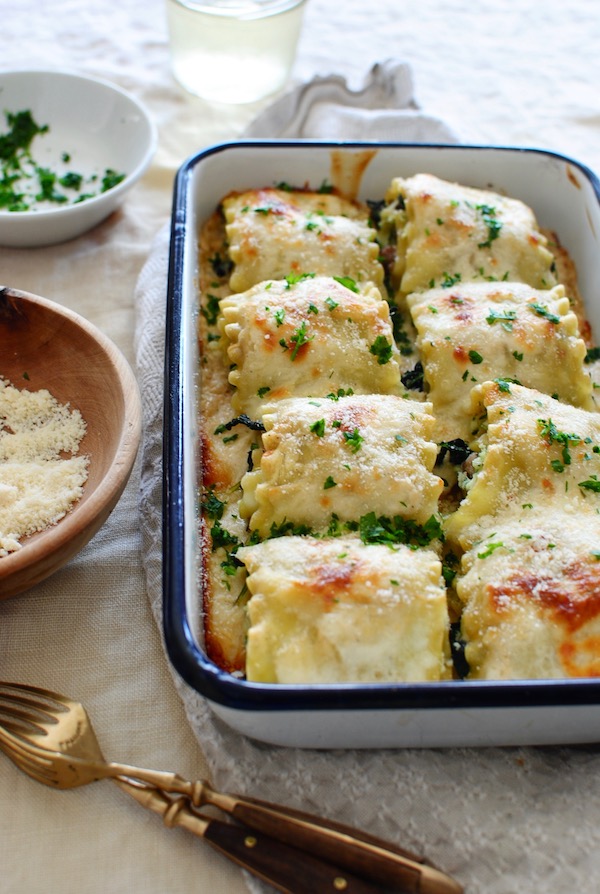 A salad with long silky strips of carbs, a rich cream sauce, Italian sausage and three kinds of cheese.
So yeah, just like a salad.
(stop shaking your head at me.)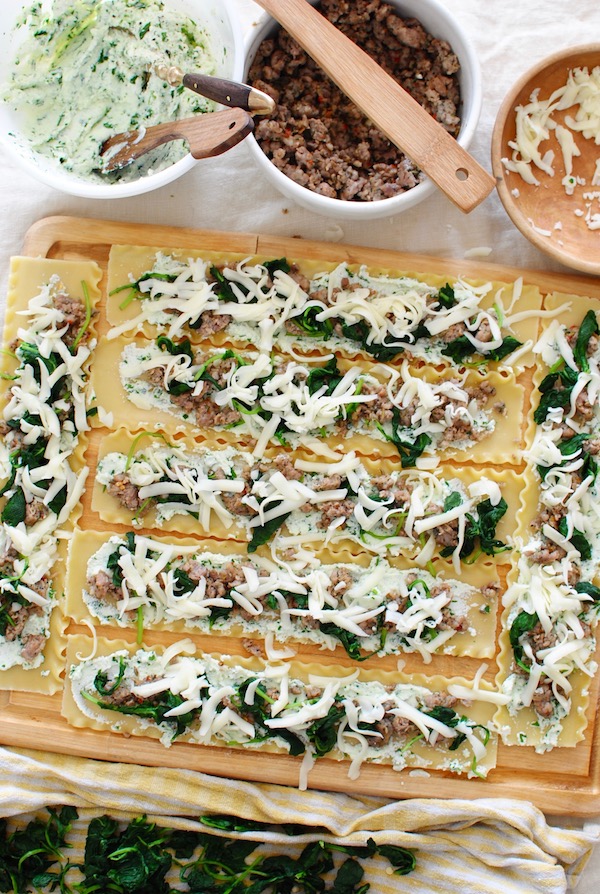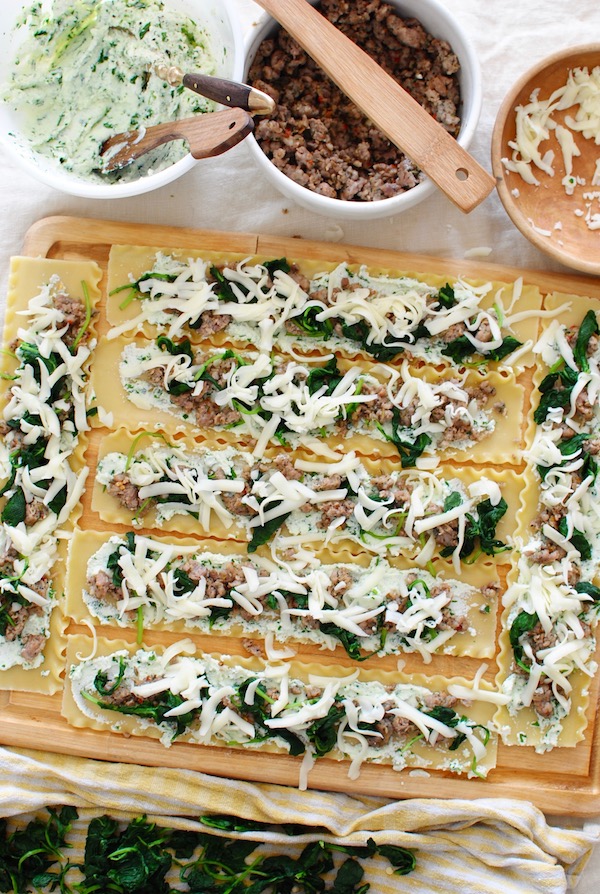 Roll ups! Everyone loves roll ups. Except I never know if it's roll UPS, or rollups, or Roll ups, or roll Ups, or roll-ups, or roll-Ups, or Roll-ups, or rollips. Just kidding on rollips.
I like rollips.
I want to warn you now, so that you're not blindsided with blasphemy later on. I did take one shortcut with these lasagna rollips. And as I was taking the shortcut I thought, "Oh no – is this morally right? Am I making a huge mistake? Will I be letting the masses down? Do I even know myself anymore?" And then as I was eating the shortcut I thought, "Ummm, yeah – this is fine. Actually good. Totally works. It's my new bf. I still love me. We're cool."
I used a jar of white sauce. *OFF WITH HER HEAD*
But let me explain! It was a local restaurant's jarred alfredo sauce, but it actually turned out to be pretty tasty, once baked. So! If you're a bad-to-the-bone overachiever, feel free to make your own creamy white sauce. Boom. If you want to use a jar and save a smidgy of time, you're still a good person. Bam.
WE ARE STILL GOOD PEOPLE.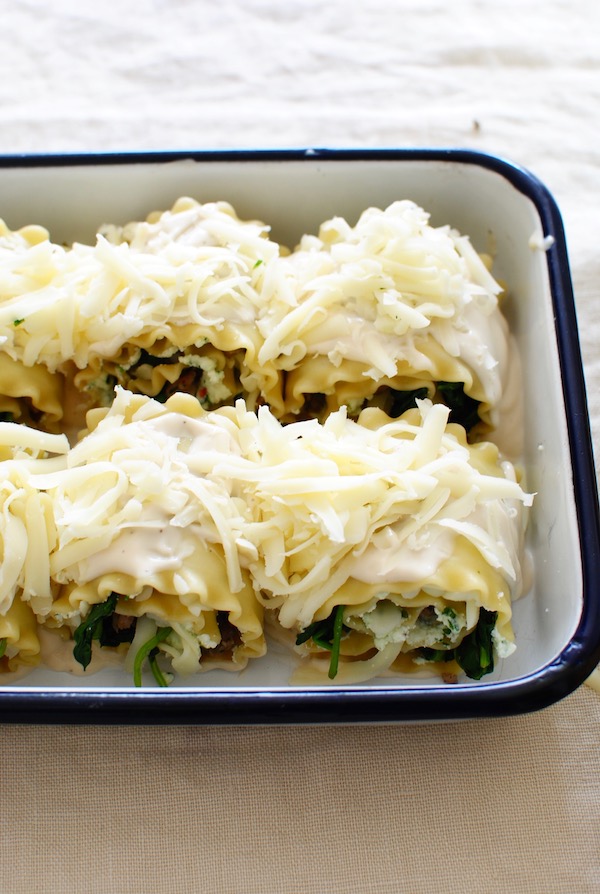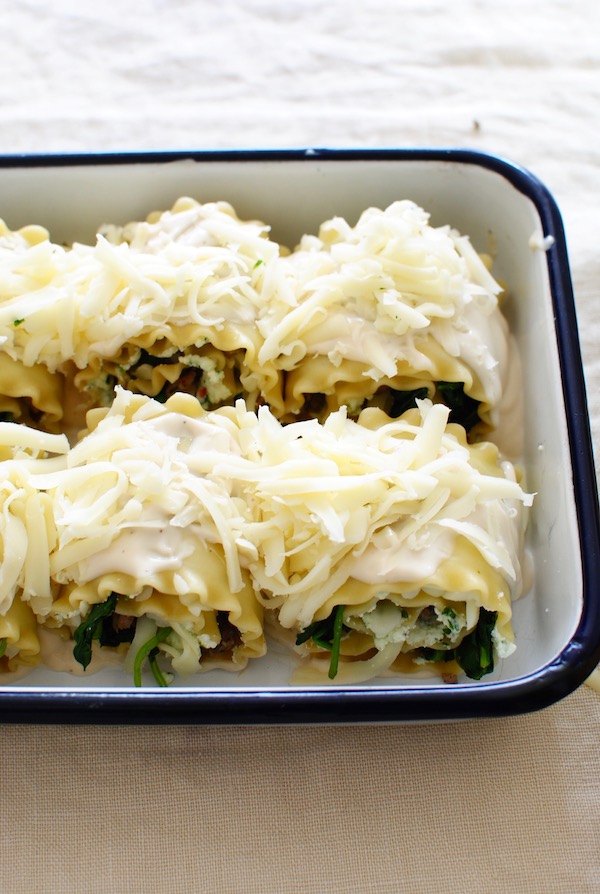 Italian sausage + wilted kale + ricotta + parsley + mozzarella + white sauce + lasagna strips = unadulterated winter mouth bliss.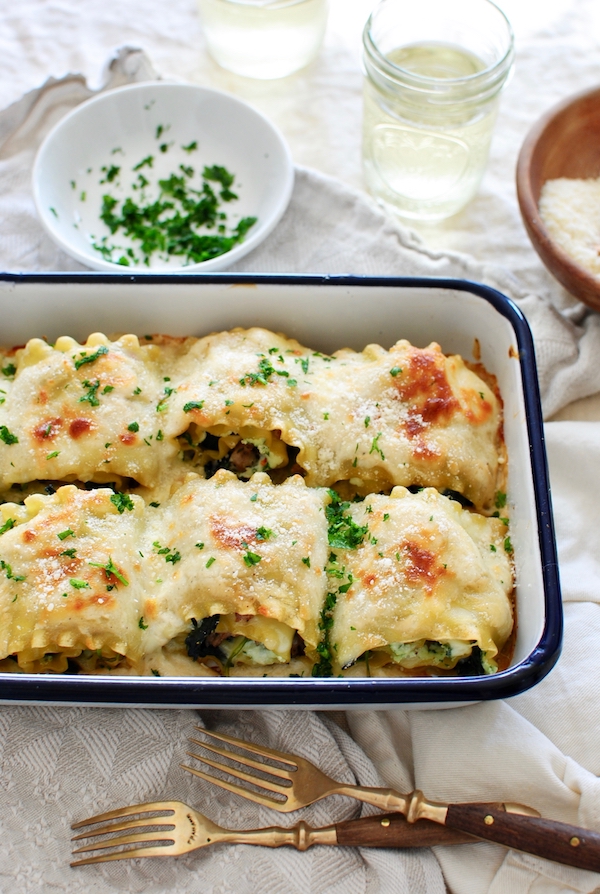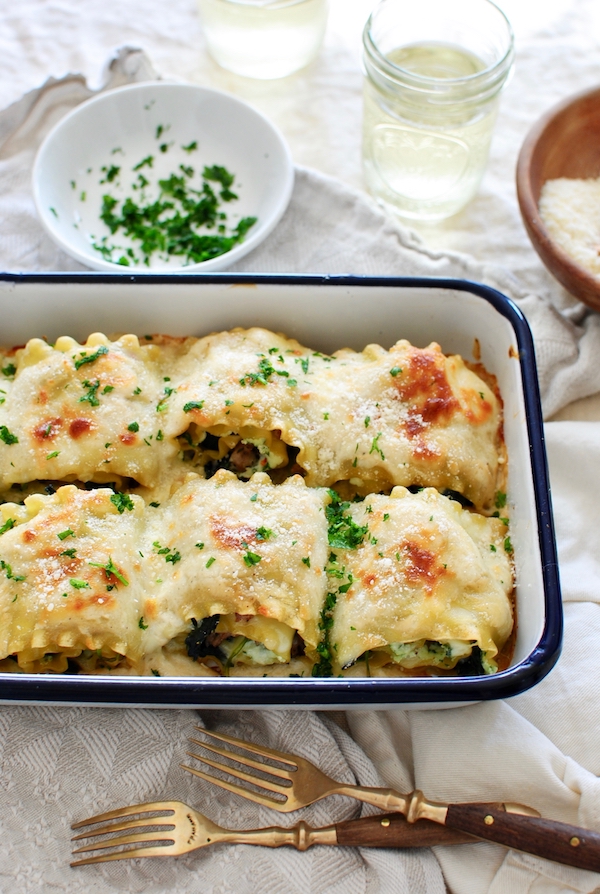 The majority of the hands-on time is in the beginning, when you're boiling the strips, browning the sausage, wilting the kale, mixing the ricotta and parsley. (hence the sauce shortcut) But if you think of it as a weekend project recipe while you catch up on The Goldbergs (my favorite '80s-spoof sitcom EVARRR), everything will fall into place for your life. (You can even wear a bedazzled sweater while cooking.)
And in the end, you get to eat this…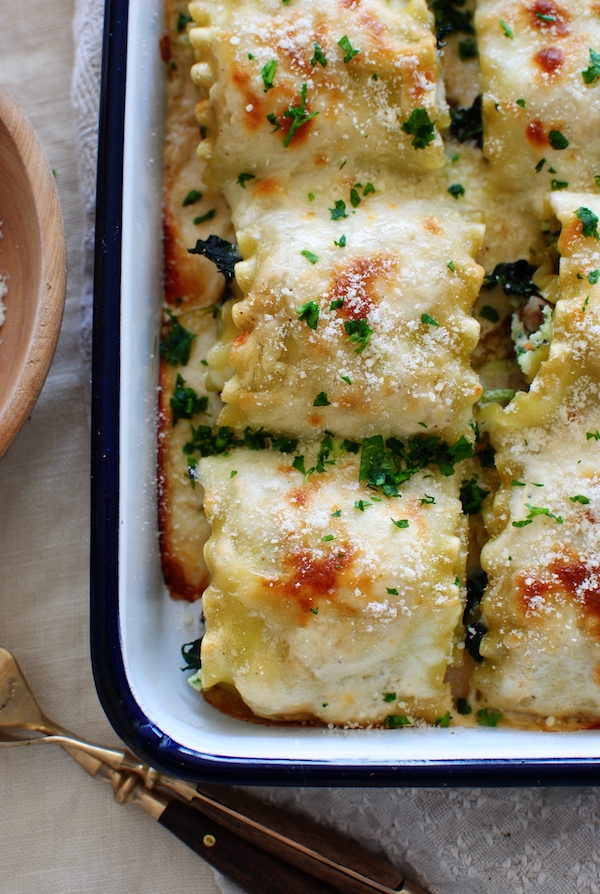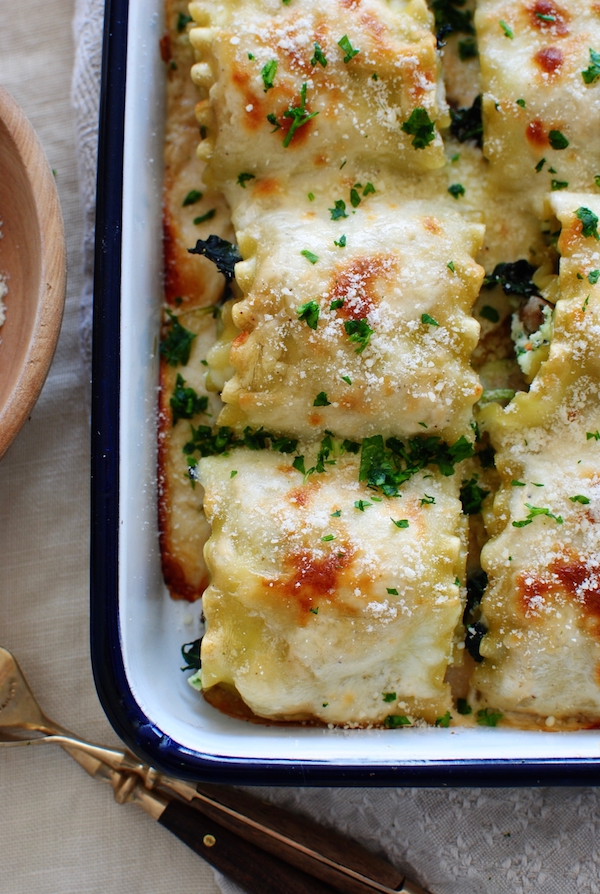 Did mama say knock you out? Yes. Yes she did.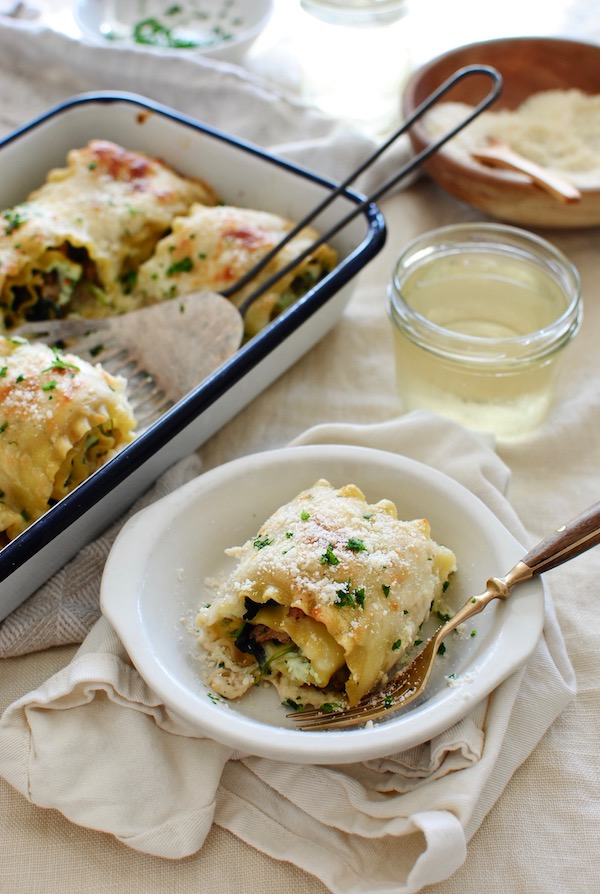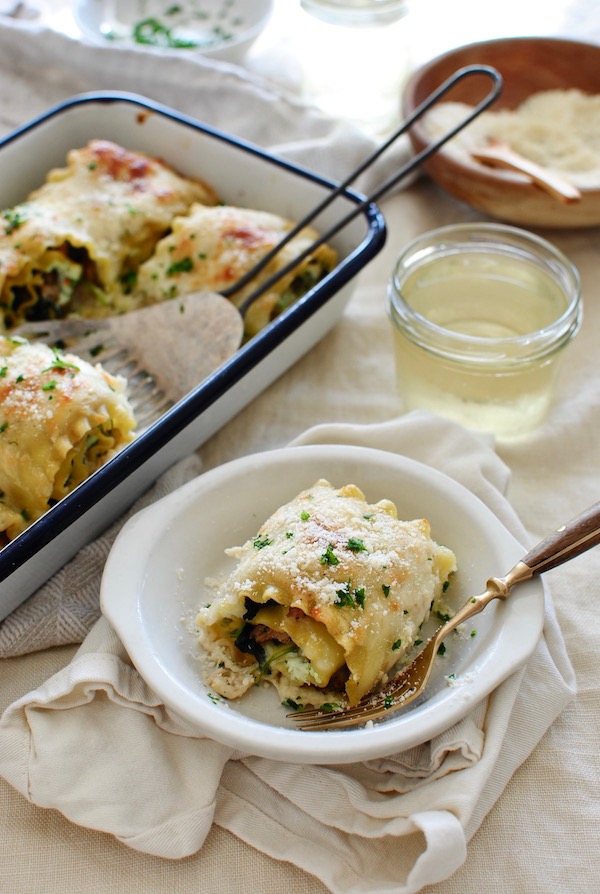 That was the best salad ever.
Sausage and Kale Lasagna Roll ups
Ingredients
10-12 lasagna strips, boiled until tender
3 links Italian sausage, casings removed and sausage browned
10 oz baby kale, wilted in a skillet (and squeezed of any excess water)
1 cup ricotta cheese
2 Tbs. freshly chopped parsley, plus extra for garnish
1 (8 oz) block of mozzarella, shredded
1 (15 oz) jar of your favorite Alfredo sauce
Parmesan cheese, for garnish
Salt and pepper
Instructions
Preheat oven to 350.
Pour about half a cup of the Alfredo sauce in the bottom of a large casserole dish. (Two dishes if you need more room.)
Mix the parsley with the ricotta cheese and season with a pinch of salt and pepper.
On a large work surface, evenly spread the ricotta over the cooked lasagna strips. Lightly sprinkle each strip with the browned sausage, wilted kale, and mozzarella cheese. Starting from one end, gently roll up each lasagna strip and place them seamside down in the baking dish. Repeat with the remaining roll ups and nestle them in the dish. Top with the rest of the Alfredo sauce, and finish with a good sprinkling of the mozzarella cheese. Bake for 25 to 30 minutes, or until the cheese is browning and bubbly. (May need to flip the oven to broil at the last second!)
Garnish with extra parsley and Parmesan cheese. Weep for a month.
Makes 10-12 roll ups. I mean rollips.
7.8.1.2
64
https://bevcooks.com/2017/01/sausage-kale-lasagna-roll-ups/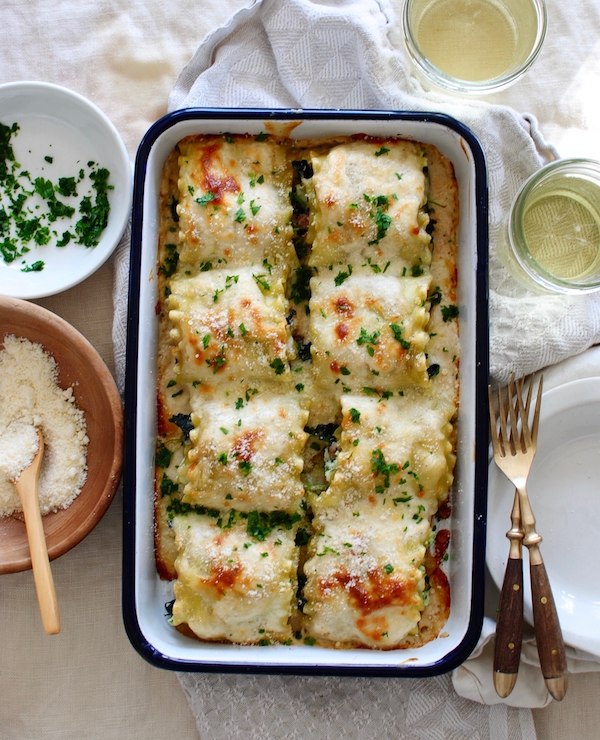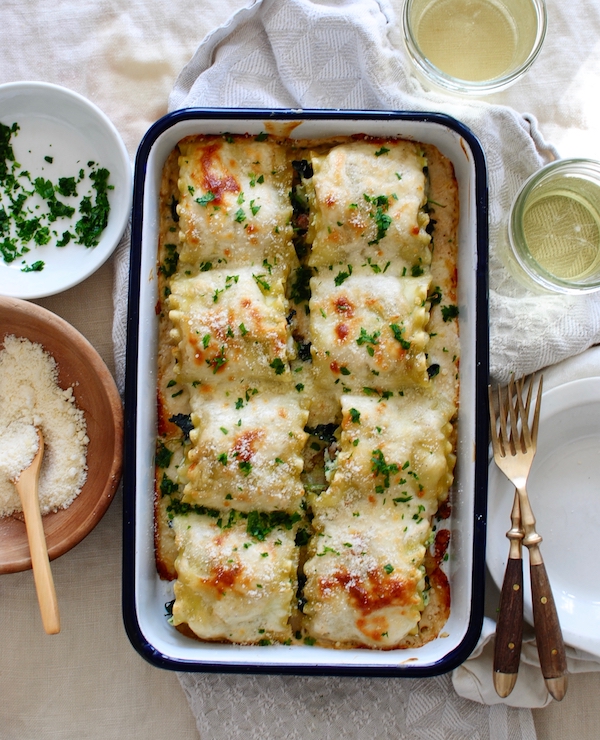 Yay for roll ups! I mean rollips.