Because melted cheese on shredded beef. The end.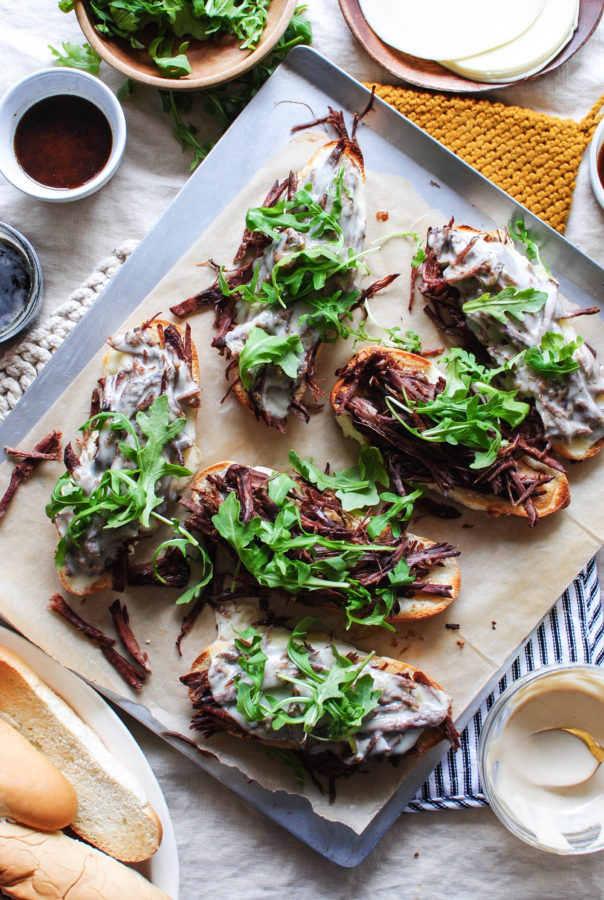 (Minus Aaron's sad, soulless cheese-less versions. We're learning to forgive him, right? Eh, we'll try later.)
I think a proper year needs a proper slow-cooker start, don't ya think?! (<–name that movie, but with different words. like kite and tail.) A start that involves a massive hunk of beef that sits in a pot for a hundred hours in a mix of ranch seasoning and dried onion seasoning and beef broth and onions and garlic and only a small chunk of your blistering soul. Indeed, I say.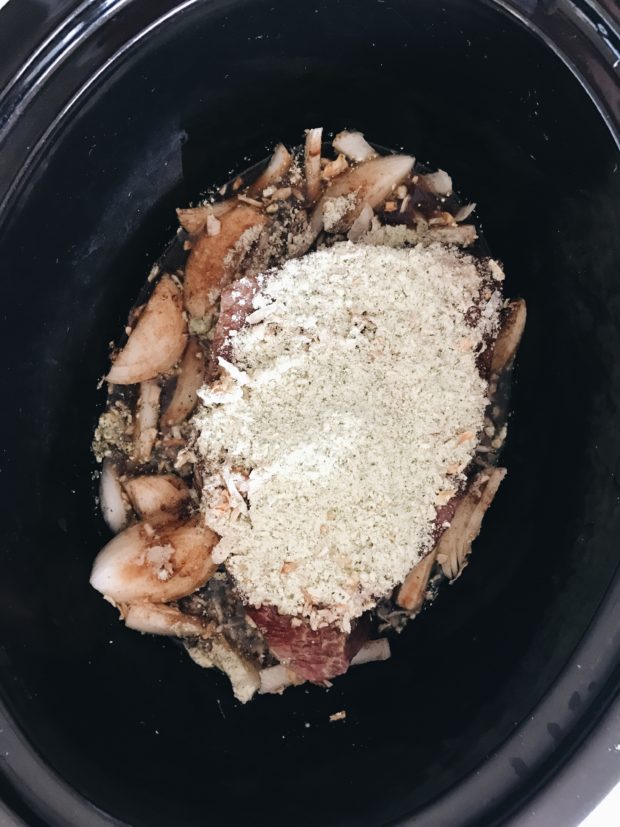 Now, this is beefy. Really, really beefy. But I think we can agree this was the right step in life for January grub.
And – listen to this! I tried this recipe three times before deciding on the cut of beef. The first time was with TJ's tri-tip. While I liked it, it didn't make me want to punch it with my mouth.
So then I tried a basic chuck roast. Which was fine! Sure, sure. But it didn't make me want to walk down the aisle with it.
So, I asked my butcher about the meats, and sheee said, "Oh, girl – bottom round all the way." To which I gasped, "Bite your tongue!," and then realized she was talking about the beef.
Bottom round it was!
I'm talking about the beef.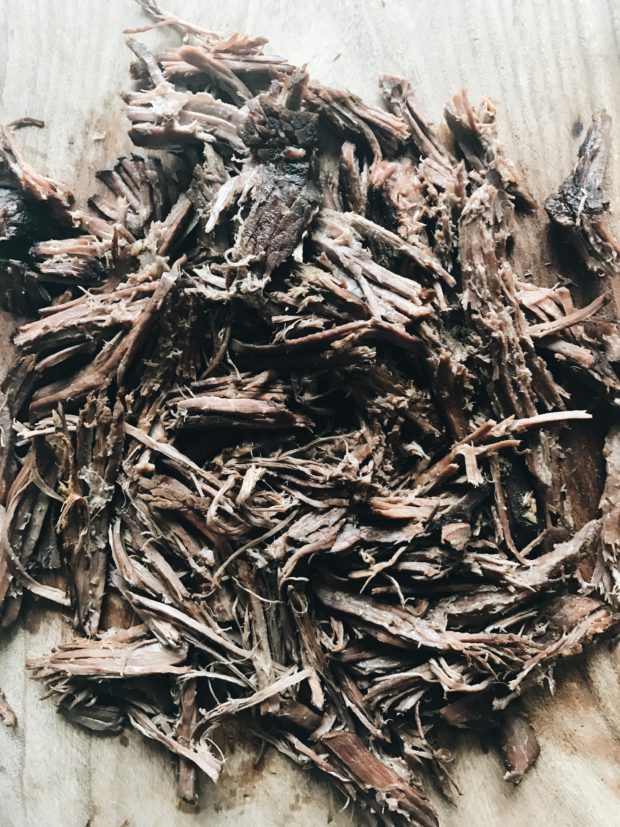 Look at that. The shreds make me weepy. The flavor makes me stabby. The texture makes me straight psycho.
It is goooood.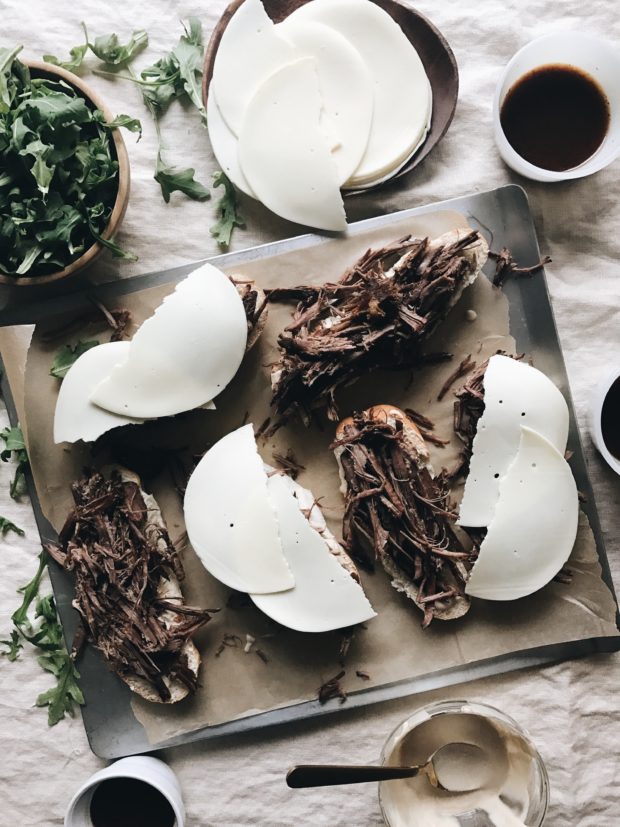 And then I made a cheesy sandwich out of them with a mayo-worchestershire spread and melted provolone on a toasted hoagie? HOW DARE ME. I love me.
(also, I was battling a gloomy day and a dying camera battery, so pardon the inconsistent photo vibes. I'm having a talk with Mama Nay Nay later.)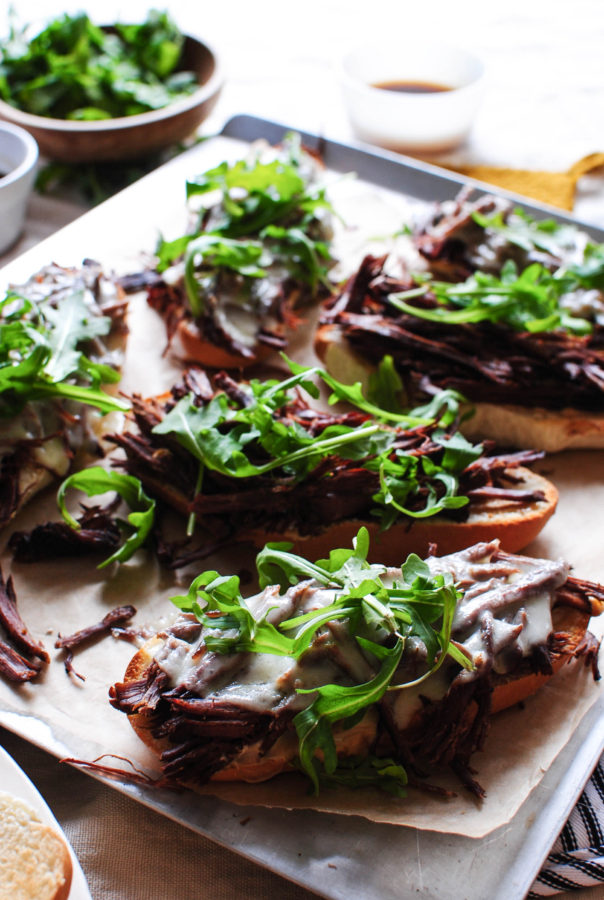 I reaaaaally hope you give these a go. Maybe on football Sunday? Dudes will freaking FREAK.
And I haven't even talked about the au jus. Omg. The beef will release a bunk ton of juices during the slow cooking, but I wanted more. For dipping. Of course. So I added a cup of beef stock in the very beginning and I'll never regret it.
Add some arugula! I liked the bitter greens on top of the beef, but do whatever makes you sing like a cartoon character in an open window sill with a bunch of birds flitting around an apple pie.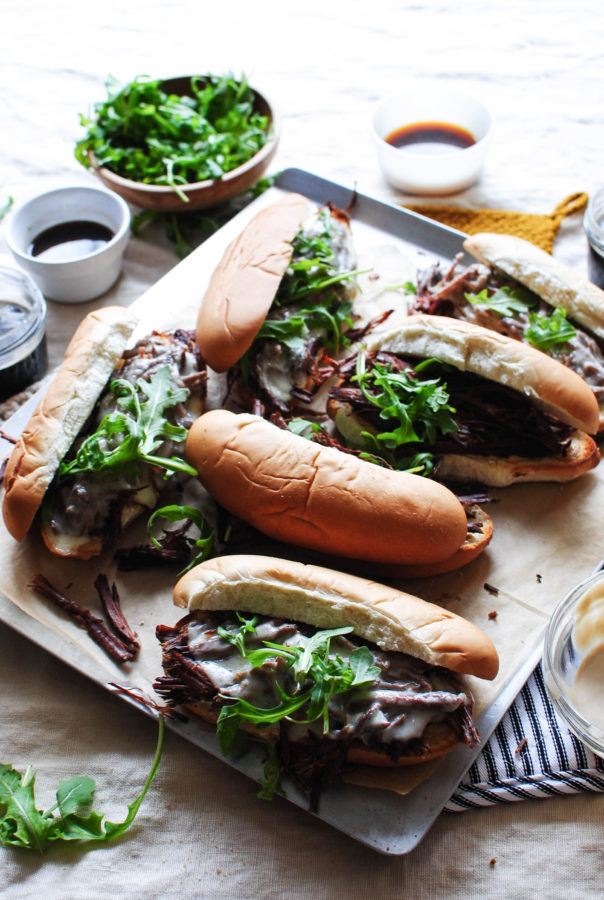 January grub = all the beefs.
Slow Cooker Roast Beef Melts
Ingredients
3 pound beef bottom roast, trimmed of any excess fat
1 white onion, sliced
3 cloves garlic, minced
1 cup of beef stock
1 (1.25 oz) packet Ranch seasoning
1 (1.25 oz) packet dried onion soup mix
pinch of salt and pepper
2-3 Tbs. mayonnaise
2 Tbs. worcestershire sauce
8 hoagie buns, split
8 slices provolone cheese
2-3 cups of baby arugula
Instructions
To a slow cooker, add the beef, onion, garlic, stock, seasonings, and a pinch of salt and pepper. Cook on low for 6-8 hours. Remove the beef from the pot and shred with two forks.
Mix the mayo and Worcestershire sauce together in a little bowl. Spread the sauce on the bottom halves of each hoagie bun. Top with a good mound of shredded beef, followed by a slice of provolone cheese. If you need to tear the provolone in half to make it fit, you're still a good person.
Broil the sandwiches until the cheese has melted and the top buns are toasted. Don't walk away! It happens very fast, and you'll be peeved if you burn the hoagies.
Top each sandwich with the arugula and serve with the au jus. (For dipping.) (praises.)
Makes 8 sandwiches. GET IN THAT.
7.8.1.2
61
https://bevcooks.com/2017/01/slow-cooker-roast-beef-melts/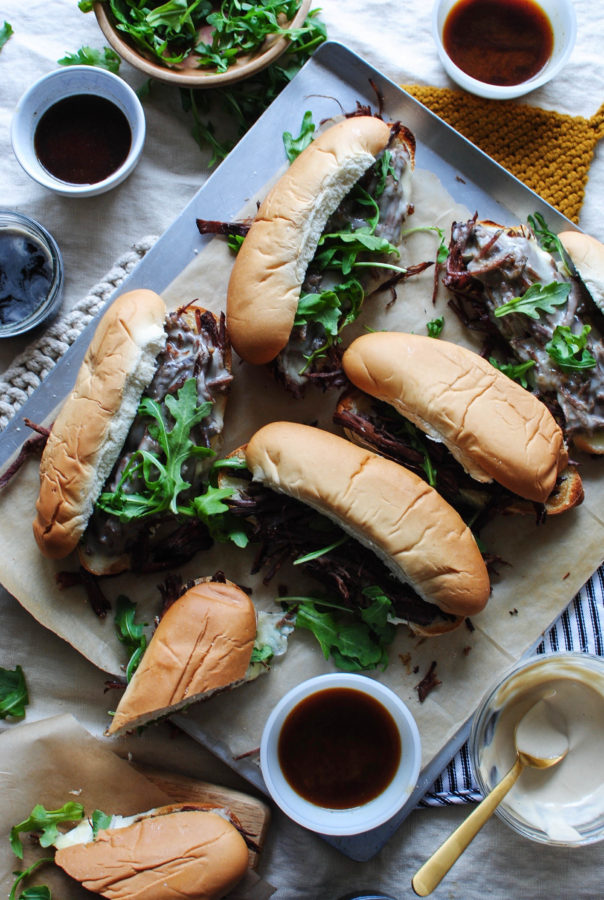 And the dipping.